Shopify Dropshipping Reviews: Is Dropshipping Still Worth It in 2023
Dropshipping is an eCommerce method in which the online store owner doesn't keep any products in stock. Instead, the business sells the product, then passes on the sales order to a dropshipping supplier who would package and ship the order to the customer.
And the best part is that you don't have to spend a lot of money to start. Just ask Shopify, you will get a fully-functional store in less than fifty minutes and all the tools you can think of.
But the question is, does success come that easily? Is this the key to becoming one of those millionaire entrepreneurs? That is what this article is going to answer for you. We will walk through the basics of Shopify dropshipping, pros and cons, and how much profit you can expect to have.
Even if you are just a beginner or have been dropshipping for a while and now looking to try Shopify, this article can give you the needed insights to make up your mind. I recommend beginners to read some more of our articles about dropshipping too before we start.
Exclusive Offer: Get Shopify 93 days for just $3 + The Online Store Starter Kit
Start a 3-day free trial, then get Shopify 3 months for $1/month plus the premium package designed especially for new Shopify merchants!
Start Free Trial
What is Shopify Dropshipping?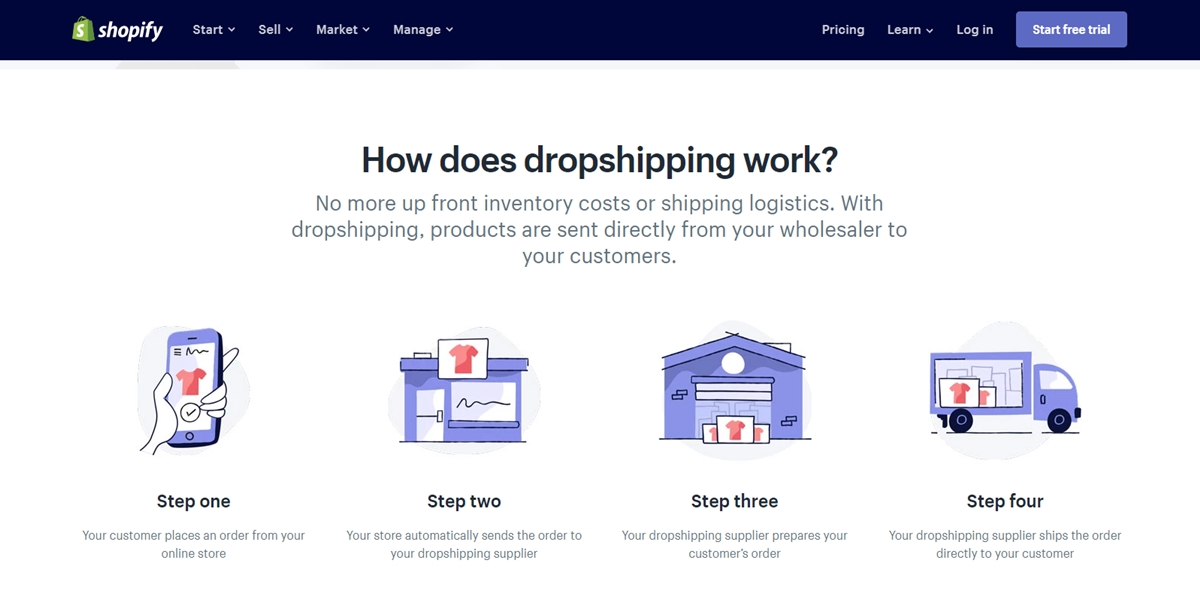 Founded in 2004, Shopify is a hosted eCommerce platform software, which means they help business owners to easily create and manage their online stores without any knowledge about programming, coding, or web development. There are now over a million active users and 500,000 online stores on the platform.
Thanks to its diverse tools, themes, and customization, Shopify is the best choice for many business models, including dropshipping. You get a hosted site that is able to sell and connect directly to the manufacturer, thanks to Shopify's official dropshipping tool called Oberlo.
Or Shopify put it this way:

And that is it; you can start dropshipping with Shopify. They make it so seamless that it is basically 1,2,3, ready to go. There is a guide for working with Oberlo, but we will get to that later.
Recommended: How Does Dropshipping Work On Shopify?
Why should you try dropshipping with Shopify?
Shopify is famous because the platform is so easy to use. For an eCommerce entrepreneur, timing is very important. Your ideas of profitable products may change after months or weeks if competitors arise. And the convenience of Shopify attracts such people to make the most of their time.
The reasons to try dropshipping with Shopify can be listed as:
Quick setup: You don't need to know any coding to start designing and setting up your online store. With a straightforward interface, you can control every aspect of your store from the dashboard.
Hosted platform: This means you don't need to worry about hiring a host or buying a domain, Shopify can take care of that for you. You will get the base of an online store to start with right the way.
Trusted performance: The Shopify platform is stable and can handle millions of customers, even on the biggest shopping holidays. Ask Kylie Cosmetics about it.
Feature choices: You have themes, apps, and a dashboard with an automatic option to help you in every aspect of running an online store.
Pricing: Starting at only $29/month, you can start doing business without a hitch. There are three pricing plans for when your store scale.
Customer service: 24/7 support through email, live chat, phone.
Oberlo: free to start at 500 products limit and dropship immediately from AliExpress.
These are the reasons that not only dropshippers but also other business owners chose Shopify to begin selling online. Some big names that you can see for yourself are Tesla, MVMT, GymShark, Kylie Cosmetics, ColourPop, and more.
But Shopify isn't a perfect option, and I want to give you a full-detail look, so in the next section, we will dive deep into the pros and cons of Shopify dropshipping.
Shopify dropshipping pros and cons
In this section, we will focus on the aspects affecting a store's dropshipping performance since that is what we are focusing on in this article. With that in mind, let's start and see the pros and cons of Shopify dropshipping.
Pros
Hosted platform: You get the skeleton needed (host, domain, backend) to start and design your online store.

Trusted performance: A stable platform that can withstand even the highest traffic.

Customize options: Themes and apps made for dropshipping are available.

Customer service: As mentioned, 24/7 support through email, live chat, and phone.

Pricing: 29$/month is not high, and you get Oberlo basically for free at first.

Oberlo: start dropshipping from a trusted dropshipping site which is AliExpress.

Management: The dashboard makes it easy to handle hundreds of items and money flows.

Shipping discount: up to 64% off on shipping price.

Buying stores: You can buy Shopify dropshipping stores for sale on Exchange Market Place (by Shopify)
Cons
Transaction fees: You need Shopify Pay to lose the transaction fee.

Same market: Since anyone can use Oberlo, people can sell the same items. You have to find a way to set yourself apart from the competitors.

Online credit card fees: starting at 2.9% + 30¢ for each transaction.
As you can see, the pros outweigh the cons in the above table. So assuming you want to try Shopify dropshipping now, let's see how to start doing it in the next section.
How to start dropshipping with Shopify
Now, we will walk you through all the steps that you will need to create your own dropshipping business. I will try to keep it brief and clear, but the end result will still be a fully functional Shopify dropshipping store that is capable of making a profit. Here are the steps that you need to start dropshipping with Shopify and Oberlo:
1. Having a name for your store
This is the first step you need to take when opening your Shopify dropshipping store. When brainstorming the name, you would want to keep it simple, creative, and memorable. Write them down, and you can check if anyone has used them or not.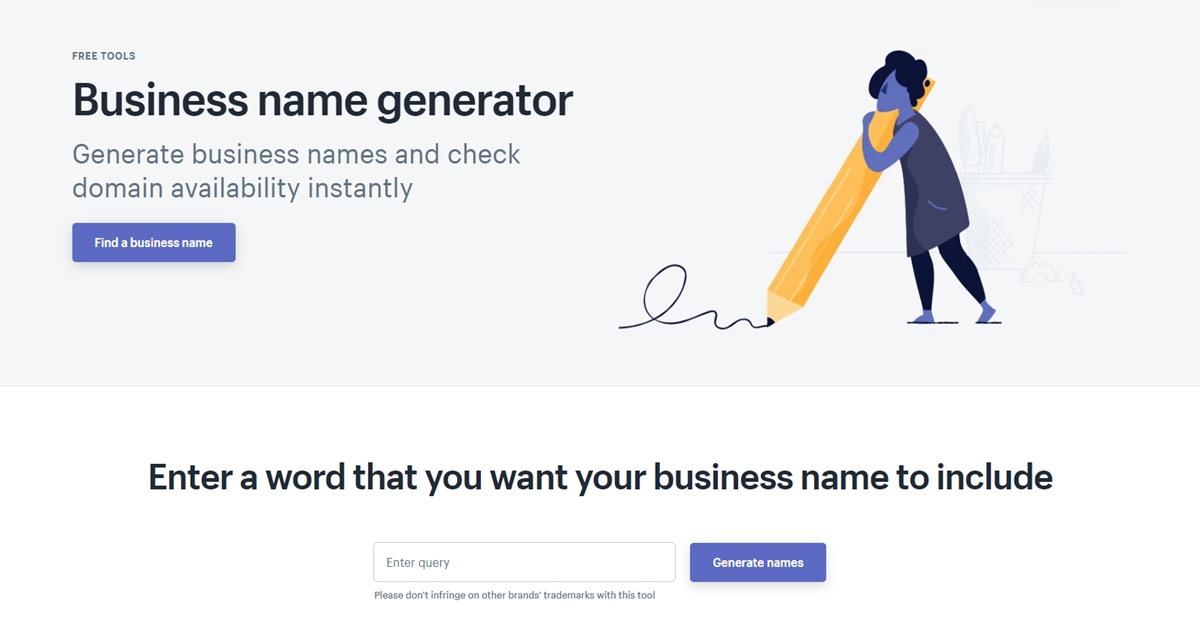 Or you have another way, which is to use Shopify Business Name Generator. This is a free tool provided by Shopify. All you need to use it is entering keywords or words that you would like to include in your store's name, then click on "Generate names." Or you can figure out which tool suits you best from our list of 11 best business name generator tools.
A list of business names will be presented, and you can pick your favorite to be your store's name. That is not all; you can check on the site whether the name is taken or the domain is already being used too. This saves you a lot of time Googling around.
Try to have fun at this stage since the name doesn't necessarily need to relate to your business. You can try different names to give different vibes and attract different customers.
2. Creating a Shopify account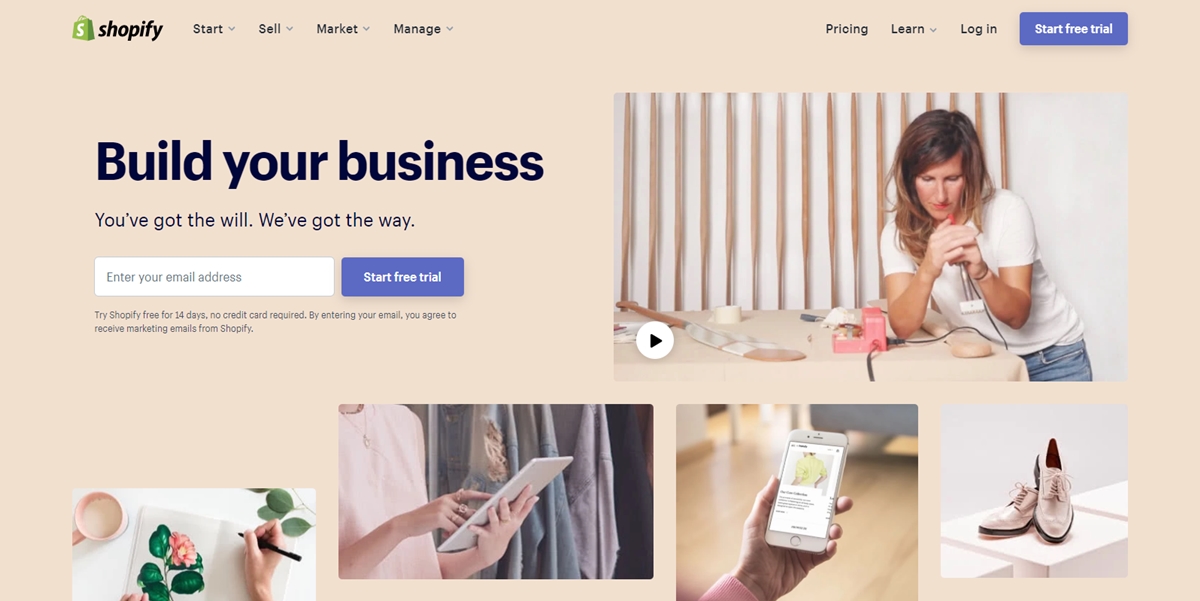 You got the name; now, let's go get the store. The process of creating an account on Shopify is quite simple and quick. You can see the purple buttons that say "Start free trial" clearly, like in the above image. Simply click on them or enter your email then click.
You will then be taken to a sign-up page where you are required to create a password and enter the name which you've chosen for your Shopify dropshipping store. Then you will need to answer some simple questions about your experience with online selling and personal information.
When you have completed all of that, your Shopify account will be ready. Next, we will see some settings to launch a Shopify dropshipping account.
Read out article: How To Get A 21, 30, 60 day Free Shopify Trial
Exclusive Offer: Get Shopify 93 days for just $3 + The Online Store Starter Kit
Start a 3-day free trial, then get Shopify 3 months for $1/month plus the premium package designed especially for new Shopify merchants!
Start Free Trial
3. Settings for the store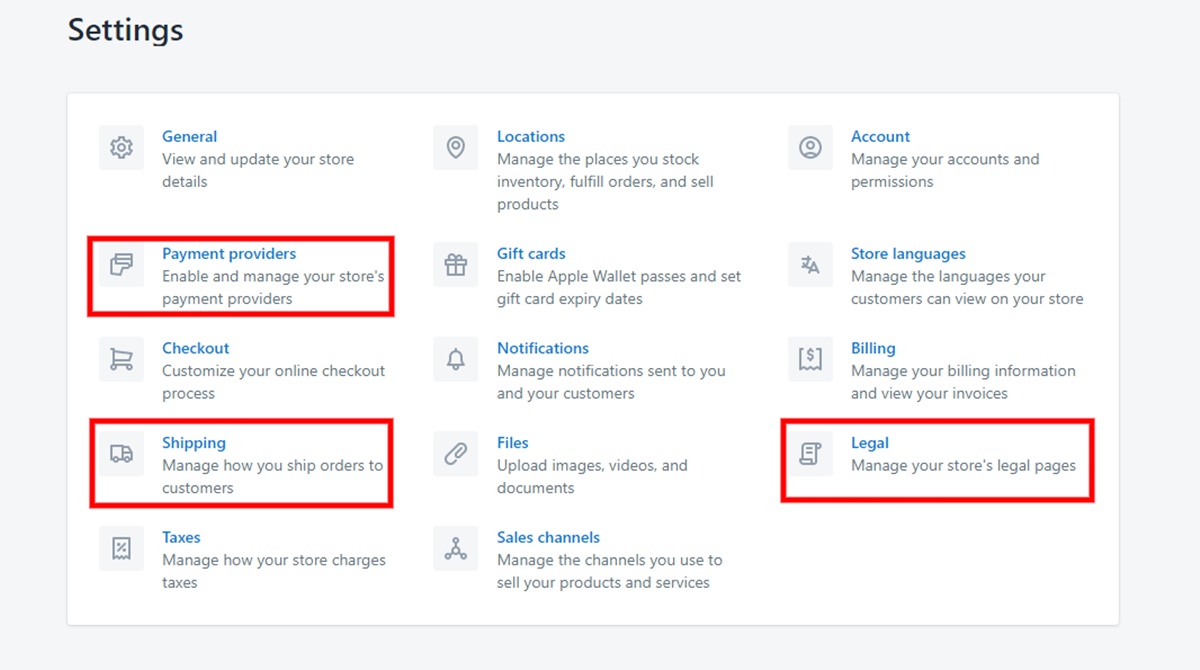 Congratulations on the new store, but you can't sell just yet. What you need to do now is go through some settings and make sure they are adjusted correctly. And then, you can receive money from customers, establish shipping rates, or showcase your policies.
Payment providers: Access Shopify's Settings page and select the "Payment providers" tab then add your payment information. Paypal should already be recommended. If you haven't had a PayPal account, it is really easy to sign up, and you can add more payment methods later.
Store policy: If you are doing dropshipping, your policy is the first way customers can interact and avoid any issues in the future. Shopify has already provided many helpful tools that can automatically generate standardized terms and conditions, privacy policy, refund policy. Just click on the "Legal" tab from the Settings page.
Shipping rates: A clear shipping rate is critical to gain the customer's trust and make them easier to decide when checking out the cart. You should always offer free shipping if possible, or list out clearly the rates for each region. You can do this in the "Shipping" tab of the Setting page.
Recommended: How to setup Shopify Taxes for Dropshipping
4. Launching the Shopify dropshipping store

All the necessary information has been filled and updated; it is time to launch the store. Simply access the "Sales Channels" tab in the Shopify settings page, then select the "add an online store" option. The end result would look like in the above image.
And when you've done with that, you will have an online dropshipping store that is up and running on Shopify!
5. Designing the dropshipping store
In this section, we'll go through an important phase, which is making your store look nice and attractive. This is how you are presenting your store and the brand to the visitors, not just once but many times, so you want to get it right.
Luckily, a visually pleasing eCommerce store can be achieved without much knowledge of designing thanks to Shopify. There are two key points you need to focus your eyes - theme, and logo, and that is all.

So first, let's pick a good theme for your dropshipping store. Shopify has a theme store with over 70 options, both free and paid for you to choose from. They were created for a variety of businesses and are all beautifully designed, mobile-friendly, optimized for quick loading time. And the more expensive a theme is, the more features you can expect.
But if you are a starter, I'd advise choosing a free theme. If you want help with more logo options, you can check out our article for detailed reviews of many available themes, both from Shopify and other third party providers.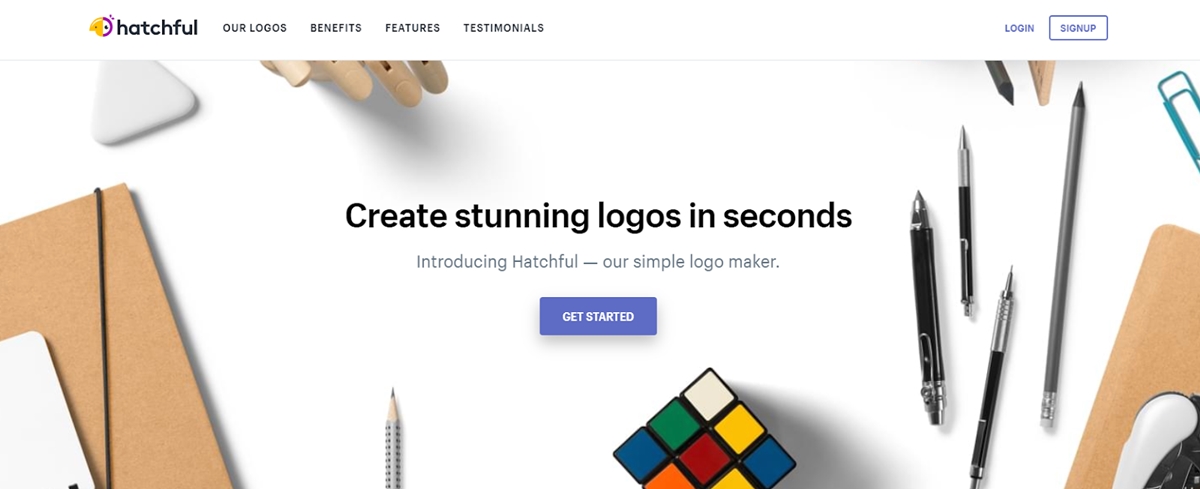 Secondly, you need a logo. This is what the customers would remember your brand for. What you need to do is consider how it looks in your imagination, and how that would fit in with the theme that you chose.
Creating a logo is highly creative work so you can hire a designer to do it for you. But if you want to save time and money, you can use graphic design software like Canva or Adobe Illustrator to make one.
Read out article: Top 12+ Free Shopify Logo Maker
And if you want to test your luck, you can try Hatchful by Shopify, which is a free logo maker that is really simple to use. You just need to enter industry, visual style, store's name, and it will generate a bunch of logos for you. If you search for a while, I think you can find a logo worth using.
6. Using Oberlo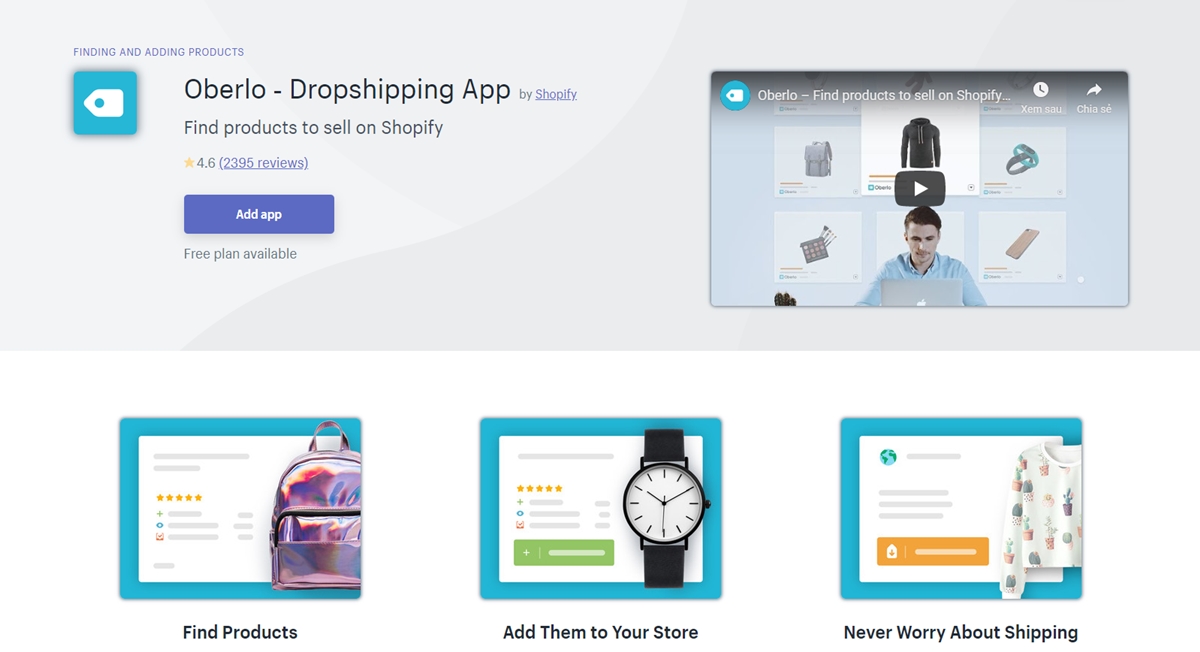 Once you've done designing your Shopify dropshipping store, let's start adding products to sell. This is where Oberlo comes in. First, you will need to install the Oberlo app, which is available on the Shopify app store. Oberlo and Shopify are integrated really easily, so you can start just by clicking the "Add app" button like in the above image.
When you've installed Oberlo with Shopify, a category needs to be added to your Shopify store. You can simply name this category after the type of products that you are thinking of selling like "T-shirts", or "Running Shoes".

Now with the combination of Oberlo-Shopify, you can use the Oberlo app to search for products from AliExpress and import them into the Shopify store. Click the "Add to Import List" button on any products that catch your interest, and you can import their pictures, description into your Shopify dropshipping store.
7. Promote and get sales
Now it's time to start making some money with your Shopify dropshipping store. You won't be having a train of traffic in the first place, so try using marketing campaigns on platforms like Facebook, Instagram, Twitter to draw potential customers. After a while, you should be able to make your first sale and repeat from there.
And that is it; you are now officially a Shopify dropshipping business owner!
Further Reading: Shopify DropShipping Guide: How to Start a Dropshipping Business?
How much money can you make with dropshipping
Even though it is super easy to start just like that, it is time to face the hard question: how much money can you really make when doing dropshipping?
What most people would tell you on the internet is how incredibly simple the process is, how easy money can flow in, and how little time you need to spend managing per day. While those can be true to some extent, dropshipping is not the way to make quick a success like a million dollars overnight.
The reason for this is because when you are doing dropshipping, the margin is much lower than a traditional eCommerce store. The margins range anywhere from 10%-30%, but it can vary depending on the type of products and the deals you have with your suppliers.
Your margins will depend largely on how crowded your market is and how many competitors are in the game. But an average margin of 10-30% can turn big when you sell more and more. That is the beauty of dropshipping; you get the infinite opportunity of scaling your business without worrying about storage or product chain.
Many have made millions of dollars doing this, while many fail from the start. But with so little to start, they didn't have much to lose. To take a look at the market, just head to Exchange Marketplace and see how dropshipping companies with hundreds thousands of dollars in revenue are offered to buy there.
You can make that amount of money, too, if you know how to focus your efforts on good marketing, sales, and customer service. Which leads us to the next question:
Is dropshipping worth it?
Yes, just for the fact that it cost so little to try. I can't guarantee you will make a lot of revenue or run a side hustle with just two working hours per day, but I am sure that trying dropshipping out is worth considering.
Especially with tools like Shopify and Oberlo, you have the tools to automate your process and enjoy the ride. It will still take work to make sales, but you have been reduced much of the hard work of making a store or finding your own suppliers.
Next, we will take a deeper look at when you should or should not do dropshipping.
Further Reading: What Is Dropshipping? Is Dropshipping Profitable?
When to and not to do dropshipping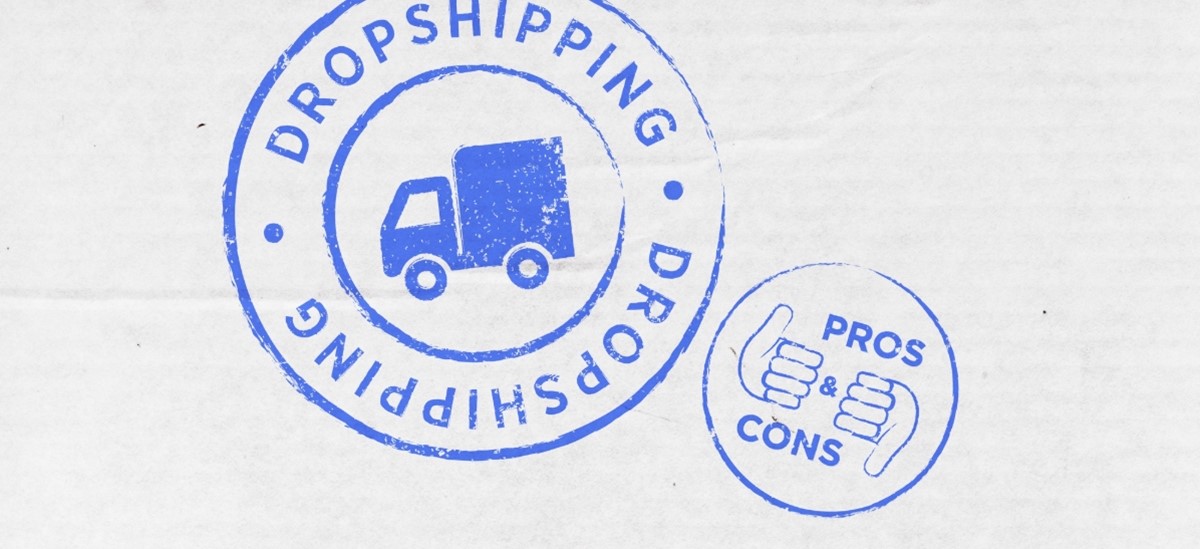 Depending on your needs and goals, we can be divided into two groups. The first group is the people that are suitable for dropshipping.
When to do dropshipping
As mentioned, because you don't have to carry inventory, dropshipping is really easy to start with opening an online store and posting hundreds of products in just a day time. This shop, at first, can help you do market research.
Based on which products that catch customers' attention more, you can pick them to order more or consider storing them and sell at higher margins. Now you have two side hustles that help each other in making more profit out of online visitors.
Overall, these are when you should do dropshipping:
You are new to eCommerce - As an eCommerce newbie, you have dropshipping as a good way to test and try your effort in the eCommerce world with very little risk.
You need product validation - You can use dropshipping as a way to test new products with zero upfront risk.
You want to have a large variety of products - If you are someone that likes having a lot of products to show diversity in taste, then dropshipping is the easiest way to try. With just a few dropshipping suppliers, you can quickly sell hundreds of items overnight.
You are on a small budget - Dropshipping is still widely recognized as the cheapest way to get started in eCommerce due to the fact that you don't need to pay for any inventory.
When not to do dropshipping
Although it is a tempting eCommerce method, dropshipping has its flaws as well. Because you are selling products from other people, you will find difficulties in building your own brand. And since you rely heavily on the suppliers' products chain and shipping, you don't have much control over your customer service.
For example, if an order is shipped late or even worse, never arrives, you are the only one to get the blame, not your suppliers. And if you have a hot selling product but the supplier ran out of it, you won't be able to make money until they restock.
In a nutshell, you should not do dropshipping if you want to have full control of your brand. If your suppliers are not reliable, your dropshipping business may die as well.
Overall, these are when you should not do dropshipping:
You want high margins - With only 10-30% margins, you need good marketing campaigns at a tight budget to promote your business. And only when you are able to sell a lot of products can you make a considerable amount of profit.
You want to build your own brands - While it is possible to have your own branding on items and dropship them, the product chain is still under someone else's control. And if things go wrong, it is your brand that suffers. And, in fundamental, you are still selling someone else's products.
You want exclusivity - When people can get access to the same source of products, there are likely thousands of other vendors that sell the exact same products. This not only limits your pricing power but also the chance for better promotion. And if you go into the price war, you may end up competing with Amazon or other large stores.
Is Shopify dropshipping the choice for you?
In conclusion, dropshipping used to be easier, but now things have changed, and businesses have continued to grow as well. But needless to say, dropshipping is still a highly useful tactic if you can apply correctly.
Whether you are an eCommerce newbie or a seasoned seller that wants to take on new challenges, dropshipping is still worth and remains an interesting choice thanks to its low investment, time-saving, and no inventory required. You can think of dropshipping as a stone to test the market water, a side hustle when you are working full-time, or a dedicated business that you want to make millions out of.
That is for you to decide, and whatever your choice is, I believe you have the quality to make a success. If there is anything that you would like to add more, leave it in the comment section below. And as always, best of luck on your eCommerce journey!
Related Posts:
---
Sam Nguyen is the CEO and founder of Avada Commerce, an e-commerce solution provider headquartered in Singapore. Sam aims to support more than a million online businesses to grow and develop.
New Posts
Stay in the know
Get special offers on the latest news from AVADA.