What Is Shopify & How Does It Work? - Shopify 101
Let's take a look at what Shopify is and how it works in this article.
What is Shopify?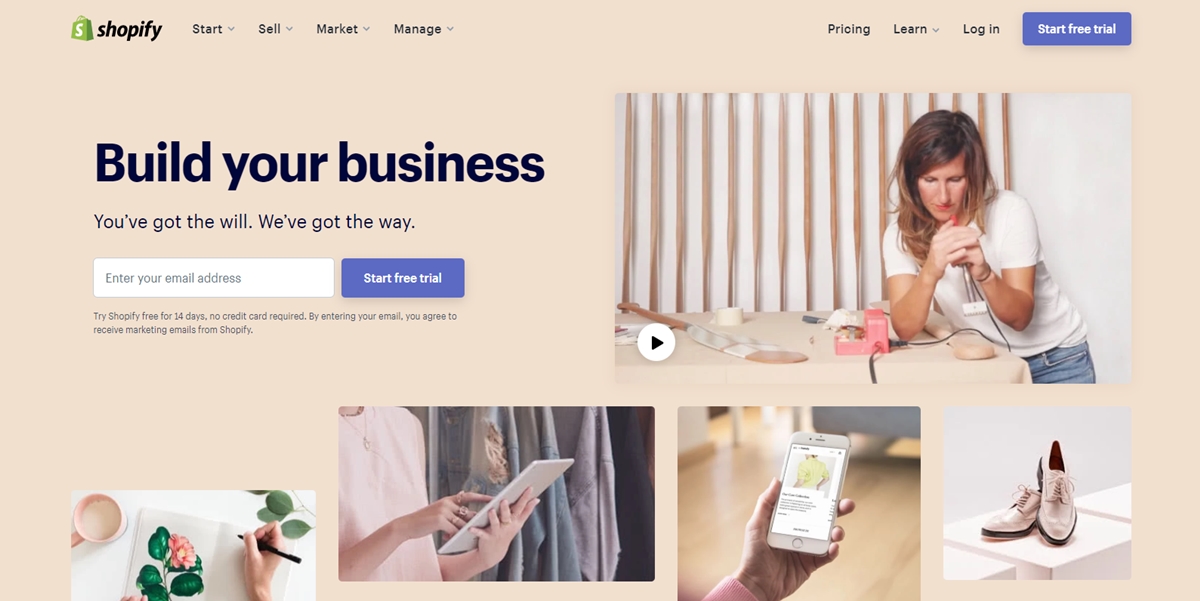 Shopify is an e-commerce platform for online stores and retail POS systems. The Shopify platform provides online retailers with a variety of services, including payment, marketing, shipping, and customer engagement tools.
In 2004, Tobias Lütke, Daniel Weinand, and Scott Lake founded Shopify in Ottawa, Ontario, Canada, because they did not find a suitable ecommerce platform to sell their snowboards.
After 18 years, Shopify has now become the best eCommerce platform for small to medium size businesses, with more than 1.7 million merchants worldwide.
What is Shopify used for?
Shopify is used as a SaaS (Software as a Service) to build online stores, set up payment processors, sell through multiple sales channels, set up POS (if you are a brick-and-mortar store owner), and keep track of your business.
How does Shopify work?
Shopify works as a solution for you to manage your product data, customers, and operational tasks centrally in one platform. Once you set up the basic functions, you can explore and expand into new product lines and sales channels.
More importantly, Shopify allows merchants to build and customize an online store and sell online, on mobile, in person, at brick-and-mortar locations, in pop-up shops, and across multiple channels, from social media to marketplaces.
Shopify also provides an array of tools to manage products, inventory, payments, and shipping and unify those disparate systems and data.
What are Shopify's products and features?
Shopify's core product
When you subscribe to a Shopify plan, you can use Shopify's core product as a starting point for your online business, including but not limited to the following features:
A wide range of store design templates
Tools for selling and managing your online store and retail store
Payment processing
The conversion-optimized checkout
SEO and marketing tools
And many more
Shopify's other products and applications are built upon this foundation. Moreover, you can use Shopify's APIs and development tools to further customize your store's capabilities.
Drag and drop store builder
The Shopify drag-and-drop store builder lets you create a beautiful website to sell products within minutes. The store builder doesn't require any coding, and you can choose a predesigned theme from the Shopify theme store. You can also edit HTML and CSS files to customize the look of your store.
Tools to sell on multiple sales channels
Shopify offers tools for you to sell on multiple sales channels, whether you sell online, offline, on marketplaces, or on social media.
The Shopify admin panel also helps you optimize your sales channels and improve your online store from your customers' preferences data.
Shop Pay - Shopify's accelerated checkout
Shop Pay is a payment service provided by Shopify.
With Shop Pay, customers are able to save their email addresses, credit cards, shipping details, and billing information during the checkout process. Using Shop Pay during checkout can save your customers' time, especially if they have already opted into Shop Pay on any Shopify store.
Shopify Shipping
Shopify Shipping is a solution where Shopify established partnerships with leading carriers so you can get discounted, pre-negotiated rates for shipping.
Shopify Payments
Shopify Payments is the default payment method on Shopify. Using Shopify Payments, merchants can avoid third-party transaction fees on orders processed through Shopify Payments, Shop Pay, and Shop Pay Installments.
Shopify Markets - selling internationally
Shopify Markets provides business owners with a cross-border management tool that allows them to sell globally from a single store.
Aside from this, it supports the most popular local payment methods to maximize checkout conversions and minimize the risk of cart abandonment or payment processing problems.
SEO and marketing tools
Shopify SEO and marketing tools provide you with solutions for blogging, Search Engine Optimization, and Customer Grouping for your ecommerce store.
Moreover, Shopify has the Campaign Creation tool to help you set up your Email Marketing, Google Ads, and Facebook Ads.
Additional products and services offered by Shopify
Shopify's additional products and services are powerful upgrades and exclusive to Shopify customers and are designed to help independent business owners gain an advantage over competitors.
Shopify Fulfillment
A fulfillment service is a warehouse that handles all aspects of inventory management, from storing to packing to shipping orders to customers.
Shopify Fulfillment is the same as regular product fulfillment but with the added benefit of integrating with your Shopify store.
You can start distributing your products across the Shopify fulfillment network, managing inventory storage, operating order packing and delivery preparation, delivering products to your customers, and having Shopify automate your returns processing, inspections, and tracking.
Shopify Balance
Shopify Balance is a feature offered by Shopify to manage your money and business in one place. It's an alternative to a traditional bank account, but better.
With Shopify Balance, you can skip fees, keep track of your finances, simplify your taxes, transfer money easily and earn cashback while spending to grow your business.
Shopify Capital
Shopify Capital is a business financing program provided by Shopify to help merchants with fast access to business loans and cash advances.
Shopify Capital offers fast and hassle-free application processes, with funds provided in days (not weeks) and automated payments.
Shopify Flow
Shopify Flow is a solution that helps you automate your Shopify store. With Shopify Flow, you can automate inventory management, fraud prevention, fulfillment management, loyalty programs, and retention.
Shopify app store and Shopify theme store
Shopify Apps Store
The Shopify App Store is a marketplace for applications where Shopify Merchants can find Apps to help them customize their ecommerce store and grow their business.
Different businesses need different apps, and Shopify App Store providesmore than 8000 apps(and growing) for your Shopify store, whether you are about to start selling online or in person.
Shopify Themes Store
The Shopify Theme Store is a marketplace for your online store looks, features, and UX (User Experience).
Moreover, Shopify Theme Store helps you customize your own online store with no coding.
What is Shopify's pricing?
Shopify pricing is the monthly fees based on your Shopify subscription plan, plus added fees for payment processing, shipping labels, and advanced POS needs.
Shopify Subscription Fees
Shopify Starter plan
The Shopify Starter plan is an entry-level plan from Shopify which helps store owners sell products online without complicated tools, high pricing, or even the need for their online store.
The only subscription cost of the Starter plan is $5 per month (including 5% per transaction for credit card fees).
Due to its compactness and lightweight, you don't get full access to certain features like the website builder, custom domain support, abandoned cart recovery, etc.
Shopify Lite plan (has been replaced by the Shopify Starter plan)
The Shopify Lite plan, just like the Shopify Starter plan, is an entry-level plan for store owners to start selling on Shopify.
The Shopify Lite plan started at 9$ per month. However, it has been replaced by the Shopify Starter plan (which is cheaper!).
The Basic plan
The Basic plan is a payment plan for using Shopify with the following:
Basic reports
2 staff accounts
Up to 4 inventory locations
Up to 77% shipping discount
It also allows you to access the Shopify core products (like the Shopify plan and the Advanced plan), including:
Online store
Sales channels
Point of sale
24/7 Shopify supports
The Basic plan starts at 39$ per month (or 29$ per month by choosing the yearly billing) with the credit card rate at:
2.9% + 30¢ USD online
2.7% + 0¢ USD in person
Shopify Credit card rate is a small fee that Shopify charges to allow you to accept major credit cards, such as Visa and Mastercard, as payment in your store.
The Shopify Plan
The Shopify Plan is a payment plan for using Shopify with the following:
Professional reports
5 staff accounts
Up to 5 inventory locations
Up to 88% shipping discount
Including Shopify core features
The Shopify plan starts at 105$ per month (or 79$ per month by choosing the yearly billing) with the credit card rate at:
2.6% + 30¢ USD online
2.5% + 0¢ USD in person
The Advanced plan
The Advanced Plan is a payment plan for using Shopify with the following:
Custom report builder
15 staff accounts
Up to 8 inventory locations
Up to 88% shipping discount
Including Shopify core features
The Advanced Plan starts at 399$ per month (or 299$ by choosing the yearly billing) with the credit card rate at:
2.4% + 30¢ USD online
2.4% + 0¢ USD in person
Shopify Plus (The enterprise plan)
Shopify Plus Plan is the enterprise-level payment plan for using Shopify's exclusive features for high-volume, multi-location, and multi-million dollar sellers.
Starting at 2000$, this plan's prices, terms, and features are negotiated based on sales volume and business needs.
Transaction fees and Shopify Payments
Shopify Payments is Shopify's very own payment service that serves as the default payment gateway for your store.
Shopify Payments sets up your store to accept payment through all the popular payment methods like credit cards, debit cards, Apple Pay, Amazon Pay, etc.
If you don't use Shopify payments, you will be charged 2% transaction fees (for Basic, Shopify, and Advanced Plan).
Additional Shopify Plans, Pricing, and Costs
The Shopify POS Lite is a solution for offline stores, where you can track your sales from your brick-and-mortar shop and online store in one place.
The Shopify POS Lite is free for all plans, with a POS app and integrated hardware (one-time purchase of 49$).
Additionally, Shopify POS Pro is the solution for a bigger system of retail stores. Shopify POS Pro operates on an iPad connected to the checkout stand, cash drawers, card readers, and other checkout accessories.
Shopify charges 89$ per month per store for Shopify POS Pro.
Why is Shopify so popular?
Who uses Shopify?
Top Industries are using Shopify Plus at the enterprise level are:
Retail: 17%
Fashion: 14%
Computer Software: 9%
The following top players are in:
Wholesale
Consumer goods
Health, wellness, and fitness
IT
Internet
Marketing
Cosmetics
You can check out the 2022 top 5 Shopify stores here to see how Shopify make them to the top:
Kylie Cosmetics - United States
Fashion Nova - United States
JB Hi-Fi - Australia
Gymshark US - United States
ModCloth - United States
Why do merchants love this ecommerce platform?
The reasons why Shopify is so popular are:
Shopify is easy for beginners: Shopify has an intuitive interface with the drag-and-drop method so that you can create your store "in minutes" without any technical expertise.
Shopify is affordable and has great scalability: Shopify plans are very reasonable for store owners to start selling on Shopify. When your business grows, the pricing and added features are really on point compared to the other ecommerce platforms.
Shopify has a lot of free resources: Shopify provides many free resources, from free trial, free store themes, and free apps to free stock photos, free Logo Maker, and even free Video Creator.
Advanced Shopify Marketing and SEO solutions: Shopify is helping merchants with an extensive library of tutorials and courses on how to get a higher ranking on Google and present their products to a targeted audience. More importantly, Shopify has tools for your SEO and Marketing campaign management, all in one place!
Shopify has a huge ecosystem: The Shopify platform offers a huge ecosystem of apps (more than 8000 and growing) and services that can be customized and utilized in order to grow and customize your online store. Moreover, there are plenty of services that can assist you with things such as marketing, shipping, and more.
Shopify is mobile-friendly: 69% of orders from Shopify stores come from Mobile. The average conversion rate for Shopify stores on mobile devices is 1.2%, although the top 10% and 20% of Shopify stores have conversion rates of 2.7% and 3.9%, respectively. All that is thanks to the free mobile features that were built into your Shopify store.
What can I sell online with Shopify?
You can always start selling with the following products:
Clothing
Jewelry
Home Accessories
Travel products
Baby or maternity products
Bags and luggage
Fitness accessories
Beauty products
Kitchenware
Pet products
Automotive accessories
And much more!
In addition, you can also set up your online business with Shopify if you are in these industries such as:
Service appointments
Memberships
Consultations
Digital products
Experiences
Classes and workshops
Rentals
Quotes, estimates, and assessments
Donations
Event tickets
Digital gift cards
Live streams
What sales channel does Shopify support?
Online sales channels
Shopify supports online sales channels such as:
Online stores (your own ecommerce store)
Online Marketplaces (eBay, Google Shop)
Social media (Facebook & Instagram, Tiktok, Youtube Shopping)
Offline sales channels
Shopify supports offline sales channels such as:
Brick-and-mortar stores (with Shopify POS lite and POS pro)
In-person
Shopify Pros and Cons
Before start selling on Shopify, here are the Pros and Cons of the platform:
Pros:
Shopify is easy to use
Shopify has 24/7 available Customer Support
Shopify has multiple Payment processor
Shopify has a massive ecosystem of apps and plugins
Marketing, and SEO solution is built into your Shopify plans
Shopify is a self-sufficient platform, which does not depend on a host. It means that Shopify will take care of your hosting and security.
Cons:
Pricing: Shopify plans might confuse you at the beginning
Shopify uses its Liquid setup, unlike other platforms that use PHP for customizing themes
Shopify does not provide Email Hosting
Who are Shopify's competitors?
In spite of Shopify's status as a top e-commerce platform and a market leader, they do not control the majority of the market.
Here are the top 13 Shopify's competitors:
WooCommerce: An open-source e-commerce plugin for WordPress.
BigCommerce: A small and medium-sized business solution that provides online store creation, SEO, hosting, marketing, and security.
Magento: As known as Magento 2.0 and Adobe Commerce, it is an open-source e-commerce platform written in PHP.
Squarespace: A website building and hosting SaaS, based in New York, USA.
Wix: An Israeli SaaS of cloud-based web development services.
Volusion: A SaaS in ecommerce software, marketing, and web design services for small and medium-sized businesses.
Lightspeed: A point-of-sale and e-commerce software provider based in Montreal, Quebec, Canada.
Big Cartel: A web-based e-commerce platform geared toward independent artists and retailers.
Godaddy: A web host, domain registrar, and website-building platform.
PrestaShop: A freemium, open-source e-commerce platform written in PHP.
Opencart: A free, open-source e-commerce platform for online merchants.
Webflow: An in-browser design tool that gives you the power to design, build, and launch responsive websites visually.
Clickfunnels: a sales funnel creator to help businesses automate their sales process from A to Z.
Key takeaways
Shopify is a user-friendly e-commerce platform for small and medium-sized businesses that helps them create online stores.
Shopify is affordable and has great scalability.
Shopify's plans might seem confusing, but don't worry we can help you with it.
Shopify has a huge ecosystem built around its core products.