Top 13+ Best Dropship Companies with No Membership Fees - Free Dropshippers
As you're searching for this topic and discovering this article, you must be planning to start a dropshipping business. One of the most important steps of this process is finding high-quality dropshipping companies to partner with.
On the Google search results, you will get thousands of results when you search for dropshipping companies, but with that sheer number of results, it's very hard to find out what the best choices are. On top of that, your search results might contain dropshipping companies that require you to pay an upfront fees in order to join their systems.
To spare you the headaches, this article will present to you the best Free dropshippers on the market, and what's even better is that these companies require no membership fees at all!
Let's jump right into it!
1. Oberlo: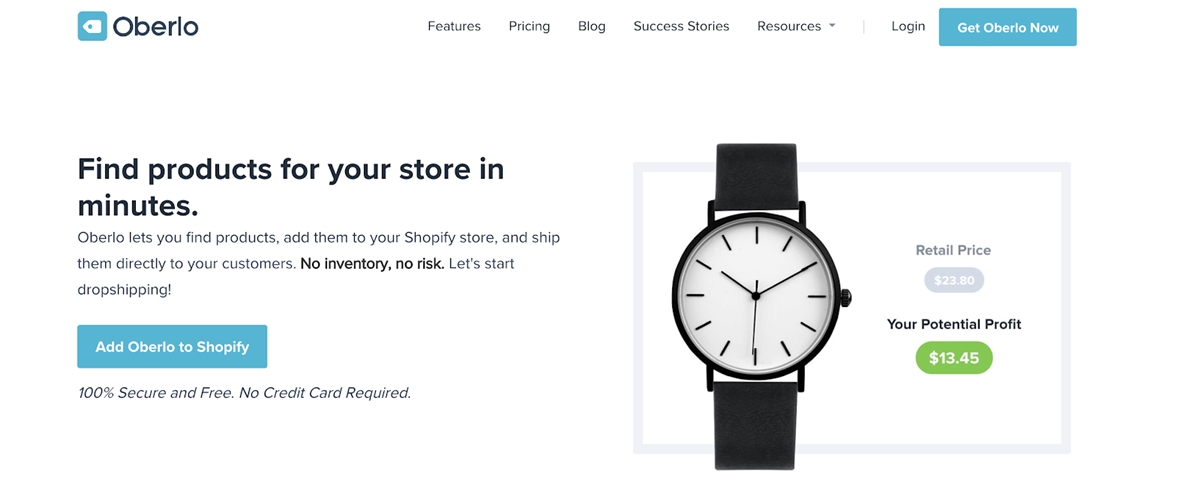 Oberlo is one of the most popular apps in the dropshipping world. Tons of dropshipping merchants use it to find and sell products from Aliexpress. Using Oberlo, you will get to enjoy these benefits:
It's very easy to find and import products from Aliexpress to your online store.
There are millions of products on Aliexpress, so no matter what the product you want to sell is, you will find it on Aliexpress
Oberlo automates most of the order fulfillment process for you, so you can process orders with just a few clicks.
You can sync your inventory data to Oberlo so that prices and stock levels will be automatically updated.
You can modify the products you import to your store however you want in terms of prices, description, images, titles, etc
You will have shipment tracking for all orders so you can know the location of your orders at any given time.
You can have multiple accounts to run your store so that when you hire more people to assist you, you won't have to share accounts.
It's very easy to find a new supplier for an existing product.
Oberlo offers a free plan with sufficient features for you to get started. When you grow bigger and need more features, you can upgrade to paid plans.
2. Spocket:
If you don't want to dropship products from Aliexpress, but want to dropship with suppliers based in the US or UK, Spocket is the right solution for you. It is a Shopify dropshipping app that connects you with suppliers based in these two regions.
Here are the main benefits of using Spocket:
You will get a very good profit margin as Spocket suppliers offer products from 30-60% discount.
Spocket has a huge collection of products of various industries.
You can place sample orders.
The app is very intuitive to use, and it automates most of the manual tasks.
Suppliers on Spocket are inspected very carefully by the Spocket team, so you can rest assured that you will have access to only high-quality suppliers.
Spocket offers a free plan that enables you to make your first sales with no membership fees before making further investments. When you grow bigger, you can upgrade to its higher plans to get more features and benefits. We have a comprehensive Spocket review, you can view it for more information.
3. SaleHoo: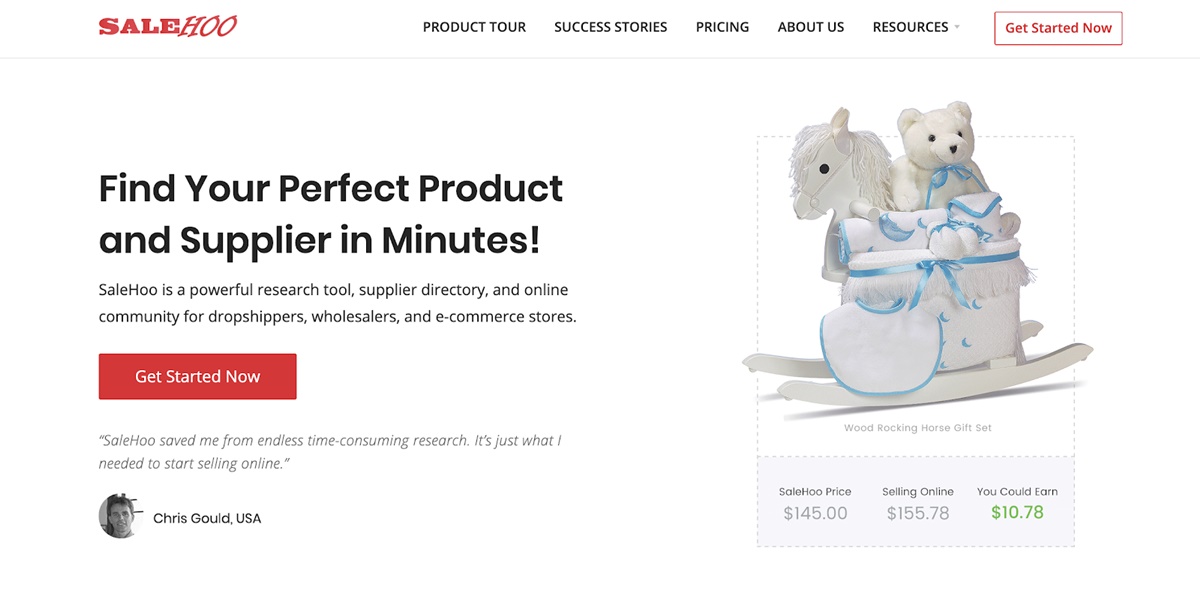 SaleHoo is a powerful dropshipping platform. You can use it not just to find suppliers, but also to do product research and take advantage of the dropshipping resources it has built.
With SaleHoo, you will get to enjoy these benefits:
There are more than 1,000 trusted dropship suppliers on SaleHoo. So, for whatever you want to sell, you will find a suitable supplier SaleHoo's carefully vetted list of high-quality suppliers.
Tons of products from various industries.
The dashboard is very functional and easy to use
SaleHoo does not require any minimum orders or application fees.
You will get full access to SaleHoo's exclusive list of suppliers, products, market research tools, training resources, and new features as they're released.
SaleHoo is one of the best dropshipping companies on the market. It charges you a fee of $67 annually, but you will get your bang for the buck with the excellent customer service and resources from this platform.
4. Alidropship: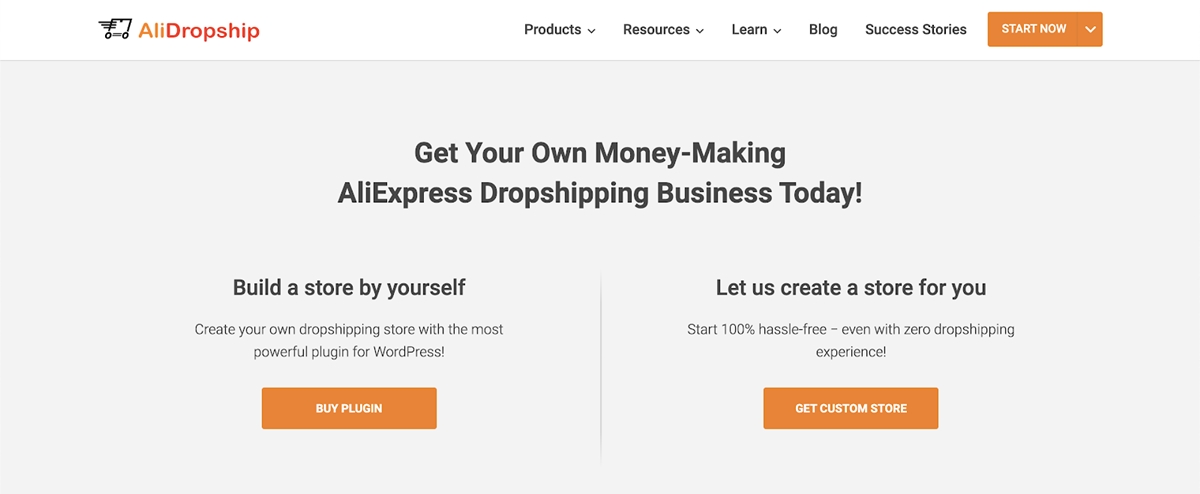 Alidropship is another tool that you can use to dropship on Aliexpress; this tool is built and owned by the platform itself. If you're wondering what the difference between Alidropship and Oberlo is, Oberlo is a Shopify app and compatible with Shopify only while Alidropship is a WooCommerce plugin.
Alidropship comes with these benefits:
It's very easy to install Alidropship. Just like Oberlo, it automates most of the order fulfillment process and automatically updates prices and inventory levels.
You can sort products easily and quickly with its many filters.
Alidropship has the feature of pricing automation which enables you to set up your markup formula. This means when your suppliers change their prices, your prices will adjust based on your formula.
The number of products you can import and sell is limited.
The products you import into your store will come with their reviews on Aliexpress, this will help you increase your credibility to your customers.
Alidropship has built-in marketing tools to help you boost your sales.
24/7 support free of charge.
Aliexpress does not require membership fees from you, but it does cost $89 as a plugin, and this is a one-time payment. One downside of Alidropship is that you can't use it if you don't build your online store on Wordpress.
If you want to learn more about how Alidropship work in the dropshipping process, check out these articles:
5. Wholesale Central: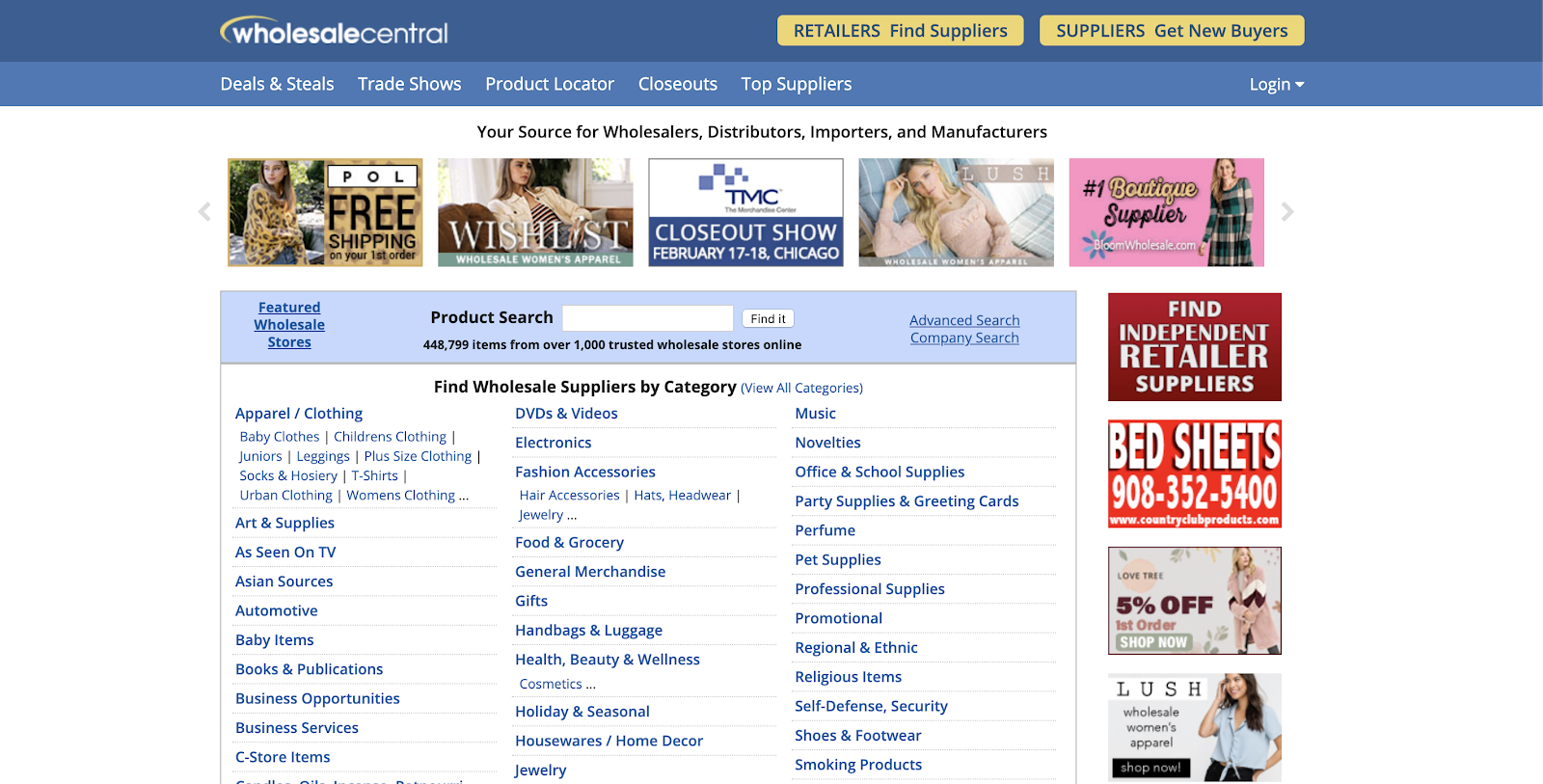 Wholesale Central is another great source to find suppliers for dropshipping. This company is not an app or a plugin, but it is a directory that contains loads of suppliers across industries.
When you know what you want to sell, you can go to its website and browse its directory to look for suitable suppliers. When you choose a supplier, you will get a list of details about that supplier, and get to view their products on their website too. There's no middlemen during all of this. The site require no membership fees to use.
These are the benefits that you can enjoy with Wholesale Central:
It requires no fees to use the site.
You can work with the suppliers you choose directly.
Wholesale Central inspects suppliers carefully before it lists them on the site, so you can rest assured that suppliers on Wholesale Central are high-quality.
New suppliers are added frequently.
6. Inventory Source: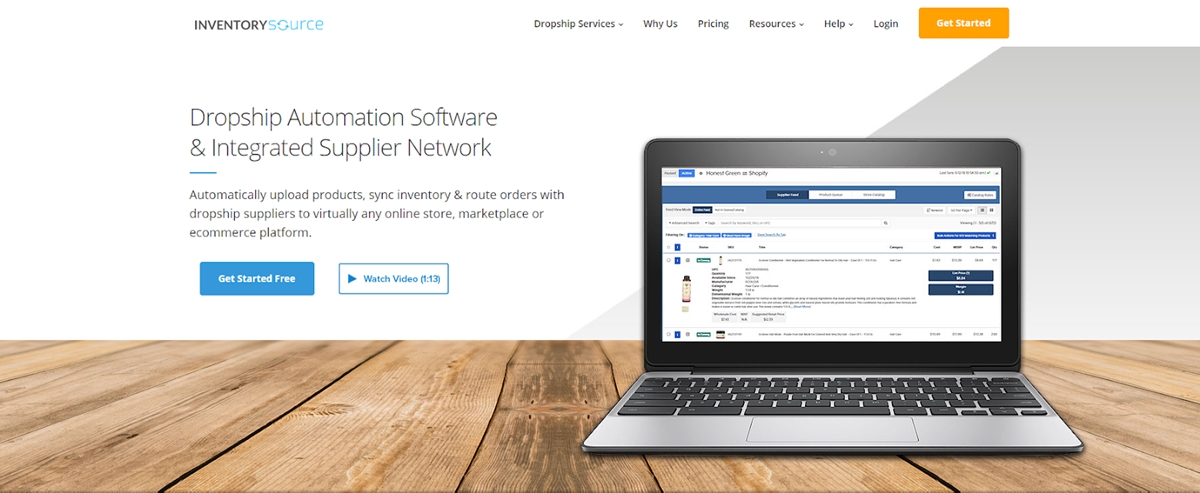 Inventory Source is one of the top dropshipping companies. It has a massive collection of more than one million products offered by thousands of suppliers in its network. Inventory Source also provides you with a dropshipping automation software that will help you reduce your manual work so that you can have more time to sell your products.
You can integrate Inventory Source with the most popular eCommerce platforms such as Magento, Shopify, Bigcommerce, and Amazon.
Here are the benefits that come with Inventory Source:
It require no fees( free plan) for new customers
It provides new users with tons of educational resources
The automation app will help reduce your manual work
You will have full product data uploaded to your website
You will have access to 24/7 customer support.
Inventory Source does offer a free plan for dropshipping stores, but you will not have access to its automation app, and you will have to contact suppliers yourself to find products to dropship and choose a suitable shipping option.
7. Sunrise Wholesale: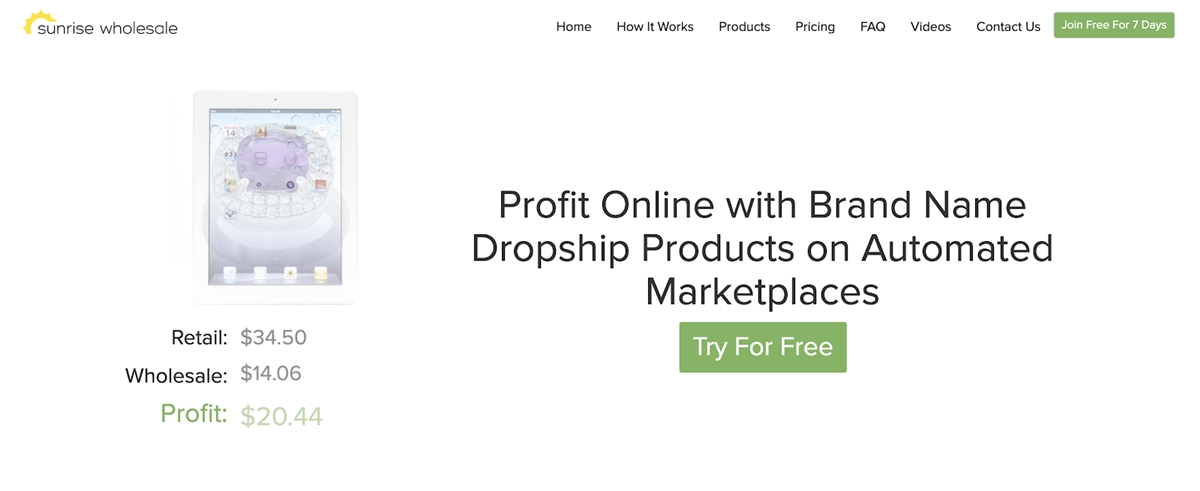 Sunrise Wholesale is a veteran; it has been in business since 1999. For years, this company has been providing entrepreneurs with high-quality products for their dropshipping businesses. Sunrise Wholesale's offerings are huge including many categories such as apparel, electronics, home decor products, tools, gifts, toys, etc.
You will get these benefits by using Sunrise Wholesale:
Sunrise Wholesale can be seamlessly integrated with leading online shopping platforms
There's no membership fees
You can export products directly to your own website, including their images and descriptions
Sunrise Wholesale enables you to integrate your eBay account and list products from the product page directly.
You will get a 7-day free trial so that you can check out products and available features.
One downside of Sunrise Wholesale is you will have to pay 20% restocking fees for non-defective items that your customers return. Also, its product offerings are just about 16,000 products from many different categories, which might not satisfy all of your needs.
8. Dropship Junction: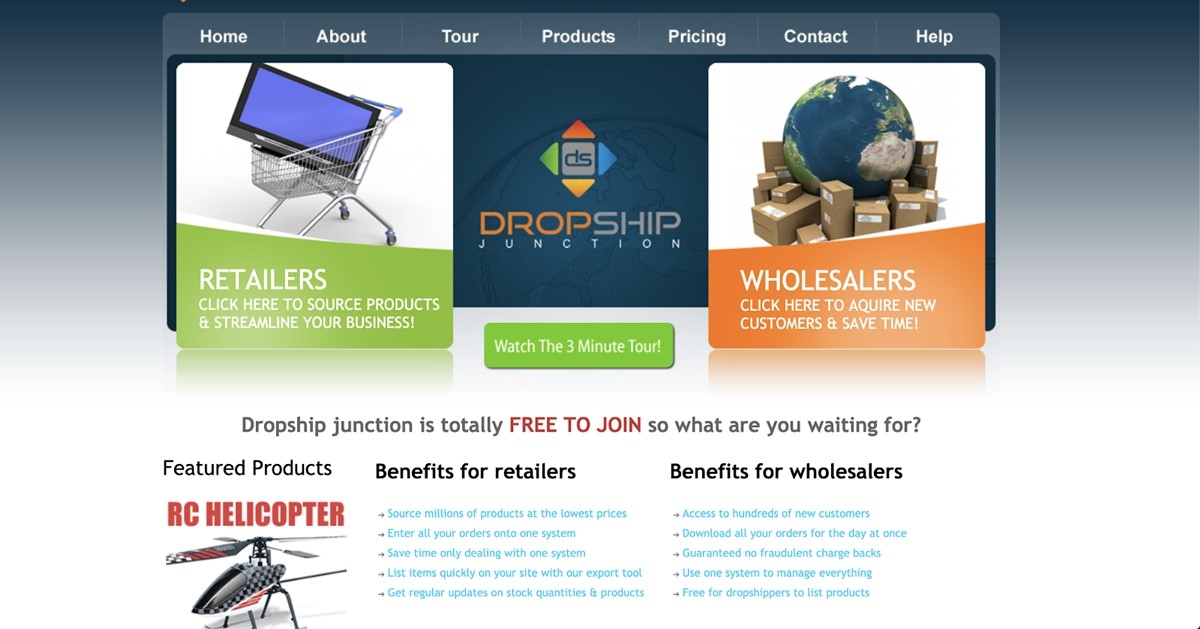 Dropship Junction is an online trading platform. They do not carry or sell any products themselves, but it was built to bring wholesalers and dropshippers together so that they can do business on the same platform. Dropshippers get to search through the listed products and choose what they want to sell. Dropshi Junction is also a free dropshipper( it means that you have not to pay any membership fees).
Other benefits it provides for retailers include:
This platform requires no membership fees or registration.
Dropshippers can have access to millions of products at the lowest prices.
Dropship Junction provides you with an app to import products to your store.
Inventory levels are automatically updated.
9. Big Dropship: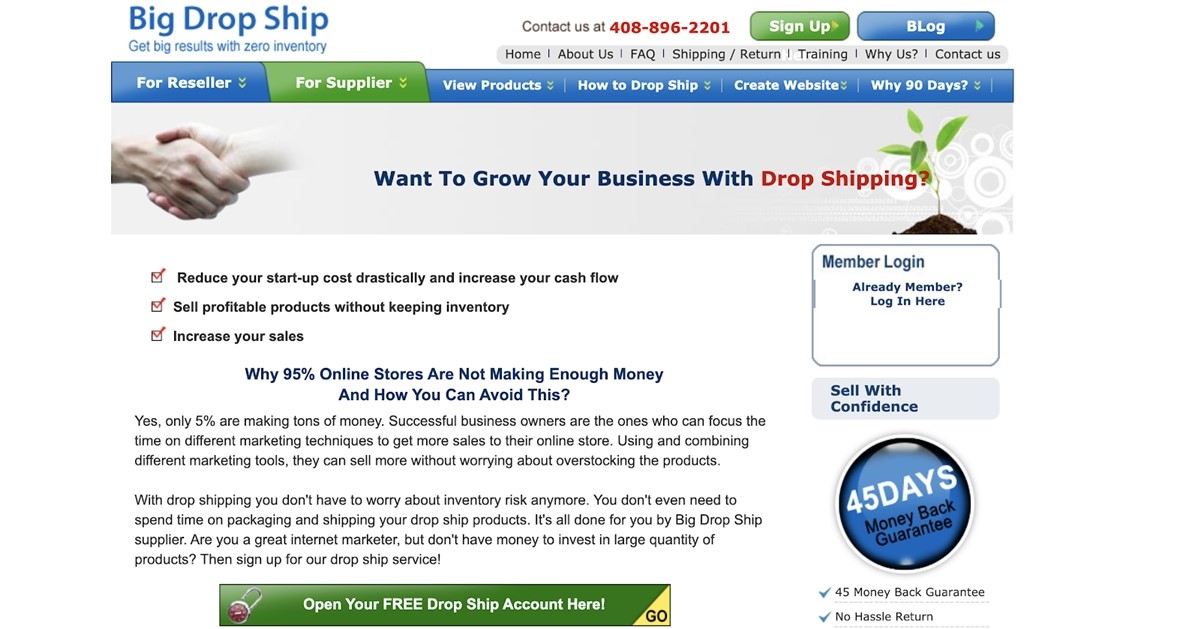 Big Dropship ensures that business owners don't have to withstand the risk of purchasing and managing product inventory, so that they can focus their time and energy on the marketing and selling of their products.
Big Dropship will bring you these benefits
You can have market surveys for the best deals.
You will get product offerings from best suppliers.
The dropship experience will be easy and profitable.
There's no membership fee required to sign up or use Big Drop Ship.
10. ChinaBrands: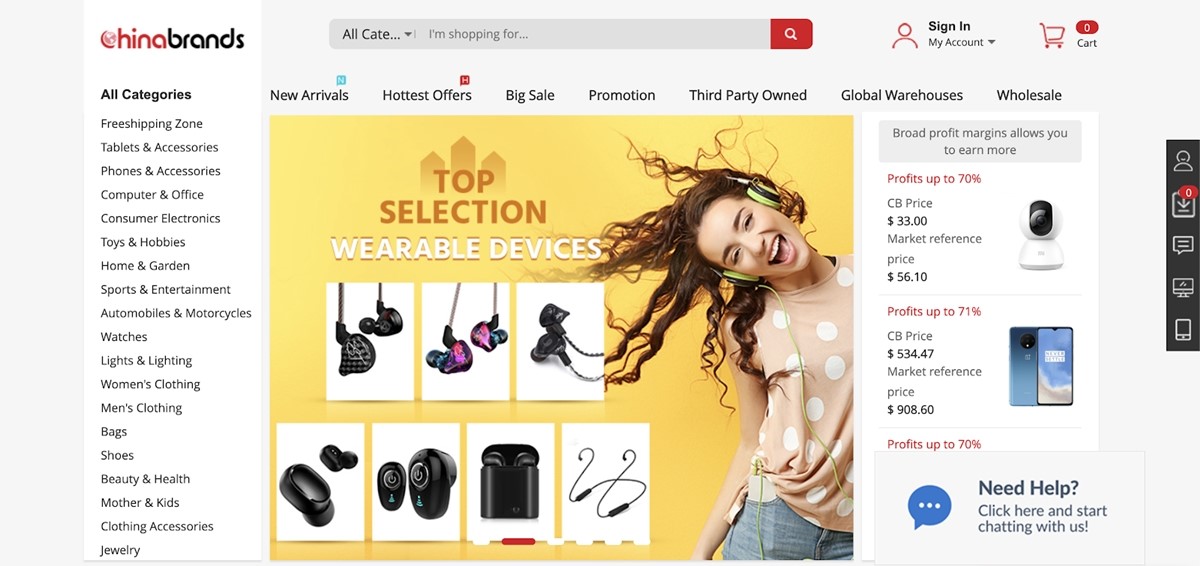 Chinabrands is a top global dropshipping company based in China. It provides you with an opportunity to start a dropshipping business at a low investment. Chinabrands provides a full-blown dropshipping service including product sourcing, product publishing, automation, shipping, and so on.
There are more than 500,000+ products in ChinaBrands' catalogs including clothing, bags, shoes, accessories, jewelry, beauty products, etc. The company also adds more products to their catalogs every day.
You can integrate Chinabrands with big sales channels such as Amazon, eBay, Shopify, etc. With more than 5000 verified suppliers having joined its network, Chinabrands enables you to find and dropship just everything that you're interested in with no minimum quantity required.
Chinabrands also provides you with SEO-optimized product descriptions which you can import directly to your online store. This will spare you lots of time spent on writing product description, and help your store rank better on the Google search.
With Chinabrands, you will get to enjoy these benefits:
Products comes from 5000+ verified high-quality suppliers
There are more than 500,000+ products of 170+ categories
No MOQ is required.
You will get beautiful wholesale price from $0.3
Chinabrands is strict on quality inspection and inspect suppliers very carefully before letting anyone into its system.
It's free to import SEO-optimized product listings.
Orders are automatically fulfilled
Chinabrands can be integrated with 20+ platforms.
11. Albany Distributing:

Albany Distributing is a wholesale distributor who can provide you with a big collection of consumer electronics, and voice-converged communication products. This company was founded in 2004, and it has shown a steady sales growth rate over the last fourteen years. Their success has enabled them to expand their distribution channels and quickly grow to be an established company in the industry of dropshipping and wholesaling.
One of their major product lines is Plantronics (the world's leader in communication telephone headsets). Albany Distributing is a strong player in the headset industry, and it offers headset solutions for homes, small and medium businesses, call centers and enterprise applications. Esspecially, Albany Distributing is a dropship company with no membership, you will not pay any fees when working wiht this dropshipper.
Here're the benefits of dropshipping with Albany Distributing:
No upfront inventory
No handling or dropship fess
Return made easy.
Worldwide shipping
No minimum order
Same day order fulfilment
Super blind dropshipping
No imposition on where to sell your product
Excellent customer service
Free registration.
12. Modalyst: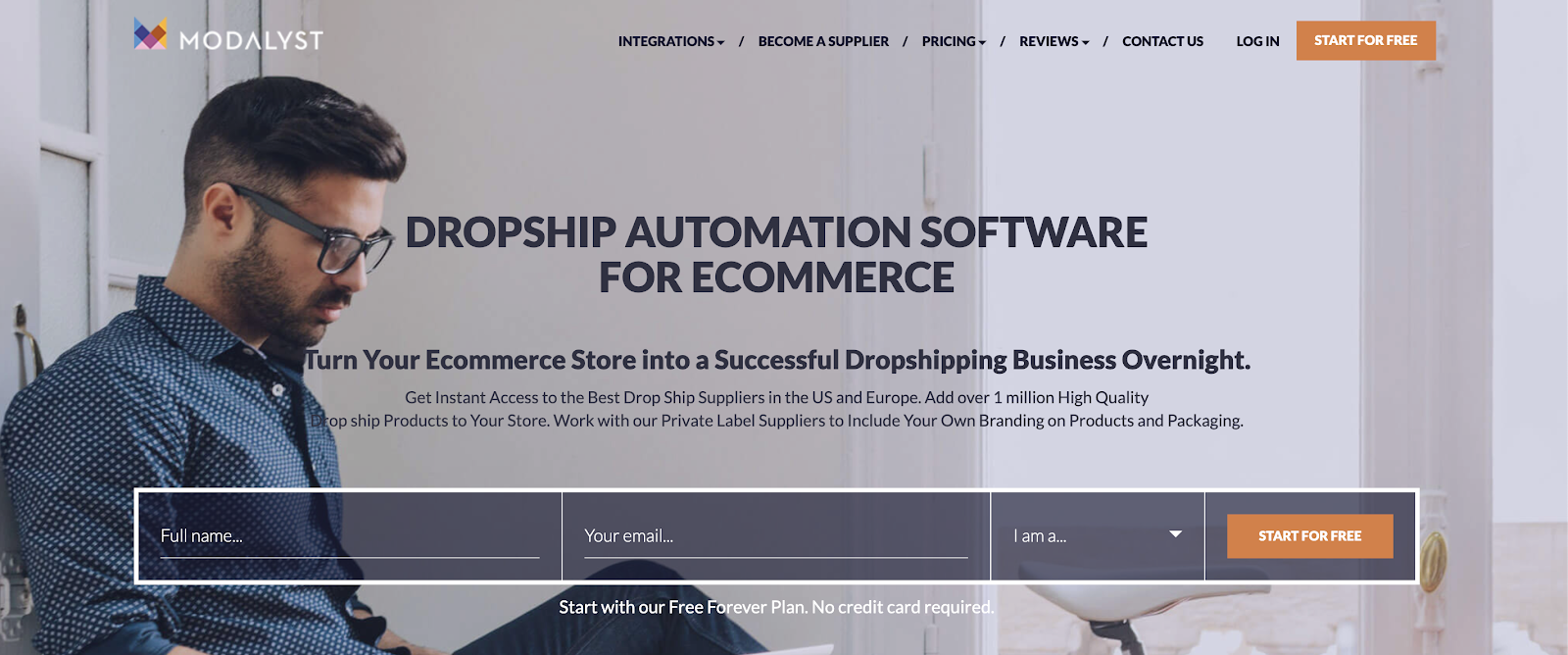 Modalyst is one of the best dropshipping companies with no fees. It connects high-quality suppliers based in the US and Europe to dropshipping entrepreneurs.
There are millions of products across different categories in Modalyst's catalog for you to browse and choose. Modalyst also supports one-click function to import products from your Modalyst dashboard to your website.
The Modalyst marketplace can seamlessly be integrated with Shopify and Bigcommerce using extensions that are already available on these platforms.
These are the benefits you can enjoy with Modalyst:
Modalyst offers a free plan for eCommerce entrants.
You will have the option to change product prices and other variants before importing to your website
Modalyst comes with automated inventory management that has real-time alerts for products that are out of stocks, and those whose prices get changed.
Delivery times are generally short; 5-7 days on average once an order is placed.
You will have access to Modalyst's educational resources on Help Center and the Modalyst blog.
13. Chinavasion: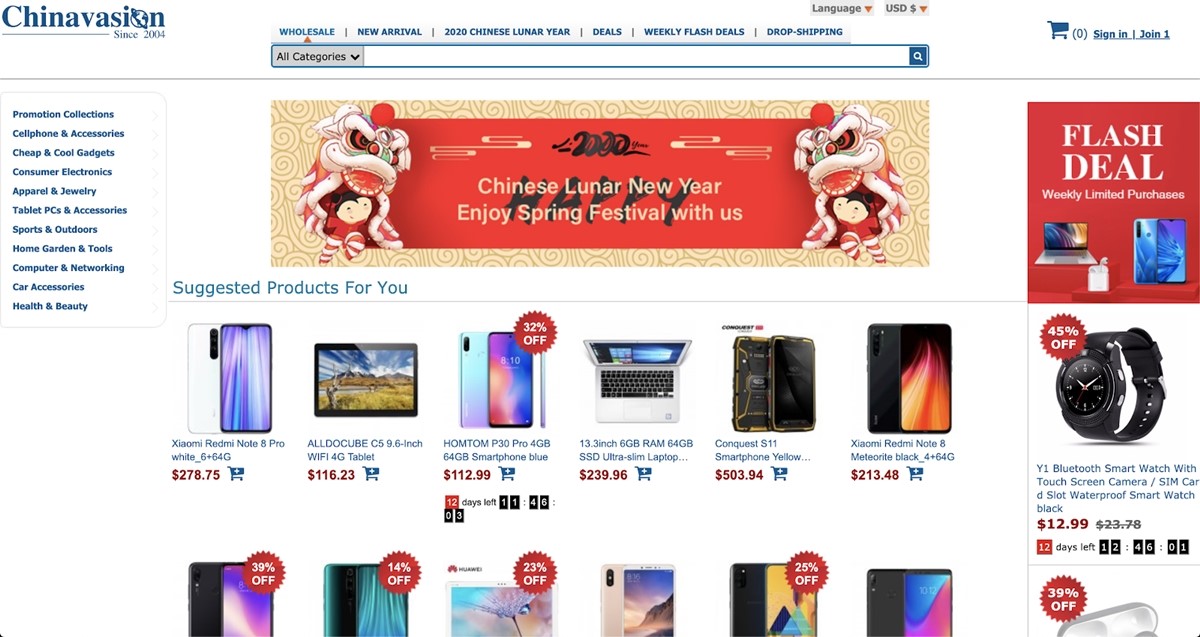 Chinavasion is another great dropship company without membership fees. It deals with many different product categories such as electronics, accessories, gadgets, etc. Chinavasion takes product quality very seriously, so they do intensive inspections before letting suppliers display products on their marketplace. They are so confident about the quality of their product that they provide their customers with a 12-month quality guarantee.
Here are the benefits of partnering with Chinavasion:
It's free to register, and you won't get charged any extra fees for the dropshipping service.
No MOQs are required.
You will get discounts when your order history increases.
World-class support system.
Every product shipped to your customers will come with a 12-month quality guarantee.
Final words
Dropshipping is truly one of the best business models in the Internet age, especially for entrepreneurs who cannot afford big initial investment at the beginning. I hope this list of Top 13+ Best Dropship Companies with No Membership Fees has helped you find the right dropship company to partner with, as well as kick off your dropshipping venture.
Go and make your dream come true, it's time to take action now!
Related Posts:
New Posts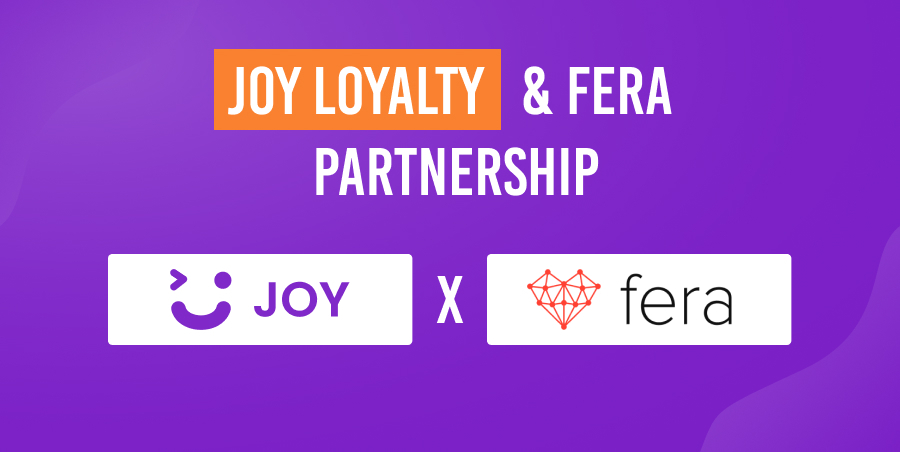 Subscribe
Stay in the know
Get special offers on the latest news from AVADA.
40k
subscribers has been joined!
Earn $10 in reward now!