Top 11+ Shopify Dropshipping Suppliers Free & Premium in 2023
The Internet has created one of the most cost-effective ways to start a business - dropshipping. It is cost-effective because this business model costs zero initial investment to start. I guess that this is the reason why you decide to join the world of dropshipping, isn't it?
One of the hardest choices to make when it comes to dropshipping is choosing the right dropshipping suppliers to partner with. Your dropshipping partner will be the one who handles all the logistics of your orders, from packaging to delivering them to your customers.
Choosing the right dropshipping partner is super important because all of your reputation and business depends on them. As you may know, you will handle only the marketing and selling of the product, but this is just the easier part of doing business. The harder part is getting your customers to buy again or recommend others to buy from you. If you want that to happen, customer service (including on-time delivery, after-sales policies, etc) will decide.
If you partner with the wrong dropshipping company, your reputation will be damaged severely at some point because your partner might deliver later, or ship defective product to your customers. That means no good testimonials, no referrals, just complaints and a bad reputation.
Now that you have understood the importance of choosing the right dropshipping partner, let's get into our list of the best Shopify dropshipping suppliers to team up with!
The best dropshipping suppliers to work with:
1. Aliexpress Dropshipping Suppliers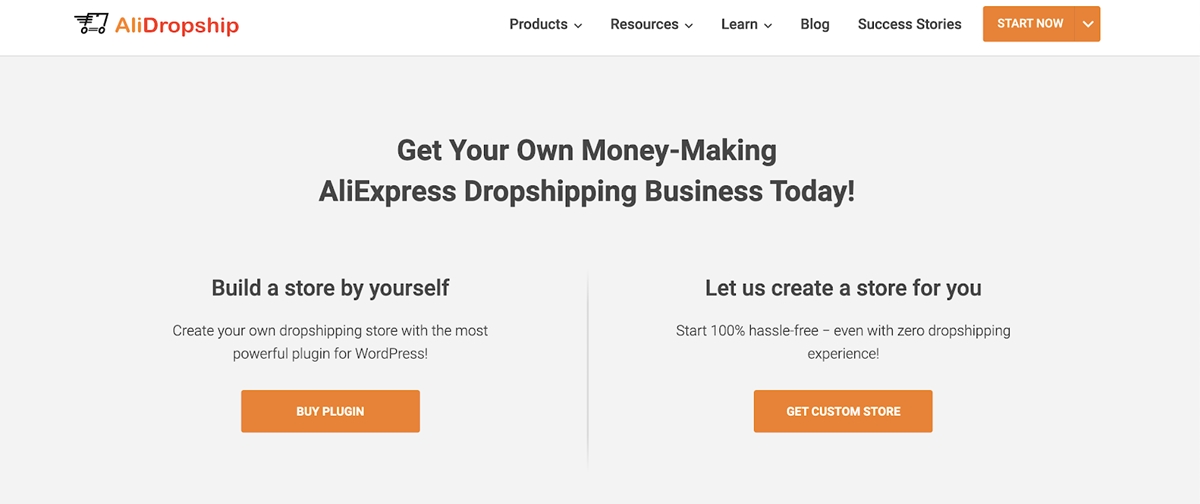 Aliexpress is a division of the Alibaba group (one of the two biggest Ecommerce corporates in the world). Aliexpress was launched in 2010, and since then, it has become the popular Ecommerce platform for users outside of China. Aliexpress was built with the international market in mind, so the platform is available in English and 15 other languages. Unlike the B2B platform Alibaba, suppliers on Aliexpress sell much smaller quantities to their buyers, which allows for dropshipping. For this reason, Aliexpress has been the go-to place for international dropshippers to source products and sell in their respective markets.
Aliexpress Pricing: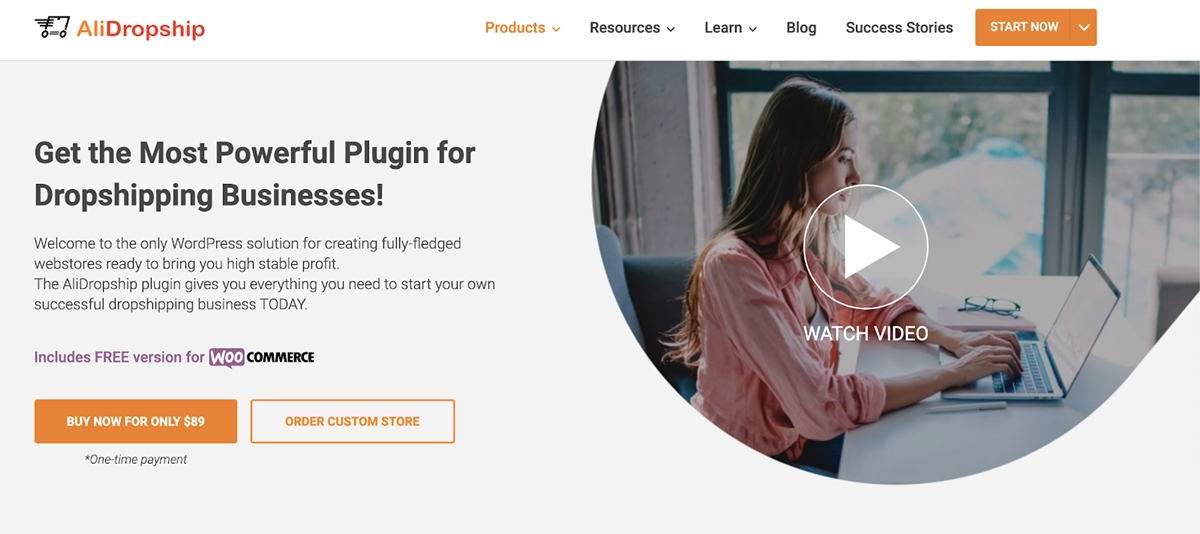 It costs $89 as a one-time payment for the Alidropship plugin. There will be no recurring fee or commission fees. This plugin comes with personal support and free updates. You will be able to import unlimited products, set your own price markups, process any volume orders and set things up based on your own needs.
If you have not had a website, Aliexpress also provides packages for Ecommerce store development. There are 3 different plans: Basic ($299), Advanced ($499) and Ultimate ($899). The main difference between these options is the number of products that are ready to sell that come with each package. You can see the details in this link.
Aliexpress Advantages:
You can source products at low wholesale prices. Products on Aliexpress are manufactured in China, so you probably won't be able to find anywhere else that offers lower prices.
You don't have to include shipping costs into your pricing. When you dropship with Aliexpress, the items will be shipped directly from China to your customers. Aliexpress suppliers offer the option to ship worldwide for free, which you can choose so that you won't have to factor the cost of shipping into the retail pricing of your listed items.
Aliexpress Disadvantages:
• You might encounter a false advertisement. Although you can have access to a wide variety of products at very competitive prices that allow you to make considerable profits, sometimes the quality of the products does not match your customer's quality and expectations. Although the supplier provides pictures that show their products in great quality, they are not that great when your customers receive them. This is seen as false advertisement, and it is not uncommon on Aliexpress.
To avoid this problem, there are a few things that you can do:
Check feedback about the supplier. You should choose suppliers with a rating of 4.7 to 5 stars. These sellers are reliable to work with.
Check reviews on the specific products that you want to purchase. Again, 4.7 to 5 stars should be your filter.
You will have to do due diligence on your own when you're searching for suppliers to work with. That will enable you to ensure as few complaints as possible about the quality of the products, and in case there's a dispute, working with professional suppliers will save you tons of headaches.
Shipping time will be much longer. Because your orders will be shipped from China, shipping times will certainly be much longer. It can be anywhere from one week to one month and can get to even two months until your customers receive their orders. You need to make it clear to your customers about shipping times so that they can have a clear expectation about when they will receive their orders, and that will prevent them from complaining about long shipping times.
Returns will be headaches. It will be a pain in the butt when your customers demand a return or exchange because they are not happy with the quality of the product. You should establish a clear policy about what to do when this happens. The best option is refunding the customer their money, and the supplier should give you back your money. Exchanging is mostly impossible when it comes to dropshipping with Aliexpress. In case you cannot get a dispute solved with your supplier, you can file a claim with Aliexpress, and they will step in to settle the dispute between you and your supplier.
Related:
2. Oberlo Dropshipping Suppliers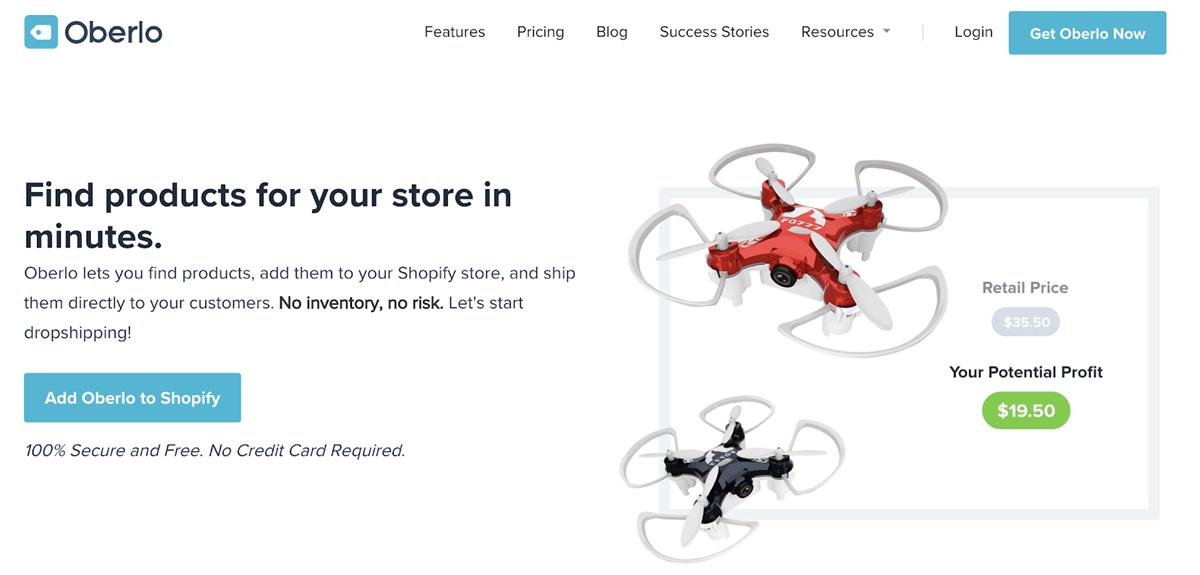 Oberlo is the dropshipping division of Shopify. If someone has never heard of Oberlo, then they haven't truly run a dropshipping business. That's how well-known Oberlo is in the dropshipping world.
Oberlo establishes itself as the leading platform to search and find dropshipped products to sell online at a Shopify store. Orbelo works by connecting suppliers with merchants, and when orders are placed, suppliers will ship them directly to the customers. Both merchants and suppliers can handle that entire process within the Oberlo system.
Oberlo Pricing:
If you just get started and want to test ideas first, Oberlo offers a free plan with the limit of 500 products and 50 orders a month. Once your business has taken off the ground, you can jump to $29/month or $79.90/month with more advanced functionality, which enables you to scale your business.
Oberlo Advantages:
Beautiful and user-friendly user interface.
Import products with one click.
Free account
Oberlo Disadvantages:
For selling, compatible with Shopify only
For sourcing products, compatible with Aliexpress only.
Further Reading: Oberlo Review: The Best Dropshipping App on Shopify?
3. SaleHoo Dropshipping Suppliers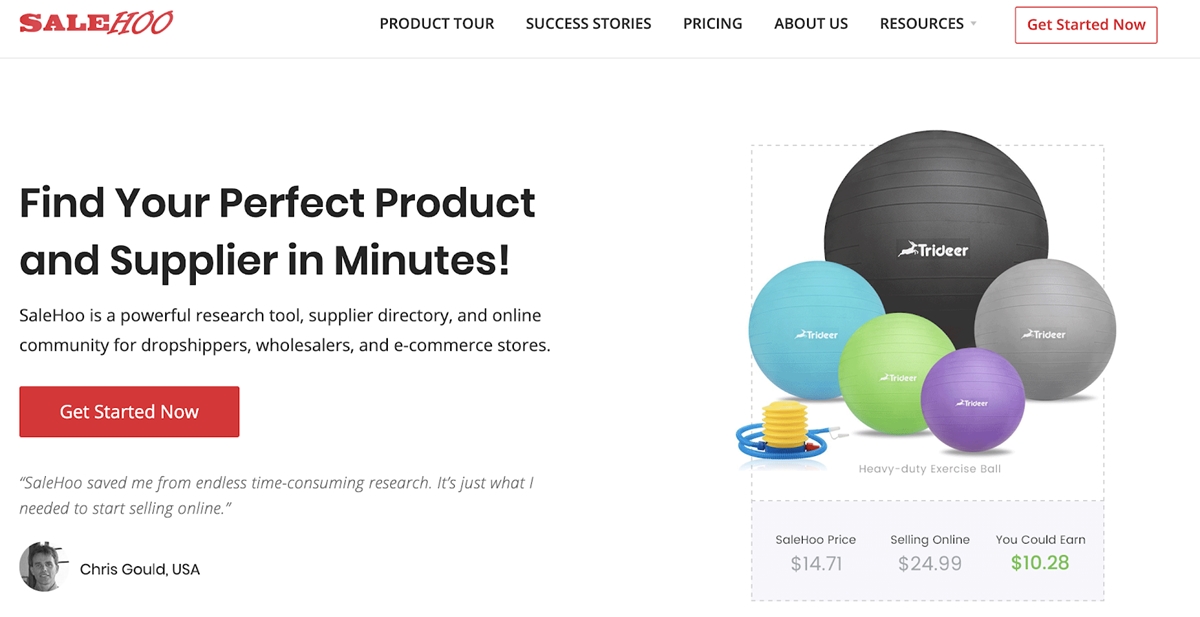 SaleHoo has over 8,000 suppliers in their network, and with that number of suppliers comes to a whooping 1.6 million products to offer you. It's not easy to get into the SaleHoo system as each supplier will be audited very carefully and verified by the SaleHoo team, so you can trust them with their quality and services.
SaleHoo Pricing:
If you sign up for SaleHoo, you will have two pricing options: $67 annually or $127 for their lifetime access. If you opt-in and then find out that there are no products you want to sell in their network, you will get a full refund. You can check out the details of their pricing and policies here.
SaleHoo Advantage:
The best part about SaleHoo is that they have built a community around their platform, and you can learn and interact with others like you in that community. SaleHoo also operates a routine blog that can teach you from scratch how to dropship and sell online as a whole.

You can use their Market Research Lab to find out what products have higher chances to bring your bigger profits.
They provide great customer support.
SaleHoo Disadvantage:
They don't offer a free trial, so you will have to pay first to try their service. But they do have a 60-day money-back guarantee, so no worries.
4. Wholesale 2B Dropshipping Suppliers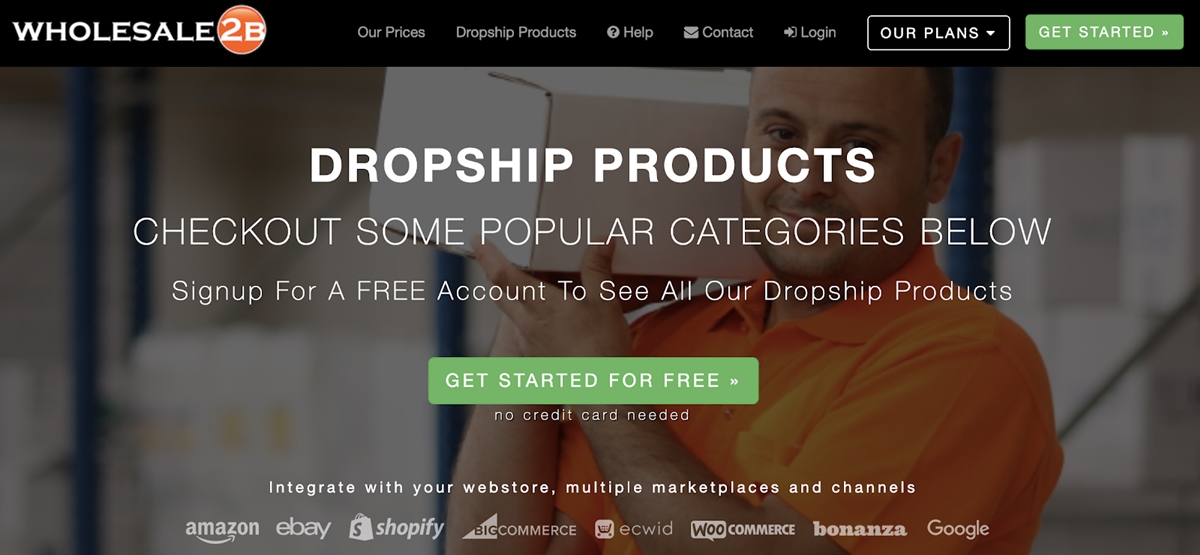 Wholesale 2B works quite simply; you can scan their offerings for any category and item that you want to sell. Then, when you find your favorite products, all you need to do is listing them on your website to sell. Once an order is placed, Wholesale 2B will ship the order directly to your customer.
Wholesale 2B Pricing:
The pricing structure of Wholesale 2B is quite complicated. And they have a plan for you regardless of who you are. The pictures below are not all of the pricing plans that Wholesale 2B is offering. You can view the full details on their pricing page.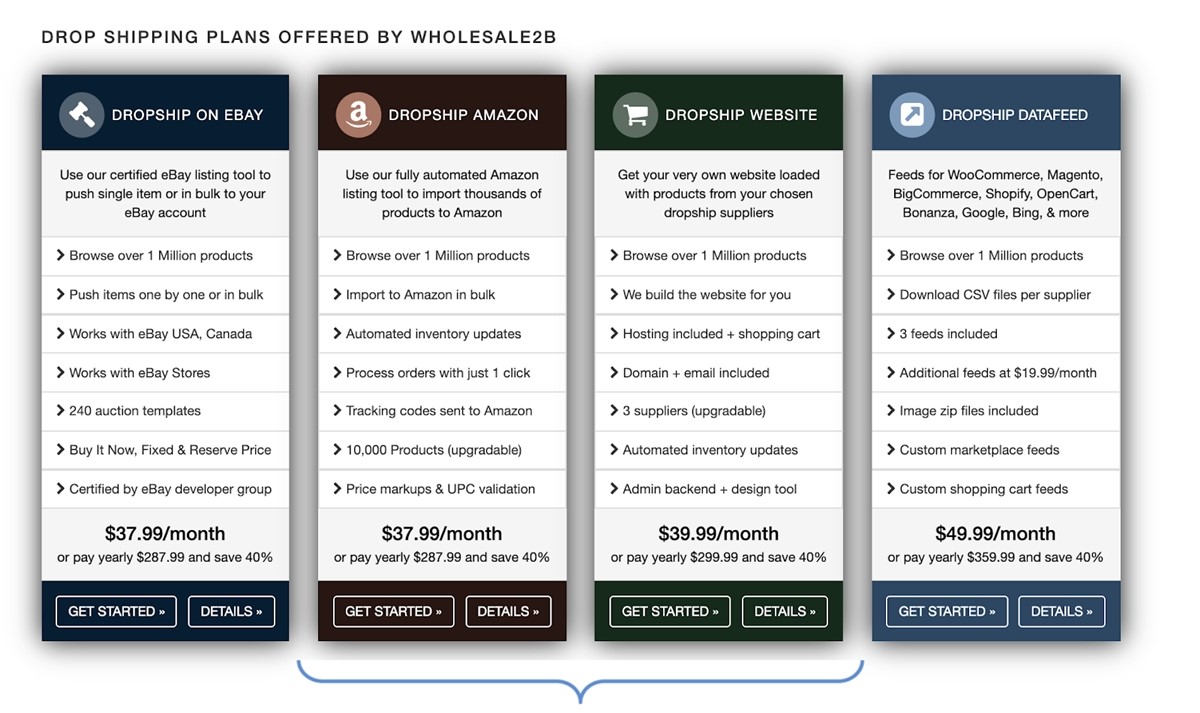 Here's the breakdown:
If you're planning to dropship and sell on an online marketplace such as eBay or Amazon (check out our articles on eBay dropshipping and Amazon dropshipping for further details), you can sign up for the "Dropship on eBay" or "Dropship Amazon plan."
If you have an existing website powered by Shopify, BigCommerce, Zencart or Magento, you can select Dropship DataFeed. This option will provide you with a feed of products.
If you have not put together a functional website, no problem, the Dropship Website plan will handle that for you.
Wholesale 2B even has a DYI (Do It Yourself) plan. This plan is made for people who don't want any dropship plans, but only want to sell products from Wholesale 2B. With this plan, you can display any of their products on your website, but when a customer places an order, you will have to process that order from your Wholesale 2B account.
Wholesale 2B Advantages:
You will have access to over 1.5 million products.
Regardless of your needs, there is a plan that suits you.
You can sell on eBay or Amazon.
You can integrate in real-time with Shopify, Magento or BigCommerce.
Wholesale 2B Disadvantages:
There's no option to contact Wholesale 2B via phone or email, which is quite problematic when your issues are urgent. You can only contact them by submitting a ticket and have to wait for some time to get their reply.
The platform does not have effective tools to help you analyze the performance and sales of the products you choose to sell.
5. Spocket Dropshipping Suppliers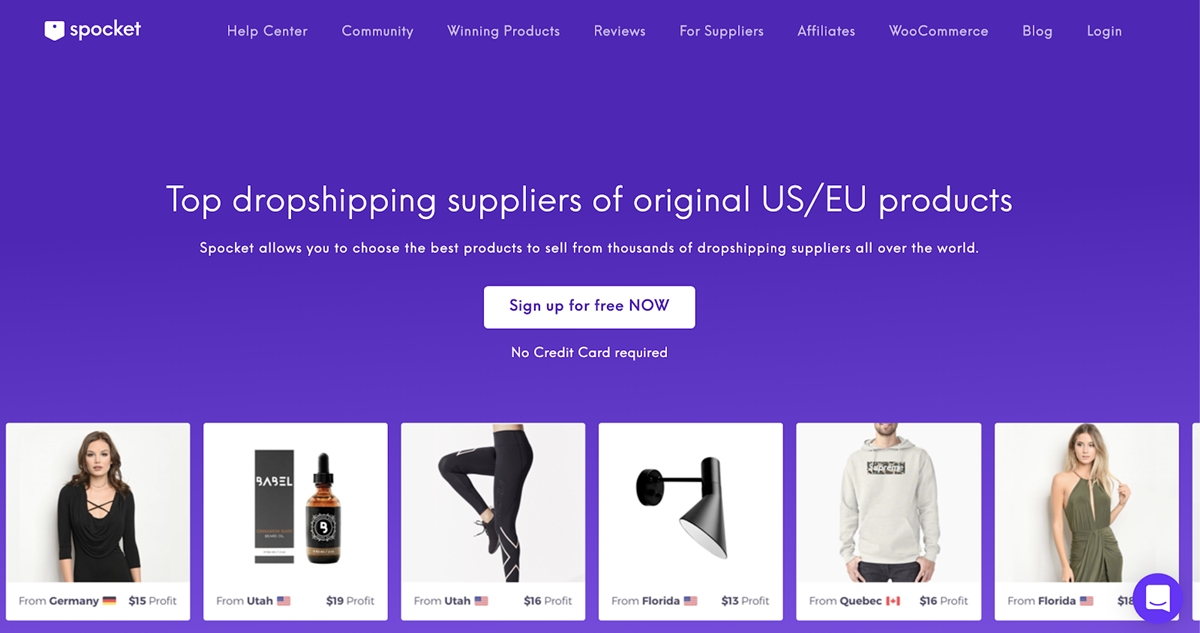 Spocket is an app that allows dropship entrepreneurs to find high-demand products with fast delivery. The app provides you with a bazillion suppliers who are mainly based in the US and Europe for you to choose from. You can add products from Spocket to your ecommerce store within seconds. It's very simple.
With Spocket, you will have a healthy profit margin as their products are from 30 to 60% off their standard retail pricing. You won't need to worry about inventory and order fulfillment because Spocket will handle that for you; their process is fully automated.
Spocket pricing comes in four plans: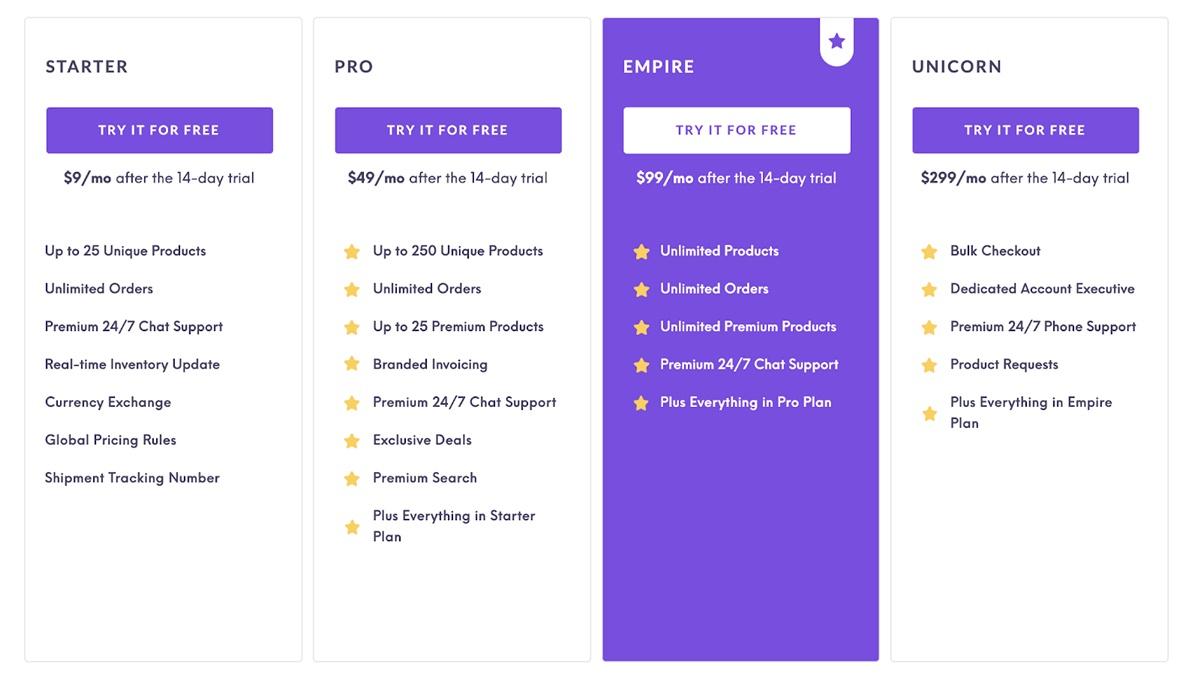 Basic (US$9/month – plus 14 days Free Trial)
Pro (US$49/month – plus 14 days Free Trial)
Empire (US$99/month – plus 14 days Free Trial)
Unicorn (US$299/month - plus 14 days free trial)
Spocket Advantages:
Your inventory will be automatically updated. Spocket updates their inventory in real-time, so you will always be updated with current stock levels. You won't have to worry about selling something that has been out of stock to your customers.
Your order will be tracked in real-time. Once your order is out of the warehouse, you can track it at every step along the way. This will enable you to keep your customer posed on the delivery date, as well as notice them if there is any delay.
You can import products to your website with one click. This one is a big time saver! Spocket provides you with a one-click import button, that means no more adding product images and write descriptions manually! And it's even better that you won't lose the option to edit the details to make sure that you're happy before your products go live on your store. You can get rid of the product variants from the supplier that you don't want to sell.
Your order fulfillment is automated. When a customer places an order with you, their information at the checkout page will be sent directly to your Spocket supplier. You will receive an email informing that your customer's order has been sent to the supplier. Then, your supplier will pack the order and deliver it to your customer. You don't have to do anything during that entire process!
Spocket Disadvantages:
The service is limited to the US and Euro. Spocket's suppliers are mostly based in the US or Europe, so if you are outside of these two regions, your shipping rates will be more expensive and shipping times will be longer.
Taxes and customs duties are not included in Spocket's pricing. This is something you should be aware of. Taxes and customs duties vary among countries, and for that reason, Spocket does not include these costs in the pricing of the products they offer. Based on the place you're going to sell it, you will need to factor these two costs into your retail prices to protect your bottom line.
There are some popular Ecommerce platforms that you cannot sell on. You can sell on Facebook, Shopify, Instagram, Youtube, WooCommerce, Pinterest, BUT you cannot sell on Amazon, Etsy, eBay, Wish and Groupon.
You're allowed to customize your packaging. Spocket does not provide the option to customize packaging. If you have to customize your packaging for your brand image, Spocket is not the dropship option for you.
You can't reach out to Spocket suppliers directly. If you're among the group of entrepreneurs who want to establish strong relationships with suppliers, Spocket is not the ideal option for you either. Spocket does not provide you with the option to contact their suppliers directly for their announced reason that it's impossible for their suppliers to answer tons of queries coming from the huge number of merchants using Spocket to dropship. This basically means if you have any questions, you can only contact Spocket's support team.
6. Doba Dropshipping Suppliers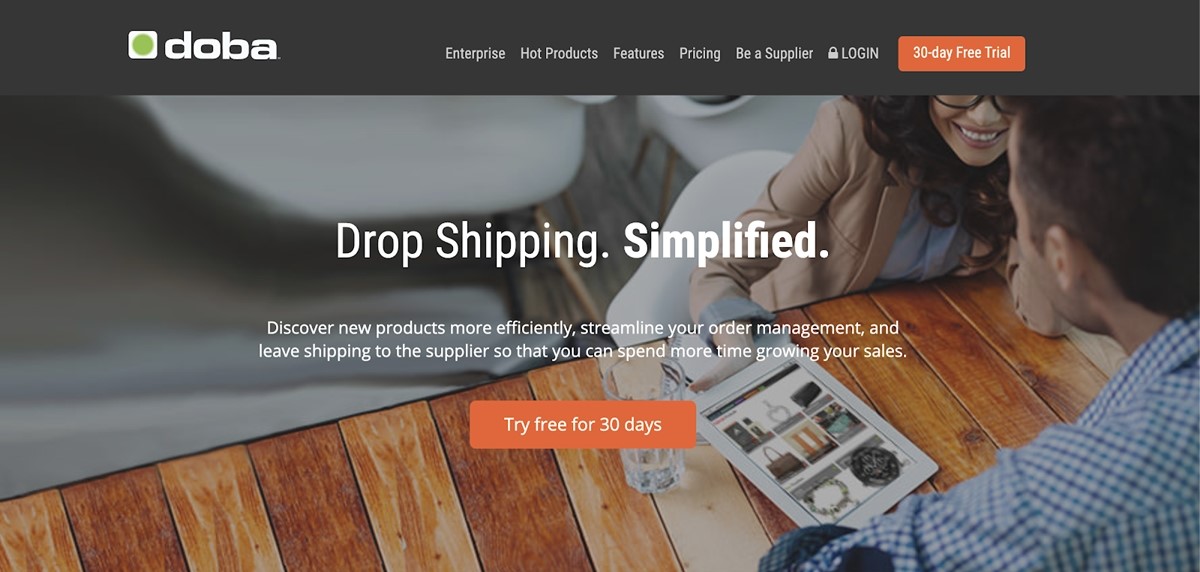 If you don't want to deal with the hassles of working with suppliers, Doba is your ideal choice. Doba is one of the most comprehensive platforms for dropshipping out there. The reason is that this platform not only provides you with thorough information about their manufacturers and wholesalers, but their platform is built in a way that enables you to just sell products you want to sell without having to partner with many different dropshippers.
With other dropshipping services, if you want to sell 30 different products that come from 30 different suppliers, you will have to partner with all of them. That will be a lot of work. Doba enables you to just choose the products you want to sell, put them up in your store, and start selling. In other words, the platform will remove the hassles of working with suppliers for you by working directly with them to deliver your orders.
Doba Pricing: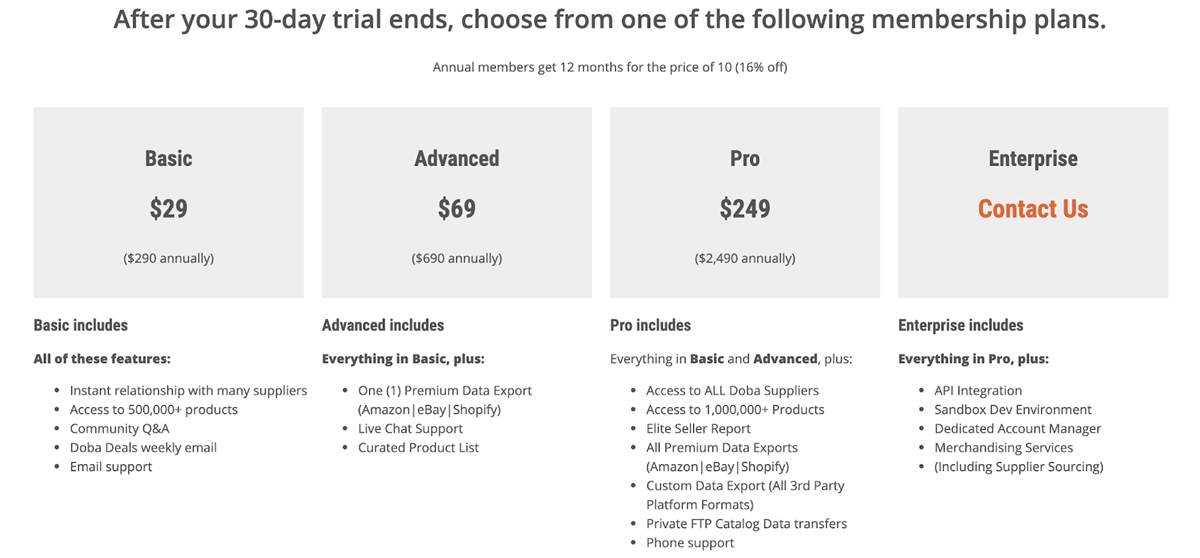 If you just get started, the basic plan is already a good choice. Once your business starts growing bigger and bigger, paying for the higher planners will provide you with a lot more advanced features to scale up.
Doba Advantages:
Doba has over 2 million products from about 200 suppliers to offer you. This platform has the largest product offerings on the market.
No hassles of working with suppliers.
You will get the most bang for your buck.
You will receive frequent updates about discounts from suppliers, season/trending products and new suppliers in the segments that you're operating in.
Compatible with many platforms.
Doba Disadvantages:
Further Reading: Doba Review: Can It Help You To Leave Your Dropshipping Competition In The Dust?
7. Sunrise Wholesale Dropshipping Suppliers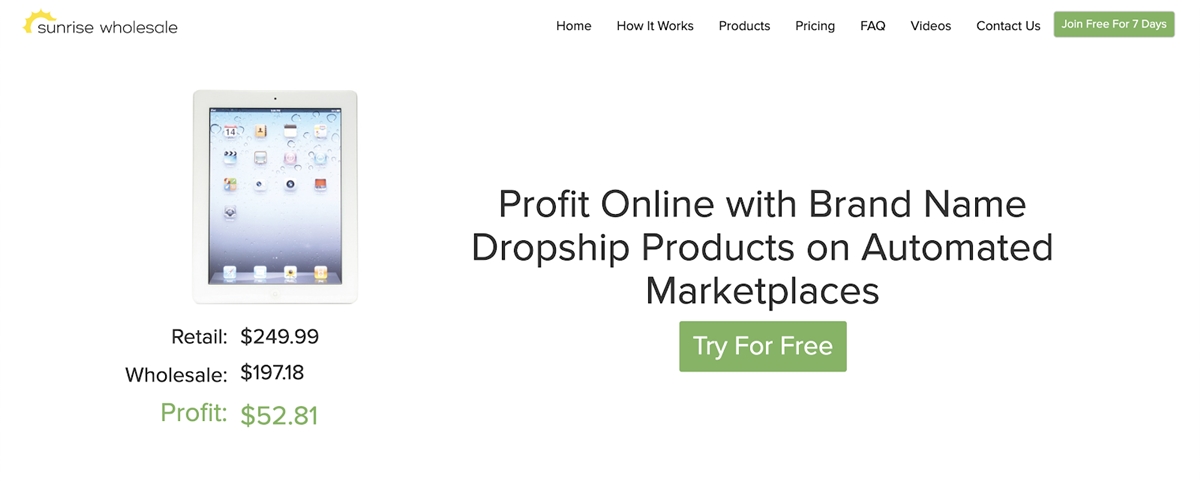 With Sunrise Wholesale, you will have access to more than 15,000 products. You can sell dropshipped products from Sunrise Wholesale on Amazon, eBay and your website. This platform has been optimized to make the import and export of products into your system with ease.
Sunrise Wholse is compatible with Shopify or Bigcommerce. They have just established a partnership with an import company, and now have a 600,000-square feet warehouse to distribute products from their suppliers.
Sunrise Wholesale Pricing: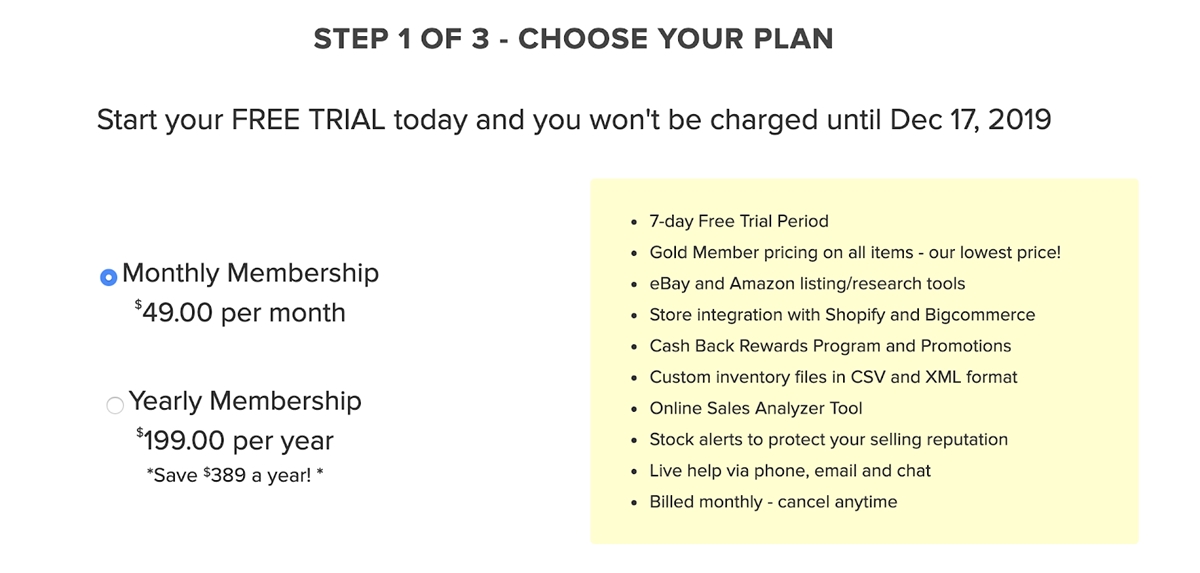 Sunrise Wholesale doesn't offer a free account, but they do offer a free trial with full functionality. After that, you can sign up for either of their two plans based on your needs.
You can check out their full pricing details here.
Sunrise Wholesale Advantages:
Sunrise Wholesale handles orders very quickly and effectively. The Better Business Bureau has also awarded Their service an A+ prize.
The platform provides every account with a free tool for eBay Listing and Research, which makes selling on eBay a piece of cake.
Sunrise Wholesale Disadvantages:
Their restocking fee is 20% for non-defective products that your customers return. This is quite high.
Their product offerings are not as rich as other dropshipping platforms'.
8. Wholesale Central Dropshipping Suppliers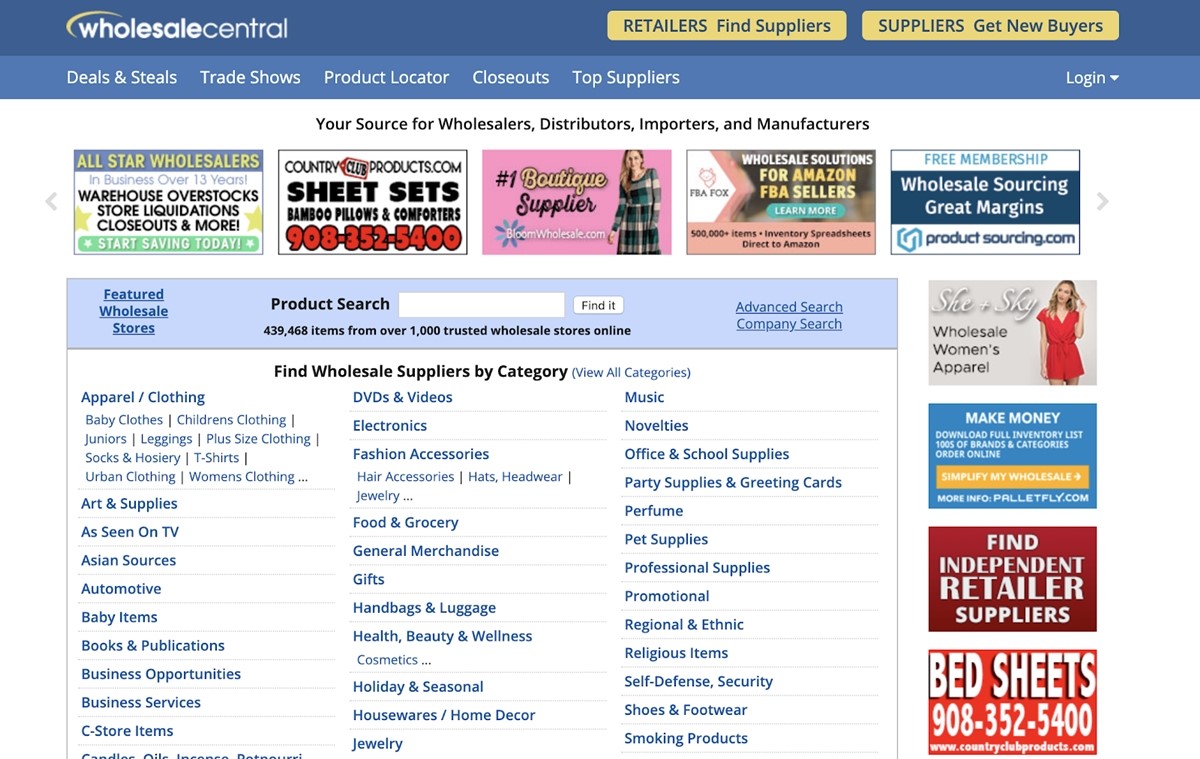 Wholesale Central is not a dropship platform that offers support services and tools, but it calls itself the leading B2B directory of wholesale products and suppliers. There are thousands of suppliers of all kinds of products on this website, and it provides you with powerful sourcing tools to help you find wholesalers, importers, dropshippers, distributors and manufacturers.
Wholesale Central is one of the best free dropship suppliers. There's no registration or fees required to search the site. You can also join their Buyers Network FOR FREE to get premium access and extra features.
When you discover a product that you want to sell on Wholesale Central, just click on the link, and you will be directed to the supplier's website where you can work directly and place an order with them. This means Wholesale Central is not a middle-man, but they just connect you as buyers with wholesale sources, which will allow both parties to maximize profits.
This seems too good of a deal, but it is actually is because Wholesale Central is a division of Summer Communications, Inc., which is its parent company and the leading publisher of trade magazines and directories for the wholesale goods industry.
Wholesale Central screens and reviews every single company that is listed on their website themselves. This is to make sure that all of them are true wholesalers. They do investigate every complaint from buyers, and any company that is found to be committing fraud will be removed from the site. With that in mind, you should still proceed with caution when you work with suppliers listed on Wholesale Central, but you can always reach out to them when you encounter any problem.
Wholesale Central Pricing:
It's all free.
Wholesale Central Advantages:
Wholesale Central's data of suppliers is huge. You will be able to find suppliers for any product that you want to sell.
They do verify their suppliers so you can be less worried about fraud.
Wholesale Central Disadvantages:
9. MegaGoods Dropshipping Suppliers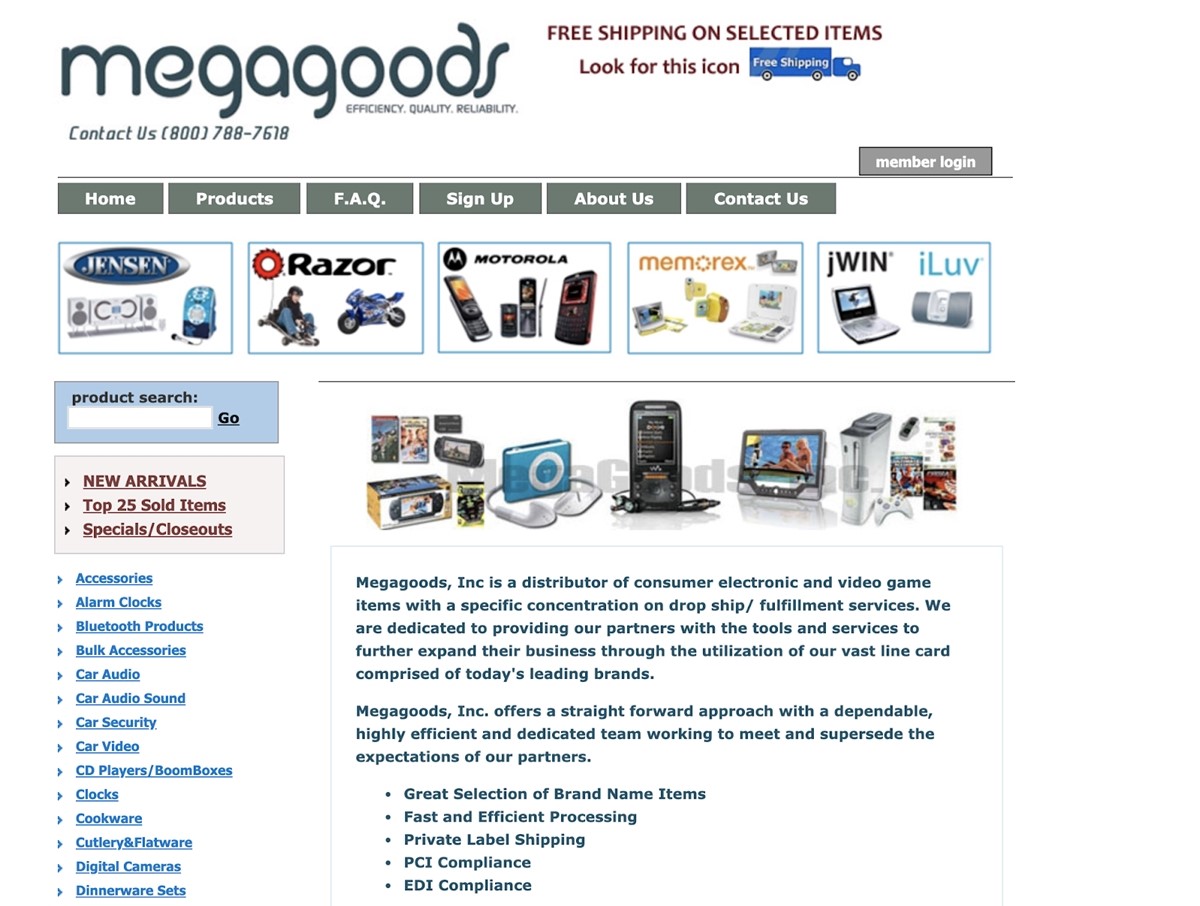 Megagoods is a direct distributor of consumer electronics, and they specialize in drop shipping services. Megagoods distribute items by stocking high demand products in their warehouse and offering fast processing, plus private label shipping.
MegaGoods Pricing:
You can try Megagoods for 30 days for free, and then pay a membership at $14.99 per month.
MegaGoods Advantages:
Megagoods has the lowest monthly subscription fee on this list.
If you're planning to dropship consumer electronics, just want the lowest possible prices and don't mind about its lack of research tools and other support features, Megagoods is for you.
MegaGoods Disadvantages:
Megagoods only has about 2,000 product offerings. This is understandable because they stock all of their items.
No research and analytics tools.
Megagoods is like a wholesaler who puts an emphasis on providing dropship services. It's not a tech platform, so there are no web integrations.
10. Inventory Source Dropshipping Suppliers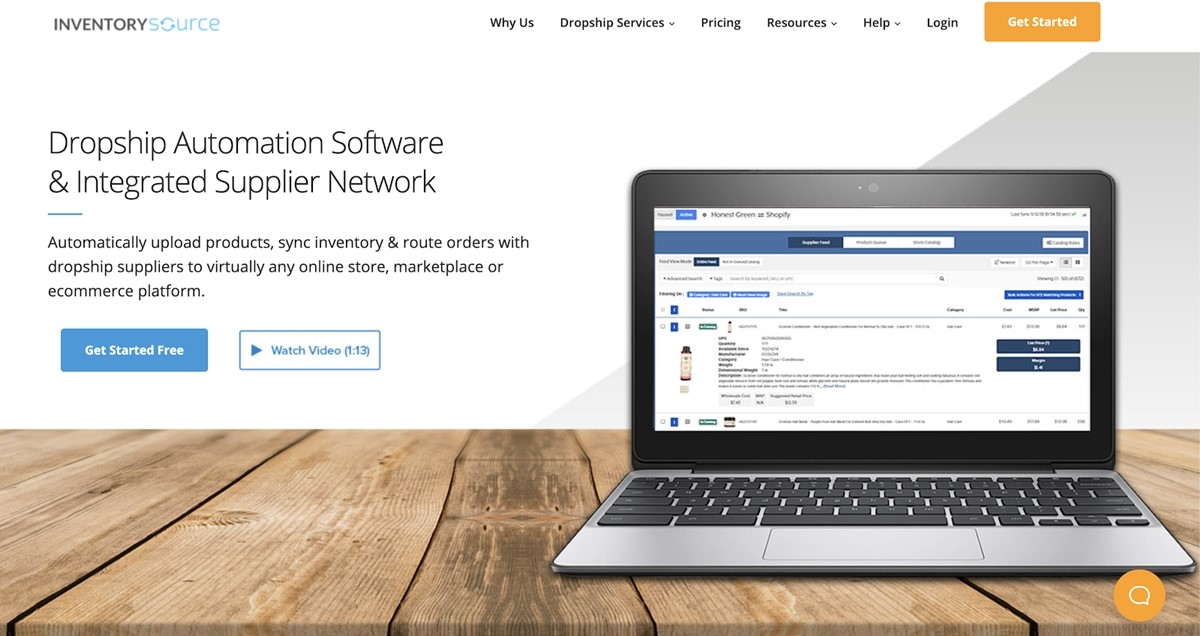 Inventory Source is one of the veterans in the world of dropshipping; it has been in the business since 2002. The platform was founded by Ecommerce experts, and it prides itself on providing dropship entrepreneurs with accurate product information, tools and resources needed so that they can find their most suitable suppliers. Inventory Sources will offer you numerous features to make running a successful dropship business a piece of cake.
Inventory Source Pricing:
Here's the pricing structure of Inventory Source.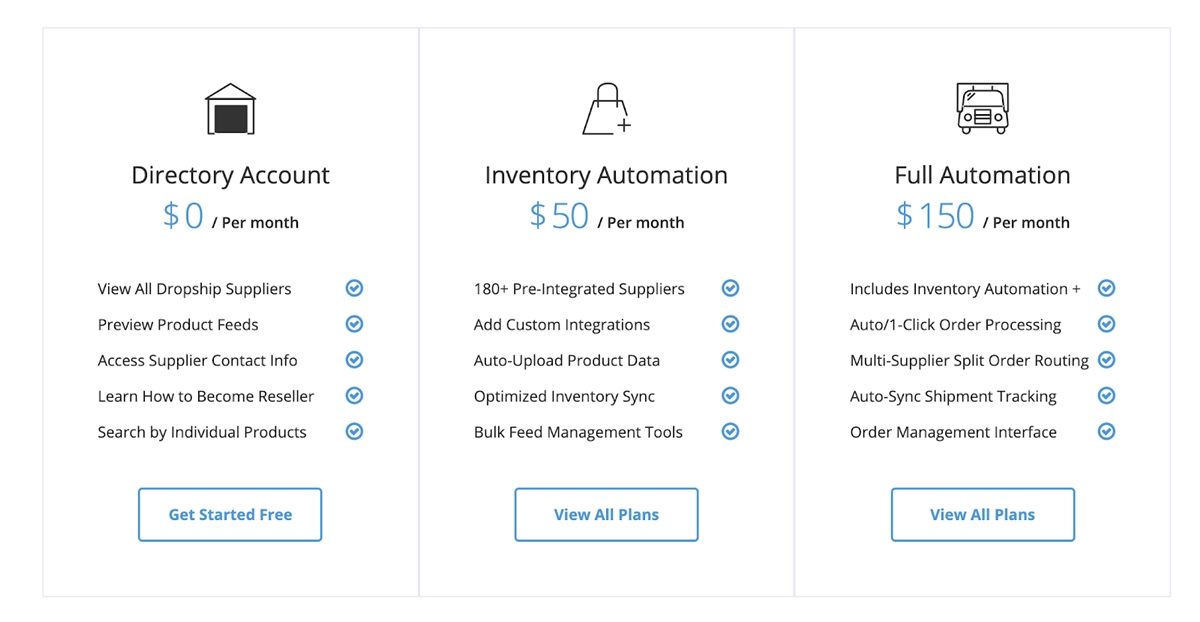 You can get started with Inventory Source for free, but with this option, you can only have access to their directory of suppliers and some other basic website features. You won't have the option to sell anything, but you can do research on suppliers and have a look at the seller community before deciding to invest in any money.
Inventory Source Advantages:
You will have access to flexible services. Inventory has a wide range of services, from inventory/order automation to personalized storefronts powered by Shopify and TurnKey. You can choose what suits you based on your needs.
You will have access to a vast number of product offerings. With Inventory Source, you will have hundreds of high-quality suppliers and more than 1 million products at your fingertips. If you're looking for a product that is not in their offerings base (which is quite unlikely), you can reach out to their support team and they will help you find what you need.
Inventory and orders are automated. Inventory Source updates inventory from their suppliers in real-time. When your customer places an order, their shipment details will be automatically routed to your suppliers without the need for your involvement.
There's no trial period for your free account. Inventory Source gives you a free account for as long as you want to keep it. As mentioned above, you don't have the option to sell with this account, but you can use it to check out suppliers in the platform's directory, as well as try out some community features before you decide to make your investment.
Inventory Source Disadvantages:
You will need to pay a separate fee per supplier. Their Basic Plan ($50/month) only lets you link one supplier's product feed with one sales channel, and you will need to pay extra fees if your items come from multiple suppliers and you want to sell on many marketplaces. These extra fees can add up really fast if you're planning to offer many different types of products.
Inventory Source has no Market Research Tools. This can be considered a big disadvantage for Inventory Source because unlike many of its competitors, this service does not provide you with tools to check out your competition or measure the profitability of your products.
11. Modalyst Dropshipping Suppliers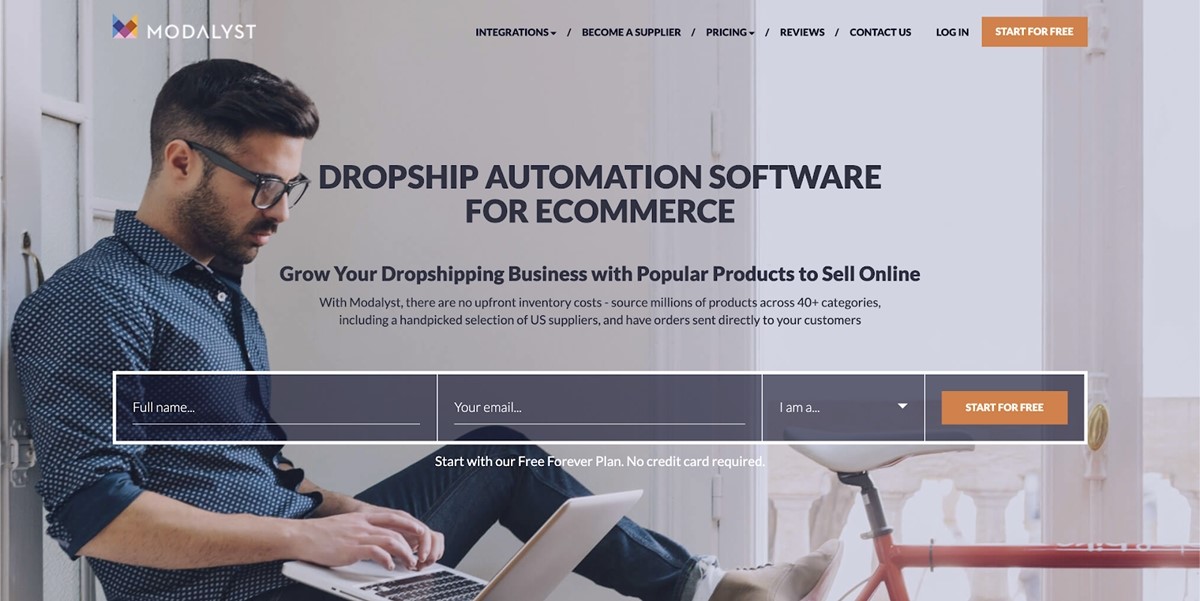 Modalyst is another dropship company that offers fast-shipping products at a wide range of price points and with many categories. What Modalyst does is connecting online dropship stores directly to thousands of suppliers. What makes Modalyst special is that its product offerings include made-in-the-US brands and unique designer products. This is the only platform in this list that offers dropshipped brand-name products to US customers, and delivery is guaranteed to be within 3 business days.
Modalyst Pricing: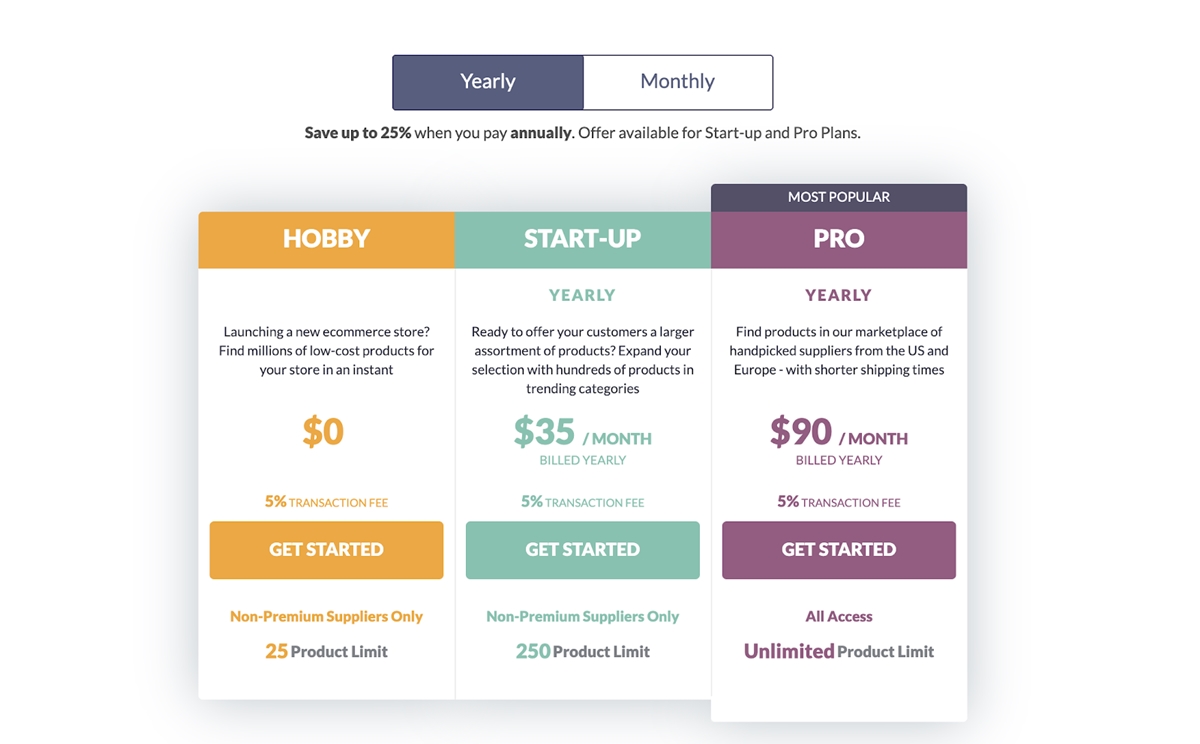 When you look at Modalyst's pricing structure, you might realize that anyone can try out their services at no cost. It offers a FREE plan called Hobby that provides you with up 25 products from their curated marketplace to sell in your Ecommerce store. When you try it out and see that it works well for you, the higher plans are also very affordable.
Here are their plans:
Hobby – This plan does not you anything, but it comes with a 25 product limit. There is also a 5% transaction fee, and you can process unlimited orders. Though this is a free plan, you can get lots of product automation features.
Start-up – For $35 per month, you can sell 250 products from the Modalyst marketplace. The transaction fee is still 5%, and the number of orders is unlimited.
Pro – This plan is for high-volume stores at $90/month. With this plan, you can have access to premium suppliers and unlimited products from Modalyst.
Modalyst Advantages
Locations. Modalyst suppliers are only located in the US and EU.
Categorization. Modalyst categorizes their entire marketplace into four groups to source from The Low Cost Goods Marketplace, the Independent Brands Marketplace, the Trendy, Affordable Marketplace, and the Name Brands Marketplace. With each of these separate marketplaces, you can easily discover the specific type of dropship products you're looking for without having to sort through all the millions of products on the platform.
Pre-negotiated sales pricing. Modalyst negotiates with all of its suppliers before they can start offering their products on the platform. This means you won't have to figure out a deal with your suppliers at any point. Each supplier on Modalyst agrees to list their products at 60% of their MSRP. This will enable you as a merchant to mark up products based on the profit margins you desire.
Universal return policies. It can be tough in dropshipping to figure out a return policy that works for your customers, your store, and your suppliers. As you may know, dropship suppliers are notorious for providing inconsistent return policies. If you're working with several suppliers at a time, it can be a near-impossible task to keep everything organized. Modalyst has taken this pain point seriously, and they work with their suppliers to work out a universal return policy across the entire platform so everyone can know what to expect. This means a lot fewer headaches for the suppliers, for you, and for your customers, and you can rest assured that every return can be handled as efficiently as possible. The return policy offered on Modalyst is a 14-day window, under the condition that the item is undamaged, unworn, and with the tags still attached.
Fast delivery to consumers or your store. Another part of Modalyst's agreement with their suppliers is fast shipping. This is the advantage that you get when working with US and EU-based suppliers, and your customers' orders will come to them much more quickly. Modalyst's suppliers can deliver directly to your customers, and they can also ship to your store so that your customers can come and pick their orders up.
Another plus is Modalyst wants to prevent shipping costs from eating into your profit margins, so every Modalyst supplier has to follow a flat-rate shipping policy, and there will be no surprising shipping costs. You will see that there are a few suppliers providing free shipping on both domestic and international orders.
Shipping & tracking information will be automatically sent to you. The shipping procedure provides you with tracking information for every single package, and that information is displayed in the Modalyst dashboard, which means you can locate any orders at any time. This functionality is automatically provided by every supplier, and it includes the shipper's name, tracking details, and tracking links.
Shopify and BigCommerce Integrations. This is one of Modalyst's biggest advantages; the platform integrates directly with two of the most popular ecommerce platforms on the market: Shopify and BigCommerce. When you download the Modalyst app from either Shopify's or BigCommerce's app store, and you'll be able to automatically connect with the platform. These direct integrations are very necessary because they enable you to add products to your site seamlessly with product details automatically uploaded. It also allows for real-time data such as "Out of Stock" information to be displayed on your site. These are just some examples of what the direct integrations between Modalyst and the two Ecommerce platforms can do for you. Overall, you will be able to run a more automated store.
No upfront inventory costs. Your customers' orders will go directly to the suppliers, and there's no need for you to keep inventory.
Convenience. Every step of your sales process can be handled on your Modalyst dashboard, so there's no need for any paperwork. Additionally, you can add products to your store with just one click for product descriptions, images, and pricing.
Easy communication. When you have any queries for your supplier, you can communicate with them directly through the Modalyst platform.
Modalyst Disadvantages:
All processes are not fully automated. The process of placing orders is not fully automated. Once your customer places an order on your store, you must log in to your Modalyst dashboard and pay for the order first, only then the order will be fulfilled by the supplier.
Transaction fees. You will have to pay a 5% transaction fee on all of Modalyst's pricing plans.
Limited access to suppliers. If you want to have access to Modalyst's entire network of suppliers, you have to sign up for Modalyst's Pro or the Business plan.
Limited customization for your brand. As your suppliers will deliver orders to your customers on your behalf, you won't have the option to customize the packaging for your own branding.
Final words
I hope this article will help you find great suppliers for your upcoming dropshipping business. If you know any other great dropship suppliers that I have not mentioned, please leave a comment below. Thanks for reading! :)
Related Posts:
New Posts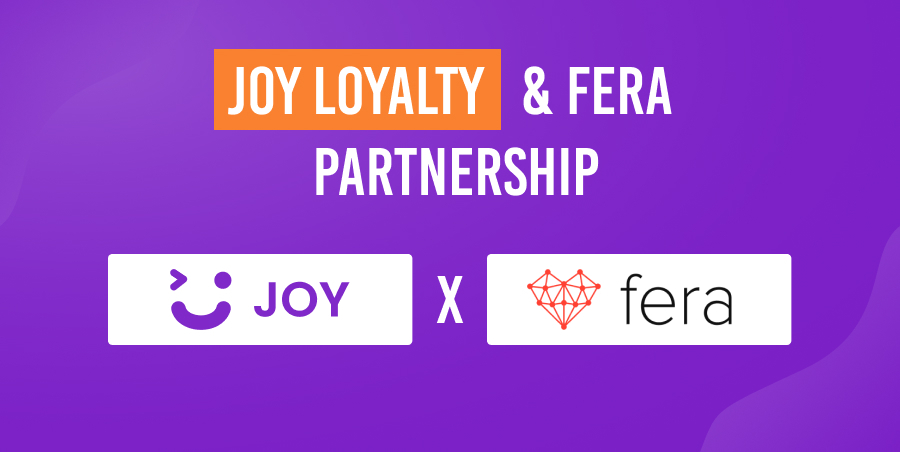 Subscribe
Stay in the know
Get special offers on the latest news from AVADA.
40k
subscribers has been joined!
Earn $10 in reward now!