Top 11 Best Wholesale Dropshipping Companies in USA, EU, Russia ...
With the growth of eCommerce, it has never been easier to start an online business. And for starters without a lot of experience or budget, dropshipping is the golden door to enter the entrepreneur world.
But frankly, it won't be that easy. You will have to take care of many aspects like products, supply, marketing, customer service, and more. Luckily, wholesale dropshipping supplier can be a helpful ally. They will make your items in large quantities, package them, and ship those boxes to your customer's doorstep for you.
So today we will take a look at 11 best wholesale dropshipping companies - which are all experts in dropshipping and can connect you with the best partners for your business. You shall not do dropshipping alone, and that is a promise. Let's begin!
What is a wholesale dropshipping company?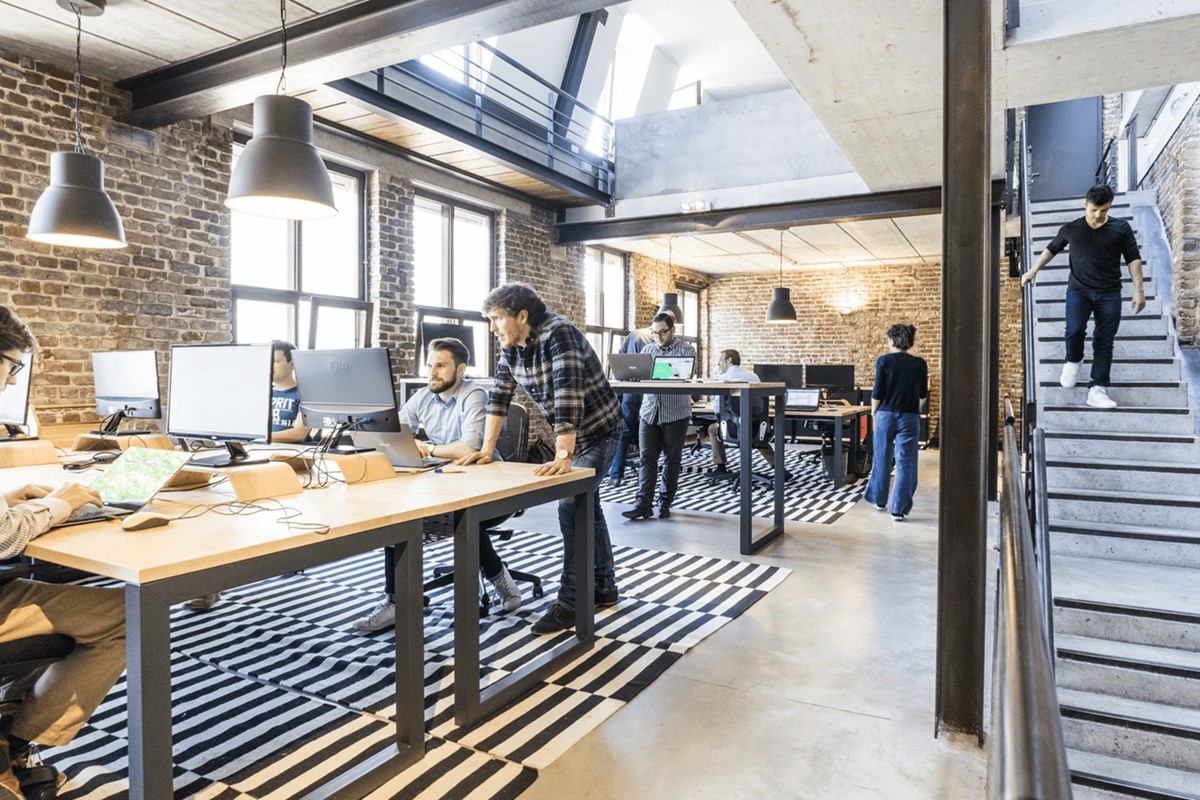 Let's start with the basics: Dropshipping is a method of eCommerce in which you order goods from a wholesaler or supplier who would ship the items directly to your customers. What you need to do is set up a trustworthy selling site and convince visitors to purchase.
The great things about dropshipping:
You don't have to worry about inventory.
It's easy to set up a store.
There are billions of products you can sell.
There's only a little risk to you as the seller.
It's possible to start a dropshipping business from anywhere in the entire world.
A wholesale dropshipping company can be suppliers, wholesalers, other dropshippers, auctioneers, or any other types of people selling products and goods online. Sometimes, you will see them grouped as a giant list on other dropshipping sites - these are dropshipping companies too with broader services.
We will focus on these types of companies in this article. They can give you a list of available suppliers, their product data, and sometimes integrations to make dropshipping easier.
For example, you can get an integration that lets you search available products with filter, then "push" all of the product data like names, images, descriptions, prices, reviews to your site with just a click. This is superb time-saving and can help you run your dropshipping business more efficiently.
Sounds good, doesn't it? And such a feature can cost only a little budget too. With that in mind, let's see our top 11 best wholesale dropshipping companies.
Top 11 best wholesale dropshipping companies
These next companies all have their strengths and weaknesses, but what is common among them is the ability to streamline the dropshipping process and save time finding a supplier in the old call-and-contact way.
1. Alibaba/AliExpress - Dropshipping from China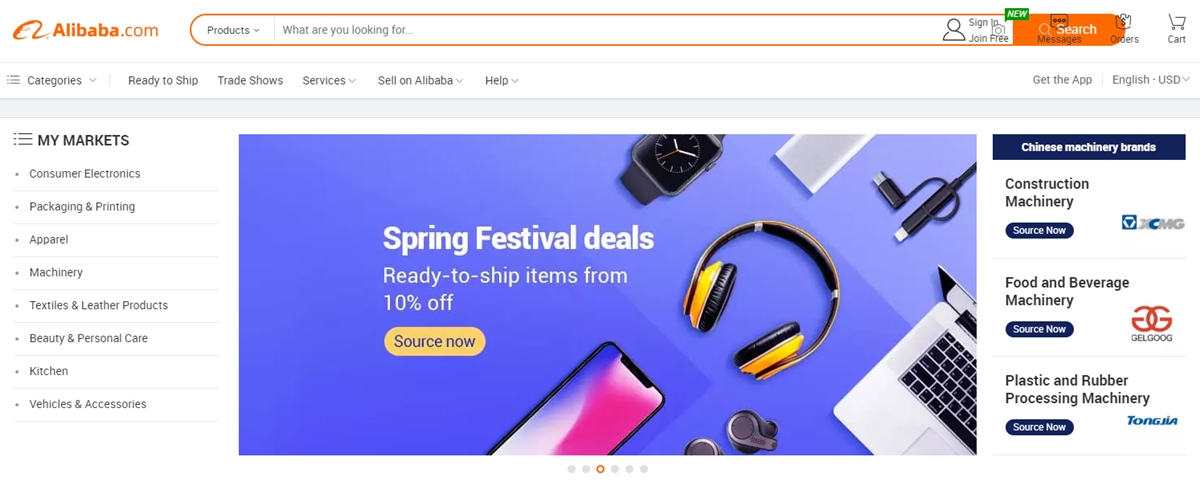 Alibaba is one of the most famous platforms for selling or buying wholesale from China. You can select suppliers from many regions like the USA, Russia, Japan, and of course, China.
Most of the listings on the site are made by manufacturers, not suppliers, so you can contact them and purchase them in large quantities. However, these manufacturers often don't speak English; orders need to be paid with a wire transfer, not a credit card, so it can be hard to work in the first place.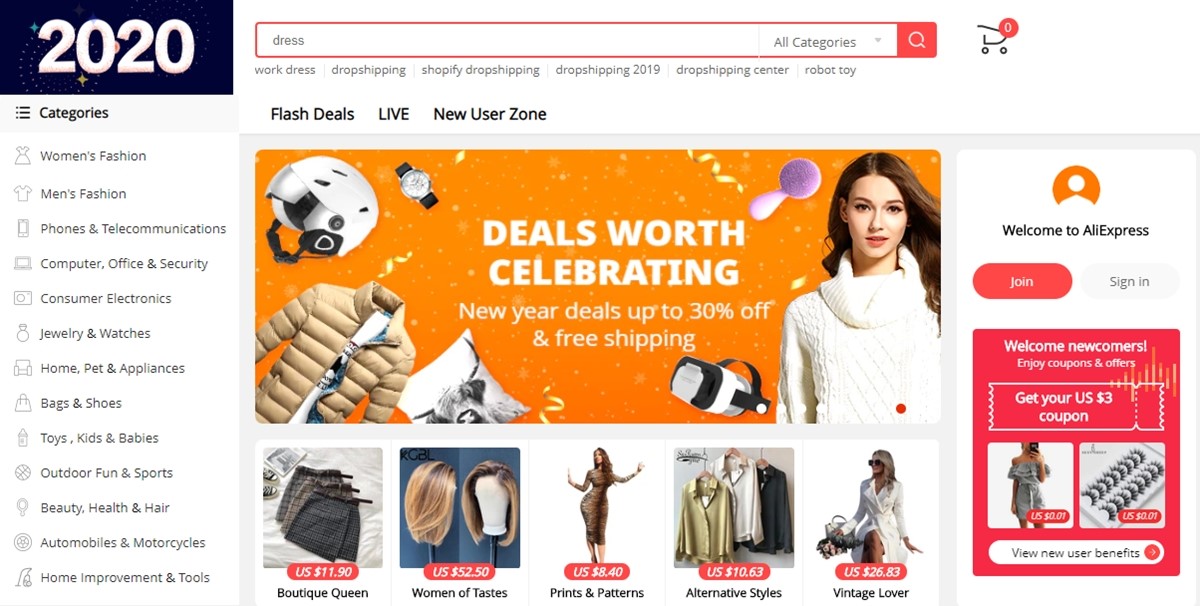 So for dropshipping, I would recommend you use AliExpress as a better option, this is a sister site of Alibaba, and it is better made for international trading.
The site allows Chinese suppliers to the goods made by them to customers all over the world. The prices are as low as the wholesale prices that you can find on Alibaba, and the packages will be delivered to your door in 2-3 weeks.
You can use credit cards or AliPay on AliExpress to make transactions, which are safer since you won't meet the suppliers. The site also has a rating and review system that can give much information about the suppliers like their feedback and how long they have been in the business.
As you can see in the above image, products are categorized so you can find the niches you want. But there is no section about trending or popular, so you have to figure that out by yourself. One more worth mentioning thing is that there are no upfront costs or monthly fees to join AliExpress.
Surprisingly, AliExpress support is actually pretty good, they are ready to answer all your questions about payment or shipping.
In my opinion, the best thing about AliExpress is that you can start dropshipping quickly with the platform using a Shopify store and Oberlo. This way, you can automate your sales process and don't need to send an order to your suppliers every time a sale happens.
But since you are working with multiple suppliers at once, make sure you are absolutely clear on your site about all shipping information. If orders happen, all items should arrive at once, not 1-2 weeks different because of different suppliers. Shipping from AliExpress often takes at least two weeks to the United States and more in other parts of the world.
Overall, AliExpress is still a great option to begin dropshipping. There is no subscription cost, rating reviews for suppliers, and you get protection as a drop shipper. And don't forget about the convenience of using Oberlo with Shopify.
Pros:
No cost to get started
A large number of suppliers from China and a huge selection of products
Easy to integrate into Shopify with an official tool like Oberlo
Cons:
Shipping times takes at least two weeks or more.
Product quality cannot be checked beforehand
Suppliers can be hard to reach due to different time zones and locations.
Recommend: AliExpress Dropshipping Review: Pros and Cons & Guide
2. Inventory Source - Dropship's wholesale service

Inventory Source is a dropship service software that can provide robust inventory and features for back end management. You will get 24/7 customer support, see full product data, and gain access to over 1 million products.
The software can be integrated into all of the major eCommerce sites such as Shopify. There are over 100 suppliers available with US Direct offering to dropship 120,000 products on the country right the way.
Once signed up, you will be able to export product descriptions and images to your site in just a few clicks. And if you haven't had a site yet, the service can help you.
However, if you want to have orders that can be combined together, you will have to contact the sellers directly to consult on how to bundle your goods. If you use Shopify, you can choose your supplier from a list of pre-integrated ones.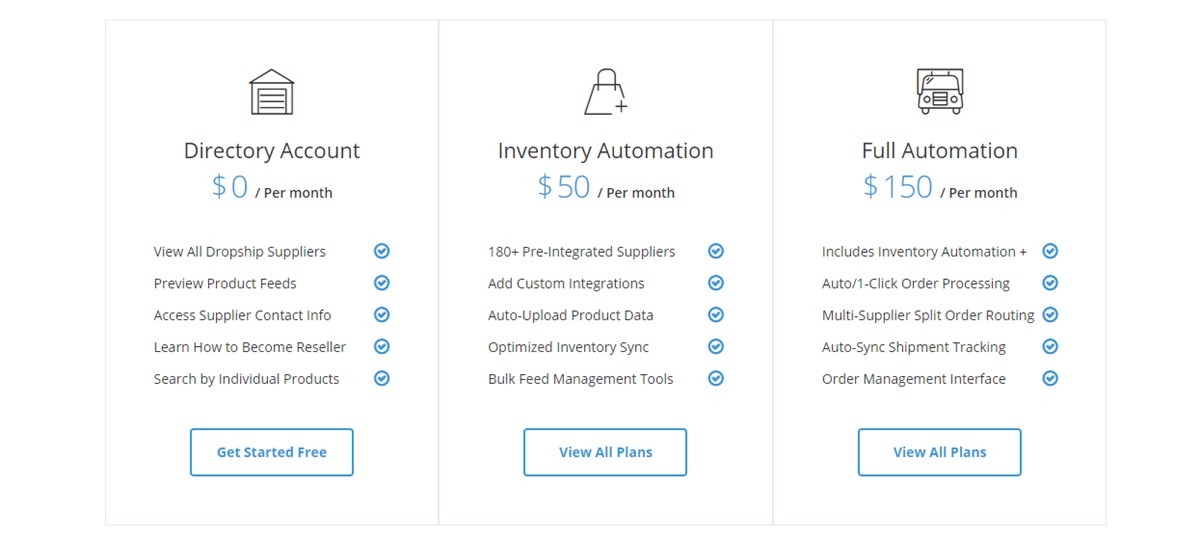 There is a free plan to start and get access to all the information, but the other plans are not costly as well. Each will have three plans with accelerating pricing so you can scale when your store gets bigger.
In short, Inventory Source is a worth trying software for your dropshipping business. Not only does it support the type of business, but the service and pricing are also great as well. And with dropshipping, try not to waste your time as much as possible.
Pros:
Great technology that can make it easy to integrate products into your dropshipping store
Fees are based on supplier count, so you won't have to pay a portion of your sale
Access to many products and integrated suppliers
Cons:
The fees can be high if you need to work with a lot of suppliers
It won't be easy to decide the right suppliers to work with
3. Salehoo - Dropship manufacturing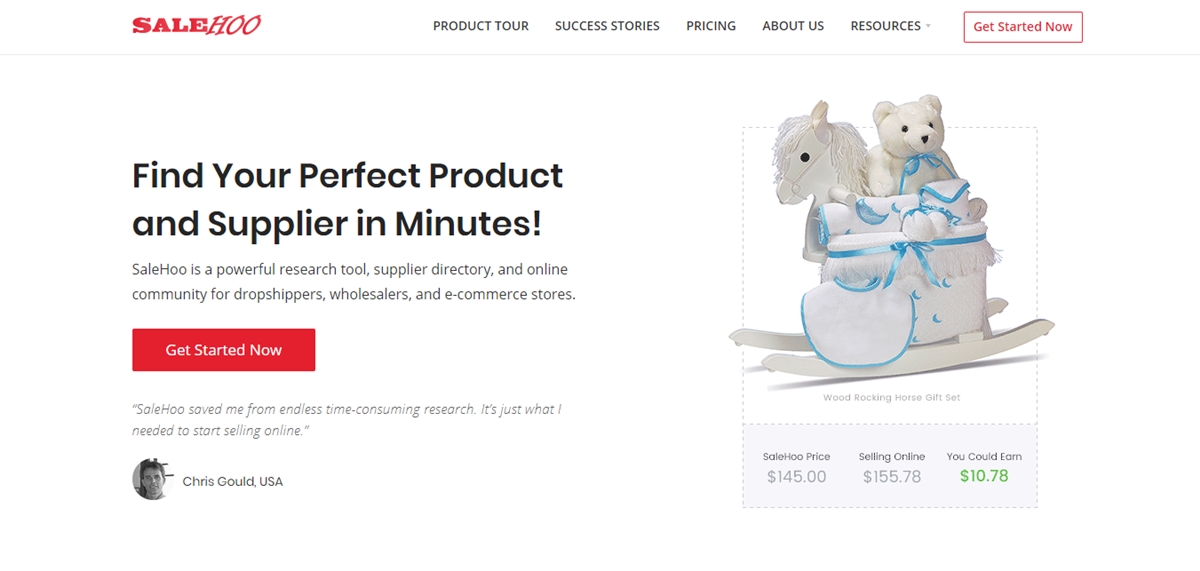 Based in New Zealand, SaleHoo has been around since 2005 and is a famous online directory for both dropshippers and suppliers. All the products on the site are selected and verified by the staff of the company.
Once you become a member, you can access 1.6 million+ branded products and 8000+ suppliers (wholesalers and dropshippers). The products are divided into 75 categories such as clothes, accessories, cell phones, electronics, office supplies, furniture, and more.
The platform also has specific tools so you can find suitable wholesalers or niche products. You can see which suppliers allow low or minimum amount orders, and which products are trending with more sales.
The company's official tool is Market Research Labs; which can provide in-depth product insights so you will know if your product ideas have high probability on platforms like Shopify, Amazon, or eBay.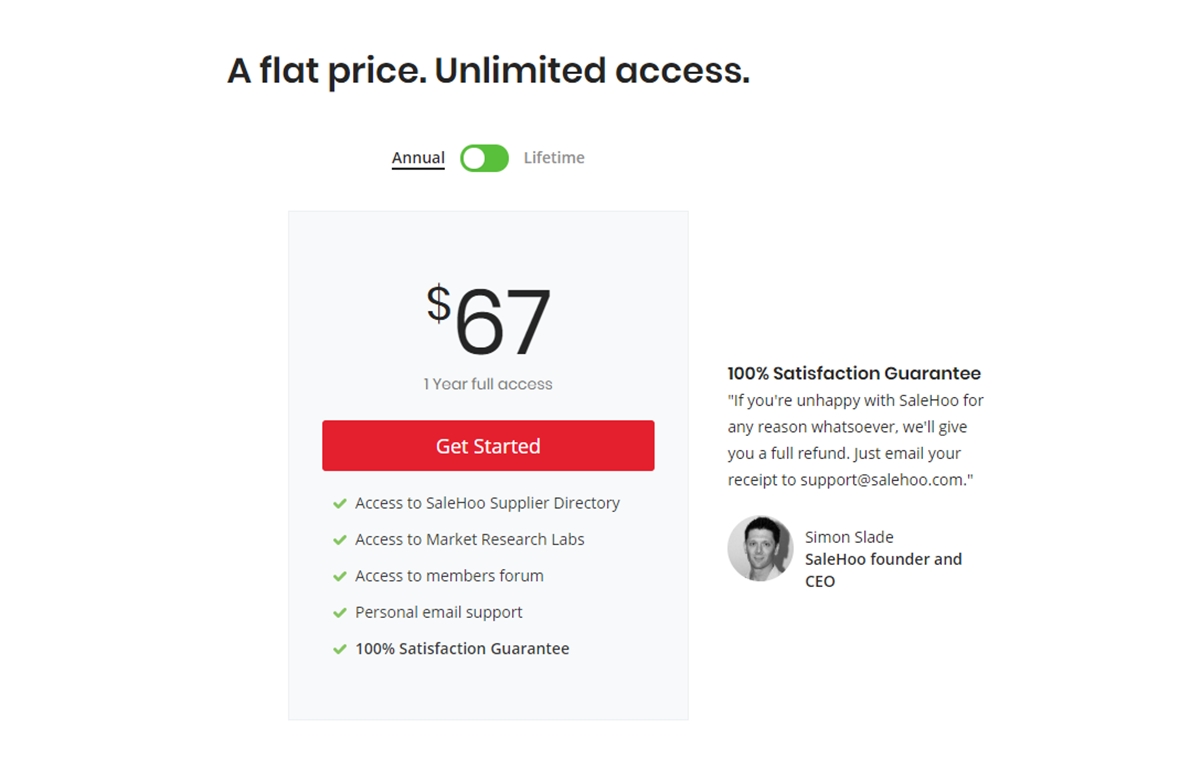 Further Reading: SaleHoo Ultimate Review: Best Wholesale and Dropshipping Directory?
To be a user, you would have to pay a yearly $67 USD fee that needs to be paid upfront. If you don't find what you need, there is a 60-day money-back guarantee as well. The lifetime fee would be $127.
There is also a store building service that will cost you an additional $27 per month if you haven't had one. And if you have questions, the customer service is available 24/7 through live chat and email support.
Pros:
A large number of products and verified suppliers to choose from
Good customer support available 24/7
Tools to browse products and see insights before dropshipping
Cons:
Upfront fee of $67 per year
Better for small business
4. Global Sources - Chinese wholesalers

Based in China like Alibaba, Global Sources is solely focused on large-amount orders. The company has been established for 48 years and served over 1.5 million international buyers from 240 countries.
The site has a large collection of goods and suppliers, but you don't have an option for low- or no-minimum orders. You can see the top 20 most popular products and the top 20 hot new releases for each category instead.
When entering a supplier's page on Global Sources, you can see their list of products, shipping time, and more company information. The information is in great detail, which should always be appreciated when doing business from the other side of the world.
The company is a great source to look for serious business partners, but it is not too great for dropshipping in small quantities. Therefore, if you are a beginner in dropshipping, you may have to dig deep to find suitable suppliers.
Pros:
Good for wholesalers with various directories and detailed information
Provide white labels for better branding
Cons:
Quite high shipping time
Communication problems due to different regions
Bulk orders are required
5. Toptenwholesale - A whole trade platform

Toptenwholesale is a leading whole trade platform that connects store owners like you with wholesale suppliers, distributors, importers, or resellers of both used and new products. Acting as a trade board solely, you can only see listings for products and suppliers on the site.
The products are laid out clearly and categorized so you can easily navigate, and you can click on any link to access the seller's site. The pictures don't always look pretty since people upload their own photos, but it is acceptable.
Lower on the homepage, you can see the Hot Buys from the site's wholesale suppliers. This is a convenient way to see which products are trending and who can provide them. And in each category of product, you can see the top sellers, buyers, and products.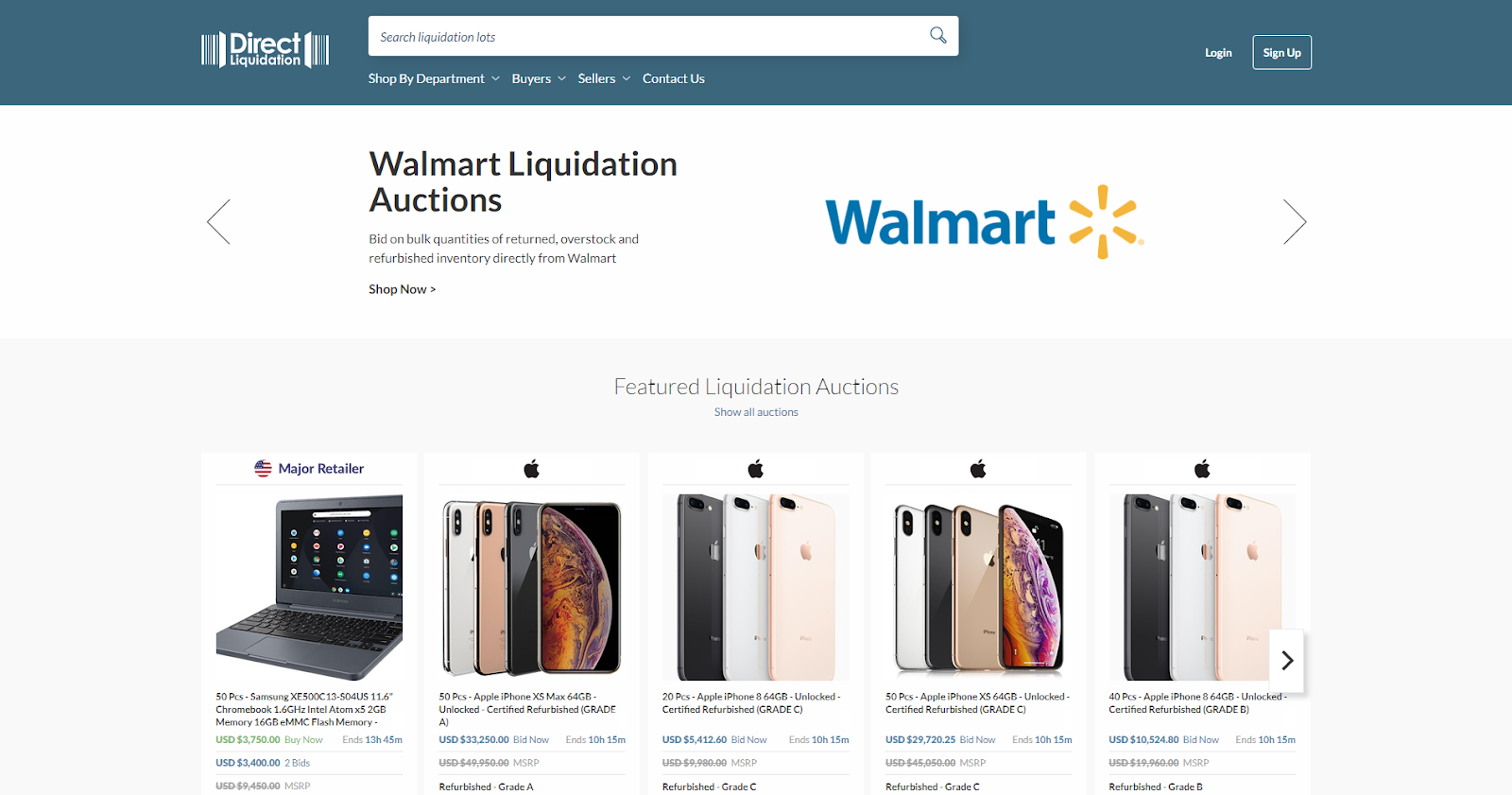 The image above shows a supplier's site that provides Apple products that I clicked from Toptenwholesale. Many suppliers are US-based, so you need not worry about legitimate authentic products. There is verification on the site as well.
For beginner dropshippers, the site can be a challenge since many products are sold in bulk orders. The contact methods for suppliers are not so clear too, so you will have to contact the suppliers one by one.
Pros:
Detailed directory with clear categories
Many suppliers are from the US, so you can dropship on the country with advantages
Cons:
Many products are only available for bulk orders
Contact methods or filtering can be a bit confusing for beginners.
6. TheWholesaler.co.uk - Dropshipping from the UK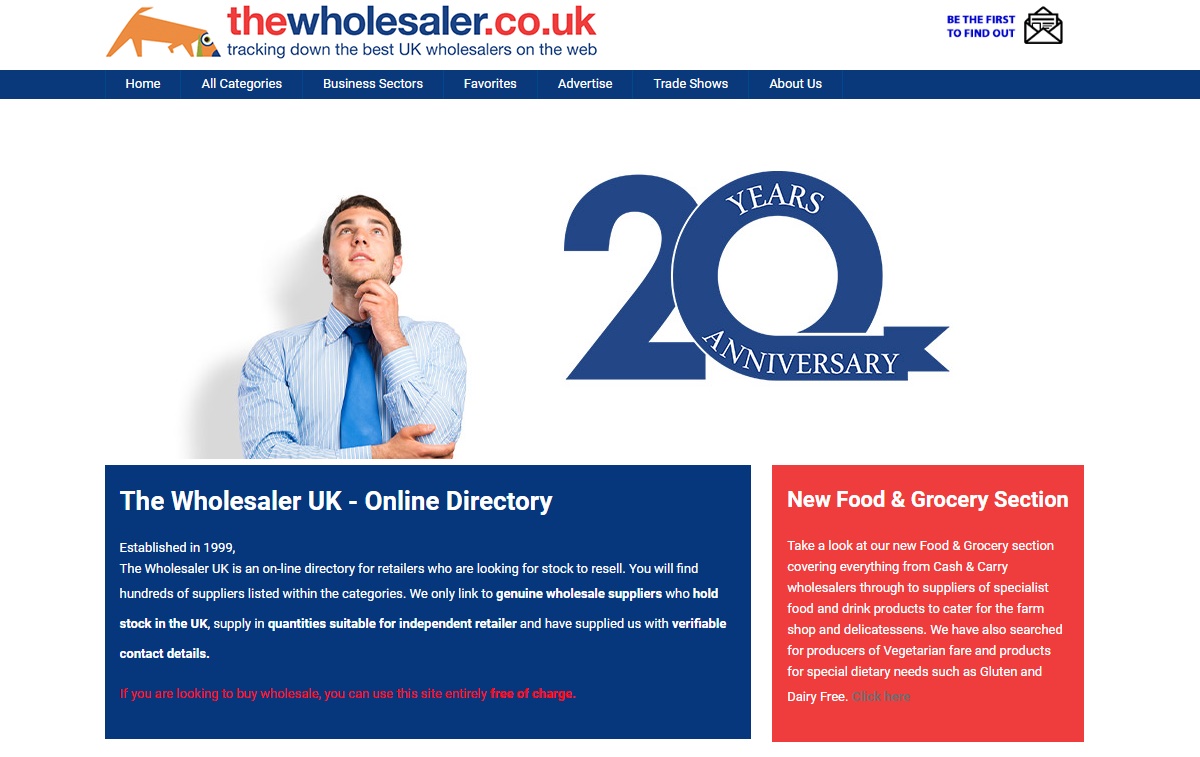 One of the largest UK-based wholesale directories, TheWholesaler is free for every to start dropshipping from the UK. The site has been around since 1999 and it is a great place to find the best wholesalers in the country.
The manufacturers or suppliers are various and divided into detailed categories. If you want to find your niche, this is a great place to start. I mean, they even have sub-categories like Reusable shopping bags or Body art to check out.
In each category, you will find info about different companies and can access those companies' sites to see their lines of merchandise. Right on TheWholesaler.co.uk, you can see information like the target market, trading method, delivery, and minimum order value.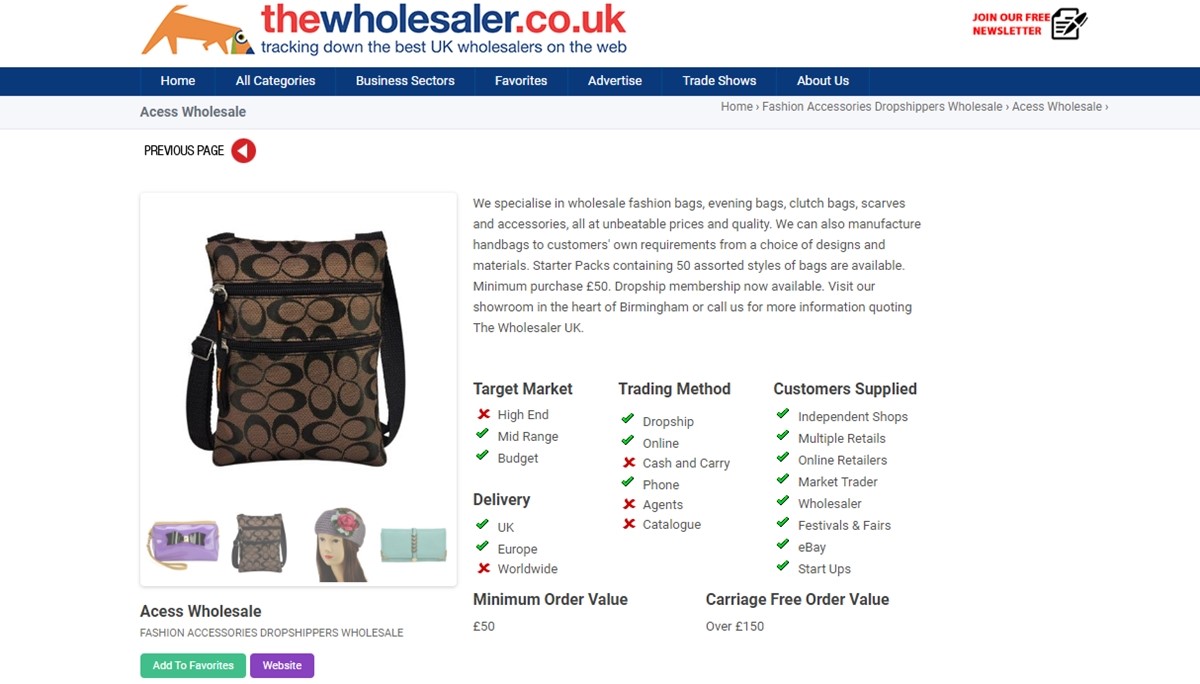 If they do drop ship, you will see immediately in one click. All of the companies are from the UK and some even wholesale supply of licensed products. If you are from the UK or want to dropship from the country, definitely check this site out.
Pros:
Wide range of suppliers and products
Largest database of UK-based suppliers
Good info on suppliers to make a quick decision
Cons:
No integration for an online store
Limited way of communication, only phone number of supplier
7. Megagoods - Electronics wholesalers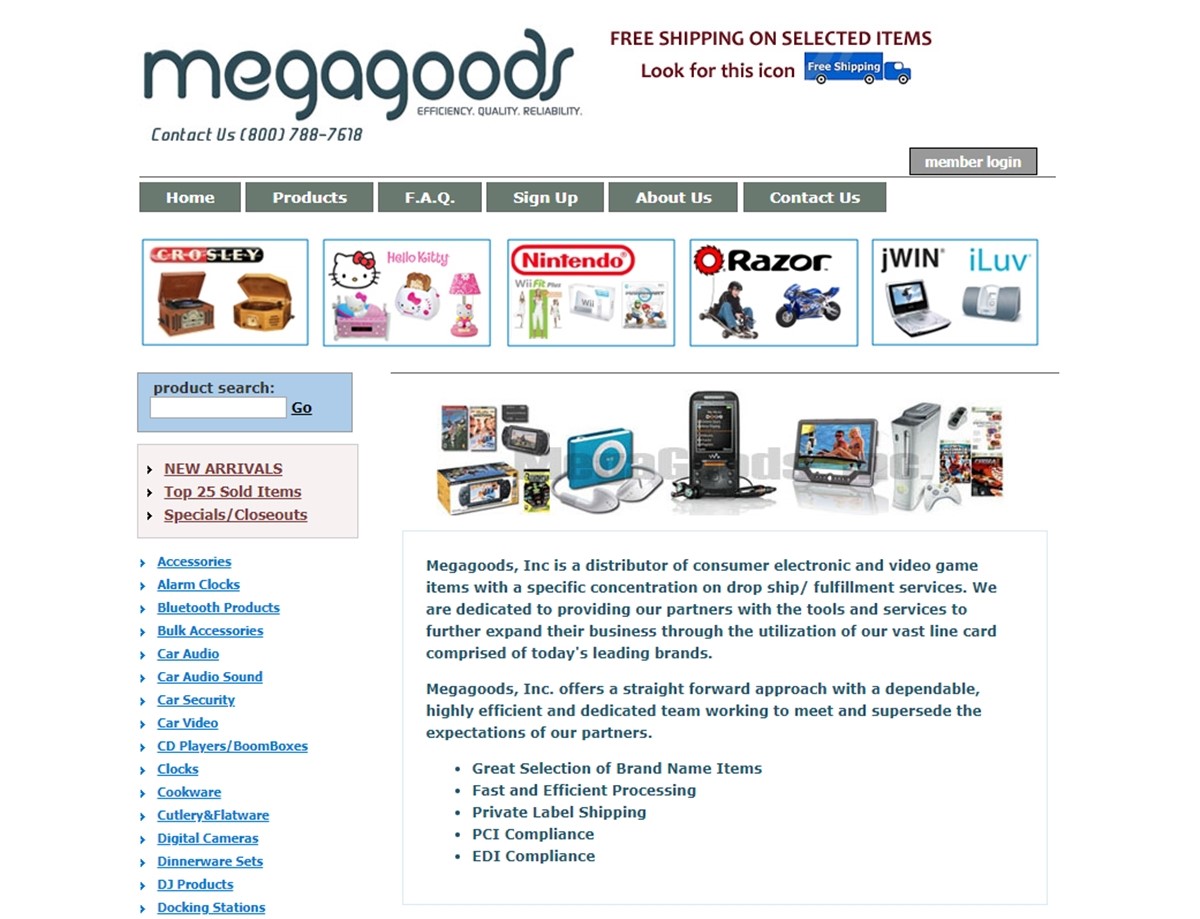 Megagoods is a distributor of electronic and video game products that shows great support for dropshipping or fulfillment service. The list of products is categorized nicely into detailed niches like Car audio, Musical & Karaoke, or even Hello Kitty.
Based in Los Angeles city of the US, the wholesale site only has about 2,000 products, but its focus on one niche and dropshipping services are what we would love to take a look at. The site can blind-dropship for your store, which is a huge advantage since the customers won't know their orders come from a third party.
The shipping policy is good too. Delivering items only takes 1-2 days with shipment tracking. Suppliers from the US can offer shipping types like UPS, USPS, FedEx so you have control over shipping fees.
The site also offers a 30-day guarantee return policy. Which is pretty impressive for a consumer electronics dropshippers. And you are protected from manufacturer defects if there is anything wrong since the date of delivery.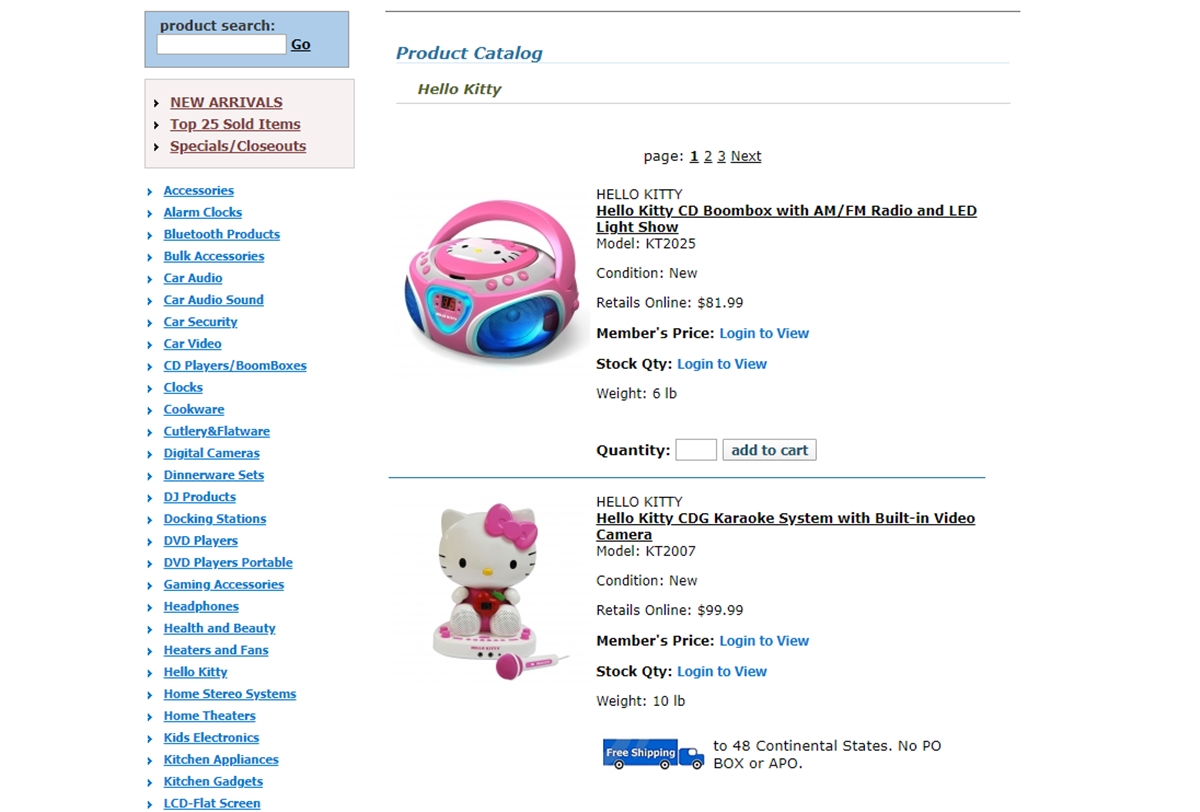 The downside of the site is its interface. The layout looks a bit outdated, and there isn't broad search functionality so you won't be able to filter products through prices or colors. The export to your store function is available, but there are only a few file types and they may not work with your site.
If you become a member, it will cost $14.99 per month to access better pricing and restricted goods. There is a 30-day free trial before that, so don't worry and try it out. There's also a $1.50 surcharge for each item dropshipped.
Pros:
Good choice for selling consumer electronics or video games
Blind drop shipping service is available
You can sell US-made products from the site
The fees are quite reasonable
Cons:
Poor interface
No filter for products feed
Limited products catalog
8. WholesaleCentral - Connect to suppliers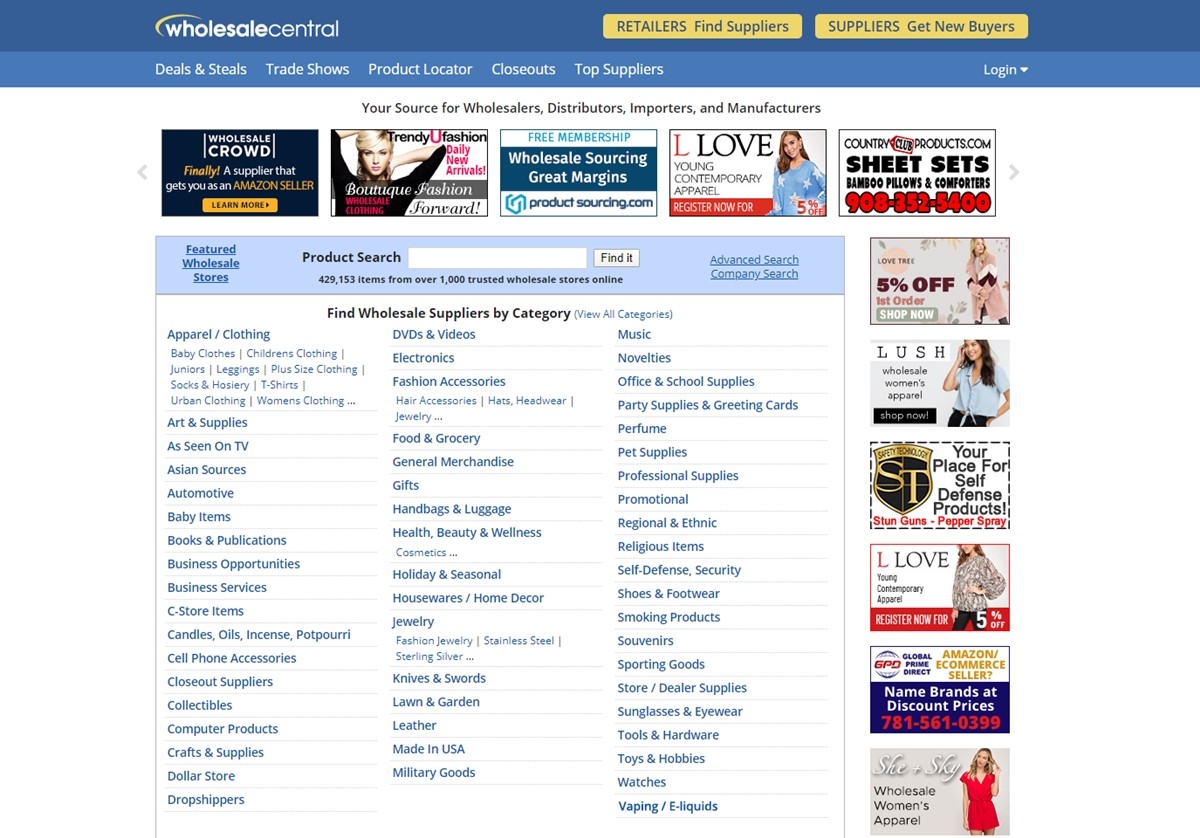 Moving on to the US, we have WholesaleCentral - one of the oldest wholesale companies up to date. They provide free search and contact options of suppliers on their site. No registration required.
However, if you do create an account, you can access the "Product Locator Service" section, try their magazines, and a list of trusted suppliers sorted by the site staff.
The site looks a bit outdated with ad banners everywhere, so get ready to put in some work if you want to gain the information you want. When you click on any category, a list of suppliers will appear with their names, locations, and a short introduction.
The name will be the direct link connecting to the supplier's site, so if they don't have a phone number or email on WholesaleCentral, you will have to reach out to the company yourself. You may find some good opportunities, after all, this is still a long lasting company.
Pros:
Large selection of suppliers and categories.
One of the oldest companies up to date
Cons:
Hard to use interface
Take a lot of work to connect with the suppliers
Not so easy for beginners
9. Worldwide Brands - Trusted wholesale company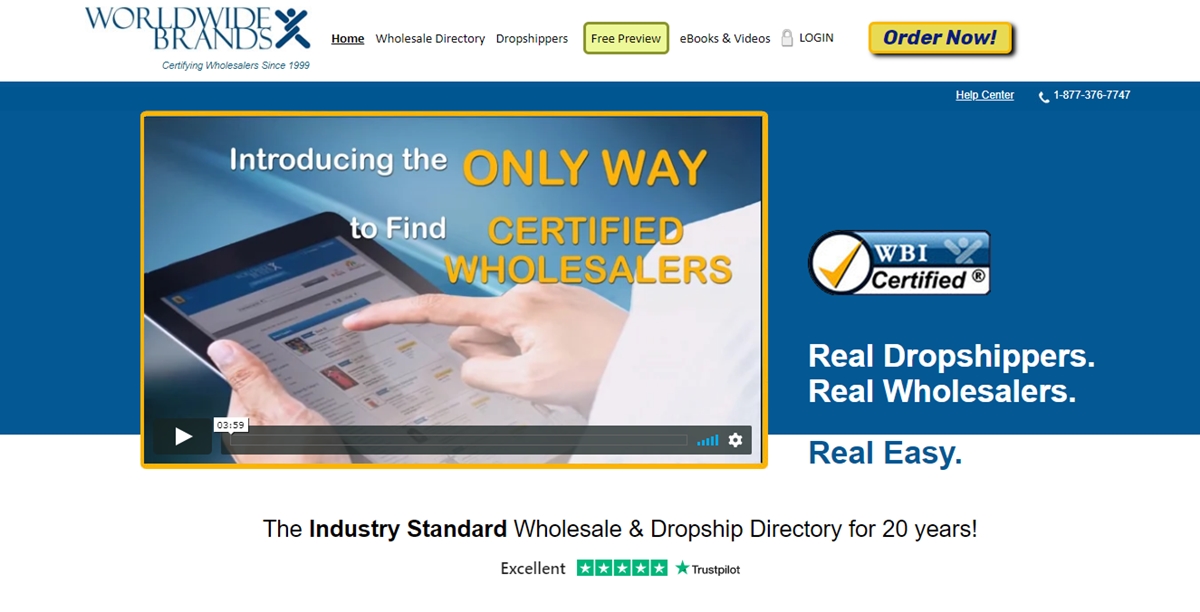 Worldwide Brands is an old-timer in the wholesale world. The company was founded in 1999 by eBay power seller Chris Malta. The site verified and fool-proof each of its products from suppliers as well.
The company's method is old-style too, they will come to trade shows to meet with suppliers, visit their factories, and meet them in person so the products being offered are legitimate. What you get from this is a comprehensive directory that you can search for products while being ensured about a regularly updated list of verified suppliers.
You can see all the supplier's information like company name, address, phone numbers, website, and all ordering details or payment methods you will need to place your orders. The company has pricing plans for $299 for lifetime access, or you can pay $99 first and $110 in the next two months.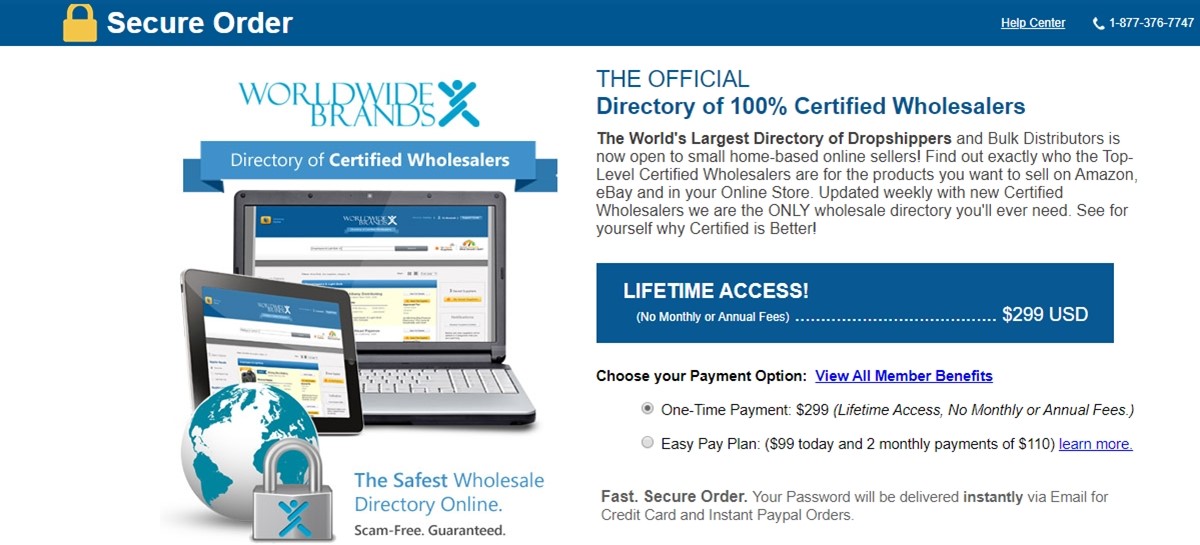 In the long run, this can be a great option for dropshippers since it is obviously less expensive than subscription models from other companies. However, the site has some downsides too.
One annoying thing is that wholesale dropshippers will be upselling with other additional services that Worldwide Brands is partnered with. Sites like Quickbooks and Sell-Niches.com are recommended to use but only so the company can get a commission if you use these sites' services.
Not to mention if prices offered for low or no-minimum orders can return no profits unless you are going for large purchases. A $300 upfront fee should give subscribers more than that and for free.
Customer support is available for members, but the resources are general things like how to choose your perfect suppliers, how to decide a niche, how to make sure of your legal business, etc.
Overall, Worldwide Brands is more of a company for large orders and experienced eCommerce players. If you are a beginner, it can be hard to navigate or make the best profit out of their service.
Pros:
1.8 million products to choose from
Easy access to the manufacturer's info and products to dropship in large quantities
A long-time experience on the market to understand users' needs
Cons:
Upfront $ 299-lifetime fee can be hard for small businesses to afford right the way
Constant marketing or upsell for other partners can be annoying
Suppliers can require minimum orders so you will have to bulk order.
10. eSources - wholesale suppliers in the UK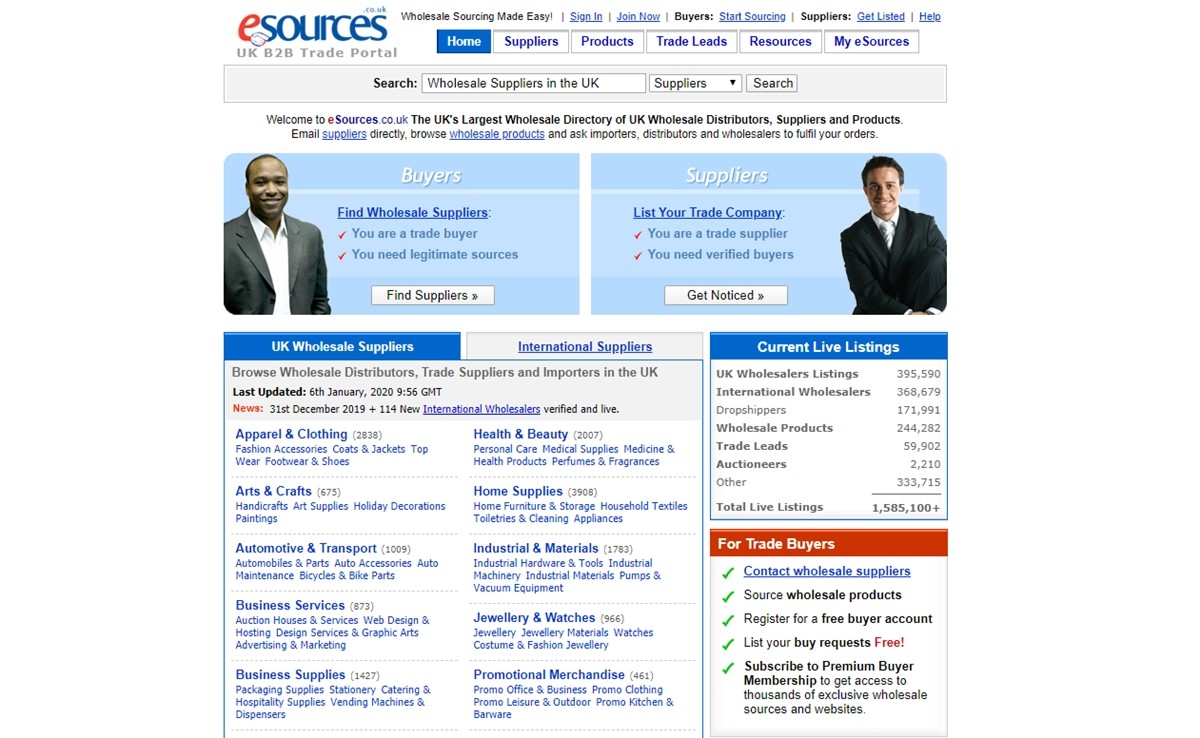 Another wholesale company from the UK, eSources is a trusted directory that many dropshippers and suppliers come to do business.
There are over 350,000 different domestic wholesale products and 170,000+ dropshippers on the site. This makes it one of the largest portals in the UK and you can see product categories right on the homepage.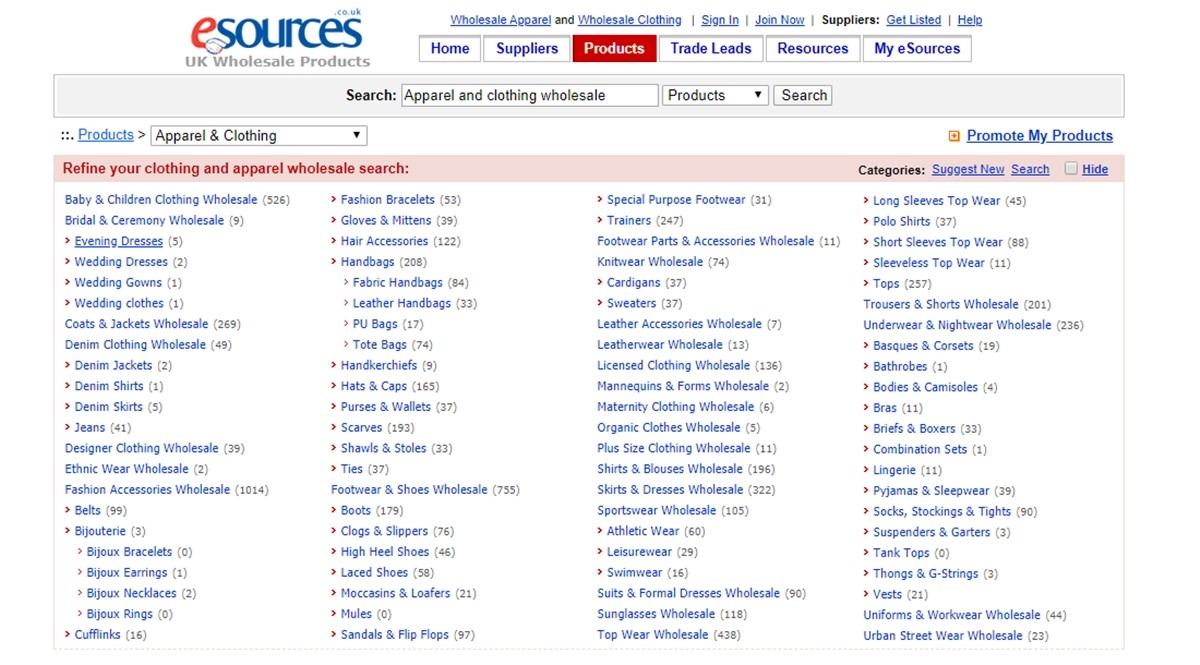 28 big categories are available and each is divided into very detailed sub-categories as well. You will also see the number of suppliers for each sub-category and can see their information like business type, products, focus markets, payment methods, for free.
A great benefit that eSource offers is the TradePass verification system for all users' companies. If there is a TradePass logo next to a company's name, you can be assured that it is authentic and verified by eSources.
But if you want to get access to the supplier listing, an account is required. The site is free to sign up if you only want to buy products.
There are subscription plans too starting at £20 a month, then £50 for six months, and £75 for a year to gain the ability to contact suppliers directly and access the company's database. If you are from the UK and thinking of dropshipping from the country, eSources can be an attractive offer due to its large database and access to domestic goods.
Pros:
Suppliers or buyers can be verified and given the TradePass badge
The UK dropshippers can gain the most benefits from the platform
Cons:
Membership fees for some buyers
11. Sunrise Wholesale - Convenient wholesale company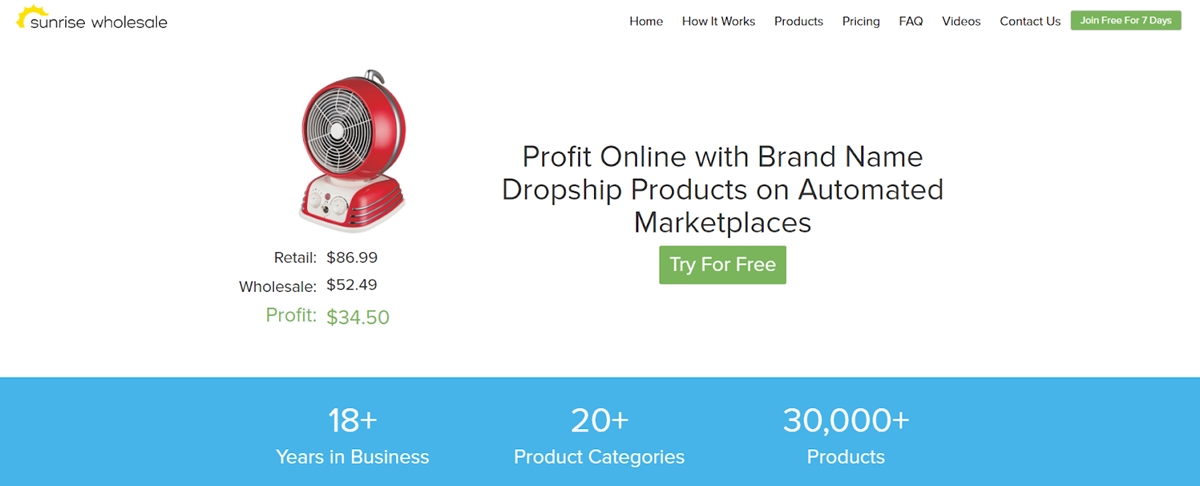 As a US wholesale dropshipping company, Sunrise Wholesale provides a wide range of products made in the country so you can start dropshipping. With 18+ years in the business, the company is trusted by many suppliers and dropshippers.
There are over 15,000 products on the site, and you can find them in detailed categories like home decor, sports and fitness, jewelry, garden decoration, and more. The company has drop ship integrations for major platforms like Shopify, Amazon, eBay.
You also get access to many more services like membership tiers, toll-free phone service, daily email to alert inventory update, automated return & refund forms, custom products, and data feeds.

A 7-day free trial is available when signing up, then you will have to pay for a membership plan starting at $49 per month or $199 per year. To be honest, the fee is quite high if you are a small business and looking to buy a small number of products. But the products on Sunrise Wholesale are high-quality as well.
Pros:
Experienced wholesale dropshipping company to ensure high-quality services
Dropship integration to work with major platforms
Cons:
How to find a good wholesale company?
Before deciding to work with some suppliers and start your dropshipping business, it is important to know some critical aspects before signing a partnership deal.
First of all, recognize the signs of a bad wholesale dropshipping company. Because though the platform may have reviewed their suppliers themselves, it is always necessary to check yourself.
Ongoing fees: Wholesalers won't charge you a monthly fee for doing business with them. That is often a sign of fraud. Unlike service companies mentioned in this article, wholesalers should only charge you when orders happen.

Per-order fees: So how much fee per order is normal? $2 - $4 or more, this depends on the size and how the items are shipped. Since you are doing wholesale and bulk order, the cost of packing is lower too. If they charge higher than that, renegotiate or walk away.

Minimum order size: The method is to regulate the lowest amount you have to purchase with your orders. They do this to prevent window-shopping merchants, but this can be a problem for dropshipping business since your customers may not need that amount of items.

Public selling: One of the worst signs is that they already sell products on their site to the public at "wholesale prices". You won't get the best prices from these companies, so skip them.
Now with that out of the way, let's see how to find a good wholesale company. You will need to see if they have the following attributes:
Industry knowledge and experts: A good wholesale company would be in the industry long enough to understand the market and their product lines. If you are dropshipping in a niche you're not familiar with, this is the lifesaver that you need.

Technology advantage: While outdated websites can still be trustworthy, the ones that understand the benefits of technology can be much better to work with. Online features like real-time inventory, order trackings, customizable data, adjustable catalogs are what will save you a lot of time and do business more efficiently.

Near-central location: If your suppliers or manufacturers are near big cities, shipping times and returning can be much better.

Sales representatives: Quality wholesale company will assign a representative to take care of you, and you will know who to ask if you have any questions.

Email orders: Imagine an email is automatically sent to your suppliers when orders happen and they take care of it, then you receive an email on the order status and shipment tracking. That is an easy life.
Last advice
Alright, that is the list of 11+ best wholesale dropshipping companies for you to check out. They can help you find products, suppliers, or technology to improve your business operation. Not all of them are easy to work with, but all are professional and industry experts that you can safely try.
So take the above advice and see if you can find your perfect suppliers to do business. If you have any other names, leave them in the comment section below. We check and answer every comment. As always, best of luck on your eCommerce journey!
Related Posts:
---
Sam Nguyen is the CEO and founder of Avada Commerce, an e-commerce solution provider headquartered in Singapore. Sam aims to support more than a million online businesses to grow and develop.
New Posts
Stay in the know
Get special offers on the latest news from AVADA.