How to Find the right Supplier on Alibaba in 2023
Alibaba is arguably the largest wholesale website in the world; there are thousands of suppliers you can find on this platform. As it is so big and anyone can open up a store in this marketplace, navigating between endless numbers of factories, manufacturers, trading companies is not easy by any stretch. Not all suppliers are reliable and can be trusted. So how can you find a supplier on Alibaba that is trustworthy enough to do business with? In this article, I'll show you exactly that.
Before we get started, there are a few points that are worth mentioning:
There are trading companies and manufacturers on Alibaba; they both can be reliable.
They offers the lowest possible wholesale cost per product.
This platform is suitable for entrepreneurs who have experience with dealing with suppliers, negotiating prices and handling customs regulations.
Recommend:
What does Alibaba include?
There are three sourcing sites that Alibaba has to offer. They are Aliexpress, Alibaba Wholesale and Alibaba.
Which one you choose will depend on the quantity that you are able to purchase. The best price will always come from Alibaba, but it also requires the largest MOQ. If you want smaller MOQs, either Alibaba wholesale or Aliexpress are better options. Let see what's the difference between these sites.
Take this charcoal bamboo toothbrushes as an example.
Aliexpress
Price: $1.63
Minimum Order: 1 piece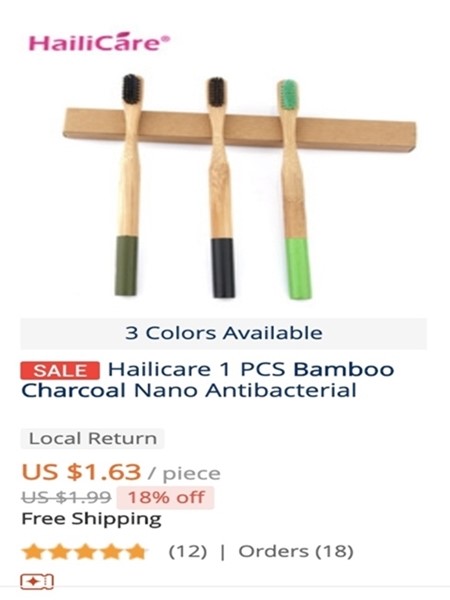 Check: AliDropship for Dropshipping
Alibaba Wholesale
Price: $0.45 – $0.55
Minimum Order: 1000 pieces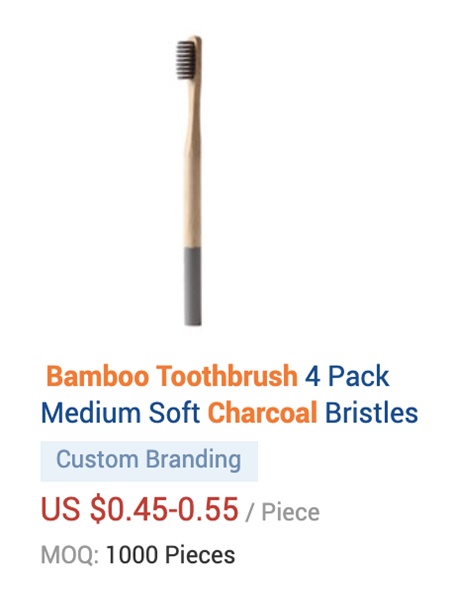 Alibaba
Price: $0.12 – 0.24
Minimum Order: 5000 pieces

So, what is the take-away?
If you're just starting your business and want to test ideas with a small order, Aliexpress is for you. Then, if you want to start placing larger orders, Alibaba Wholesale is the better option.
Once your business has grown big enough, and you can deal with large quantities, buying from Alibaba will help you maximize your profit.
Each platform is designed to provide you with what you need along your buying journey.
Read more: Alibaba Dropship vs Aliexpress Dropship
What buying from Alibaba is like?
Alibaba offers a wide variety of product categories ranging from apparel, textiles and accessories to machinery, industrial parts & tools.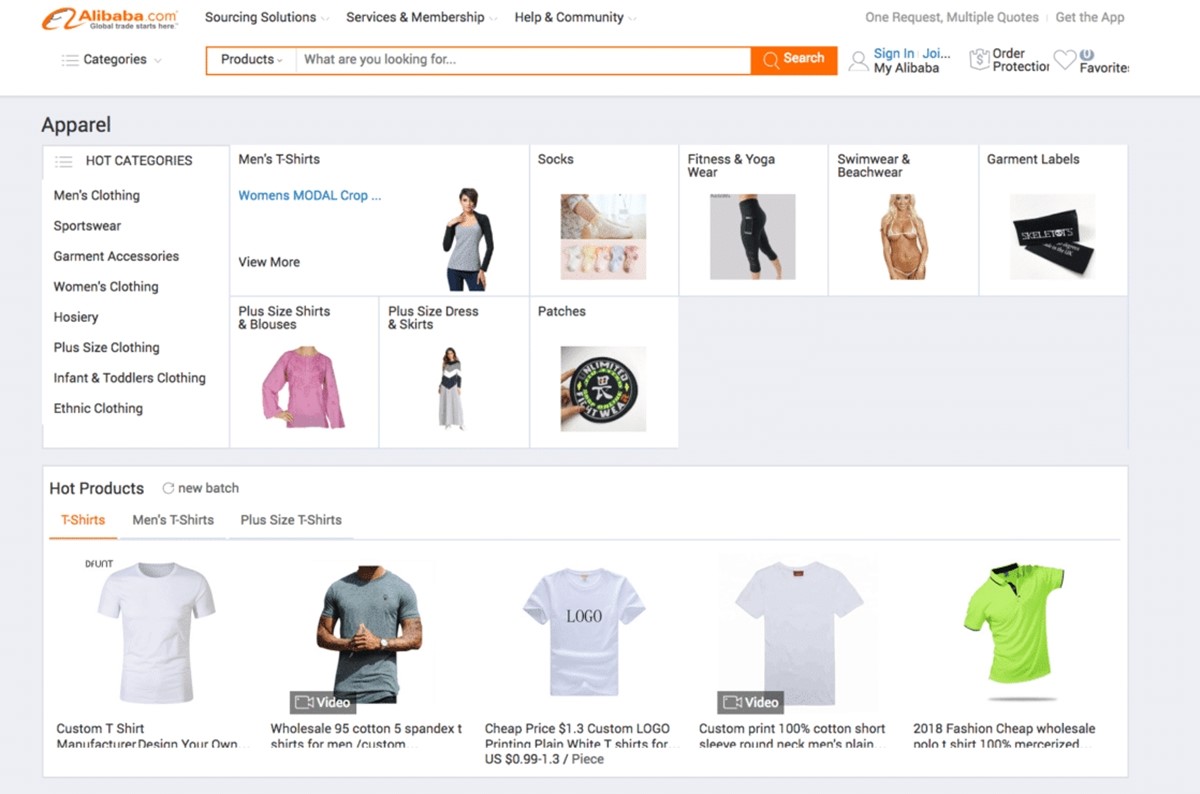 Once you have a product that you want to source, you'll need to reach out to several suppliers to find the best option for you. While reaching out to the suppliers, you'll want to do three things:
Evaluate their responsiveness (the more responsive they are, the more likely that they're trustworthy).
Negotiate prices.
Build strong relationships with them.
Once both parties agree on a price, you can place your order, and afterward, when the inventory arrives depends on the supplier's lead time.
How to search for products on Alibaba
In order to buy from Alibaba, you will need an account. Here is how it works
#1: Go to the homepage and click on "Join Free"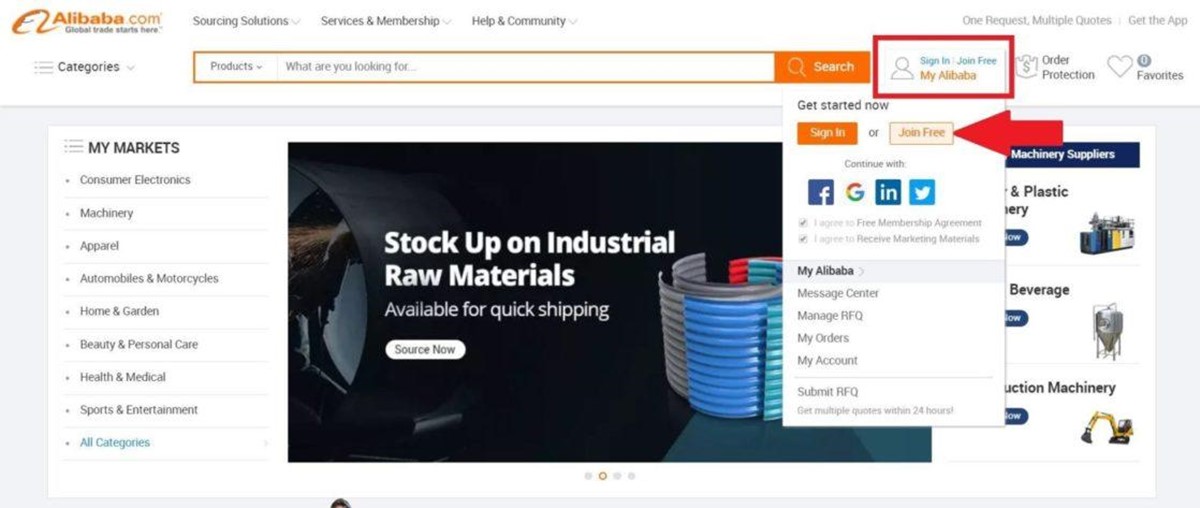 #2: Enter your Email address and verify that you own it.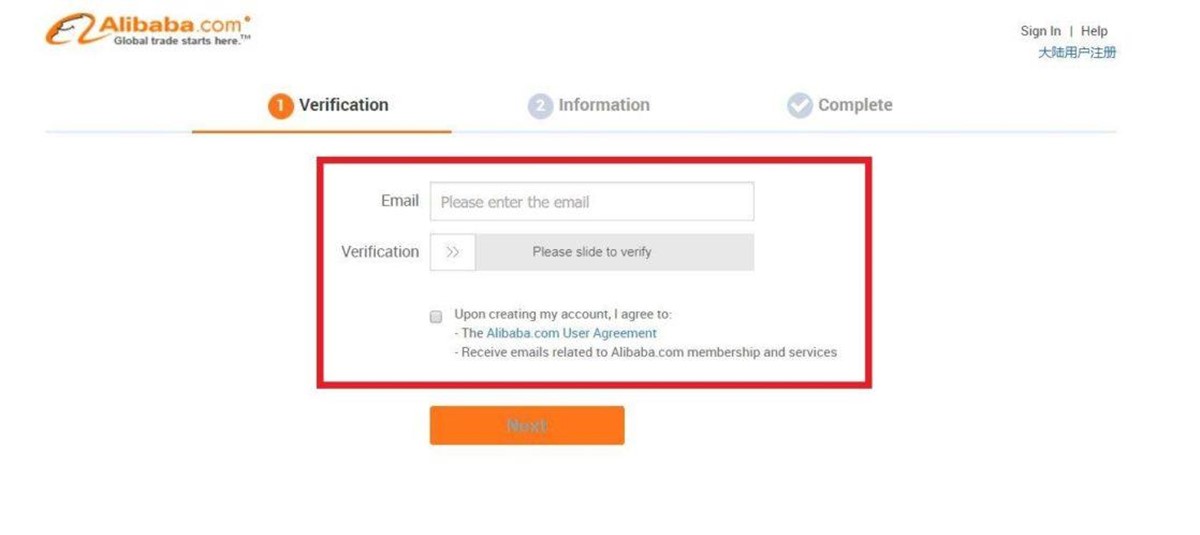 #3: Fill out your basic information.
Password, location, first name, last name, and telephone number. Where they asks you for "Company name", the name can be anything you want, you won't have to verify it.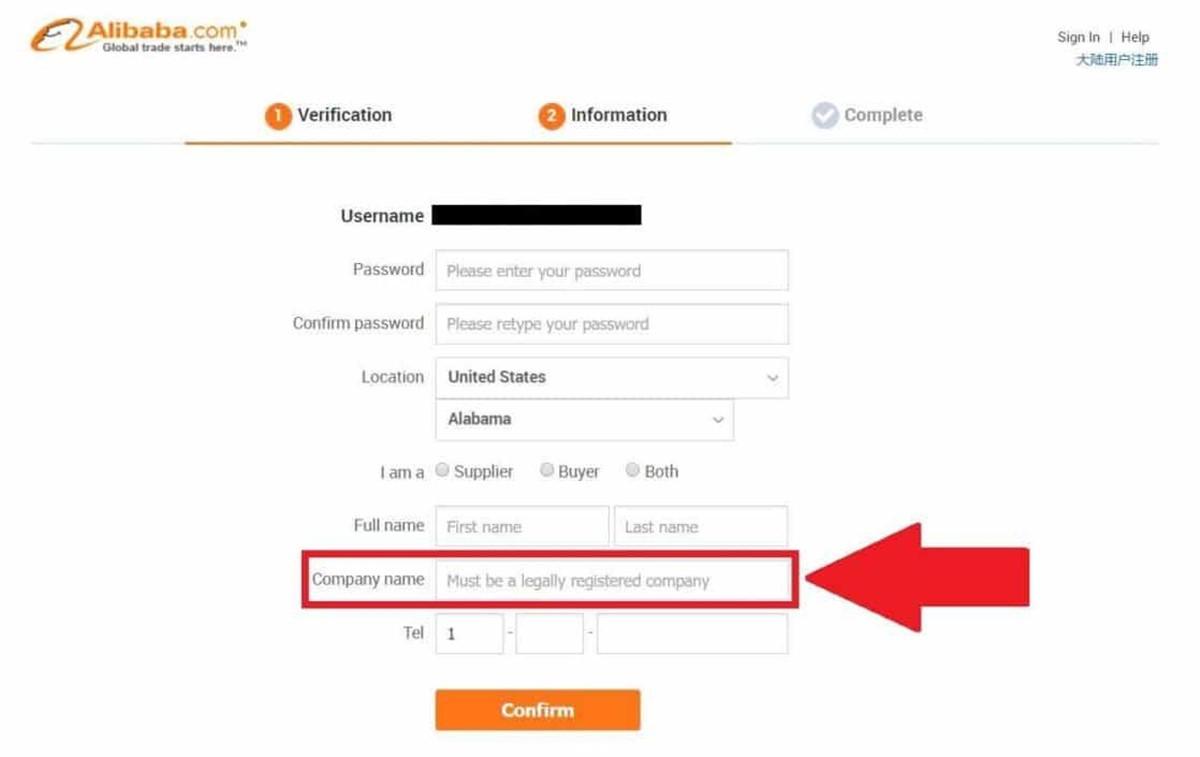 #4: Confirm
Confirm your personal information and complete the opening of your new account, and you're done.
How do I find the right supplier?
Alibaba is safe to buy from as long as you know the signs to look for. The most dangerous obstacles to finding the perfect supplier are the scammers.
Fortunately, it's not difficult to avoid these low lives.
Here is a complete guide on how to evaluate suppliers to safely buy products
#1: Review the supplier profile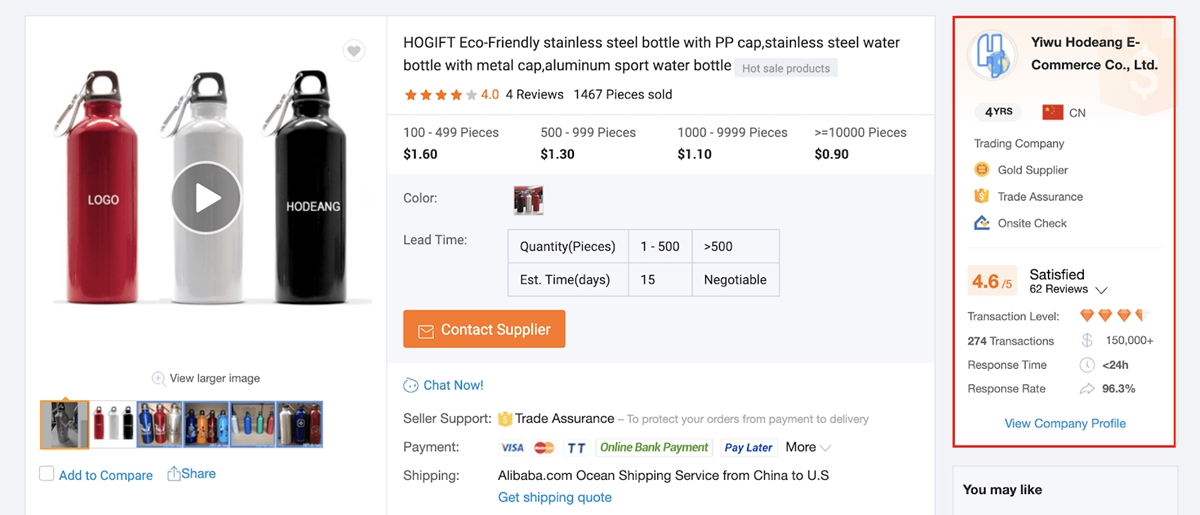 The Company section contains information that is verified by Alibaba.
You can get a good idea about whether the supplier is reliable or not by looking at the following sections.
What is Alibaba Trade Assurance?
Trade Assurance is a free program to use and it is the safest way to buy products on Alibaba.
This means they will protect your order and be responsible for it until the inventory arrives at your door.
So if for some reason you place an order and you never see your products, Alibaba takes full liability. Then, they handle disputes with the supplier for you.
Alibaba wants to create an easy and safe buying experience for its customers. For that reason, they guarantees your money back in case your order didn't meet the exact requirements you and the supplier agreed to.
And on the supplier side, Trade Assurance uses a credit-rating system. It rewards the suppliers for ensuring your products delivered on time, in proper condition.
How do you pay with Alibaba Trade Assurance?
Here's how you pay using Trade Assurance:
Order with a Trade Assurance supplier
Pay the supplier
Receive the shipment
Leave feedback on order for the supplier
When you're searching for a supplier, choose one with a Trade Assurance symbol and place an order like you normally would with any other supplier. Alibaba will be the one securing your order.
FAQ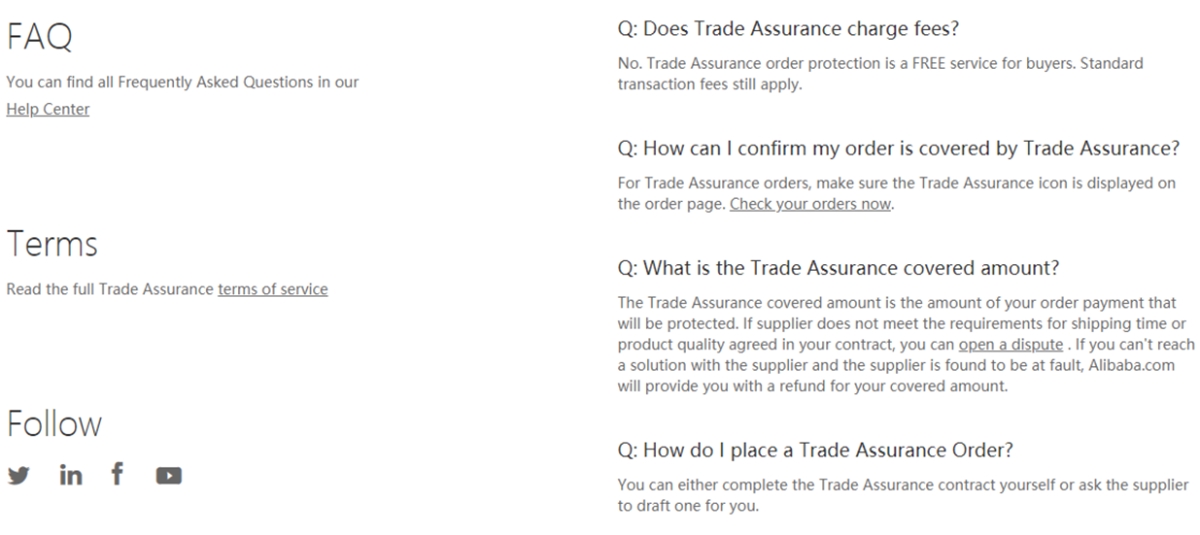 Another way to be safe is to make sure the supplier accepts secure methods of payment.
Best Payment Methods to Use on Alibaba
Legit suppliers will accept these payment methods: AliPay & Credit Cards
Yes, you can pay with credit cards. If you never receive the products, Alibaba will credit you back your money. Then they'll open a dispute with the supplier on your behalf.

Some legit suppliers don't offer Alipay and Credit Cards, especially those from Vietnam. If the payment term can only be T/T (usually 30% as a deposit and 70% against copies of documents), make sure that the account you transfer your deposit and balance to is a company account, not a personal account. If you are asked to transfer to a personal bank account, high chances that the supplier is a scam.
#2: Check supplier status
Another way to check if your supplier is trustworthy is by seeing if they have onsite checks and are gold suppliers.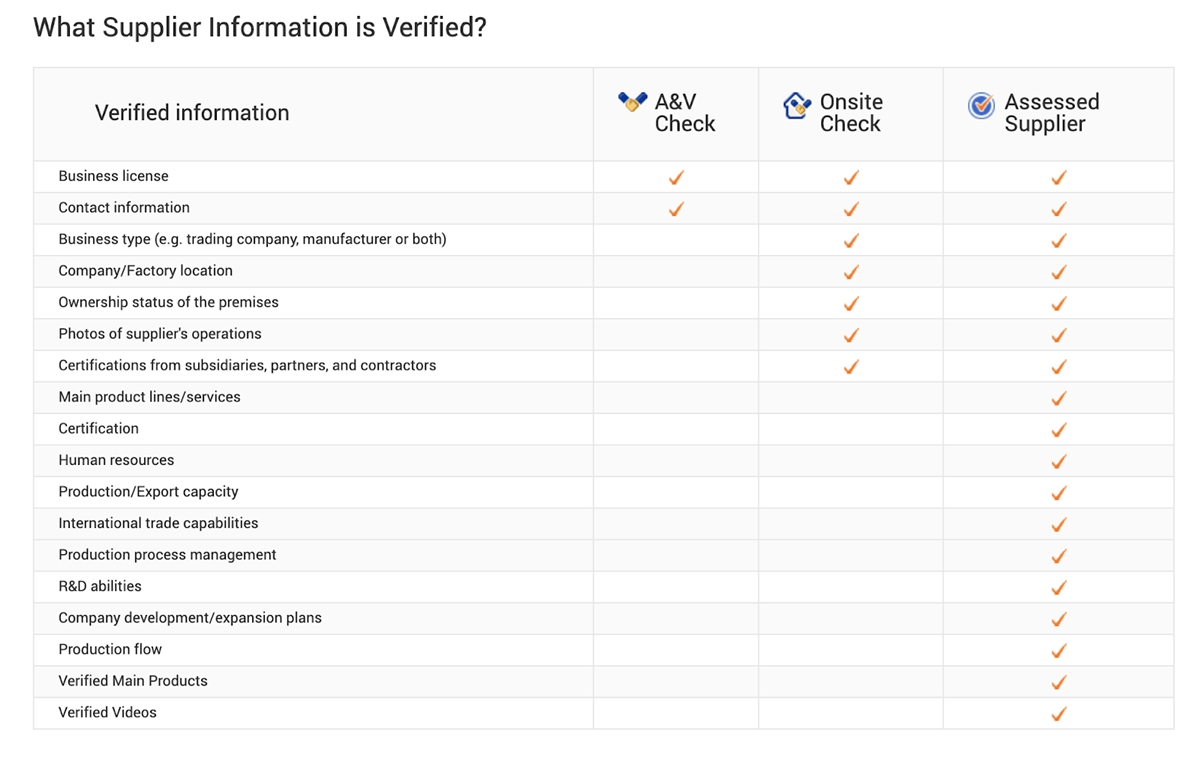 Suppliers cannot themselves put these icons on their listings. Alibaba has to send third-party inspection companies to their factories, verify everything they claim is true, and there is an actual business in the registered address.
Legit suppliers always make certain that their businesses are verified so that you feel completely safe and comfortable to work with them.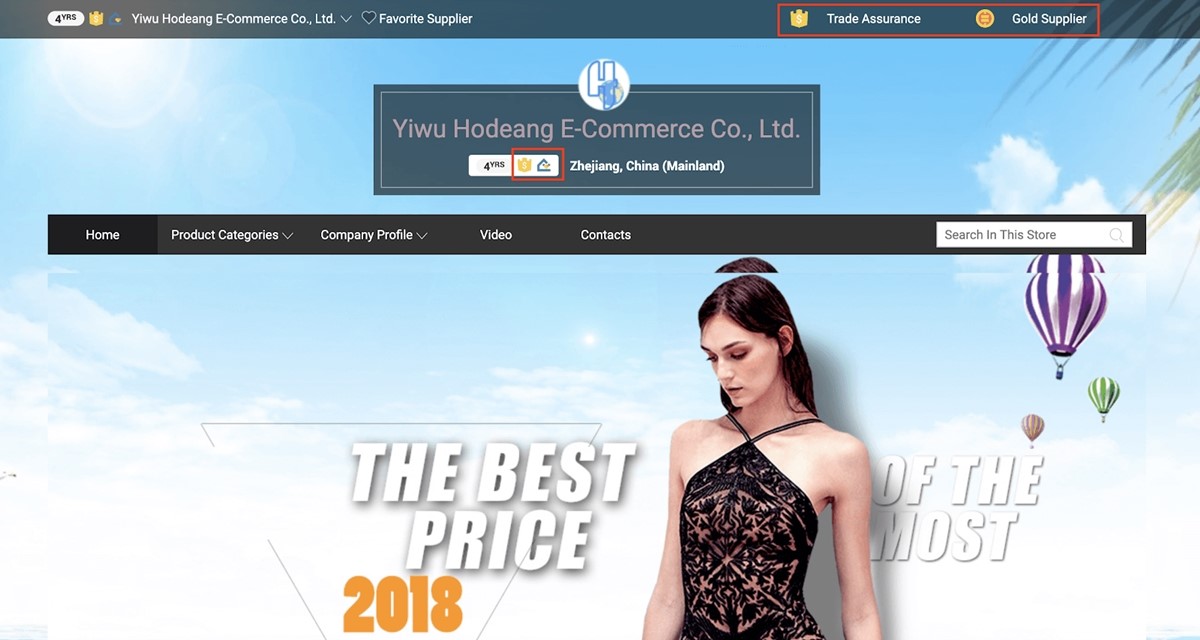 This supplier went a step beyond Alibaba onsite checks and paid for their own verification from a company in France (Bureau Veritas) to come in and inspect their factory. That's where the Gold Supplier symbol comes from.

#3: Always be cautious of quality issue
Quality is a serious risk when importing from China and Vietnam. Quality issues, in fact, are a bigger reason to lose money than getting scammed. Quality issues can never be completely eliminated, but they can be minimized, but a "good manufacturer" is continuously monitoring quality and always take responsibility if you receive defects.
You know it's time to walk away from a supplier when they claim to be completely free of defective and damaged products. There is no such thing in mass production, so what you should expect is the least amount of defects, not free of defects.
How to place an order
Communicate with Your Suppliers
First, why this is important
It's always the buyer's responsibility to make sure your suppliers are legit and that the products are of high quality. Because if you're thinking about buying a product in bulk, you might want to do deeper research and make sure.
Top 3 Tips to Stay Safe on Alibaba
Reach out to them and begin a relationship. Ask for photos of their business license and company profile. Contact the phone number in the company listing and ask them what their procedure is for sampling products.
Get samples. There is no way that you can confidently invest in a product without samples or "small test orders". That's the only way to verify the quality. Be wary of suppliers that only allow you to place large orders.
Think abundantly. There are plenty of factories, manufacturers and trading companies out there. If one doesn't work out, then you can move on to the next one.
#1: Sending the first email
Here are a few important questions to consider for your first email: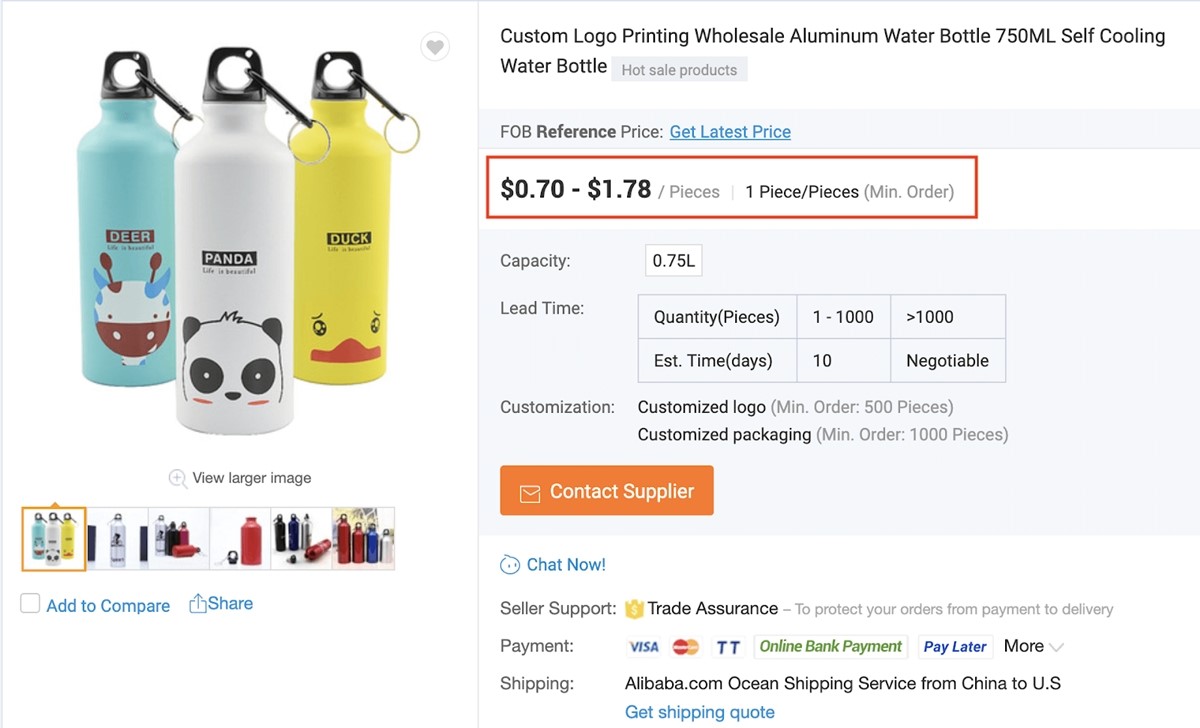 The pricing and MOQ seen the product post might not be the real price and MOQ. It might be the supplier uploaded the product a long time ago and now things have changed, or they just did not pay attention to these sections while uploading.
So you should ask about MOQ and pricing in your email.
Some suppliers charge you for providing samples, some do not. So you should ask them about this. When you request a sample, you'll certainly have to pay for the shipping.
You want to make sure that the supplier accepts the payment terms you're most comfortable with.
Please note that T/T 30% as a deposit and 70% against copies of documents are widely used by suppliers, so this payment term is not as risky as it might sound. Just make sure that before accepting it, you have made sure that the supplier is a verified gold supplier.
You can also ask for catalogs of the products that the supplier is supplying. Every reliable supplier has a collection of catalogs of their products. If they invest in making these catalogs look neat and professional, that is another sign that they are trustworthy.
#2: Working on product requirements and contract terms
You are the one who knows exactly what you want for your product, so you will have to communicate with the supplier on a regular basis and make clear about your product requirements (color, shape, model, etc.).
You will also want to make sure that contract terms between you and the supplier are easily understood and reasonable. This is so that when there are issues, you have a benchmark to follow.
#3: Placing an order
Once both sides have agreed on everything product-wise and contract-wise, you can place an order.
Case Study choose an alibaba supplier
This guide seems really long and somewhat complicated (but that's really what it takes to keep yourself safe). Let me wrap it up with a real case study.
Let's assume that I'm looking for a supplier of water bottles.
What are the steps I'm going to take from verifying this supplier to having the first interaction with them?
#1: I'm going to search for water bottle suppliers.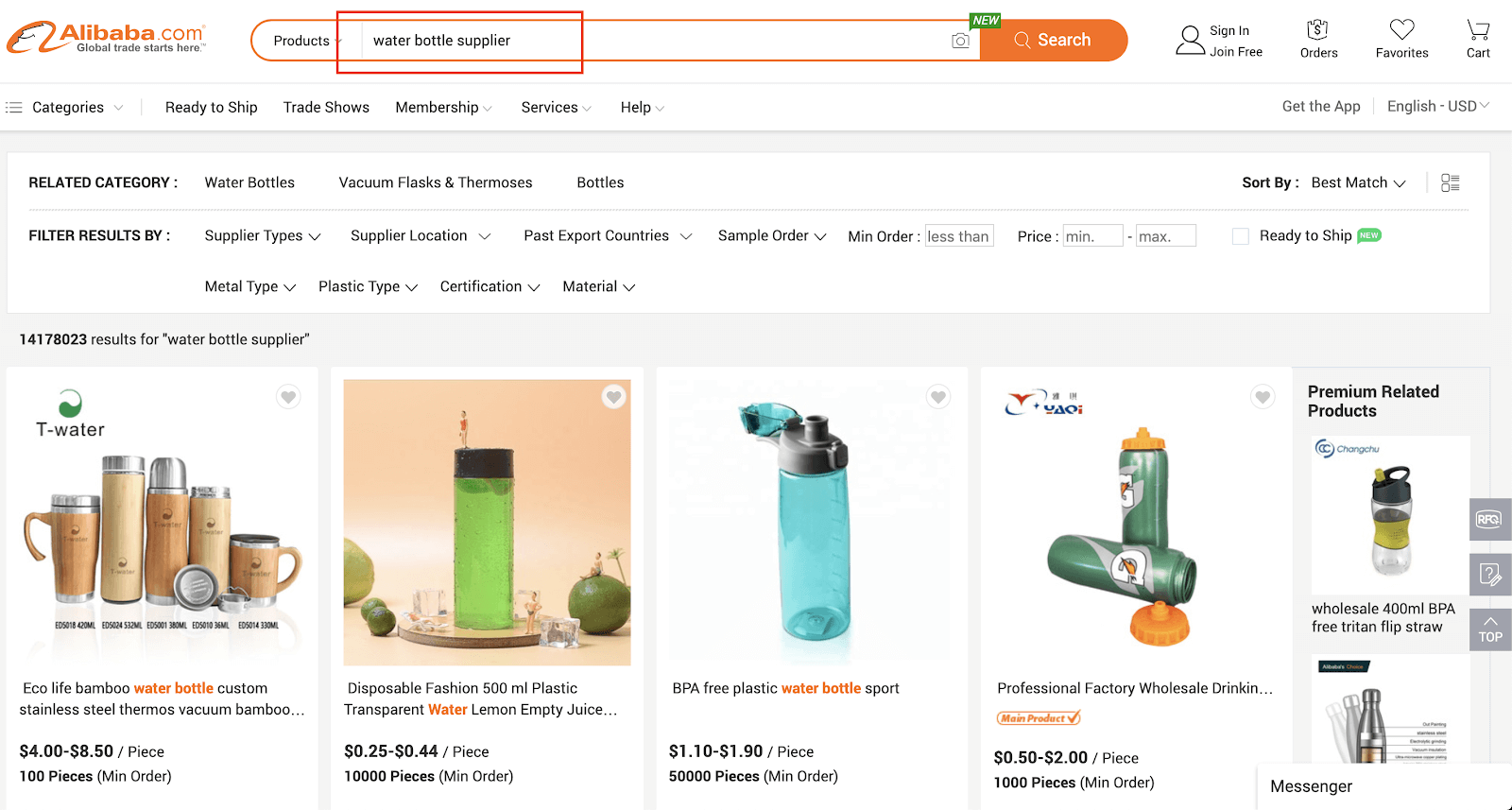 #2: I'm going to look for something similar to the product that I'm looking for, and which supplier among these looks reliable.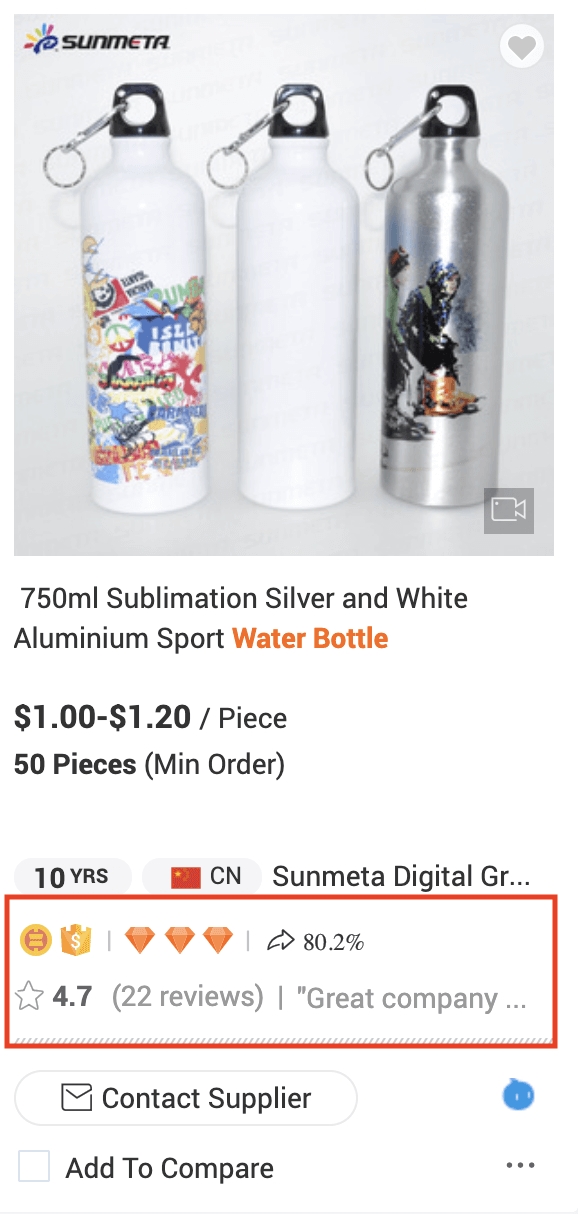 I found this one. They are a gold supplier and have a Trade Assurance symbol. The diamond tells you that they have made transactions on Alibaba over the last 6 months.
#3: I'm going to check their company profile.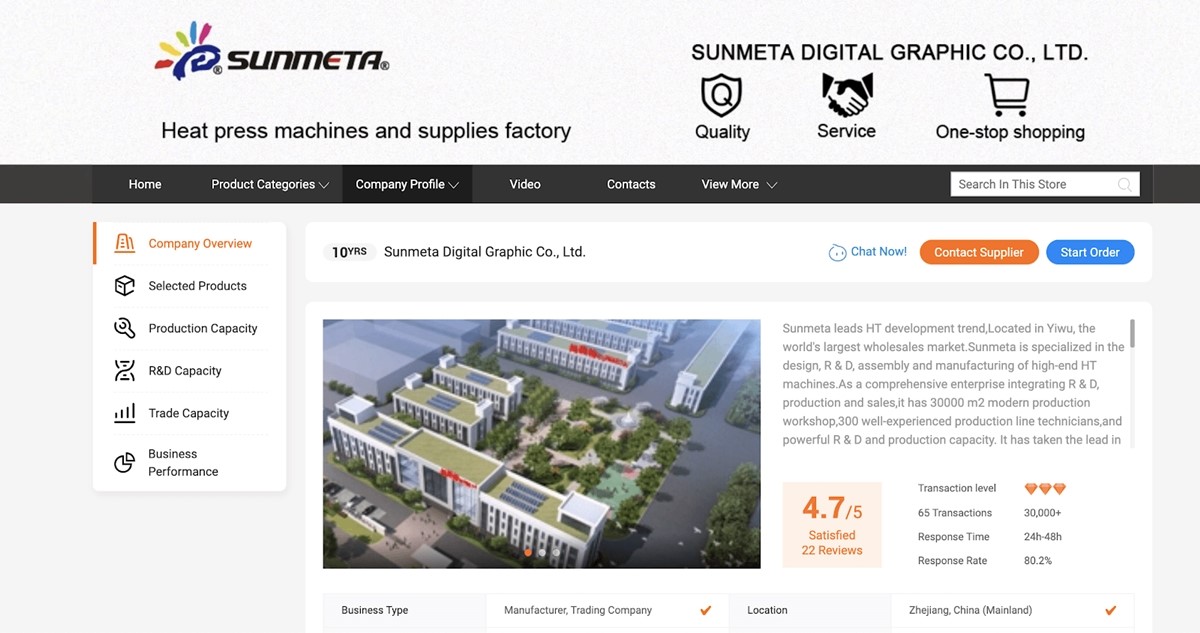 Scroll down and you're going to see they provide a lot of certificates.
With the signs, I have discovered in this step and the second step, I can already be sure that this supplier is totally legit.
Next, I'm going to reach out to them for the first time.
#4: I'm going to send them the first email to ask for their company profile, product catalogs, sampling policies, payment terms, MOQ and pricing for the item that I'm looking for.
Keep in mind that, from this point on, you can keep asking questions about their business and their products, just ask as many questions as you need to. Reliable suppliers are not reluctant to answer any questions that you might have.
Every supplier has a team of consultants who can walk you through their business procedures and consult you on their products, so take it slowly and learn with them along the way.
#5: I'm going to work with them on their contract terms, my product requirements, pricing and anything needed.
At the end of this step, I will have everything finalized with them.
#6: I'm going to place an order.
And we're done.
Conclusion
To sum it up, Alibaba is a very powerful and effective platform for you to source products from China and Vietnam. What you need to protect yourself from doing is to follow this guide and be patient to verify suppliers. The efforts will pay off.
New Posts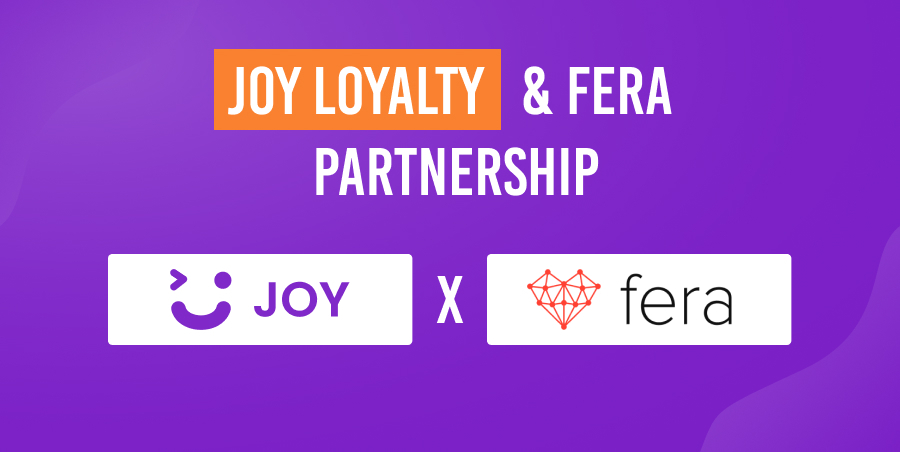 Subscribe
Stay in the know
Get special offers on the latest news from AVADA.
40k
subscribers has been joined!
Earn $10 in reward now!