Spocket Review: EU & US Dropshipping Suppliers
If you're planning to start a dropshipping business, it's worth remembering that choosing the right dropshipping supplier can decide whether you're going to succeed or fail.
Among dropshipping suppliers, Spocket is the marketplace where the best suppliers in the EU and the US are providing their products and services to dropshipping merchants.
With a strict set of standards and rules for both suppliers and merchants, Spocket is one of the best dropshipping marketplaces on the market, and you will find out why by reading the rest of this Spocket review.
1. What is Spocket?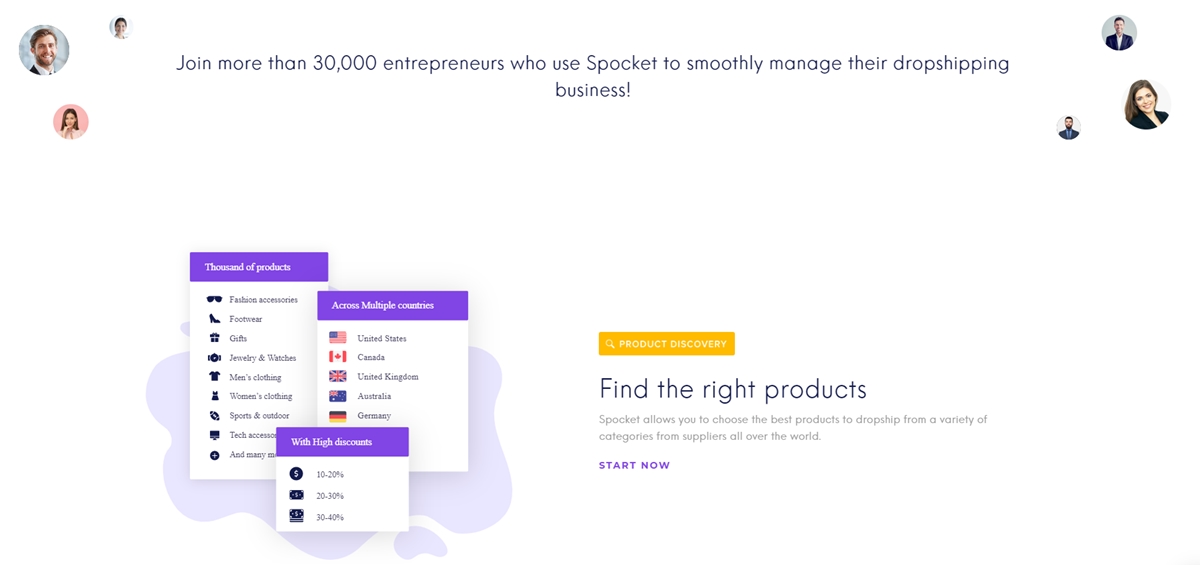 Spocket is a marketplace specially built for dropshipping. It connects dropshipping merchants with dropshipping suppliers who are located in the EU and the US, as well as help merchants to build up an inventory of high-quality products for their eCommerce store.
Spocket arguably is one of the best websites for dropshippers as it's very user-friendly. To use Spocket, first, you need to integrate the Spocket app with your Shopify store. Then you can go through their huge catalog of products, and choose the items that you want to dropship on your store, and then add them to your store with just a few clicks.
Dropshipping is one of the most popular business models in the Internet age. Nevertheless, while it can be profitable and beneficial in various ways, it does have some drawbacks when it comes to brand-ability, profit margin potential, return policies, and shipping instructions. Spocket knows this, and it has made lots of efforts to remove these problems out of their dropshipping marketplace.
Basically, what Spocket has done to cope with these issues is that they have worked with their suppliers to create mutual guidelines that instruct both merchants and suppliers about common issues like those mentioned above. This has helped bring both merchants and suppliers on the same page, and the dropshipping experience for both parties has become much more seamless and enjoyable.
2. Who is Spocket for?
Most products on Spocket are at the high end of the quality spectrum (some products even have their own brand names), so the level of prices is relatively higher on Spocket than on other dropshipping marketplaces. For this reason, Spoecket is suitable for dropshipping merchants who are planning to sell high-quality products on their online store (the target consumers for products from Spocket is the middle class who are willing to pay more for higher quality).
It's not rare that dropshipping products turn out to be bad when they arrive at the consumers' doors, and that, in turn, damages the reputation of the dropshipping severely. With Spocket, you can rest assured that your customers will receive their orders at their expected quality. This will help you increase the chance that your customers will come back and buy again.
The punchline is if you're looking to build a long-term business in the field of dropshipping, Spocket is one of the best options to check out for sourcing products. This marketplace stays committed to sourcing only high-quality products from established suppliers, which means you don't have to worry too much about the quality of the products you dropship, and you can have more time and energy to spend on selling those products to your customers.
On Spocket, there is a huge number of products that you can choose from, and you can create a personalized selection of these products that you don't have to manufacture, fulfill, or deliver yourself. This product selection will help create a great impression on your customers, and they will be more likely to buy again from your store.
3. Spocket's features and services:
3.1. High-quality products:
Dropshipping merchants often get frustrated by low-quality products from their suppliers, and Spocket understands that pain. To help dropshipping merchants deal with this problem, Spocket has spent lots of effort on creating a marketplace where product quality comes first.
Spocket ensures their product quality by inspecting their suppliers very carefully to make sure that they are manufacturing great products that both merchants and consumers can trust. They also let only established reliable suppliers into their marketplace and are not hesitate to let bad suppliers go.
3.2. Relatively high dropshipping margins:
You can get a margin of from 30%-60% with Spocket while it's often 15%-45% with other dropshipping marketplaces. It's worth remembering that the cost of sales and marketing can get really high (20%-30% of your revenue in some cases), so with this level of profit margins that Spocket offers, you will get to retain a substantial portion of net profit from the sales that you make.
3.3. Spocket offers a free 14-day trial:
Spocket does not have a free plan, but you can try whichever plan they offer in 14 days for free with full features. If you're not happy, you can end the trial and pay nothing.
3.4. Spocket offers branded invoicing:
You might not want your customers to know that they are buying from a dropshipping business. To help you make your customers' shopping experience as authentic as possible, Spocket provides you with the option to create your own branded invoices.
It's worth mentioning that there are different levels of how you can customize your invoice, and that depends on which pricing tier you pay for. For instance, when you use the free plan, you can insert your store's URL, currency and a personal message to your invoice, but when you sign up for higher plans, you will be able to add your store's logo, use your brand's font, or organize the invoice in a way that it feels personal and unique to your brand.
3.5. You can order samples:
Having a sample is a must when it comes to dropshipping (or any other kinds of business models) because that's how you can experience the product quality first before selling any item to your customers. With Spocket, you can order samples from your suppliers within the Spocket dashboard with just a few clicks.
3.6. You can automate your selling: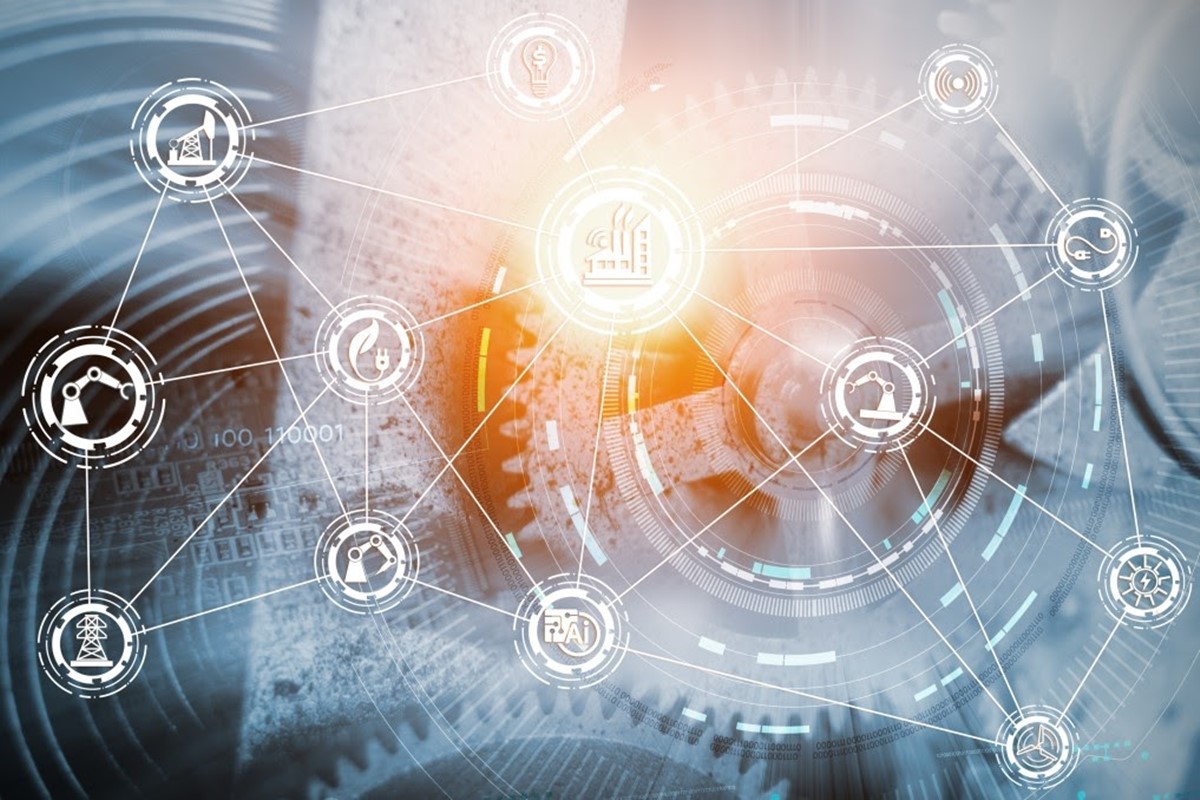 One of the things that make dropshipping appealing is that you can automate the entire process of fulfilling orders. Spocket does that best. It connects you with its suppliers and automates everything in between. That means you don't have to send orders to your suppliers manually, you don't have to notify your suppliers to fulfill and ship orders.
When you receive an order from your customer, Spocket will automatically send that order to your supplier with all the needed information. Then, your supplier can use that information to ship the order directly to your customer without any of your involvement.
3.7. The delivery time is generally fast:
Spocket suppliers deliver products faster because about 60% of the suppliers on Spocket are located in the EU and the US. Fast delivery will encourage your customers to buy and buy again.
3.8. Suppliers are inspected very carefully:
Spocket vetted their suppliers very carefully before letting anyone into its marketplace. For dropshipping merchants like you, this is a big benefit because you don't have to deal with the headache of finding reliable suppliers.
Here are the three primary standards that Spocket suppliers have to fulfill:
Investigative interview: Before letting a supplier into the Spocket marketplace, the Spocket team will interview that supplier extensively in person so that they can understand the supplier's products and business in depth. Via this practice, the Spocket team can know what the supplier specializes and how they do it, which will help them decide if the supplier is a good match for their marketplace.
By Application only: to join the Spocket marketplace, suppliers have to submit their applications actively. Not everyone who applies will get to join. There are a few key entry points that a supplier has to pass before they can be considered further. First, there is a decent demand for the product on the market. Second, the supplier has to be willing to ship products under no-branded packing so that dropshipping merchants can have the option to ship under their own brand. Third, the supplier is able to supply its products at 30-60% off of the retail price.
Product testing: Spocket tests products from their suppliers on their own. This is so that they can find out whether the quality of the product, the packaging, and shipping times are acceptable. Spocket is very conservative when it comes to these factors because it prides itself on the quality of the products on its marketplace. So, poor-quality products won't get a chance to get into Spocket.
When a supplier has passed these three requirements, they will need to confirm that they will follow the mutual return and shipping guidelines that applied to all Spocket suppliers (which I have mentioned above).
After all of these steps, a supplier becomes qualified to join the Spocket marketplace. Next, Spocket will watch the supplier's performance for the first two months to make sure that they can navigate the marketplace smoothly, and they continue to fulfill Spocket's expectations.
In case that a supplier fails to meet expectations (right at the beginning or after a certain period of time), Spocket will deactivate the supplier's membership, and any merchant who has products from that suppliers listed on their stores will get notified.
3.9. You can customize product information:
When you import products from the Spocket marketplace to your store, you can keep the product details (such as sizes, descriptions, images, etc.) as they are, or you can customize them based on how you see fit, and you can make changes to any part of the product listing. Here's a tutorial on how you can customize your product information.
3.10. There are discounted and premium products on Spocket: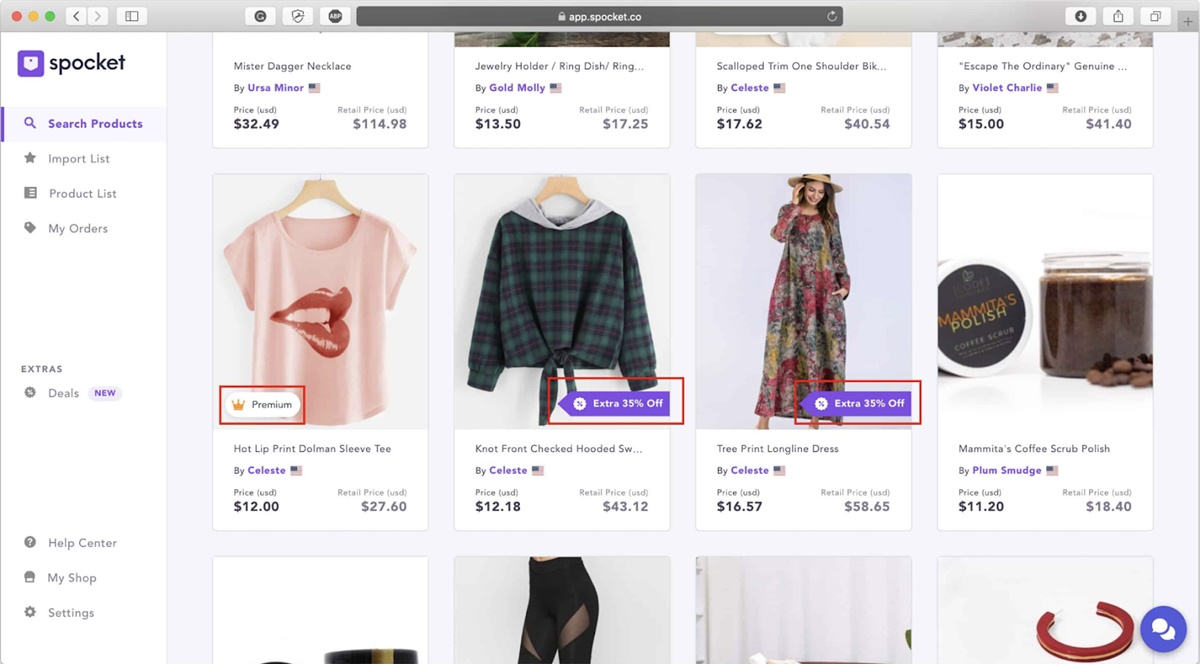 There are many types of suppliers on Spocket, from local artisans, small wholesalers to mass manufacturers, so the price ranges on Spocket are various. There are premium products from established brand names, and there are also discounted products from smaller suppliers, so no matter who you are going to sell to, there will be something that fits your needs.
Spocket's Premium Products: Premium products are the best among the best products on Spocket. They are very carefully chosen based on various metrics such as sales volumes, and they are only available to dropshipping merchants who sign up for paid plans. Additionally, premium products on Spocket tend to lean towards the 60% area of the 30%-60% discount range. They also have the fastest processing and shipping times.
Spocket's Discounted Products: these are the products that provide further discounts off of the listed original pricing. These will give you a competitive price advantage over your competitors on the market, and also give you a better profit margin.
Depending on who you're selling to, either price-sensitive customers or customers who want premium-quality products, you can explore the Spocket marketplace to see what's available, and then decide what products will be the most suitable for your goal.
3.11. Return and shipping policies:
Return and shipping policies are often the pain points of merchants in the world of dropshipping. The reason is that merchants don't usually have much control over these areas, and they have to follow what their suppliers want to offer (and hope everything will work out).
Dealing with returns can get really frustrating because if the product arrives in a broken condition, does it go back to the supplier, or the merchant has to take the responsibility? Why does the merchant have to take responsibility while they are not involved in the fulfillment and shipping process? There are often no clear guidelines on how to ship products, and the merchant has to follow their supplier's practice.
Spocket does not ignore these problems, and they have worked hard to solve them. Part of why Spocket has become one of the best dropshipping marketplaces is the way they set up return and shipping policies. Spocket has established a mutual set of return and shipping guidelines that applied across the board, and both suppliers and merchants have to follow those guidelines. This has removed the conflict between suppliers and merchants over how returns and shipping should be handled, and the dropshipping experience has become much easier for both parties.
How Spocket's return/refund policies work:
Here are the details of Spocket's return policies: All suppliers on Spocket must provide one of these return policies: no returns, 15-day returns, or 30-day returns. You can find the return policy on the product page when you click on the image of a product.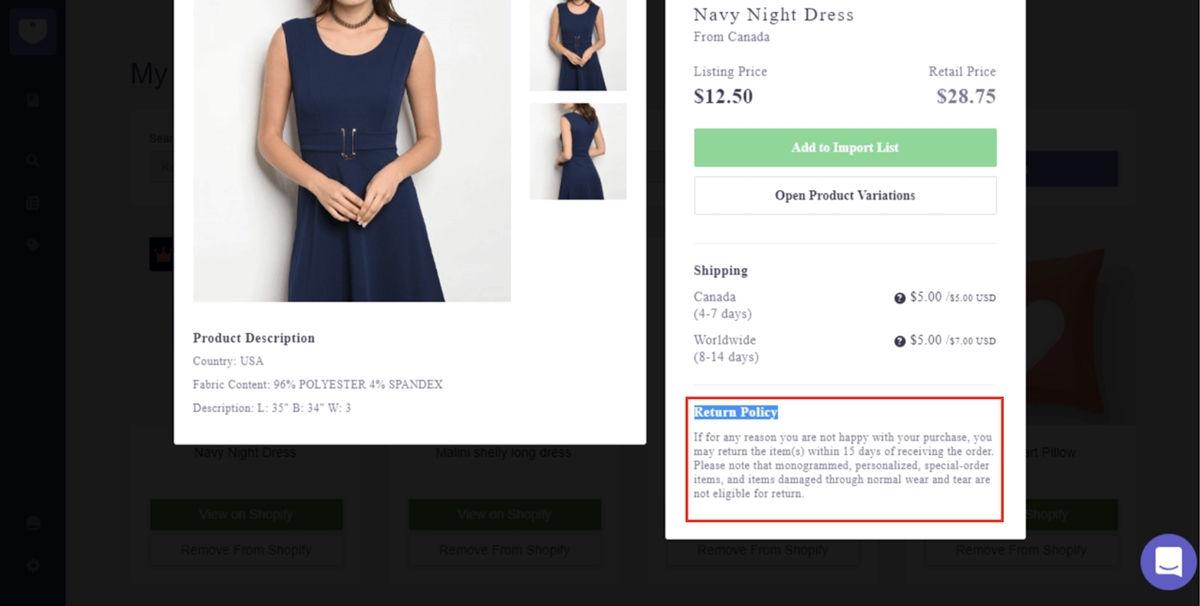 Spocket always holds the supplier's funds for the entire period of the return policy. For instance, if the supplier provides you with 15 days return policy, Spocket keeps the funds in its account for that 15 days. These are the steps you need to go through for return/refund:
You need to make sure your customers return the product for a valid reason.
You need to contact Spocket so that they can notify the supplier about an incoming product.
Your customer can send the product back to the address on the package.
Once the package has arrived at the Spocket supplier, Spocket will process the refund to your account at once.
Then you can then make a refund to your customers.
In case of your customer receiving a damaged or a wrong product, Spocket will make a refund to you immediately, or ship out a replacement product. You can simply contact Spocket with a picture of the damaged product, and they will proceed with your claim further.
You can rest assured that this is among the best return/refund policies on the dropshipping market, where suppliers often offer no return policies at all.
How Spocket's shipping policies work:
There are two common issues that dropshipping merchants often have are shipping carriers and shipping times. Although merchants don't get to decide the shipping carriers that Spocket suppliers use, Spocket does state that their suppliers mostly ship with reputable carriers, including DHL, USPS, FedEx, and ePacket. All suppliers always select the most efficient carrier to ship out their products.
The shipping rates of products on Spocket vary based on the location of the supplier and your customer, so you'll need to set up shipping costs separately. There are three shipping rate options that you can choose:
Free shipping: In the Import List of Spocket, you can add the cost of shipping to the retail price you have set. Doing this will prevent you from undercharging your customers. At the same time, you can use "Free shipping" in your sales pitch.
Flat rate shipping: You can choose a mutual shipping rate for all products. You should select a shipping rate that can average out your cost of shipping for all products.
Price based shipping: You can set your prices based on the prices of your products. This means products at similar prices can have similar shipping rates.
Finally, shipping times for Spocket products vary depending on several factors, such as the supplier's and customer's location, the shipping carrier in use, etc. Every product on Spocket shows an overview of the expected shipping times in their product description. You can use this information for products in your store.
3.12. Real-time inventory updates:
Spocket updates your inventory automatically and in real-time, which means you will never face the situation where your customer places an order for an out-of-stock item. This functionality is very important because as dropshipping merchant, you don't know your suppliers' inventory levels, so you can't update your inventory yourself. Whenever a product is out of stock from your supplier, Spocket will automatically update that piece of information in your data.
4. Pros and Cons of Spocket:
Now, let's sum up what the pros and cons of Spocket are.
4.1. Pros:
Compatible with the top eCommerce platforms: You can use Spocket on Shopify or WooCommerce.
No inventory confusion: Spocket updates inventory levels automatically and in real-time, so you will never face the risk of selling out-of-stock products.
Massive numbers of offerings: You can choose from a wide variety of products to sell in your store.
Suppliers based in the US & EU: 60% of Spocket's suppliers are based in the US & EU, which will give you much faster shipping times than those in China and other places.
Available worldwide: Spocket is can be used to sell to customers all over the world.
Currency exchange: The prices of products on Spocket are in USD. However, when you import them to your store, the currency will automatically convert to your store's base currency.
New suppliers added frequently: Spocket has a frequent flow of suppliers coming in, so you always have more product offerings to add to your store.
Direct Integration: Import Spocket products directly to your Shopify store easily with just a few clicks
Comprehensive supplier-vetting process: Spocket works hard to ensure that the suppliers on their marketplace are reliable, and offer only high-quality products.
Brandiability: You have the option to use branded invoicing to make orders look like they are from your brand.
Free Plan: You can try out Spocket first by signing up for their free plan. If things go well, you can upgrade to higher plans.
Order Samples: You can test out Spocket suppliers' product quality by ordering a sample from your dashboard with just a few clicks.
High Profit Margins: Suppliers offer products at 30%-60% off the retail price, which is much higher than the universal 15%-45% dropshipping profit margins.
Automated Order Processing: Orders from your store are automatically sent to the right Spocket supplier, so you don't have to handle this manually.
4.2. Cons:
You can't Sell on Some Platforms: You can use Spocket on Shopify, Facebook, YouTube, Instagram, Pinterest and personal websites, but you cannot use it on Amazon, Groupon, eBay, Etsy and Wish.
Customs Duty & Taxes Not Included: As customs duties and taxes vary from place to place, these costs are not included in Spocket prices.
You cannot contact Spocket suppliers: You don't have the option to reach out to Spocket suppliers directly. The reason is that Spocket has thousands of merchants using their marketplace, and it would be difficult for their suppliers to reply to all queries. If you ever have a question, you can contact Spocket, and its support team will assist you.
5. Spocket's pricing plans:
Spocket offers four pricing plans:
Starter: $12/month. You get billed monthly.
Up to 25 unique products
Unlimited Orders
Premium 24/7 Chat Support
Real-time Inventory Update
Currency Exchange
Global Pricing Rules
Shipment Tracking Number
Pro: $49/month. You get billed monthly.
Up to 250 unique products
Unlimited Orders
Up to 25 Premium Products
Branded Invoicing
Premium 24/7 Chat Support
Exclusive Deals
Premium Search
Plus Everything in Starter Plan
Empire: $99/month. You get billed monthly.
Unlimited Products
Unlimited Orders
Unlimited Premium Products
Premium 24/7 Chat Support
Plus Everything in Pro Plan
Unicorn: $299/month
Bulk Checkout
Dedicated Account Executive
Premium 24/7 Phone Support
Product Requests
Plus Everything in Empire Plan
You can enjoy any of the plans in 14 days for free and without any future commitment.
6. How to set up Spocket on Shopify:
It's quite simple to use Spocket on Shopify. You can follow the following steps to set this up.
Step 1: Connect Spocket to your Shopify store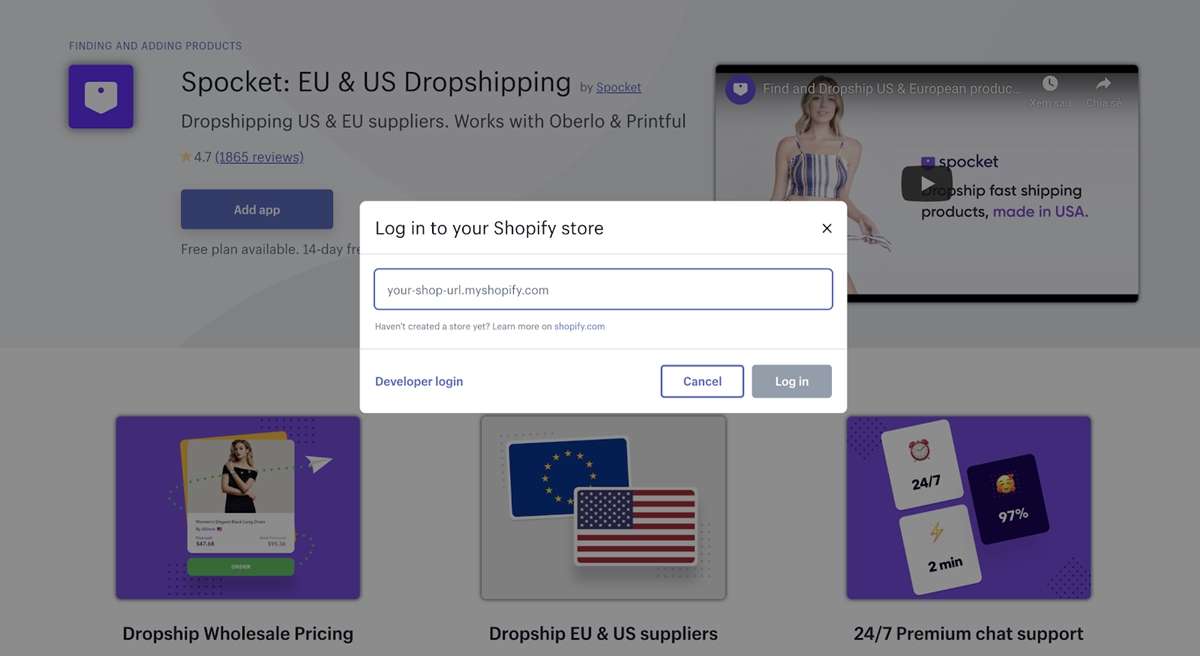 You can integrate Spocket directly with Shopify (and WooCommerce). If you have not had a Shopify store, go to Shopify and click on the Start a Free Trial button. Shopify will guide you through the steps to create a store. It will take only a few minutes.
Next, go to the Shopify App Store and search for the Spocket Shopify App. Click the Add App button and complete the pop-up dialog to connect the app with your store. Remember that you need to be logged in to the App Store before you can add the app.
Once you finish that, your Shopify store is now connected with the Spocket app, and you can start browsing its marketplace.
Step 2: See around the marketplace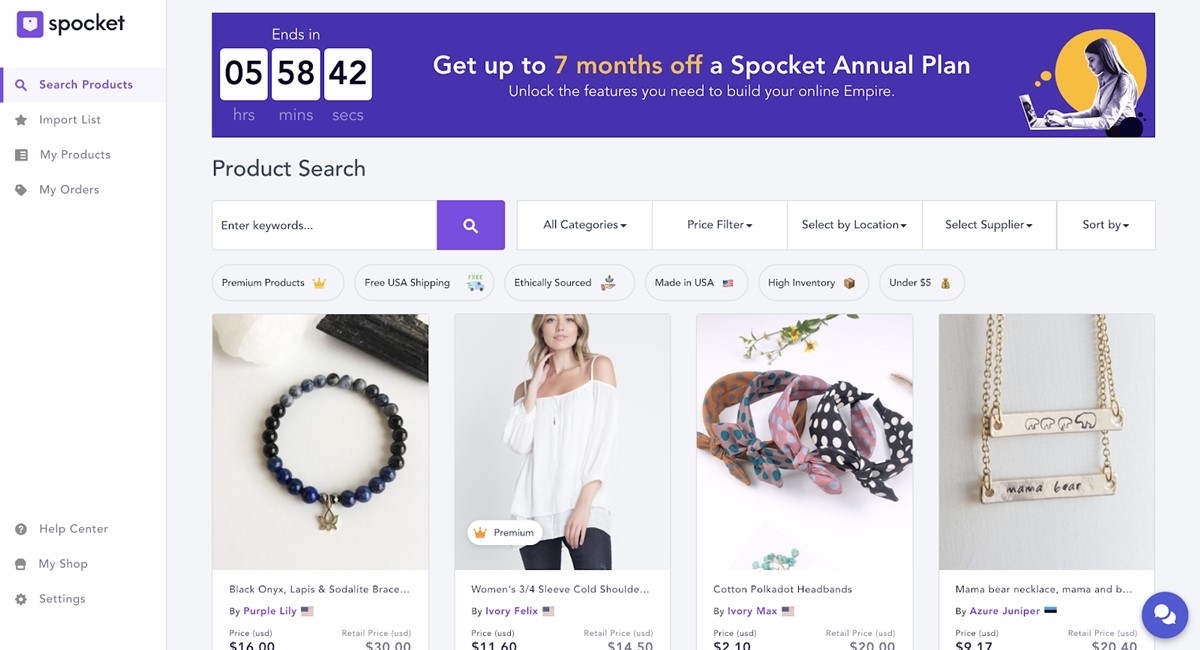 Enter a keyword to find specific products. You can search by product category, sort by price, search by location, select a supplier, or check the Premium Products box to see Spocket's premium product offerings.
Step 3: Add products to your import list.
When you find a product that you want to sell, move your mouse over the picture and click on the Add to Import List green bar that shows up. The product will be saved to your import list where you can review all of your chosen products before you import them to your store.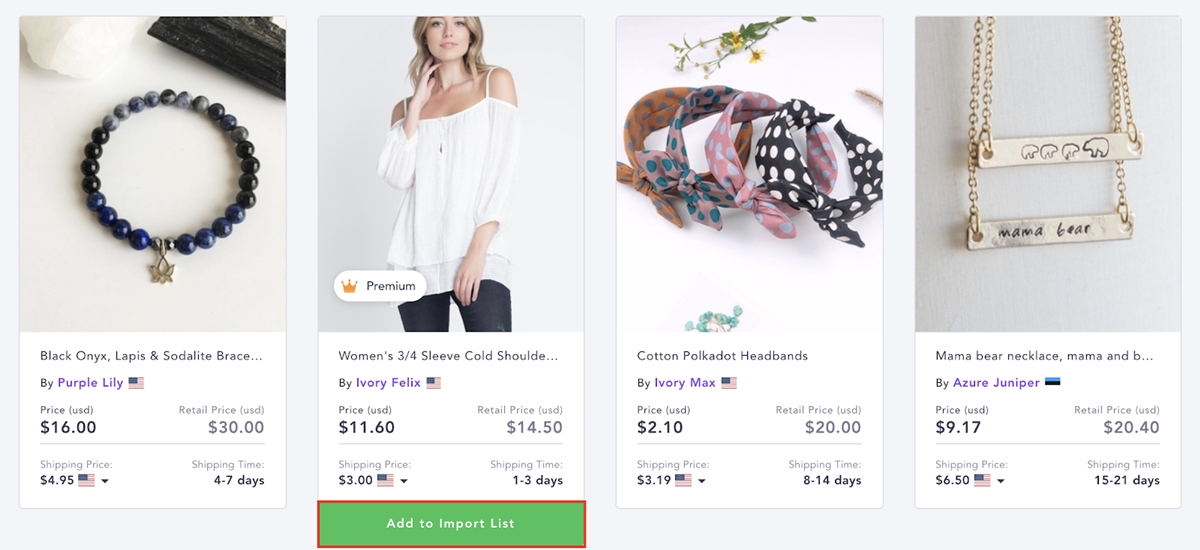 Step 4: Import products to your store

When you have added enough products to your import list, go to the Import List section and review all of them again. In the Import List section, you can customize the product details, and then you can import the products to your store with the Push to store button. Once the products are imported to your store, your customers can shop them.
Final words
If you're planning to start a dropshipping business, Spocket.co is the right option to choose if you want to source high-quality products with fast processing and shipping times. Spocket is committed to helping dropshipping merchants to build a long-lasting strong dropshipping business through their carefully curated list of suppliers. They also work hard every day to ensure that both merchants and suppliers can have an enjoyable dropshipping experience.
I hope this Spocket Dropshipping suppliers Review will be helpful for you. If you have any questions or ideas, feel free to leave a comment below.
---
Sam Nguyen is the CEO and founder of Avada Commerce, an e-commerce solution provider headquartered in Singapore. Sam aims to support more than a million online businesses to grow and develop.
New Posts
Stay in the know
Get special offers on the latest news from AVADA.