How to Start a DropShipping Business with Shopify?
For many entrepreneurs, creating an eCommerce store that uses a dropshipping business model is such a great option since you don't even need to carry any inventory. Instead, you focus your time on experimenting with products, growing an online store, and making more profit.
As you may know, the method is also supported by the infamous eCommerce platform - Shopify. So with a deep knowledge of the platform, we thought it would be helpful to create a Shopify dropshipping guide, so anyone can start easily and conveniently.
In this article, you will learn all about how to begin dropshipping with Shopify with step-by-step guidance. Also, there are real-life examples and expert tips to help you do it right. Let's have some fun and start your dropshipping business!
What Is Shopify dropshipping?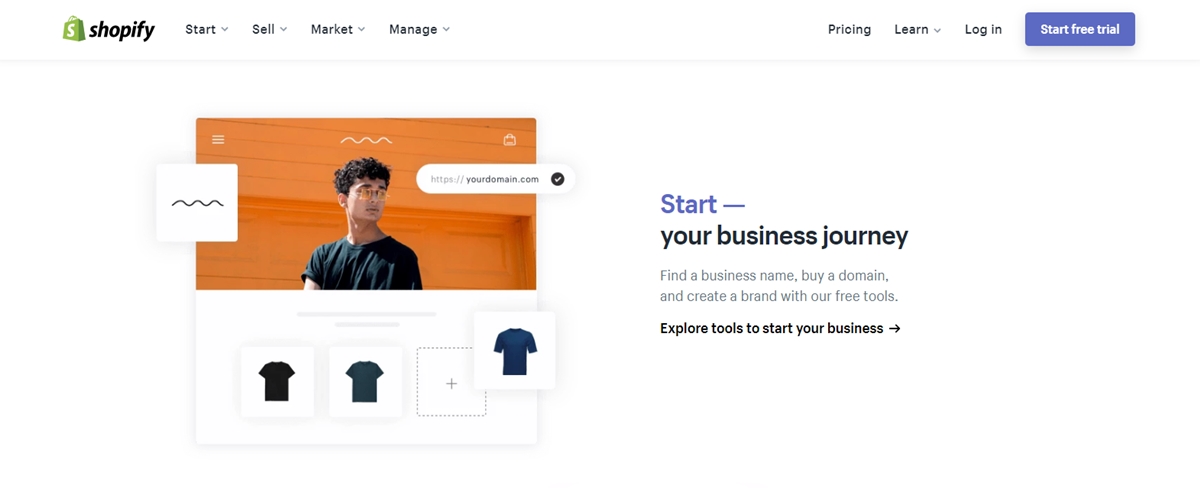 First, let's get through some basic concepts.
Dropshipping is a famous eCommerce business model in which the online store sells products without carrying any inventory. When an order happens, the store owner contacts the supplier, who will then ship the products directly to the customer who placed the order.
This is a perfect business model for new eCommerce entrepreneurs because it's simple to set up and manage without a big investment in production or packaging. And best of all, the method saves time; you can totally have a side hustle doing dropshipping in just 3 - 4 hours spent per day.
Meanwhile, Shopify is a world-leading eCommerce platform that provides solutions to start an online store in just minutes. You don't need any technical experience to build your own storefront and have a wide collection of themes, apps, and resources available on their sites.
Essentially, Shopify works as the foundation needed to start and design an online store, while the backend lets you run your online business without any hosting fees. There are priced monthly fee plans for you to choose, and Shopify will keep your store up and running smoothly.
If you want to learn more about Shopify, read our detailed Shopify review article.
So, how about a combination of these two? Dropshipping + Shopify?
The answer is GREAT!
When you dropship, the most important factor is timing. And with Shopify, you can use with little up-front investment to create your own online store in just a few minutes. Also, you won't have to worry about excess inventory since you order products until they are sold.
If you use additional software, you will be able to control your inventory with just a few clicks, which again saves you time.
All these make Shopify dropshipping simple and easy for anyone. If you want more proofs, let's take a look at Shopify dropshipping pros & cons.
Learn More: How Does Dropshipping Work On Shopify?
Shopify Dropshipping Pros and Cons
Pros
Great freedom - If you dropship with Amazon or dropship with eBay, things may get hard because of ever-changing obligations. But if you use Shopify and build your own store, you can dropship however you like.
Minimized risk - Since you don't pay in advance to take in inventory, there is less risk of being affected by common things such as product obsolescence or price changes.
Customization - With Shopify, you have a ton of ready-to-use themes to design your perfect store. You can also access a collection of extensions and plugins, which extend your store's functionality.
Superb support - Aimed at the beginner, Shopify really stepped up their customer service with 24/7 live chat and phone support. The community forum is friendly and active with questions as well. And you have a library of tutorial posts, case studies, and success stories.
Connect to social channels - Shopify allows you to connect your store with a Facebook page, and seamlessly lets visitors purchase from other platforms like Pinterest, Twitter, Blog.
SEO-ready functions - You and add tags, edit meta tags, add product descriptions, and arrange collections, etc. to make your online store seen by search engines. This helps you get a better rank and have more visitors equals more sales.
Cons
Low-profit margins - This is a common problem for dropshipping on every platform. You gain only about 5-10% of profit for each item sold. This is solved if you can sell in large numbers.
Expenses add up - Comparing to other platforms, Shopify allows you to use it for free for 3 days, then you only have to pay $1/month for the next 3 months of use. Themes and apps also have paid options, and transaction fees can be added if you don't use Shopify payment.
Lack of control - Though you own your storefront, there is no way to control the supply chain, which is in the supplier's hand. There is also a delay in communication and can slow down your business.
Exclusive Offer: Get Shopify 93 days for just $3 + The Online Store Starter Kit
Start a 3-day free trial, then get Shopify 3 months for $1/month plus the premium package designed especially for new Shopify merchants!
Start Free Trial
Shopify Dropshipping Policy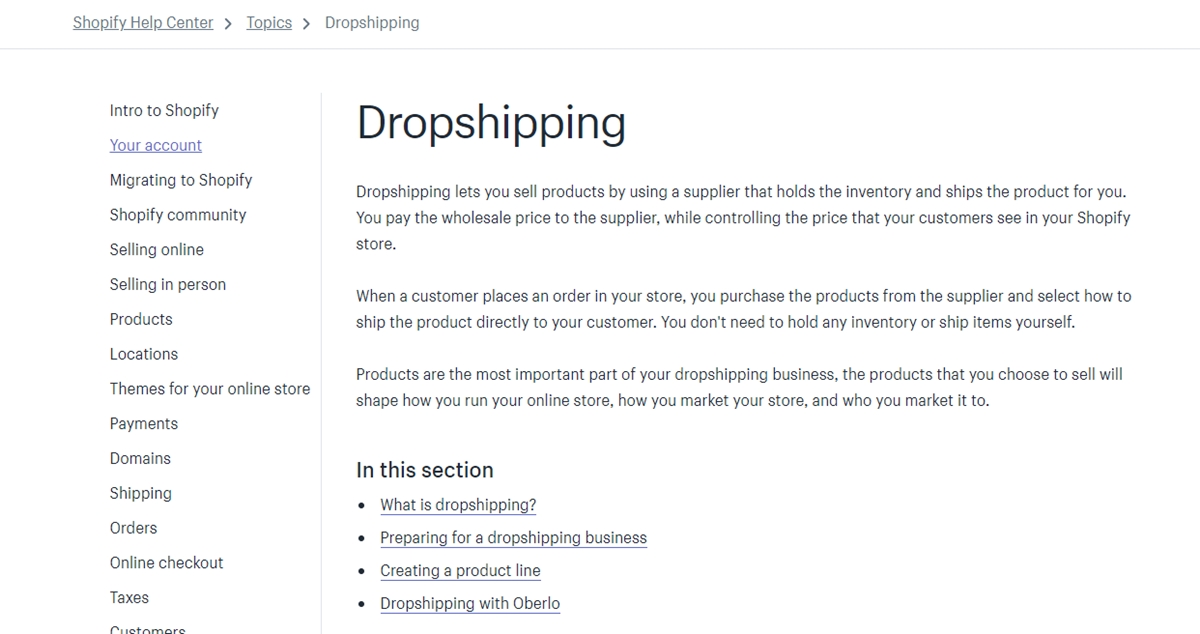 While there are other eCommerce solutions that can power a dropshipping business, Shopify is easily one of the best platforms for this method because Shopify is openly friendly toward drop shippers.
There are many guides and articles made by Shopify themselves to help drop shippers start with the platform. And apps or tools are continuously being made to make dropshipping with Shopify more convenient.
One example is Oberlo - which is a tool made by Shopify that works exclusively on the platform to help merchants import and manage products from other sites to the Shopify store.
Even in the Help Center, like the above image, they clearly encourage doing dropshipping on the platform with helpful guides.
Should you choose Shopify dropshipping?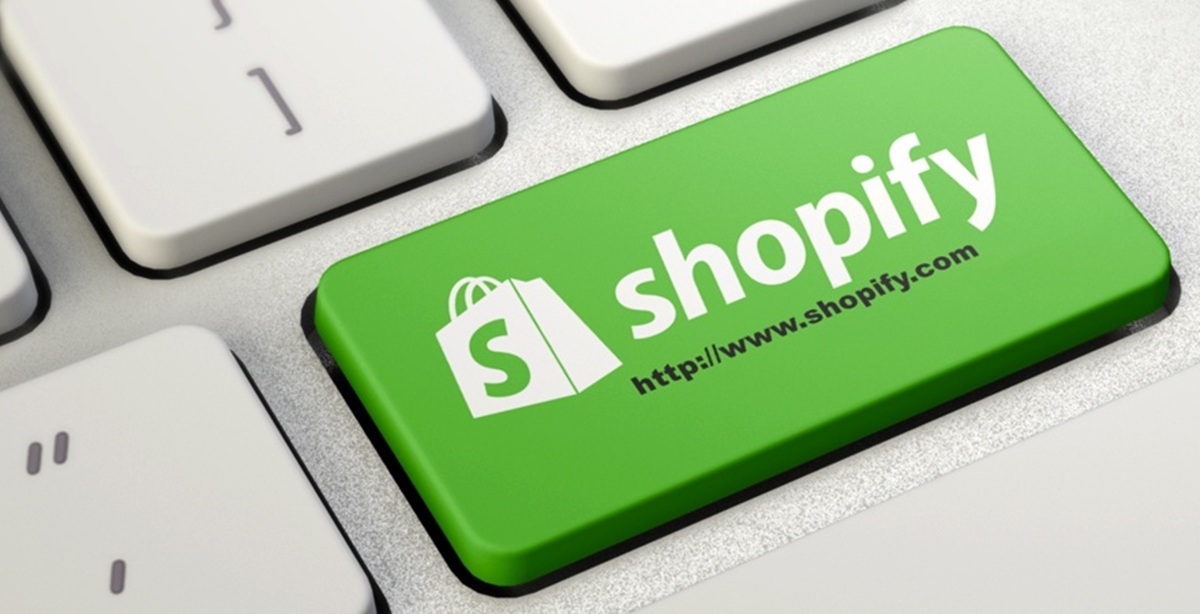 The dropshipping system is unlike a typical eCommerce business because you won't carry any inventory. You will only place orders with the supplier when there are buyers that actually hit the purchase buttons.
While you can do dropshipping on other platforms (read our Amazon dropshipping and eBay dropshipping articles), Shopify is the simplest and quickest platform you can use to make and run an online store. Also, you can definitely dropship from Amazon to Shopify too, read our guide to learn more about how to do it right!
The freedom of having your own site with a branding opportunity makes you stand out among competitors and more trustworthy than a less professional storefront.
And if you can use apps and tools like Oberlo, you'll be able to control your inventory with just a few clicks. All these make Shopify dropshipping so simple and quick.
With a business method that requires timing and efficiency like dropshipping, a time-saving platform like Shopify is a great choice for its advantages. So the answer to "Should you choose Shopify dropshipping?" is definitely YES.
How to start a Shopify dropshipping business
In this section, we will go through all the steps that you'll need to take to create your own Shopify store. With each step, you will have detailed actions, so in the end, you will have a fully functional Shopify dropshipping store and start making money.
Step 1: Market research for product ideas
The first step to take in building a dropshipping business is finding out the products you are selling, and who would want to spend money on those. Which means you need to find your niche.
Ideas can come from your own passion and interests, or through research on profitable and trendy niches to ensure that you know which make money. In my opinion, you should do both. Pick a niche that you're genuinely interested in, and make sure that there is demand in the market.
In order to do that, start researching first like this:
Keyword research
Start the process by making a list of product keywords with potential markets. This will help you focus on your niches and copywriting in the latter part to attract customers. Simply kick things off by identifying possible markets then brainstorm keywords for those markets.
From the popular keywords, try to dig deeper and get insights about their performance over time. A free tool you can use for this is Google's Keyword Planner.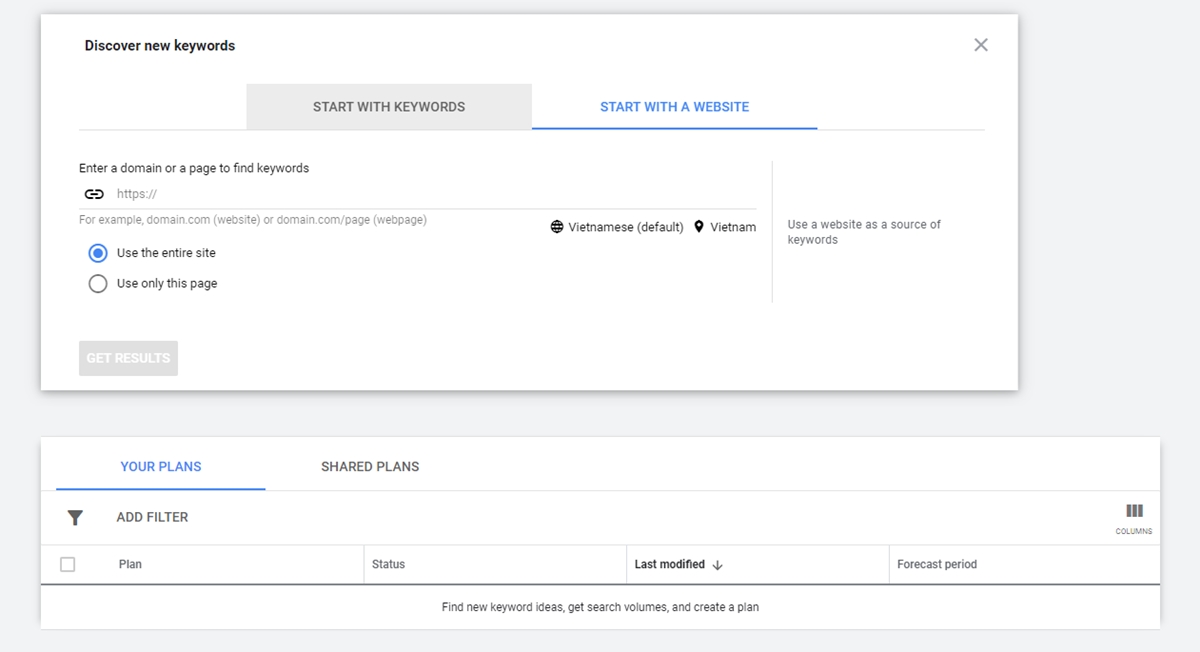 One convenient feature is you can enter competitor's websites to get keyword ideas. I find this really helpful at the start since you can copy the keywords of those who already made it big.
Now let's go to the next action.
Determine product trends
From the list of potential keywords, combine it with trend data to figure out if a keyword is gaining popularity or fading out. Remember, fidget spinner? That ride didn't last long.
You can turn to Google Trends (also free) to figure out one keyword's popularity over the last few years. This can give you the confidence to move forward with your product's choice.
If a product seems to be running out of steam, go back to the white sheet and list some new names. But if the trends chart is going up, move on.
Figure out profitability
It is nice if a product is trending, but do some math first to see if it can actually make you any profit. Running a profitable dropshipping business requires quite healthy margins since you will pay for a storefront, shipping fees, marketing, supplier's cut.
So you want to sell at a price that is above the original price of at least 40%, some even push the price to 2x or 3x the wholesale price. This is fine because you are offering low-cost products with premium features, which means people are willing to buy at that price.
Of course, do your research on marketplaces and retailers to see how much people are selling as well. You have a Shopify profit margin calculator to help calculate the profit and quickly decide your price.
Now you've known which to sell, pick yourself the supplier(s) to work with. We will learn through the suppliers later since they deserve a whole section for themselves. For now, let's see the next step of starting a Shopify dropshipping business.
Step 2: Pick a name for your Shopify dropshipping store
Your store's name has great branding potential since it is the first thing that customers want to remember when talking about their experience with you. So, try to keep it simple yet creative, and as memorable as possible.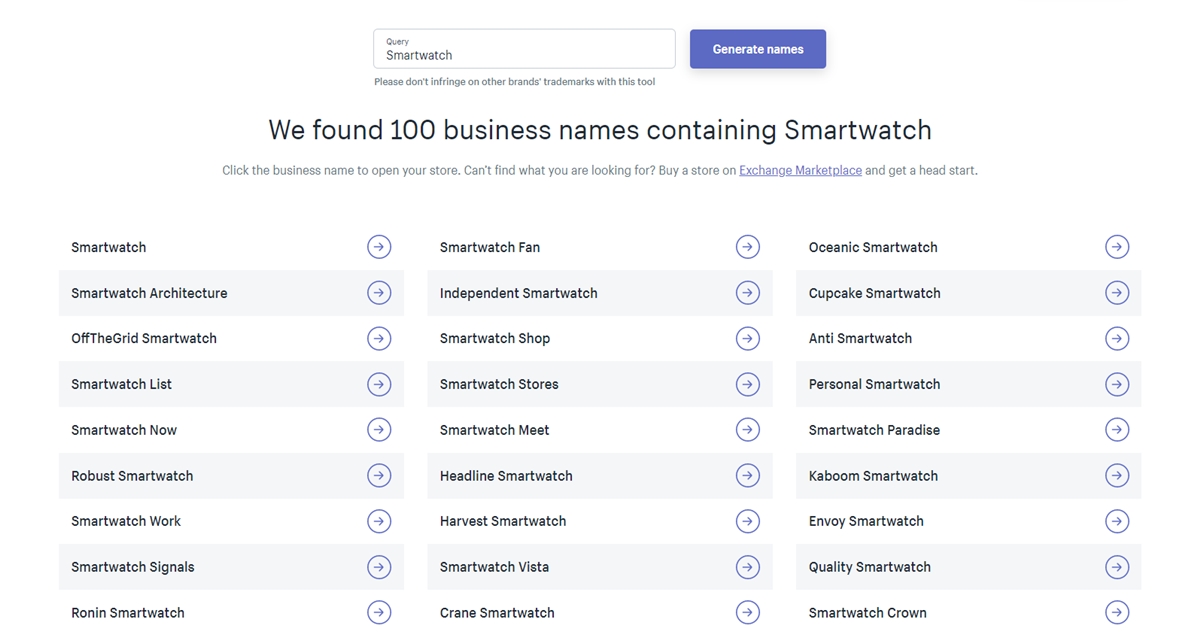 To make it easy, there are a lot of free Shopify business name generators out there. You only need to enter any word that you would like your business name to include and you'll get a list of freshly-made names. You can pick anything that catches your attention, and save a lot of time brainstorming.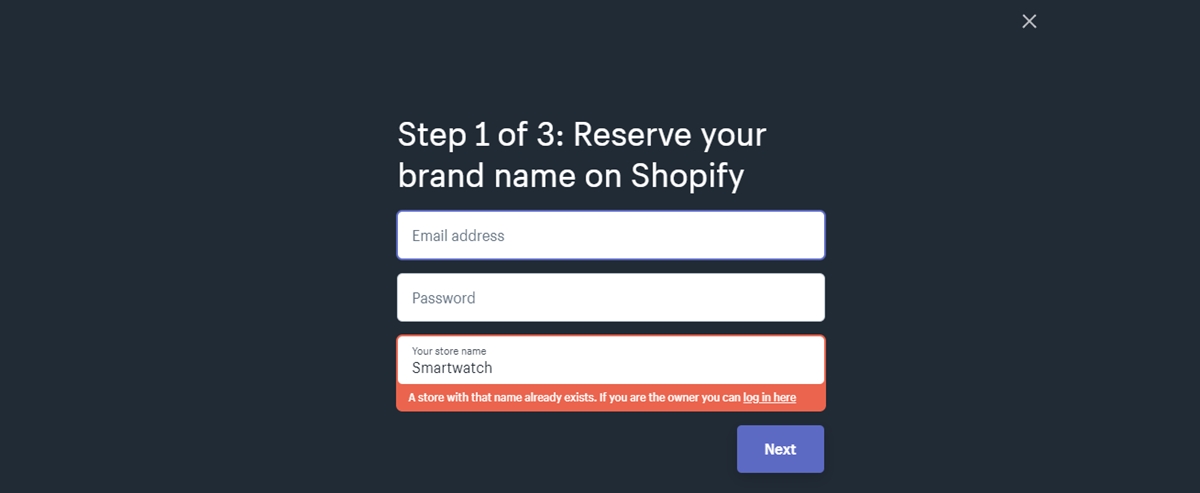 When you click on the name, there will be a red notification if the name is taken, and you can move to the others. You can also search on Google if there is a .com domain which is already being used.
Further Reading: How To Name Your Brand? 10 Naming Tips for Your Business
Step 3: Create a Shopify account
Now, head to Shopify and hit the Start Free Trial to begin the process. Insert the name you chose in the previous step along with your email address and password, and you are good to go.
From there, Shopify will ask you a bit more information to see if you are already selling a product and ask for your physical address. After that, you'll be taken to your store's backend.
Your Shopify store will have an admin page and a default URL in the format of YOUR-STORE-NAME.myshopify.com. Don't worry; you will receive an email about this address.
You have a 14-day free trial for this store, but after that, you will need to subscribe to a pricing plan to unlock all of Shopify's premium features. There are three plans to choose from:
Basic Shopify - $39 per month
Shopify - $105 per month
Advanced Shopify - $399 per month
Besides that, you also have Shopify Lite(The Lite package has now been replaced by the Shopify Starter package) for selling on Facebook, and Shopify Plus for the enterprise. Click on the links if you want to learn more about these plans.
Since you are just starting out, the best choice, for now, is the Basic Shopify plan. If your store grows later, you can always switch to another plan.
Step 4: Optimize your Shopify store's settings
You should be at your store's dashboard now, and there are a number of things you can do at this point. So I think it is best to go through the settings of your newly created store. This can save time for making process later, and you can go on doing other things like designing the storefront.
Store policies
One important part that is often overlooked by store owners is the policies. While not flashy, this helps your business prevent future complaints or even legal actions.
Fortunately, Shopify has a tool that can automatically generate standard terms and conditions, privacy policy, refund policy for your store.
Recommend: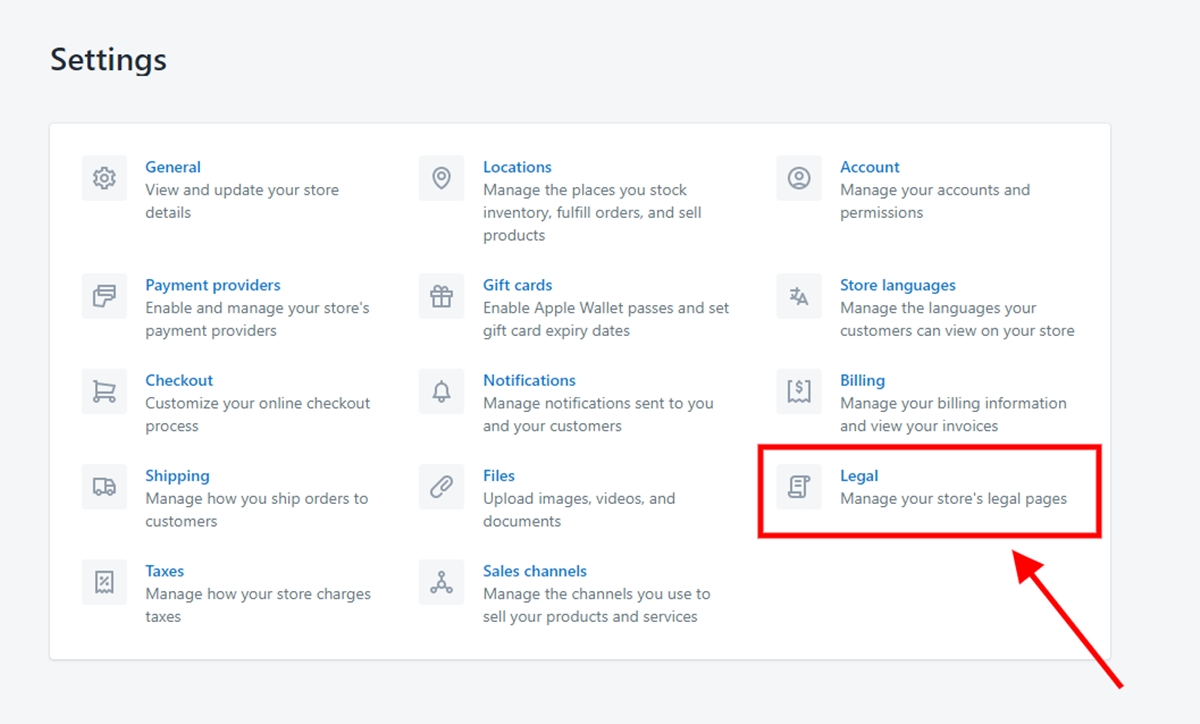 Or you can access this tool from the Shopify's settings. Click on the Legal tab, and you can see that there are templates for you to insert right the way.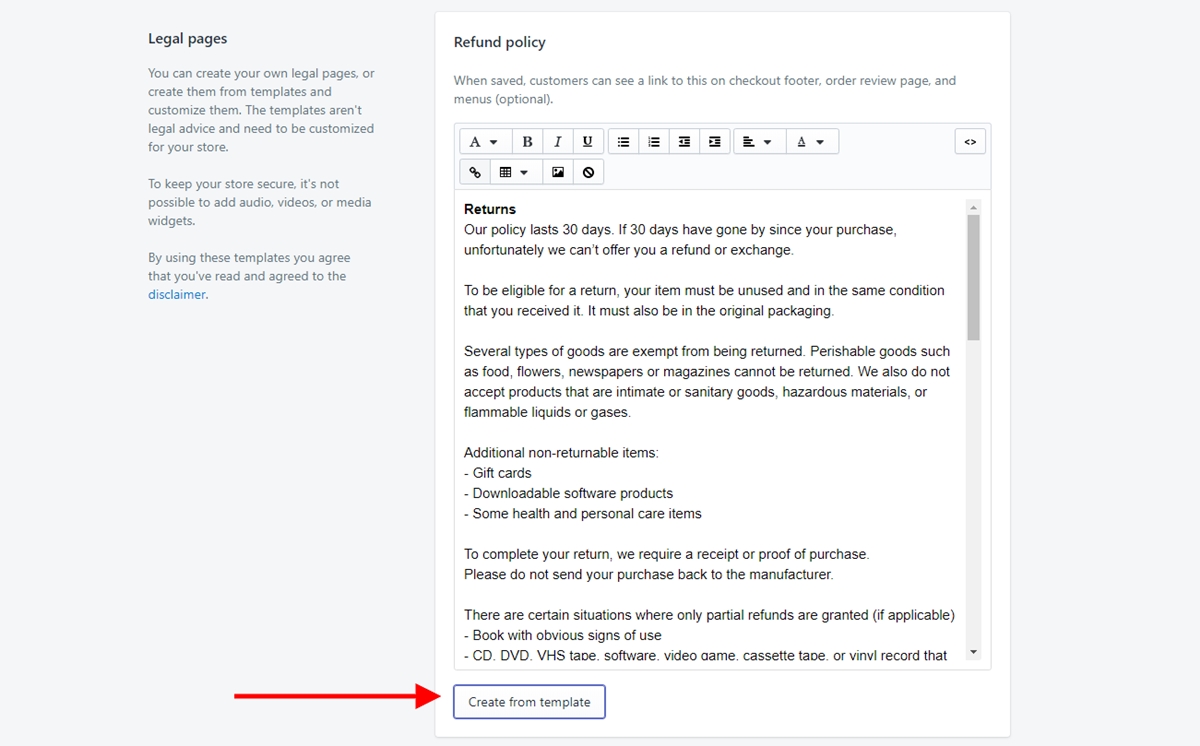 You can see this is incredibly useful for a beginner, and you can adjust the information to suit what you need too.
Payment information
Another thing you'll need to do is add a payment option to your Shopify dropshipping store. This is for you to receive money from customers, so you need to set it done right the way.
Again, click on the Shopify's Settings page, then select the Payment providers tab on the left and add your payment information.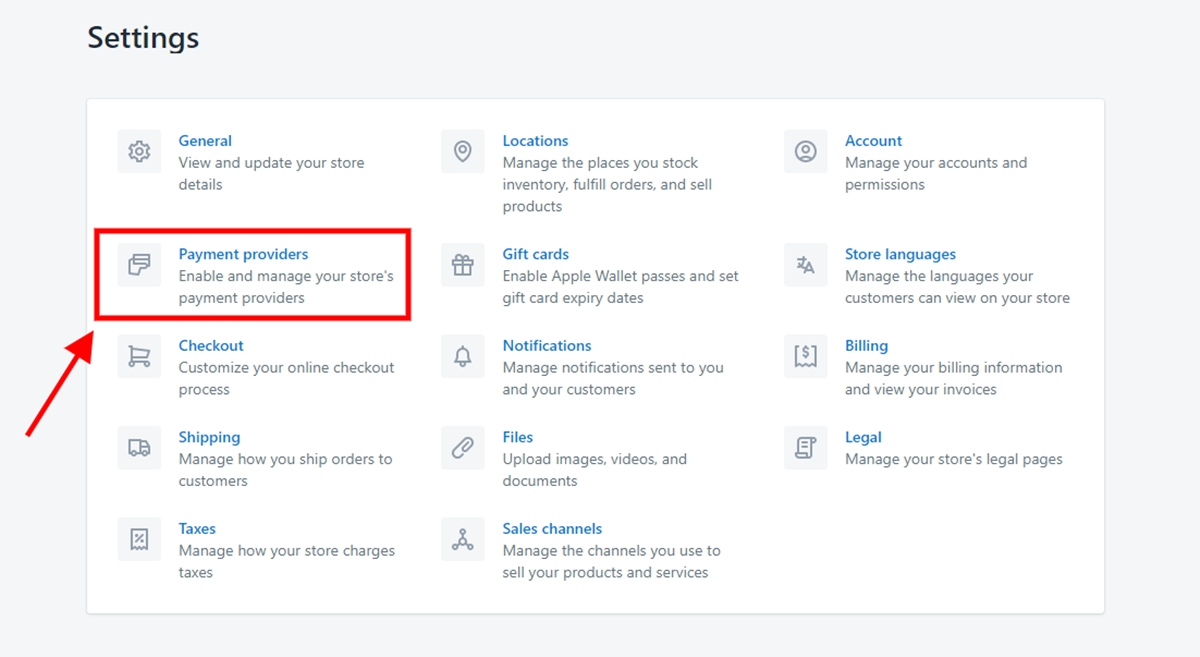 You will see that PayPal is already the default payment method, so you will need to add a PayPal account here. However, this method requires transaction fees, which are different for each Shopify plan. If you want to avoid this fee, activate Shopify Payment.
Shipping rates
Your dropshipping store needs to have clear shipping rates since this can be a deal-breaker with each customer. I recommend that you offer free shipping, as this is the most attractive option.
You can incorporate your shipping fees into the price of your products and show that shipping is free, don't offer separate shipping rates for various regions since it can be confusing.
To do this, access the Shipping tab in your Shopify setting and set free shipping by deleting all of the domestic shipping zones. Then adjust the cost to Free in the Rest of World section. You can create profiles for different parts of the world too.
Step 5: Add your products
At this step, I would like you to try adding your potential products to your store. This can get you into the process of store creation more easily since you already have a vision of what to sell. And the design state can be more fun with existing products in mind and in-store.
If you use Oberlo - which is a free-to-use tool that can import dropshipped products from AliExpress to your Shopify store, Oberlo and Shopify are seamlessly integrated, so you can easily use it from day 1.

From your dashboard, click All products and select More Actions to choose Find more products to sell, you can see a small Oberlo logo here.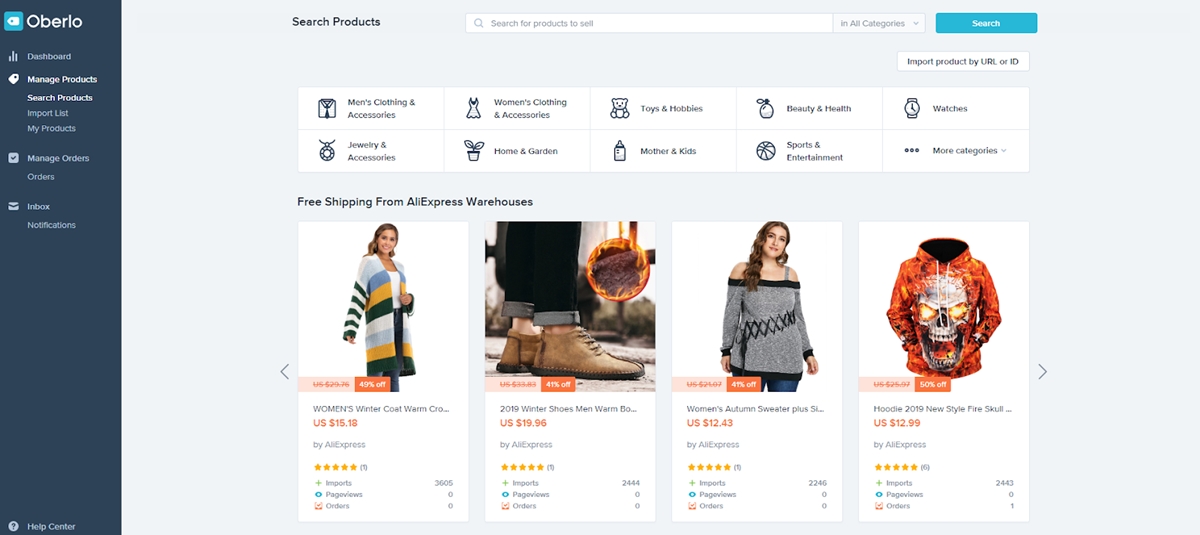 Then you will be taken to Oberlo's dashboard, where you can search for products and suppliers. Just click on a product, and you can see the supplier, shipping cost, and an Add to Import List button in green.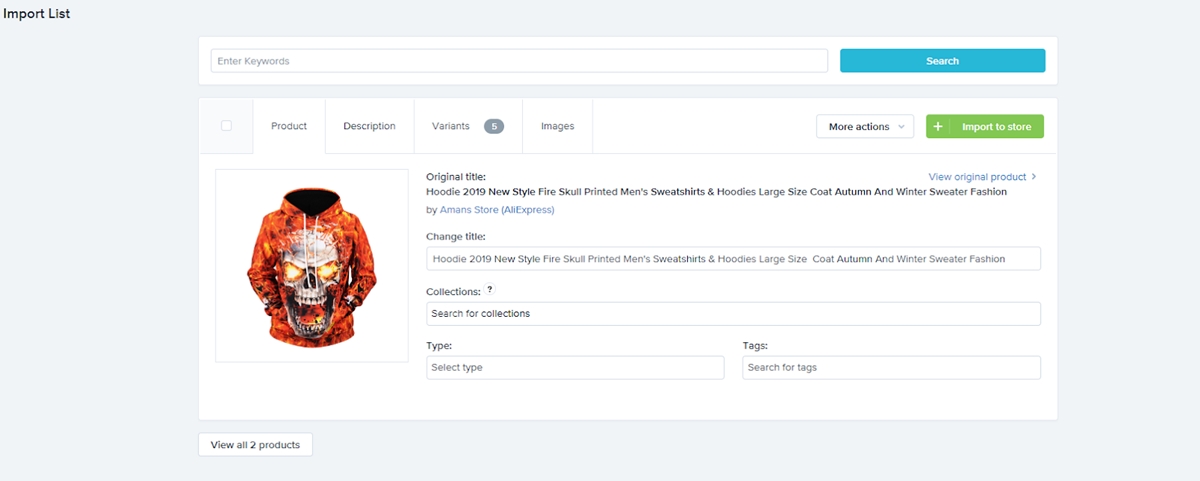 You can edit all kinds of information for the product that you wish to import, such as title, description, the price for each variant, and images. Then just click the Import to your store button and the product will be imported directly into your Shopify dropshipping store.
Step 6: Design your store
In this step, we'll go over the importance of design for your eCommerce store, and some key points to keep in mind. Having an eye-pleasing eCommerce store is really important since it is a user's first impression of your business.
When it comes to design, two main aspects that you'll need to take into consideration are your theme and your logo. Do them right, and your sales can skyrocket.
Picking the theme
Shopify has a wide variety of themes with both free options and premium options. There are 72 themes to choose from on the Shopify store, and all are beautifully designed, mobile-friendly, and easily customized. If you're trying to start your store with a tight budget, I'd advise choosing a free theme.
It can be a little tricky to decide which theme you should go for, but since you already had some products ready, it is easier to see which them goes well with your choices of products.
You can also read our list of the best Shopify themes for dropshipping to see which other options are available.
Create a logo
The logo is an important brand's asset that helps customers remember your brand. Consider how you want your logo to look, and the way it will fit in with the rest of your store's design.
A few rules to keep in mind while making logos are:
Make it simple
Make it memorable
Make it enduring through times
Make it versatile to work across a variety of mediums and applications
Make it appropriate for your store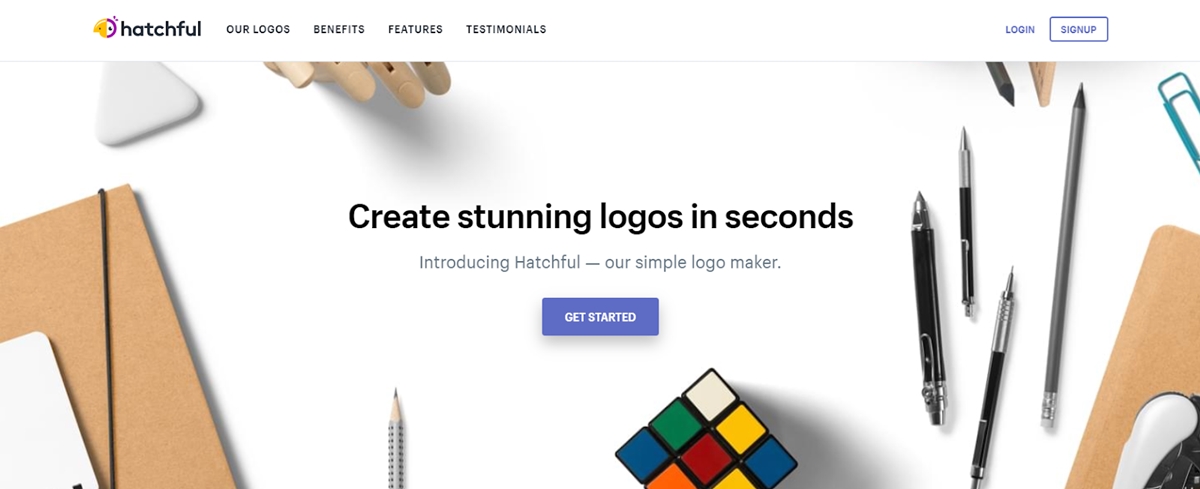 This can be tough and time-consuming, but there are free tools online to help. Checkout out our list of top 12 free Shopify logo maker, I'm sure it will save you a lot of time.
Just answer a few questions about your business, like name, visual style, industry, purposes, and the tools will create original options for your store's logo in just a few seconds.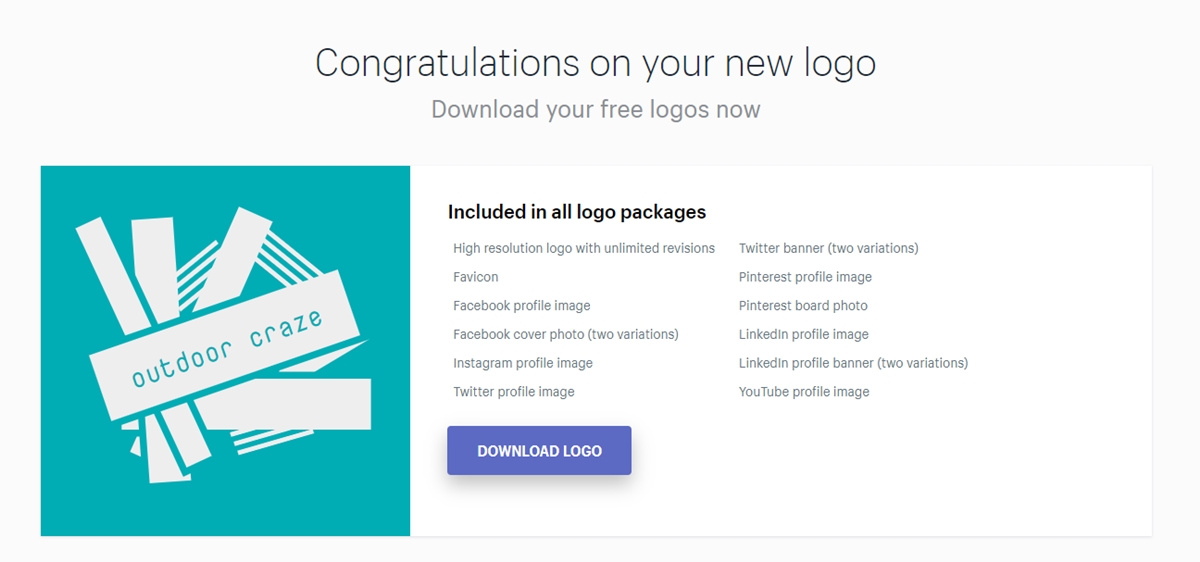 From there, you can download all of the brand assets you need with ready-sized images for all of your social media platforms. Hatchful is free to use even if you are not a Shopify merchant.
Further Reading: How To Create A Logo For Business- A Complete Guide
Step 7: Launch your Shopify dropshipping store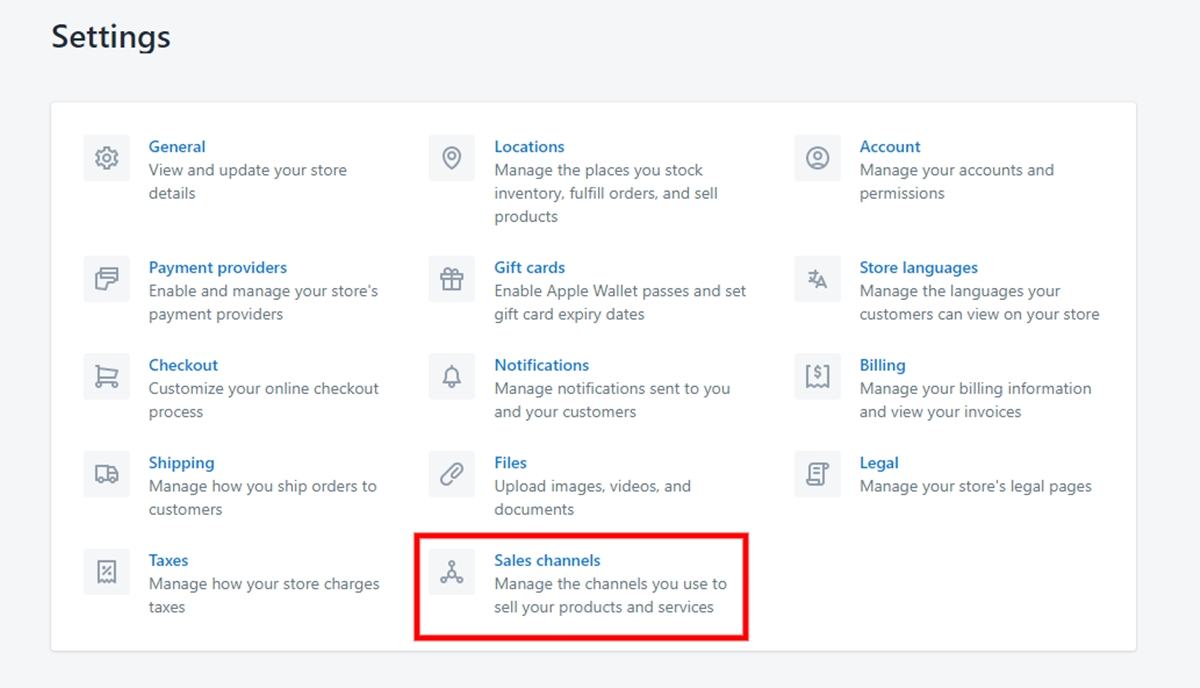 Now you've added all the necessary information to launch your Shopify dropshipping store. In order to launch it, simply access the Sales Channels option on your Shopify settings.
Select the add an online store option and finish all the steps required, you'll have an online store which is up and running!
Now it's time to start making sales with your Shopify dropshipping store. At first, it would be hard to have a huge volume of traffic, so you need to use marketing campaigns to draw potential customers to your store.
See all the available marketing channels, and do some research to find out which one will work best to drive traffic to your online store. The most important thing is to keep testing, so you will be able to find out which marketing channels work best for your dropshipping business.
Recommended: How to Build a Shopify Store From Scratch
How to find Shopify dropshipping suppliers?
When you include dropshipping into your sales strategy, you need suppliers and a business partnership. But since you don't actually have any real-life connection with the supplier, you are often at their mercy for product quality, timely shipping, and even legal compliance.
Of course, you would want to make sure that the products are as advertised, but on another hand, you want their shipping meets your criteria. So here is a quick-reference checklist of questions you would want to ask the supplier before signing any deal:
How long does it take for the supplier to fulfill an order, from the sale to delivery?
Do they ensure orders?
Can you find reviews or references online?
Do they offer fraud protection?
How do they handle returned or damaged products?
How is their customer support?
Now, you should be able to find the best possible supplier. Since you are working with Shopify, you can't go wrong with finding suppliers on AliExpress.
Choosing AliExpress for dropshipping business is easy and convenient, especially since you have tools like Oberlo. Shopify also recommends AliExpress as your primary source for all your dropshipping needs and has a definitive guide too.
You can use the search bar and type in "dropshipping" to reveal lots of results you can choose from.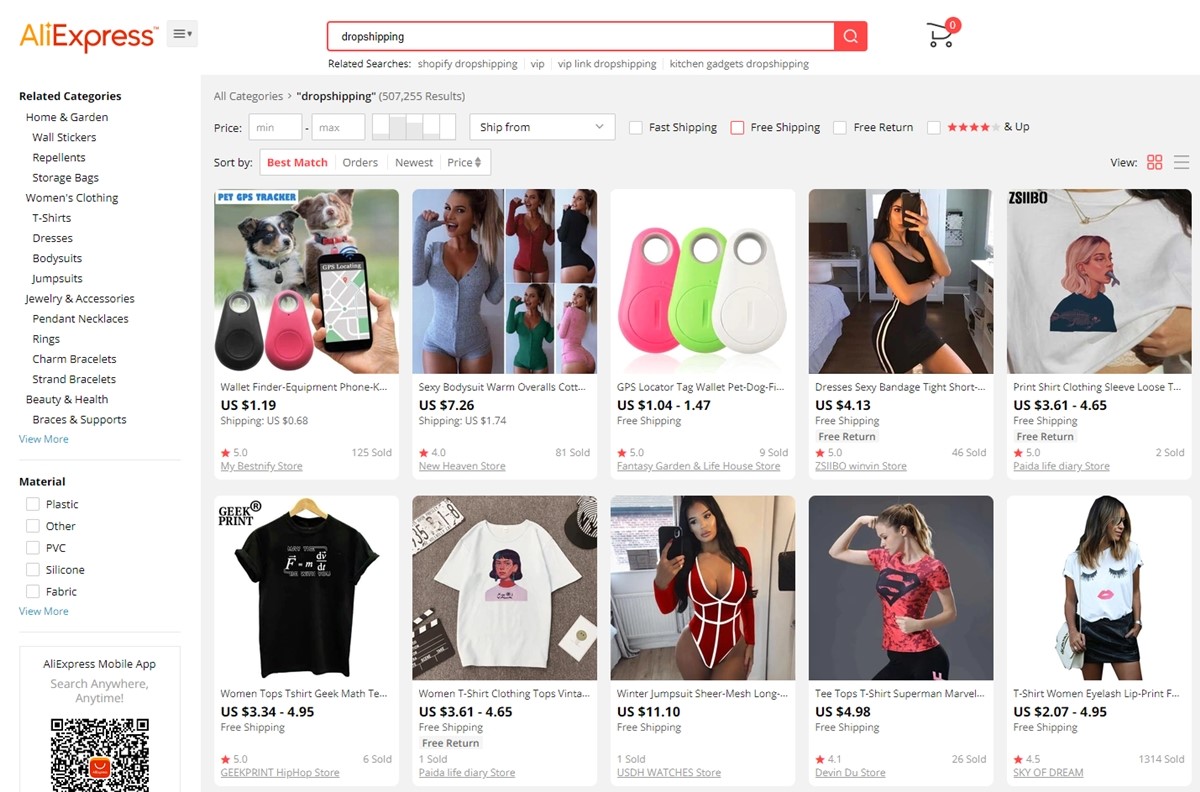 Just click on any item, and you can find the rating from the feedback of the store's customers. These are important metrics that you can use to filter your suppliers from the page.
You can visit the seller's storefront to learn more about them, like opening dates, a detailed seller's rating, and a business license.
If possible, you should try to find products which have been rated highly by many users. A perfect score by only a few people is not comparable to ratings by hundreds of users.
Tips: Go with non-branded products when doing dropshipping. This can avoid knockoffs and give you a great chance to do more branding for your own store.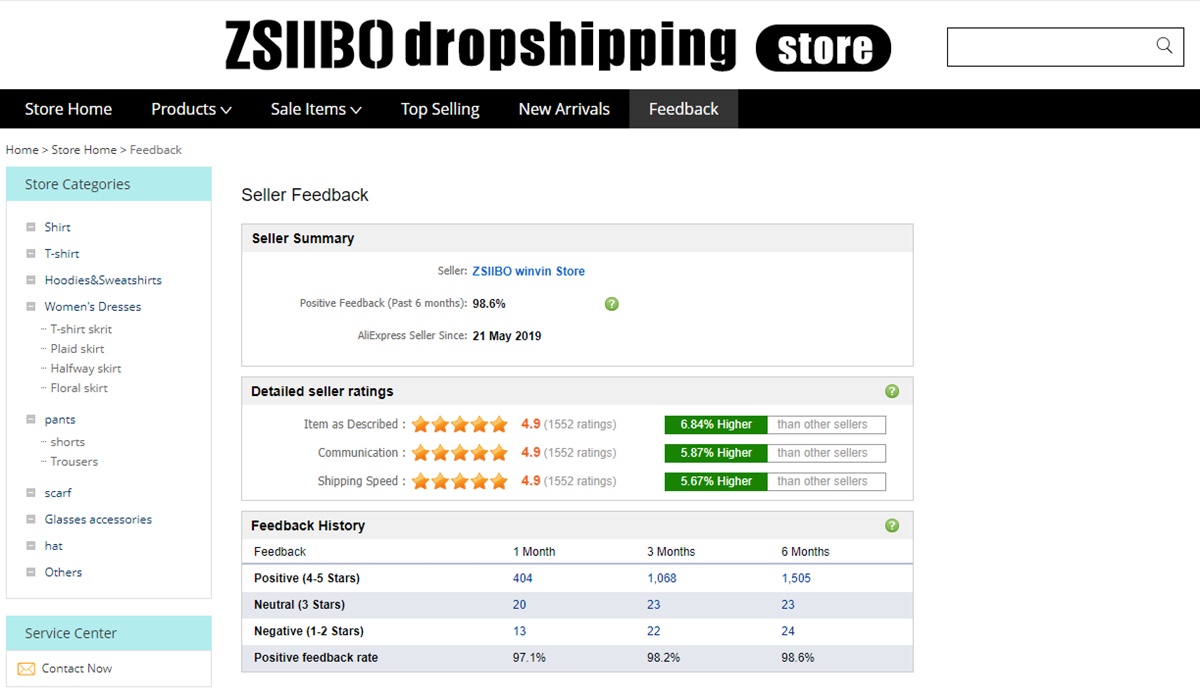 As a general rule, you want to reach out to suppliers with a feedback score of at least 95% to indicate the supplier's reliability. The feedback page of each store gives a glimpse of the supplier's reputation in AliExpress.
Now one more step to take is comparing the product's pricing and ratings between stores. Based on the quality (stars out of 5), the volume (number of users) of reviews, volume of orders, you can see the potential of the product to sell well or not.
At this point, it is best that you order a product sample from the selected supplier to see how well can you and their store work. Ask the questions given above and chat with them about all the questions you have in mind.
A good supplier would responses quickly within 24-48 hours and has a high feedback score. Keep doing this to get a list of at least 3-5 suppliers, and you are good to do Shopify dropshipping. Further Reading: Top 13+ Best Dropship Companies with No Membership Fees - Free Dropshippers
If you have made it this far, you almost have a working website for your Shopify dropshipping business! Since dropshipping is all about efficiency and time-saving, you need to add some apps to make your life easier.
These can all be found via Shopify app stores, with both free and paid options. Let's see our recommendations.
Oberlo

Oberlo Dropshipping App has been mentioned several times, and for a good reason, it is a Shopify-owned dropshipping app and very easy to integrate. As guided above, it just takes a few clicks to import AliExpress products to your Shopify store through Oberlo.
Key features:
Easy import of AliExpress products straight to your Shopify store
Get automatic updates of order numbers and pricing
Automated pricing features so you can set up rules and manage prices in bulk
Order fulfillment is automatically handled by Oberlo
Easy product customization so you can modify product names, descriptions, and images
Shipment tracking available so you can keep tabs on all orders
Pricing:
Free for a store with 500 or fewer products and up to 50 orders per month.
$29.99 each month for up to 10,000 products and 500 monthly orders.
$79.90 each month for up to 30,000 orders and unlimited orders per month
Recommended: 11 Best Oberlo alternatives for Shopify dropshipping
Aliexpress Dropshipping

Oberlo is good, but you also have Aliexpress Dropshipping - which allows you to import products from Aliexpress, and you can add them quickly to your store. You just need a single click to fulfill the order and are automatically updated with new data from suppliers.
Key features:
Updates to prices made daily
Search and import functionalities to find and import products within the app's interface.
Just click the Order Product button within the app, and Aliexpress Dropshipping will do the rest.
The app has a Chrome extension to import items while browsing AliExpress.
Pricing:
$5 per month to import up to 5,000 from AliExpress;
$10 a month to import up to 10,000 items from AliExpress, Alibaba, and other marketplaces;
$20 per month to import up to 20,000 items from AliExpress, eBay, Amazon, Alibaba, and more.
Recommended:
Spocket

This is a great app for merchants who want to source from global suppliers. You can purchase products from countries in Europe, the United States, Asia, and Africa through Spocket. There is a discount rate for merchandise too, so you can gain more profit.
Key features:
One-click order fulfillment
Access to discounted products
Over a million products to choose from global suppliers
Items are guaranteed to be shipped to customers in about 5-7 days
Real-time updates of stock levels
Your invoices can be customized with your own store's branding & logo
Pricing: Free
Learn More: Spocket Dropshipping suppliers Review: EU & US Dropshipping Suppliers
Printful
Printful is specifically made for businesses that operate on a print-on-demand model. Original designs and artwork printed on merchandise items like apparel, hats, mugs, and posters are all great to use the app, and you can save time designing or dropshipping.
Key features:
Seamless integration with Shopify, so all of your orders are sent directly to Printful for fulfillment.
Product photography services so your store has its own pictures
Whitelabel service with access to designers and photographers
No upfront monthly fees, no inventory costs
Easily create mockups with Printful's mockup generator
Printful-owned warehouse and fulfillment facility to ensure quality and fulfillment
Prices: Varies depending on your products.
Further Reading: Shopify Dropshipping Apps
Modalyst

Modalyst is a Shopify dropshipping app that made specifically for luxury brands. This tool hooks you up with a large selection of branded products and gets domestic orders done in just seven days. Over 150,00 businesses have used the tool, and many left high rating comments.
Key features:
Four main marketplaces, which include: Independent Brands (600+ niche vendors); Low-Cost Goods (inexpensive drones, gear, apparel, homeware, etc.); Name Brands ( Puma, Superga, Calvin Klein, Diesel, Moschino, DSquared, Lacoste, Cavalli, Dolce & Gabbana, etc.); Trendy, Affordable Products (suppliers that focus on teens and young female customers).
Quickly add products from the Modalyst marketplaces into your store
Certain suppliers offer free shipping
Centralized supplier and product management
The item name and description editing and customization
Continuous updates of supplier pricing and inventory
Pricing: Free
Some more tips to start
These tips will help you start off on the right foot, and consistently increase the conversion rate of your Shopify store.
Add a phone number to your store: You can add it to your header, footer, contact, and about us page. This is to build trust with your potential customers and improve your customer support.
Have an exit-intent popup: Don't let your customers go easily, you have a chance to capture at least their information with an exit popup. There are Shopify apps for this too, try Exit-Intent Popup by OptiMonk.
Ask suppliers for special product photos: Anyone can have the same photos if they take it from the supplier's site, so to stand out from competitors, you should talk to your suppliers and ask for special photos like trade show photos, customer review photos, or any other not-shown photos.
Ask suppliers for reviews: One easy way to get good reviews and testimonials is by asking your suppliers, focus on reaching out to suppliers for the products that are selling the best. The supplier should be able to provide trustworthy information taken from its own database.
Use photo resizes: The more products you have, the more chaotic or scammy your site can be if not designed correctly. You can use Photo Resize app to make all your product photos look uniform automatically.
Ready to return all calls: You won't be able to be available every hour listed on your website, so try to return every missed call and voicemail. People are calling you to make a purchase and give you money, so it is a good effort to make.
Successful Shopify dropshipping stores
If no one succeeds with Shopify, one million users will not join the platform in the first place. So let's see some inspiring stories from successful Shopify dropshipping stores and learn from them.
Meowington

Meowington is a prime example of how a niche can make your store prosper. The store, like the name, only sell cat-related products. It is estimated to make over $100k per month at peak season, and now continue to build its own branded products. One day this may not do dropshipping any more and do their own thing, but hey, isn't that all we want with a business?
Creative Action Network
Called themselves a community of artists and advocates making art with a purpose, Creative Action Network make campaigns for crowdfunding and invite people to contribute with their own designs. They used Printful to outsource and automate order fulfillment when business scaled bigger.
Eliot Grey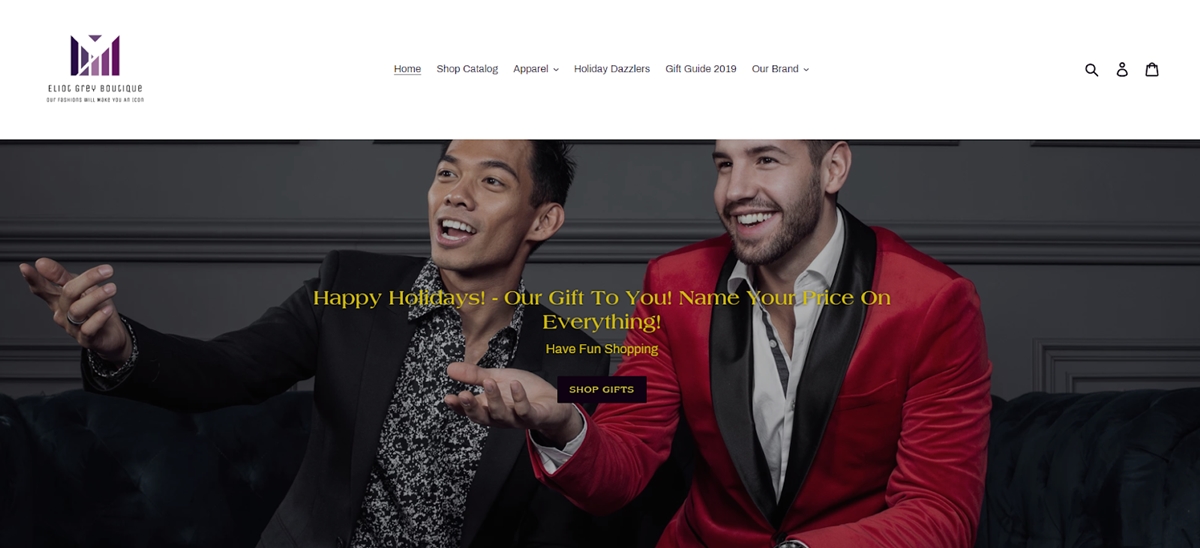 A men's boutique store that speaks classic style, Eliot Grey sells shoes, socks, ties, cufflinks, underwear, and more. It took just two weeks to make the first sale after opening the online store and continues to be stylish as well as inspiring.
This is just a shortlist of all the successful stores out there; you can check out my 35+ names list for more inspiration!
Conclusion
Starting a dropshipping business and running one successfully is not as easy as a walk in the park. To consistently drive traffic and sales, you need to show up every day and do a damn good work of promoting, managing and supporting.
But it is super easy to start Shopify dropshipping with little upfront investment, and you have the freedom of having your own online store, so it is definitely worth a shot. So whether you are thinking about it, or already own a Shopify store, I hope this guide can help you to make a profitable dropshipping business.
Keep experimenting as an entrepreneur and you will find the right way in a short time. Best of luck!
Related Posts:
---
CEO and Founder of Avada. Pursueing a simple and healthy lifestyle. A friend, a husband and a dad of four children, a trainer and an influencer wannabe. He is a big fan of sports and travel, also.
New Posts
Stay in the know
Get special offers on the latest news from AVADA.