How to Handle Dropshipping Returns?
There are two things that probably any eCommerce entrepreneurs are dreaded to hear: refunds and returns. Especially with dropshippers, it's no easy task to handle dropshipping returns. No one wants to deal with this, and if it happens, tons of overthinking will start arising, especially for fresh dropshipping merchants.
"What happened? Did they not like this product?"
"Is the quality not what they expected?"
"Did they expect too much?"
"Did the supplier package the item poorly?"
"So I've wasted my marketing money for this customer."
"How many return requests would I receive next?"
Although refunds and returns are bad to some extent, they are not totally bad, and you can turn that negative experience that your customer has into a positive one that can impress and cheer up your customer. That way, though you lose the sale, you will get a happy customer who will come back again. You will lose the sale anyway, just don't lose the customer. This is exactly why it's very important for you to remain calm and positive whenever a customer reaches out to return an order, or ask for a refund.
After all, you're dealing with refunds/returns as the representative of your brand. To maintain your brand image, it is your job to handle the situation in a professional manner, as well as provide the best service possible for your customers.
So, in dropshipping, what's the best way to deal with refunds and returns? It sounds tricky, but this article will break down what you need to do step-by-step so that you can handle refunds in a way that makes your customers happy and impressed.
Are you ready? Let's dive in.
Setting up returns policies:
Make it clear with your suppliers about return policy:
As a dropshipping merchant selling products on your online store, the first thing that you need to do to handle refunds and returns easily and successfully is making it clear to your website visitors about your returns and refunds policy, and make sure they read it before buying anything.
Why?
Clear refund and return policies are extremely important for your customers in their shopping journey, and they inform them clearly what to expect when things go wrong. Research, in fact, has found that 67 percent of online shoppers review a business returns/refund page before making a purchase.
So, your online store must have a returns policy page that is easy to find, as well as contains all of the information that your customers will need to make their most informed decisions. Here are a couple of points that you need to make clear first in your returns policy page:
Are there any items to which your returns policy is not applicable (for example, underwear, socks due to hygiene reasons).
Is your return free of charge? Do you pay the shipping cost for your customers too?
Do you offer cash or replacement for returns?
How long are your customers eligible for refunds/refunds after buying?
To make these points clearer, let's have a look at a returns/refunds policy page from Sephora. Sephora is an eCommerce brand that has nailed it when it comes to building a returns policy page.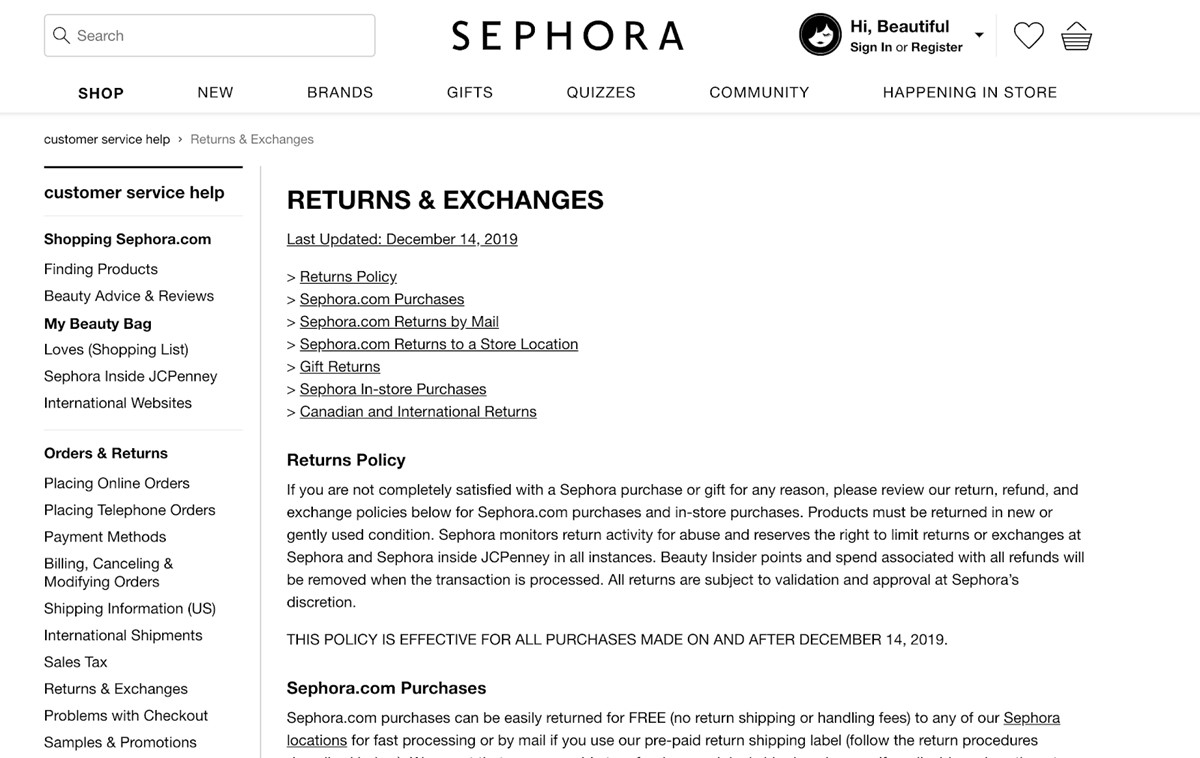 As you can see, the website has a dedicated page for their return/refund policy that provides you with everything that you need to know if things go wrong with your order, and you need a refund.
Regarding the placement of your returns/refund policy, don't place it anywhere else other than the footer of your website. Why? Because most online shoppers have grown used to the practice that information about polices or legalities is put at the footer. Have you seen any website that put this kind of information at the top of their website?

At the footer of the Sephora website, you can see that there is a help & FAQs section containing information about ordering, shipping, billing, returns & exchanges, and so on.
This is how you can inform your customers what they can expect when buying from you. A return/refund policy also protects you when you encounter customers who ask for something unreasonable (such as return a product in a great-working condition because they made a buying decision on impulse, and now regret it).
Set up your own return/refund policy:
As a dropshipping merchant, you don't own your inventory which belongs to your suppliers. For that reason, you shouldn't just set up a return/refund policy that puts you at a disadvantage. What you should do is establish a return/refund policy based closely on your supplier's policies. This leads me to the first point.
Understand your suppliers' return policies:
When partnering with any supplier, the first thing you should always get a grasp on is their policies, and keep in mind that every supplier is different. As your supplier will deliver directly to your customers, their refund/return policies are going to directly affect your policies.
Here are what you need to know about their refund/return policy:
Do they offer returns or just refunds?
How do they offer refunds/returns?
How long do they take to offer refunds/returns?
Whether the customer (or you) must pay return shipping fees?
Do they accept returns on mistake orders (For example, wrong clothing size)
What is their process of handling refunds/returns?
If you have multiple suppliers, make sure you ask each of them these questions. After you have understood your suppliers' refunds/returns policies, now you can move on to create one for your own.
Create a refunds/returns policy to match your suppliers:
Although your refund/return policy should be close to what your suppliers offer, you shouldn't just turn them into yours without any adjustment. Keep these points in mind while you're creating your policy:
If you partner with more than one supplier, try to summarize all of their policies and include them within your policy. For instance, let's say you work with one supplier for shirts, and they offer you a return period of 25 days. You have another supplier for shoes, and they only give you 14 days to file a return claim. It will be too complicated for your customers to clarify the separate return policies for separate items, so you should combine them and provide your customers with a single policy of, say, 10-15 days on both items.
If your supplier gives you a 30-day return/refund window, you should offer your customers 20-25 days. This gives you and your customers some space to account for shipping delays, unresolved conflicts, or just any unexpected situation.
Don't provide a return address on your policy page, otherwise your customer will just ship their item to you (or your supplier) without your knowledge. Ask the customer to contact you to proceed, and then you can provide them with the appropriate address depending on what they want you to resolve.
When you process a return, make it clear that you only accept ones with a tracking number. The last thing you want is for your customers to claim they have shipped your item, but doesn't arrive because it "somehow" gets lost during the delivery.
If you need further help to put together a return policy in words, Shopify has a list of 9 tips on how to write one to help you. Its guide is quite general and not specially made for dropshipping merchants, so while you're consuming it, remember the points that I have just mentioned here.
Tips:
Dealing with refunds/returns when they happen:
At this point, you should be able to create an informative and helpful refund/return policy for your customers, let's move on to how you can handle the return process. But before we dive into it, let's review common reasons for refunds and returns.
Common reasons for refunds/returns:
When a customer reaches out to you to return the item they just bought, or ask for a refund, of the following is likely to be the reason.
They ordered the wrong item (For example, wrong T-Shirt size)
This tends to happen when you sell clothing and apparel products, as it's obvious that your customers cannot try these products before buying, and they have to be dependent on the information about sizes that you provide.
If this is the reason why your customer wants a refund/return, your supplier won't accept it, unless you've found an angel supplier… You should know this when you study your supplier's policies.
And in this case, I'd recommend that you provide the customer with a refund/return anyway. They won't get mad if you won't, because the mistake was on them, but they will be totally impressed and happy because you're empathetic towards their request. Your act will be considered excellent customer service, and you will get introduced to many other people who are friends with the customer in question.
You can ask the customer to pay for the shipping return, because the fault wasn't on you, and you can keep the returned product for a future customer who fits the product.
The Item Didn't Match the Description
This is probably the last thing that you'd want to happen, as your customer will get really upset about it. And when it does happen, there tends to be just two reasons:
You screwed up the product listing.
Your supplier screwed up the product listing.
It's obvious that you should offer a refund/a return to your customer in this case. However, to prevent this from happening again, you should find out which of the reasons it is. If you imported the listings from your suppliers, and then edited them manually, you are probably the one who is at fault. Otherwise, if you pull data from your customers without modifying anything, then your supplier is at fault.
Again, when this issue occurs, take responsibility if you are at fault. If you are not, take responsibility anyway. Your customer bought from you, so they don't care if you or your supplier caused the trouble; they just want their money back. If you refuse to hold yourself accountable, the customer will never buy from you again (be prepared for some bad reviews too).
After that, if your supplier is the one who is at fault, you can get back to them and ask them to ship a replacement to the customer (which the customer is unlikely to accept), or give you back the money that you have given your customer as a refund.
Make sure that you stay calm during the whole process and resolve it in a professional manner with both the customer and your supplier. If the supplier treats the case fairly, you know you have found a great supplier. Otherwise, as you have discovered a bd supplier, leave a review to warn other people, and move on to find a better one.
The order arrived damaged or defected
This is another common reason for your customer to ask for refunds/returns. And it's not hard to understand why it happens. When you dropship on Aliexpress, your order will travel all the way from China to your country through many forms of transit. Therefore, it's understandable that it gets damaged somewhere along the way.
When this happens, no one intentionally wanted it to happen, but make sure to take responsibility and cover it for your customers. You can offer them a refund right away, or ask them to wait for a replacement without having to ship the damaged back to you (Yes, because there's no point for you to get it back; it's useless now). Make the situation painless for your customer, and you will turn a bad buying experience into a satisfying one, and have a loyal customer.
After that, you can turn to your supplier, and ask them to strengthen the packing so that this will not happen again.
Provide a solution instantly:
Your customers will not care if you are a retailer or a dropshipper. Neither do they care about what supplier you are working with. So, when an issue arises, don't tell them that you are not at fault, but it's your customer, because they don't care. All they care about is having their money back or a replacement.
Identify what the cause of the problem is, apologize your customer for the inconvenience, and then provide them with how you're going to resolve it immediately. That's how you can win your customers' hearts and make money doing business. Excellent customer service is very important these days, because bad one is everywhere. In exchange for providing great customer service, you will receive word-of-mouth marketing in return, which is the best form of marketing in my humble opinion.
Returns? Or Refunds without returns?
So, when a customer asks for a return/refund, should you ask them to ship the product back to you, or let them keep it? The answer to this question depends on the product in question. Some are just not worth the hassle of having the customer ship it back to you. For instance, let's say you're dropshipping air pods cases, and a customer placed an order with you, but then received a broken product. Airpod cases are among the low-cost items, so returning it to you is not just worth your time and attention.
So, with this kind of product, you should just let your customer keep it, and send them a new one. Again, another chance to impress your customers.
Why should you have your customers return your first few orders?
If you are new to dropshipping, and have never dealt with refunds/returns before, regardless of the value of the product, it's a good idea to ask your first customers to return their orders to you when they ask for refunds/returns. Why? There are three main reasons:
Firstly, when your customer files a claim for quality issue, they will take pictures of the defective product to prove their claim, but you will need to see that product firsthand too, so that you can discuss it with your supplier. Doing so will allow you to know that the problem is real, and you can take whatever number of pictures required to resolve the issue with your supplier (you can't just keep asking your customer to take pictures for you, can you?).
Secondly, you will be able to perfect your process. When it comes to processing, you will have to experience it step-by-step so that you can find out if there's anything unexpected. Don't just keep your process in your head, try and smooth it out.
Thirdly, if your supplier offers a replacement for the product, you will get to experience how their process goes, and whether it's difficult to get a replacement. This will allow you to know whether you should offer replacements in your policy, or just refunds.
How to go through the return process step-by-step:
I know that after reading all of this, it can still be hard for you to grab your head around how a full return/refund process goes, so here's how a typical process goes for your reference:
Step 1: The customer requests a refund/return.
At this step, first, you should apologize to your customer for the bad experience, and then identify the reason for their request for a refund/return. With the cause in your hand, you can tell your customer what you're going to to resolve the issue based on my advice mentioned above.
If you need to offer a refund, the process is simple. You just need to give the customer their money back.
If your customer agrees to take a return, you need to turn to your supplier and get what's called the RMA (Return Merchandise Authorization) number. Then, move on to Step 2.
Step 2: Your supplier approves the return.
At this step, you need to provide your customer with the return address if they return it to you. If they return it to your supplier, you need to provide both the return address and the RMA number. As I mentioned above, you need to ask your customer to get a tracking number for the return so that everyone can know where the package is real-time.
Step 3: The package arrives at your place.
If the return package is shipped to you instead of your supplier, take it out of the box, and examine it first. If everything is accurate based on your conversion with the customer, then you can ship the package to your supplier.
If the customer sends the package directly to your supplier, you should keep track of the parcel and when it will arrive at your supplier, then ask your supplier to provide you a refund or a replacement for your customer. You need to reach out to your supplier when the package arrives, don't wait for them to contact you, as they are likely to forget. This is your stuff, so be active.
Tips:
Final words
So, that's how you can establish and handle effectively customer requests for refunds/returns in dropshipping. I hope this guide has helped you understand the returns/refunds process, as well as how to both prepare for and handle dropshipping refunds/returns. If you find this guide helpful, please share it with other dropshipping store owners so that they can handle their refunds/returns effectively too.
Many readers and I would love to hear about your stories of how you deal with refunds/returns. If you have encountered any hard case, and resolved it beautifully, please share your story in the comment section below!
Keep in mind that for dropshipping business, as well as business as a whole, returns/refunds are a blessing in disguise. Customers may not remember the time they bought something from your store; but they will certainly remember if you take good care of their unpleasant experience.
---
Sam Nguyen is the CEO and founder of Avada Commerce, an e-commerce solution provider headquartered in Singapore. Sam aims to support more than a million online businesses to grow and develop.
New Posts
Stay in the know
Get special offers on the latest news from AVADA.