How to automate Shopify dropshipping
Last updated: September 01, 2023
The idea of automating Shopify dropshipping, for sure, crosses the mind of Shopify store owners. Dropshipping helps you a great deal in accomplishing the process of manufacturing products, maintaining inventory, or managing shipments. Without having to perform those tasks, you will be able to focus on other essential business activities to promote your brand.
However, the process may indeed be a challenge if you do not know how to do that effectively. It may lead to a toll in your budget, as you do not make full use of Shopify - the best eCommerce platform. It may be costly as a basic Shopify plan costs $39 per month, and acquiring all of Shopify's features can cost up to $399 per month.
Hence, in this writing, I will help you know how to automate Shopify dropshipping. I hope that with this guide, you could do it smoothly. Now, let's begin!
Related posts:
Should you use Shopify for Dropshipping and why?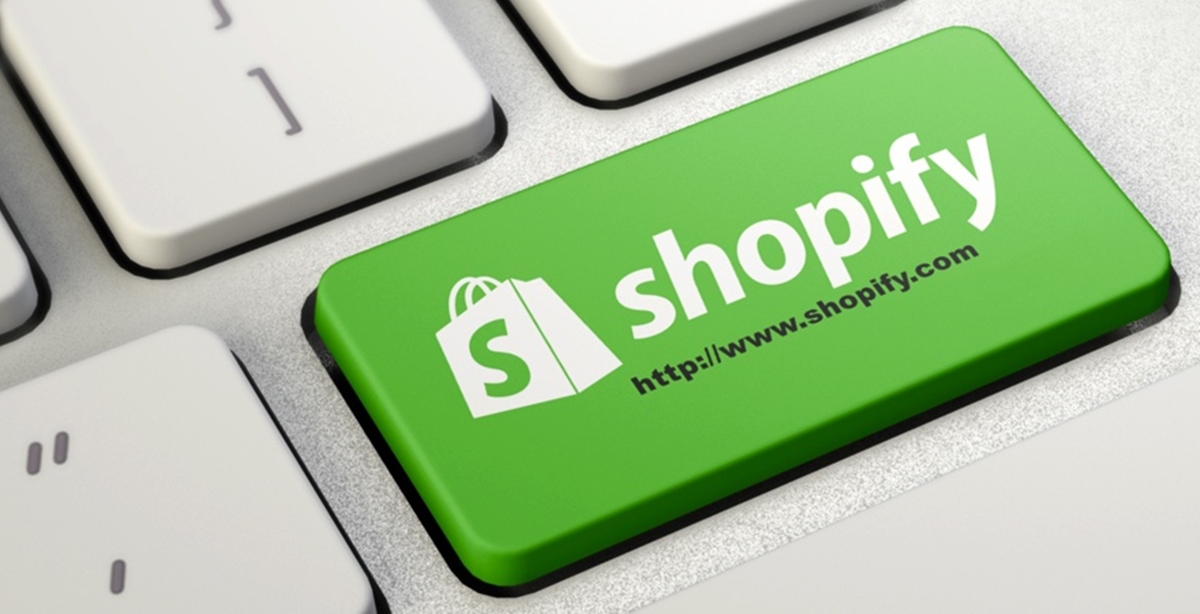 Dropshipping is a technique of distribution in which the retailer does not hold in stock the goods they sell. Alternatively, when a customer places an order, the company sends the customer's order and billing (or shipping) information to a third party like a manufacturer, wholesaler or any other retailer who then delivers the product to the customer. The retailer is cataloging and promoting goods but never managing any items for sale.
The use of dropshipping is very beneficial to your eCommerce store in the following aspects. Firstly, you do not have to invest a lot of money when you start dropshipping since budgeting the expenditure on inventory is someone else's responsibility. The only outflow of money is when a customer makes payment on their order. In that case, you only pay for the product.
Secondly, the management process is very straightforward as purchasing, storing, maintaining or delivering inventory belong to the third-party's activities. Not only that, dropshipping allows you to focus your effort in your products' design and marketing.
Besides, there is no need to worry about the eCommerce fees like inventory storage or fulfillment. Technically, you can begin a dropshipping business for free.
With an ample variety of products that you can offer your customers, you can post any product you want to your dropshipping store without any upfront fees.
The business model of dropshipping demands that your suppliers should be in charge of most of the heavy lifting. Hence, it will help you to add to your inventory and develop your eCommerce business.
What is automated dropshipping and why should you have?
Automated dropshipping is the phase of using technology to execute tasks usually undertaken by a person while operating a dropshipping business. The goal is to eliminate repetitive or boring tasks to help the business owner to concentrate on the most critical activities such as marketing or customer service.
Why is automated dropshipping important? Well, it is, indeed, a time-saver and money-saver. Firstly, it can save your most valuable asset-time. With automated dropshipping, you do not have to manually complete all the tasks. Automating your dropshipping business is especially essential when you are a sole store owner and you have to carry on many responsibilities. In this case, you can utilize technology to spend more time and resources on important things. Now that you have more free time, you can develop your online business.
Secondly, the use of automated dropshipping can save you lots of money. Automated dropshipping is an ideal choice when you first launch your online store and have no funds in your hand. Thanks to this fantastic method, technology plays a crucial role in helping you to do some of the heavy lifting without the need to pay your employees or freelancers. The funds you save with automated dropshipping enable you to balance your business, and you can reinvest earnings back into your business to make it prosper.
How to automate Shopify dropshipping?
Using Oberlo Google Chrome extension
Without the presence of Oberlo, automated dropshipping would be different. Chrome extension - the product by Oberlot, is a useful tool that enables you to add items to sell to your online store when you are browsing AliExpress. In only one simple click, you can import any item that you like. When you search through AliExpress pages collections to look for products that your customers would enjoy, all product information will be sent to your Oberlo account directly. Chrome extension would undertake the task of manually sharing details with Oberlo to sell those products. Your single job is browse and click.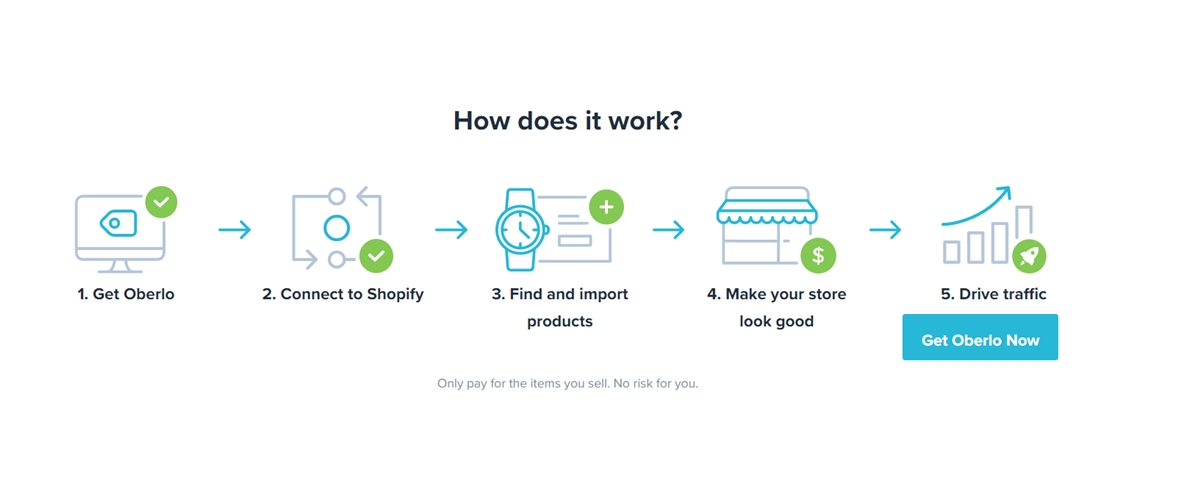 Install Facebook Pixel
Installing a Facebook Pixel on your website is important, yet often neglected. Logging into Facebook to have your pixel ID is the first step, then you need to add that to your Shopify account. Your marketing efforts will pay off ever since you get this small piece of code. Running automated retargeting ads will be a piece of cake. However, you will have to perform some setup work. But the good news is that the pixel can, for instance, inform Facebook who added which item before abandoning their cart. By doing that, it will enable the retargeting ad to make an effort to recover that abandoned cart. Eventually, your sales will go up significantly. Not only that, another outstanding feature of the pixel is that it can monitor which pages your shoppers are browsing.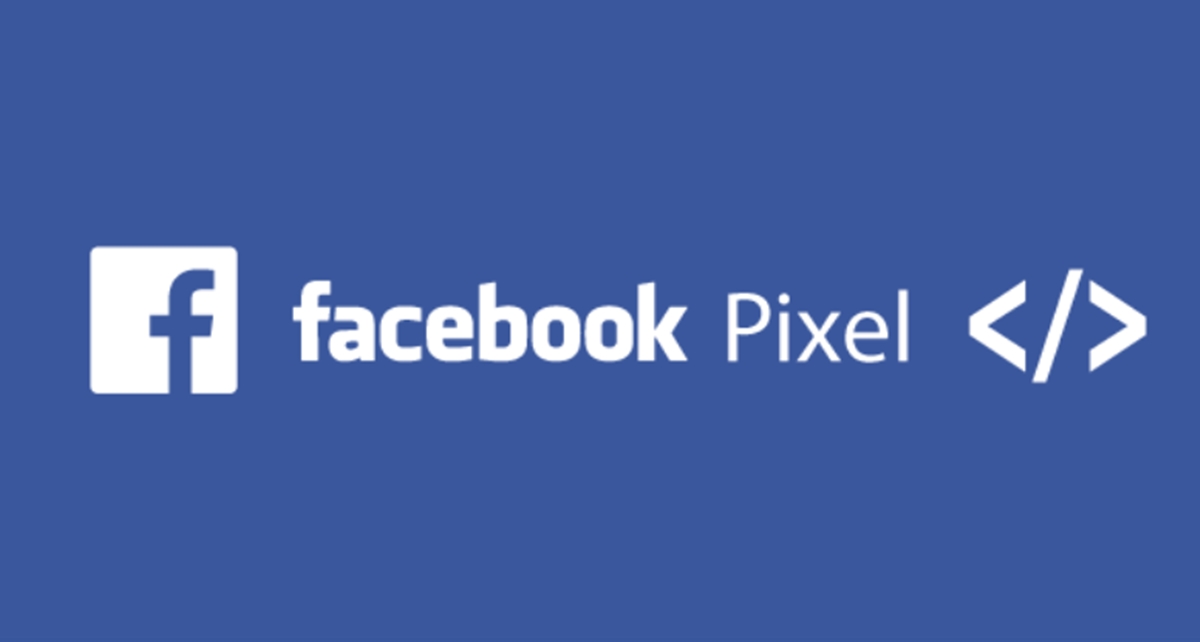 Automated emails
Dropshipping automation in Shopify can be feasible if you produce automated email drips, surprisingly, for free. The creation of automated dropshipping emails can be for order confirmation, canceled orders, refunded orders, abandoned checkout, and many more. From the Settings section, you will notice the Notifications area. From here, you will encounter a wide variety of chances to generate automated emails.
Note that not all 20 notifications are suitable for you. Not only that, it also provides you an option to get desktop notifications every time someone places an order on your site. It helps you to be constantly aware of your ongoing transactions. In the case where a freelancer is responsible for this task, you can assign them to add to their desktop that outstanding feature.
Edit auto updates
A feature of Oberlo's automated dropshipping is that you can automate the activities when an item runs out of stock or when the pricing of inventory encounters fluctuations. Most business owners set it to Do nothing, however, this approach may result in the frustration or dissatisfaction of your shoppers who want to place an order on an item that is sold out and not available. You can adjust their settings instead of manually monitoring all of these modifications to minimize the attempt you make.
To make it more understandable, let take into consideration this example. From when a product is no longer available, you can reset it to Set quantity to zero. By doing this, you can make your customers notice that it is sold out. Alternatively, you can select Unpublish product to clear it out of your website.
What is more, you can select Notify me for all circumstances to be constantly aware of the modifications on your website. It is very helpful in the case where you are looking for a new supplier or alternative for your goods.
Price multipliers
Another feature of Oberlo's automated dropshipping features is price multiplier. Manually setting prices for all your items is a big deal until the presence of price multiplier. Your creation of "global pricing rules" will automatically price your items for you. It sounds fantastic, isn't it?
Nevertheless, the rules are not versatile. In the case when you add an item, you might want to scan once or more before posting to your store. If you set the rules in smaller numbers, they will have a better performance. For instance, the change from "$1 to $5" to "$1-2" can help you price the items better. Besides, with this automated feature, the selection of the product types that those price ranges will include is also very helpful to help you identify the optimal pricing strategy.
Remove Image Backgrounds
Some images do not have their background stripped off. Occasionally, you will encounter photos with models in front of brown backgrounds, other moments you will get your product's lifestyle photos. The process of excluding the background from all your photos is not necessary.
Yet, for you, it is also important to bring your site a consistent look or to make an effort to avoid the reverse search of your photos. The use of photoshop is a popular method to manually separate the background from images to generate a clean appearance. Nevertheless, you can use Remove.bg to eliminate backgrounds in seconds after you upload an image. You can upload one image at a time using the gratis option. You can modify more photos if you pay for a subscription plan.
One-click order processing
With Oberlo's automated dropshipping, you can handle orders in a single magical click. When a customer places an order on your site, it is necessary to provide the manufacturer the customer details. It can help let the manufacturer deliver the orders straight to the customers on your behalf. Manually entering all the details to your supplier is such a burden, but now, you only have to click a button and the manufacturer will receive the order's info automatically.
If you receive a large number of daily orders (the thing that all store owners dream about), you only have to do several clicks, which is super easy. This fantastic feature helps you to take off the burden to complete most of the repetitive and boring tasks.
Automate Tracking details
The most popular question raised by your customers is "When will my order arrive?". It will be very time-consuming if you have to manually track the order status of each customer's order. So the automation of tracking details can be your life-saver. Simply by adding http://www.17track.net/en/track?nums= in the box under "Notify customers about shipped orders" in your Oberlo dashboard, your customers will be aware of their order's shipping status and the estimated date of arrival.
This automation will diminish a significant number of customer support emails you receive about their order's shipping information. Hence, with more free time you possess, you can put in more effort in marketing products, and eventually, sales will come in naturally.
Using KIT to automate your marketing
The pros of automated dropshipping are not questionable, but automated marketing also worth talking about. With the aid of Kit, one of the most common Shopify tools, the creation and running of Facebook ads is super easy. Kit continually improves the ads it produces. You can also receive thank-you emails from the app and your social media accounts have the products posted. With Kit, the execution of marketing activities will not be a big deal.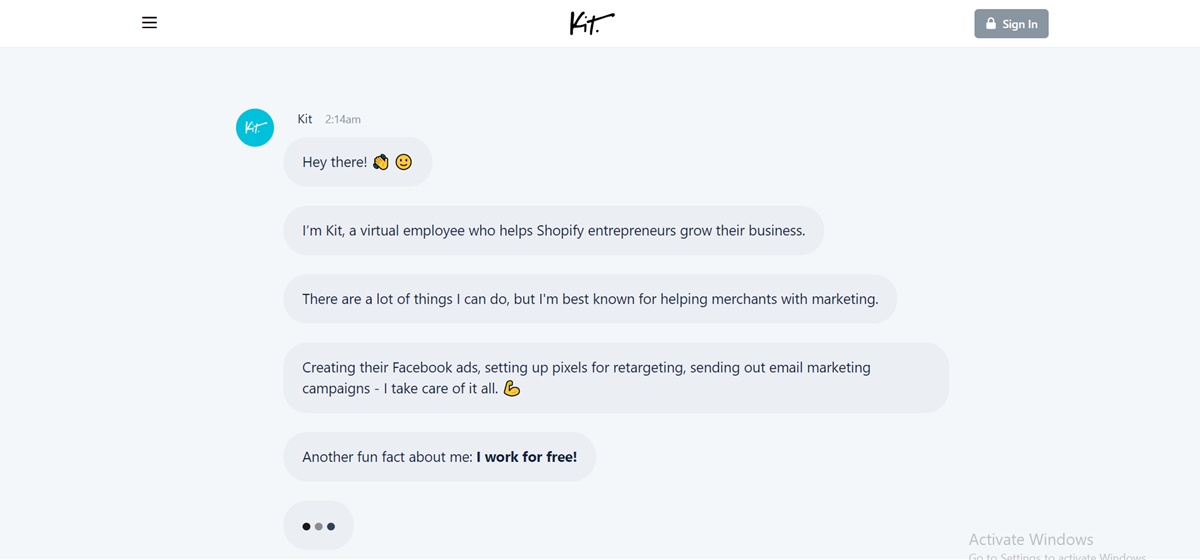 Schedule social media post
Besides automated dropshipping, the automation of your social media is also feasible. Posting regularly might be the biggest challenge of managing a social media account. But now, with the help of a free social media scheduling tool, you can schedule posts once for the whole week so you will be reminded to post anything online.
Each social media scheduling tool offers a free version that allows you to have a certain number of posts in advance. It can be very attractive to the business owner on a shoestring budget. If you realize you have more leisure time on Saturday evening, then Saturday evening will be the most appropriate time that you can schedule the weekly posts. By doing that regularly, there is a high likelihood that you will be able to adopt a long-term strategy.
Using Facebook Messenger Instant Replies
If on Facebook Messenger, a message from your customer arrives, you would not be able to reply instantaneously. It may be because you have a day off or you do not take full notice. Your goal is to prevent the customers from assuming that you are neglecting them. From Facebook, you can create Instant Replies to help you auto-respond to customers once their message comes in.
To salute customers who reach you through Messenger, you can add personalization. Your customer will notice a message coming right at them: "Thanks for reaching out. Your message is so important to us. A member of our team will be responding to your message within 24 hours. In the meantime, feel free to check out our FAQ page: (link)."
But you also have to reply to the customer's questions, comments, concerns. The auto-responder is a handy tool in this case as it spares you some time to answer. Therefore, you do not have to do it right off the bat but you can still guarantee that you will help out your customers in case they need anything.
Best Shopify apps for automate dropshipping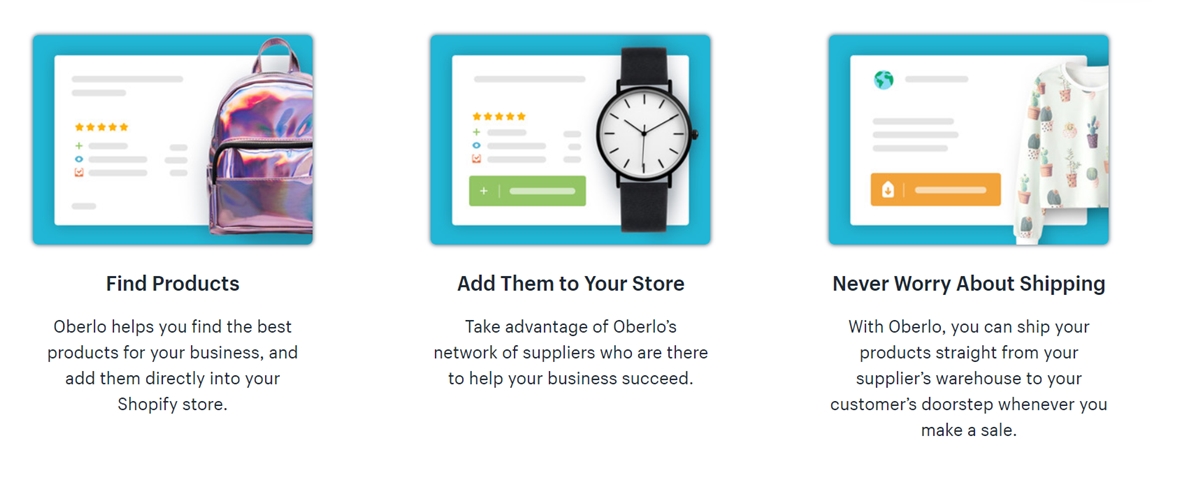 With outstanding features for dropshipping, Oberlo is the best Shopify application. It enables you to import your items directly into your Shopify store easily, and you do not have to do it manually.
This app automatically links your online store to AliExpress, which facilitates the process of locating and selling products from AliExpress. Besides, it also enables you to easily filter ePacket products on AliExpress and easily post them to your store. With Oberlo, altering product supplier is super easy.
Also, it can auto-edit product descriptions, price; auto-update product inventory, auto fulfill and track sales and orders. Another feature of Oberlo is that it helps you customize your items and it enables multiple user accounts.
All you have to do is a few simple clicks, hence, you will have more free time and eventually, money. You can have a free trial of Oberlo for 30 days with all of its basic features. After 30days, you would have to pay a $4.90 monthly charge.

If you are looking for social media automated tools, then Around.io is a must-try and must-have. There is no doubt that social media marketing is crucial in eCommerce business, and it is a popular belief that social networks have been a constant source of organic traffic to any online store.
Nevertheless, dealing with more than three different social networks requiring daily updates might be a daunting challenge. The good news is that it will undertake the task of posting on social media daily and enable you to handle, edit, and schedule posts from various social accounts with a few simple clicks.
With GIF and Content search, Around.io unearths captivating content and show it to your viewers automatically. Around.io calendar is also a great tool to help you check your social media posts.
To find out its outstanding features, a 7-day trial is a good option. You can pay $9.99 per month after 7 days to have a subscription plan.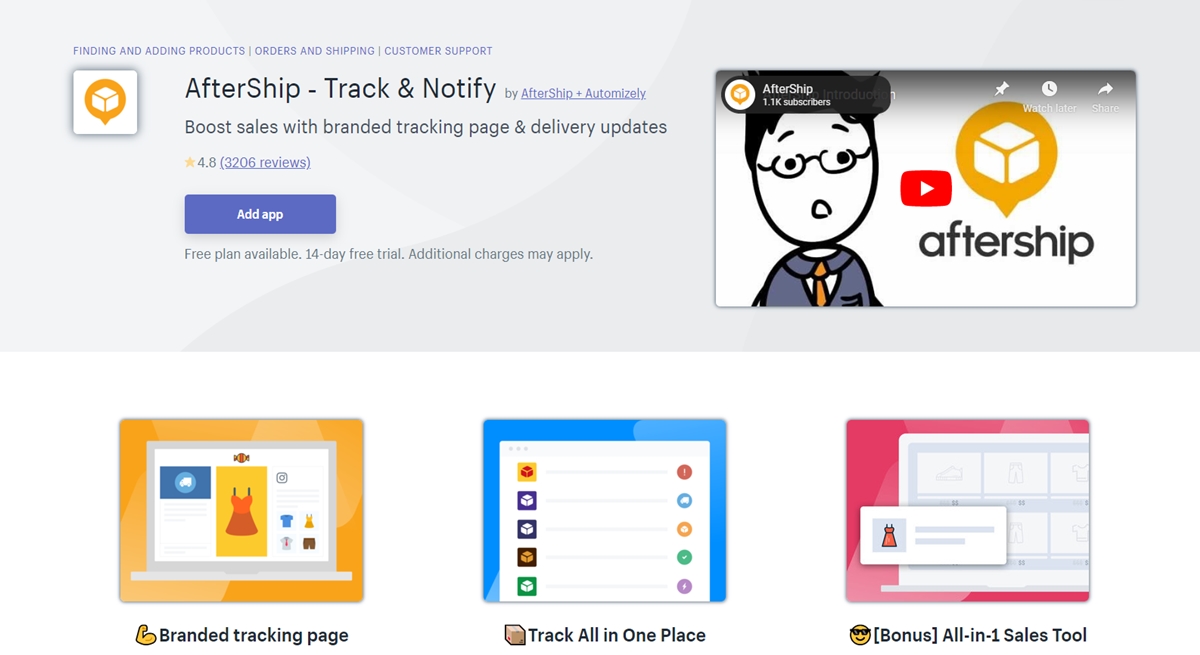 To make a branded tracking page that allows your customers to track the shipping status of their orders, you should not miss out on the AfterShip app.
This app can help you send Email and SMS notification automatically to your customers for updated information. Not only that, the app can inform you of the performance of the delivery status and then you will be able to take immediate action.
If you have fewer than 100 shipments monthly, this app is free. But when there are more than 100 orders, you will need to contact their support staff to possess a premium account.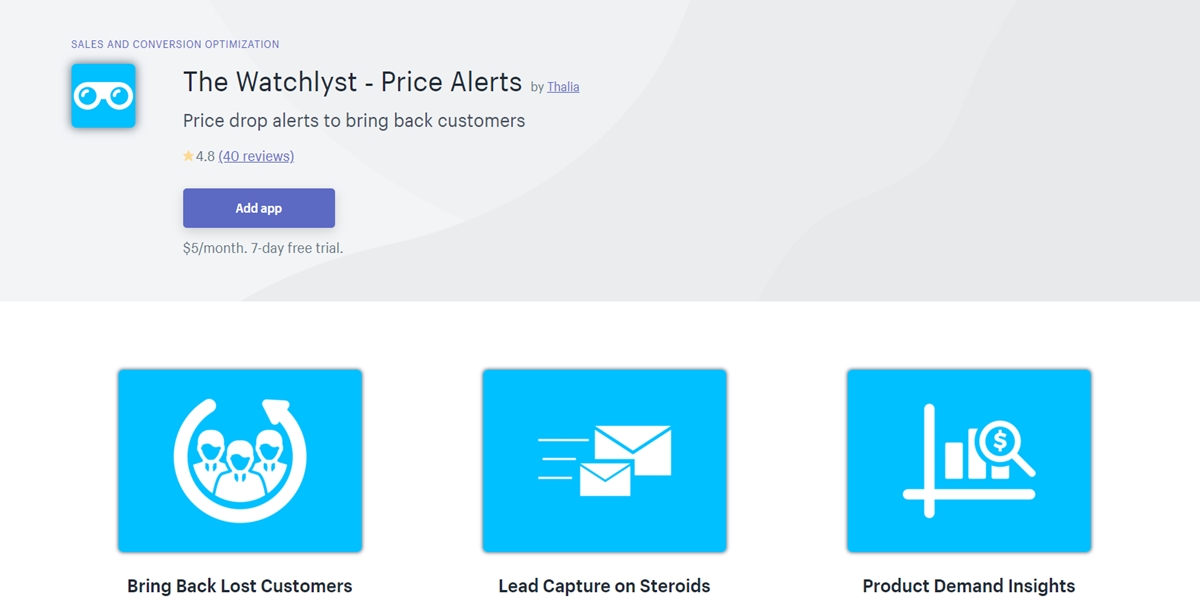 Similar to Sale Pop, the Watchlyst app aims to re-target your guests that did not place an order on your store when they first came to your site. A majority of them did not purchase as they were not willing to or they can not afford the price. Using this app, your customers will receive the emails that they enjoy as it sends them automatically.
The Watchlyst price drop notification enables them to sign up for a price decline alert when they first dropped by the items they wanted to purchase. Then, the Price Drop Alerts app informs them of the ongoing reduction in price so that they can fulfill the order process. Price Drop Alert gives a 14-day free trial and after 14 days, your charge is only $3 per month.
Conclusion
To sum up, automating Shopify dropshipping can save you a lot of time and money. Luckily, many useful tools help you automate it. Not only that, Shopify offers many useful apps to help your business, and you can try out and test. Hopefully, from reading our article, you would be able to automate Shopify dropshipping successfully.
If you want to explore more about dropshipping, visit our post How to Set Up Shipping on Shopify for Dropshipping right now. Good luck with your career and may success be with you!
---
Mike is a content writer at Avada, with a love for video games, gadgets, and software. He has been writing about the industry now for over 7 years. He likes to keep up-to-date with the latest software releases. He's also an avid reader, and he enjoys spending time outdoors with family and friends. When he's not working, you can usually find him playing video games or exploring new outdoor activities.