How to generate a menu to control your collections list page in Shopify
How to generate a menu to control your collections list page in Shopify
Collection list page is the mean that lists all of your collections in one page. By default, Shopify only allows to have one page to show your store collections, you are unable to create other "collections of collection", the same with other products.
This thing sometime bother you and hinder the effectiveness of your business page and absolutely inconvenient if you offer thousand of products on your platform. To tackle this problem, there are some themes code that help you to create page that show list of collection.
If you have a lot of collections, therefore you can optimize your page so that your main menu redirects to different "list of collections" page. You can change the layout of your collection list page from theme editor. However, if your theme did not include in the collection list page, then you need to create a menu to regulate it.
Generally, this article will show you how to generate a menu to control your collection list page in Shopify.
How to generate a menu to control your collections list page in Shopify
Change theme settings
Before go right into creating a menu to control your collection list page, you need to check out your layout page of your collection page first. Currently, all free themes of Shopify include settings that permit you to formulate changes to the layout of your collections list page from the theme editor.
Here are the steps to follow:
Step 1:
In Shopify admin, choose Online Store > Themes.
Step 2:
Click Customize at the theme you want to edit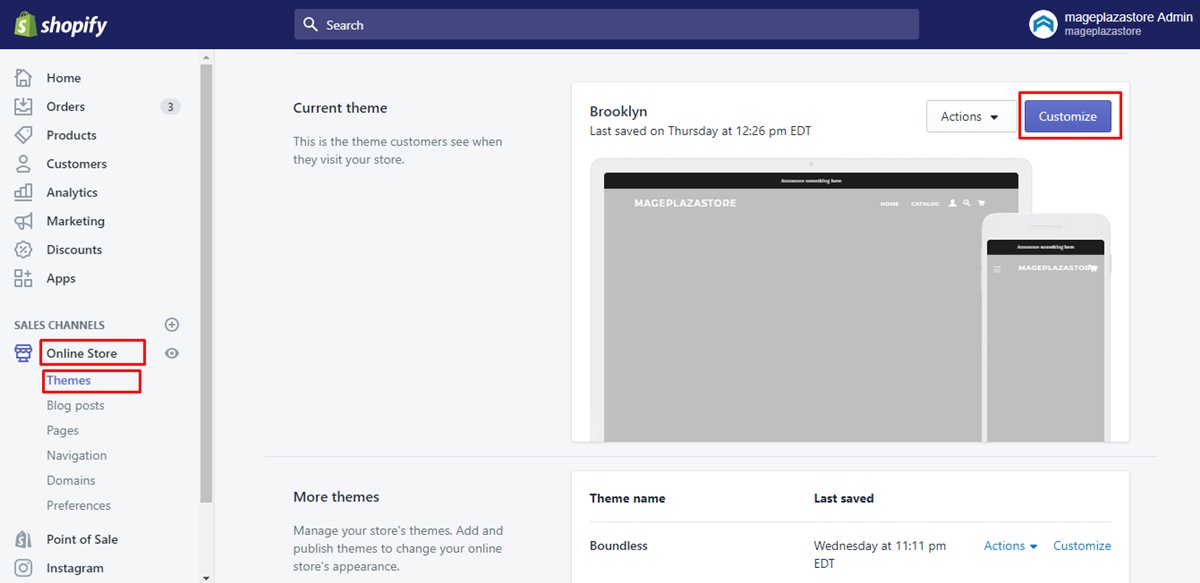 Step 3:
Choose Collections list from the top-bar drop-down menu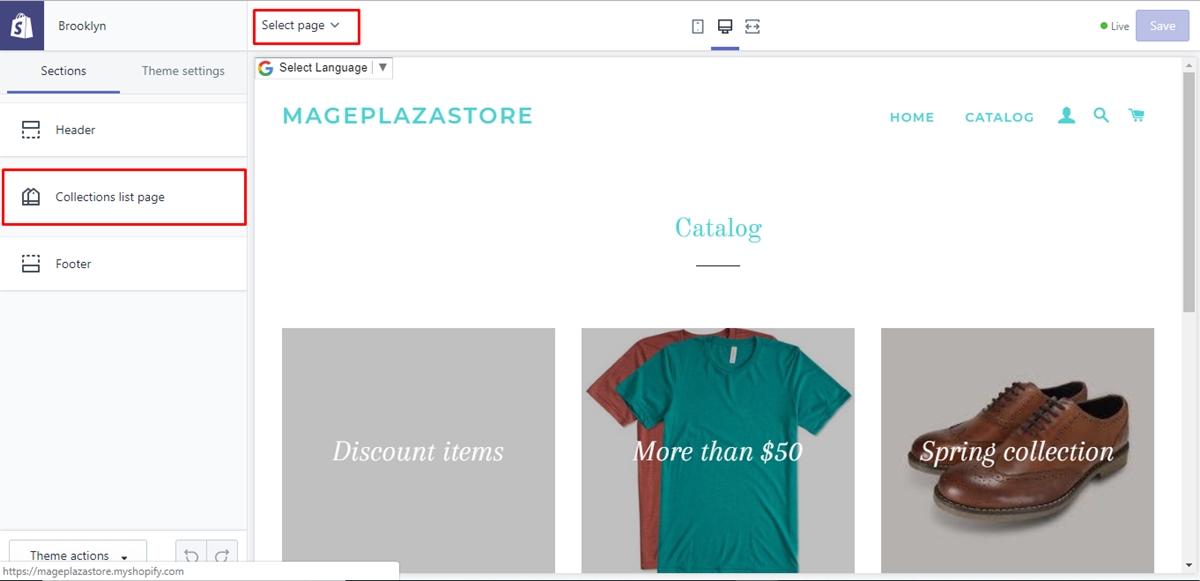 Step 4:
Change the settings after you click Collection list page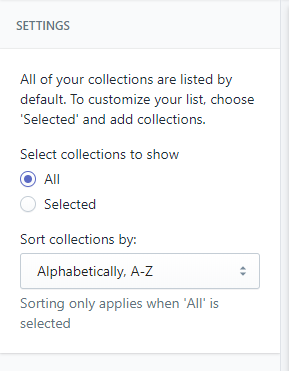 Step 5: Click Save.
In case your theme doesn't allow settings to make changes in the collection list page therefore you need to generate a menu to control your collection list page. Following is the tutorial for you to practice this feature.
Create a menu to control your collections list page
Admittedly, you can absolutely create a menu to indicate which collections you want to take in on your collections list page. By following these steps, you can easily generate your menu to control you page of collection list. There are two tutorial for both desktop and app version
Step 1:
Access your Shopify admin, click Online Store > Navigation.
Step 2:
Then choose Add menu.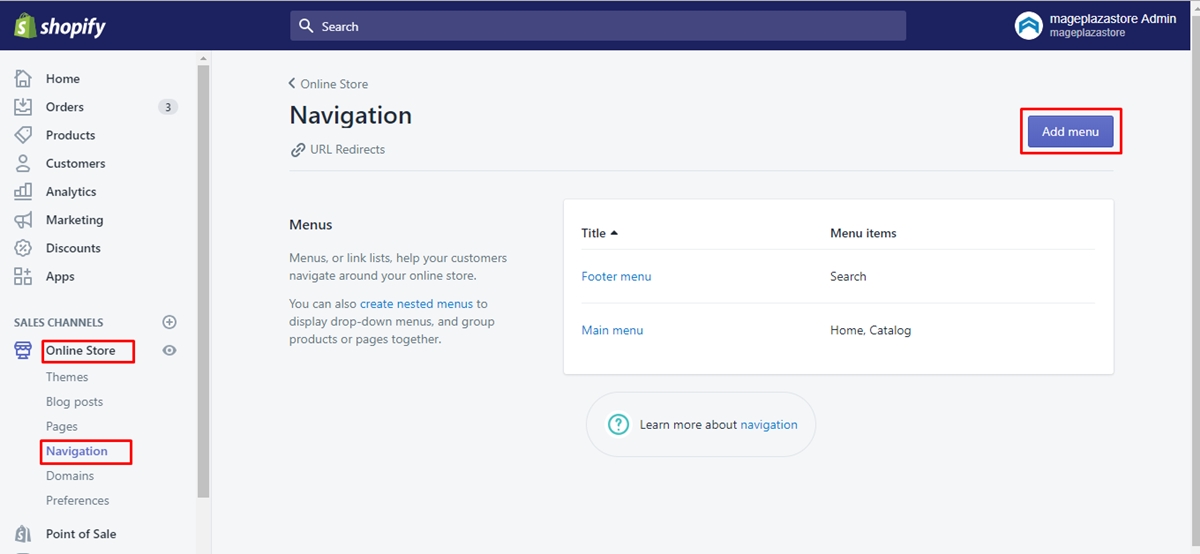 Step 3:
Indicate a name for your menu: All collections. As this is used by your theme to clarify the order of your collection and which collections to show on the collections list page therefore it is a vital factor that you choose to not change this name. Your online store page won't be able to show your menu name on it.
Step 4:
Click Add a menu item. After that, insert the name of a collection that you want to show on the collections list page in the Add menu item window.
Choose the Link field and then select Collections. After that, click the name of the collection: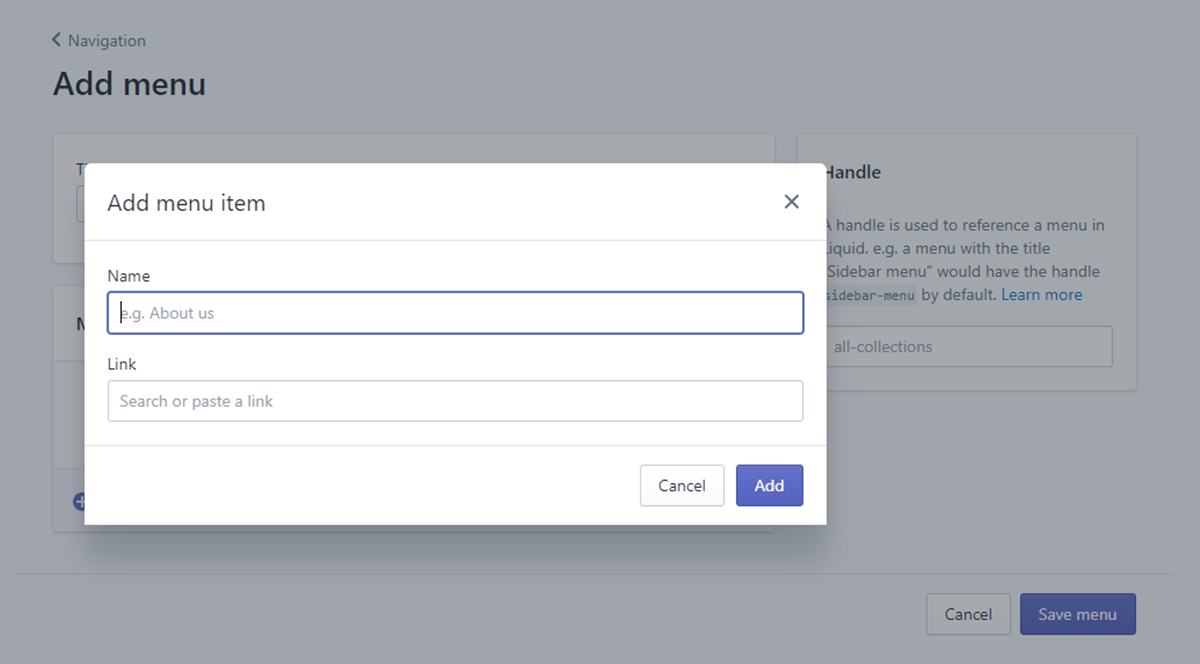 You can click and drag the dots on the left side of the menu item if you need to move a menu item to a new place.
Step 5:
Click Save.
The process might be more simple for some themes, such as Supply, all you need to do is to create the All collections menu. To monitor any changes that have taken place, you can access your collections list page (your-store.com/collections) on your online store page to check it.
Conclusion
Collection list page is one of the useful feature that Shopify allow you to modify your business page, especially for online shopping stores for clothes and accessories. We hope that this tutorial can help you to understand and practice this tool at home. If you feel uncomfortable with this process, we recommend you to hire a Shopify expert for a smooth procedure.
Subscribe
Stay in the know
Get special offers on the latest news from AVADA.
40k
subscribers has been joined!
Earn $10 in reward now!