How to generate a collection to control your catalog page in Shopify
How to generate a collection to control your catalog page in Shopify
The store's catalog page is available for every Shopify stores that have a page at the link your-store.com/collections/all.
This catalog page listings all of your visible products on the page, typically have small product images and brief descriptions, and can be formatted as a list or as a grid. In addition, you can optimize your catalog page by adding banners, videos, and keyword descriptions. In case of any promotion or change in season, you can absolutely flexible to create special designs for your store. A special category can also be created to feature a lifestyle or brand that is a curated collection of products from different categories. The brief product description usually gives shoppers just enough information for a product, people base on that to decide whether they need it or not, therefore they can add it to the cart and do the payment. Customers who shop while logged in to their accounts enjoy a personalized shopping experience. In Shopify, all products on the catalog page are default to be shown in alphabetic order. To change the order in which how your products will show, you can generate a collection to control your catalog page in Shopify.
How to generate a collection to control your catalog page:
Generate a collection to control your catalog page
To control the order in which products are displayed on your catalog page, you can generate a collection with the handle all. In order to generate the collection, follow the below steps:
Step 1:
Go to your Shopify admin, click in Products > Collections.
Step 2:
Choose Create collection.

Step 3:
Customize your collection to fit your requirement :
Title your collection by insert all in the box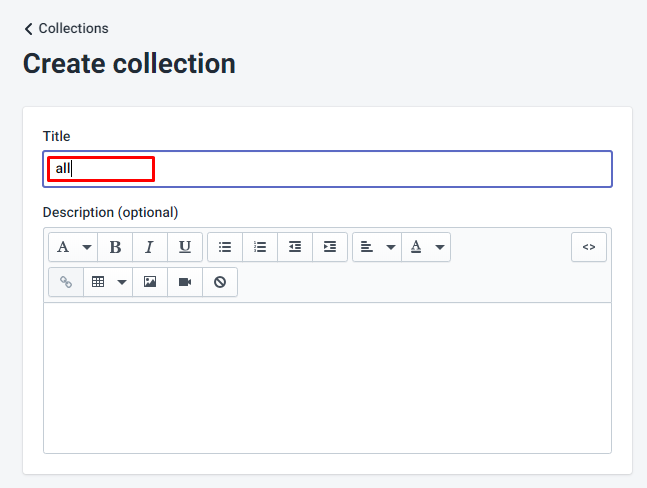 Click Automated in the Collection type section
In product condition, your choice need to fit all the condition of Product price is greater than $0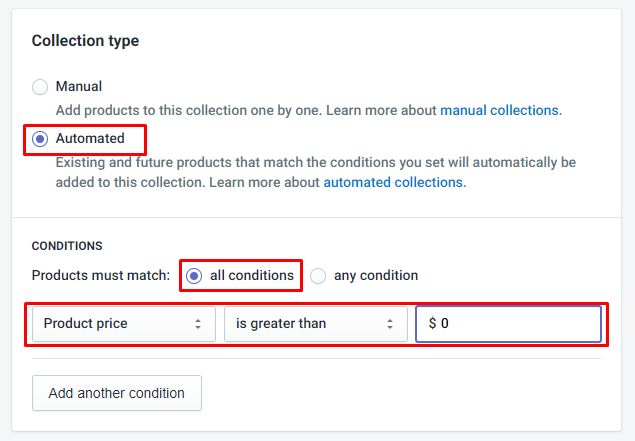 Step 4:
This is an optional step, if you want to hide products that are out of stock, you also need to add another condition which is Inventory stock is greater than 0
Step 5:
To finish the process, click Save.
Sort products
Now you can sort the products within your collection after you have created your All collection. To sort product, you need to scroll to the Products section, at the Sort drop-down menu, you can choose the way of sorting as you want
In case you choose to sort Manually, then you can change your products by using their drag and drop handles: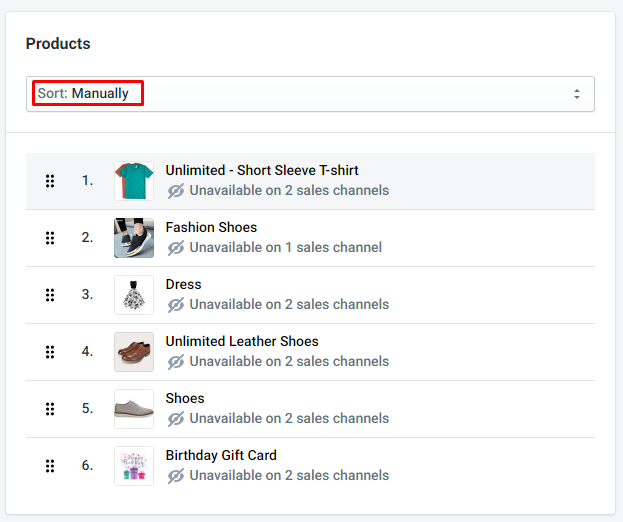 Change the collection title
If you want to change the title of your All collection, then you can edit it now that the collection has been created. Though it is important, the handle of the collection still set as all.
To confirm this action, you need to scroll to the Search engine listing preview section, and then clicking Edit website SEO:
Eventually, you should see a URL that ends up with /all in the URL and handle text box.
In case the URL ends with another text, then you must delete it and replace it with /all then click Save to finish.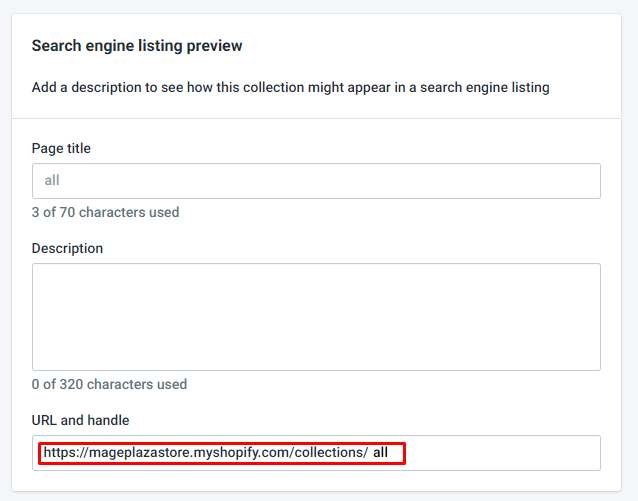 On the catalog page of your online store, the modifications that you make to the order of your products in this collection will be shown.
Conclusion
We hope that with this tutorial, you can optimize your online shopping store therefore gaining the attention of customers with an user-friendly website.
Subscribe
Stay in the know
Get special offers on the latest news from AVADA.
40k
subscribers has been joined!
Earn $10 in reward now!