8 Best Ecommerce Marketing Strategies to Grow Your Business!
What is a Ecommerce Marketing Strategy?
An ecommerce marketing strategy, simply put, is the process of using outbound advertising, SEO and other marketing tactics to promote your online store and increase your brand recognition, website traffic and sales. The whole process includes raising customer awareness with digital content, search engines, social media, and email marketing, along with attracting website actions with conversion rate optimization. Let's jump into the most effective marketing channels that are widely used to generate sales for online store, so that you can understand what an effective marketing strategy requires.
Top 8 Ecommerce Marketing strategies?
An effective ecommerce usually requires an omni-channel approach which means planning and executing your marketing activities on more than one channel. The reason for implementing an omni-channel approach is that each channel has its own strengths and weaknesses based on which it fulfills its marketing purpose. Some are best for driving conversions while others are great for raising customer awareness.
Here is a breakdown of each marketing channel and how you should integrate them into your marketing strategies.
1. SEO (Search Engine Optimization):
SEO is a long-term marketing strategy that is used to drive organic traffic to your E-commerce site. Organic traffic, a.k.a unpaid traffic, is the type of traffic that you don't have to pay for advertising to acquire. Instead, you're going to use high-quality content and SEO optimization techniques to get your website to rank on top of organic search engine result pages. The ultimate benefit of SEO is you won't have to rely on advertising to drive traffic and revenue, which will reduce your acquisition cost and increase your net profit.
With that huge benefit, however, comes a price. That price is you'll have to provide super high-quality content that your target audience wants to consume. If your content is not appealing to your customers, they came, left and won't come back.
Besides that, search engines, like Google, rank a website organically based heavily on the average amount of time their users spend on that site. This means if your content is not providing values, users won't stay long, and eventually Google will not let you sit on top of its SERP no matter what SEO technique you'll try to you. Keep in mind that you can use SEO tactics to bring your website to the top, but for it to stay there, valuable content is the deciding factor.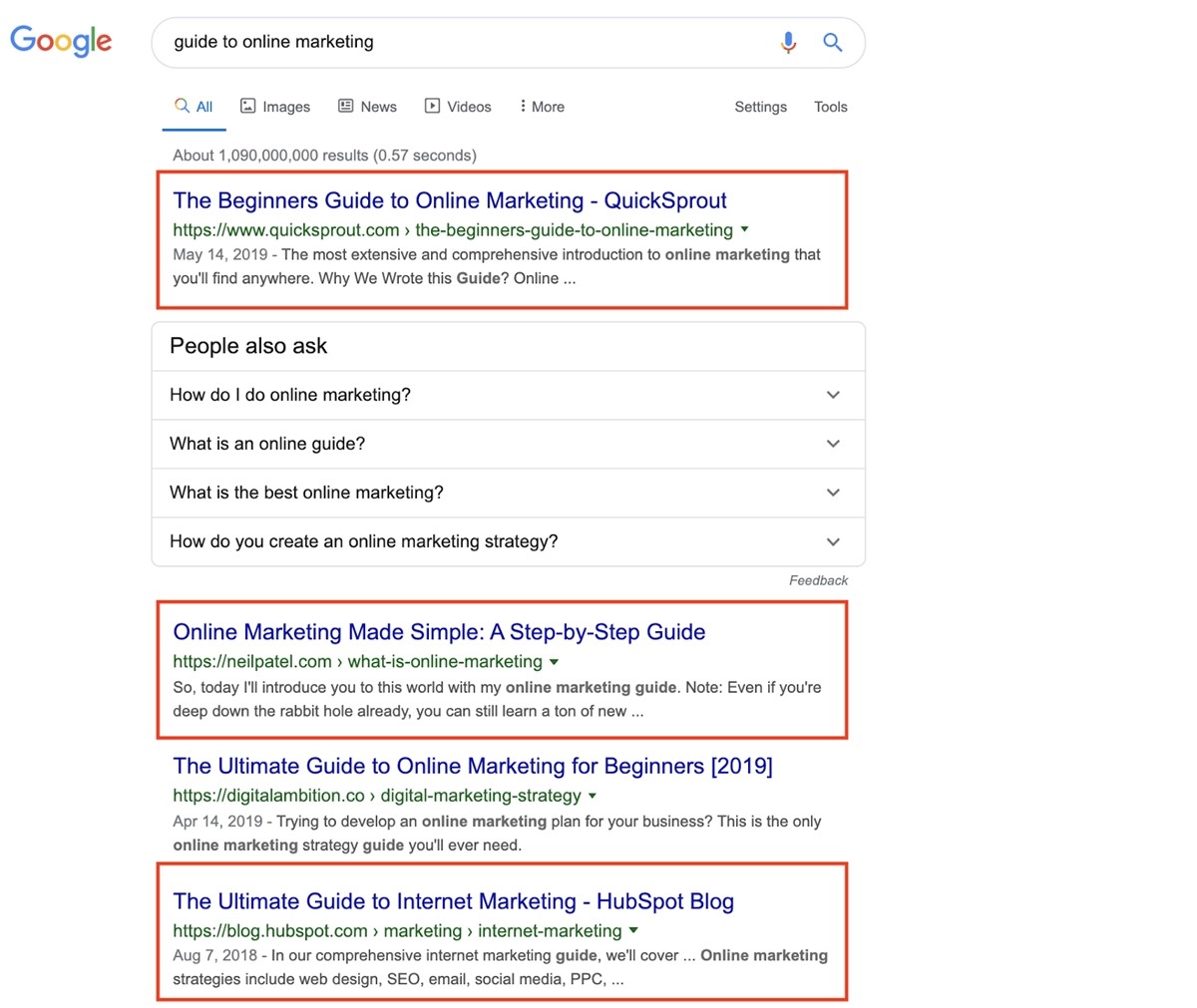 This is an example of websites using SEO and content to rank on top of the SERP. If you're into E-commerce, you must already know Quickspout, Neil Patel and Hubspot; they are giants when it comes to digital content.
Recommended: 20+ Best Free Shopify SEO Tools & Apps for Shopify
2. Pay Per Click (PPC) Advertising:
There is another way to get your website on top of the SERP, which is PPC advertising. Simply put, when it comes to this method of advertising, you pay for search engines, mostly Google or Bing, to place your ad on their SERPs. This is, essentially, a way of buying traffic to your site in contrast with SEO which is earning traffic organically.
In order to run a successful PPC campaign, you'll have to learn about how Google Adwords - the advertising platform of Google - works. That includes planning out keywords, bidding on search terms, optimizing your landing page user experience and content, as well as creating relevant ad copies. PPC ads are known as paid ads, and usually appear above the organic results. They are a great way to drive both website traffic and conversions.
Further Reading:
3. Email Marketing:
Email marketing has been proven to be one of the best ways to engage with potential customers, as well as re-engage with and upsell to existing customers. With automated emails, you can delegate a lot of time-consuming labour-intensive tasks such as sending a promotional email to 5,000 customers or sending emails to remind customers of their abandoned carts. You can also use automated emails to inform your customers of your promotion programs, product updates, complementary products to the ones that they have bought.
Most importantly, if providing high-quality content is at the core of your marketing strategy, you can use email to send new content to those who have opted in your newsletter list. This is a great way to build up relationships with your existing customers.
Finally, email marketing barely costs you anything. Here's the cost of implementing this channel from Mailchimp for your reference.
The Free plan: 2,000 contacts and 10,000 emails per month (with ads).
The Essentials plan: $9.99/month for 50k contacts and 500k emails.
The Standard plan: $14.99/month for 100k emails and 1.2m emails.
The Premium plan: #299/month for 200k+ emails and 3m+ emails.
Recommend:
4. Affiliate marketing:
Affiliate marketing is promoting your product or service on other websites through an affiliate network. Affiliate networks are middlemen who connects affiliate websites (usually bloggers) with companies (merchants) running affiliate programs on their products or services.
These websites, often called affiliates, will promote your products with internal links in their content or banners on their web pages. Once you partner with them you'll need to pay them a commission for every sale that comes from their websites. Amazon is a big executor of affiliate marketing. If you ever clicked on a link in a book-reviewing article and then got directed to Amazon, that link was an affiliate. Here's an example when I search for "10 must-reads of 2019"; that shop now button is an affiliate link.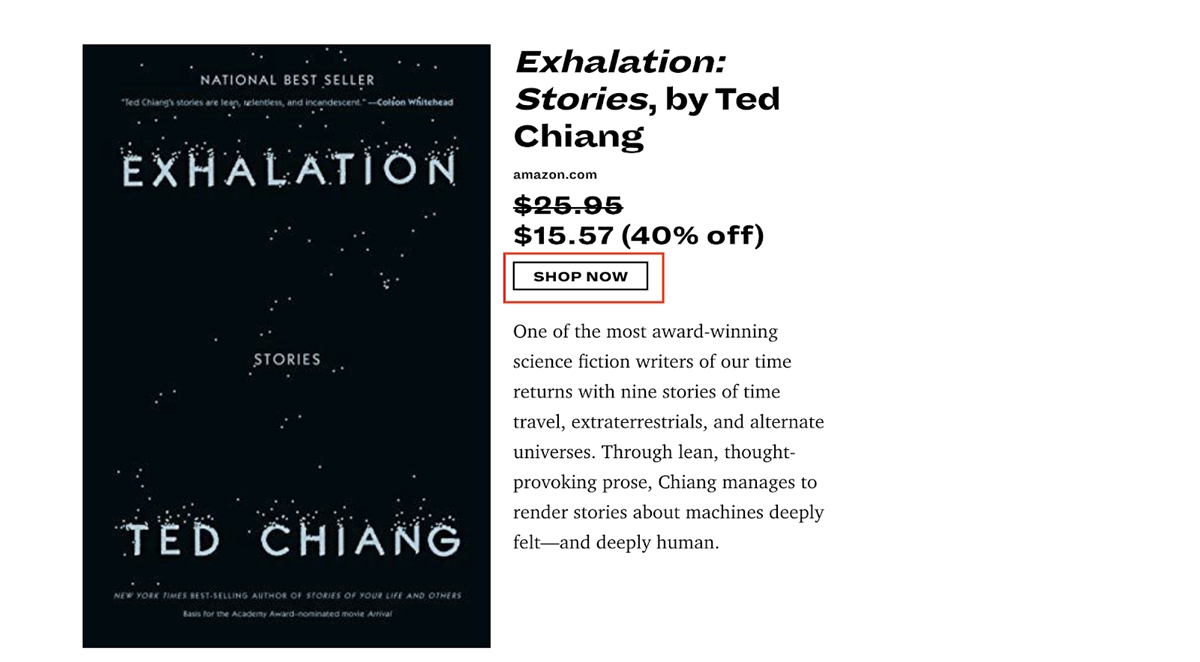 You can pour your money into advertising and have negative ROI because your ad does not perform well. But with affiliate marketing, ROI is always positive because the beauty of affiliate marketing is that it does not cost you to advertise; you only have to pay a commission once a sale is made. This form of marketing is highly scalable too because the Internet is the house of thousands of affiliates who are advertising thousands of different products on their websites. Depending on your brand and product you can have affiliates driving traffic and conversions to your website on a consistent basis.
Learn more: Top Affiliate Apps for Shopify
5. Social Media Marketing:
Billions of people are on Facebook, Instagram, Twitter and Youtube everyday, and your brand should be too. These social media platforms are amazing tools to help you build relationships with your audience and raise your brand recognition as they enable you to directly interact with your customers.
Organic social media involves generating content and updates on your Fan Page, so that you can connect with your fans and keep them posted on whatever's going on with your product or service. Also, you can easily broaden your customer base with interests-based ads that are provided by these platforms at a fraction of the cost of traditional advertising.
Explore:
6. Display advertising:
Display advertising is advertising in the form of banners, video or flash displayed on websites, apps or social media. The primary purpose of display advertising is to raise brand awareness among site visitors.
The most popular display advertising so far is the Google Display Network (GDN) provided by the search engine giant. It has more than 2 million websites in its network and can reach over 90% of the Internet population. The GDN enables you to place your display ads in a large collection of websites, mobile apps, and video content.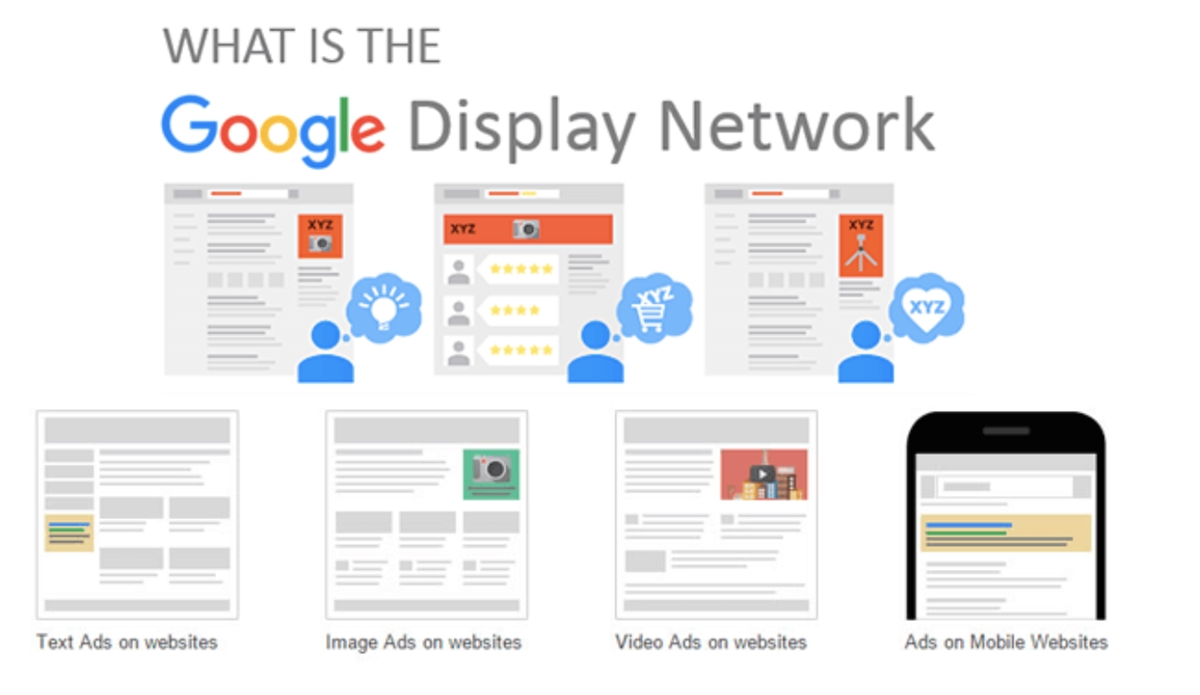 Learn more:
7. Retargeting:
Retargeting is when you present display ads or social ads to users who have visited your websites or interacted with your content on social media platforms. For instance, when a visitor drops by your website, Google and Facebook will place something called the pixel on their browser to store their cookies. After that, Google display ads will follow that visitor to whatever website (within the Google Display Network) that visitor goes to, while Facebook will show your ecommerce ads to that visitor when they hang out on its platform.
Retargeted audience are users who have interacted with you on the Internet, so they have already known your brand. This tactic is great for maintaining your brand recognition as well as increase conversions among this group of audience.
8. Influencer Marketing:
When it comes to buying online, consumers tend to rely heavily on the opinions of others to inform their buying decisions. Before deciding to purchase a product, they usually look for online reviews, peer recommendations and influencers to recommend them what to buy or which brand is best. Influencers are popular people on social media platforms such as Facebook or Instagram who have a large follower base as well as credibility among their followers. Influencers also tend to lean towards a specific niche, which means there are fashion influencers, food influencers, fitness influencers and so on.
Reaching out to an influencer network will enable you to connect with micro-influencers in your niche who can promote your product or service to their followers. Generally, the more followers an influencer has, the more popular and reliable they are, and therefore the more they will charge for their endorsement service. E-commerce merchants typical pay an influencer a certain amount of money upfront as a deposit, and after their product is promoted on the influencer's channel (mostly Instagram, Facebook, or Youtube), the balance will be paid then.
Ecommerce conversion funnel:
When you have a visitor coming to your Ecommerce store even for the first time, you surely want them to stack up their cart and spend lots of money. That's natural, that's one of the reasons you're doing business. But most of the time, they don't.
Although consumers are constantly scouring the Internet for information, oftentimes they just don't take action right away, or at least, in the way that you wish them to. There are a lot of reasons for that, they might get called away from their computer or they might reach their destination and turn off their mobile devices. Whatever the case might be, you can't always convert a customer on their first visit.
However, what you probably can always do is bring them into your Ecommerce conversion funnel, and lead them from the starting point to the ending point of conversion.
1. What is the Ecommerce conversion funnel?
When it comes to Ecommerce, a conversion funnel represents the journey that your customers take from the first stage (which is becoming aware of your brand) to the final stage (which is making a purchase) in your sales process. As each company has its own process of sales, how customers navigate their business will be different, and therefore the specifics of their conversion funnels will vary accordingly. For instance, businesses that sell low-cost, low-risk products tend to have shorter conversion funnel because that helps cut off unnecessary costs and make conversion happen faster.
2. Why is it important?
If you don't know your conversion funnel from inside out, you won't be able to optimize each stage to maximize your sales. This means you need to know which touch points in your sales process have the most impact on converting customers, so that you can allocate your resources and effort efficiently and effectively.
For instance, you find out by monitoring your sales funnel that Facebook plays a tremendous role in your conversion. With this piece of insight, you can spend more on boosting your Facebook activity and probably less on other platforms.
3. Four stages of the conversion funnel:
A typical Ecommerce conversion funnel has four stages. In each stage, customers make decisions based on their own needs and how they perceive you brand. Optimizing each stage of your conversion funnel will help you boost your revenue.
Stage #1: Awareness.
This is when consumers become aware of your brand. They might have a problem that they need to solve or a goal that they need to achieve, so they go and find solutions. Your brand is probably just one out of the many that they have stumbled on, which is why it is so important to create a great first impression in this stage so that you can stand out among your competition. If you don't do enough to let the customer know that you can bring them the solution they desire, they will skip over you and turn to your competition.
It has been proven to be a great strategy to offer free information such as blog posts, guides or any form of valuable content. This will help you establish yourself as a good source of valuable information and help build up relationships with your customers because of a fact that is consumers will go wherever there's information that help them become more informed, more knowledgeable.
Stage #2: Interests
Now that the potential customers have found out that you are a great source of information and you can offer them great values, what you need to do is keeping them engaged with more content. The reason is that they might not need your product at this point, and won't make a purchase, but continuing to provide them with entertainment and educational value will keep them interested in your brand and product. Of course, information about your product and brand should also be included in the content that you're offering as a whole. This means if you're selling headphones, your content needs to include information about your brand and product along with another segment which can be updates and analysis from the tech or headphone industry.
Stage #3: Desire
When you have built up interest among your audience, it's time to create desire. What to keep in mind here is that you should talk about your product's benefits, not its features. People just don't care about features alone, but they do care about what benefits they can get from those features.
Apple has mastered this art. The company doesn't talk about boring features; instead, it consistently portrays its audience that its products are elegant, sleek, easy to use, and secure (these are benefits). So, focus your marketing messages intensively on how the consumer will ultimately benefit.
With that in mind, you should build your call-to-actions strategically, which means rather than focusing on what you offer, present to the audience how they will benefit or what result they will get. Here are two examples to compare -
Example 1: Get your own ABC Backpack and enjoy extra pockets and thicker shoulder straps.
Example 2: Get your own ABC Backpack for extra storage for your possessions and functional straps that reduce back pain.
Extra pockets and thicker shoulder traps are features, but without telling what they are for, they can be meaningless. On the other hand, extra storage for your belongings and reduced back pain are benefits that the customer will get, which can help them visualize the benefits and get them more interested.
Stage #4: Action
This is when you have gained your audience's trust and they are convinced that your product can solve their problem, so it's time to close the sale. Your prospects now will add your product to their shopping cart, then go to the checkout process, type in their payment details, and hit "Buy Now". Too complicated checkout process will discourage customers from buying, so at this point, you should examine every step in yours and make sure that there's no unnecessary action included. Unnecessary form fields, surprising shipping charges, or a lack of alternative payment options can cause prospects to abandon their cart, so make sure that your customers have no trouble navigating through your checkout page.
The Ultimate Content Strategy for your Funnel:
1. Types of funnel content: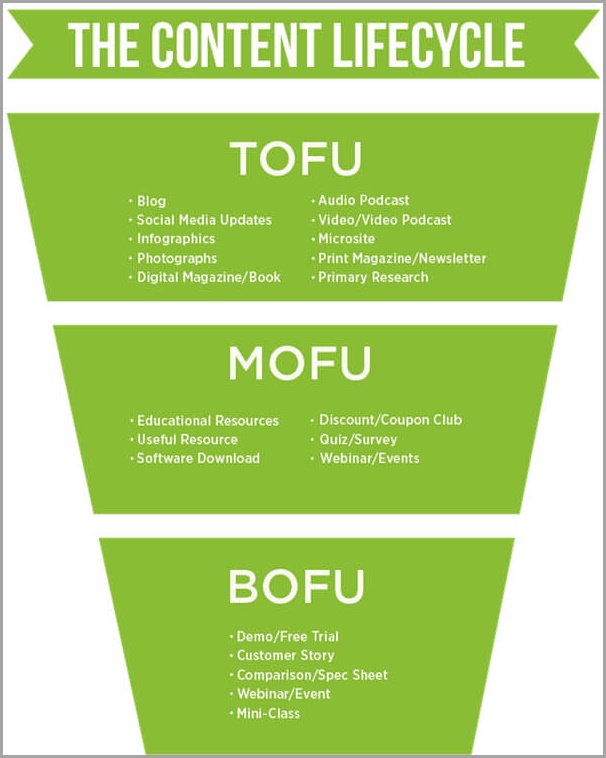 Top-of-Funnel (TOFU) Content: This is content created to raise awareness of your brand and product among your target audience. This segment of content can be delivered through various channels depending on in which form it is produced (blogs, podcasts, videos).
Middle-of-Funnel (MOFU) Content: This is content generated to acquire leads and walk prospects through the consideration stage. Content in this stage is often produced in the form of Lead Magnet. A lead magnet is an irresistible offer that provides a good chunk of value to a prospect, used to exchange for their contact information. Lead magnets can be ebooks, discount coupons, useful materials, free trials or anything that provides a specific value that your target audience desire.
Bottom-of-Funnel (BOFU) Content: This is content provided any information needed to make an informed purchase decision, used to convert a prospect into a customer. BOFU content includes product demonstrations, webinars, and customer stories.
2. The Content Lifecycle:
With the four stages of the conversion funnel mentioned above, you probably understood that a stranger cannot evaluate your product until they first become aware of their problem and your product which is the solution to their problem. And conversion is not going to happen until the prospect has gone through these awareness and evaluation stages first. To walk a prospect through a marketing funnel, you'll need to provide them with content specifically designed to meet their needs at each of the stages. In particular -
You audience needs content at the top of the funnel (TOFU) that brings about awareness.
Then they need content in the middle of the funnel (MOFU) that helps them evaluate.
Finally they need content at the bottom of the funnel (BOFU) that helps them make an informed decision.
Let's break down content needed in each of these stages:
TOFU Content Marketing
Prospects who walk into the top of your funnel are completely unaware of your solution and, usually, unaware of their problem too. For this reason, prospects will have little to no motivation to give you either their contact information or money, so your content should have no barrier to entry. The purpose of content at this stage is to get as many people to know your brand as possible without any expectations in return. This makes a lot of sense because at the beginning prospects aren't receiving any value from you.
In order to provide value, you should provide content that can entertain, educate or inspire. These are what everyone needs; they want to be entertained, they want to become more knowledgeable, they want to be inspired. With all of the negativity invading the world these days, content that spreads positivity is immensely powerful.
And you can produce your content in below forms to make it freely available -
Blog posts
Social Media Updates
Infographics
Photographs
Audio/Video Podcasts
Digital Magazines/Books
Of course you're probably not going to need all of these types of content at the top of the funnel. Most businesses will generate content in the form of a blog and posts on social media channels like Facebook, Instagram, LinkedIn, Twitter, etc. You should master these 2 popular types of content first, and once you have, adding other types will add variety to your TOFU content.
MOFU Content Marketing
The primary of MOFU content is to convert prospects who have become aware of their problem and your solution into leads. This is when you can make use of lead magnets which is free but valuable content to trade for prospects' contact information (a.k.a leads). Lead magnets can be anything that provides a specific value that your prospects desire and are willing to give their contact information to trade for; possibilities are endless, the whole lead magnet thing depends on your creativity and your understanding of your audience.
Lead magnets can be -
Educational resources (case study, white paper, ebooks, etc.)
Useful resources (swipe file, checklist, etc.)
Software downloads
Discount coupons
Free tickets to webinars/events
Here is an example of a lead magnet that is used to acquire leads from Facebook.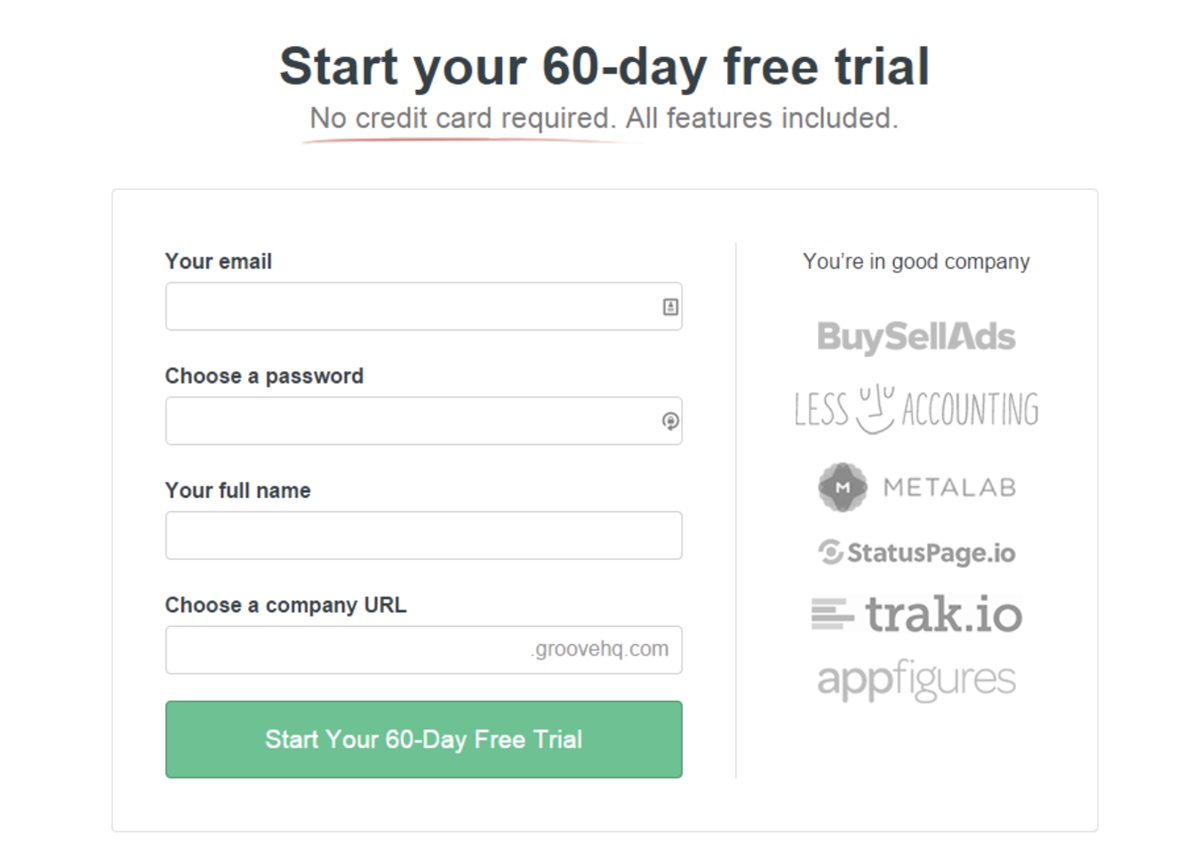 You can use the contact information that the prospect types in for the free trial to send them more content and offers so that they will convert into a customer. This is when you need BOFU content.
BOFU Content Marketing
This type of content is used when your leads have already been interested in your brand and product, and now they believe that your solution can help them solve their problem. But, some people just need a bit more assurance before they give you money to make sure that they won't regret. So, what types of content you can use to help your leads make the most informed purchase decision? Here are a few of them -
Demos/Free Trials
Customer Stories
Comparison/Spec Sheets
Webinars/Events
Mini-Classes
Your leads probably have consumed your blog posts, and downloaded your lead magnets, but they might have done the same with your competition's content too. So, you'll need content that helps your leads decide between you can your competitors.
Salesforce is a great example of providing BOFU content. The company provides lead in the bottom of their funnel with a handful of customers stories to let their prospects know that it has proven records in handling lead's circumstances.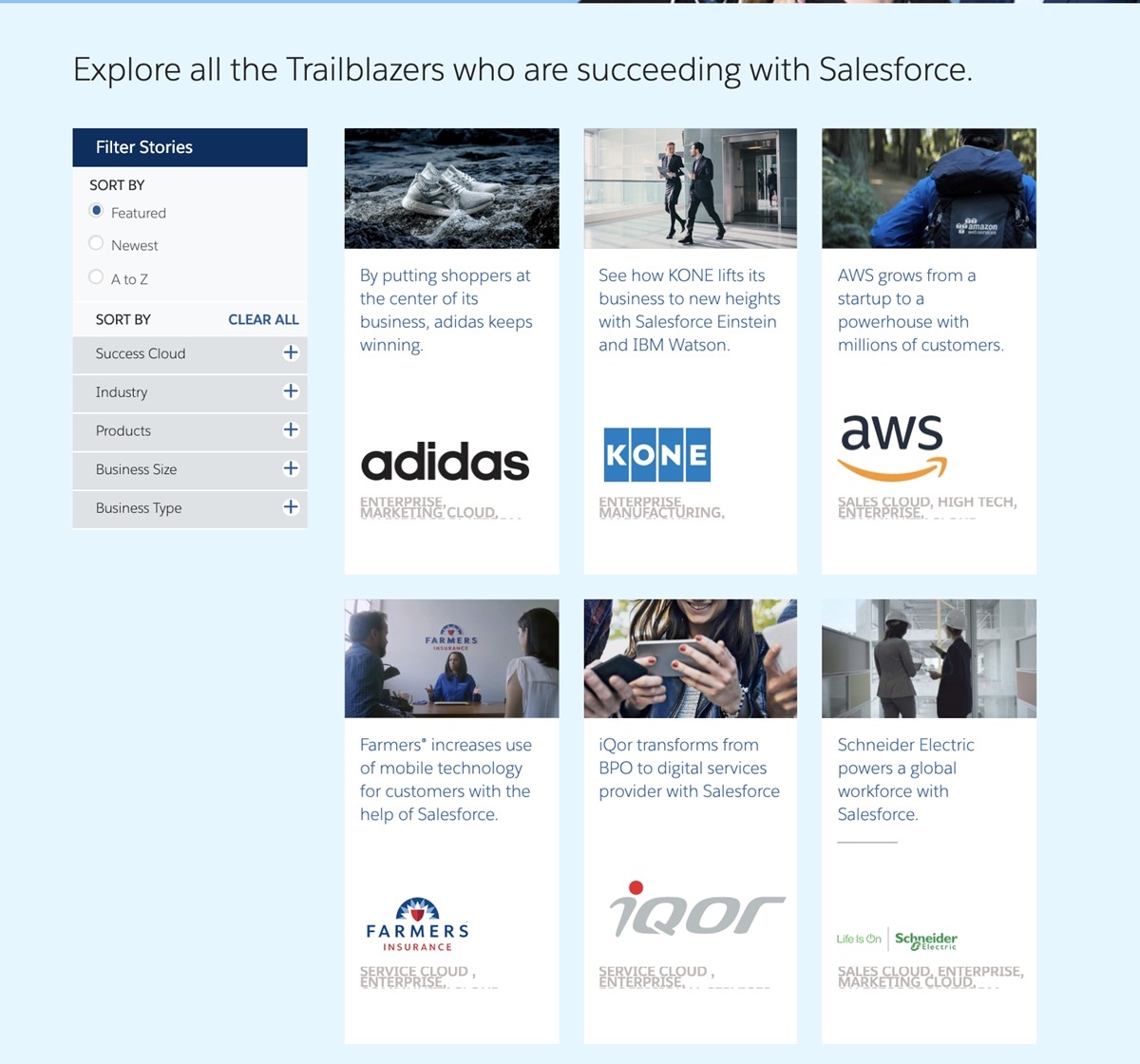 Customer stories are content that converts; they can give your prospects the last piece of assurance that they need to hand over their money. Free trials, mini-classes, demos or any other types of BOFU content should fulfill this ultimate purpose, as once prospects are ready to buy, the prospects want to make sure that your product works the way it is promised.
Further Reading: The Secrets of Profitable E-commerce Content Marketing
Strategies for each stage of the conversion funnel:
1. Top of the funnel:
From what you have read above, you probably know that the purpose of connecting with your target audience at this stage is making them aware of your brand and products. Out of the 8 strategies mentioned at the top of this, the ones that can help you fulfill this purpose is -
Social media marketing
Display Marketing
Ads on social media platforms, such as Facebook and Instagram, and Google Display Network actively approach users who are targeted. That means the power of these two types of marketing strategies is that they allow you to approach prospects instead of waiting for prospects to find you; they won't be able to find out about you if they don't even know you exist. This is why these two strategies are ideal for new brands and products; with them you can introduce your existence to your target audience.
2. Middle of the funnel:
These days when people become interested in something, they actively look for information about it using search engines. With this massive amount of information freely given to them by search engines, customers have become more selective when it comes to buying a product and they tend to try to learn as much about the product as possible before handing over their money.
The best digital marketing strategies for middle-of-the-funnel consumers are -
SEO
PPC search ads
Email marketing
Social media marketing
Influencer Marketing
SEO and PPC search ads allow you to be found by the customer and email marketing is a great tool to build relationships with them using the content that you created. On top of that, while influencer marketing can give your brand and product more credibility among your target audience, you can use social media to interact with your fans and provide them with more information about your brand and products.
One important thing when it comes to SEO and PPC search ad is no one goes to page two, let alone page three or four. That means if your website is not present on page one, probably no one will ever find you. What I recommend you to do for SEO is answering absolutely every question a potential customer might have in the form of blogs and FAQs. Make sure you do your research on keywords first before producing content so that it can show up to the search terms that your audience is typing in Google.
Lastly, reviews are gold for middle of the funnel digital marketing — online consumers are becoming more and more reliant on online reviews to make their purchase as consumers no longer trust advertising and marketing anymore (if they ever really did). So make sure you have a review section for every product on your website.
3. Bottom of the Funnel:
This is where your prospects are ready to buy, and what you need to do is to call them to action. The strategies you can use to make this happen are -
PPC
SEO
Retargeting
Social media marketing
Email marketing
Affiliate marketing
You need to make sure that when your audience searches for your product on Google, they will see you there. That's what SEO and PPC will allow you to accomplish. Retargeting is a great strategy to convert prospects into customers because most people won't make a purchase when they see your ads for the first couple times. Email marketing will allow you to send offers and product suggestions to your customers' emails and, finally, affiliates will act as your digital sales team and give your brand and product a much wider exposure.
Strategies for upselling and cross-selling:
Upselling is one of the core sales strategies of many business models. Companies relying on upselling are willing to sell some products or services at a loss, aiming to making profit from future upsold transactions. But first off, what is upselling? Upselling is getting your customer to buy more than they originally planned. And because it is 5 - 10 times cheaper to upsell existing customers than acquire new ones, you should build upselling into your business strategy from the beginning and design your marketing approach around it. Here's how!
Tip #1: Make the upsold item relevant to the customer's initial purchase:
If you have ever bought a burger from McDonald's, the cashier may have asked you, "Do you want some Coke too?"; Coke is an item relevant to the customer's initial purchase, it's a perfect match for a burger.
You'll see the same thing in what Bluehost does with its hosting. It gives lots of upsell pitches, but they're all relevant to one another; extended hosting, additional domain endings, domain security, and so on.
The key to upselling is complementarity. You wouldn't buy a bowl of chicken rice with a burger, would you? If your collection of products have items that are complementary to one another, try to take advantage of that and increase your chances of making bigger transactions. For example,
If you sell a knife, sell a knife sharpener too.
If you sell software, premium support will be a great match
If you sell sunglasses, sell cleaning kits with them
Tip #2: Met your customers sell themselves
Salesforce is considered one of the best SaaS upsellers. Storage limits is how they do it.
Built-in limitations are a clever way to upsell for SaaS providers whose product includes storage or bandwidth. If a user needs more data or more storage, they have to pay for it. The beauty of this approach is it does not appear you're making an obvious effort to upsell (everybody hates being sold). The customers will just realize themselves it when they need to upgrade, and make the decision on their own.
Joel York calls this approach "design for discovery", and explains, " Your customer naturally discovers and digests new capabilities just-in-time as its needs grow."
Upsells don't have to be salesy or annoying, and the most successful, complaint-free ones are those in which the customers realize their own needs and make a purchase on their own will.
Tip #3: Use upsells that cost less than the customer's initial purchase.
Customers usually look at upsells from one primary perspective: How much does it cost?
You probably have no chance making an upsell even if it costs the same or just a bit higher than the customer's initial purchase; Arranging your upsell this way makes the total cost seems too much to the customer and they are unlikely to be willing to spend that much.
A rule of thumb is the upsell should be no more than half of the cost of the initial purchase. This will put the price of the upsell in perspective; Low-priced upsell tend to be rationalized as "Well, this item I just bout is already $100. This one costs just another $30, but it can do this and that for me. That's a good deal!"
If your upsell's total price makes it hard for the customer to rationalize this way, you can try breaking it down into a payment plan — e.g., only $20/month for six months — to generate the illusion of a lower price.
Tip #4: Don't upsell before the customer's initial purchase
Upselling customers before they've even completed their checkout is a pure salesy turnoff. If you upsell before a successful checkouts, the added cost of the upsell might make the whole purchase seem too much and the customer might abandon the whole thing. This makes upsells before checkout are risky (if your products are not expensive items, then upsell before checkout might still work).
Alternatively, just upsell customers after they have successfully checked out. And to make it easier for the customer to make a second purchase, don't require them to type in their personal information again to complete the second transaction.
Tip #5: Sell something that solves a problem
What's interesting about buying a product is, while that product solves a problem, it might introduce a new problem.
Eating a burger you want something to drink too; you want Coke.
Buying a knife you'll find it becoming dull one day; you need a sharpener.
Buying software you'll need to learn it and technical support; you buy an additional training course and premium support.
Buying glasses you'll have your fingerprints on them; you need a cleaning kit.
Solving problems is the ultimate to sell products, so think creatively and carefully about the initial product that you sell, and find out whether there is any new challenge or problem that it introduces. Then, upsell another product to solve that new problem.
If this way of thinking does not bring anything to mind, you can always just show similar or complementary items. Amazon is a great practitioner of upselling with its whole series of offers:
"Frequently Bought Together"
"Sponsored Products Related to This Item"
"Compare to Similar Items"
"Customers Who Bought This Item Also Bought"
"Special Offers and Product Promotions"
Tip #6: Eliminate risk.
Any successful transactions, either selling or upselling, requires guarantees against risk. Eliminating risk is all about answering your customer's one question: "what if the product does not work as promised, am I going to lose my money?"
Customers are naturally on guard when it comes to buying; they are even more so with upselling as having to spend more than planned tends to create hesitation. Clarifying your guarantees will free your customers from the fear of getting ripped off and make them more likely to hand over their money.
What's great about upsell is not only that you can acquire bigger revenue, but you can also increase customer loyalty. People just want to buy from sellers who they know and trust, and the more money they spend with you, the more they trust. As long as you're providing value and great customer service, upselling will help you turn your existing customers into very pleased customers.
Conclusion:
Even though the Internet has given everyone more opportunities to make money with an online store than ever before, digital marketing is anything but easy. To grow your business online, you need to keep your marketing tactics and conversion funnel on top of mind and design them in a way that fits the needs of your target audience.
By implementing the marketing strategies we've gone through in this article and getting each of them to a ROI baseline, you will be able to scale, introduce your products to more people and acquire bigger revenue.
New Posts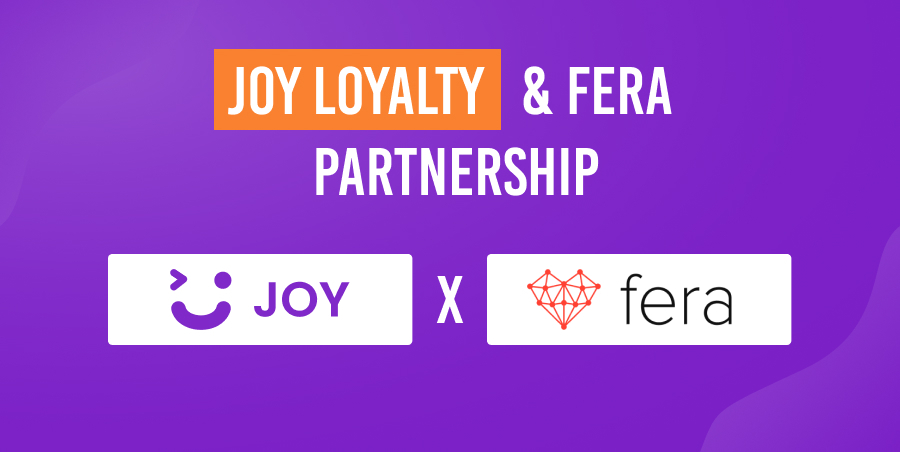 Subscribe
Stay in the know
Get special offers on the latest news from AVADA.
40k
subscribers has been joined!
Earn $10 in reward now!