How To Use Google Shopping: Promote Products Online 5x Better
According to Search Engine Watch, Google Shopping is dominating retail search marketing with 76,4% search ad spend in the US and 82% search ad spend in the UK. These are some impressive number that proves Shopping ad to be one very effective way to earn valuable consumer clicks.
From small online stores to giants like Amazon are all using Google Shopping to increase product sales. So why is this platform so profitable? How can you as an eCommerce entrepreneur use it to your advantage? These are what we will cover with easy step-by-step guidance in this article.
Introduction to Google Shopping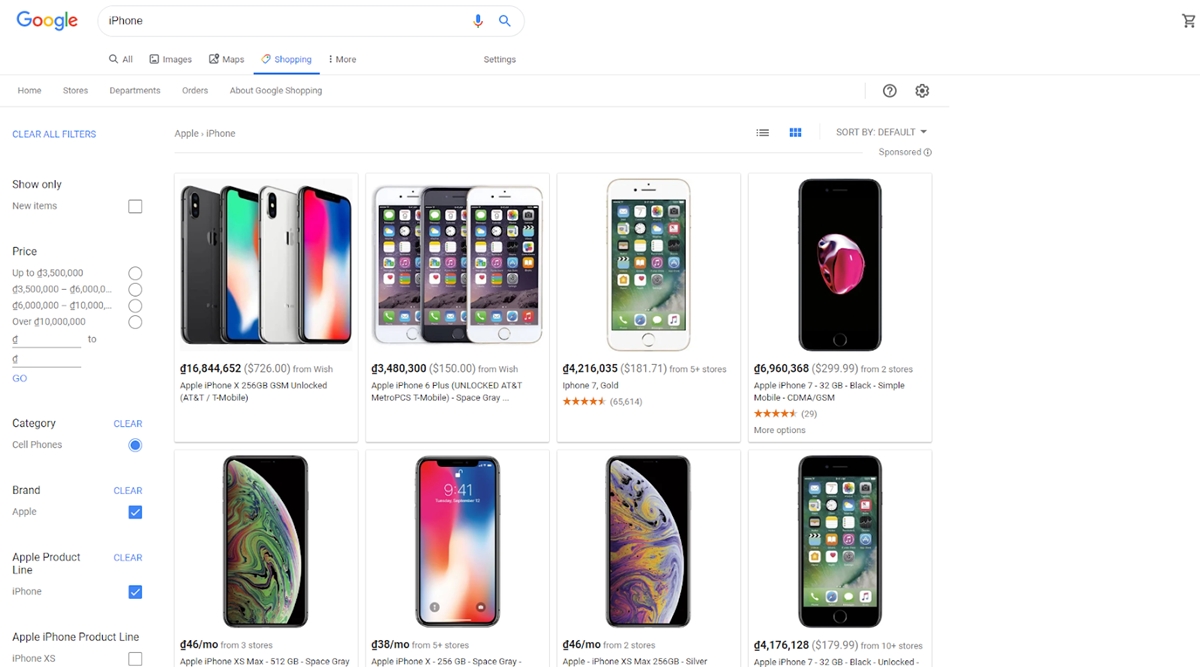 Originally an advertising campaign type within Google Ads, Google Shopping is powered by AdWords and Google Merchant Center to advertise your product in search results. Through this, advertisers can show rich data like pictures, name, price, review, and promotion of products to the targeted audience.
An important thing to know is that Google Shopping ads are quite different from traditional text ads. From campaigns focused around keywords that customers would look for, Google Shopping determines where your product ads would show up. This comes down to how you set up your google shopping feed, build your site, and set your bids, which all will be mentioned in the below sections.
Here we have a few impressive numbers that Google Shopping has brought to advertisers and confidently shows:
Since launching, Google Shopping has helped sellers to increase at least twice the revenue.

Having the advantage of displaying visual products, Google Shopping can increase the click-through rate of advertising by 35%.

Advertisers are interested in Google Shopping because it helps them save up to 25% on PPC advertising budget.
How Google Shopping works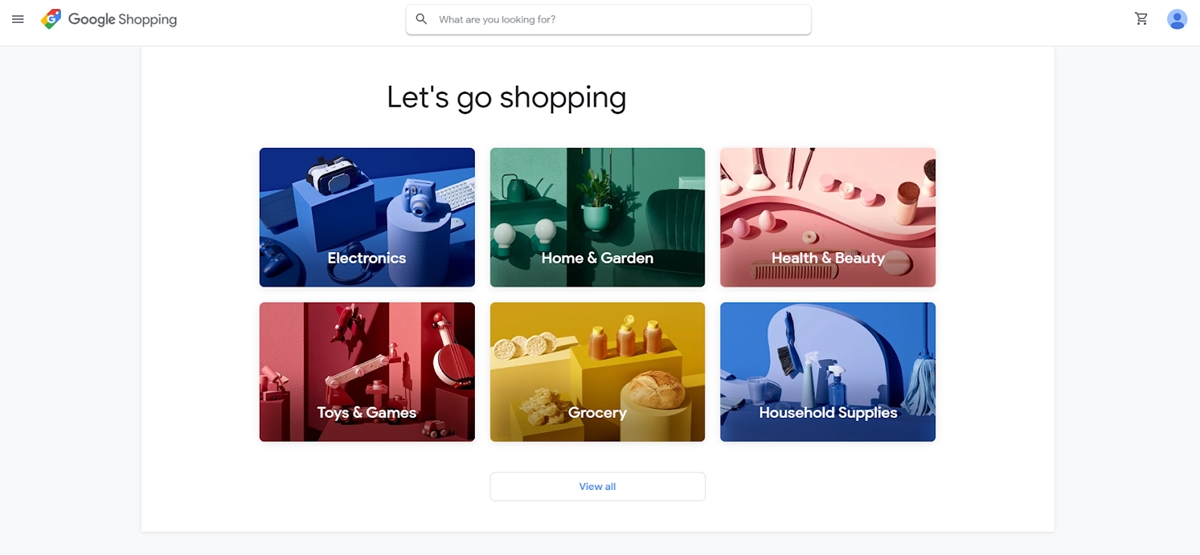 So you may be wondering, how can Google Shopping work so efficiently for product advertisements? Because it just fits so well with the modern shopping habit. Take these statistics for consideration:
93% of shoppers say they have used some online resources.

83% of U.S. shoppers visited a store in the last week and say they used online search before going into a store.

59% of people prefer to go online first to get helpful recommendations or suggestions on what to buy, compared to 28% for offline.
The simplicity and convenience that Google Shopping provides make it a highly rated advertising tool in achieving greater sales. Your products are displayed then a customer uses Google to search for products. They can appear in the main search engine results pate or under the shopping tab with a maximum of 25 results.
For example, when a customer types 'black running shoes' into Google, they may see sponsored ads appearing at the top of the page. And in particular, they can slide to check product prices at this search result without clicking.

Or they can appear on the right side of the screen, but with only 9 results, the information still displays the same. You won't see this type of ad on mobile though. But still, you can see Google Shopping Ads results can come before SEO or traditional ads result.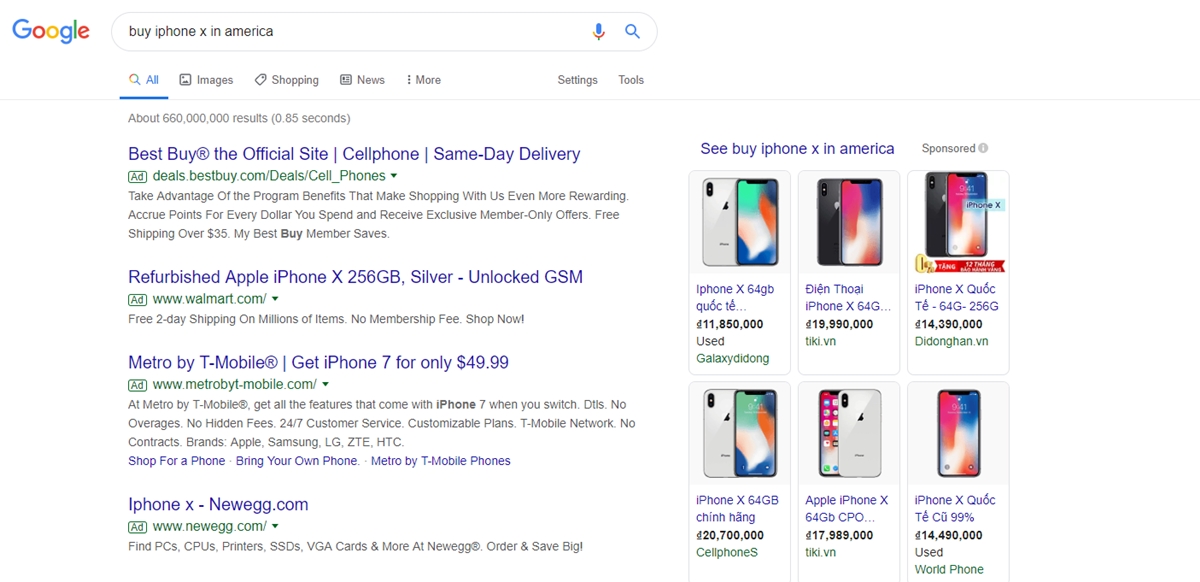 Lastly, there is a Shopping tab with even more results and acts as a comparison tool where shoppers can view for more details on products, filter their results, and decide which merchant can serve them better.
Your process of creating an ad campaign with Google Shopping basically consists of three steps, which we will guide throughout later:
First, you'll register your Merchant Center account with a Google account and sign in Google Ads.

Then, you'll upload your products data with a feed.

Finally, you can create a Shopping campaign in Google Ads to start advertising your products. You'll be able to adjust settings like bid and budget to help optimize your campaigns.
For now, let come to see what your eCommerce business can benefit from how Google Shopping works.
Benefits from Google Shopping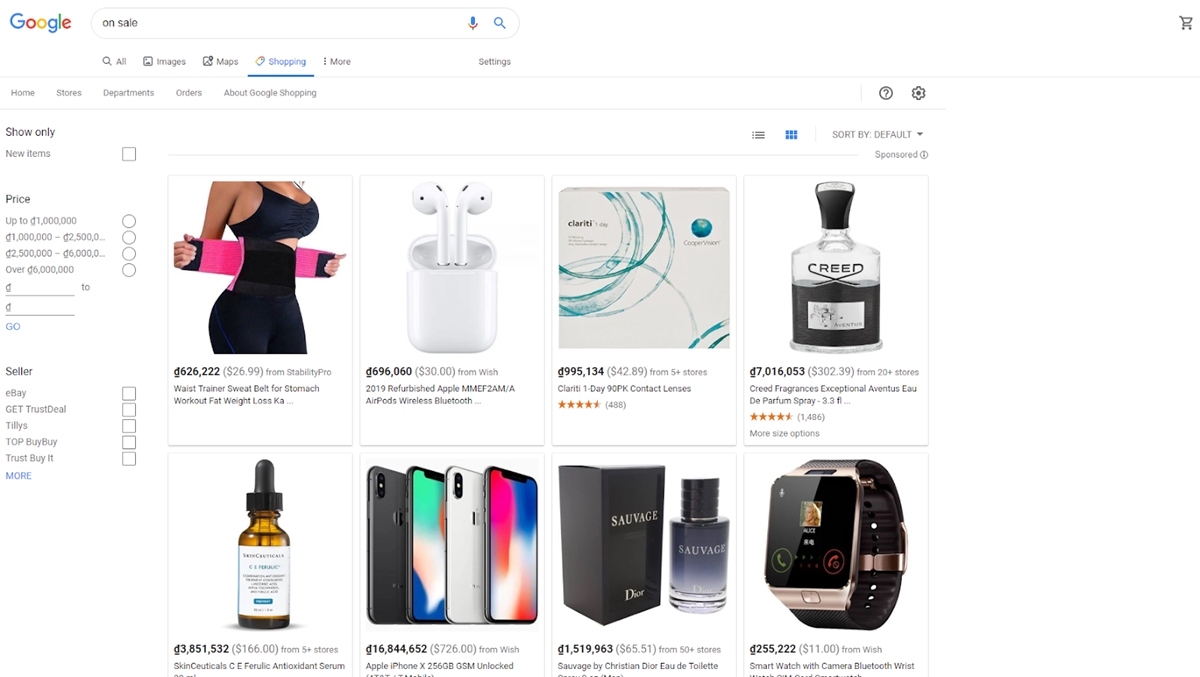 As the world's largest data collection, analysis, and processing machine, Google Shopping promise to bring a modern shopping experience: Fast - Prestigious - Precise and at the same time, optimize the cost of advertising products on Google. Benefits from Google shopping for vendors can be listed as:
ROI
Google Shopping is a prime example that a platform can allow any advertiser to break down real results and attribute them to see exactly how every penny was spent and what results it has returned. With Google Shopping, you can get better return profit by showing your products right when customers search for them and analyze your own data to get a better advantage.
Mobile friendly
Google Shopping would reserve the first 2 positions of search result page that allows advertisements to show when you type any query on mobile. With Shopping advertising Google, your products will show up nicely in slideable form. You won't need to search for ad position number 1, or 2 as traditional ads. Your ads will also be viewed by more people due to the shifting trend of users from laptops, desktops to mobile devices.
Customization
Google allows advertisers to control how much they want to pay for a click depending on the time of the day, and the user's device, location, and past interactions with the website. A Google Shopping campaign gives you the opportunity to add up to 5 custom label layers, allowing you to strictly control your campaign performance.
Data and Report
Google's shopping campaign offers the ability to check performance data from your advertising campaign by-products or product attributes. Because performance indicators are linked to items, not product groups, you can filter and segment data according to your product attributes, including things like product categories, brands, conditions, product type, item id, and custom label.
Competition
Using the benchmarking kit, Google Shopping can provide you anonymous CTR (Click Through Rate) and CPC (Cost Per Click) indicators on your competitors, so you can immediately add new ideas about ad position by bid and make your campaign cost-effective from the beginning. As more eCommerce businesses take to the platform, competition can be fierce so this is extremely important.
Beginning with Google Shopping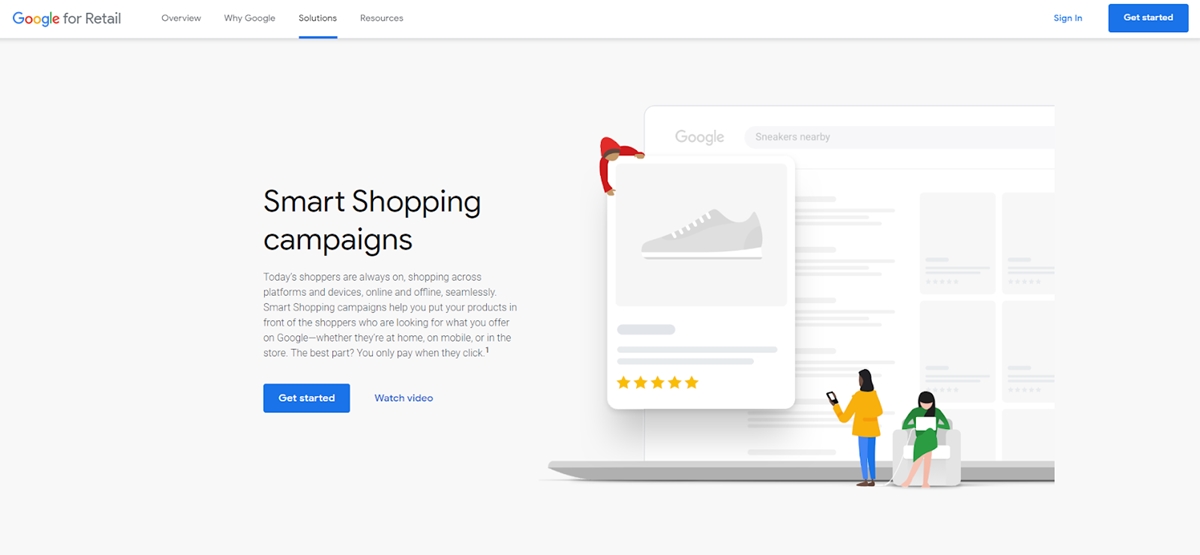 Google Shopping advertising is a new marketing trend being applied by big retailers like Amazon, eBay … thanks to the positive effect that it brings. However, not only large enterprise with an abundant budget can run Google Shopping ads. An online store with a small scale can completely set up an advertising campaign at a reasonable cost if you know how to optimize Google Shopping ads. So let's start with the basics:
Goals
How you define success will decide how you approach your account setup and also management. Goals can shape your ongoing activities such as setup, optimization and reports. First, you need to find out your overarching goals, such as return on investment (ROI) or revenue you may expect. You can then work out other key performance indicators you want to hit your goal.
CPA (Cost Per Acquisition) or cost per conversion: How much are you willing to pay for a customer? Suppose the average value of an order is 100$, profit is 35$. So how much will you spend out of the profit for advertising? Depending on the business stage and marketing strategy, the price for each conversion when Google Shopping ads can change.
Building a customer base or boost sales: As mentioned above, the CPA index you set will depend on each business phase and marketing strategy. If you are new to the market and want to attract customers, you can sacrifice a portion of your profits in the beginning for breakeven, or even suffer a loss in part for the product to reach the market. After having a stable customer base, you can reduce the cost of advertising.
Keywords Research

If I asked what you want to sell, the answer is definitely everything on the website. However, it's not like you bring all the products out to run Google Shopping ads. So what products should you run ads? An advertising strategy for the following product types will help you maximize your revenue and increase the effectiveness of your ads:
"Bait" products: There are a number of products that are not main products and do not create much profit but they act as "bait" to attract customers to your store. Low-priced products, which must be used often, are excellent bait to create a habit of buying and creating trust before customers order a larger product.
"Hook" product: Have you ever bought a razor? Normally, razors will sell a set of complete bodies and blades, which sounds normal but the main motive of this is to force users to buy their blades when used up. Razor blades are the "hook" products you should run Google Shopping ads to promote sales.
High-priced or high-profit products: There is no reason not to invest in running ads for products like this because they will help you earn a significant profit.
Products with less competition but high demand: If there are products like this in your online store, take advantage and immediately run to Google Shopping ads.
Having these products with actively researching the keywords prospects are going to use to find them is the key to your eCommerce success.
Buyers Research
With this step, you should try to understand the buyer's intent. The length and content of the search query will show a lot about the searcher's intentions. Typically, more detailed search queries show a higher purchase purpose. For example, if a user searches on the word "Nike", they may just be killing time, or learning about Nike branding, but a "Nike sneakers" shows that they are intending to buy Nike shoes. If a searcher "black pegasus Nike shoes" is probably ready to buy at that time.
There are three levels of intent that shows someone's willingness to buy:
Awareness

Consideration

Intention
Understanding the three levels of your prospects helps you understand the keywords they would use to find your products, and adjust your bid amount accordingly. You can use Google Keywords Planner, SEMrush, or Keywordtool.io and many more to research on keywords.
Competitors Research
Chances are, you have a number of competitors in mind who sell the same or similar products. Remember to never start running ads without getting a feel for who the competition is, and who seems to be successful.
It's important to monitor competitor prices, the appearance of their ads, and the keywords they show for. What exactly are your competitors doing? Is there something you could do more of in your campaigns? Are they doing anything opposite to best practice that hints your campaigns could perform better? Knowing the answers to these questions and then applying the findings to your campaigns gives you a competitive advantage.
Manual search on Google: Type the keywords you have researched into the search toolbar to see if there are any competitors appearing on Google Shopping ads. Don't forget to check Google search results from different regions to analyze competitors' search engine advertising and optimization (SEA & SEO) results. You can try to connect NordVPN software to get access to a huge number of servers. Factors you need to consider when researching competitors include: products, images, selling prices and suppliers. From those data, you can evaluate which competitors are most visible with many different search keywords, which proves that they have optimized Google Shopping ads very well. If you don't see any really outstanding competitors, that's a good opportunity for you.
Using the SEMrush tool: The SEMrush tool will help you quickly find the top competitors on Google Shopping ads (this is a paid feature on SEMrush). Each competitor will have a detailed report of the keywords that the ad displays along with their sample snapshot so you can review the title, image and product price.
Diagnostic tool and ad preview: Diagnostic tool and ad preview are in the Google Ads interface. It is the version of the Google search engine results page. Enter your products or keywords you can target. The tool does not skew your index. The big advantage is that you can set positions and equipment, very suitable to discover their competitors and their prices in other countries.
To apply all of the knowledge above to your Google Shopping campaigns, you first need a Google Ads and Merchant Center account. Let's set up these tools in the next section. However, if you already have these, you can still discover more to help you grow your existing campaign.
Setting up Google Shopping ads
The steps to install Google Shopping advertising campaign are very simple. Here are the steps:
Step 1: Create a Merchant Center account
First, you go to Google Merchant and register an account. Fill in the information as shown below and click Continue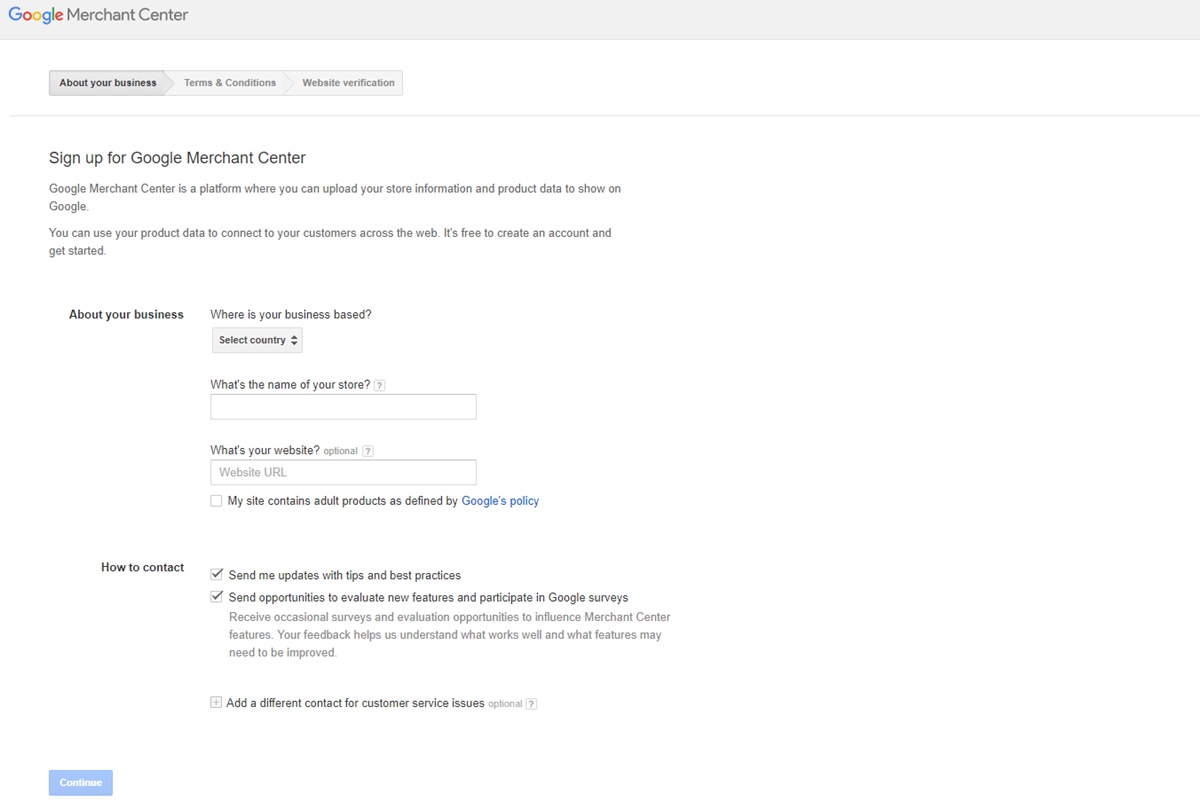 After a few confirmation steps, you will be redirected to the Merchant Center working interface. At this page, update the information fully and accurately:
Business display name

Website URL

Business address

Customer service contact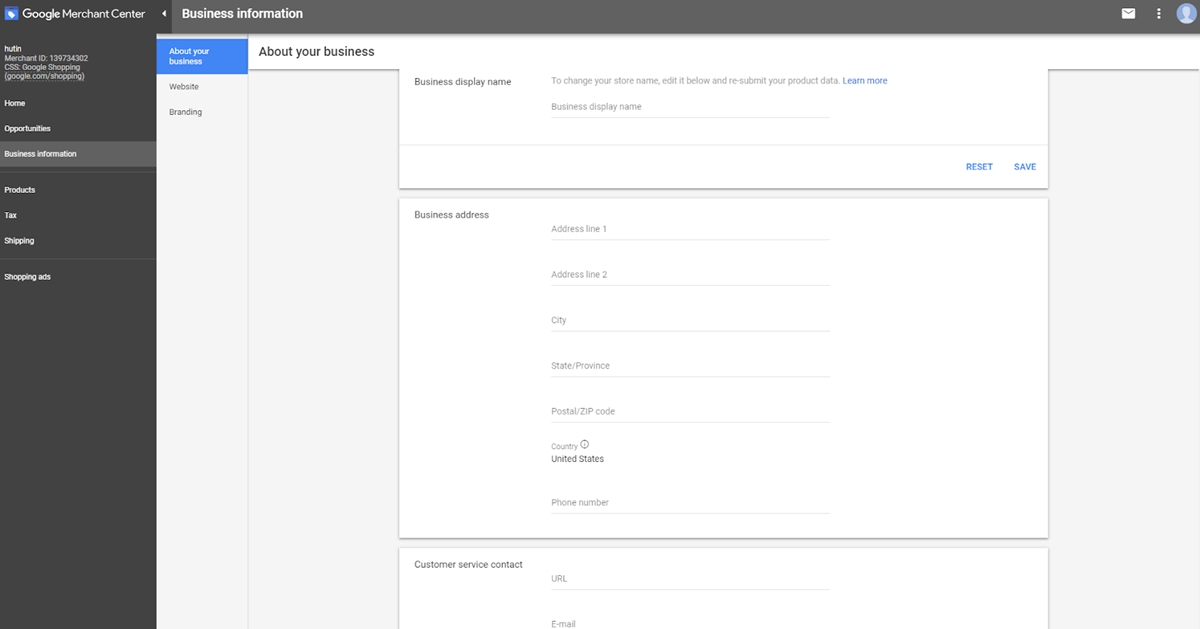 That is it for step 1, now let's move on to step 2.
Step 2: Verify and confirm your website URL
The verification process is pretty simple. Click on Business Information, select the website, Google would give you 3 ways to verify:
Google Analytics account

Tag Manager container

Access to sever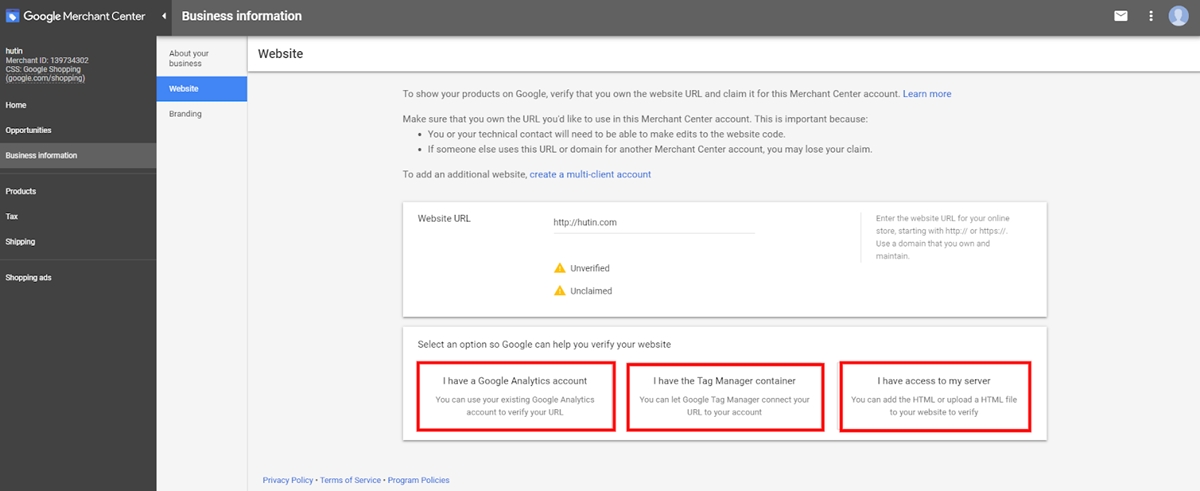 Usually, I choose to copy the HTML tag code pasted into the homepage code. It will be in the <head> section, before the first <body> section.
Step 3: Create google shopping feed and upload data
As mentioned, shopping advertising (Google Shopping Ads) allows you to immediately display product information (Product Name, Photo, Product Price …) on the search page for users. But how does Google get this information to display on the search page?
That's thanks to Google Merchant. The assistant is responsible for downloading all store information, product data on Google, and providing information for shopping advertising. And the task of this step is to find ways to transfer product data information from the website to Google Merchant so that Google can get the displayed data. The operation is called creating Product Feeds for Google Merchant.

Now do the following:
Go to Products> Feed> Click the + sign icon to create a new Feed. Next, select your Country and Language, then click Continue Name the source and choose the method of connecting website data with Merchant Center. There are 5 ways to connect data as follows:
Method 1: Load data via Google sheet (Google Sheets)

Method 2: Load data by schedule (Scheduled fetch)

Method 3: Upload the feed name (Upload)

Method 4: Load data via Content API (Content API)

Method 5: Load via eCommerce platform like Shopify, PrestaShop…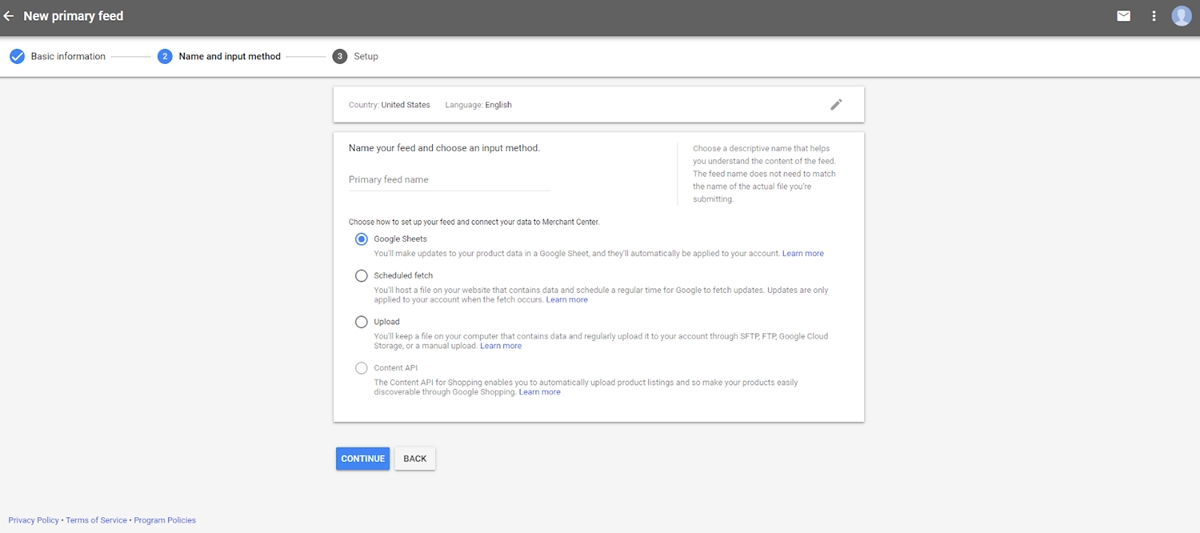 Note: Files less than 20MB can be uploaded directly. File sizes below 4GB can be transferred via FTP / SFTP / Host.
Loading data via Content API, or other eCommerce applications has a special feature that helps the feed to be updated in real-time as the data on the website changes. For example, out of stock products, price change products … you just need to adjust on the website, the Merchant Center data is automatically updated and saves time to deploy ads.
Step 4: Link Merchant Center and AdWords Account
This step is simple. Click the 3 dots icon in the upper right corner of the screen, and select Link account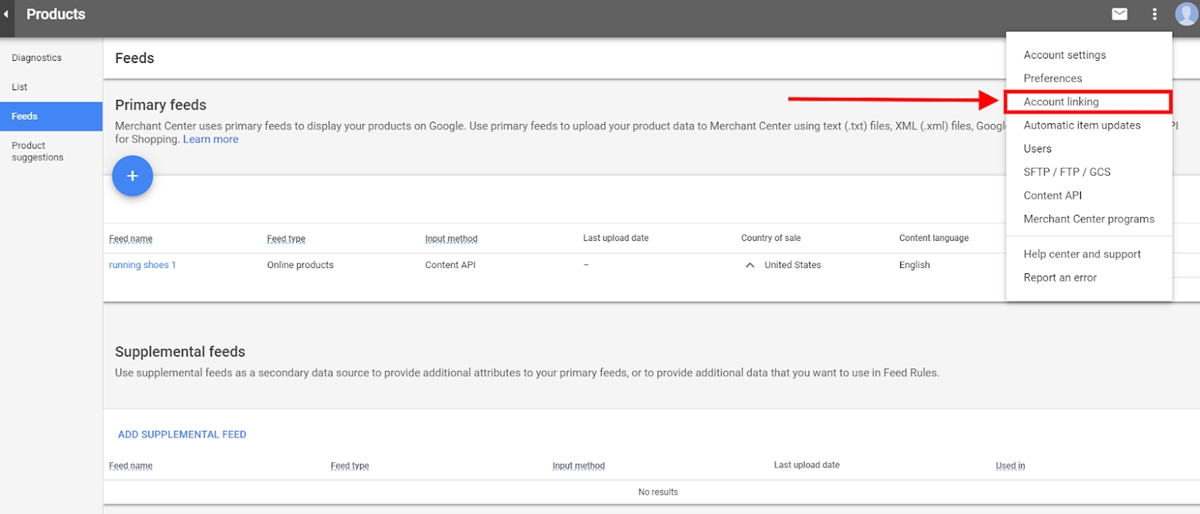 Continue to enter your AdWords account ID to connect.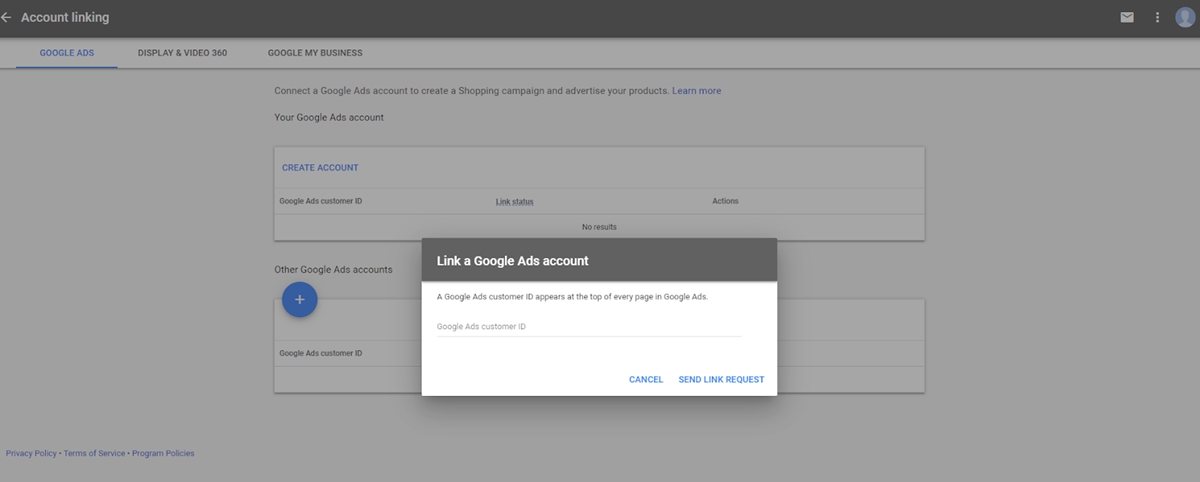 Then you can confirm the linking when logging into Google Adwords account. And that is it, now you can create a Google Shopping campaign on Adwords.
Step 5: Configure account settings
This tutorial focuses on how to set up Google Shopping ads, so I won't go into details of setting up an AdWords account. You can refer find many excellent tutorials on setting up an AdWords account for more useful knowledge quite easily though. There are some you can go through before starting your campaign like below:
Create a new campaign
Click on the "Campaign" tab, then click the (+ Campaign) button and select "Shopping" as shown.

Many people who run google shopping ads forget a fairly simple task of naming the campaign or arbitrarily naming it, making it difficult to re-check campaign information later. With Google Shopping campaigns, I often place seasonal ad names or custom names for testing purposes.
Set campaign in low, medium, high priority order corresponding to bid:
If the product under test runs Google shopping, you should set the campaign to a low priority.

If the same product is shown in multiple campaigns and has the same priority, the highest bid will be shown.

If the same product is shown in multiple campaigns with different bids and different priorities, Google will first go with a higher priority campaign (and corresponding bid).
For those who run their own Google Shopping or Google Adwords advertising campaigns, I recommend that you still refer to the forums or in-depth articles about the priority of the campaigns for more suggestions for setting up ads for Maximize profits from your budget.
Network & Location
By default, your ad campaigns will show on Google search, AOL, Google map and Youtube. Usually, I maintain my ad display on AOL, Google map and Youtube because CPC is lower than Google search, and conversion rate is also higher. However, depending on the industry, you should select the advertising display channel accordingly. For example, your product is suitable for global sales, the world wide display ad position is appropriate. And vice versa.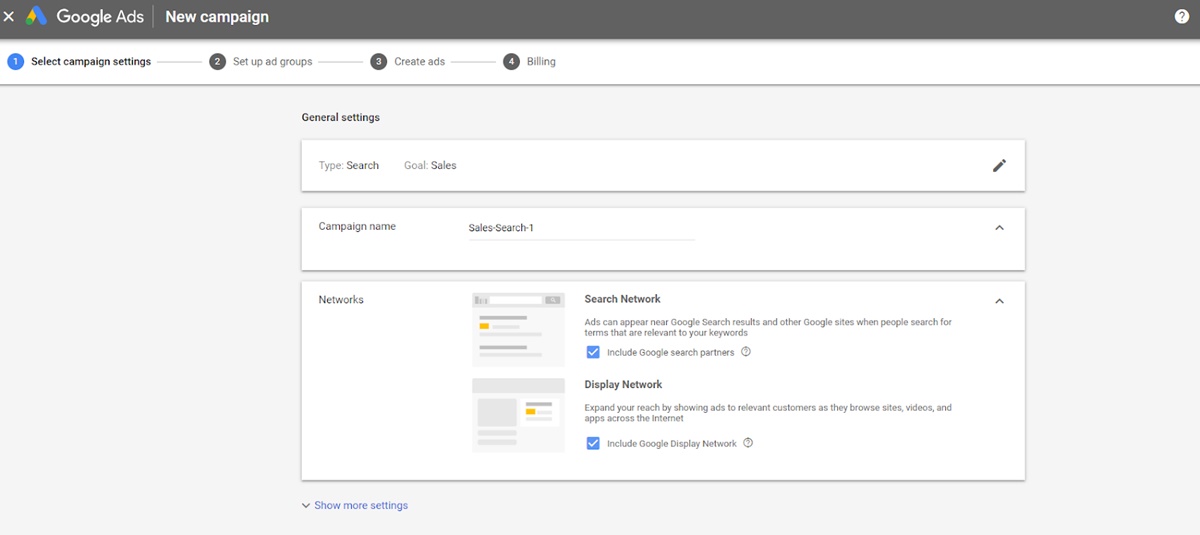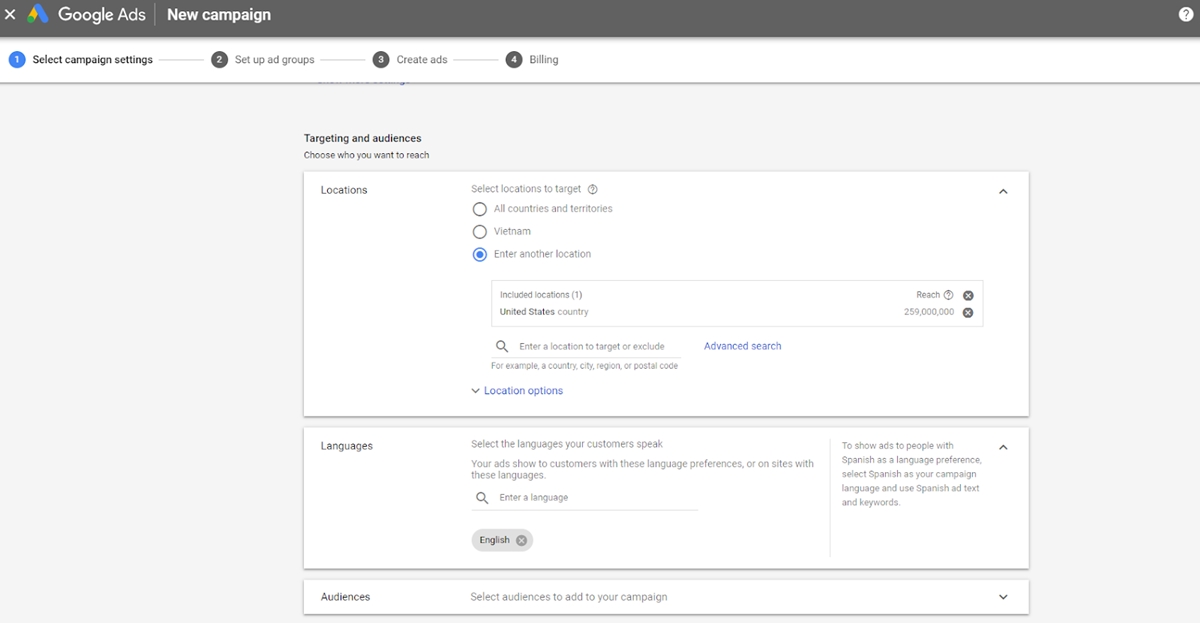 Default bid, budget & distribution
We will share more about advanced bidding in the next sector, but you will need to set a default bid, depending on the price and competitiveness of what you are selling. Don't worry, this is just a default bid and will only apply to products that you do not specify a bid for later.
Normally, you will want to start your Google shopping ad with a "soft" bid - not too high, not too low and check if the effect from the ad is okay. For faster sales, you can use "accelerated" instead of the default "standard". Quick delivery will help your product show faster and for all queries that Google finds suitable for you.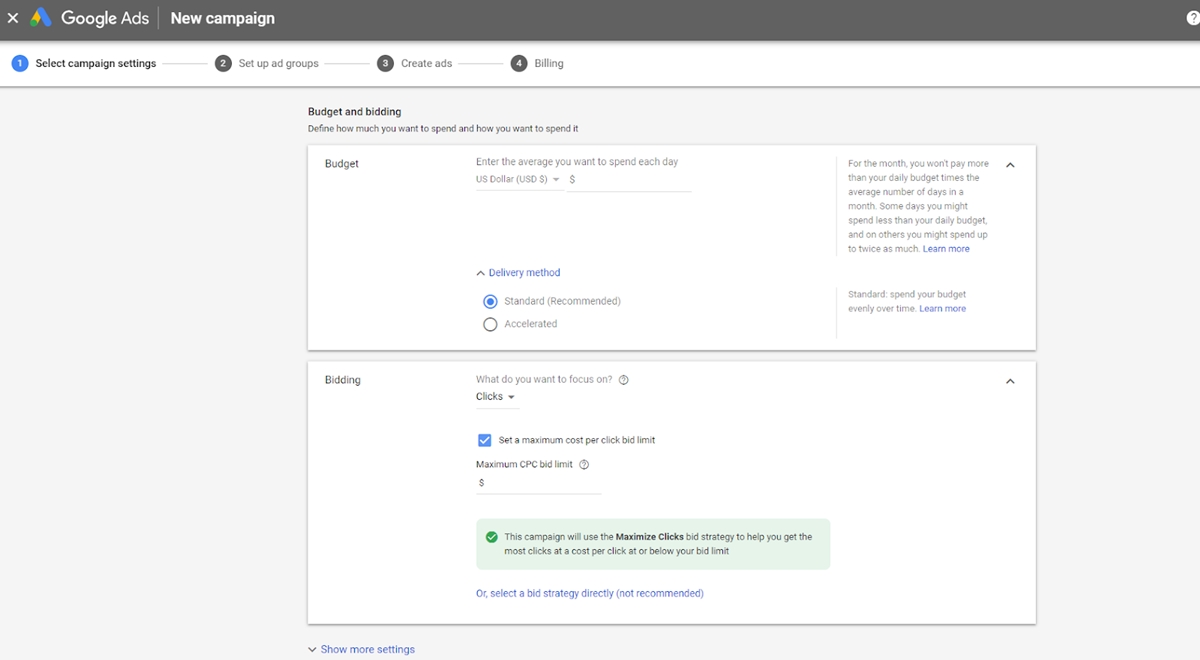 That is all for now, let's get started and making our first Google Shopping campaign for your eCommerce business.
Making your first campaign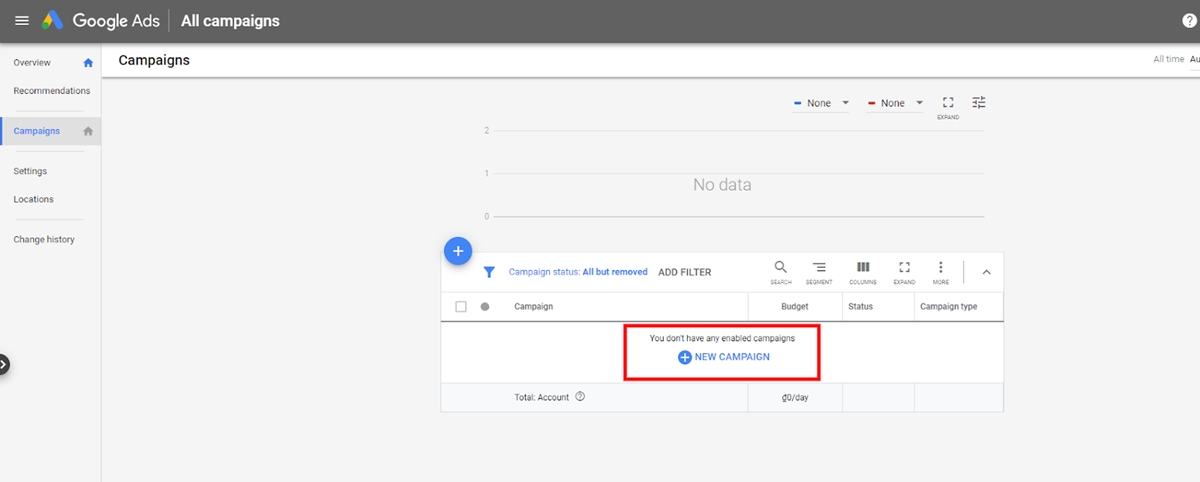 Everything you've done so far will make your products show for the most relevant searches to increase click-through-rate, reduce the cost of irrelevant clicks, and meet your business goals. The time has come for you to create your first shopping campaign.
Google shopping feed
The feed is the most important element (followed by bidding) when advertising on Google Shopping. The goal of feed optimization is to contain as much accurate data as possible, allowing Google to match your products with some customer's search. Unlike search ads, you won't have the option to bid on keywords to market your products. Google's algorithm will decide what to show.
Let's say you are selling a range of running shoes. A customer searches for "red running shoes". A fully optimized feed ensures your products come up for their search. Showing up for the right searches will surely boost your total impressions. Setting up your feed, therefore, is important for 3 reasons:
Showing up for the right search queries

Earning clicks (to make prospective buyers want to click your ads)

Making optimization and management easier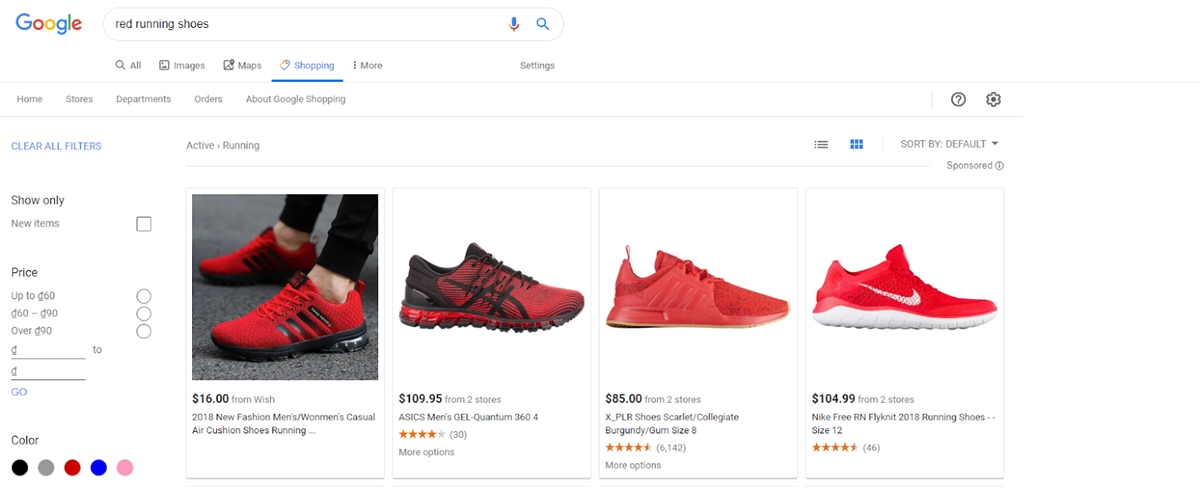 There are 3 ways to keep in mind in order to keep your shopping feed healthy:
Manual Input With Google Sheets
If you have like a small number of products and variables that seldom need updating, this can work for you. If you fall outside these criteria, it won't be a good idea to use a Google Spreadsheet to manage your feed.
To make the spreadsheet feed, you will need to have a file with all the necessary attributes and categories at the top of the sheet. Then, fill out all the rows with all the information that needs to be uploaded.
A Google Sheet is better compared to a standard spreadsheet. Through this, you can set a fetch schedule every day so you need not upload the feed each time the spreadsheet is updated. Also, you can grant team members permission to edit a single document you all manage together.
DataFeedWatch
DataFeedWatch works with almost every shopping cart platform and is fairly easy to set up. DFW will pull product data from your website and format everything according to Google specifications. There is some setup work here though it is well documented. The downside is that you pay monthly fees as long as you use the service. This can be useful though for sites with hundreds or thousands of SKUs or where SKUs are changing or being added regularly. One major benefit of a service like DFW is that it can allow you to overlay and combine attributes to optimize your data.
There are many neat adjustments you can make to your feed in DataFeedWatch using Google Sheets, such as excluding products if their names or IDs are in the spreadsheet or adding suffixes to headings. DataFeedWatch retrieves all product data directly from Shopify, meaning you avoid the code and have to manually update the feed every time there is a change to the product data.
Apps & Extensions
The Google Shopping app for Shopify can easily help you get your feeds up and running. It will then update your feed whenever you change the product on your website. If you use a different shopping cart platform, you may find apps or extensions that work the same way. Most only require a one-time fee (if applicable) and maybe some development costs (usually a minimum).
If you're new to Google Shopping, this will be the easiest way to get started and manage your campaigns. Although you need to know the risk that the Google automated bid strategy works best on campaigns with about 100 (ideally 300) conversions per month. If your smart campaign does not achieve that performance, the dataset will become small and you can expect weekly fluctuations.
Bidding

You know, in essence, the bid for Google Shopping ads is not different from the bid in Google Adwords ads, which is the amount you are willing to spend for a click of the potential customer to your ad.
In principle, no matter how you bid, you must not exceed the limit, which means making sure you do not suffer losses. Sold is profitable. Below is a formula to find out available rates (CPC) for you:
Available bid = Maximum CPC X 0.4 -> 0.7
In which: Maximum CPC = Maximum profit (Sale price - Cost price) X Product conversion rate
Example: The price for importing a men's shirt is 200$.
The expected retail price is 300$. Normally, statisticians find that, for every 100 visitors to the website, there are 5 buyers. So the conversion rate is 5%. Now determine the available bid for this product as follows:
Available bid min = (100$ X 5%) X 0.4 = 2$
The maximum available bid = (100$ X 5%) X 0.7 = 3,5$
So you can bet on this shirt for about 2 - 3,5$
Here are a few helpful tips on how to get the right bid amount.
Set low bids for long keywords
You may not know, long keywords often have higher conversion rates and lower competition rates. Therefore, you do not necessarily have to bid high for keywords like that due to a few competitors. See, you can completely achieve the desired conversion rate with a reasonable budget. It is important to choose a wise bid.
The high bid for keywords with good conversions
Those are the keywords that will convert well if you dare to spend money to defeat your competitors. A bid high enough will help specific, tenth keywords like this show more, improve ROI immediately.
Seasonal products should push prices higher
You need to set up a seasonal bid strategy, for product lines: decorations according to holidays; "back-to-school" equipment and utensils such as books, notebooks, uniforms, … when the demand is large, the bid should be a little higher, knocking out the opponent. Some seasonal products, still sold year-round, should lower your bid for low season.
Bidding performance
Sometimes you should push the bid a little higher. To see if the product is more visible, through different search queries, and it is important that you sell more. When running Google Shopping ads, you need to review the reports at least once a month. In Google AdWords, go to Campaigns> Dimensions, then go to Views> Shopping> Item ID. Here you can evaluate the effectiveness of products running Google Shopping ads.
However, there are some types of products that you should consider adjusting your bids to optimize costs and improve advertising effectiveness:
The product has fewer impressions

The product has a high display count but low click

The product has a high click count but no conversion
When these happen, look at performance data and competitor ads to see where you may be underperforming, and raise your bid at first to see the result or consider making a new campaign.
Optimization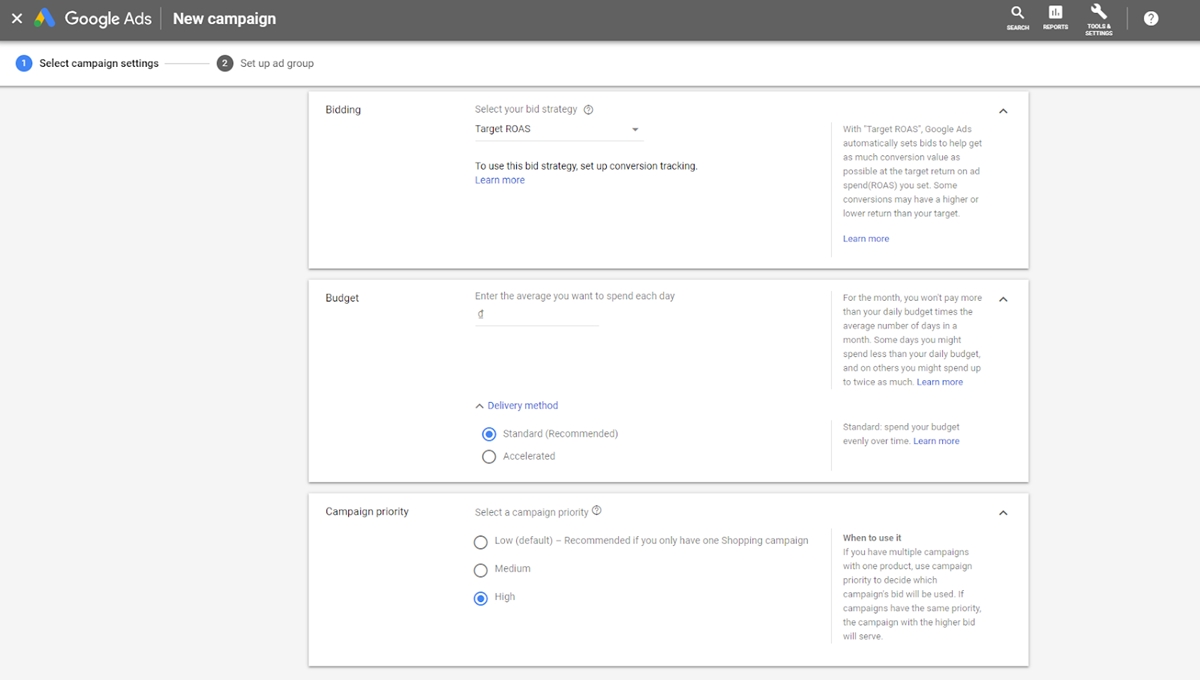 Bidding for Google Shopping is not a one time process. Competition, seasonality, business goals, and product performance combined are all moving targets. Your bids will need to adjust depending on those factors and more.
So how often should you update your bids?
Ideally, 1-3 times per week for the first month is good - If you discover that you bid too low and you need to start bumping up bids, then making changes every few days is good as well. Take into consideration that weekends are not accurate reflections of performance for many businesses. If you make adjustments right before or during the weekend, you'll want to let them ride for a few weekdays to accurately understand how your performance is impacted.
Then you can adjust weekly for feeds over 50 products - Once your shopping campaigns are running with profit, adjusting bids on a weekly basis and based on performance should be fine, depending on your volume. For smaller product feeds you can check in weekly, but likely you'll only be adjusting bids 1-3x per month.
Optimize Google Shopping Campaigns
Now the ads are running, certain things need attention to make the campaigns an ongoing success. Effective ongoing advertising is not set-and-forget—especially for an online store that needs to make every dollar count in a rapidly changing digital environment. One new competitor can affect your average cost per click, a number of clicks, and revenue.
The beautiful thing about Google Ads is you have minute control to act on what gets sales and what does not. So there are multiple ways to optimize your Google Shopping and get more people to click on your product ads.
1. Google Shopping Feed Optimization

(Google Shopping Feed) is a place to store product information in a format that Google can read and understand. Because Google Shopping is not keyword-based advertising, it means that you cannot choose keywords that your ad will show on, but Google will automatically gather information from the feed and determine which ones Which product matches a specific search query to display those products on the Google Shopping list on the search page.
We may find this quite similar to SEO, so optimizing feeds is an important factor that helps the Google search engine to read, understand and display your products for related searches. Here are 10 parameters of products that advertisers need to have and standardize if they want to run Google Shopping ads effectively.
Product Title
The product title should be both concise and still ensure there is sufficient information about the product. The information must be accurate and detailed, so Google can identify the product you are describing to display ads to the corresponding search queries.
Do:
Contains the main keyword: Want to display Google Shopping ads on search pages when users type in keywords? Please add the title of that keyword product.

Product name: This is the information that should be included in the title. If the product has different names, you should use the most common name. There are brand names, colors, gender, sizes: As mentioned in the previous sections, the longer and more detailed the search keyword shows, the more users have a real shopping need for that product. For example, a searcher "green Adidas climate t-shirt" will have a higher conversion rate than people who just type in the "T-shirt" search box. So, add the title of information such as brand, color, gender, size … to show your ads for detailed search keywords.

Arrange important information first: Just like when optimizing title tags in SEO, important information should be prioritized first in the title.

Provide specifications (if any): Some products will have specifications that you should not ignore in the product title. Suppose you trade in technology products and electronics, please include the required parameters of the product such as design, configuration, version …, for example: "iPhone X 256MB silver" or "Camera Canon EOS 60D Kit 18-135mm IS" or "LG Dual Inverter conditioner 12,000BTU"

Always remember to limit the product title length to 70 characters: The product title should be as detailed as possible but still ensure that the length allowed to display ads optimally on Google Shopping. Although Google allows uploading products with a maximum of 150 characters, however, in the ad list displayed on the search page, the product title only displays up to 70 characters.
Don't:
Keyword stuffing: Don't cram too many keywords in the product title, just choose one main keyword that best describes your product.

Insert ad content: See the following example: "Print catalog size A5, get 50% off just today". You can run a promotion campaign but the product title is really not the right place to put those content like this.

Product titles are too general: Don't use too poor headings for information and make it difficult for users to understand. For example, instead of naming the product "Sports Shoes", you should set a more specific title such as "Adidas Original Stan Smith S82251 Sport Shoes".

Uppercase the title of the product: The innocent Capslock in the title content not only offends the user but also causes the product or feed to be rejected by Google.
Product Description
The product description contributes a large part in the feed and is the basis for Google to crawl and determine which keywords will be appropriate to show your ads on a user's search page.
Do:
Properly and sufficiently described: The product description does not have to be too long, its task is to provide users with the information needed and enough to purchase. So write the product description accurately and clearly.

Add keywords: If the product title should only have 1 main keyword, the product description is "ground" for you to include in the relevant keywords. The keywords included in the product description are also information for Google to identify keywords to display ads.

Arrange important information first: Just like the title, product description should immediately bring important and necessary information to the top so that users can quickly understand the product. Do not let customers read a long paragraph describing "flowers and leaves" and then find eye strain to see the necessary information about what you need to buy.
Don't:
Keyword stuffing: Similar to product titles, don't try to cram too many keywords into descriptions as this doesn't help your ads show more, but is also underestimated by Google. Each keyword should be used only one time in the product description.

Product description lengthy or exaggerated: When clicking on the product, the buyer surely no one wants to see a lengthy presentation about the product or the words that fly drunk explaining that product is great how. Because of a simple mistake like this, you can lose a lot of potential customers when they click on the product to get there but exit. What a bitter end! So, write a simple product description. What customers need is specific, accurate, concise and objective information about the product they are looking to buy.
Google Product Category
Google has a fairly complete list of categories for you to organize Google Shopping advertising products into their respective categories. This is also the basis for Google to determine what product you are selling to display ads for relevant queries. You cannot create a separate category but must choose one of Google's categories. So how to choose the right category for the product?
Learn Google categories: You can download a list of Google categories to learn how to categorize and select product categories for accuracy.
Select the most appropriate category: Each product can only select one of the 5,427 categories of Google. So choose the most accurate category for your product. For example, if you want to select a category for the phone case, instead of just selecting the category of Phone, you should select the category of Phone> Communication device> Phone> Cell phone. and accessories> Phone case. The more you select the category, the more likely it is for Google to accurately locate your product.
Select Google product catalog for a wide range of products: In the Google Shopping application administration page, you can create a link between the product catalog available on the website and a Google product catalog with just one click.
Product type
As mentioned above, the closer you select the product category, the better Google can determine exactly what your product is. However, if it is difficult to select the product category, the product category becomes an extremely important information field.
Use the directory path on the website: If you cannot select the product list in the list of Google product categories, please fill in this information field with the directory path on your website.

Example: Cars> Trucks> Accessories> Door handles, so Google will understand that the product is the door handle of the truck.

Add a description if necessary: Continue with the above example, if your truck door handle product is only in the Door Handle list without previous parent categories, you can add the Parent list by structure Automotive> Trucks> Accessories> Door handles to make more clear about the product.
Product photos
Images are one important factor that make users click on ads.
Display the full product image in the thumbnail: If the image does not fully display the product, the customer cannot see the product you are selling, so the click-through rate is also reduced.

Using white background images: Google requires using images with a white background to run Google Shopping ads.

Images do not contain text, watermark or logo insertion: Images that include text, watermark or logo will be banned from running ads, unless the logo is printed directly on the product.

Persuasive images: Beautiful images, well-lit, stimulate customers to click on purchases.
Price
Although the image of a beautiful and impressive product will help attract customers, the selling price is the factor that makes them decide to click on the ad or not. In particular, if your business has a fierce price competition but your product does not have a reasonable price, Google Shopping ads are also difficult to be effective, may even cause damage to your expenses.
Brand
Whether it's your own brand or you are a brand reselling another brand, you need to identify the brand of each product in your feed. Google requires Trademarks in most cases and lots of products are searched by brands, especially for people who intend to buy high.
Apparel Categories
If you are selling apparel categories, you have a few additional data points to provide, including the following. For a complete list of what is needed for various apparel products, refer to this Google guide:
Gender: male, female, or unisex

Age Group: newborn, infant, toddler, kids, adult

Size: actual size of the product

Color: the color of the product

Size Type: regular, plus, big and tall, maternity

Size System: US, UK, EU, more
Sales Tax
The best way to set up sales tax is in your general account setting inside Google Merchant Center. There you can specify the rates and states in which you charge sales tax.
Shipping
It's better to set up rules in the Merchant Center than to fill in fields for each product. Inside the Merchant Center, you can set up free shipping, flat rate shipping, and carrier calculated shipping.
Custom labels
Although, adding custom labels will not help the product show up for the search queries you want, but is a very effective way to optimize advertising costs. In article 8, how to optimize your Google Shopping advertising campaign has mentioned how to effectively break up your ad campaign to optimize your bids. After an ad run, you will evaluate the effectiveness of each product based on the indicators in Google AdWords. You can then group products into categories or add custom labels and different bids for each group or set priority display for some groups if necessary. Adding custom labels not only helps describe product group attributes but can also help you easily optimize ads for future campaigns. For example, you can add tags such as "bestsellers", "discount", "Christmas holiday" to quickly filter out product groups that serve different advertising campaigns.
2. Update feeds data regularly
Daily feed for Google will help keep the product information up-to-date and accurate. Google will prioritize showing up in front of ads that provide regular data.
Not only will it help display ads in the front position on Google Shopping, but regular data updates will also increase customer experience and improve conversion rates, ensuring customers receive the right information on ads. when visiting the website.
Powering data by file: Each time you make a change, update the file and add a new source by uploading a new data file.

Data source by Google worksheet: When there are changes in product information, warehouse … you update to Google Sheets, Merchant Center will automatically collect data according to the pre-installed schedule or you access Merchant Center to collect immediately.

Using the Google Shopping app: Any changes in the website administration page will be automatically updated to Merchant Center without having to edit an addition anywhere.
3. Add negative keywords

You can optimize product feeds by keyword but can't bid for keywords in Google Shopping advertising campaigns. However, you can add negative keywords to specify keywords that your ad won't show.
For example, if you sell women's shoes, not men's shoes or children's shoes, you can add some phrases such as men's shoes, men's shoes, children's shoes, etc to the list of negative keywords so your ad won't be shown for queries with these keyword phrases.
Placing negative keywords for Google Shopping advertising campaigns will help you avoid irrelevant clicks. You can start by adding known irrelevant negative keywords, then continue reviewing your search term report to identify ineffective terms. Negative keywords can be applied to both campaigns or added to specific ad groups.
4. Enter the product barcode
Google requires retailers to provide a full product identifier (GTIN) for all products to run Google Shopping ads. Google said that the GTIN will help them determine exactly which products and brands are being sold and which products will be prioritized by Google.
For products without a barcode, you can leave this field blank, but your ad impressions will certainly be reduced.
5. Optimize product images
Beautiful, eye-catching product images will make your ads stand out from your competitors. Although white background images are recommended in Google Shopping ads, product images with backgrounds are also an option. In the image below, ads using photos with backgrounds show more prominently than other advertising templates.
You can try out two ads of white background images and a background image to test the effect.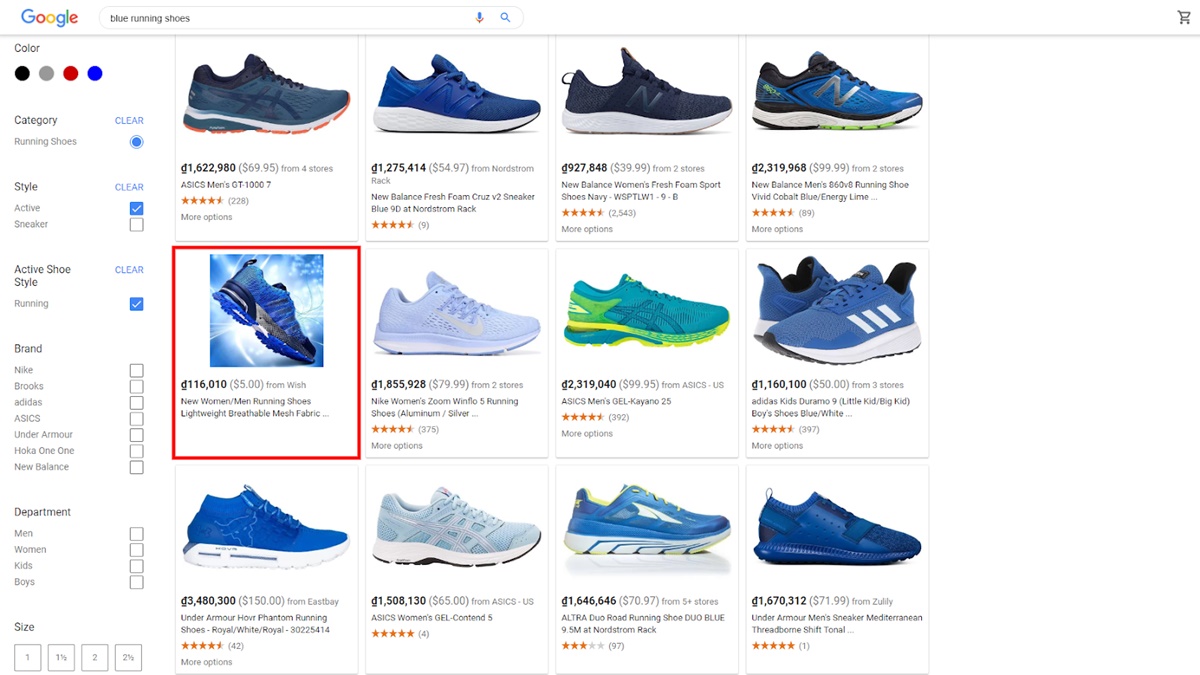 6. Optimize the display of product reviews
Google allows displaying stars and the number of product reviews on Google Shopping ads. This star rating will be aggregated by Google from multiple sources such as your website, user reviews or from third parties.
This star rating not only makes advertising stand out but also creates a trust for customers when clicking on ads to choose to buy products. In order for a star rating to be displayed on Google Shopping ads, there must be at least 3 reviews on each product and a minimum of 50 reviews on the entire product.
After customers buy products on the website, you can send an email to invite customers to rate the products they have purchased. In order to stimulate customers to evaluate products, you can give 1 free gift, give discount code, saving points…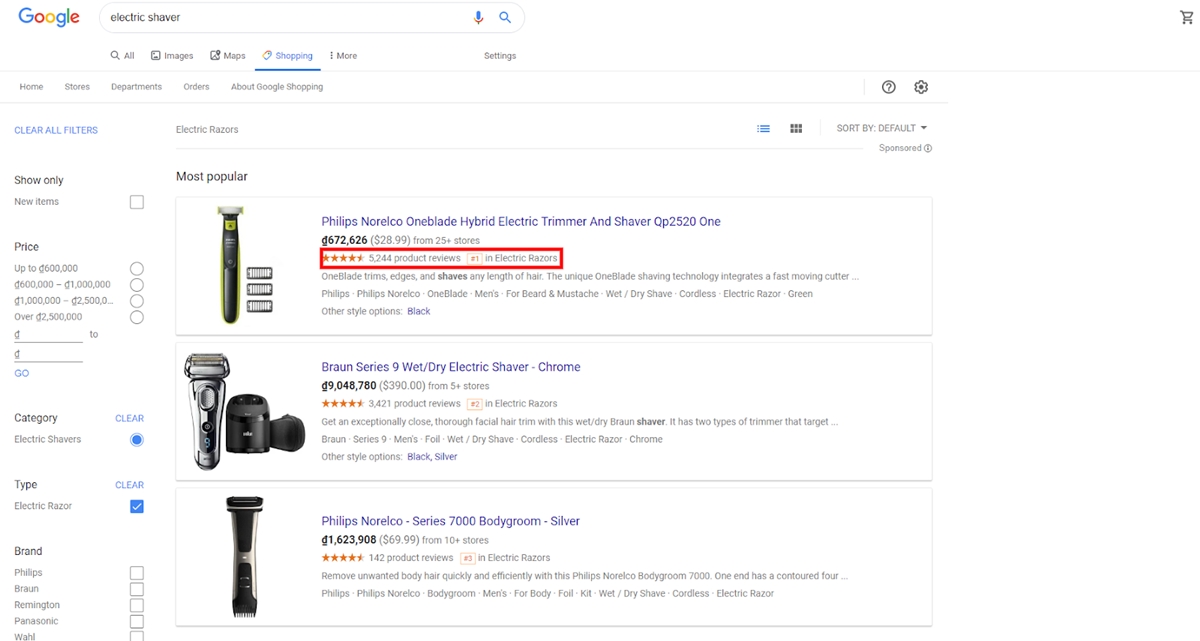 7. Break up ad campaigns into performance-based groups
Google Shopping allows you to bid on specific products instead of keywords. Therefore, the best way to optimize Google Shopping advertising campaign is to put products into product groups. The product group allows you to separate your products into related categories, similar to when you categorize products on the website. This will help you optimize your advertising costs by setting different bids for different product groups based on the performance and profitability of each group. Each product's ROI is the basis for you to classify and bid for product groups.
In an ad group, if you find there are some inefficient products, delete these products from that ad catalog and add them to another ad group with a lower bid.
8. Implement a remarketing campaign
RLSAs(Remarketing Lists for Search Ads) help you rack up customers who visit the website but haven't purchased, helping to better convert ads. You will be able to set your bids, create ads, or select keywords knowing that these customers have previously visited your website.
Tirendo, a European online tire retailer, had a 161% conversion rate increase using remarketing lists for search ads, which leads to a 22% overall sales increase. Read the full guide to RLSA by Google here.
Bonus: Google Shopping for Shopify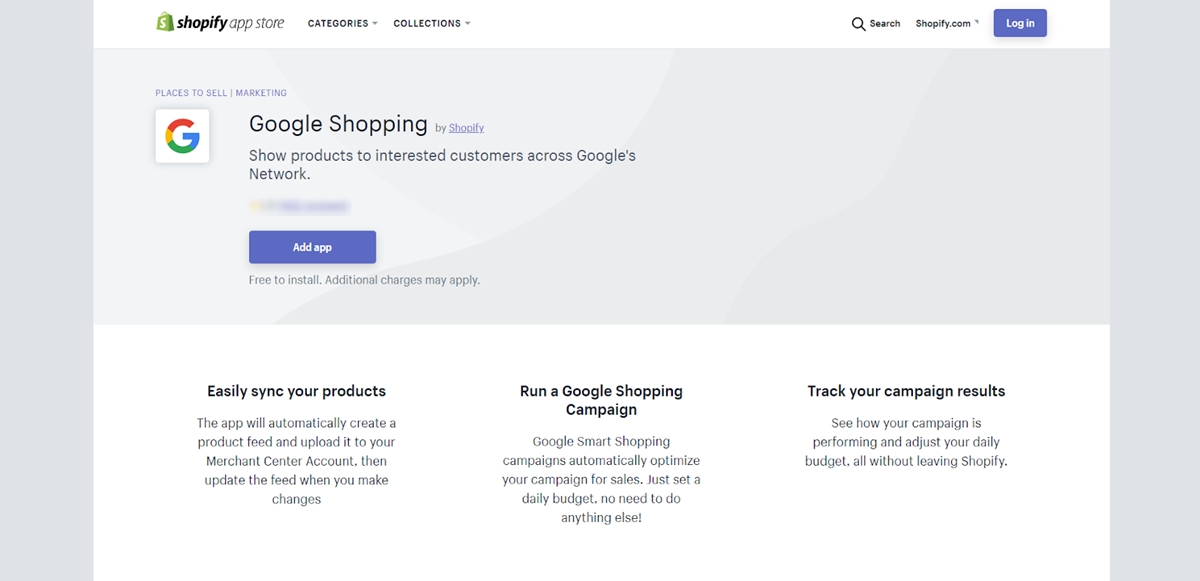 Nowadays, Shopify is probably the largest platform for online stores in the world. Maybe you already have your own Shopify store. That is why we are giving a bonus of review over Shopify's Google Shopping app.
Shopify's Google Shopping has changed over the years. Today's app is known as a Google Smart Shopping campaign within the marketing section of Shopify. It is the fastest way to get started with feed marketing. A lot of advertising companies like this because their account managers don't have the technical skills to directly manage and optimize feeds.
Steps 1: SYNC YOUR PRODUCTS TO MERCHANT CENTER You will be instructed to connect Google Shopping Center to your Shopify account and synchronize your products to create your Google Product Feed. Feed updates will be automatically sent to the Mall whenever you make changes to your product.
Step 2: CREATE SMART SHOPPING CAMPAIGNS Google Shopping app can make it easier to create online ads for your products. Use the app to connect Google Merchant Center to your Shopify account, sync your products, connect your Google Ads account (formerly AdWords) and create a Smart Shopping campaign to reach shoppers on the Internet.
Create a Google Smart Shopping campaign in just minutes by setting a daily budget. Smart shopping campaign Google Google optimizes bidding and ad placement, chooses the best time and location to display the right products to the right buyers. You will only pay when shoppers click on your ad. Apps automatically place ads where they work best, such as on desktop or mobile, Gmail, YouTube, Google Search, or the Google Display Network.
If you want Google to fully optimize the performance of your campaign we highly recommend your campaign running for at least 30 (consecutive) days.
Related Posts:
Pros:
One important feature of the channel is to create Smart Shopping Campaigns. This will use Google's automated bid strategy to set how much you pay-per-click to achieve your ROI goals.
If you're a beginner to Google Shopping, this is the easiest way to start and manage campaigns. However, you still need to know the risk that Google's automated bid strategy works best on campaigns with at least 100 (ideally 300) conversions per month. If your smart campaign falls short of that performance, the data set can become small and you may expect week-to-week fluctuations.
If you use the channel and bid strategy to manage your shopping campaign, and your conversions fall short of the recommendation, you need to review your strategy. The channel can be used for feed management without giving Google free-reign to manage your campaign through its automated bid strategy.
Cons:
One downside of the channel is you cannot advertise variants, customize fields like titles (though you can change this to a degree with rules inside Merchant Center), or enter information in all fields such as material which is critical for feed optimization.
Conclusion
As an online business owner, your products need to be advertised to the right customers at the right time, and that is exactly what Google Shopping is capable of. Hope our guide can help you start with this amazing ads platform and start growing your eCommerce even more.
Google Shopping works best with test and optimization just like any other type of ads, so keep your strategy and bid wisely. That is all for the article, please let us know in the comments how you would use Google Shopping for your own advantage.
---
CEO and Founder of Avada. Pursueing a simple and healthy lifestyle. A friend, a husband and a dad of four children, a trainer and an influencer wannabe. He is a big fan of sports and travel, also.
New Posts
Stay in the know
Get special offers on the latest news from AVADA.