How to Login to Shopify Admin, Partner Dashboard & Customer Account
Shopify is one of the most popular E-commerce platforms today. It's a platform that allows both business owners to create an online store and freelancers to help store owners develop their websites. Whatever you want to do on Shopify, you will need an account, and this article is everything you need to know when it comes to Shopify accounts. Especially, it will provide you the detailed guide on how to login to both Shopify Admin, Partner Dashboard as well as Customer Account!
Related Articles
Shopify Store Admin Login
What is Shopify Admin?
Shopify Admin is where you can manage all of the aspects of your store. It's like a management center that Shopify provides you to handle the back-end of your online business.
When you log in to your Shopify Admin, the Home Page will be the first thing that you see.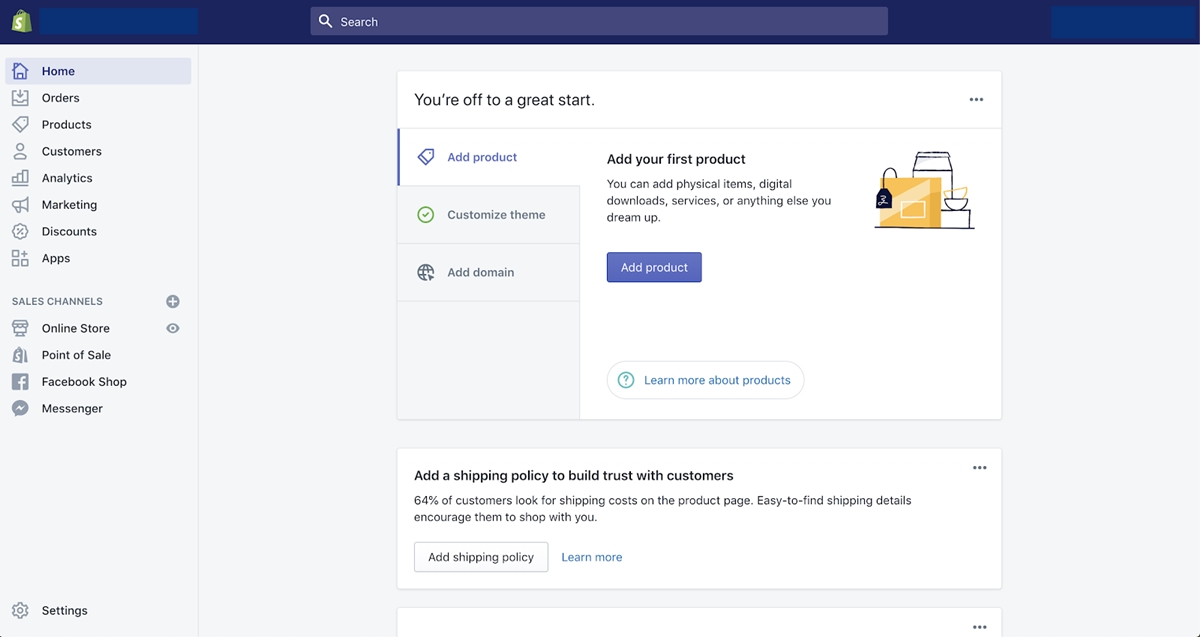 Here you can find various pieces of information such as your daily tasks, recent activities or a timeline of total sales. On the left side, there is a sidebar through which you can access different sections of Shopify Admin. These sections include:
Orders, customers, and products are the core of your business activities.
Online stores, point of sale are ones of the sales channels. There is a handful of others when you click that + button.
Settings are features applied to your Shopify store.
On the top of the dashboard, there is a search bar that you can use to find product SKUs, pages or other details in your Shopify Admin.
How to create a Shopify Account?
Step 1: Go to Shopify and hit Start free trial. In case you don't know, all new accounts are eligible for a Shopify free trial. This will allows new merchants to try out the platform before committing to a paid plan.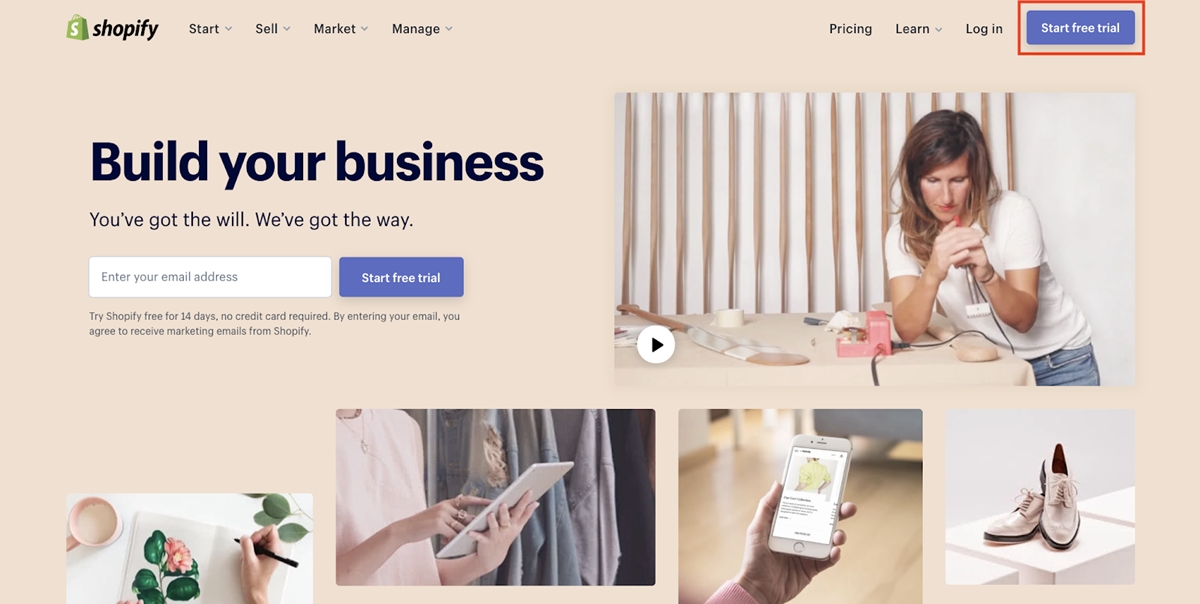 Step 2: Enter your information and hit Create your store.
Step 3: Answer some questions from Shopify and you're good to go.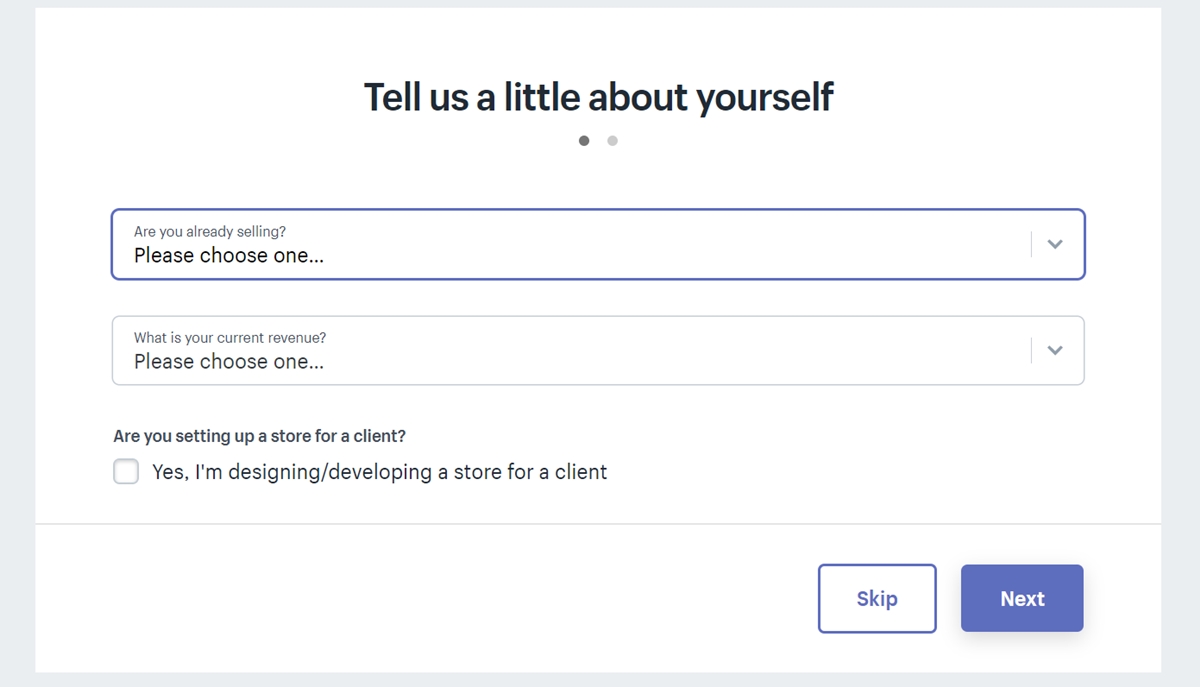 How to login to Shopify Admin?
Here are 3 steps to Login to Shopify Admin Dashbroad:
Step 1: When your account is ready, go to Shopify Homepage and click on Log in.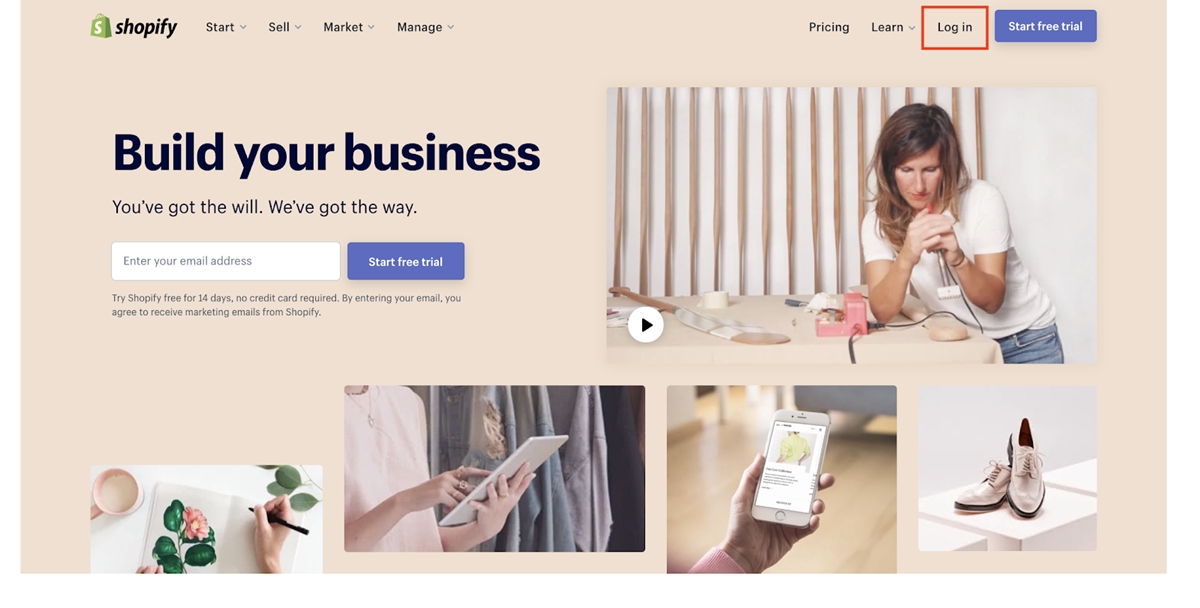 Don't click on Start free trial as that is for creating a new account.
Step 2: Enter your Shopify's store name on the next page.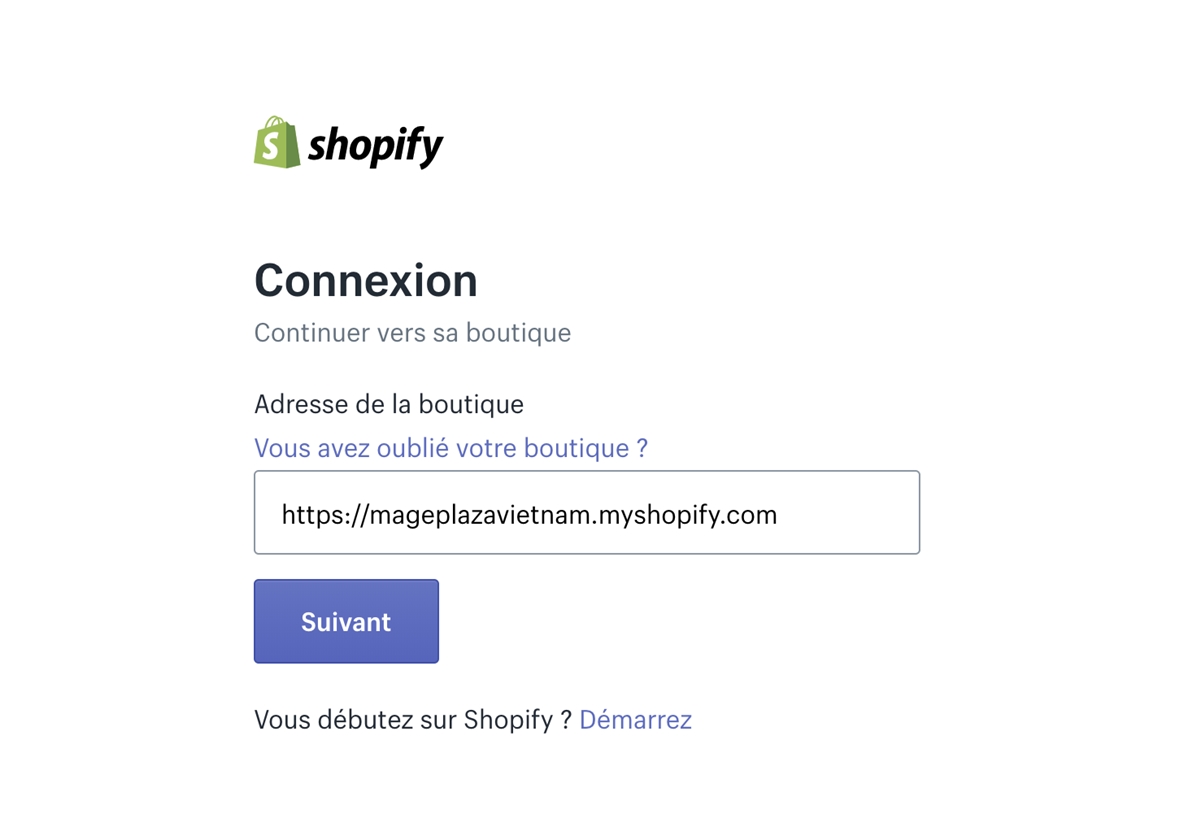 Step 3: Type in your password and click on Log in.
If you forgot your password, you can click on Forgot password.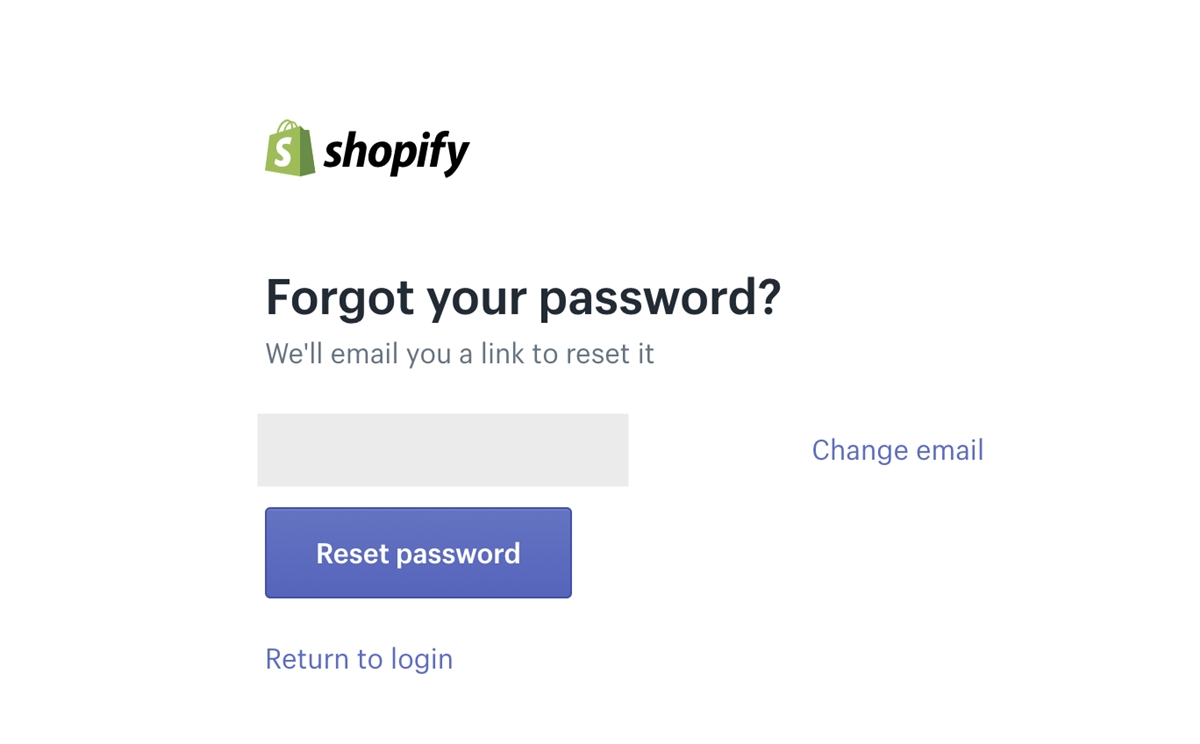 Once you type in your password and hit Enter, you will be directed to Shopify Admin.
Shopify Partner Login?
What is Shopify Partner?
This program was launched by Shopify in 2016, which attract people with certain types of expertise (design, marketing, and programming) to partner with Shopify and earn incentives. Anyone can become a basic Shopify partner and make money by referring new customers to Shopify.
Most people, however, aim to become a Shopify experts. Anyone who wants to earn this title has to provide a proven record of the successful set-up of Shopify stores. Shopify requires at least 5 examples of Shopify stores that the individual has helped to set up. When someone is qualified, they will be given the title Shopify expert and will get a listing on the Shopify Experts website. In there, the individual will be ranked based on their success with clients.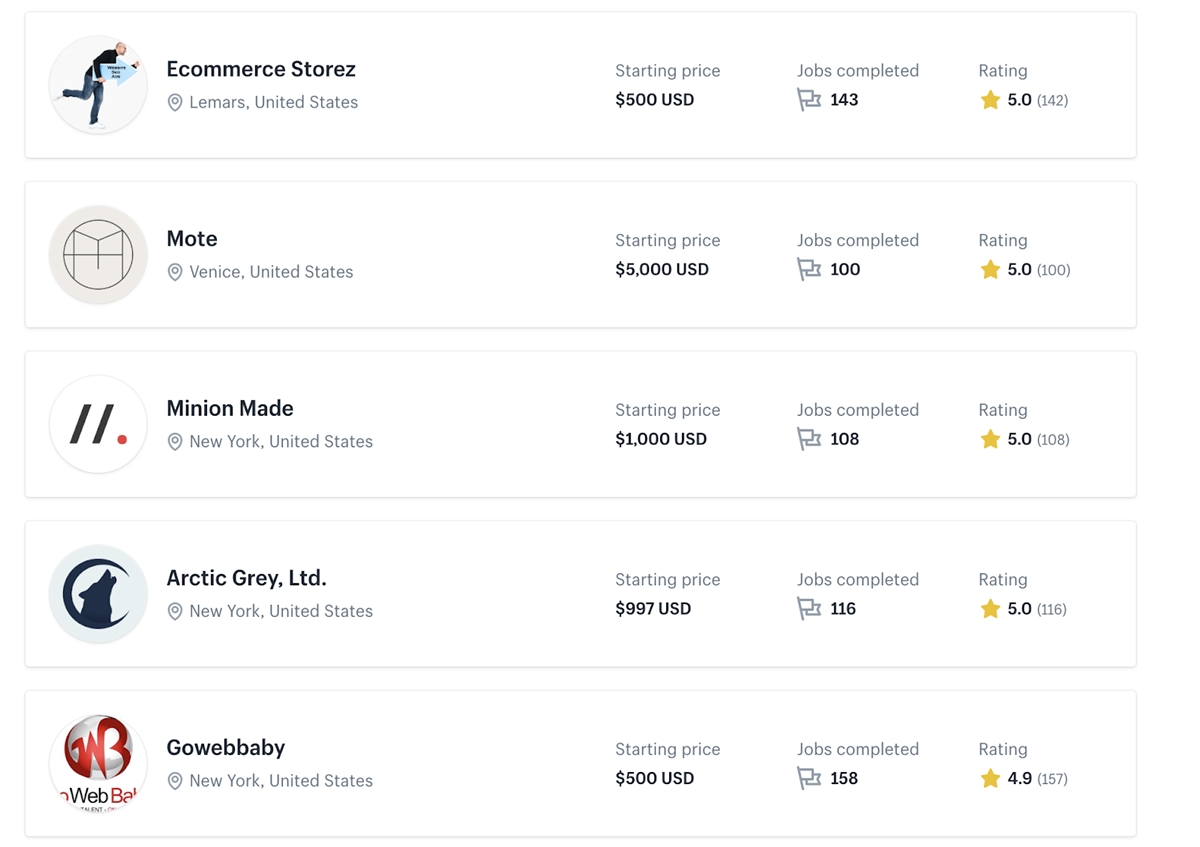 Shopify offers a list of categories that individuals or companies can join as Shopify experts including:
Marketing and Sales
Store Set-up
Store Development and Troubleshooting
Expert Guidance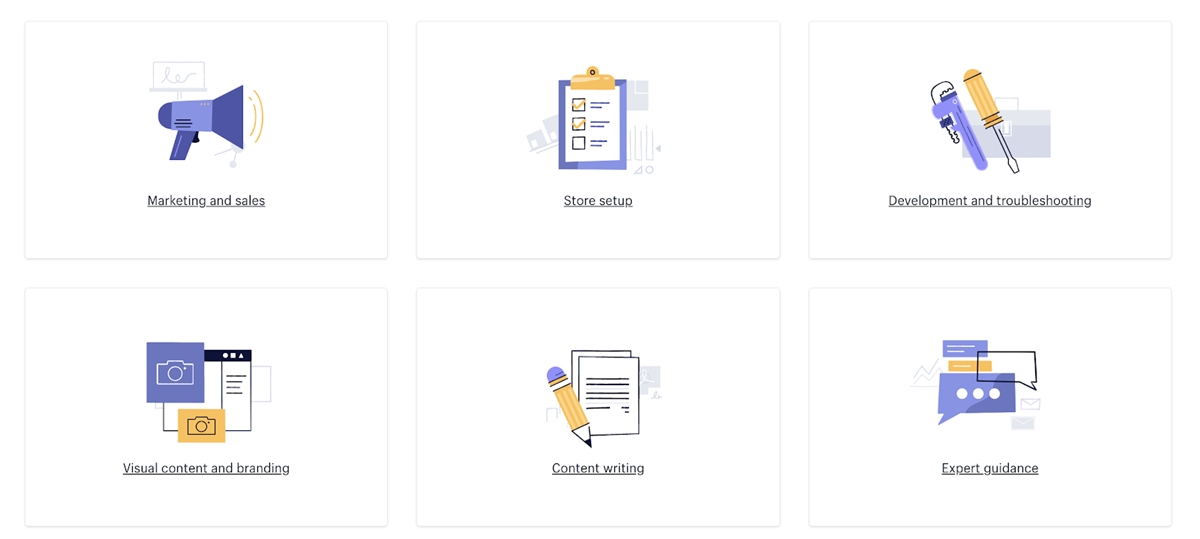 Create a Partner Account on Shopify?
Step 1: Go to Shopify partner page and click on Join now.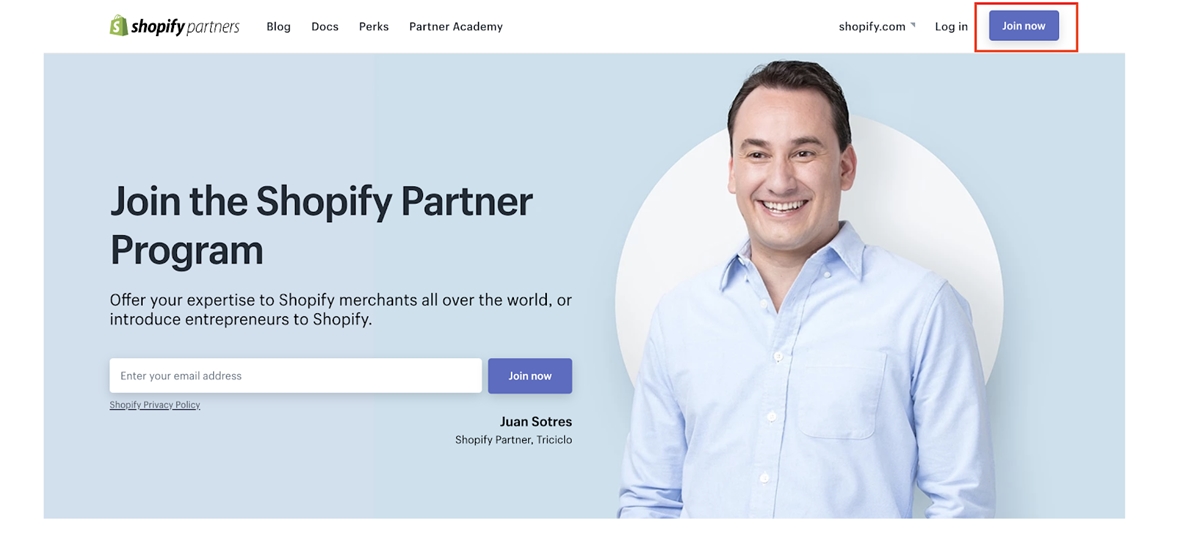 Step 2: Enter your information and Hit Create account.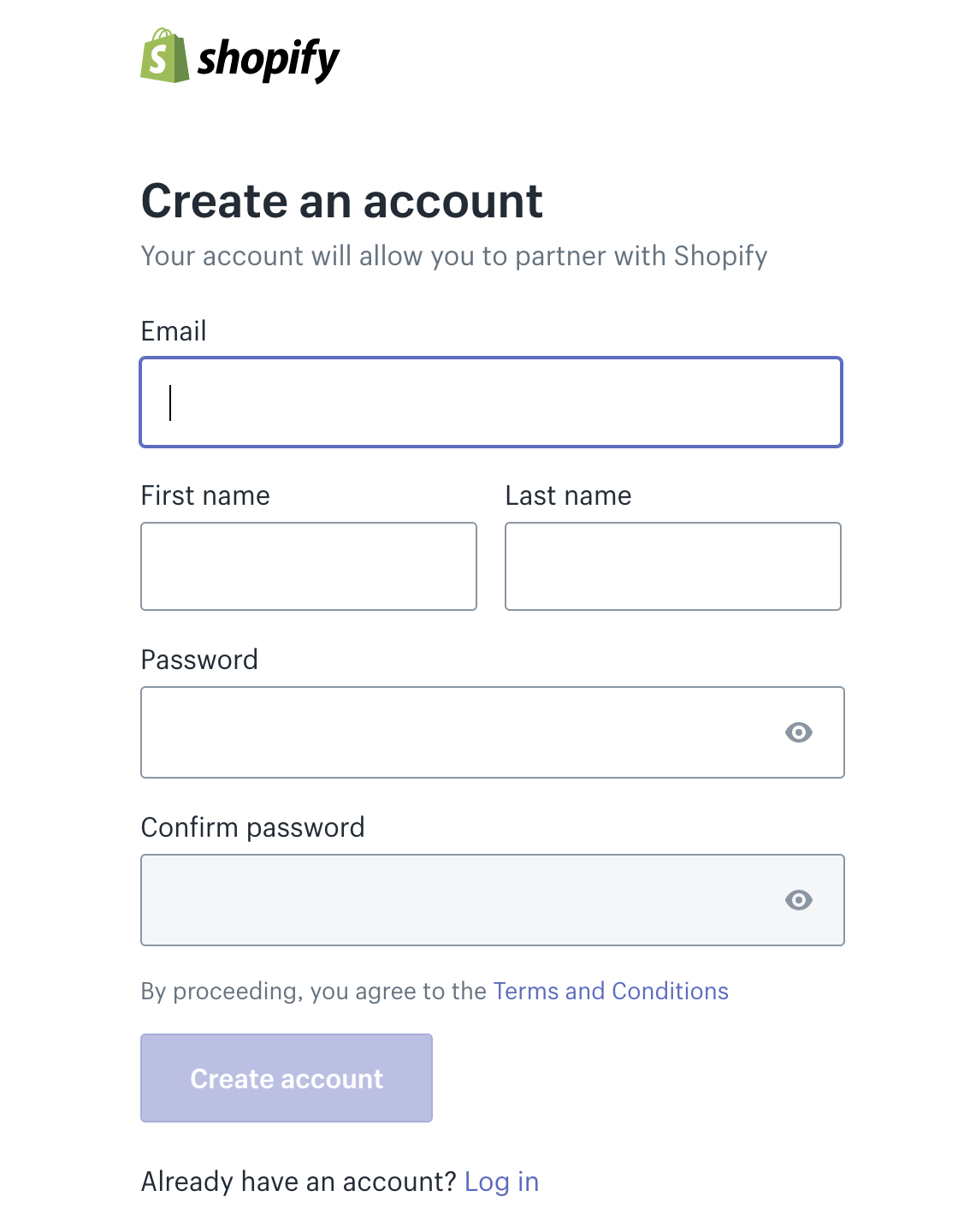 Step 3: You will be directed to a page where there is a form to fill out; finish it and hit View your dashboard and you will get to your dashboard.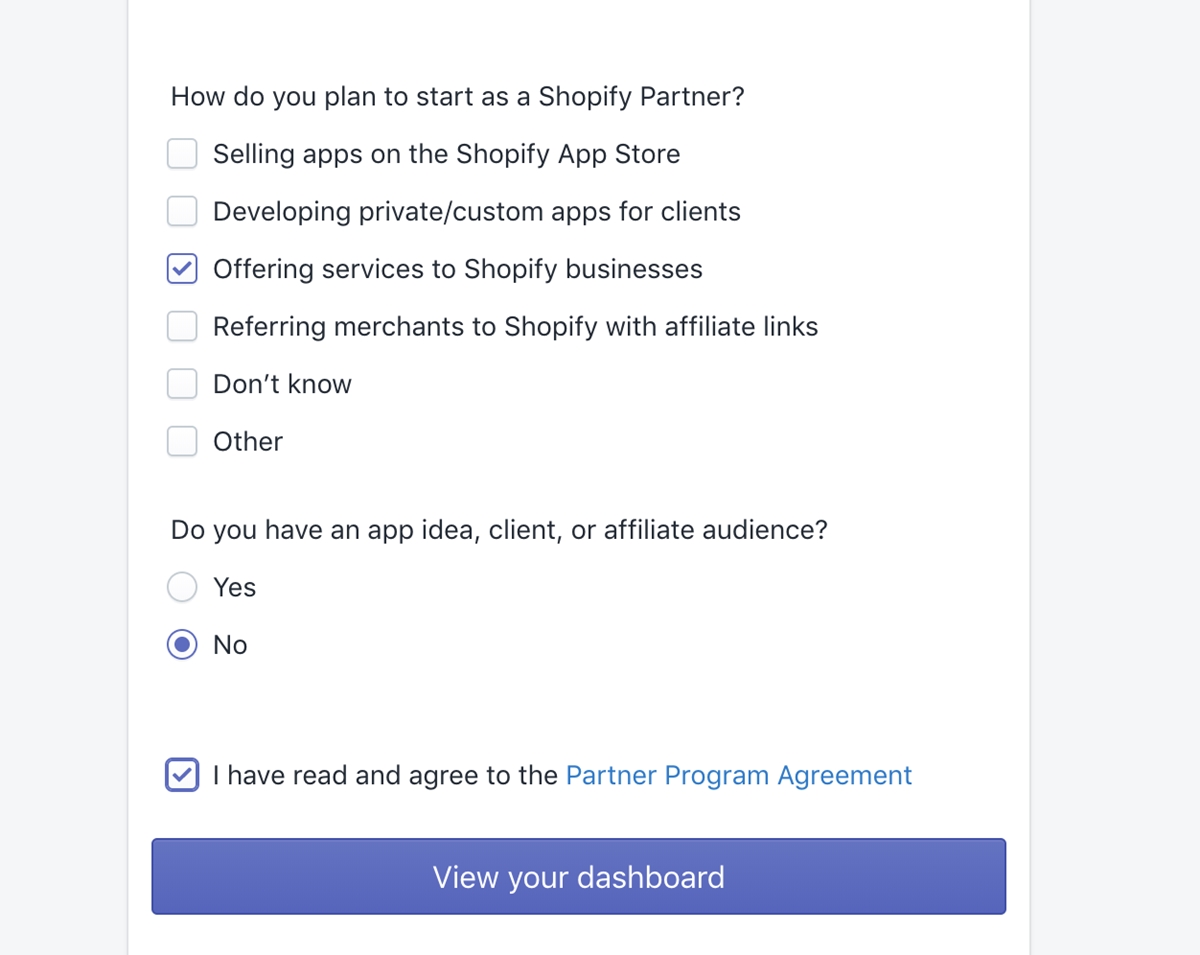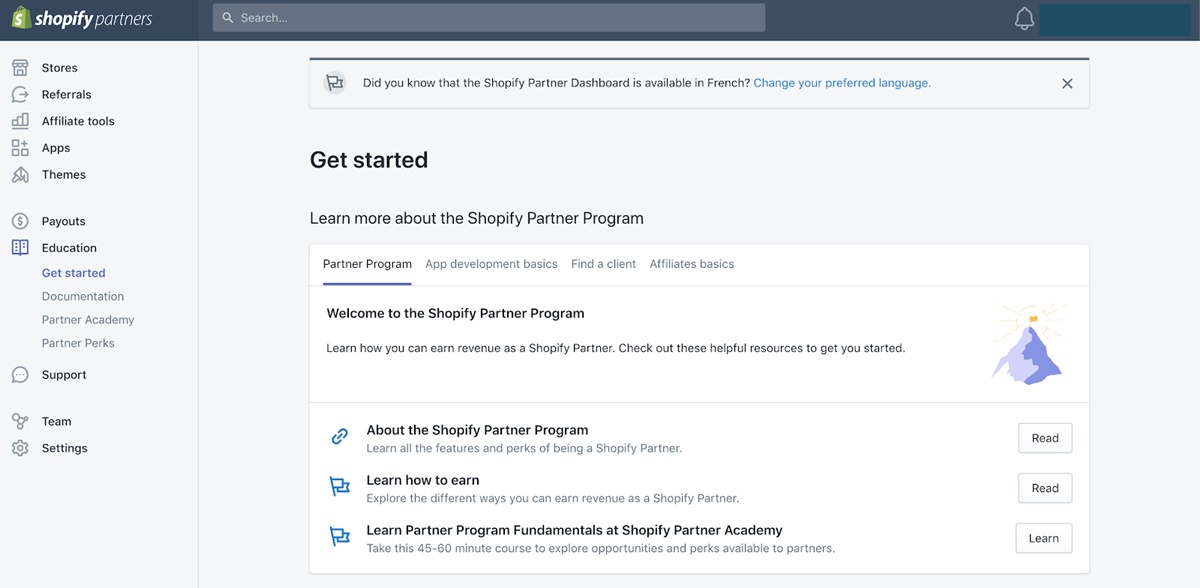 How to Login to Shopify Partner Dashbroad?
Here are 3 steps to Login to Shopify Partner Dashbroad:
Step 1: Go to Shopify Partner site and click on Log in.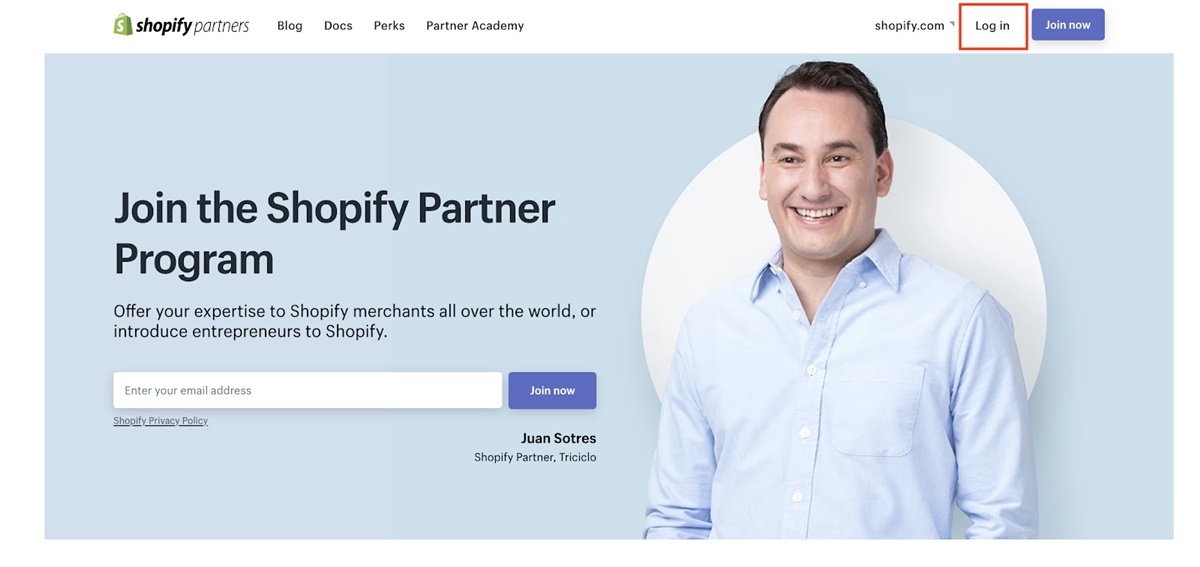 Step 2: Enter your email.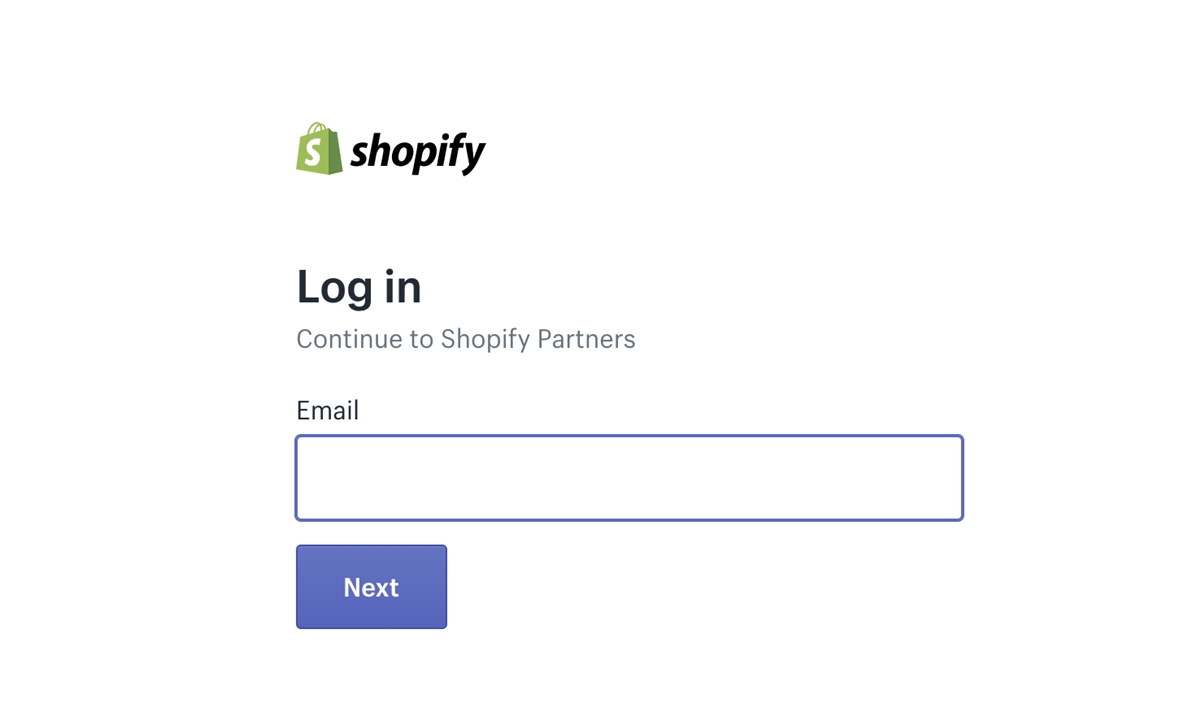 Step 3: Enter your password. If you forgot it, hit Forgot password.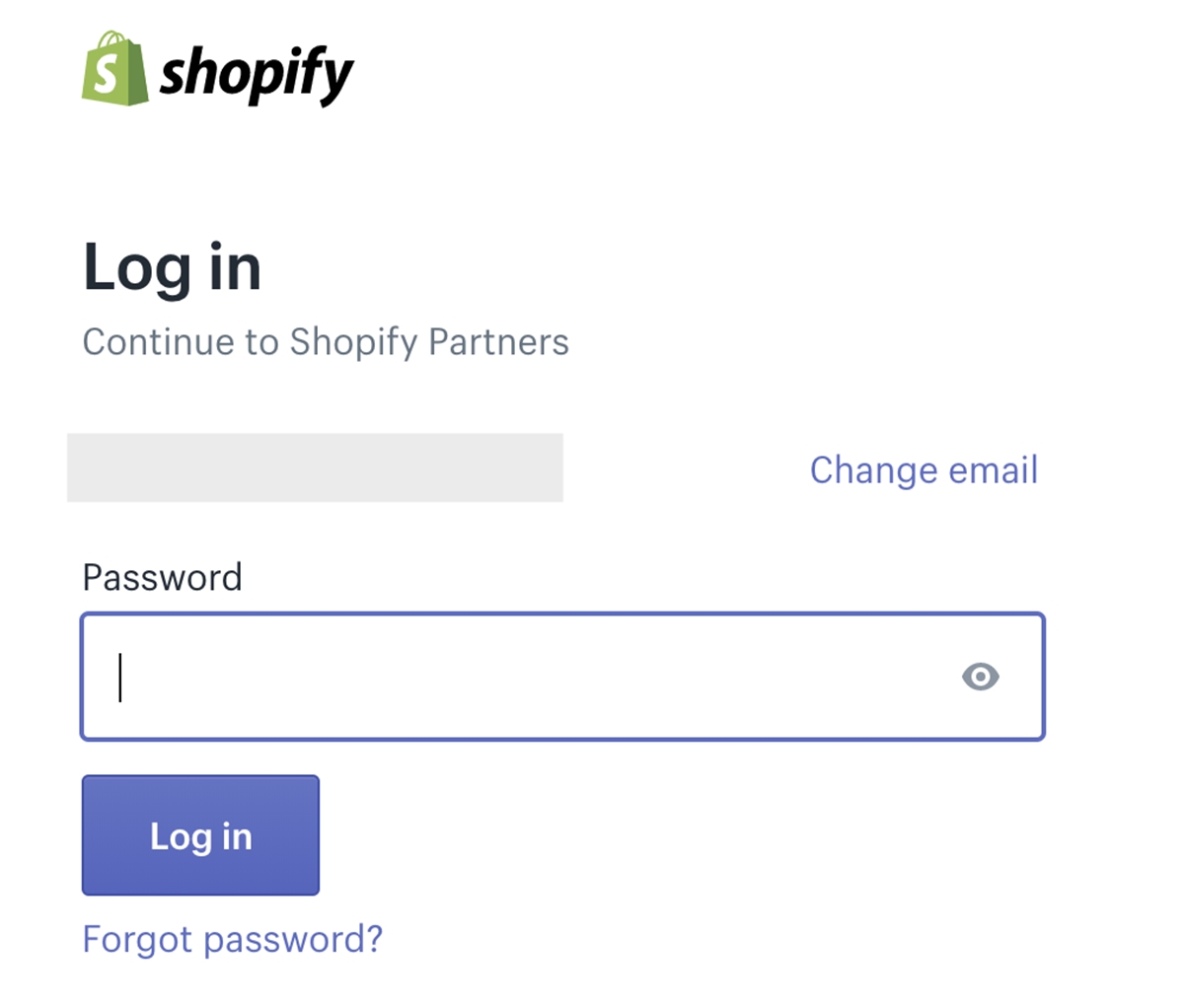 There you go!
Further Reading: What Is The Shopify Partner Program? How To Become A Partner?
Shopify Customers Login?
Customer account, what is it?
When enabling customers to create their personal accounts, their information including identity (name, phone number, email), order history and current order status will be stored in your database. When a customer logs in, their details such as name, email and address will be pre-filled from your data during checkout.
Set your customer account preferences?
You can set up customer accounts as required or optional, you can even disable them. When customers want to create an account, they will be directed to a separate page for account creation. Keep in mind that if you make customer accounts required, that might hurt sales conversions because it complicates the buying process.
To edit your customer account settings, go to Settings -> Checkout in your Shopify Admin.

Accounts are disabled: There won't be an option for customers to create an account or log in during checkout. They will have to enter their information manually at checkout as fields won't be pre-filled.
Accounts are optional: It's not mandatory to have an account to check out, but customers can still create an account. Their information will be pre-filled if they have an account and are logged in during checkout.
Accounts are required: It's mandatory to check out with an account, which means customers have to create one and are logged in to complete their checkout. This setting is helpful if you're running a wholesale or members-only store.
Click Save to finish your customer account settings.
Invite customers to create accounts?
If your customer account setting is optional, you can send your customers direct invitations to encourage them to create an account. They will receive an email asking them to create their password; this email is only valid for 30 days.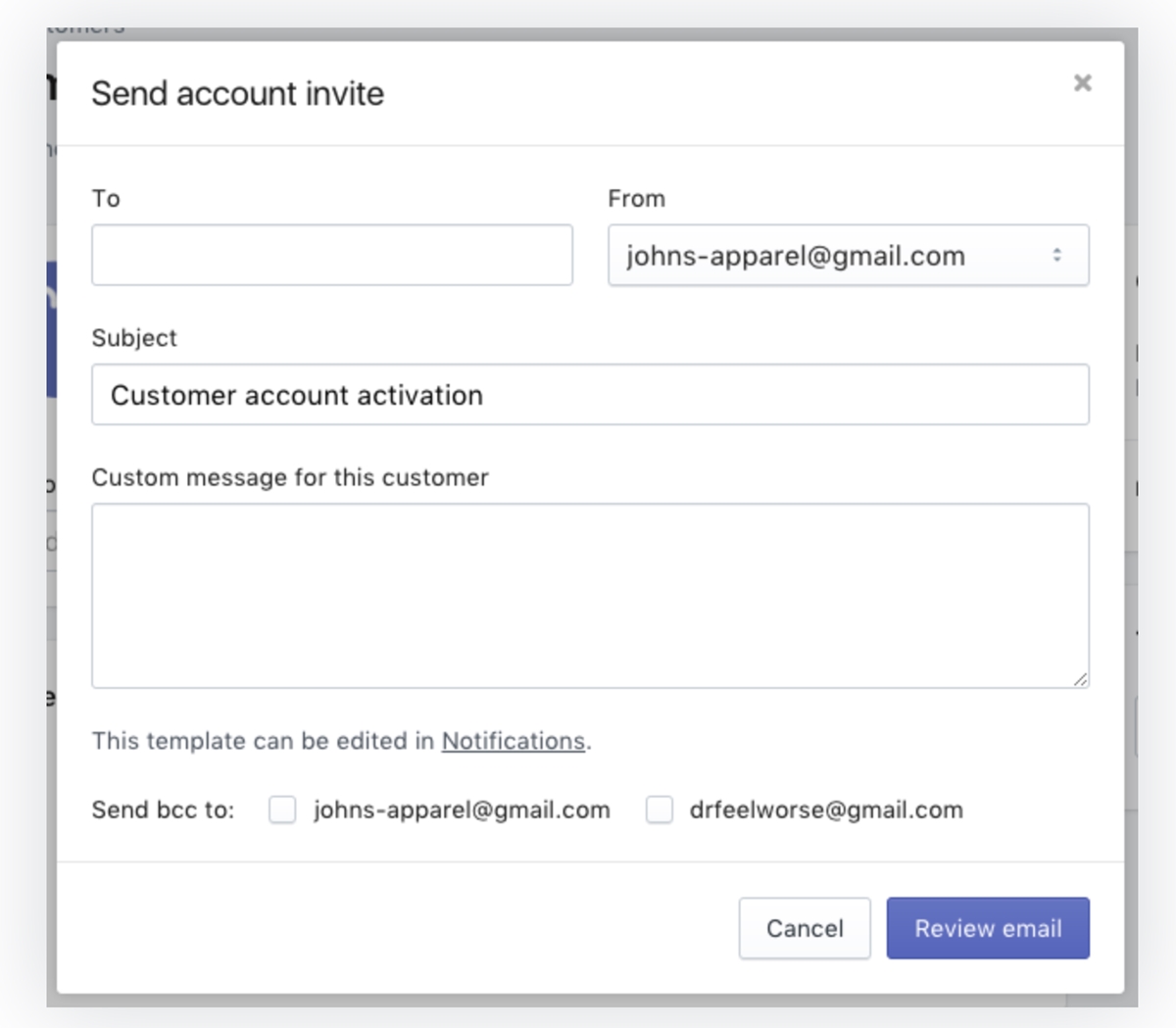 To see whether a customer has created an account, you can check in the contact information on the customer's page. You can send account-creation invitations individually or in bulk.

How To Send Invitations Individually
Step 1: Go to your Shopify Admin, click Customers.
Step 2: Choose the customer that you want to invite; if the customer who you want to invite is not listed, you will need to add them first.

Step 3: Click their email address and a pop-up will appear, you need to fill out the information.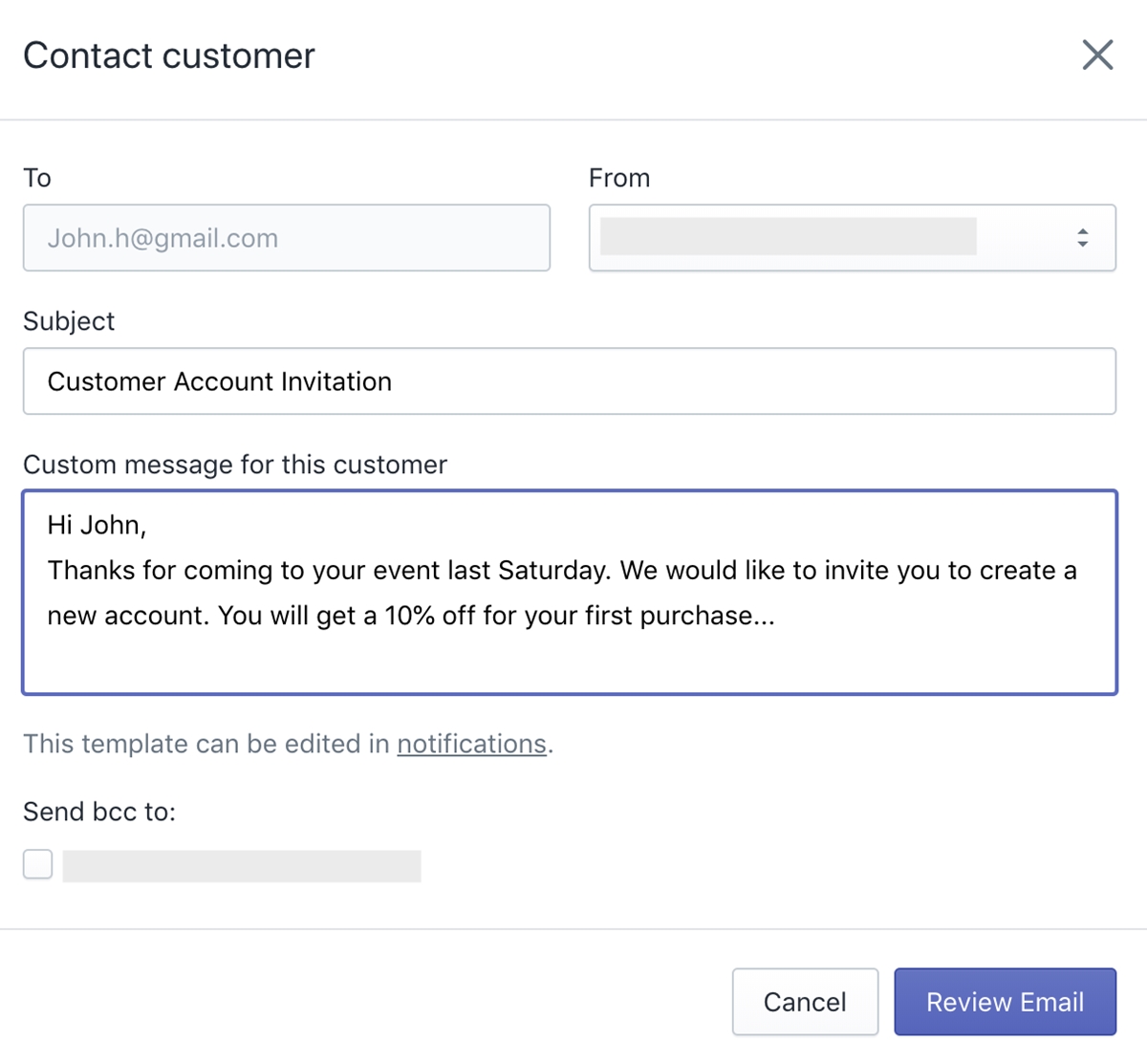 You can make changes by:
Choosing who sends the invitation with the From drop-down.
Editing the default template of your invitation email by hitting the Notifications link below the Custom Message area.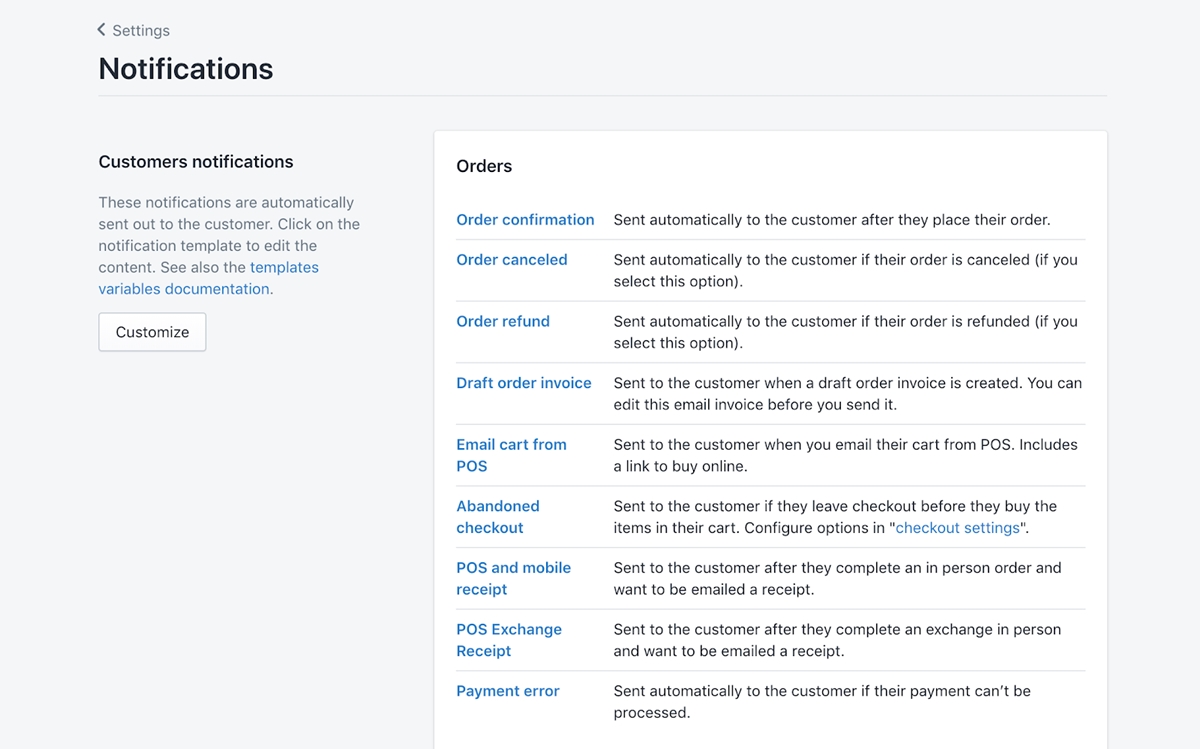 Step 4: Click Review Email.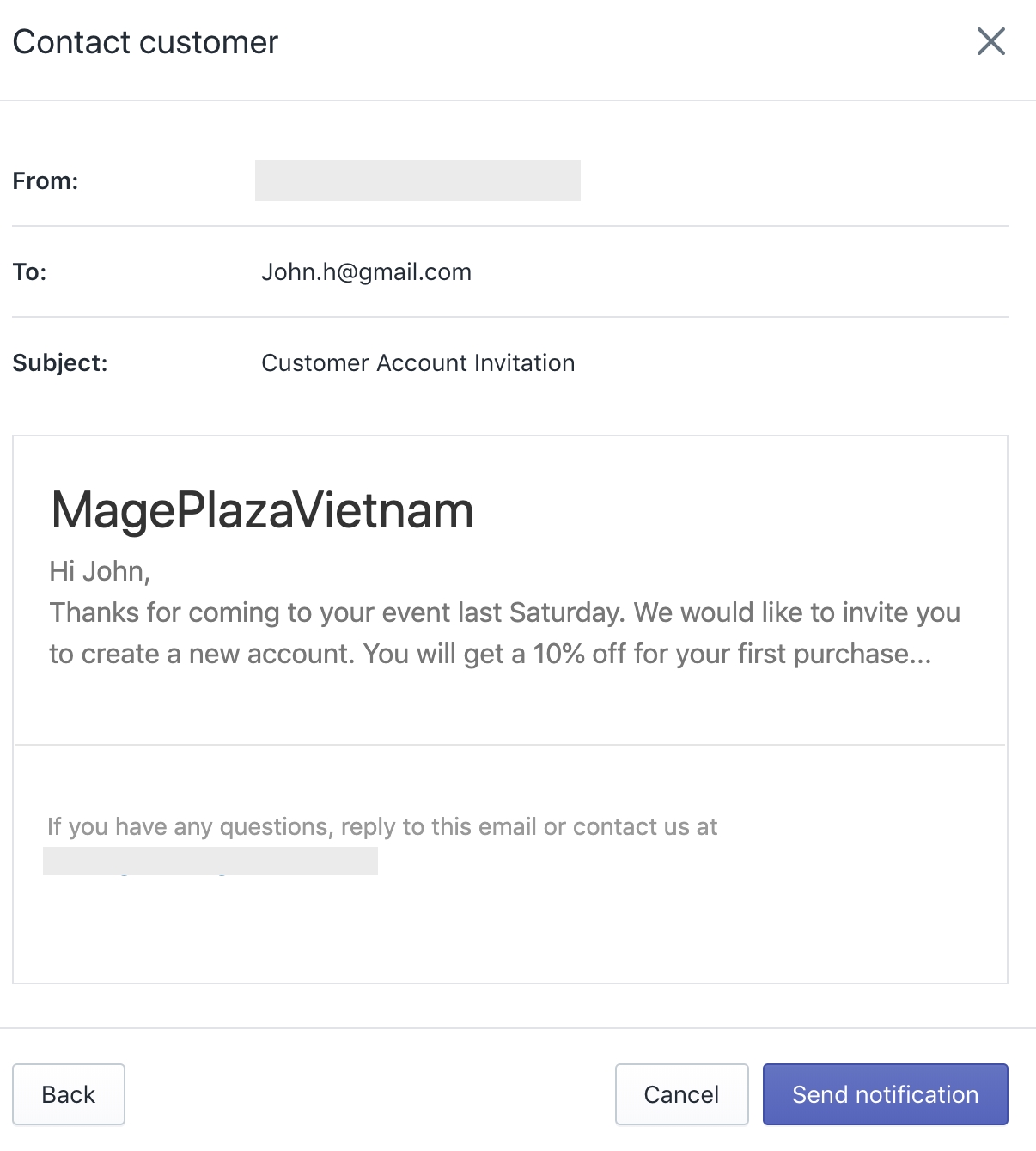 Step 5: If everything is ok, click Send Notification.
How To Send Invitations In Bulk
If you want to send invitations in bulk, you'll need to use Shopify Account invite Apps which is free and you can download from the store.
If you are on Shopify Plus, you will be provided with an app called Bulk Account Inviter for this activity. This app is not available in the app store so you'll need to contact Launch Engineer of the plan to install it.
How to reset customers' passwords:
If a customer forgets their password, you can reset it for them.
Step 1: Go to Customers in your Shopify Admin
Step 2: Click the customer you want to edit
Step 3: Click Reset Password

Step 4: Click Reset password again in the next dialog.

After that, an email will be sent to the customer with instructions showing them how to reset their password.
How to disable a customer's account:
If an account is required to place an order (your preference mentioned in section 3.1), you can disable an account to prevent that customer from placing an order with you.
Step 1: Go to Customers in your Shopify Admin
Step 2: Click the customer whose account you want to disable
Step 3: Click Disable Account

Final words
So I have just provided you the full information about Admin Login, Partner Login, and Customer Login. I hope this guide will give you clear instructions on how to log in to different kinds of accounts on Shopify. If you have any ideas or questions, feel free to add it in the comment box below.
---
CEO and Founder of Avada. Pursueing a simple and healthy lifestyle. A friend, a husband and a dad of four children, a trainer and an influencer wannabe. He is a big fan of sports and travel, also.
New Posts
Stay in the know
Get special offers on the latest news from AVADA.