Top 31+ Must-have Shopify Apps for your Stores in 2023
If you are a Shopify store's owner, you probably are no stranger to the Shopify App Store, where you can get thousands of apps to extend the functionality of your online business. They are the ultimate way to keep the gear smooth while saving time.
You have options in every category: improving email marketing, getting more in-depth analytic, adding customer reviews, and posting products to Facebook, etc. You name it, and you'll have it.
So how do you choose the right apps for your own needs?
That is why we have conducted a list of top 31+ must-have Shopify apps in categories to maximize your store's potential.
Whether you have just started with the platform or have been an entrepreneur for a long time. This list will surely help you pick the right app. Let's get started!
Shopify Apps overview
The Shopify App Store is a great collection of apps, both free and premium, that can extend the functionality of your Shopify store. The Shopify apps can be a great way to add more specialized features that bring a great experience to customers.
Currently, there are 3361 apps on Shopify App Store, including 1385 free ones and 1976 paid ones, so your store can easily pick which are suitable but still suitable for your budget.
With over 600,000 merchants using Shopify platforms, the apps have been incredibly useful to step up their games and win more customers. Next, let's view our top 31s+.
Top 30 Shopify Apps you need to have:
Must-have Shopify apps for Dropshipping
First, we will begin with what many people are using Shopify for: eCommerce Dropshipping. It is a way of selling products straight from the suppliers, without you storing any, so the cost is greatly reduced.
With dropshipping, what you need to focus on is finding the right product to sell, and fast, since you don't make the products anyone can sell too! And you also need to connect with suppliers and make sure everything works out.
Related Posts:
Here are some apps that can help streamline your dropshipping process:
1. Free Shipping Bar - Shipping app
Price: Free
Usage: Generate bulk coupon code to boost sales
A majority of customers expect free shipping and they are likely to abandoned their cart if shipping free is expensive. If you want to motivate customers to expand their shopping carts not to avoid shipping cost which they are not willing to pay for, it is when you need AVADA Free Shipping Bar.
This app helps to announce customers the free shipping offer and conditions based on their cart value. When they reach an acceptable amount for free shipping, a congratulations message will appear. Thanks to this message, you can boost more sales and reduce the abandoned cart possibility when customers are not prepared for unexpected shipping fees at the checkout step.
2. Printful - Sourcing and merchandising app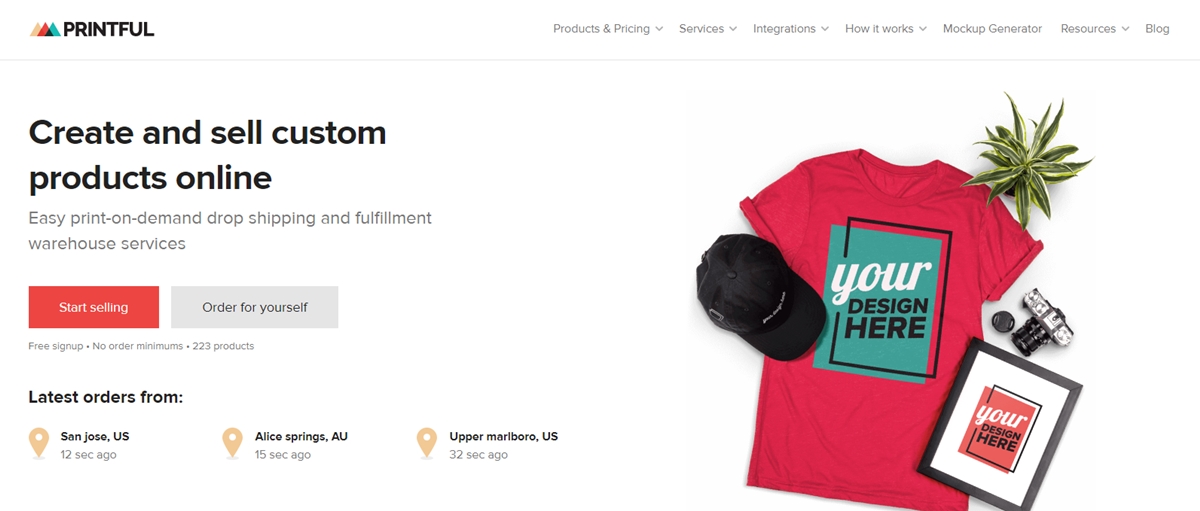 Price: Free to install, fulfillment depends on products
Usage: eCommerce product sourcing & merchandising
Printful is a print-on-demand drop shipper app that lets you sell unique designs on printed products without having to worry about keeping the stock. When connected to your Shopify store, orders are automatically sent to Printful; it allows the company to print and ship shirts, bags, hats, mugs, and more to your customer under your brand name.
The shipping fee is something to consider though, since a shirt outside of the US, Canada, and Europe will cost you $9.99 if you ship through Printful.
3. Spocket - Product sourcing and shipping app

Free Trial: 7 days (and a free basic plan)
Price: Pro plan at $29/month up to 25 products, and Empire Plan at $79
Usage: Product sourcing and delivery, the automated order process
Bad suppliers and late deliveries can have a bad effect on your store. So don't take the chance.
Spocket has a list of verified, quick-shipping suppliers from around the US and Europe that will drop ship the products right to your customer, which means excellent and unique products from artisans and local businesses + faster deliveries: a recipe for success!
Also, you get wholesale rates–with up to 75% discounts on market rates, making you a solid profit for every product you sell. You can also have the invoice branded as your own. Happy customers and happy you!
4. Oberlo - Powerful product sourcing app

Price: Free for 500 products and 50 orders per month. With additional products, orders, features, you can upgrade From $29.90 to $79.90 per month.
Usage: Product sourcing/shipping
Oberlo has quite a similar service compared to Printful by letting you add products to your store and dropshipping them straight to your customers.
But with this application, you are not limited to the items that can be printed. You can choose products from AliExpress and Oberlo Marketplace and add them to your store with a few clicks.
Oberlo offers automated order fulfillment and inventory management. You can also customize your products, connect Oberlo with your existing products, and even let others help run your store.
Must-have Shopify apps for Sales and Promotion
For an eCommerce site, promoting your products affects directly to sales numbers. And what better way to combine these aspects just by using boost sales apps on the Shopify App Store.
5. Discount code generator
Price: Free
Usage: Generate bulk coupon code to boost sales
Store owners usually provide shoppers with discount code to motivate purchase and expand cart value. If you have thousands of customers, you must create thousands of unique codes for them. Creating every single code manually will be absolutely time and effort waiting. If this is your case, let AVADA Discount Code Generator give you a helping hand.
With this useful app, you can generate unlimited coupon code series by pattern within a few minutes or import existing one to your discount, making sure that our promotion campaign running smoothly. Now, let this app take the hard job and see how does your sales increase!
6. ReCharge - Recurring billing app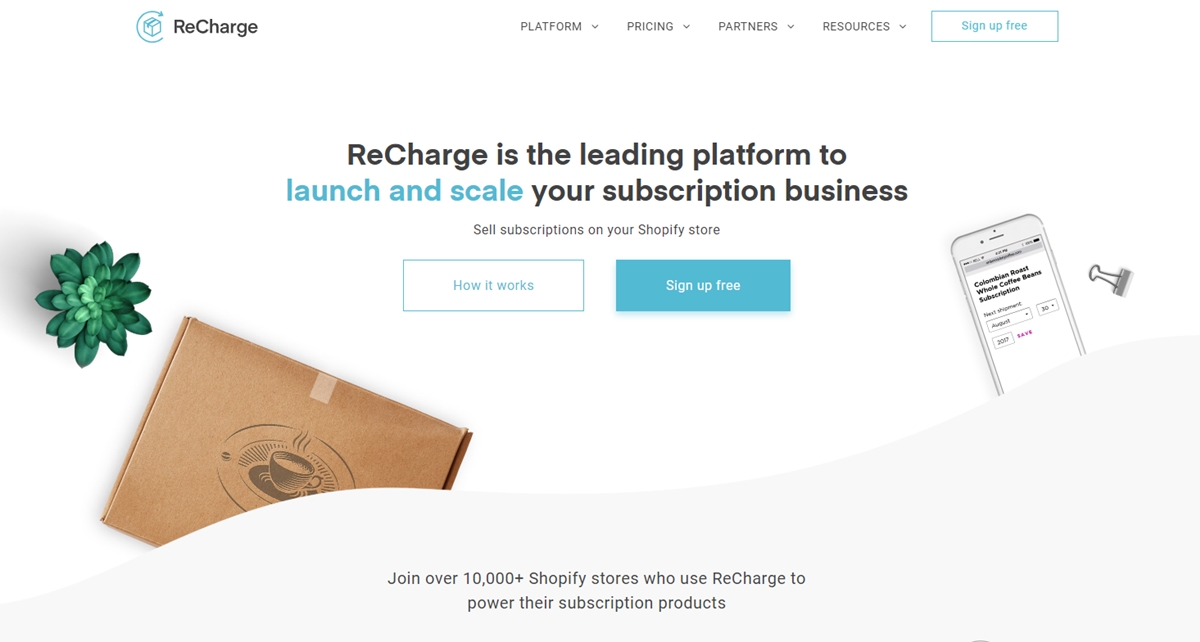 Free Trial: 90 Days
Price: $19.99/month
Usage: recurring billing
Do you have a store where customers buy the same thing weekly or monthly, like a subscription box?
It's a technological headache if you have to remember to bill every time.
ReCharge can solve that problem for you by doing the recurring billing automatically. So no more worrying when it comes to recurring bills!
7. Instant Buy - Convenient purchase button app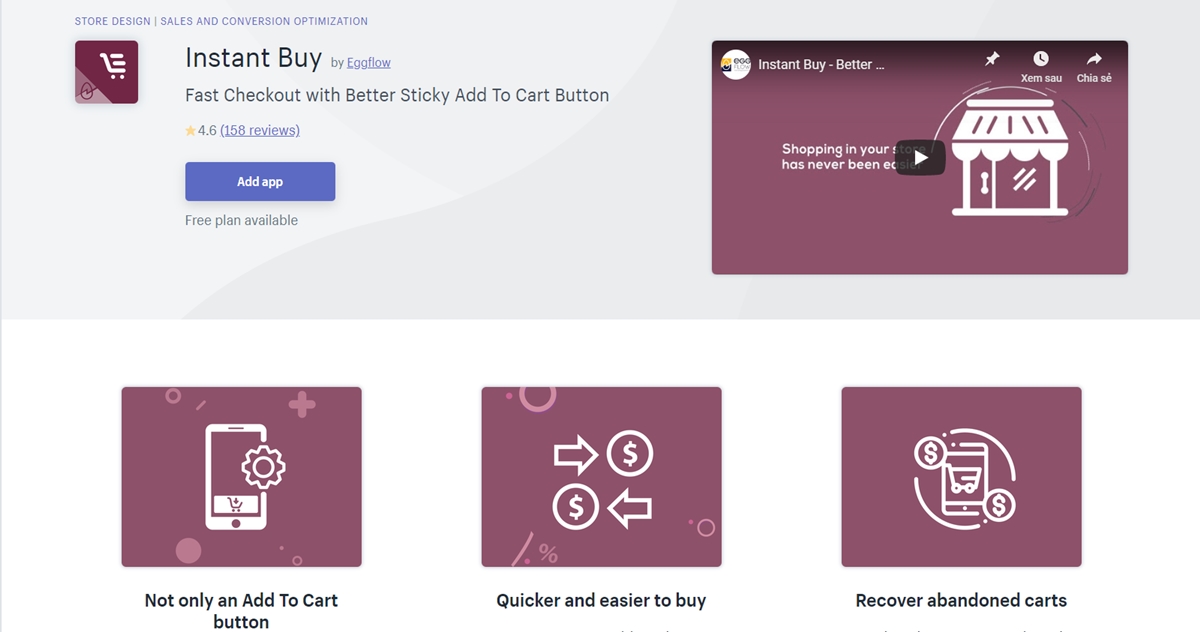 Price: Free Plan or $9/month
Usage: Create a sticky "Add to cart" button
Try making the "Buy button" always sticky on your store so your visitors are constantly reminded to make the purchase — which can boost your sales greatly since it is so convenient. Instant Buy is born for that.
8. SMS & Whatsapp Flow ConvertWay
Price: Free to install
Usage: Send Notifications
The app enables you to send automated Whatsapp Flow ConvertWay to your customers for their abandoned shopping carts alongside follow-ups on the same at different time intervals.
You can use the app for marketing via WhatsApp and SMS also. This allows you to send custom notifications in order to thank customers for their successful purchases, promote new products, and offer discounts on your stores. The Notification template is fully customizable as per your requirements.
9. Voyager Upsell - Upsell in category app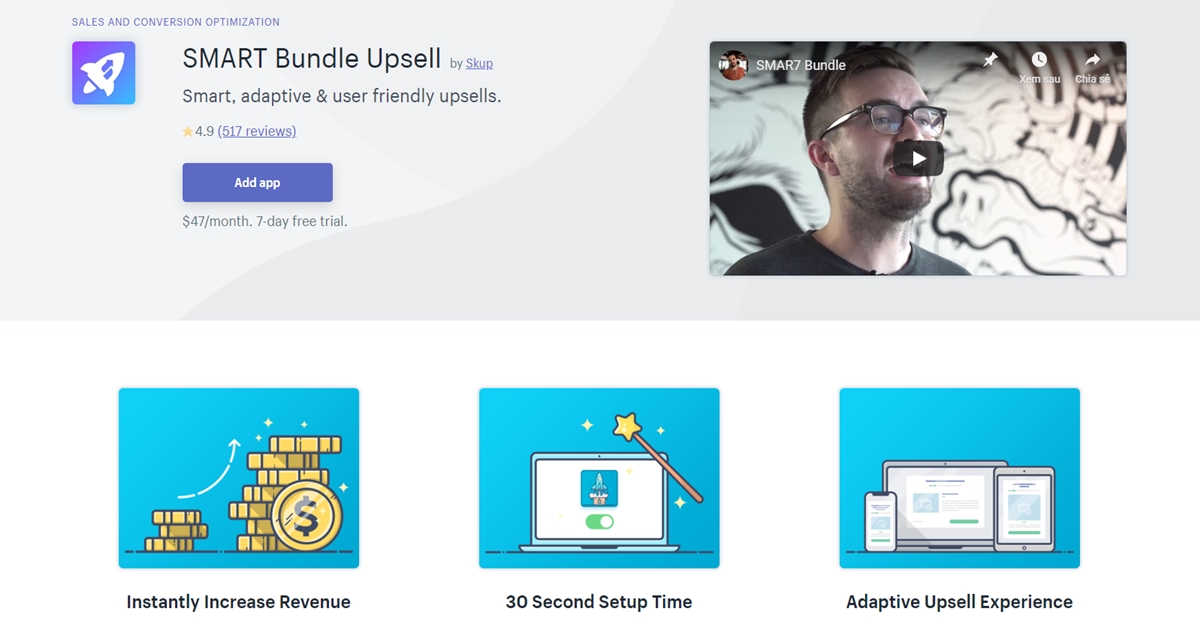 Free Trial: 7 Days
Price: $27/month
Usage: Adding upsells to your store
Voyager Upsell is an app that allows upselling similar or complementary products to your customers. What you have to do is to choose a category for your products, this will ensure that your customers are shown the items they want to see, which generates more sales!
10. PriSync - Dynamic pricing app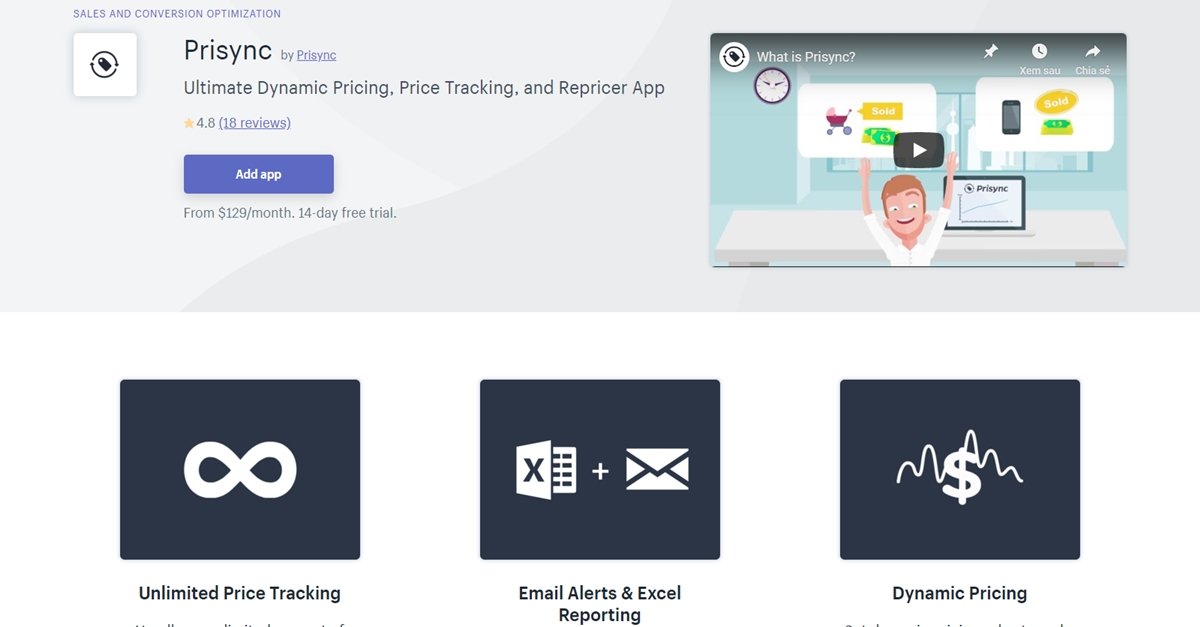 Free Trial: 14 Days
Price: $129/month
Usage: Dynamic pricing optimisation & price monitoring
Pricing is a big part of any eCommerce shopper's experience. Your price strategies can be affected by what your competitors are doing, too, with their own pricing tactics, discount, promotions.
Prisync's pricing software allows you to analyze competitors' prices and apply smart, dynamic pricing rules, so you can stay competitive, reasonable, profitable. This replaces giant spreadsheets and hours of manpower needed to keep up with the entire market.
11. Product Discount - Instant sales app

Free Trial: 30 days
Price: $14.99/month
Usage: Make daily deals and scheduled sale-off
Want to run daily deals or scheduled sale-off to charge up the number of sales you're getting? Product Discount is the app for you! It allows you to add daily deals, schedule sale-off to run on a certain date and time, with some other types of deals (like Buy One Get One Free).
12. Pre-Order Manager - Manage order pre-restock app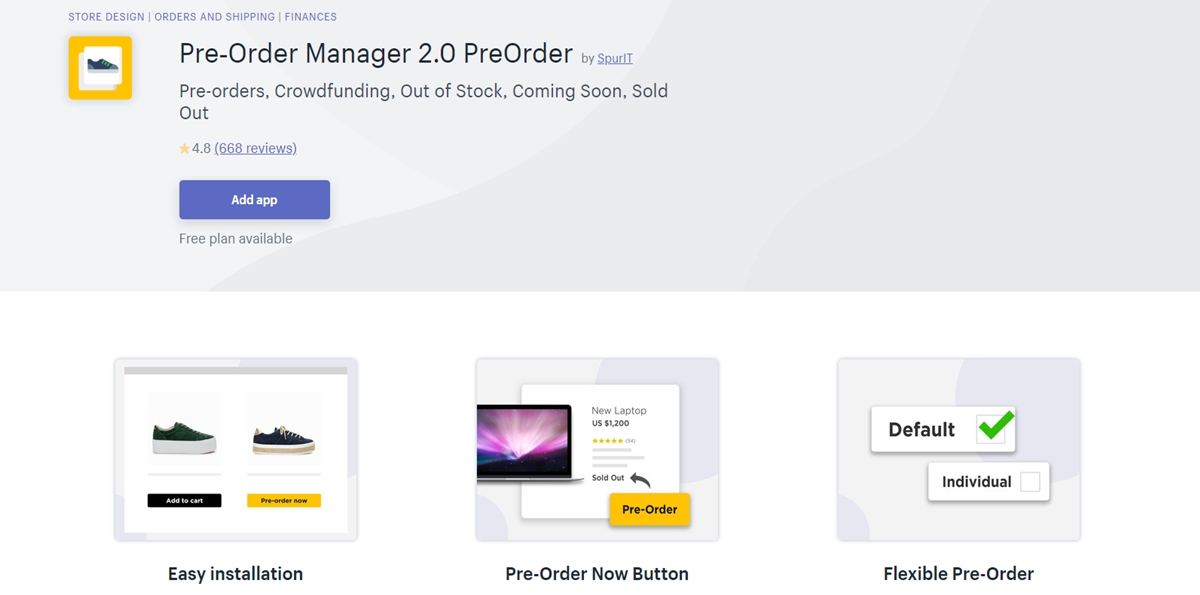 Price: plans start from $200/month
Usage: Manage pre-orders
Stop losing customers just because your products are out-of-stock. With Pre-Order Manager, customers can pre-order the item, so you're still collecting revenue even while you're restocking.
13. Boost Sales by Beeketing - Cross sell bundle app
Free Trial: 15 Days
Price: $30/month
Usage: Adding upsells and cross-sells to your store
Boost Sales by Beeketing automatically pick appropriate products and recommend to your customers to increase your sales for you.
It allows you to cross-sell an entire bundle of products by showing popups to your visitors if they view products in a certain group. It also has the "Last Step Upsell" option by suggesting more items for your customers before they do the checkout.
14. PushOwl - Push notifications app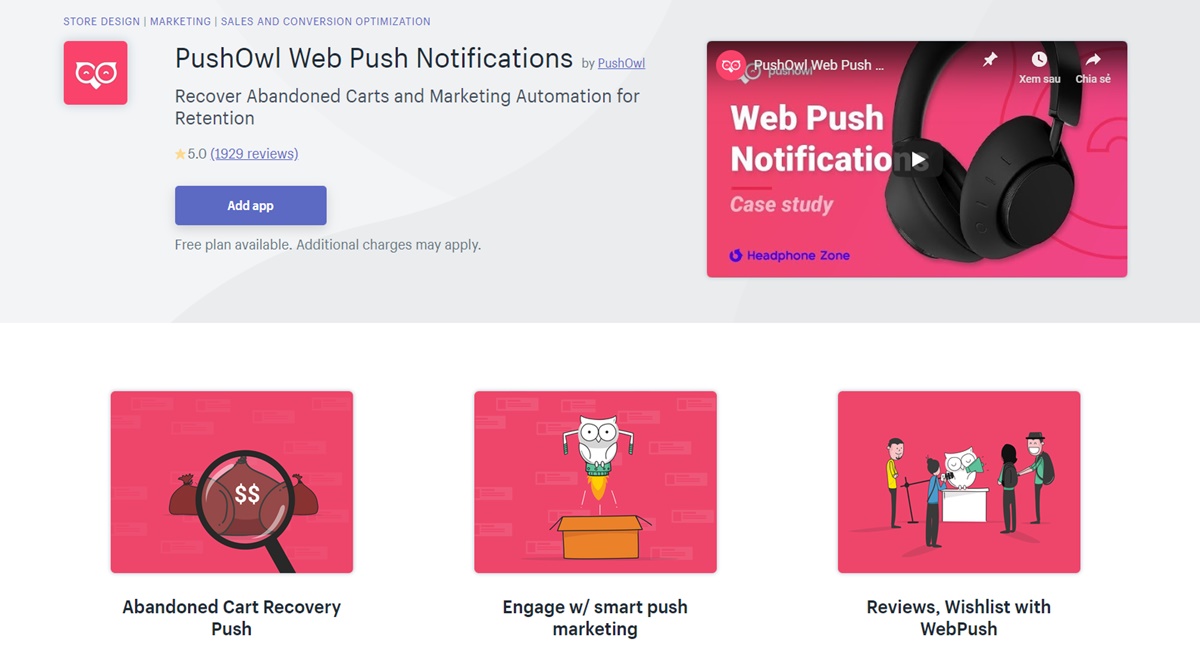 Free Trial: Till 1000 impressions per month
Price: $19 – $99/month
Best Used For: Push notifications.
Is email marketing not working for you? Is messenger marketing not working for you?
Fear not. There's still push notifications. And PushOwl allows you to send automated notifications to your customers – which can be abandoned carts, discounts, or items back-in-stock.
15. Shopney - Mobile app builder
Free Trial: 30 days Price: $99/month Usage: building native IOS & Android mobile apps for Shopify stores
Shopney is a solution for your two main pain points:
-Increasing the mobile conversion rates up to 5X (where +80% of customer traffic comes from) -Decreasing the marketing ad spend up to 45% (the biggest expense of most merchants)
It helps to solve these problems by turning your Shopify store into a mobile app with an easy drag & drop editor.
With Shopney, you can choose the most fitting theme among 8 different layout options to make sure your products look appealing. You can put live chat on your store to personalize your customers' shopping journey. And you can offer fast check-out to decrease abandoned cart rates. Also, it allows sending limitless free push notifications to decrease ad spending.
With all these features, you can provide the best mobile experience with your customers, and increase your mobile conversion rates.
Must-have Shopify apps for Administration and Management
An effective, functional system can help you cope with all the increased sales and new orders you'll be getting. So these are some apps that can help your operation process a lot easier.
16. Veeqo - Omnichannel management app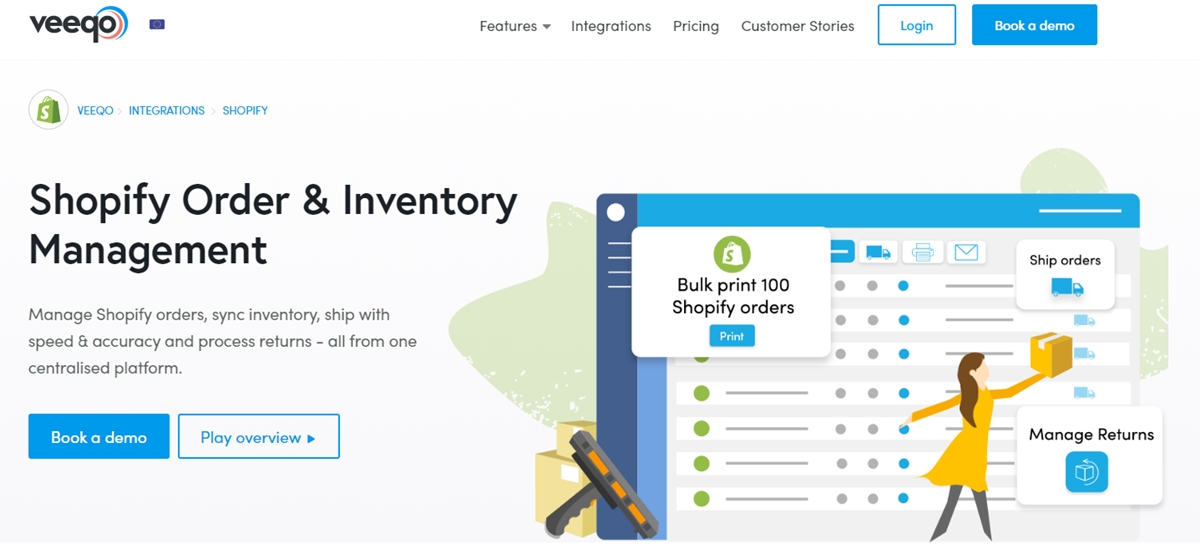 Price: Starting from $200/month
Usage: Automating operations across channels
Veeqo helps omnichannel retailers automate their entire system. Manage orders, inventory sync, ship to customers all across multiple sales channels in real-time. You can also view detailed reports and take tight warehouse control – all from a single, easy-to-use platform.
17. AfterShip Returns Center - Return process app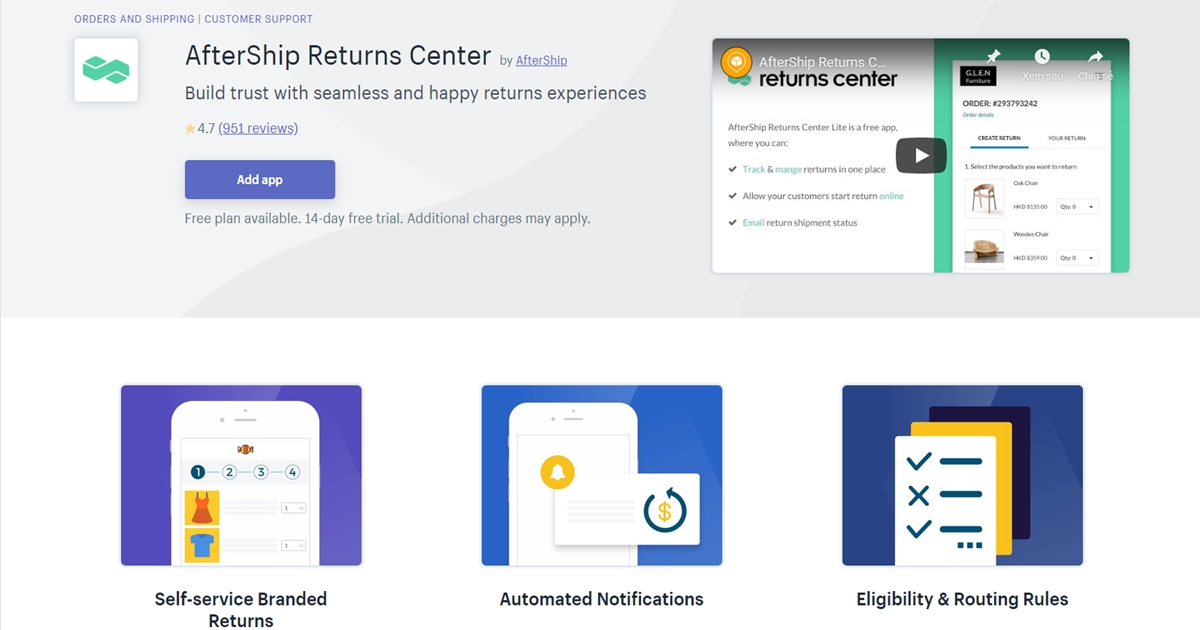 Price: Free for 5 returns per month. Paid plans start at $9 per month.
Usage: Managing product return
Sometimes, your customers want to return a product, but it can be hard to manage the process. AfterShip makes managing product returns easier for both sides.
This gives you a branded returns center that lets customers submit returns in a couple of clicks. Then, it'll automatically inform them of the status of their returns and any refunds.
18. Back in Stock - Best Shopify Restock automatic notification app
Price: $19 per month, with plans up to $79 per month
Usage: Automatic send notification to customer for restock
Sold out of your best products? With Back in Stock, you won't need to lose sales. This app is in the list of best Shopify apps, which lets your customers sign up to be notified when the product they want is back in your store. Then they get an automatic email notification.
This app also helps you understand which products are most popular so you can manage your stock levels. You can also customize many aspects of the app to meet your needs.
Must-have Shopify apps for Review
Whether it is from an authority or another customer, good reviews tell potential customers that many other people have liked it.
Generating good reviews isn't as difficult as it seems. There are many apps on the Shopify App Store that can help you generate reviews automatically.
19. Proofo - Social Proof app
Price: Free plan available. 14-day free trial
Usage: Todays, customers tend to rely on reviews and feedback from previous buyers when they go shopping. Using AVADA Proofo app, you can level up your conversion rate and build customer engagement with your brand through stunning reviews and trustful statistics. Moreover, real-time purchase and sales notification popups will lead customers to the feeling of missing out on your product, which encourages them to buy that product without hesitation.
There are wonderful features for you to explore!
20. Bizzy - Social Proof app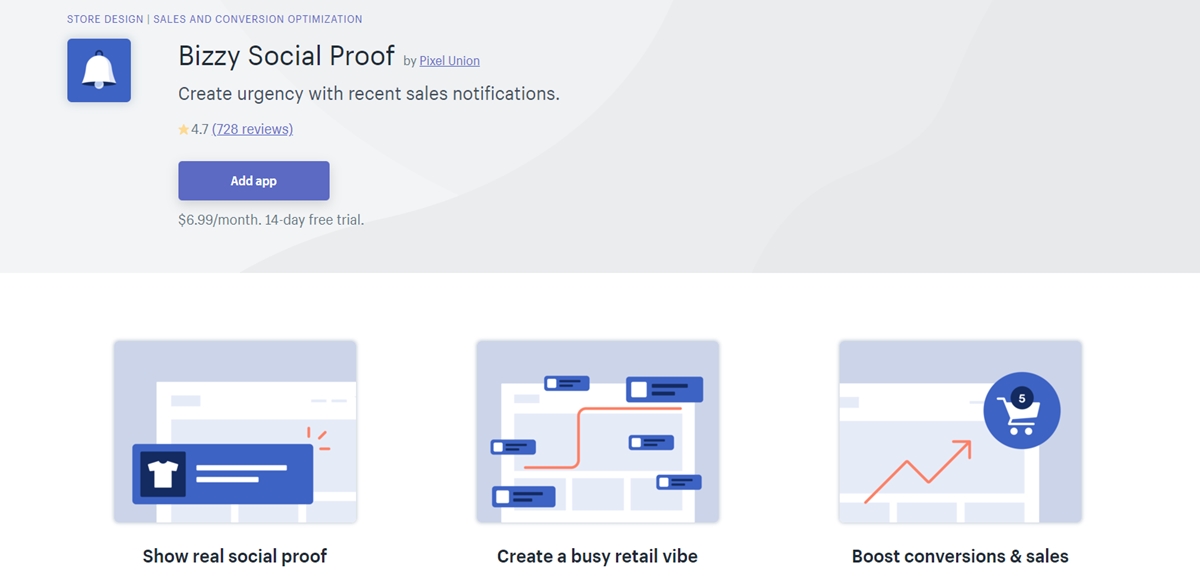 Free Trial: 14 days
Price: $6.99/month
Usage: Create a busy retail look
You can create social proof by showing potential customers with recent sales notifications from other customers. Using Bizzy, you replicate the feeling of an extremely popular brick-and-mortar store by showing on-site customers who have been recently purchasing.
21. Trust Hero - Trust badges app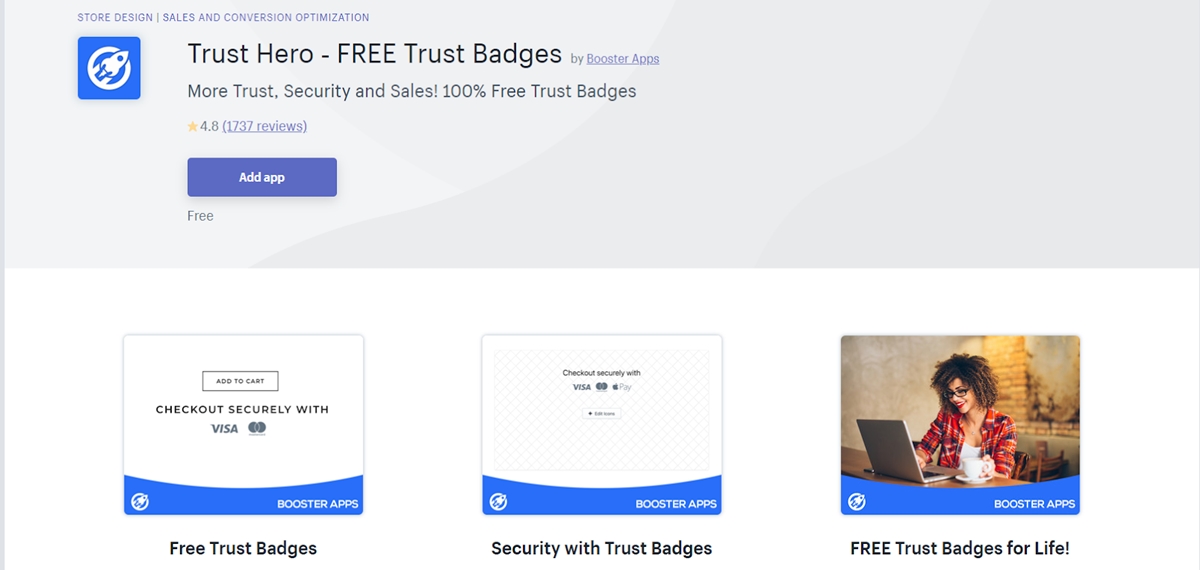 Free Trial: Forever
Price: Free
Usage: Displaying trust icons
Adding trust badges can greatly help in improving conversion rates on your website. Trust badges actually can help with a 107% increase in sales.
If you want that kind of results for your store, definitely add Trust Hero. Trust Hero makes it easy for you to set up different icons on the pages.
22. Yotpo - #1 Reviews and rating collector app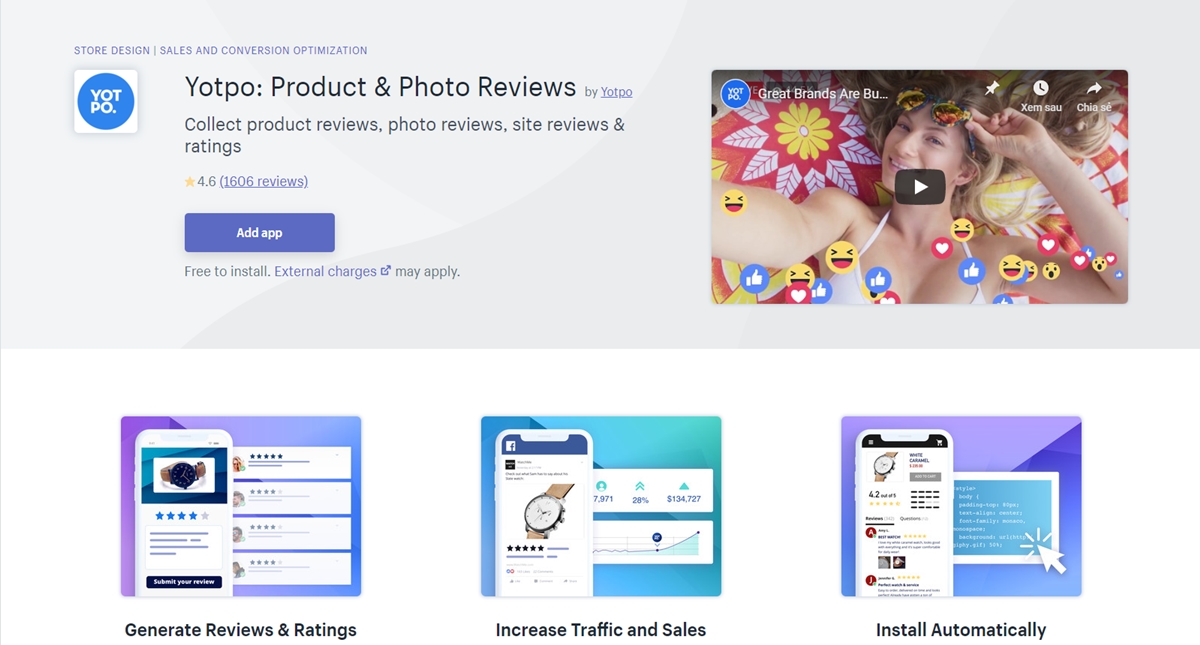 Free Trial: Until 200 orders per month
Price: $49/month onwards
Usage: Generating reviews
If you're trying to add more customer reviews on your site, try Yotpo. It is the #1 app on the Shopify store that helps you build trust, increase conversion, and drive traffic.
23. Growave - Reviews, Loyalty, Wishlist, UGC, and more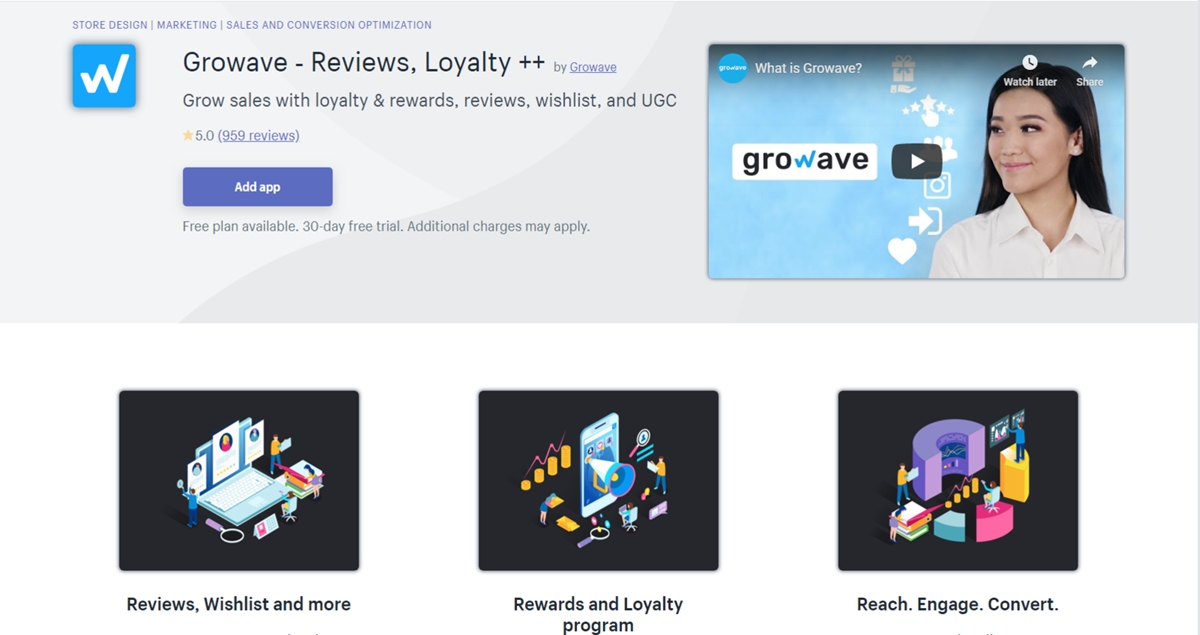 Free Trial: Free Plan available or 30-day on any paid plan
Price: Free, or up to $299/month
Usage: Generate reviews, Loyalty & VIP programs.
Growave is the all-in-one marketing platform that helps Shopify brands reach their audience, engage users and increase conversions with ease. You get all products like Loyalty and Rewards, Reviews, Wishlists, Instagram and UGC, Automated emails, Social Login, and more for a great price.
Must-have Shopify apps for Social Media Marketing
There is none better way to get free traffic to your site than through social media. From Facebook, Instagram to Pinterest, various social networks allow you to display your best and most beautiful products online to engage with customers and make them click, view, or purchase.
Related Posts:
24. Messenger - Facebook livechat app

Free Trial: Forever
Price: Free
Usage: Facebook Messenger marketing
Messenger is an app developed by Shopify themselves to allow you to have real-time conversations with your customers as they look through your store.
This app even includes a "Shop Now" feature, so customers can immediately shop straight from Messenger without having to go to your actual store.
25. Recart - Facebook messenger app
Free Trial: 28 days
Price: Depend on the number of sales you make
Usage: Facebook Messenger marketing
Messenger is always a HUGE opportunity waiting for you to use and engage with customers.
Using Recart, you can build a Messenger marketing list, then send abandoned cart reminders, shipping notifications, follow-up messages order receipts after purchase, and sending unused coupon code reminders — all via Messenger.
26. InstaFeed - Instagram marketing app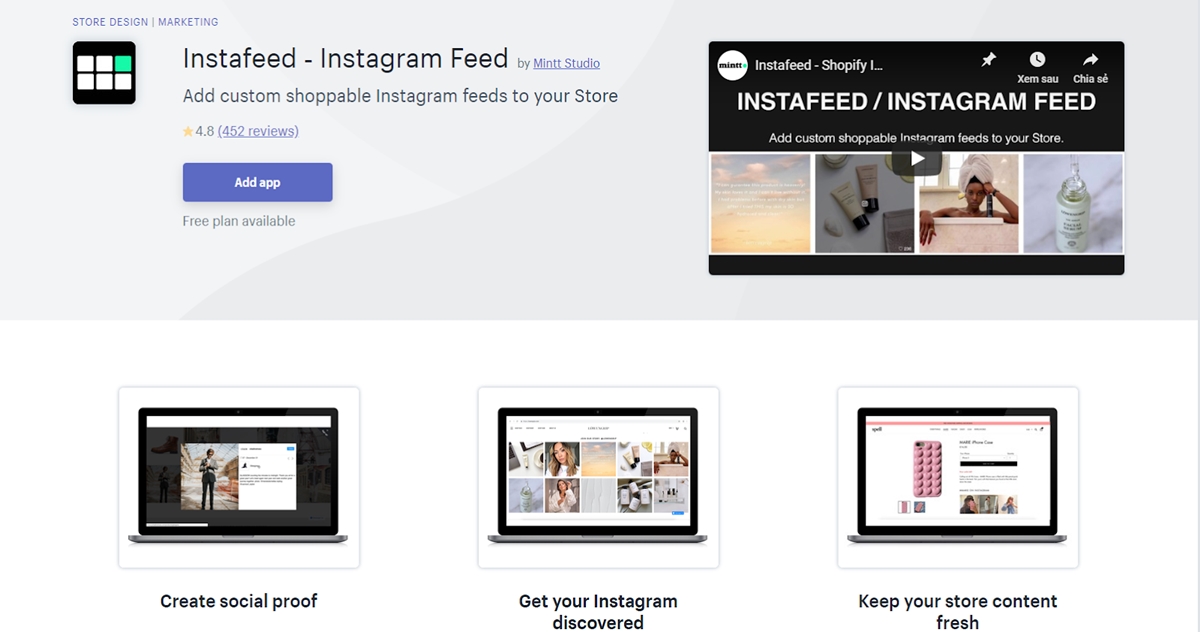 Free Trial: Free Plan available
Price: Free, or up to $9.99/month
Usage: Display custom Instagram feeds on the Shopify store
Social proof & word-of-mouth on social media can bring a lot of benefits to your store. Instafeed allows publishing custom Instagram feeds to your Shopify store and showcase your customers' user-generated content, or just use your own Instagram feed as a gallery.
27. Socialphotos - Showcase user's images app

Free Trial: Yes, 30 days
Price: $10 – $50/month
Usage: Cover user-generated contents
Your customers want to know more from other customers whether your product is good and worth the money.
This is where Socialphotos can help. It helps generate social proof for you by collecting and compiling your customers' product photos in real-time from popular social networks.
You will even receive a reminder after someone's purchase to upload a photo of them using it so that it can contribute more to your feed of satisfied customer images.
28. Snapppt - Shop from Instagram feed app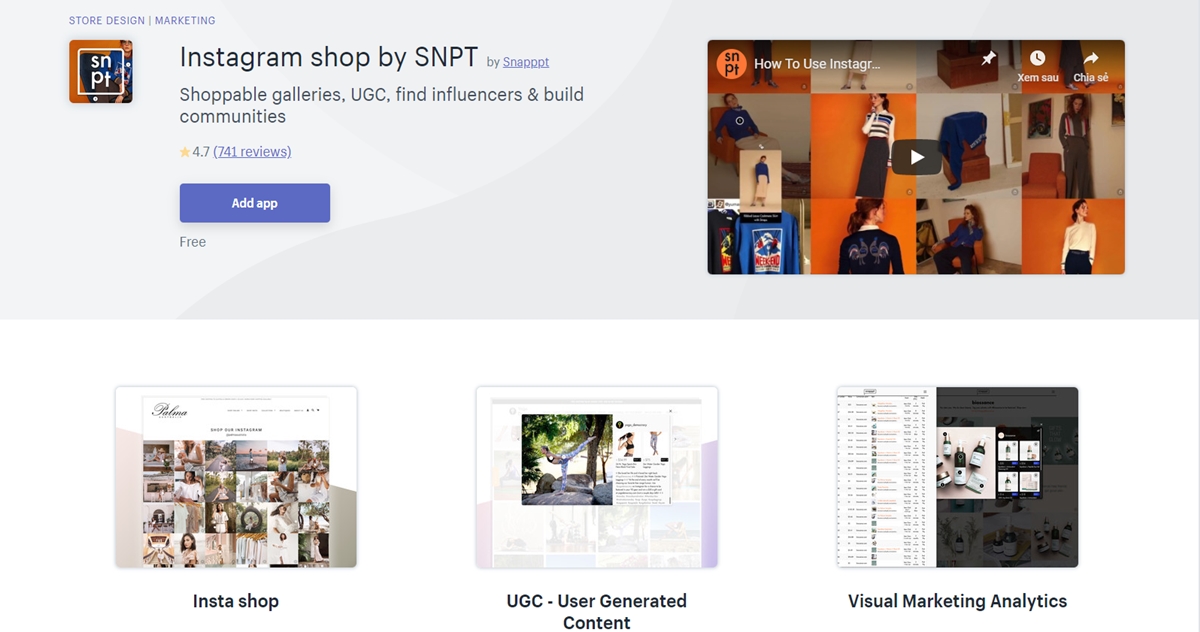 Free Trial: Forever
Price: Free
Usage: Instagram marketing
In fact, 65% of Instagram users use their Instagram feed to discover new brands and look for inspiration.
But after they have seen what they want on a brand's page, they can't click to buy directly. They'll have to visit the store on a browser, then scroll through all the products and then click on the one they want to buy.
Using Snapppt turns your Instagram feed into a shoppable store. How?
It turns your Instagram bio link into an interactive shoppable feed where your users can purchase the products featured on your Instagram.
Must-have Shopify apps for Email Marketing
Simply said, email marketing is worth it. And if you're not putting in effort and resources to grow your email list and send them regular emails, you're surely missing out on a very potential channel.
Luckily, there are plenty of apps in the Shopify App Store that can make email marketing a breeze for you.
29. Omnisend - Email marketing app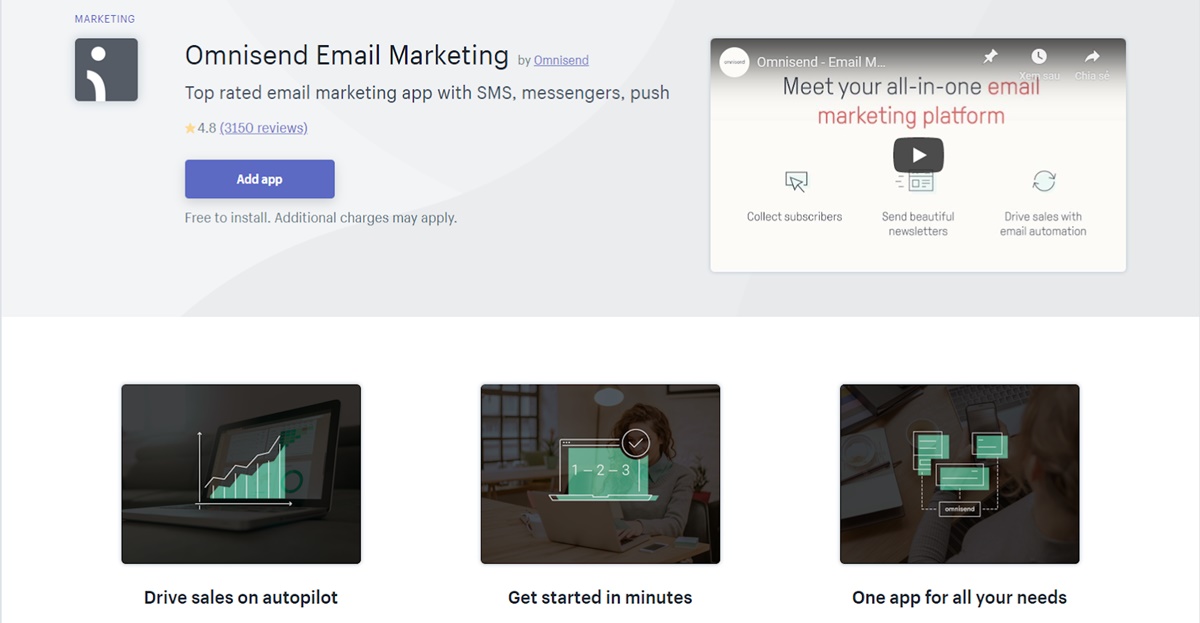 Free Trial:15 days (plus a free basic plan)
Price: Variable based on subscriber list; Standard plan starts at $10/month with 1000 subscribers
Usage: Omnichannel marketing automation, multichannel automated workflow
Omnisend's powerful all-in-one omnichannel solution allows you to create complex automated marketing workflows by integrating a bunch of channels: Facebook Messenger, Facebook and Google retargeting ads, WhatsApp, web push notifications, SMS, and more.
Combining Omnisend with smart segmentation for ultra-precise targeting, you can be sure that your message will always be relevant no matter which customer you're engaging with.
Email campaign creation is also a piece of cake with Omnisend, which employs a simple drag-and-drop email builder to customize each aspect of your campaigns without HTML knowledge.
if you are sales-focused and looking for something better than simplified email newsletters, Omnisend is definitely worth a look.
30. Sumo - Easy email marketing app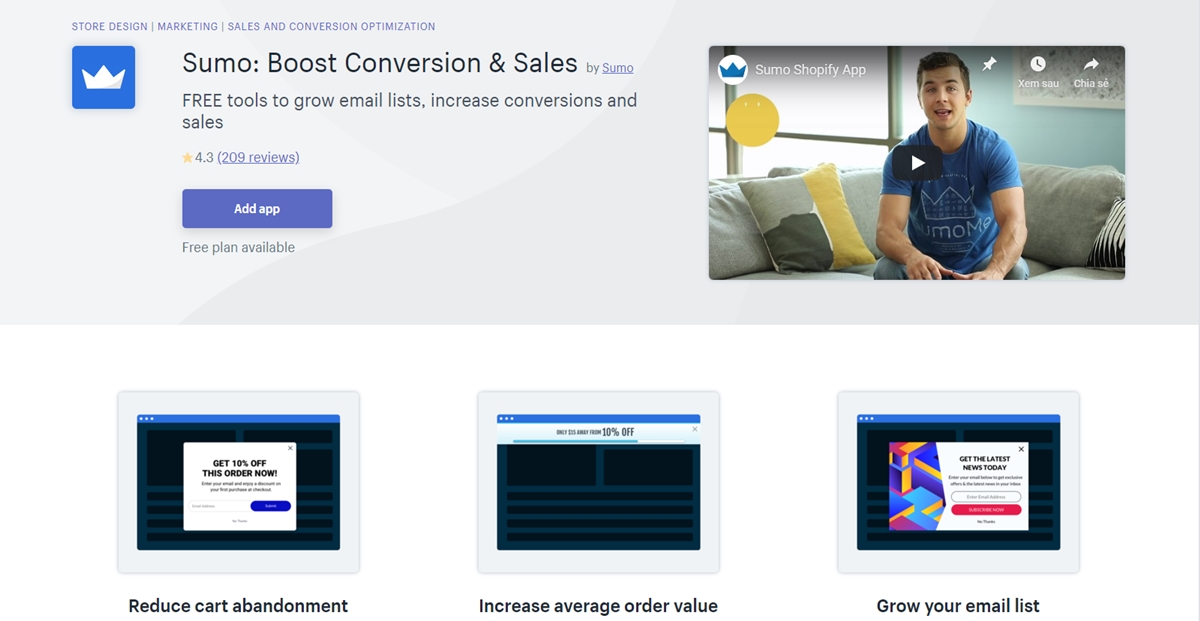 Free Trial: 14 days for Ecommerce Plan
Price: Free – $79/month
Usage: Grow email list, increase average order value, reduce cart abandonment, and more.
Small Shopify business owners are usually struggling to know exactly what and how to market and grow their stores.
In order to solve that, Sumo developed a solution that allows you to use proven sales and marketing strategies in less than a few minutes: Sumo Shortcuts.
In the pack, Sumo has the Reduce Cart Abandonment Shortcut, Increase Average Order Value Shortcut, Grow Email List Shortcut.
With Shortcuts, Sumo provides you an easy way to turn your visitors into eCommerce customers.
31. OptiMonk - Email and Pop-up app

Price: Free option, $29/month essential, and up to $199/month
Usage: Email marketing
OptiMonk offers all sorts of popups and retargeting options that anyone can use to capture leaving visitors with emails popup.
OptiMonk also can be integrated with Facebook Messenger, allowing you to build a new channel of potential customers.
32. OptinMonster - Collect email data app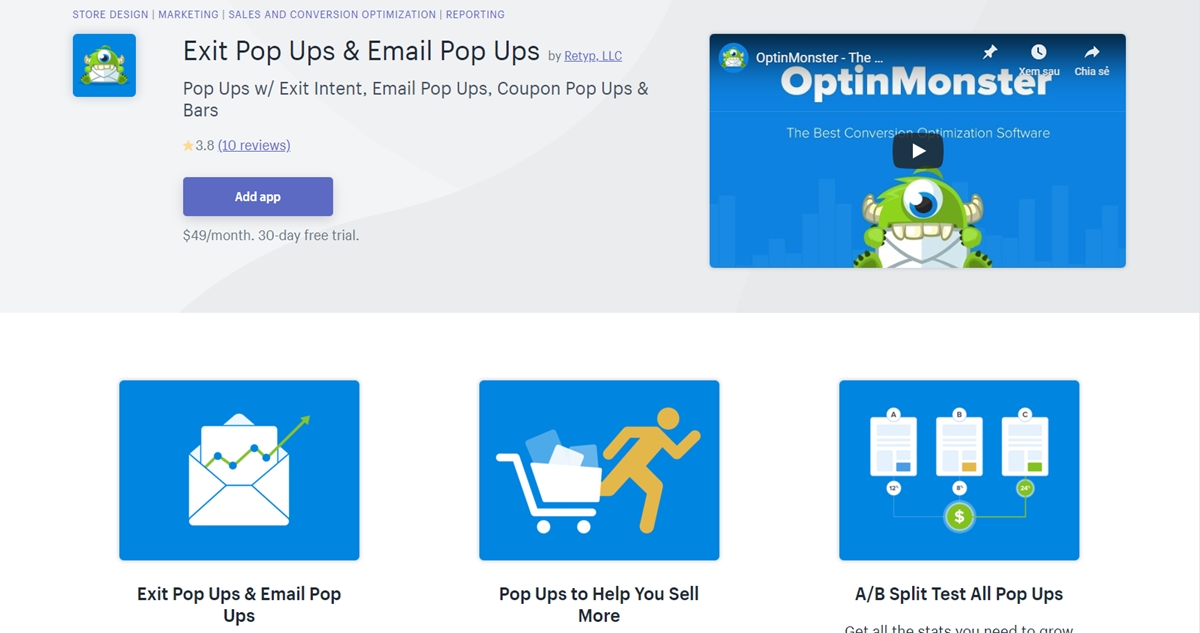 Free Trial: No
Price: $49/month
Usage: Email list building
Originally popular due to its Exit-Intent technology, OptinMonster has decided to enter the eCommerce game as well.
It has some similar features to Sumo, offering pop-ups, welcome mats, scroll boxes, inline forms, floating bars, and so on.
Another cool thing about OptinMonster is that it allows you to display pop-ups based on custom display rules targeted to your Shopify products, pages, collections, tags, articles.
This allows all sorts of flexibility when it comes to converting users – a huge advantage that should get your store going strong.
33. Mailbot by Beeketing - Automated newsletter app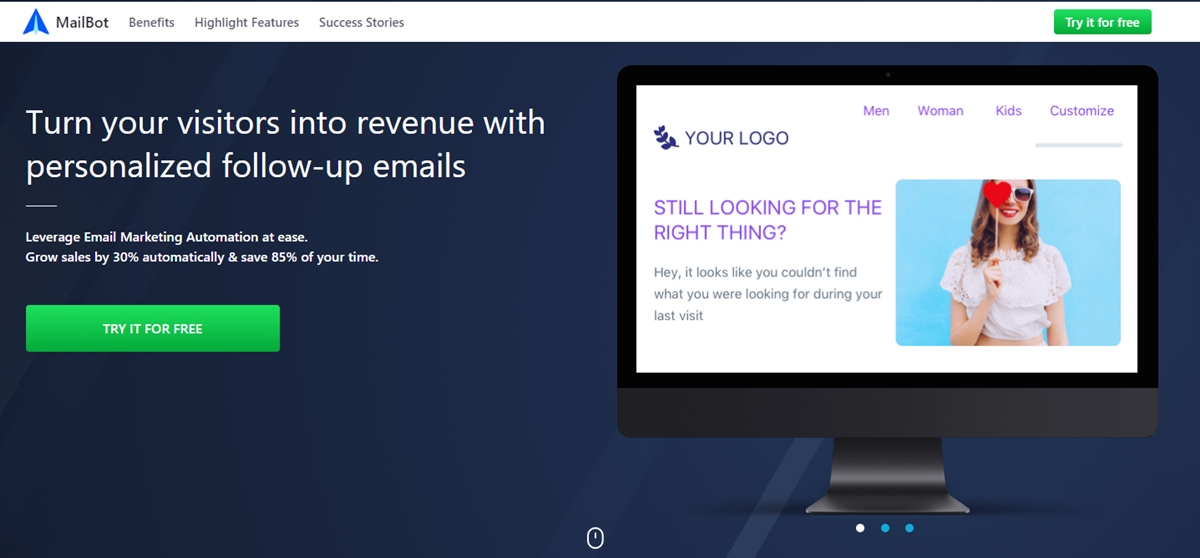 Free Trial: 15 days
Price: $29/month
Usage: Automated newsletter drafting & scheduling
Mailbot is a virtual email marketing assistant who does everything you need with regard to email marketing while still focus on generating traffic and managing your inventory.
Using advanced customer segmentation and personalized follow-up emails, Mailbot can help you boost significant sales.
Must-have Shopify apps for Referral Marketing
83% of satisfied customers are willing to refer to products or services, but only 29% actually do. This is mostly because sharing about your product takes time and effort.
Make it easier for them by using referral marketing, which encourages your customers to tell their friends about you.
This can be easily done by installing a referral app on your Shopify store.
34. Smile.io - Referral rewards app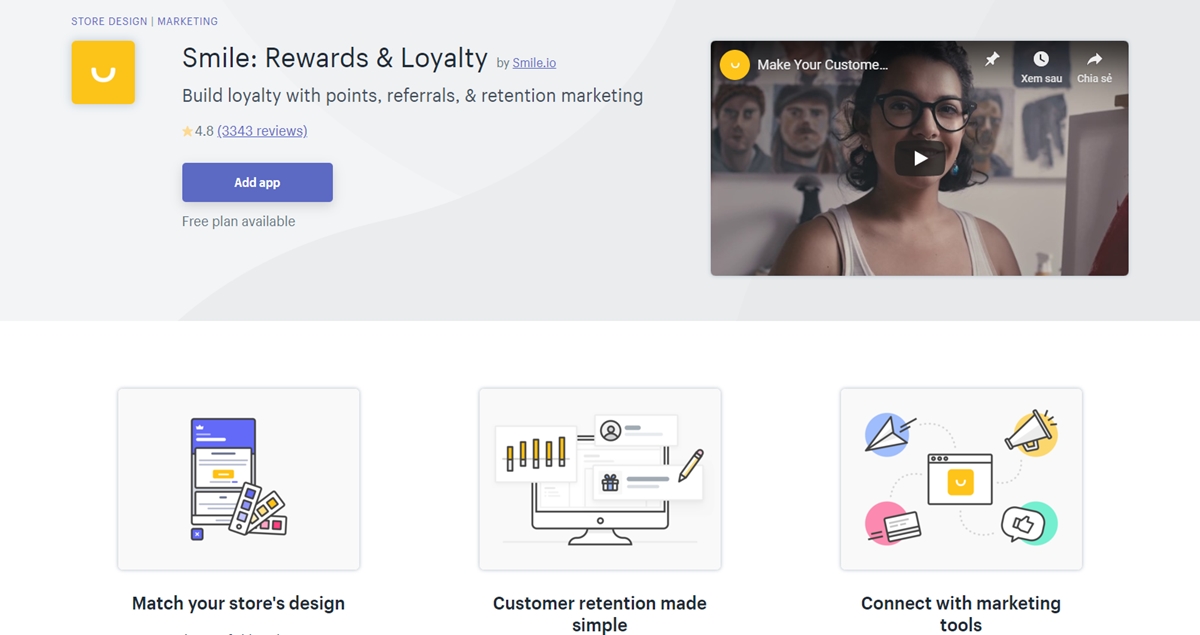 Free Trial: Up to 500 program members
Price: $59 – $599/month
Usage: Loyalty and VIP programs
Smile.io is often known for its loyalty and VIP programs. This allows you to set up and run your own rewards program quickly.
It is important to reward your customers – they will be more likely to return, more loyal, and of course, more likely to make repeat purchases.
35. ReferralCandy - Automatic rewards for referral app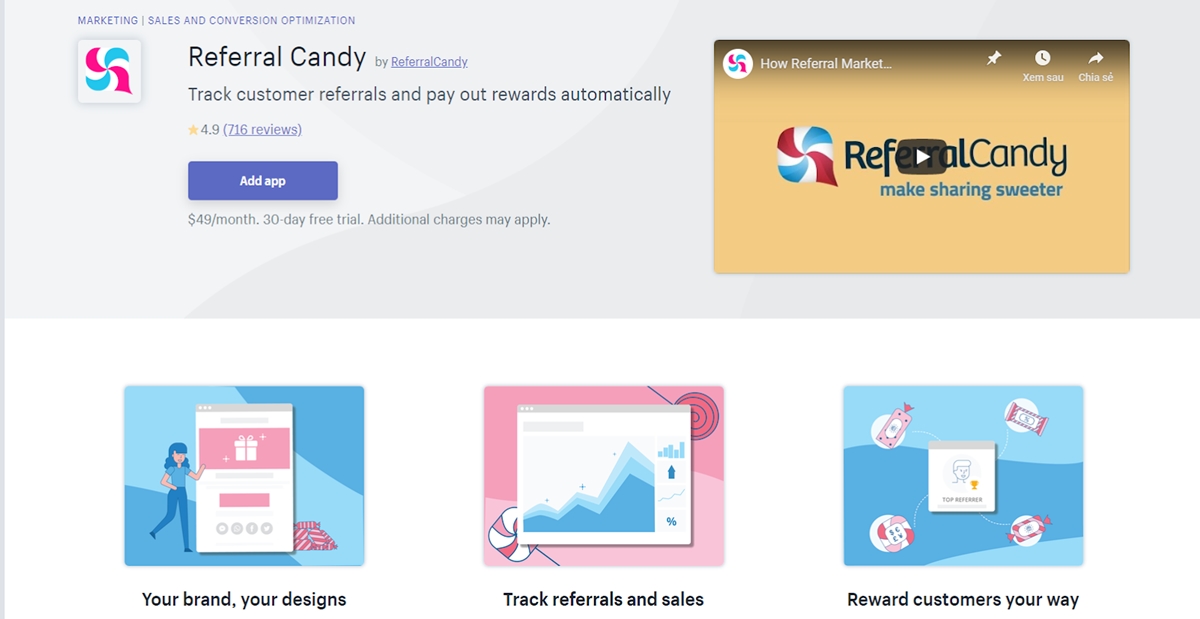 Free Trial: Yes, 30 Days
Price: $49/month
Usage: Referral marketing
Referralcandy lets you reward your customers for sharing your store. You can easily customize your rewards, which can encourage your best customers to spread the word - helping you get more customers at no extra charge!
ReferralCandy also works with other popular marketing tools like MailChimp, which leverages your email marketing to generate more referrals;
Recharge is perfect for subscription businesses, and AdRoll allows you to run retargeting campaigns to those friends of your customers that have seen referral offers but haven't bought yet.
Must-have Shopify apps for Customer Service
if you want to brand your store as a professional business, there is no doubt you need to step up your customer service.
This can be one of the most time-consuming tasks, so use these apps from the Shopify app store to help yourself.
36. One-Click Social Login - Easy login app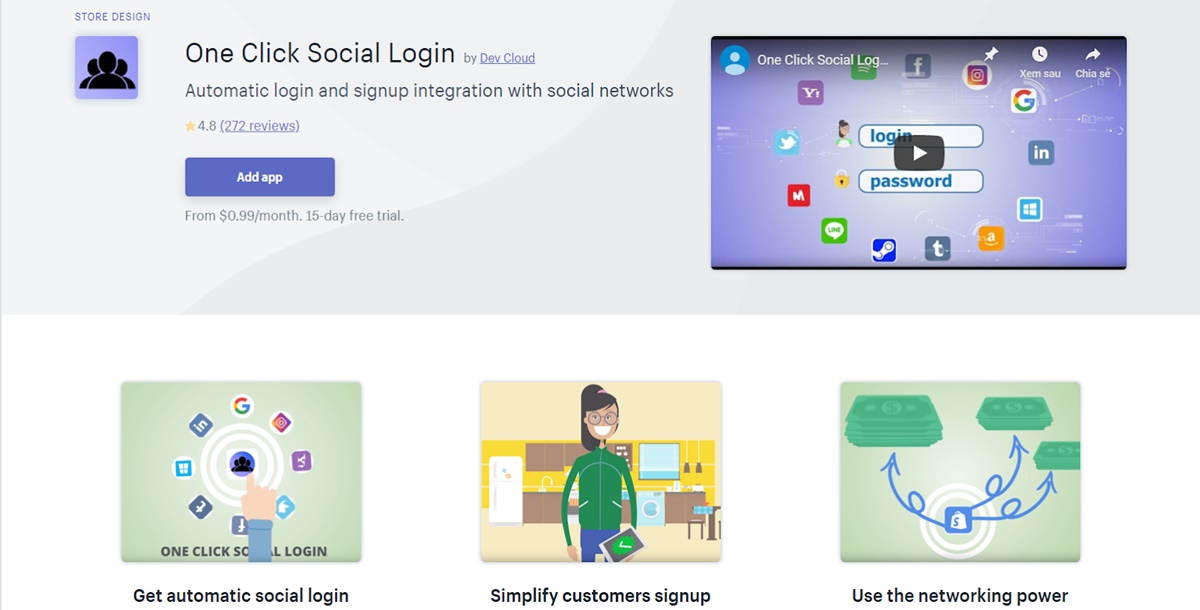 Price: Starts at $4.99 per month, can upgrade to see customers' social profiles and additional customizations.
Usage: easy social login
The easier it is for customers to create accounts, the sooner you can offer them the right products and make more sales.
With One Click Social Login, your customers can create accounts on your Shopify store by logging in with their existing social media credentials. Accounts supported include Facebook, Twitter, Pinterest, LinkedIn, Amazon, and more.
You will also have an easy admin panel so you can easily configure the simple settings.
37. Wishlist Plus - Wishlist management app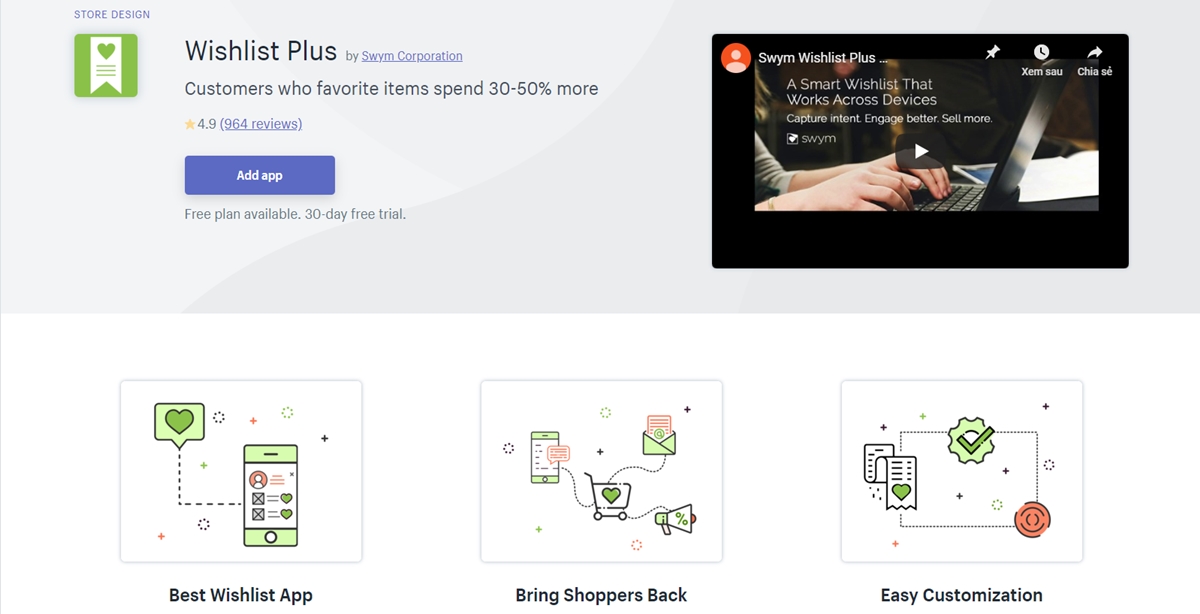 Price: Free for up to 100 items, plans range from $9.99 to $29.99 per month.
Usage: collect data about visitor's wished items.
Wishlists help you learn more about what your customers want to connect with them and make more sales. Wishlist Plus collects information about customer preferences, and they don't even have to be logged in.
Integrate this app with your Shopify store, and you can keep track of items and engagement within a dashboard.
For customers, Wishlist Plus is an easy-to-use way to store their desired purchases and even share those with others.
Recommended: Best Shopify Apps - Every Store Needs These (Explained)
How to get Shopify apps
The process of getting a Shopify app for your store is pretty straightforward and easy to follow.
First, you should create a Shopify account (with a 14-day free trial]. Then head to the Shopify App Store.
After you've found an app that you like, just add it to your store. If you're installing an app from the Shopify App Store, then you can click Add an app on the app's listing page.

After you click Add an app, you need to authorize the app in your Shopify admin. You can see all the apps that you have installed from the Apps page in Shopify on Desktop and Mobiles.
To learn more about using the app, read official Shopify's guide here.
When do you need to get Shopify apps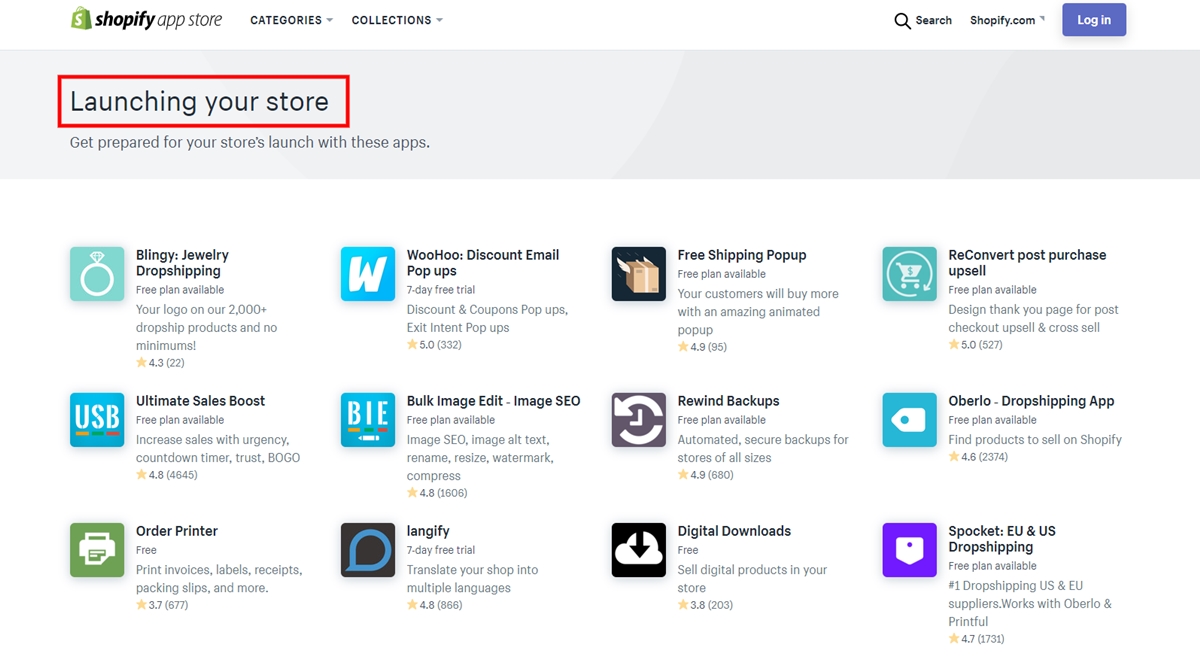 When you've invested a lot of effort into getting your business up and running, it's impatient to see your return on investment be natural. But there are so many potential ways to grow your business, and it's hard to know what kind of application and when to focus best using what kind of application.
In theory, there are five stages of eCommerce business growth. Let's see which apps should you use for each stage.
Stage 1: The Planning Phase
At this stage, you are determining goals for your business and planning for what prepared to go to take to accomplish them. In this phase, you will make projections about how much cost is it to launch your product(s) and how long it is before the business is profitable.
So you haven't really needed an app at this stage but to research. Oberlo still can be a good choice to see the price your competitors are offering. Now you should list out the apps you must have on your Shopify store and review the price on Shopify Store Apps to buy correctly.
Apps needed: Research on market and competitors.
Suggestion: Oberlo, since it is free at first.
Stage 2: The Proof of Concept Phase
Your main goal in this stage of the product business life cycle is not profitability, but rather to determine if your assumptions about product viability and profitability are correct - before you invest too much time and money.
You can try a small test run of products, run an online marketing campaign to collect emails and gauge interest, or develop a prototype of your product. If it's a brand new concept, you might even run a crowdfunding campaign.
Apps needed: Marketing for test selling, Gathering data.
Suggestion: Sumo, Personalized Recommendations, Snappt
Stage 3: The Launch Phase
During the launch phase of the product business life cycle, you mass-produce your products for the first time and do everything possible to sell products through different channels. Now you should have a good idea of your profit target, price, and revenue. Although you should have a marketing plan in place, you will still learn about the best marketing and selling your products.
Apps needed: General marketing, Discount, Data management, Customer service.
Suggestion: This phase requires a large amount of popularity, so you can go wild and try as many apps as you like.
Stage 4: The Growth Phase
In this 4th phase of the product business life cycle, you are beginning to systematize your business. You understand which repetitive actions bring the highest value to your bottom line, and you are formalizing business procedures, which allows you to assign key employee responsibilities confidently.
You will see natural growth since you add more efficiencies to the business and grow your sales volume through your channels. You may even consider adding additional channels into the mix.
Apps needed: Marketing, Data management, Customer service.
Suggestion: Through stage 4th, you now have a system that works well with your business, so choose which apps you had a good experience with.
I suggest apps with great customer service for the long run like Oberlo, OptinMonster, Referral Candy.
Stage 5: The Diversification Phase
During the diversification phase of the product business life cycle, having a degree of stability in your core business helps you focus on longer time horizons. You are liberated from day-to-day operations, which are currently highly automated and supervised by qualified managers.
Now, you have an established brand that can act as a platform for moving into new product categories, focusing on new markets, or evolving your business model.
If your plan is ambitious, you can consider investing in private equity in return for a cooperative stake in the business to help fund growth. You may also consider selling the business entirely or acquiring an additional business.
Apps needed: Marketing, Products management, Customer interaction.
Suggestion: You made it big, so play big! Explore new opportunities and don't worry so much about apps, since someone else can do it for you!
Final words
Shopify apps are a reason why so many businesses choose the platform. They are easy to use, suitable for many needs, and can scale when your online store grows bigger and bigger.
So don't hesitate and try things out, since these apps usually have a free-trial period for you to test and play. With 31+ must-have Shopify apps in these articles and 3000+ apps on the store, you have a vast horizon to aim for.
That's all, leave Avada comments below if you have any questions now and best of luck to your online business with Shopify.
New Posts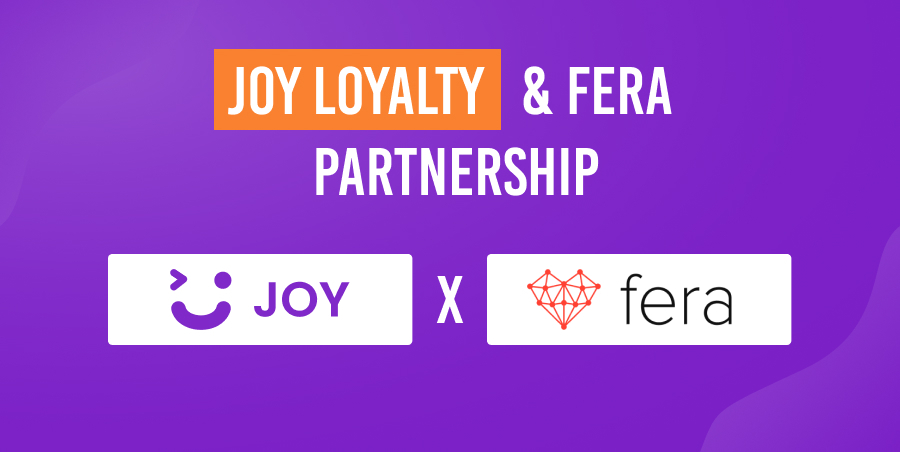 Subscribe
Stay in the know
Get special offers on the latest news from AVADA.
40k
subscribers has been joined!
Earn $10 in reward now!