Shopify Facebook Marketing: How to Market your Business with Facebook
Up to the present Facebook has had around 2 billion active users around the world. That is about six times the population of the United States, almost 30% of the world population. Ever since they acquired Instagram, Facebook have easily become one of if not the biggest social media platform in the world.
It is not only the sheer number of users, but the amount of attention Facebook owns; one hour a day is the amount of time the average user spends on Facebook.
Let's dive into how you can make full use of this massive attention to grow your business, and join 70 million companies worldwide who already market via Facebook.
To get started with Facebook marketing, you're going to need a Facebook Page; this is the gateway to the world of Facebook.
1. Set up a Facebook page to start marketing campaign
1.1. Create a Facebook Page
The majority of Facebook is personal profiles, but for businesses, they need Facebook Pages. If your business is to establish a presence on this social media, you're going to need a page too. Your page is going to be who you are on Facebook; it's your business profile. You connect with your friends by adding them as a friend, but you become a fan by liking the Page.
To create your Facebook Page -
In this example, let's create a page for a fictitious local business named Alaska Organic Veggies and categorize it as a retail company.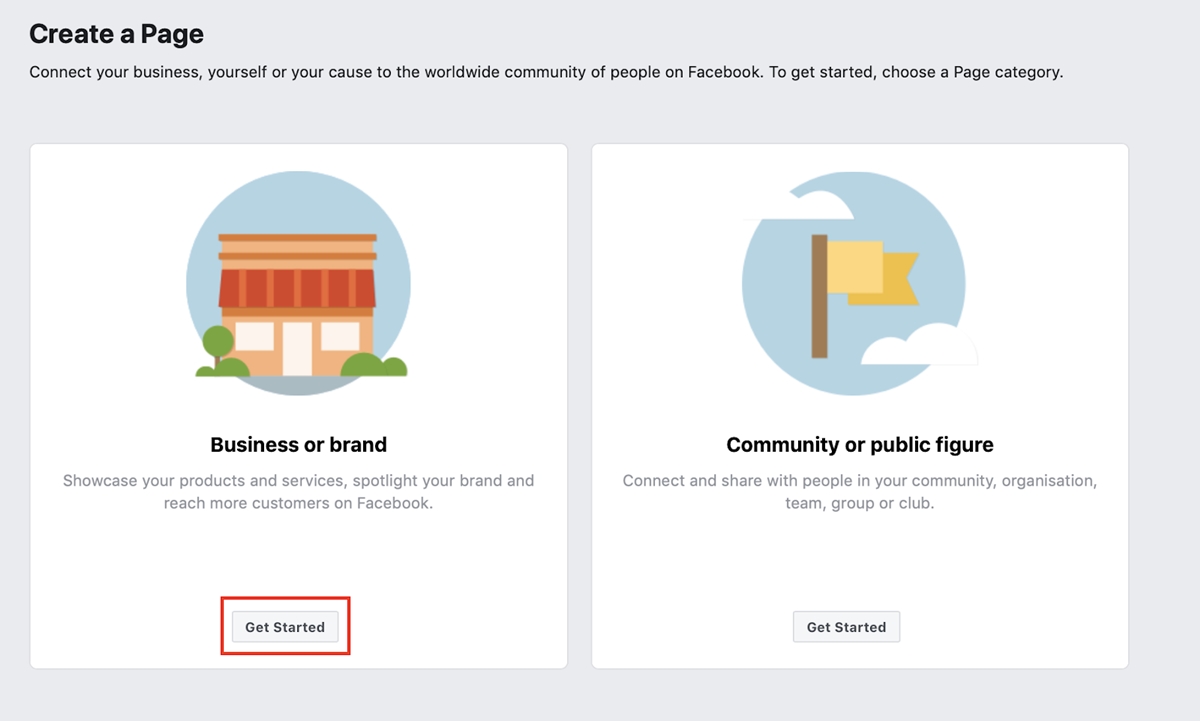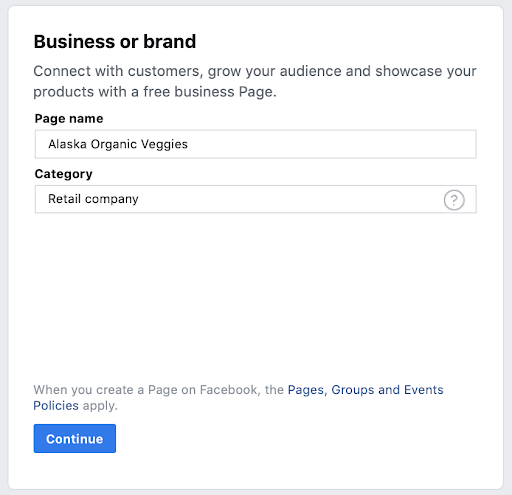 In the Category section, simply input "R" and choose from the drop-down list.
I recommend that you should take the time and choose a name for your page carefully. Though Facebook will let you change your name and URL, that will be a difficult and time-consuming process.
After you're done filling out the blank, click on Continue.
Step 3: upload your profile and cover pictures.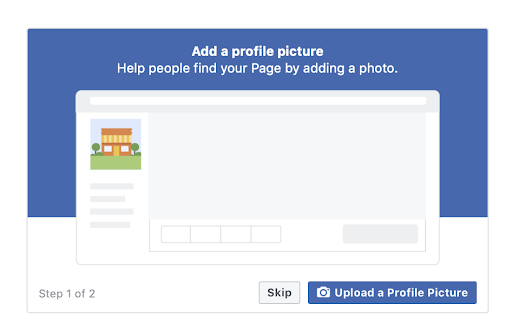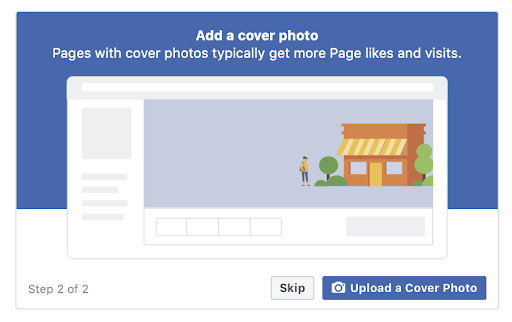 And there you go, you've just successfully created a Page.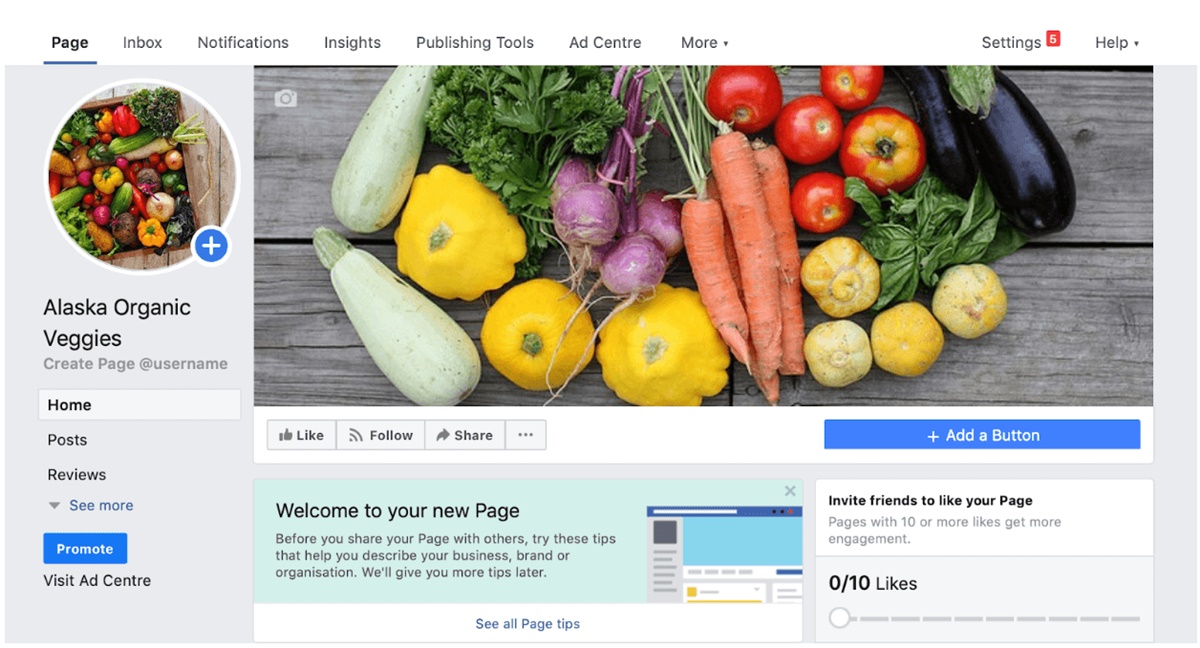 1.2. Add a description and other details
After adding some beautiful imagery to let your customers know what you're about. Next, you'll need a narrative to make that even more transparent.
Step 1: go to the About section.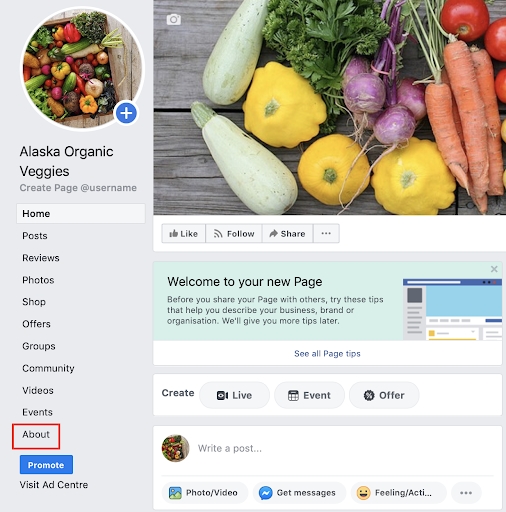 Step 2: Tell people about your business in the Our Story section.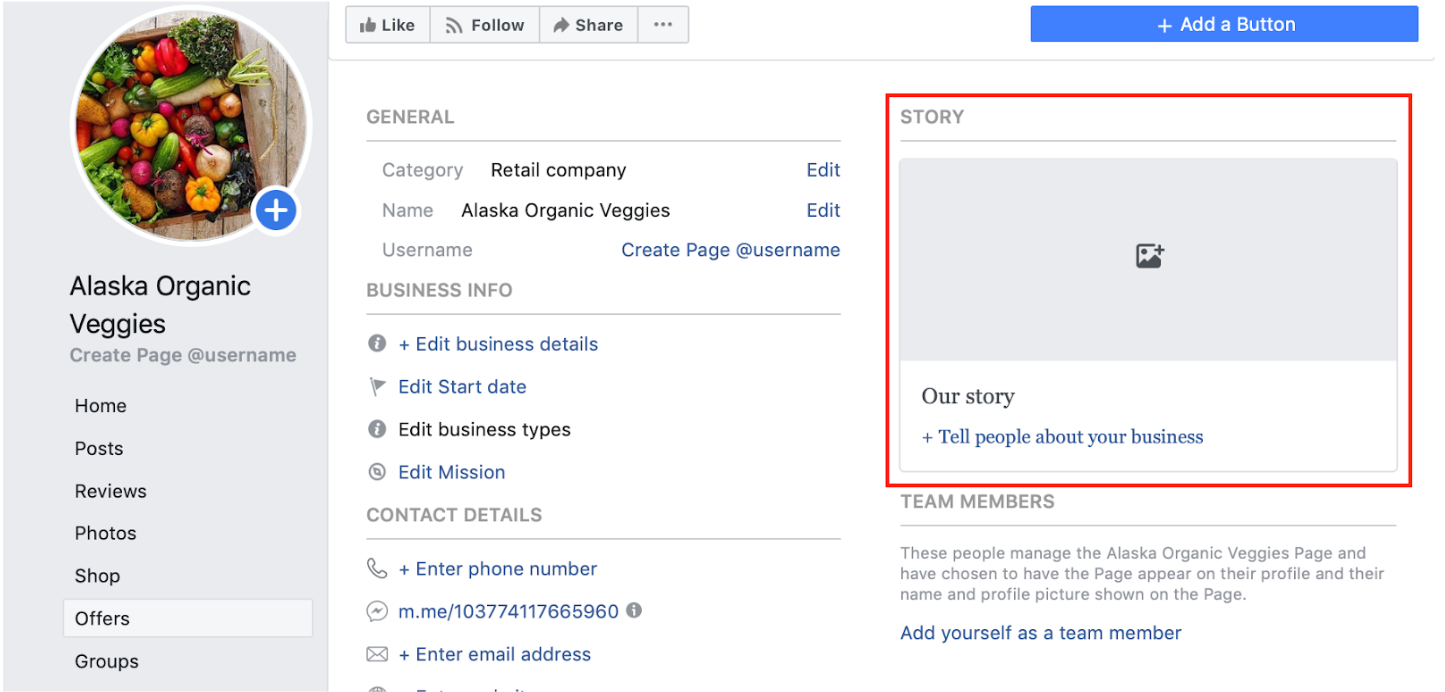 After that, you can move on to filling the other details on this page such as phone number, email, address, etc.
1.3. Create a username for your page
The final step is to create a username for your Page. Facebook provides a limit of 50 characters for you to come up with a username that is not being used by anyone else. Your username will display in your custom Facebook URL through which people can have access to your Fan Page.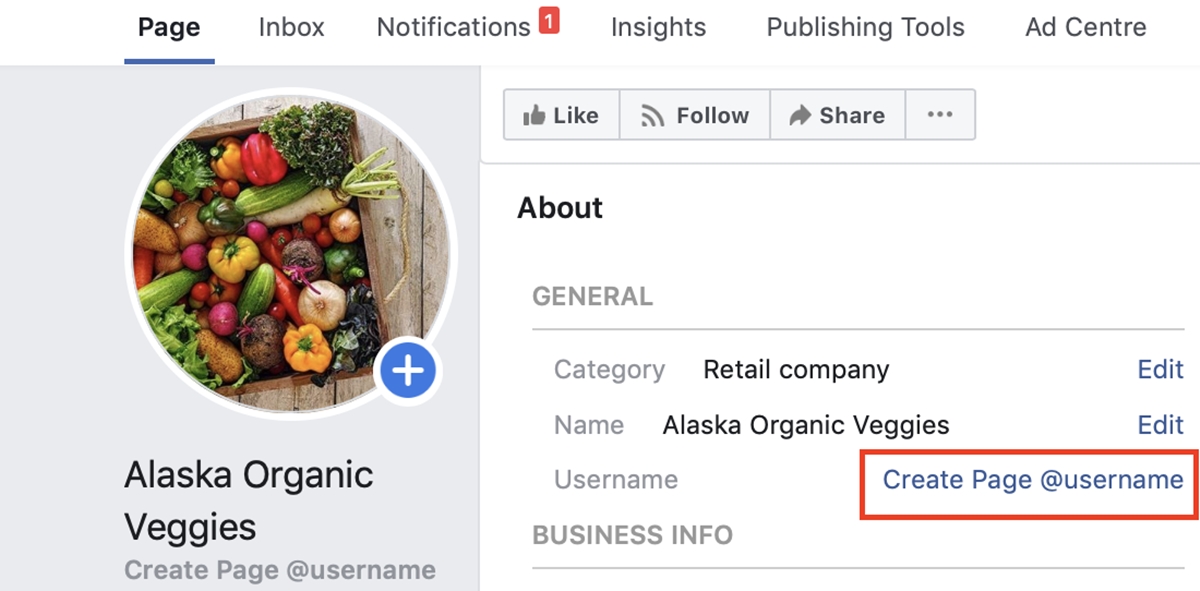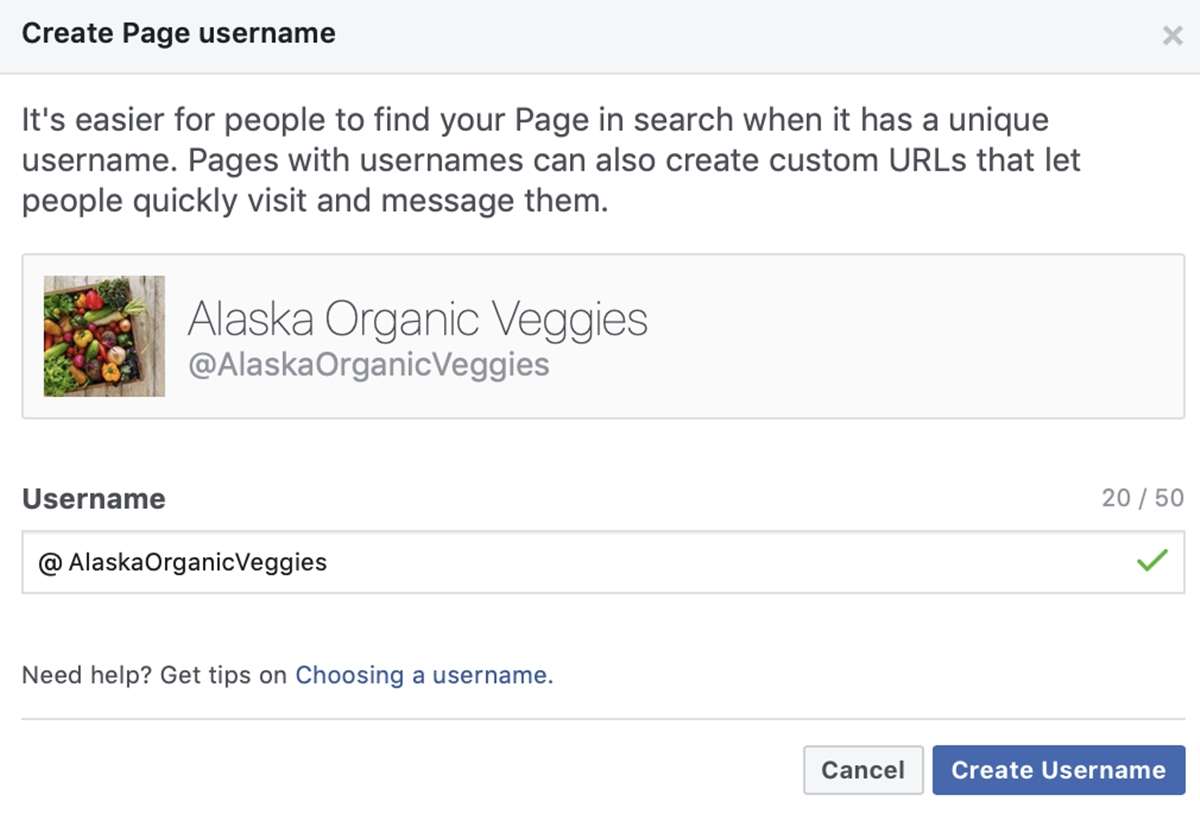 By picking @AlaskaOrganicVeggies for my Page, people can easily visit my Page at fb.me/AlaskaOrganicVeggies or inbox my Page at m.me/AlaskaOrganicVeggies.
1.4. Set up Page Roles
Business Pages separate from personal profiles allow multiple people from your company to edit posts on your Page without sharing login information. But for people to do editing and monitoring on your Facebook page, you need to designate who has what level of editing access. This is where Page Roles comes in.
To set up Page roles -

Step 2: Click on Page Roles.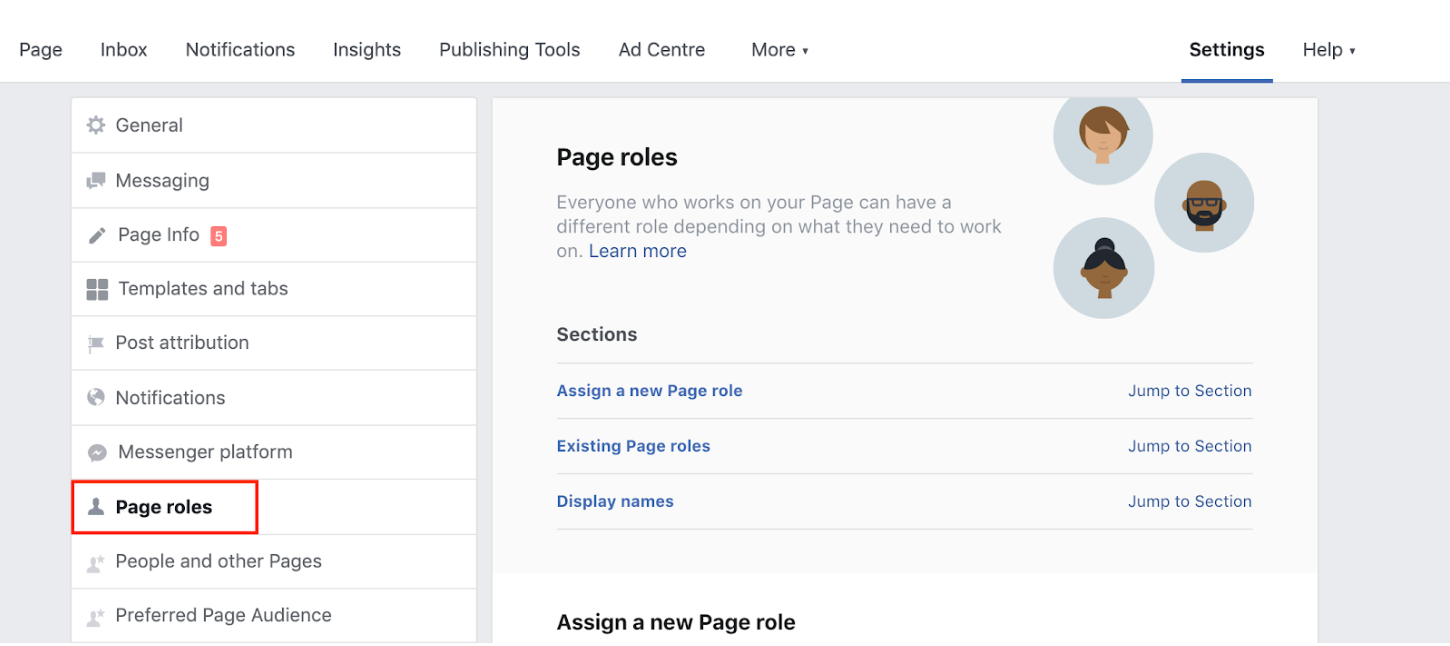 Here are the options -
Admin: Admins can manage every aspect of the Page. This means they can send messages, publish posts, respond or delete comments, create ads, basically an admin has the same permission as the creator of the Page. Choose carefully.

Editor: except for not being allowed to assign Page roles, an editor has the same permission as an admin.

Moderator: A moderator can send messages, reply to or remove comments. While this person has the permissions to create ads, he/she can't publish as the Page.

Advertiser: The advertiser role can create ads and view insights

1.5. Add a page CTA
You can add a call-to-action button at the top of your Page. This button is what you expect your visitors to do when they go to your Page.
Facebook provides you with a list of call-to-actions that you can display.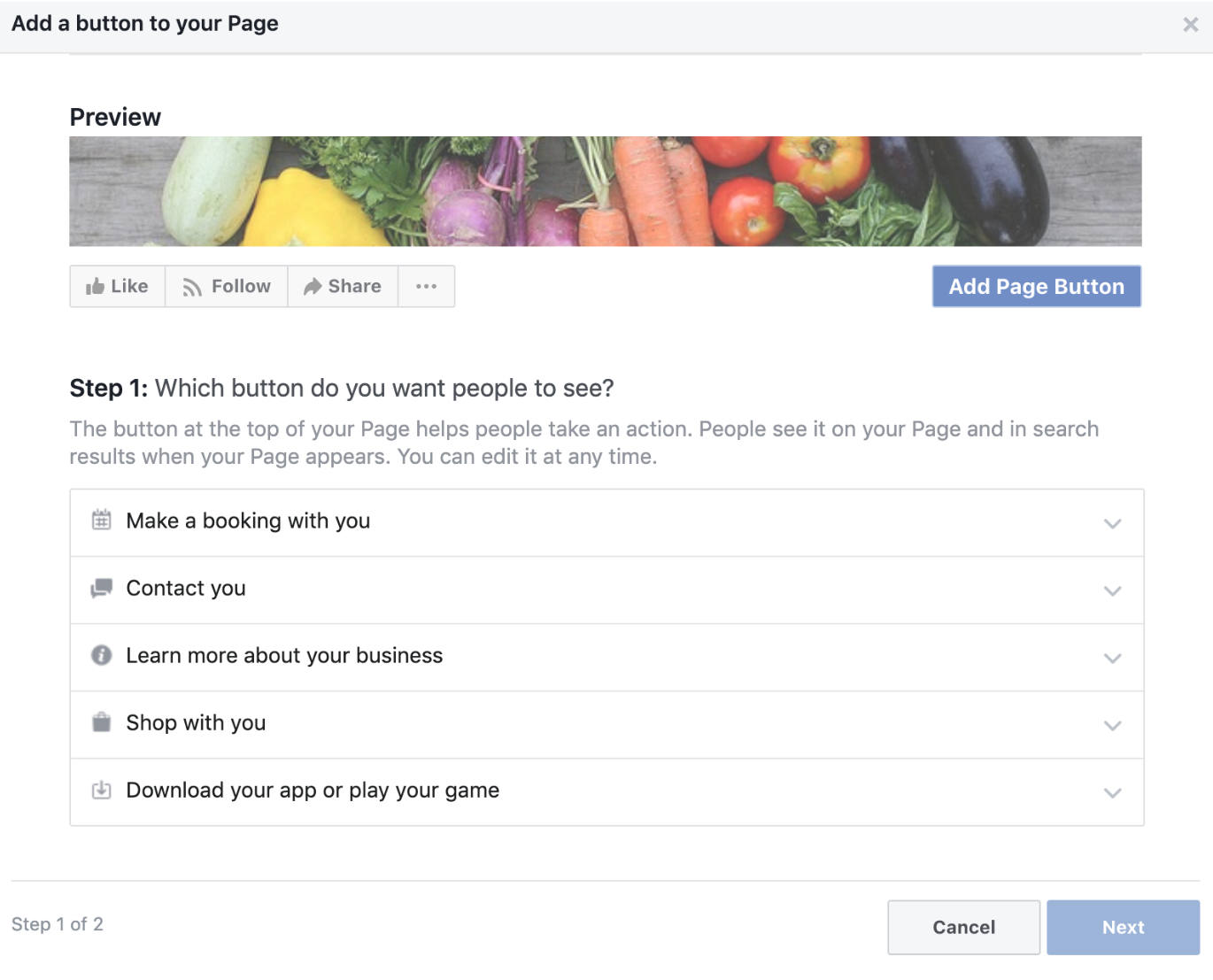 To set up this button, click on "Add a Button" under your cover photo.

That's it! That's how you create and set up a complete Facebook Page. Now let's move on to how to get Facebook likes and fans.
2. Get Facebook likes and fans:
You certainly want your Facebook business Page to raise awareness of your brand and, eventually, drive you more sales. Then your top focus should be launching new products, building awareness, collecting leads or driving sales. But no matter what your goal is going to be, you need "likes".
A "like" is a user's way of saying "I want to see updates from your business in my News Feed".
In this section, let's dive into some practical strategies to get likes for your Facebook Page.
Why you should not buy Facebook likes:
If you need Page likes to grow your business on Facebook, that might raise a good question: "Why not just buy them?" as you have heard of this service before.
Go ahead and google "buy Facebook likes." You'll find "suppliers" selling packages of likes for a flat fee. And for some people, this may seem to be a quick and easy way to make your business look credible. A Page with 5,000 likes does look more reliable than one with just a few, that's for sure.
However, the problem is where these bought likes come from. Companies that sell likes use tactics, such as click farms or fake accounts, to reach the agreed quantity. And because these likes are not real users who are interested in and liked your Page, it's unlikely that any of these "likes" will ever engage with your content, or be your potential customers.
Keep in mind that not every of your Facebook post will show up in the audience's News Feed. When Facebook decides what to show, the algorithm looks specifically at engagement rates — not your total number of fans. The shortage of likes and comments on your posts in comparison with your Page's total number of likes could lead to Facebook preventing your content from being seen.
Also, remember that Facebook has a dedicated team that watches out for this kind of suspicious behavior, and they won't be hesitant to shut down any Page found guilty (without warning).
That's how not to get likes on Facebook. Now let's move on to how to do this correctly and effectively.
2.1. Install the Facebook Like Box on your website
Make it easy for your customers to discover your Facebook by promoting its presence on the marketing channels that you already have, as well as getting rid of any obstacles for your existing audience to know and become a fan.
If you already have a website, use the Facebook Like Box to get people to 'Like' your page without having to go to Facebook.com.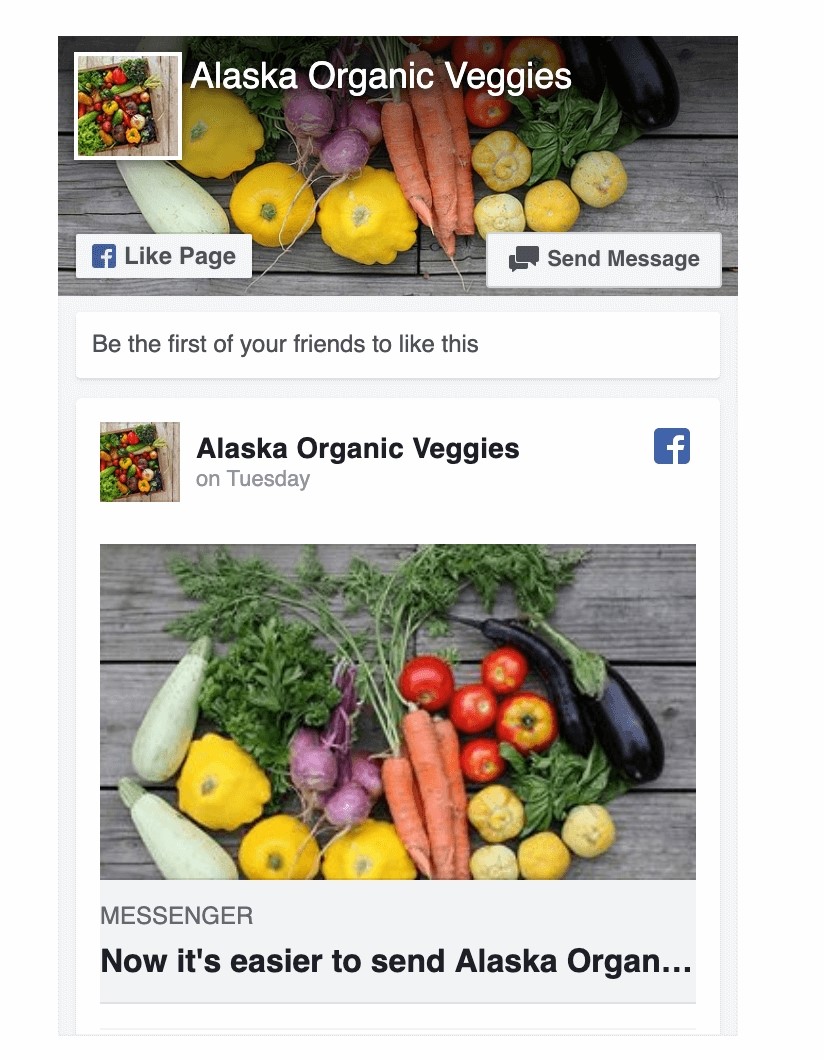 To install this button, you can visit this link and follow the instructions.
2.2. Invite employees, family members or friends to Like your page
Pages that already have some followers look more reliable and can attract more people who haven't heard of your brand. Your employees and family members and friends can be this initial number. You can ask them to like your business Page, and have them share, like, and comment on the posts your team publishes on Facebook.
2.3. Incorporate Facebook into your offline communication channels
Do you have a brick and mortar store? Think about ways to encourage passengers to become Facebook fans.
Here are some ideas to implement -
Place a huge sticker in your front door and windows promoting your page's name.
Put your Facebook URL on your receipts.
Run a promotion where customers who like your Facebook on the spot get small discounts.
Also, put a link to your Facebook and other social media profiles on printed ads, flyers, coupons, catalogs, business cards, etc.
2.4. Post valuable content
Producing content that brings value is the best way to increase your followers on Facebook and build relationships with your fans.
Your fans might not remember your individual post, but if they notice that you're consistently publishing high-quality, helpful, and relevant posts to Facebook, they'll perceive you as a valuable source of information.
And when they believe you can consistently deliver them values, you won't have to try to find or reach them, they will find you, no matter where you are, even in the North Pole.
The question is, how do you know what to publish? As you're running a business, you probably already have a deep understanding about your customers. The content you should produce is what you customers are interested in consuming.
2.5. Be active
Growing your Facebook Likes isn't just about profile optimization and valuable content. To continue growing steadily, you need to maintain an active, ongoing presence.
Not only does this mean keeping your audience engaged with educational, insightful content on a regular basis, but it also means maintaining your presence and interacting with your followers.
Ask questions, answer questions, and take part in discussions with those posting on your page.
2.6. Use Facebook Ads to expand your reach
Growing your Facebook Likes organically is the best way to drive engagement and, ultimately, convert fans into customers.
But if you have the budget for paid advertising, including it into your Facebook strategy can help augment the hard work you're already putting in to create valuable content.
Facebook offers a type of ad called a "Page Like Ad," which contains a call-to-action encouraging users to like your Facebook Page. This form of ads can appear in users' News Feeds or in the ad column on the right-hand side of their web browsers when they're browsing Facebook. This is how a Page Like Ad looks on News Feed: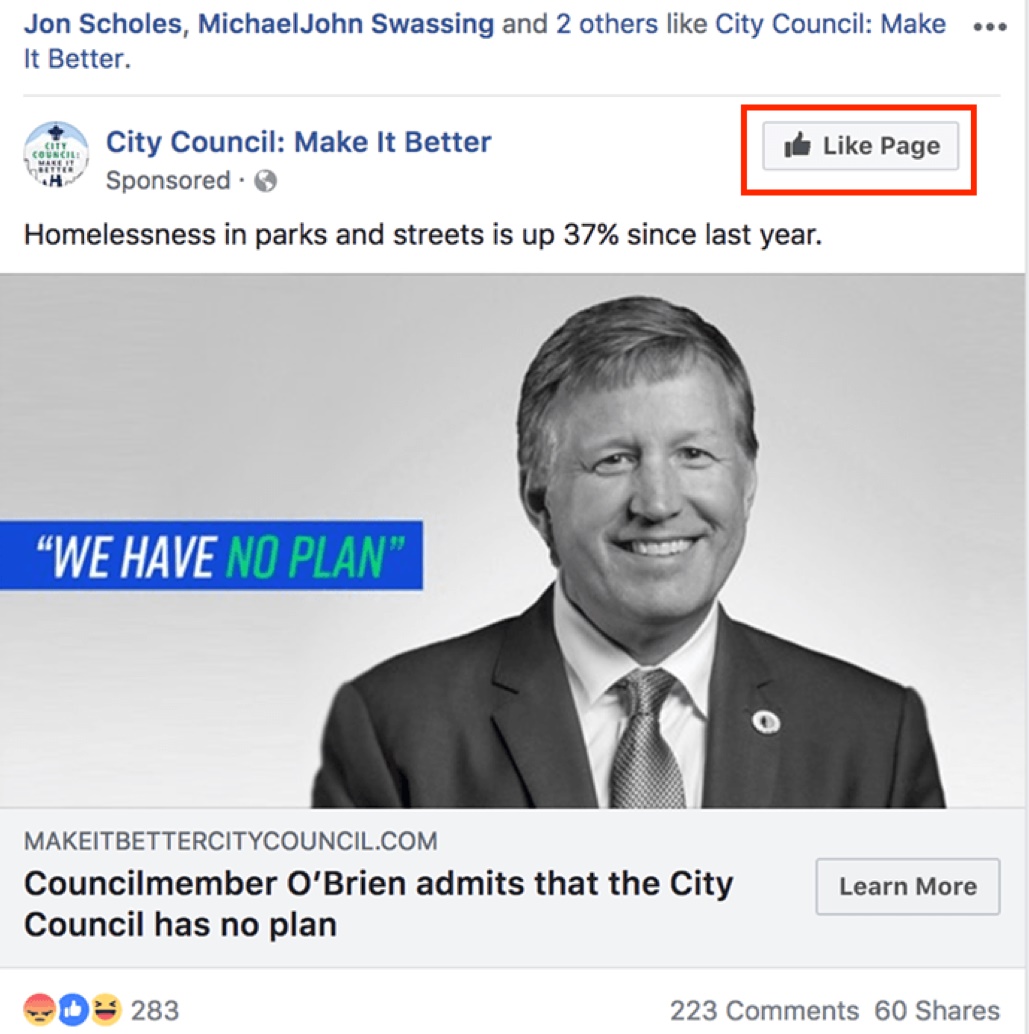 Further Reading: The Complete Guide to Facebook Advertising for Beginners
3. Market with Facebook Groups:
3.1. What is a Facebook group?
A Facebook Group is a place for people with the same interest to share information, experience and opinions about the given topic. Anybody Facebook user can set up and manage their own Group.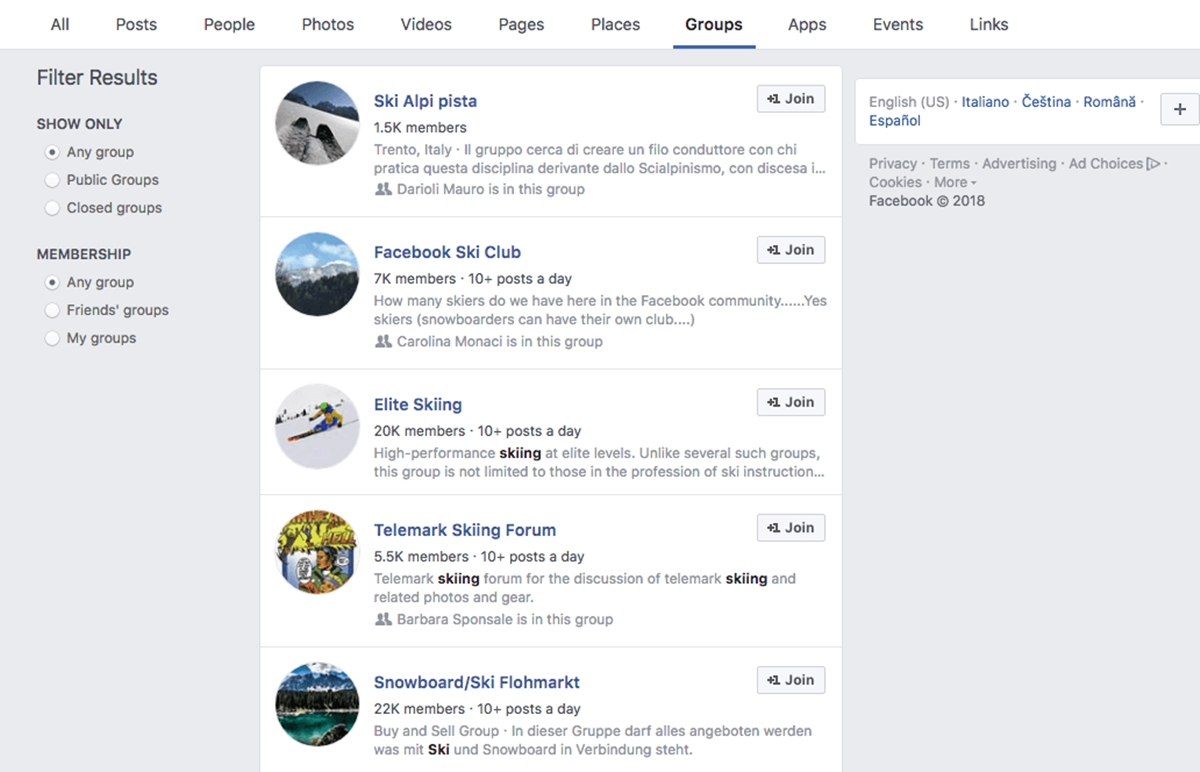 3.2. Types of Facebook Groups
While Facebook Pages are always public and any comment there can be seen everybody, a Facebook group does not have to be. There are different types of Facebook groups that decide how much of the posted content can be seen.
Closed Facebook Groups
While a Page is highly public, a group can be more private because Facebook provides you with an option to make it closed. When a group is set closed, only those who are members of that groups can see the content and information shared within it.
For example, if you have a team and you all are working on a project together, you can gather all the team members in a closed Facebook group to communicate with one another more efficiently.
By joining a closed group, the team is provided with a private place to share ideas on the project and post updates. All information is shared only with the members within the Group once it's made closed.
Facebook users can still see that the group exists and who are members, but they will not be able to see any information posted in that group unless they are invited.
Secret Facebook Groups
Secret groups are the most private type of group on Facebook. Just as exactly the way it is named, secret groups are hidden from all Facebook users except from the team members. Nobody on Facebook can see a secret Group other than those in it.
If you're having a secret project, or just need a private place to talk with your group of friends, creating a secret group is a good choice.
Public Facebook Groups
The third option of privacy is public. This means that anyone can see the content posted in that group. However, only members can post in public groups.
3.3. How to market with Facebook Groups
If you are active on Facebook, it's likely that you are a member of several Facebook groups relevant to your interests. Facebook groups are a great way for brands to interact and build relationships with their audience. They offer exclusivity and a sense of community that is difficult to implement on a business's website or Facebook Page.
When you business has an active and optimized group on Facebook, this will help brand yourself as a leader in your niche. People who join your Facebook group are usually customers who are very interested in your products, so interacting with them on a consistent basis can help boost their loyalty.
Let's dive into how your brand can use Facebook groups to augment your marketing strategy.
Set your goals
First, you're going to need to spend time on figuring out what you want to achieve with Facebook group?
Are you trying to improve engagement between your brand and your customers?
Are you trying to get to know your customer on a deeper, more meaningful level?
Are you trying to create a community where your fans can post lifestyle pictures of them with your product?
Are you trying to drive more traffic to your website?
Once you have a clear goal, you'll be able to create a group surrounded by that goal, so that your Facebook will be consistent and deliver the right results.
Optimize the group profile
It is important to optimize your Facebook group so that the visitor can know what you are about and feel interested enough to join.
To optimize your group, you're going to need to fill out all the necessary information. This is so that when a visitor comes to your Page, they can discover more about your business. You'll need the profile picture, header, bio, about section and rules, to name a few.
Go an extra mile explaining who you are as a brand and put enough emphasis on the values you can bring to your customers. This means answering your customers' very question: "What's in it for me?" if they join your group.
Foster a sense of community
The greatest advantage of Facebook groups is you can create communities of fans with them. This means you can think of your Facebook group as a place where your customers can hang out and have discussions about how they're using your products. This can help to foster a sense of community and strengthen your brand image in your customers' minds.
Building a community through your website and regular social media is difficult because it is not convenient to exchange information on a personal level on these platforms. Facebook groups, on the other hand, enables you to have long discussions about any given topic.
Facebook's algorithm prioritizes connections between communities, friends and family, which is why it's important to have a strategy to encourage your audience to post in your group. You'd want them to share their thoughts, experiences, and questions about your brand. You'll find that others will join to add their own experience and this will start a domino effect of communication.
Depending on how fast your group grows, you can create a sense of community within it by welcoming each individual member who joins with a shoutout post. This will encourage existing members to comment and welcome them too, which will help these newcomers feel that they are welcomed and make them feel comfortable enough to post content of their own.
Post consistently
If you join a Facebook group and then find out that the content is posted just every once in a while, would you still want to be in that group? For most people, the answer is no. There's no point of staying in a group that has little value to offer. And if you don't develiver what members in your group are interested in on a consistent basis, they will just either leave or forget about your group.
To avoid this, make sure you come up with a plan to publish content consistently, probably every 2 days, or best, daily, to your business group. Posts don't necessarily have to be too well-crafted, even a simple update on what's new with your brand or asking them for their opinions about a specific product is enough to boost engagement.
Engage with your audience
Your members will be confused or even disappointed when they post a question about your product and get no answer. If you aren't active or stay engaged in your group, you can't expect your members to be.
So, be sure to stay engaged with your audience on a regular basis to answer their questions, and let them know what's new with your brand. This shows them you care about what they have to say and are present.
4. Facebook content marketing:
4.1. Types of Content On Facebook Marketing
When it comes to marketing on Facebook, uploading content on a consistent basis is the foundation of the job.
Without a consistent flow of content, your audience will simply won't remember you because you don't show up. There are a great number of other brands who are competing to show up in your target audience's News Feed too, so if you don't become a part of this, you will be left behind.
How To Post On Your Facebook Page
To upload a post, look for the white box below your cover photo that says Write a post ….
Once your message is well crafted, click on Share Now. You also can add a picture, an image, a video, tag a location, run a poll, and schedule your post.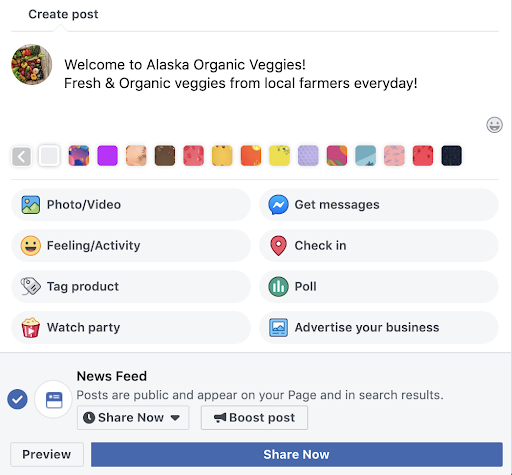 Facebook Images
You can add an image or video to make your posts more appealing and recognizable in your audience's Feeds.
Facebook Image Sizes
Profile Picture: 180 x 180 pixels
Cover Photo: 820 x 312 pixels
Timeline image: 1200 x 630 pixels (The ratio is more important than the size. Keep a 1.9:1 ratio.)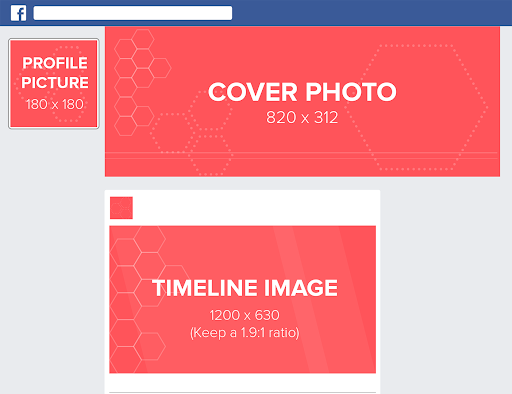 Facebook Links
In the beginning, if you have not been able to come up with content for your Facebook page, the easiest way to start is to share blog or product posts on your website.
Among your many blog posts, pick one that you know will resonate with your Facebook audience and share. That will increase chances of your post getting shared by your fans.
Posting a link is done in the same way you would upload a text post. You should write a short appealing description to tell your audience about what this blog post is about to attract their clicking on the link.
The blog post will auto-show up below the white box with the title, meta description and image, so before you publish, go ahead and remove the link in the box. That will make your post look more clean and professional. Then, hit Publish.
Facebook Video
Video is growing in its popularity lately as more and more marketers are becoming aware that video is a powerful format to deliver content. What's great about videos is that they are easier to consume than written content. They also arouse emotions more easily and, if well-crafted, can leave a long-lasting emotional impression in the audience's mind. You can get a better grasp of what I'm saying by watching this 26-million-views video ad by The Dollar Shave Club. While focusing on Facebook marketing, you can employ a few tools to help you work more efficiently such as a Facebook downloader to help download and manage FB video contents easier.
Facebook Live
Apart from pre-produced video, Facebook Live is another option to diversify your content on Facebook. Facebook Live is a feature that enables you to live-stream to users on their desktop or smartphone.
To go live on your desktop, click on the Live button which is above the Write-a-post box in your Page. Before you do, remember to write a compelling title that will show up alongside your live video.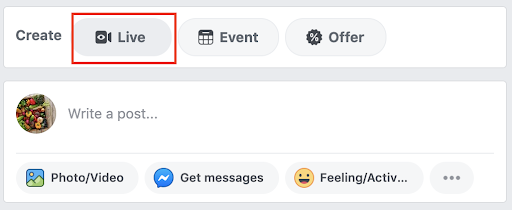 When you're going Live, don't just talk, keep your viewers engaged by asking questions and encouraging them to respond in the comments.
Every once in a while, re-introduce yourself and explain what the video is about in case new viewers join.
Facebook Instant Articles
Facebook Instant Articles are a feature that enables publishers to upload text- and photo-based content in a format that loads directly on the Facebook app.
Facebook Instant Articles significantly reduce loading time for content on mobile and offers a seamless user experience.
When you see a small gray thunderbolt under the title of a post, that's an Instant Article.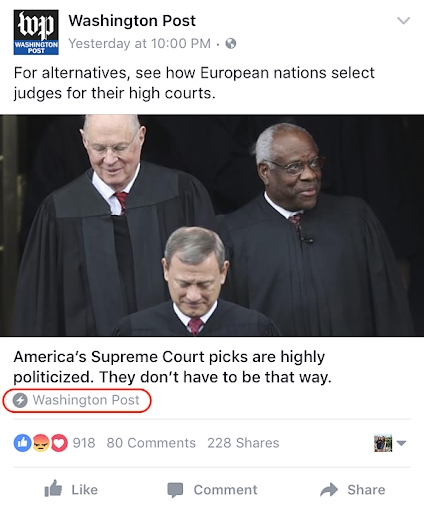 You can sign up for Instant Article here. Facebook will guide you on how to submit your first sample article and request for approval.
Once you get approved, you'll be able to upload in this new format.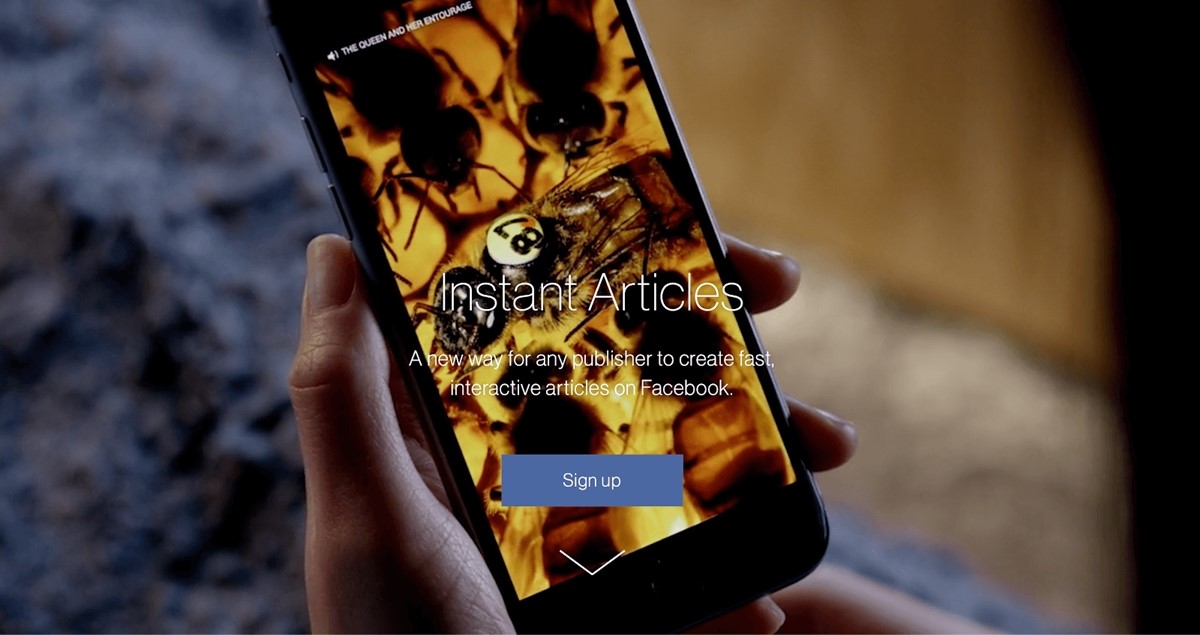 Facebook Virtual Reality
The main form of virtual reality Facebook is offering is 360-degree video. Facebook 360 enables you to tell stories that share places and experiences with your fans. Example.
The 360-degree video experience works best on mobile, as viewers are able to tilt and turn their phone to show video content all around them. On a desktop, users can click and drag.
The most efficient way to create a Facebook 360 video is to use a 360-degree camera such as an Allie or Ricoh Theta. The Theta, for example, has two lenses that together capture the 360-degree look, then the app allows you to share directly to Facebook.
How to pin a post on Facebook
At this point you have known all of the different kinds of Facebook posts, let's customize how they're going to show on your Page.
By "pinning" a post, you can decide which piece of content is placed at the top of your Page. Any other posts will appear below, even if they were uploaded more recently than the pinned post.
To pin a post on your Page, click on the small down dots in the top right corner of a published post, then choose Pin to Top of Page.
This post will remain pinned until you choose to pin another post and replace it.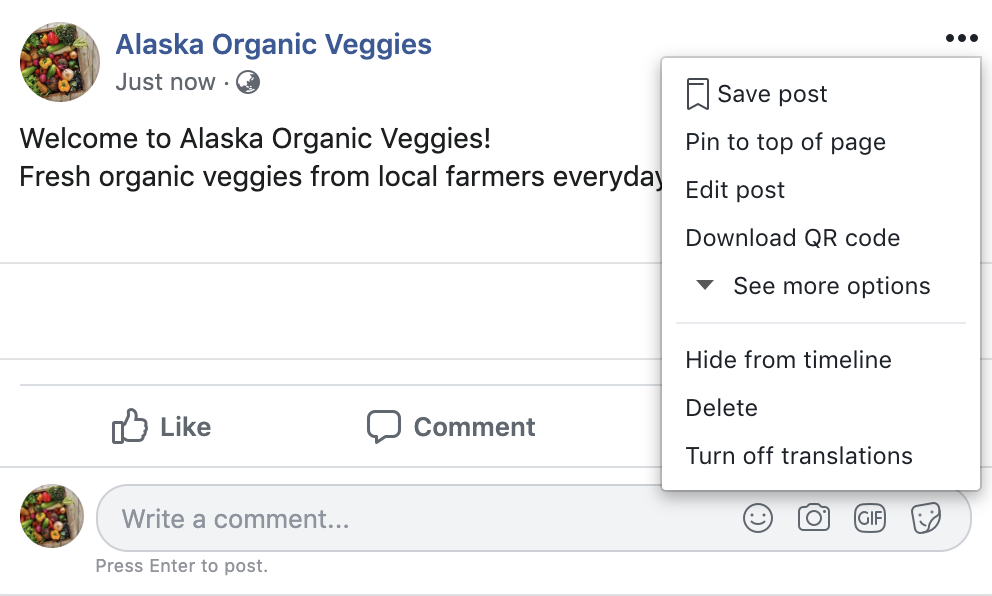 4.2. Tips to write content that keep your audience engaged
To write high-quality content, you'll just have to practice a lot. Practice is the secret. But to make faster progress, here are some tips that you can follow while you're practicing -
Write attention-grabbing Headlines. Due to the exhaustive amount of content flowing around the Internet these days, we all have become headline readers. If a headline is not interesting enough, we skip it. So your headline will determine whether your audience will read the rest of your work or not. You can learn tips to writing attention grabbing headlines here.

Create A Hook That Holds Your Audience's Attention. After reading your headline, the audience will skim the next one or two sentences, and if they are not hooked by these sentences, they won't read the rest of your work. When people read, the very question that they continuously try to answer is "What's in it for me?". If you can tell them crystal clear about what in your content is for them, you will have their attention.

Do Your Research. To provide valuable insights, you surely must sound knowledge about the topic you're writing about, whether it is in the B2B or B2C market. You're going to need statistics, data and metrics to establish reliability and support your claims.

Optimize Digital Content. The best digital content is often made of short paragraphs, short sentences and bulleted lists.

Focus on a Single Purpose. What are your writing this piece of content for? What problem are you trying to solve? You should determine (at least) one key point that you're going to address. Then keep this in mind when writing, and connect your content back to the key point(s) as much as possible.

Edit Your Work. Don't expect to get your piece of work perfect at the first try. No great writers publish their first drafts because they are too ugly and messy. But greater writers are amazing at editing and perfecting this first messy draft. After you have pulled out your thoughts into a first draft, go back and consider how you can polish the rough edges of your writing. In general, writing improves as it goes through one or two rounds of edits.
5. Create a Facebook Marketing Strategy:
We have covered types of content on Facebook and how you can post. But that is the easy part. The real challenge of Facebook marketing is knowing what and when to post.
To develop a successful Facebook marketing strategy, you'll first need a deep understanding of your target audience.
5.1. Create the buyer personas
To have a clear image of who will be your target audience, take time to create the buyer personas of your marketing strategy. This will help you personalize your marketing messages to them.
You might have several groups of people who buy your products for different reasons. If that is the case, you will need to create more than one buyer persona. Each should have basic demographic details, behaviors, goals, pain points and buying patterns.
You certainly can't get to know every single customer or prospect individually, but you can create a customer persona to represent each general group.
There are a lot of tools that helps you build a buyer personas, but the Hubspot one is my all-time favorite. You can access it here.
5.2. Using Audience Insights
After you have created your buyer persona, you can gain insights about them on Facebook with Audience Insights.
Audience Insights is a free analytical tool that Facebook offers advertisers to gain insights about its users. This is so that advertisers can target their ads better.
It's also a great tool for social media managers and content creators to determine the type of content their audience is interested in.
You can go to this link to access Audience Insights.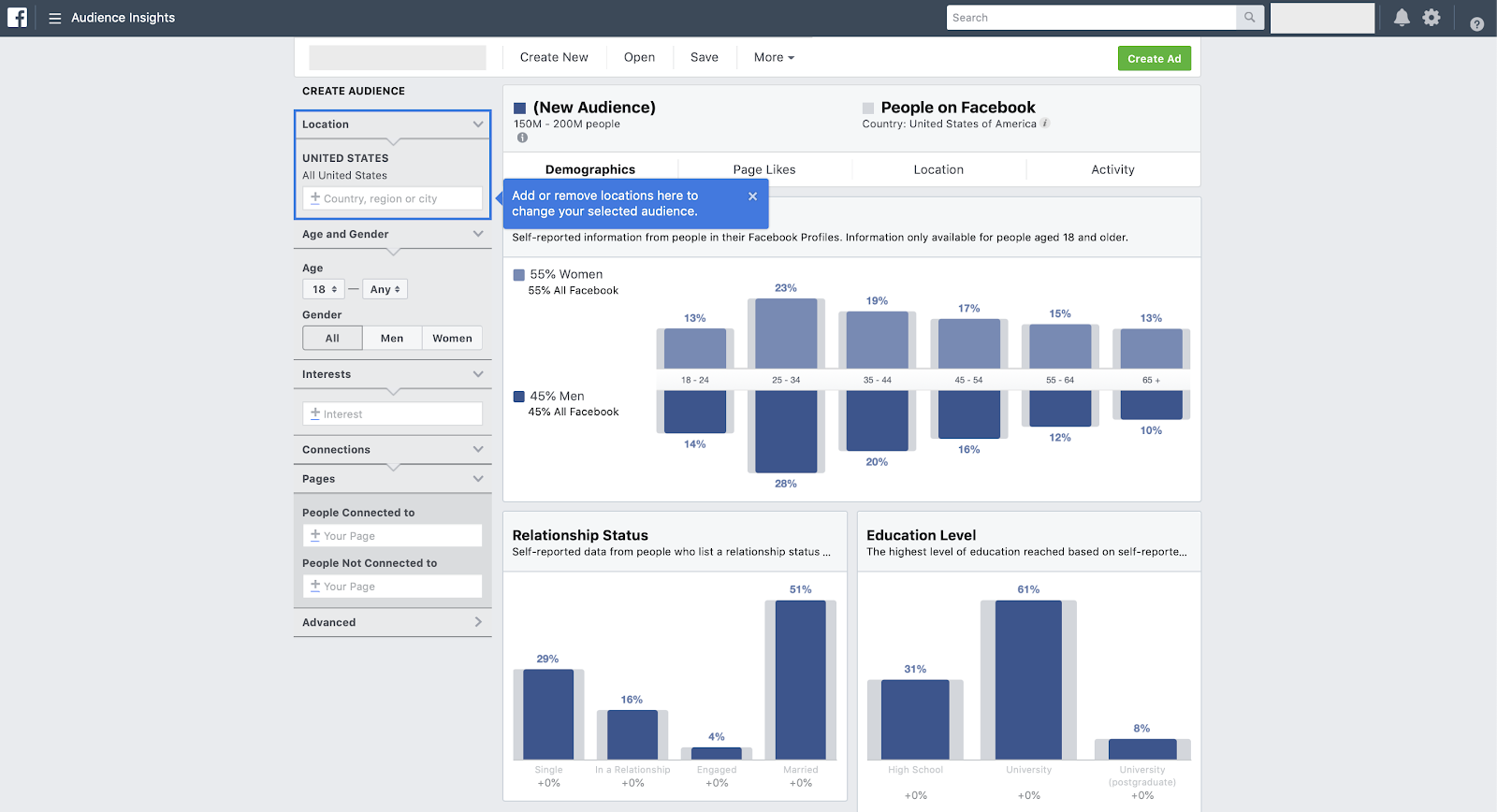 You're going to need to choose between everyone on Facebook or just People connected to your Page.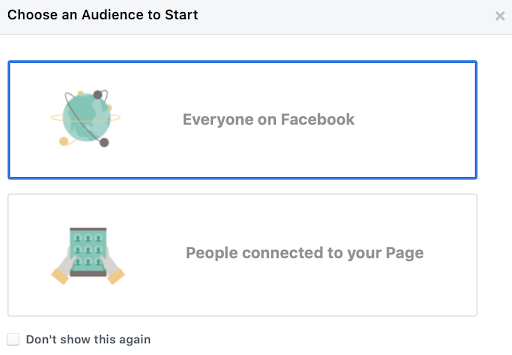 In this example, I'll choose everyone on Facebook.
Next, have a look at the Create Audience column on the left side to decide the segment you want to analyze.
The default location is the US, but if your target market is not in the US, you can change it accordingly. Also, specify age and gender.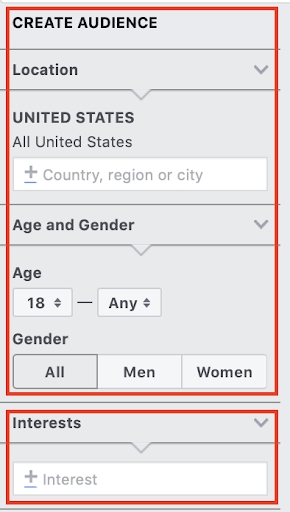 The Interests section is the primary part of Facebook's targeting machine. It enables you to target your ads to specific groups of audience. For example, you can target the group of people who are interested in advertising aged from 22 to 35 living in the US.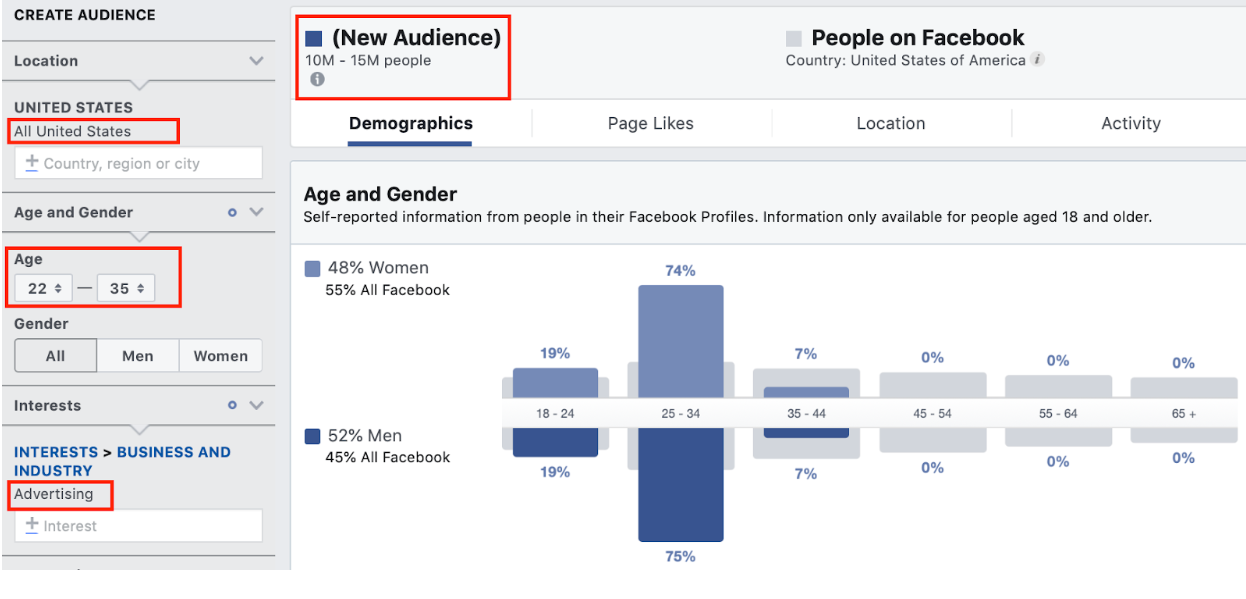 The Age and Gender section will show you how many users of Facebook fall into this segment, and you can also see the ratio between men and women.
5.3. Create a social media content calendar for Facebook
Managing your social media requires a lot of tasks on a daily basis: posting content on your Facebook page and group, responding to comments and inboxes, analyzing how your audience is talking about your brand and product, etc.
With all of these tasks, it is necessary to have at hand an overview of all of the posts that you need to upload, so you know what you need to do at specific times and won't miss anything. How can you do this efficiently?
It's by creating a social media content calendar. A social media content calendar is a spreadsheet where you plan out what you're going to post and when.
Why using a social media content calendar?
It helps you keep everything organized, especially when things pile up. With a social media calendar, you can focus and plan out posts for entire weeks or months in advance.
Otherwise, every day you'll spend valuable time going all over the Net looking for what to write and share, which is frustrating and a known productivity killer (my mind starts screaming for just thinking of having to do that).
Calendars can help you keep track of performance. Without a calendar, marketers are publishing content into the void and are unable to track overview and past performance. A calendar enables marketers to look back and analyze which type of content performed best so that they can adjust their strategy accordingly.

Social media calendars enhance efficiency. According to Content Marketing Institute, 72% of B2B marketers attribute the success (which has increased annually) of their content to the development of a formal content strategy.
4 Social Media Content Calendar Tool To Plan Your Messaging
Trello
Trello is widely used for team collaboration. In particular, marketing managers can plan out to-do lists, manage content calendars, organize campaigns and house ideas for brainstorming.
Here's an example of how a Trello board can be used to plan posts for the upcoming week:

Trello also provides you with a full calendar view which makes it easy to visualize what content is going out, and when.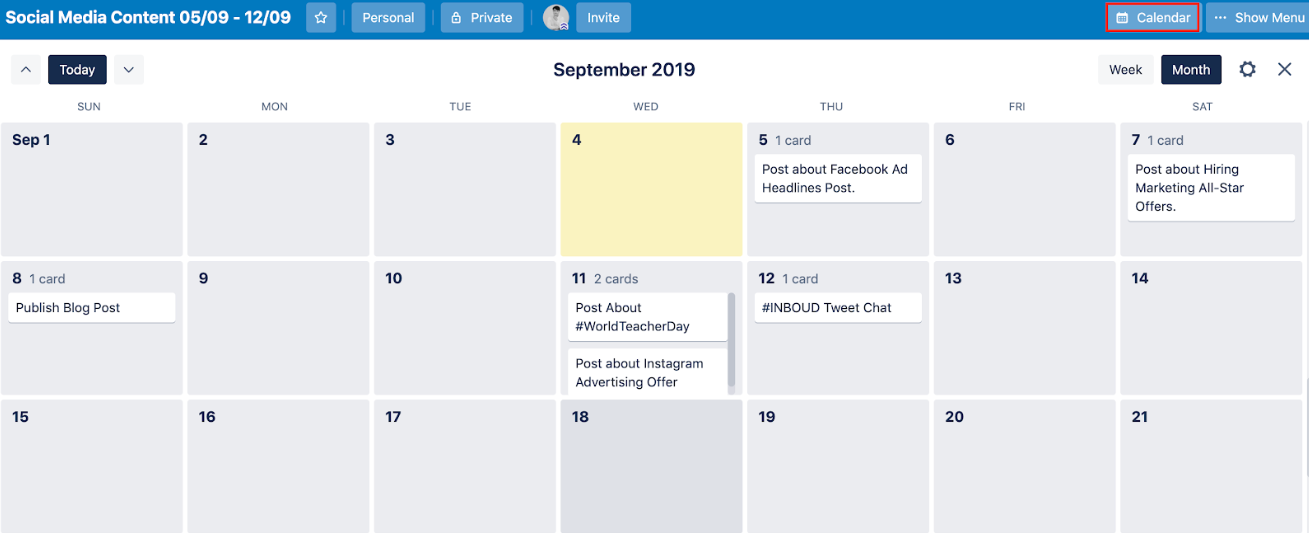 Microsoft Excel
Apart from being widely used different types of reports and data analysis, Microsoft Excel is a highly efficient tool for social media content calendar organization. Excel can be customized according to whatever priorities or metrics a team is focused on, so it's a great tool for planning ahead.
You can download a free Excel content calendar template here. You can use it to map out individual posts, monthly or annually, while keeping an eye on events, holidays, publications and partnerships.
Use the Monthly Planning Calendar tab to get an overview of what's coming down your content pipeline in a given month.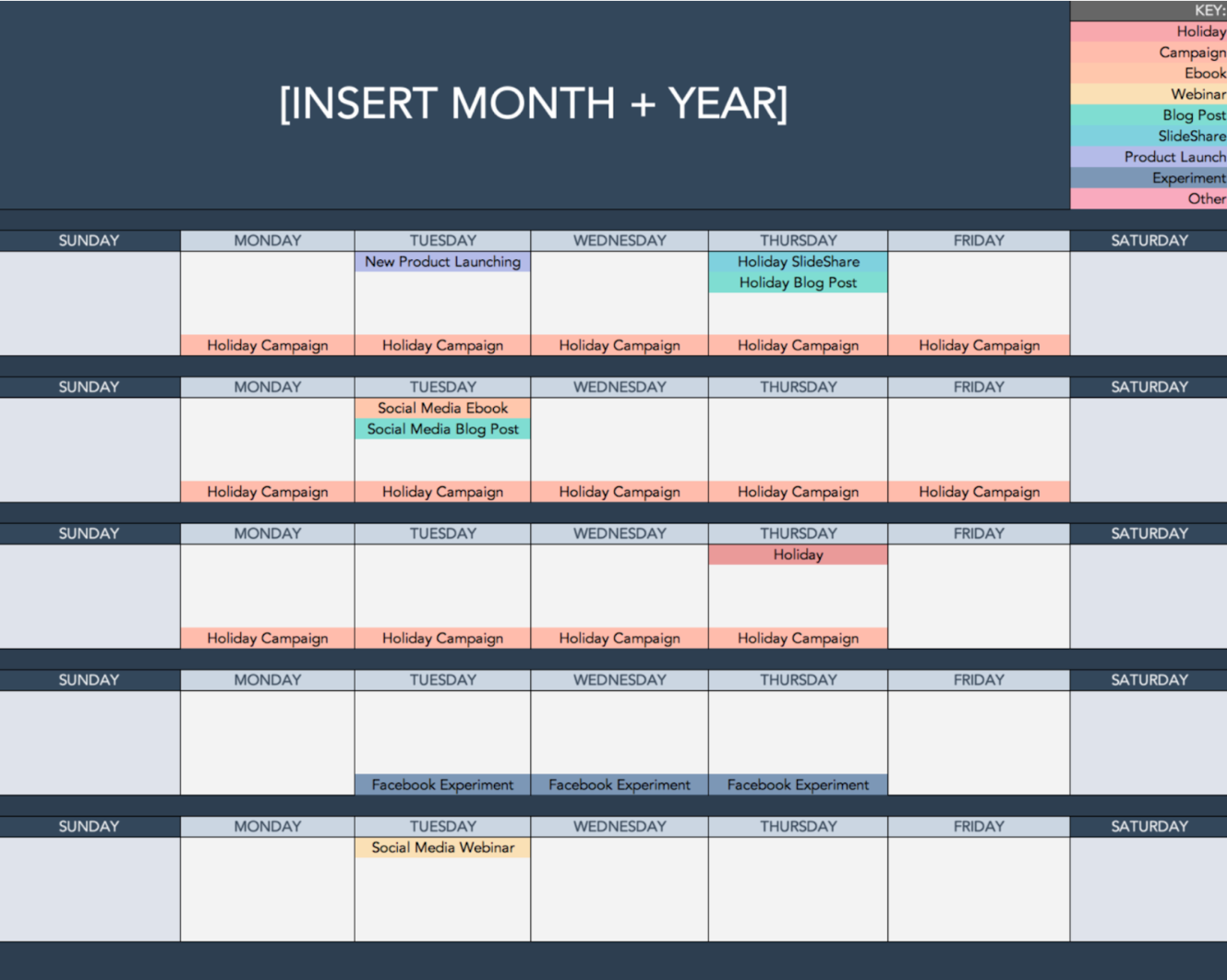 In the Content Repository tab, you can record the content being published on this tab to keep track of which pieces have been promoted, as well as easily recalling older content that can be re-promoted on social media.

On the Schedule tab, you can plan out social media posts in advance. This section is for organizational purposes, and the content of the posts themselves must be uploaded into a social media publisher.

Google Drive
Google Drive has a handful of helpful features that make it easy for you to create an effective content calendar.
You can go to this link to see an example of how a team uses Google Calendar to keep track of their work. This calendar can be easily shared across multiple teams to prevent scheduling conflicts and ensure that everyone is on the same page.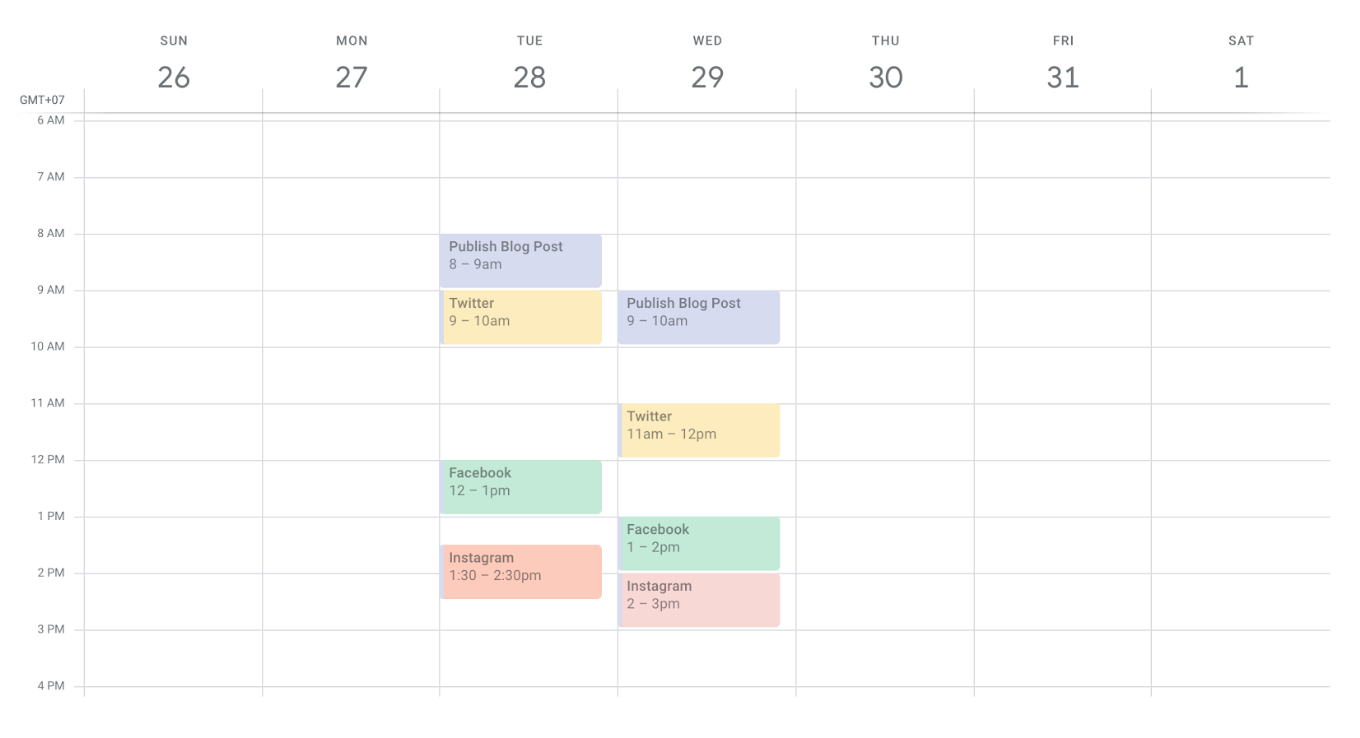 You can also use shared Google Sheets to schedule posts on social media with your team, track the status of different pieces of content, and assign tasks to team members.

With Google Docs, you can keep comments for a post all in one place and can work on different projects without having to email team members back and forth. Google Docs is an extremely useful tool when writing and editing content for social media, which may need to be drafted and approved quickly.

5.4. Generate leads on Facebook
A lead is a person who becomes interested in your product or service, and provides you with their contact to receive further support from you.
There are a lot of ways you can acquire your audience's contact. You can get their contact by either asking them to fill out a form for an ebook or for a demo of your product. Or, you can post content that excites your audience and makes them want to know more.
To convert your Facebook fans into paying customers, you'll need to be strategic about posting content that directs them to a lead generation form. Here are some methods that can help you generate leads -
Landing Page Offers
Landing page offers are probably the most popular way for businesses to acquire new leads these days. Basically, you can prepare an offer on a landing page on your website, and use a Facebook post that directs interested audience to that site to give their information. For example, if your offer is an ebook/a discount coupon, you can ask your audience to provide their emails, so that you can send that ebook to their emails.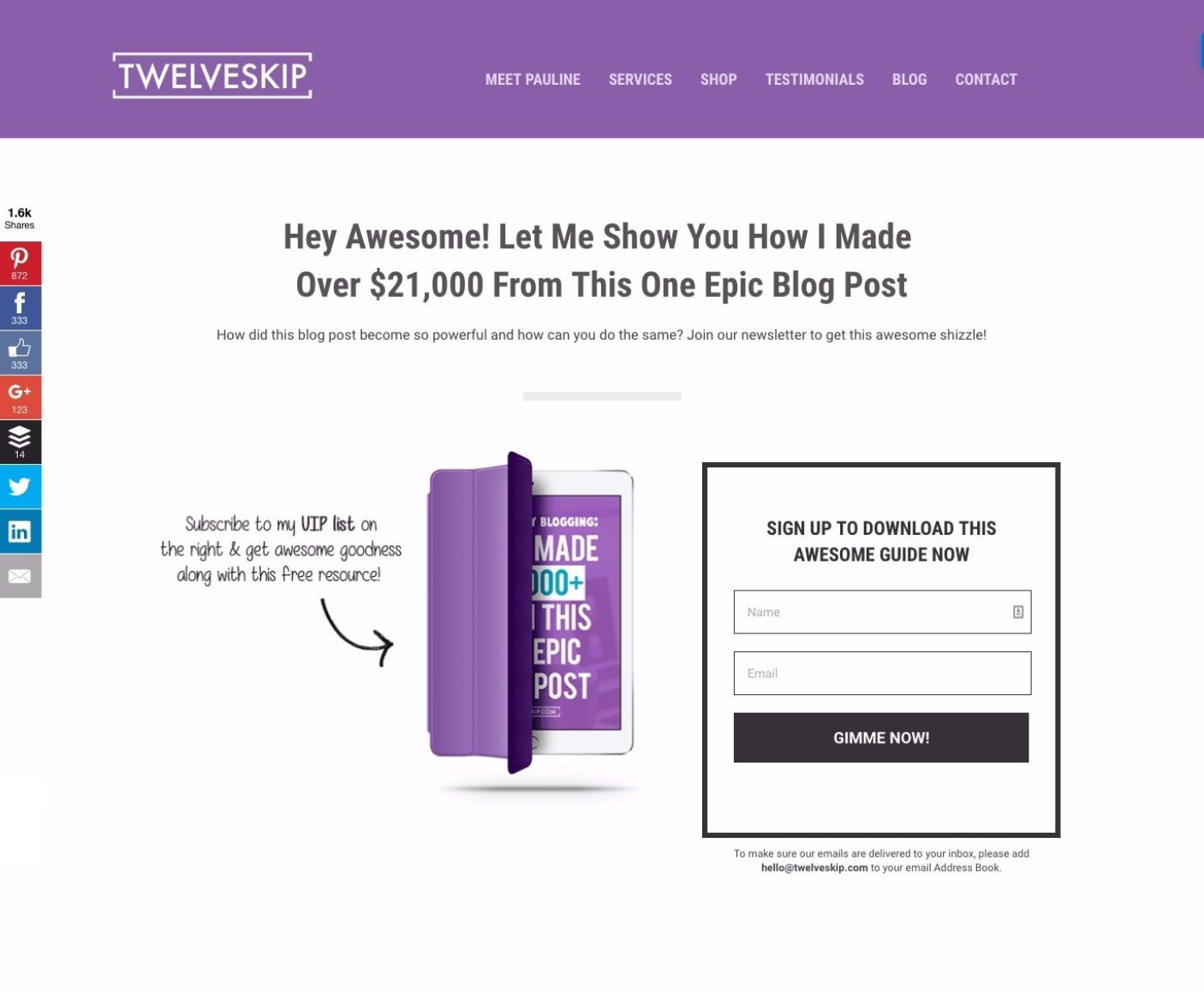 Video to promote lead generation offers
You can promote your offers in the form of a video and ask your audience to inbox you for further support. Video is growing in its popularity these days, because consumers love videos. They are fun to watch and easy to consume. While written messages are best for providing knowledge and insights, videos are best for delivering simple messages more creatively.
You must know the legendary ads "Here's to the crazy ones" by Apple.
Their message? 2 words: Think different.
The way they delivered them? Extraordinary.
Here are 42 great landing pages to inspire you.
Facebook events for upcoming webinars
Webinars are a great way to acquire leads and even convert prospects into paying customers. Through webinars, you can explain to your audience how your product and service will benefit them in a more comprehensive way which can't be done with website content or ads messages.
Not only those who sign up for your webinars are highly interested in your product, but the contact information they give you will also enable you to re-market to them in the future.
Facebook lead ads
If you have budget for Facebook advertising, you can run a lead ads campaign to acquire leads. Lead ads is a form of ads on Facebook that is designed specially for acquiring customers leads. This ad can reach Facebook users who have not liked your Fan Page.
We have a link to our comprehensive guide to running Facebook ads at the end of this article.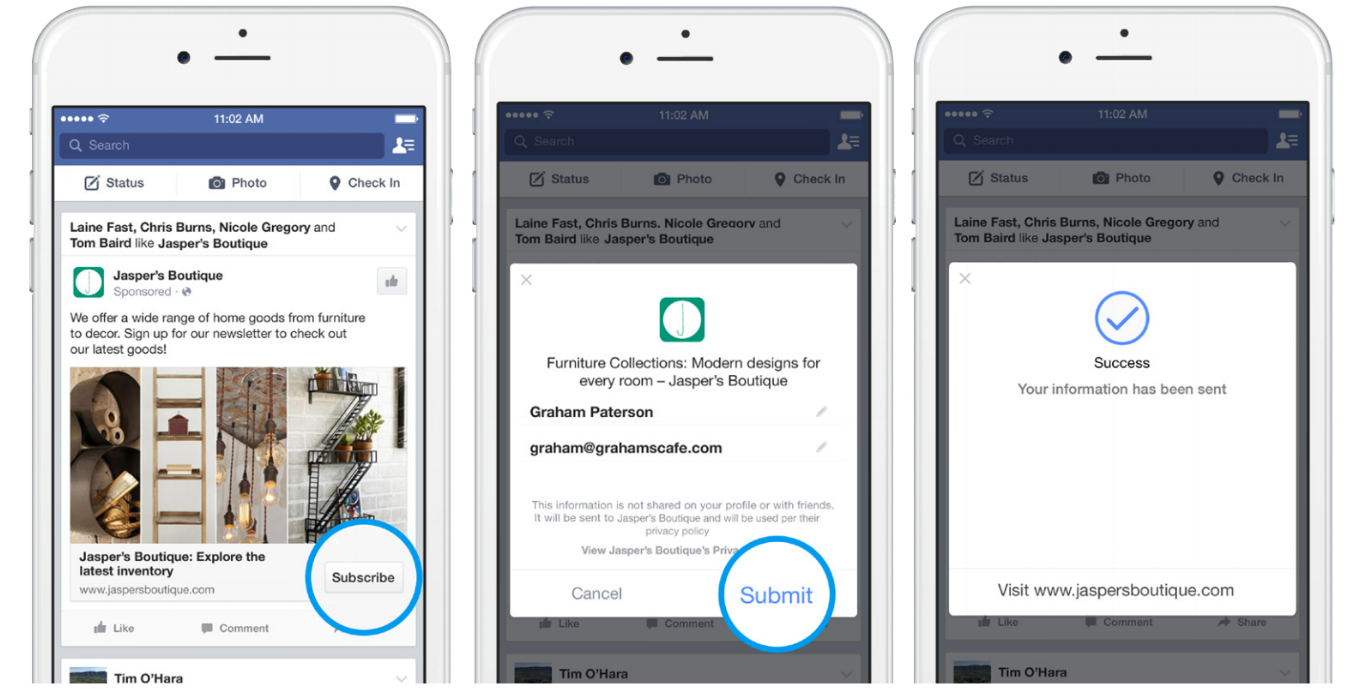 Further Reading: How To Create A Lead Generation System That Always Wins For eCommerce
6. Tracking your Facebook Marketing campaign
Doing Facebook marketing without tracking and measuring results will lead to a lot of guesswork, and potentially, underperformance. To help you track your numbers, Facebook has developed a comprehensive Page Insights tool to help you analyze your Page as a whole and get down to specific posts.
Page Insights
To access Page Insights, go to the Settings section of your Page and click on Insights in the menu bar at the top of your Page.
You'll be automatically brought to the Overview section, which provides you with a seven-day analytics of the most important activities on your Page. (There is barely any statistics in the picture because my sample page is brand new 🙂).
In the left vertical navigation bar, you'll see a list of tabs to view different aspects of your Page metrics.
In this section, we'll go through the most important segments to look at when keeping track of your Facebook Page analytics.
6.1. Likes
First, check out the Likes segment.
On the Total Page Likes as of Today graph, you can see how your total number of likes changes day by day.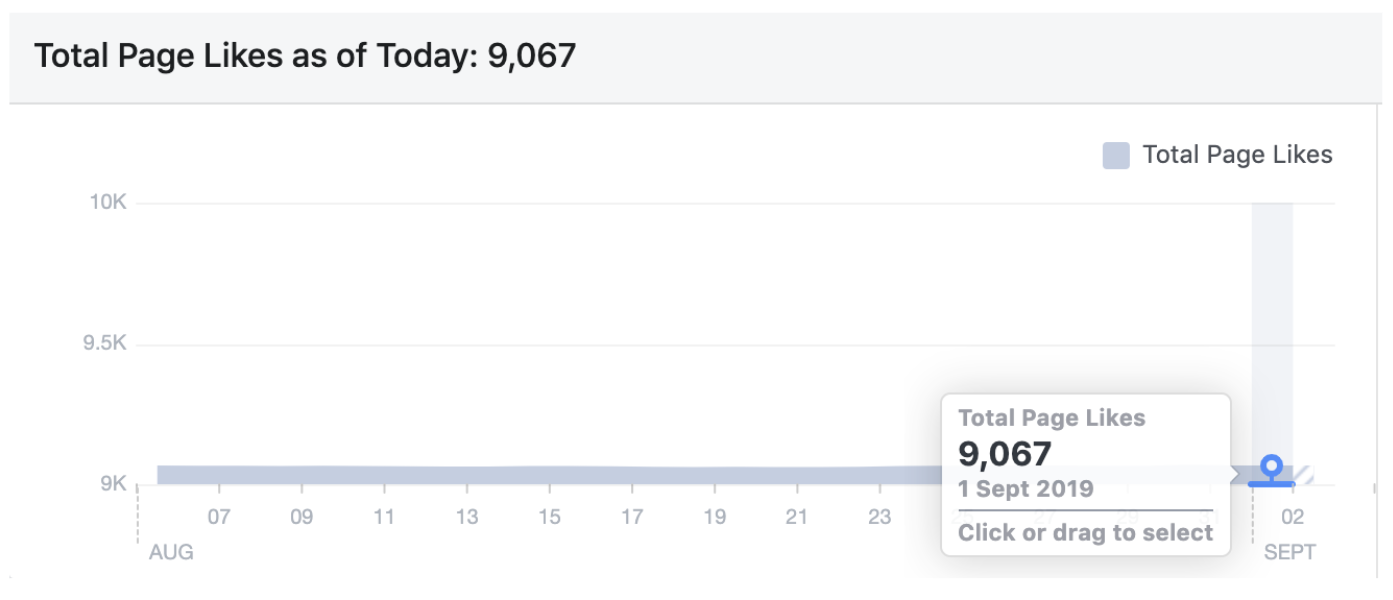 On the Net Likes graph, you can see how many likes you gain or lose each day.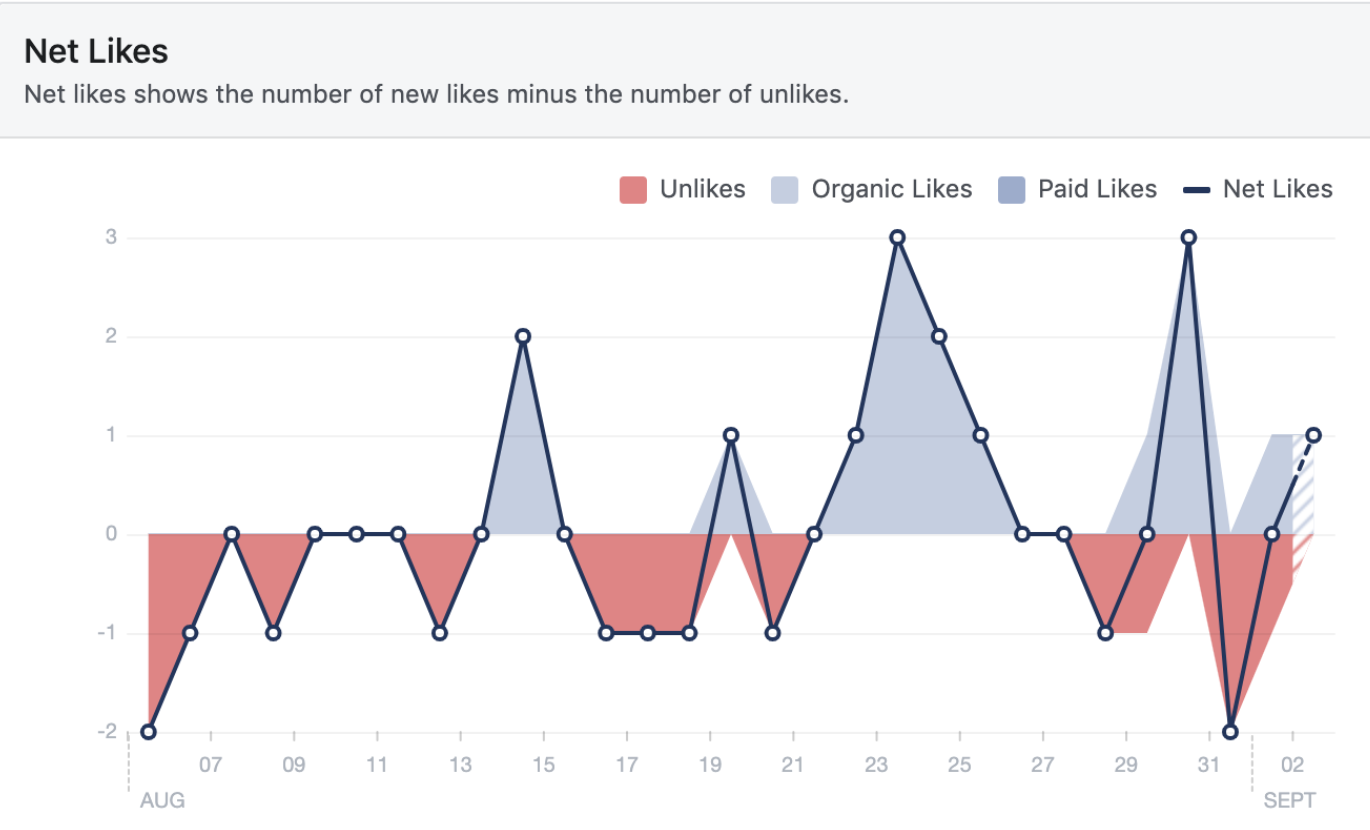 6.2. Reach
The Reach tab shows the number of people your posts have reached, divided into organic and paid traffic.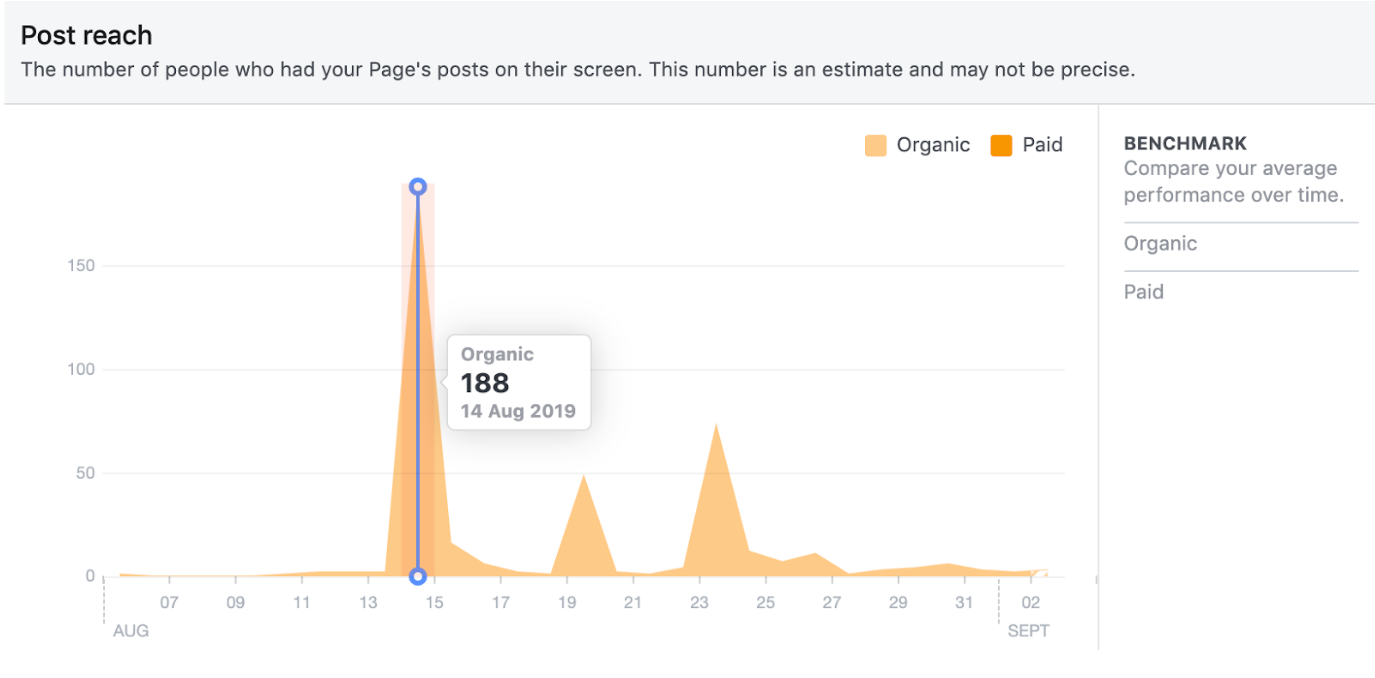 The Reactions, comments, shares and more graph lets you know how your audience is interacting with your content.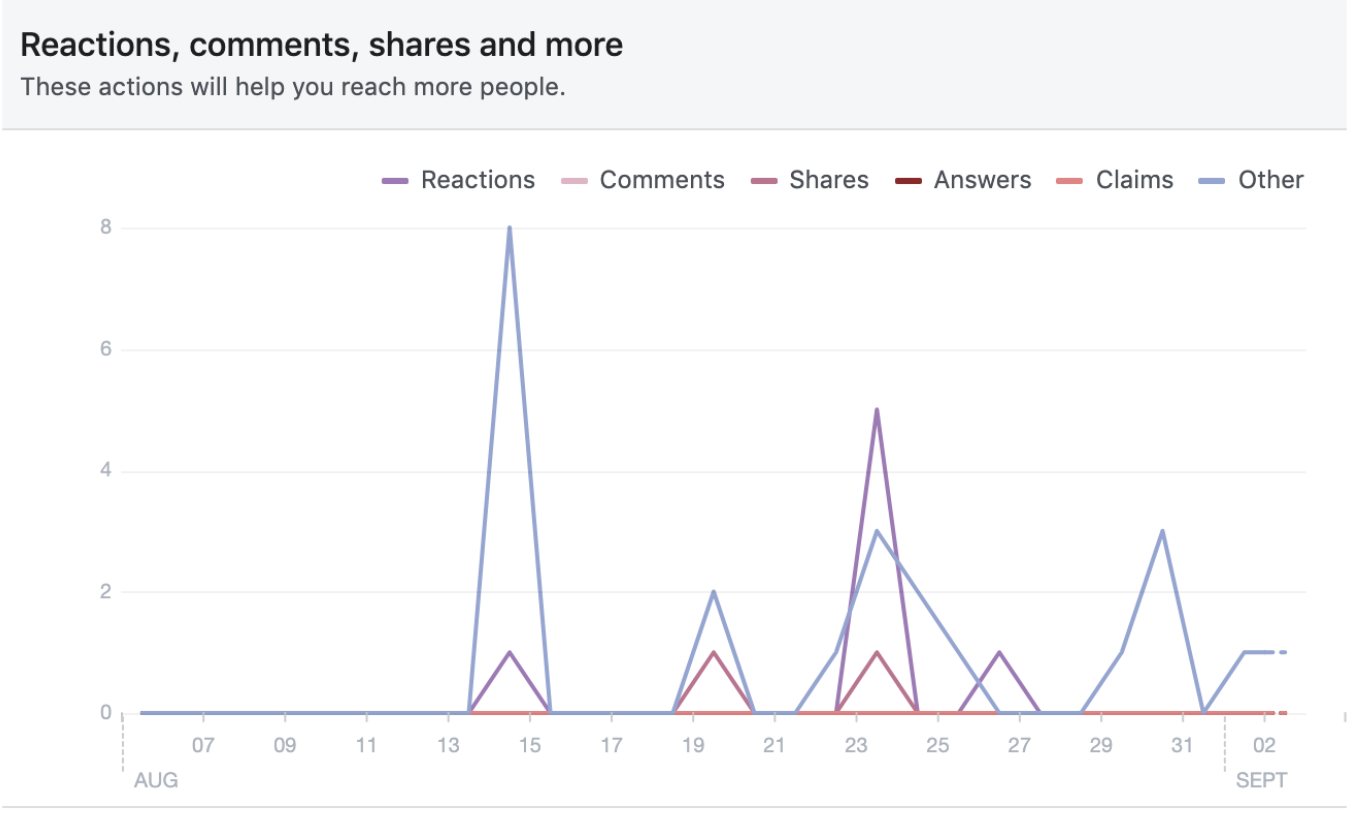 The more likes, comments, and shares a post gets, the more it shows up in the News Feed. On the other hand, the more people hide a post or mark it as spam, the less it will show up in the News Feeds.
6.3. Page Views
Page Views lets you know how people got to your Page.
Look at the Top Sources graph to see what external referrers bring you the most traffic. Likely, it's your website, blog, or a search engine.
6.4. Posts
Of all the tabs in Page Insights, Posts is probably the most useful.
At the top, you'll find a graph of when your fans are online. This can come in handy when you plan out your social media content calendar and schedule posts.

The All Post Published section will let you know, of all the posts published, which one performs best. It also lets you know which types of content you're posting has the most engagement.

You can also choose which metrics you would like to show in the chart. To do that, in the upper right corner of the table, click on the drop-down arrow next to Reactions, Comments, & Shares.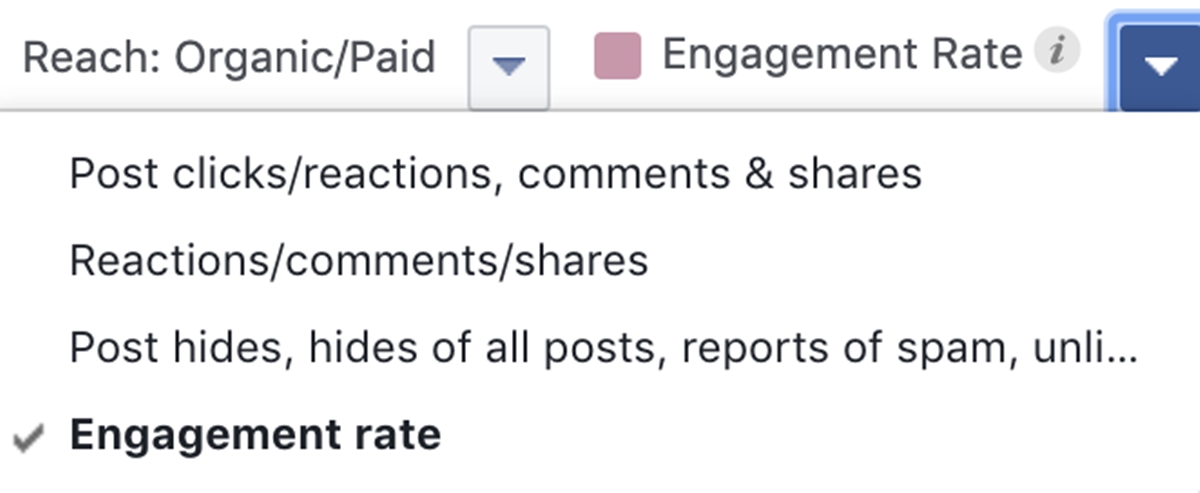 If you select Engagement Rate, this will show you your post with the most engagement rate (Engagement Rate = Total Engagement/Reach).
You might spot a high performing organic post which would be a good post to consider boosting with paid advertising.
7. Facebook Ads:
The first step to start off with Facebook advertising is to understand the terminology. In Facebook, all paid advertising can be broken down into three elements:
Campaigns: A campaign houses all of your campaigns.
Ad sets: Ad sets are groups of ads that target specific audiences. If you're targeting multiple audiences, you'll need separate sets for each.
Ads: The individual ads you'll post on Facebook, each with their own colors, copy, images, etc.
The Ad Manager is a great choice for individual ads, while the Power Editor was created for larger advertisers who need precise control over a variety of campaigns.
Final words
So that's how you do marketing on Facebook. I hope that it have answered whatever questions you may have on this topics. Obviously, information alone is not enough. You need to put them into practice. So take what you think is suitable from our article and apply it to your businesses, and let us know how it goes in the comment section.
---
CEO and Founder of Avada. Pursueing a simple and healthy lifestyle. A friend, a husband and a dad of four children, a trainer and an influencer wannabe. He is a big fan of sports and travel, also.
New Posts
Stay in the know
Get special offers on the latest news from AVADA.