20+ Best Facebook Engagement Post Ideas for you in 2021
Having an appropriate Facebook strategy is essential for any online merchants. However, because the number of users is increasing dramatically, getting reached on this platform is also becoming tougher. Some people agree to pay for likes and advertising, but there is still a free method boosting Facebook engagement, which is posting content every audience enjoys.
Knowing that engaging content is the key to attract reach and interaction with the Facebook page, we have this post today covering 20+ best Facebook engagement post ideas and some examples of most engaging Facebook posts. I hope that this can provide tips that you can learn to resonate with your audiences and improve organic news feed visibility.
Related Posts
Why should you care about Facebook engagement?
Before digging into post ideas to boost Facebook engagement, we need to understand better why it is so crucial for successful social media marketing.
Facebook engagement is when posts of a particular account have a huge enough impact on users, making them want to react and show relevant emotions. If a business often influences and gains emotional involvement with potential audiences, it is considered auspicious in social media marketing, especially Facebook marketing.
Key factors in evaluating whether the engagement is high or not is the number of followers, likes, shares, comments, or reach. When you have various reactions and comments for a post, the audience will raise curiosity and click on your page to see what is going on. More attention and impact will then be created.
Some businesses target likes and comments; others have the goal of having their posts shared to spread the content and their brand name to as many audiences as possible.
In the first month of 2018, Facebook informed a big change in the news feed algorithm, which prioritizes posts and activities of friends, family, or those with whom users have more online interactions. It is explained that posts that inspire back-and-forth discussion in the comments and posts that you might want to share and react to are now worth more visibility.
Based on this algorithm, businesses focus on making their content more engaging by creating posts that attract many readers, comments, and trigger sharing or discussion. By this way, their content gets ranked in the news feed more easily.
Many marketers are using engagement bait to oppose this new algorithm. That means they make their posts spammy by encouraging comments with a single word, an emoji, or tagging friends. However, if you take social media marketing seriously, you are not suggested to follow this method because Facebook is trying to demote these posts, and your content will then gain less productivity.
Therefore, before getting started on Facebook marketing, you should check out some useful post ideas and trying out to see what's going well for you and others.
20+ Facebook post ideas for maximum engagement
Raise a question
To get started in communicating with your audiences, raising a question is such an ideal option. This idea is simple and effective at the same time. However, you should not use this in every post but just about once every week. Facebook now provides the poll feature to make the process easier and more creative.
In the matter of the content, you should spend time and effort considering the types of questions to ask consumers. Your questions may be about customer's opinions, which will devote to your business decisions or product changes. You can also use this idea to boost Facebook post engagement by asking random questions related to your business and the market.
Remember to ask questions that are smart but still fun and easy to answer. You should make sure your audiences won't ignore your poll because the question's content is beyond their understanding.
If you take this idea well at the right time, it will probably be a powerful strategy that helps you get more brand's commitment and future content ideas from their responses.
Use behind-the-scenes materials
Using behind-the-scenes (BTS) photos or videos is a great way to promote your online business. In this way, you will stand out from other online merchants and make your Facebook account feel like a human.
Nowadays, more and more businesses approach this idea and receive pretty good results regarding social media engagement. Therefore, it is undeniable that you should try it out with your business and share your companies' daily moments with the public.
This type of post may include the process products are produced, employees, bloopers of videos or campaigns, etc. This content is so unique that audiences will recognize and connect with your business on a more personal level.
When there are more businesses offering products for sale on the Internet, clarity is what audiences want. So, when you can prove the transparency and the process behind your account, you can get higher trust from customers.
Show your awards or nominations
There are no better ways to highlight that your business is trustworthy than proving it via an award or even a nomination you received. If you did have one, let's show it to your audience to enhance your brand's reputation.
When your fans see this kind of post, they will have better trust in your brand and know that you are among the best within the industry. So, let's try it out to see how this idea works in terms of engagement.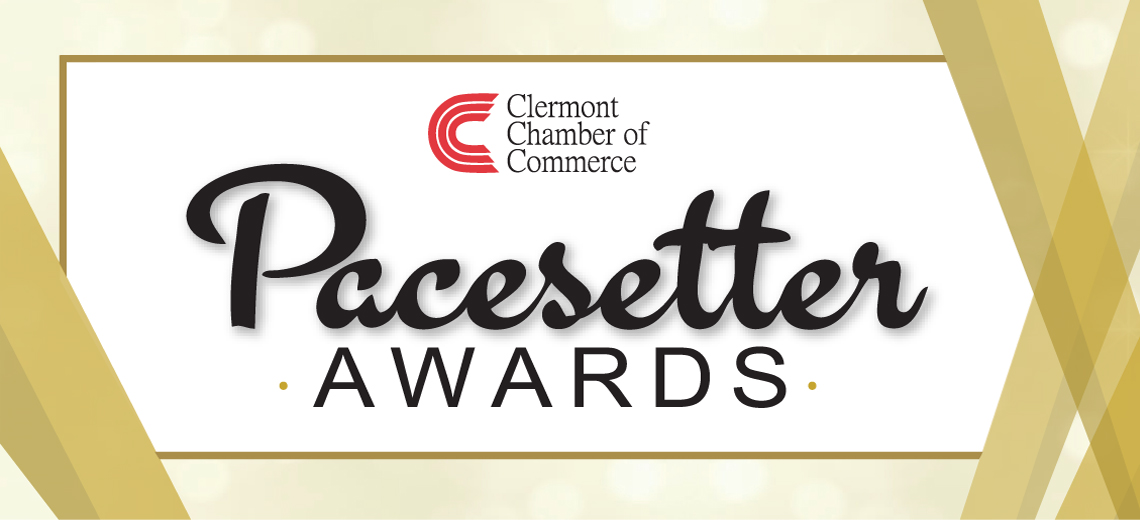 Update trending topics
Updating trending topics for your Facebook posts will help your account as well as articles appear more in feeds according to news feed algorithm. Moreover, when your posts are about trending topics, it indirectly opens a discussion among your audiences. You will have a better chance to communicate with your customers because your questions will bring about more comments and shares.
Therefore, let's find topics that are heated or those your fans are interested in so that they will be more likely to interact and result in more reach and engagement.
For example, corona and hashtag relevant like #stayhome, #quarantinetime, #stayhomestaysafe, etc. are what many businesses focus on to help boost their brand's engagement.
Share your history
Another way to make your business more human is by sharing how you started and changed. Many people are interested in seeing the process of transformation or hearing stories of others. You can rely on this fact to sharing more posts about how your business was born, where it started, and how it could be successful like it is today.
Your fans will then be more closed to you and give you more shares and likes if your content is interesting enough. Your Facebook account will also be more engaged when they comment to ask questions related to your story.
Branded graphics
One way to get your posts visual is by adding pictures and branded graphics. Branded graphics are what you create from your business's logo, fonts, or color palette.
This post idea is so flexible that you can share various content like quotes, memes, motivational sayings, tips, and more in branded graphics, which makes it suitable for every online channel, not only Facebook.
You should get creative in posting branded graphics by avoiding designing the same style but bringing multiple shades of colors into the graphics. In this way, your brand can stand out from others since it looks so unique.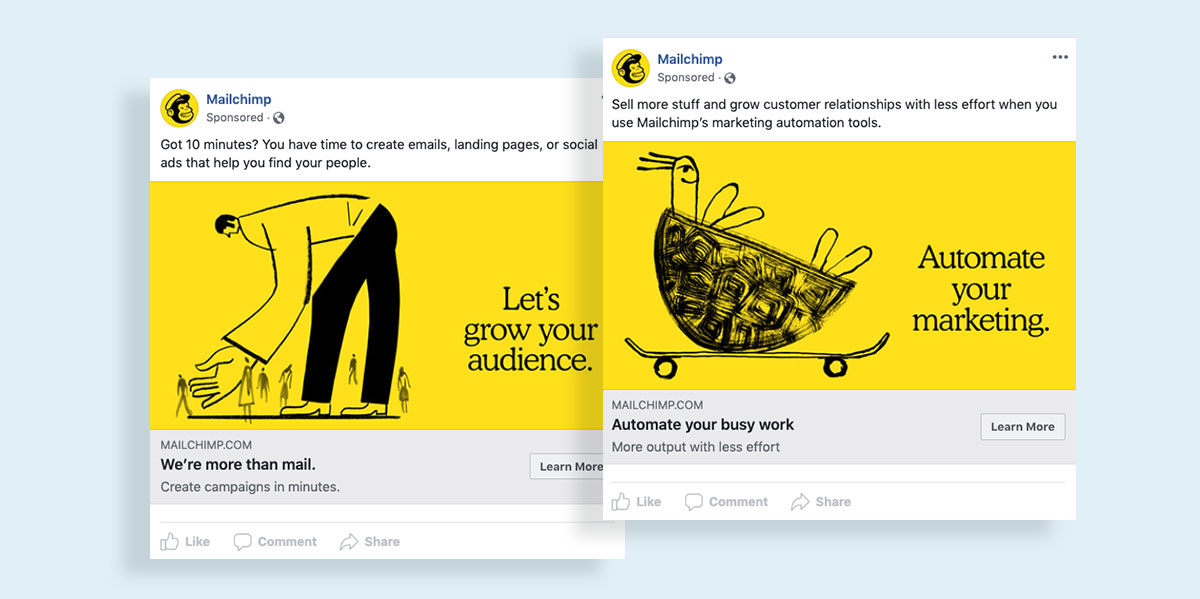 Therefore, let's create your own branded graphics by adding shapes, icons, or illustrations to visualize the text content. Each online platform has its own optimal image sizes so remember to optimize your graphics in the right way.
Charity and nonprofit
Sharing stories if you have worked with a charity or nonprofit because it is a part of external PR, which will help your company gain more engagement from online fans.
When posting about this type of content, customers will see how you are devoting to the community and sustainable development of the globe. You can also present the reasons leading to your responsibility to the cause and what it means to you and your business.
In this way, you can make sure your posts are received by Facebook and get good engagement.
Tell stories
Telling stories seems to be a new post idea. However, it is more powerful than you expect because it resonates with audiences, especially when they did go through the same experience. It is also a good tool to personalize your business.
No matter how big your company is, you should tell stories to get deeper connections with your followers on a more personal level.
You can tell any stories about your business, life, owners, or funny experiences to entertain your audiences. To bring about an emotional connection with audiences, many businesses choose to tell stories about how they came to be, their difficulties in being a business CEO, what the brand mission is, etc. When hearing such stories from you, audiences will feel relatable and react more.
Recommend relevant pages or websites
This idea is helpful if you know the right pages and websites to recommend. Be careful and specific in suggesting to lead your audiences to the ones that are not your competitors. However, your recommendations should still be suitable, relevant, and valuable to your potential customers.
Do researches and recommend pages that your audience may be interested in. By doing so, you will build up a better connection with your fans because your recommendations show that you are caring about them as well as their demands. Your audiences will be more likely to visit and approach your posts again, resulting in great Facebook engagement
Videos
Facebook provides an individual section allowing users to post video only, which is known as Watch. Obviously, they want you to post more videos and will boost this type of post.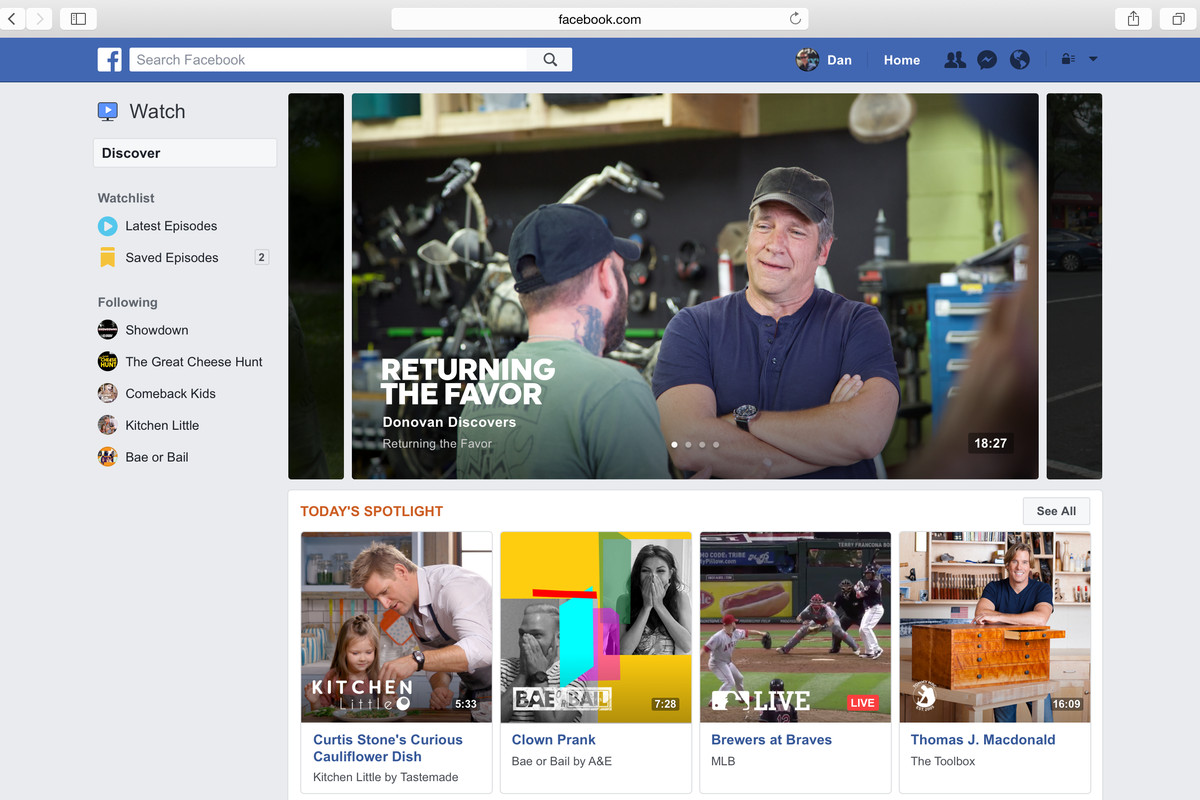 That's why posting videos is highly recommended to online businesses if they want to improve their marketing strategy. It is important for any business to get started in using video marketing in regular strategies.
If you do have a whole video production staff, that's great. But if you don't, it is still fine because you can start with some basic content like stop motion videos. Some common ideas for video on Facebook are information videos, educational videos, entertaining viral clips, and more.
Let's create and share videos more often to gain higher engagement.
Test various posting frequencies
In fact, there is no one strategy that is perfect for every business. On the other hand, each has to test multiple posting frequencies to see which is suitable the most. It is normal if one practice fits almost every company except for yours. Also, some content ideas and tactics work better in your business only.
So, let's test different posting frequencies until you find out the best strategy for your business and your audience.
Many companies have a list of suitable content, so they post them to their Facebook page multiple times without losing any potential audiences. Whereas others only post new content once every week.
Post product photos
When you running a business online, it is possible that you are selling a particular product or service. Therefore, you should post photos or videos about what you are serving on your Facebook post to let audiences have a better understanding of your company. However, what brings about the higher engagement is highlighting your products in a creative and beautiful way.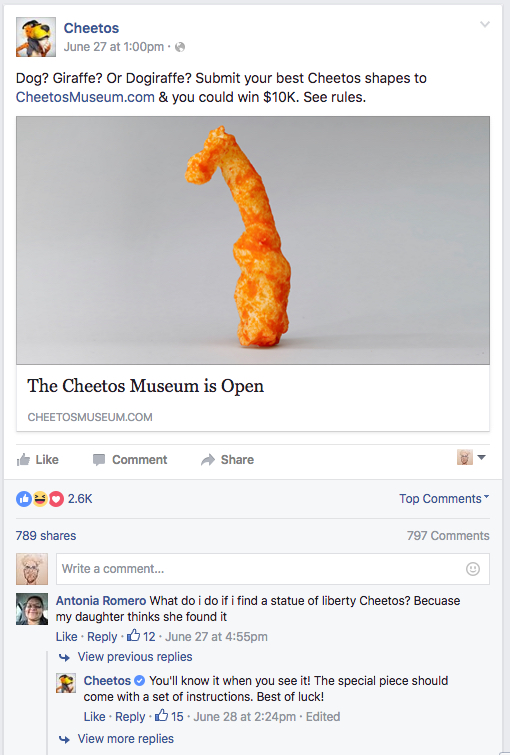 In this way, your articles will be more appealing to audiences, which helps you get more purchases from customers also. Get started in modeling your products by using flat layouts, related themes, holiday themes, application shots, and more. Enticing product photos will bring about both engagement and conversions.
Post product previews
There're no methods more effective than directly building excitement for your items or services. Posting article introducing and previewing what your product is and how it will make changes to make audiences' lives easier is a great way to bring about more sales.
It is especially suitable if you have a new product that is about to hit the market. Product reviews about the positive impacts of it will generate a good first impression, which creates post engagement and leads to a buzz about your business.
Infographics
As you know, infographics are used to provide people with long data visualizations, which will then take up the entire screen. However, as long as you optimize the size correctly according to each platform, they can be shared totally with high quality.
Many businesses now apply to share infographics to educate audiences of industry trends or companies' history timelines. Let's start creating your informational charts and graphs on Facebook to get more likes, reach, and shares.
Appreciate comments from fans
It is a nice post idea that helps you stand out from other businesses within the same industry and generate better connections with your fans as well.
Make a post to thank your fans for interacting and giving positive comments about your products or services. In this way, they will feel appreciated and heard, which means they are likely to visit your posts more often.
Humanize your business
Your business Facebook page should not be a business all the time. Instead, you are suggested to let your audiences see a real human behind it. In fact, it is perfect to show your personality via Facebook posts and captions.
To handle this type of content, make sure you have brand voice guidelines that will allow everyone to know how far they can go in terms of personality.
As we mentioned, people use social media in search of social connections. Therefore, a business with real personalities will have a better engagement with audiences.
Post at optimal times
Though it is not a content idea, many businesses still base on this posting tip to gain higher engagement. Posting at optimal times is sharing posts at times when your followers are online and engaged. You should be careful in choosing the time to post or you will probably miss a lot of interaction.
Posts at the right time will allow you to reach more people. There are also many apps and software available helping you to select optimal posting times.
Blog posts
In fact, content marketing is somehow similar to social media marketing n terms of both importance and engagement. Therefore, it is a Facebook post idea that works for almost all businesses.
Two types of content work together, so when you create articles for your website, you are actually making one for your social media page and vice versa. This free content will lead to more clicks to your content, which is helpful in both ways.
Remember to be informative and creative at the same time while sharing your business's blog content via social media channels like Facebook.
Include discounts and sales
Another idea post that works well in promoting on Facebook is posting discounts and sale alert notes.
Let's share any sales or offering accounts you are running with your audiences. One of the common tips is creating flash sales for followers and get them rewarded for liking or interacting with your Facebook page. In this way, you will get higher engagement and sell more products at the same time.
Offer tips and tricks
Users tend to approach posts about quick tips and tricks. Therefore, the more you tips you provide, the better it is to increase engagement and reach potential customers.
Text-only tips post still brings about great results. However, if you want your posts to grab more attention and gain higher productivity, you can also create branded graphics, add photos, videos, and more to accompany the text.
Games, contests, and giveaways
The last idea is a very effective tip which helps grab customers' attention and enhance engagement. Organize a game, contest, or giveaway prize in which your followers are interested and you will get more reach, brand's preferences, brand's awareness, and followers as well.
Take note of providing a prize that is relevant to your target audience. In this way, you can attract as many fans as possible. The best prize for games or contests is a product, service, or discount code from your business. However, if your products are so expensive that it can't be easily given via an online contest, consider what else your specific customer may be into.
Some examples of most engaging Facebook posts ever written
Here we will introduce some examples of most excellent Facebook posts ever written for businesses.
Forbes
This tool is handled by posting only text without any imagery. Forbes has gained millions of likes and shares thanks to a simple quote from their blog post. If you are running a business, you can totally follow this simple, applicable, and scalable method to gain higher social media engagement.
Zillow
In this mentioned post, Zillow gained engagement and interaction from audiences by asking their opinions via a poll. When seeing Zillow's post, users will be ordered to choose their favorite home decor from 4 options. The method has brought Zillow a huge amount of engagement from more than 2 million followers. Also, the data taken from this poll result can help them in improving product quality.
Disney
This post of Disney proved the fact that Facebook engagement doesn't mean sticking to only one photo. The most-liked post of Disney was uploaded in 2013 and gained over 314,000 likes. It is basically a small album of 5-6 photos introducing its Epcot resort and International garden.
Ben and Jerry's
Ben and Jerry's took advantage of one tip we mentioned above: "Sharing how you start." This high-engaging post of Ben and Jerry's was not cool and fresh at all but it is still considered as a brilliant one since they based on Facebook's timeline feature to share stories telling about the brand's history.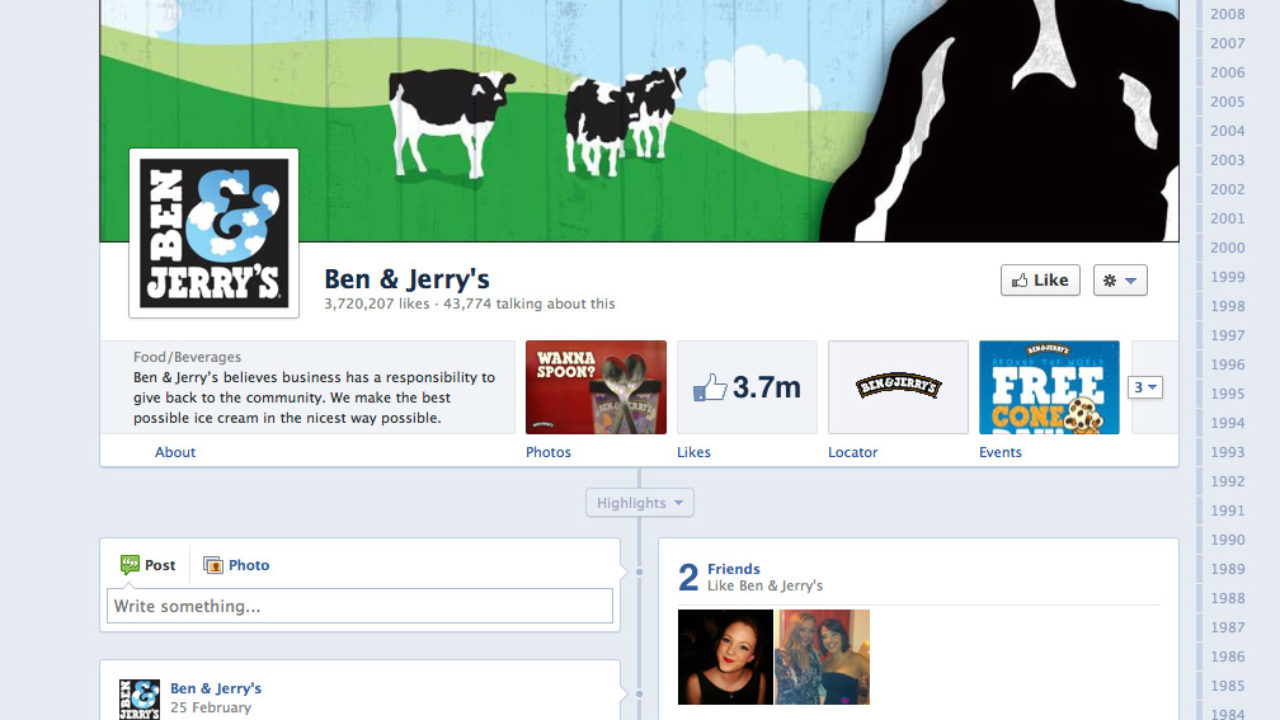 Vodafone Zoozoos
For those who don't know, Zoozoos are advertisement characters promoted by Vodafone India since the Indian Premier League Season 2. These, while creatures are so important and profitable that Vodafone created an entire Facebook page for them. The page has gained a significant following of more than 18 million. Vodafone often posts content related to holidays to get attention, and most of the time, they get remarkable reach.
Walmart
A famous retail company - Walmart also used the poll tool to get engagement like Zillow. Nonetheless, the difference is that Walmart lets audiences vote by liking and sharing instead of commenting on their choice. The battle between Apple pie and Pumpkin pie (Shares and Likes) brought 300,000 votes for Walmart, which made this content one of the brand's most-liked posts. If the poll you created didn't work well, try the non-verbal option like what Walmart did.
Starbucks
This post idea is simple but effective. What Starbucks did is just taking a picture of a coffee cup and showing it to everyone. They let consumers see a close and special angle of espresso cup which their staff sees every day, but customers hardly get to check out. This brilliant post got the results of more than 35 million likes.
Check out the Facebook page of Starbuck here!
Rent the Runway
Rent the Runway is an online service that provides designer dress and accessory rentals. They were successful in boosting Facebook engagement among more than 200,000 followers by this post. They posted a visual feast added with a link to their website. In this way, consumers will be led to good deals provided by the brand once they click on the link. This post was not only promotional but also appealing.
Gilt Man
Again, an example proved that when it comes to marketing, nothing is certain. Gilt Man did have the intention to push this post, which is not considered the best practice. However, this content received up to 2000 likes and nearly 200 shares. Remember that there are no post ideas that are the most effective. You need to combine and get creative when improving Facebook engagement.
Nashville.com
It is also a post idea related to inciting a discussion among audiences. Nashville.com posted a short caption asking their followers about a topic that everyone can relate and want to talk to, which is Eating out.
As you can see, getting higher engagement on Facebook is much easier than you think. Remember to be human as much as you can if you want to get more valuable customers.
Sharpie
Sharpie is a famous name successful in creating a remarkable social media strategy. The brand received many praises from subject matter experts and Facebook users as well. In this post, gaining 34 shares and more than 1,200 likes, Sharpie showed their products and opened a room for discussion just by posting a simple photo and a short caption.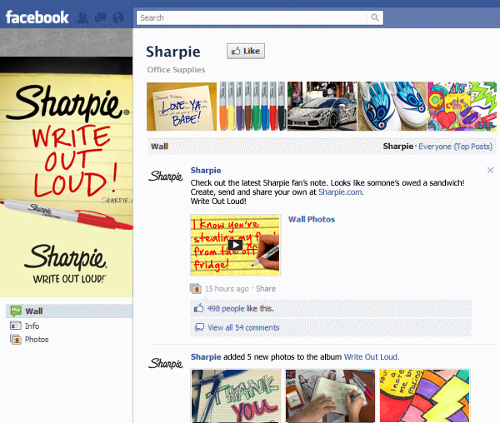 Coca Cola
This post from Coca Cola surprisingly got over 1,200 shares just by posting a photo noting that "It's refill o'clock". Again, Facebook engagement doesn't always come from something complicated.
Aviva
Being a British multinational insurance company, Aviva promotes Facebook engagement by posting content that is relevant such as life hacks. This is such a genius idea to have a deeper connection with fans. In this post getting 800 likes, Aviva shared its recommendation of an activity to do with little girls as well as a sweet wish for a lovely weekend.
Yorkshire Tea
It is a special case because it is advised not to talk about the weather very often. However, Yorkshire Tea did get nearly 400 likes by introducing its cold brew via talking about snowy weather at Easter. Though it doesn't always work well, daily topics may be a highly useful tool to engage with consumers on an emotional level, which is the key to a successful marketing strategy.
Lexus
Lexus is a famous luxurious car brand. They were very careful in posting content to encourage discussion on their brand page to get nearly 10,000 shares. If you want to get successful in Facebook marketing like Lexus, let's ask your audiences about daily topics such as what they like or don't like instead of politics or religious issues.
Further readings
Conclusion
To sum up, the importance of Facebook engagement is undeniable. We have provided you with more than 20 post ideas to help generate high engagement among audiences. We can't make sure all the tips above work well with your case, but they will get you started and more likes, reach, shares, comments, etc.
The only way to know if they work for you or not is to try them out on your page. It may be a bit hard for the first time, but don't give up. Remember to be human as much as possible because users use Facebook to look for interactions with humans.
Having any questions, don't hesitate to leave a comment in the box below. We are pleased to hear from you, too. If you find this post useful, share it with your friend and check out other interesting posts of us.
---
Mike is a content writer at Avada, with a love for video games, gadgets, and software. He has been writing about the industry now for over 7 years. He likes to keep up-to-date with the latest software releases. He's also an avid reader, and he enjoys spending time outdoors with family and friends. When he's not working, you can usually find him playing video games or exploring new outdoor activities.
New Posts
Stay in the know
Get special offers on the latest news from AVADA.