11 Best Oberlo alternatives for Shopify in 2023
Dropshipping is among the most popular business models in the Internet age. It requires little initial investment, and makes selling online much simpler than selling with the traditional retail model.
One important thing that makes or breaks your dropshipping venture is the dropshipping app you choose to use. A good app will help you automate almost everything and allow you to focus on the marketing and selling of your products, while a bad app will distract you from advancing your business. Oberlo is one of the most popular dropshipping apps on the market, but it's compatible with Shopify only.
So if you're not going to use Shopify, what will be the alternatives? In this article, I will introduce to you 11 other options that are just as good as Oberlo.
What is Oberlo?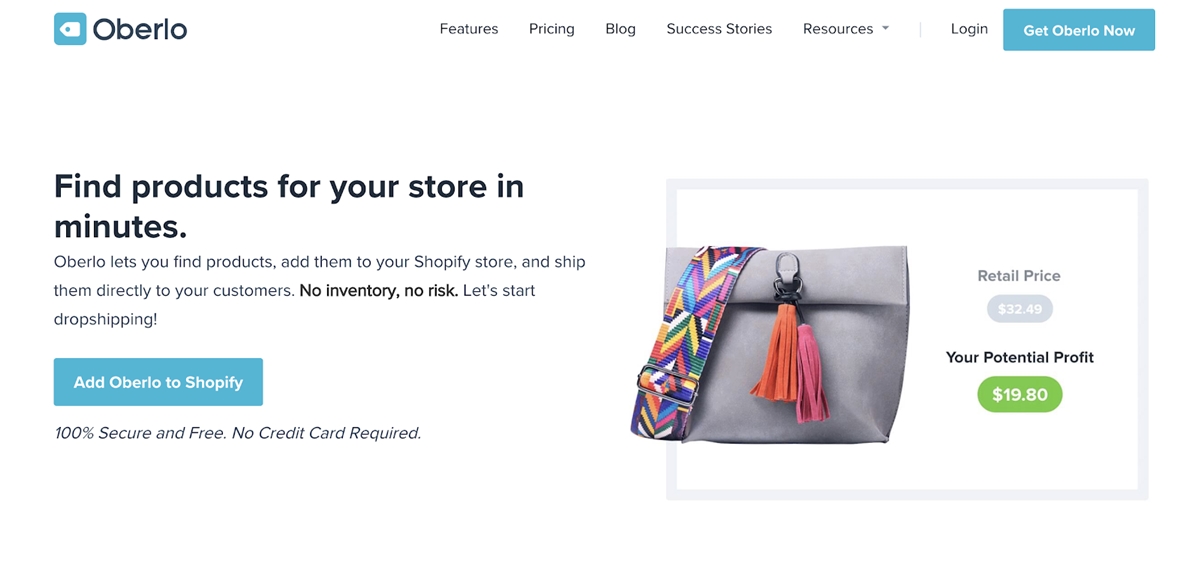 Oberlo is an application that enables you to easily import dropshipped products from Aliexpress into a Shopify store, and ship them directly from the supplier to your customers with just a few clicks.
Further Reading: Oberlo Review: The Best Dropshipping App
Here's basically how dropshipping with the Oberlo app works:
A customer places an order in your Shopify store, and pays the cost to your payment gateway account (e.g, the Shopify payment or Paypal). After that, you need to use your personal credit card to purchase the item from the supplier for your customer. Finally, the supplier will fulfill the order and ship directly to your customer.
The amount of profit you make will be the difference between the price the customer paid in your Shopify store and the cost of the product you paid for your supplier. As a dropshipping merchant, you won't have to keep inventory of products yourself. You are just the middleman between your customers and the suppliers.
Oberlo has these main features:
Product customization options
Connect existing products
Shipment tracking
Multiple user accounts
Pricing automations
Product filtering
Sales tracking
Create product lists
Product supplier management
While Oberlo is widely used in the dropshipping world, that by no means that it's perfect. Here are the pros and cons of this app:
Pros:
Simultaneous integrations with Shopify store
Automated product order fulfilment
Quickly secure product imports from AliExpress
Huge time and savings effort with app
Access a modern dashboard with a great UI
Pricing and inventory automation
No membership fee plan available for starters
Cons:
No option to work on standalone sites
None of the products are edited within Oberlo
Only AliExpress supported as a merchant
Only compatible with Shopify
If one of these downsides makes you not want to use Oberlo, the following are 11 best alternatives!
Oberlo alternatives for Shopify
1. Spocket: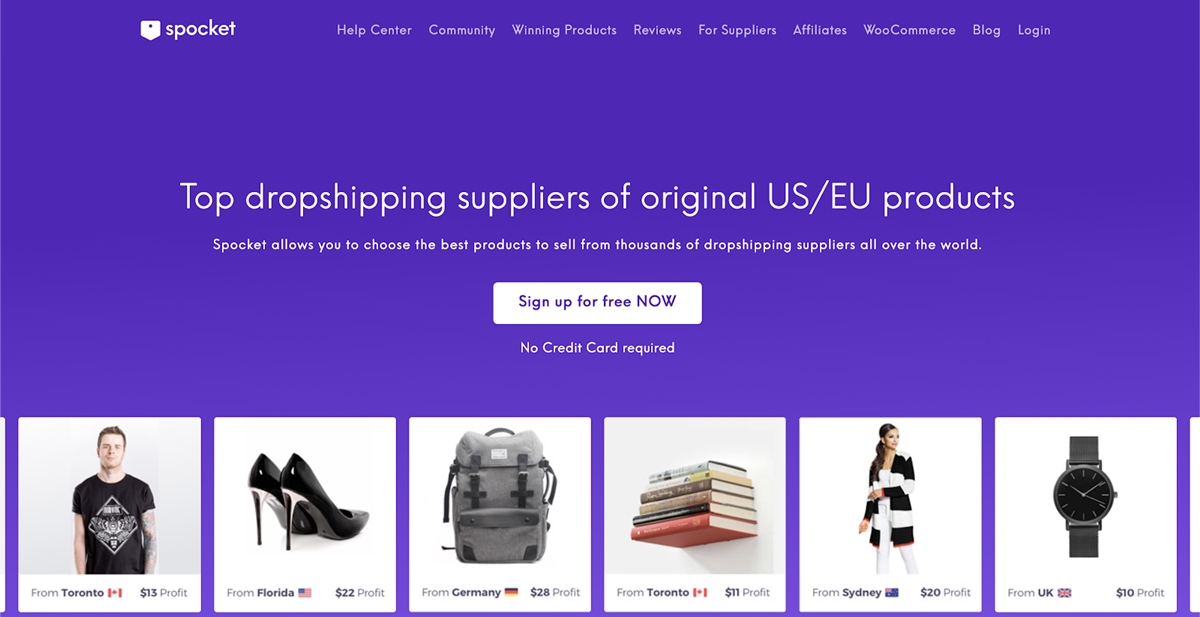 Spocket is rated very highly in the dropshipping world. Many people call it 'the alternative to Oberlo', and many others claim that it is more advanced than Oberlo When it comes to the quality of suppliers provided.
There is a reason behind these approvals. That is most of Spocket's suppliers are based in Europe and the US, and so suppliers have a higher standard for quality. If you're located in these two regions, you definitely should give Spocket a try, because the shipping would be way faster compared to China, and the entire process of building a partnership will be a lot less difficult.
Spocket is truly great in three aspects. The first one is the pricing. Spocket suppliers give dropshipping merchants a whopping 30%-60% discount. This means you can make a good profit margin dropshipping with Spocket. The second advantage is you can add your company branding elements to all receipts and invoices. Although this is not as good as having your branding elements on the package, it still creates a positive impression.
The third aspect is Spocket allows you to order sample products. This will enable you to evaluate both the shipping speed and the quality of any product. Based on that, you can customize the description, photos, and pricing according to your own experience with the product. On the technical side, Spocket receives lots of praise with its automatic update of inventory, one-click fulfillment of orders and many other advanced features.
Main features:
Dropship with Faster Shipping. With Spocket's huge range of US and EU-based products, shipping is guaranteed to be fast.
Get the Highest Discounts / wholesale pricing. All products on Spocket have a 30-60% discount off of retail price, so that you can make a good profit for your efforts.
Have your Inventory Auto-Updated. Your suppliers' inventory levels are updated real-time, so you can stay up-to-date with the stock of your products, and never accidentally sell products that are out of stock.
Fulfil Orders with a single click. All you need to do to process an order is click one button, Spocket has automated the rest.
Test Out Products with Sample Orders. You can order samples right from the search page to verify the shipping speed. This will allow you to do your own photography and make sure the products you choose are the right match for your store.
Stay updated with real-time order tracking. You can know exactly where your order is anytime.
Create a branding impression with branded Invoicing. Dropshipping shouldn't mean a sacrifice for your brand. With Spocket, the products shipped will have your store's logo, personal note and name on them!
Pricing:
Sprocket offers 4 pricing plans with a 14-day trial.
The Starter Plan ($9/month)
The starter plan is designed for anyone who wants to test their ideas first. You can always upgrade to the higher plans when your business starts taking off.
Import up to 25 products
Access to unlimited orders
Currency exchange
Global pricing rule etc.
Real-time inventory updates
Email support only
The Standard Plan: $49/month
Access to Branded Invoicing
Unlimited orders
Import up to 250 unique products
Premium Products
Chat and email support
And everything included in the free plan
The Empire Plan: $99/month
This plan offers unlimited products along with everything from the other plans.
This is a perfect plan for anyone that is looking to scale their business.
The Unicorn Plan: $299/month
Bulk checkout
premium 24/7 phone support
Product Request
Plus everything from the other plans
Further Reading: Spocket Dropshipping Suppliers Review
2. Dropified: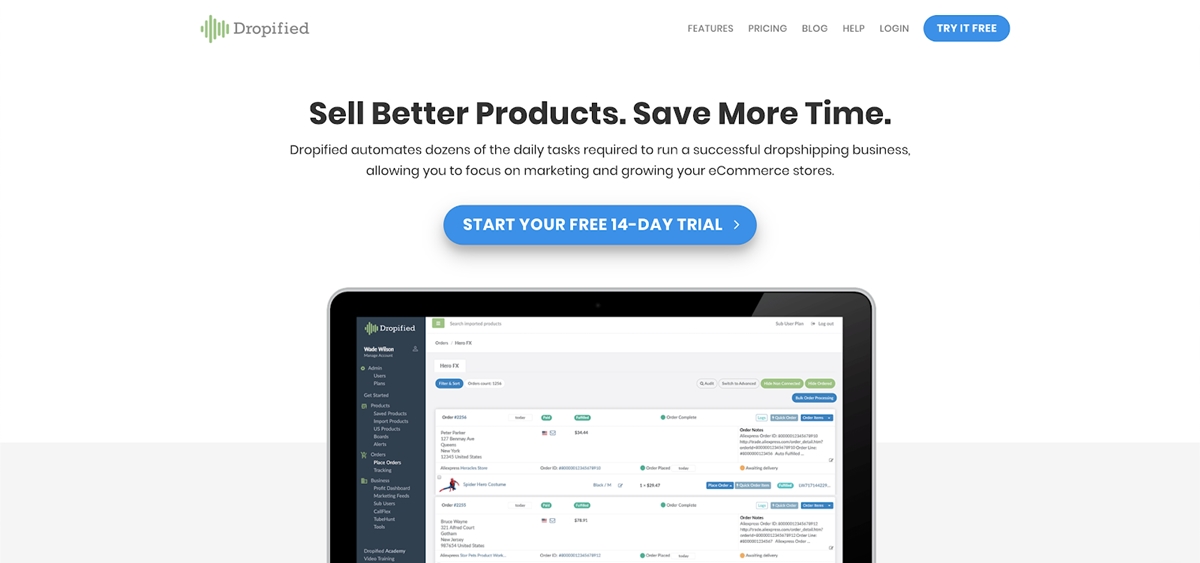 With tons of features, options and services, Dropified can be a bit overwhelming to use at first, but the power it brings will pay off that hassle. Some of the amazing features allow you to fulfill orders with one click, change vendors easily and assign vendors to your products. You can even upload many products in bulk with one click straight to multiple product pages. Also, product descriptions, images and reviews can be imported to your store in just one click too. With Dropified, you can set up all of the prices based on the markup of your choice.
Dropified is a truly automation tool as it takes all of the time-consuming tedious tasks, and turns them into automated processes. It will help you do your product research, fulfill orders easily, add products right to your store, and scale your business!
In terms of suppliers, Dropified provides you with a long list to choose from. Among them are AliExpress, ShineOn, Amazon (.com , .uk, .de, .fr), eBay (.com, .co, .uk), Tmart, SammyDress, DHGate, Wish, Etsy, Walmart, and Costco. The full list is too long to name everyone in it here.
Main features:
Bulk edit products within Dropified and bulk edit existing products in your Shopify store
Save products to your organized wish lists in Dropified and conveniently refer to them for later
Put products from different AliExpress and eBay suppliers in a bundle and fulfill with one-click
Fulfill orders in seconds with a single click (AliExpress and eBay)
Receive automatic-product alerts and price-change alerts (AliExpress)
Automatically apply markups to all selected products
Track orders automatically
Automatically solve captchas with Dropified's built-in captcha solver (AliExpress)
Remove backgrounds from your product images with Dropified's background removal tool
Change suppliers with ease
Quickly add or change to a new supplier if your supplier runs out of stock
Add custom tracking URLs that get sent to your customers
Add custom order notes to the suppliers to prevent them from sending pricing or promotional materials to your customers
Over 80 product catalogs with thousands of products to select from
Pricing:
Dropified offers up to two pricing plans, and each of which comes with a 14-day free trial. There are two options for billing that are monthly annually.
The Builder plan: $47/month (billed monthly)
Import 15,000 Products
Unlimited Monthly Orders
5 Users
Advanced AliExpress & eBay Order Automation
Access to Dynamic Facebook Feeds
+More
The Builder plan: $468/year ($39/month and paid annually)
Import 15,000 Products
Unlimited Monthly Orders
5 Users
Advanced AliExpress & eBay Order Automation
Access to Dynamic Facebook Feeds
+More
The Premier plan: $127/month (billed monthly)
Import 50,000 Products
Unlimited Monthly Orders
25 Users
All Builder Features
+More Ecom Power Features valued at over $150/mo
The Premier plan: $1,164/year ($97/month and paid annually)
Import 50,000 Products
Unlimited Monthly Orders
25 Users
All Builder Features
+More Ecom Power Features valued at over $150/mo
3. Modalyst: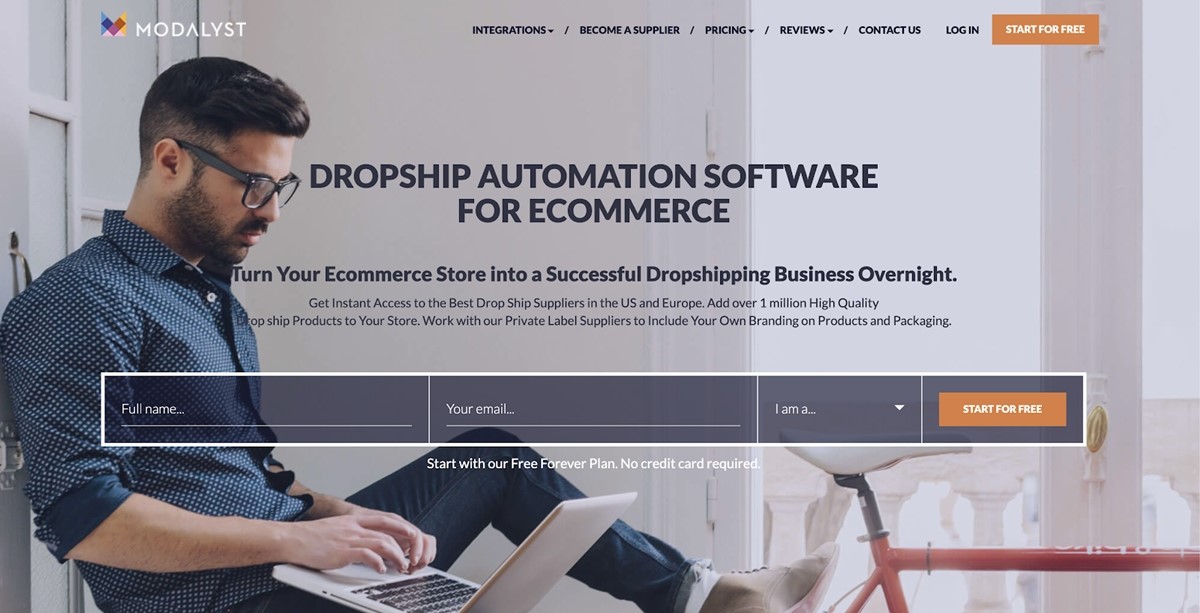 Modalyst, to some extent, has grown big enough to be worthy of being a suite of retail solutions in one place, not just a single app. When it comes to suppliers, Modalyst tends to work with only established well-known brands, as well as goes for famous brands such as Calvin Klein and Puma. Although you will find that the prices are way higher than what you'd get from Asian suppliers, you will get back the quality that matches what you pay. Just spend some time doing research, and you'll find many opportunities with good margins.
You can source a huge range of goods with Modalayst, including men's and women's apparel, shoes, children's clothes, bags, bridal wear, beauty products, plus-size clothing, homewares, and accessories, to name a few.
Modalyst integrates directly with Shopify, and that allows you to add products with just one click. It also provides you with features for managing orders and tracking inventory. What else? Modalyst automatically updates changes in prices, notifies you of inventory levels and provides you with data feeds in real-time. Alongside with all of these great features, Modalyst has a great-looking and intuitive user interface.
Main features:
Single-Centralized Dropshipping Platform. You can have access to thousands of dropshipping suppliers and millions of products; all on one platform.
Inventory and Pricing Updates. Inventory and pricing of all items are updated in real-time.
Product Listing Customization. You can modify description, pricing, variants and images before adding products to your store.
Set Your Profit & Pricing Rules. You can automatically mark up your imported items based on rules that you create.
Suppliers with Free Shipping. You can source from selected suppliers on Modalyst that offer free shipping.
Automatically Add Shipping Costs to the Product Pricing & Offer Free Shipping. You can set up to include shipping costs on every item so that you don't lose money while offering free shipping to your customers at the same time.
Sync Tracking Numbers. Orders and tracking numbers are automatically synced with Shopify, so your customers will know exactly when their orders will arrive.
Profit Calculator. With this feature, you can know how much money you make off of each product in real-time.
Pricing: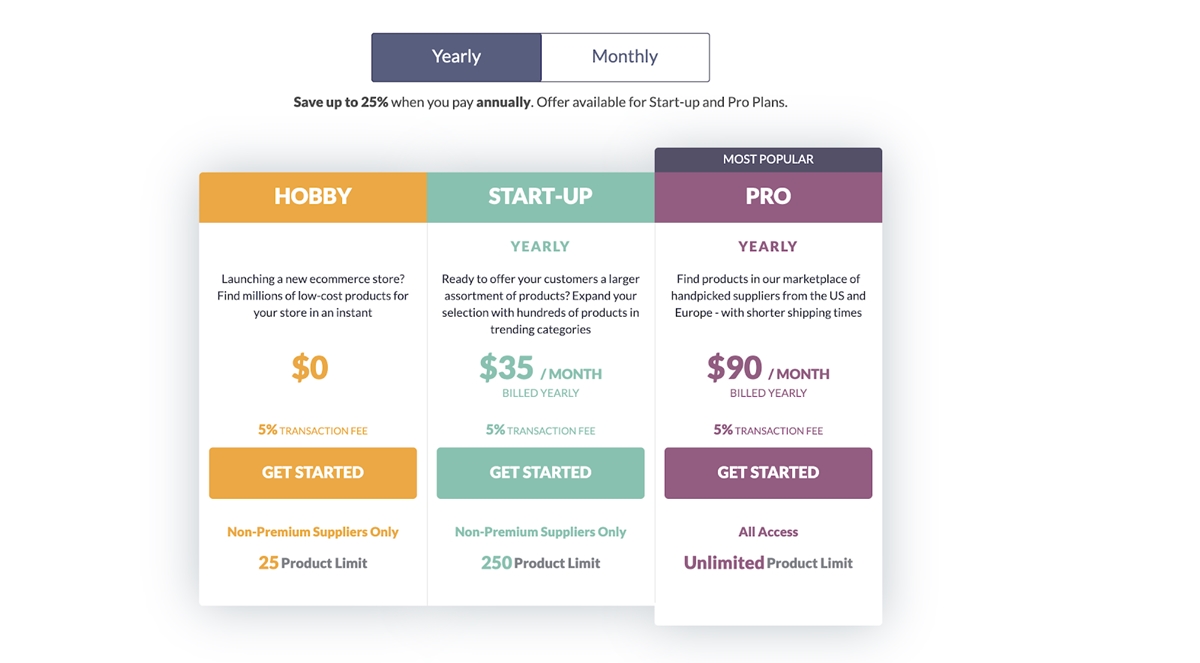 Modalyst offers four pricing plans including both free and paid options. Each plan offers a different group of features that satisfy different needs. Here's a breakdown of the plans:
The Hobby Plan:
Non-Premium Suppliers Only
5% Transaction Fee
25 Product Limit
The Start-Up Plan:
Non-Premium Suppliers Only
5% Transaction Fee
250 Product Limit
The Pro Plan:
Access to All Suppliers
5% Transaction Fee
5000 Product Limit
The Business Plan:
Access to All Suppliers
2% Transaction Fee
Unlimited Product Limit
4. Product Pro: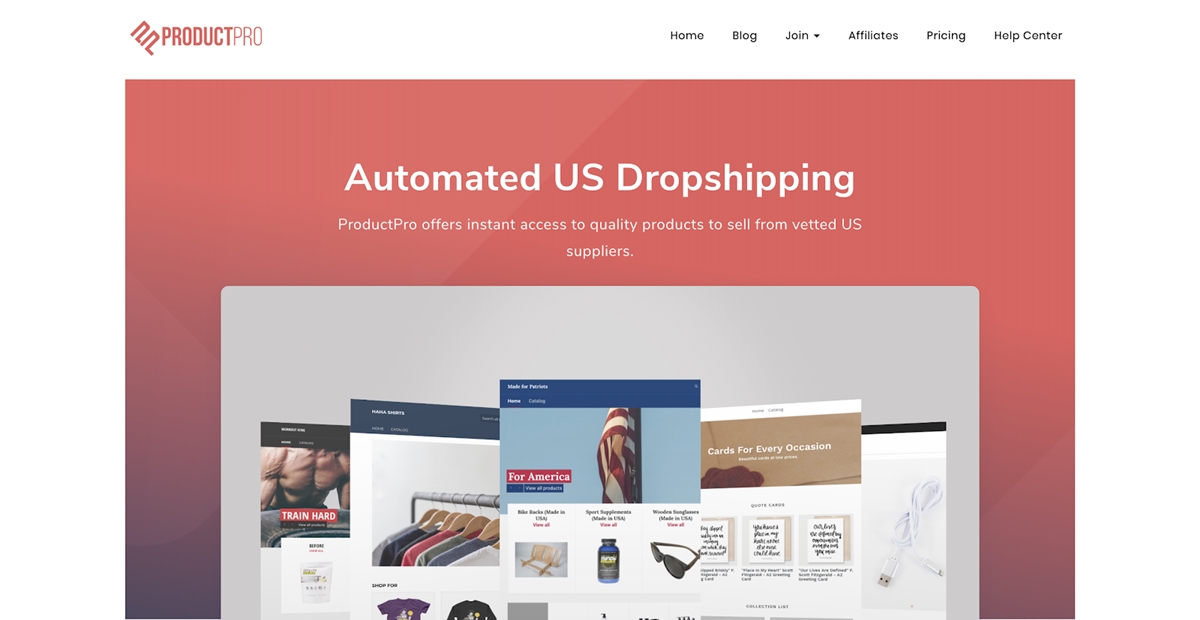 Product Pro is very similar to Spocket as many users would name Product Product the best dropshipping app. Dropshipping merchants love this amazing app because it skips Asian suppliers and works with US-based companies only. The reason is Product Product makes efforts to focus on the quality instead of low pricing.
Product Pro provides a large network of trusted suppliers who pride themselves on the prime quality of their goods. They offer products from various categories such as home goods, apparel, jewelry, consumer electronics and more. Product Pro's product offerings are huge. You can have access to more than 50,000 products.
The app has an intuitive user interface, comes with many advanced features such as automated fulfillment, simple product selection and automated management and payment processing options.
Main features:
Extensive Catalog. You will have access to more than 60,000 products from a wide variety of categories such as electronics, beauty, fashion, print-on-demand, jewelry, and more.
Automated Fulfillment. When a customer buys an item in your store, Importify will automatically process, bill, fulfill, and ship the order for you.
Inventory Sync. Inventory levels are always updated accurately and in real-time.
Customizable Products. You can browse Product Pro's collection of print-on-demand products such as apparel, phone cases, skateboards, and incorporate your own creative designs to quality products.
Pricing:
Product Pro offers only two pricing options, and one of them is free.
The Free Plan:
Browse product catalog
Save draft products
The Retailer Plan: $89/month
Unlimited Products
Unlimited Orders
Automated Fulfillment
Inventory Sync
There are three different ways you can approach this retailer plan.
If you pay monthly, it costs $89/month, and that comes with:
Full product catalog
100 orders per month
Automated Fulfillment
Real-time inventory sync
Chat + email support
If you pay annually, it costs $45/month, and that comes with:
Everything in Pro plan plus:
Expanded Inventory
Unlimited Orders
Custom Product Recommendations
15-minute products consultation
$10 towards first order
If you want to sign up for lifetime use, it costs $1,999, and that comes with:
Everything in Premium plan plus:
Lifetime access – pay once
Dedicated account rep
Product sourcing requests
Vendor Management System
5. Importify: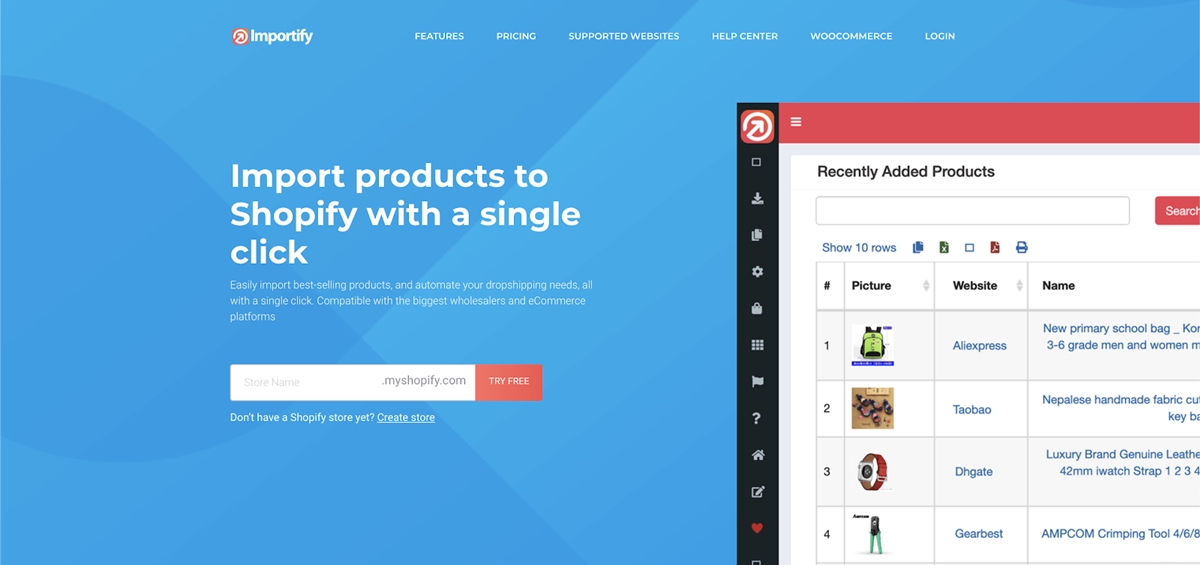 Importify's slogan is "Get Importify and start importing best-selling products with ease, automate your fulfillment needs also, and all with a single click!" And it does exactly what it promises to do.
With its intuitive user interface, Importify shows you immediately how user-friendly it is as soon as you start using it. You can import products from several platforms, as well as automating the fulfillment process; they both are quick and simple.
To import a product, all you have to do is to visit the Wholesaler Website section in your Importify Dashboard, then use the Importify Chrome extension to find the best products, and click the Add button on the products you're interested in selling on your store. Importify has a wide range of high-quality wholesalers that you can choose from.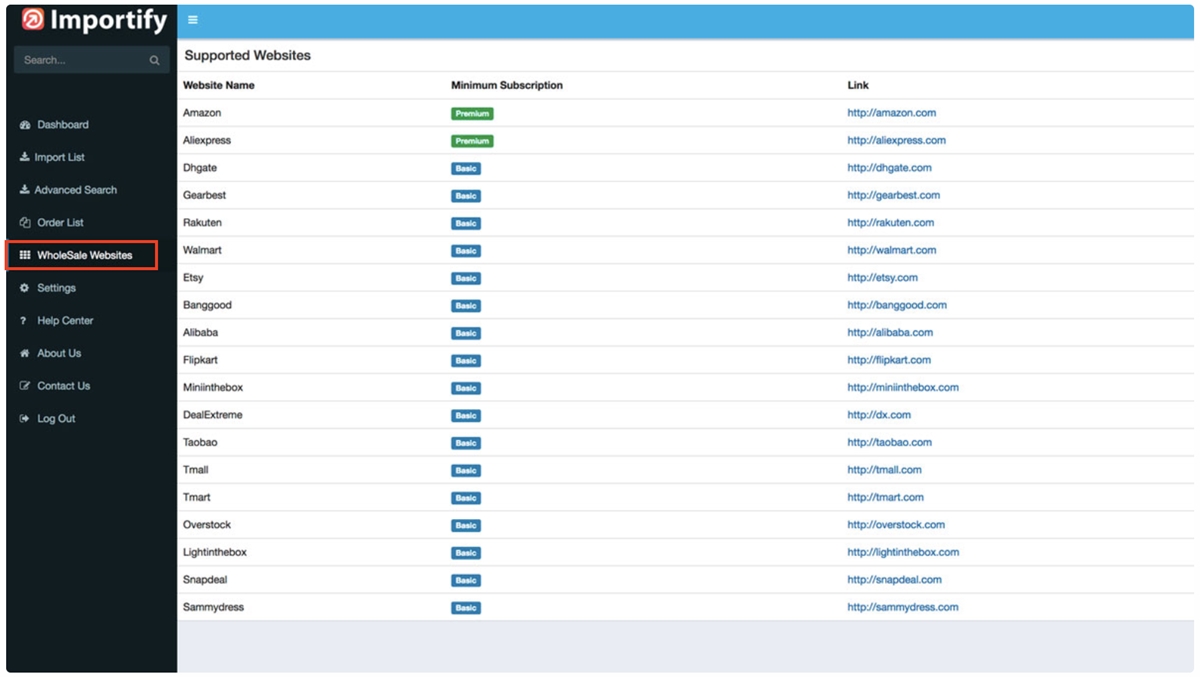 You can edit a product's details including title, description, images and pricing before importing it into your store.
Main features:
Pricing Rules: Products will be automatically priced out to your exact requirements upon import. By using Importify's "Smart Pricing Rules", all it takes to make your pricing right is one minute of setup time to manage the pricing of your products.
Built-in editor: Importify has a simple but highly effective built-in photo editor for product descriptions. You can edit almost any details of a given product before importing to your store.
Change Product Suppliers: You can easily switch between suppliers when the product is out of stock or you find a better source.
Connect Existing Products: You can use Importify's override function to migrate from other apps.
Semi-automatic order fulfillment: You don't have to process orders manually as the app automates all of the tedious tasks.
Pricing:
Importify offers three pricing plans including Basic plan, Premium plan, and Gold plan. Each of these plans starts with a one-day trial, and your billing period begins only after the free trial has ended.
The Basic Plan: $14.95/month
Aliexpress & Amazon Not Supported
Unlimited Product Import
Shopify To Shopify Importer
Product Customization
Pricing Rules
Free Chrome Extension
Support 24/7
The Premium Plan: $27.95
Full Supported Websites
Unlimited Product Import
Shopify To Shopify Importer
Product Customization
Pricing Rules
Free Chrome Extension
Support 24/7
The Gold Plan: $37.95
Full Supported Websites
Unlimited Product Import
Shopify To Shopify Importer
Semi-Automatic Order Fulfillment
Product Customization
Pricing Rules
Free Chrome Extension
Support 24/7
6. Aliexpress UniteXpress Dropship: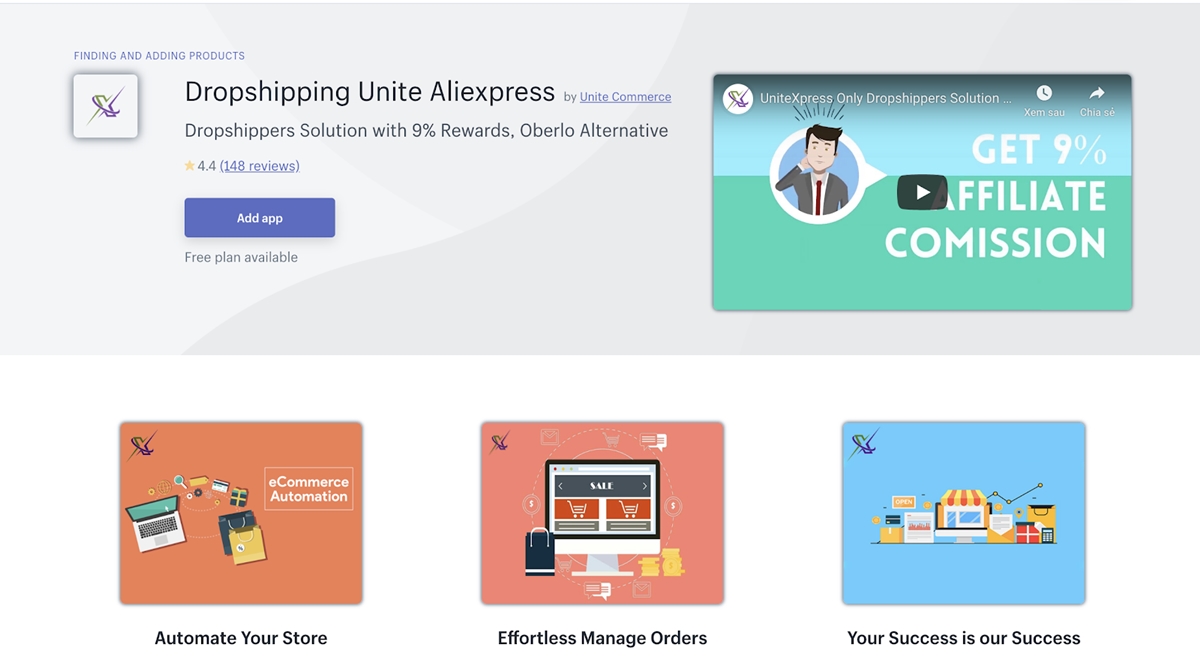 UniteXpress is another great application for dropshipping, and it can help you find and manage your products a piece of cake. It enables you to instantly import products from AliExpress directly to your Shopify store with a click.
Like with the previous dropshipping app, UniteXpress allows you to edit your products in many ways, from changing titles and descriptions to adjusting prices. The pricing automation features will help you save time by creating a pricing rule and setting the pricing for a chosen set of products.
Main features:
Import Products from AliExpress. Import products while finding what to sell on AliExpress. After you find the product you're interested in selling, just hit the UniteXpress Chrome Extension icon and the product will be imported immediately and ready to be published to your store.
Pricing & Product Customization. Edit your products as you see fit and you can change descriptions, titles, pricing, and everything in the imported section before publishing.
Pricing Automations. You can create pricing rules, and set prices for your products in bulk.
Edit Images. The images of imported products can be edited with UniteXpress image editor Add Text, Filters, Effects.
Order fulfillment. Fulfill orders automatically and ship a product to your customer with one click; just click the Order Product button and confirm the order on AliExpress. Many other tedious tasks are automated by UniteXpress, so you will have to deal with little manual work, and will not need a virtual assistant.
Shipment Tracking. Know where your orders are at any time with UniteXpress's order tracking.
Migrating from another app. UniteXpress provides migration support. You can get this by contacting them by email.
Pricing:
UniteXpress offers two plans:
The free version offers all features except rewards, reviews and multiple checkouts.
The paid version comes with all features at $9.95/month
7. Aliexpress Dropshipping and More: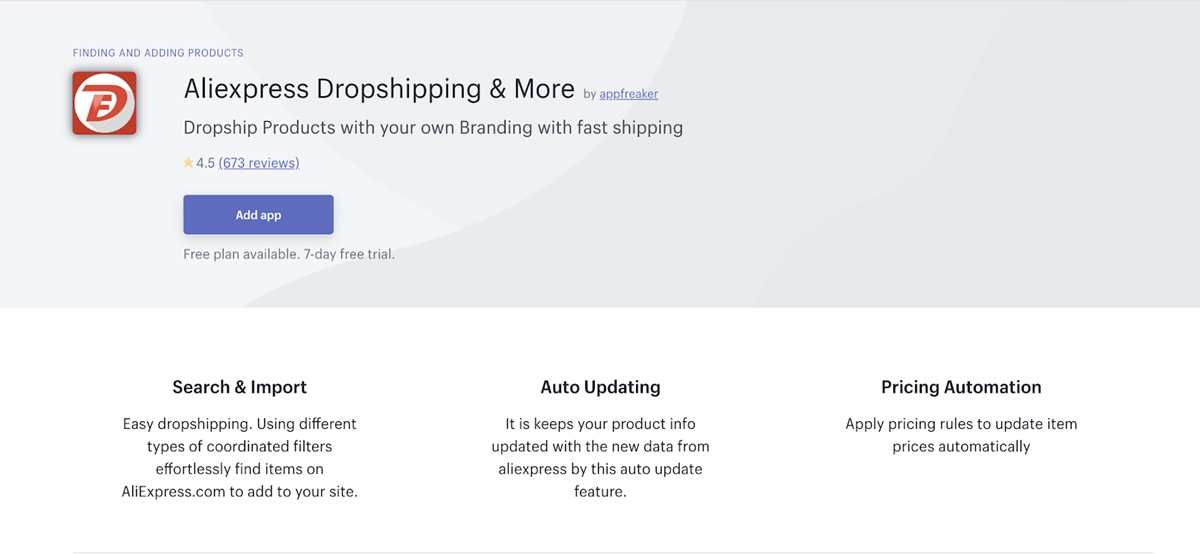 If you're looking for a cheaper alternative for Oberlo, Aliexpress Dropshipping is the option for you. Although this app offers some less advanced features than Oberlo, it can still perform most of the necessary tasks for dropshipping seamlessly. If your budget is tight, and you want to test the water first before investing any big amount of money, it's a good idea to get started with this app.
Main features:
Search and Import. Browse AliExpress products in the application and import hundreds of products with a few clicks. The imported items are ready to sell at once.
Fulfill Orders. Fulfill orders automatically with the built-in semi-automated process. It involves clicking the Order Product button, and after that the application automatically adds the ordered items to cart, and fills out shipping information on AliExpress. Finally, confirm the order with your card payment.
Daily Updates. Prices of your imported items will be updated real-time.
Chrome Extension. This extension allows you to import AliExpress items while browsing the AliExpress website with a single click. The Chrome extension also lets you edit the item details such as title, description, variants, pricing etc.
Auto Updating Inventory. The app checks AliExpress items stock levels real-time and keeps your items stock levels up to date.
Automate Pricing. Use pricing rules to update item prices in bulk.
ePacket Shipping Filter. Easily find products with the ePacket shipping option to offer your customers a fast and low-cost delivery service.
Pricing:
Aliexpress Dropshipping & More offers four pricing plans, and one of them is free. Also, you will get a 7-day trial before getting billed.
The Free Plan:
Import products
Import from Appfreaker Supply. Your company logo will be printed on the shipping invoice and package labels.
The Basic Plan: $5/month
You can import 5.000 products
Import from Appfreaker Supply, Aliexpress, Banggood, Gearbest, Trendsgal, Tomtop.
The Standard Plan: $10/month
You can import 10.000 products
Import from sites Alibaba, Dhgate, Miniinthebox, Lightinthebox, Sammydress, and everything from the Basic plan is included.
The Professional Plan: $20/month
You can import 20.000 products
Import from sites Ebay, Amazon, Bonanza, Walmart, Overstock, Target, Wish, Tmart, DX, and everything from the Standard plan is included.
Recommended: Aliexpress Dropshipping Center: An ultimate guide
8. Spreadr App - Amazon Importer: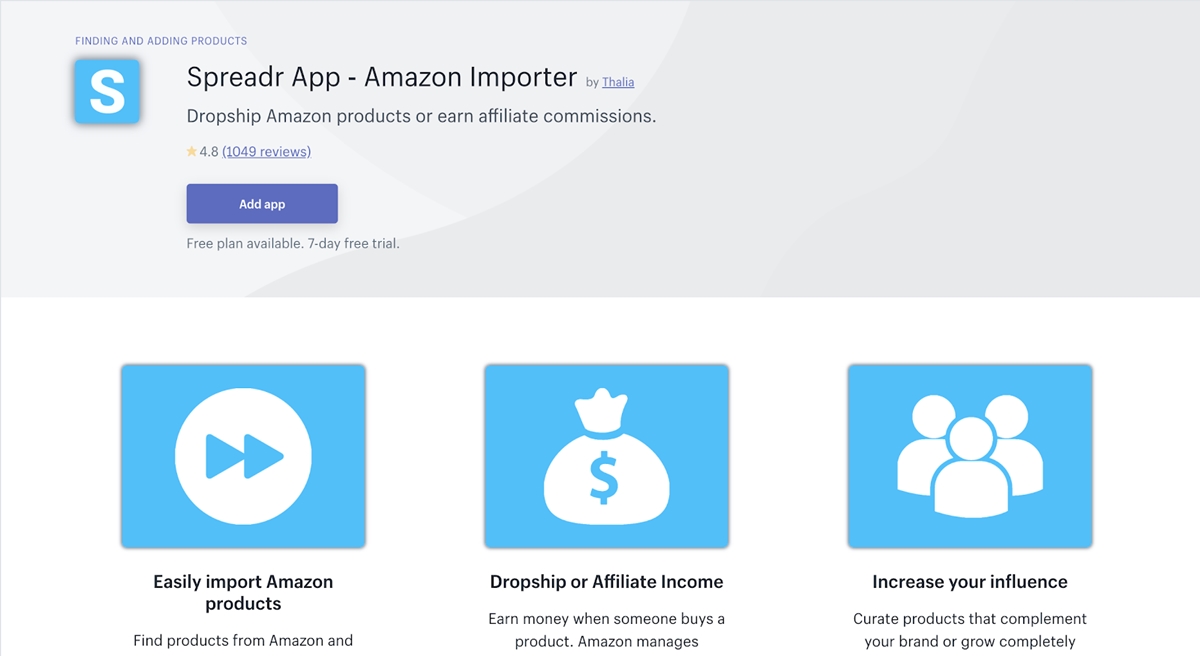 Unlike the previous apps, Spreadr walks a non-standard path to dropshipping by offering its users two choices; either dropshipping or earning from affiliating by linking them directly to Amazon. Speadr provides an advanced import tool which can be used to search what's popular on Amazon and adding it to your store with a few clicks.
With Spreadr, you can select from over a million products to import to your product catalog and sell on your store. It would also allow you to widen your target audience and make money off of your influence, and turn it into profits. With Spreadr, you don't just get a commission on sale of the products, but you can also receive money from affiliate linking.
On the technical side, Spreadr offers a wide range of features such as One-click upload, auto-sync, Customize product descriptions, and Bulk import, making it quick and easy to dropship.
Main Features:
Fast & Easy Product Import. Just provide the Amazon product link & click the Add button. Spreadr uses the official Amazon API to pull product info.
Consistent Store UI. Amazon products will be displayed in the same look and feel of your store. The Add to cart button will be replaced with a View on Amazon button.
Customization. Customize product description, name, and other details after importing the products.
Good Profit. Keep 100% of your commissions.
Auto-update. Spreadr automatically updates the price & stock of imported products to match Amazon, so your inventory and prices will always be up-to-date.
Bulk import. Provide you with a list of Amazon products and get them imported all at once.
Customer Reviews. Pull customer reviews from Amazon to your site.
Pricing:
You will get a 7-day free trial for any of the following plans:
|   |   | Basic | Pro | Gold | Super | Jumbo |
| --- | --- | --- | --- | --- | --- | --- |
| 1 | Price / month | $5 | $10 | $20 | $35 | $60 |
| 2 | Product import | Unlimited | Unlimited | Unlimited | Unlimited | Unlimited |
| 3 | Auto-sync | x | ✓ | ✓ | ✓ | ✓ |
|   | product limit without AWS API | - | 100 | 500 | 2000 | 10000 |
|   | product limit with AWS API | - | 1000 | 3000 | 10000 | 50000 |
| 4 | Geo-localize | x | ✓ | ✓ | ✓ | ✓ |
| 5 | Analytics | x | ✓ | ✓ | ✓ | ✓ |
| 6 | Manual sync | x | ✓ | ✓ | ✓ | ✓ |
| 7 | Bulk actions | x | ✓ | ✓ | ✓ | ✓ |
9. Dsers: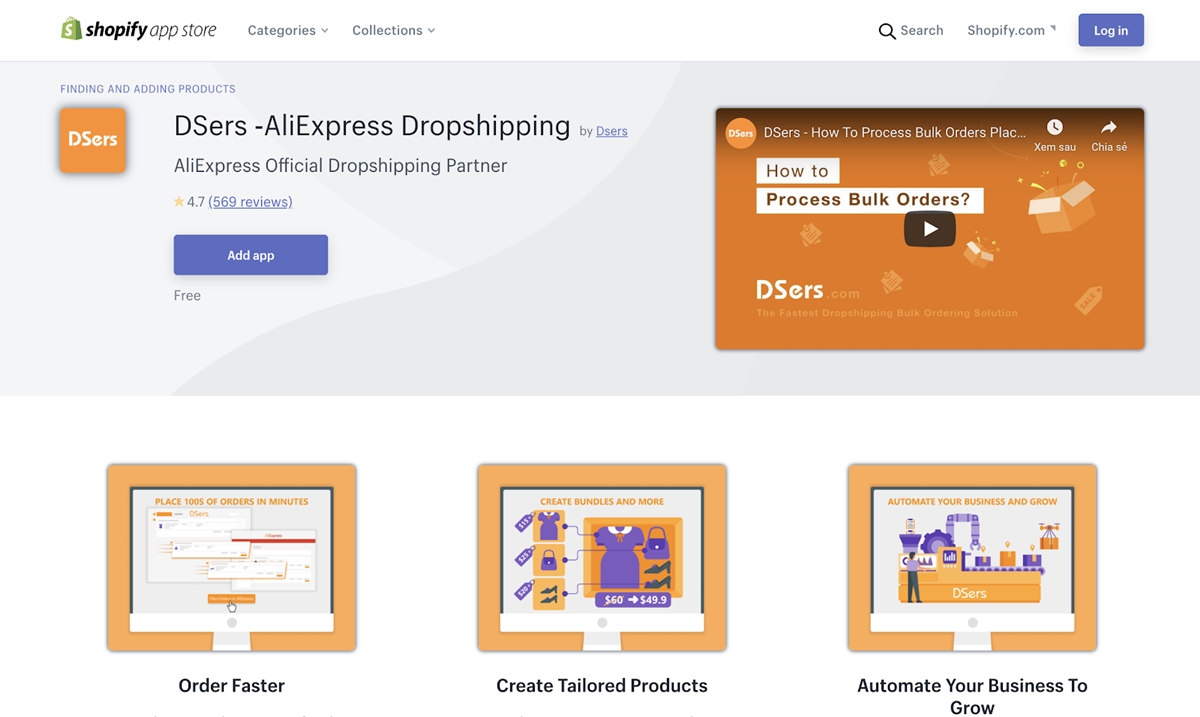 DSers's unique selling point is that it can help you process your orders super fast. Dsers is a Shopify dropshipping app that is revolutionizing the whole dropshipping industry with its own advanced features. It enables you to do what other order management tools like Oberlo can't.
The most important feature Dsers offers its user is that it can process bulk and multiple orders (100's) within minutes. If you have been using Oberlo, you know how tedious that process is when you have loads of orders to fulfill with Aliexpress.
Dsers is able to import products from Aliexpress to Shopify, including the entire description, variants, prices and so on. You can set up shipping methods and tracking shipping status. These are a huge time saver for you if you use Dser, as well as a major benefit for anyone who hates outsourcing to a virtual assistance as you don't want to hire someone to spy on your own Shopify Store. With all of these features, plus the developer is aiming to build up new features from time to time, Dser is a really good Oberlo alternative for Shopify.
Main Features:
Enjoy the AliExpress whitelist. There's no limit to the number of orders you process.
Import and edit products. Import new products easily, and edit them directly in DSers.
Manage multiple Shopify stores in one account. It's very simple to manage multiple stores in one place.
Place multiple orders to AliExpress in one-click. If you have multiple orders to process, you won't have to order them one-by-one manually on Aliexpress, Dsers has it handled for you with a single click.
Automatically track and sync shipping information. Don't worry about finding tracking numbers, Dsers automatically sync them to your Shopify.
Create bundles and BOGO offers. It's simple to create product bundles or BOGO offers. Selling in bundles is one of the great ways to boost revenue.
Switch product suppliers. Once you find a cheaper, better supplier, remapping your product to them is a piece of cake.
Pre-set shipping method. You can set up in advance the shipping method that better suits your needs.
Get notified. You will get notified of every change about price or stock for your products.
Hide your product. You can choose which products you don't want to process with DSers with a single click.
Pricing:
This amazing app is free, which is kind of mind-blowing.
10. ShopMaster:
ShopMaster is a powerful solution for dropshippers who want to use Shopify to dropship across multiple platforms. The app also enables its users to work with many different suppliers around the world. It's more like a software you create an account with to use their service usually based on monthly subscription.
ShopMaster enables you to import products easily from AliExpress, 1688, and over 26 more sites directly to your online store. ShopMaster is compatible with Shopify, eBay, Wish or a WooCommerce store. After your account has been set up, you just need to head over to your dashboard, connect your store with the marketplace, and start selling. Shop Master is another amazing Oberlo alternative for Shopify.
Main features:
Product Sourcing
You can import products into your stores from over 20 suppliers with a single click (AliExpress, Banggood, Tmart, DHgate, Gearbest, 1688, Alibaba, Taobao, Tmall, and eBay).
You can import products in bulk (up to 100 products a time) with ShopMaster's free Chrome extension.
You can import and filter products based on locations. That means you can source products shipped from China, US, UK, and other local warehouses.
Auto Fulfillment
You can set up to auto fulfill orders on AliExpress, Banggood, CJDropshipping in bulk (up to 300 orders a time)
Tracking numbers are automatically synced and uploaded to your store automatically.
Product Monitor
You can monitor up to 30,000 products
Pricing Rules
You can set up dropshipping prices automatically.
Advanced users can use pricing formulas provided by the app.
Multiple Stores and Staff Accounts
If you have multiple dropshipping businesses, you can unify all of your operations into one place.
You can grant your staff access to your ShopMaster account, so that they can help you out with tasks that you want to delegate.
Pricing:
ShopMaster provides 4 pricing tiers, and the Starter package is free.
The Basic package costs $19.90/month, the Business package costs $39.90/month, and the Enterprise package costs $79.90/month.
You can see what each package provides in this link.
11. Nimble Dropshipping App: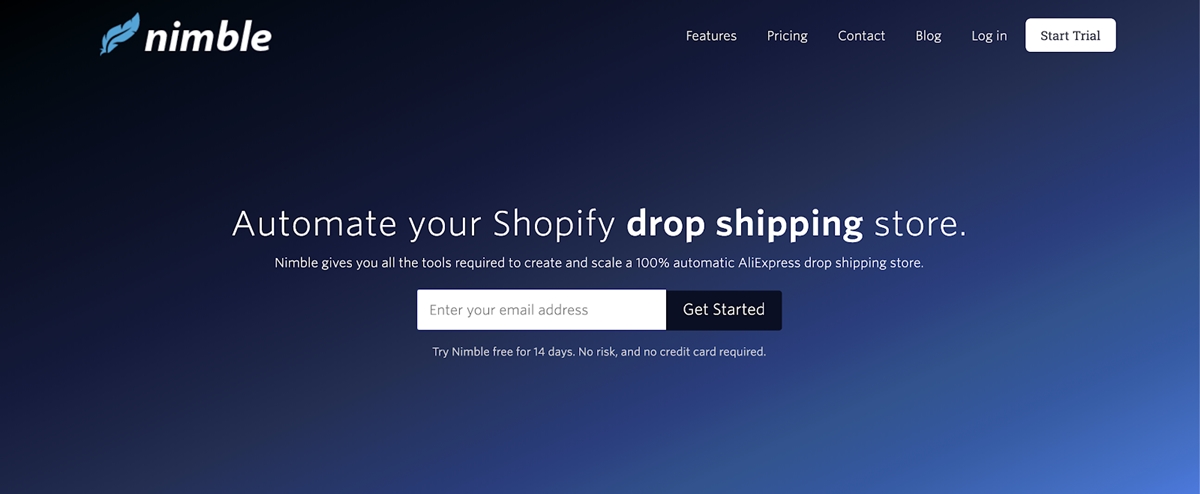 Nimble Dropshipping's motto is "Works while you sleep", and it helps you do exactly what it promises you to do: run your store while you're sleeping. It is an extremely tedious task to fulfill orders manually. Understanding that problem, Nimble will help you fulfill your orders automatically the moment your customers place them, period!
Nimble states that if the running of a software requires human interaction, then that software is just not automatic enough to use. With that in mind, the app has developed many automation features to help you run with the least amount of your involvement possible. Here are the amazing features that you will get from using Nimble Dropshipping so that you can understand why this app is a great Oberlo alternative for Shopify.
Main Features:
Smart Shipping Algorithm. The app automatically selects the best shipping option when an order is placed.
Automatic Emails. You can keep your customers posted with order status emails.
Address corrector. Nimble enables you to correct shipping address errors that are made during Shopify check-out.
Detailed Statistics. You will have access to spending breakdown of AliExpress payments.
No More Captchas. Nimble fulfills your orders without needing help with Captchas.
One-Click Full Migration. If you are already using Oberlo/Dropified? You can migrate all of your products with a single click.
Connect Existing Products. You can automate order fulfillment for your existing products.
Bulk Payment Invoices. Nimble provides you with downloadable invoices for every payment you make.
Inventory Notifications. You will get notified if a product is out of stock on AliExpress.
Global Product Sales. You can explore hot-selling products with order volume graphs.
Supplier Reliability. You can find out the supplier logistics reliability for all products.
Filter ePacket Products. Nimble has the option to only import only the products with the fastest shipping times.
Supplier Changes. Switch product AliExpress suppliers if inventory runs out.
Shipping Rules. You can set up rules for shipping options based on product or country.
Custom Note. You can include a custom note automatically to your AliExpress supplier.
Delayed Fulfillment. If you don't want instant fulfillment? You can set up a delay.
Customize Products. You can modify the product title, description and variants to how you see fit.
Price Markup. Nimble allows you to price your product variants in bulk after importing.
Fulfillment Pausing. You can pause or resume order fulfillment with a single click.
Pricing:
Nimble offers three pricing plans. Unfortunately, while it does offer free trial with no credit card required, there's no free plan.
The Basic plan: $18/month
250 Orders/Month
Automatic order fulfillment
Import AliExpress products
Automatic order tracking
Daily analytics & insights
Daily product sync
The Regular plan: $60/month
1000 Orders / Month
Automatic order fulfillment
Import AliExpress products
Automatic order tracking
Daily analytics & insights
Daily product sync
The Advanced plan: $129/month
3000 Orders / Month
Automatic order tracking
Automatic order fulfillment
Daily product sync
Import AliExpress products
Daily analytics & insights
Final Words
So, we've gone through 11 best alternatives to Oberlo for dropshipping. If you're looking for one, this exhaustive list should enable you to find what suits you.
If there's any other great alternative for Oberlo that I have not introduced, please leave a comment below.
Related Posts:
---
Sam Nguyen is the CEO and founder of Avada Commerce, an e-commerce solution provider headquartered in Singapore. Sam aims to support more than a million online businesses to grow and develop.
New Posts
Stay in the know
Get special offers on the latest news from AVADA.