11 Site like AliExpress: Best AliExpress alternatives for Dropshipping
If you are familiar with the dropshipping business, you may have realized that AliExpress is a famous supplier site that everyone seems to go to. But the site has its own disadvantages like scarcity of certain products or unreasonable shipping fees, which makes many dropshipping store owners searching for an alternative.
If that is the case with you, then this is the place for you. In this article, we will give you a list of 11 top AliExpress alternatives, which can provide users with high-quality products and better profit margins. This is a great competitive advantage that you can use to utilize your dropshipping business and maintain your store's performance on revenue.
Sounds interesting? Then let's jump in!
What is AliExpress?
But first, if you are new to the dropshipping scene, let's learn a bit about the biggest site for dropshippers to come and grab some good deals - AliExpress. AliExpress is an online marketplace based in China, where you can find almost every kind of physical goods that are manufactured in the country.
The site was founded in 2010 and is owned by Alibaba - the massive Chinese multinational eCommerce company. AliExpress is made for retailers and accepts credit card payments. The products often have really low prices and a two-week delivery time to anywhere in the world.
Despite its popularity, not everyone has a great experience with AliExpress. The danger of fake online suppliers is still very real, and your customers can receive bad quality products while you can't do anything about it. The long shipping times can cost problems if you focus your business on a quick shipping procedure.
That is why alternative options are needed so you can have more control over your dropshipping process. Before checking those names out, you need to know how to spot the suitable ones, which we will go through in the next section.
How to choose a suitable AliExpress alternative?
Before you decide to dropship from another platform rather than AliExpress, please consider the following factors:
Check how you can connect the platform to your (Shopify) dropshipping store: Most platforms offer a Shopify app so you can use it, but if they don't, you will have to find a third-party app to connect. This will cost a bit more subscription fees, so you will want to consider it. If you don't use Shopify, make sure you can connect the store and the platform since it is important to keep your dropshipping business running smoothly.
Check their products and suppliers: Just like on AliExpress, check if the site's products are in good quality and the suppliers are reliable. Find out how you can evaluate the supplier's reputation and send messages to see if they reply fast or can communicate well in English.
Do they offer a secure payment method: A famous third-party payment service that all sites should have is PayPal, and there are many more names that can provide safe payment gateways, so your transactions are protected. Check if the site has these options.
Consider the cost: Some dropshipping sites may require a monthly fee, or are free to use, or a mix of both free and paid plans. Consider what benefits you can get from these fees, and are they worth it.
With these factors in mind, let's see 11 best AliExpress alternatives that we have enlisted for you to choose from.
11 Site like AliExpress: Best AliExpress alternatives
Before we get started, with each option, I will give you a link to the website, detailed information about why it is different from AliExpress, and how much the site costs and if it has any trials available. This way, you can know what to expect from these sites and the estimated costs if you use them.
Sounds good? Then let's go!
1. SaleHoo - trusted dropshipping company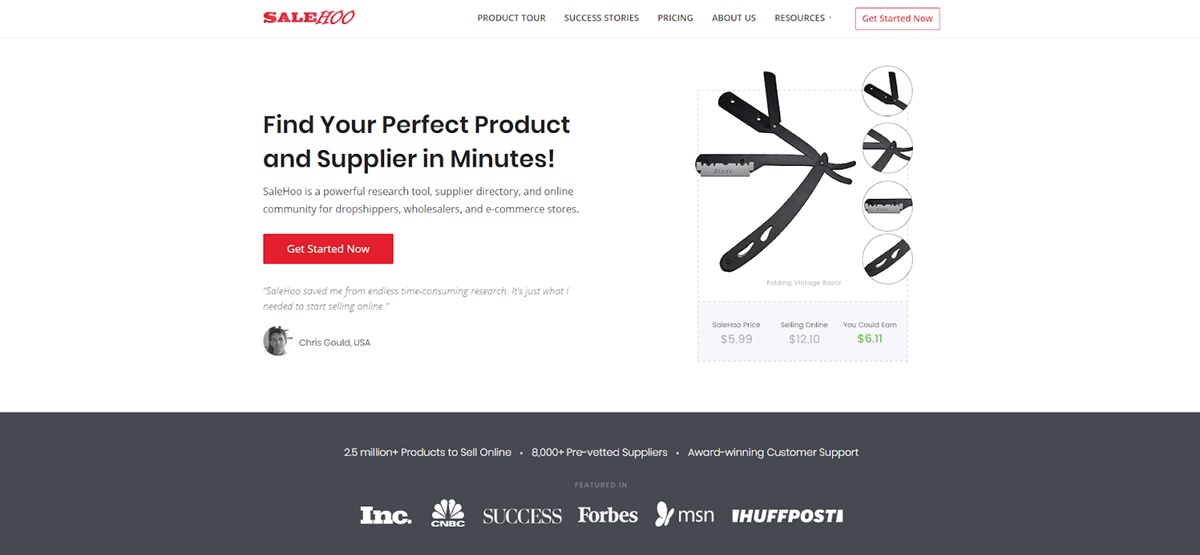 Salehoo is a famous dropshipping and eCommerce platform that was made with a mission to reduce inventory worries for online store owners. The site is trusted with over 8,000 wholesalers, manufacturers, dropshippers, and liquidators that they've personally reviewed.
Even more, SaleHoo offers 24/7 support and guidance alongside a massive community with helpful guides and free training on all aspects of beginning and growing an online business. If you are looking for products to sell, there are over 1.6 million branded products that you can get at good prices for plenty of profit.

SaleHoo offers some of the best options to dropship because the inventory comes straight from wholesalers, which gives leverage over other eCommerce stores that sell from AliExpress. The list of profitable items can be divided into these categories:
Smartwatches and Robots
Smartphones and Tablets
Electronics and Home renovation equipment
Exercise and Gym equipment
Garden and Outdoor
Daily use accessories
DIY products
For delivery time, if you are based in Europe or the USA, the delivery time can be negotiated and you can get the products at a time of your choice from most SaleHoo wholesalers. However, if the wholesalers are based in China, it would take at least 30 days to ship the products, but the number of these suppliers is not high.
For payment methods, you can pay through PayPal or all credit cards. The transaction process is simple and you can finish selling a product in just the click of a few buttons.
Pricing plans:
$67 per year
$127 for lifetime access
There is no free trial, but you are offered a 100% satisfaction guarantee. This way, you can purchase and try out the platform, and if you don't like it, you can then ask for a refund.
Check SaleHoo Pricing & Features
They also recently launched SaleHoo Dropship, which is a Shopify integration app that allows store owners to easily import products to their stores with just a few clicks.
2. Spocket - USA dropshipping suppliers

If you are from the U.S or even Europe, Spocket is a great dropshipping platform that can let you connect to suppliers in the region. Around 60% of their suppliers are based in the countries, so you can quickly join with more than 30,000 other users and start doing dropshipping.
This also means that you can get much lower shipping times compared to dropshipping with suppliers from China. The platform works with Shopify too, so if you have an online store made by Shopify, the process will be done in just a few minutes. They are connected to WooCommerce as well.
There is a guide called "Winning Products" that you can find at the top of the homepage to quickly start with every step and detailed actions to work with the platform. It is also a quite truthful take on eCommerce and dropshipping that you can learn a lot from. There are guides on marketing for a special occasion such as Black Friday that you can find.
In general, the site offers great services to find good products with high profit and dropship them in a short shipping time if you are based in the U.S or Europe. The community on Facebook can help you grow even more and help others along the way.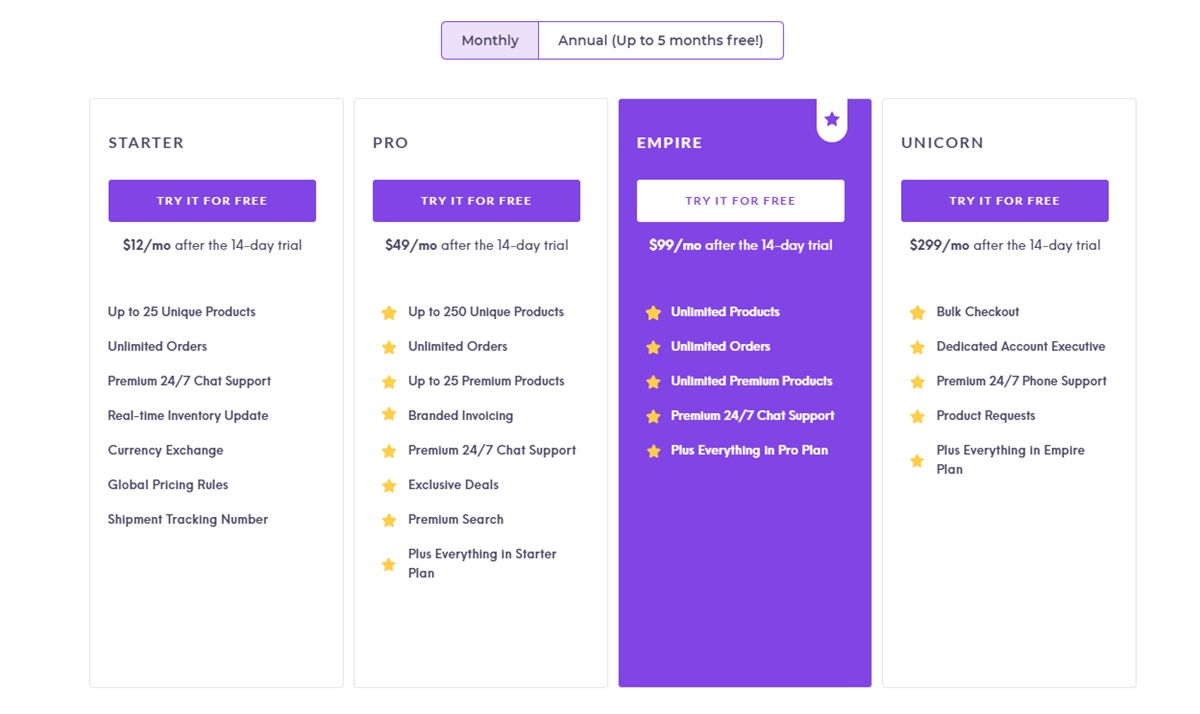 Pricing plan:
Starter - $12/month - 25 unique products, unlimited orders
Pro - $49/month - 250 unique products, 25 premium products
Empire - $99/month - Unlimited products, unlimited premium products
Unicorn - $299/month - Dedicated account executive and everything else
Also, it will be cheaper if you pay the fee on a yearly basis and get up to 5 months free. A 14-day free trial is offered so you can try everything before starting. What I don't like about the site is that I cannot find the pricing page when I first accessed the home page.
Check Spocket Pricing & Features
3. DHgate - best alternative marketplace

Based in China as well, DHgate is a marketplace like AliExpress. The suppliers from the country offer manufactured products on the site and can ship them directly to your customers. It is a highly popular site and many dropshippers have chosen as an AliExpress alternative. Both sites share quite similar products so you can compare prices to get the best profit.
DHgate also uses ePacket shipping to deliver products, so the shipping time is pretty much the same with AliExpress, and you will have to do your own research on DHgate by checking out suppliers' ratings and the number of orders that they have sold.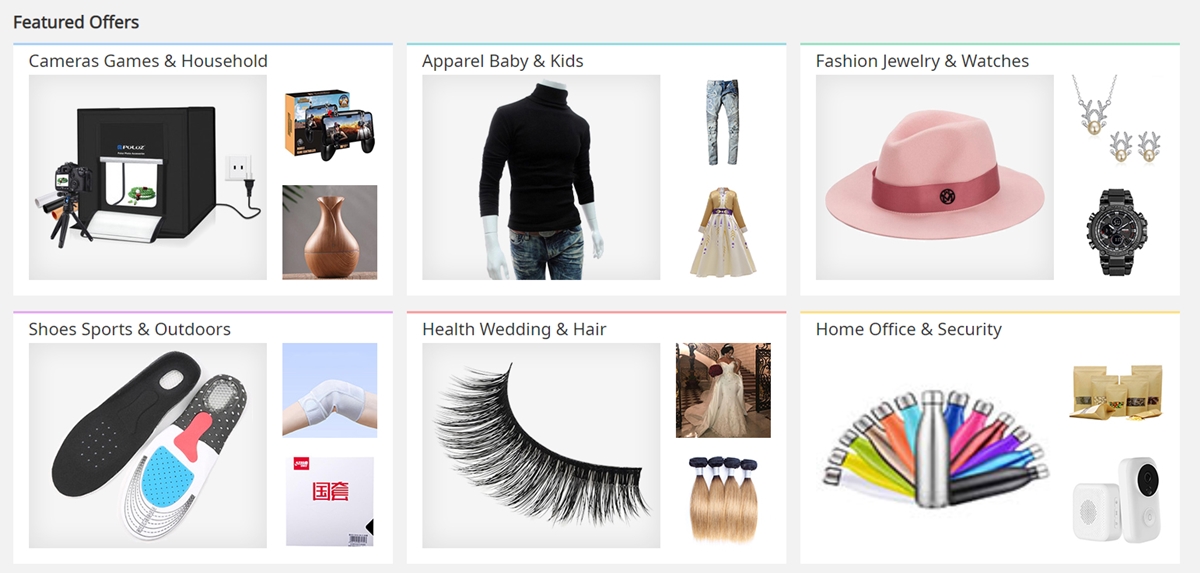 There are over 10 million products from China, Taiwan, Hongkong, and other Central Asian countries that you can pick on the site. They are all in popular categories as well, such as:
Mens and Womens Clothes
Home & Beauty
Toys & Hobbies
Smartphones and Computers
Outdoor & Sports
Watches & Jewelry
Electronics
Transactions can be processed via PayPal and credit cards - all the preferred methods of payment for most shoppers.
Pricing plan:
The best advantage is that the site is completely free to use.
If you are interested, you can read our guide on How to use DHgate dropshipping in Shopify. It will give you all the needed information to start selling with the platform using a Shopify online store.
4. Chinabrands - Marketplace with global warehouses
Chinabrands is a very active marketplace from China where you can start a dropshipping business. The site has warehouses all over the world, so the shipping time can be reduced considerably if the product you order is from one of the warehouses that are near your customers.
On the site, you can find many products that are similar to those that are available on AliExpress. All the hot categories that always guarantee some sales can be listed as:
Clothing
Bags, shoes, and accessories
Jewelry
Tablets and mobile phones
Toys and hobby items
Smart appliances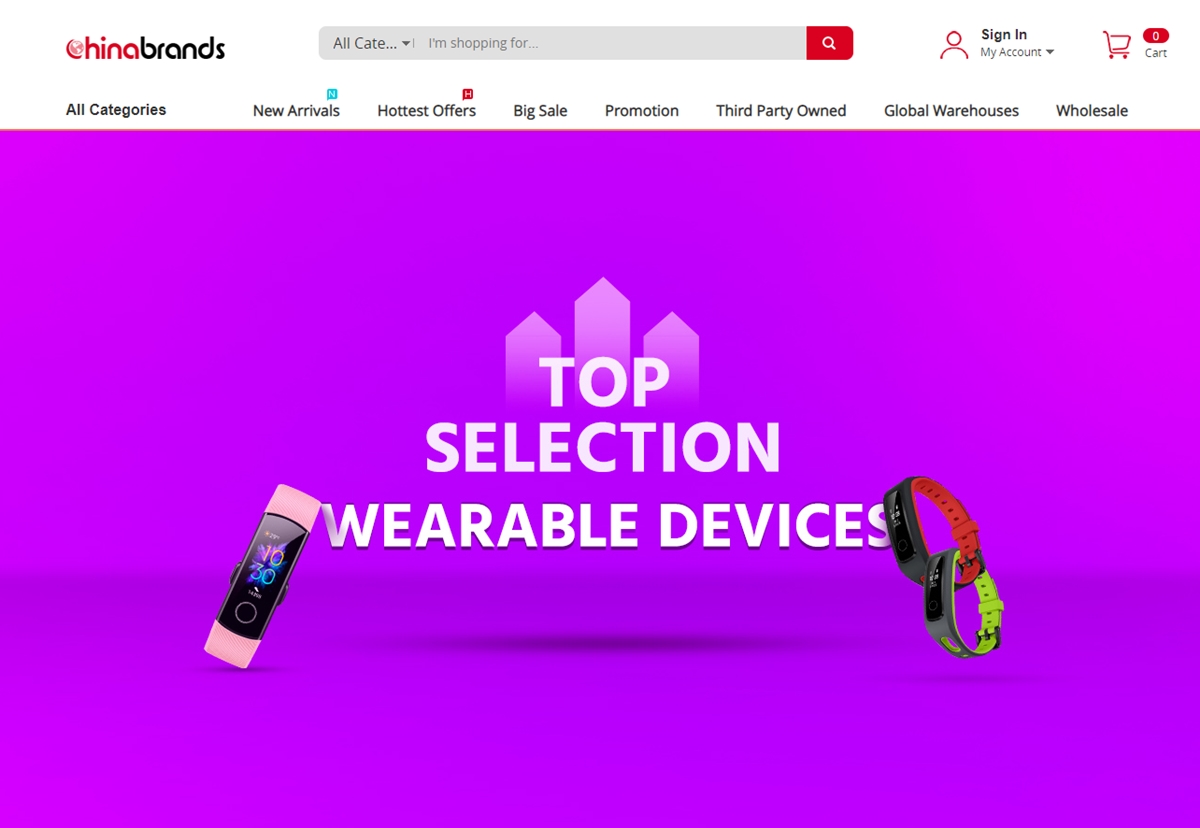 On the homepage, you can find the sections called New Arrivals, Hottest Offers, and Big Sales. In these areas, you can find very good deals to make a high-profit margin, but you have to be quick or they won't be there for long. If you have some items on mind, just browse through different categories to find what you need.
One thing I like about the site is that the product page has some much-needed information for dropshipping like how many products are left in the warehouse, how much shipping cost is to a specific region, and how much can you bulk buy the item.
For payment options, Chinabrands allows PayPal, Payoneer, wire transfer, and credit cards. You can also sign up to get a CB wallet - which is the company's official e-wallet that you can deposit money in.
There are also guides and many articles that you can find on the site to learn about dropshipping with the company. This is a useful source of information to get things going smoothly.
Pricing plan:
The site is totally free to use. However, there is a VIP membership plan which allows you to auto-update and sync products, publish products directly to your site, and have some logistics automation as well.
The VIP membership is currently at $3.99 per month.
5. LightintheBox - retail marketplace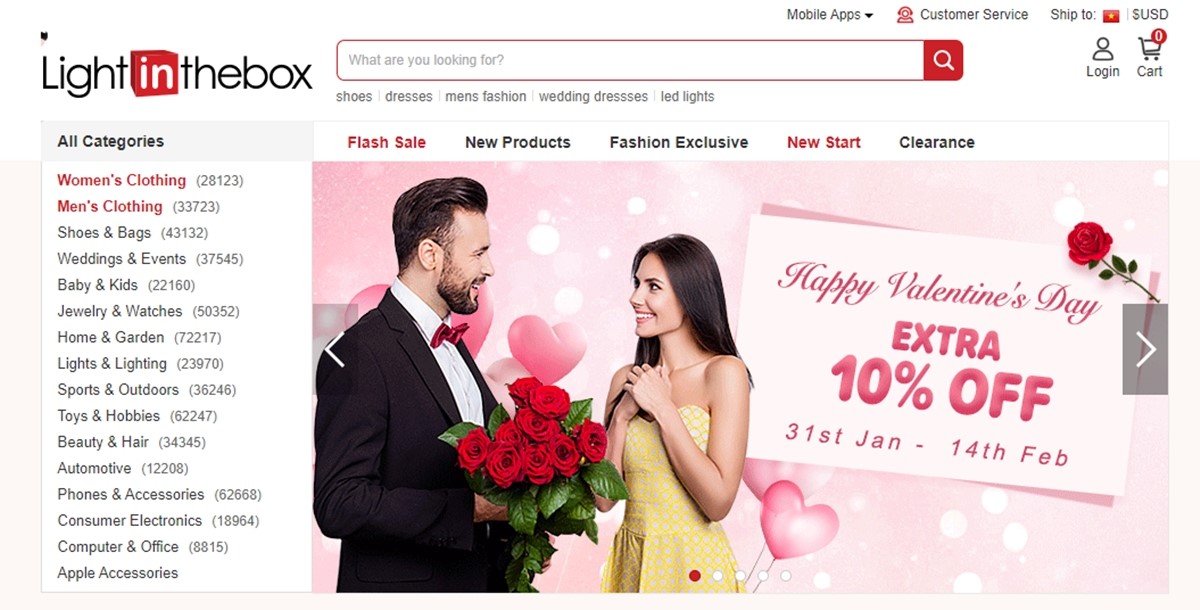 LightintheBox is another eCommerce site from China that can deliver products globally. The site focuses on retail sales, so you shouldn't expect to get many deals at a wholesale price here. However, the products are often really affordable, and there are a lot of sales and discounts on the site.
You can see the "Flash Sale" section is highlighted in red on the top of the homepage. This is where you find the sweetest deals that the site has to offer. But you will have to make quick decisions because the deals won't be there for long. These flash sales often end in five days and change into new products.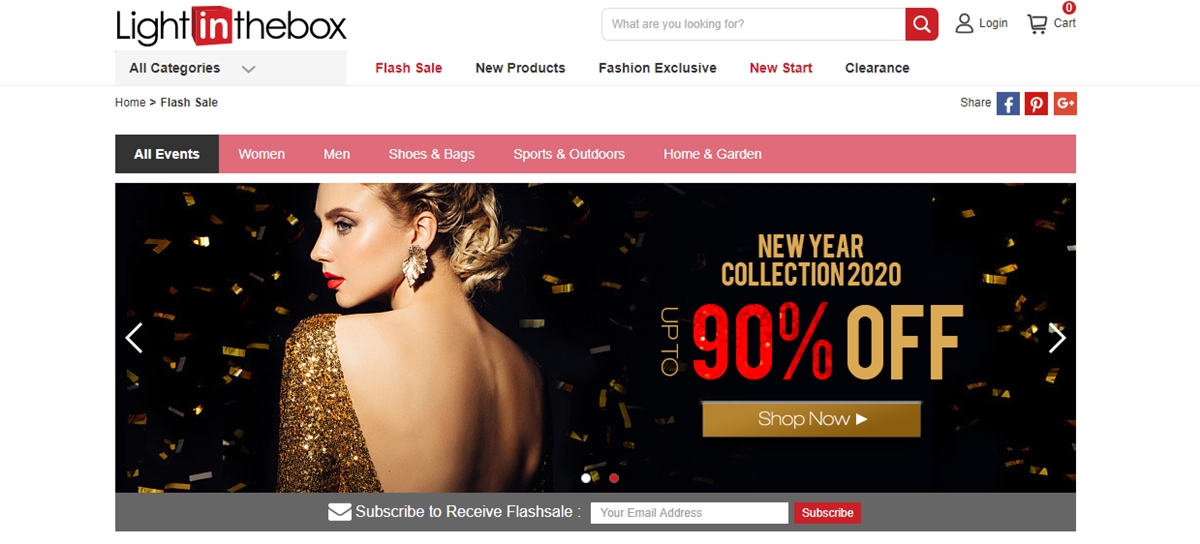 This option is great for traditional sellers who keep their inventory and dropshipping business as well. What you can try is publishing the products on your site when the price is at its best for a good amount of profit, then take them down once the flash sale period is over.
To protect the buyers, you have the ability to get a refund if the item was damaged upon receiving. If the items delivered are not the same as described or in different colors, a refund is guaranteed if you return within seven days. But in dropshipping, make sure your suppliers won't make these mistakes.
There are various products for you to choose and they are divided into popular categories such as:
Clothing
Baby & Kids
Beauty & Hair
Phone & Accessories
Consumer Electronics
Jewelry & Watches
All of the products come with a warranty. Appliances and home improvement products have the longest warranty time of one year, while the rest usually have a warranty of only 30 days.
The payment options are one of the site's advantages with more than ten choices available. All the famous names are there like PayPal, Western Union, and some major credit cards. Your products are shipped globally through UPS, DHL, EMS. And the site has a specific dropshipping and wholesale program.
Pricing plan:
The site is free to use with all of its services. To find the dropshipping items, just type "dropshipping" into the search box.
6. Banggood - unique marketplace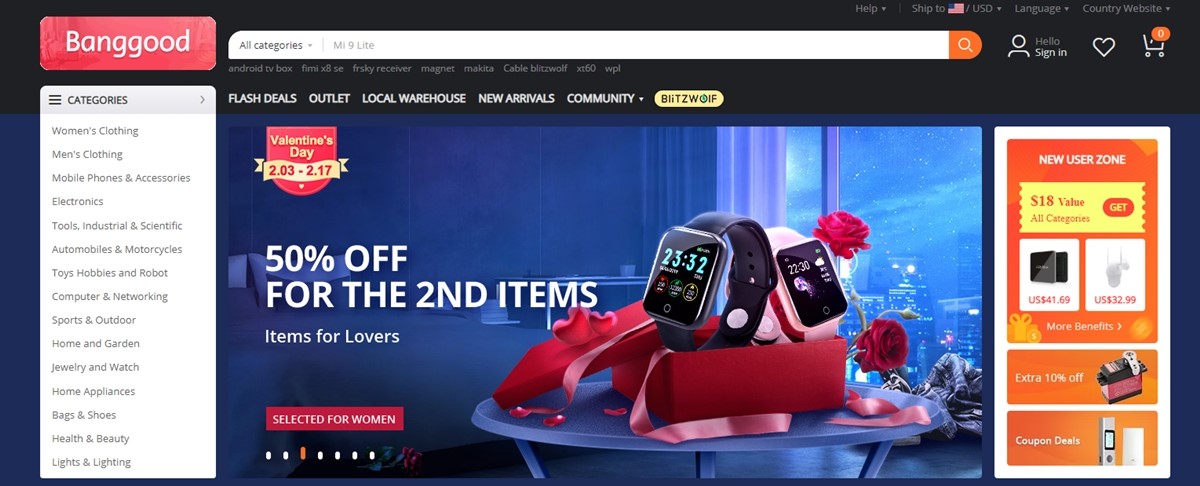 Banggood is a popular eCommerce marketplace that offers multiple products at low prices, so it is a good alternative for AliExpress. On the site, you can find everything from smartphones to drones, and over four million products have been listed already. Although it is less famous than AliExpress, the design and navigation of the site are top-notch with a very modern interface.
Banggood offers a long list of products from China, Hongkong, and sometimes even the United States. Most of the products are provided straight from the suppliers and have a lot of benefits for dropshippers. The products are often in these categories:
Smartphones and Computers (most of these are Chinese brands)
Home and Beauty
Garden and Outdoor
Clothing and Apparel
Outdoor and Sports
Drones and Robots
For delivery, Banggood has ePacket and Air Parcel, which guarantees the delivery time from 7 to 30 days to reach the destination. For payment options, there are over 20 payment gateways for you to choose including Visa, PayPal, Wire transfer, and some countries even have Cash on Delivery (CoD).
This is great for your dropshipping business to attract more customers with more needs. And compared to AliExpress that does not allow the use of PayPal in several countries, it is a good advantage.

One more notable benefit from Banggood is the unique products. You won't find many drones and robots on other online shopping stores, so your store has the advantage of offering hard-to-find items.
Pricing plan:
The site is free to use.
7. Taobao - original products from China

The site may not be so popular in the U.S, but Taobao is actually one of the biggest eCommerce websites in China after AliExpress. The site is also owned by Alibaba. The main difference between AliExpress and Taobao is that Taobao is made as a B2C platform that specifically targets Chinese manufacturers. So you won't find any English on Taobao like in the above image.
However, compared to AliExpress, Taobao stands tall thanks to its pricing. Most products have absurd low prices with good quality because they are only for Chinese customers. For dropshippers, if you want to use Taobao as a dropshipping supply point, you will first need to learn some Chinese and then contact the suppliers to ask if they do ship products to other countries.

In the research phase for suitable products, use Google translate to browse the site in English. Here is a list of goods that you can order through Taobao:
Clothing and Apparel (Men and Women)
Smartphones and tablets
Jewelry accessories
Hobby and DIY tools
Sports and Outdoors
Taobao is a Customer to Customer platform, so most products will take a week on average to be shipped. Payment methods like PayPal, credit cards, bank transfer are accepted.
If you are ready to learn some Chinese, then Taobao is a great place with quality products and many discounts to get the best price. And if you find the desired products on other sites, you can find them cheaper on Taobao for sure. That is a great way to make more revenue as a dropshipping business.
Pricing plan:
The site is free to use.
8. DX - Global dropship deals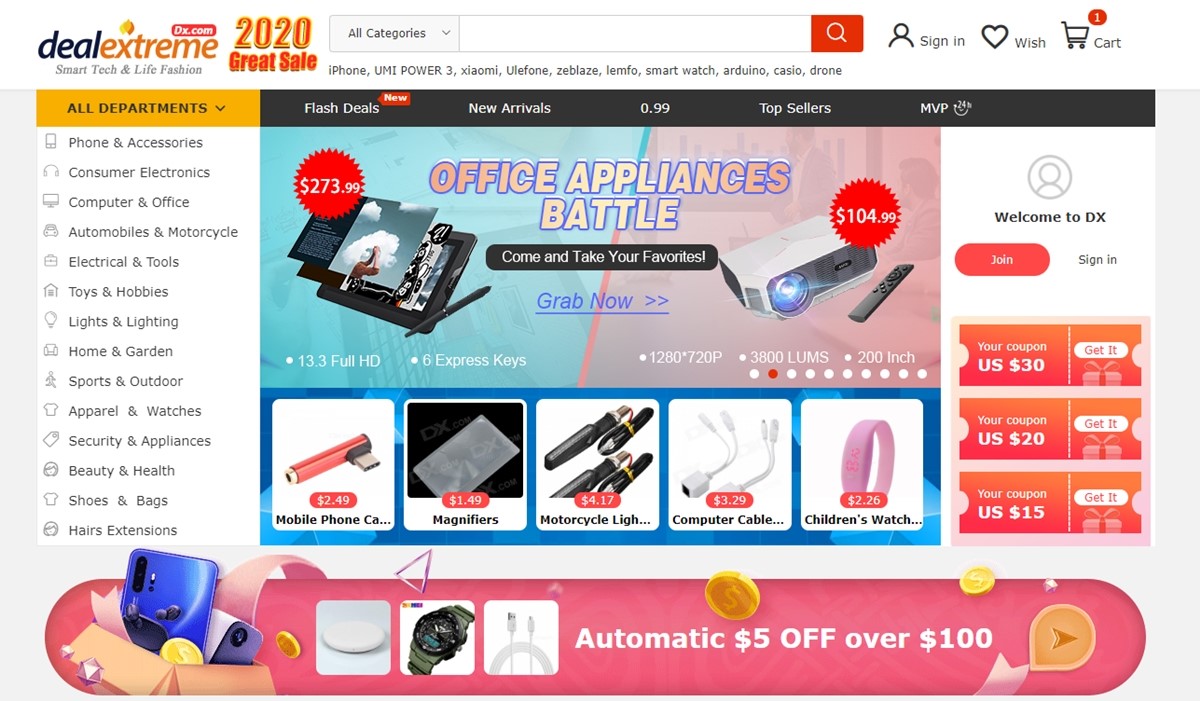 DX is also known as Deal Exchange - an eCommerce shopping website that has over two million products to offer. Both suppliers and retailers can list products on the site with various prices for you to pick from.
Because of that, there are many options that you can choose to dropship. A top deals section is available for products with almost 50% discount. Just like the site's name, you can easily get a good deal and sell for a higher profit.

The following items are great to dropship and can be found on DX:
Smartphones and Tablets
Toys and Gaming Consoles
Smartwatches and Robots
Garden and Outdoor
DIY products
If you are in China, DX would need only a single day to ship. If you live in other countries which are far from the location of the manufacturer, the delivery time often takes from 7 -18 days. The majority of the products have free shipping, so it is a bonus saving for you.
For payment methods, you can pay through PayPal and credit cards. The high discounts of products on DX makes the site a worthy alternative to AliExpress, and you can take advantage of the deals as a dropshipping business.
Pricing plan:
The site is free to use
9. Worldwide Brands - wholesale platform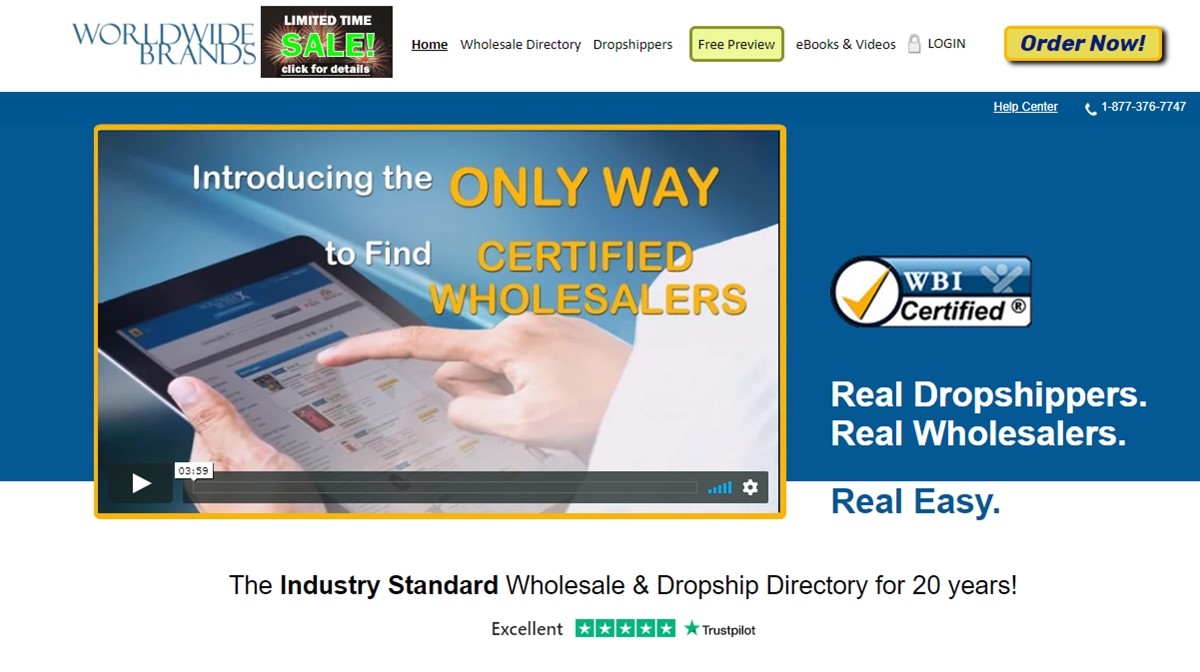 Worldwide Brands is a long-lasting platform where dropshippers can connect with global wholesalers. The site claims to provide access to more than 16 million products and have contacted directly with manufacturers to ensure certification.
With a ton of products that you can get to dropship, the site is a huge opportunity to get ahead of the market. Since the products mostly come straight from the wholesalers, they are available for a low price and ensure a good amount of profit.
The following items are available for you to dropship:
Smartphones and Tablets
Toys and Gaming Consoles
Garden and Outdoor
Smartwatches
DIY products
The delivery time of each product will depend on the wholesaler's condition. If the wholesaler is from China, a product will be shipped in around a month. For wholesalers that are within your region, products can get to a customer's hand less than a week. Again, credit cards and Paypal are available as payment methods.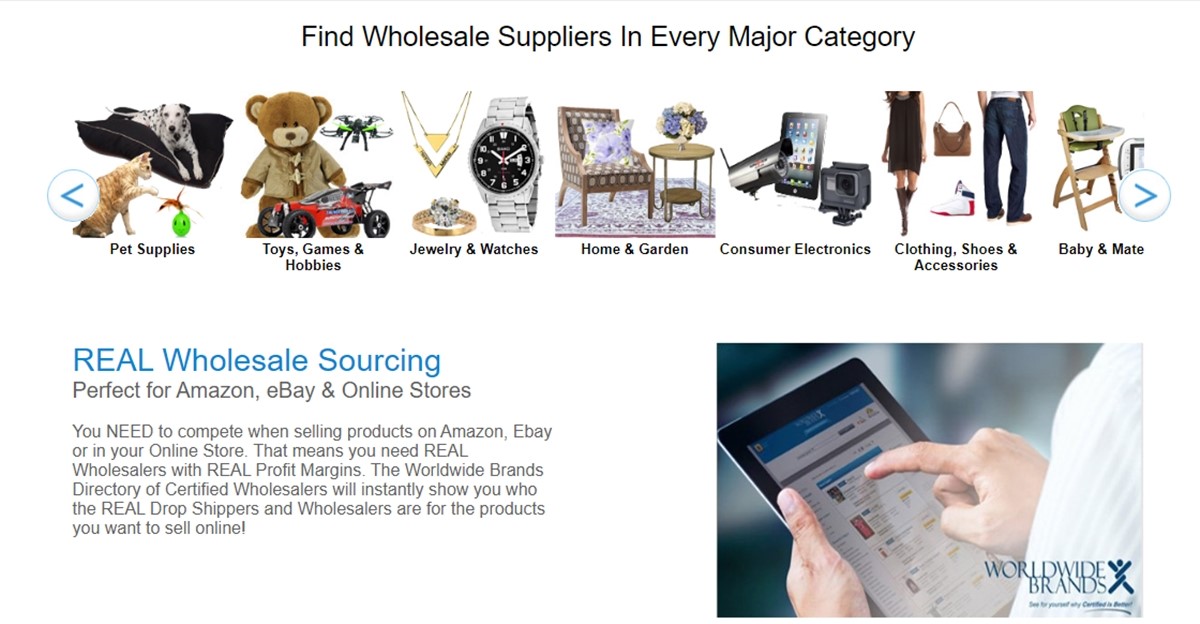 What is impressive about Worldwide Brands is their reviews on TrustPilot. One hundred fifty excellent reviews and over 20 years of experience are good enough to gain the trust of anyone starting a dropshipping business. Learn from the expert, and you may become an expert.
Since the site focuses on wholesale, it is more suitable for experienced dropshippers who are testing new products to sell on the market. First-time sellers may find it difficult and costly to try out the site.
Pricing plan:
A one-time fee of $224 is all you need to get access to all the wholesalers available who have registered with Worldwide Brands.
10. Madeinchina - China eCommerce platform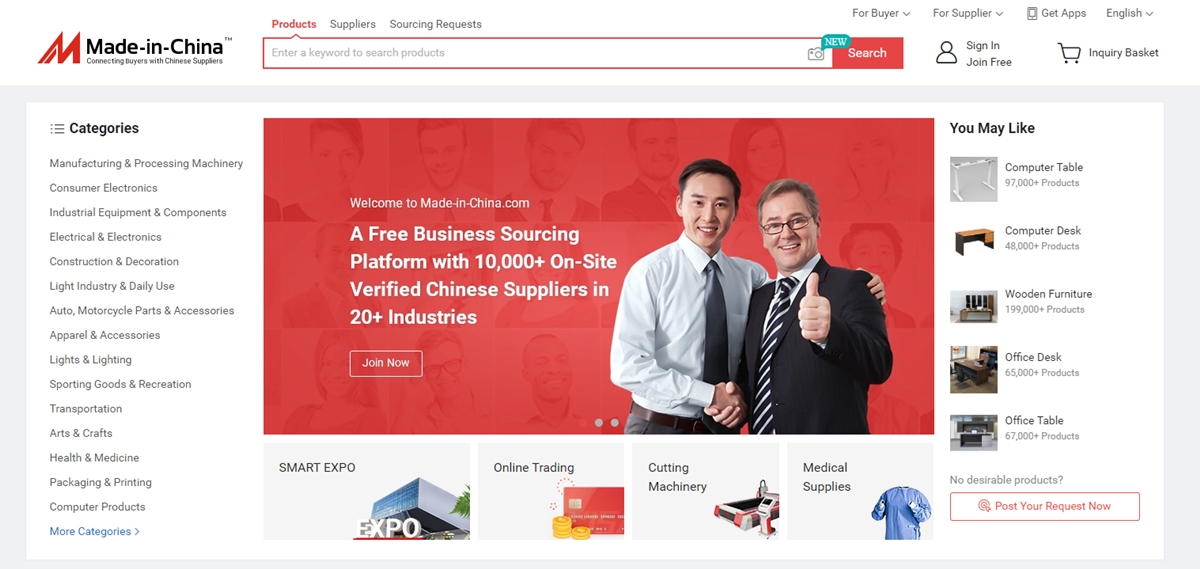 Alright, the name may be a bit odd, but Chinese is not famous for making great names, they are known for making good products at low prices. And that is what you can get out of Madeinchina - a popular eCommerce platform which has been around since 1998.
The site claims to have over 10,000 verified suppliers in 20+ industries, so there are many opportunities for you to grab the products you need to dropship. There are special channels within the platform that you can use to find suppliers and they can help to get your brandings on their items as well.
With their experience on the market, Madeinchina has gathered a long list of manufacturers and suppliers. Here are some examples of the items that you can find on the site:
Apparel and clothing
Industrial machines
Electronic components
Home improvement
Motorcycles
Gardening
Building materials
Textiles

Madeinchina has almost everything and even industrial products that you cannot find anywhere else. The company supports many different business models like dropshipping, private label, and white labeling. Through the site, you will the products posted by suppliers and can contact them through an email form to get wholesale pricing.
Much like Worldwide Brand - this is not a playground that you can run into some scams. This is a real business with old-age companies in many industries. So if you are an experienced dropshippers and have the budget to sell high-value items, this is the place.
The shipping time is not fixed. You need to contact the supplier and ask which payment method is available and how they can ship it to you. Although the companies are verified and trusted, you still need to be careful and protect yourself when doing business overseas.
Overall, Madeinchina is a great site to find trusted suppliers and dropship in large quantities. But it is not something a beginner should play with.
Pricing plan:
The site is free to use.
11. Yaaku - fashion dropship site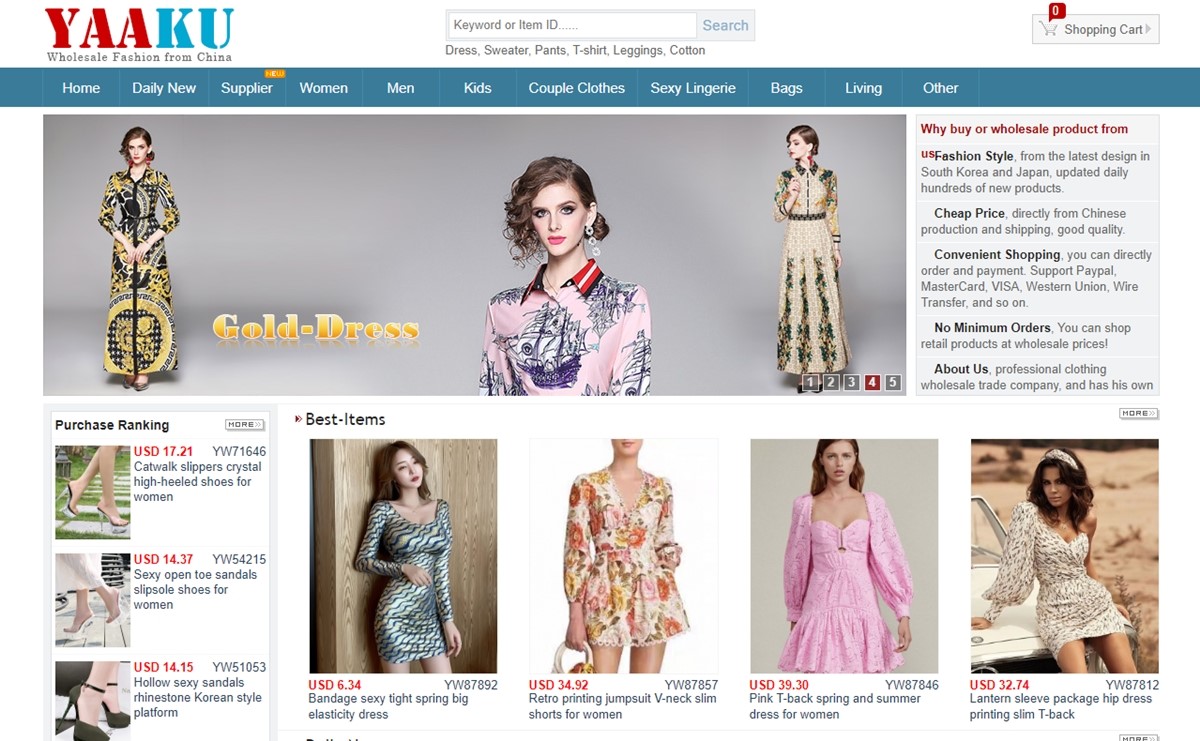 If you are looking for an eCommerce site to dropship clothing, then Yaaku is a great option. There are thousands of fashion items on the site, and you can find all kinds of clothing for every occasion. There are various options for men, women, and kids.
Here are some examples that you can find on the site:
Skirts
Sports
Coats
Shoes
Dress
Underwear
Pants
Pajamas
Tops
The quality of the products looks great, and you can easily publish the images on your online store's site or social pages like Instagram or Facebook. If you want to purchase in wholesale numbers, you will need to contact the suppliers. A good benefit is that if you buy around or above $1,000 worth of goods, you will receive a discount.
For payment methods, you can use PayPal, Western Union, and all major credit cards. For shipping, the company uses three main services which are from DHL, FedEx, and DPEX. All products can be shipped globally and would cost between $16 and $22.
The shipping cost can be reduced vastly if you purchase in wholesale. And even if you go for a retail approach, the low prices can still mean it is able to set affordable prices and get a good profit margin. The shipping time is about 12 days.
Overall, Yaaku is a site suitable for dropshipping fashion items but with large quantities in mind. The prices are great and the products look stunning, so if you are passionate about fashion, this is the site for you.
Pricing plan:
The site is free to use.
In general, all the sites above have their own strengths and weaknesses, but no site is a one-size-fit-all option that can give a dropshipping business everything it needs. So, ad a dropshipper, you will have to do your research on product quality, prices, suppliers to see which are worth listing and make a profit. You may still have to come back to AliExpress for a good comparison.
But that is dropshipping! It is not easy, but it is challenging and rewarding for those who know how to take a chance. So give these alternatives a try and see which one works best for you. If you have any questions, just leave them in the comment section below. As always, best of luck on your eCommerce journey!
Related Posts:
New Posts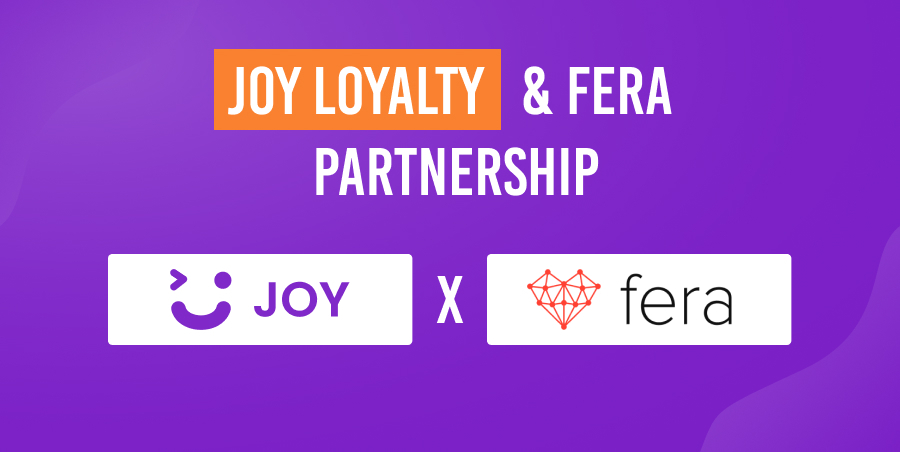 Subscribe
Stay in the know
Get special offers on the latest news from AVADA.
40k
subscribers has been joined!
Earn $10 in reward now!