Oberlo Review: The Best Dropshipping App on Shopify in 2021?
For entrepreneurs and retailers who are about to start in the business world, drop-shipping is like an ideal business plan for theme. When it does not require any upfront investment, inventory management, and storing, the sellers will be given the opportunity to start and run their business. Gradually, the drop-shipping is becoming increasingly popular as the sellers just need to complete their orders by shipping the products directly from the supplier, and they don't have to deal with stock control.
So, finding a great and trusted supplier is what most retailers care about. My recommendation for this would be Oberlo: The Best Dropshipping App on Shopify, which will make your drop-shipping work become easy, convenient and profitable. There were more than 85 million products have been sold on Oberlo, and it has been chosen as one of the best drop shipping service.
So, I will go straight to the main section today: Oberlo Review.
What is Oberlo?
Oberlo is one of the best dropshipping apps, also a marketplace for products that makes connection between sellers and suppliers all over the world. Oberlo was founded in 2015. With its high optimization, user-friendliness and powerful features, it soon becomes popular. This app is made exclusively for Shopify, which is easy to be integrated with your Shopify store with a single click.
To go more in detail, Oberlo offers thousands of high-quality drop shipping products from toys, electronics to beauty, fashion, accessories, jewelry and many more. You will be able to input these products to your online store with just a few clicks. Subsequently, all the shipping, packaging and storing procedures will be automatically taken care by Oberlo for you.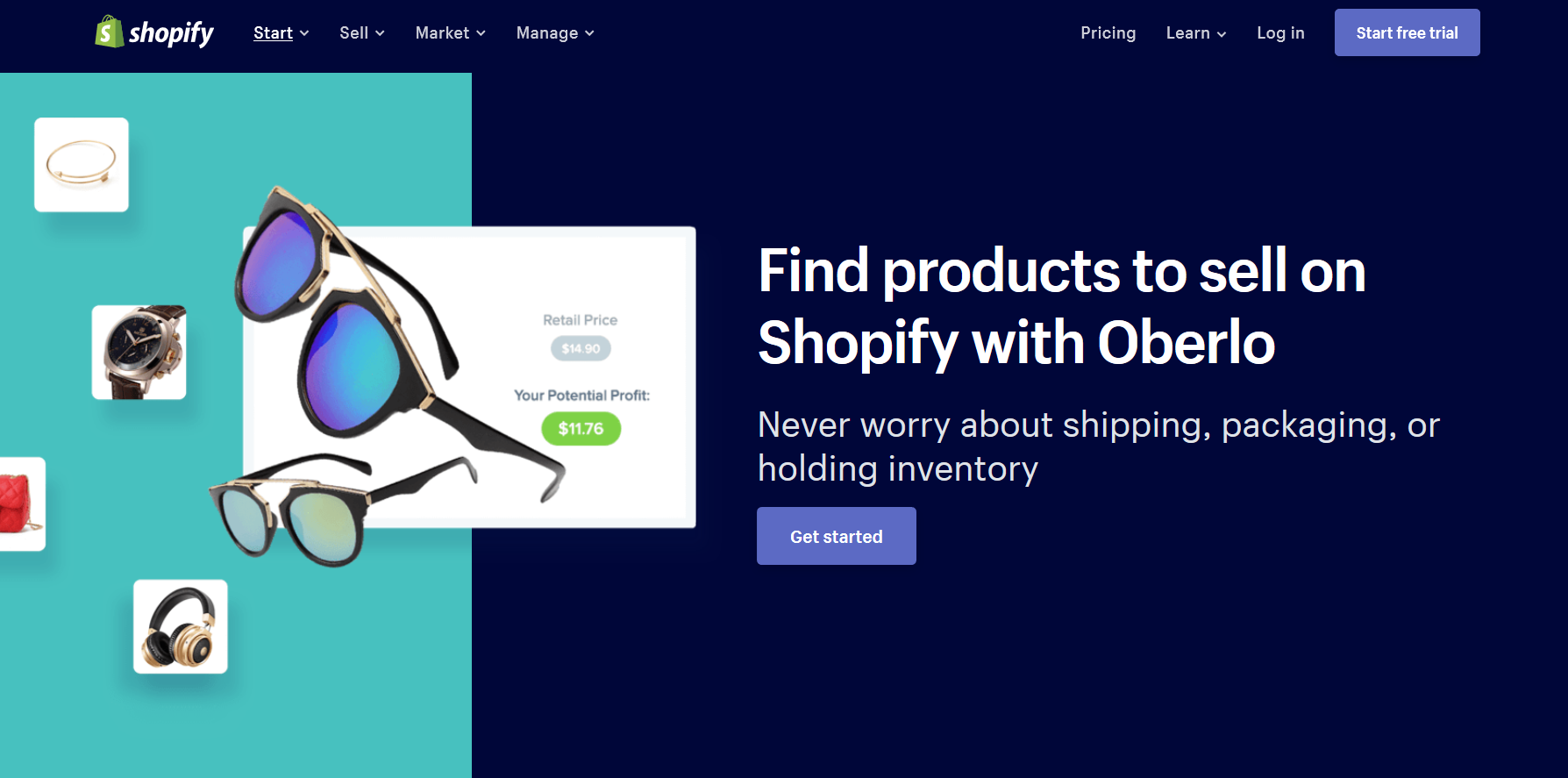 Oberlo is good to be used by everyone who has their own Shopify store. They could be the one who is just about to start a drop-shipping business or the one who has already had an existing catalog. In order to use Oberlo, you will need to create a store using the platform or connect an existing Shopify store to your Oberlo account.
Review of Oberlo Main Features
The goal of drop-shipping is about making things easier for retailers. So, Oberlo was created to do so, it helps sellers in connecting sellers with thousands of trusted and vetted suppliers. There are various product search and integration, one-click order fulfillment, and highly sought after product customization provided in this app.
There are two main criteria that really matter in every app before you decide to use, which are the features that help you to make more sales and those that enable you to manage your store and track sales with ease. Let's take a look at what Oberlo can bring to you:
Import Products with Ease
Overall, Oberlo allows you to quickly export products from Aliexpress and import them directly to your Shopify store. Basically, you just need to find the product that you like, click on the Oberlo button and then it will automatically import that product to your Shopify store.
To go more in detail, you will be able to browse thousands of products and suppliers on the Oberlo dashboard. After that, it just takes you a few clicks to import these items to your online store. That's not all, the best thing here is that all product information, photos, and pricing will be automatically uploaded to your inventory along with your chosen product. Also, Oberlo enables you to filter products by shipping methods, free shipping, reviews, rating, and many more. In case you have already had drop-shipping products from AliExpress, just simply connect to your existing AliExpress products that you have on your Oberlo account when you have done installing the app.
Auto Order Fulfillment and Tracking
As online customers nowadays demand for fast order processing and detailed order tracking information, Oberlo realizes this by being designed to make it fast and simple for fulfilling an order when you have just received the customer's payment.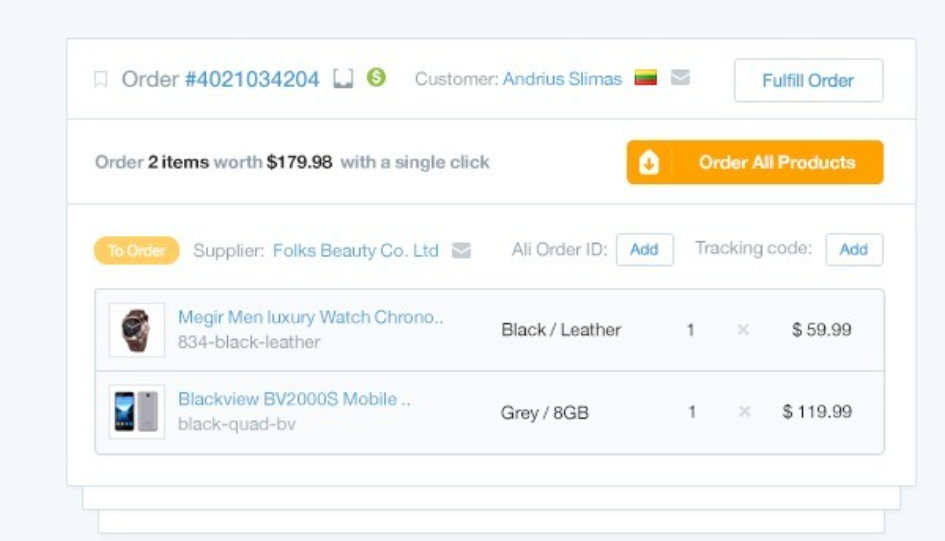 Related Post: Oberlo Shipping Time: Is it Too Long Shipping Times?
More specifically, when an order is placed on your online store, you just need to go into your inventory, find the location for the product, after that, simply hit a click on the "Order Product" button to confirm that you want to ship your product to your customer. Eventually, Oberlo will handle all the packaging, storing and shipping for you. Finally, the order will be processed and integrated tracking will be provided by Oberlo so that you will always know the status of a customer's order.
Auto Update Inventory and Price
On Oberlo, your product inventory will be automatically updated so that you can save your precious time without having to run inventory reports. It also helps to build customer loyalty by preventing sellers from bad reviews in case you accept payment for an item that's out of stock. To go more in detail, Oberlo's software will automatically update an inventory of the products, which you have published on your site. Right the moment your products are out of stock, you will be able to notified and then avoid selling something that is not available in your store.
Also, the pricing auto-update also works in the same procedure. Merchants will be notified whenever suppliers change pricing so that you will be able to keep your profit margins high or run a special promotion on some specific items.
As a result, this feature will help you to save an amount of time because you will not have to run and import inventory reports. In addition to that, you will be more likely to be saved from serious hassles and negative reviews when you accept a customer's payment and then realize that the item is already out of stock.
Well Designed Management Interface
As you can see, Oberlo offers users with its clean and easy menu on the left corner so that you will be able to search for products, import product lists, track orders, customize and manage products, as well as review import lists and sales reports and so on. Also, it only requires you to adjust your products by hitting a single click. You will not have to worry about the items on the menu as they are all well designed, and you can just track your sales and profit with ease.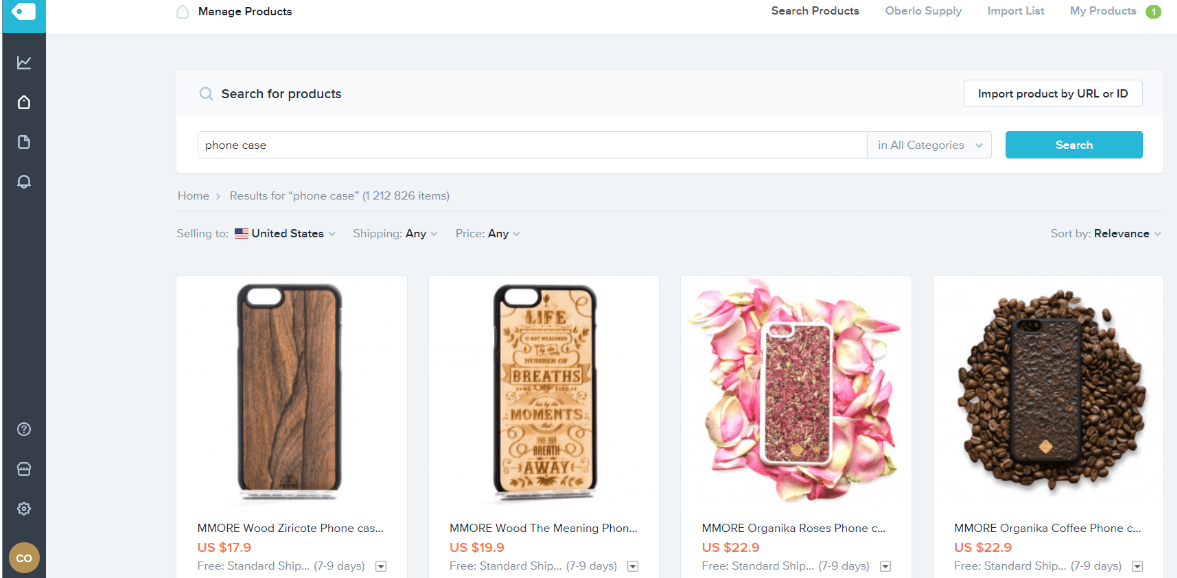 Product Customization
With just in one click, you are able to edit the product information and upload new photos when you have just imported products into your inventory as long as it has not published in your online store with Oberlo.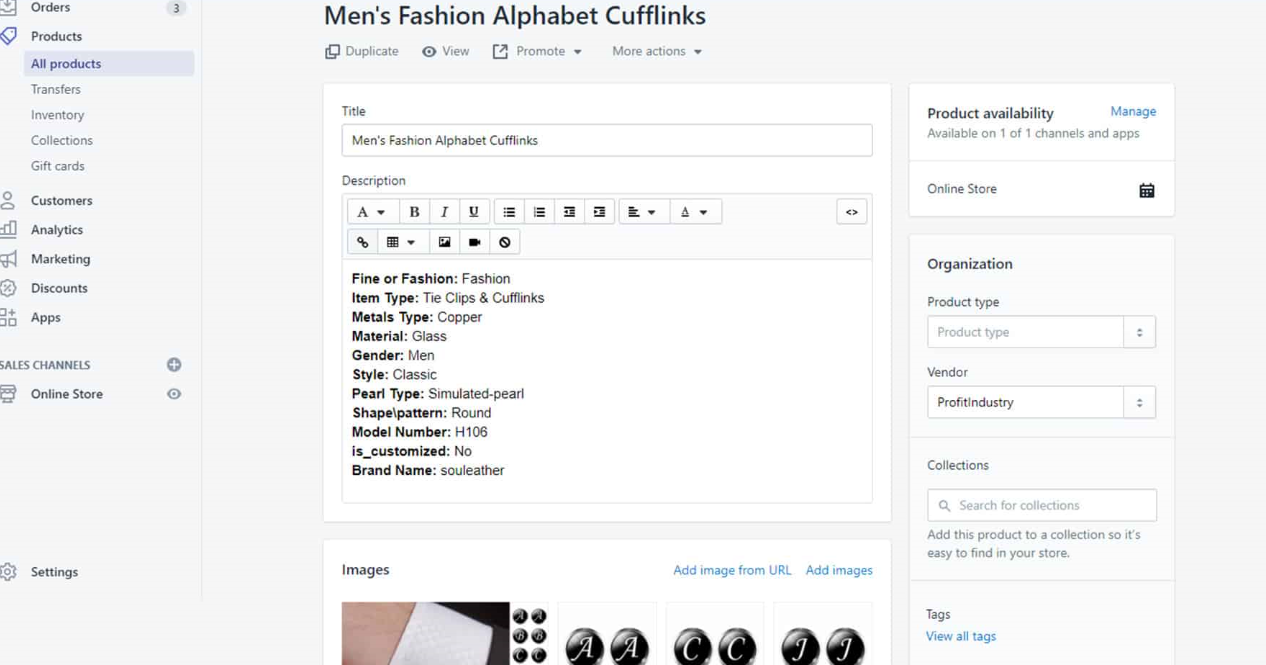 To go more detail, when you want to change something, just navigate to "My Products" and hit a click on "Open in Shopify". Then, you will be redirected to your Shopify store so that you can customize your images as well as the product description and titles for SEO purpose and brand identity as well.
Suppliers on Oberlo
In general, Oberlo's goal is to connect your online store with a wide range of suppliers and manufacturers. As a consequence, you will be able to pick some products to be synced with your store. Oberlo will complete most of your content creation so that you don't have to call around to find the right suppliers. On Oberlo, there are thousands of suppliers available for you to choose from, they will be divided into two types of suppliers: Oberlo Verified Suppliers and Oberlo Suppliers.
Oberlo Dashboard will provide a list of Verified Suppliers that are able to access from the Oberlo dashboard. With this function, you will be able to save an amount of time from looking for trusted suppliers. They are all the top performers that were hand-picked by Oberlo, which have achieved the following criteria:
Shipped and delivered 95 percent of their orders
Provides a large list of products
Successfully processed more than 1000 orders
Hosts worldwide suppliers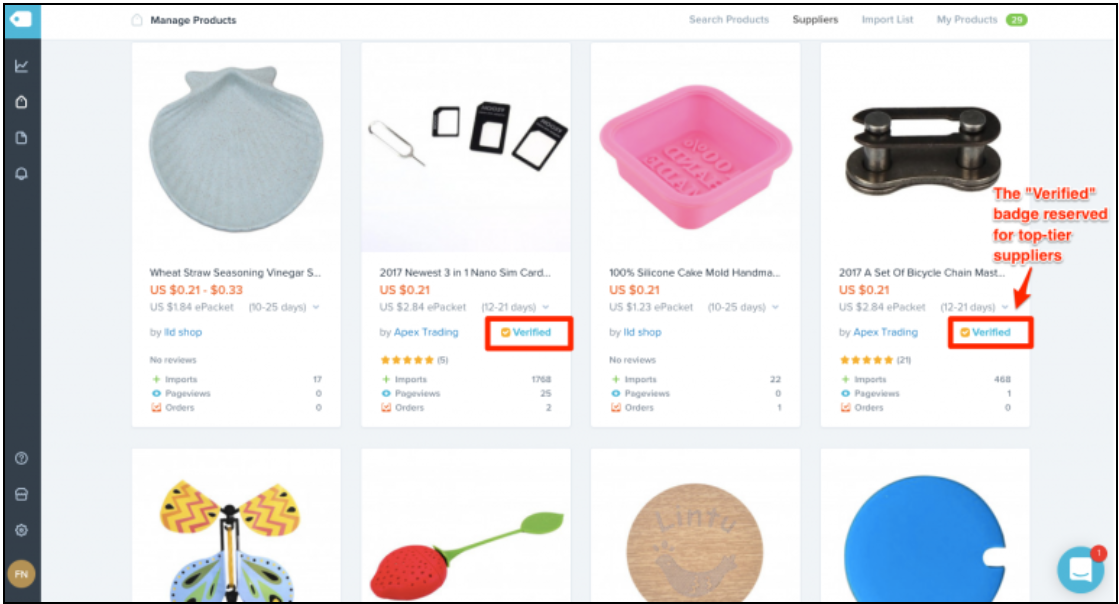 Meanwhile, the regular Oberlo Suppliers are those companies all over the world that have been vetted and monitored on the Oberlo platform. These suppliers will be checked their operations, warehouses, and business documents by Oberlo when you have business with them. These suppliers can offer you a more cost-effective than one of Verified Suppliers as they can offer better shipping time frames than AliExpress.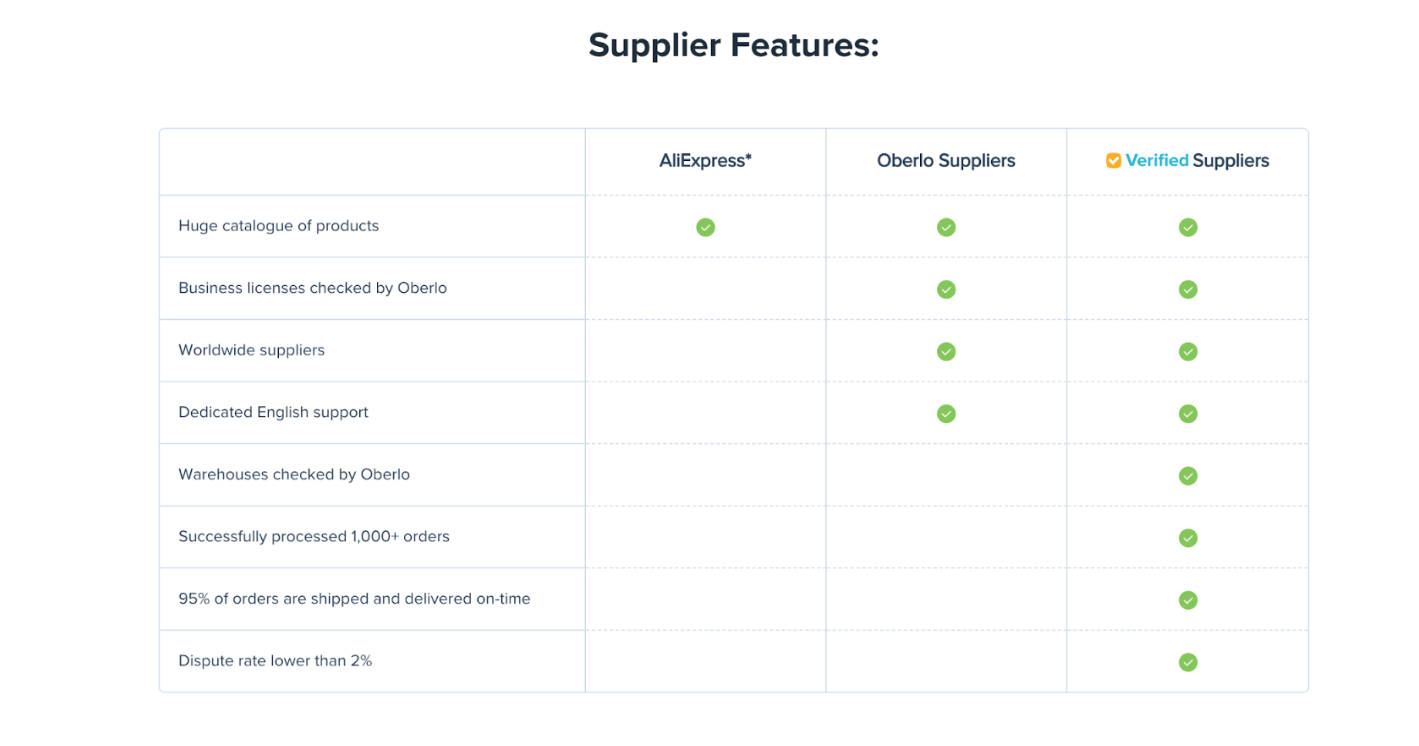 Even more, you will be able to source out great suppliers from AliExpress even the fact that Oberlo has no control over these companies on that site. By doing this way, you can see the feedback ratings that help you properly identify in picking the suppliers that worth your trust.
Oberlo Support Review
Oberlo is not fully an eCommerce platform. Nevertheless, it still has pretty good support. Specifically, it has blogs that offer all the information on updates, strategies, and inspiration. Also, Oberlo has the email newsletter for news section for you to subscribe, or check out information on the social media platforms.
What is more, Oberlo also has a vast forum with a view to allowing a customer to speak with other ones who are using the platform. You can find some helpful topics on this forum like how much to expect in terms of income and how to build your own dropshipping brand with all responses well-managed by Oberlo. Also, Oberlor provides the full knowledge base section to bring you helpful information while searching and finding popular questions about this app.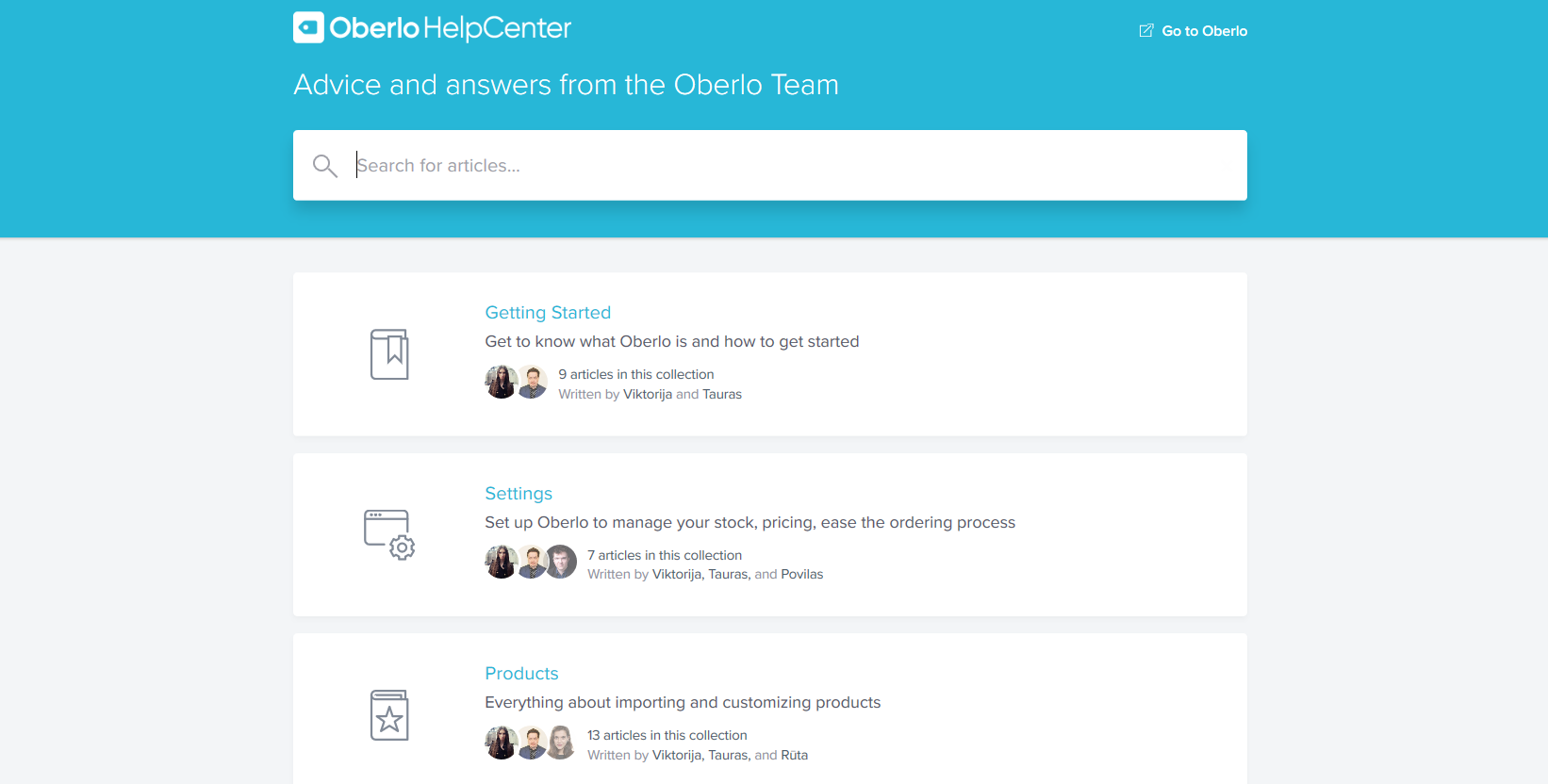 On the whole, there are two common ways that help you contact the customer service team:
Oberlo Help Center that enables you to browse help.oberlo.com so as to find answers to any questions. You just need to simply type a keyword or query in the search box, and then navigate to a relevant category.
Ask.Oberlo, which is an online forum where you can discuss dropshipping trends, share stories, and ask for advice as well.
Oberlo Pricing Plan
I know that it seems like Oberlo does offer a pretty good forever-free plan, but you will only get the door opened to better features with the paid plans. All kinds of plans on Oberlo all come with a free 30-day trial so that you will get a taste of what to expect if you start paying. At the same time, your order process will not be affected if you choose to cancel your account and go over your plan limits after that, but your dropshipping component of the service will be removed.
In terms of pricing, there are three plans provided for you to pick depending on your store's size.
|   | Starter All the dropshipping basics you need to get started. | Basic Features for taking your business to the next level. | Pro Advanced functionality when it's time to scale. |
| --- | --- | --- | --- |
| Monthly price | Free | $29.90 / month | $79.90 / month |
| Features |   |   |   |
| Product Limits | 500 | 10000 | 30000 |
| Unlimited monthly orders | o | o | o |
| Oberlo Chrome extension | o | o | o |
| Automated product pricing | o | o | o |
| Products statistics | o | o | o |
| Inventory updates | o | o | o |
| Import list | o | o | o |
| Sales reports | o | o | o |
| Order numbers sync | o | o | o |
| Variant mapping |   | o | o |
| Bulk orders |   | o | o |
| Real-time orders tracking |   | o | o |
| Affiliate program |   | o | o |
| Orders fulfillment monitoring |   | o | o |
| Captcha Solver |   | o | o |
| Multiple staff accounts |   |   | o |
Oberlo offers a free plan for dropshippers with essential features for you to get started. When your business grows bigger and need more functional features, you can upgrade to paid plans( Overall, the Basic Plan is the most used as there are many businesses that need shipment tracking and order fulfillment monitoring for their store).
Conclusion
On the whole, Oberlo is absolutely a reasonably priced theme with the ability to deliver highly desirable features. A lot of dropshipping merchants have trusted on this theme as it can save a lot of time managing, searching, and importing products. What is more, starting an Oberlo and Shopify just takes you a few minutes to process. What a great news!
So, I have presented you with the Oberlo Review today to be the best dropshipping app on Shopify. I hope you will find this article helpful in choosing the right app to use for your Shopify store. In case you have something confusing, feel free to let us know so that we can help you fix it.
---
Sam Nguyen is the CEO and founder of Avada Commerce, an e-commerce solution provider headquartered in Singapore. Sam aims to support more than a million online businesses to grow and develop.
New Posts
Stay in the know
Get special offers on the latest news from AVADA.