How to build a Shopify store from scratch
Last updated: December 01, 2023
If you are ready to create your Shopify store from now, don't ignore our post below. Perhaps, you have a wonderful idea and now you want to see it if people are willing to purchase it. Since you do not hire any experienced web developers, you can create your own Shopify store in just less than 15 minutes.
In this article, you will be shown on how to build a Shopify store from scratch with simple and easy steps to follow.
Shopify is known as one of the most popular eCommerce platforms that enable you to install your own online store and allow you to sell your products. Online merchants can get their products sold personally with Shopify POS.
As you might not know about, Shopify has been operated for ten years since its founder Tobi had an idea of selling snowboards with his own company named Snowdevil. Then, he quickly realized that it was totally challenging to have snowboards sold without using an eCommerce platform. Therefore, he came up with an idea to create it by himself and Shopify was born from that.
During the years, Shopify has been becoming among leading eCommerce platform which is specially designed for all sizes of business. No matter what kind of items you sell on stores or on social media, Shopify can cover all.
Why do you use Shopify for your store?
Shopify might be familiar with many people; however, not everyone knows how it works. With Shopify, its users, including online merchants and eCommerce business owners are able to generate a website as well as take advantage of in-built shopping cart solutions to sell both physical and digital products to their customers all over the world. In addition, Shopify provides you with systems that let customers manage things such as inventory tracking or shipping requirements easily and quickly. By using Shopify, you can access the admin panel where you will see products you get for sales, process orders, write descriptions and so many more.
Read our article: Shopify Reviews - Pros and Cons
Build a Shopify store from scratch: Step-by-Step Guide
If you would like to know what it might take to get your eCommerce business started from scratch and make your first USD 1,000 in profit within eight weeks, don't miss out on this part.
You will be instructed on very simple and useful steps to help achieve your goal, consisting of all mistakes.
Market research
Choose products to sell
The first thing you have to understand is choosing products to sell, which means that what you want to sell in your Shopify store. In fact, there are not many ways to have an idea of a product from scratch:
Combine existing products or business ideas

Generate a new item to deal with customers' problems
Combining existing products seems to be easy. If you can combine two, three or more products and turn them into a new item, the chances of sales ability can become higher. What you can do is simple. You have to ask yourself which items or products you bought in the last half of the year, you did it since you wanted to be your own audience. This might help you understand your potential customers better and serve them effectively.
Do market research
After deciding what products you want to sell, you had better start doing market research. For products you tend to sell on your online store, you can get inspiration by checking what is popular as well as trending on other marketplaces. Several sites, including Amazon, eBay, Etsy can offer some help. Also, you can browse lists such as What's hot or Most wished for and another category displaying existing customers' demand. Here are a few keywords you can search on Google and access the links:
Amazon Best Sellers

Amazon Most Wished For

Amazon Movers and Shakers

Etsy Most Wanted

Etsy Best Selling Items

Etsy Most Popular Item

Trending on eBay

Popular on Kickstarter
Take note that on each Amazon product page, you will see the Best Sellers Rank to assist you in disclosing how popular this product is in its own category.
Marketing plan
Sometimes, you might think marketing can be a little bit confusing, particularly you are very new to selling. If you are just a business starter, you might think that marketing can be complicated and expensive for your business. You might have tried one or two ideas but not succeeded. In case you get stuck, making marketing plans can be your solution.
You can equip yourself with a number of tactics to grab customers' attention and keep them. Each tactic is part of your marketing strategy, along with a marketing plan outlining how and when you can apply them. A marketing plan aids you in deciding who you are managing to reach, what you will say and how to get out the word. Having a better understanding of marketing goals makes it easy to find out your own marketing tactics that are suitable for your own online store at various parts of your selling cycle.
In order to set up a complete marketing plan, you can follow those handy tips below:
Step 1: Define your message
Through consistent and targeted messages in your store's marketing, you can provide customers with information that can help them make a decision on what to buy. Whenever you generate any advertisement, you had a better guarantee that it can reflect your own brand by using your own message.
To get a message developed, let's try to write several words to answer those following questions:
What makes your store become special?

What do you have to give to your customers?

How is your store different from your competitor's?

What do you stand for?
Right after you brainstorm, you are able to write messages to your customers using some words in your answer.
Step 2: Understand your customers
You can now imagine what type of customers are looking for your own items. Then, let's think of their traits, including their gender, their ages, roles, location, and even economic status. Are there any specific personality traits or challenges? Keep in mind that the more you can understand your customers, the better you can design your marketing plan. You will not come to everyone with your marketing. However, you can attract them who are likely to purchase your products.
If your online shops have some customers, then you can think of analyzing your store traffic. In this step, you can apply Shopify's reports to study your customers and sales in great detail.
Besides Shopify's reports, you can install analytics services like Google Analytics. Those tools are widely used to help you check how your customers interact with your online store.
Step 3: Choose marketing tactics
Marketing tactics you are applying are unique to the store and rely on items you are selling, your brands, and your customers. You had better select tactics making sense for your own business than managing to do everything.
In your marketing plan, you can consist of the following tactics:
Research: collect feedback and analyze data

Product pricing: give your products competitive prices in the market

Sales and promotions: provide discounts and planning promotions

Advertisement: place print, online ads, audio to get words out about services and products

Content development: generate written contents and visual contents for social media, blogs and another channel

Customer service: foster customers' loyalty through support

Community involvement: getting customers connected based on mutual interests and concerns
Step 4: Set goals
Every marketing initiative you are starting with can begin with quantifiable and specific goals. In case you set up your own goal, you might know whether your marketing tactics are successful or not or you can adjust them if necessary. Your goal can be long-term and short-term, but it has to concentrate on grabbing customers' attention, gaining more customers, and selling more products.
Setting goals might become challenging for you, especially if you are new to selling. You should begin with your short-term goals to help you see quickly if you are on the right way or not. In addition, it will become easy to get your marketing impact analyzed. Should you have any difficulties reaching your market goals, you had better try to plan a smaller goal. If you can reach your goal, you can work to reach stretch goals while still knowing that your marketing initiative is successful.
Step 5: Choose your marketing channel
Basically, there remain various places to market your own online store, consisting of blog posts, paid advertising, press releases, emails, and social media. Several marketing channels are more suitable for short-term processes and others are better for long-term ones. They enable you to develop a combination of channels in different ways so as to reach different types of customers.
If you invest time or money into your marketing, there will be no cost to market your items. You have to make sure that you can set up a budget before choosing your marketing channels and start growing your content and advertising.
Don't forget to pay for your online advertisement. You can apply online advertising to help your products such as Facebook Ads, Google Ads, Pinterest Promoted Pins or Google Ads.
Besides, you can generate several online advertisements from Shopify through third-party apps or integrated marketing apps. Some marketing activities can be used like Facebook ads as well as automation like Google Smart Shopping campaigns from Marketing pages on Shopify.
Sign up for Shopify
Next, you can go to Shopify.com and get yourself registered for services by using the sign-up form. Then, all you need to do is to type all of the required information like your store name and click on Create Store Now.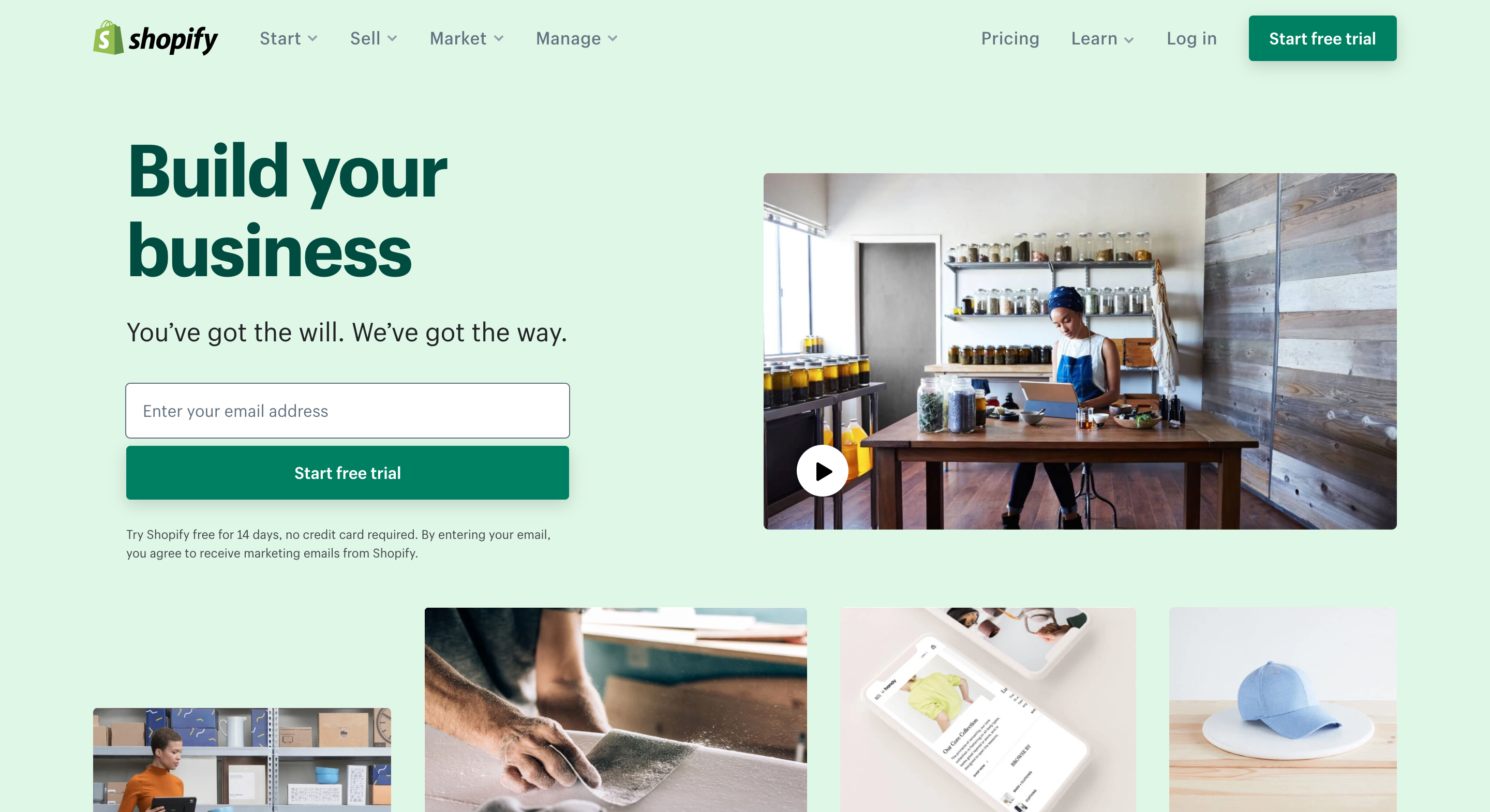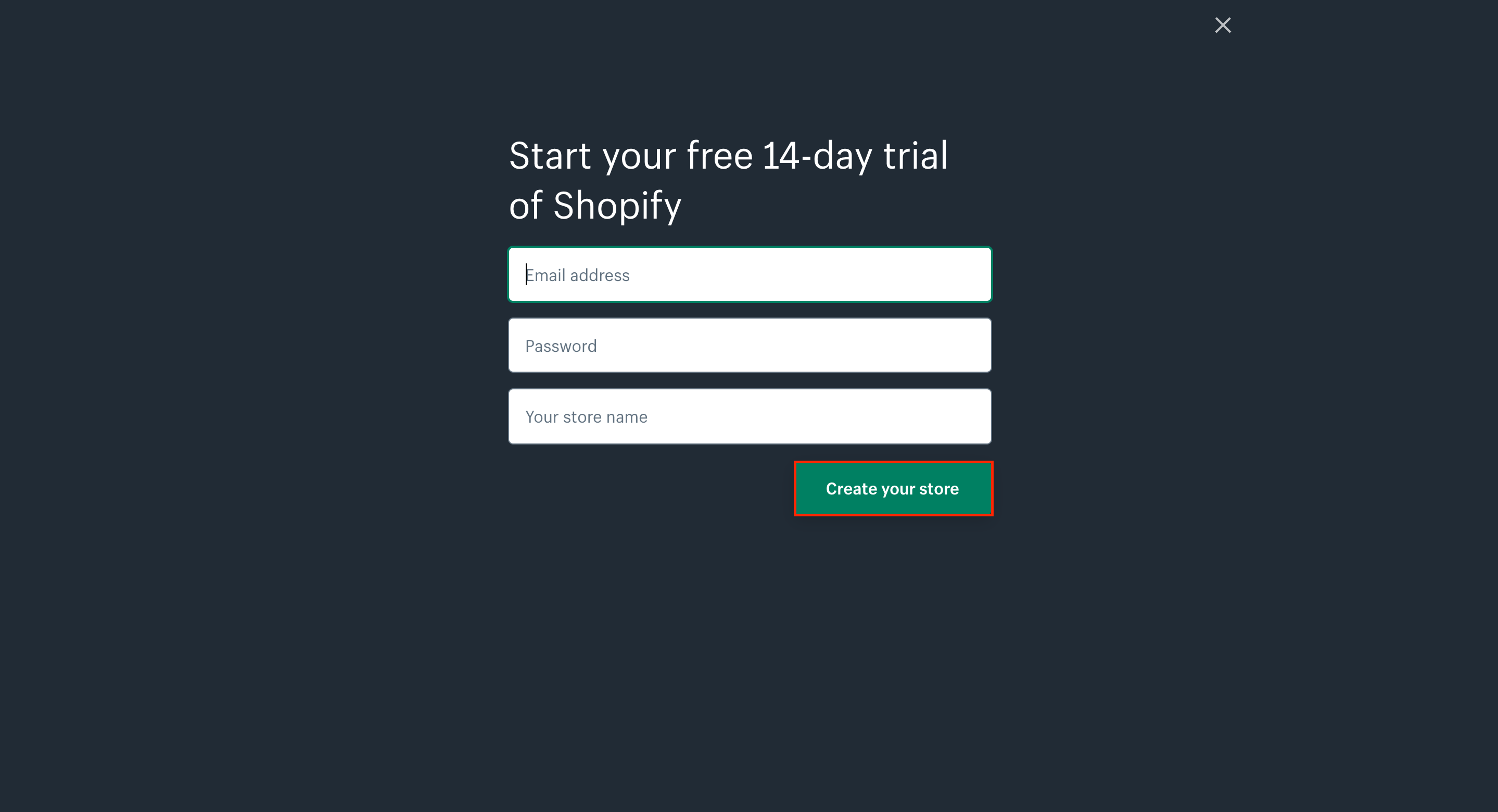 When you are doing that, you have to make sure that you enter a unique store name. If not, you will be asked to add another name. Now, take note that Shopify can ask you to type some additional details and if not, it will ask you to opt for different names. This consists of your address, country, phone and so one. Also, you need to head to your own purpose of creating a store.
In case you already have your own items or products, then you can choose I am selling with a different system or I am selling offline. If you just start everything, choosing I am just playing around might be better.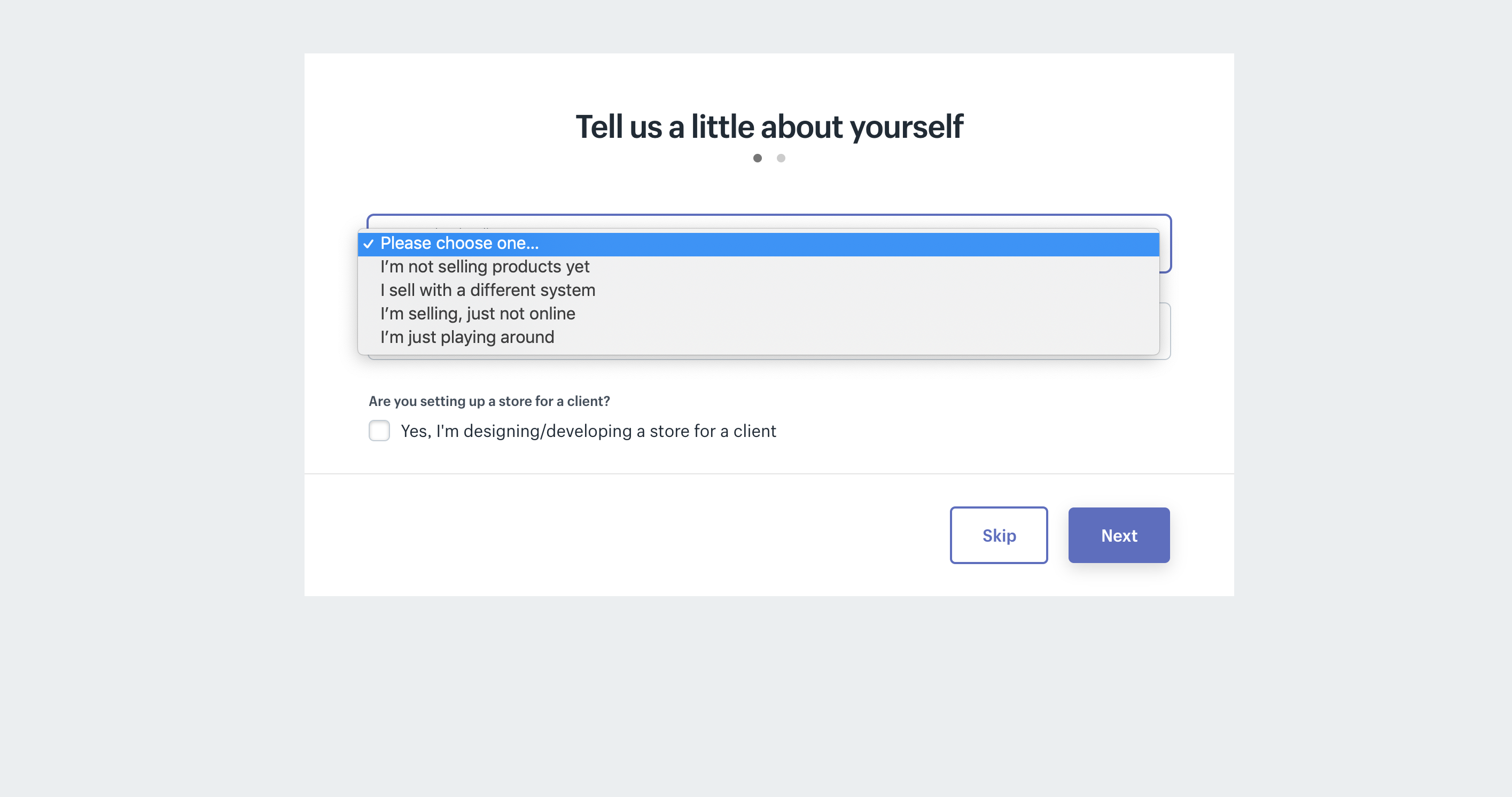 Now, your store is live and ready to be launched. You are now allowed to insert your products and sell them on Shopify. Nevertheless, you have to set up your store first to make it become more attractive.
Add or buy domain for your store
You had better keep in mind that a relevant domain name plays such a vital role in any online shop. As you finish building your Shopify store, you will be assigned a domain like Yourstorename.myshopify.com.
In general, this domain name will not express your store's identity; therefore, something just like Yourstore.com/net will give customers an authentic feeling.
If you want to know how to change your Shopify URL, then don't ignore this part.
If you have domains registered from different ones, you can add it to the store easily. After that, choose Add domain in your own dashboard.
Now, you can click on ` Buy a domain or Connect existing domain` to the store. Buying a domain will enable you to purchase as well as register new domains through Shopify directly and get it connected to your store immediately.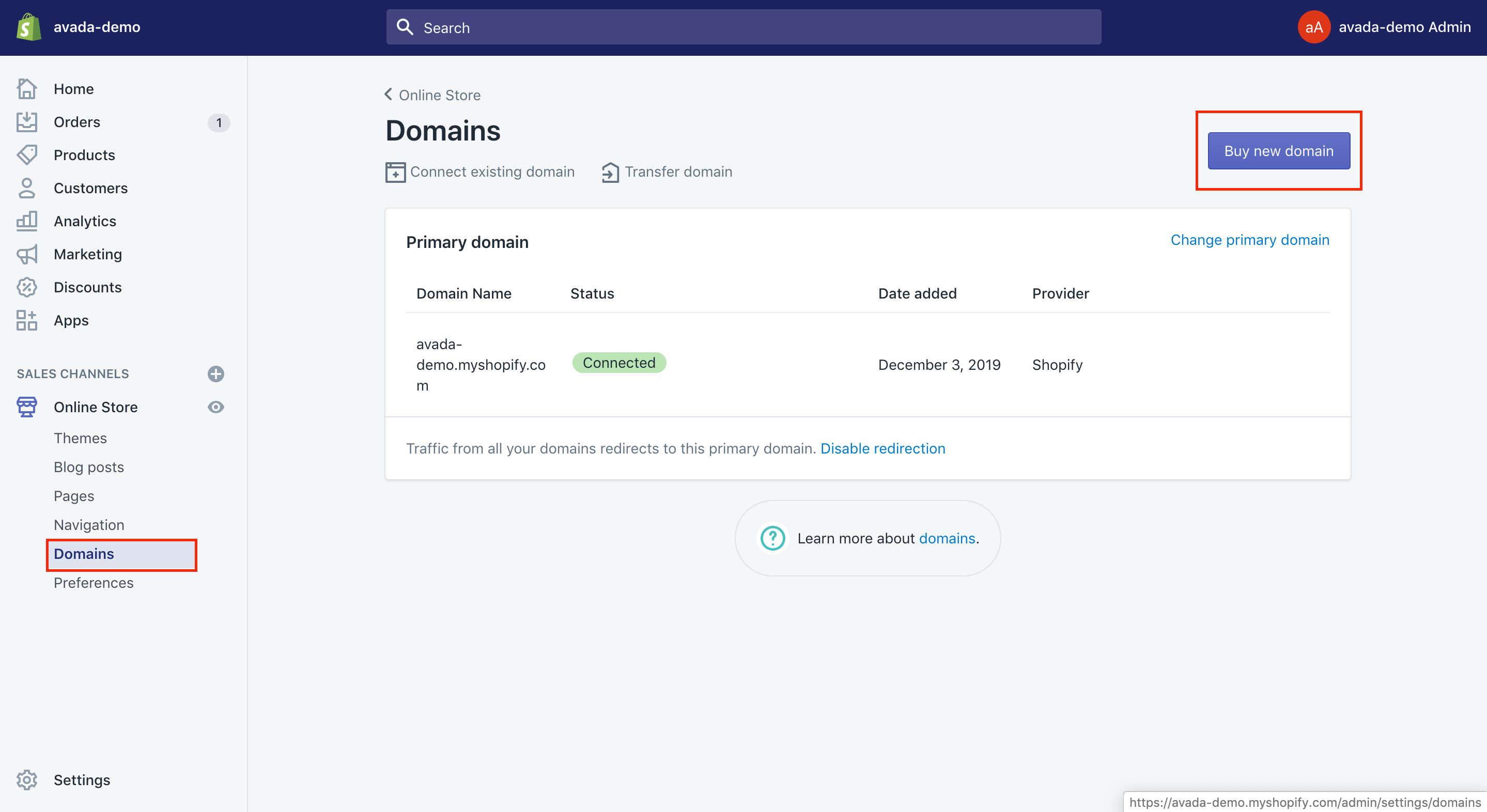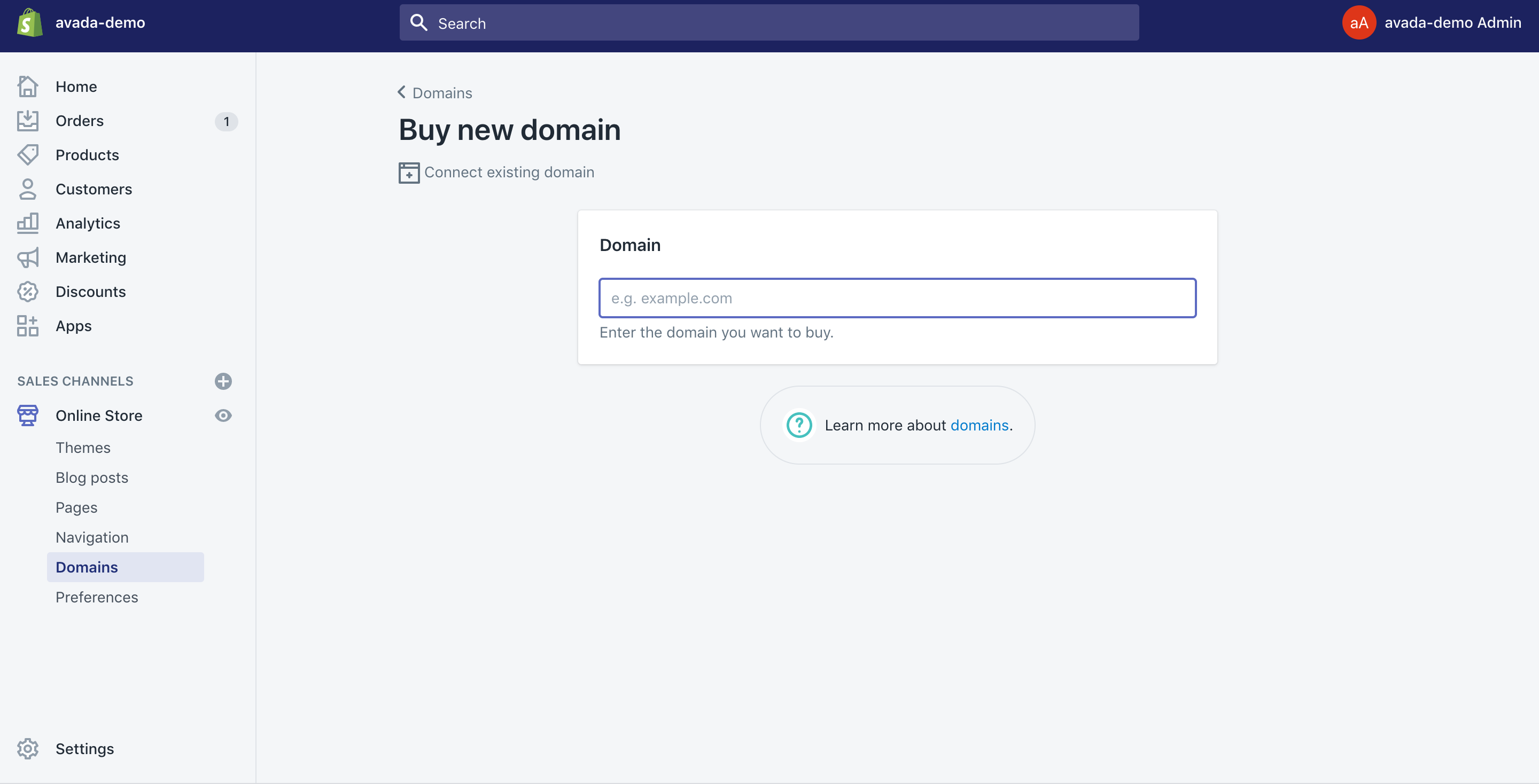 Connecting existing domains can let you connect another domain you already had it on different registration. After that, you will be directed to Domain setup guide which guides you through steps of getting your existing domains connecting to your Shopify.
Setup Shopify payments
As your Shopify store is ready to launch, the next thing to do is setting up Shopify payments. Shopify provides the Shopify payment options that are thought to be the best way to access as well as manage your payment online. This payment system means you do not need to install a merchant account with other providers like Stripe or Square. Additionally, Shopify payments can integrate fully with your own online shops so that you are able to view all of the payouts as a Shopify admin.
If you choose using Shopify payments for accepting cash, you will have to set up things called "Pay Period". In fact, there is an amount of time during the day your customers are placing their orders on the store and times the order funds will be sent to the bank account.
Payment gateways are important things you have to consider as you build your ultimate Shopify store. Remember that the gateway that is right for you will rely on many different things:
The transaction fees: Most of the payment gateways will charge online merchants small fees whenever someone purchases something on their website. You have to make sure that you will go for the gateway payments offering you the lowest price

Card types: It is necessary to choose a payment gateway accepting a variety of card types, along with payment options, consisting of things like Stripe and Paypal.

Off-Site checkout: There are several payment gateways that can take payment processes away from your own site and into their server. This strategy can be more secure; however, it is also painful for customers.
To activate your payment processor, you can head to the tab located to the left of your dashboard payments. This section enables you to choose from many payment processors like Authorize.net and Stripe. Shopify owns its payment processor which is easy to be implemented. You can walk through the steps simply to get your payment activated. This lets you accept payments as well as put these payments in accounts.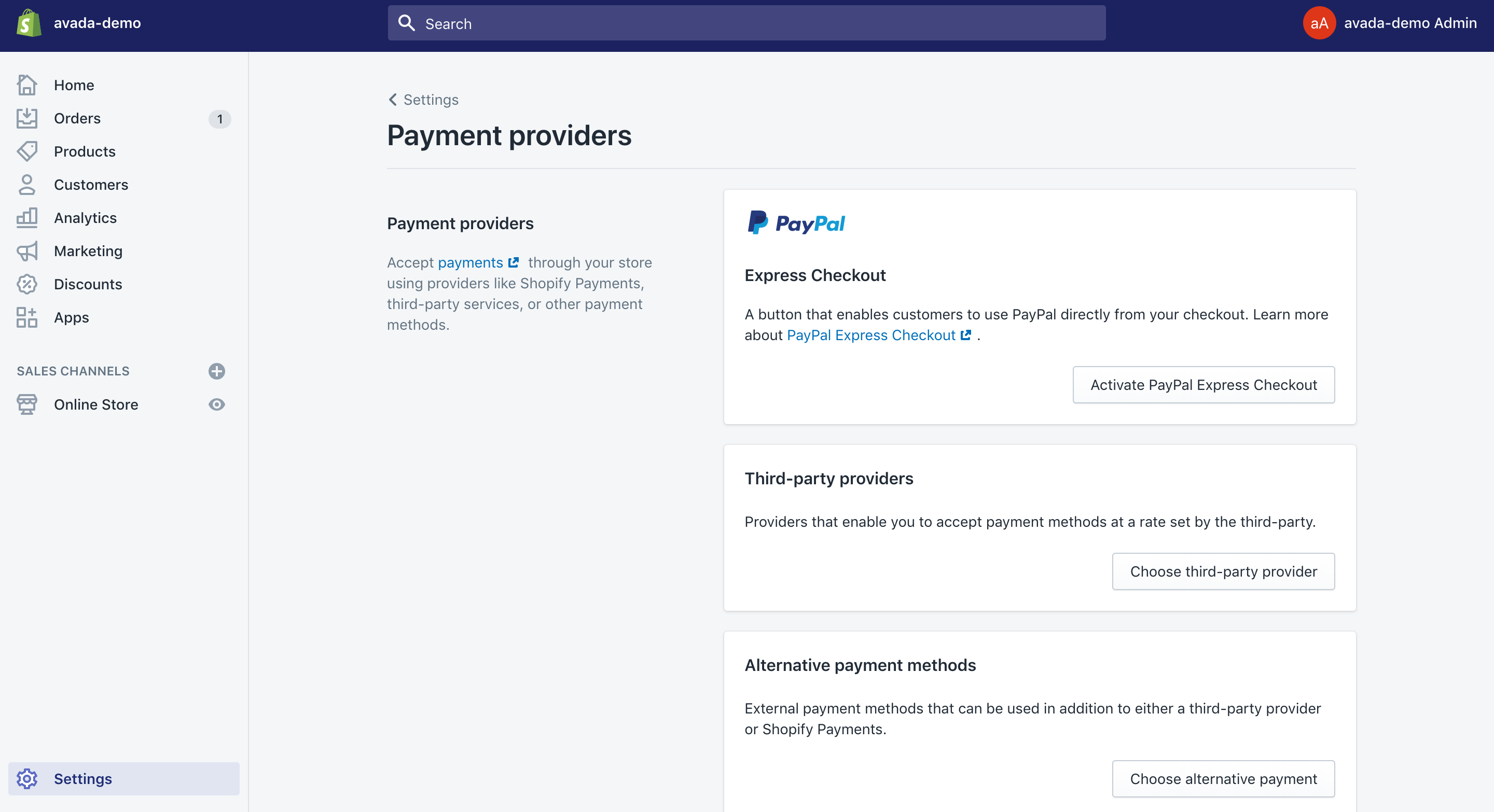 Setup Shipping method for your store
One of the most popular reasons why people like to use Shopify as their store building solutions is that Shopify is flexible. You do not need to obey one-size-fits for selling. When it comes to Shopify, there exist many ways to get your products sold that can be appealing to you.
One way is to switch from your standard store as well as ship strategy to the dropshipping, and dropshipping becomes one of the most widely used methods for ordering fulfillment in the market since you do not need to find places and manage your items before delivering it to your customers. With dropshipping, ending up all your money on stock will take no risk.
Dropshipping enables online merchants to select a supplier or anyone else to take over the fulfillment part of their sales process. All you need to do is to list products that others have on your sites and as an order comes, you can send the details through the company you dropship with. Then, that company will send items to your customers.
When it comes dropshipping on Shopify, you are able to link your digital products, along with physical ones from dropshippers to your site with services such as Oberlo. Oberlo is a potential dropshipping app that can serve well with this eCommerce platform.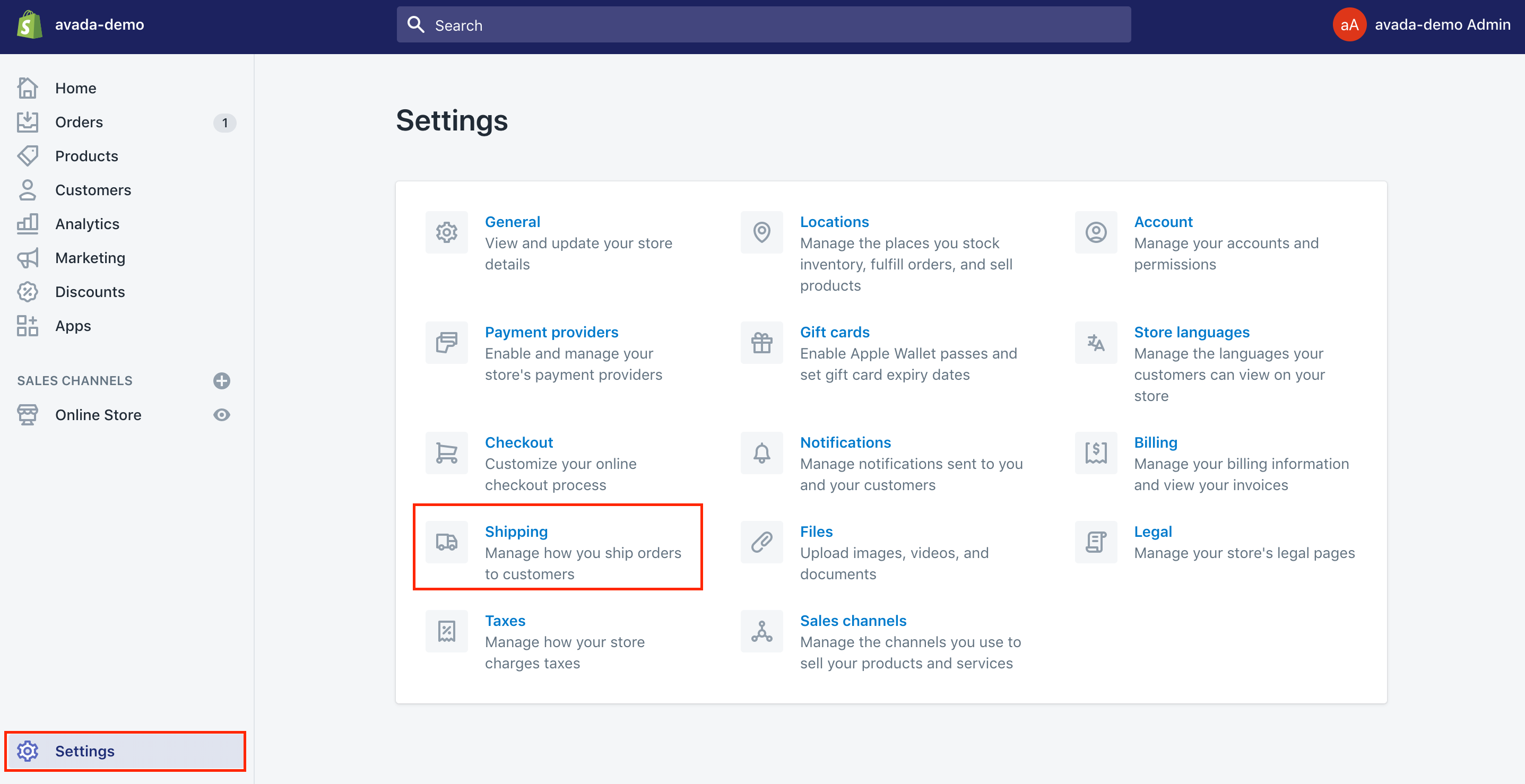 Choose a theme
In order to make your online store on Shopify become more attractive to the customers, you had better select an appealing theme. You can go to Customize theme from your dashboard. Shopify site templates are known as one of the greatest ways to generate a store that can help you grab your customers' attention easily.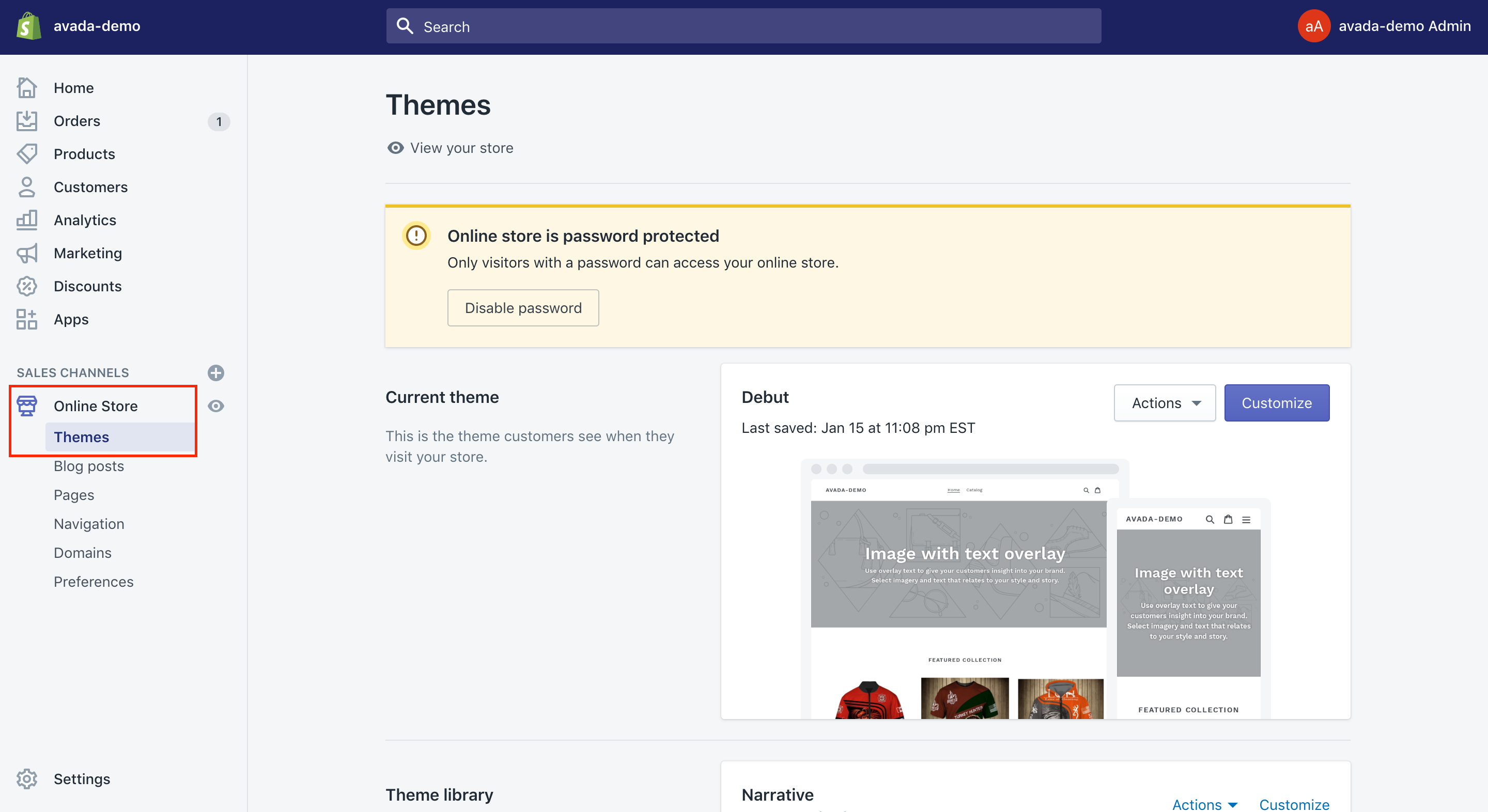 Now, it is time for you to customize your existing theme or select new themes for your shop. You can pay a visit to the theme store where you are able to browse through the list of paid and free themes.
As you choose the first theme, it can be free or paid. You have to make sure to check the review of the theme carefully since this can prevent you from headaches. Let's choose themes to be ranked higher.
To preview this theme in the store, you can opt for View demo and you can see the preview. When you are happy with that, you can click on Add theme to insert it into your current theme.
Next, to set up your chosen theme, you should press on Actions and Publish to turn it into the default theme for the store.
Right after selecting proper themes for the store, you can have options to get it customized. Some include:
New logos
Colors
Change font
Add product image carousels
Insert social media
Add relevant items to the product page
Customize the look of your store
In this step, you will have the look of your store highly customized. You can come back to your main dashboard and choose to customize the look of your site button. You will be asked many things from logos to colors, but the main part is the link asking you to visit the theme store.
Meanwhile, the free themes are excellent, several premium themes can be attractive too. Premium themes will go with additional changes; hence, in case you would like to check the smallest details of how your site will look, it can be good to pay for professional themes. Besides, if you have access to the HTML and CSS of the theme, you can find that you are making lots of changes to how your sites look and perform. Should you not contain a coding expert in-house, you can check the Shopify Experts page for extra help.
As you can see, there remain many Shopify experts that focus on item productions, email marketing, Shopify themes, and many more. You can also choose the Shopify Experts for anything.
You can change your Shopify theme based on the following things:
Color schemes
Fonts
Products appearing on the page
Relevant items functionality
Homepage carousel slides
Logos
Choose Apps for your Store
Shopify provides you with a highly integrated app shop that allows you to set up any plugins or apps directly on the store. Those apps will give you a hand in multiple functions of the store.
Apps can be installed for creating invoices, dropshipping, shipping tools and so on. You have no worries since installing an app or a plugin is very easy.
From the dashboard, you can head to App section located on the left of the sidebar. Now, you can feel free to install the apps or pay a visit to the app store through the app catalogue.
Then, select plugins or apps you would like to install and press on Get to get it installed on your Shopify store. When it is set up, you can install it based on what you really need and begin using it.
Add products
It is time for you to add products. All you need to do is to click on Add product and type your product details, consisting of title, images, description, shipping information, pricing, and inventory details before saving it.
Take note that your first item will be live on your Shopify store right after you finish all of your detailed products.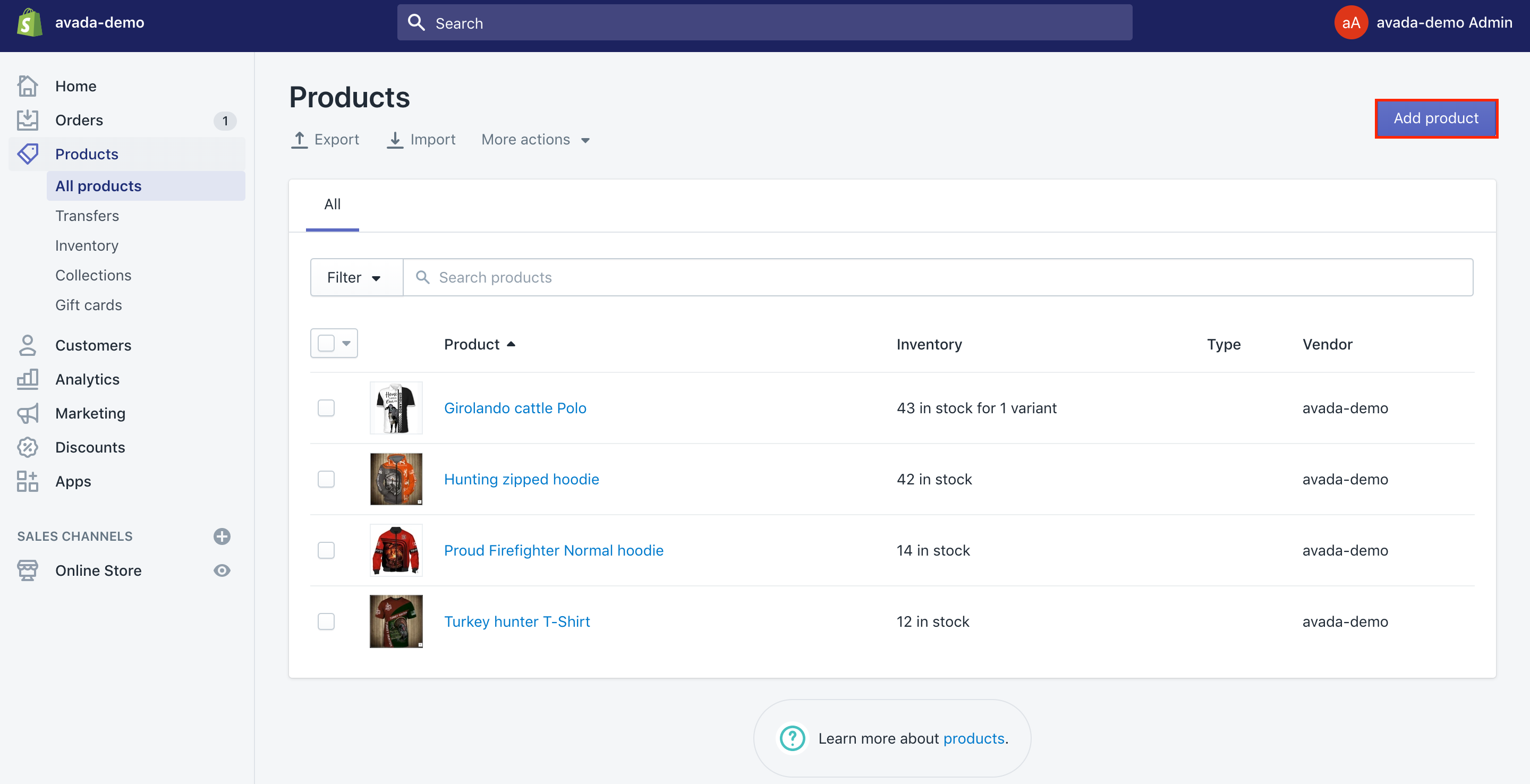 Set Price and Inventory
After that, you can set the price and inventory for your Shopify store. You can enter your products' prices and make sure to tick on the charge taxes box. Then, Shopify will add the correct sales automatically which is based on your own location.
Type an SKU (stock-keeping unit) that is a number to clarify each item. More importantly, you had better change the inventory policy to Shopify tracks this product's inventory before entering the quantity of available you have.
By doing this, Shopify can help you track how many items were already sold and how many left in your store.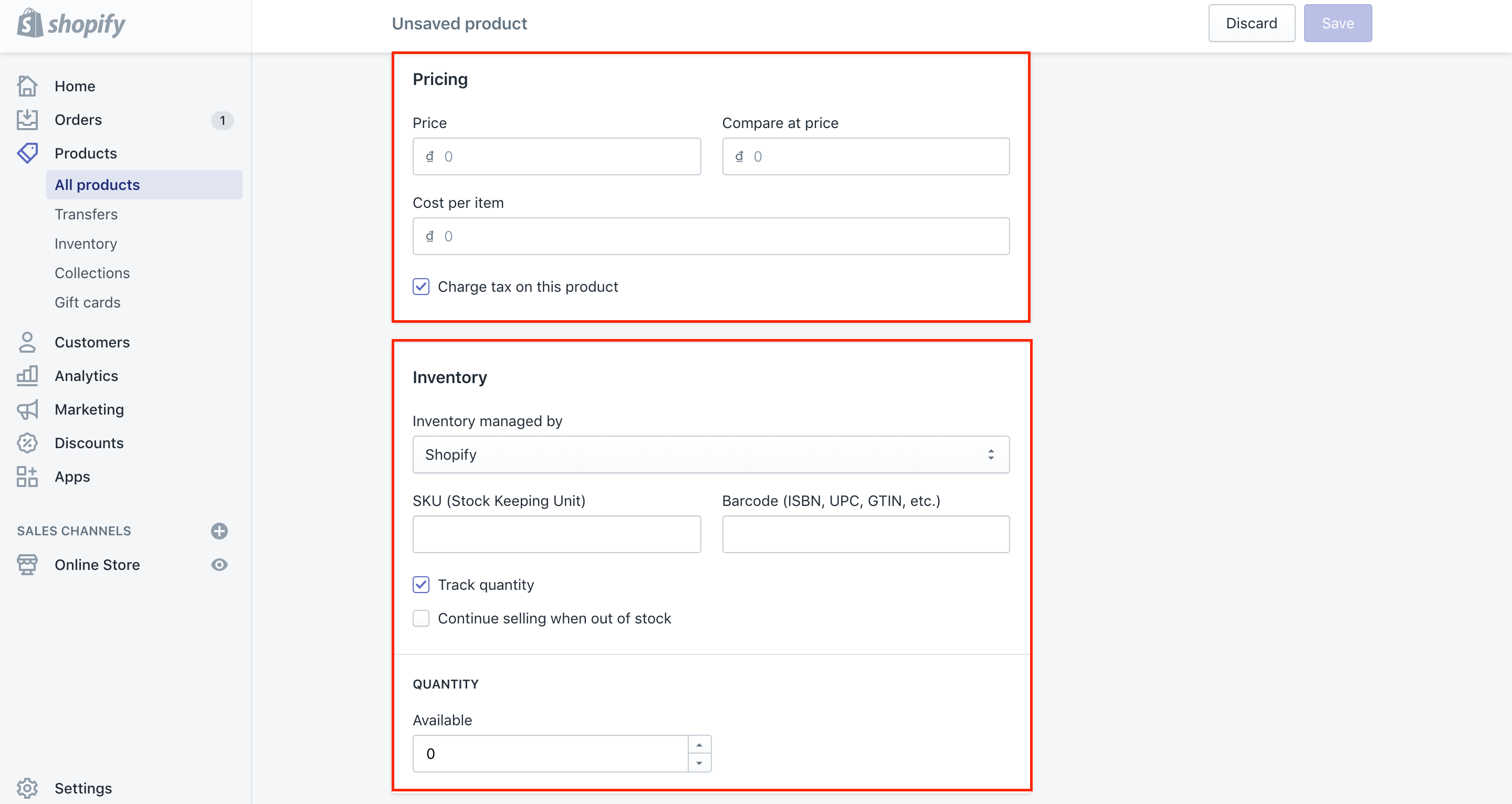 Unlock and launch your store
In order to unlock and launch your online store, you have to choose Online store located on the left of the panel before choosing Preferences.
If you are in the free trial, you will receive the message informing you that you need to create a plan before you can disable your password.
However, you should not worry. This does not mean you are cutting the trial short. Whenever you have finished that, let's remove the password and bring your store live.
Conclusion
We hope that with our complete guide on how to build a Shopify store from scratch, you can achieve your goal without having any difficulties. If you have any questions, don't hesitate to contact us for further discussion. In case you find this article helpful, let's help us share it on your social media.
Related Posts:
---
Sam Nguyen is the CEO and founder of Avada Commerce, an e-commerce solution provider headquartered in Singapore. Sam aims to support more than a million online businesses to grow and develop.