Marketing Automation for eCommerce: Everything You Need to Know
The number of online buyers has constantly been growing through the years and doesn't seem to slow down at all. As a consequence, the sellers are expanding as well. With so many online store builders available like Shopify, Magento, or Bigcommerce, anyone can start an online business in just a few clicks.
To hold a firm position between the sea of competitors, you need to constantly convert visitors into buyers, and that is why marketing automation in a digital age is more in demand than ever. Technology can provide the tools so you have more time to do more important work, and get ahead. So if you are running, planning, or just interested in using marketing automation, this article is for you!
What is marketing automation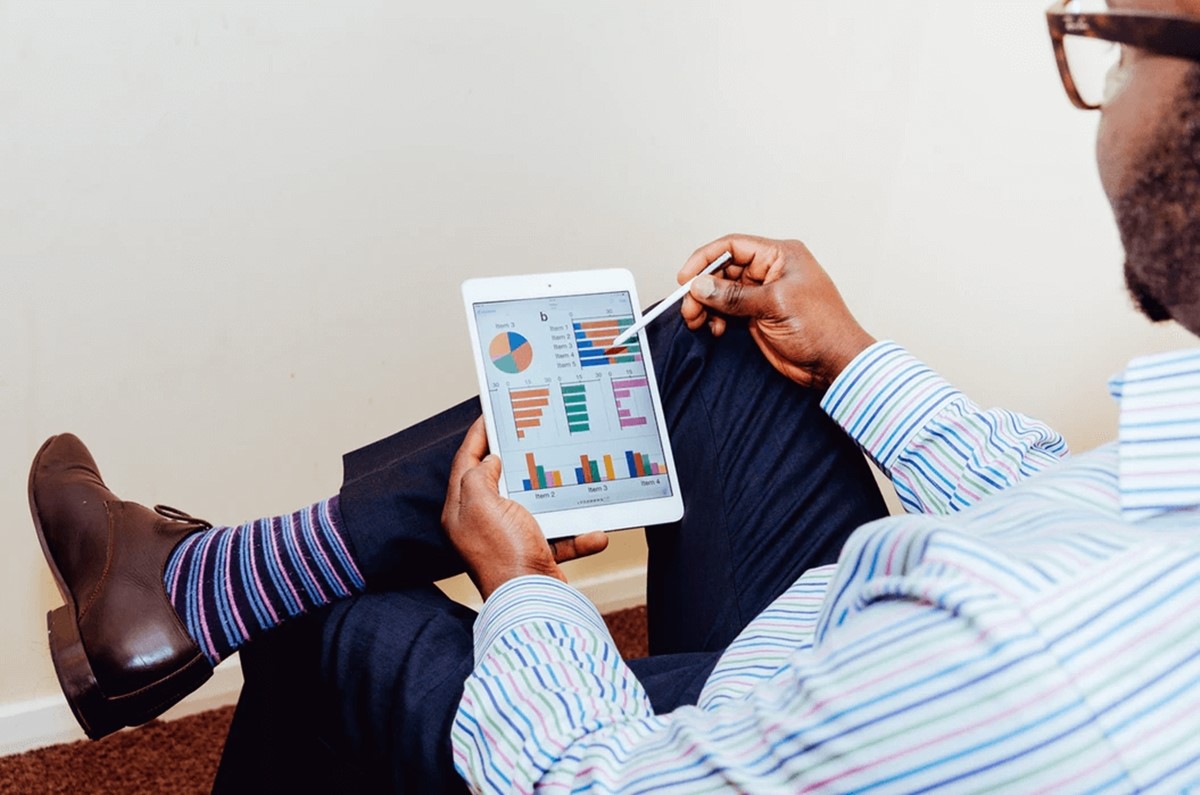 The definition of Marketing automation: Marketing automation can be understood as software that drives a company's efficiency by completing day to day marketing tasks and workflows without the need for human supervising.
Examples: Emails, Ads, Lead Management, Lead Generation, Customer Segmentation, etc.
Automation tools can ensure your marketing campaigns operate without manual touch to achieve specific goals/milestones. Through them, you can execute your marketing tasks faster and more precisely to enjoy the revenue following.
Why marketing automation is essential for eCommerce success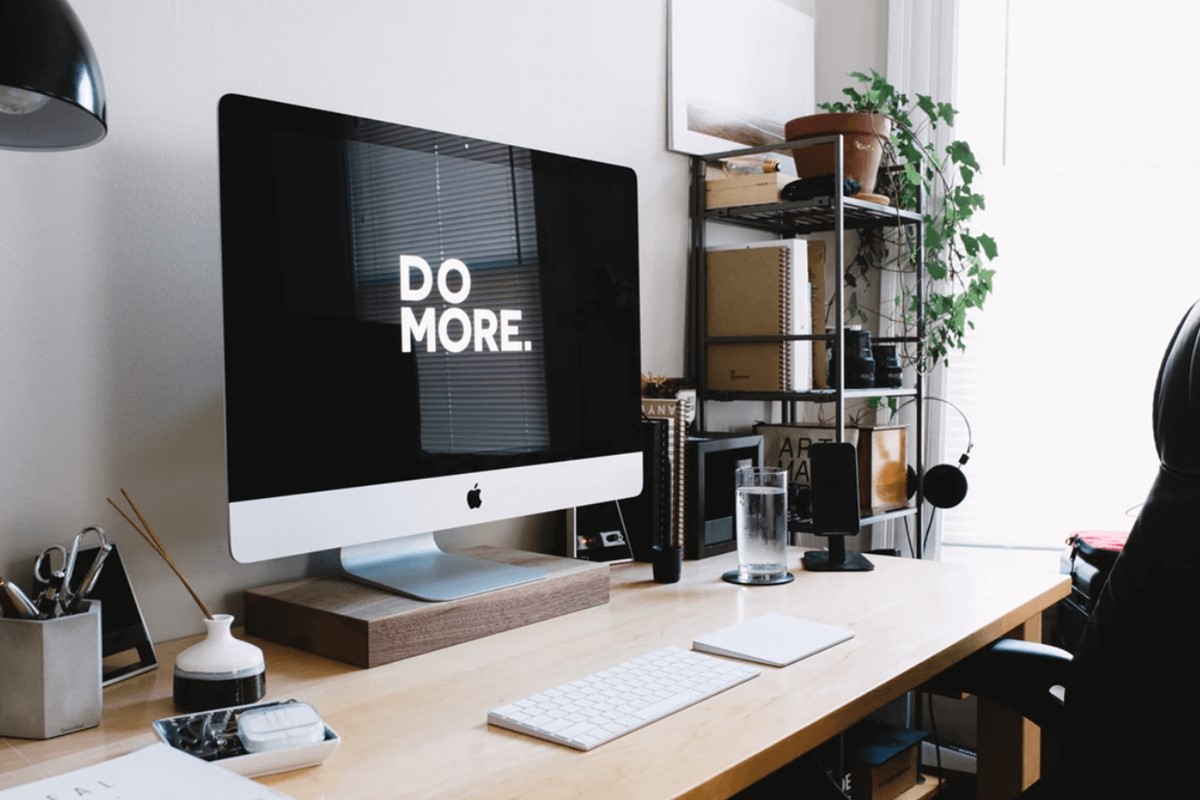 As an eCommerce business owner, time is money, and you don't want to waste any of them. Among marketer, automation has become more popular because of the following benefits:
Time-Saver: There are countless time-consuming activities that a marketer must involve like populating information, make reports, or create workflows. Automation software can handle this and let you spend precious time on more important jobs of a campaign.
Human-error Free: The tedious tasks can lead to boredom and less focus, which creates errors that may need a lot of time fixing. Automating such tasks can help your marketing works much smoother and stress-free.
Increase Engagement: Modern buyers want faster service, this is a fact that you can realize by yourself. Marketing automation can engage numerous customers with personalized messages throughout thousands of emails, in just a little effort.
Easy to Improve: Another benefit of marketing automation is it provides so much data and information to improve your campaigns. And with the speed of automation tools, you can learn and earn at a much faster rate, with easier processes than manual work.
Simply stated, marketing automation is the way you can see better results in campaigns with lower investment in time and resources. Now that is a good offer that you don't want to refuse.
How to use marketing automation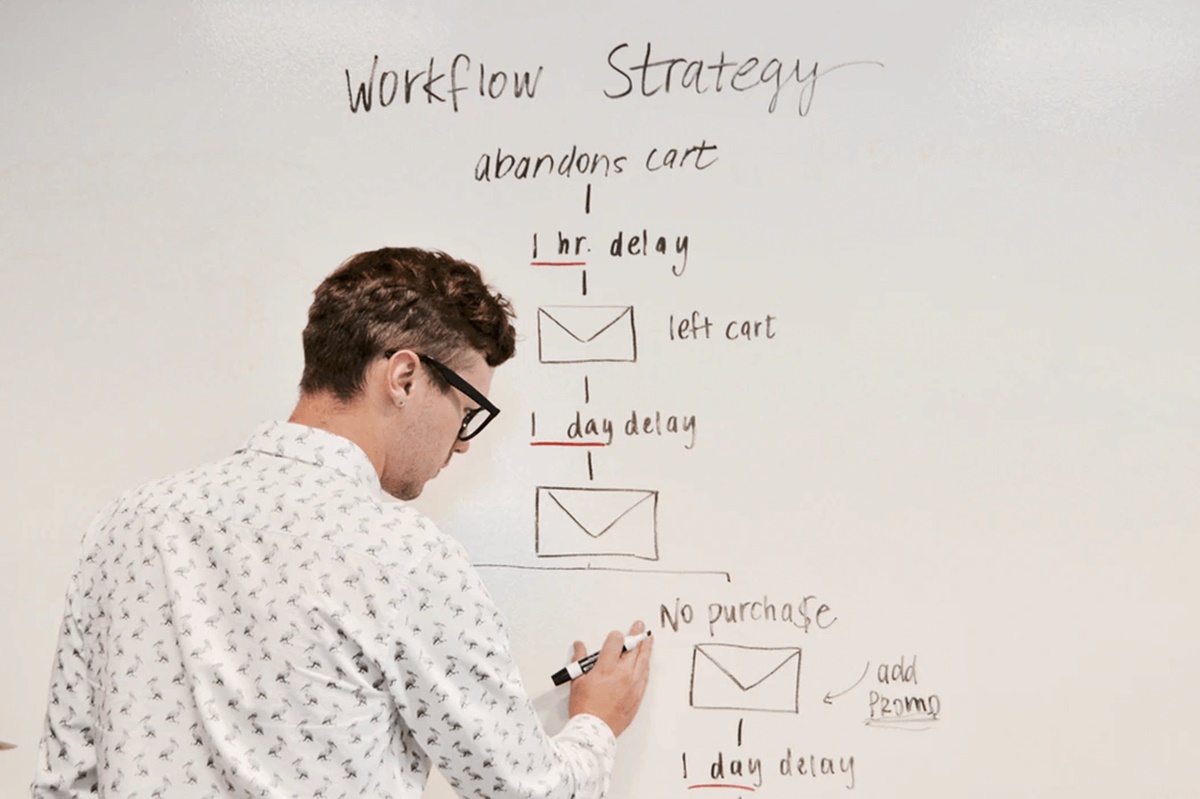 By now, you have seen that using automation in your eCommerce marketing is essential to growing at a great rate. But you may be wondering how to use automation properly and where to start.
Don't worry, we will go through all the most important uses of marketing automation in the next sections. Let's get right into it!
Attracting new customers
There are far too many stores neglecting the first phase of the customer journey. This can have a major influence so they keep placing orders and stay with you for a long time. Your actions can make or break the relationship, and even future earnings.
So you have to do it right, from the start.
In eCommerce, you need something called automated emails, which go to new users at specified times or bring rewards to their actions.
With automated onboarding campaigns, you can:
Introduce your brand and its story (how it was founded, why is it here).
Showcase how your store works (delivery costs and time, return policy, working hours, etc.).
Direct them to important links on your site (such as product return forms).
Show them how they can contact the customer support team.
Showcase the most popular products or introduce product categories.
Have reward new subscribers with a promotional coupon or discount code.
Gather information about your subscribers through surveys or retrieve data from their behavior.
These are just a few ideas that your onboarding messages can do. There are plenty more! You can send your newest blog posts, social media profiles, a reminder about the expiration date on the discount code sent. Just test it!
Also, consider splitting the mails process into several messages sent every few days. This can help subscribers remember your brand, return to your website, and get used to how frequently the communication is.
Like this email, eBay gives a warm welcome with some useful branding information.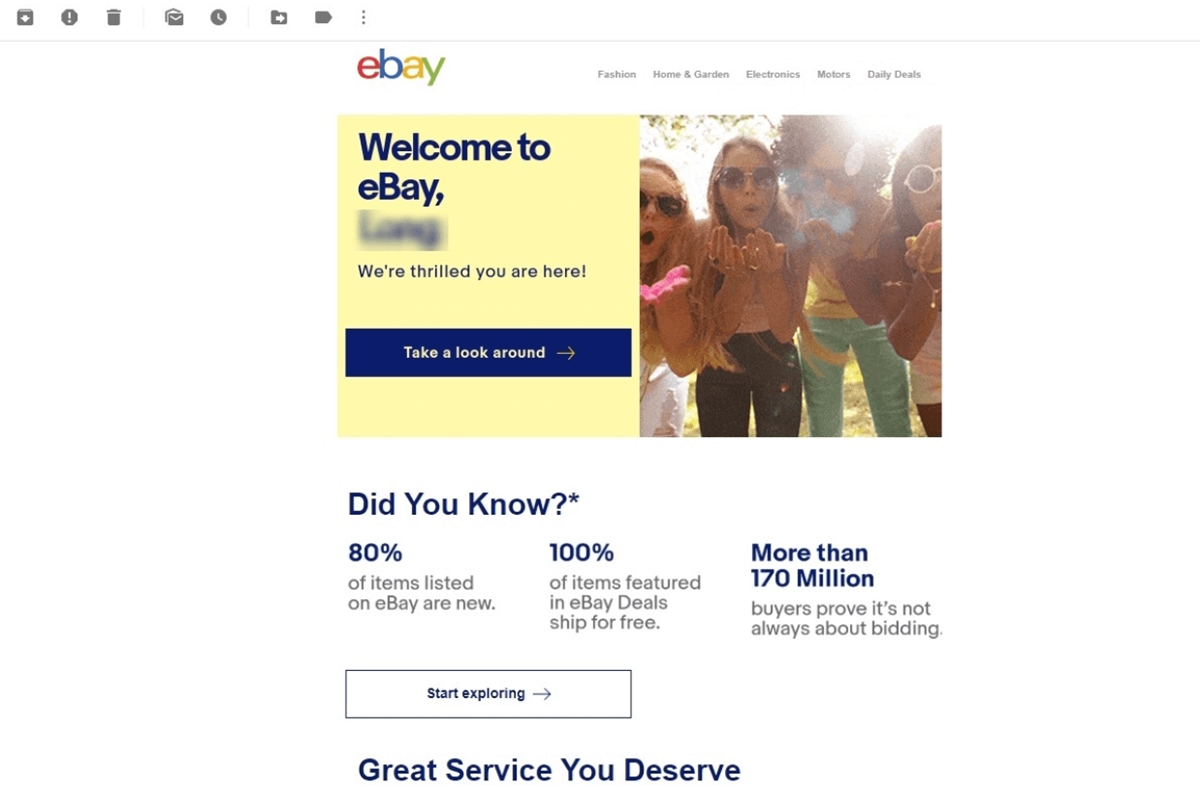 Or how Aritzia shows their unique clothing with cool images in the welcoming email.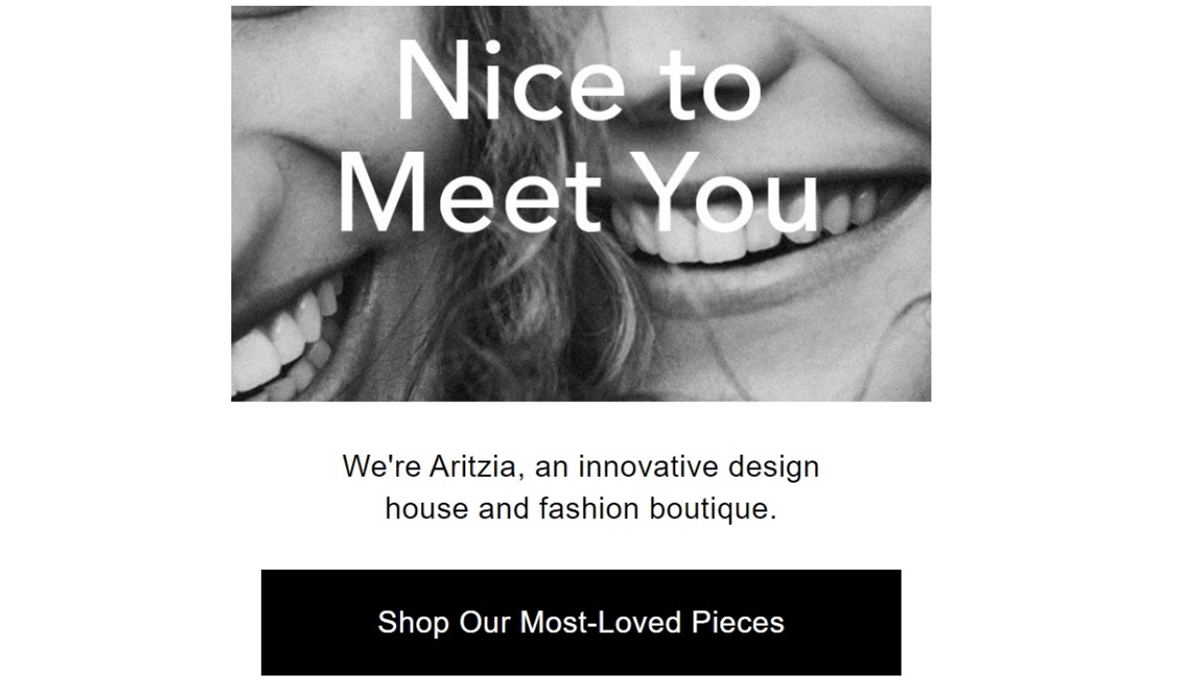 Post-sale communication
A customer engagement study by Constellation Research shows that companies that improved engagement increase cross-sell by 22%, drive up revenue from 13% to 51%, and raise order sizes from 5% to 85%. Those are some impressive numbers.
Put it this way, if you let a customer purchase from you only one time, you are basically throwing money away. You want to keep them engaged, and even love your products and brand.
To achieve engagement, first of all, you can do this when an order is confirmed:
Use emails to thank users for their orders, confirm the payment has been received and processed, and the product will be delivered soon.
Confirm all order details, and let customers know when their packages are on the way. Tracking codes and contact numbers should be included to help if the order goes wrong.
Now, you can have many more ways to increase conversation, all can be automated as well. Check these ideas.
Up-Sell
Upselling is a technique widely used among eCommerce businesses to encourage customers to buy more. Since the customer has already purchased, there is a high chance that they will spend a few more dollars for a whole set at a great price!
This mechanism can be applied to almost any product and service, and on many platforms as well. You can mention about frequently bought together items in the order confirmation email, or offer a discount for the 2nd, 3rd items in the group.
Look at how Amazon masterfully displays items as a pack in the picture below, and you can do it too on your store with almost any seller platforms. You just need to link the frequently bought together products and show them.

Cross-Sell
This is quite similar to up-sell, but instead of offering more like a bundle, you offer an additional complementary item, like bread an butter. A Bluetooth wireless speaker should go with rechargeable batteries, a laptop should go with an antivirus program, shoes go with health tracker, you name it.
Cross-sell is often done in the check-out process where customers learn about potential good deals. And of course, you can automate some email to recommend more products based on past purchases, after about 2-3 weeks from the first item bought.
Getting feedback
Now, you don't always have to sell something to your customers. You have an opportunity to ask how well the service was, and how to improve it.
Why they chose your brand, not the competitors? Are they happy with the order and ready to recommend it to friends? Are there any problems that you could help them with?
These are questions you want to ask your buyers. Listening to what they have to say, and you will have valuable data to learn and earn. These are social proofs that can be used to promote your brands as well.
So set up an email after the sale to ask them, and send the message that their feedbacks are extremely valuable to you. Some rewards like coupons or discounts can encourage them to participate.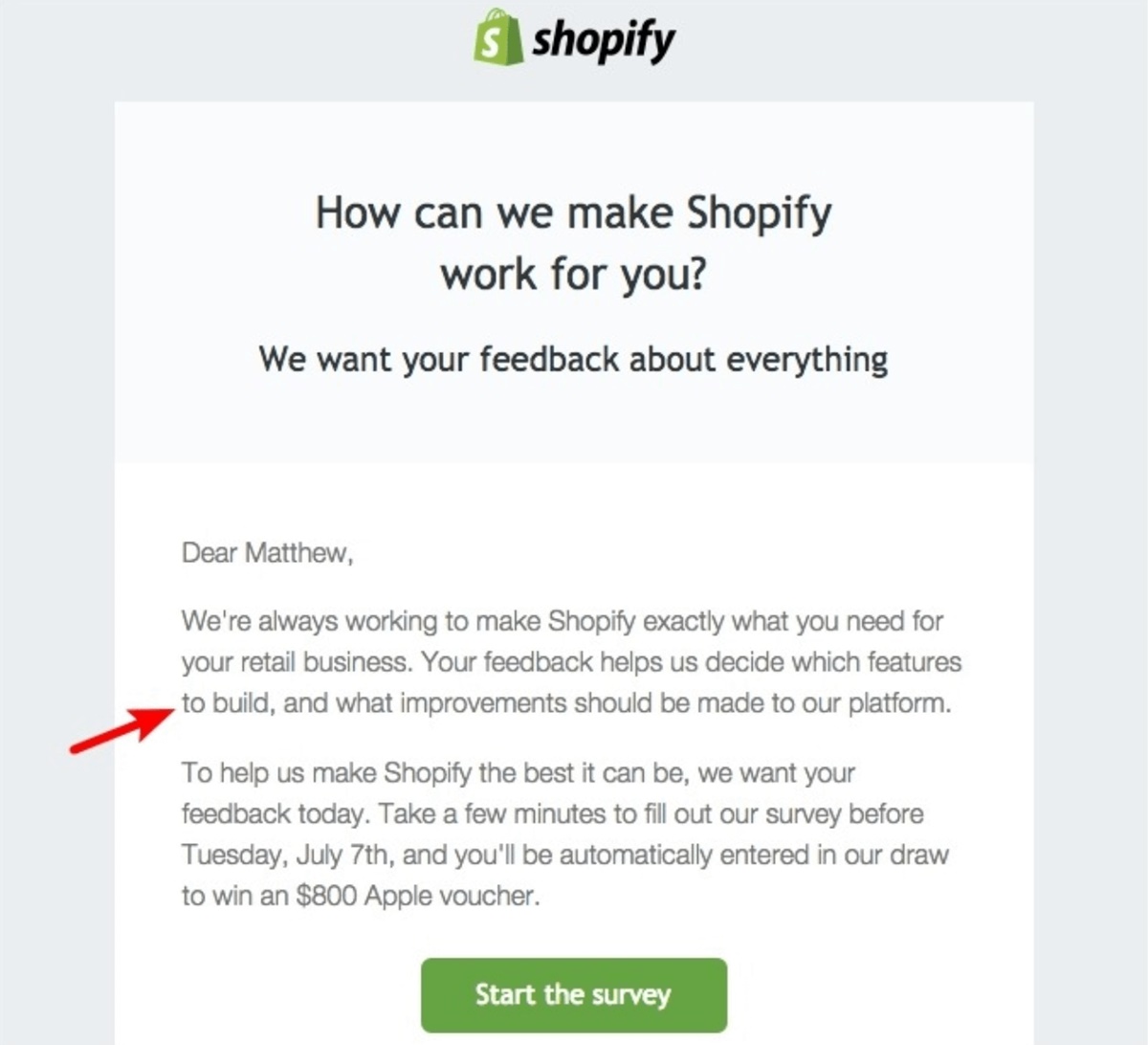 Win back lost sales
One of the biggest concerns of most ecommerce businesses is cart abandonment. More than 6 out of 10 users that were about to make a purchase on your site can leave without paying.
That's bad news. The solution? You should focus on micro and macro conversions — getting users from the entry page to the payment page quick and easy. This can sound difficult, but marketing automation can help you with that in three ways.
Exit-intent pop-ups with an incentive
It's not just the price of the product that causes high cart abandonment rates. In many cases, it's the lack of clarity in communication — which is often called "unexpected costs".
First of all, always be truthful about the price from the start. Simple as that. Present all the exact costs before users have to make an effort to know them. And your users will be grateful for that.
Next, pull them back just before they leave. Have a pop-up form to make them rethink for a second. Present something valuable and interesting from that they can not look away.
Examples can be a discount, free shipping, or some promotional codes. If you can't just give those away easily, let customers know how to earn them through spending a certain amount — like free shipping on orders over $50. You keep those customers' stay, and they feel like they've earned something. Receiving a reward after making an effort is a wonderful feeling.
But if you're really confident that your offers are good the way they are — that's fine too! Just make sure your visitors know that by signing up and get regular updates or instant access to the best deals.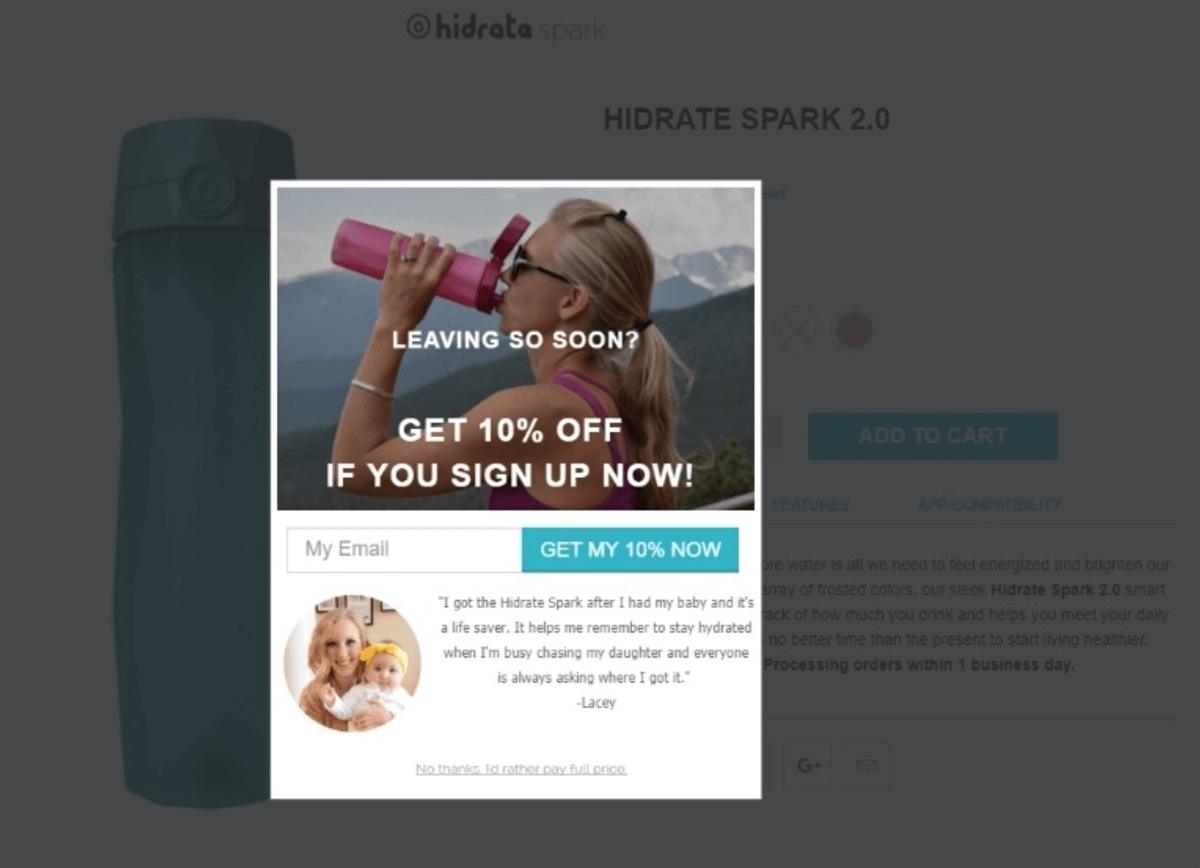 Cart abandonment emails
A popular solution for retrieving lost sales is cart abandonment emails. In case you don't know what those are, just think of them as a way to bring some of your lost visitors back to the cash register.
Cart abandonment emails are the way to reconnect with shoppers who have left your site for some reason. By that, they are usually negative reasons, such as unexpected costs, or an unfriendly user interface.
Abandoned cart emails are great because they are:
Highly relevant – showcase the products the user was looking at
Timely – sent not long after the action took place
Above that, they leverage momentum. Users who left items in the shopping cart were already about to make a purchase. All they need now is a push to take action.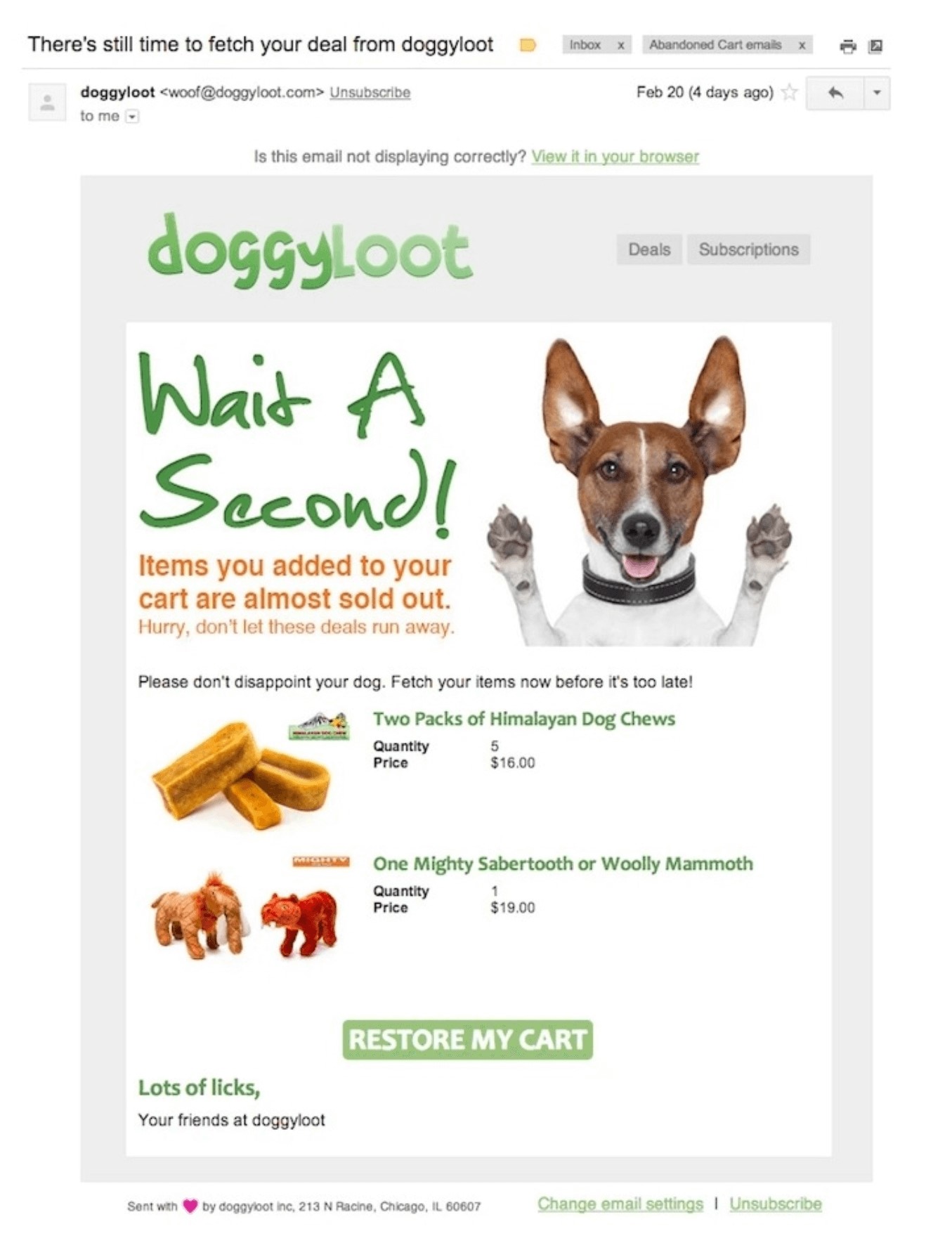 Retargeting using search and display ads
Another great idea to reduce shopping cart abandonment rates is to use search and display ads. Like the shopping cart abandonment email, the purpose of these ads is to send users back to their shopping carts. The difference is that instead of email you place ads on social media channels, browsers, applications, and other websites.
When you create retargeting ads, think about what you already know about the audience and their behavior. Why did they leave the basket in step one or step four of the check-out process? What micro-conversions did you observe? This information can help you create the best possible message.
In the ads, you could place one of the following messages:
Information that some products will sell out soon
A specific number of items left in stock
A kind reminder that if they order now, they'll receive the product before a particular date, such as Christmas
10% discount if they order right now
Free delivery for their order if the destination is over 10km away
Special coupon for orders within the next 12 hours
Improve relationships
When you don't think about selling immediately, you should think about managing relationships. Engage your users. Reconstruct them. Get to know them. Talk to them one on one. Know what they want and cater to their needs.
When you are using marketing automation, think beyond the obvious. Try to dig deeper and choose one or all of the following tactics to end up on top of customers' minds.
Reengagement campaigns
Customers fall asleep, get busy, play something, so they might miss one of your messages, a few, or even more! That's why you need re-engagement campaigns. This means you need a communication program for users who stop engaging with your content.
For example, emails and SMS are ideal for those situations. Just look at the data in your CRM or ESP and identify customers that haven't taken action in the past 90 days or so and find a way to win them back.
A special last-resort offer can work. Like some discount or coupon. And if it doesn't work, leave it. You do not need a large database to grow your business. You need customers to join. And with too much data, it can be harder to focus on the most engaged customers.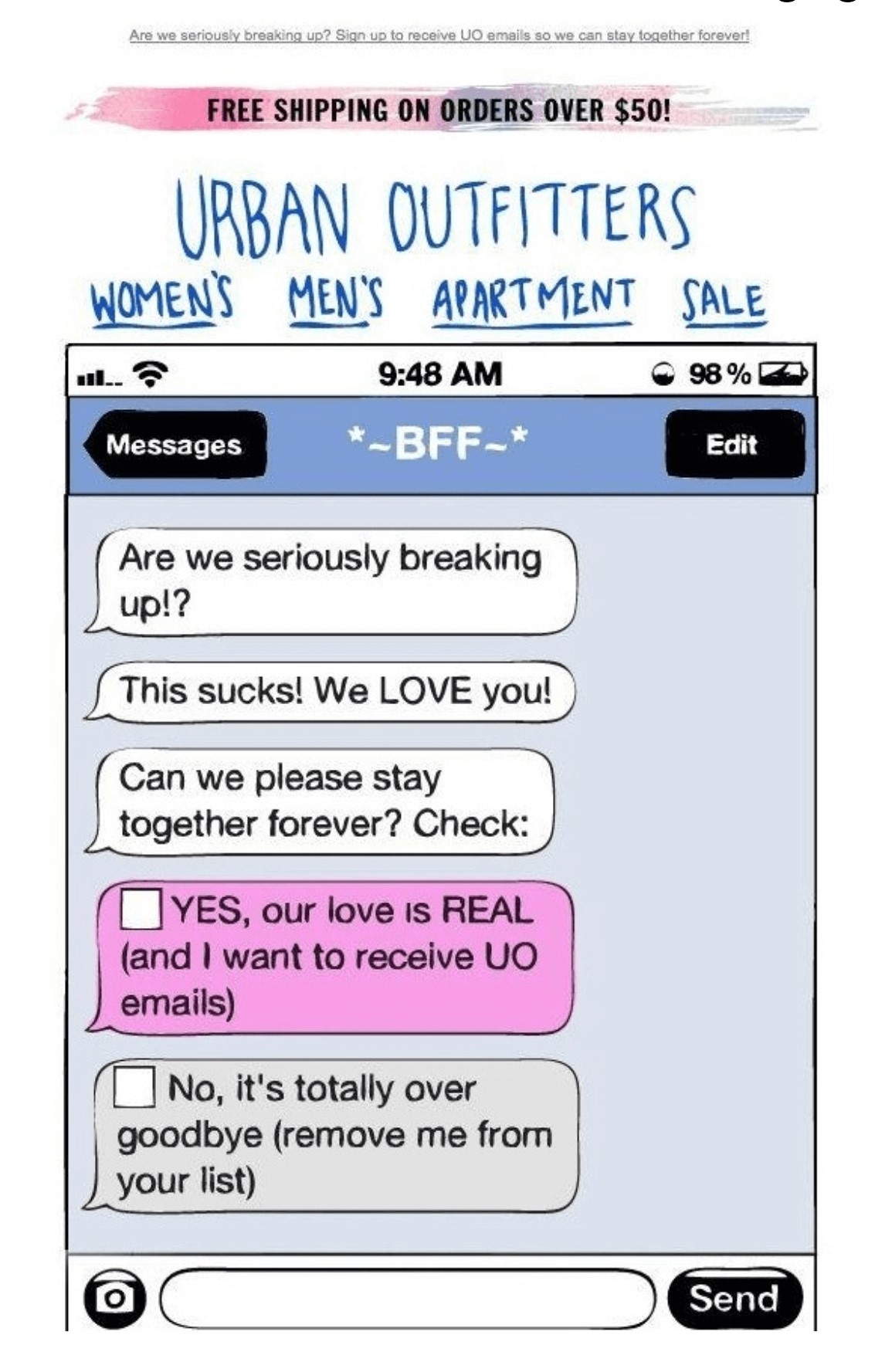 This re-engagement email by Urban Outfitters is a perfect blend of humor and emotional appeal. It's brand-appropriate and likely stands out very well from their normal marketing emails.
Segmentation
After all, your best way to stay competitive is not fighting endlessly in the pricing wars but to segment your data and personalize your content for each buyer. One-to-one communication is not just possible, it's quite simple if you use marketing automation properly.
Two tools you will want to use for segmenting are scoring and tagging. You can assign tags to different users, for example, based on their demographics or behavior. Similarly, you can assign points for activity and fewer points for lack of activity.
With these tools, you can identify:
Engaged users who follow the brand and enjoy its communication
VIP customers who purchase premium products
Prospects who have done research and ready to make a purchase decision, who should be approached by the sales team.
The buyer who could use some guidance (text or verbal) about your offers
Loyal customers who have stopped responding to your communication.
To segment effectively, you'll need to think of a system first. Decide what information and behavior are important to you and then assign value to each information. Is opening a welcome email worth a point? Is clicking through your price page worth five points? It all depends on your business and how you decide.
Web traffic tracking
Your journey toward personalized communication must include what's happening on your site. To understand your audience, carefully analyze the way they act in particular ways on your website. Then you can lead them toward places you want them to see.
Web traffic tracking isn't just about learning what users do on each page. It's also about reacting to what you learn.
One way to react is to change the page design and optimize the entire process. It's the best approach but requires you to have a certain number of visitors to gain insight.
Another way is by sending timely, relevant messages. Someone is checking your pricing page? Someone is watching one of your getting-started tutorials? Why not just reach out and offer them a hand? Relevant content like a whitepaper, a link to a blog post, or a one-to-one online presentation will provide much-needed information.
If you feel that's a bit too much, just ask them for feedback. Ask whether they need help or have any thoughts. Try to be subtle and helpful.
Conversion optimization
Everyone wants their campaigns to bring great results. In fact, many of us would expect that, as time goes by, the effects will improve or, in the worst-case scenario, remain the same.
To achieve great results, you need to be constantly searching for elements of your campaign that can be improved. Also, you need to analyze and optimize your communication channels and the types of messages you send.
So if you want to aim high, you need various scenarios, ideas, and solutions, and then put them on trial. Test each theory and see if what you had in mind was understood by your audience. How was it received? You'll know after you run your tests.
A/B testing software and automation workflows are based on analysis and science, not just gut feeling or an educated guess. You should compare various types of messages (plain text vs. HTML-heavy design), communication tone (formal vs. informal), sign-up form length, landing page design, and so on.
Further Reading: The Ultimate Guide On Creating A Marketing Funnel
4 steps of marketing automation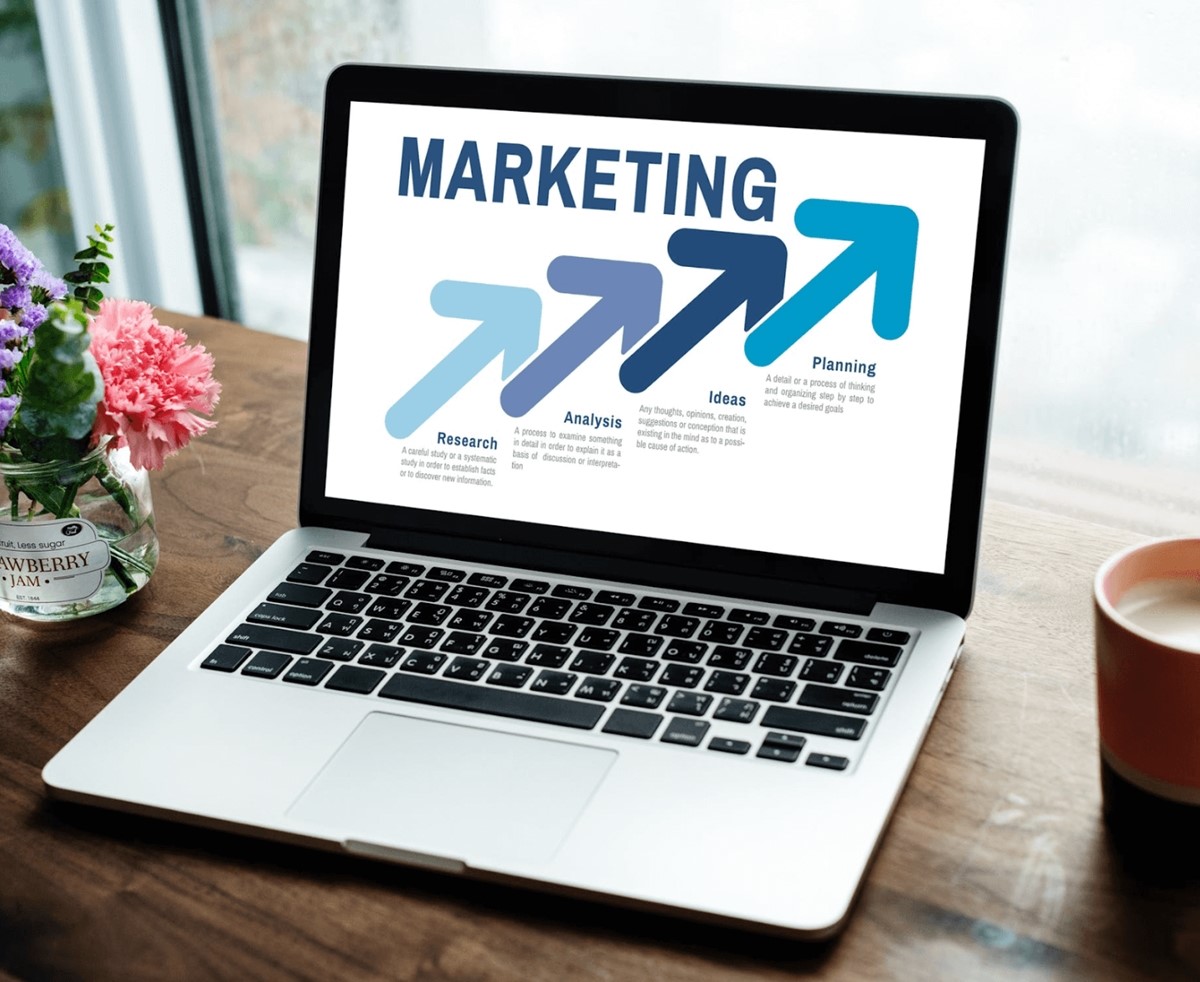 Alright, now you have known all about how to use marketing automation. The next step is to have a plan, so you can have a bigger picture and better management with campaigns.
The world of automation doesn't mean you click a button and leave it be. That can work, but in the long run, it can cost you way more than expected. So pay attention and take the following action step-by-step, so you can fully exploit the wonderful service of marketing automation:
Step 1. Set up your list-building mechanisms
This is the first step because a subscriber list means a lot when starting the automation. Email marketing campaign success depends on the list built and can generate benefits with such little cost.
There are five best practices for lead nurturing to start building your lists:
a. Be strategic in requesting email signups
Your customers don't think much when they enter your website, but they act very quickly and emotionally. So if a signup form keeps appearing the instant they click on any link, it can be really annoying. This makes them leave the site, and even worse, maybe for a competitor's website.
Instead of bombarding them upon entry, give your visitors a chance to explore your website and get to know what you have to offer. Two best points you can ask for email addresses are at the end of your content and a pop-up upon exiting your site.
You have pros and cons to each, but either one is a solid strategy that will keep your visitors from logging off with no intention of ever coming back.
b. Keep it Quick and Simple
You have eight seconds to get and keep the attention of your visitors; any longer, and they won't be visitors anymore.
Getting someone to commit to you signing up for your content is tough enough, so keep the process as simple as possible.
You want visitors' email addresses and their names for automation purposes - everything else is unnecessary. If you ask for unnecessary details, people will leave your site like Titanic.
c. Mobile
After Google's update about Mobile First Indexing, there is no time left to ignore your mobile performance and UX.
All of your information must fit on a single screen - no scrolling left to right; for best results, keep your screen resolution to 300×400 pixels or less. And every field must be large enough to tap and type in with ease.
For design, keep in mind the best practice is to create two separate designs, one for mobile devices and one for desktops, each designed optimized for their respective screen resolutions.
Further Reading: Mobile Ecommerce Most Essentials For Your Online Business Success
d. Popping Call-To-Action
A call to action (CTA) is the text or button to push the user so they take action and ultimately drive traffic. This is your closing statement, so it needs to be strong.
Don't rush here; take the time to develop the best possible statement or image to seal the deal. You can experiment with A/B testing using two different versions of your CTA.
e. Be creative and entertaining
Every website can request for customer email address, but only those prove they are worthwhile of subscriber time can success.
One suggestion is to be bold and use bright colors as well as animation to make results. If you can provide rewards for visitors to sign up like exclusive content, discounts, coupon, don't hesitate to include it.
Monki , as an example, uses a fun color-popping signup form to attract the visitor with a 10% discount for the first purchase. They talk with visitors, and so should you.

Step 2. Track web behaviors & segment your visitors/customers
Getting traffic to your eCommerce site is just half the battle. The real challenge is knowing not just how many of those visitors become customers, but knowing what made them ultimately decide to choose your site over a competitor.
By utilizing audience segmentation and demographic analysis, you won't have to guess what works and what doesn't. You'll know from the data.
a. Audience Segmentation
Audience segmentation involves organizing your customers into different groups based on specific data points to determine which messages work for your audience segment. By using data correctly, you will ensure that your customers understand what you can offer them by value.
For example, it's a good idea to keep a tab about the visitor's web behavior, such as the product or category that he regularly browses. Marrying web behavior with a purchase form helps build a strong profile of customer benefits.
When you reasonably believe in the quality of your data, you can build personalized customers. Once you've set up your segmented personas, you can tailor your mail to specific groups.
b. Personalization
Personalized content is the better half of marketing automation, and it will increase engagement in almost any marketing campaign.
One of the surefire ways to ensure that you have a useful email marketing list is by participating in your contacts and email list segments. Segmentation involves dividing your contacts by grouping them by similarities such as demographics, benefits expressed, leads, activities, purchases, and more.
By sending precisely segmented marketing emails to the right goals, you greatly reduce your chance of being marked as spam by potential customers who don't care and attract them to be your customers.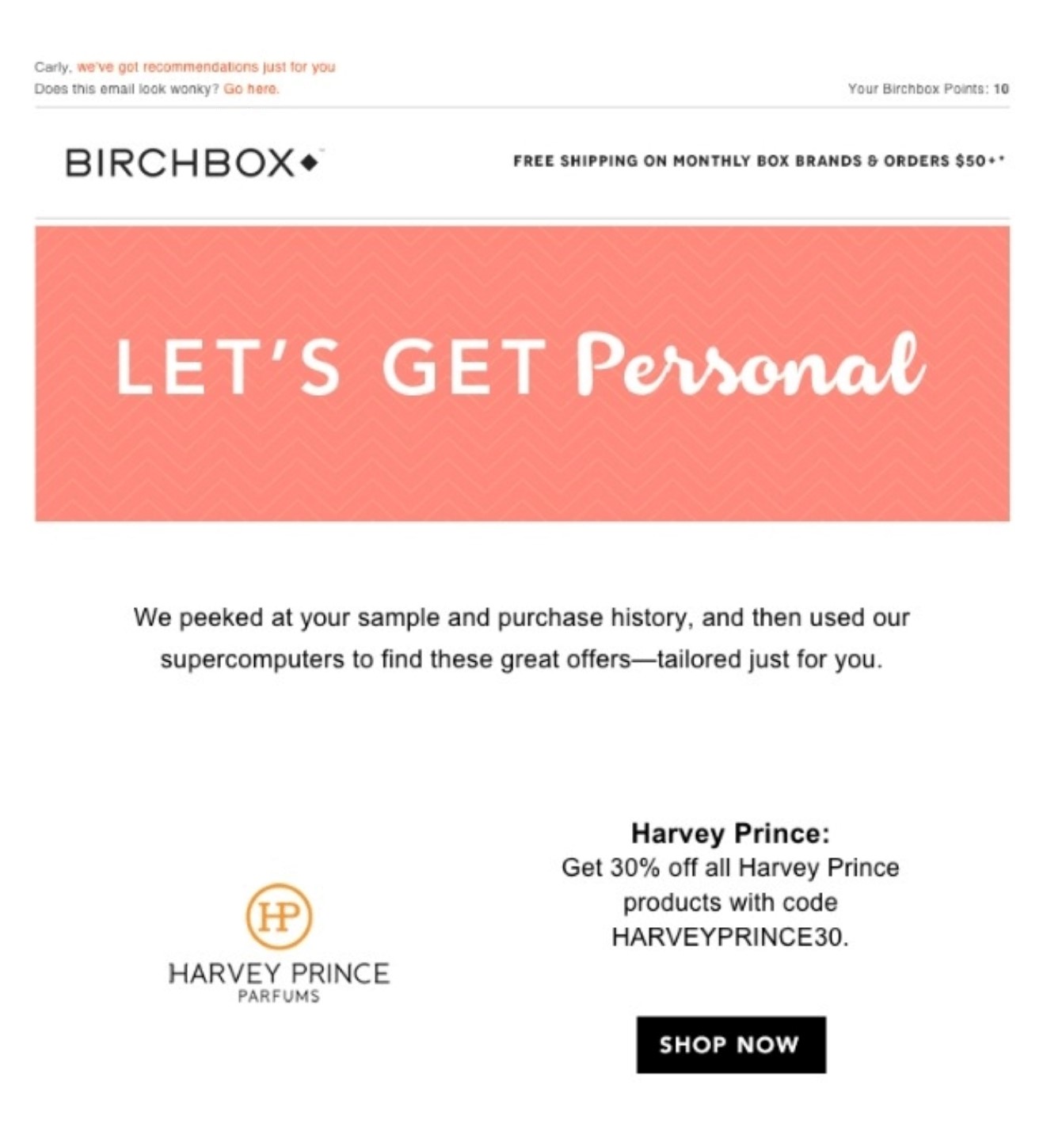 Step 3. Setup eCommerce marketing automation scenarios
Marketing automation is often the most cost-effective way to engage with your website visitors. Automation allows you to target the right customers at the right time, and deliver a near personal shopping experience. And the best of all, it is automated.
a. On-site automation
As the title shows, on-site automation refers to actions set to occur while your visitors are still on your site.
#1: Exit intent popup By tracking visitor behavior, you can deliver a popup just as the visitor is about to leave the site. This is to give the visitor an offer they can't refuse to get them to stay engaged.
WOW went for a full-size popup after a customer has browsed about 2-3 products, and with a stunning design like this, it is hard to miss.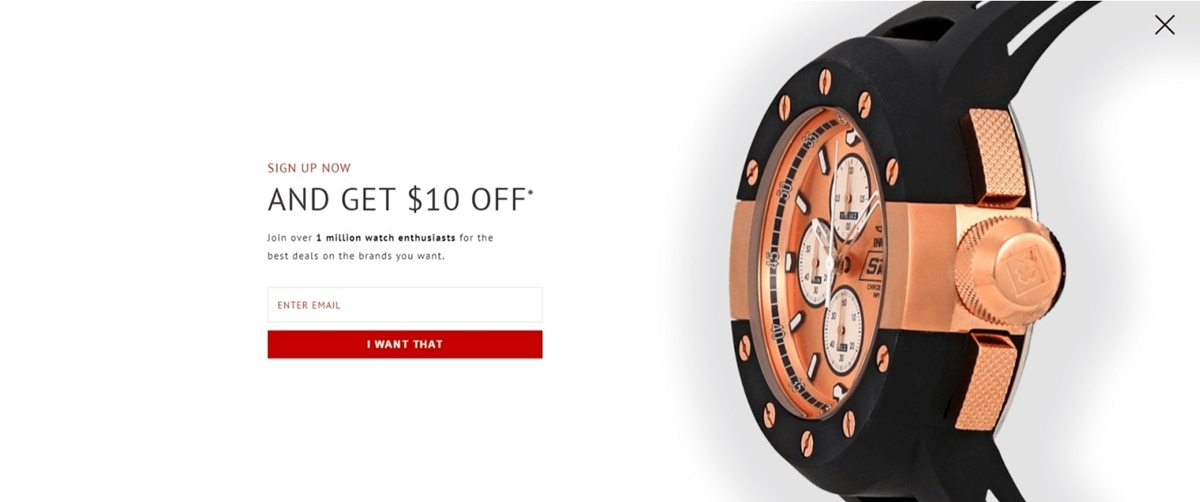 #2: Advanced Behavior Driven Cross-selling By knowing your data points and connecting relevant products, you can generate high-performance cross-sell opportunities for customers. For example, if data shows that customers who buy Product A are more likely to buy Product B with it, you can generate an automated process to ensure that every time a customer buys Product A, they see an exclusive offer for Product B.
b. Off-site Automation
#3: Cart Abandonment Using abandoned cart email reminders is the way to push customers to revisit your site and complete the sale.
#4: Personalised Product Recommendations Anyone who wants to attract new visitors to their site needs to use on-site messaging for them when they visit your site. Personalized discount codes can help them complete purchases with a discount. If visitors browse a few products and try to leave your site, you can also create personalized messages that offer an exclusive deal on items they are interested in.
#5: Repurchase Reminder If you sell frequently replaced items, set up a repurchase reminder to notify customers it's time to place another order. Customers are usually compelled to repurchase certain items if they are happy with them – especially if they can do so at a discounted price.
#6: Browse Abandonment When your customer abandons their cart in the middle of a browsing session, you can target those products back to the customer in various formats to entice them to finish what they started.
#7: Remarketing on lists across Social Media Even if your visitors don't make a purchase, you can still catch them by tracking their social media data and dangling your products in front of them using various platforms. The possibilities for lead nurturing are endless.
#8: Design Email Nurturing Campaigns Nurturing campaigns should be targeted based on your segmented lists – not one size fits all.
Example Nurturing campaign:
1st Email (immediately): Welcome email with links towards blog and social media to discover more about the brand
2nd Email (3 days later): Bestsellers of the seasons
3rd Email (7 days later): Best Blog posts (if your site has some)
4th Email (10 days later): Some personalized product recommendations based on behavior
5th Email (20 days later): Hot Sales that are running!
Step 4. Spend time on your metrics
This implies everything that this e-commerce marketing automation guide is useless if you don't use metrics and track the exact metrics needed.
Here are important ecommerce KPIs to know.
Cost of Customer Acquisition – CAC
Customers won't land on your website and magically start buying stuff. Instead, you need to invest money and time to bring people to your site and make them customers. CAC metric will show you how much costs to acquire a new customer, i.e., if you spend $500 to get 20 customers to your site, your CAC is $25.
Average Order Value – AOV
AOV is one of the most important metrics to watch. It tells you how much you earn per order on average. The higher average order value, the better for your eCommerce business. And a higher AOV indicates better profit margins for your business.
eCommerce Conversion Rate – eCR
eCommerce Conversion rate shows how effective your e-Commerce site is in getting visitors to buy your products. This is a critically important indicator you should always be watching.
Lifetime Value of a Customer – LTV
For this metric, you should brush up math skills. LTV can help you calculate the total spending of a customer through the lifespan of the relationship with your eCommerce business.
Cart Abandonment Rate
There are a number of reasons why visitors don't complete their online orders. These may include unexpected shipping costs, complicated checkout process, visitor's distractions, etc. You should watch closely this metric and find out which causes the problem of cart abandonment.
Top 5 marketing automation tools
Marketing automation tools help marketers reach more prospective customers with less effort. While very well known as part of the B2B marketer's campaign, they're a less common choice of B2C and e-commerce.
But you should definitely use them since the cost versus the time spent on mundane tasks is just worth it. More time means more tasks done, and to grow faster as an online business, automation software is what you need.
How to select the right marketing automation software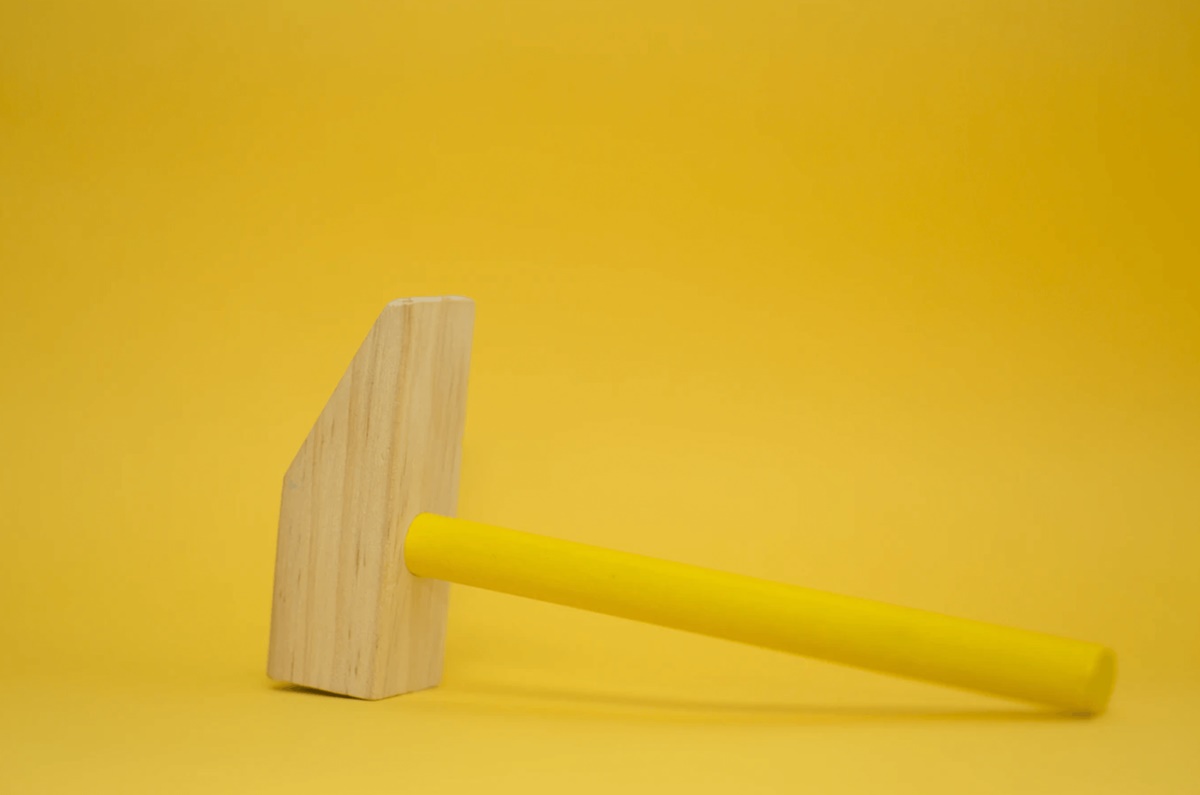 Step 1: Determine your needs
Before diving in, take some time to determine your marketing automation needs, specifically in the following areas:
Marketing channels – Identify the channels that you market your business. Just looking to automate your emails, or you may need a solution that works on other platforms (e.g., Google Ads, Facebook Ads, etc.)? Normally, you'll want your solution to support the sales and marketing channels that you're on.
Metrics/Analytics – Determine your KPIs and see if the software you choose can measure and report those results.
Integrations – Check if the sales and marketing platforms that you're currently using can use the tool. Ideally, your marketing software integrates easily with the systems and solutions you have.
Step 2: Start looking
Now that you know what you need, you can proceed with the research stage of the process. Googling marketing automation software is one way, but we recommend trying the following resources:
Your network – Talk to other sellers running similar businesses and ask them about their automation tool. Why did they choose their current provider? How is the experience so far? Get these questions answered, and if possible, ask to see their software in action.
Your current tech stack – As mentioned earlier, you will need your software to "play nice" with the platforms you're already using. So check if the marketing and sales solutions you have in place have integrations with other marketing automation software.
Software review websites – There are many websites that review and compare software for businesses. Find and read the reviews on these sites to gain more insights into the solutions you're examining.
Step 3: Trial the software
At this step, you should already have a shortlist of software that you're considering. Now you need to try them out. Book a demo with the providers that you're checking out or try a free trial of the software. Make a checklist of features and requirements and make sure that the solution meets most, if not all, of your needs.
The steps above will give you enough information to make decisions. One thing to remember is to not rush. Take your time with each step and understand the result. Marketing automation can be a profitable investment or a loss of budget, so be sure to know what you are doing.
How much does ecommerce marketing automation software cost?
Costs can vary, based on the number of leads in your database, the campaigns you need to run, and the level of settings you require.
If you're a small business and just need automated email campaigns, then solutions such as MailChimp or Aweber can get you started for as low as $10 to $20 a month. But as soon as you grow your business (and leads, team members, and campaigns in the process), fee figure can go up to hundreds of dollars per month, depending on your needs.
Also, if you're getting into more sophisticated forms of marketing automation (e.g., dynamic content, ad management, lead scoring and nurturing, etc.), you'll need more solutions than just email marketing.
Let's see some of the most notable names for you to consider:
AVADA Email Marketing
Optimized for abandoned cart recovery and other automation emails like welcome series, transactional emails, cross-sell, upsell and personalized emails content, AVADA Email Marketing is designed for non-tech users. You can start sending email in minutes with pre-done email templates and very easy email editor. Engage customers, make they love your brand and hence convert more sales with this powerful tool.
Pricing – Free plan available
Ease of use – Optimized for user experience, customers rating it 5/5 stars for simple using.
Features – Abandoned Cart email, Welcome email, Transactional email, Cross-sell, Upsell, Drag-drop email buider, ready-to-use email templates, email validation and more.
Best for – All size of business, especially recommend for store owners who know little about coding and designing skills.
Install AVADA Email Marketing FREE
Dotdigital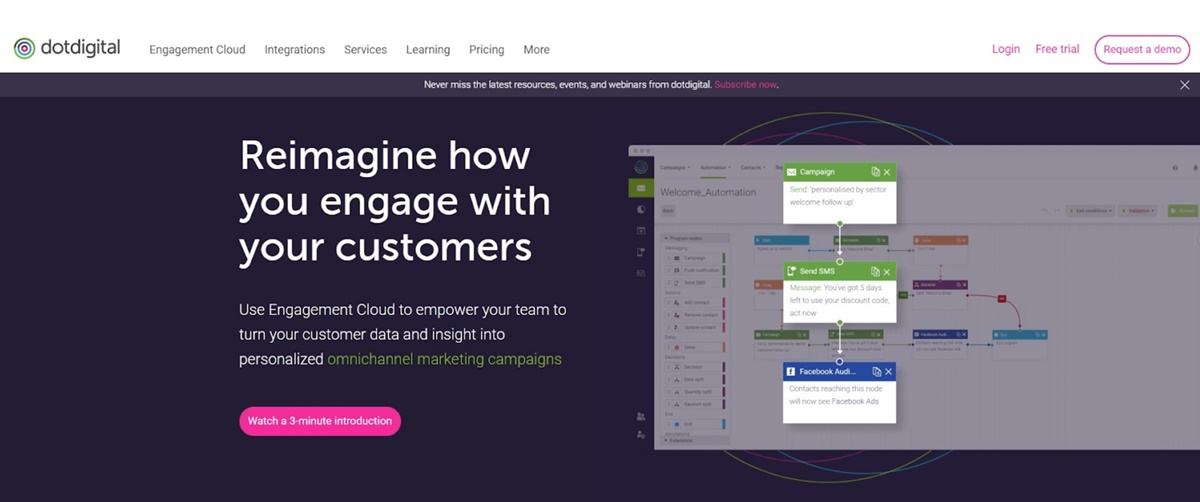 Since 1999, this platform has built its services around email - the best performing digital marketing channel. More than 70,000 customers in more than 150 countries have used Dotdigital to build automated email programs that follow their customer's journeys.
Pricing – From $150 per month to $600 per month with a 20% discount for nonprofits and charities.
Ease of use – Dotmailer is simple but powerful. It's a great next step to start growing businesses who have already been familiar with Email Service Providers like MailChimp
Features – Training, Campaign Management, Strategic Services, Creative Studio, Custom Integrations, Work with Yieldify.
Best for – Maketers who need an all-in-one package with strong capabilities in a drag and drop template for email.
Oracle Bronto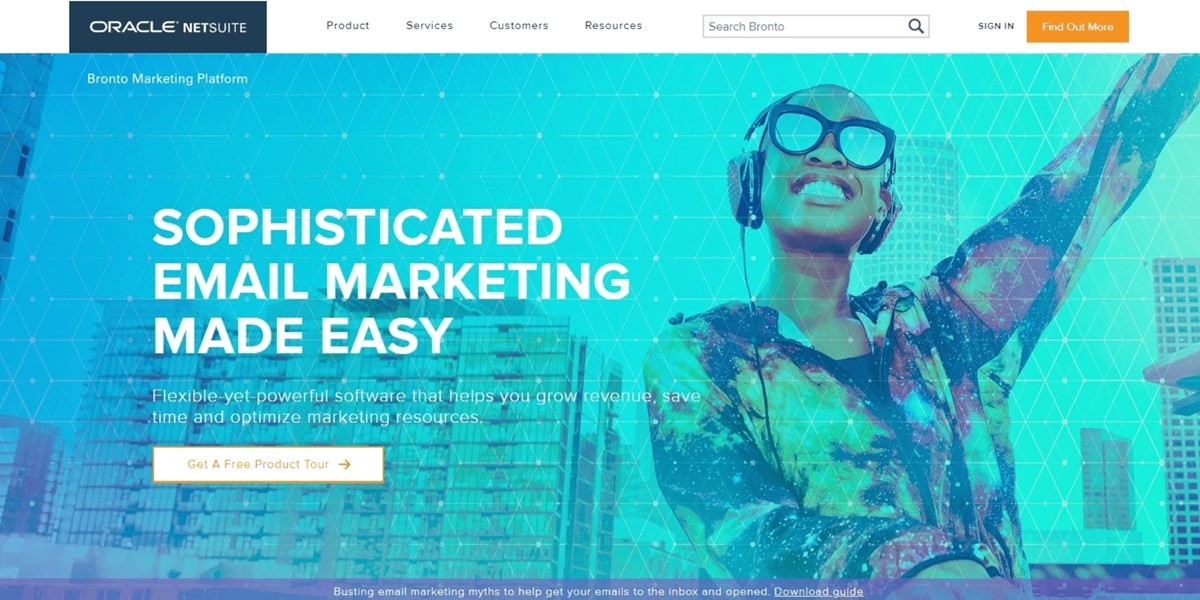 Promoted for high-growth e-commerce retailers all around the globe, Oracle Bronto provides email services that can integrate with all famous commerce platforms. They also give users the ability to deliver responsive social and mobile media campaigns with an emphasis on cart abandonment recovery. You can find many powerful apps on their platform beyond core functionality.
Pricing – Free demo. Flexible plan.
Ease of use – Users at Capterra gave Bronto 4 out of 5 stars for ease of use.
Features – Drag-and-Drop Automation, Cart Abandonment Reminders, Post-Purchase Campaigns, Precise Segmentation, VIP and Loyalty Programs.
Best for – eCommerce retailers who need an extremely powerful marketing automation platform with a reliable interface.
ActiveCampaign

Pricing makes Active Campaign an attractive option, with good value for a number of features. They are more focused on acquisition than conversion, so marketers looking for landing pages can be a bit disappointed.
Pricing – Starting from $17/month, and more depending on features and number of contacts
Ease of use – A simple platform with a huge library of self-learning guides and courses makes this an ideal option for owners who are happy to work their own way through it
Features – Email Marketing, Contact and Lead Scoring, SMS MessagingSite, Event Tracking
Best for – Smaller businesses looking for an entry-level solution
HubSpot
One of the most recognized names in the marketing automation market, HubSpot offers a full stack of sales, marketing, and CRM technology dedicated to business growth. Their products are integrated online and can perform many social media marketing activities, including email, SEO, contacts, and analytics.
Pricing – Prices range from free to $2,400 a month.
Ease of use – Good quality, and have improvement regularly with recently-added features such as drag-and-drop email builders.
Features – Blog Analytics, Integrated Social Publishing, Calls-to-Action, Progressive Profiling, A/B Testing Landing Pages, Segmentation, SEO Recommendations,
Best for – Businesses who need a powerful, all-in-one tool for segmentation, contact management, push-button social media control, and report creation. Hubspot has a weakness is that it wasn't really built for e-commerce, but this is changing rapidly with features such as a native Shopify integration and ability to connect a custom store.
SharpSpring

SharpSpring concentrates on making leads and converting them to sales through behavior-based email, blog building, landing pages, and social media channels.
Pricing – Onboarding costs $1,800. Monthly fees range from $450 to $875, and flexible options are available.
Ease of use – They provide many features, but the system is easy to learn and use. It integrates with more than 700 third-party tools, which is a lot to test things out.
Features – Behavioral Based Email Automation, Robust Rules Engine, Dynamic Web Content, Dynamic Forms, Lead Scoring, Daily VisitorID Email, Smart Emails. Integrations with Shopify, BigCommerce, and Magento.
Best for – Small retailers who wants powerful analytics and highly customization.
Marketing automation success stories
In order to inspire you more, we will give some famous names which have made their business grow double, triple, multiple times using marketing automation.
Chinavasion

Chinavasion is an eCommerce web store based in China that specializes in the sale of electronics to B2B and B2C customers on a global scale.
Before engaging HubSpot , Chinavasion encountered several challenges with their marketing efforts around re-engagement, retargeting and lead tracking.
Striving to consistently deliver excellence to customers, they recognized a need for a marketing automation solution that could meet their requirements and has a simple user interface to easily integrate with Chinavasion's existing processes.
Since integrating HubSpot, Chinavasion has set up a number of successful campaigns using the HubSpot Workflows feature to re-engage and retarget customers they would previously have lost.
Chinavasion can now track the entire customer journey through HubSpot and have seen the result in an amazing 12% revenue increase per day through shopping cart abandonment and more email campaigns.
Socks On Schedule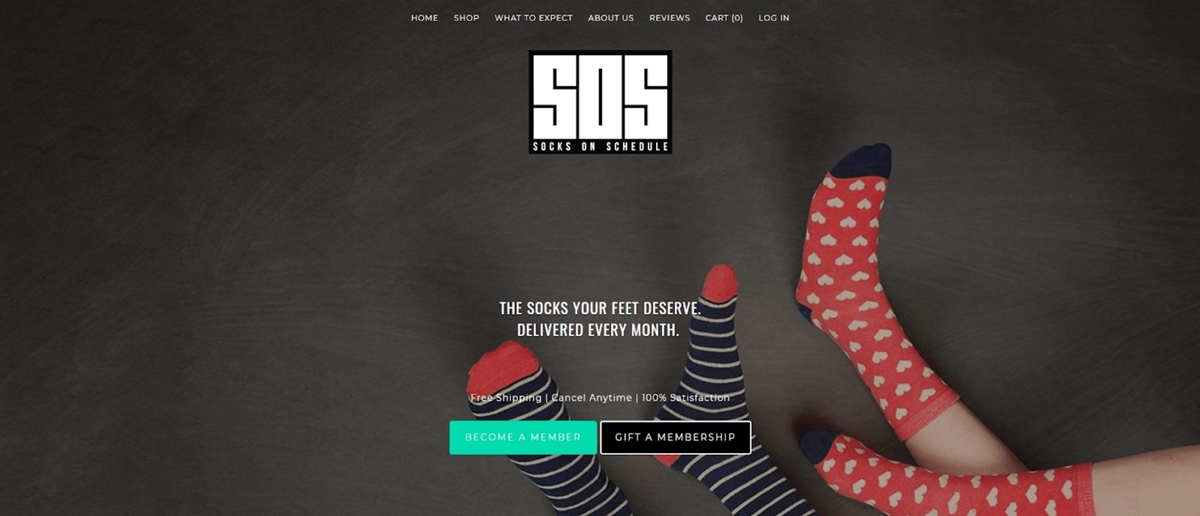 Spencer is a Senior Customer Onboarding Representative at ActiveCampaign . And he's also the co-owner of Socks on Schedule (SOS).
To communicate with subscribers, Spencer uses ActiveCampaign. He loves how ActiveCampaign works for subscriptions. Spencer set up automated campaigns to email subscribers:
Halfway through the month to build excitement.
Right when they receive their socks.
To get people excited and curious about Socks on Schedule, Spencer launched a giveaway: free subscription socks for a year. This is how he did it:
He built Facebook ads to promote the contest to a broad Facebook Custom Audience
The ads are linked to a landing page with an ActiveCampaign form
The landing page has all the rules of the contest and more information on the prize
To start, people just had to give their full name and email address
In the first 2.5 months in business, they were able to convert over 40 customers, collect 3400 email addresses and maximize cost-per-click efficiency on Facebook ads. Reporting in ActiveCampaign let Spencer see in real-time how his ads performed and keep growing.
Bodybuilding Warehouse

Bodybuilding Warehouse (BBW) is the UK's fastest growing supplement company boasting exemplary customer service.
BBW sells everything, from the best value high quality concentrated protein, to the delicious protein flapjacks, produced at their modern factory. Customers will find a wide range of fitness products and brands all under one roof, at extremely competitive prices, shipped with fast, convenient delivery.
With the email personalization utility of Nosto and Dotdigital, Fitness Warehouse can promote the right products, to the right people, at the right time. This technique allows BBW to attract new shoppers, as well as rejoin with loyal customers to increase sales and AOV. BBW has seen a 20% increase in email conversions after switching from displaying static product suggestions to preferences based on individual user behavior.
Marketing Automation tips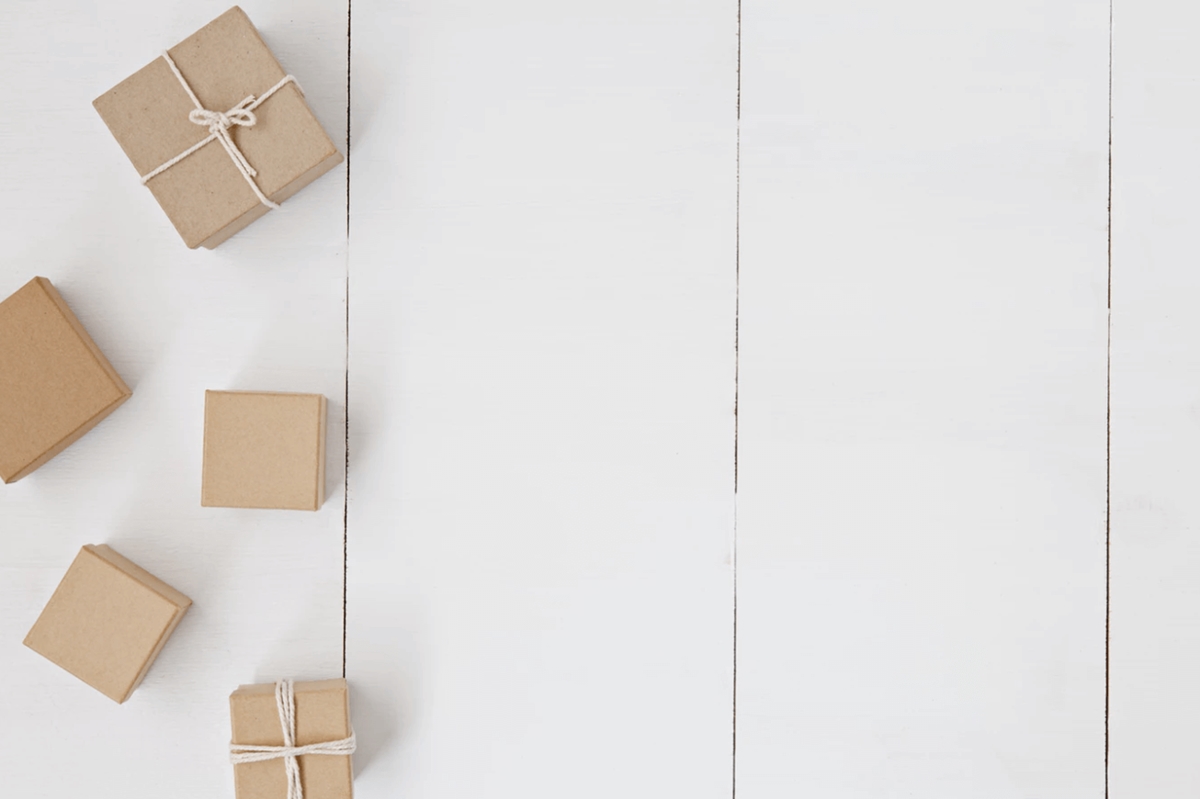 In this section, you'll learn some more practices for eCommerce marketing automation that result in better relationships with customers and less time spent on repetitive marketing tasks.
1. Always Include a Welcome Email Workflow
The welcome email workflow is arguably the most important and efficient type of marketing automation process you can perform. These workflows help you contact customers as soon as they sign up and set a precedent for the rest of your interactions.
Take advantage of the opportunity after customers sign up for your email to make a strong first impression. In order to do this, you should include some of the following factors:
Reward for signing up for your emails: Including a coupon code or special offer in a welcome email is great because customers are much more likely to see it. It is also a great way to make people instantly happy!
Outline of email frequency and content: It's always a good idea to set customers' expectations about how often they can expect emails from you and what those emails will contain. This prevents any unexpected surprises at the end of your email campaign.
Relevant content that provides value to customers: Include helpful articles that can set your business up as a reliable resource in your industry. This will keep your business mindful when customers have questions.
Brand personality: Most importantly, you should show your customers an idea of your brand personality. This is a great way to personalize your business and build trust with your customers.
Send Welcome Emails to new customers, new subscribers easily
2. Keep track of your VIP Customers
The way to achieve rapid growth for your business is to make customers happy when they sing your compliments from the roof.
To do this, you need to develop a sense of customer loyalty. Automating marketing can help inspire loyalty while saving your time. Make your customers feel more special with a loyalty program.
People often want to feel like they are part of a group in a crowd. This desire leads to a feedback loop about increased engagement when one feels more connected to a group.
You can also create a positive feedback loop about engagement with your business.
By inviting your most loyal customers to a loyalty program, you essentially tell them they are part of your organization.
Keep them coming back with exclusive rewards. With your VIP program, you can set up more workflows to reward members.
When loyal members take actions that are beneficial to you, such as making a purchase or writing a review, automatically send them exclusive offers and discounts. This makes them keep coming back to build more of their relationship with your business.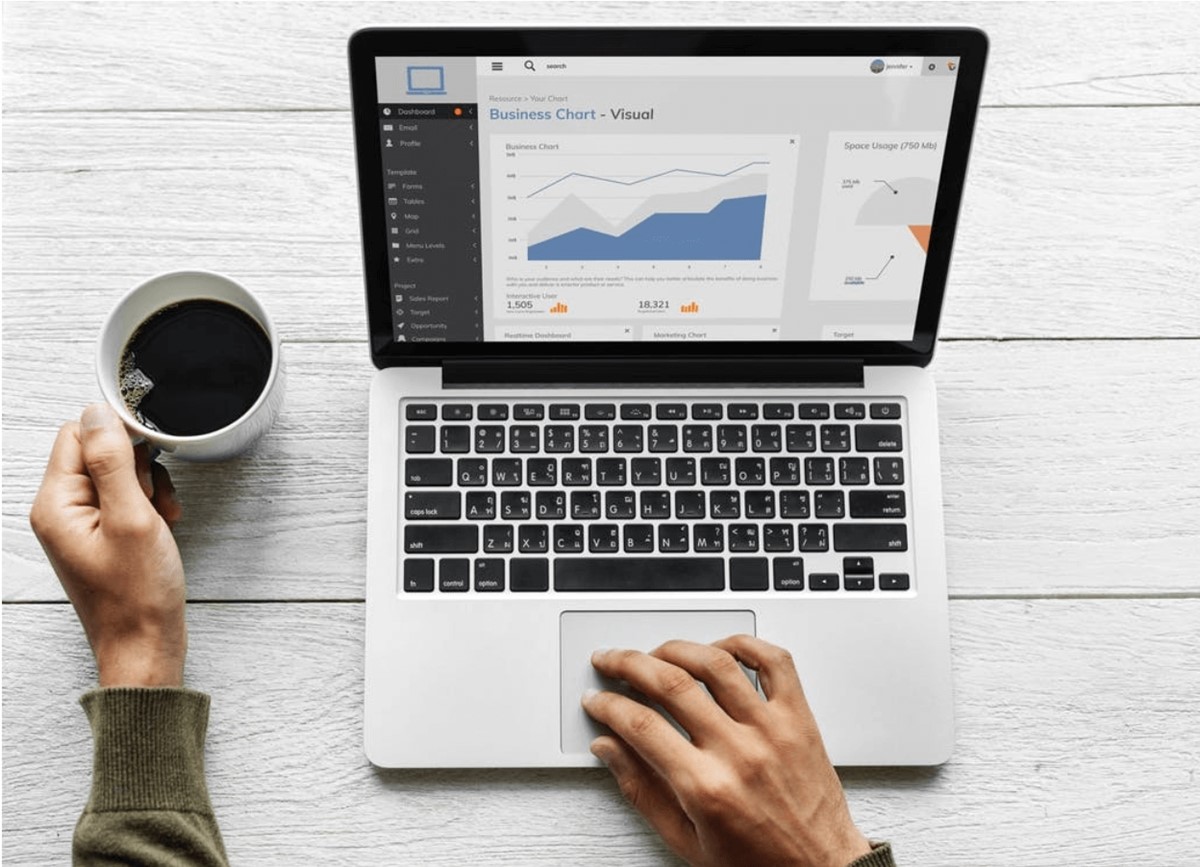 3. Reach Out to Your Less Engaged Customers
While it is easy to use marketing automation to improve your best customer relationship, it can also help you reconnect with your less engaged customers.
Bring them back from the dark side
Let's face it, the contact contact via email will change.
It may be because they have lost interest in your products. Or, maybe they just need to pay attention to their promotional email inbox.
Whatever the reason, there is always the opportunity to re-attract them and bring them back. After all, they had to register for a reason from the beginning.
By creating an automated workflow that identifies unbound customers, you can follow in a more authentic way to regain them.
Protect your delivery ability
While re-attracting customers is a great way to regain some business, it is also good for maintaining a clean email list.
If you have contacts who have opened your email even after you rejoin, they will be automatically removed from your list.
By ensuring that you keep only the relevant contacts on your list, you can ensure that your supply capabilities are not destroyed by low interaction rates.
4. Focus on Customer Experience and Relationship Building
When formulating your marketing automation strategy, it's easy to think only about how it can help your business. But, you should always consider how your customers fit in these workflows.
Don't only thinks about sales.
This is a common mistake of e-commerce businesses when setting up marketing automation workflows.
Focusing only on selling rather than on added value will actually get you across in a disrespectful manner. This defeats the entire purpose of using marketing automation!
Instead, think about where you can add value to your customers:
Request product reviews: This adds information to other shoppers on your site.
Submit relevant content: Articles can provide more context on how to make the most of certain products that customers have purchased and use tracking campaigns for existing subscribers, promote their interactive events even more.
Providing exclusive information on upcoming events: Sharing new products that may be of interest to loyal customers can help them plan future purchases.
Final words
The marketing tech world is growing faster day by day, and it has a wonderful speed for your business to grow, or to catch up with competitors. Take advantage of them and you got yourself the quick route to prosperous profit while doing less mundane daily tasks.
If you have reached this far, you can go even further! Read more articles on our site to get a better preparation and kickstart your online business. Leave us comments if you have any questions, and best of luck!
---
CEO and Founder of Avada. Pursueing a simple and healthy lifestyle. A friend, a husband and a dad of four children, a trainer and an influencer wannabe. He is a big fan of sports and travel, also.
New Posts
Stay in the know
Get special offers on the latest news from AVADA.