Top 15 Lead Generation Companies & How to Choose?
You might have heard somewhere that lead generation strategies can make or break your business in today's competitive marketplace. Without a solid one, you are wasting valuable resources trying to sell in the dark.
However, do you know that 61% of marketers say generating high-quality leads is their biggest challenge?
As the process of generating leads is becoming difficult and complicated, many brands opt to outsource their lead generation programs to one of many companies specially set up for this purpose.
So, in this guide, we will take you through the exact definition of lead generation, the top 15 lead generation companies, and finally, how to choose an appropriate company.
Read until the last words, and you'll find amazing things!
What is lead generation?
As a matter of fact, the concept of a lead might be surprisingly complex. There's no wonder why so many marketers and business professionals still ask themselves, "What is a lead?"
So, to make it simple, a lead is another word for a prospect. To be specific, a lead is a prospective customer of a product or service, created when an individual or business expresses interest and then provides contact information.
To capture these leads, you need to leverage different marketing tactics that will make users sign up for something online by filling in a form, directly contacting your business, or even walking into your physical store. And this process is called lead generation.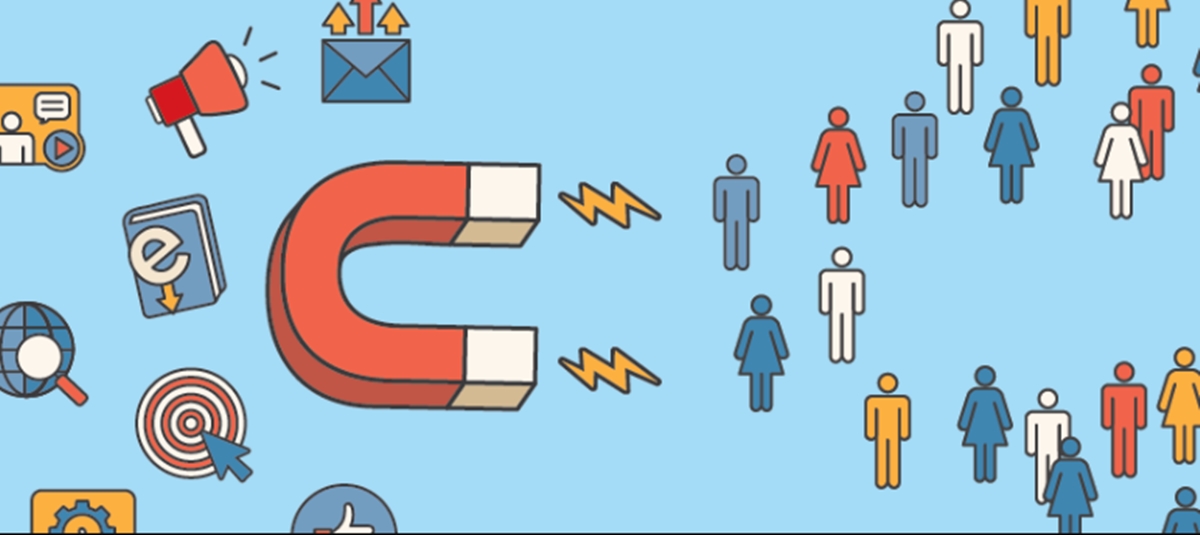 For instance, your company has created an ebook to serve as a valuable source of information to potential new customers. A user that submits his/her information will receive something of value in return - in this case, your e-book. This user is now considered a lead in your marketing database. The goal of a successful lead generation strategy is to obtain new leads, or leads that fit target customers that your business defines.
Read more: How to Create a Winning Lead Generation System for E-commerce
How do lead generation companies work?
Lead generation can require a lot of work and effort to implement; therefore, many small and medium businesses are now outsourcing their lead generation to companies who specialize in attracting and converting potential consumers into buying ones.
Lead generation companies provide your companies with the necessary leads you want to attract new clients. At the same time, you can free up your time to spend on other essential tasks, such as product development or quality assurance.
A lead generation company, firstly, develops a website or partners with different websites on which they promote and advertise your products or services. A customer finds these informational sites and directories, then hopefully completes an online request form. The customer's information is eventually verified and matched to appropriate providers.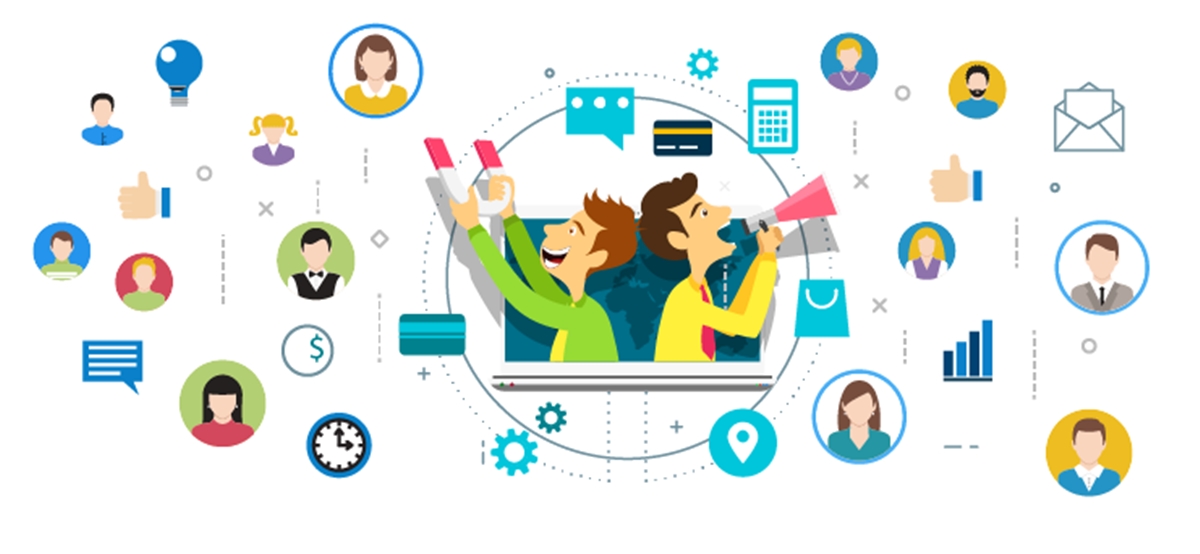 Besides, lead generation companies may use a variety of tactics to collect new leads, such as:
The ultimate goal of these companies is working as a third party to generally set up appointments for potential customers to have conversations with your sales team.
Advantages of hiring a lead generation company
Many companies can handle lead generation on their own. However, as stated above, it can take a lot of time and effort to do research and implement. Meanwhile, there are many benefits when working with a lead generation company, instead of attempting a DIY (Do It Yourself) approach.
Some of the advantages of hiring a lead generation company include the following:
Access expert assistance. Businesses can make the most of experts who already have in-depth knowledge and tools to bring in quality leads.
Stay focused on results. By having an agency drive new leads to your company, you can focus on other goals, initiatives, and priorities.
No more cold calling. Do you know only 2 % of cold calls result in an appointment? So, when working with a lead generation agency, your company can spend less time cold calling, as well as more time talking to prospective customers who are ready to make a purchase.
Handle leads effectively. How to handle leads after they're obtained makes a huge difference. Hence, lead generation companies can create a follow-up strategy that helps businesses know what to do with each lead to gain more sales.
Top 15 Lead Generation Companies
Many lead generation companies out there claim to have the "best database" and the "most-up-to-date information," but how could you tell exactly which one will actually produce quality leads that convert?
To help you have a deep understanding, here's a list of fifteen to consider. Each company on this list includes an overview, its services, as well as outstanding project examples.
1. Ameridial
Website: ameridial.com
Overview
Ameridial is an inbound and outbound call center service designed to enhance the overall customer experience and develop further relationships with clients.

Founded in 1987 and headquartered in North Canton, Ohio, Ameridial provides contact center solutions to businesses in a variety of industries, from health care, consumer products to non-profit organizations, and Fortune 500 enterprises.
They consistently focus on meeting and exceeding front-end conversion and back-end performance goals, including show rates, retention rates, and installation rates.
Ameridial's services:
Inbound services
Outbound services
Call center outsourcing
Multi-channel support
Project example:
Ameridial partnered with a leading North American waste and recycling firm, a Fortune 500 enterprise, who targeted better ROI. Ameridial took up the challenge and generated a 68% lead conversion rate, high productivity for the first 200 hours of calling.
2. Callbox
Website: callboxinc.com
Overview
Callbox is a B2B lead generation company that works with small and medium enterprises (SMEs) and business clients in the US, Malaysia, Canada, and other English-speaking countries.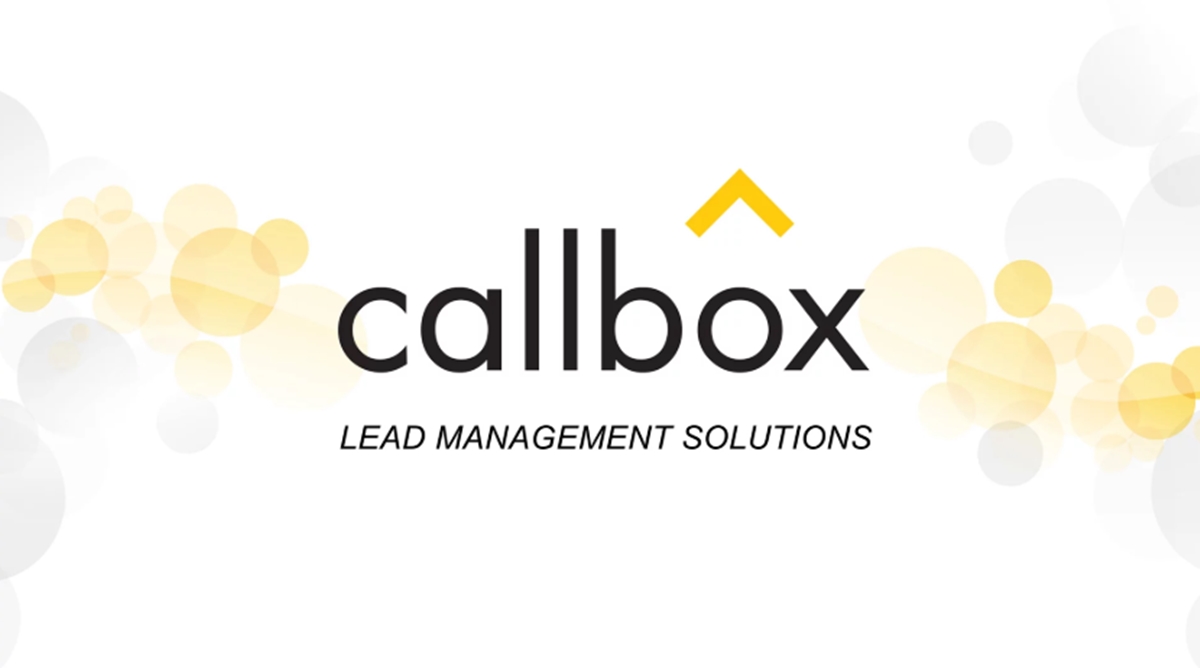 The company offers lead generation services for businesses from a diverse array of fields, including information technology, telecommunications, software products, business products and services, medical and healthcare, marketing and advertising, human resources, management consulting, manufacturing and distribution, and financial services.
Callbox relies on a multi-channel approach, ranging from email, voice, chat, social, mobile, to website channels to reach customers and introduce them about a client's products and services.
They also give customers access to a private CRM (Customer Relationship Management) and marketing automation tool, called Callbox Pipeline to help clients reach and track their prospects.
Callbox's services:
Appointment setting
Data verification
Database management
Multi-touch (and channel) campaigns
Customer acquisition
Lead qualification
Event marketing
Project example:
Callbox initiated a telemarketing campaign for The Client, a world-class data solutions provider. The goal was to invite participants to events and distribute free ebooks. As a result, Callbox brought up 165 qualified leads, which far exceeded The Client's expectations. This success proves an effective market entry point that Callbox has created. If you would like to know more about their project examples, you can check out their customer success stories page.
3. Cience
Website: cience.com
Overview
Founded in 2015, Cience is a B2B lead generation and people-driven solution for outbound sales assistance. The company has served over 300 clients from 130+ countries, generating tens of millions of leads for large companies (Fortune 500), small ones (startups looking for their first customers), and everything in-between.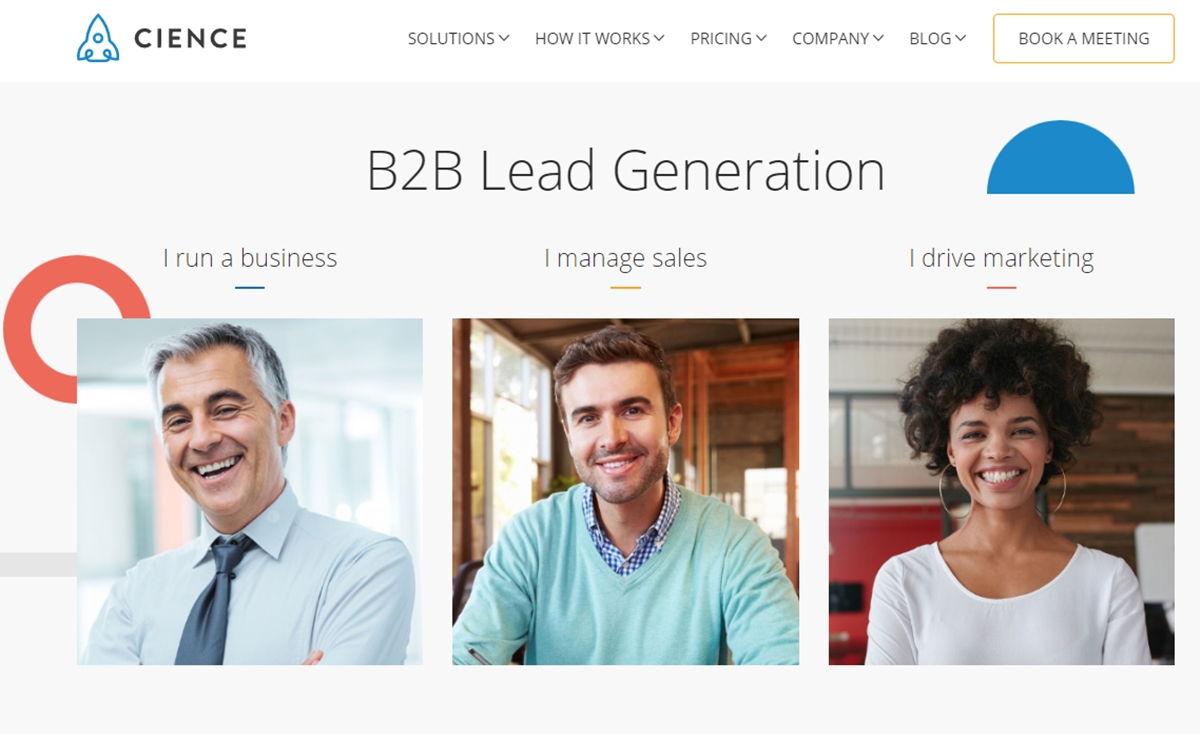 As a People-as-a-Service (Paas), they provide dedicated teams of expert researchers and leading-edge technology to find and nurture leads for their clients. They help build target audiences, segment customers and collect data. Clients can choose which service they need, no matter if it's a little marketing help or an end-to-end solution.
Their unique approach has been proven to unsurprisingly fill top-of-funnel sales with highly-qualified leads.
Cience's services:
Cience provides both lead generation and appointment setting services, either independently, or in a package.
Lead generation: Cience enriches all lead lists based on their clients' Ideal Customer Profile (ICP).
Appointment setting: Cience follows a multi-channel approach, in which their teams strategize, create and deploy all outreach.
Besides, they can look for specific data points that cannot be filtered without human effort through their latest research program called Cience Now.
Project example:
Cience is a top partner of Hubspot Sales Solutions, and other world's largest enterprises, such as Google, Uber, Microsoft, Tuxedo Air, Yamaha, US Bank, and so on. They are an outbound marketing agency rated #1 on Clutch. You can find their client reviews here.
4. DiscoverOrg
Website: discoverorg.com
Overview
DiscoverOrg is a marketing and sales intelligence platform. The company aims to help businesses of all sizes edge out their competition by using accurate information about target customers, as well as market trends.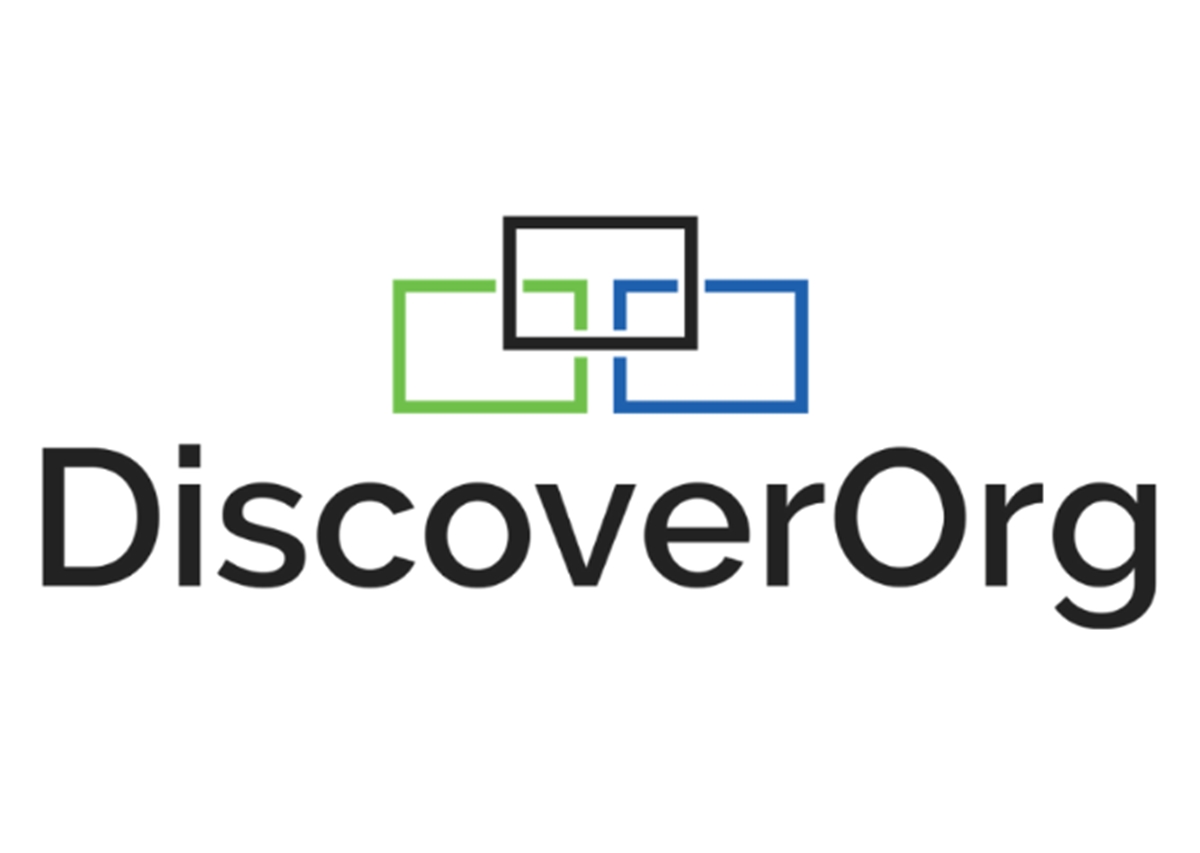 Equipped with a wide range of data collection, visualization, and analytics tools, DiscoverOrg helps its clients to boost business growth, using up-to-date information on phone numbers, email addresses, leadership changes, and other details about other companies on the market. This platform has a feature called OppAlert, allowing clients to receive real-time notifications about their data.
DiscoverOrg specializes in information technology, sales, marketing, C-level, and human resources.
DiscoverOrg's services:
Human-verified data
Comprehensive org charts
Customizable data widgets & integrations
Advanced & quick search
Technology stack filters
Project example:
Mendix, a Boston-based technology company, found itself handcuffed by out-of-date and incomplete intelligence data and difficult in closing new deals in a reasonable amount of time.
DiscoverOrg automatically builds a complete prospect profile, so Mendix's sales teams do not need to waste time researching missing data. Together with the ability to build out comprehensive and in-depth organization charts, DiscoverOrg helps Mendix win more deals and shorten its sales cycles.
5. EBQuickstart
Website: ebq.com
Overview
Founded in 2006, EBQuickstart or EBQ has offered outsourced sales and marketing services to hardware, software, and cloud technology organizations. They provide dedicated staff that can approach customers at any point in the buying journey to increase a good deal of quality leads as a result.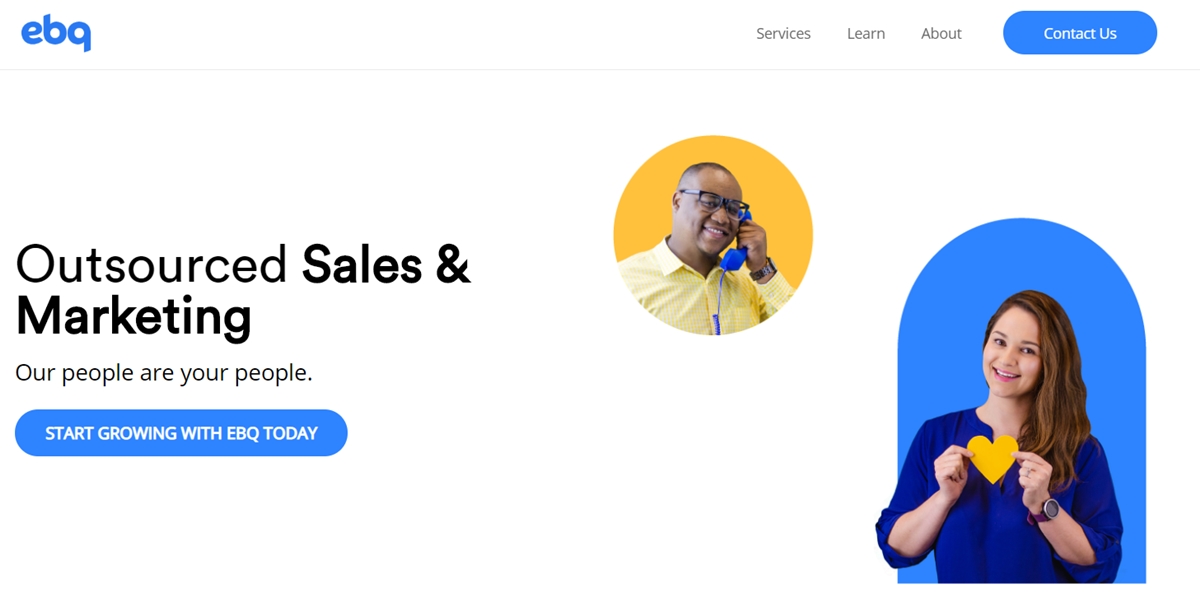 EBQ also supplies customer data, offers marketing assistance, sets appointments, provides a quota-driven sales team, educates customers about your products, and provides support to both clients and customers.
EBQuickstart's services:
Data verification
Miss data filling
Database cleaning
Trade show marketing
Project examples:
BigCommerce was simply looking for a reliable lead generation team to provide their new sales reps with consistent and valuable appointments. Over a year, EBQ delivered 468 leads, with 40-60 appointments per month. Thanks to the time with EBQ, BigCommerce decided to launch their internal lead generation effort confidently and effectively.
6. Extended Presence
Website: extendedpresence.com
Overview
Since 2002, Extended Presence team of 21 has been a sales outsourcing and lead generation company. They have helped clients to boost their revenue, close the gap between sales and marketing, improve their sales pipeline, and provide a considerable return on investment.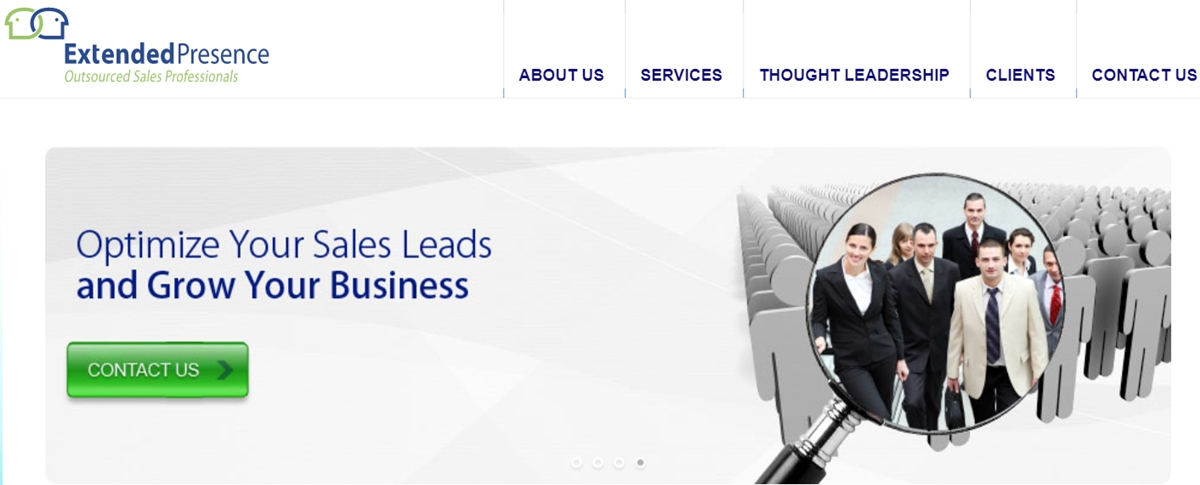 They have managed and delivered set appointments within a variety of market segments, such as IT, healthcare, finance, utilities, telecommunications, manufacturing, retail, education, local and state government.
They have worked with different companies, including dynamic start-ups, mid-market channels organizations, and industry-leading Fortune 500 technology companies.
Extended Presence's services:
B2B lead generation
Appointment setting
Channel sales leads
Lead nurturing
Target customer profiling
Webinar & event services
Project example:
Extended Presence was chosen by the world's leading provider of database software to help upsell their new products and services in the US and Canada. The result became stellar when 180 appointments with key decision-makers were secured in 8 months, 85% of which went on to second appointments.
7. Leadium
Website: leadium.io
Overview
Leadium is a lead generation company which focuses on partnering with existing in-house sales and marketing teams to deliver customers at-scale. Simply tell what your goals are, and the Leadium team will align with them.

Leadium helps find potential B2B contacts through specialized research methods. Then, they will identify and prioritize leads for you after getting to know who your ideal customers are. They also offer full-service outbound lead generation campaigns across multiple channels with personalized and tailored messaging that encourages customers to act.
Besides, to approach customers with relevant information, you need to update customer data. And Leadium can help you with this by cleansing old-dated or incorrect information.
Leadium's services:
On-demand contact data
Database validation
Outbound calling
Email marketing
Market research
Project example:
Leadium was chosen to design an outbound sales program for Reliant Parking. For a short time, Leadium generated more than 60 leads, which quickly converted into business meetings. Besides, over 16,000 emails have been produced so far, with a 46% response rate.
8. Lead Generators International
Website: clientfinders.com
Overview
Since 1992, Lead Generators International has been a lead generation company that provides B2B data enrichment services and fully-managed appointment setting solutions.

With a focus on telesales and cold calling, they primarily cooperate with B2B service and consulting companies to create high-quality leads and set appointments with prospective customers.
Lead Generators International also offers other services to help companies reach valid data, and keep their pipeline consistently filled with high-value prospects.
Lead Generators International's services:
Appointment setting
Database updating
Event boosting
Telephone lead generation
Telephone surveys
Project example:
SAP Solution Provider - Coastal Range Systems chose Lead Generator International to help them increase qualified leads in Canadian and US markets. By developing highly targeted and effective phone scripts, together with creating a prospect database, Lead Generator International assisted SAP in generating 162 qualified leads and over $1 million in potential revenue.
9. Netline
Website: netline.com
Overview
Netline Corporation provides the largest B2B-specific content syndication lead generation network. The company offers self-service, full-service, and advanced lead generation programs, depending on your needs.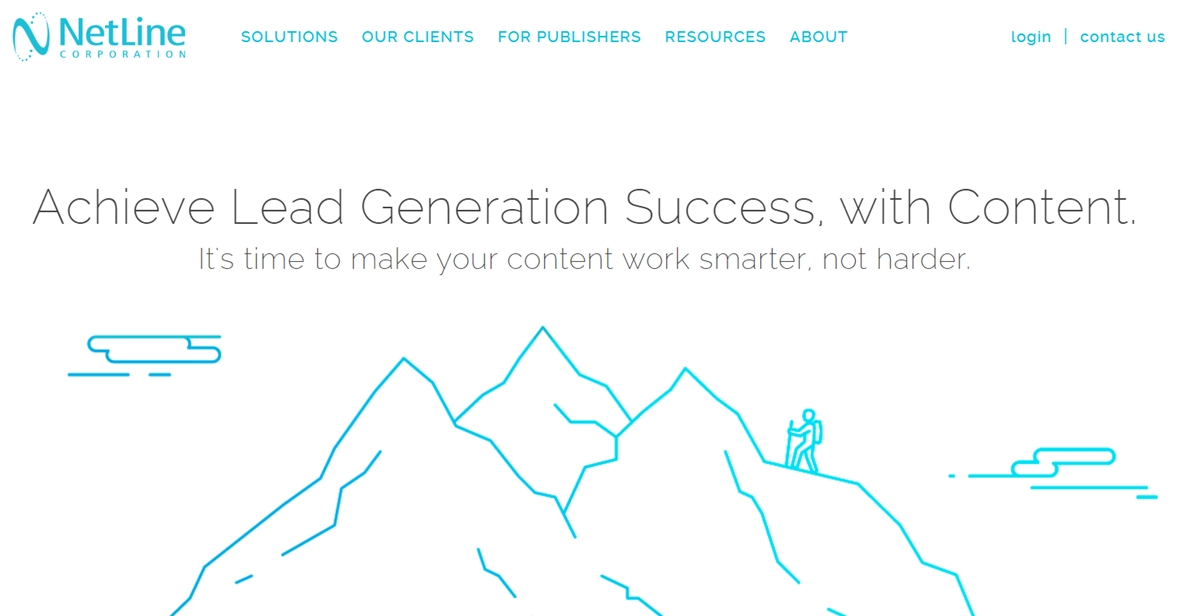 Netline reaches 125 million unique visitors and generates more than 700,000 leads monthly across 300 industry sectors. Superior quality, on-demand access, as well as advanced campaign reports, enable all clients to achieve lead generation success.
Netline's services:
Performance-based content syndication lead generation
Account-based marketing campaigns
Strategy consulting
Advanced campaign analysis and optimization
Dedicated account management
Project example:
By using Netline, Aggreko - a provider of mobile modular power, temperature, control, and energy services, generated 2x the number of leads, and 1000x ROI (Return on Investment) in less than one year. Netline's real-time reports help Aggreko measure key metrics and optimize their content strategy through data created by real professionals. The success in both quality and quantity shows a competent and consistent delivery by Netline.
10. OnBrand24
Website: onbrand24.com
Overview
OnBrand 24 is a Massachusetts-based call center company with more than 30 years of experience. They provide a full selection of both inbound and outbound call center services, making it a flexible option for companies with different needs or a desire to grow with a call center service.
OnBrand 24 does more than just assist current clients and prospective customers; they can also drum up new and more leads for your company.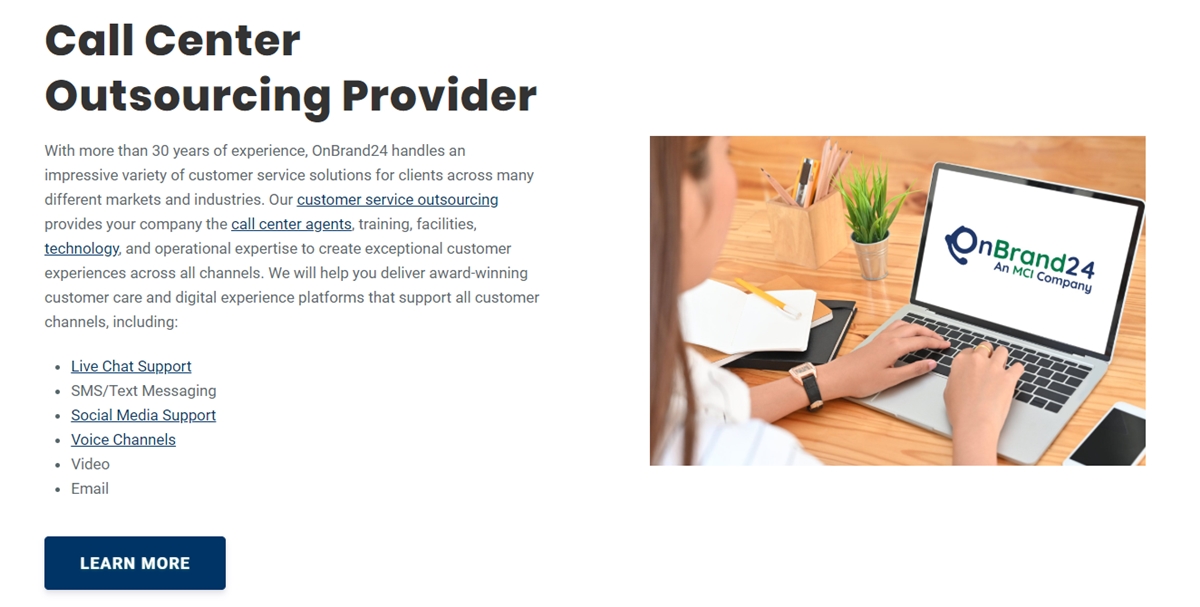 OnBrand24 has recently been named in the Inc. 5000 Fastest Growing Companies. In addition, they have also been awarded honors from TopTenReviews two years in a row for offering professional and outstanding call center solutions.
OnBrand24's services:
Inbound services: customer service outsourcing, help desk services, live chat support, social media support, live agent solutions.
Outbound services: appointment setting, customer win-back, list/data scrubbing, market research & customer survey, B2B lead generation.
Project example:
OnBrand24 serves as a call center for a North American paper manufacturer. OnBrand24 also provides inbound customer service, reporting, order processing, database maintenance, and promotional programs, with mailings numbering over 10,000 annually.
11. SalesAladin
Website: salesaladin.com
Overview
Founded in 2016 in Ghaziabad, India, SalesAladin is a full-service sales and marketing agency, which helps clients identify leads and reach out to them.
With a team of over 40 employees, SalesAladin assists clients in the IT, business services, and healthcare industries with demand generation, inside sales, inbound marketing, sales process, best practices, call center setup, and sales technologies.

One of the most outstanding competitive advantages of SalesAladin is its three-month free pilot program. In other words, clients can test SalesAladin out for three months to evaluate what kinds of leads are produced. SalesAladin also has several case studies available on its website that gives prospective clients a look at effective workflow and results.
SalesAladin's services:
Outbound marketing & sales: marketing research, data mining & cleaning, multi-channel reach (email, social & calling)
Inbound marketing: SEO services, content marketing, surveys & feedback services, review syndication services
Technology services: CRM process & setup, marketing automation.
Project example:
An IT-service company from the US approached SalesAladin intending to generate new demands, setting up appointments, and increasing ROI. By applying outbound marketing together with marketing automation strategies, SalesAladin helped its client achieve 27 qualified prospects within 6 months of engagement, and 30% more revenue compared with the previous year.
12. SalesRoads
Website: salesroads.com
Overview
Established in 2006 and headquartered in Coral Springs, Florida, SalesRoads is a leading B2B lead generation, appointment setting, and telesales company.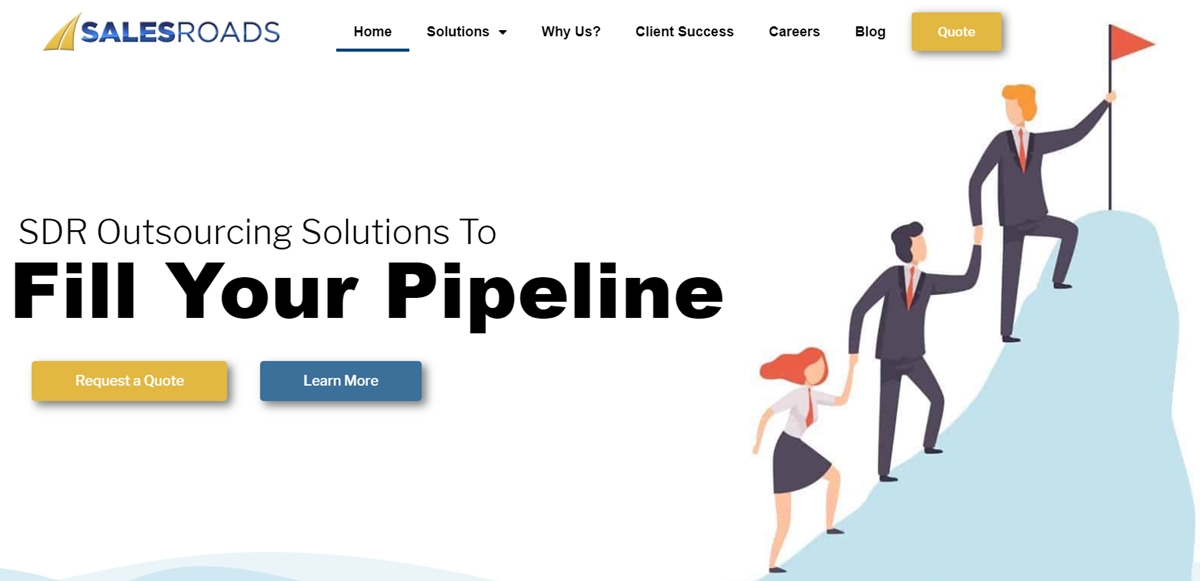 With more than 30 employees, SalesRoads has worked with some of the largest brands in the world to help review their current sales process, products and customers to create a customized solution, which delivers a consistent stream of leads.
SalesRoads' services:
Sales process review
CRM
B2B lead generation
Sales outsourcing
Data management
Sales training programs
Strategic planning
Project example:
Like many SaaS (Software-as-a-Service) companies, Kuebix offers a pricing structure that includes both paid and unpaid ("freemium") options. Unfortunately, however, the large majority of their users only enroll in their freemium products. This makes their sales team lack the bandwidth or internal processes to consistently and successfully convert their growing customer base to adopt their paid premium products.
SalesRoads was tasked with creating an inside sales team to set appointments with freemium users so that Kuebix's account managers can upsell them to paid premium products.
After creating effective strategies, SalesRoads booked 966 appointments, and the inside sales program tripled in size. Besides, the cold calling campaign initiated by SalesRoads generated new interest in Kuebix with brand-name enterprise clients from national and global operations, like Dupont, Chevron, and Herbalife.
13. Smashdeck
Website: smashdeck.com
Overview
Located in the US, Smashdeck is a B2B prospecting and outreach provider that primarily works with technology companies. They work on generating lead lists, scheduling email campaigns, and calling prospective customers in the marketplace.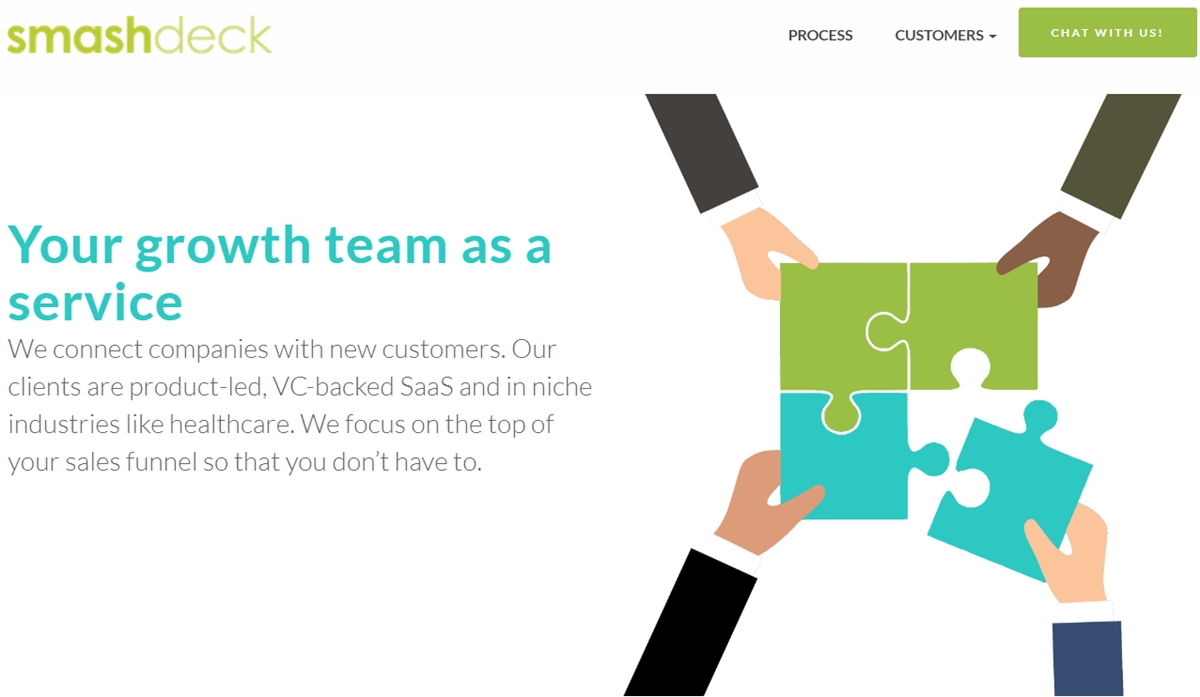 In addition to lead generation, they also offer appointment setting to their clients. Besides, they provide a multi-channel approach to outbound lead generation, including strategy and ongoing campaign optimization.
Smashdeck's services:
Research
List building
Prospecting strategy
Multi-channel coordination
Optimization
Booked sales meetings
Project example:
Smashdeck helped Hilton Publishing, a Fortune 500 corporation, build its outbound sales process and add 27 leads per month, over 200,000 in the new potential sales pipeline, and a 12% increase in conversion rate.
14. VSA
Website: vsaprospecting.com
Overview
VSA, Inc. was founded in 2001 and currently has about 100 employees who specialize in voice services. VSA is a B2B telesales company that mostly works with mid-market businesses, but also has small and enterprise clients.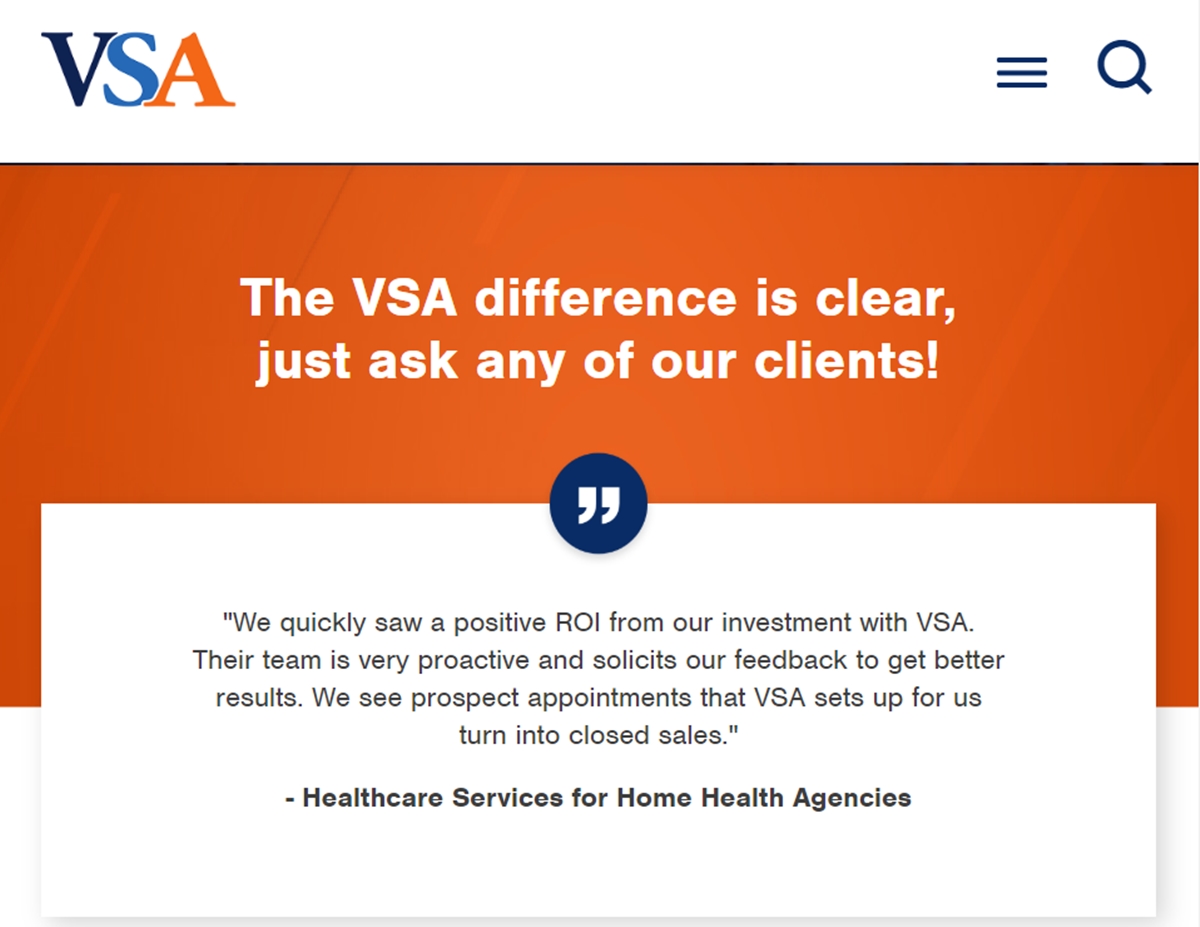 Working across multiple industries, VSA has built expertise in the health care, education, manufacturing, and logistics areas. In 2018, VSA was honored in the list of Inc. 5000 Fastest-Growing Private Companies.
VSA's services:
Lead qualification
Lead lists updating
Appointment setting
Cold calling
Email campaigns
Project example:
VSA provided both lead generation and appointment setting services for a software company, who wanted to determine business owners that they could potentially partner with. VSA conducted research and developed a list of potential companies, and set up meetings with the C-Suite individuals of those companies. As a result, VSA exceeded their expectations and successfully delivered qualified leads.
15. WebiMax
Website: webimax.com
Overview
WebiMax is just more than a lead generation company; they are a full-service digital marketing company specializing in SEO, pay-per-click ads, social media, web design, lead nurturing, and online PR.
The company reports a 96% retention rate, which shows an impressive level of commitment and loyalty from Webimax customers, as well as their effective strategies in doing business.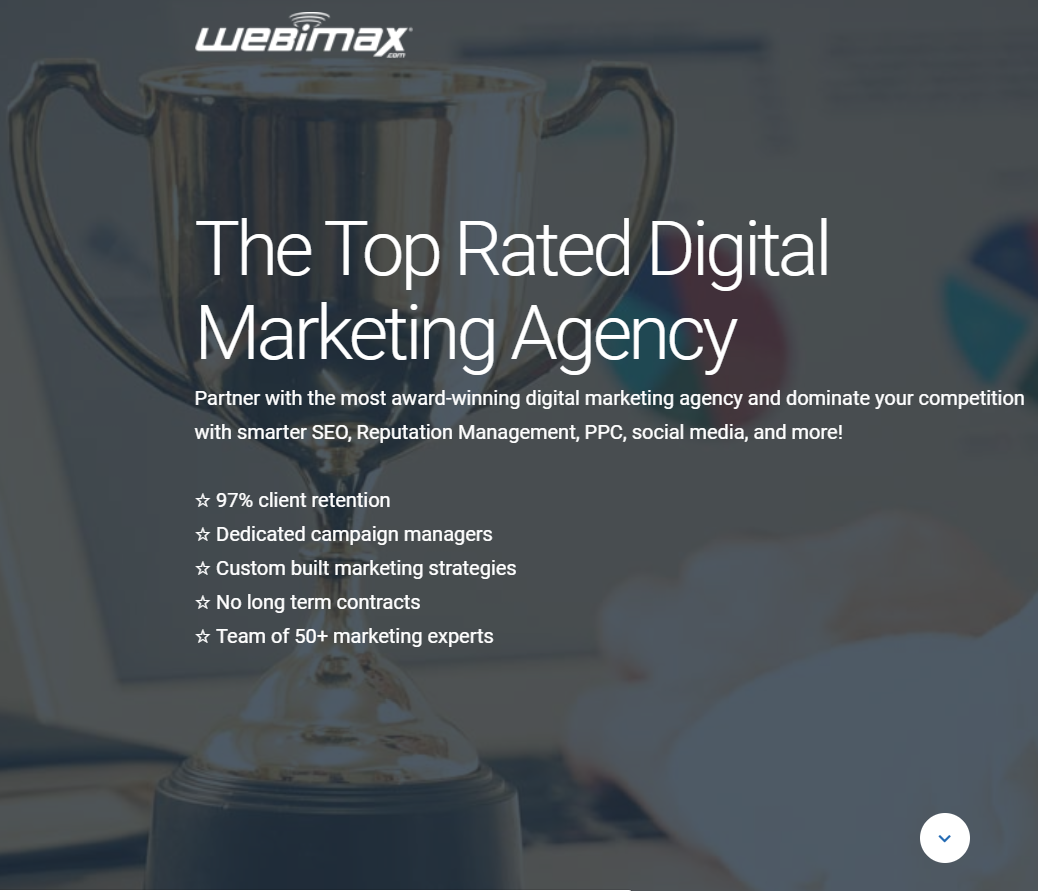 For companies that are looking for an inclusive and comprehensive marketing and sales solution, WebiMax is an excellent choice.
WebiMax's services:
While WebiMax is a provider of complete digital marketing, their lead generation services are tailored to companies that are finding ways to improve their digital presence and include:
Sales funnel design and revamping
Web presence growth through SEO and paid advertising
B2B contact data
Social media
Project example:
WebiMax has worked with many large brands like Community Quest, J&G Industrial Supply, America's Tax Office, Wesley College, and so on. You can read testimonials on their website.
Read more:
How to choose an appropriate lead generation company
There are more and more lead generation companies to choose from today; hence, finding one that helps generate more quality leads is crucial.
In the last part of this guide, you'll know how to make sure that you don't waste time and money on bad leads from lead generation companies, which don't know what they're doing.
Check the company's experience
Generating leads for an e-commerce company cannot be the same as for a software company. Similarly, generating B2B leads will require a different approach when compared to B2C leads.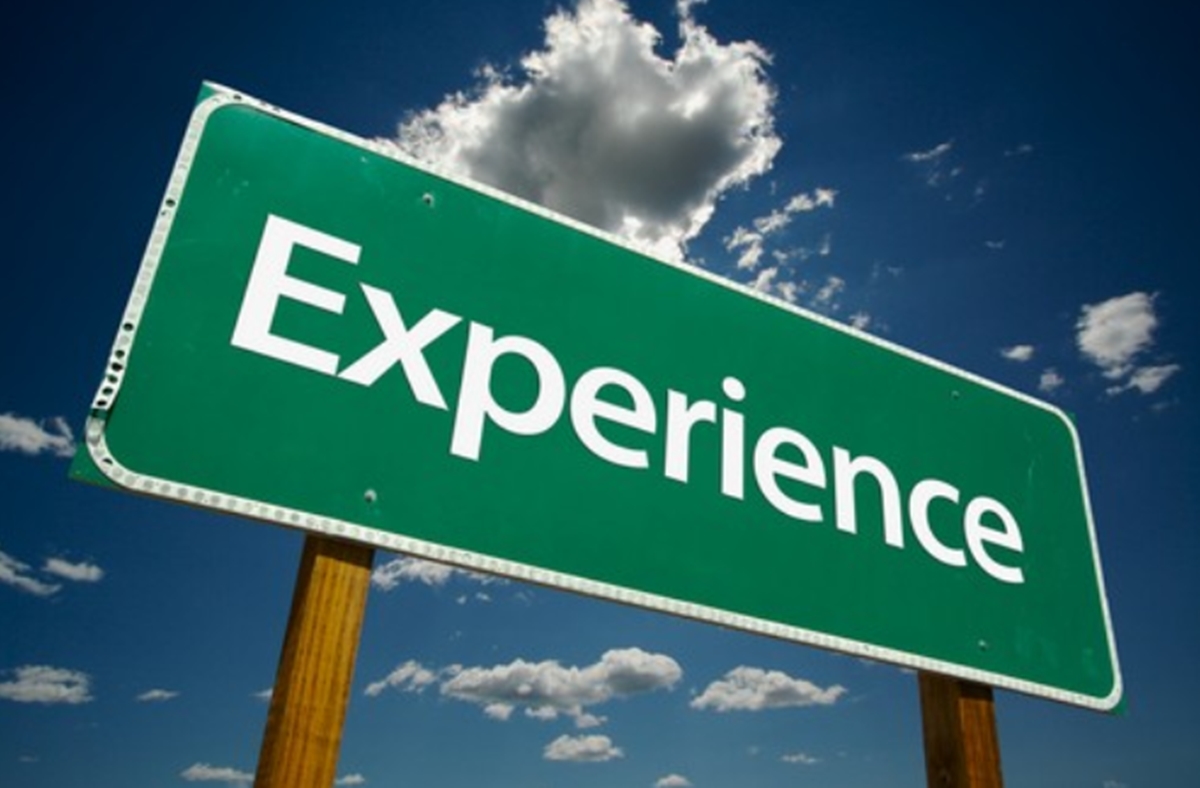 So, you can check the experience of a lead generation company by learning more about what businesses they've partnered with in the past, as well as the results. Besides, you should keep in mind the significant differences between the companies they've worked with. By doing this, you can understand how flexible they are with their approaches and strategies. It also shows whether they can customize their services to provide better results for their clients.
Find out how they get leads
The quality of the leads is likely to vary based on how they get them. For example, they have telemarketers randomly call customers to build a list of leads; those leads probably won't be very good.
Instead, if they approach customers by using a comprehensive content marketing strategy, they may help bring in more high-quality leads. Or in some cases, leads that come from consumers filling in forms for more information may lead to more sales than from telemarketing.
Lead generation companies usually use different methods and channels to generate leads. However, each business requires a unique approach, making some methods suitable and some not. Therefore, before signing a contract with a lead generation company, you should make sure to understand how they get qualified leads for your companies.
Look for quality, not always quantity
Quantity is important, but when it comes to lead generation, quality is far more essential. Of course, businesses desire to bring in as many leads as possible, so they can try to get more sales. However, when the focus is just the quantity, the majority of those leads may be low-quality, which means they are not likely going to result in a sale.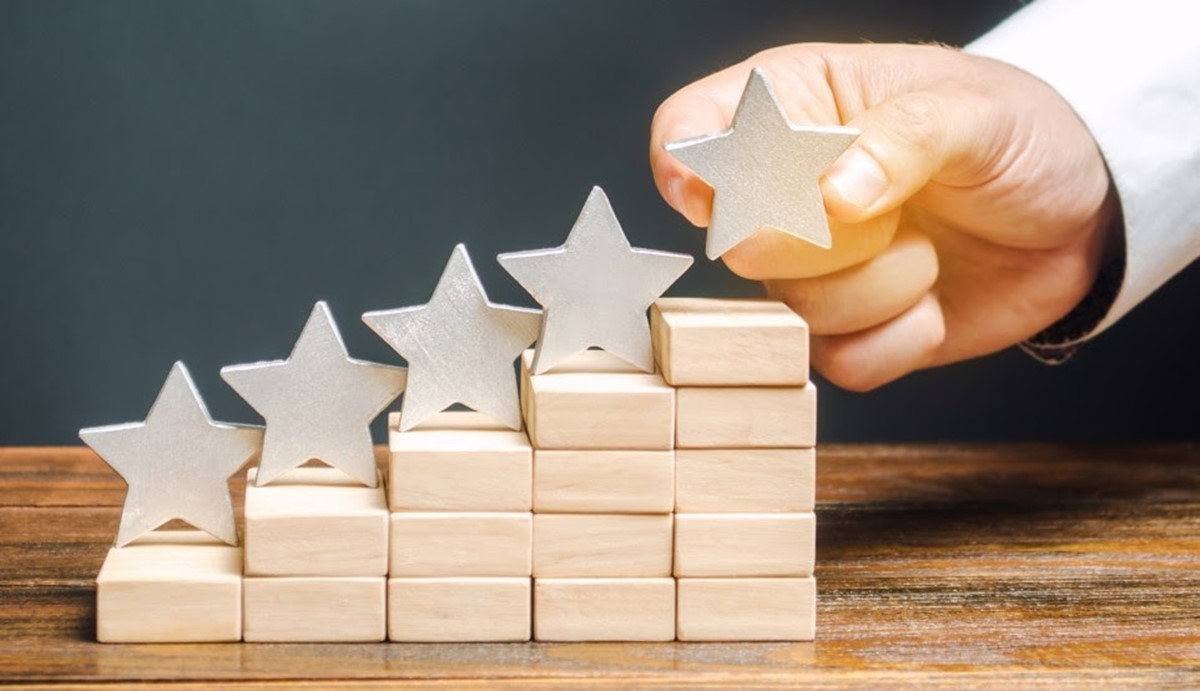 So, make sure you choose a company that focuses on quality leads in order to cut down on wasted time and boost the number of sales. You can refer to our list of 15 lead generation companies in the previous part to make the best decision.
Check how to handle reporting
Reporting is an indispensable component of lead generation. Businesses need to know how effective the service is, how many leads are generated per month, how many of them are qualified leads, and how many sales are made. This makes it easy and transparent to see the return on investment and follow what is actually happening.
Therefore, it would help a lot if you choose a company that is going to provide a regular and detailed report with a thorough analysis. By doing this, your company can discuss with the lead generation company and determine if there are any changes or improvements or not.
Read customer reviews
When being in doubt, you can read client reviews, feedback and testimonials about the lead generation company that you are targeting. Some popular websites are available and trustworthy, such as Clutch, Google Reviews, and so on. Besides, you can learn more on social media channels, forums, and independent resources to know more about their services and ratings.
The bottom line
Generating leads may be a challenge for many companies, but it is an integral part in the process of growing and developing. Given the importance of lead generation, more and more brands chose to rely on lead generation companies for this tough and challenging task.
There are dozens of lead generation companies in the marketplace, and as you can see by the list above, each one has something outstanding and different to offer. When you research the top lead generation companies, be sure that you have clear business goals and understand your customer base. By discussing this kind of information with the lead generation company, you can start building a plan and set benchmarks that not only increase leads but sales as well.
New Posts
Stay in the know
Get special offers on the latest news from AVADA.