Top 10+ Shopify Furniture Store Examples & How to Build one?
Selling furniture online can be a highly profitable business, even if you are just selling your old wardrobe or starting a small online store. Who knows - maybe after starting selling one item by one, you will discover a furniture niche that is easy for you to grow. With shipping technology getting more advanced every day, you can even drop ship furniture at a little startup cost.
An excellent looking storefront with an effective backend is essential for eCommerce, especially for a sudden surge of traffic when you find your best selling items. Shopify offers a flexible platform with robust tools, so any online furniture store can easily manage the sale process and grow gradually. With a lot of untapped potential in the industry, a Shopify furniture store can be your gold mine in 2021.
Exclusive Offer: Get Shopify 93 days for just $3 + The Online Store Starter Kit
Start a 3-day free trial, then get Shopify 3 months for $1/month plus the premium package designed especially for new Shopify merchants!
Start Free Trial
So whether you are interested in looking for inspiration or redesigning your online furniture store, here are the best Shopify furniture stores on the market curated just for you. After that, I will show you how to build an online store just as beautiful as your furniture. Let's get started!
Top 10 Shopify furniture store examples
An eCommerce website builder like Shopify is highly effective for a furniture store because it is beginner-friendly with drag and drop building tools. The platform is made for anyone to set up an online store with ease, without any technical knowledge. Moreover, furniture store owners can sell on their terms and quantities, unlike on a marketplace like Amazon or eBay.
Starting at only $29/month, Shopify lets you build a unique online furniture store with customization on every element, from the homepage to checkout. You also have a 14-60 day free trial to see your eCommerce store in action and acquire any revenue you got during this period.
The next Shopify furniture store examples use different Shopify plans, from Basic to Advanced, and even Plus. This is because each store has different needs for tools, support, traffic, products, design, and more. Take them as inspiration and see which approach you like the most. For starters, I always recommend to start at the lowest Shopify plan and update only if necessary.
Brosa furniture store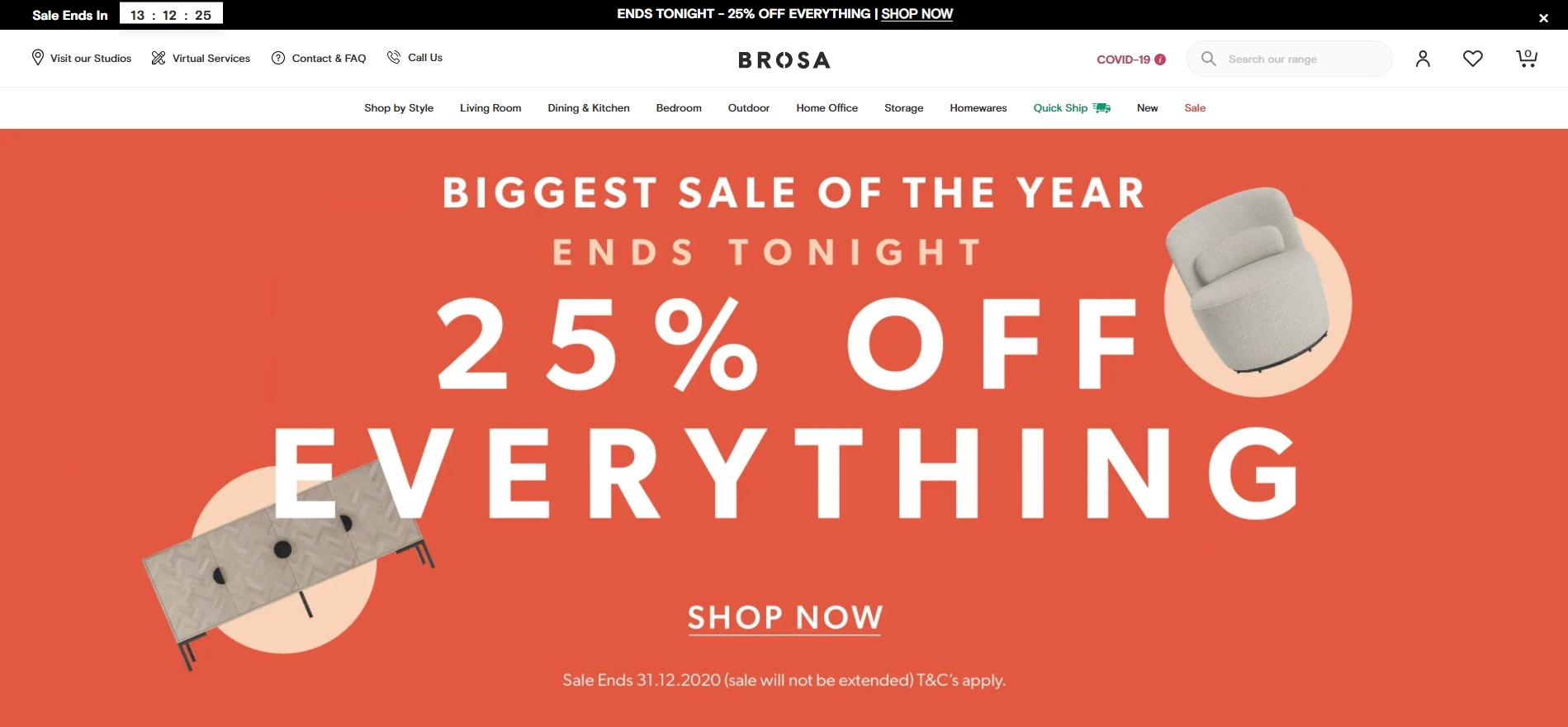 Brosa is a company that wants to break the traditional business structure of running a furniture store. Before starting their adventure, they were dissatisfied because the costs associated with transporting, importing, and selling products through wholesaling were passed on to the customer.
Brosa eliminated middlemen with their online Shopify store so consumers can buy luxury furniture without breaking the bank. They handle everything in-house, from product design to shipping, and have skilled manufacturers based in Australia, China, and India.
Brosa founders developed and managed their business due to previous experience with eCommerce stores and marketing. More importantly, they found a way for a Shopify furniture store to thrive with more customer satisfaction. You can use this knowledge to build your online business - which treats customers fairly and gains loyalty back.
Onske furniture store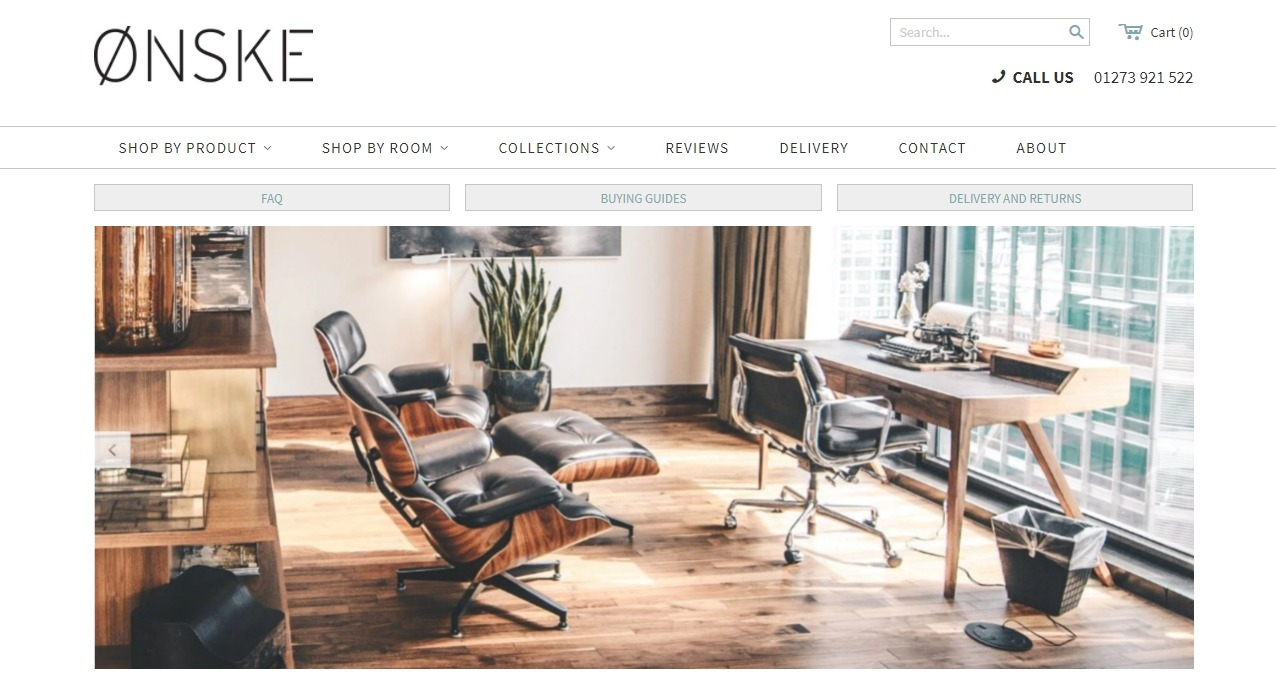 Interviewed by Shopify, Onske is a UK-based online furniture retailer that aims to provide industrial-style items with personalized service. Realizing the market gap, the company quickly built its website, contacted suppliers in the UK and overseas, and went to trade fairs to find the best suppliers.
Onske used social media for brand awareness and Google Shopping to list their products in the search queries for sales. For the backend, Shopify pretty much provided everything they needed. Shipping is always a tricky part for any furniture store, but Onske still managed to do fulfillment by themselves and can ship within three working days.
The company keeps it simple for the website design, and visitors can easily navigate between products or collections and even rooms. Social proof is a big part of Onske Shopify furniture store with a full page of testimonials, which helps an eCommerce store gain consumers' trust.
You can also include social proof on your online furniture store with testimonials on the front page, or try an app like Shopify Photo Reviews and let customers upload their pictures of purchased items.
However, I would like Onske's website to be more optimized for desktop since the store didn't fully expand to fit my screen size, which is a letdown. The mobile version is well optimized, though, letting customers buy with convenience.
Stone Forest kitchen and bed store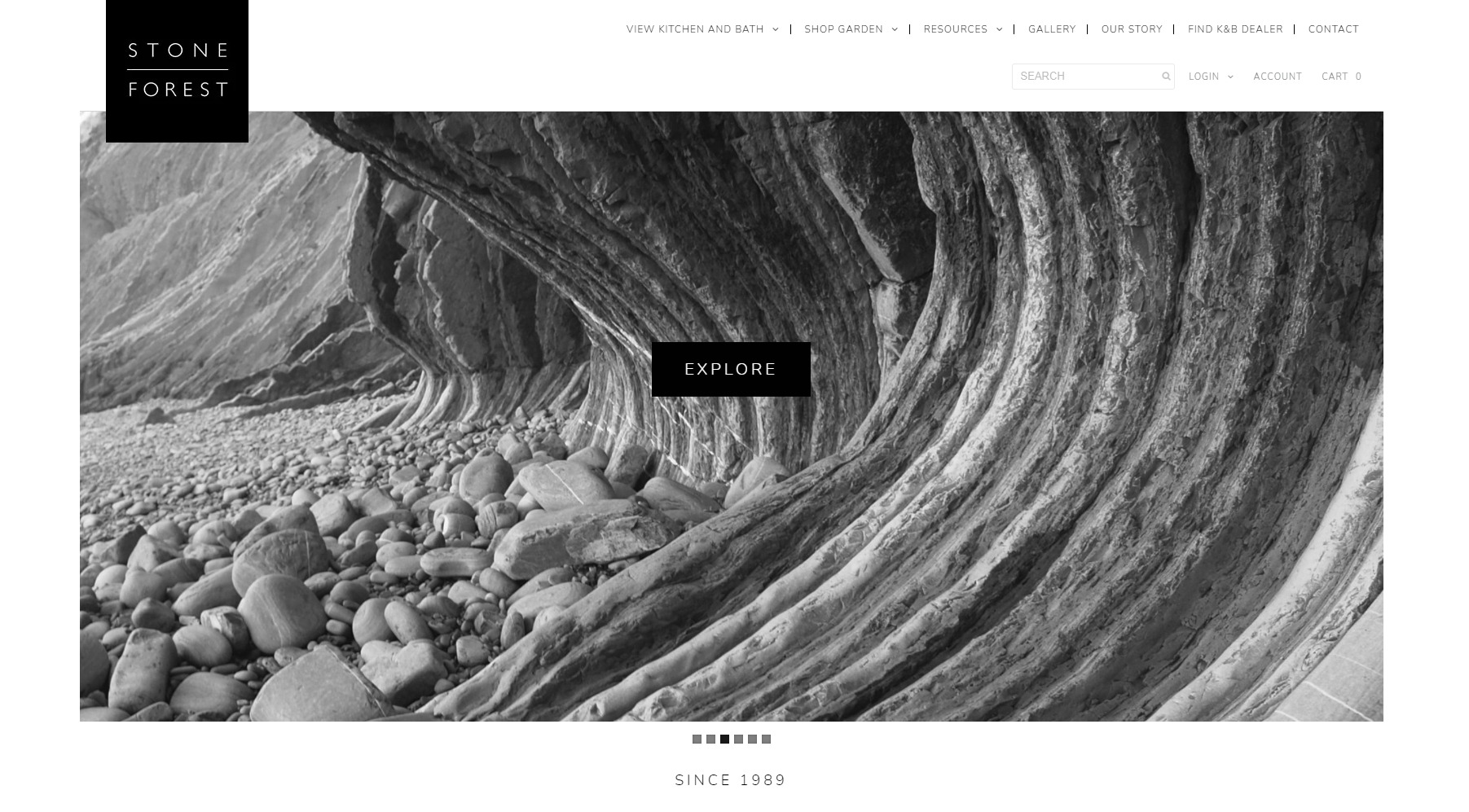 Stone Forest is an inspiration for anyone looking to turn their hobby into a business.
The founder correctly identified his passion for stone carving in his early 20s when he was a mountain and river guide. It was during this period that he was fascinated by the natural beauty of his surroundings and began to sculpt stones in his spare time.
Stone Forest uses all natural materials when carving award-winning artifacts, from sinks to garden fountains. The company is a dedicated group of artisans and designers who want to bring the essential energy and beauty of nature's stones into people's lives.
The website, right on the first visit, is stunning with artistic hero images. Scrolling down and furniture buyers will find more black and white images of available products - which gain colors on a mouse hover. Stone Forest Shopify store commits to a stylish style with their website and really nailed it.
If you are thinking of selling premium furniture products, Stone Forest is a good example that shows high quality with a delicate touch. With a market full of colors, your Shopify furniture store may be able to stand out more easily with fewer colors.
Eva bed store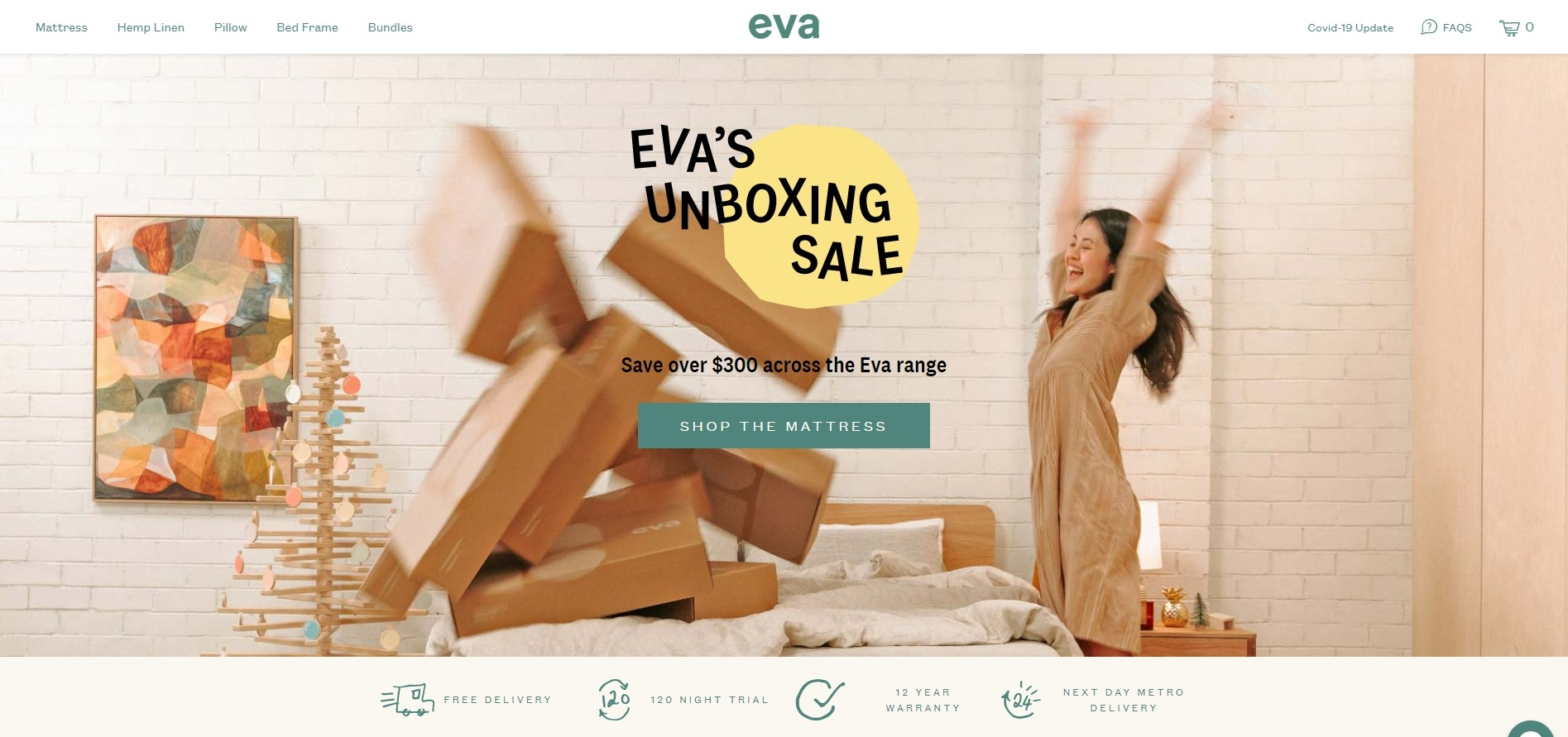 Eva is a Shopify furniture company that sells mattresses, linens, pillows, bed frames, and more. Their special mattress combines pocket springs with memory foam to give buyers the perfect night sleep. The best thing is that the mattress is delivered in just a small box, letting customers easily carry and unpack.
After the success of the mattress, Eva quickly expanded their items to linen sheets, pillows, and bed frames, making the ultimate bedroom experience with extreme comfort. The company's goal is to help customers have a simple living lifestyle, having a good sleep, and wake up in a lovely bed.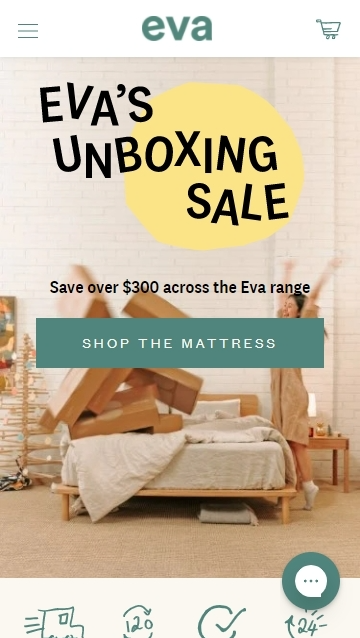 For the Shopify furniture store, the design quickly helps visitors know the good services they can get with free delivery, a 12-year warranty, and 120-night free trial. There are also many awards to prove the product's quality and customer testimonials to show the buyers' satisfaction. It is a well-designed Shopify furniture store that looks amazing on mobiles as well.
What you can learn here is to quickly show your unique services on the homepage like how Eva did with their website. If you have a good competitive edge, let visitors know right away. Also, a good mobile experience is always essential for an eCommerce website nowadays, so pay attention to that too.
Bend Goods recyclable furniture store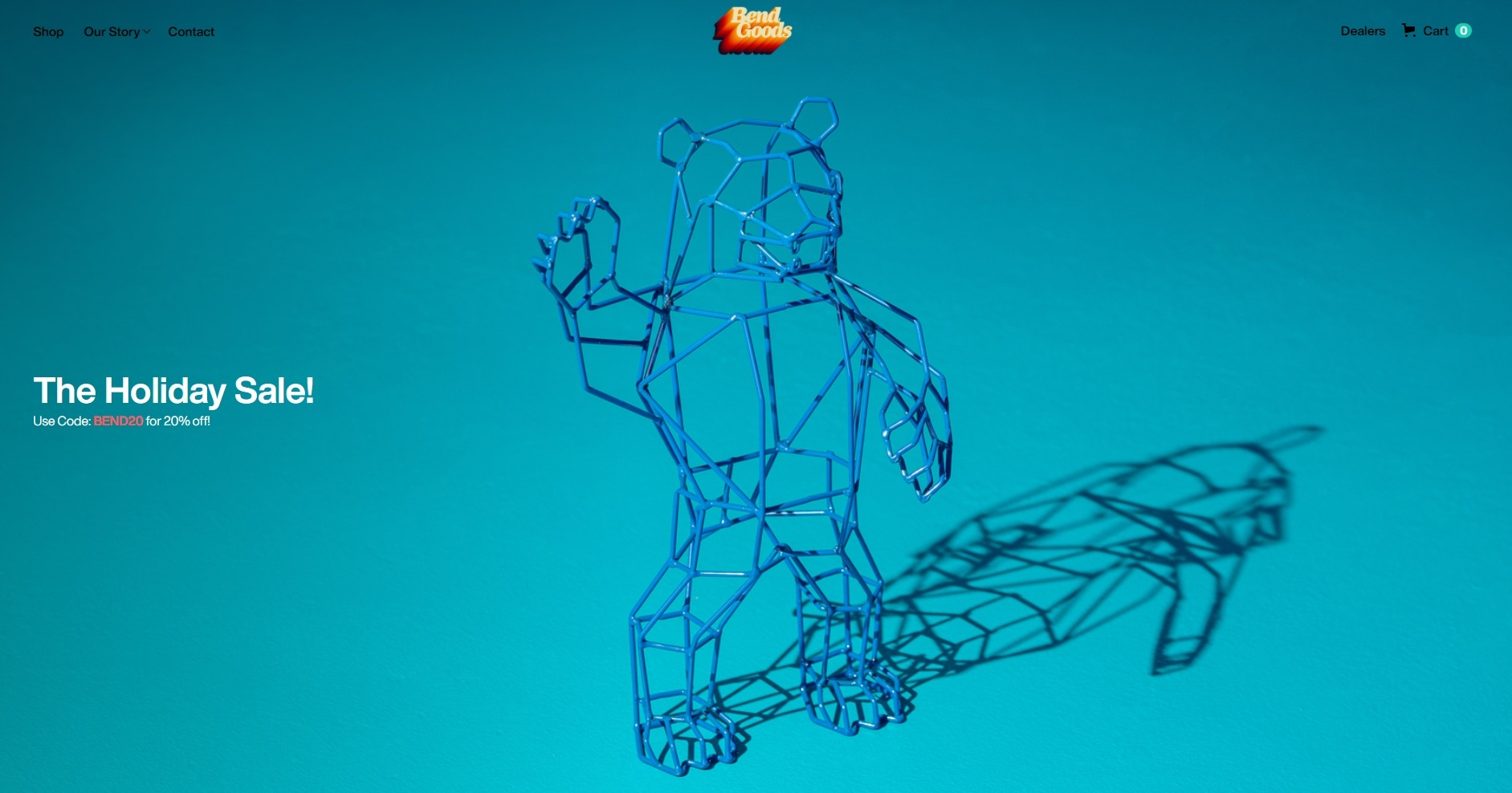 Bend Goods makes handcrafted furniture from recyclable materials. If customers want a specific design on their product, the company would have no problems creating personalized options for anyone wanting to customize their order.
Bend Goods' mission is to create highly aesthetic furniture that fits many needs of life. Their furniture products won't look out of place in an average backyard or even inside a five-star restaurant.
The brand's founder made a statement that they will continue to love art and design, and also create products that serve a purpose while performing as an Automotive Sculptor. They seized the opportunity and made a success in furniture by taking some strings and crafting them into functional artwork. Well done.
The Shopify furniture store of Bend Goods is fantastic with a unique vibe that visitors can immediately feel. From the artistic inspiration of Los Angeles, the website promotes the brand as a group of great artisans with special products. With many big and stunning images, consumers can see what they are paying for. However, the mobile experience of Bend Goods can use more optimization, in my opinion.
Floorplan's rug store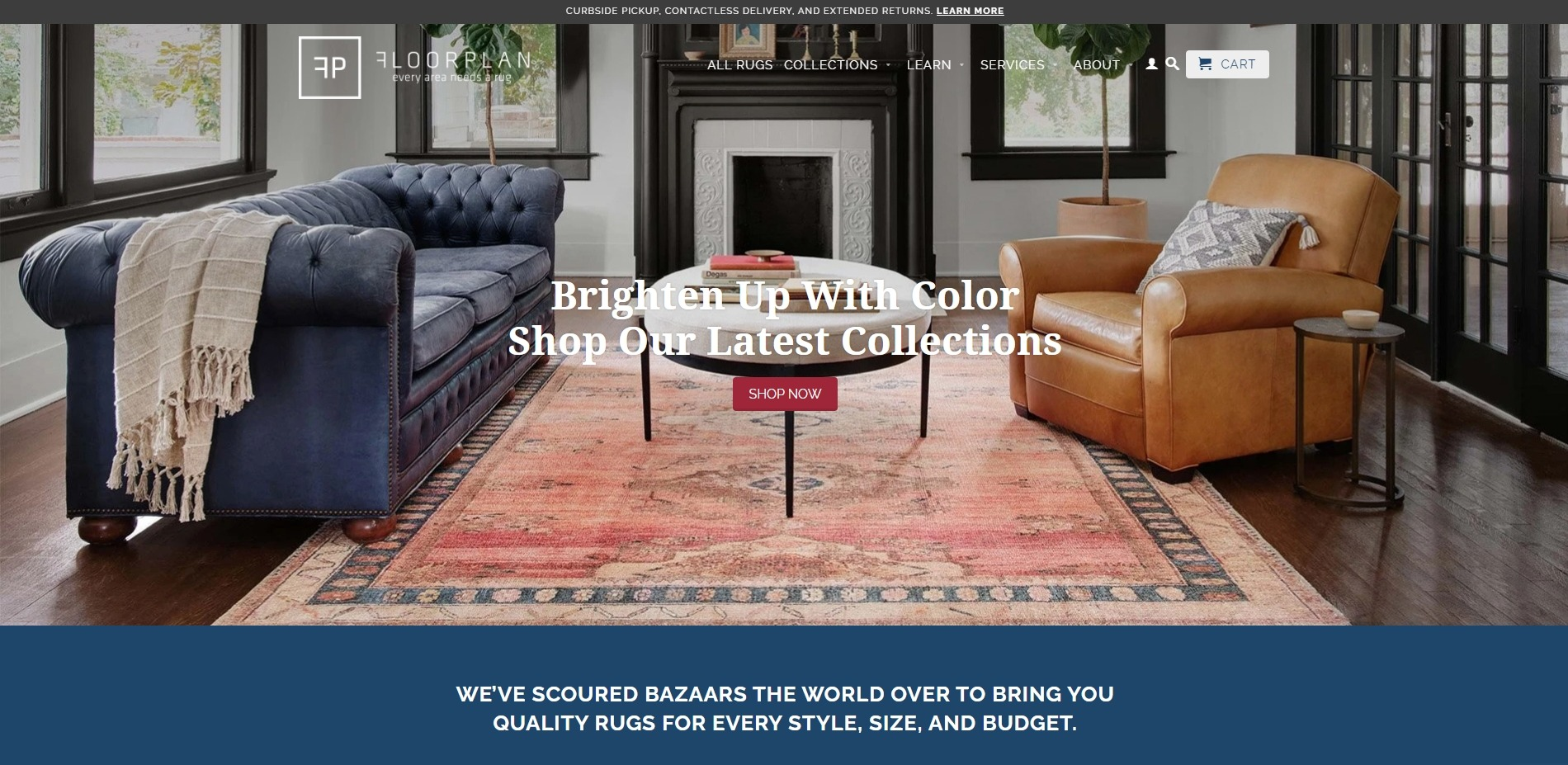 Based in Los Angeles, Floorplan is an agile rug company that is available online, pop-up, at local shops, and also sells directly to designers or retailers. The company is featured on Houzz, Shopify, and Apartment Therapy. They don't shine away from this fact too, as you can see the featured articles when scrolling down.
Floorplan website is simple with only one hero image and visitors can view item categories while scrolling down or through the navigation bar. One thing I really like is the featured rug section right in the middle of the homepage. This way, buyers can see which rugs are trending or on sale. The company also offers other services such as rug cleaning, local delivery, and custom rugs. \
One feature that Floorplan is missing is customer reviews. I didn't see any reviews or star ratings while browsing through their rugs, so I can't see which products are loved by their buyers. This is a big loss since customer reviews can be a deciding factor in the buying decision of visitors.
Fyrn's California furniture store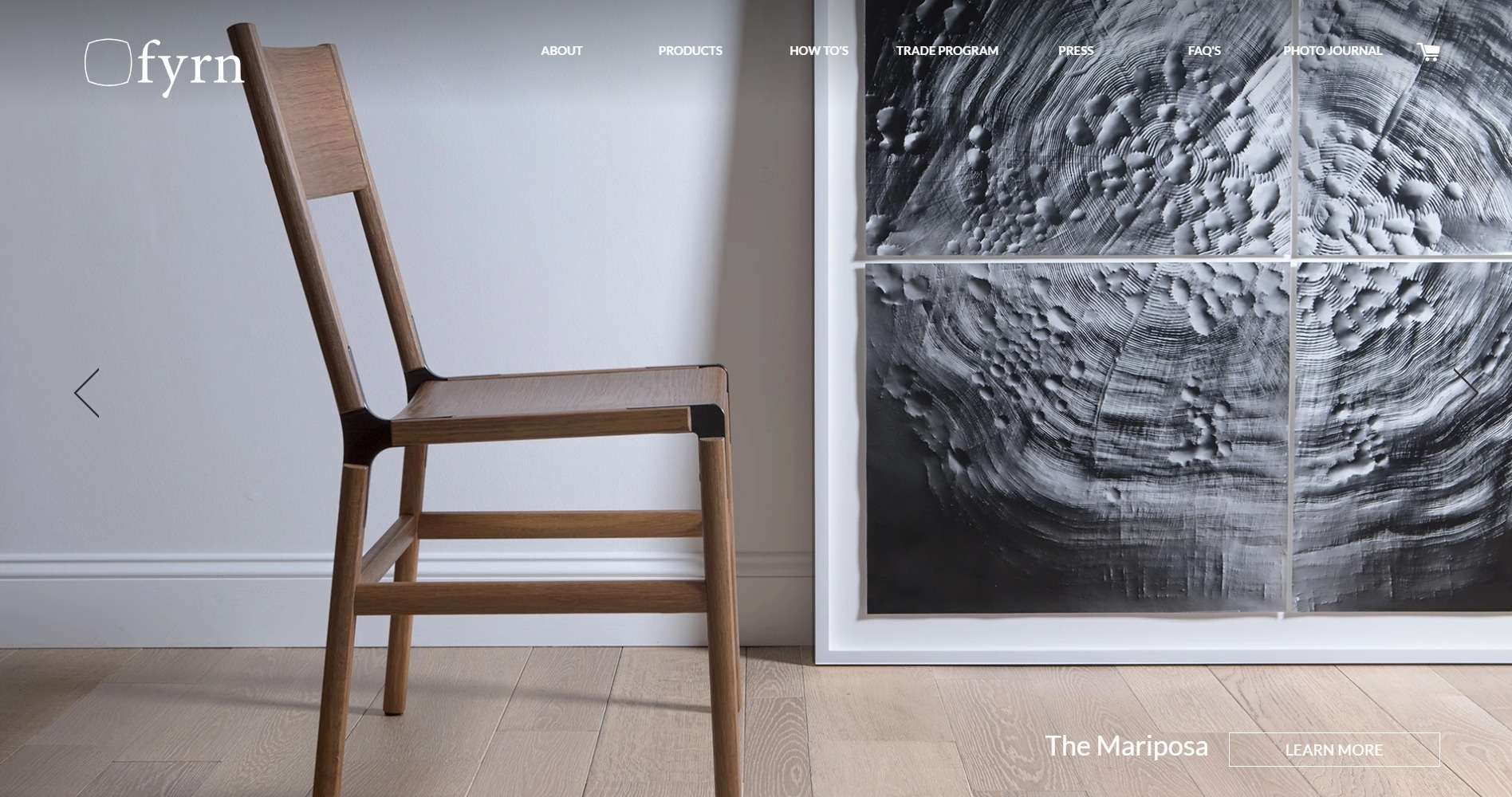 Fyrn, based in California, designs and manufactures furniture to stand the test of time. How can they achieve this? By their patented Stemn bracket, their chairs are durable, replaceable, and simplistic.
Their source materials come from responsible suppliers and their recyclable packaging is recyclable. They want to give customers an opportunity to purchase environmentally friendly products and become less dependent on disposable products when buying their furniture.
Much like IKEA, Fyrn allows customers to buy pre-assembled chairs or for home assembly. The company offers many instructional videos to help buyers getting furniture ready ( they also have 3D models on their site). Fyrn website doesn't have a customer review section either, but they do have a trading program to work with design professionals and artists.
Soaring Heart's mattress store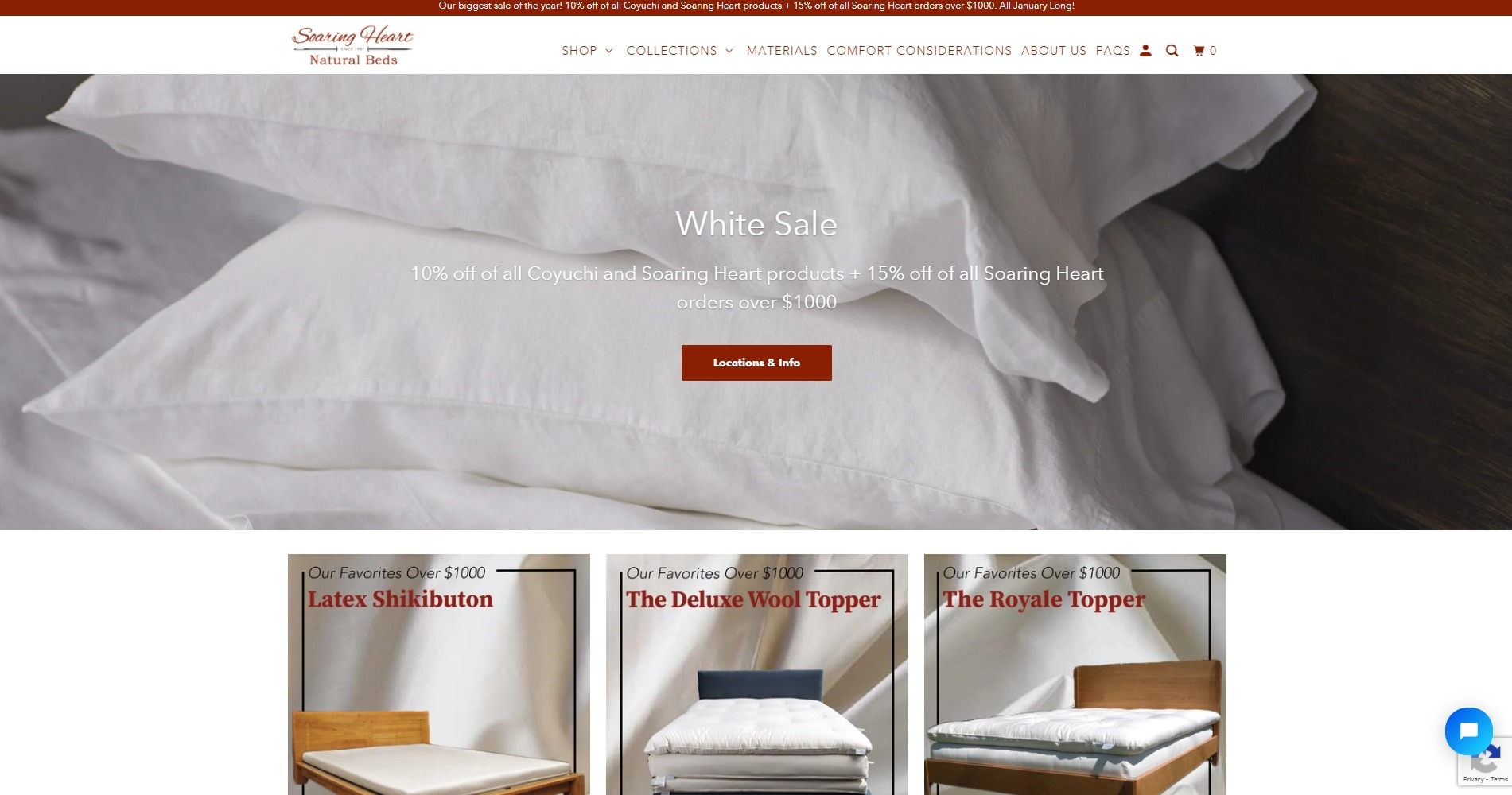 Soaring Heart dedicates their products to make sure that customers have an undisturbed sleep with their high-quality mattresses. They are a long-standing business which has been operating for over 30 years, owing to the fact that they are able to keep up with the change in technology (especially toward online shopping).
The mattresses are handcrafted products that use the finest organic and all-natural materials. These toxin-free materials with natural elements have been proven to help relieve chronic pain, allergies, and sleeping troubles. The business also donates their profit toward charities and offers scholarships for students looking to study in the field of sleep research. Soaring Heart bases their values around the three C's: Comfort, craftsmanship, and community.
Scrolling down to the bottom and you will see that they are proud of being made with Shopify - which helped the company smoothly transition from offline to online selling. The website is simple with many images and health certifications, with an Instagram and blog feed right on the homepage. Personally, I found this to be a bit distracting, and Soaring Heart can focus on a better experience for the homepage.
Room for More Denmark furniture store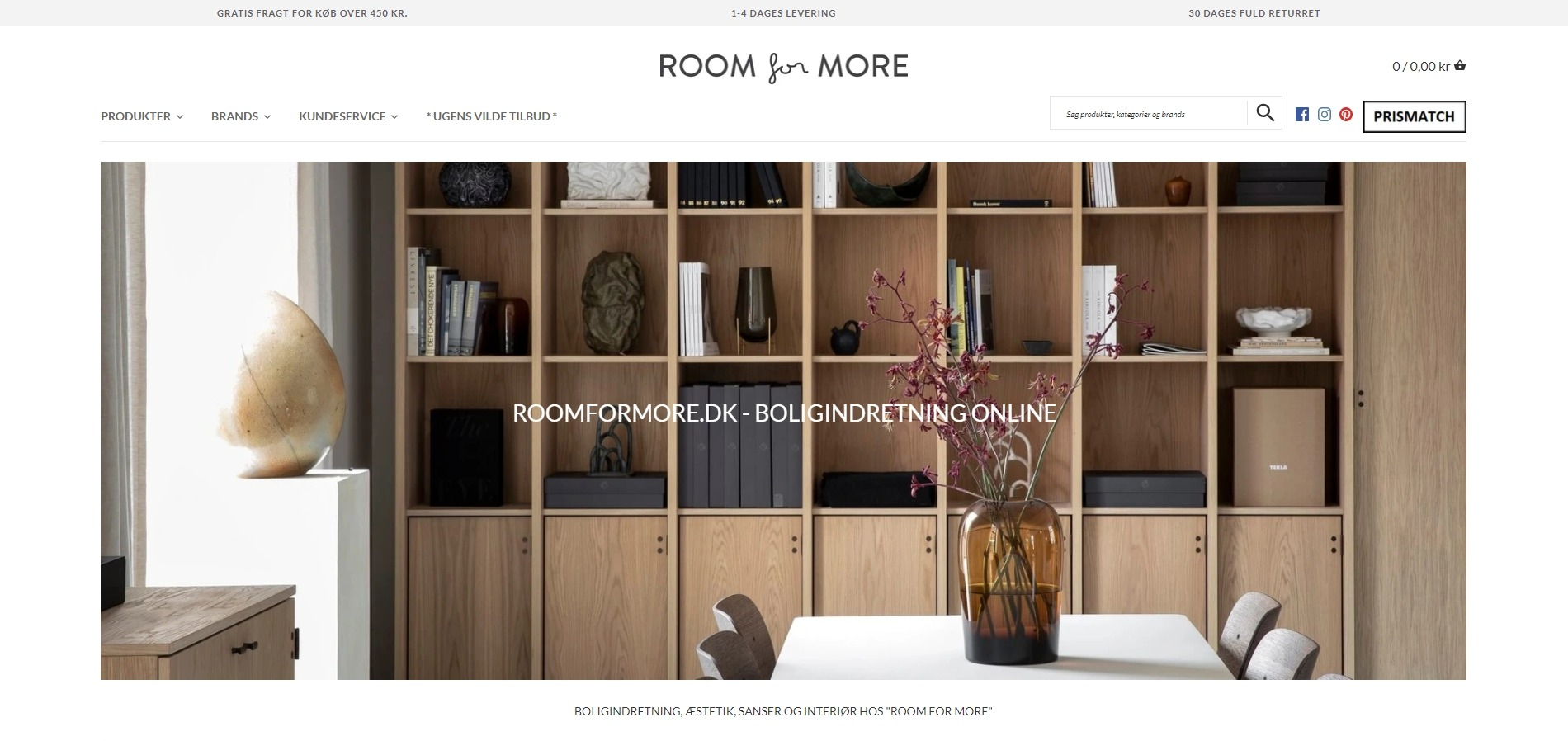 Room for More is a Denmark furniture store with all of the best quality furniture you can find in the country. They provide all types of products, from chairs, tables, lights, to tableware, hangers, and decoration. With only a 1-4 day delivery system, Room for More is highly competitive with other players in the furniture industry.
One thing I noticed immediately is the smooth experience of the eCommerce website by Room for More: you will hardly find any delay even with such a large selection of items. This is thanks to the Shopify platform they are using. On the navigation bar, visitors will be able to browse products, brands, and deals of the week, with an informative About Us section.
However, I couldn't find a language selector on the website and had to browse through with the Denmark language. Room for More may be only focusing on the domestic market, which is fine, but for other European visitors, I think an English language option can be beneficial.
Ettitude Australia furniture store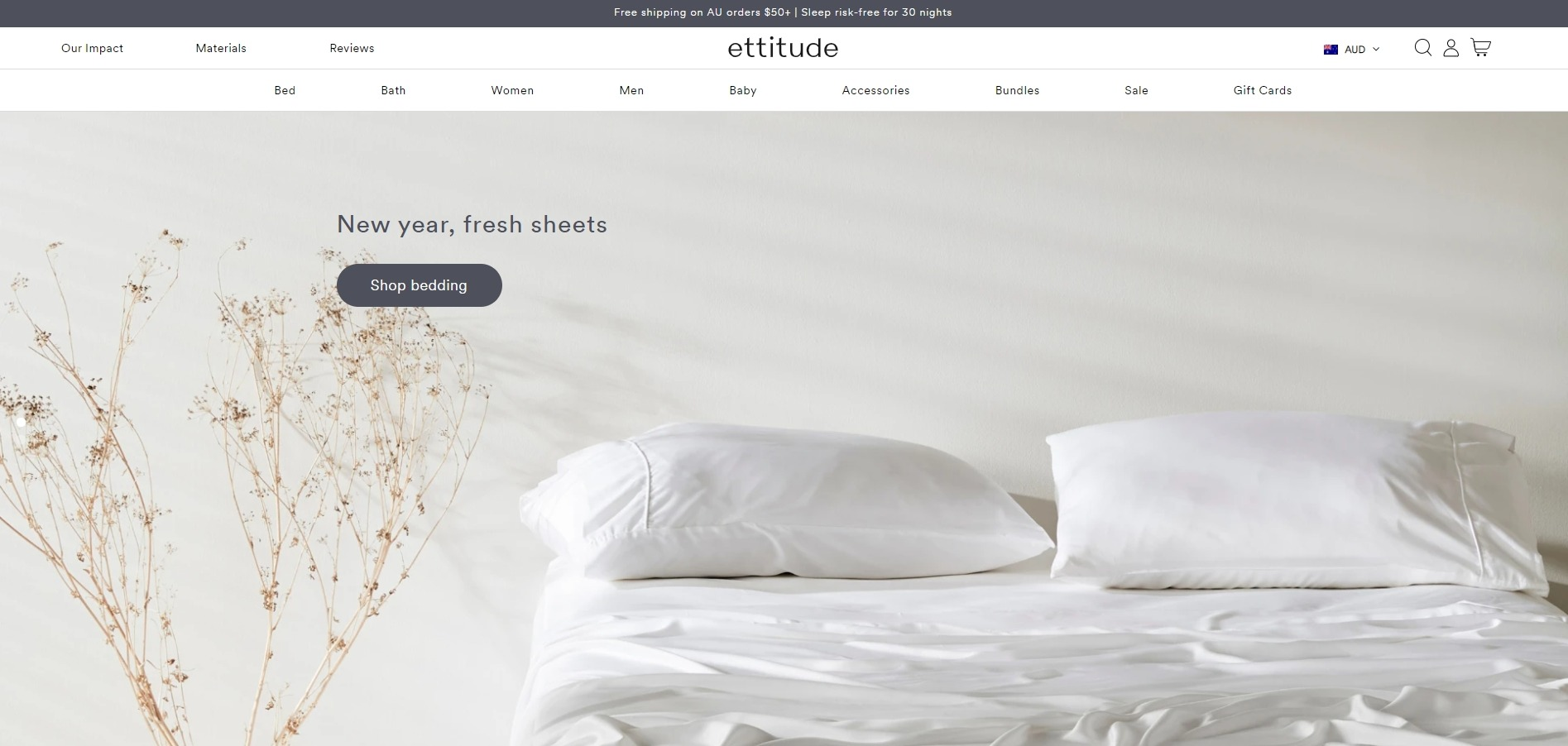 Based in Australia, Ettitude provides high quality bed sheets, duvet covers, and even loungewear. Their products are made from 100% organic bamboo, which can fight bacteria, ideal for sensitive skin, and better for the environment. You can also find a 2020 Impact Report of the company on the website to see how Ettitude positively affects the environment.
With the website, Ettitude did a great job in conveying a comfortable feeling with their design, leading visitors to check out their products and technology. The customer review section is also awesome, boasting of their over 5000 5-star reviews. The store certainly has a "Shopify look" that you can find in other Shopify stores but is still efficient.
The product pages of Ettitude is something worth learning about, too. The products are presented beautifully with closeup for details and a gif to show the feeling of the materials. Customers can leave reviews with real pictures, increasing the effectiveness of social proof for new buyers.
How to build a Shopify furniture store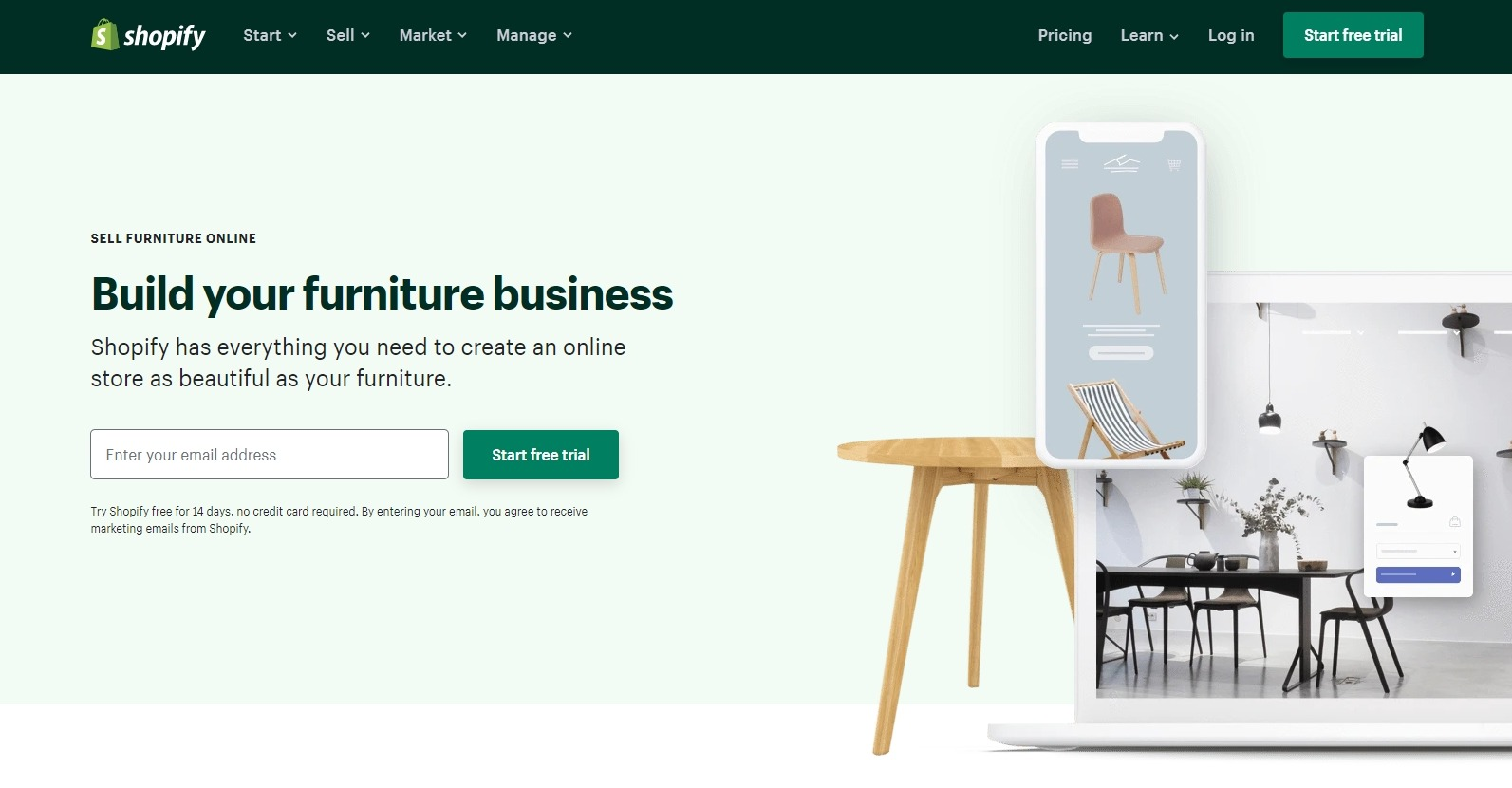 The furniture industry has a lot of untapped potentials to start a Shopify furniture business.
Just think about the necessity of good furniture. Children constantly go to college with the need for new or used tables and chairs. For parents, they always need new bed sheets or sofas. And when their kids start a new family, they will need new furniture all over again.
Chairs, couches, tables, desks, and every other kind of furniture you can think of are essential to a normal life. Your business won't have to worry about running out of buyers because everyone around the world will buy furniture at some points, you just need to show that you are the right option.
With that in mind, let's learn how to build a Shopify furniture store:
Step 1: Find a reputable manufacturer or wholesaler
With furniture, it gets a little complicated because we are talking about large to very large products. You can't really grow your furniture business by storing inventory in your apartment. However, in the short term you can do that, then choose a warehouse or storage facility as you grow.
When it comes to finding a furniture manufacturer or wholesaler, it depends on the type of furniture you want to sell. If you are selling vintage furniture, that will involve going to thrift stores, searching for random items online, and scouring antique stores.
For new items, you can purchase them by contacting wholesalers in your area or searching wholesalers on Alibaba. Searching for furniture on Alibaba can yield thousands of results at a great price. I recommend searching for your desired product type only. That way, you don't need to sift through the endless list of vendors selling furniture.
For dropshipping, your storage will be much easier. However, you must remember that your margins will decrease due to the setup process. Once you locate the product you like, contact the manufacturer to learn more about them. And, make sure you get relevant contact information since you should be able to contact them via phone. If you're considering dropshipping, then check out AliExpress.
Whether you choose to buy wholesale or dropshipping, you should always follow the same rules:
Establish a prospective person that you can always talk to.
Get samples from the supplier. Since this is for furniture, you may have to settle for a smaller product, but most vendors will be able to accommodate this. If not, you can simply buy a few products at wholesale prices, then sell them at your Shopify furniture store.
Do your research. See reviews, product quality and find all information you can about the company online. Many of these companies don't have a website, so that's a huge bonus point if they do.
Set the terms of payment, delivery time, and the amount of money you are willing to pay.
Read more:
Step 2: Set up a Shopify furniture store
Setting up a furniture website is a lot easier than before. Nowadays, you don't need a degree in web development or have a lot of coding knowledge. Instead, you can use an eCommerce platform, which offers hosting, design tools, marketing features, and payment gateways to start selling your furniture online.
With Shopify, sellers who buy wholesale can choose a beautiful theme, add products, and start selling within a matter of a few hours. Not just that, with an extension like Oberlo, anyone can start sorting furniture from AliExpress and start dropshipping.
For the first step, sign up your Shopify account, starting at only $29/month. Then, head to the Shopify theme store and pick a theme that can work for your furniture store. All themes are responsive on various devices with excellent layouts, but some are free and some are not. The Furniture category is the perfect place for you to start.
After signing up and having a theme, you have loads of impressive features to play with. I recommend building your Shopify furniture store with these steps:
Install and adjust your theme so it looks like your own brand's website.
Adding a domain that lets visitors immediately recognize your business.
Add your own products and connect with Oberlo if you plan on doing dropshipping.
Create a beautiful home page with your product galleries, logo, Buy buttons, and anything else you want to display (perhaps some social proof?)
Connect a preferred payment gateway so that customers can make purchases.
Launch your store and start marketing your brand!
Step 3: Promote your furniture products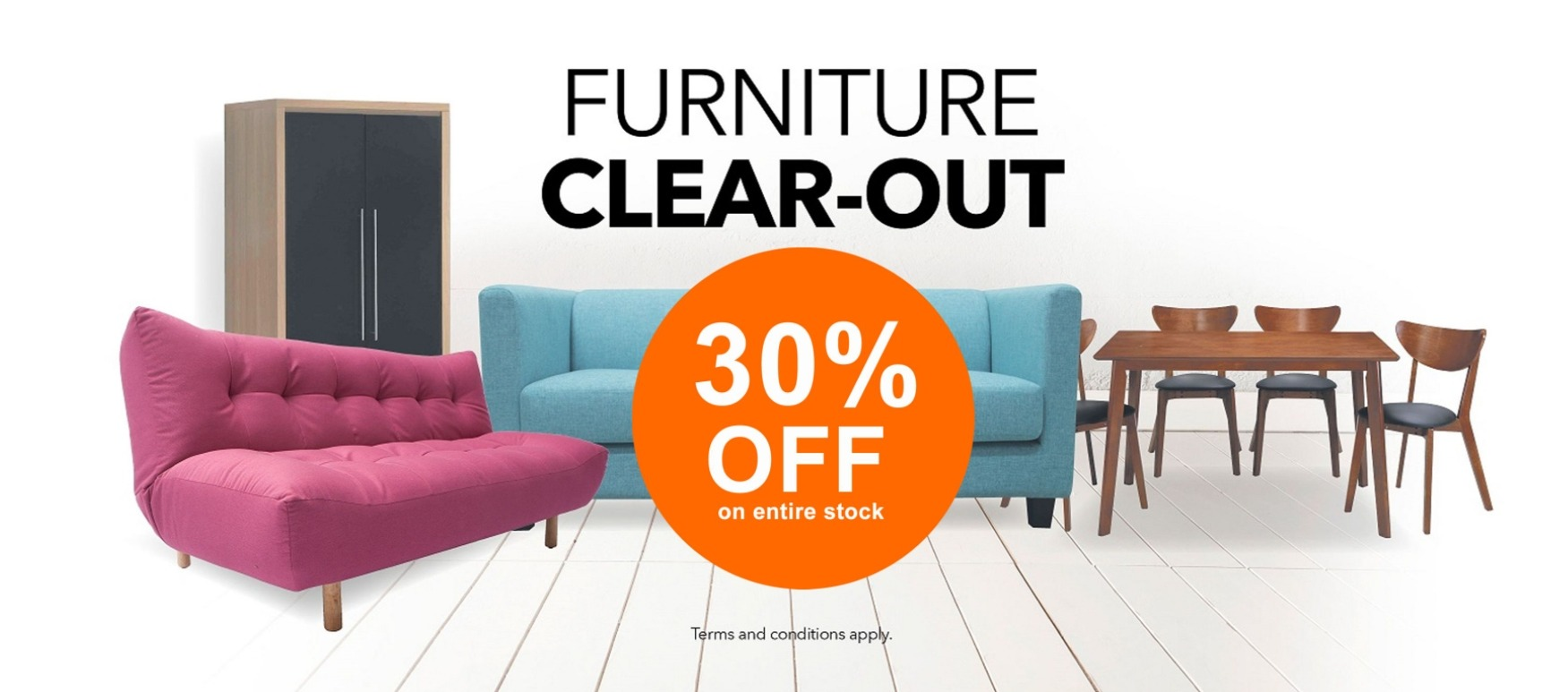 Promoting furniture products can be slightly different from other products. While you will need to try out different marketing strategies to see which works, here are some tips for an easy start:
A must-have task is to compile an email list and place email signup forms on your website. This way, you can send newsletters, blog post updates, receipts, and other emails to keep buyers coming back to your store. Avada Email Marketing Platform is the perfect tool for this with many email templates and automation features.
Even though not many furniture stores sell through social media, it all depends on who you are targeting. Many people are trying to improve their home and interior design after working from home for a long time. So think about this when creating Facebook ads and Instagram posts.
Interior designers and real estate professionals are a great referral source to bring your products to your customers. Also, if you are looking for whole buyers such as companies, schools, organizations, they are the ones you should talk to. Lastly, always take advantage of regular promotions and coupons to establish your customer base at the start.
Last words
In this article, you have found the best Shopify furniture store examples and learn how to build your own store, starting from finding suppliers to configuring an online store, and even start promoting your furniture products. These are the basics that you need to start, and obviously, there will be more challenges. But, the furniture industry is still a gold mine if you are willing to put in the effort and make your Shopify furniture store a reality.
So, what furniture pieces are you going to sell? How are you going to promote your very own furniture store? Let me know in the comment section, and I would love to share some advice on your eCommerce plan!
You Might Also Like:
New Posts
Stay in the know
Get special offers on the latest news from AVADA.