15 Best China Wholesale Websites, Best website to buy wholesale from china
If you want to drop ship your products, you certainly have landed on the right site. By describing 15 Best China Wholesale Websites to Find Dropshipping Products, this article will help you to figure out how to import and sell products from China.
If you do not know the right site to find dropshipping products, you may face up to the risks of dealing with a scammer or a terrible solution. They may rip you off, in other words, you may lose your money to such a bad website.
Therefore, to avoid this problem, you should read our article carefully. Let's go straight into the details right now!
Related Posts:
How is the quality of Chinese's products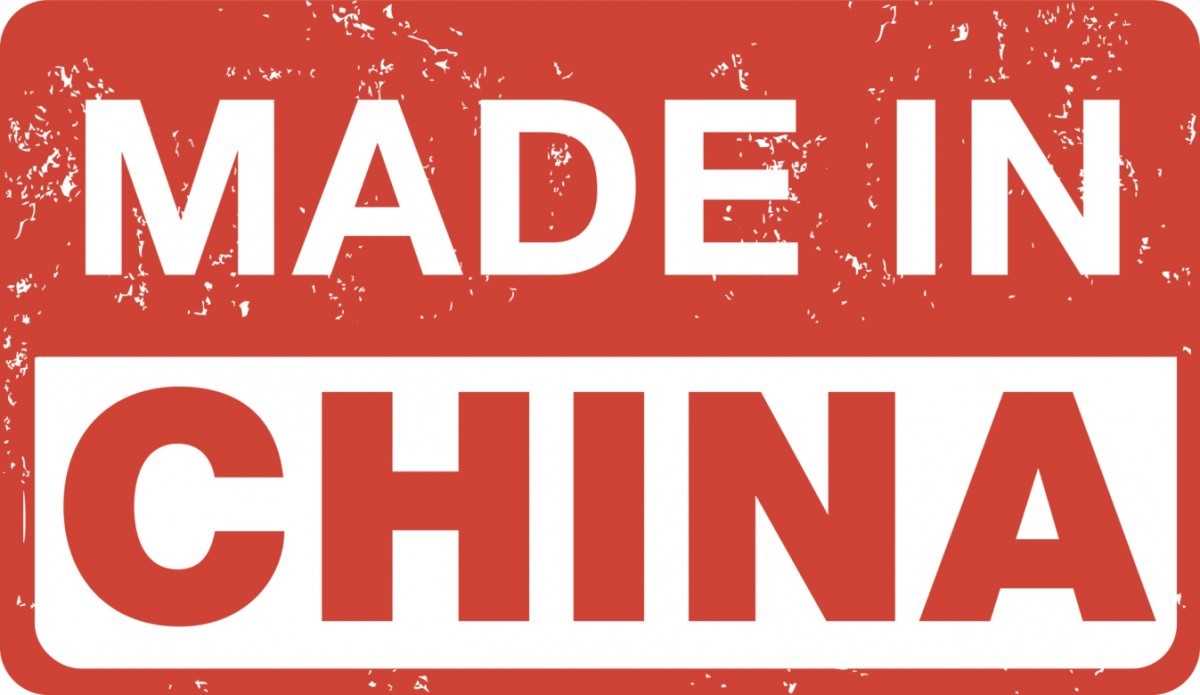 You can not evaluate the product quality based on its manufacturing place. There are a great deal of goods produced in first-world countries with unsatisfactory quality.
You can identify the quality by investigating the manufacturer's feedback. If there are multiple reviews, the producer can not create bogus ones. You should invest your time in reading these reviews and realize the quality of the products. Alternatively, you can choose to order one item as a sample and figure it out yourself.
Top 15 China Wholesale Websites
Aliexpress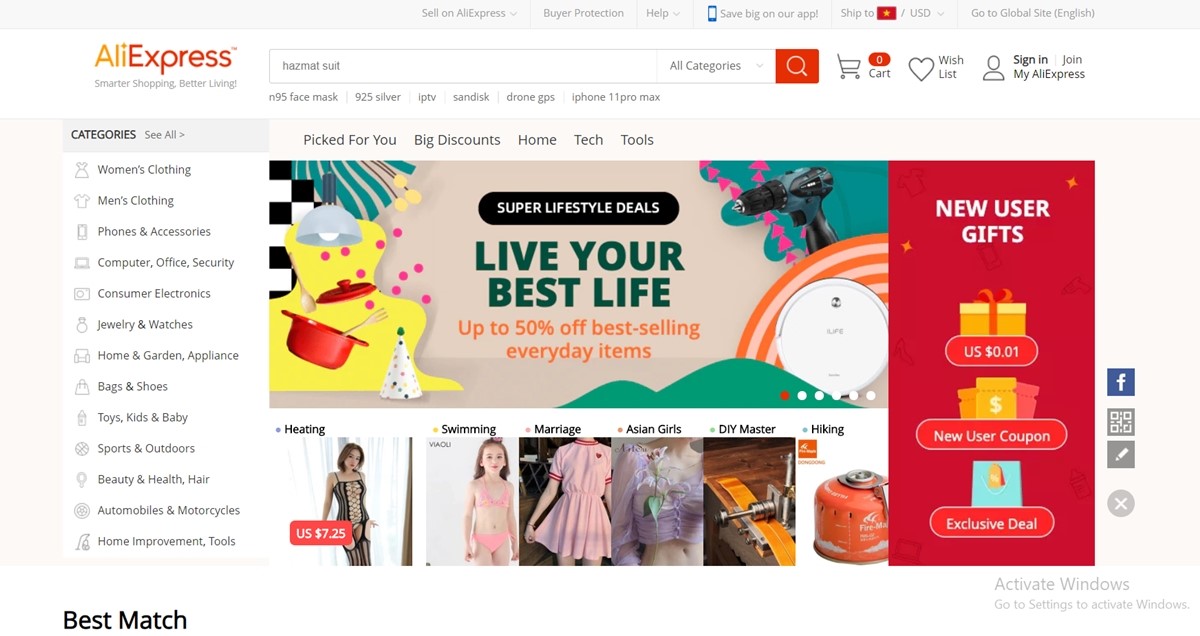 AliExpress is a one-stop wholesale online store for over 44 product categories. This Chinese website provides a very strong seller guarantee, flexible return policy, and fewer than 60 days on-time delivery irrespective of your geographical area. Besides, because they sell the products at very reasonable prices, they are considered one of the cheapest Chinese wholesale websites in the world.
DHGate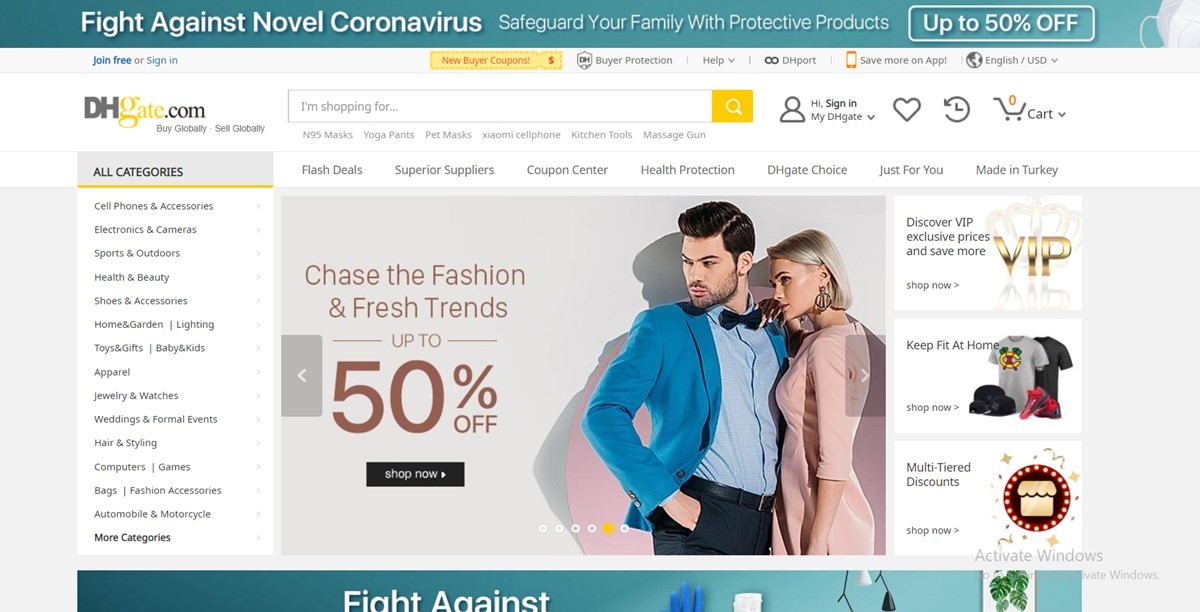 Launched in 2004, DHgate.com is considered one of the cheapest Chinese wholesale websites. It serves both suppliers in China and global consumers. With their top-notch drop shipping service, DHgate is like an ideal connection between buyers and sellers. They have various product categories of up to 29, some of which involve fashion accessories, home accessories, food, beverages, and many more. With DHgate.com, consumers can buy the products at any quantity from 1. In other words, they have no minimum order.
Chinabrands.com
Rated as the top dropshipping company in the USA, Chinabrands allows you to begin a dropshipping business with low investment. Besides, this website also offers customers with simple plan options for both suppliers and distributors. Visiting this website, you can have everything you need to develop your store. Its one-stop drop shipping service includes product sourcing, product publishing, system integration, and shipping.
Chinabrands auto integrates with more than 20 major platforms like Amazon, eBay, Shopify, Lazada, Shopee, Wish, Aliexpress, Cdiscount, Jumia, Priceminister, and many more. With more than 5000 specific manufacturers strictly reviewed by the professional QC team, you can purchase whatever you want at the wholesale price (from $0.3) with no MOQ limits. They even have discount point policy and CB points accounted as payment.
Besides, with more than 500 million products of 172 categories, Chinabrands also provides SEO-optimized product descriptions for you to download and import to your online stores free. Thus, the task of writing product descriptions will be taken care of and your online store will get a higher rank, attract more traffic, and convert more sales.
With global shipping with Next-Day delivery and auto-order fulfillment features, your single job is only to import products from CB, make sales on your store, place an order from CB, and finally, CB will ship the products.
Alibaba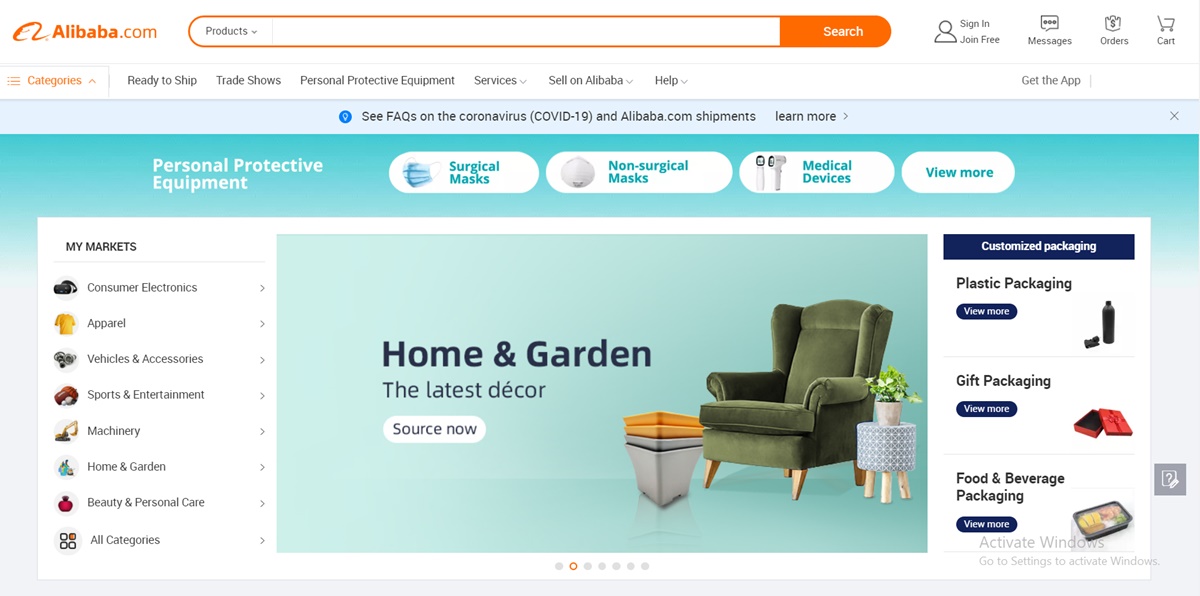 Established in 1999, Alibaba.com has been provided its fantastic wholesale service of various products. Like Chinabrands, Alibaba.com is one of the best wholesale drop shipping websites in China. The website sells roughly 40 major product categories, sources their products from various suppliers, and sells to millions of consumers.
This Chinese dropshipping website is trustworthy and has a positive mindset about business. Alibaba.com allows you to find and contact your best supplier effortlessly.
Made-in-china.com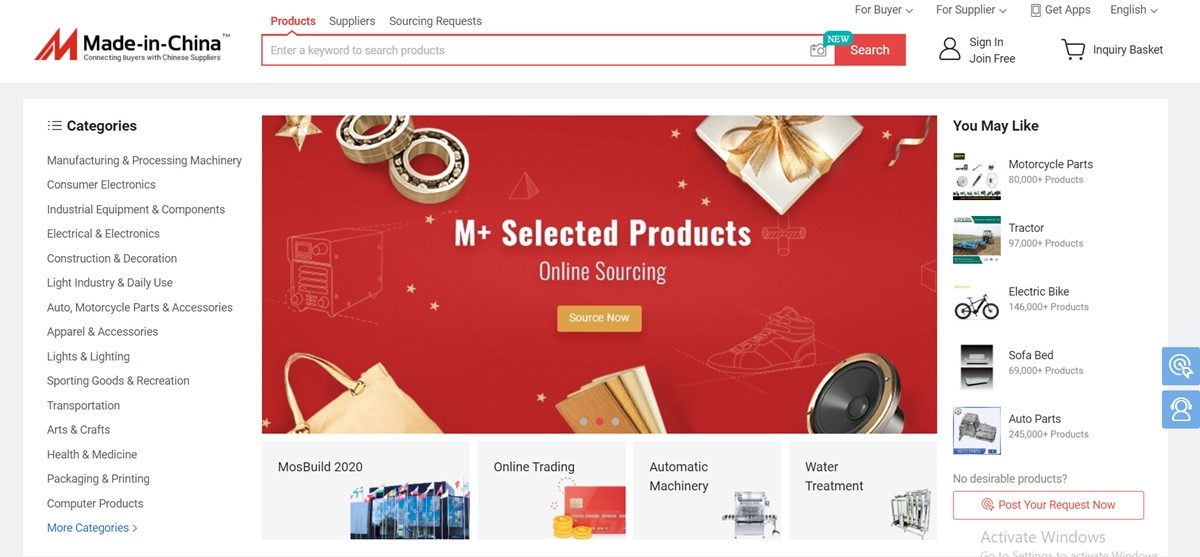 Established in 1998, Made-in-china.com is among the best wholesale drop shipping companies in China. With the product information of around 27 categories and 3,600 subcategories, the company sells quality China-made products that they got from the top product suppliers in China. Also, they offer their dropshipping services to engaged consumers around the globe.
Bangood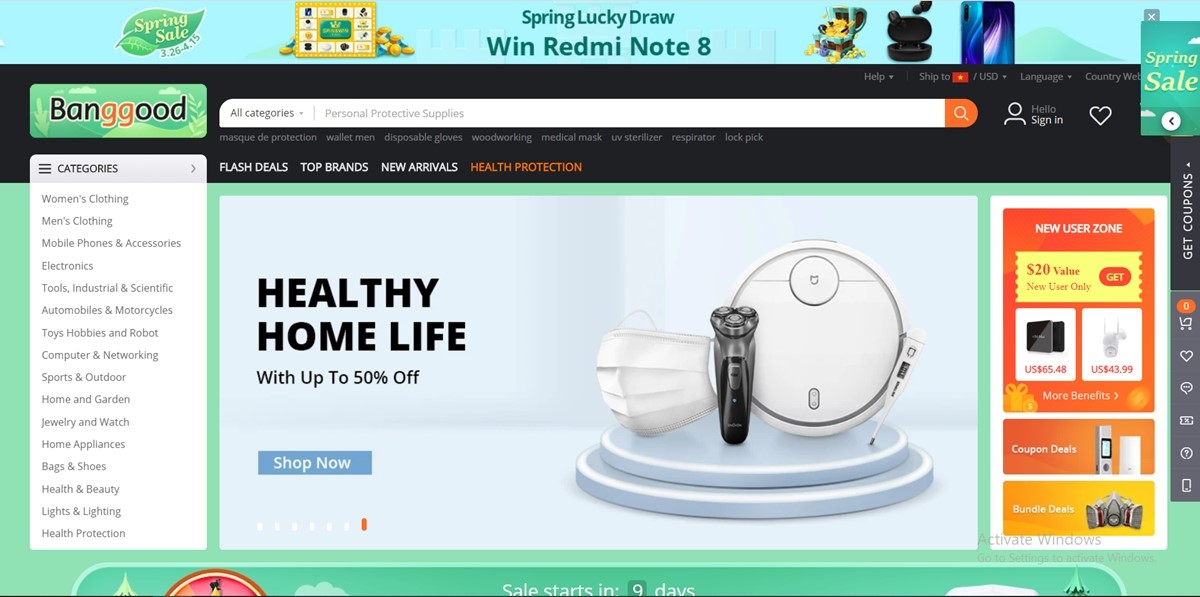 First launched in the year 2006, Bangood.com moved its sales from computers and technology to international eCommerce services. This Hong Kong-based company offers low-priced and high-quality products.
Its available products include clothing and apparel, home and garden, electronics, mobile phones and accessories, sports and outdoor, etc. Considered one of the cheapest Chinese wholesale websites, Bangood.com even offers its products to global customers. Its customers will be deeply impressed with the low shipping fee and speedy delivery.
Yaaku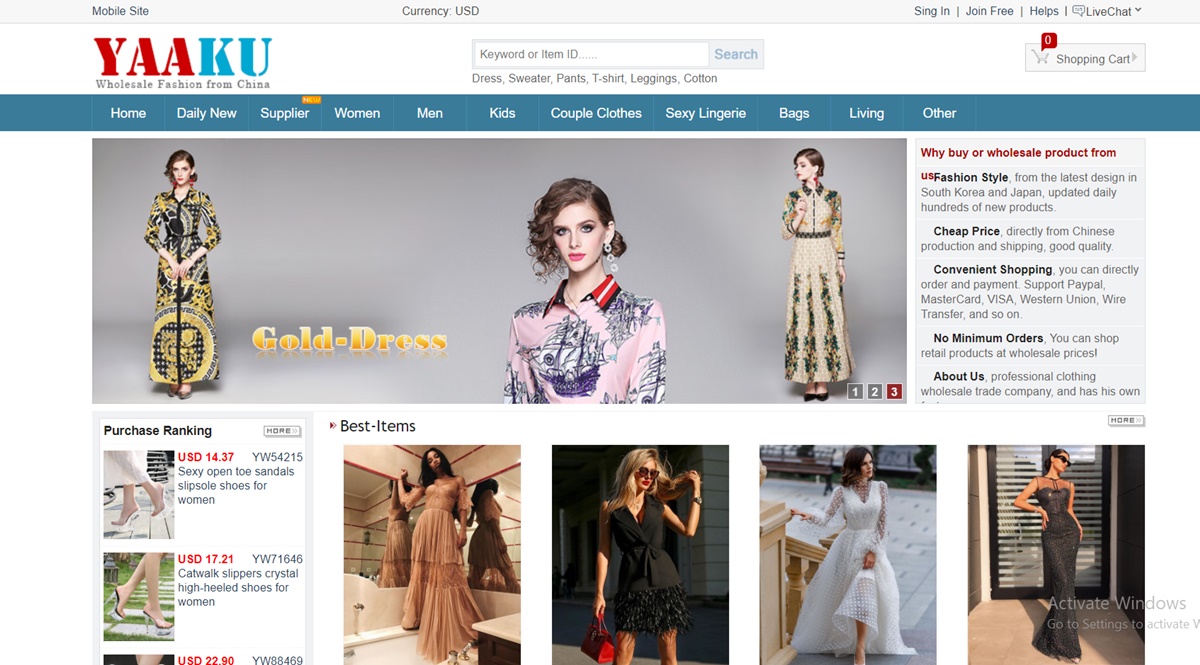 Yaaku.com is a Chinese wholesale website that sells fashion products like clothing, sweater, dress, leggings, skirt t-shirt, and many more. This wholesale website offers high-quality products at incredibly low wholesale prices, hence, it is regarded as one of the cheapest Chinese wholesale websites.
Not only that, they offer high-quality products, simplify the payment process, and provide fast delivery. Their fashion items serve women, men, couples, and kids.
Chinavision.com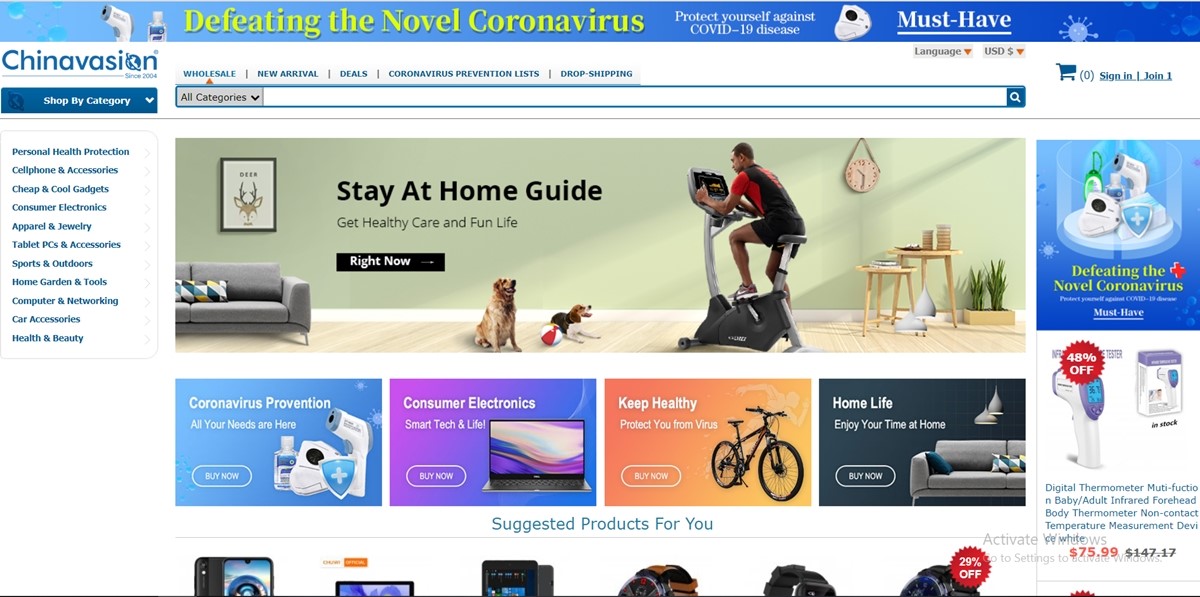 Launched in the year 2004, Chinavasion.com offers high-quality products at a low price, and this customer-oriented website is a top electronics wholesaler providing free drop shipping services for local and global customers. If you want to purchase electronics, then Chinavasion will be an ideal place because it is a safe, simple, and secure website. Not only that, they even offer both full-time pre-sale and after-sale services.
Modishhome.com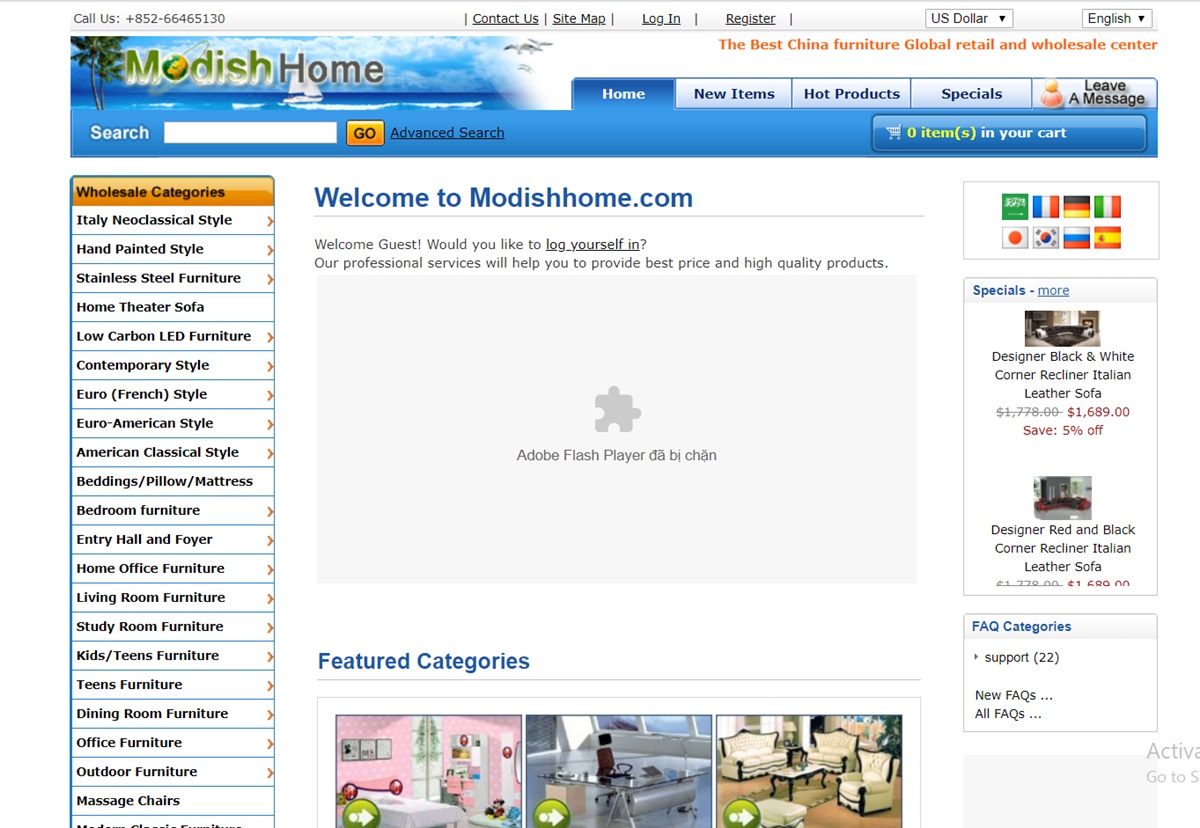 Modish Furniture co., Ltd- a sofa factory and wholesales them to global customers, owns the company. The Chinese online wholesale website offers wholesale furniture and household appliances made in China. Among the cheapest Chinese wholesale websites, their products contain living room furniture, dining room furniture, outdoor furniture, and many more.
Besides, their relationship with more than 100 furniture factories is strong. This china online wholesale website provides quick goods delivery, offers goods at a competitive price, and fantastic customer service. Besides, when you place an order on this website, there will be no minimum order quantity. In other words, you can order as many as you want.
Global Sources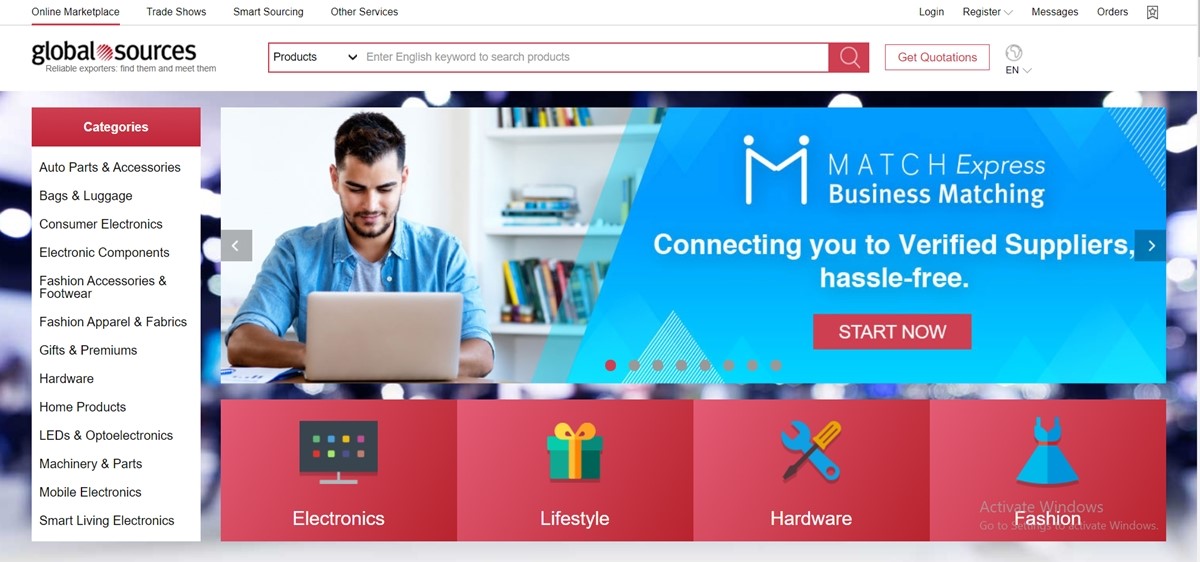 Regarding itself as a one-stop platform for all your sourcing needs, Global Sources is an online marketplace for wholesale sellers and consumers like DHgate, Alibaba, and AliExpress. This website also acts as a trade show facilitator by listing and serving to register for upcoming trade shows or fairs in China.
Besides, Global Sources offers different value-added sourcing services like product samples, smart sourcing, private sourcing events, bulk RFQ, and sourcing news & advice.
By verifying business licenses and other legal documents of the manufacturer, Global Sources have been reviewing the verified manufacturer badge of any seller. Also, you may have heard of the term "O2O suppliers". Well, it implies that denoted by an O2O badge, those suppliers that have owned a comprehensive online profile are participating actively in trade shows. And the independent verification agencies like TUV, Experian, Dun & Bradstreet, and many more have been reviewing the company certificates.
Unlike DHgate or AliExpress, Global Sources has no direct buy tool. Therefore, if you want to purchase something on Global Sources, you must send an inquiry to the supplier, then negotiate different terms like price, delivery, payment, and more. In other words, instead of adding products to the cart and checking out, you must choose the delivery method and payment method after you negotiate with the supplier. For safety, you should use PayPal as it comes with an in-built buyer protection service. Hence, if the seller fails to perform to its agreement, you can always file a refund claim with the PayPal team.
HKTDC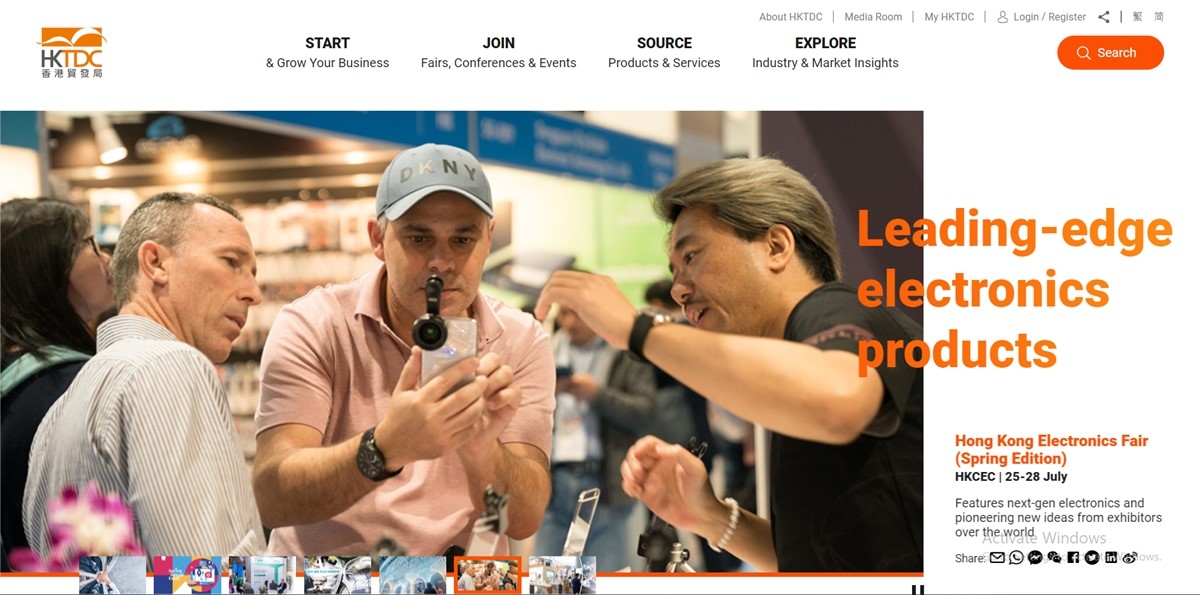 HKTDC is an abbreviation for the Hong Kong Trade Development Council. Established in the year 1996, it is a reliable online wholesale marketplace with over 130,000 Chinese suppliers. In addition to being an online marketplace, HKTDC is also an organization devoted to the economic growth of Hong Kong traders. With its headquarter in Hong Kong, the organization also allows you to attend fairs, exhibitions, and conferences. Besides, by using this website, you can keep up to date with the most recent industry news and events.
Sadly, direct logistics is not one of the services that HKDTC offers. Hence, you may have to talk to the supplier and decide on the same thing. For the so-called "Small Order Zone", you can choose products, add them to cart, and checkout. Also, from here, you can pick your desired logistics partner like DHL, FedEx, etc. and view the rates.
You also must finalize the payment method by discussing with the supplier. Nevertheless, for small orders, HKTDC supports payment via PayPal. In other words, the PayPal refund policy protects the small orders.
DIYTrade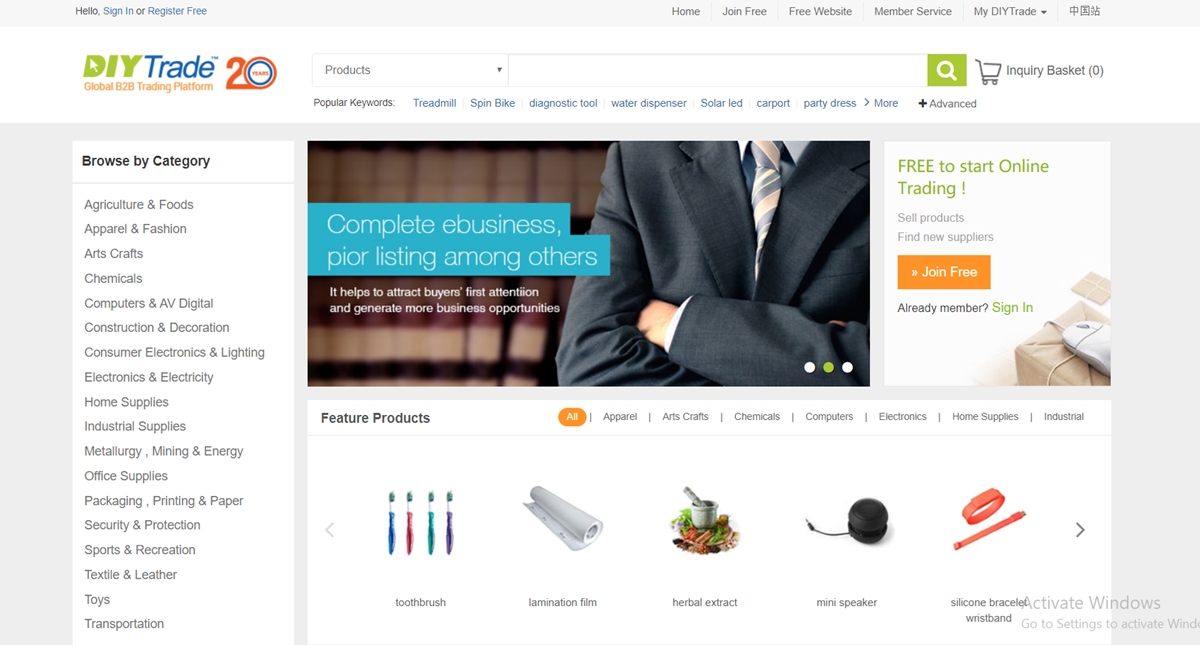 With over 5 million products, DIYTrade regards itself as a China product directory and B2B trading platform. Established in the year 1999, its headquarter is in Shenzhen, China.
On DIYTrade, Biz Members are active sellers who set up their websites, product catalogs. Also, its customer support like chat and many more is excellent. Hence, if you want to purchase anything on DIYTrade, then you will need to search for the Biz Member icon next to the seller name. Not only that, 3rd Party BizVerify indicates that DIYTrade has checked the sellers business licenses, on-site facilities, other critical business metrics via an independent third party.
Besides, concerning the terms of the logistics, you will have to discuss with the supplier and finalize them because DIYtrade does not support adding products to the cart and checking out. Therefore, you must send an inquiry to the supplier to purchase on DIYTrade. Then, you can negotiate the price, payment, and logistics method. Thus, the delivery time will vary by your location and your choice of logistics method.
It is highly recommended that you choose PayPal mode of payment as its transactions come with a buyer protection guarantee. Therefore, if you do not get your ordered item, you can file a refund request with PayPal team. Bear in mind that to process the refund request, PayPal will ask for your papers to be available. Therefore, keeping purchase documents such as purchase orders, invoices, and more on hand is crucial.
TradeKey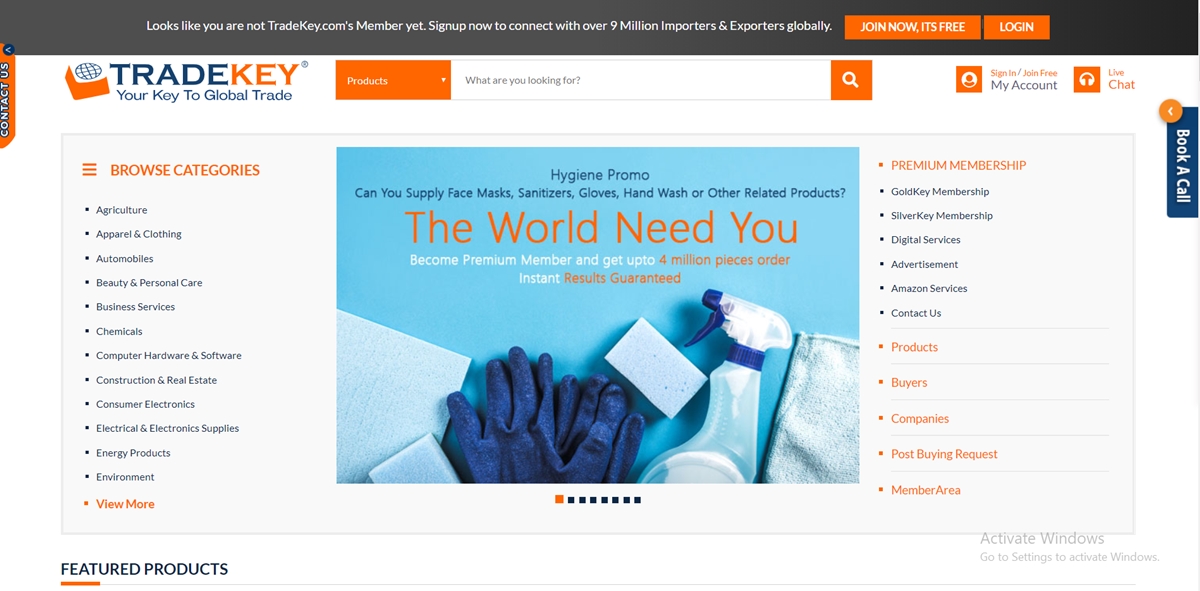 Established in 2006, Trade Key is among the top and reliable Chinese wholesale websites. Its headquarter is in Riyadh, Saudi Arabia. On Trade Key, Trust Points indicate the seller or exporter's reliability and the level of being legitimate. You can look at the Trust Points icon next to the seller or exporter's name.
You can tap on the seller name, after that, you can click on the Trust Profile link to the right of the page. From here, you can see trust points, joining year, the number of feedbacks, and business type.
From the seller profile, you can view factory location and size, the number of production lines, R&D, and QC staff. You can also see certificates, registered capital, and export percentage. From these details, you can decide whether this is the right seller for you.
If you negotiate well, you can have a good deal. You can also discuss with the seller for information on delivery mode and time on TradeKey. It does not support direct picking up of your desired delivery partner. The delivery time will vary by your location and delivery type option.
TradeKey does not support direct buying mechanism where you can add to cart and check out. Therefore, you have to determine the payment method after your discussion with the seller. In this case, the picture is the same for Trade Key. You should choose PayPal as a payment method because of its buyer protection policy.
Global Market
Established in 1995, Global Market is a China-based M2B(Manufacturer to business) bulk wholesale website. Its online marketplace has its headquarter is in the Baiyun district of China. Global Market connects high-quality Chinese manufacturers with customers all over the world.
GMC (Global Manufacturer Certificate) is issued to the Chinese manufacturers that fulfill the 8 strict benchmarks established by the Global Market. TUV-one of the world's leading certification agency conducts the GMC test. Every test involves manufacturing facilities, product quality control, company size, dedicated export team, R&D capability, social & environment responsibility, trustworthiness & reputation, and OEM/ODM capabilities. A GMC can assure the reliability, product quality, and the level of being legit of any manufacturer.
Because Global Market is not a direct buy wholesale shopping platform, you will have to discuss with the supplier for the logistics information. Nevertheless, Global Market had merged (in 2006) with Shenzhen Euroland Logistics that enables its partnership with 200 logistics partners around the globe. You also need to talk to the manufacturer for the payment method.
Global Market only lists top-rated manufacturers so you can get good prices. However, you have to commit to a specific volume when you negotiate with the manufacturers.
LovelyWholesale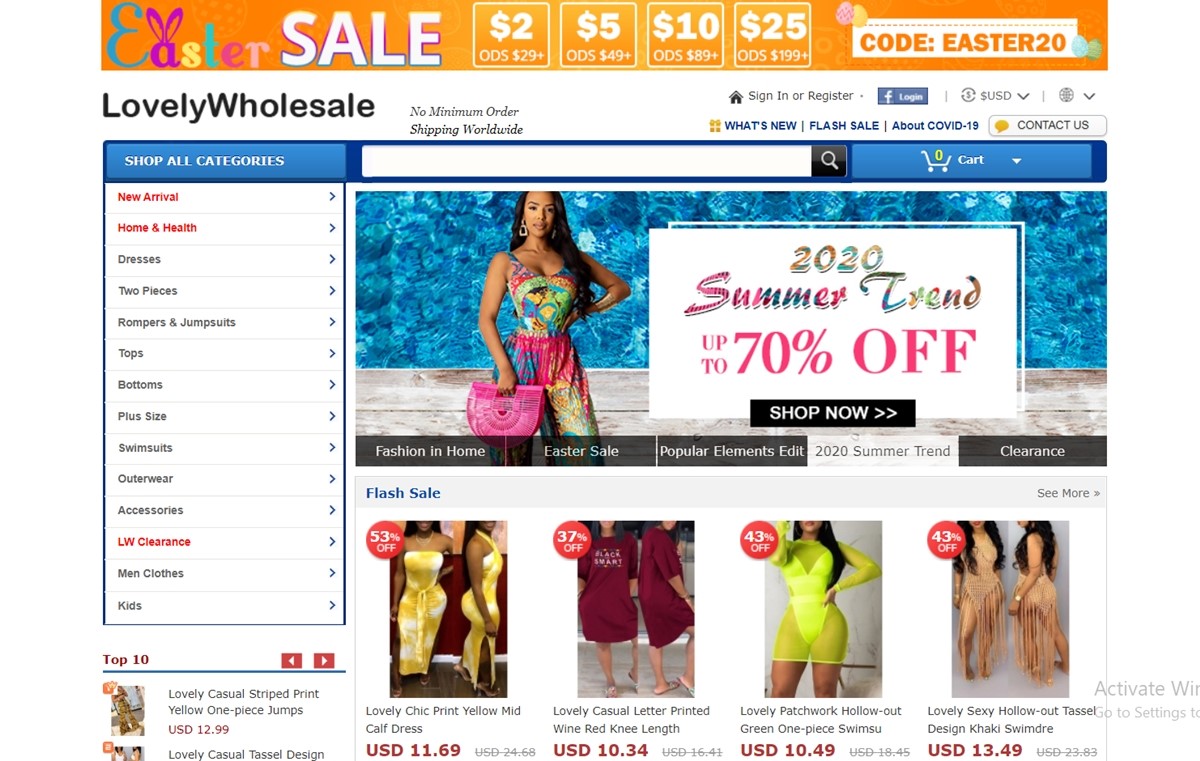 As a Chinese wholesale website, Lovely Wholesale offers women garments or clothing. So far, compared to the previous websites mentioned in the list, it is the only website that is not a marketplace. With factories located in Guangzhou & Shanghai, China, they have 6000 styles listed on their platform.
If the orders you get are malfunctioned, ripped or torn, with stains, or different from website photographs, then you can contact the Lovely Wholesale customer support team to file a return or refund request. If you find the damage of the items you got, you can send the picture of the damaged products to them. Once they have reviewed the level of damage, they will offer a discount on your subsequent order, reshipping, or a full or partial refund. If you do not receive your order or get the wrong item, you can receive a refund or reshipping from them.
Clothings are prone to trigger common size problems. To handle them, Lovely Wholesale customer support team can help you to return the item if the size is not as expected. You can reach their customer support team by submitting a ticket or live chat. Then, you can fill in and submit the complaint form by clarifying problems, item code, pictures, and many more. You can expect their response within 24 hours.
Lovely Wholesale delivers the products via China Post. The shipping charges may be dependent on how fast you want your orders. Their 3 delivery options include 3-5 workings days, 6-10 working days, and 15-20 working days.
On this website, you can pay via PayPal or Western Union. You can also use your credit card on the PayPal checkout page. Also, since it is not a marketplace, they can have direct control over product quality. What's more, if you place an order on more than 10 items, then you will enjoy an 8% save instantaneously.
How to import and sell products from China?
Now, let's proceed with the journey of finding good products import and sell for yourself.
Find suppliers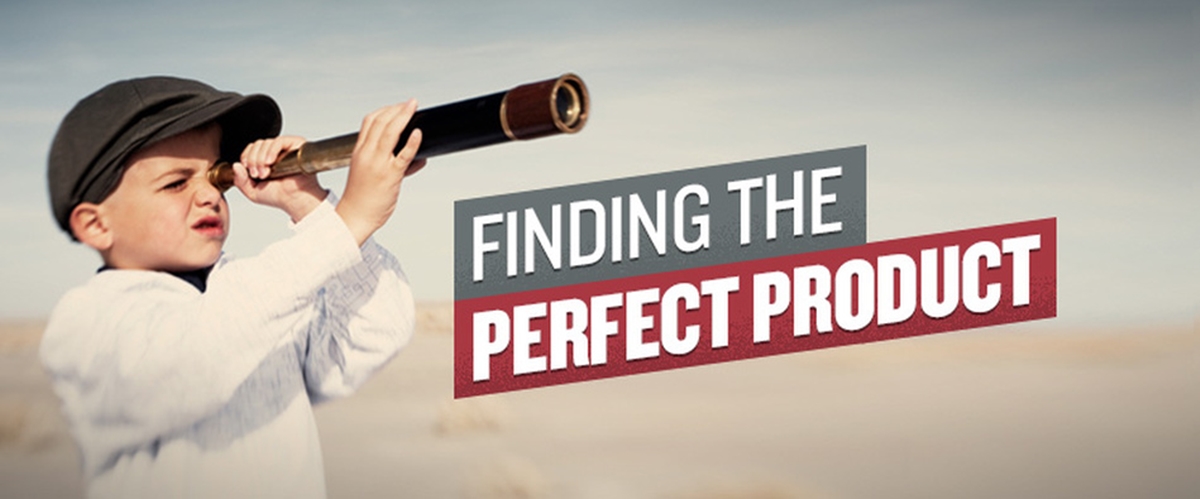 The first step is to find a supplier. If you are wondering where to find a supplier, then you should go to AliBaba-the largest wholesale website in the world. To protect you from scams or unreliable suppliers, AliBaba will show you only Gold members. You should not believe in any certifications from fraudulent solutions like Doba, WorldWideBrand, Volusion, etc.
On this platform, you can find thousands of suppliers. Because it is so big and anyone can open up a store in this marketplace, navigating among countless numbers of factories, manufacturers, trading companies is not easy by any extent. So how can you find a supplier on Alibaba that is trustworthy enough to do business with? You can find the answer in this article: A Comprehensive Guide on How to Find a Supplier on Alibaba
Find products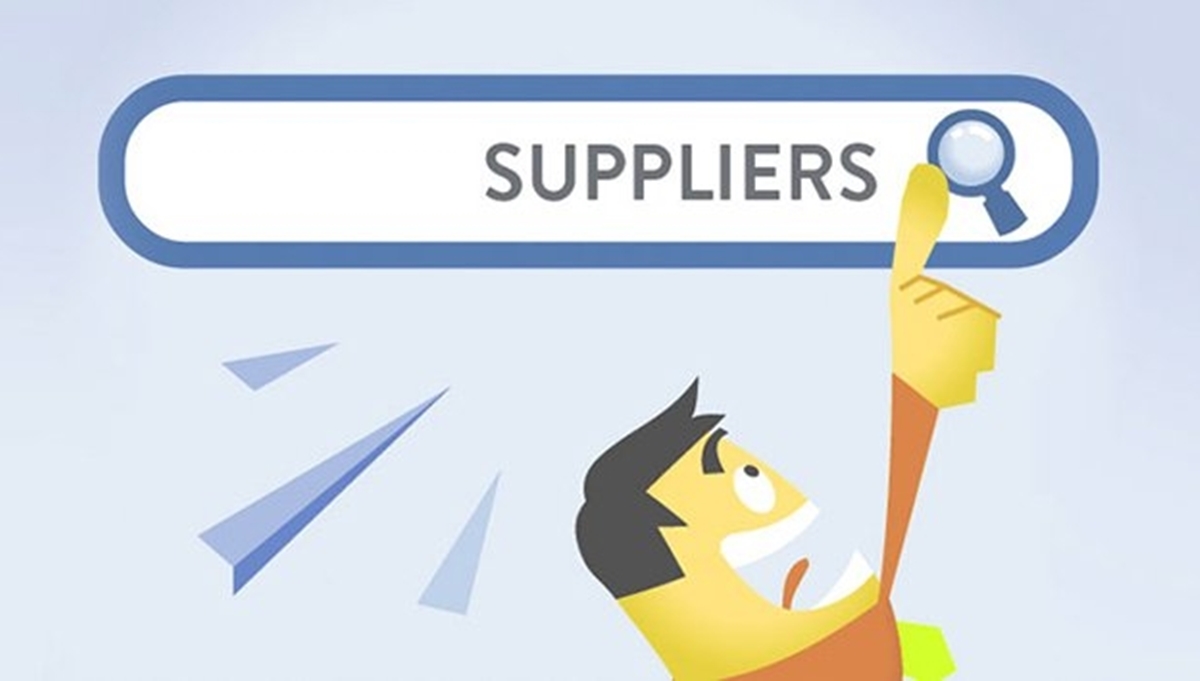 After you find the right place to identify a supplier, you need to figure out where and how to find products. However, the type of items you want to sell have some limits as below:
It must be small and light
For example, if you want to deliver furniture or kitchen appliances all over the world, then you will be in difficulty. For a lower shipping fee, you must choose the products that are small and light, otherwise, you will hurt your profit margins.
It must be a simple item
In this aspect, your products should be simple to manufacture and has a high margin of error to some extent. A majority of these factories will not have the highest international quality standards, therefore, the higher margin of error you can bear with is crucial in achieving your customers' satisfaction.
Keep it in the $10-200 range
If you are selling products any higher than this, it will be very capital intensive and so much riskier. Higher-priced products require more hard work in shipment, higher quality control, and they can trigger increasing mistakes when you first engage in importing.
Do not sell what you buy
A majority of us purchase electronics, clothes, food, and other necessities. In any of those markets, you may have little or no competitive advantage. Therefore, you should niche down here and create your success.
Do not go seasonal
You should look for the products that have a consistent base of consumers. You should avoid the seasonal stuff, for instance, the stuff for Christmas and winter. Otherwise, you may face up with the possibility of useless inventory.
Alternatively, you can search for the products based on your judgment. Let's check out the websites like Alibaba, eBay, Amazon, mySimon Top Searches, Shopzilla Top Searches, Kaboodle Hot Picks, and many more and navigate around. From those sites, you should explore the market data and look for incredible product opportunities.
Identify and contact suppliers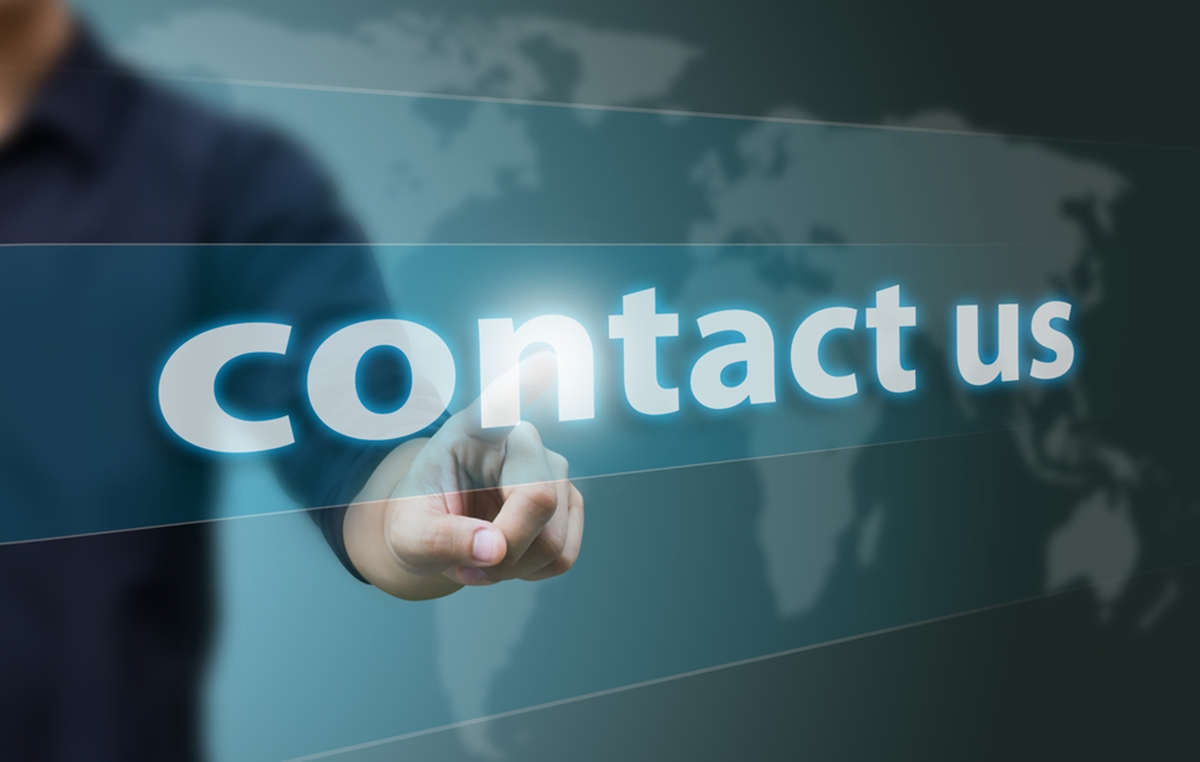 Now that we have a supplier and a product, you can begin filter through suppliers and contact the most desirable ones. Follow the four simple steps below:
Use correct filters
You should start searching for "Suppliers". You can filter it by "Gold Supplier" and adding "Onsite Checked", "Assessed Supplier", and "Escrow". By whatever means, you have to narrow it down to the top suppliers and take from 20 to 30 of them.
Contact only the good ones
Now, you have acquired a list of the superior suppliers for your product, it is time to contact them and investigate more information by asking them specific questions. You can begin with MOQ (Minumum Order Quantity), then payment and shipping policies, sample policy, and a price list or product spec sheet. All of this type of information may have already been available.
Evaluate the information
Based on your judgment, you can identify whether they are taking your business seriously or not. Their customer service this time may reflect how it will be in the future. You should not hesitate to haggle and embark on a price war to some extent, which is popular in China. To have a good price negotiation, you should lock the price potential range at a lower level, low-balling the initial offer.
Do a sample
This is the most interesting step. It is time to place several orders as samples delivered directly to your address. You should order from 2 to 5 most potential suppliers. You should take into consideration the estimated delivery time, costs, damage, and many more. You should assess the sample products you get carefully by considering your customers' possible reaction and feeling. Therefore, choose something that you want to be proud of selling.
Sell your products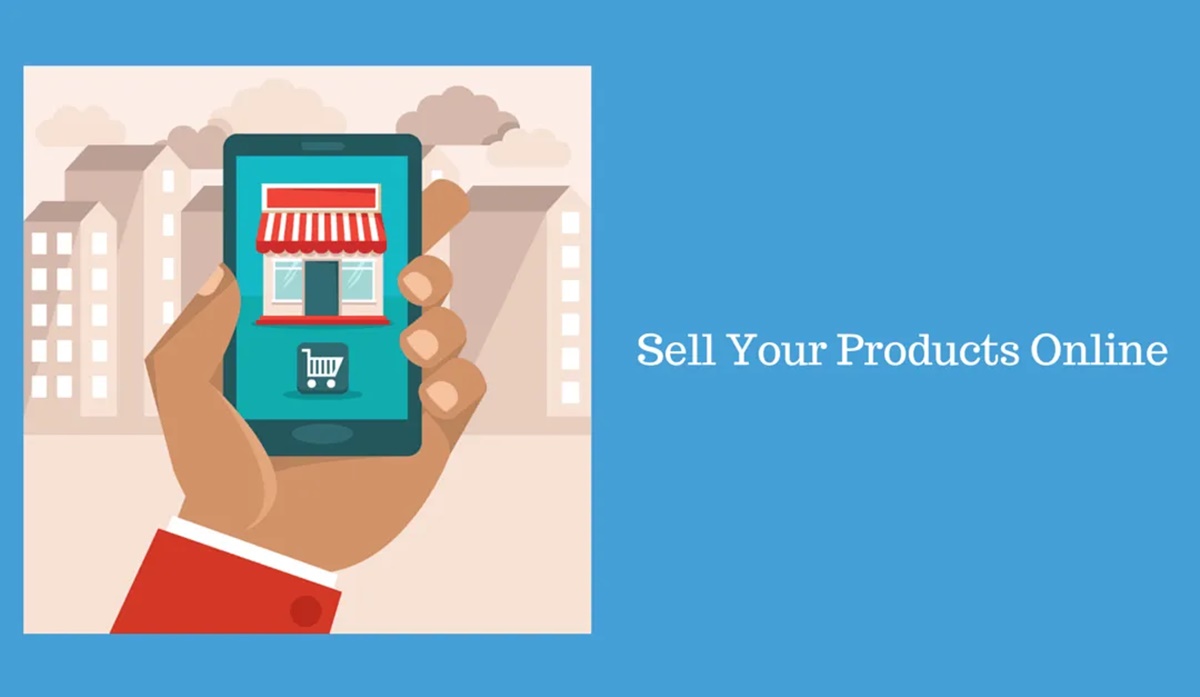 In this step, you must prepare your inventory. It is recommended that you choose only 5 to 10 items to initiate. When you have engaged in selling your products, you should choose two of the following three sales channels: Amazon, eBay, and Craigslist. Launching a store on all of these is simple. You can just take a look at what the top sellers of your products are performing, learn from them, and strive hard to have a competitive edge.
Almost all the time, the copy text used in eBay and Amazon ads is free domain from the manufacturer, so you can obtain a great deal from other sellers and easy Google searches. One or two days after you introduce your product, you should start making the first sale. At this point, things just got interesting. You can wait to see what it will be like after you deliver your products at the closest post office. You must guarantee prompt shipment and proper packaging. It is highly recommended that you add in a thank-you note with a website or other ways to make them remember you and to increase brand loyalty.
In a month, it may be clear whether you should find a new product or whether you should scale up your existing product. If your product does not invite any sales on those sales channels, you'd better make an end to it and start looking for another product to sell. But if your product is in high demand, let's proceed to the final step: scale this baby up.
Scale, Advertise and Tracking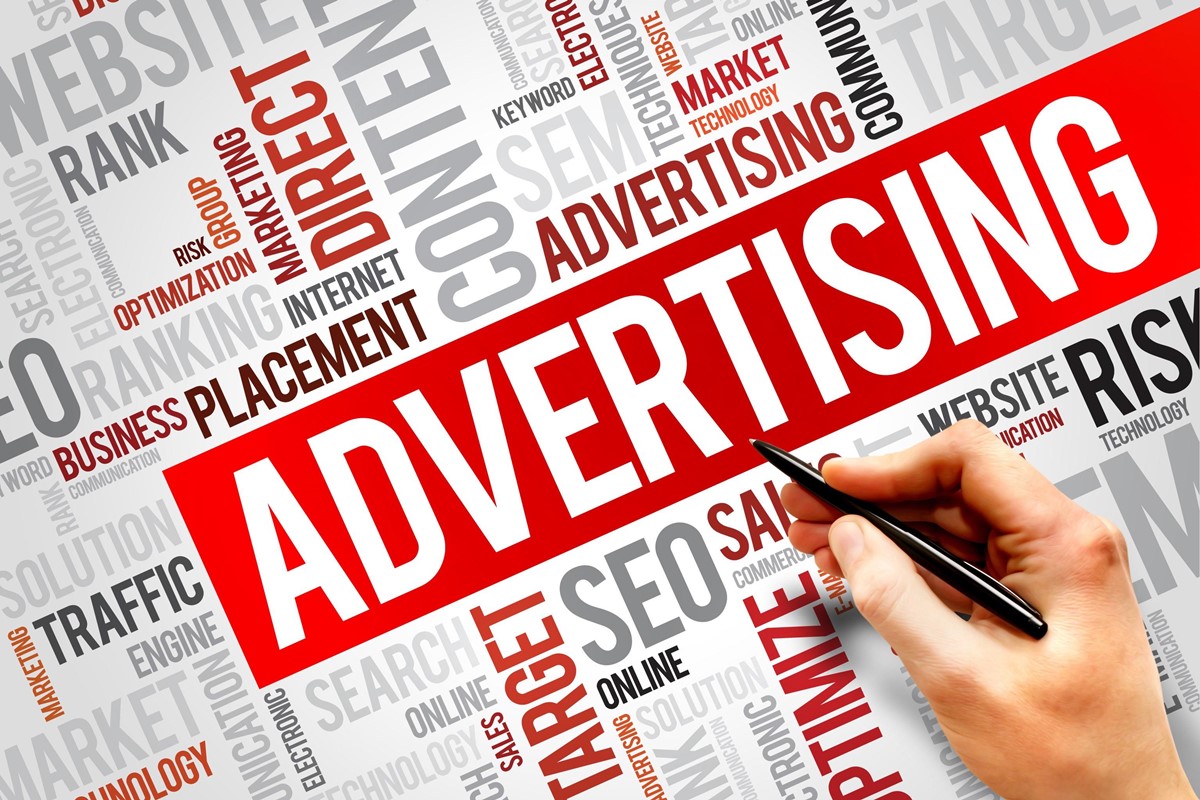 The next step is to monitor inventory and shipping. Then, you can add more products to eBay and Amazon, deliver promotional materials with shipments, advertise, and create a brand name. To work it out, you must have a fantastic supplier from the beginning.
To assure the future gain, you should execute advertising programs with Amazon and eBay. You can also try engaging yourself in other sales channels like Google Shopping, Bing Shopping, and every other online shopping venues. Then, you should brand yourself by choosing a good brand name that signifies your customers and products you are selling to them, and that makes you proud. For example, you sell normal hoodies and zip hoodies, you should choose a brand name as "Firsthoodie.com". If you are out of ideas for your brand name, you can visit our post here: How To Name Your Brand? 10 Naming Tips for Your Business
You can also add coupons and promotional stuff in each shipment. For your customers, you can send them an email and an SMS subscription with details and updates on their order. Try running PPC (pay-per-click) campaigns or getting the most out of the social media platform, too, maybe they will worth it. Concerning social media, note that social media reach is a major part of any marketing strategy. As one of your very first steps in promoting your content or brand, social media reach is essentially your audience base or followers or customers. To improve it, let's check out our article: Maximize Your Social Media Reach In 5 Easy Steps for the most simple and effective techniques.
Regarding the negotiation with your supplier, you should finalize the good terms related to price and shipment. Then, start outsourcing the processes. Remember, the process is not that easy, therefore, you have to be patient and put your hard work in it.
Conclusion
To sum up, we have revealed to you the 15 Best China Wholesale Websites to Find Dropshipping Products. We hope that you can make up your mind better when you start dropshipping products. We also hope that you can be determined in your career and create your success story.
Also, you may have heard of Aliexpress, which has been dominating the dropshipping segment. As one of the largest sources for businesses to dropship products at the lowest possible price. So what is the difference between Aliexpress and Alibaba? Well, you can find the answer here in this post: Alibaba Dropship vs Aliexpress Dropship Reviews.
If you have any questions, comments, or concerns; do not hesitate to leave a comment below or directly contact us. We are always ready to help you out in case you need anything. Furthermore, if you find our article useful, then you can share it with your social network's community. We would appreciate it if you could do that.
---
Mike is a content writer at Avada, with a love for video games, gadgets, and software. He has been writing about the industry now for over 7 years. He likes to keep up-to-date with the latest software releases. He's also an avid reader, and he enjoys spending time outdoors with family and friends. When he's not working, you can usually find him playing video games or exploring new outdoor activities.
New Posts
Stay in the know
Get special offers on the latest news from AVADA.