How to Safely Put Your eBay Store on Vacation Mode?
You are planning for the coming vacation with your lovable family? What should you do with your eBay store? Don't worry since eBay Store provides a highly customizable platform with a professional finish that includes a vacation setting.
By turning on eBay vacation mode, your potential buyers will know that you are away for a while or you are enjoying a break at some point during the holidays. If you have a store on eBay and a stated handling time of 1-5 days then the How to safely put your eBay store on vacation mode post is for you.
Let's get started!
What You Need to Know Before Using eBay Vacation Mode
As the name says, eBay vacation mode is designed to help you deal with problems happening when you are on holiday. Sounds cool, right? But you need to take into account some notes below before using eBay vacation mode:
While you are away and set up the vacation mode, eBay will continue to charge normal fees. For example, your eBay Store subscription fee and listing-related fees still have to be paid as usual.
After you update your eBay Store vacation mode, your listings are not hidden immediately but the process takes for several days.
Once your vacation settings are turned "ON", they remain in effect until you change them to "OFF".
When you turn off the eBay vacation mode, your listings will also take several days to appear in the search results.
Also, you need to consider some additional caveats to fixed price listings as follow:
When your fixed price listings are hidden, your buyers cannot see them in your eBay Store, search results, or cross-promotions. If one buyer added one of your items on their watch list before you set the eBay vacation mode on and tries to buy it while you're busy, there will be a note saying that you're on vacation and not processing orders.

Though your store stops working for a while, all auction-style and other listings will continue to appear as they normally do.

Buyers used to buy your items will still be able to view them.

All other details of your fixed price listings stay the same. For instance, your listings can come to an end if they aren't set to be automatically renewed or relisted.

Only when you turn off this option in your vacation settings will your fixed price listings be displayed.
Read more:
When to Use eBay Vacation Mode
Now that you know some caveats important before using eBay vacation mode. It's time to talk about when to use them. In case you have one-day handling or a must-have break on your eBay store, here are some possible situations that you might suffer from and suggestions for dealing with them:
You need to close your eBay store from Friday morning to Sunday night or Monday morning: The stated handling time is just about 2-3 days so you do not need to turn on your Store Vacation Settings. You can easily print postage labels and upload tracking for your Friday, Saturday, and Sunday sales any time before midnight on Monday. In this way, they will be made in your one-day handling time window.

You need to be away for one weekday night: Again, no need to turn on your Store Vacation mode. Let's print postage and upload tracking for any sales made at any time before midnight on Thursday. For example, on Wednesday morning.

The stated handling time is up to 5 from Monday through Friday morning: In this instance, you should use your Store Vacation Settings to start the vacation mode. Also, if you are about to be away longer than two days but not able to print labels and ship packages, you still can use the Vacation settings.
How to Put Your eBay Store on Vacation Mode
Taking a break from your store for a while, you can turn on the vacation mode and hide your fixed price listings to prevent your customers from waiting for packages you can't ship on time. Also, you can add a note announcing that your store is closed temporarily, what time you will be back, and turn on your out-of-office response to answer any messages asked while you are not around.
To solve that problem, eBay provides a tool called Store Vacation Setting that enables you to:
Post a message that informs your buyers about your out-of-office status and your return date. The message appears above your listings and right on your Store home page.

Make your live listings and Fixed Price listings are hidden from the searching area and out of the audience's view. However, if you have Auction Style Listings, they will remain on the search and open for bids until you close them. It is highly recommended you should plan for your auction-style listings to end before you leave or after you come back.
How to turn on eBay vacation mode
Let's look at some simple steps to start your vacation mode:
Step 1: Go to your eBay Store and click on the My eBay section in the upper right corner of the screen.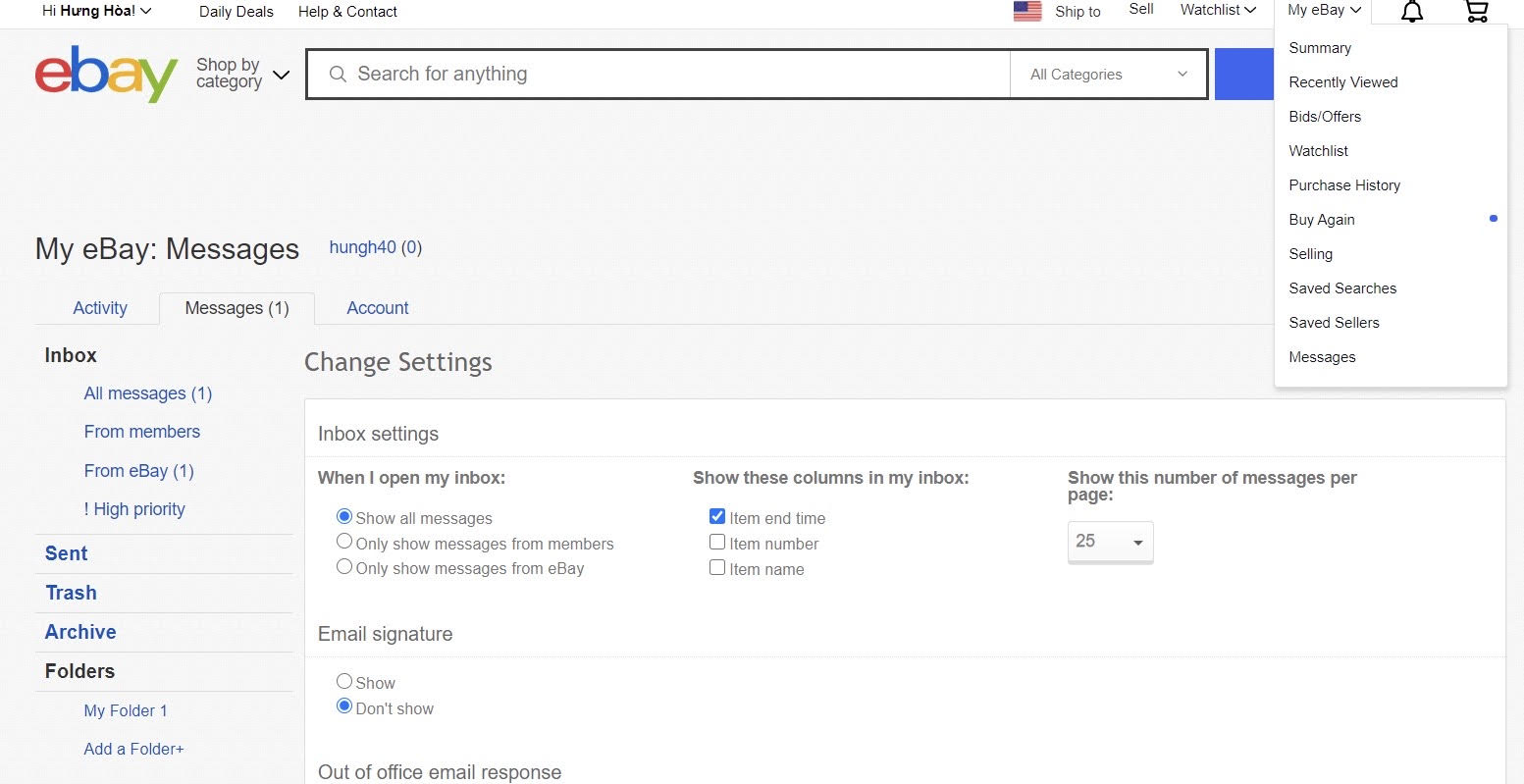 Step 2: In the Change settings section of the Messages tab, choose Turn on that is below Store Vacation settings. You should scroll to the bottom, look at the left column to see the settings.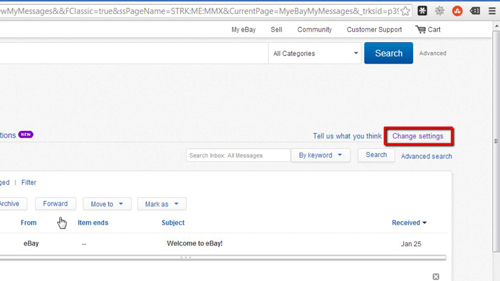 Step 3: You can add in a short message announcing that your store is closed. Successful merchants often include their suggestions to add their shops to the "Favorites" part of customers and ask them to come back soon.

Step 4: Click on the section that says "Show people the date that you'll be back" and enter the time your Store is re-opened.

Step 5: Finally, don't forget to hide your fixed price listings. Tick on the box that says "Hide and block purchases for my fixed price listings" to stop all purchases from your listings.
Hiding your fixed price listings is an essential action since you will not be exempt from eBay Performance Standards when you just turn on the vacation settings. However, as long as you can ensure your stated handling time and shipping times, it is possible to only turn on the vacation mode without blocking purchases from listings. Check out the Active selling page on My eBay to extend the handling time of your listings.
When the handling time is over, you can turn off the Store Vacation Settings with some easy clicks. Go to your Store Vacation Settings by following the previous steps and choose the "Turn off" box under Vacation settings to stop the mode. Take note that "Seller's Other Items" view may take some minutes or even more to appear completely.
How to turn on the out-of-office email response
What's more, you can also turn on the out-of-office email response. Your fixed price listings will still be seen if you start it. Follow the steps below:
Step 1: Go to the Messages tab of My eBay section as mentioned above.

Step 2: Tick on the "Turn on" box under the Out-of-office email response section.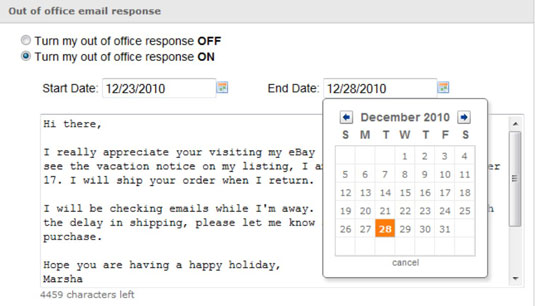 Step 3: Fill in the begin and end dates which present the time your out-of-office email response will be sent to customers asking you.

Step 4: Enter a suitable note to reply to your customers who message you. In this part, you can also include information about your return date when you are ready to answer your questions.
Related posts:
Conclusion
Now you don't have to worry about your closed eBay store during vacation time anymore thanks to eBay store vacation settings. If you need a break, apply the easy steps above and go enjoy yourself. You did work hard for the whole time and you deserve that interval.
Hopefully, our post has given you everything you need to know about eBay vacation mode. If we missed something, do not hesitate to leave us a comment in the section below. Share it with your friend if you find this helpful and visit our site for more interesting topics.
Thank you!
---
Sam Nguyen is the CEO and founder of Avada Commerce, an e-commerce solution provider headquartered in Singapore. Sam aims to support more than a million online businesses to grow and develop.
New Posts
Stay in the know
Get special offers on the latest news from AVADA.