How to sell on eBay using Shopify
Last updated: December 01, 2023
Selling on ebay using Shopify brings a lot of wonderful opportunities for online sellers to attract more customers and boost companies' profits. However, not all businesses have seen the potential when using Shopify to sell items on eBay. So, why should you sell your products on eBay with Shopify? There are two concrete reasons to prove that Shopify is a great tool to make you more outstanding on eBay platform. In this article, I will share with your guys two key reasons why you use Shopify on eBay, steps to sell on eBay and packages for business to sell on eBay.
Why should you sell your products on Ebay with Shopify?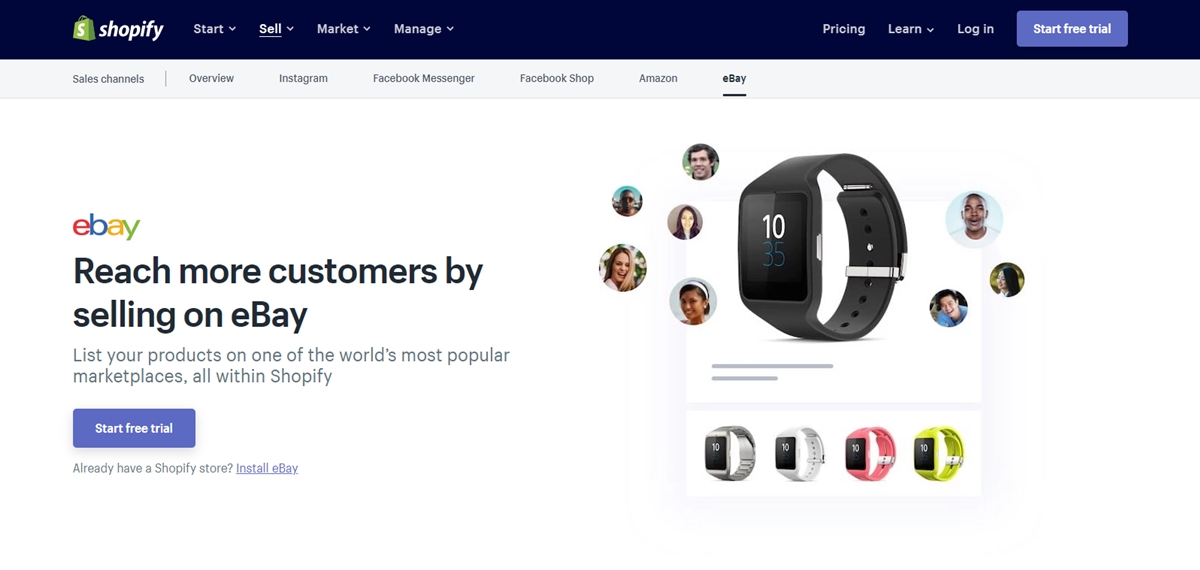 Sellers may wonder why they should open their store on eBay platform and use Shopify to advertise their products. These questions are answered by two major factors. First, eBay is the third most popular marketplace in the Us and second, Shopify is partnered with eBay.
eBay is the third most popular marketplace in the US
The US - the top consumption market in the world is a place that many sellers want to boost their products because of the large number of buyers, fewer barriers to entry, quick order management and easy resource to analyze demand and supply patterns.
eBay attracts around 171 million dynamic purchasers all over the world. Additionally, eBay shopping app has been downloaded 3.65 million times and 65.9 million monthly US users access the eBay app. Furthermore, it is calculated that $9 billion in revenue is made from orders on smartphones.
Shopify is partnered with eBay
Some sellers who have already sold their products on Shopify which is an e-commerce platform designed with cloud-based technology may wonder if it is possible to connect with eBay. Don't worry! Shopify and eBay decided to be partners and allowed merchants to do the product listing and sales from their Shopify accounts. Therefore, a ready-to-use sales channel is created between the two platforms so that members can access to a wide customer base of eBay.
This new integration provides a comprehensive channel and rapid information synchronization about inventory. Shopify eBay market will synchronize your stock data over single dynamic channel, hence you don't need to be afraid that your competitors have more variances of products than yours. Plus, thanks to the cooperation, business owners can manage successfully their transactions on eBay through a centralized location. In Bob Kupen's opinion, vice president of eBay, the integration paves the way for merchants to display their items to millions of active eBay users. All in all, the partnership benefits all sellers on Shopify.
How to sell on eBay using Shopify
This part will guide you with five simple steps to sell your products on eBay using Shopify. However, before going to the main five steps, obviously, you need to install the eBay app to connect with your Shopify account. After the installation and connection with your account, a box will appear to prompt you to create an eBay account if you don't have one. In case you have already eBay account, the last one is to agree on the condition of publishing your lists.
Now, we will look through 5 steps to sell on eBay using Shopify:
Step 1: Add eBay as a Sales Channel
To set eBay as a sales channel of Shopify, first you login to your Shopify account, a list of options appears and you click a plus (+) sign on the right side of the sales channel which locates at the bottom left side of the page. Then you successfully add eBay as a Shopify sales channel.
Step 2: Link your eBay account to Shopify

After you allow eBay to publish your products, orders, the second step is to link the eBay account to Shopify. You tap the "Connect" button to active the linking process, then click on the Add Sales Channel to continue. When the process finishes, eBay's login window will appear. However, this window will not happen if your browser blocks it, so you should allow eBay to integrate with your browser.
Step 3: Configure your eBay policies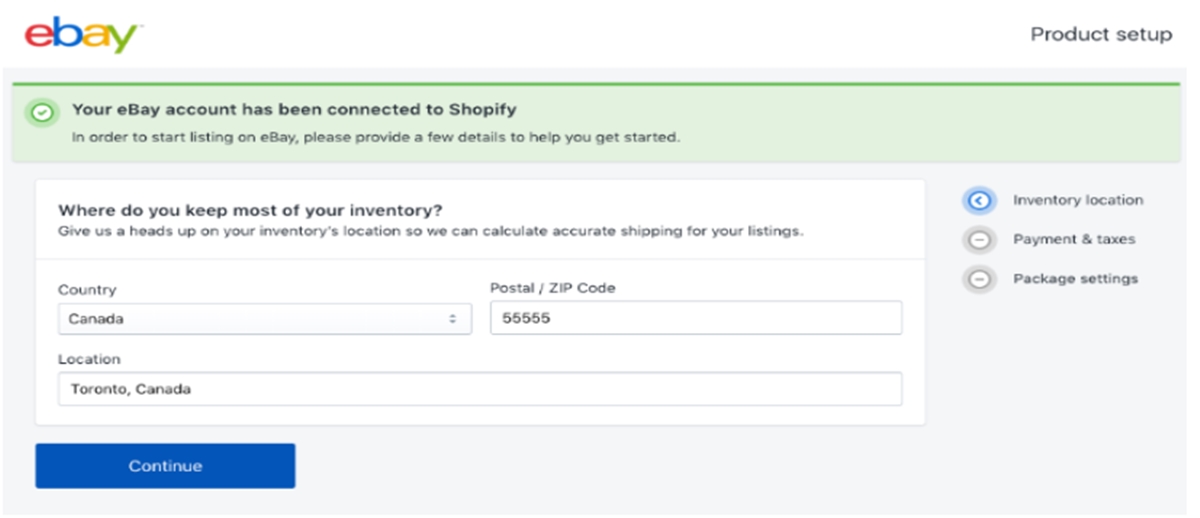 In order to work well on any platform, you must provide information about your location, sales terms, and terms of fulfillment. Furthermore, it is suggested that you set the default policies because they are beneficial eBay Shopify dropping success.
Step 4: Select Products to Publish as eBay Listings

In order to select products to publish, you click on Review and Publish to publish all your products at the same time. If you want to publish partially, click on Choose Individual Products. Moreover, you can select to publish your preferred items or hot-seller products by tapping by clicking on Save and Publish. Publishing will make your item available on eBay.
Step 5: Customize and Publish Selected Products

When your products are listed on eBay platform, shop owners can add details or adjust the price easily and publish them. At this step, a table showing your listed items will appear. The rows represent your products and the columns represent parts of the listing created for each product. After checking all information like price, origin, eBay title, you click Save and publish all products.
To manage the inventory on both two platforms, you have to do these things every day: check orders, eBay messages and the number of inventories.
What does it cost selling on eBay using Shopify?
Interestingly, you don't need to pay extra fees for selling your items on eBay platform, instead you pay for your Stores Account. The fee for the monthly subscription ranges from $24.95 to $349.95. Besides, you can buy the premium account which offers a three-month fee of subscription of $225.
If you want to know more about each package, eBay offers three subscription plans:
Basic plan: this plan is suitable for merchants who list at least 250 items monthly.
Premium plan: this plan is tailored for sellers who have at least 1000 items monthly.
Anchor plan : this plan is preferable for merchants listing not less than 10,000 items monthly.
In addition, Shopify reserves a certain percentage of net revenue made on each item sold through eBay.
Putting it all together and Summary
In conclusion, the eBay channel is a potential marketplace for merchants to reach more than 170 active buyers worldwide as well as a huge resource of 1.1 billion items. Therefore, the cooperation between eBay and Shopify brings a lot of benefits and might help sellers generate more revenue. It is also a place that sellers and users can communicate with each other and managers can get customer insight via statistics provided by the system. I hope that this article helps you get more details about eBay, Shopify and the mechanism of doing business on the platform.
Related Posts:
---
Sam Nguyen is the CEO and founder of Avada Commerce, an e-commerce solution provider headquartered in Singapore. Sam aims to support more than a million online businesses to grow and develop.