Shopify eBay Integration Review: What Does It Mean for Online Merchants?
Selling on Shopify is known as an incredible difference in the comparison to selling on eBay. Even though they are two distinct business models and if you are just a beginner to the world of eCommerce, you might wish to weigh up your options. With the current emerge of the new Shopify eBay Channel, online merchants who are selling on eBay can be missing out should they not set up a Shopify online store.
The channel allows easier selling through both eBay and your own Shopify online store, with the fact that all from one centralized Shopify hub.
Exclusive Offer: Get Shopify 93 days for just $3 + The Online Store Starter Kit
Start a 3-day free trial, then get Shopify 3 months for $1/month plus the premium package designed especially for new Shopify merchants!
Start Free Trial
In this article, you will be offered a better understanding of the Shopify eBay Integration review.
Recommend: How to sell on eBay using Shopify
An overview of Shopify and eBay
Shopify introduction
Shopify is widely known as one of the most popular eCommerce platforms that let everyone set up their own online stores and sell their items. Online merchants can sell their products personally with Shopify POS.
Shopify has been working for more than ten years since its founder Tobi had a desire to sell the snowboards with his own company called Snowdevil. Then, he quickly recognized that it was challenging to sell snowboards online without using the eCommerce platform. Hence, he came up with the decision to generate it by himself and that is the reason why Shopify has been here up to now.
Shopify is becoming the leading commerce platform that is designed for any business of any size. No matter what your store focuses on, including selling online, selling in-store, selling on social media, and so on, Shopify covers them all.
Whether you are a jewelry designer and would like to start an online business or a musician that wants to get your latest mixtape sold or if you want to establish your business, Shopify can help you with all. More than hundreds of thousands of online merchants come from more than 175 countries who trust Shopify in order to start selling their products. In addition, you will find out a variety of services or products you can start with Shopify. Even if you are already sellers, it can offer you several ideas for many other services you can sell to develop your own.
eBay introduction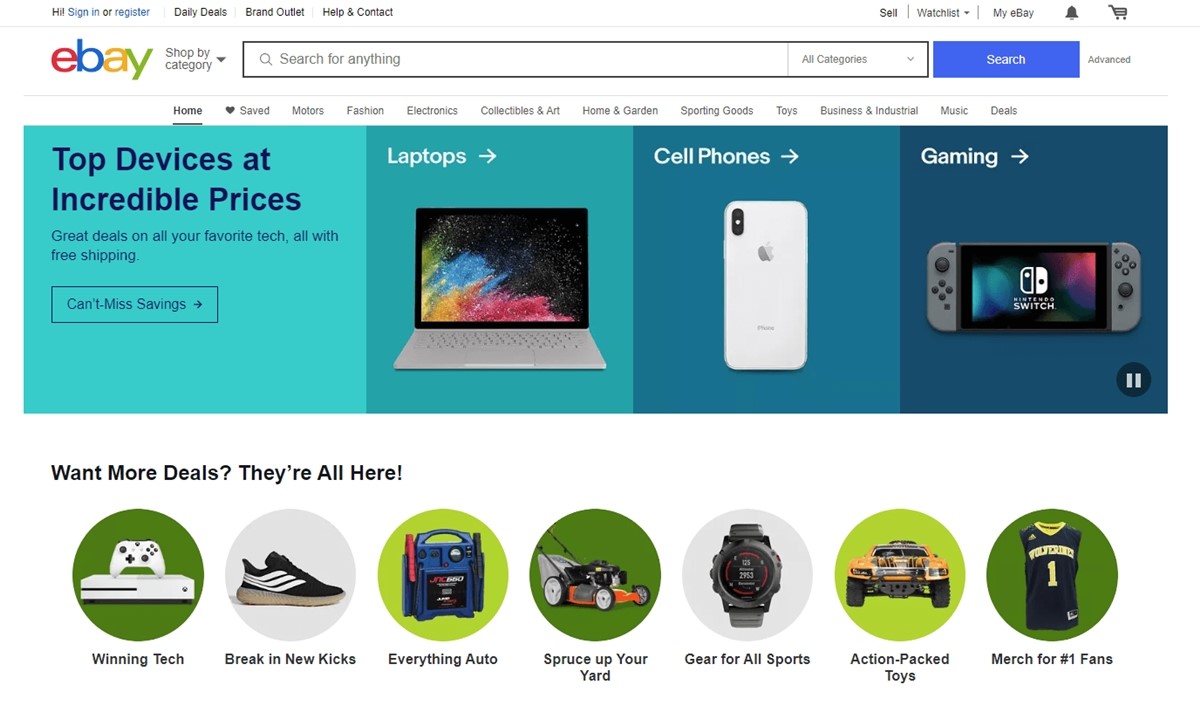 eBay is an online shopping website, which is famous for its consumer to consumer sales and its auctions. It is considered one of the most widely-used for any online store owners to use as their sales channels. eBay is available in various countries; however, you can seek products available in your own local area by filling in the zip code. Another way to do this is to search for available items both nationally or internationally.
Anyone can create an eBay account for free. You can choose to sell or buy products. As you possess a seller account, there are fees with it, like listing fees. Basically, the costs depend on the price you are selling your item, along with how long you can list them.
Since 1995, eBay has got involved in a household name. That is because you buy and sell everything here with lots of transactions going through every day. The real attraction for any eBay sellers and buyers is its capitalistic nature of the site. Items on eBay are worth as someone is ready to pay for that.
An eBay shop empowers its store owners to show all of their merchandise in just one place. In fact, they will look more like a traditional online store than single eBay listings. With eBay, you are able to contact your brand through web pages they have done customization. In case you see a red-door icon located next to users' ID, you should click on it. This will take you to your own eBay shop.
Shopify Integration with eBay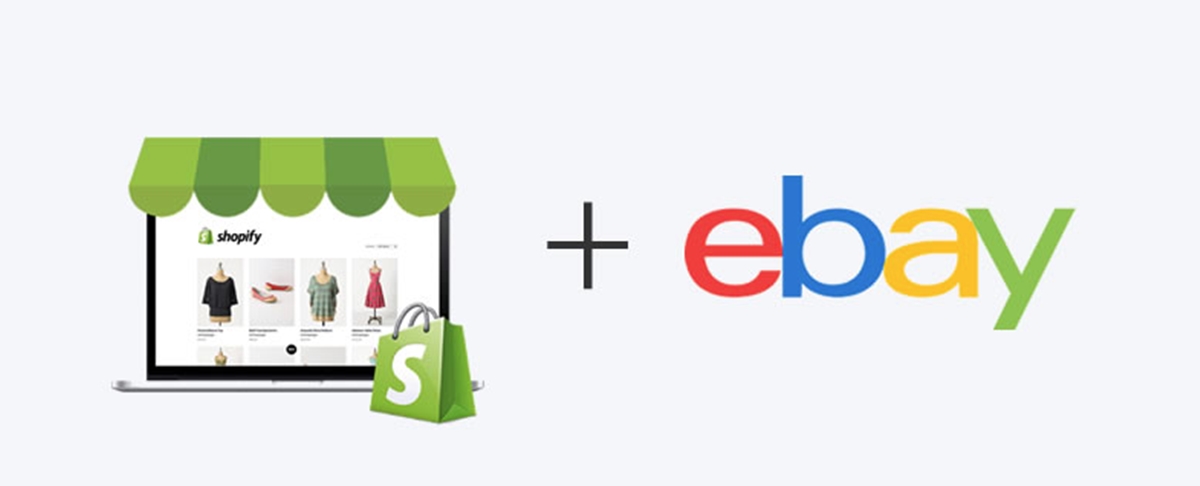 Overview
In 2017, Shopify and eBay announced that eBay would join the Shopify Sales Channel Platform. That means Shopify Sales Channel platform enables Shopify online merchants to integrate with marketplaces as well as other eCommerce services. Take note that this new eBay integration will help roll out soon to the US merchants of Shopify.
The integration declared by both companies is more extremely advanced than exciting integrations with another service. SaaS eCommerce vendors can offer you with listing services with restricted two-way integration. However, eBay integration consists of items specifics, inventory, and processing of the order and even eBay messages will have to integrate into Shopify. This kind of integration rivals the third party involvements and extensions on eCommerce shopping carts such as WooCommerce, Prestashop, and Magento.
By inserting eBay to the Sales Channel Platform, Shopify has been now improving its integration abilities which have Wanelo, Amazon, Wish, Facebook, and others.
On the other hand, it seems that Shopify shall aid many merchants in turning to multi-channel sales. A review of existing Shopify Sales Channel integrations also displays the disappointment by users with provided features and functions.
Pricing
As you might not know, there remain no extra Shopify fees for starting selling on eBay. However, you have to pay for your store account. Generally, monthly subscriptions can range from $24.95 a month to $349.95 a month, although the marketplace is giving them three free months of eBay Premium (worth $225) to any Shopify users, but just for using limited time.
We cannot be sure which Stores subscription will be suitable for your business? Based on eBay, Basic is known as the best for any sellers listing at least 250 items a month and Premium is for those who are ready with at least 1,000 items, while someone that lists no fewer than 10,000 items had better aim for Anchor.
Shopify will account on a percentage of net revenue on daily sales you are making through eBay, while the latter will charge you a final value fee on every transaction.
The Difference when Selling on eBay for Shopify Sellers
Although there are benefits and a big number of articles outside about selling on eBay, there exist a series of interesting fundamentals that Shopify sellers had better be aware of:
eBay does not allow you to redirect shoppers to a Shopify store
Everyone knows that eBay is a great place to make extra sales; however, you should not depend on it to build up your larger business. This is because anything that can be done to help direct shoppers to your own store on Shopify or other non-eBay parts of businesses is banned by eBay rules. eBay just wants its customers to have eBay experiences and to let them feel as if they are transacting on and with eBay, rather than allowing them to do that on your store. Hence, you had better give up before starting any notion of striving to apply your brand's presence on your eBay account to build up the Shopify store. It takes lots of your imagination and time without leading to any outcomes.
Instead, you can optimize the post-purchase experience to help drive your customers over your store on Shopify. Let's use branded packaging as well as contain physical content marketing that can introduce customers to your brand as your site domain as well.
Every opinion from shoppers on your products matters on eBay
You should keep in mind that both feedback percentages and search ranking play a vital role on eBay, which means that differences between these two eCommerce platforms. One or two examples of negative feedback can put both brands' search ranking as well as the persuasiveness of your own feedback percentage at risk. If you fail to deliver items to your shoppers, you can find that your sales will drop significantly.
Therefore, on eBay, you have to remember that transactions for small accounts and you also have to make sure that every customer will have a good experience and be served effectively.
Item details trump layout on eBay
Appearances are problems on eBay, but they will not be matters as much as Shopify online merchants are getting used to it. eBay relentless is concentrating on wording, and unparalleled content or top-notch images that often causes Shopify visitors to be misplaced on eBay. eBay shoppers tend to focus on the first fundamental. For example, is the item's price one of the most competitive on eBay? Does the list spell out item specifications, measurements, or another detail in the clearest way? Or are terms, shipping details or conditions both agreeable and understandable?
Rules change often and you are allowed to know them
Keep in mind that as you are a marketplace seller, you are playing with someone's rules, along with policies. Because of the realities of any eCommerce universe, eBay's rules and its policies often change. eBay users are expected to know and have a better understanding of that. eBay does not hesitate to make changes to your list as their platform changes or prevent your selling in case the rules change and you do not update them frequently. Therefore, you are strongly advised to spend time checking eBay's seller updates pages even though you believe you are mastering eBay's rules; otherwise, you only stay on eBay for not so long.
All eBay lists have an end date
As you can see on Shopify or on other marketplaces, you have to get used to thinking of product pages as a long-lived thing. An item page remains until it is totally removed. On the other hand, every list has an end date, sold out or not on eBay.
Shopify and eBay Integration: Benefits for eBay Sellers
There are lots of advantages to selling through your online stores compared to eBay.
Your Shopify store has fewer fees for selling
eBay fees can go beyond 10% of your sale price. For fixed and auction price listings, eBay is loaded with final value fees and in case you ship more items, insertion fees. eBay also loves to dime and nickel you with listings fees that are based on your item value. If you would like to have one store there, there will be a monthly fee on top of that.
As you are paying fewer fees since you sell on your store, you are able to sell your items at the same price as well as earn more profit or you can sell it for less as well as attract more buyers.
It is easy to grab repeat customers attention
You are an online merchant and you also know that it is hard to grab repeated business on eBay since you cannot collect emails and you are not enabled to communicate customers after a sale is being made. However, there is a way for that. You already know that if customers already bought in the past from you, it is ideal for directing those customers to your site for further purchasing. One of the best ways to help customers know about your Shopify site is by packaging your orders. Let make them ready for dispatch with a thank-you card or note that includes your store's contact details and address.
You are able to set up the customer base
eBay is so competitive and you need to fight for new shoppers and you will never have chances to build your loyal customer base. With your store, when they visit your site, they can bookmark and check everything out you have.
You are able to build your brand and professionalism
Possessing stores is a sign of professionalism and trust for your own ranking business. With eBay, you are allowed to generate stores as well as pay for the flexibility of design. The cost is just hundreds of dollars monthly and the look is cookie-cutter since there are elements you can customize. Shopify online store channel lets you choose customization you can make the look for your own store. Besides, there remain plenty of Shopify apps to help you create high-qualify stores on Shopify.
You will have better Search Engine
Shopify stores are packed with built-in search engine optimization and the same item listed on Shopify stores is ranked higher on Google compared to the item's eBay listing. Additionally, as you own your store, you are free to apply the marketing technique you want to attract your buyers. No matter you like paid ads, social media, pop-ups or coupons, you are able to use them all to get traffic incentivized to pay for a visit, stay inside, and come back to your store again.
Your store has endless functionality on Shopify
If you do not pay hundreds of dollars monthly, you will be limited in how you present your store in front of eBay. However, the Shopify store is different. Shopify contains thousands of tools to aid you in growing your own business as well as improve marketing sales, followed by social media.
You are able to price you like in your own store
eBay buyers are not so easy to bargain with. eBay buyers believe that sellers have low overheads since most of them report those stores on eBay are mom and pop shops. In fact, shoppers want to pay less for similar items, which is compared to if they buy from the real store and this means you will hardly get dollar your products. Generally speaking, the eBay marketplace is competitive and it is hard to break into it.
Shopify and eBay Integration: Benefits for Shopify Sellers
Although eBay is not a stand-alone option for your business, it is thought to be useful, which means using Shopify eBay Channels and starting selling on both Shopify Online Store channel as well as eBay at once is such as great selection.
Several real benefits to sell through eBay and you had better keep your eBay store are obvious. One of the most important advantages is that your eBay marketplace is very big. Hence, there will be a built-in community of interesting buyers to drop by. In fact, the statistics in 2017 already stated that the number of actively registered buyers on eBay had reached a record of 170 million users. And that is not a small number.
Owing to this popularity, selling on eBay is still an ideal way to validate your items before you can go 'all in'.
Only by selling your new things on eBay first can you check the market to reveal if you had better go ahead or not.
Conclusion
Recommend: How to sell on eBay using Shopify
Shopify eBay integration is a new chance for anyone who wants to start their online businesses and for those who are already sellers on either Shopify or eBay. Whenever you successfully establish your own Shopify store, moving into different marketplaces is the next step you had better do. eBay is a favorite for online sellers due to its low barriers to entry and quick time to the first sale, along with its reasonably painless learning curve. Hence, should you master the differences between those platforms, a new whole world of profit and sales await without any difficulties.
---
CEO and Founder of Avada. Pursueing a simple and healthy lifestyle. A friend, a husband and a dad of four children, a trainer and an influencer wannabe. He is a big fan of sports and travel, also.
New Posts
Stay in the know
Get special offers on the latest news from AVADA.