How To Add Social Proof To Shopify?
How can you increase the chance of a buyer choosing your product out of the ocean of seemingly similar products that they need to navigate? Put it another way, how can you make your product stand out from the crowd? Social proof is a powerful method that you can use to achieve this.
We, as humans, are social animals. That means we are influenced by other people's actions whether we realize it or not. Online shoppers often rely on other shoppers to make a buying decision when they are not familiar with the product that they want to buy. I was about to buy a new laptop last month, and what I did was go straight to my friend asking for his referral rather than relying on any Internet advertising.
Online shoppers don't always have someone from whom they can ask for a referral, so they turn to online reviews. Reviews are just one out of many forms of social proof that makes it easier for people to buy products online.
In this article, I'll explain to you 5 types of social proof approaches with clear examples so that you can understand them and easily incorporate them into your Shopify store. Adding these social proof elements into your store will create brand trust among your website visitors, and eventually, help you increase your conversion rates.
Social Proof - What is it and why you should use it
Social proof is one of the six principles of persuasion tactics explained in Robert Cialdini's famous book Influence: The Psychology of Persuasion. When it comes to eCommerce, social proof is when a buyer relies on the behavior of other buyers before them to help decide whether or not they should purchase a product.
Social proof provides many kinds of information that is important for online buyers to make their purchase decision. Some buyers need reviews from those who have bought before to know how the product turns out after buy, while others need testimonials from experts. Now, let's move on to learning what types of social proof there are.
What types of social proof are there?
Social proof can be used on any online platform whether it's your website or your social media channels. In fact, incorporating social proof on all of the online platforms where you're presenting will yield the best results.
Popularity
The first type of social proof that we're going to discuss is quantifiable signs. This can be the number of followers you have on social media or the number of reviews that your products have acquired. This will show your potential buyers that there are people who like your brand, or are buying and discussing your product. This will make it feel safer to buy from you, or it can help evoke customer interests so that they stop by and check out what you're selling.
You can understand this by reflecting on your own behavior. When you run into an unfamiliar brand, how will you judge their credibility? By the number of follower they have, right? A Facebook Fan Page that has 57,000 likes seems more established and reliable than one with 500 likes, doesn't it?

There are certain elements that fit this category the most. They are:
The number of followers, likes, comments, views, and shares on social media posts
The number of views on your live broadcasts on Facebook or Instagram
The number of subscribers you have got on your email list.
Public praise
What online shoppers tend to trust the most is reviews that come from other shoppers who have bought the product before. So, showing customer praise can be your most powerful tool to convert sales. According to a 2017 survey, 85% of the asked customers trust online reviews that come from other shoppers just as much as recommendations from their friends. And they trust these reviews significantly more than any marketing materials that come from the seller. Customer reviews can influence buying decisions significantly, and lots of times they can be the difference between high bounce rates and high conversion rates.
There are two most trusted types of public praise: ratings/reviews and user-generated content. Reviews and ratings can be collected and shown off on your website, or on sites that allow customers to leave reviews such as Yelp, Facebook or Google. You will benefit from both product reviews and general company reviews as customers tend to trust what their fellows have to say.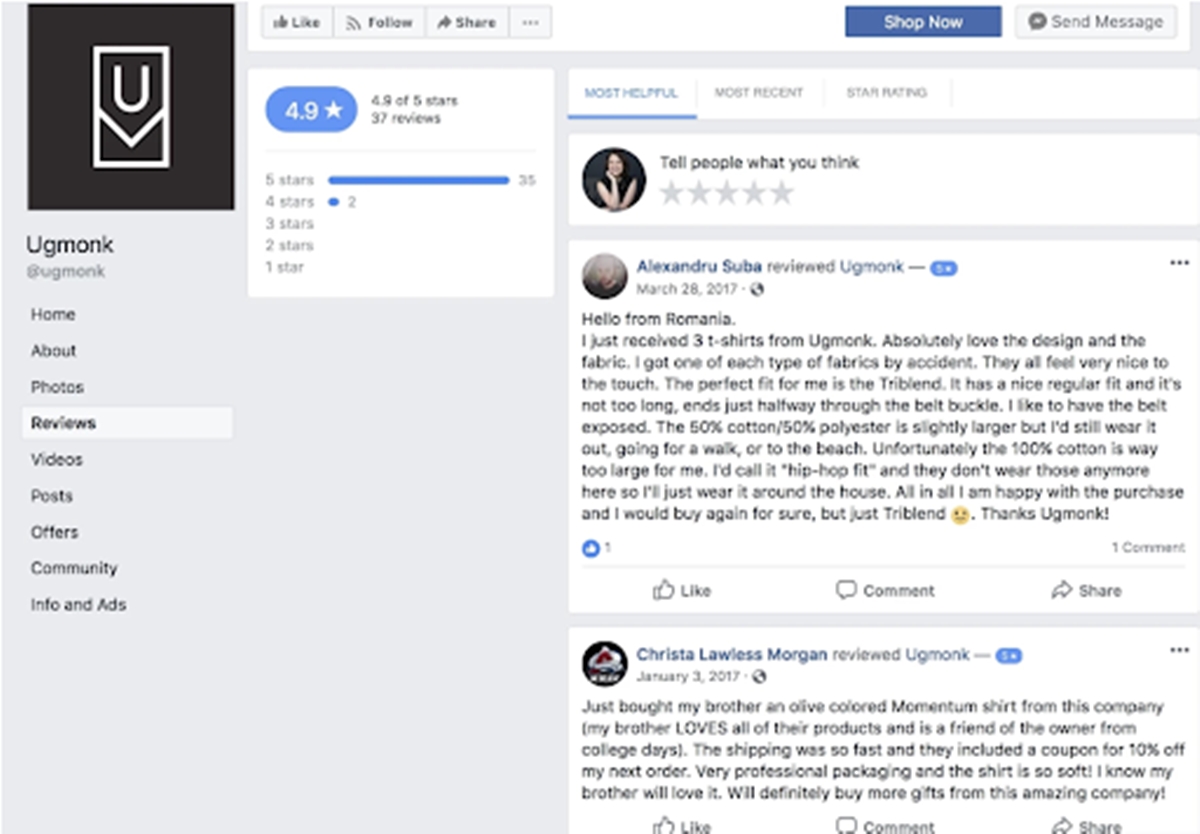 In comparison with ratings and reviews, user-generated content (UGC) is the type of content (often videos or pictures of your product) that your customers share online. Social media enables people to share their experiences with their friends online. You will get a chance to appear on your customers' personal profiles and get known by their friends if you provide such a great product/service that they want to share about.
It's worth noting that there is a striking difference between UGC and sponsored content. Sponsored content is a form of paid content, and the sponsored figures have a financial incentive to talk nicely about your product, which makes it less reliable. UGC, on the other hand, comes purely from great experience that customers have with your product, so it's much more genuine and reliable.
Ask your customer to tag your brand on social media when they share their experience with your product, and then you can use that content to show off wherever you're present. You can have a look at GoPro's or DW's Instagram profile to understand this approach better; these two brands are a big practitioner of UGC.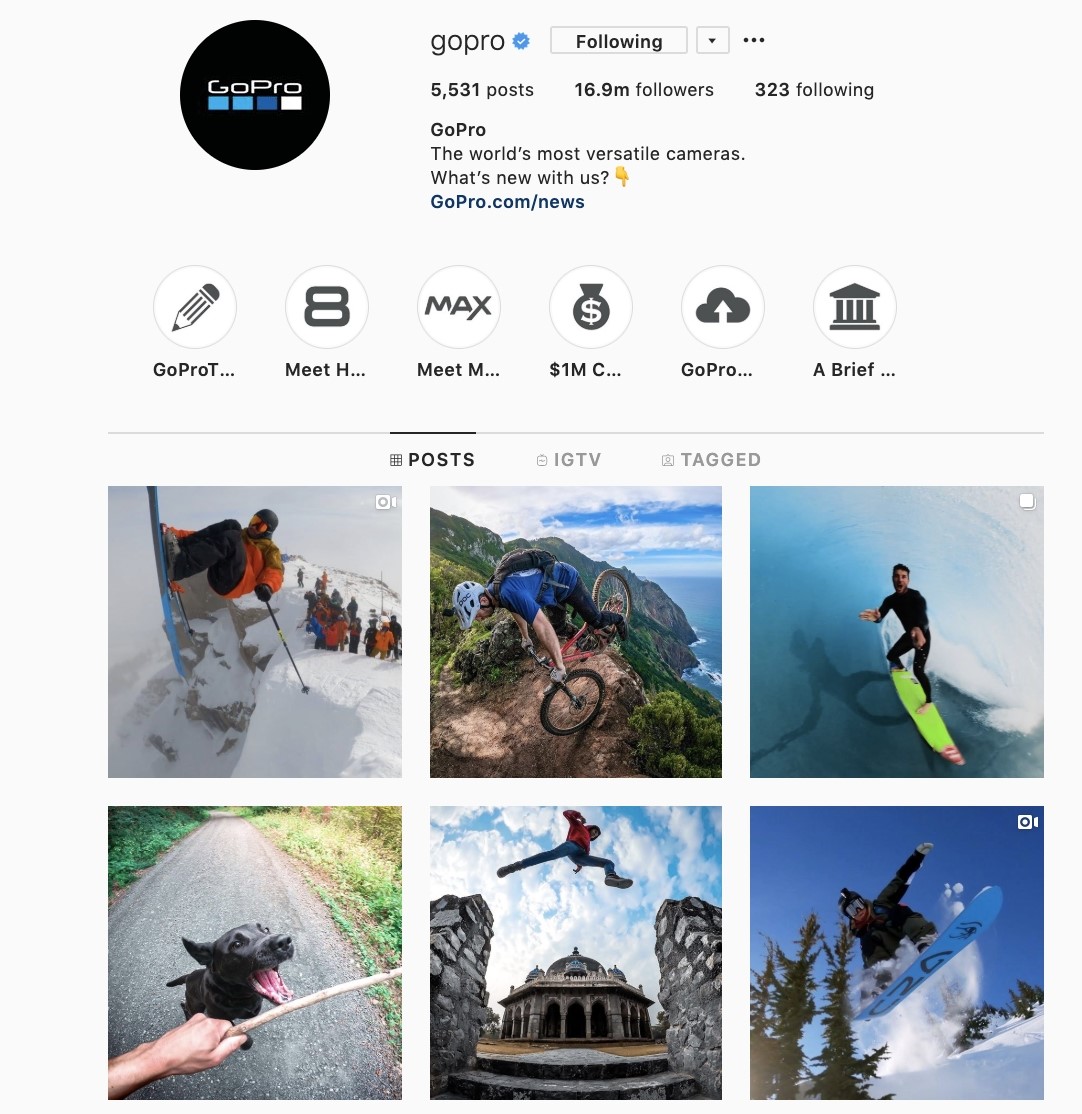 Endorsements from trusted experts
Expert endorsements is a type of social proof and usually known as influencer marketing. This type of social proof can be difficult to implement as, as I mentioned above, paid endorsements are not always seen as genuine as proof coming from real buyers. However, they can still be effective if you use it properly.
Content that comes from industry experts and influencers are considered as endorsements. If you want to make this effective, the experts/influencers that you choose need to be respected and trusted among their followers. And their endorsements can still appeal to their audience and generate interest as long as they don't sound like a sale pitch.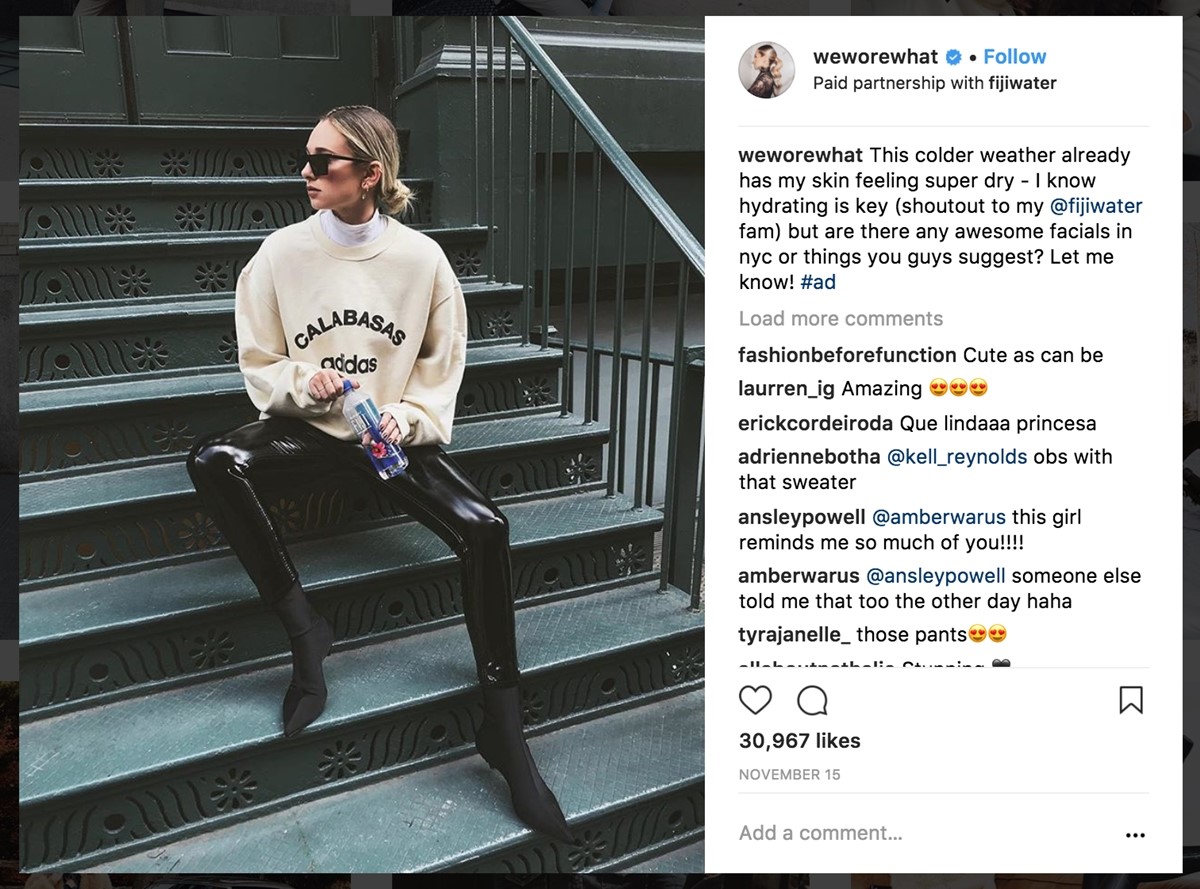 Proof of demand
Proof of demand is a form of social proof that shows that not only are customers interested in what you're promoting, they are buying from you too. A big volume of sales can help show off the demand that your product has been attracting, and that, in turn, can create more demand as in a snowball effect.
It's not hard to implement this kind of social proof. You can simply share how many sales you have made, how many email subscribers that you have acquired, or just any metric that you find relevant to your customers.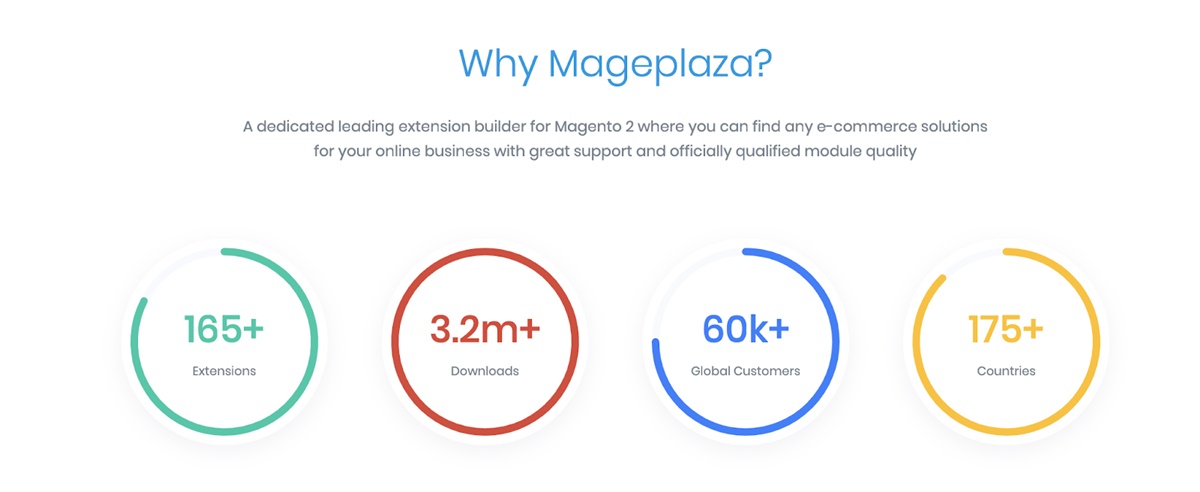 There are lots of apps on the Shopify app marketplace that can help you showcase these pieces of information to your website followers to establish social proof. Here is some information that you should consider displaying:
Numbers of customers you have served.
Number of units sold for a given item.
When inventory levels are low.
Recent orders.
Number of visitors who are viewing your website.
How to add social proof to your Shopify store?
As you've learnt what social proof is, why it's important, and the types of social proof there are, now how can you implement all of this in your next marketing campaign? Let's look at all of the places where you can display social proof and leverage its power.
On your website
There are three popular ways that you can use to incorporate social proof to your website. The first approach is to feature customer reviews. What you can do is gather and display reviews from your existing customers on individual product pages. It will be even better if you can design your website in a way that allows for reviews with images. Seeing how great looks on other people will allow your prospects to imagine themselves with the product more easily, and so they're more likely to convert.
You can have a look at Saved By The Dress to see how they have made a great use of this method. This website enables their customers to leave reviews on their website, and provides the option to add images. They also have a small label at the bottom of their site that showcases the Google reviews that they have got about their brands.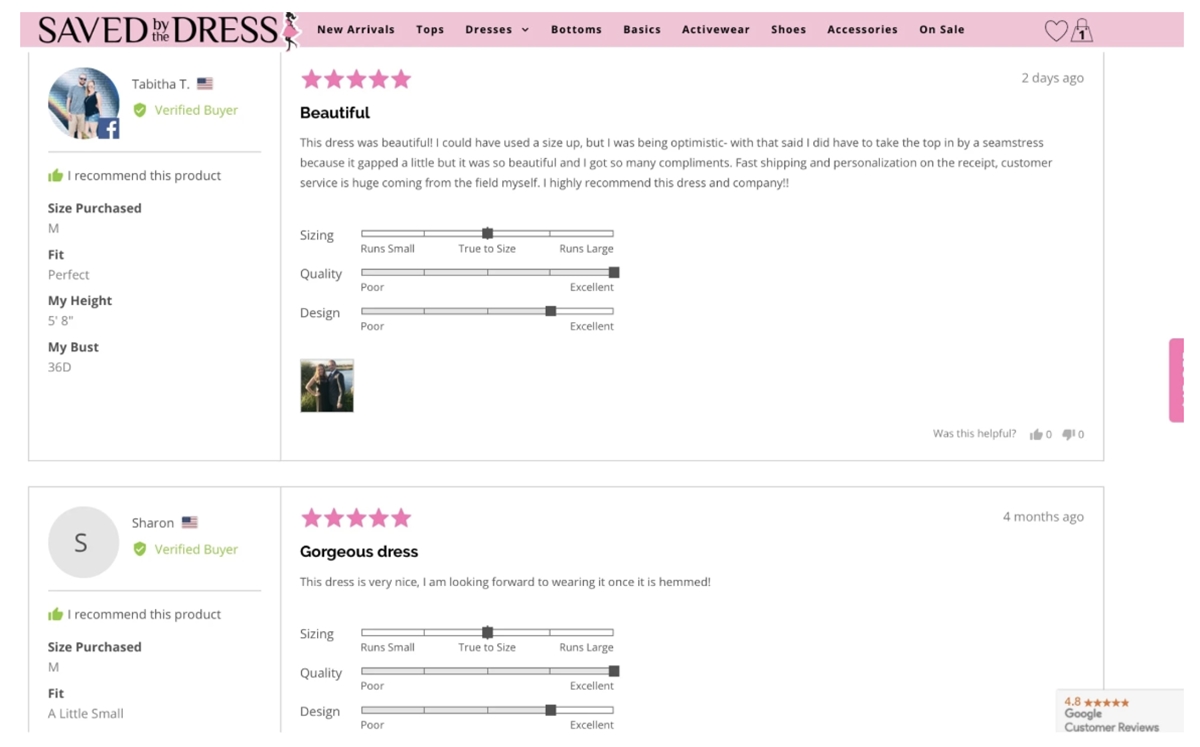 The second approach that you can use to add social proof to your website is by featuring user-generated content. Modcloth is using this method very well; they showcase their clothing line by displaying pictures of their customers in their website Instagram feed.

The third approach is to show what your brand has achieved by showing your number of customers, number of products sold, number of projects done, etc.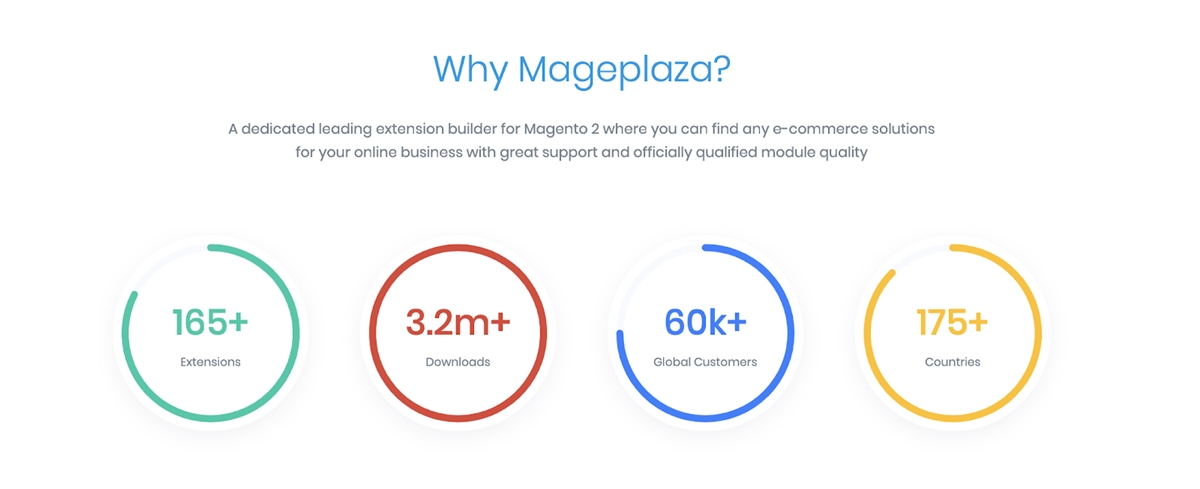 On social media
You don't have to stick to your website when it comes to showing social proof. Social media works very well too, and sometimes can even be better than your website, as everyone is on social media now, and they will certainly visit a brand's social media before buying from it. Showing lots of social proof on your social media channels will be complementary to your website, and help you increase brand recognition.
One thing you should keep in mind is that when it comes to social media, your social proof should be focusing on engagement-attracting campaigns instead of delivering sales pitches. Generate content that encourages your followers to engage with you. Here are a few examples:
Social media contests that encourage your followers to tag their friends, caption a photo with your product, or share a picture with your branding hashtag.
Instagram Stories that use the polling-sticker feature and ask your followers to choose between two (or more) options; the answers are shown in real-time
Posts that encourage sharing like what DripDrop ORS does; the brand asks their followers how they stay active in the winter.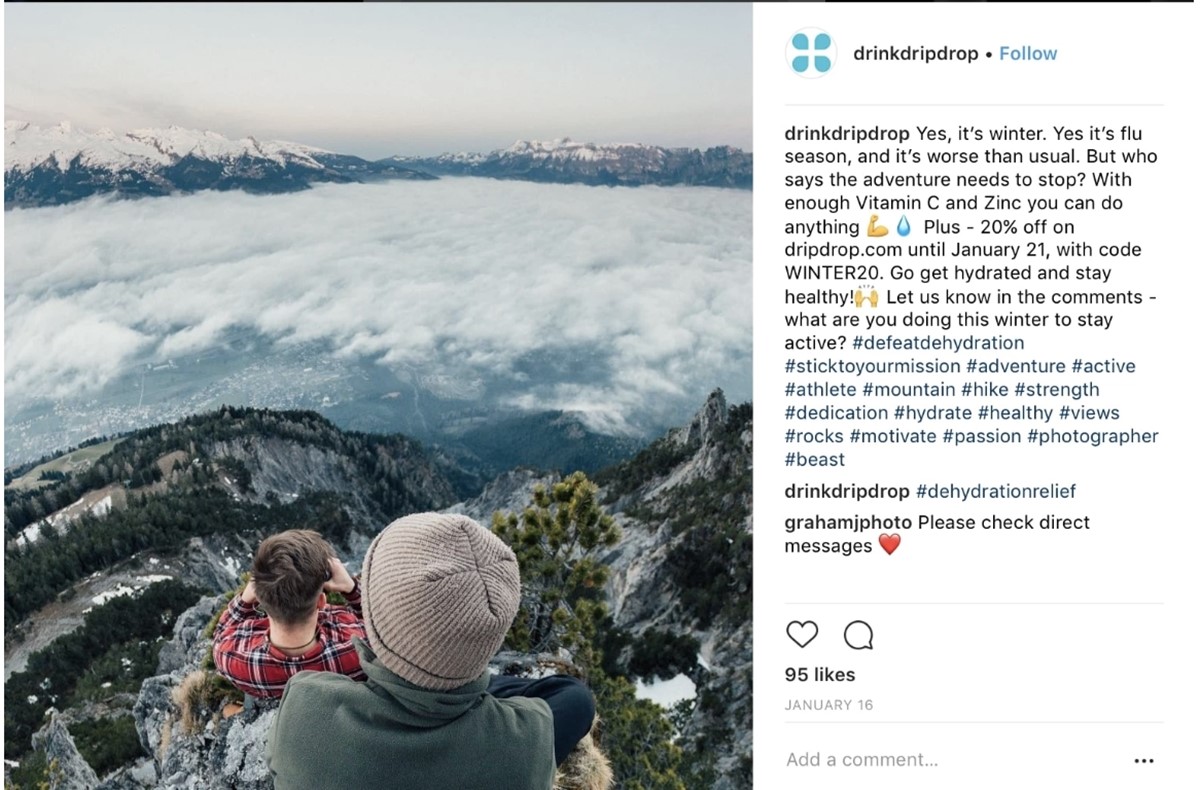 On top of creating more connections between your brand and your customers, engagement-attracting campaigns are the ultimate way to acquire user-generated content. For any comment, picture, video that your customers do that features your brand, you can use them as your social proof. You can share these pieces of content (after having the permission from the creator) on your social media channels, and then tag the creator. This will let your other followers know that if they share their experience with your brand and product, they will get featured on your channel too.
Though this form of engagement-generating content is not appealing to everyone, a large portion of online shoppers loves it because it makes them feel that they are appreciated. That will encourage them to share even more content in the future, so don't miss any piece of content that your customer shares about you. Here's an example from Pipsnacks.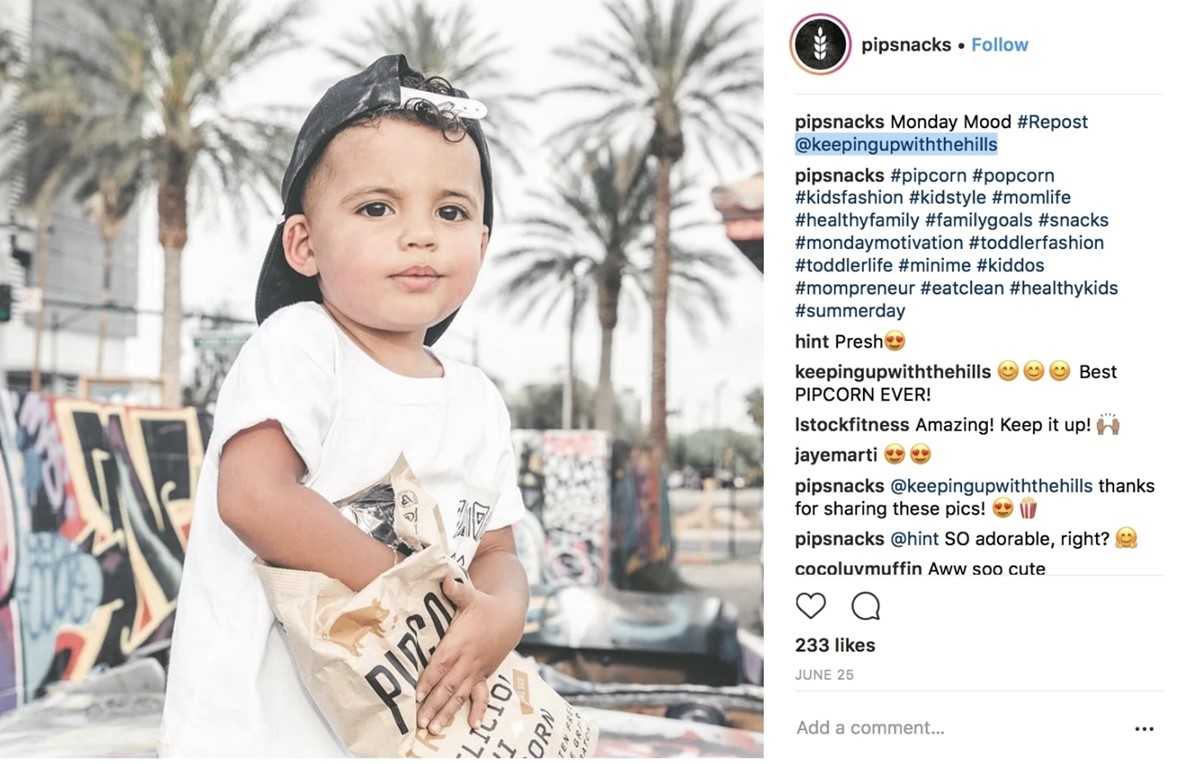 With Facebook and Twitter, you can create a strong impression with your customers right off the bat by pinning a high-performing post to the top of your profile. Select a post that has lots of engagement (likes, comments and shares) and pin it to the top. When a customer visits your fan page, they will see it instantly.
In PPC campaigns
Using reviews in your PPC campaigns can help reduce bounce rates and increase conversions rates. This approach is highly effective when it comes to Facebook Ads, Instagram Ads.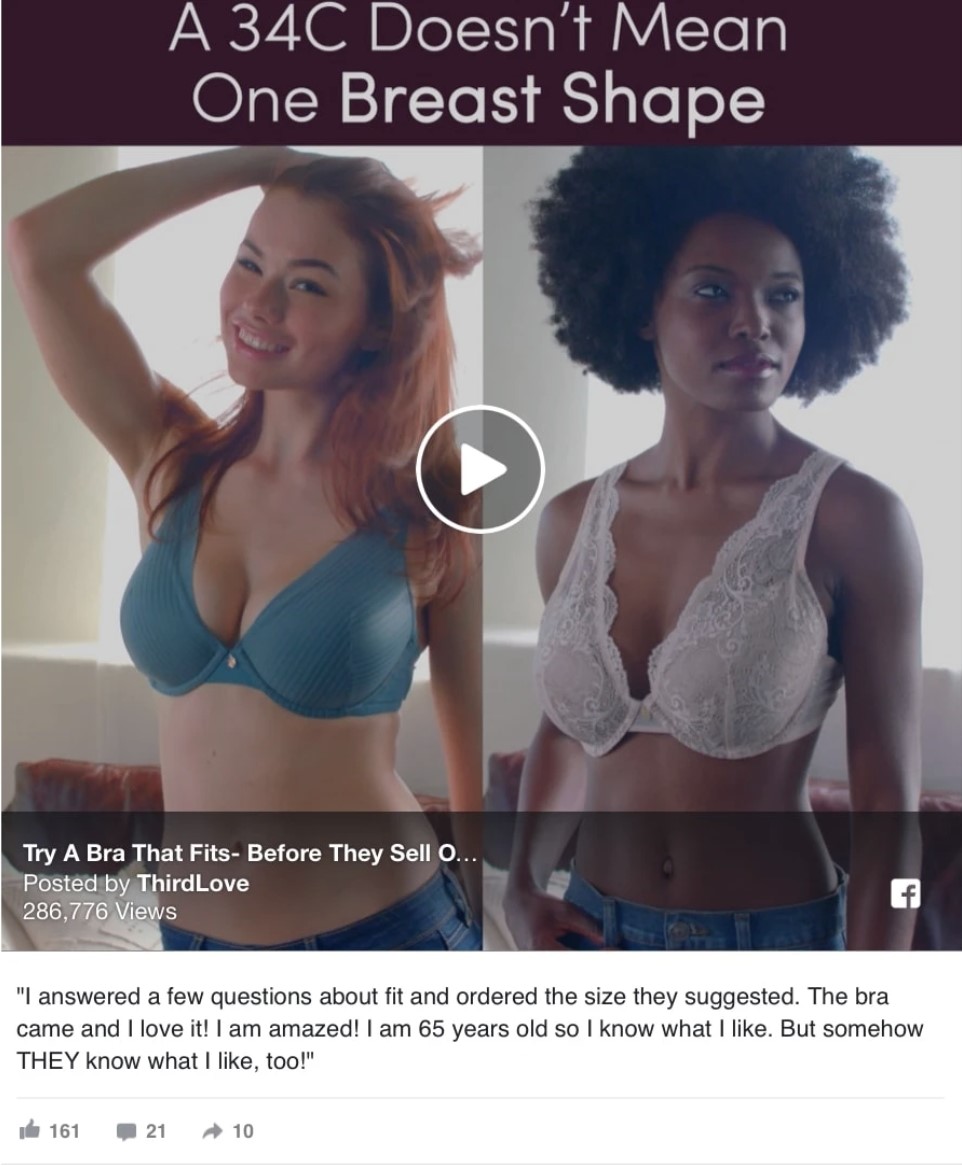 With Facebooks, you can use content generated by your customers to establish credibility among your target audience, but remember to place the text in the description as if there's too much text in the picture, Facebook won't deliver your ads (see the Facebook 20% text rule).
One among many great practitioners of this method is ThirdLove. This brand uses their customer reviews in their Facebook Ads consistently to establish trust and drive sales.
On top of that, the more engagement (likes, shares, and comments) that you can acquire over time, the stronger the social proof effect you create will be, and that, in turn, attract more engagement and so on. Running a great piece of ad long enough will help you acquire a massive amount of social proof on your post, which will make it easier to convert sales in the future.
In email marketing
Email marketing has been around for over a decade, but it is still an effective channel to build relationships with your customers and drive sales, especially when you know how to use it properly. If you want to learn more about how to create successful email marketing campaigns for eCommerce business, you can read our comprehensive Email Marketing guide.
Back to using social proof in email marketing, one example you can learn from is Old Navy. This brand frequently incorporates social proof in their marketing campaigns to drive more sales. What they do is showcasing a specific product and then select positive reviews that are relevant to their email list.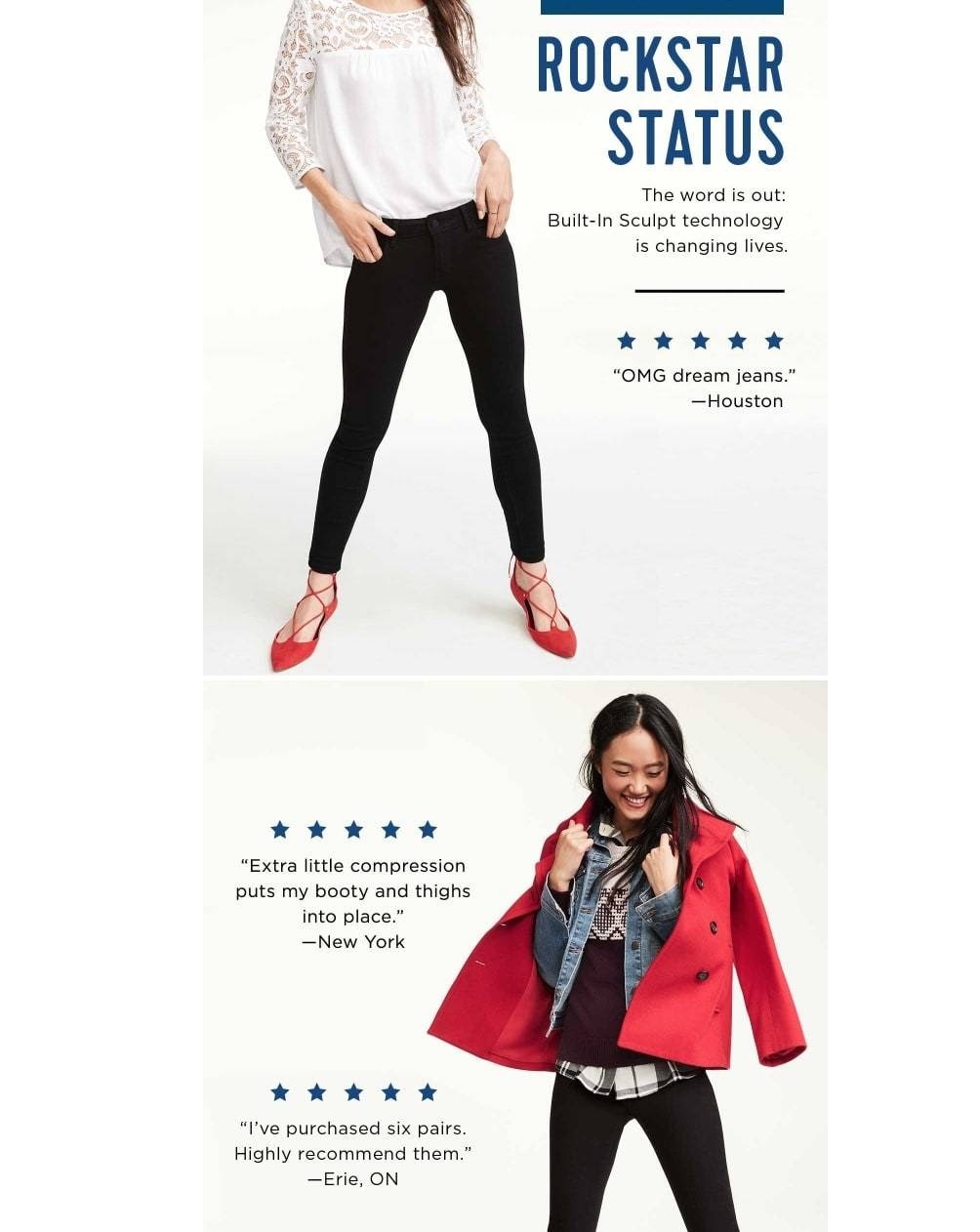 If you want to advance your email marketing campaigns even further, you can create automated emails for best selling items at any given time, incorporate reviews in your emails, and send them to your email subscribers every once in a while to encourage the subscribers to buy more.
On your blog posts
Content marketing is an amazing way to build up trust overall, and certain strategies can help you acquire and share more social proof. What you can do is using engagement-building techniques to drive more social proof to your blog posts. These techniques include call-to-actions that encourage your readers to leave comments by asking specific questions or bringing up their opinions.
BioLite's blog post, for instance, asks their readers to leave a comment sharing any questions they may have. This simple encouragement will drive engagement, help show your new users that you do interact with your readers, and can give you new ideas for new posts; all in one.
Case studies are another great way to incorporate customer success stories into a growing customer base. One customer or story can be leveraged to generate the proof showing that you can help other customers accomplish the same thing. BioClarity uses this strategy very well with a full clinical study that features their product. This helps differentiate them from the competitors who might not back up their claims in the same concrete way in the skin care market.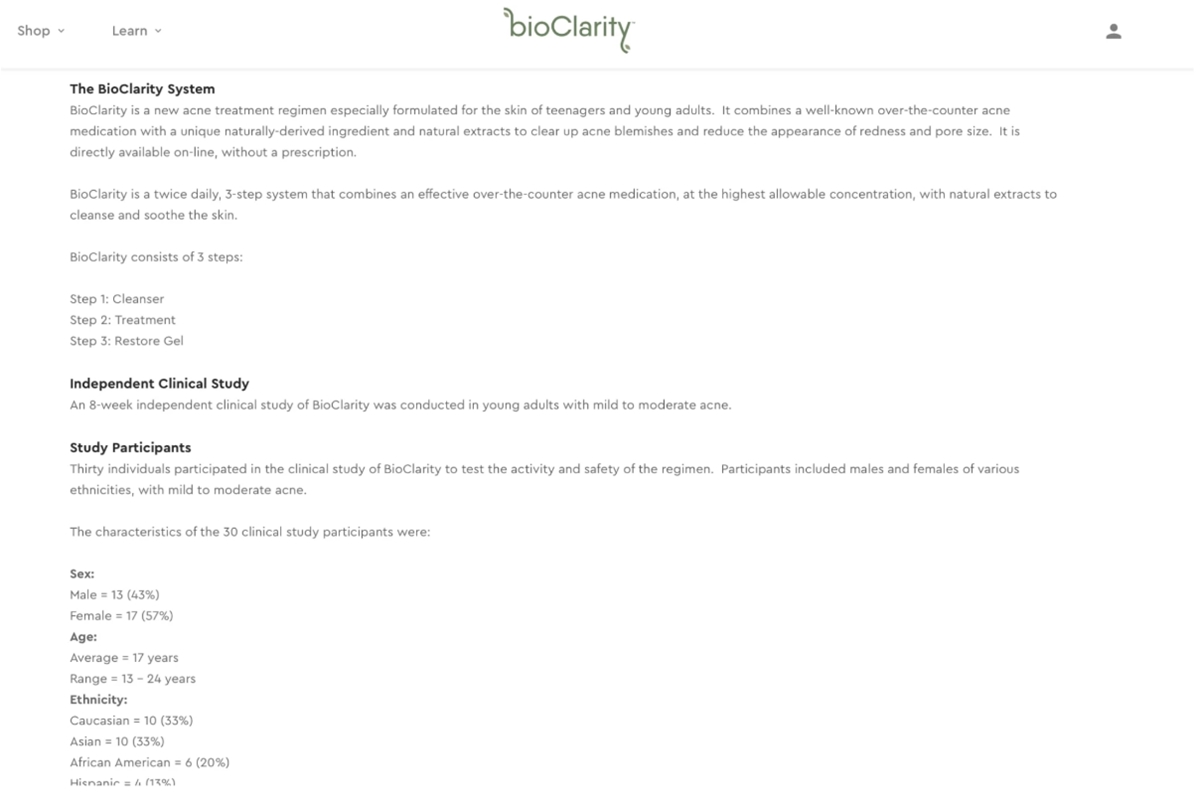 Recommendations for social proof apps
With all of the social proof tactics that you have just learnt, using them might feel a bit overwhelming, but don't worry, there are great apps in the Shopify apps store that can help you out. Here are my recommendations:
What can establish credibility more easily than showing your prospects what other people are buying on your website? Proofo | Social Proof enables you to show two important activities on your website:
Purchase (who have made purchases recently)
Add-to-cart (how many customers have added a certain item into their carts).
Don't worry about intrusive pop-ups, this app shows your website events with an automatic small pop-up at the corner of your website. And it's all free! Go and grab it now!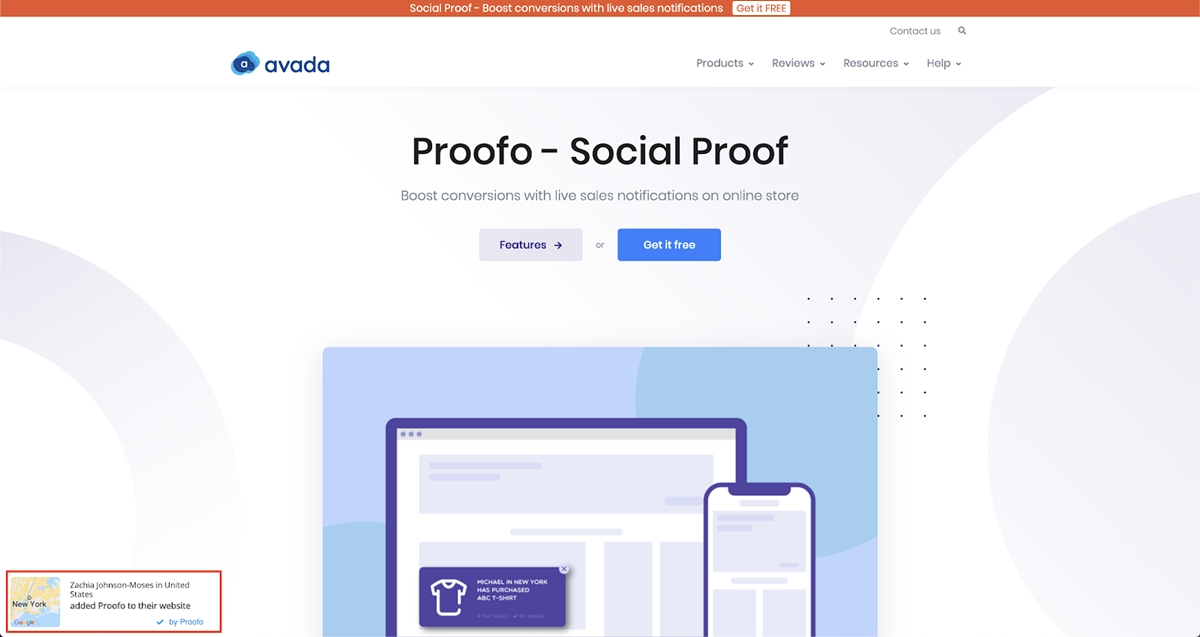 Loox is a social proof app on the Shopify app store. What it can do is automatically send emails to the customers who just bought from you and ask for their reviews. You can even set up to offer the customers discounts if they review with photos. For your website, Loox makes it easy for you to showcase the social proof you have acquired by placing them in a gallery that can be placed one any page of your website, whether it's the home page, product page, etc.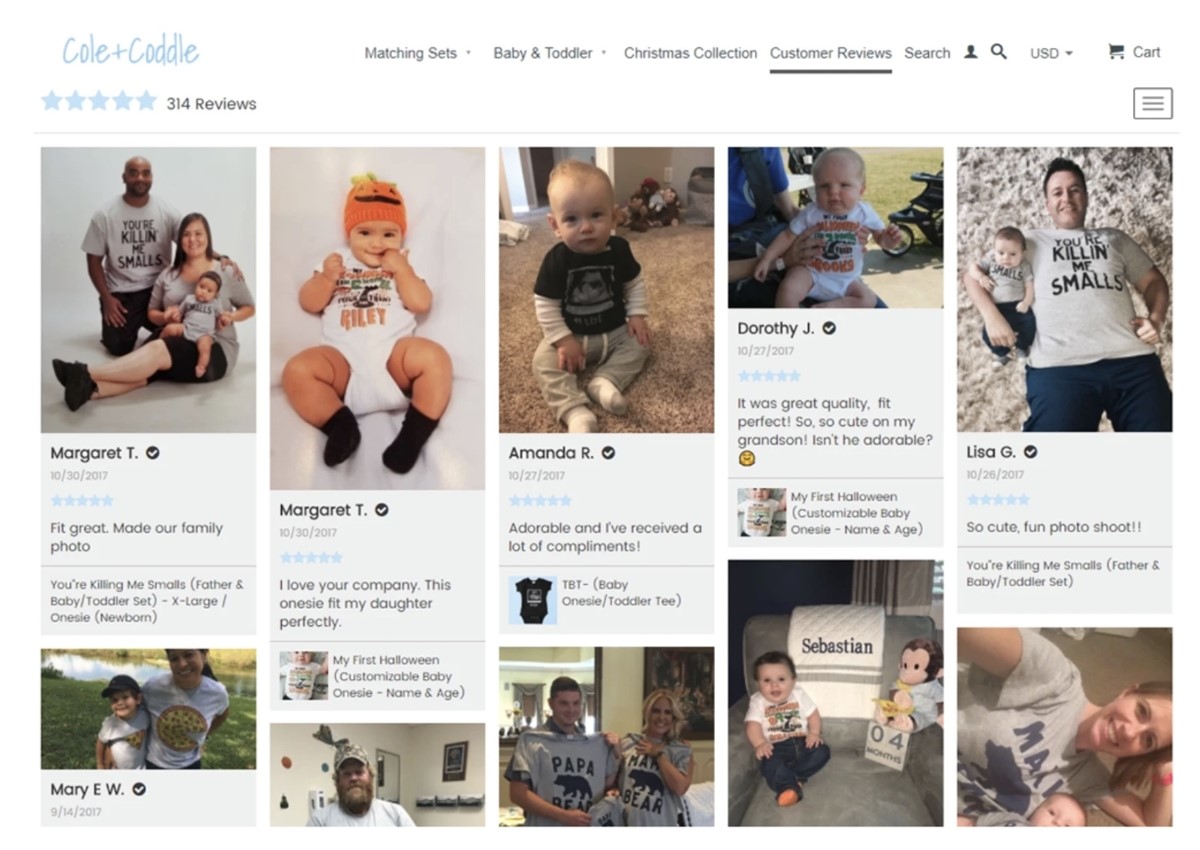 You have acquired a decent number of reviews on your Facebook Fan Page, and wondering how you can leverage them for your website? Check out Facebook Reviews by Omega. This app enables you to display the Facebook reviews and ratings you've got on Facebook on your Shopify store. This makes it easier for new website visitors who are not familiar with your brand to trust you.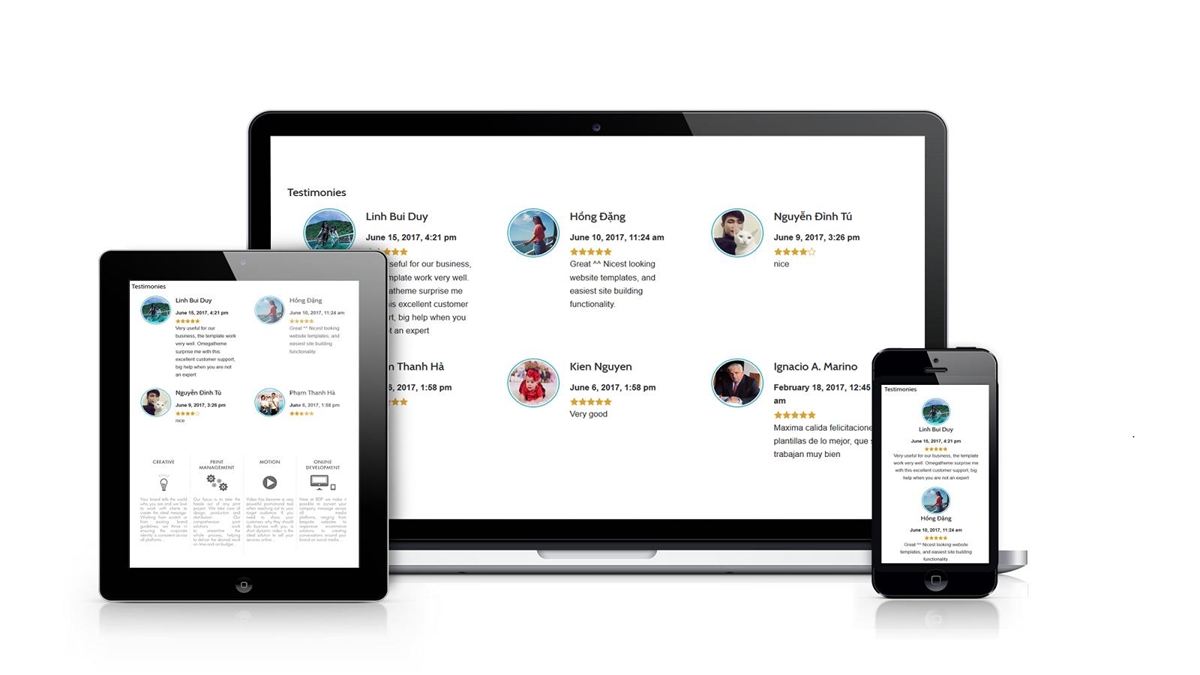 Urgency acts as a strong reminder to customers that the deal they're seeing today might not be available tomorrow. That is when products run out of stock, when sales or seasonal deals come to an end, or when an exclusive product is sold out in your storefront. You can notify your customers of these events so that they won't miss out.
Fera.ai, a social proof app on Shopify, can help you generate trust and urgency this by showing shoppers:
The current number of visitors on your website
Items that are low in stock
Orders that you're processing
Orders that other people are buying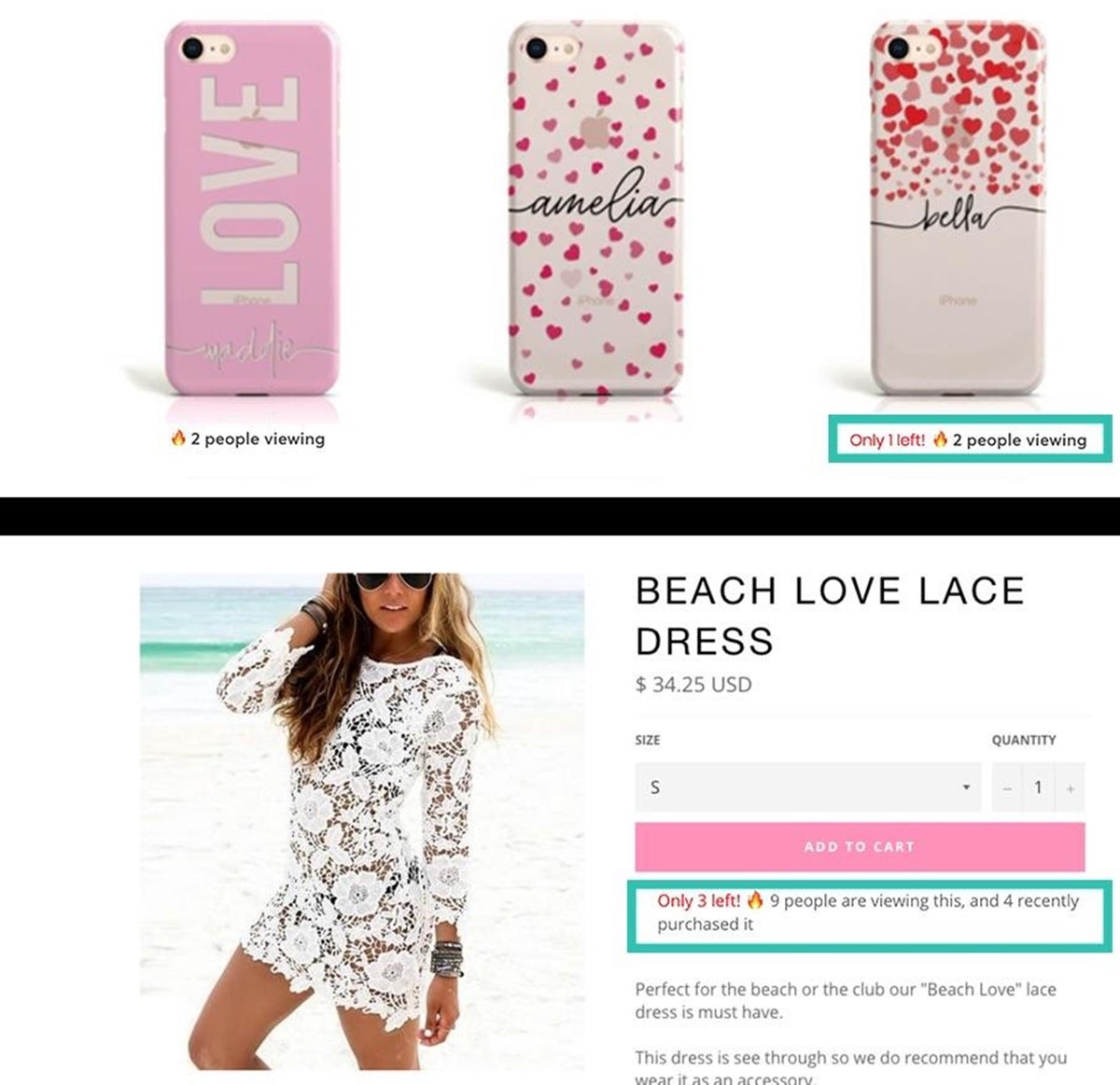 Want to get more shares on your content and product pages from your customers? You can increase the amount of shares your site receives by placing social sharing buttons on your pages and images. There are also social share counters that you can place on your content, showing other users how many times your content has been shared already and encouraging them to do the same.
This is a free plugin with premium upgrades available. It has other great features that make it valuable for other purposes, too, like Facebook live chat support.
People who are interested in your product or find your content of great value might share your URLs with their friends. That's a form of social proof, so how can you show it on your website? Use Social Sharing Buttons by Zotabox. This app places sharing buttons on your content and product pages, and shows the number of times the content and products get shared.
What's amazing is you can access most of its important features for free. It comes with some premium upgrades, and has other useful features such as Facebook Live Chat Support.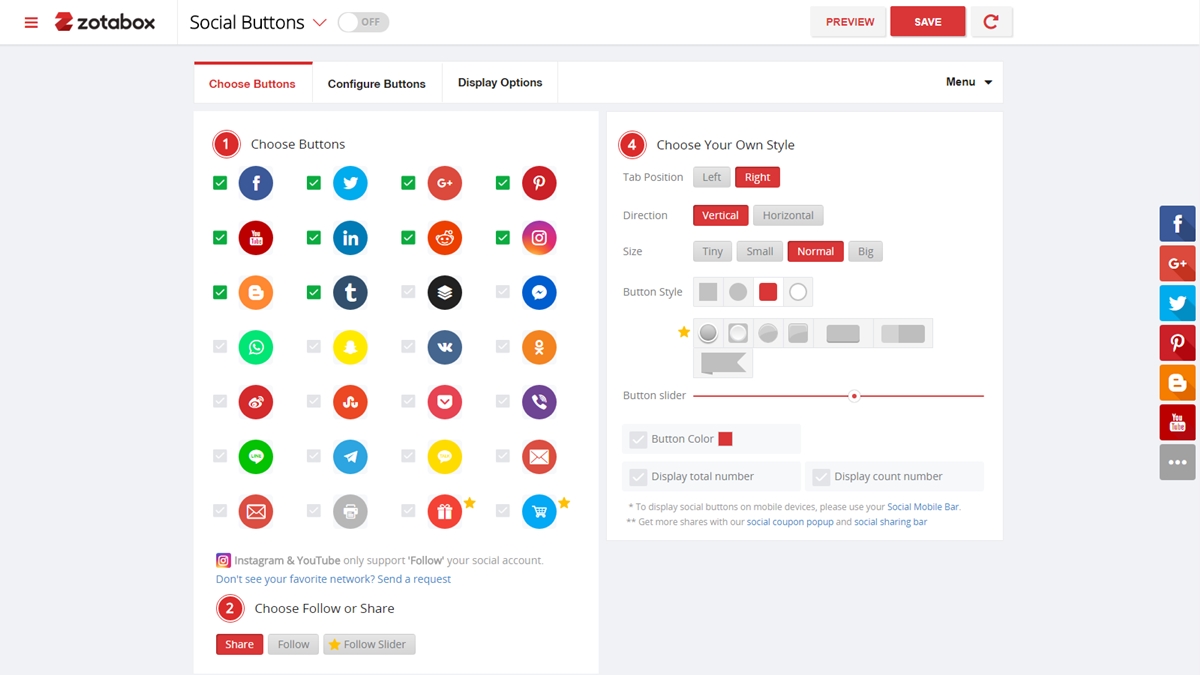 If you want to get the word out about your site quickly, this plugin can help you do just that. It helps you create a professional press kit for bloggers and journalists, making it easier for them to write about you.
Press Kit Hero can help you spread out the word about your website quickly if that's what you're looking to achieve. The app creates a professional press kit for journalists and bloggers and makes it easier to write about you.
On top of that, Press Kit Hero enables you to display the press mentions you've received on your website very easily. So the precious times when you get featured by the press will not be gone after a few days, but they can be stored on your website forever for your website visitors to admire.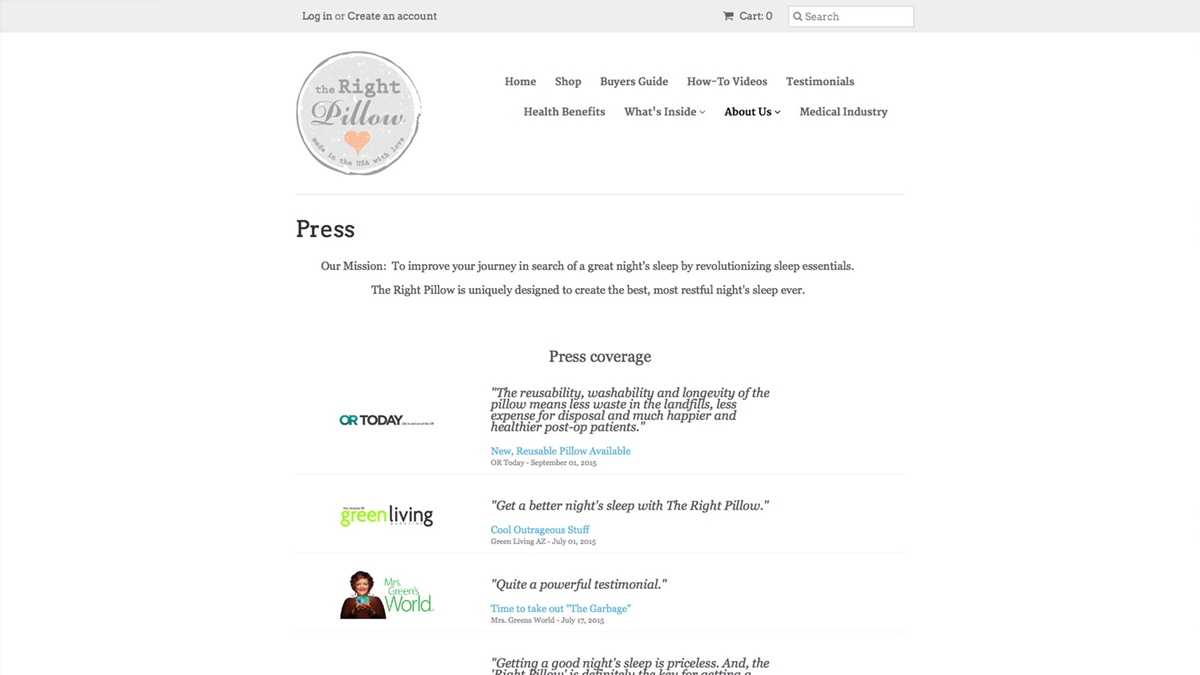 Many new visitors who are not familiar with your brand will feel better about your if they see that your brand has been featured in a recognizable publication. This is one of the most impactful forms of social proof.
Final Words
Now that you have learnt everything that you should need to create successful social proof marketing campaigns. One important thing to keep in mind is that when it comes to social proof, it's all about authenticity.
Social proof is not a method to trick customers. It's a way to sell with credibility and reputation. One important lesson many entrepreneurs quickly learn is that a happy customer can outsell even the most compelling advertising copy. This is why social proof is so special. The more value you can provide your customers, the more willing they are to encourage others to offer your business a chance. In essence, making the most of social proof boils down to taking an honest look at your business - your past customers, milestones, or big wins - and finding ways to convey those moments into compelling marketing messages.
New Posts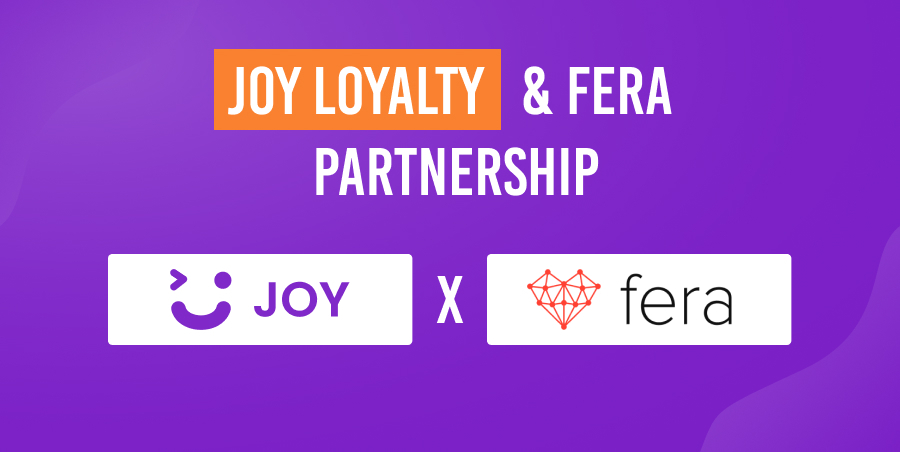 Subscribe
Stay in the know
Get special offers on the latest news from AVADA.
40k
subscribers has been joined!
Earn $10 in reward now!