Why Proofo is a must-have app for every store?
You did invest a lot of money to build your websites and perfect your SEO, but you gained very few sales comparing to the good traffic. Have you ever tried to figure out the issue behind that?
81% of global customers rank brand trust as their top buying consideration. So the trust issue may be the answer to your situation. We have many ways to inspire trust from visitors. Showcasing dynamic customer interactions in your shops is the easiest way to go.
By notifying real customer activities such as purchases, reviews, add-to-cart, sign up, view pages, etc. Proofo helps to build more trust and safety from new shoppers for your stores.
Make customers feel urgent when they find that their preferred items have been purchased by many others (Fear of missing out). Therefore, they will make the purchase decisions quickly.
Various notifications at your website draw a picture of a busy store where a huge number of customers love to come and purchase.
When you can gain trust, create FOMO and prove that your stores are a good business to go with, conversions are definitely rocketed as a consequence.
Trusted By Worldwide Stores
Proofo Highlight Features
Various types of notifications
Purchase Notice (who have made purchased recently)

Add-to-cart Notice (number of customers who have added a certain item into their carts)

Sign up Notice (who have registered account on your store)

Stock Left Notice (How many items left in stock)

Purchase/PageView Statistics (total purchases/pageviews of certain products during a time interval)

Real-time Notice (live visitor count for every page)

Information Notice (announce news, updates, promotions, etc.)

Review Notice (feature reviews from Google Place. Facebook, Yopto, Look, etc.)

Custom Notice (import and customize your own notifications)
Photo Reviews
Reviews of previous buyers are the most powerful and valuable proof for those who have the intent to buy your products. Hence, the review section on every product page significantly affects your conversion rate.
Photo Reviews (or Product Reviews) is a large feature included in Proofo. Photo Review function helps admin to collect stunning reviews easily and manage the review section effectively.
Learn More
Smart Time Schedule
Adjust the time options to show notice popups as your wish:
Display duration: How long each popup show

Delay time: Time-delayed before showing first notification

Gap time: Time interval between two popups

Maximum popup number: Limit popup number can be shown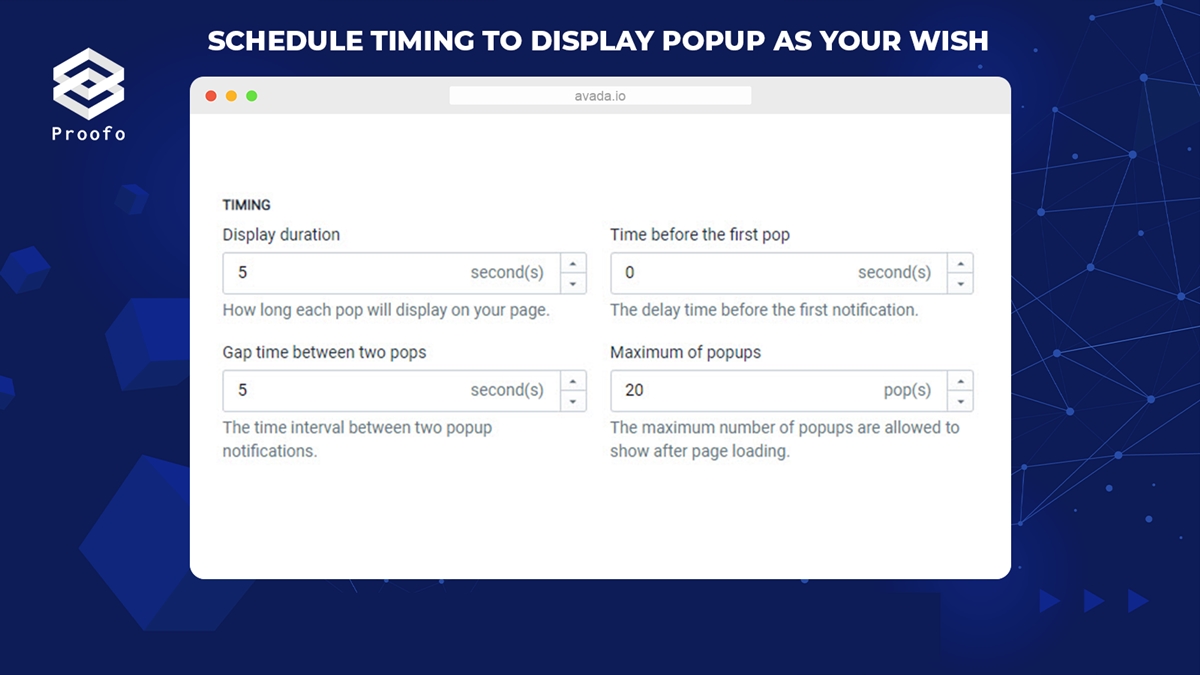 Advanced targeting
Target your popup showing to different objects:
Geo-targeting: Display popup to visitors from different countries

Page targeting: Hide/ Show to certain pages

Position targeting: Hide/ Show at a certain position on a page (on desktop or mobile)

Product targeting: Show all popups related to the product which a customer is viewing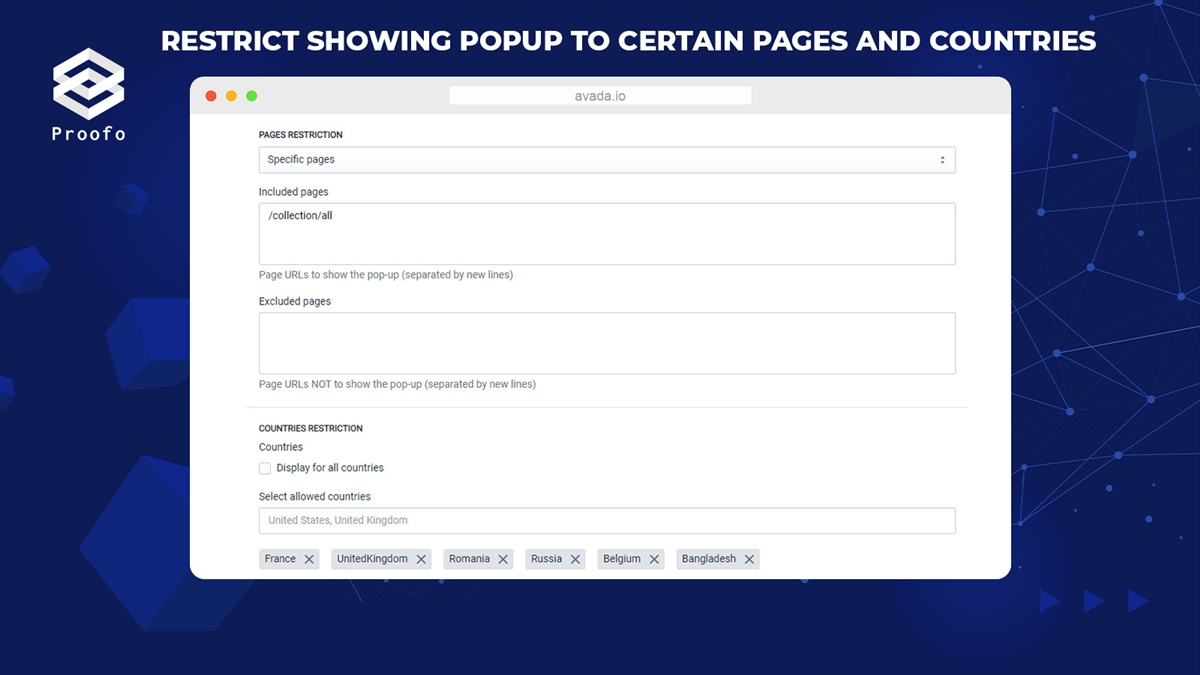 Customizable design and layout
Beautify your store site with lively notice popups as you wish easily.
Ready-to-use layouts with various styles

Up to 27 stunning seasonal themes

Support multiple variables

Customizable elements: Color, Font Type, Border, Animation Effects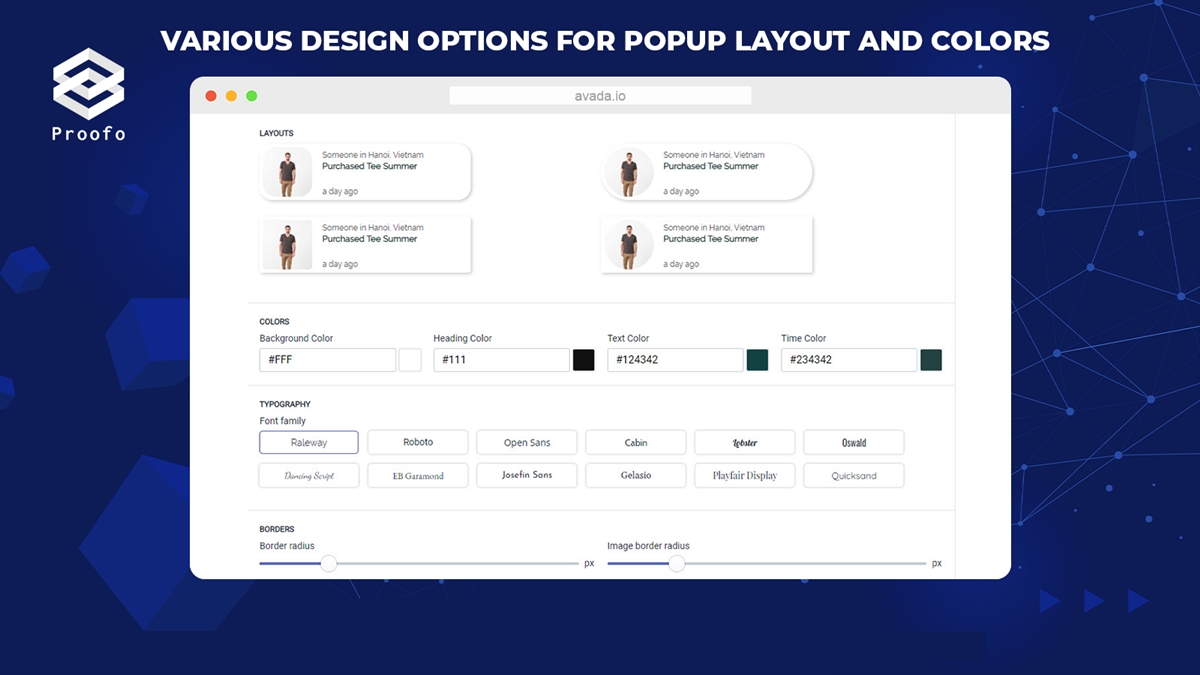 Advanced reports
How to measure the app performance and make adjustments when necessary?
Advanced Reports on Proofo app will allow store admins to track and control the efficiency statistics includes: Impression, Clicks, Hovers, Closes, Visitors, Goals, Purchased Items, Revenue, etc. under comprehensive charts.
Support multiple platforms
Proofo is available on multiple platforms: Shopify, Magento, Others. The integration and setting up process is simple in three steps only for all platforms.
Select your website platform!