Shopify Motion Theme Review: Branding with Animation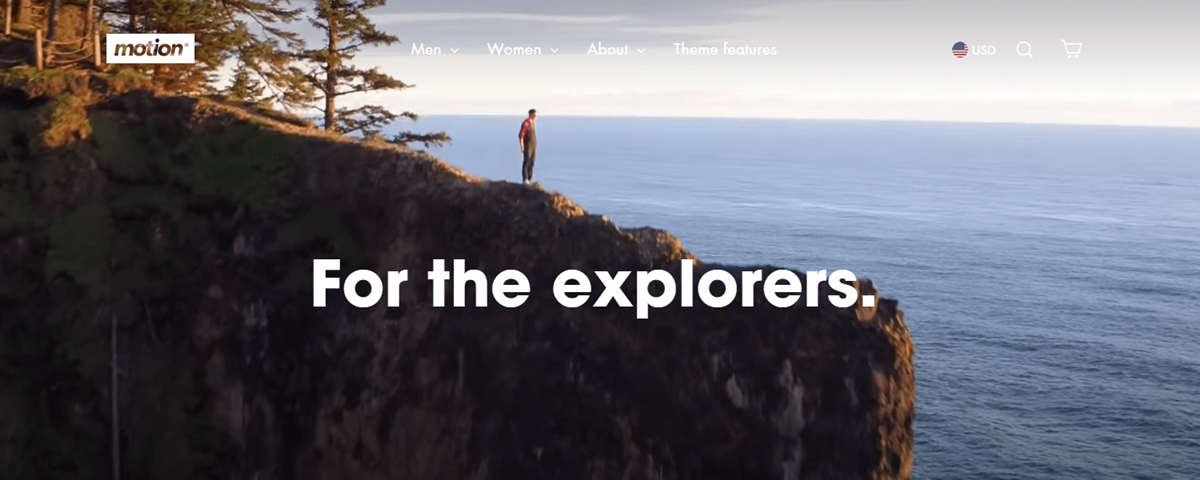 Finding a theme for your specific store on Shopify is so challenging, which is hard to do alone, especially when you are new eCommerce retailers. As you can see, every browser has the back arrow at the top of it, which enables customers to quickly go back when they have just click in an online store in case they are not immediately interested.
Hence, the shop's design will be the customer's first impression, which leads to a crucial point that a store's design should be attractive. If you are still unsure about which theme to choose, then you are lucky as we've saved you some trial and error by giving out a recommendation here for this Shopify Motion Theme, which will bring your brand to life through animation and video.
Not only the good-looking requirement, but a theme's features also should be a communicative tool for your brand to introduce the buyers that store's kinds of products and what is special about them. In this Shopify Motion Theme review article, we will give out all the main features of this theme, what benefits you can get while using it and how other users comment about it. Let's get started!
Shopify Motion Theme Review 2021: Branding with Animation
What is Shopify Motion Theme?
Shopify Motion Theme, which is designed and supported by Archetype Themes, is suitable for clothing and fashion. It can be a theme that will bring your brand to life with animation and video. There are three different styles available on Motion Theme, which are: Classic Style, Elegant Style, and Minimal Style.
Classic Style
The first one is the Classic style, which is a big landing page image that occupies the entire width of the screen. Right the moment that the visitors navigate to your page, they will get the experience of instantaneous switching categories, which encourage them to browse your website deeper and more regularly.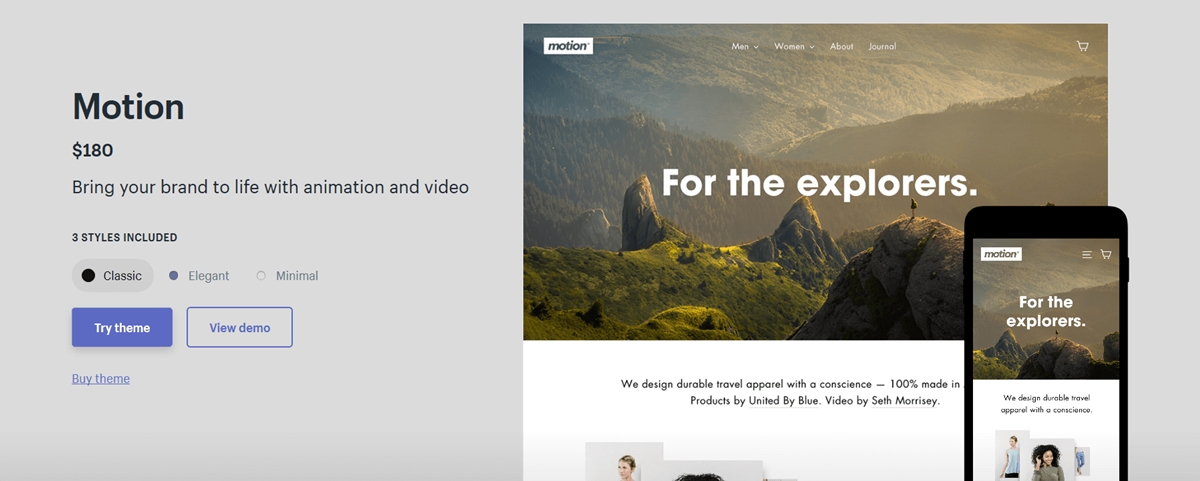 What is more, with the beautiful, smooth animations and auto-playing video, it will help you capture the customer's attention. Plus, there are three hero sections available on this version including a large video, a slideshow, and an animated bold statement section that can all be used interchangeably throughout your homepage depending on your current promotions. Also, you can get the instant sub-collections by switching the collections without leaving the page, which enables your customers to browse further.
About the Marketing features on this style in particular and in Motion in general, you will be able to create an engaging landing page using the 10 modular sections on our new page section template, also get the newsletter popup that helps you collect customer contact information by offering them promotions in a popup as well. Moreover, it is confident in marketing to your buys on our beautiful blog design as it has been optimized for readability and easy commenting.
Elegant Style
This Elegent style is mostly the same as the Classic one. However, it has different font styles, which are thinner. With the dark blue design, this theme is suitable for fashion products showcase including clothes, bags, heels, and so on. As a result, you will be able to create multiple beautiful collection collage sections as well as a one-step callout section that pulls in photography for you. These other great features are still ensured on this version, like the Animation features, Video features, Collection pages, and so on.
Minimal Style
This version is a bit different for the two above. The toolbar is located on the top left of the main screen, not in the middle. Additionally, it has a section where you can choose the nation that your orders will be processed, and also a button on the top right to lead customers to the login page. That's all the differences, the rest of this style is just like the two previous ones, it still keeps other great features, like the Animation features, Video features, Collection pages and so on.
You Might Also Like:
Main Features of Motion Theme
Animated Content
Of course, as you can see when you view the demo, this theme is designed for smooth animation. With the smooth and elegant motion created from beginning to end, your content will be animated into view. What is more, you are totally able to pick out one animation type in the available list to see the one that fits your brand the best. Even more, this theme also helps you animate between pages for a wonderful shopping experience with its Page transitions and enables you to design your own unique slideshow via the Fading Image Hero section as well.
Visual Storytelling
This is where for the brand showcase with high-resolution image photography. Not only the large edge-to-edge photos, animations, video, and slideshows to let your imagery shine, but this theme also brings you the large, simple typography that will put your style front and center. As a result, you will be able to capture your customers' attention and convey a premium look and feel by using Motion for this feature.
Multiple Homepage Videos
This theme can support you with all major video formats with the perfect high-quality video for your store. As a consequence, your story will be impressively featured by various auto-play YouTube and Vimeo videos throughout your store. Even more, you are also provided a full click-to-play video player with video controls and audio right on your homepage as well as the auto-playing high-quality video, which is built into two different sections on your homepage.
Product Quick View
You will be enabled to show your product details in a popup to your customers without requiring them to leave their current page with the Quickshop features provided. Detailedly, with that feature, Motion will enable you to quickly look at a product's complete details page while browsing a collection, homepage, or related products on your store.
Quick Product Filtering
Motion allows your buys to filter products by tag and doesn't require a theme to reload the page in order to do so. In detail, the theme will quickly browse between customizable tags or sub-collections and not ever leave the page by utilizing the new collection quick links feature.
Single Featured Product
Overall, Motion is created to focus on your products and messaging with a clean and minimal design style. When it comes to promoting a single product, Motion will feature it front and center on your home page. To go more in detail, Motion will create a separate full single product section here for your site, which will present a product for purchase right from the homepage, complete with reviews, video, and any other extra tabs you have set up for that product only. You just have to choose the one that you want to focus on to increase sales and let Motion to the rest for you.
Why You Should Use Shopify Motion Theme
Encourage Browsing:
As you can see, Motion provides your sub-categories with its exclusive sub-category listing on the collection, which is the attention that your pages truly deserve. As a result, when a visitor switches the categories, they will get the instantaneous feel because he or she will not have to leave the page, which can be an encouragement for him or her to browse further and faster.
Smooth Animations:
Eye-catching animation is absolutely Motion's strength as it provides beautiful and smooth animations as well as autoplaying video, exclusive image, text to capture customer attention. Overall, you can bring every part of your store the smooth animation while they view your store, which will get their attention and a premium look and feel.
Showcase Collections:
As we need a quick and enticing way to make different, separated collections become impressive according to your brand's sales strategies plan. So, Motion has already included a beautiful collection collage section, also a one-step callout section to showcase the photography for you. More detailedly, it will show an optional big, beautiful banner across the top of your collection pages, at the same time, buyers can quickly see a second product image when they hover their mouse over a single product of you.
Customer Review on Shopify Motion Theme
Overall, 99 percent of 195 reviews from users about this theme are positive, which makes this theme a worth-trying one.
According to a five-star rating from a user named ropbazed on Mar 16, 2019, he said:
"This theme is amazing. Very easy to use. You can custom it really well. The team behind this theme has developed many sections for your HP and Product page. The support team is amazing and very reactive. If you have an issue just contact them and they will solve it".
According to another five-star rating from a user named Stone Cooper Jewelry on Nov 15, 2018, he said:
"Love the motion theme so far! Easy to use and navigate for both designers and shoppers! Support for this theme is awesome too - I emailed support with a specific question about linking an image to a page, and Anish and Marcus responded quickly and even went in and resolved (linked) it for me! Thanks!".
Also, there is a brief and funny comment from the user unfnshd on Oct 25, 2017, which is:
"I don't recommend a lot Shopify themes but in this case I have to. It's so easy to use, nice animations and you see the hard work and love the team put into the details! :-)".
However, there are still some flaws remaining about this Motion theme:
According to a comment made by ZUMIMALL on Sep 23, 2019, it said:
"Decent mobile interface. Product pages and features are super simple. Sections are limited. Lacking CRO. So missing a lot for a paid theme. And support directs you to a dev agency."
Another seldom bad review is from LevelUpMushrooms on Jun 05, 2019 about troubles while contacting the support team:
"I bought a theme and tried to contact them twice through the online form and have not received a response.".
Conclusion
That wraps our review article today about this stunning Shopify Motion Theme - a solution for Branding with Animation. I hope you can find it useful in helping you to make decisions in getting the right theme for your store.
Thank you for spending your time with us and don't forget to leave us feedback via comments below or emails for your later improvements. Also, visit AVADA regularly to get more information updated about eCommerce in general and Shopify in particular.
Related Posts:
New Posts
Subscribe
Stay

in the know

Get special offers on the latest news from AVADA.
40k
subscribers has been joined!
Earn $10 in reward now!