Turbo Shopify Theme Review: Is It Worth Your Money?

In this article, we will discuss about the Turbo Shopify theme. I will give you some helpful reviews for you to take into account.
Similar to choosing a web hosting, choosing the appropriate Shopify theme for your website also takes time to think carefully. There are many Shopify themes on the Shopify Theme Store, not to mention hundreds of third-party websites, so it can be difficult for you to make the right choice.
Instead of listing dozens of themes available for your website, I will give you reviews of a professional and good quality theme - the Turbo Shopify theme. It is a top-rated theme that surpasses all users' expectations. Through this, you can consider the features and benefits of it to decide whether to buy it or not.
You Might Also Like:
Turbo Shopify theme review: Does it deserve to buy?
Turbo Shopify theme overview
Turbo is the perfect theme if you want to create a website that outperforms your competitors. It is proud to be able to appeal to your customers at first sight due to its high configuration and eye-catching flexible design. Moreover, the main strength of Turbo is the optimization of both speed and mobile experience. We can see this strength is extremely necessary because customers always love the quick and convenient. Satisfying customers will help your online store to grow and have a reputation everywhere.
Turbo is an ideal choice for large catalog stores, especially Shopify Plus merchants, because it can store and handle large quantities easily. However, it can also become an edge for any size store that does not want to sacrifice flexibility and style for performance.
In particular, when talking about Turbo, it is impossible not to mention the outstanding features such as predictive search (live), accelerated Quick View function, slide show and full-width banner with multiple action buttons, custom text and colors, multiple configurable page templates for more advanced layouts, extended style options for newsletter subscriptions, video banner sections that support Vimeo, Youtube and original MP4 videos. Besides its widget, Turbo is updated regularly on a basis, so users can continue leverage from its new feature without paying any extra fees.
Now, let move to the next section to enjoy the beauty and unique characteristics of each theme in the gorgeous Turbo Shopify theme collection.
Some Turbo Shopify theme collection
Turbo theme Portland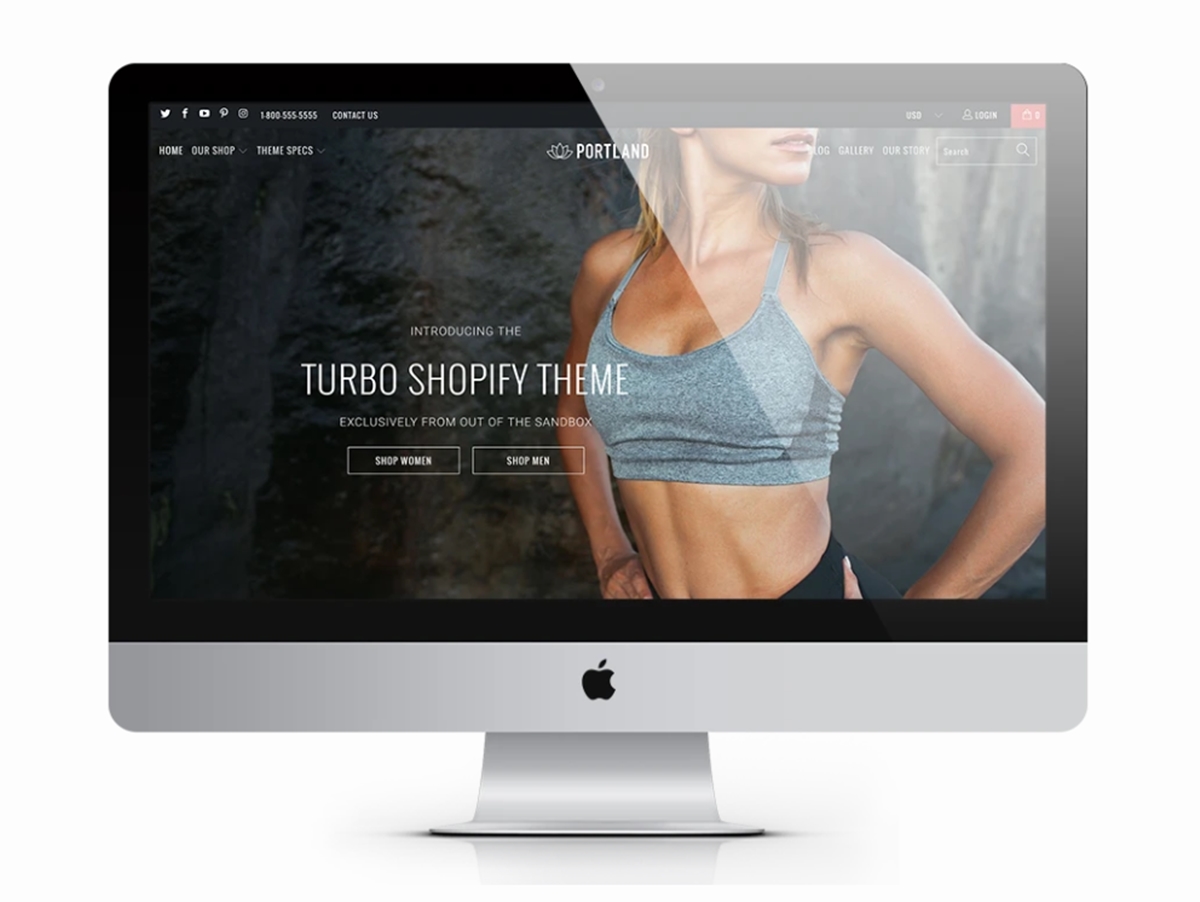 When creating an online sales website or business website, the Portland Turbo theme is a great theme that you can choose. If you know how to drag and drop, you can build a whole website with this theme. Design options can be applied across the web, or you can customize them on a site-by-site basis - providing you with almost endless possibilities. In particular, it also has powerful features such as infinite scrolls, logo lists, mega menus, product sliders, testimonials, interactive mini cart, and FAQ + customizable page templates. Turbo theme Portland provides you with two separate speed modes. Besides, it can also turn pages instantly for quick navigation. Thanks to that, it can save a lot of time for customers.
In addition, the Turbo theme Portland is fully compatible with popular touch screen devices, including smartphones and tablets. Users can fully interact with all elements of the site, and you can ensure their experience is as smooth and engaging as possible.
Turbo theme Florence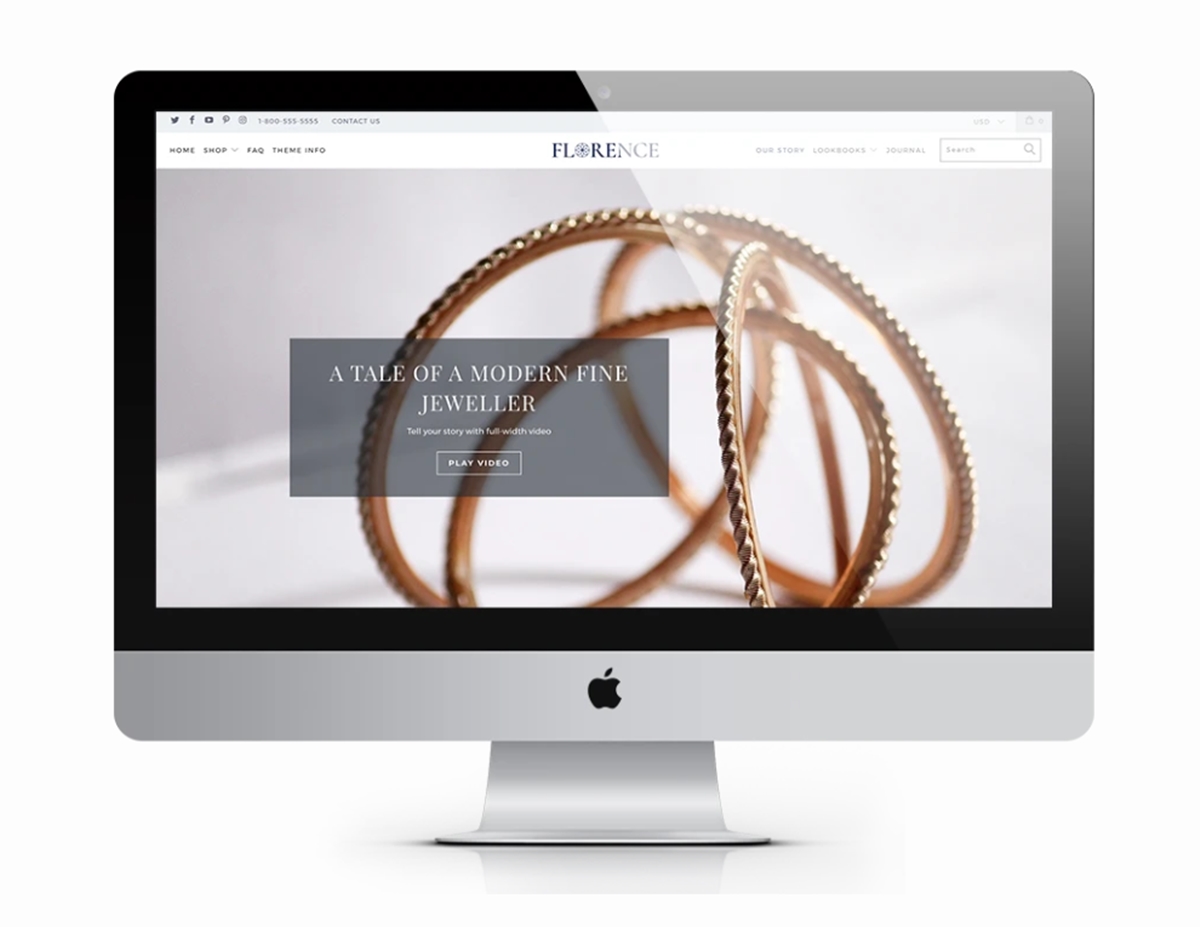 Florence's Turbo theme is like a fresh breeze blowing through your website if you choose to use it. It brings a delicate and attractive beauty that makes people who love beauty feel excited. It's hard to deny that the neat font and subtle color palette that this theme brings makes your product shine. Florence knows how to use whitespace to keep your site clean and clean. In particular, the Florence Turbo theme also has the ability to predict search, which means helping your customers find the product they want to buy quickly.
Turbo theme Dubai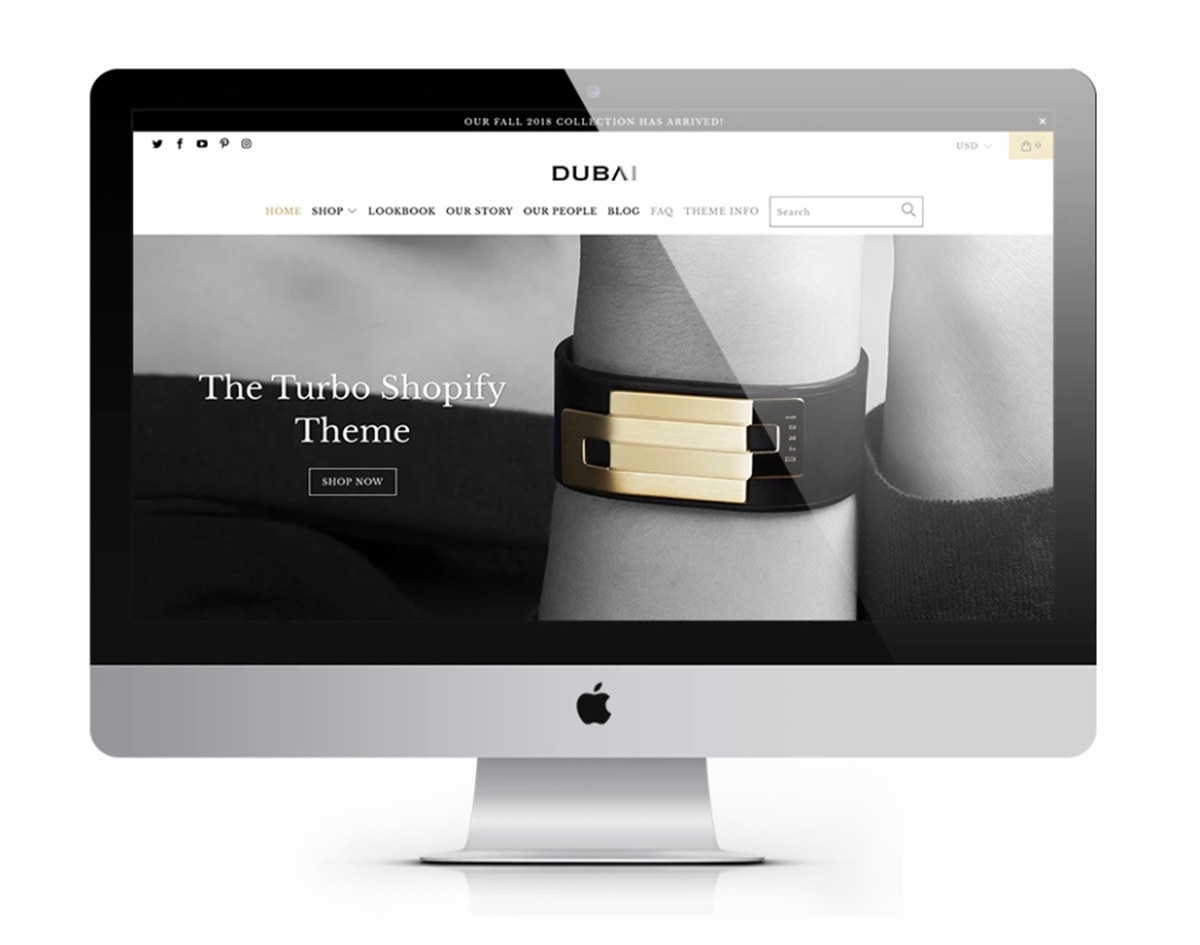 Dubai is a theme with a strong and elegant style. It helps your website have a glamorous and luxurious beauty. All themes in this Turbo theme collection have similar features and differ only in style. Therefore, if you love the style of this Dubai Turbo theme, then start with it now.
Turbo theme Seoul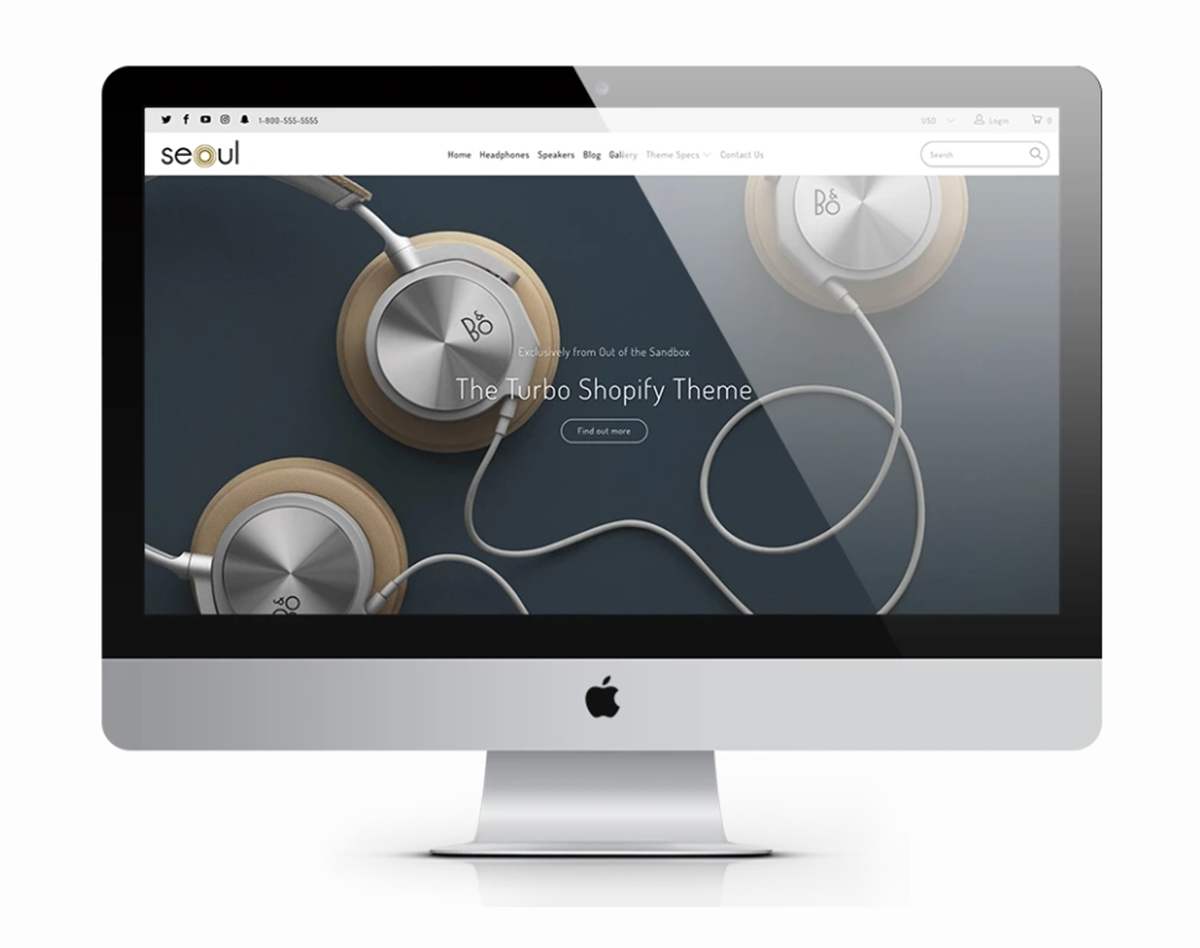 Seoul reminds people of a smooth vibe. However, it also knows how to stir that makes them feel excited and attractive. For the viewer, this theme can be polished by a sparkling color that blends well with the white space. It boasts great and advanced features as a Turbo theme. If you are a fan of delicate and somewhat warm beauty, try the Seoul Turbo theme. This will definitely be a smart way to showcase your products to your viewers and impress them.
Turbo theme Chicago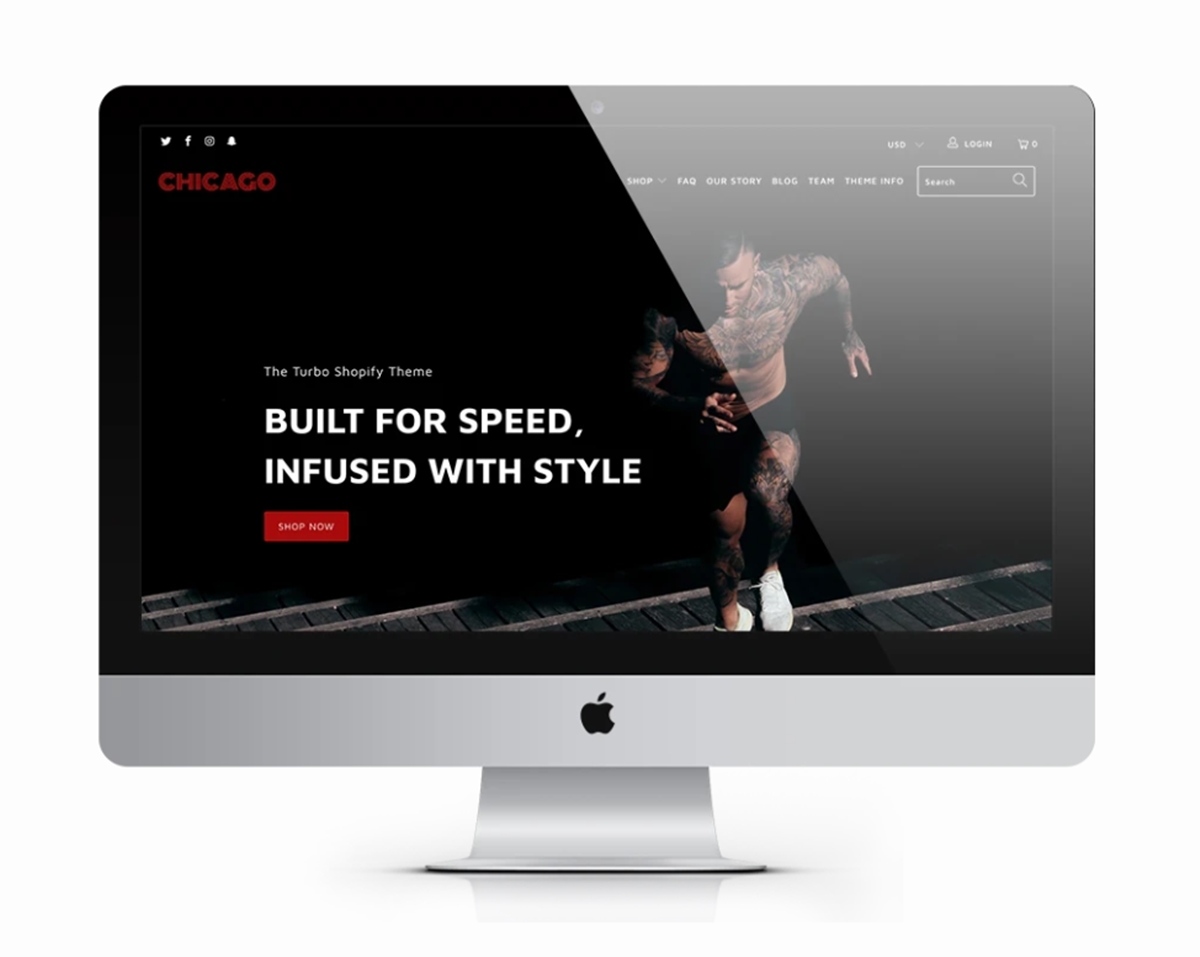 If you're a shop owner selling clothes, technology equipment, music or anything else, maybe this Chicago style will make you satisfied. It gives your store a dramatic, powerful and courageous beauty. It is very suitable if you want to use a theme that has a strong visual impact and makes viewers feel unforgettable.
Turbo theme Tennessee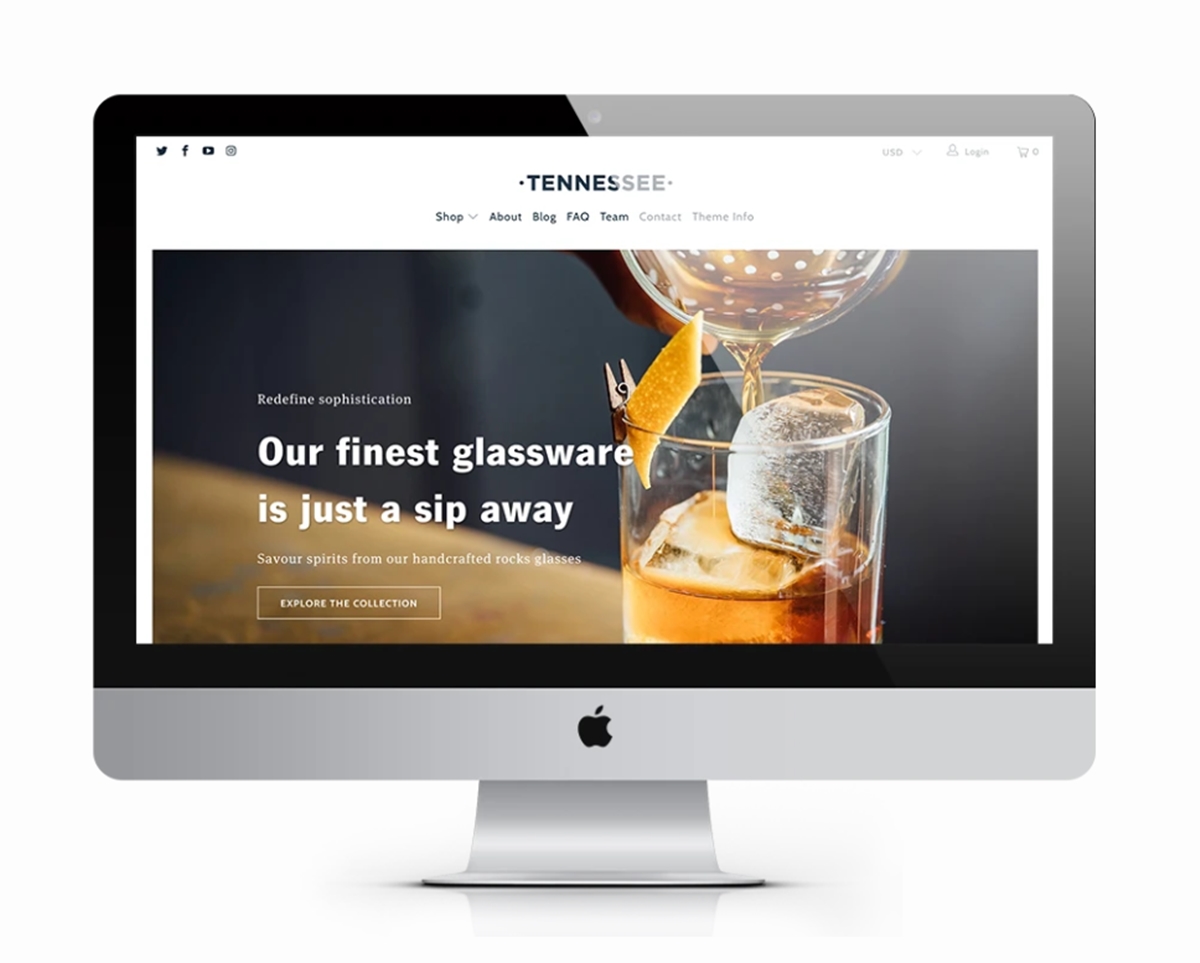 When you use this theme for your store, your customers will surely be overwhelmed by the sharp beauty and unbelievably subtle. It's great to use the Tennessee style to showcase the good things in life. Your product can become more prominent and create more sympathy for customers. Tennessee's design is quite simple but bold, which definitely makes a big impression on your clients. The balance between images and white space makes your site look neat and clean. Let add a bit of daring vibe to your website using Tennessee.
Top features of Turbo Shopify theme
PREDICT SEARCH
Since Turbo 3.0, the Turbo theme has an extremely prominent and professional feature that is predictive search. Speaking of which, surely you will understand how amazing this widget is. Right. When this feature is leveraged by you, your customers can quickly find exactly what they are looking for. This helps them save time and improve customer experience. It is obvious that your customers will decide to engage with your store by this professionalism and convenience.
QUICK SHOP
Sandbox Shopify themes, including Turbo Shopify, have the Quick Shop feature installed. Users can use it to import items into the shopping cart directly from the collection page. In particular, they can easily check product details easily even without opening the product page.
It is super beneficial when enabling advanced encryption to load content as needed to reduce page load time thanks to the Turbo's quick shop modal window.
MULTI TAG FILTER
This feature is used for advanced filtering options at gallery pages and allows custom colors for color properties. In particular, this feature is very popular with customers because they can search for the product they want by filtering products by supplier, material, size or color, etc.
ADVANCED MEGA MENU
Advanced mega menu will help you combine many elements such as images, text, and menus into an endless combination of the layout. It's a smart choice for stores that have large inventories. This function allows you to access various levels of websites. It also makes your customers see the product at sight instead of reading text, thanks to the ability to make navigation more intuitive. In particular, you can take advantage of this function to promote collections, featured items, sales close to your navigation menu.
ADVANCED PAGE LAYOUTS
The Turbo theme provides you with additional templates, allowing you to drag and drop the interface to create the desired page layout. Such as the About us page with the advanced product page, or our story, even create a photo gallery. Additional sections may be included in any order as you expect. Thanks to this, you can create an attractive page that has almost no coding.
RECENTLY VIEWED PRODUCTS
If you want to increase sales, then this function will help you. It allows you to suggest customers about other products by placing them in an alternate position on product pages and collections. This will help customers find the product they want and help you increase sales significantly.
MINI CART
Minicart is a new type of cart that the Turbo theme offers you. This feature is very useful because as soon as a customer adds a new product to their shopping cart, the mini cart will automatically open and update. This makes it easy for customers to check out and explore your store at the same time. This collapsible feature helps keep your site clean and clutter-free as it can help customers check what they have added to the basket while still on the page.
INFINITE SCROLLING OR 'LOAD MORE' BUTTON
This feature is great because it can encourage customers to continue to see your store's products. Instead of reloading the collection page, customers can now continue to browse for more options thanks to the infinite scrolling or a "load more" button. They also create a cute and funny appearance for your website.
GALLERY PAGE OR LOOKBOOK
An important part of being able to sell a product is the image quality of the product. If your product has a gorgeous and eye-catching image, the chances of it being sold will be much higher. Therefore, the Turbo theme gives you a free library page with a drag and drop interface for you to create a spectacular gallery page or lookbook.
MORE FEATURES
You can use all of Turbo Theme's integrated features without changing any code or settings. Besides, you can add a few features that you think are useful from themes outside the Sandbox (including free and paid) to your store. No need to worry about potential code conflicts or the isolation of a separate application. These features may be:
Product discount display

Calculate shipping costs automatically

Size chart

Number of boxes (Turbo and Retina also include plus and minus buttons)

Full-width slider and banner

Sale, new, pre-ordered and upcoming banners

"Agree to the terms" checkbox

Showrooms and products

A collection of many types of sections

Back to stock form

Social sharing
In a nutshell, you can choose between adding small features with third-party applications or modifying custom code for a higher one-time fee.
Related Posts:
Best Shopify stores using Turbo Shopify theme
You have learned more about the Turbo Shopify theme and its awesome features. You might be wondering if any stores have experienced it or what kind of website can this theme be used for? Take a view of Best Shopify stores using the Turbo Shopify theme so you can check its popularity.
Final words
In conclusion, this article talks about the Turbo Shopify theme - one of the most appreciated and satisfied users, especially shop owners. You will get more information about Turbo and its great features. From there, compare what you need for your website and make the final decision. I believe if you choose the Turbo Shopify theme, it will definitely be a good choice.
New Posts
Subscribe
Stay

in the know

Get special offers on the latest news from AVADA.
40k
subscribers has been joined!
Earn $10 in reward now!