Top 13+ Best Shopify Themes for Dropshipping
When it comes to selling online, especially dropshipping, themes are vital as no matter how great your products are, if you fail to showcase them appealingly, they won't sell. Online shoppers' decisions are based hugely on how products are presented on the website. If you display your products poorly, they will be perceived as poor quality by the customer regardless of what they are in reality. One of the deciding factors for your dropshipping website to look great is the theme that you choose. Great themes will allow your customers to navigate your customers seamlessly, as well as enable you to present your products appealingly. In this article, I will present to you the best Shopify themes for your dropshipping business available on the market.
What makes a Shopify theme great for dropshipping?
There are hundreds of both free and paid Shopify themes for dropshipping on the market. When you're looking to choose a Shopify theme, here are the criteria that make a great theme for dropshipping, and that you should be paying attention to.
Easy Installation: It should not take more than a few clicks to install a theme, and you can start to use it without any complicated steps.
Customization: Great themes offer a high level of customization that enables you to add features and change design elements based on your preference and the aesthetic of your brand.
Responsive design: All great themes are mobile-responsive. That means they work well with all types of devices, whether they are PCs, mobile phones, tablets, etc. More and more people are shopping online on mobile devices, so themes without mobile responsiveness will lose tons of sales that come from mobile devices.
Speed: The best themes are light, compact, and optimized to maintain a decent page-loading speed. This factor plays a pivotal role in Google SEO ranking, Google Ads ranking, as well as customer retention on your site (people are likely to abandon websites that load slowly as they perceive that as unreliable and low quality. Also, not many people have the patience to wait). The faster your website loads, the better it will be for your business.
Aesthetically-appealing design: Great themes look professional and aesthetic at the same time. Also, it should be aligned with your online brand and product niche. You need to keep in mind that online shoppers pay lots of attention to how the website looks (like how offline shoppers pay attention to how the brick-and-mortar store looks). You should choose an aesthetically-appealing theme with a minimalist, clean, and functional interface for your customers.
Updates and Support: Great themes come up with support from the companies that develop them. This is so that when users want to add more features to the theme, there's someone to help. Make sure you choose a theme that offers after-sales support from the developer.
Tip To know which shopify theme a website is using: Try Shopify Theme Detector
Here are 13 best Shopify themes for dropshipping:
1. Porto- Best responsive dropshipping theme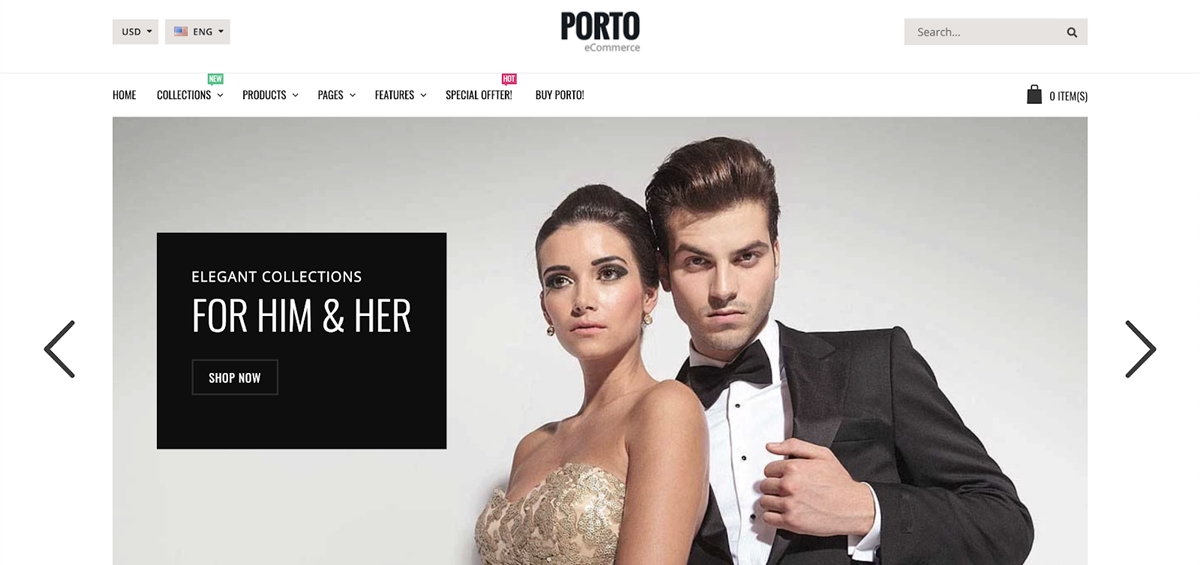 Porto is not just a Shopify theme, and it is a powerful package that can provide you with all the features you need to build a dropshipping website. It has all of the necessary tools and features to create a fast and responsive website with great UI and UX experience. Its 20+ niche demos, layouts, and styles enable you to create your own modern dropshipping store on Shopify.
Porto's highlights:
Exclusive eCommerce design
20+ modern demo concepts
Optimized for speed performance
Powerful theme options
Collections and product detail page variations
Always keep updated
2. Booster- Best converting dropshipping theme
The version 2 of the Booster was released in June 2018, and this theme has been powering more than 3,800 Shopify dropshipping stores up to now. This is a relatively new theme on the market, but it has proven that age doesn't really matter that much.
Booster comes with ten different apps that come right out of the installation, and you can enable or disable any of them based on your needs. The entire package can be customized to how you want your dropshipping website to look. Booster looks stunning on both mobile and PC.
Booster's highlights:
Mobile Optimization
Direct To Checkout
Notification Popups
Countdown Timer
Visitor Counter
Cross-Sell Pop up
Currency Converter
Free Plus Shipping Offer
Email Discounts
Product Reviews
Further Reading: Shopify Booster Theme Review
3. Palo Alto- Best dropshipping theme for stories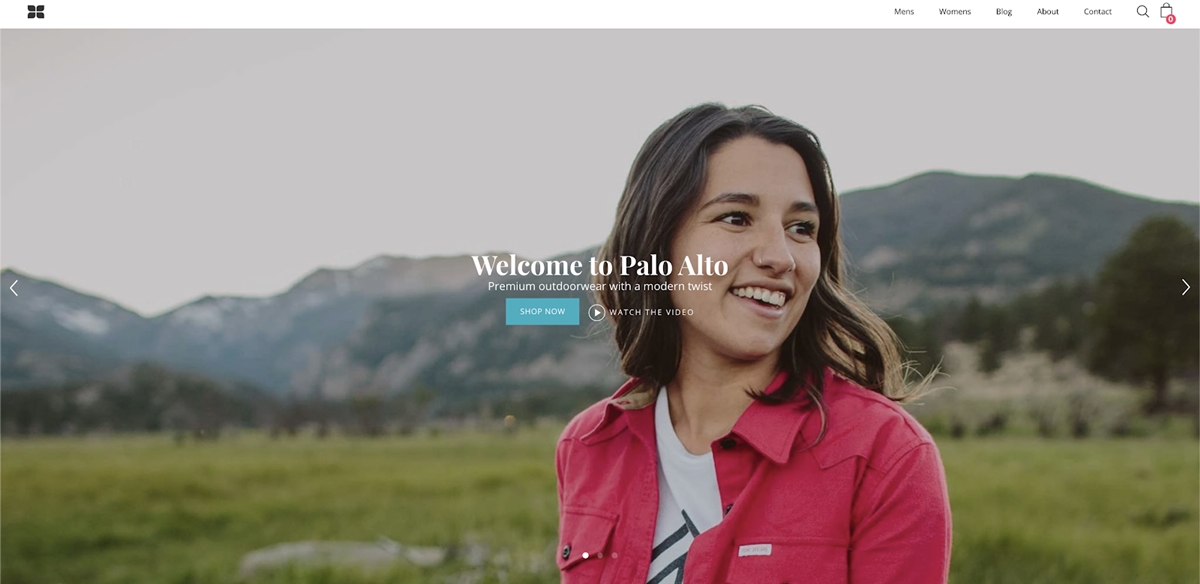 Palo Alto is a great choice for dropshipping businesses with a small catalog. This theme has three different styles that are suitable for people who are looking for a modern, minimalist design. Every section of this theme is customizable, and it is also mobile-responsive and SEO-optimized. You can rest assured that you can get a high ranking on Google, and your website will look great on any device.
This theme provides the option to add a video to the cover picture of your homepage. This can use this function to showcase your brand and products in a more appealing way than using pictures. Well-produced videos will help you convert much better than pictures alone.
Palo Alto's highlights:
Built for small catalogs
Top-of-home-page video
Customer testimonials
Optimized for large images
Customizable content sections on home page
Mobile-friendly design
Search engine optimization
Social media icons
Drop-down navigation support
Built-in styles and color palettes
Free theme updates
Free stock photos by Burst
4. Gecko- Best responsive dropshipping theme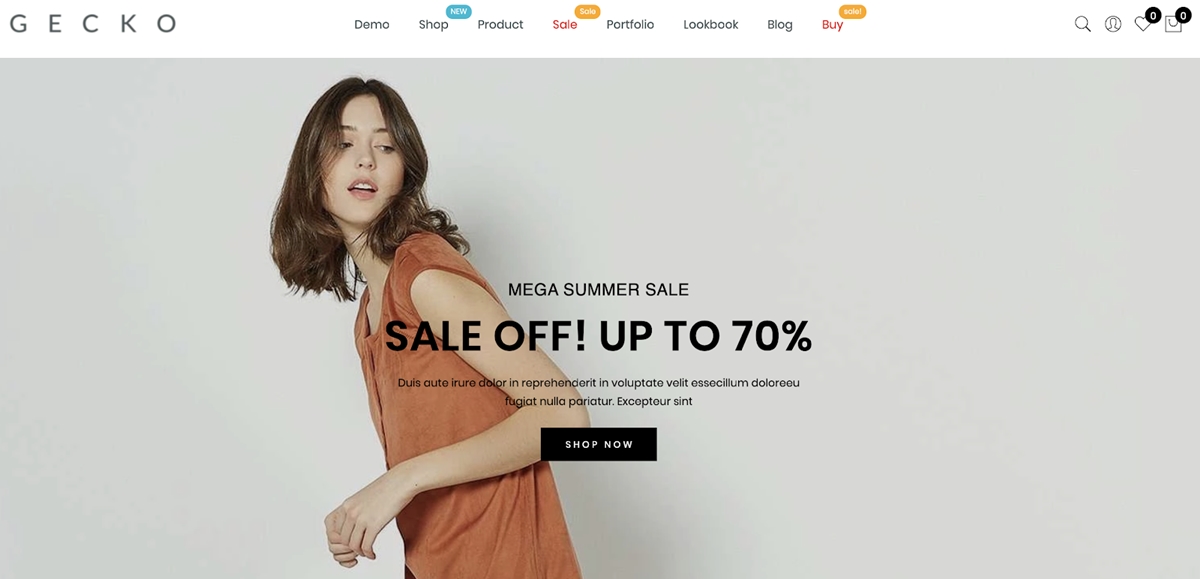 Gecko is a powerful theme for Shopify and WooCommerce. It can be used for many types of products, but it is best for fashion or furniture stores. This theme is mobile-friendly and looks great on both PCs and mobile devices.
Gecko provides you with an easy setup for Contact Form 7, MailChimp, Instagram Feed, Lookbook, Product Color and Image Swatches, and many more. With many advanced features such as the Gallery Images, Social Sharing, Product Video Gallery, Product Listing Ajax Filter, Ajax Add To Cart, Infinite Scroll, Color, and Image Swatches, you will be able to build a beautiful and functional website.
Gecko's highlights:
Fast loading and optimized
More than 15 stunning demos
Shopify 2.0 compatible
Translation ready
Product video thumbnail
One-click import demo
Responsive and retina ready
Instagram Feed display
Advanced mega menu
Powerful product layout
5. Sonata- Best dropshipping theme for clothes store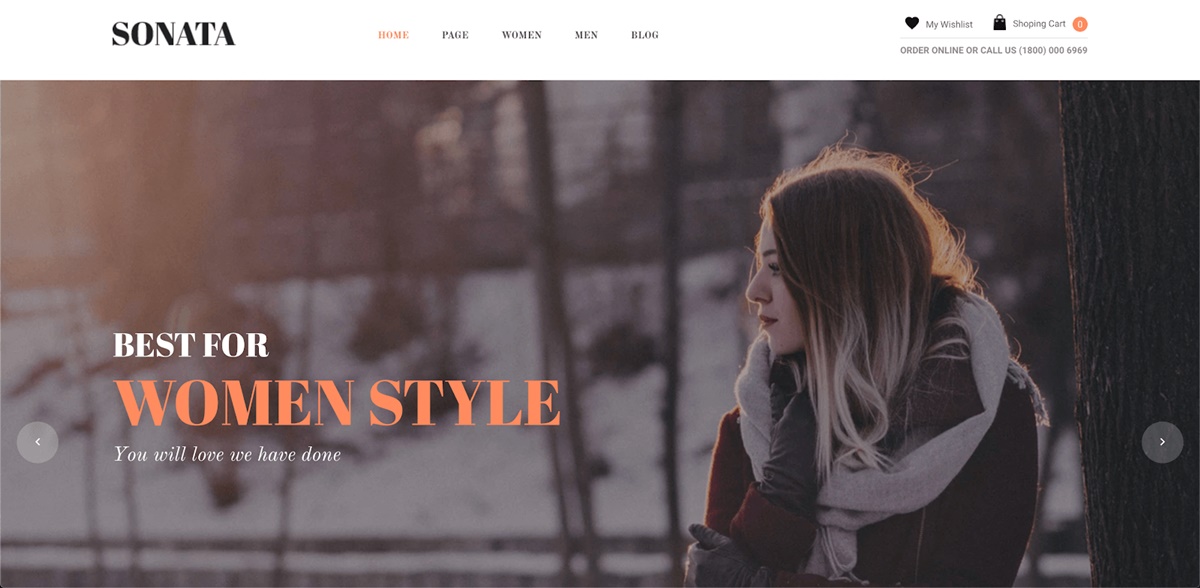 Sonata is one of the most beautiful fashion themes for Shopify available. It can certainly be on the top of the best Shopify themes for dropshipping fashion products. The theme is fully responsive for mobile devices, and its SEO optimization will help you rank high on Google Search. There are eight different well-designed demos that allow you to install and get started with just one click. One great feature of this theme is its sticky menu. No matter how far down the page your customers go, the menu will remain at the top so that it's easy for them to go to other sections of your store.
Sonata's highlights:
08 unique homepage layouts
Pin Product Lookbook
Tabs Ajax Loadmore
Multi-Language
RTL Ready
6. Dropshipping- Best dropshipping theme for fashion stores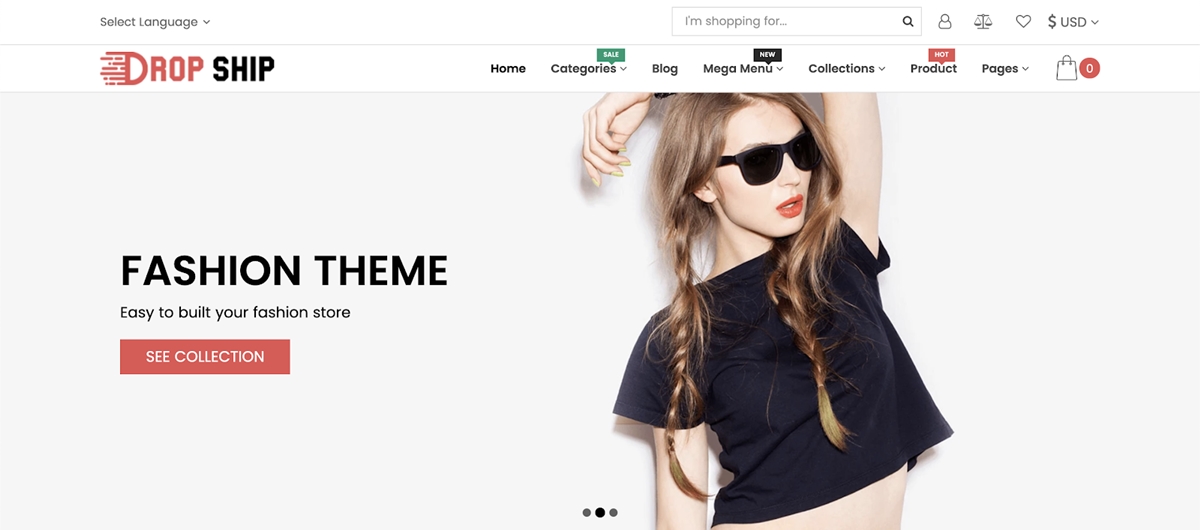 As you can see in its name, Dropshipping is specially built for dropshipping. Using this theme, you will have the flexibility to customize your store the way you want it to be. It is also very simple to use as you just need to drag and drop elements (Text, images, buttons, and even widgets) to whether they belong; no coding skills needed. This theme does not come with just one template, but there are 40 different homepage designs, five collection pages, 3 article pages, 2 product pages, and four header styles for you to mix and match. Dropshipping is mobile-responsive, so it looks great on PC and mobile devices.
There are also a handful of features that can help you sell your products better. You can add related products to any certain product so you can upsell or cross-sell. You can add several variants to the same product, and your customers can sort products with many filters such as price, color, etc. To communicate with your website visitors faster, you can add Facebook Live Chat on your website.
Dropshipping's Highlights:
Easy customization.
SEO-friendly.
Hover-image effect option.
Social icons & widgets
Auto-update prices
Easy one-click install
Smart theme option
Product video
Unlimited color
600+ Google fonts
Go-to-top button
Fast-loading theme
Mailchimp support
Instagram integration
Recommended: Best Shopify Mobile-responsive themes
7. Simple- Best clean dropshipping theme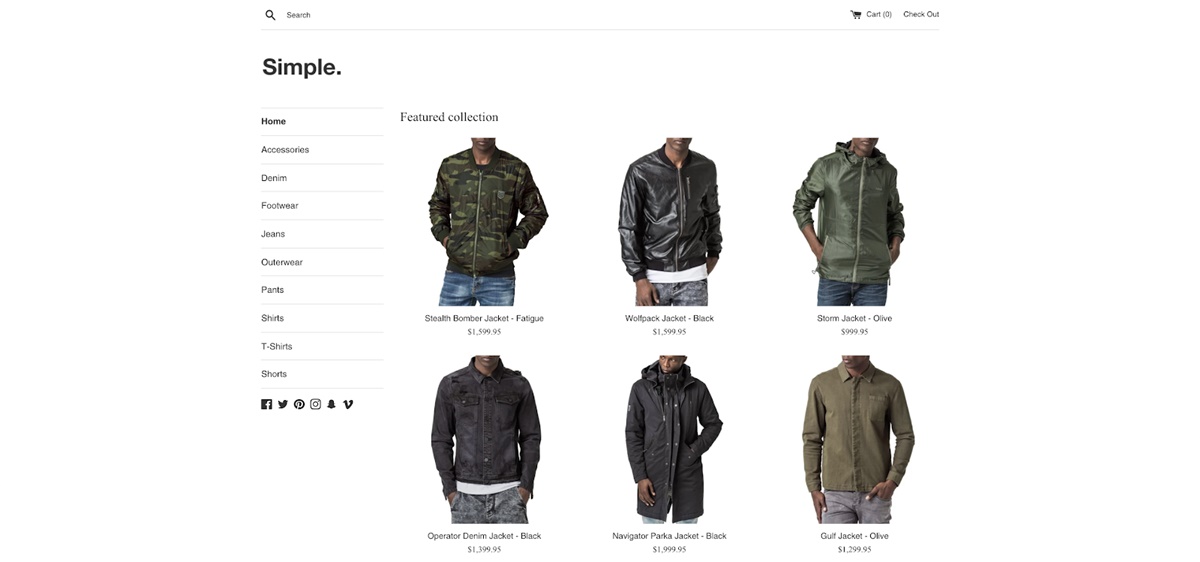 If you're on a budget and struggling to find a theme, Simple is for you. This is a free theme provided by Shopify. Although it's free, it will still provide you with all of the necessary functions to run a dropshipping store. All of the standard rules for Shopify themes are applied to this theme; it's mobile-responsive and SEO-optimized. It also offers free stock images from Burst.
Simple has many features that make it a good choice for dropshipping. This includes a great looking sidebar menu that can help visitors to navigate your store easily. This theme has two different styles: Light and Fashion. Both look amazing and are very well-developed to help you sell your products.
Simple's highlights:
Free.
Mobile-friendly and SEO-optimized
Product image zoom
Image animations
Product recommendations
Customizable content sections on home page
Mobile-friendly design
Search engine optimization
Social media icons
Drop-down navigation support
Built-in styles and color palettes
Free theme updates
Free stock photos by Burst
8. Supply- Best dropshipping theme with large inventories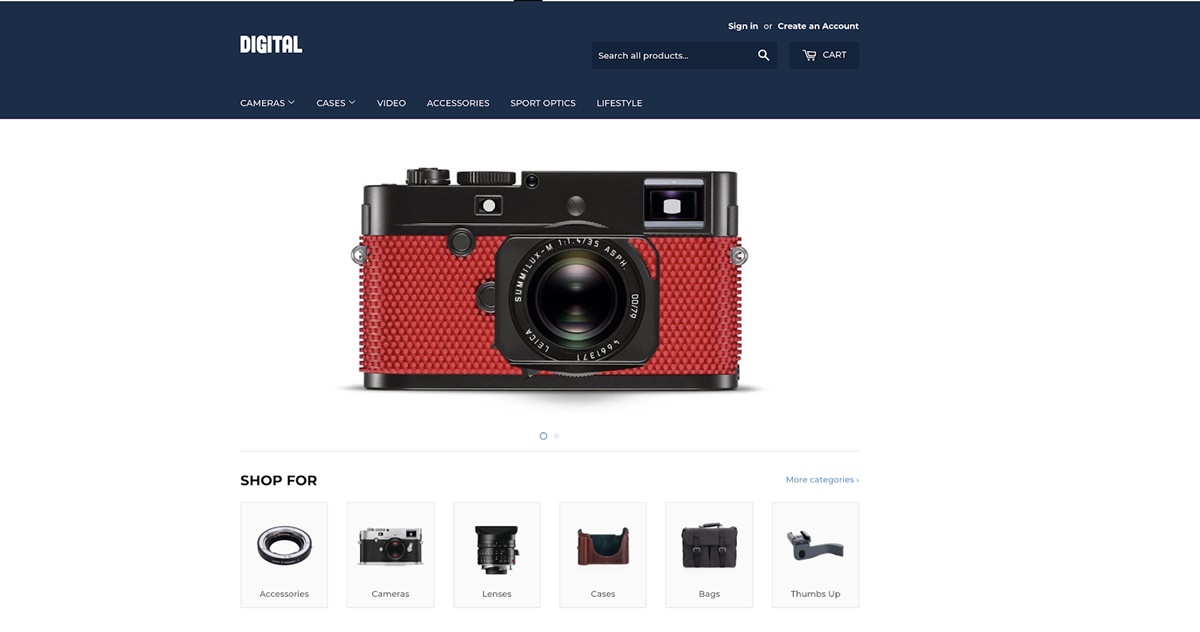 Supply is another free but great theme. It comes in two styles: blue and light. Both of these styles are very well designed to help you impress your customers. Supply is specially built for those who have a large catalog. To prevent your best sellers from not being found in your large collection, Supply has the option for you to feature them on the front page.
You can use the homepage slideshows to highlight your brand and products. As this is a theme for large collections, your customers will be able to sort products with multiple built-in filters.
Similar to other Shopify themes, Supply is mobile-responsive and SEO optimized. You can also download free stock photos from Burst.
Supply's highlights:
Built for large catalogs
Featured collections on home page
Collection filtering in sidebar
Slideshow
Customizable content sections on home page
Mobile-friendly design
Search engine optimization
Social media icons
Drop-down navigation support
Built-in styles and color palettes
Free theme updates
Free stock photos by Burst
9. Dropship- Best mordern dropshipping theme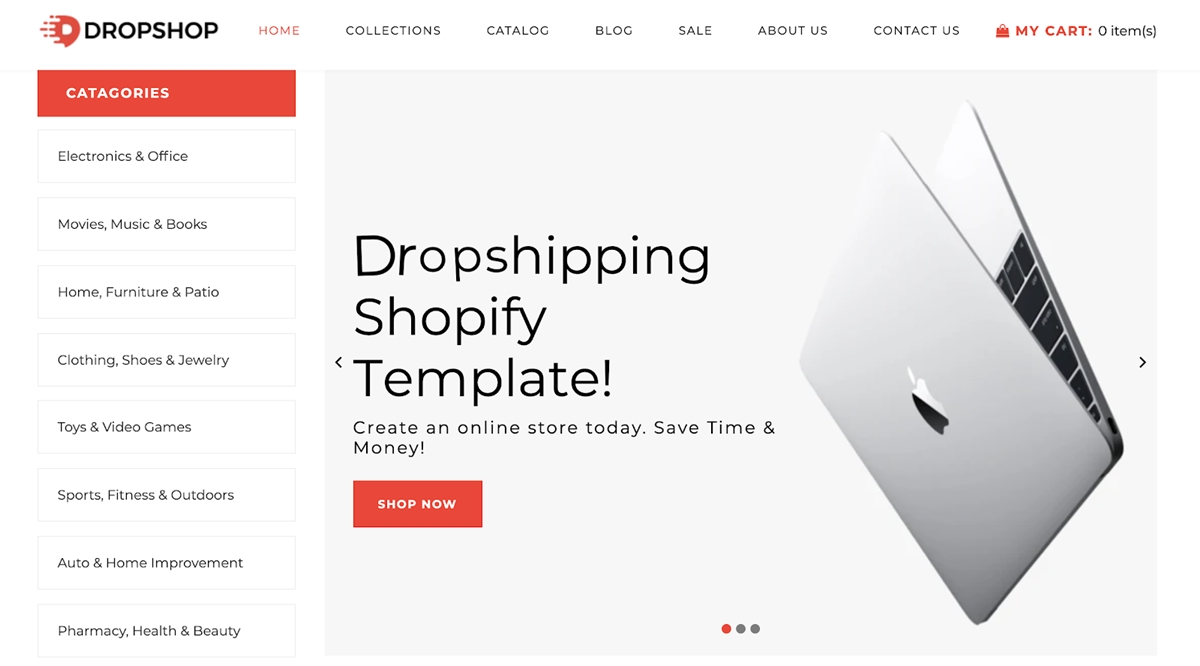 This premium-class Shopify Theme is designed specifically for dropshipping websites. You can build a functional website with this theme in no time thanks to its drag-and-drop interface.
The design of Dropship is elegant and modern. Dropship looks great and is a perfect choice if you're looking to build a new dropshipping business. There are options for you to add many features to your website, including banners, Instagram feeds, blog articles, and more.
Dropship's highlights:
Fully responsive
Parallax
Multilingual
Multi-currency
Social options
Contact form
Google maps
Google fonts
Product quick view
Product carousel
Instagram feed
Featured products
10. TeePerfect- Best dropshipping theme for T-shirt business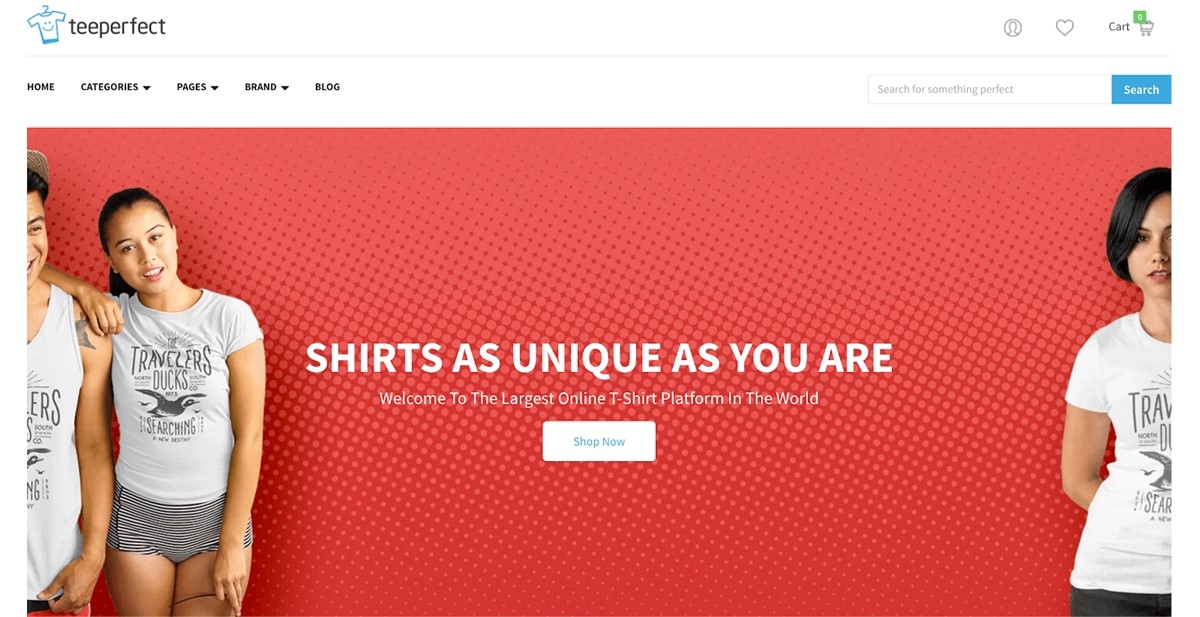 TeePerfect is a great theme for those who are looking to dropship printed products such as t-shirts or mugs. This theme was built by developers with experience in this market, so it has many special features to support businesses of this type.
TeePerfect's highlights:
10+ perfect homepage layouts
Build for large-sized images
Fully responsive
Advanced mega menu
Variant color swatches
Product time countdown
Multi-languages and currencies
Instagram feed
11. Kala- Best dropshipping theme for customization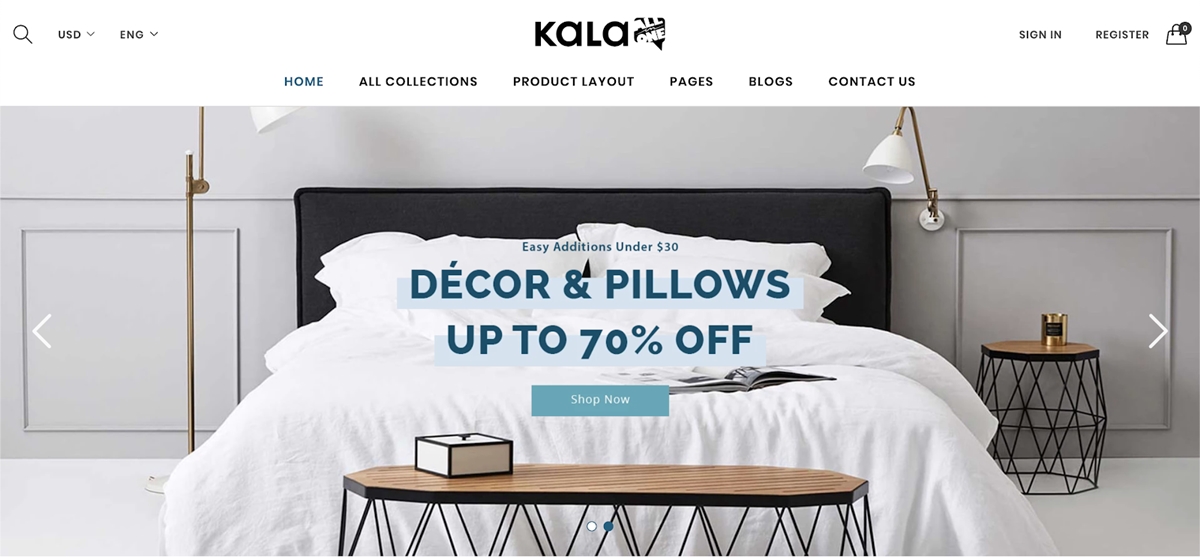 Kala provides you with many different layouts and design styles, and it's very easy to customize to fit your brand aesthetics regardless of what you're selling.
Kala is a multi-purpose theme with a mobile-responsive design. Its UI/UX design for mobile devices is highly optimized, so this theme is perfectly suitable for shopping on tablets or smartphones. As more and more people are doing online shopping on their phones, Kala is a great choice to boost your conversions.
With Kala, you will have more than 60 uniquely designed product sections, such as new products, best sellers. Featured products, products by categories, etc. There are also nine different headers, five footers, five product-page layouts, and plenty of mega menu styles. With this variety of designs, you can easily mix and match them to build a unique store for your brand. Kapa also provides you with more than 30 presets for over 30 niche products for your homepage layout. The underlying code of this theme strictly follows the industry standards, which minimizes bugs and greatly improves loading speed.
Kala's highlights:
60+ unique design sections
5+ product page styles
10+ different header styles
5+ different footer styles
60+ Google fonts
Responsive web design
Custom homepage with sections
Advanced product filters
Fast product configuration
Advanced mega menu
Slider visual builder
Dynamic checkout
Wishlist and compare
Size and color swatches
Discounts countdown timer
Product reviews
Product gallery
12. Multibuy- Best multipurpose dropshipping theme

Are you tired of the insane number of themes on the market, and too overwhelmed to know which one to choose? If so, get Multibuy. This theme is suitable for fashion, automobile, and many more. There are 18 ready-to-use templates that enable you to customize your homepage on your own terms.
Multibuy's highlights:
100% Responsive
Mega Menu
Multi-currencies
Multilingual
Many sorting Options
SEO Optimized
Add to Wishlist
Grid / List view
Social networking icons
Google Fonts
Well Documented
PSD Included
Valid Semantic Coding
24/7 support
13. Startup - Best dropshipping theme for one-page store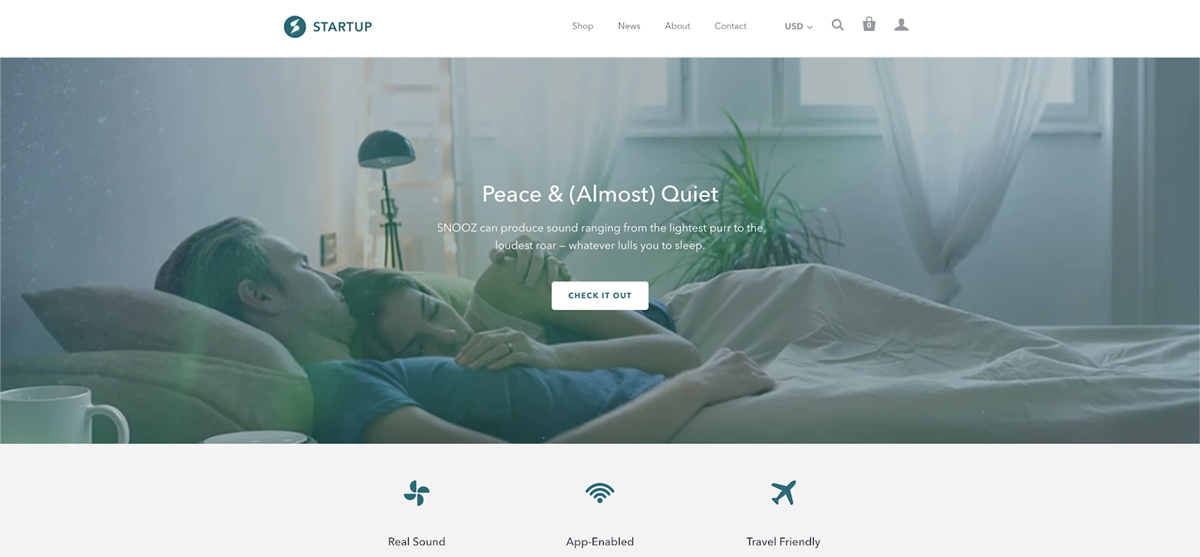 Startup was built with an unmatched level of flexibility, and it is a great theme for eCommerce dropshipping merchants who want to sell small products online. One cool feature of Startup is that the modular home page design that comes with it can serve as a single page store on its own.
Startup's highlights:
Optimized for single-product stores
Modular-style home page
Customer testimonials
Home page video
Instagram feed
Wide layout
Customizable content sections on home page
Mobile-friendly design
Search engine optimization
Social media icons
Drop-down navigation support
Built-in styles and color palettes
Free theme updates
Free stock photos by Burst
Recommended: Best Single Product Shopify themes
Wrap Up- Pick your best dropshipping theme
Above are the best Shopify themes for dropshipping Which have been reviewed and manually picked up by our AVADA Commerce team from website, marketplace such as: Themeforest, Shopify Themes or TemplateMonster.I hope you find the perfect theme for your dropshipping store out of this list and pick one for your dropshipping store. If you know any best Shopify themes for dropshipping that I have not mentioned, please leave a comment below.
Other Great Theme Lists:
---
Sam Nguyen is the CEO and founder of Avada Commerce, an e-commerce solution provider headquartered in Singapore. Sam aims to support more than a million online businesses to grow and develop.
New Posts
Stay in the know
Get special offers on the latest news from AVADA.