Top 10 Best Shopify Wholesale themes FREE & Paid
Are you planning to start selling on Shopify and looking for an ideal theme for your store? If you know a bit about themes, you understand that each Shopify theme is provided with the unique design to accommodate a particular type of product as you might have low sales due to the theme that doesn't fit the product you are selling the best. Each store will need some unique features that the theme needs to fit.
When it comes to Shopify themes made for wholesale stores, a theme might need to have great features like Google Web Fonts, Ajax carts, Bootstrap frameworks, Mega menus, Support for multiple languages and currencies, and many more to suit large inventories store. For example, you should have a theme that has the homepage oriented at displaying categories, rather than individual products.
Knowing this is essential for wholesale merchants on Shopify to find their suitable theme, I have listed out Top 10 best Shopify Wholesale themes here to have the most stunning performance in your business.
Exclusive Offer: Get Shopify 93 days for just $3 + The Online Store Starter Kit
Start a 3-day free trial, then get Shopify 3 months for $1/month plus the premium package designed especially for new Shopify merchants!
Start Free Trial
10 Best Shopify themes for Wholesale businesses
1. Blockshop theme
Blockshop theme is totally is a responsive and retina display Shopify theme, which is drawn on flat UI design, consequently, it has the boasting spacious grid-style, bold imagery, as well as block colors, bold typography with a minimal user interface that appeals trends with simplicity and style. This theme would be a great match for those who have established businesses, start-ups, boutiques, and independent artists as well.
When first visiting this Blockshop, most people will be impressed by the "Wow" effect with its wide photo banner and the stunning storefront. Then, there is a site entry pop up available here to boost the potential customers of your store to sign up to the mailing list so that you can send promotions for them and collect these customers' email and increase the possibilities that they will use the promotions to buy from your shop. Additionally, when you have already had the email address collection, you are also able to email them newsletters, sales, and other information you want to share with potential customers to revisit your website.

There are four different styles available on this theme, which are Deli, Beauty, Playhouse, and Moto for you to choose from. Plus, there are tons of features available on this theme for you to flexible use including the Instagram Feed to share your latest Instagram posts in a full-width feed, the Multi Column Menu to feature the product images in a large, multi-column drop-down menu, or the Video Usage, Multiple Slideshows, Wide Layou and many other more.
2. Galleria theme
Galleria theme, which is designed and supported by Mile High Themes, is another another image-focused theme ideal for large inventories. There are three different styles included in this theme, which are Empire, Boutique and Showroom.

There are multiple features on Galleria that you can utilize for your wholesale store. First is about the Vertical slideshow feature that helps you display a large collection of images or information in a sleek, vertical slideshow on your home page. Also, you will have the Collection filtering in sidebar, which allows customers to filter collection pages by brand, type, and other customizable options. What is more, there are menu options available to feature a multi-level, slide-out sidebar menu or a large horizontal menu to grab the customers' attention at the very first visit.
The best of all is the Extensive Video Support section to create full video heroes and background video for your homepage together with videos in your galleries. As a result, a large number of your products will be able to stunningly reach your customers and appeal to them to buy your products.
3. Capital theme
Capital theme, which is designed and supported by WeTheme, is totally suitable for displaying large inventories with style and precision as it can showcase large collection of products in a beautiful style and manner with the Capital theme for Shopify.
About its incredible features, Capital is built the large catalogs, which is ideal for stores with a large number of products. There is the multi-column menu provided here so that you can feature product details and an image in a large, multi-column drop-down menu. Also, you have the advanced product filtering to enable customers to filter products by brand, type, color, or size on the collection page. Plus, there is the predictive search available for you to showcase the live search results and quick links for products and store pages as well. At the same time, the Animated content features can really help you in making your content stand out throughout your store with multiple texts, image, and page animations as well.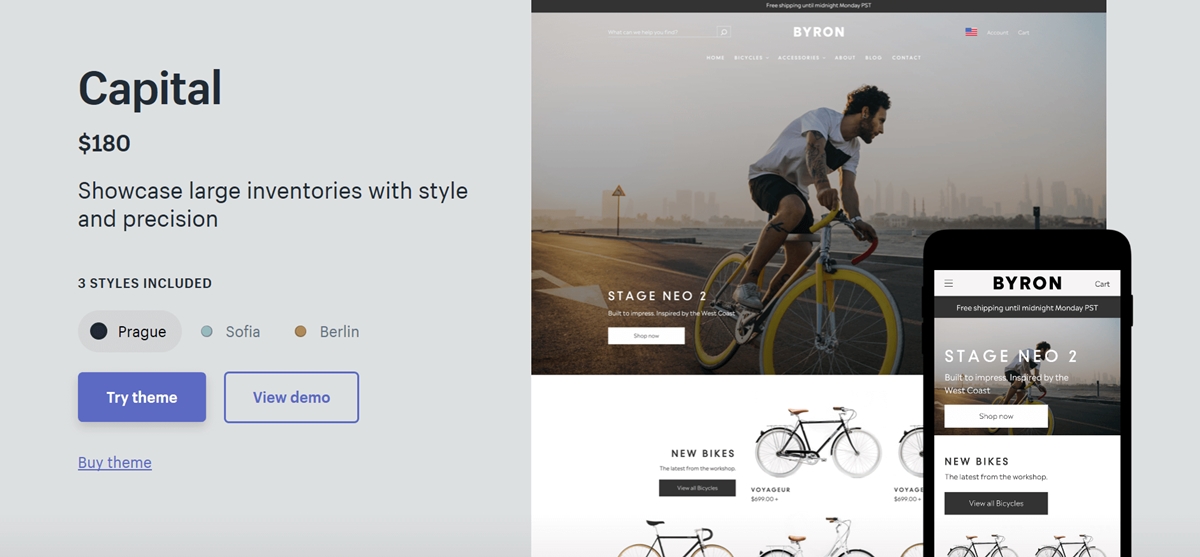 There are three styles available on this theme including Prague, Sofia and Berlin, which enables you to flexibly choose. Many users consider this theme to be impeccable in its structure because Capital has everything in the right spot, such as the search field, the mega menu, the understated design that allows content to shine, intuitive back-end and many more. Additionally, Capital has a great Support team, who are so professional and willing to help their customers to fix a few things that they are not an expert in.
4. Boost theme
Boost theme is another Shopify versatile theme that will bring the in-store shopping experience online for all users. This theme is designed to drive sales by taking the in-store shopping experience online for customers. Also, with the help of multiple layouts, creative use of space, promotional image links and price tag style labels, your customers will be more likely to be kept engaged and moving through your store until they are ready to buy. There are three different styles available here, which are Flourish, Spark, and Inspire with three different looks and purposes.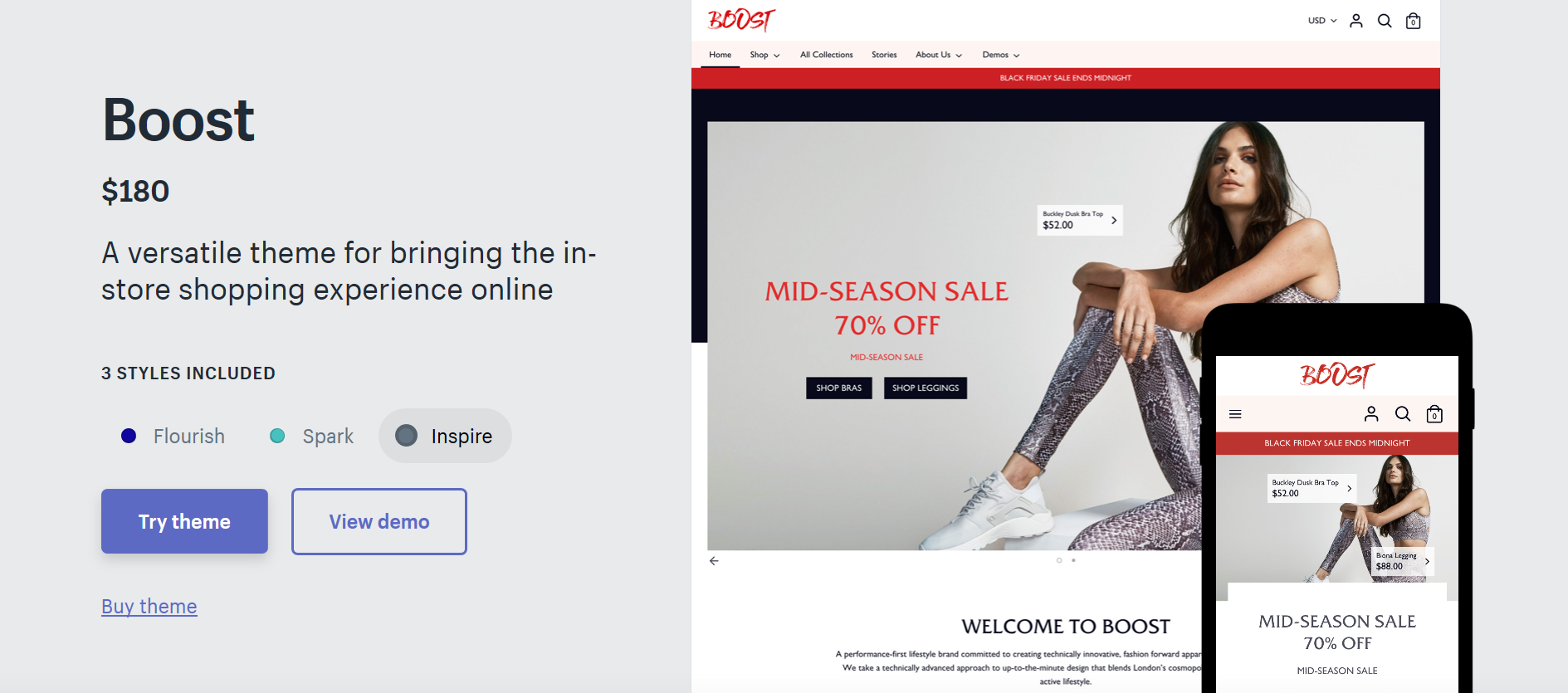 About this theme's stunning features, you will get the Image hotspot linking, which enables you to tag images by creating link labels for easier in-context discovery of your products, the Custom promotion tiles for promoting sales, discounts and featured products with special homepage promotional tiles. Boost is also able to showcase swatches on both collection and product pages on your store with its Color swatches feature.
Then, you are also able to get the live search results and links for products, pages and articles when using the Live search feature as well. What is more, Boost has a strong support team, which will help you turn the difficult things into simple ones with a great step-by-step explanation so that you don't have to worry about any troubles happening with your site while using this theme.
5. Superstore - theme for wholesalers and high-volume stores
The most oustanding solution - Superstore. This is the only theme that integrates seamlessly with the Wholesale Club - an intuitive app that brings the easiest way to offer wholesale pricing.
Superstore theme is powered by multiple speed and performance-boosting features, such as lazy loading, minified JavaScript, or Turbolinks. It streamlines your stores and increase customer experience with beautiful, interactive, and responsive theme. You can also customize your storefront with Superstore theme by redesigning and modifying layout, typography, styling, highlights, and promotions.
6. OpShop - Wholesale store theme
OpShop - Wholesale store theme is a store Shopify theme created for large store with a responsive layout, a slider, parallax effects, multicurrency support, a wishlist feature, a theme color switcher, product carousels, a blog, an Ajax cart, Google Fonts, PSD files and many more. What is more, you will be able to get all you need for your wholesale business, like the intuitive navigation, classification by type of good, featured products for the real shopaholics, sales section, etc.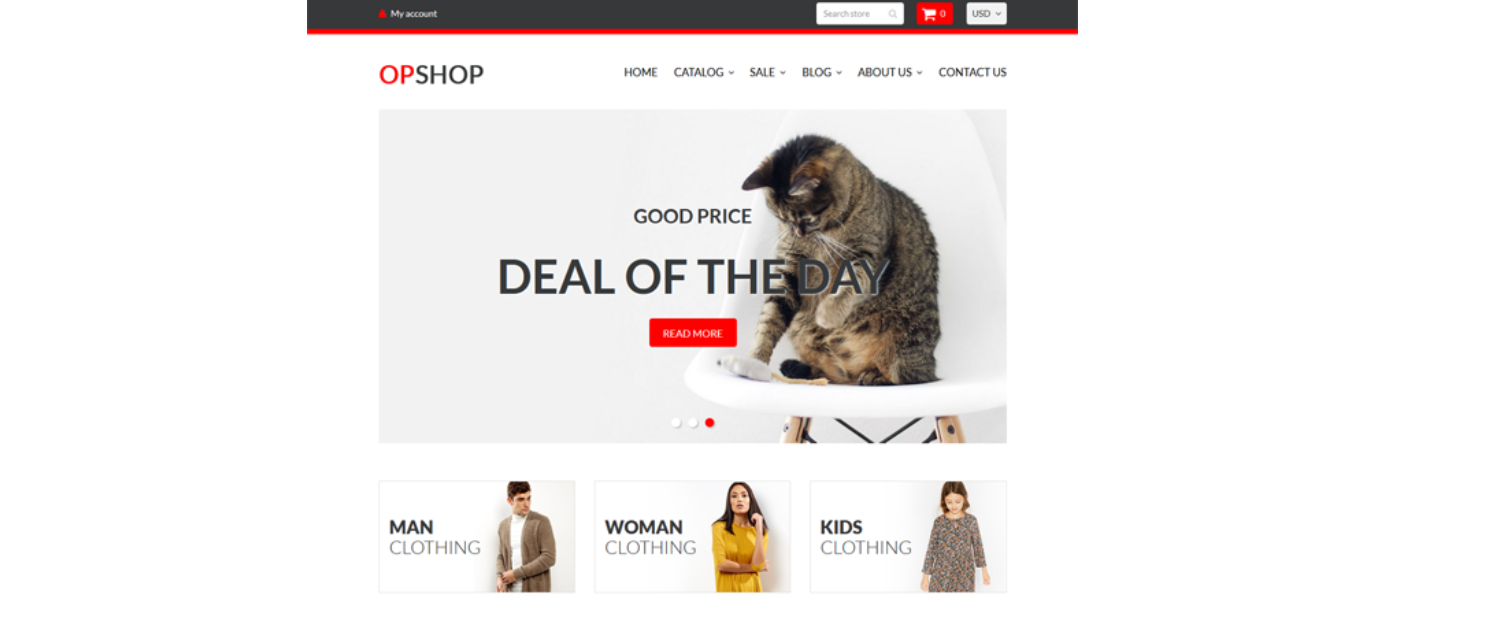 Then, your product's information will be placed consistently on a single page. Also, there are many different tabs on the top of the page that contains some options like Sales, Catalog, About Us, and so on.
7. HugeSale Shopify theme
HugeSale Shopify theme is another multipurpose online shop theme, made for WordPress based websites and wholesale stores. Hugesale is ensured to provide you with everything and anything for eCommerce. This theme is suitable for large online stores with a large inventory, as it can offer two narrow banners in the topmost part of the template. Even more, you are also able to promote your sales and special offers with the help of countdown timers and the Call-to-action buttons as well.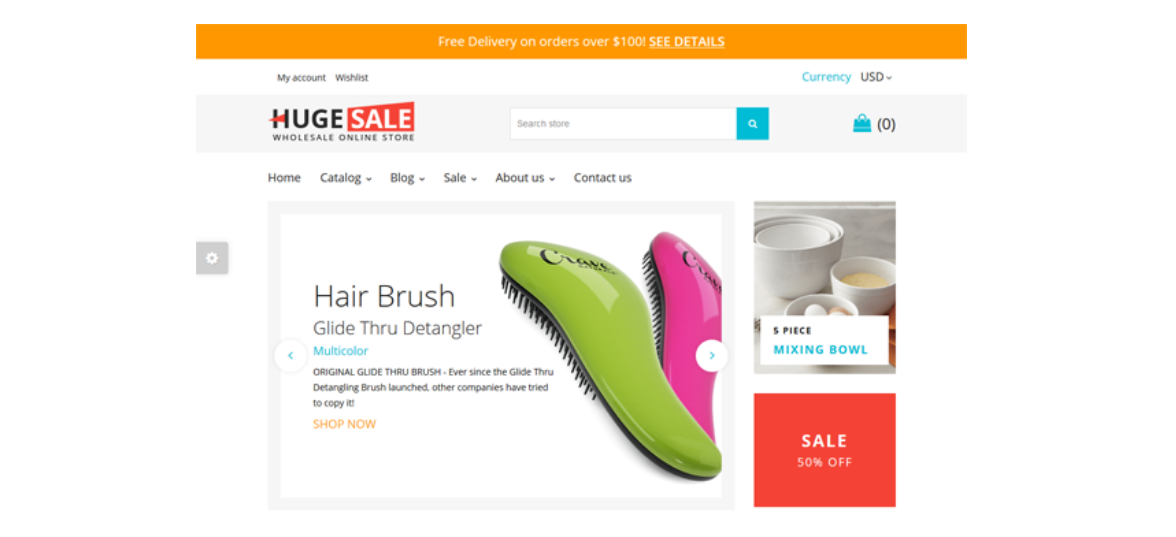 There are four preset color schemes on this theme so that you can restyle it easily as well as the ability to replace the logo on your own. HugeSale also has some types of product labels, integrated Facebook and Olark Live Chat widgets, interactive Google Maps, and many other more. Moreover, there is the Online Chat functionality available as an instrument to enable you to have a real-time conversation with your site visitors. As a result, you will be able to connect with your online visitors and turn them into your buyers afterward.
Free 1:1 Shopify consultation & 30-day all-app trial FREE
Shopify Plus Strategy and Consultation
Personalized E-commerce Solutions
Conversion Rate Boosting Techniques
Inventory Management Hacks
8. Stockhouse - Wholesale Store Shopify Theme
You have access to a ton of features that work to generate and convert more leads. You can host various products which can be divided into various categories. This theme can be used on any Shopify plan as you maintain a great user experience.
Stockhouse - Wholesale Store Shopify Theme is a Shopify theme made for wholesale store that provides many great features to support a business, like its Product quick view, Visual page builder, Wishlist feature, a Collections catalog, Google Web Fonts, an Ajax cart, Newsletter subscription forms, Parallax effects, and many more. All are built to bring you a better look for your internet presence.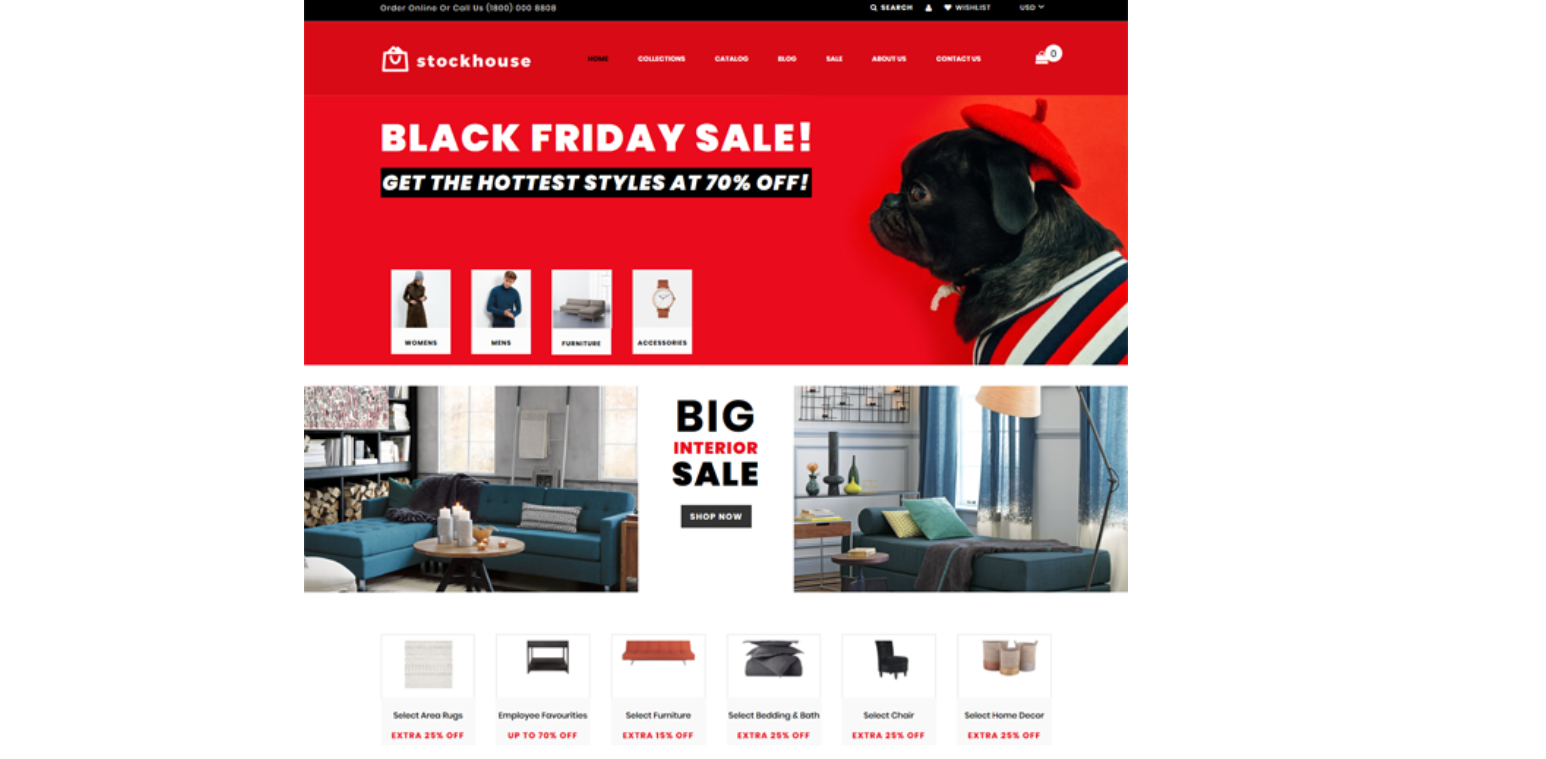 Also, the Stockhouse theme is so adaptive so that you don't have to bother about different page layouts for different platforms like mobile devices, tablets, and desktop computers. It is also so easy to install, so you can do it all by your self without the help of specialists and relevant knowledge. Everything is about this theme is so creative and clear for an eCommerce website. It can help you a lot in simplifying your work while creating and managing your web resources.
9. Storecy - Wholesale Mega Menu theme
Storecy - Wholesale Mega Menu theme is another theme for wholesale stores on Shopify. The designing styles of this theme would look best for clothes, furniture, electronics or toys products. It is created with accuracy and minimalistic so that you will be able to sell anything and gain profit without any troubles. It has the calm and light laconic design,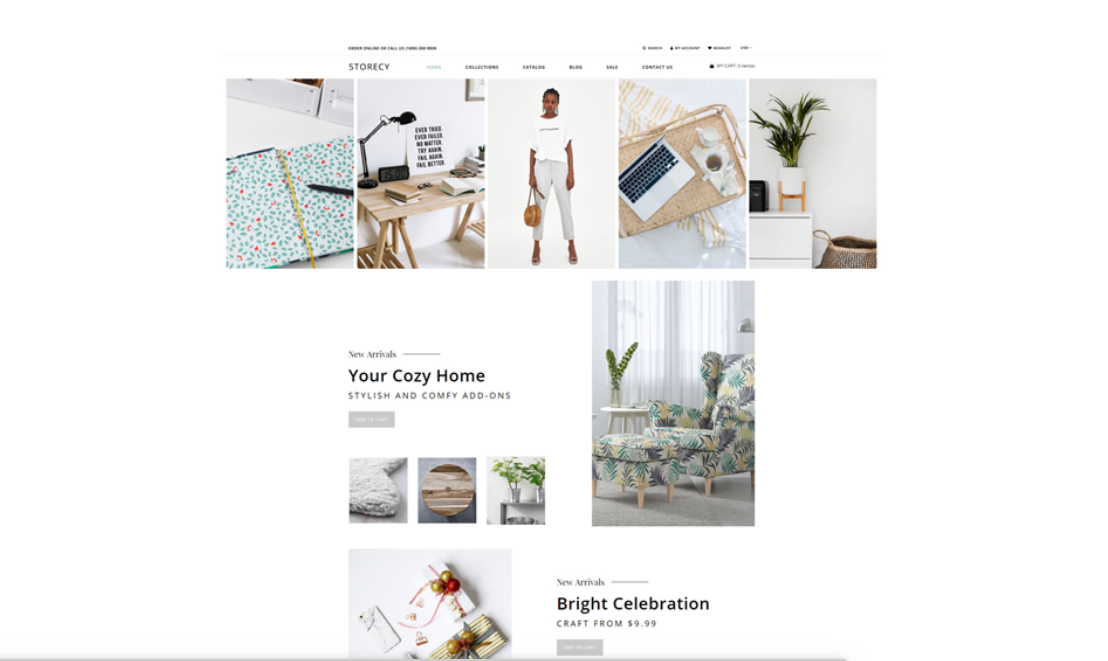 There is the simple, but not typical homepage layout available here as it has no big slider on the top, and the page begins with categories tiles instead. There are only the elements that are needed in the product cards, which are the short description, sharp photo, price, Add to cart, Add to wish list and other comparison tools. What is more, you can find a multicurrency module on this theme, together with the newsletter subscription form, collection tabs and banners, Drop-shipping support, a Bootstrap framework, a commenting system, and many other more features on Storecy, which are all for your customers' convenience.
10. Venture theme (free)
Venture theme, which is a free theme published by the Shopify team, is absolutely an ideal for stores with a large number of products. In general, this theme is bold, but not minimal for high volume stores with large inventories. Its design has a great mix of colors and features to help you tell the overall look and feel of your online store. I think Venture's edge-to-edge slideshow, multi-column drop-down menus, Single Featured Product Filtering, and a promotional bar and many more outstanding features are going to impress you.
There are three different styles included in Venture with each catering to a different type of eCommerce store, which are Snowboards, Outdoors and Boxing. What is more, Venture is a free theme, and it doesn't require users to pay for the subscription fee as well. Then, you will also like its highly responsive feature about it to flexibly adjust to the proper size on any device. As a result, your visitors will be able to see the best visual of your store. If your store has more than 50 products, 5 or more collections, or the need of having large menus, then I believe this incredible theme will be a perfect match for you.
Read More: Shopify Venture Theme Review: Perfect Theme for High Volume Stores
11. Warehouse theme
The Warehouse theme is a theme that is designed and supported by Maestrooo in order to display and promote a large catalog of products. It is a neat theme with the simple design to be flexibly applied to your Shopify eCommerce store. This theme can be personalized by adjusting the color, inserting images up to your wish. There are tons of features available on Warehouse for you to use, like the Stock Level Indicator, Live Search, Custom Promotion Tiles, and many more.
Plus, as it focuses on the user experience, Warehouse enables you to broaden your customer reach to platforms, such as social media and email, for example. As a consequence, you can save an amount of money and time from developing your theme from scratch. There are two different styles available on Warehouse, which are Metal and Wood for you to flexibly choose and capture your customer's attention right at the moment they land on your store by using the product slide show.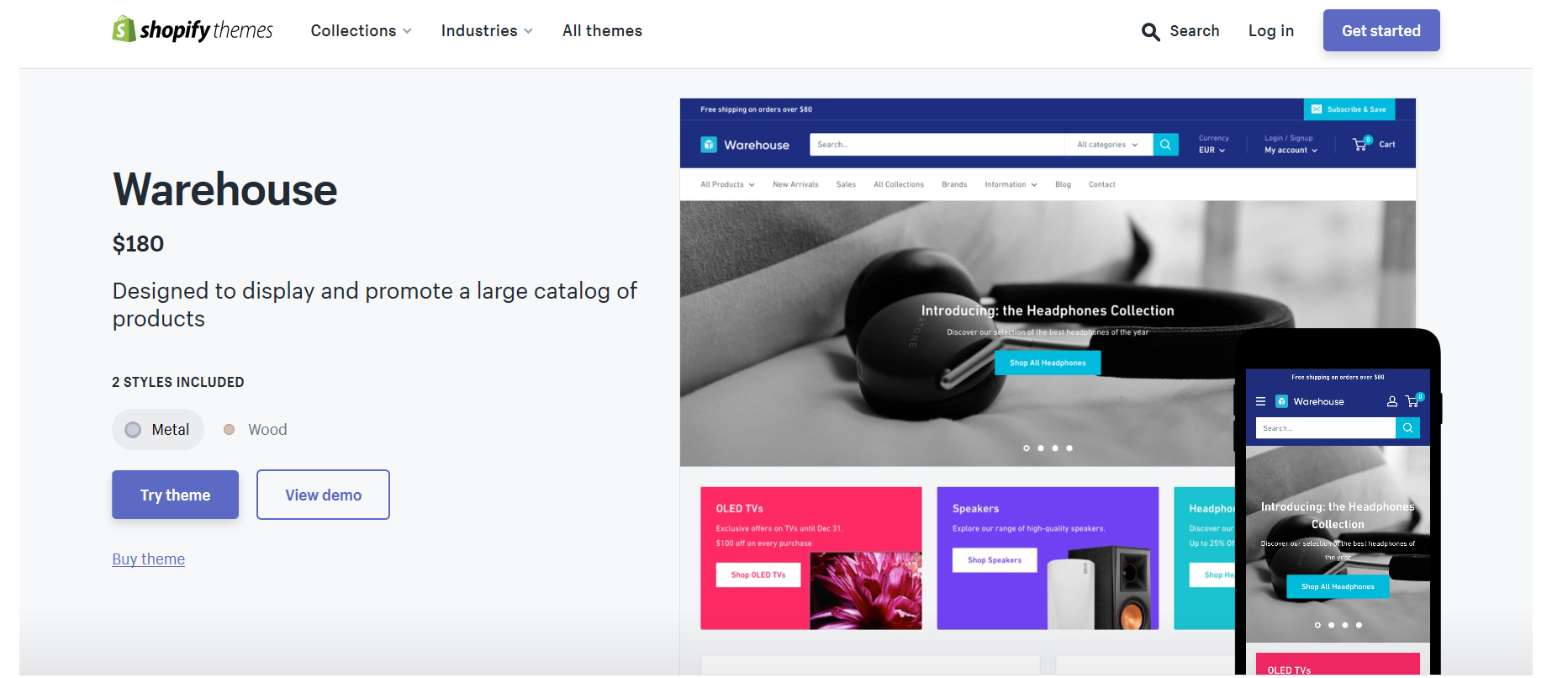 Also, there are many Shopify experts and designers have tested and recommended theme to use for big Shopify stores. What is more, the Warehouse theme is absolutely a compatible theme with Shopify that allows you to access to all updates here from Shopify.
Conclusion
In conclusion, if you have lots of products to sell and looking for a versatile theme for your Shopify store, then this article should be of help to you. With a suitable theme, you will be able to access a ton of features that work to generate and convert more leads, a great host collection of products that you can divide into various categories and many other more.
After reading this 10 best Shopify wholesale themes article, hopefully, you will be able to easily select a great theme for your Shopify wholesale store by keeping the above points in mind. Then, feel free to contact us in case you have something in mind. We are always willing to make things clear for you.
Related Posts:
---
Sam Nguyen is the CEO and founder of Avada Commerce, an e-commerce solution provider headquartered in Singapore. Sam aims to support more than a million online businesses to grow and develop.
New Posts
People also searched for
Shopify wholesale themes

Shopify wholesale website templates
theme for wholesale

best theme for wholesale
wholesale themes for Shopify

wholesale themes for store
Stay in the know
Get special offers on the latest news from AVADA.