21+ Best Shopify Mobile-responsive themes
Design matters a lot for your online store appearance, which is the face of your brand. As a store owner, you need to know how to choose a good Shopify theme. Visitors are deserved to feel welcome and encourage while exploring all the products that you offer. As you can see, there are over 60 percent of all eCommerce traffic comes from mobile devices, so putting your website with an attractive and responsive theme, which can look great both on desktop and mobile devices, is an important thing to do.
The good news is that Shopify has created a store of more than 50 themes in 140+ styles responsive themes, which makes it easy to pick one for your Shopify mobile app. If your website is responsive, your visitors on mobile devices will be able to enjoy smooth shopping experience. Also, you can gain trust from customers, as a result, increase conversion rates. In order to help you decide easier, this article is here with a list of 21+ best mobile-responsive themes for your Shopify mobile app. So, let's see them now!
1. Brooklyn theme
Brooklyn theme is a free Shopify themes, which is tailor-made for modern apparel stores. It is able to look great on all screen resolutions. In order to see how amazingly it can adjust, you can try on resizing your browser window. Also, click on the View demo button to see its look on your mobile phone or tablet. This theme has customizable content sections on the home page, which enables you to adjust colors, images, and fonts with ease.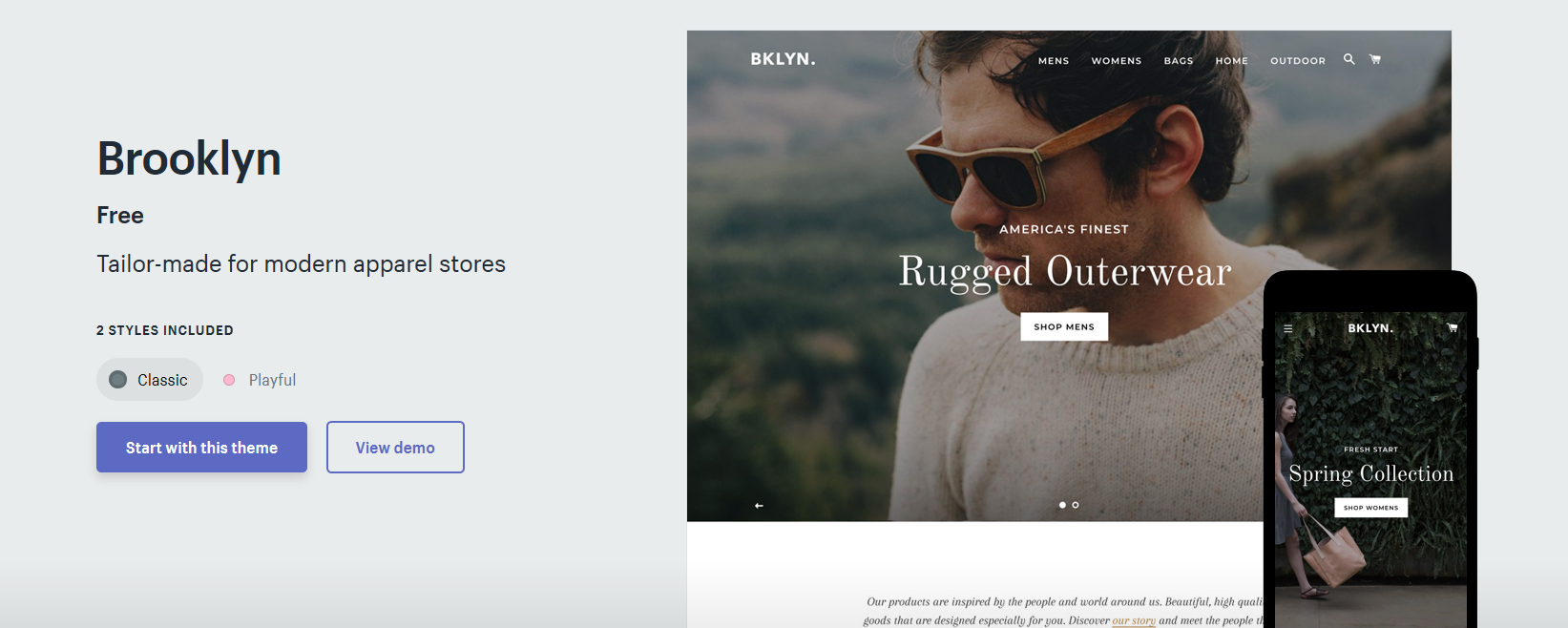 2. Supply theme
Supply theme is another free theme best suited for businesses with a large inventory of products across categories. – it offers smooth navigation across product categories, ensuring a good user experience for your customers. The theme is quite flexible and lets you add new products even after the website goes live. It offers sidebar filtering, several homepage collections, and easy integration with Shopify's product reviews app. Supply is ideal for luxury products like jewelry. The theme has 2 different styles: Blue and Light.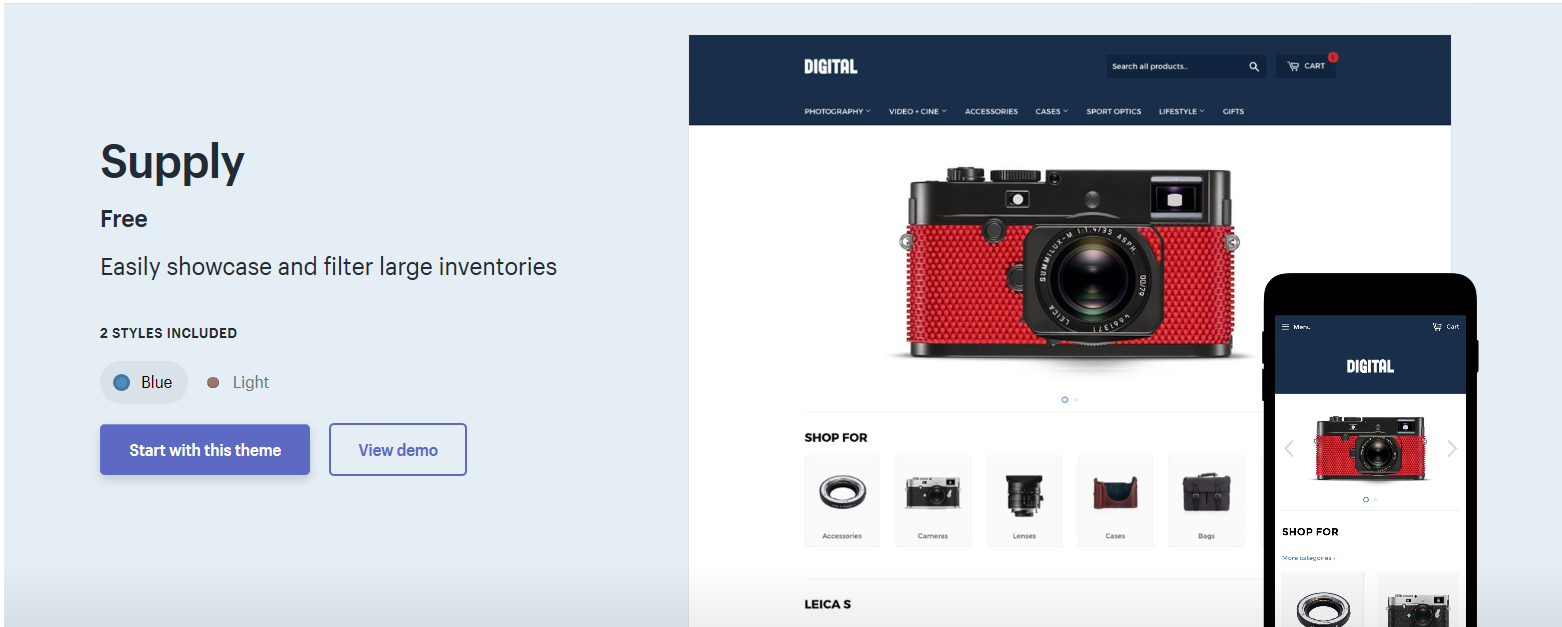 3. Elise - MultiConcept theme
Elise - MultiConcept theme is designed with plenty of layout options and a Powerful Admin Panel, which will help you edit every aspect of your store. A wide range of niches is available to use this theme. Plus, you will be able to add various beautiful sliders to put your products on sale or the most popular products for your showcase. Additionally, you also can have the wish list feature, advanced shopping cart in the header, sticky and mega menus, and many more.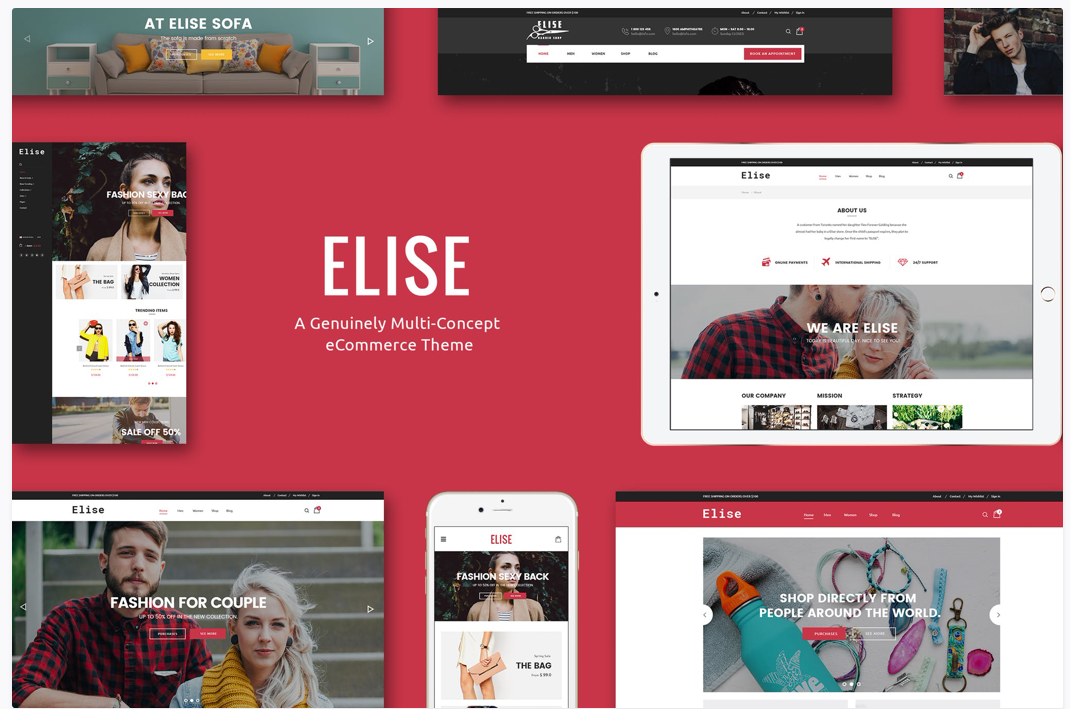 4. Venture theme
Venture theme is a bold theme, which is designed with a contemporary look. It is considered to be ideal for stores with a large number of products. Specifically, several types of products and categories on your store will be handled with ease here with flexible customization options. You can also design a layout, which can work well for any device and a stunning homepage slideshow, in order to appeal to new customers. What is more, when you come to this theme, you will be provided plenty of typography options, drop-down menus with multiple columns, and a promotional bar. Plus, users will be provided the drop-down menus to navigate quickly across the website as well.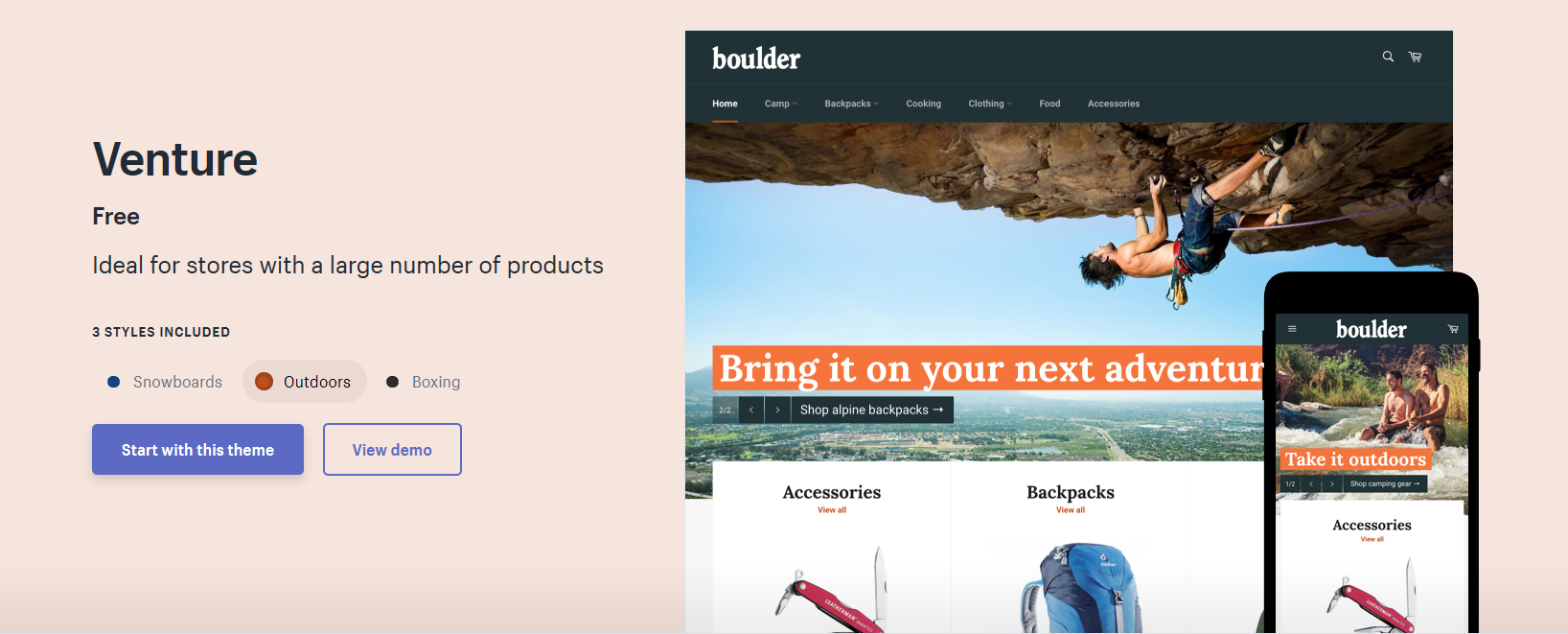 5. Canopy theme
Canopy theme is absolutely a versatile and modern theme, which is ideal for product promotion. This theme is confident in its compatibility with all kinds of inventories, regardless of size. On your website's homepage, it will enable you to define the order of each row, also let you enable or disable any row's content in a flexible way according to your store's needs. Additionally, there are the large menus offered by Canopy with convenient links to other pages and categories. Users also have the ability to add items to their cart quickly right on their current page. This theme is designed with 3 responsive styles: Kiln, Elda, and Thread available for you to choose from.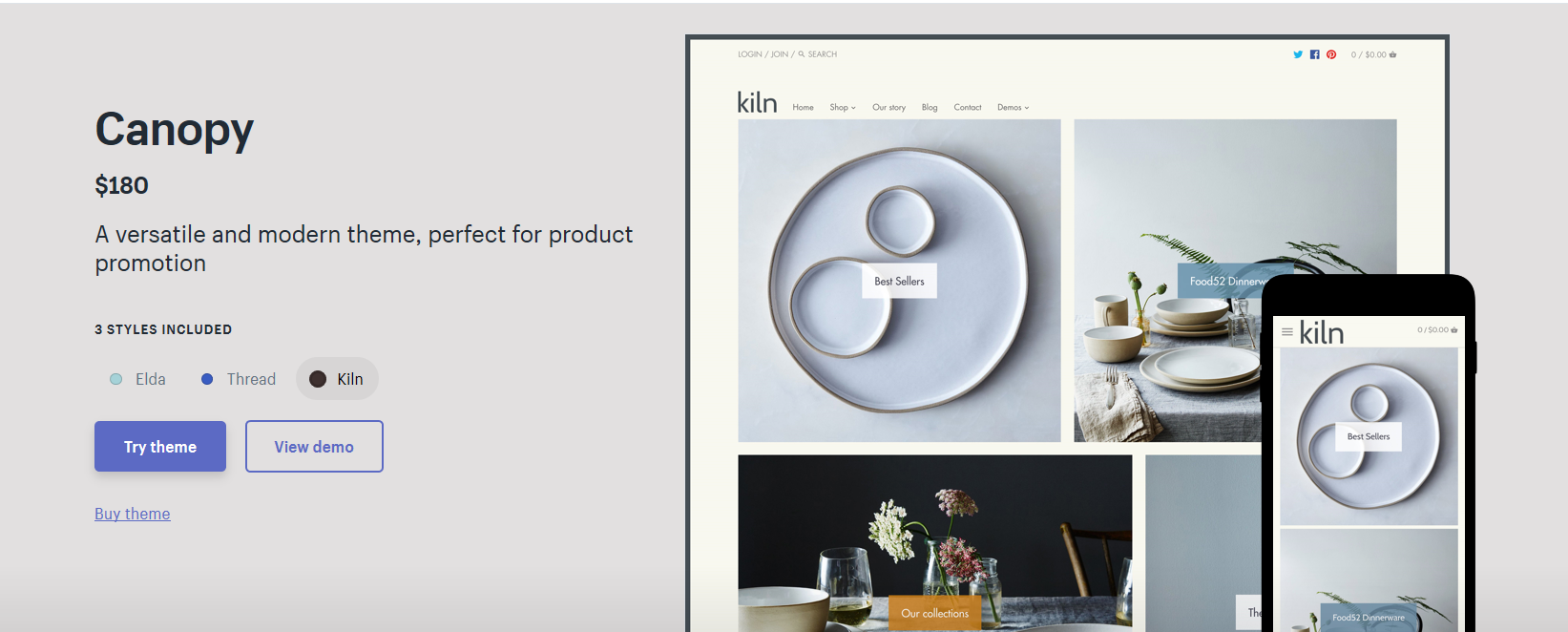 6. Colors theme
Colors theme is designed as a product-focused theme, which is perfect for visual storytelling. If you are just about to start your business, this will be a solution to set up your website with ease as it is very easy to use. With the colorful design, this theme is confident in brightening your product photographs on all kinds of devices. For some features related to products such as product reviews, product slides, it will have the colors option in it. Also, you will have an active and punctual customer support team to support you solve any problems that you might have in the meantime. There are 3 styles available on Colors theme for you to choose: Fluor, Pastel, and Generic.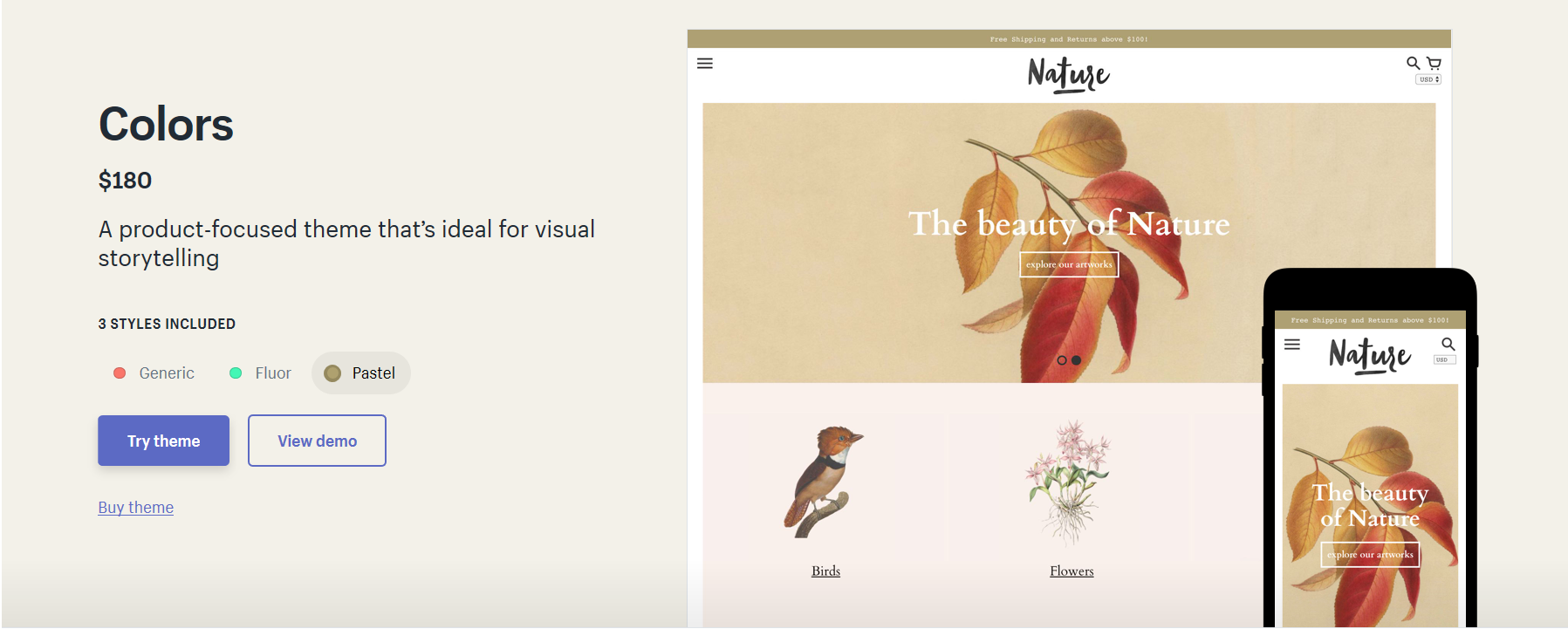 7. Symmetry theme
Symmetry theme is a great solution for stores with a large number of products. This theme is equipped with four responsive styles including Beatnik, Chantilly, Salt Yard, and Duke, which will fantastically fit for your mobile and desktop devices. That's not all while designing, this theme also provides you with multiple options for homepage design, scrolling rows, and fonts. Some other excellent features such as live search, different views for product collections, and a slideshow for the homepage are also available on Symmetry.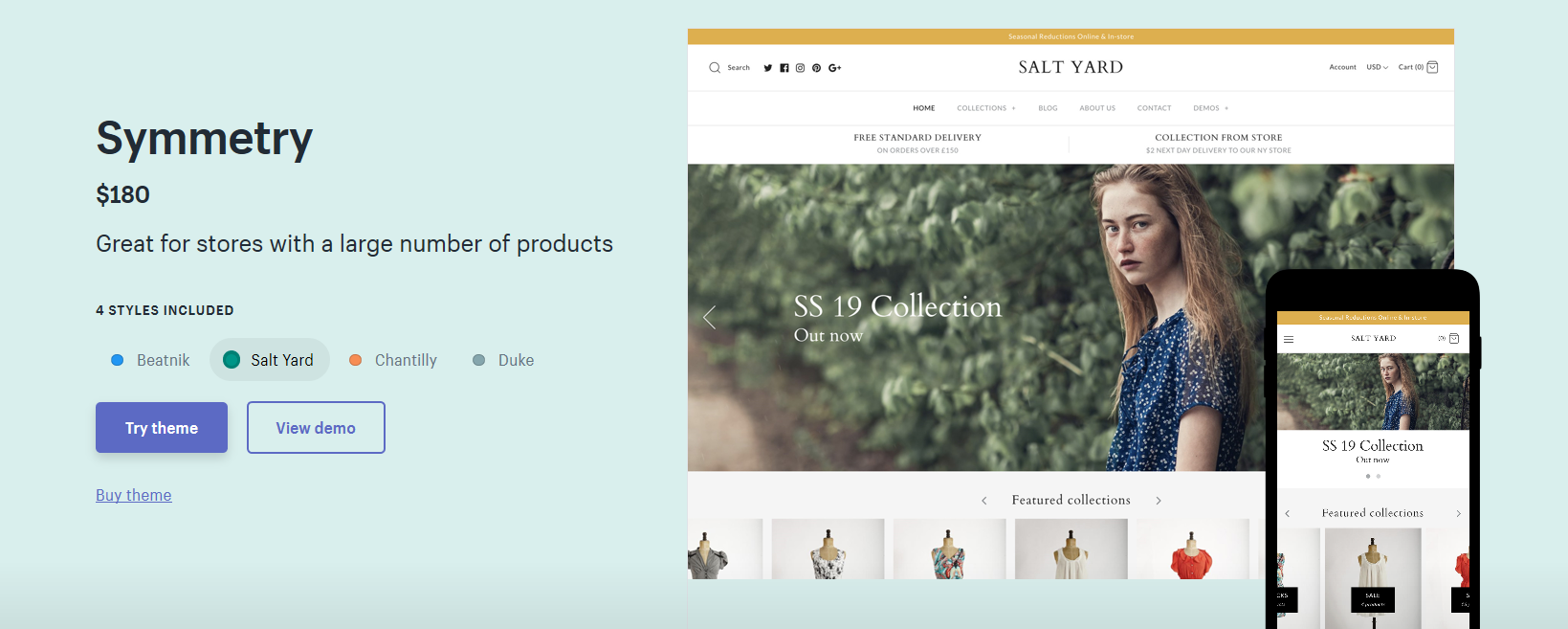 8. Start-up theme
Start-up theme is created as a modular layout that's perfect for one-page stores. In detail, this theme can offer you an unprecedented level of flexibility and detail. It has a modular homepage, which can also serve you like a one-page store, all without any coding knowledge. It would be a nice choice for merchants, who sell a small number of products on this theme as its name is Start-up. However, it is still flexible enough to run a whole big business as well.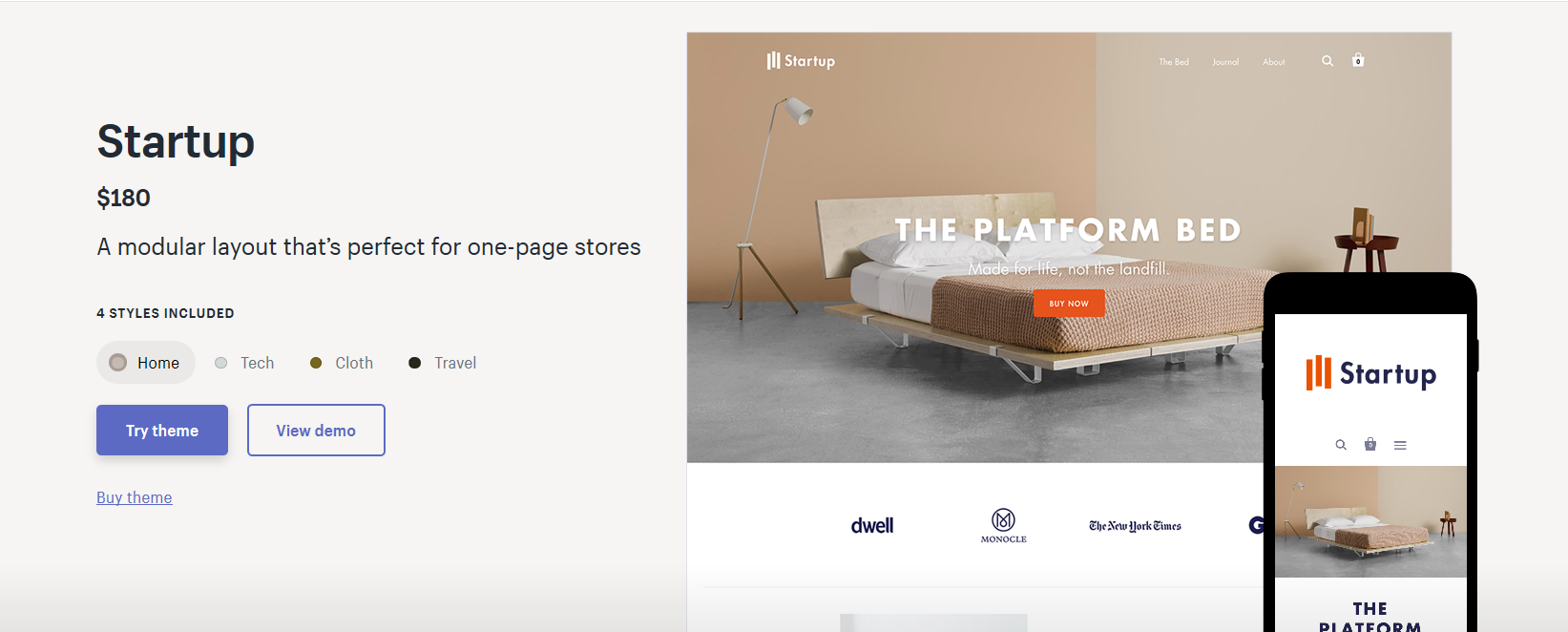 9. Minimal theme
Minimal theme is absolutely a simple, clean theme, which is best to keep the focus on your products. Specifically, this theme is designed to give your store a sleek, trendy look, which is responsive to both your desktop or mobile devices. What is more, it can provide you a variety of flexibility to adjust your way of products showcase. Plus, just feel free while customizing your store with this theme as it offers you various layout options, typography choices, navigation styles, product and collection views, and so many more. There are three styles available on Minimal for you to choose, which are vintage, fashion, and modern.

10. Foodly theme
Foodly theme is like a theme for Grocery Shop with a clean and responsive design. It is provided with unlimited color options, Google fonts, and so many other customization choices. Not only it comes with an outstanding responsive theme, but also a fast-loading optimization. That's not all, about the marketing side of Foodly theme, Foodly is considered to be an SEO Friendly theme, also with Social Media Integration like the Share Buttons, Instagram Feed, Facebook Chat. Also, you will see the wish list feature, mega menu, and a separate landing page template as well.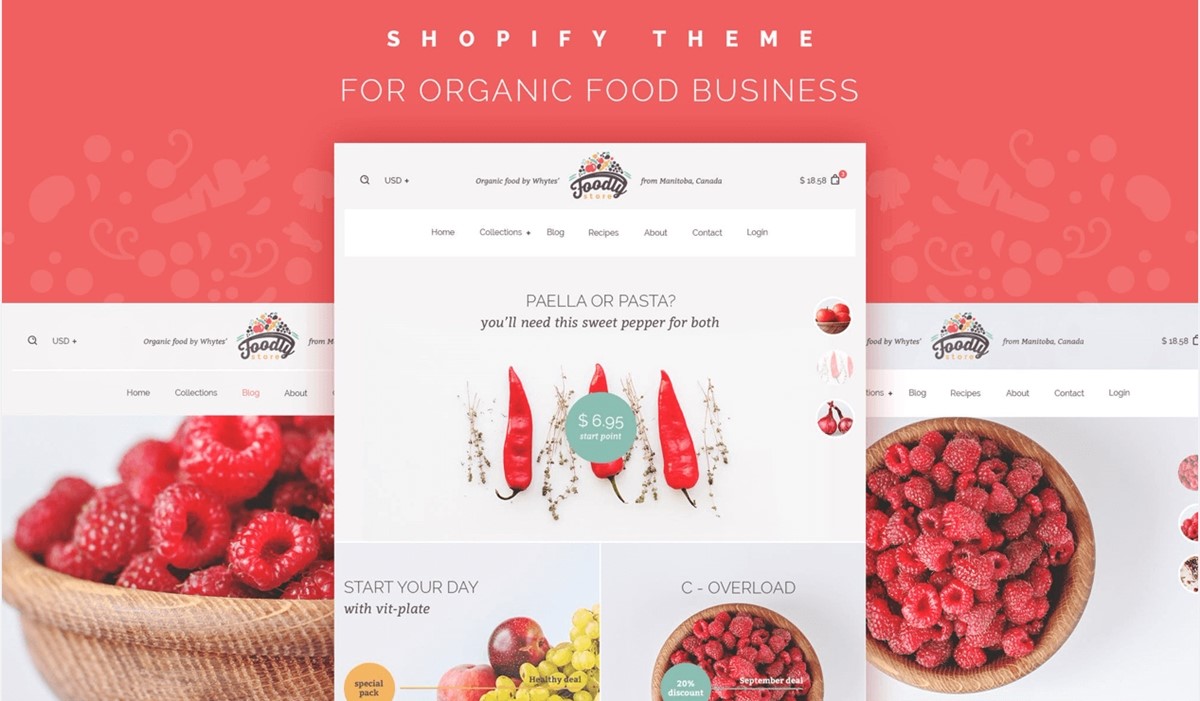 11. District theme
District theme is a ideal theme for products and collections showcase. It is confident in its unique capability of Instagram integration. Your website will get a fresh, dynamic, and professional look when you choose to apply District. Even more, customizable features are available on District, especially the mobile-responsive slider. As a result, your products will be marketed effectively thanks to the promotional banner option on the top of your home page, also the popup promotional messages, and even a collection gallery. There are three styles available on District, which are Coast, Energy, and District.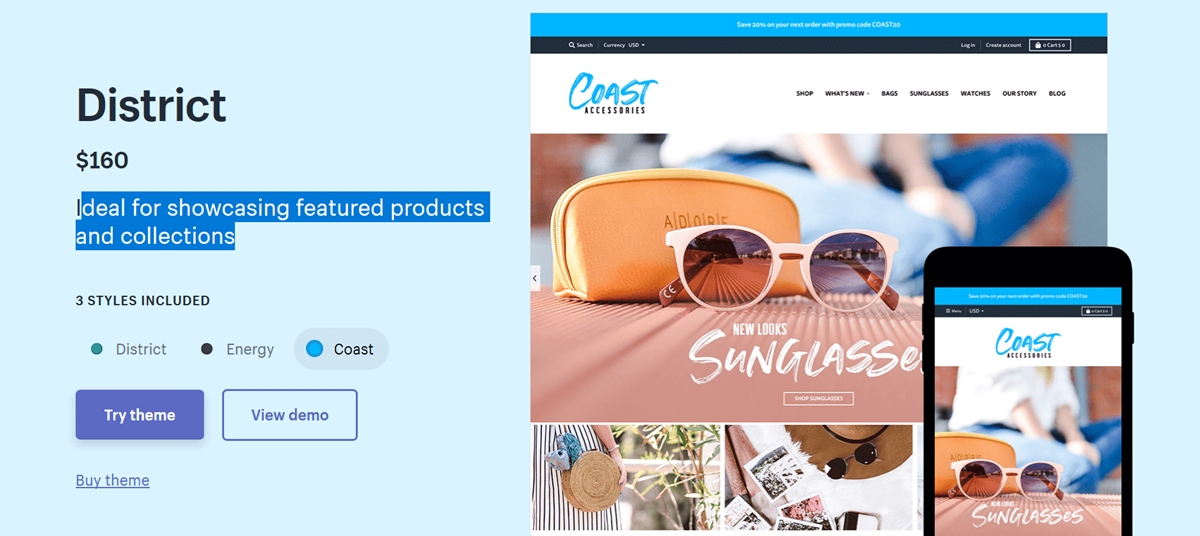 12. Marley theme
Marley theme is a theme, which is suitable for watch, jewelry, accessories, and gift stores on Shopify. With its design, you can get the combination of both unique color and attractive layout structure for your website. This is absolutely a responsive theme, which will bring you a stunning look on smartphones, tablets, and computers. What is more, the eye-popping slideshow with text, image on it, as well as the smooth transition is always available on Marley. The active social network connectivity is also one of this theme's iconic features. It will empower your consumers to follow your discounts and product launch activities via notifications.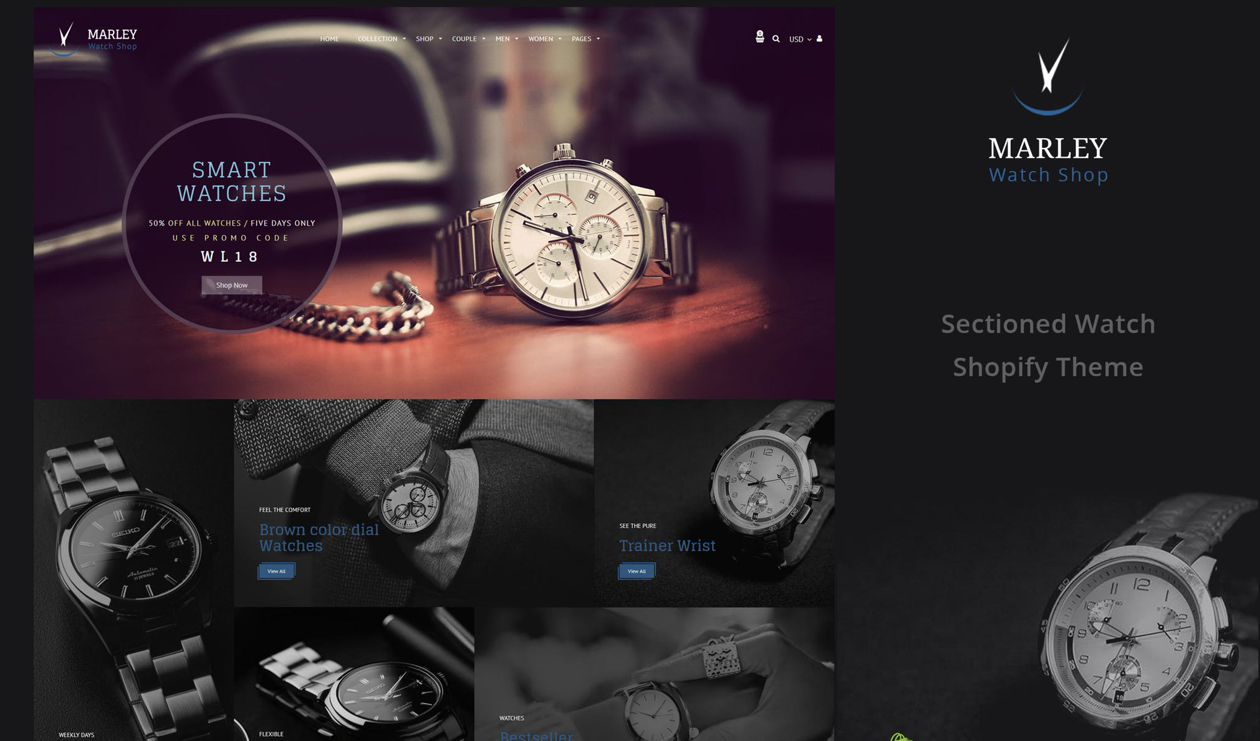 13. Pop theme
Pop theme is a suitable theme for businesses with a small-size to average company. This theme is considered to be a user-friendly and customizable one. Also, it is responsive to all kinds of devices. Plus, you can get the 'fly-out' shopping cart on your current page to help them check out in an easy way. Users are also provided with the large sidebar to access your products and categories easily. Then, you also will be able to experiment with different options available for your homepage's layout as well.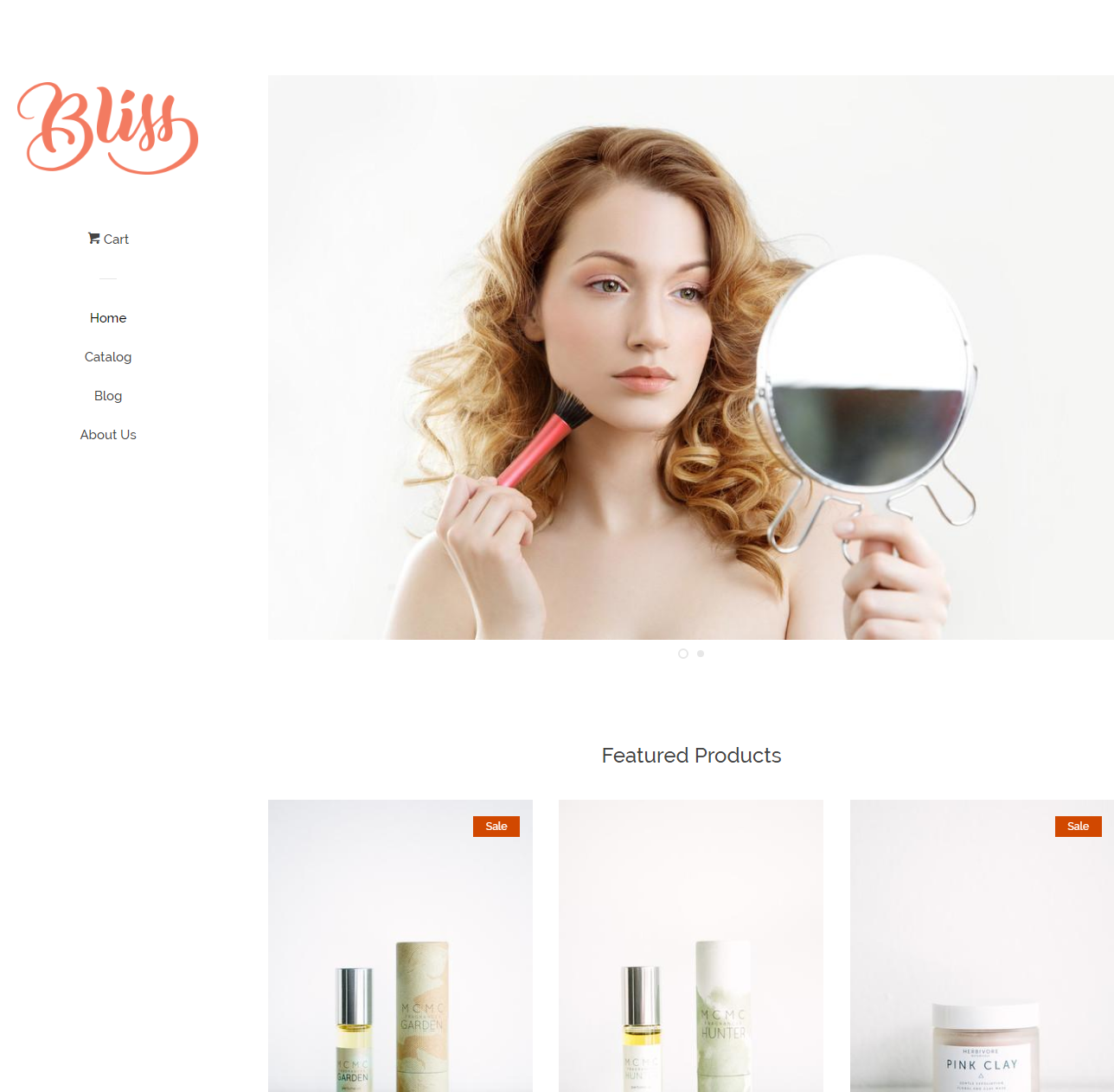 14. Simple theme
Simple theme is a clean and minimal theme, which is perfect for showcasing products. With simple and elegant design, it will help you avoid having an unnecessary element or complex store. With the clean interface and responsive design, your users will definitely be impressed. Simple also allows you to highlight sub-categories for products, which are tagged in your store. There are two versions available, which are Light and Beauty, but both contain the sleek animations that help your website look great on a mobile screen.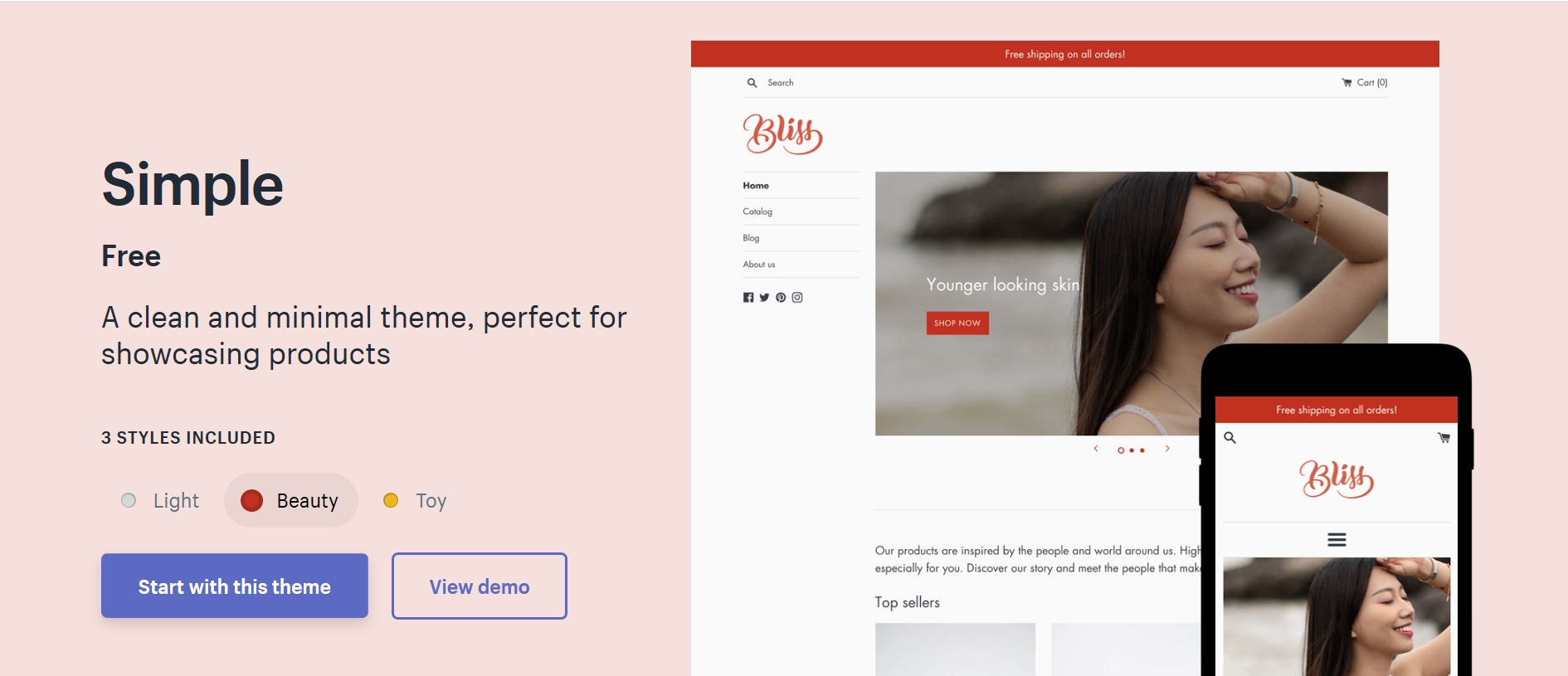 15. Lena-Fresh Shopify theme
Lena-Fresh Shopify theme is a fresh, at the same time theme, responsive theme, which is designed with six unique homepage layouts as well as a powerful admin panel. In addition to that, you will be provided with a built-in header slider also a unique drop-down shopping cart. As a result, your customers will be able to view their products right at the moment they added it. With the Quick view button, your customers will also be able to preview the products. Also, the Upsell features on Lena-fresh will enable them to buy related or similar products as well.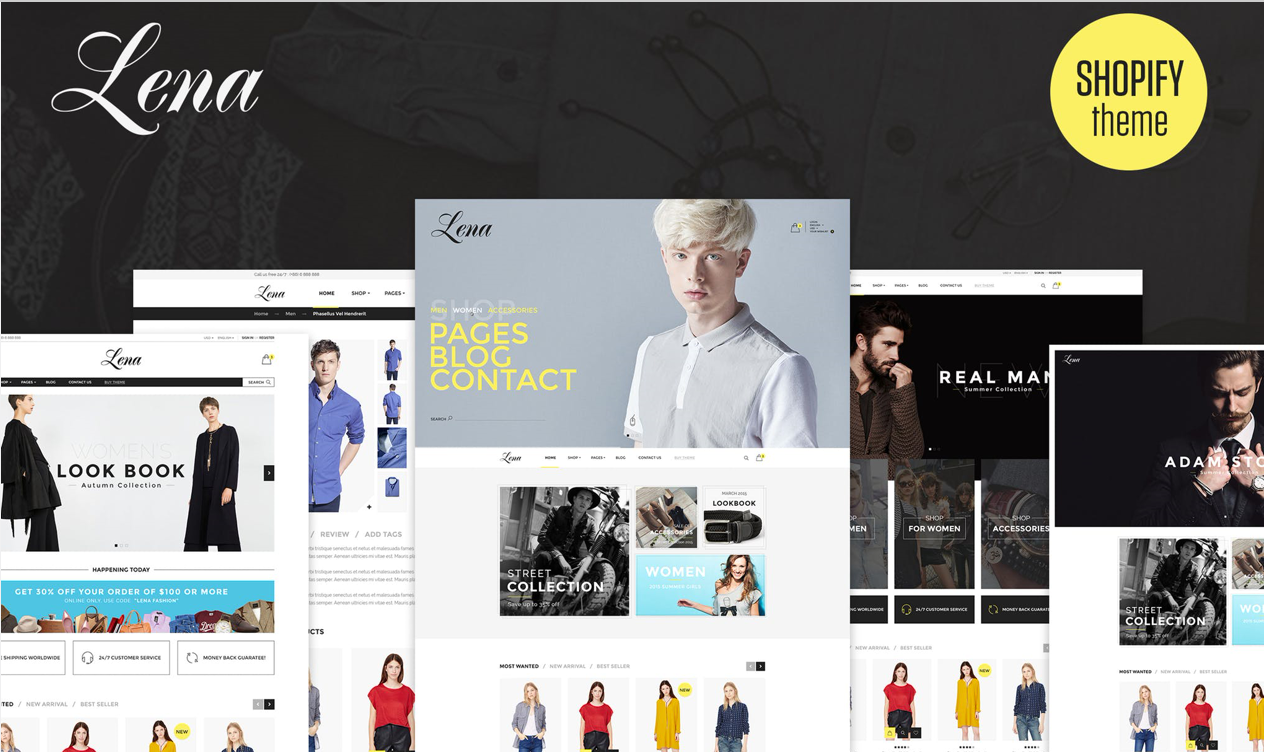 16. Nautica theme
Nautica theme is considered to be a best converting theme. It is created to be multipurpose and responsive, especially for online supermarkets, shopping malls, fashion shops and many other types of stores. On this theme, you will be provided with the flexible Built-in Mega Menu, smart Product Quickview, Header & Footer Style Options, also Amazing Slider built-in, and many more. This theme has been optimized to load fast to bring your buyers the most convenient experience. There are also several premium modules that included helping you amaze your customers the WOW factor and increase sales.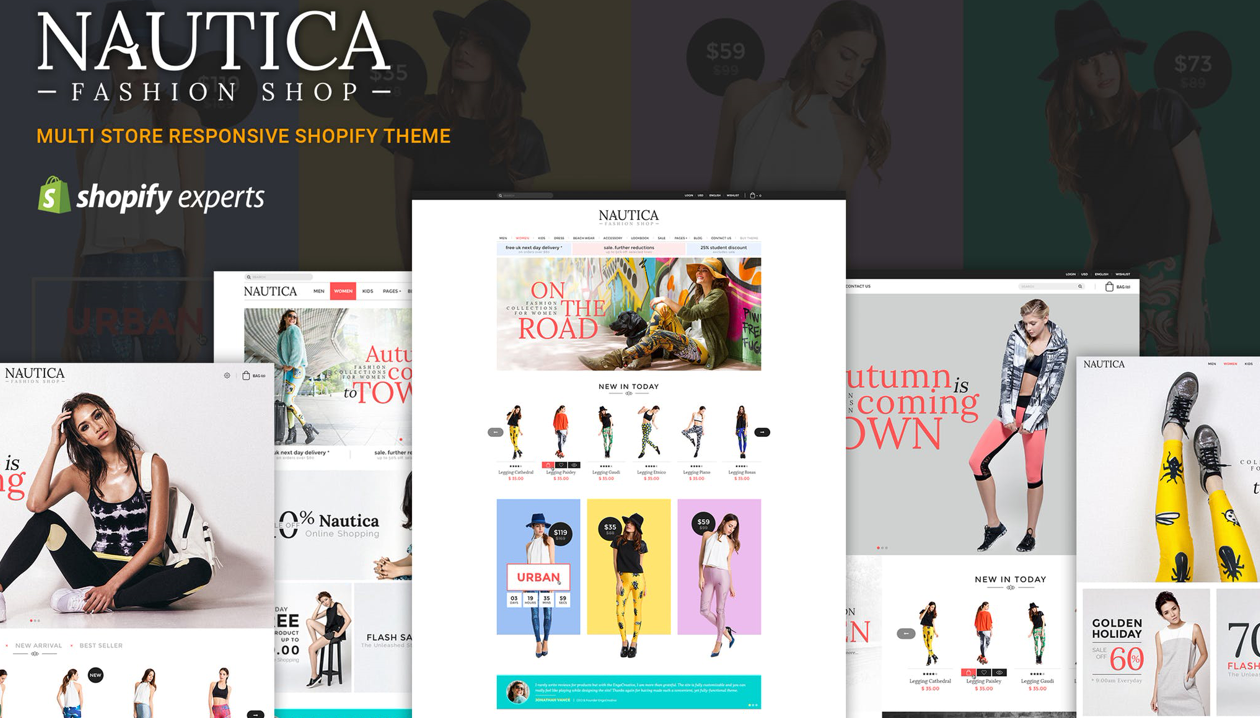 17. Showcase theme
Showcase theme is absolutely a beautiful and bold full-screen imagery theme. It is an ideal choice for start-up boutiques, artisans and craftsmen. With its responsive design, this theme will allow you to use your product images full-screen on all devices. It is featured with overlaid multi-level menus, full-screen product galleries, retina ready graphics and a simple but versatile group of settings. Plus, you can customize your store in your own way and show your products off as well.

18. Alchemy theme
Alchemy theme is absolutely a gorgeous responsive theme for Shopify store. It is created with depth and impact with high-resolution imagery. What is more, it is packed full of features to bring you the out of the box factors so as to maximize the potential of your products. Its outstanding features include a parallax header, retina ready graphics and row ordering, which are all the wonderful options to enhance the style for your store. There are four styles included here, which are SwimClub, Driftwood, CloudBreak and Seasons.

19. Parallax theme
Parallax theme is totally a stunning theme for a long-format home page with unparalleled flexibility and control. It is confident in improving your brand's style with a striking parallax scrolling effect. There is a wide range of backgrounds available on this theme, which can move at different speeds in order to bring a sense of depth in your store. What is more, as it is called, this theme can enable you to create a stunning look with various parallax scrolling sections on your store as well as the ability to purchase products on the home page.

20. Blockshop theme
Blockshop theme is a theme designed by the Troop Themes team with the unique spacious grid-style theme and bold hero imagery. The most outstanding feature of this theme is the responsive and retina ready one. Since being created and developed on flat UI design, which provides boasting spacious, customizable layouts as well as a minimal user interface. As a result, your viewers would be endured by the trend in simplicity and style. Additionally, this theme is totally suitable for emerging businesses, start-ups, boutiques, and artisans, etc. There are 4 different versions available on this theme, which are Beauty, Moto, Summer, and Deli.
21. Retina theme
Retina theme, which is designed and supported by the Out of the Sandbox team, is created to help you showcase your products with bold imagery and refined styling. It is absolutely an amazing theme for enabling store owners of all types bringing the polished feel to their store. High-quality product images, responsive layout for widescreen, and mobile devices, together with dedicated sidebar, product videos, and many other more are always available for you to utilize on this theme. There are 4 different versions available on this theme, which are Austin, Montreal, Melbourne, and Amsterdam.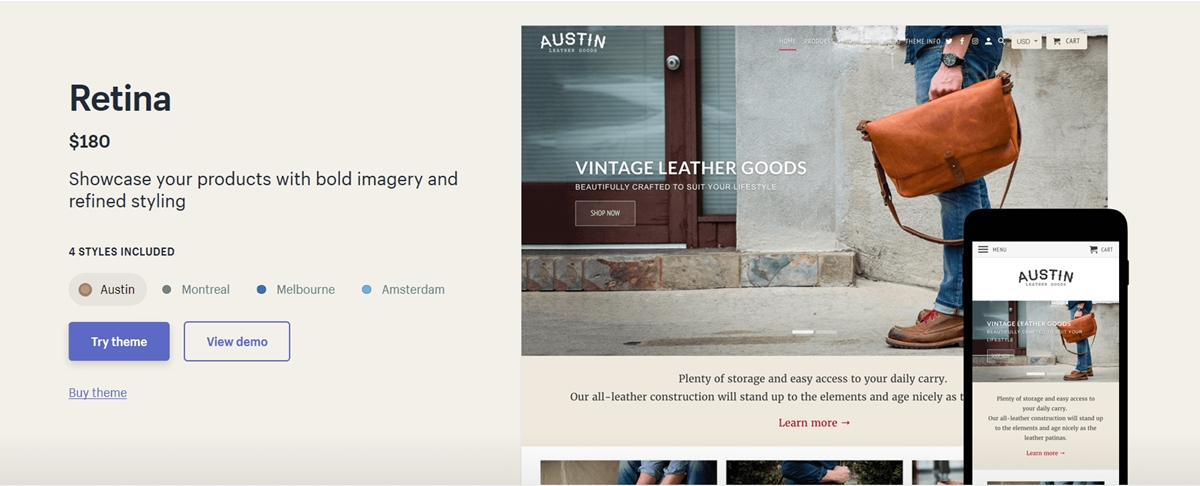 Conclusion
So, now that you know these top mobile responsive themes on Shopify, with lots of features embedded. It's time to choose the best theme for your Shopify store and bring your customers with an amazing shopping experience.
If you have any troubles that you can not solve, just inform us. We are always willing to help you all the way to bring you the best experience. Don't forget to visit our website AVADA Commerce to get more information updated about eCommerce in general and Shopify in particular.
Related Posts:
---
Sam Nguyen is the CEO and founder of Avada Commerce, an e-commerce solution provider headquartered in Singapore. Sam aims to support more than a million online businesses to grow and develop.
New Posts
Stay in the know
Get special offers on the latest news from AVADA.