Top 9+ Selling Items on eBay in 2021
eBay is one of the most well-known marketplaces in the world (and also one of the cheapest online shopping sites in the USA). It provides a platform for online shopping and auction that people can do transactions worldwide. In 2021, there are over 182 million eBay users worldwide, with most of the traffic coming from the US. And $22 billion worth of goods were purchased and sold on eBay in just last year; the site is sure to be active.
If you are looking for a place to sell some items and gain a profit, this is the place to try it. But to have winning products on eBay, you need the right goods to attract an audience. They should be trendy, have large search volumes, and return a good amount of margin. Keep reading, and you will find what they exactly are!
Let's see the top-selling items on eBay that you should add to your inventory in 2021.
Top selling items on eBay 2021
Picking what to sell can be quite a process, so I recommend reading What to sell guide to have an overview of the platform and the recommended items. eBay's Trending Now page is a handy tool to see a list of products on the rise. It doesn't only show products based on season, but also shows how many times the product has been searched.
But trending categories are not the only way to get your products sold quickly on eBay. With the right niche, every item can find its owners. Here are the top selling items on eBay that can boost your sales.
1. Mobile phones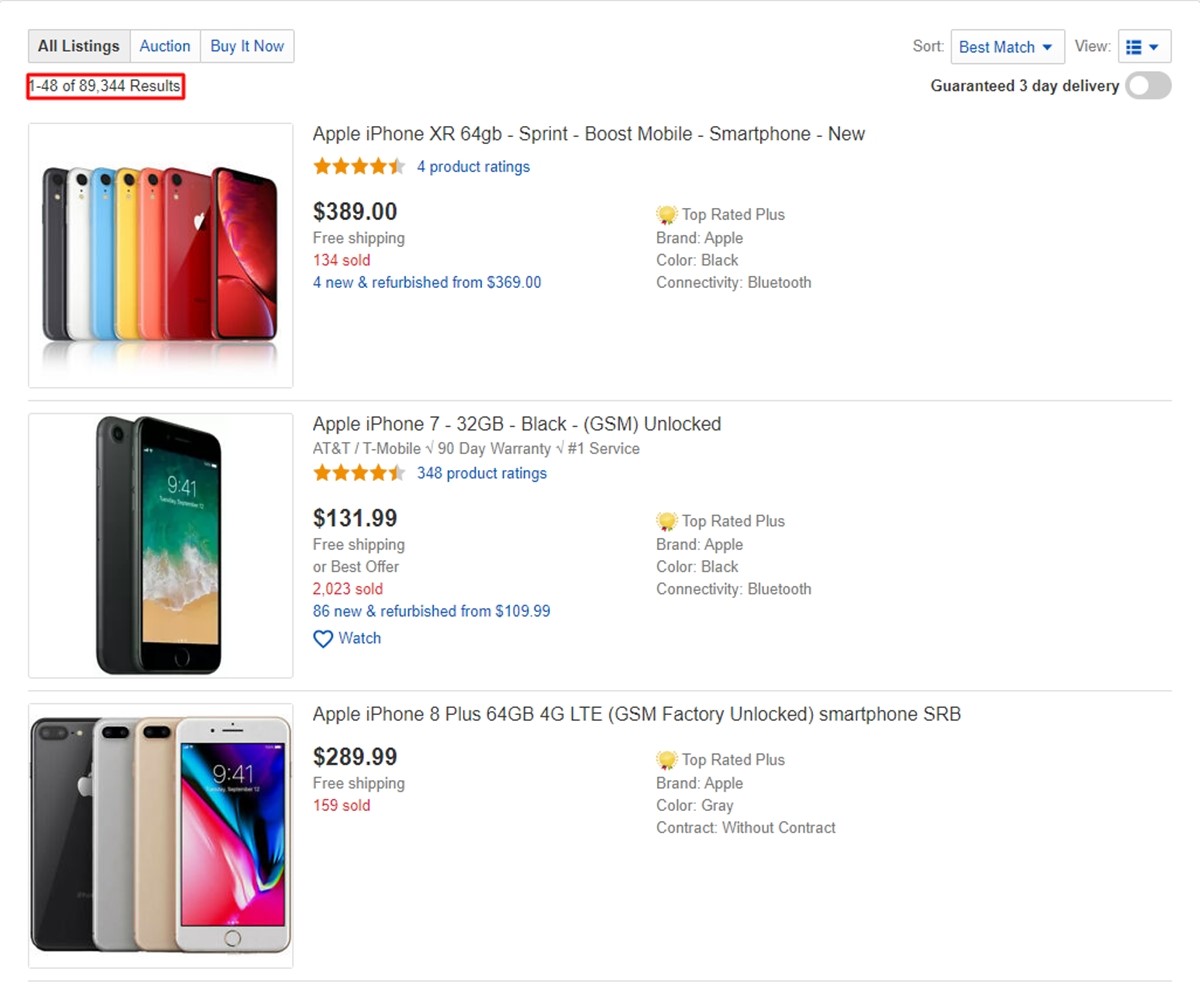 Electronics & Accessories is one of the top-selling categories on eBay with 16.4 percent of all items sold on the site. So not surprising that Mobile phones are on the best-selling items. With technology growing, more people constantly change their phones to the latest models and buy the following accessories.
With mostly US users, the iPhone is the most popular brand for phones and the linked items become popular as well. Cases, covers, and skins are all highly demanded on eBay so you can find your own niche in items or styles. Almost 90,000 phone item results on the site have the tag "Apple"
Don't forget about other brands such as Samsung, Oppo, or Xiaomi. They all have their dedicated fans all over the world - which is a promising market for you to explore.
2. Beauty products
Best selling beauty products on eBay are often Vitamins and dietary supplements, Perfume, Skincare, Hair dryers, Hair straighteners. On average, 88 products in vitamins and minerals category are sold per listing.
Some top-selling brands that you can consider selling are GNC, LifeVantage, Great Healthworks, Puritan's Pride, and Optimum Nutrition. The Omega XL Joint Pain Relief from the Great Healthworks in the image above were sold over 10,000 units, so you can see the potential.
One reason for health and beauty products popularity is that they are preferred for daily use and gift purposes. In the top fifteen products of the beauty category, you can also find razor blades for men, moroccan oil, maquillage mirror, bio-oil. The total revenue of these items exceeded $5 million on eBay.
3. Bluetooth earphones

In the top selling items of the electronics category, you will quickly find bluetooth earphones. The earbuds above gained over 50,000 sold counts in 2019 at the price of $9.99, which shows how you can make a profit even with cheap products. This year, it seems to be still doing well with over 10,000 sold.
Bluetooth earphones are among top selling items on eBay because of technology evolving nowadays. People want them to have a hassle free experience and look trendy too. There are many price ranges and styles to find a niche, so you can test them out to find winning products.
4. Video games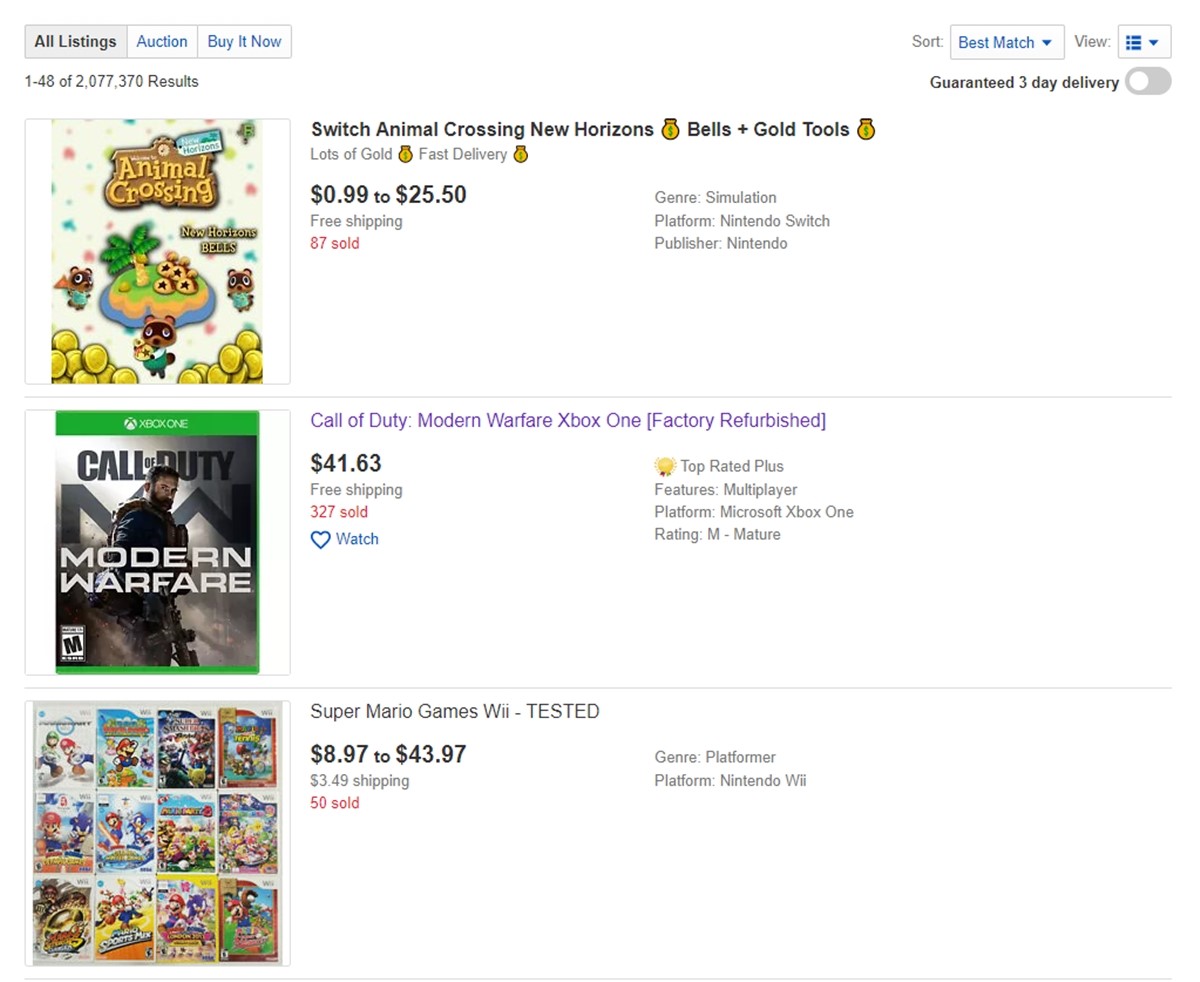 An average of 119 items are sold per video game listing, with the price range from $4.99 to $88. Video games and video consoles are all top selling products on eBay. Whether you sell AAA titles or a collection of retro games from the NES era (best era for me), you can always find a buyer.

The jumping brothers of Super Mario on NES even has a $4,500 listing, which proves this is a niche that many fans still actively purchase. But you can sell new games as well, with game consoles, controllers, or games from producers like Nintendo, Sony, Microsoft. With over 2 million games listed, trying to find your niche is the right approach.
5. Home and Garden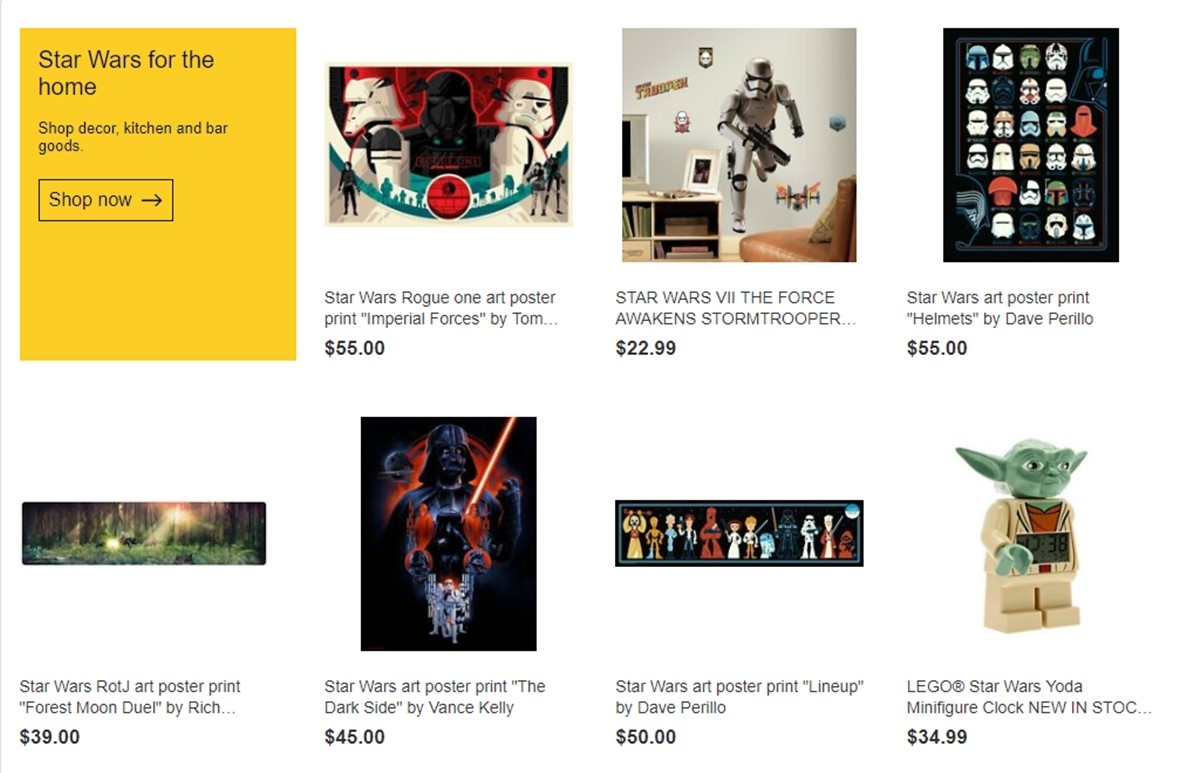 When looking at top selling items on eBay, you can always find home & garden products. Buyers are looking for old wall prints, cushions, lamps, or plant pots to innovate their houses, so you have a great chance of increasing your revenue. A niche like Star Wars can turn your store into a fan-favorite.

A set of Egyption bed sheets had almost 40,000 units sold last year and netted nearly half a million dollars in revenue. There are other popular items as well, such as LED light strips, gas-powered generator, or vacuum cleaner.
If you want to sell garden items, you can sell barbecues set, garden furniture, or parasols with an average sales price of $80. Or if you have storage and invest big, you can sell furniture like coffee tables or sofas.
6. Fitness trackers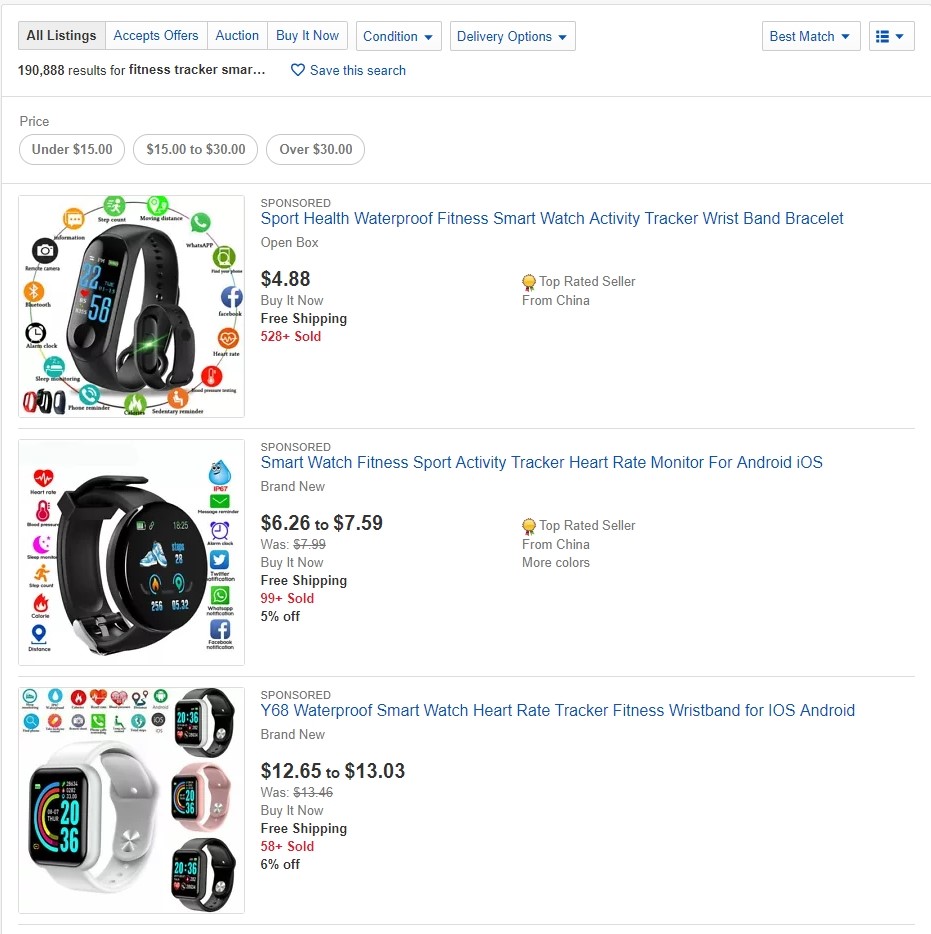 Health & fitness is a hot category now, so no wonder fitness tracker is among the top selling items on eBay. The product is used worldwide, has a wide price range, and comes in many styles for everyone from young to old. With over 190,000 items on sale, you can see the demand for it.
People with health problems such as high blood pressure, diabetes, or simply want to track their exercise results are all looking for a suitable fitness tracker. You can sell low priced items from $9.99, or rank up your sale with Apple smartwatches starting at $179.
7. Fashion items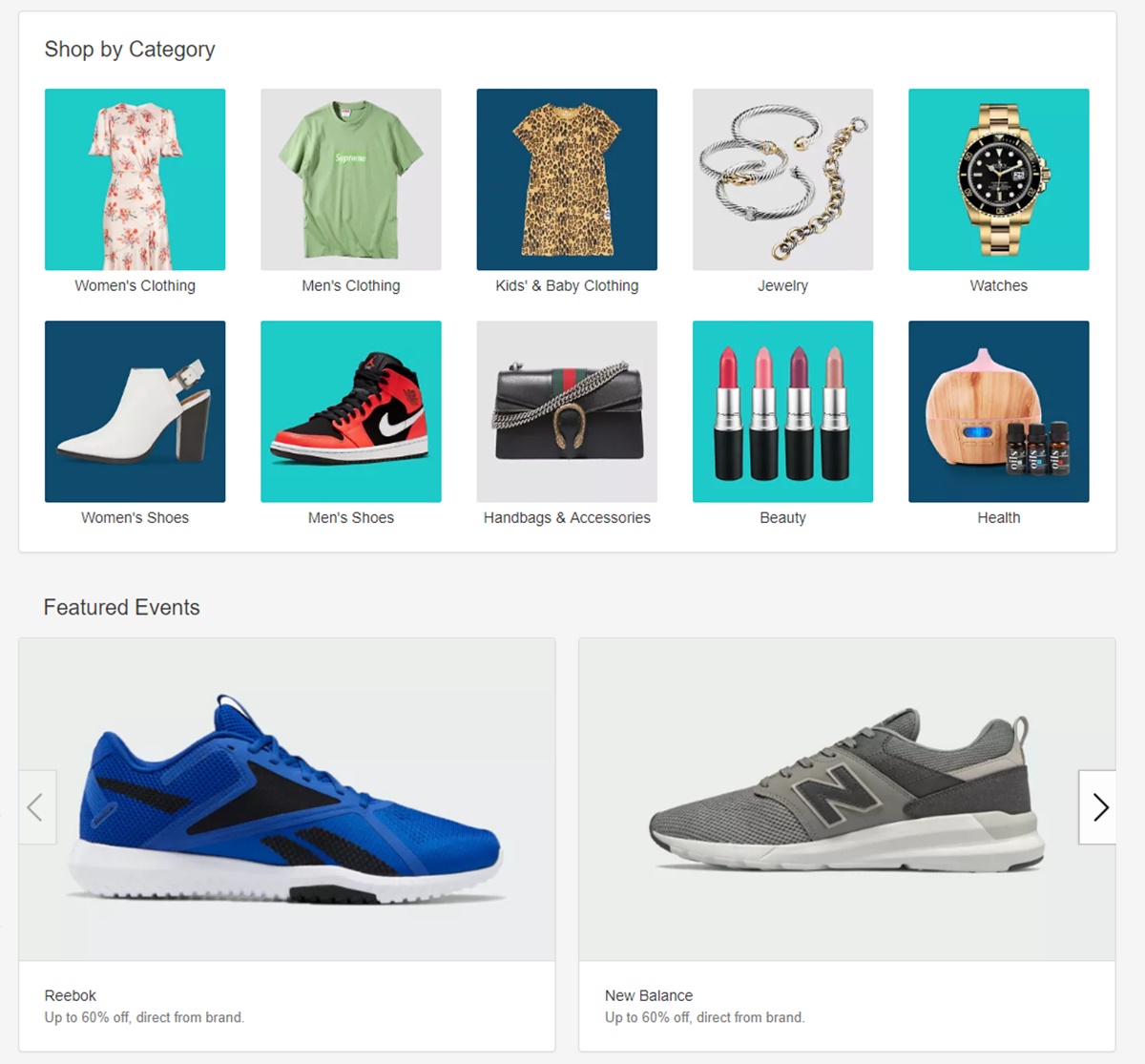 Almost on any marketplace, fashion items can be top selling items and so is eBay. The fashion category has a lot of search from consumers. With just a change of seasons, people already want to change their closet, so you have many opportunities to make money selling fashion items on eBay.
Some popular brands for women fashion are Free People, Eileen Fisher, FLAX, Diane Von Furstenberg. And for men, some best-selling brands are Ermenegildo, Filson, Carhartt, Zegna, Schott, and more. You can sell your own line of clothes, or old and unused items too.
Shoes can deliver a lot of sales on eBay too, with many popular brands like Converse, Adidas, Reebok, Nike for you to add into the inventory. A pair of Converse Unisex Chuck Taylor got over 24,000 sales in 2019. And, of course, you can sell your own line of shoes.
8. Collectibles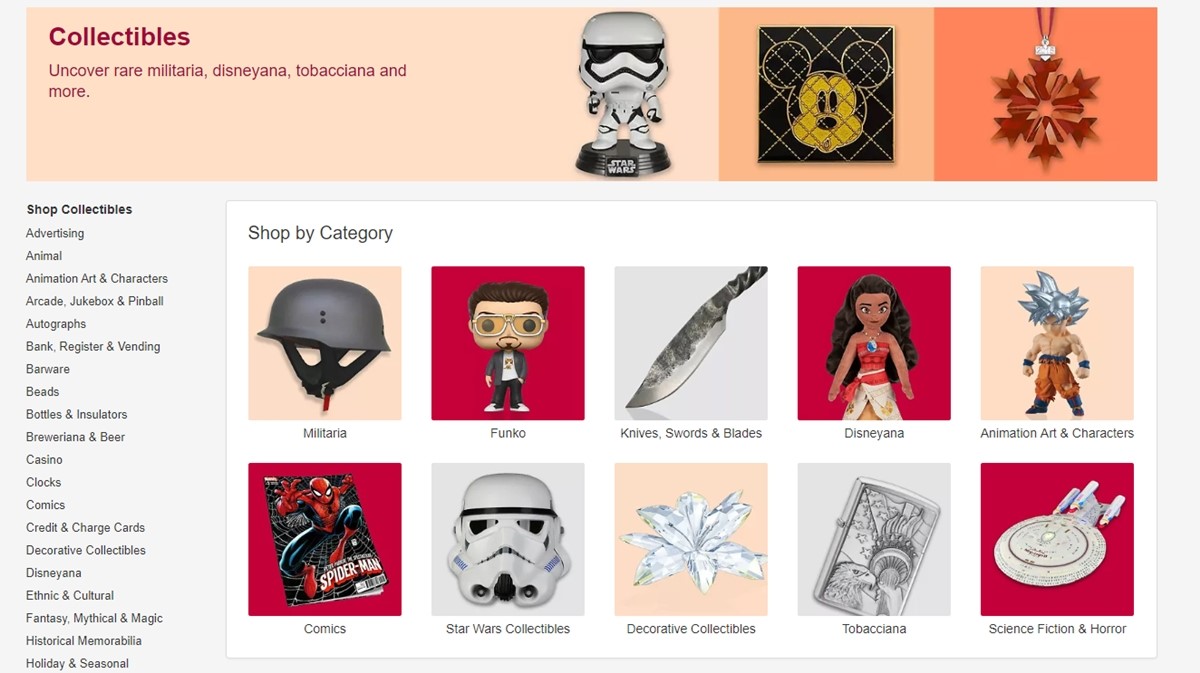 One special feature that eBay has is the auction, this means a seller names a starting price, and other buyers can bid against each other to seal the final deal. It has a limited bidding time, so your item can really get a bargain if you know how to sell it. So, if you have something worthy in your storage, try listing it on eBay.
Other than that, the collectibles market on eBay is very active too. You can list them with or without bidding as you like. There are many categories to try such as Comics, Science fiction, ANimation, Millitatria, or Action figures. This is a market that highly targets niches, so do some research before you start selling.
9. Handmade crafts

The craft category is also a very active market with high profit potential. The most famous categories with top selling items on eBay are Jewelry making beads, Stone beads, Papercraft, and Scrapbooking.
The price range is wide, between just $0.71 to $79 for beads. Some popular brands that you can check out for inspiration are Your Perfect Gifts, Crystal Beads, AD Beads, and DouVei. For material, you can choose natural gemstones, crystal glass, and you can find manufacturers right on eBay.
What item are you going to sell on eBay?
Knowing the top selling items on eBay can be very helpful when you start selling on eBay. There are already a lot of buyers on eBay, so with good products, you can find an easy way to attract buyers. You can have many approaches, too, such as auctioneers of a fixed price.
So what are you going to sell on eBay? Are there any winning items that I missed? Feel free to share your opinions in the comment section below and talk to me. And as always, best of luck on your eCommerce journey!
Learn more about doing business on eBay:
New Posts
Stay in the know
Get special offers on the latest news from AVADA.