The Complete Guide to Personalized Email Marketing for Business!
It is a well known fact that email marketing is the best medium to generate sales when it comes to ROI. However, the issue is how to use email marketing to produce desired results. One of the keys is personalized email marketing. It gives email marketers the ability to send relevant and valuable content to subscribers and connect with them on a personal level. The following statistics give you a clearer understanding of why personalized email marketing is the secret to success in email marketing:
JustFab, an apparel retailer, experienced a 103% rise in sales after personalizing their email marketing campaigns. According to Experian, personalized email marketing drives six times higher transaction rates. 51 percent of marketers claim that email segmentation is the most successful personalized email marketing technique. Moreover, 77% of people prefer receiving promotional messages via email, so personalized email is a strong tool to build a close relationship with your customers.
In this article, I will introduce to you everything you need to know to personalize your emails. Now let's jump right into the details!
What is personalized email marketing?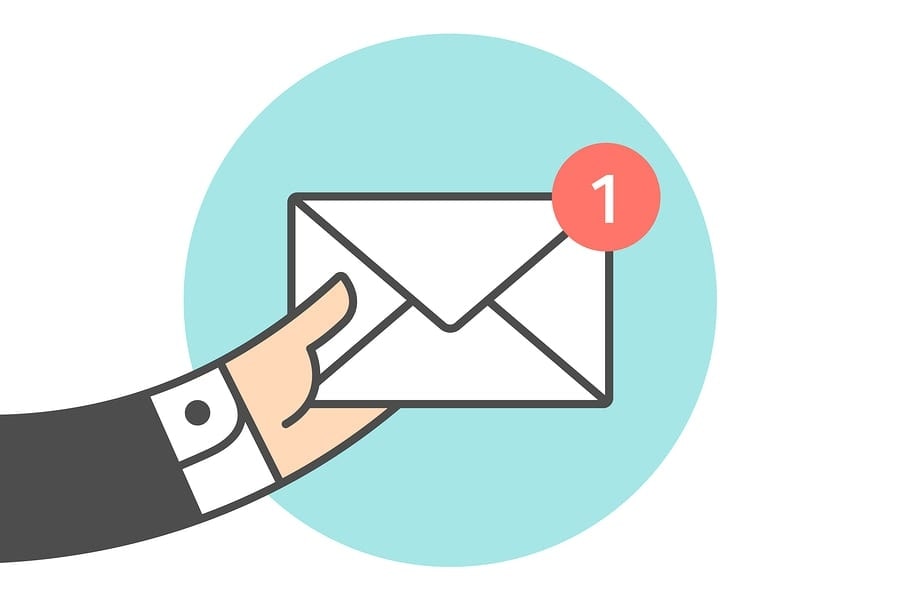 Personalized email marketing is the practice of targeting a particular subscriber's email campaign by using the data related to them that you have acquired. It may be details such as their first name, the last product they purchased, where they live, how many times they log in to your app, or a variety of other data points.
Personalization is a broad concept, and its complexity may differ. Simple email customization involves tactics such as using a subscriber's name on the subject line, whereas more advanced tactics which involve modifying email content depending on the gender, place, or other details you know of your subscriber.
Customizing your email campaigns is a proven way to maximize your open and click-through rates and can have a significant impact on your ROI and sales. Studies have shown that emails with customized subject lines are 26% more likely to get opened than those without them, and revenue is about 5.7 times higher with emails that use customization.
These findings come from the fact that personalized emails tend to be more relevant to subscribers. Instead of receiving generic offers and messages, your subscribers can receive an email that is aimed specifically at them, contains their name and offers (products, promotions, etc.) that are important to their interest.
Benefits of Personalized Email Marketing
Boosts credibility
Customers buy only from brands that they trust. According to s study by Adestra, 73 percent of millennials prefer email as a way to communicate with businesses. So Personalizing your emails based on your customers' interests helps show them that you care about what they are interested in.
Builds and nurtures relationships
Businesses need to build and maintain relationships with its customers if they want repeat business. It will help to fulfill their needs and share stories that resonate with your target audience. If customers believe they have a close relationship with your company, they are more likely to support the band and stay loyal. This is confirmed by the Accenture Pulse Report, which indicates that 91 per cent of customers are more likely to buy items from brands that make relevant recommendations. Via email marketing, 80 percent of business professionals believe you can improve customer retention with personalized offers.
Cost-effective
Compared to other marketing forms, personalized emails are less expensive and require less time to create. What you need is content focused on customer behavior on-site and related demographic details. On top of that, you can automate email marketing to save time and devote your resources to more challenging tasks.
Increases profits
Personalized emails help keep your customers engaged with your brand. It also boosts open email rates, drives traffic, and increases transactions. These statements are based on the following statistics:
Improves brand recognition
Sending emails to the right people at the right time with the right personalized message is very profitable. The goal is to be at the top of your customers' minds when they're ready to buy. They might not buy today or tomorrow, but when they've already decided, your brand is going to be the first that pops into their mind.
Increase customer satisfaction
When customers are presented with product deals that are personalized to their needs, they are more likely to purchase. According to the report, 42 percent of customers are irritated by irrelevant content and offers. In addition, customers are willing to provide in-depth knowledge in return for more enjoyable and personalized experience. Adding value and making it simple are important moves to bring consumers back after they have made their first purchase.
Types of Personalized Email Marketing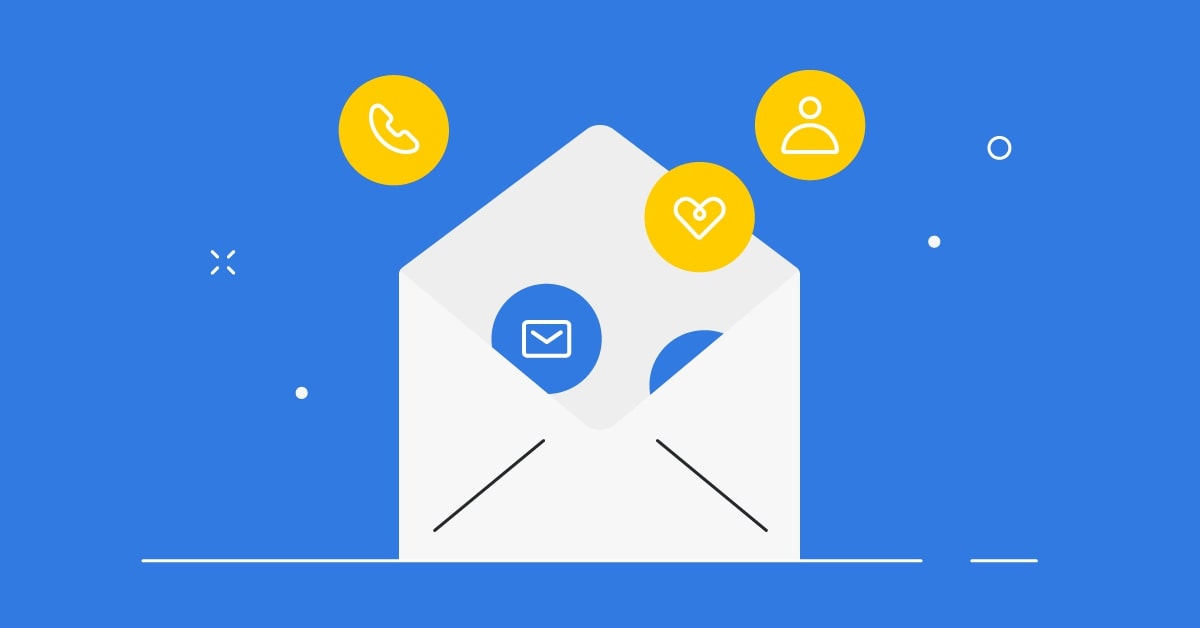 Email marketing provides you with a lot more options to incorporate personalized elements than other forms of marketing. The following are the types of personalized emails that you can implement in your next campaign.
Sender's name
The "from" section is one of the most influential elements of your email when it arrives in the inbox of your subscriber. This field is what tells people who the email is from before the recipient opens it. It's unsurprising that 68 percent of Americans say they decide which email to open based on the "from" tag. That makes sense. We don't often read emails from people we don't know.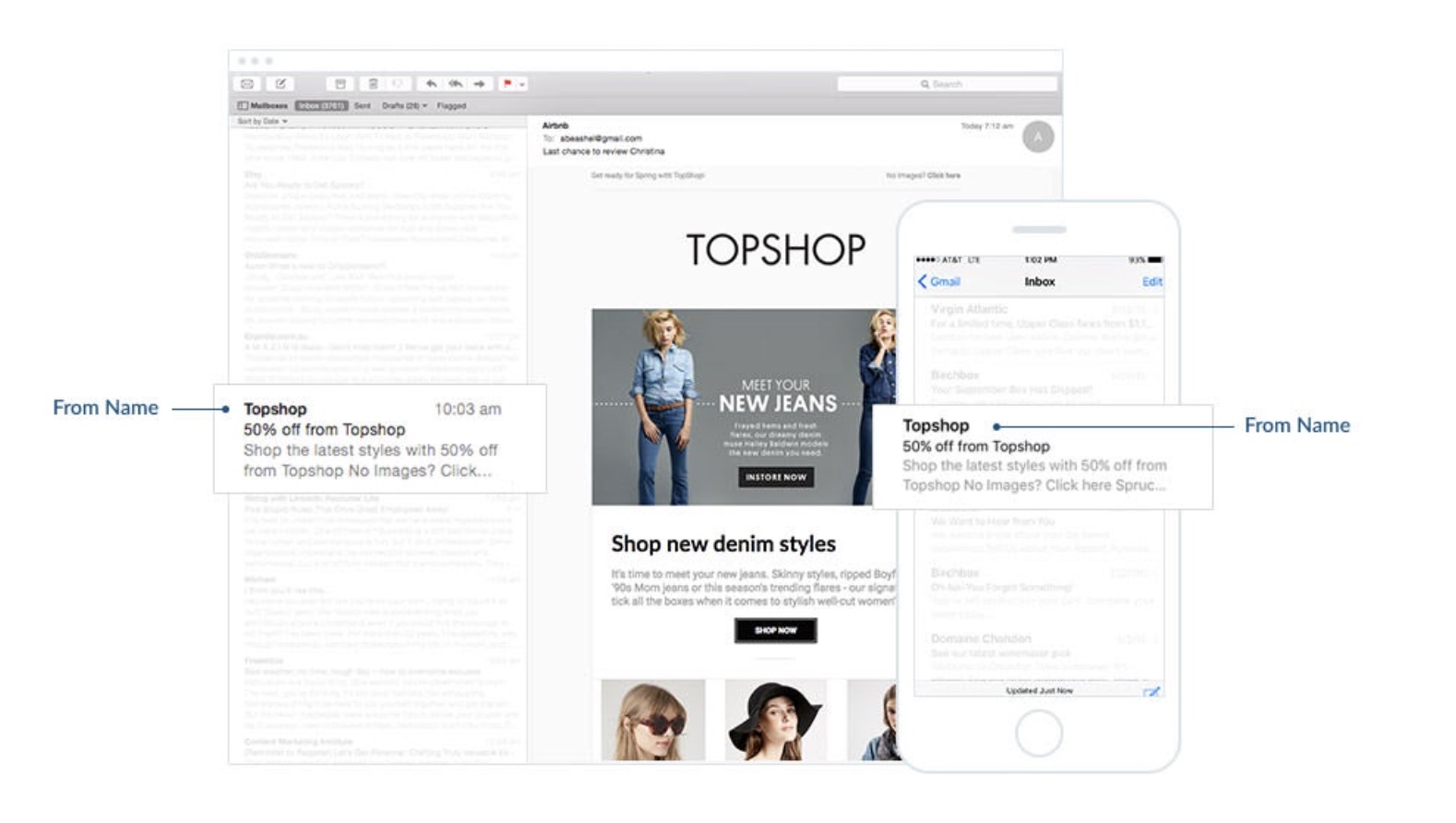 To cater to these people and get more of them to open your promotions, you can customize the "from" name of your email so that different subscribers can see different names. A typical use case for this is to send the marketing strategies to an individual sales agent or account manager who is currently dealing with a particular account. If you're a retail business and don't have any person that is known widely enough to use as the sender's name, use your company name so that your subscribers know where the email comes from.
Dubsat does a decent job of doing this in their email campaigns, dynamically modifying the "from" name so that the email campaign tends to come from the client's account manager who communicates frequently.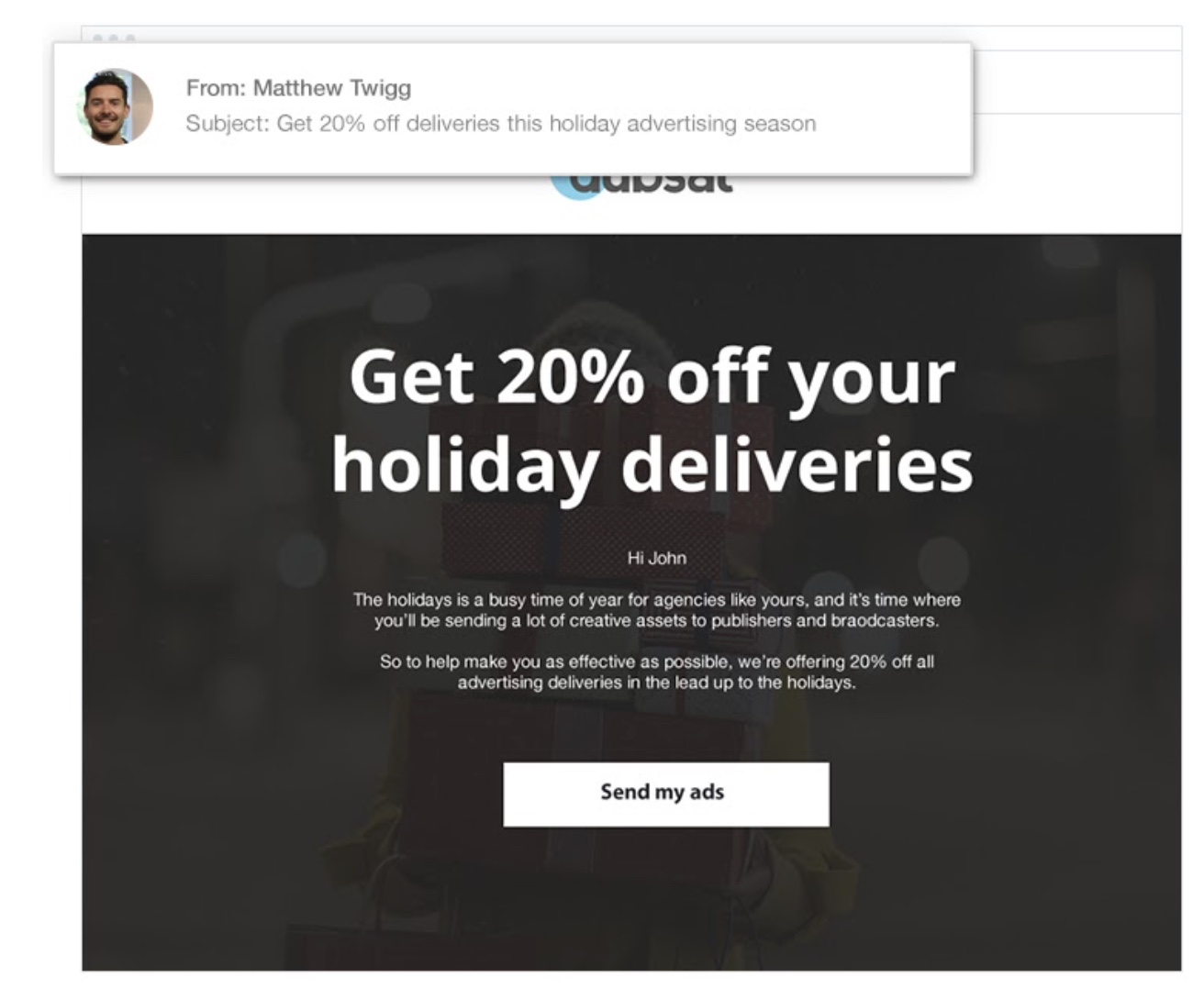 Subject line
As important as the "from" name, the subject line is what customers use to decide which emails to open. If your recipients don't see what's in it for them in your subject line, it will be unlikely that they will open your email. So don't use the same subject line for all of your customers, but personalize it based on your different groups of subscribers. Or you can simply add the first name of your customers at the beginning of your subject line to make it sound more personal.
Converse does this in their email campaign by adding the subscriber's first name to the subject line to make the email stand out in the inbox and get their customers to open.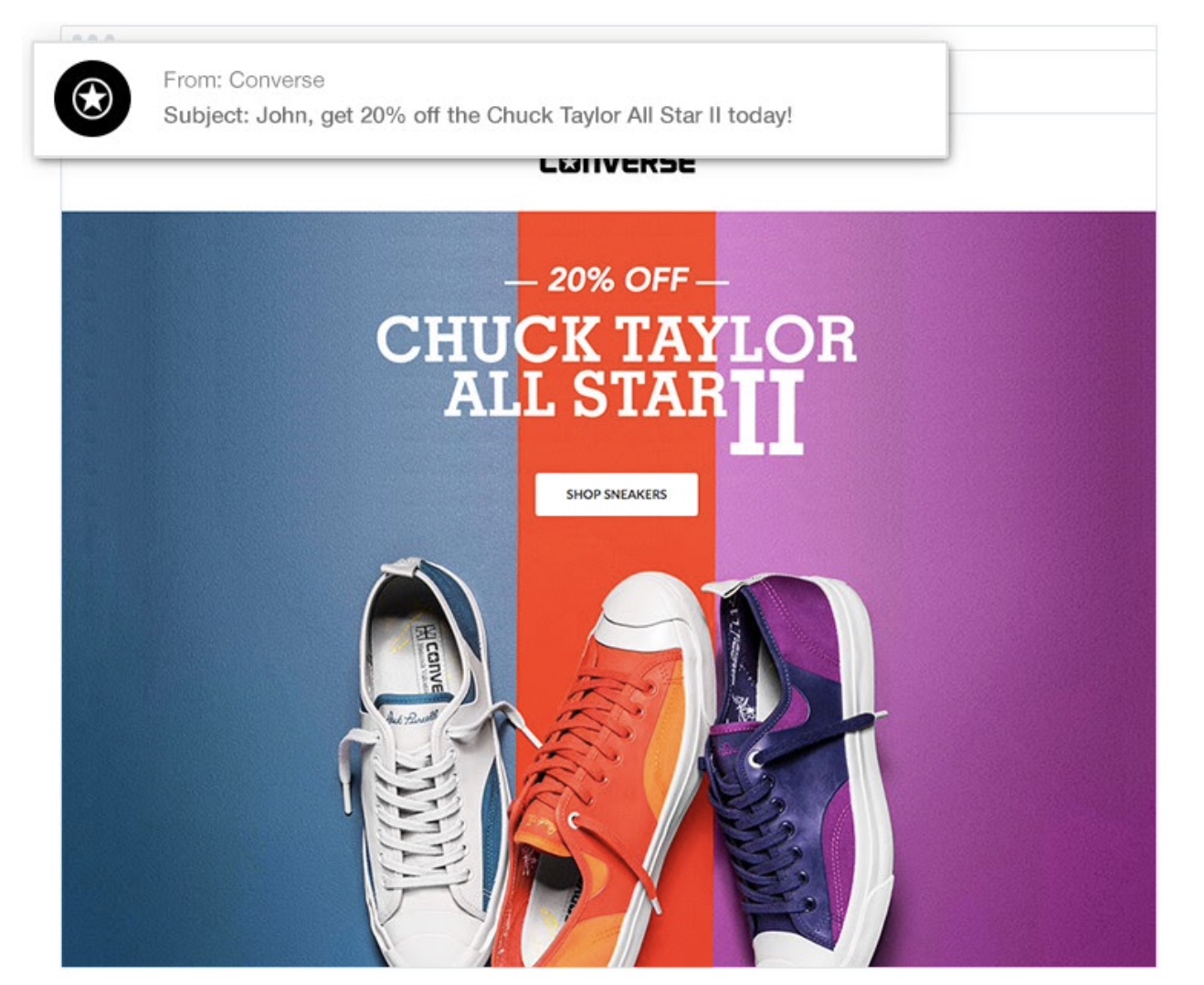 Email copy
If your subscriber's first name, address, or job title is stored in your email list, you can easily use that data to customize the text of your email copy. The most popular form of this is to add the first name of the subscriber to the text, such as this example from Sephora, which used the first name of the subscriber to contact them more directly.
Imagery
Beyond text, you can also dynamically switch photos in your email marketing campaigns to better cater to specific interests. Using imagery is an effective way to improve the click-through rate of your email. One way to use imagery to personalize emails is using different images for different genders, or different images for different locations. The key is understanding that different people feel connected to different things, and then use that knowledge to provide a personalized email experience for your customers.
Dynamic content offers
Savvy marketers use demographic and geographic data to personalize the deals made to each customer. You can dynamically modify entire content sections within your email to make the entire campaign more important and enticing to subscribers.
A typical use case for this would be to show menswear to your male subscribers, thus showing womenswear to female subscribers. Adidas did this in their originals series email promotions. By dynamically switching the products advertised on the basis of the gender of the subscriber, they ensured that each subscriber saw the most appropriate and enticing products that would inspire them to buy.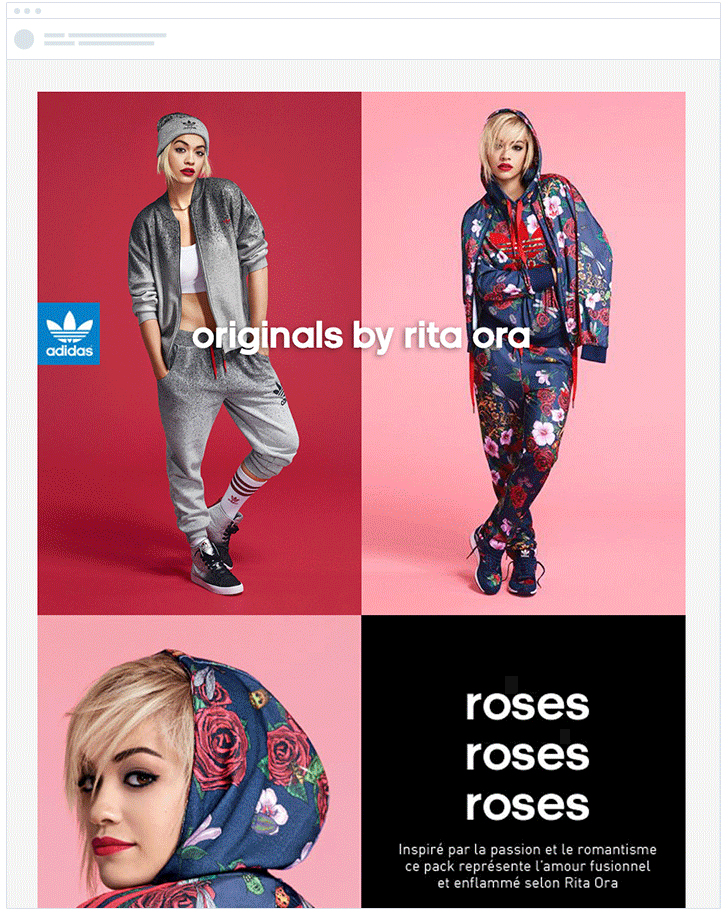 Re-engagement
Personalized email marketing and automation can help you motivate consumers who are already engaged to come back. For instance, the St. Jude Children's Hospital automatically sends reminders to re-engage past donors. They will automatically receive a message six months after donation to remind them of the importance of St. Jude Children's Hospital, which motivates them to donate again.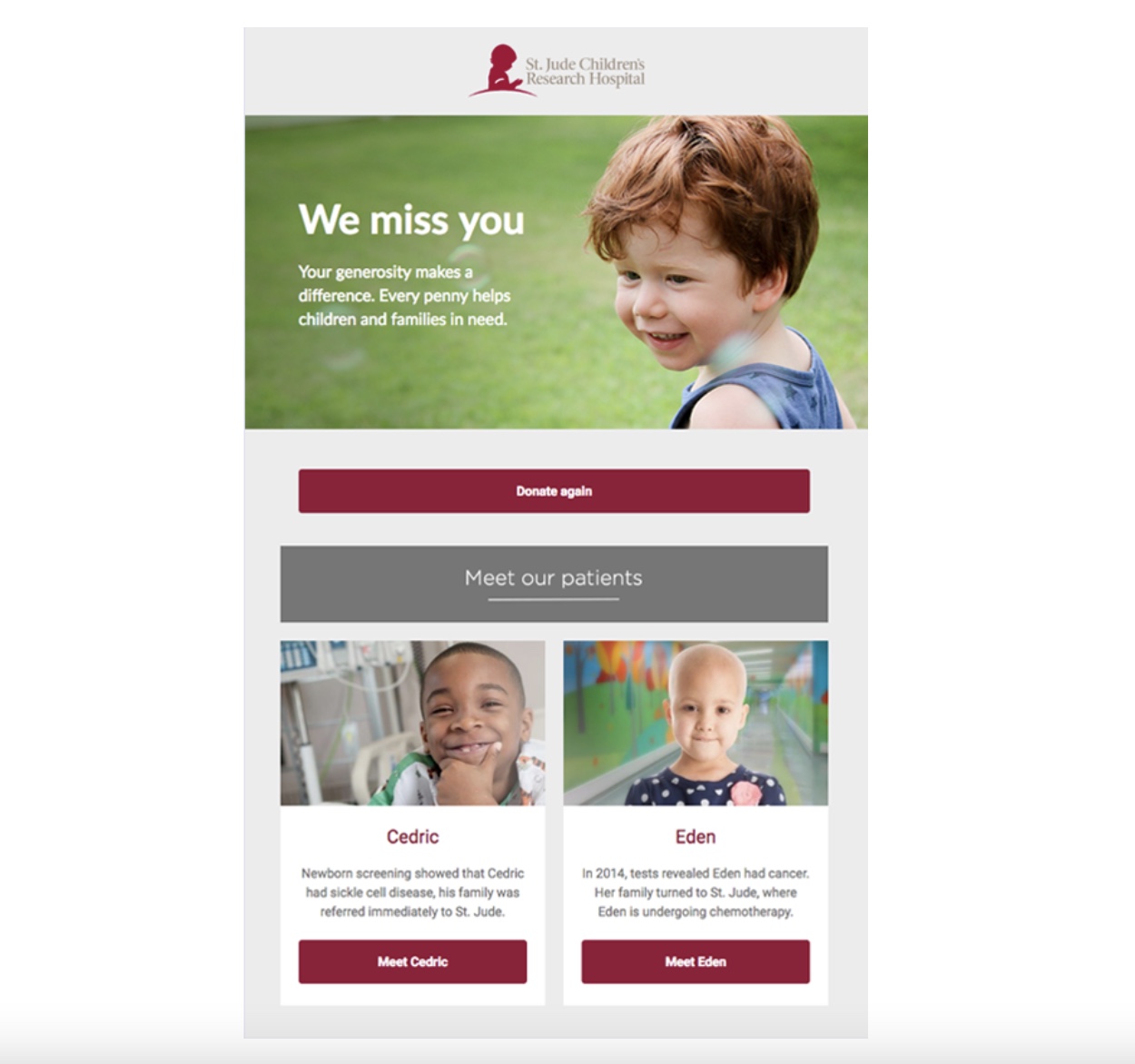 St. Jude empowers these emails with the data they have collected when a donation is made. The data is then fed into their email marketing and automation provider, making it effortless to fuel the personalized consumer journeys that follow. By proactively sending a reminder note, St. Jude increases the probability that a donor will make a repeat donation and remain at the top of their audience.
Product recommendations
Through incorporating recent consumer transactions or browsing history into their email marketing, marketers can take advantage of data about customer activities to create personalized email promotions that boost purchases by cross-selling and up-selling product suggestions.
With the rise of email marketing tools, eCommerce businesses can now easily create personalized, one-to-one, real-time content that appeals to the individual's right to establish a long-term relationship and improve the customer's lifetime value. See the following example. This part of Nordstrom's order confirmation e-mail includes a section at the bottom that shows product reviews based on products seen but not ordered by the customer: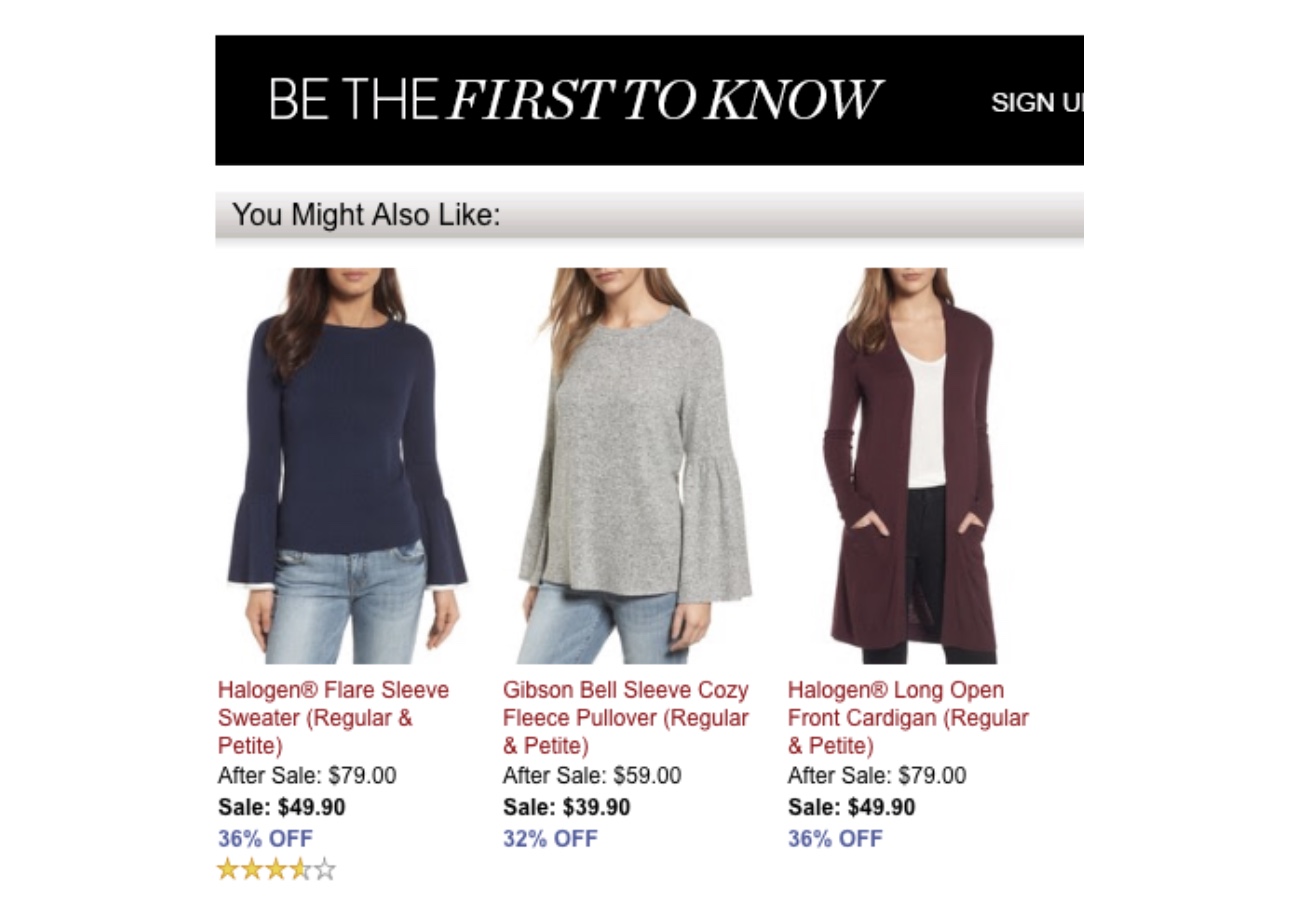 Brooklinen sends an email containing pictures of items recently browsed but not purchased by customers, informing them that the sheets they looked at are still available with a simple call-to-action button. They also have a free shipping deal.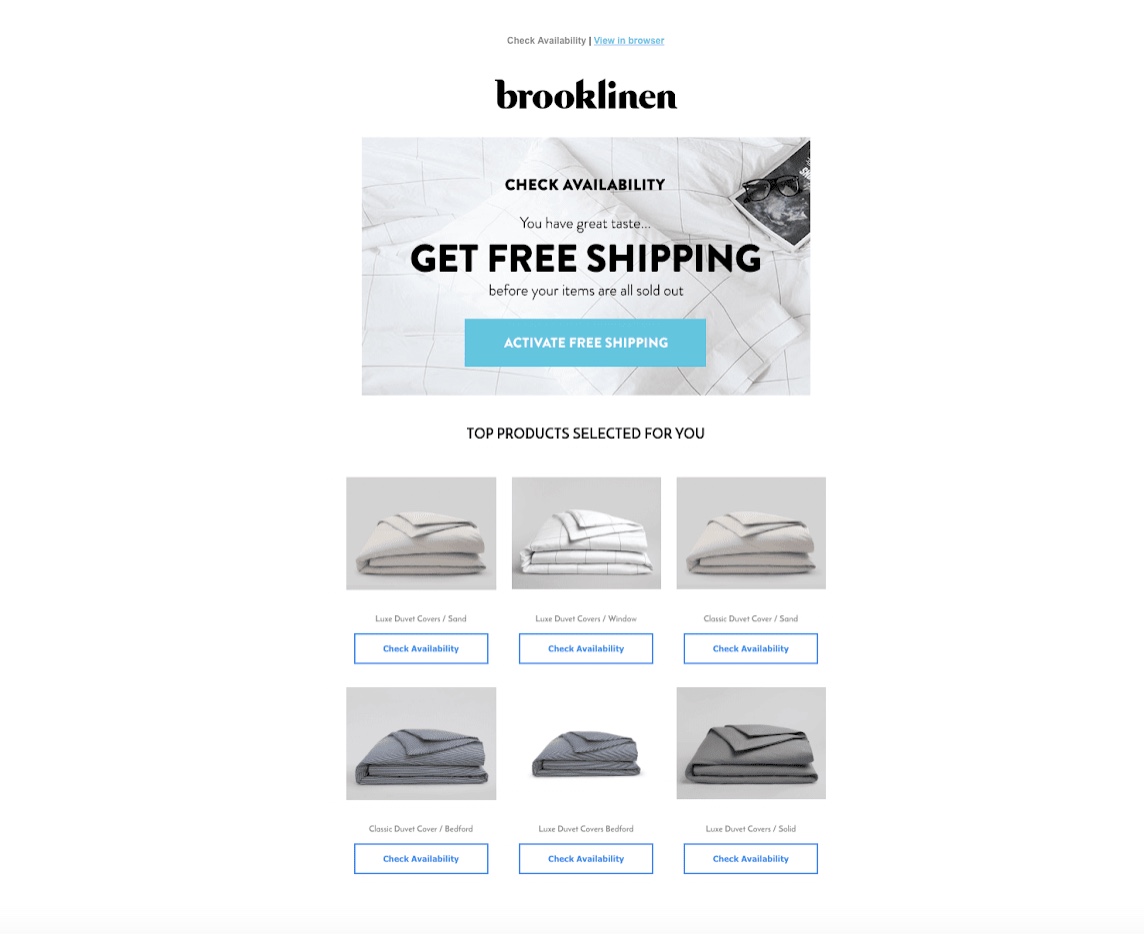 VIP Loyalty
Sephora, a huge cosmetics brand, uses personalized email marketing to deliver a series of exclusive deals to its best customers once they have achieved VIP status, which is activated by a spending threshold.
With automation, Sephora takes their customers on a journey that is personalized to the actions of each subscriber. For example, if a customer has VIP status, they will receive a different email from a customer who does not meet the spending threshold.
Sephora then continues the journey on the basis of how the customer interacts with each post. This form of segmentation helps advertisers to deliver the most important message to each subscriber, driving stronger interaction and revenue.
Purchase abandonment
Every online retailer and eCommerce company knows that, just because someone adds an item to their shopping cart, it doesn't mean they're going to buy it. The abandonment rate for eCommerce shopping carts is 74.3 percent worldwide. That approximately translates to only 1 in 4 carts that becomes a purchase. If the customer has second thoughts, gets distracted, or just runs out of time, you can use personalized emails to get them back with the purchase they have abandoned.
For example, by monitoring the actions of their customers' websites and connecting them to their email marketing platform, Birchbox can know when someone starts the checkout process but doesn't complete it and abandon their cart. When this occurs, Birchbox will automatically send an email reminding them that they still have something in their cart. It encourages the consumer to go back to the site to complete their order.
Personalized Email Marketing Tips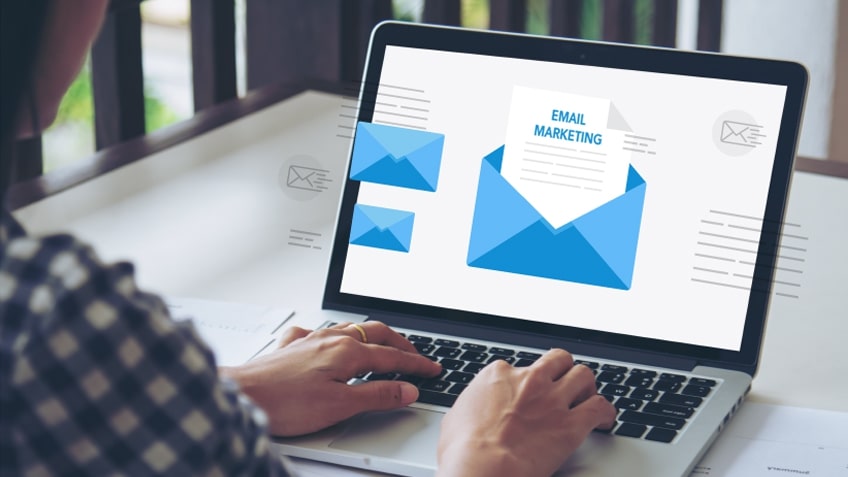 Here are some tips that you can use when you craft your personalized emails to get better results.
Ask questions in your sign-up forms
Before we discover some tips for personalizing your emails, let's look at where the information that is used for personalized email marketing comes from. You want to collect the right details from the prospective to customize your email addresses, and including questions in your sign-up form is a great way to get started.
Now, it's crucial that you don't overwhelm visitors with a lot of in-depth questions. This can discourage them before they even send a form to join your subscriber list. However, you should include simple questions in your email sign-up form that can give you more insight into the desires and needs of your new leads.
For example, if you're a digital marketing business, you can ask people to choose the services they're interested in and their monthly budget. After that, you can follow up with emails tailored to the service and price range that best suits their needs.
Send surveys
If it's not a good idea to flood subscribers with surveys right after they sign up for your newsletters, you can use surveys sparingly to collect new data from your subscribers. For example, you can use a survey as the final phase in a welcome email series. In the survey, you can ask the subscribers for information about the type of content they want to receive in their newsletters or what time of day they want to receive your emails. This will enable you to segment your email subscribers and send them personalized emails that are relevant to their needs.
Analyze past email data
Evaluating past email campaigns will also help you collect useful details to personalize your future emails. For example, you can classify the types of content that your subscribers like best—do they like informative content, promotional content, or anything in between? You may also look at the most suitable time to send your campaigns where you can get the highest most open rate.
Schedule emails based on recipient's time zones
If you have international customers, you'll want to take into consideration their time zones, since if your customers receive your email at 2 A.M in the morning their time, it's very unlikely that they will check your message. To personalize the send timing of your email, you can schedule it based on the recipient's time zone. Most Free email marketing tools on the market provide automation features that allow you to set up time of sending. Personalized send time will help you maximize your open rate.
Create personalized landing pages
You'll also want to bring traffic from your email campaigns to landing pages that are personalized to different customer groups. If I click a link to see "Philadelphia Fares," I'll expect to see a landing page that highlights Philadelphia flights. If the button says, "See Minneapolis Fares," the recipients should land on a page providing information about flights from Minneapolis.
Just as you need to customize content in your emails, you will also need to attach your emails to personalized landing pages so that when recipients click on CTAs or links in your email, they will arrive on landing pages that are tailored to their unique needs. This will inspire customers to buy something and help you boost your sales.
Integrate your email with your sales platforms
Integrating your email platform with other data sources, such as your CRM and eCommerce platform, helps you to create rich subscriber profiles and send better personalized emails. For example, integrating your email with your sales platforms can help you use demographic data and purchasing history together so that you can build personalized messages based on demographics and past activity on your sales channel.
You can also use customer purchasing behavior data to send emails with relevant product suggestions. For example, after buying some new shelves from Etsy, I got a confirmation email containing additional things from the store that I may like to purchase. And now I just want the macramé hanging shelf to show off my pla!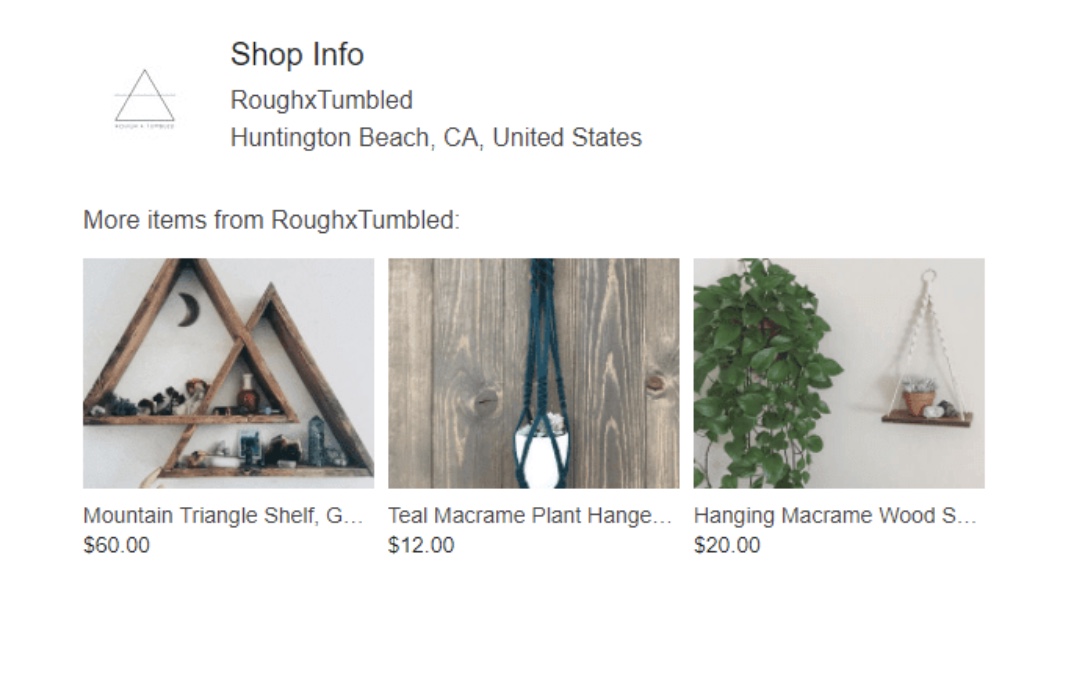 Automate your emails
With email automation, you can send the right emails to the right people at the right time. You can set up automated emails to activate when recipients take action or your site, hit new milestones with your rewards program, renew expired services with your company, and more.
Automated emails are a great form of customization that allows you to give recipients information that is highly targeted and most important to them. This lets you better connect with your customers and provide them with the details they need to buy or re-purchase whether they are a current customer.
Read more: Marketing Automation for eCommerce: Everything You Need to Know
Personalized Email Marketing Mistakes To Avoid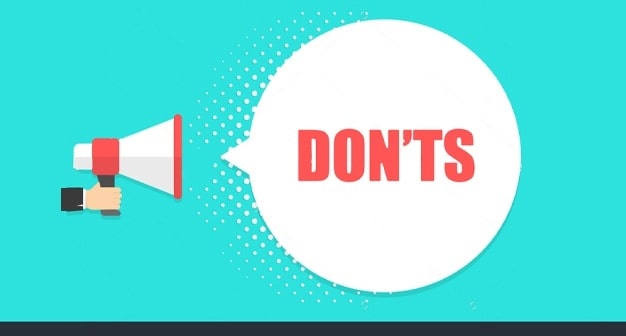 You can keep these personalized email mistakes in mind so that you can create a better customer experience for your email subscribers.
Spamming the subscribers
Your subscribers can get irritated if they get too many irrelevant emails, so you should only send your audience the content they requested and not send out random marketing emails or unrelated content.
Not optimizing mobile viewing
With 85% of people using smartphones to access their email, and the average time users spend on their smartphones is about 5 hours a day, you need to customize emails for mobile devices. In reality, 46% of people claim they wouldn't want to buy from a brand again if their mobile experience wasn't enjoyable. As a result, make sure you plan mobile-responsive emails to provide subscribers with an easy experience.
Send emails at the wrong time
No matter how amazing or important your content is, sending messages at the wrong time may ruin everything. You can boost your click-through rates significantly if you can send emails at the time when your subscribers often check their emails. Some email marketing tools provide this insight by tracking the time and date when your emails are read.
This, in turn, gives you a good idea of when to send an email and approach your subscribers effectively. Further, according to Mageplaza's report, the best time to send emails is 10 a.m. or from 8 p.m. to 12 a.m. However, that's just their data, and you can still look at your own content and data to find the best day and time to send your emails.
Send irrelevant product recommendations
Although product recommendations can attract your subscribers to buy more, sending irrelevant products will be seen as spammy. So it's important that you understand your customers' search and purchase history so that you can recommend products that are truly valuable to them.
Read more:
Best personalized email marketing examples
Spotify
Here's a great personalized email example that leverages the desires of the customer to deliver an important, value-packed message. The copy in this email from Spotify is successful because it presents the customization in a way that makes the user feel like they're being praised for their use. Phrases such as "top listener" and "be the first to get access" lend themselves to a sense of exclusivity—making the consumer feel significant.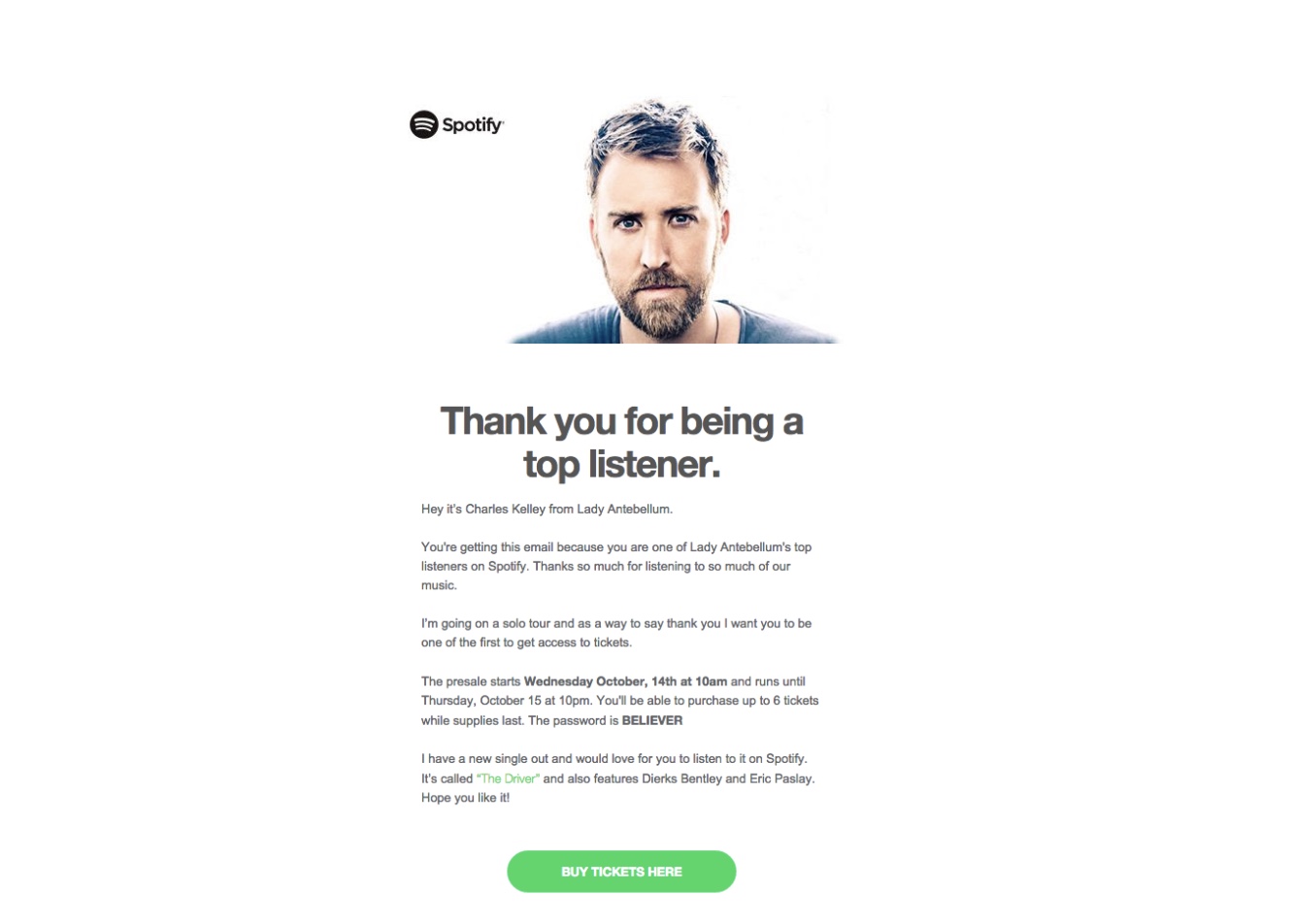 The email also closes with a written call-to-action that invites the user to listen to Charles Kelley's latest song on Spotify. Again, this email helps ensure that the user is actively using the streaming service, and thus constantly remind the user of the benefit.
Amazon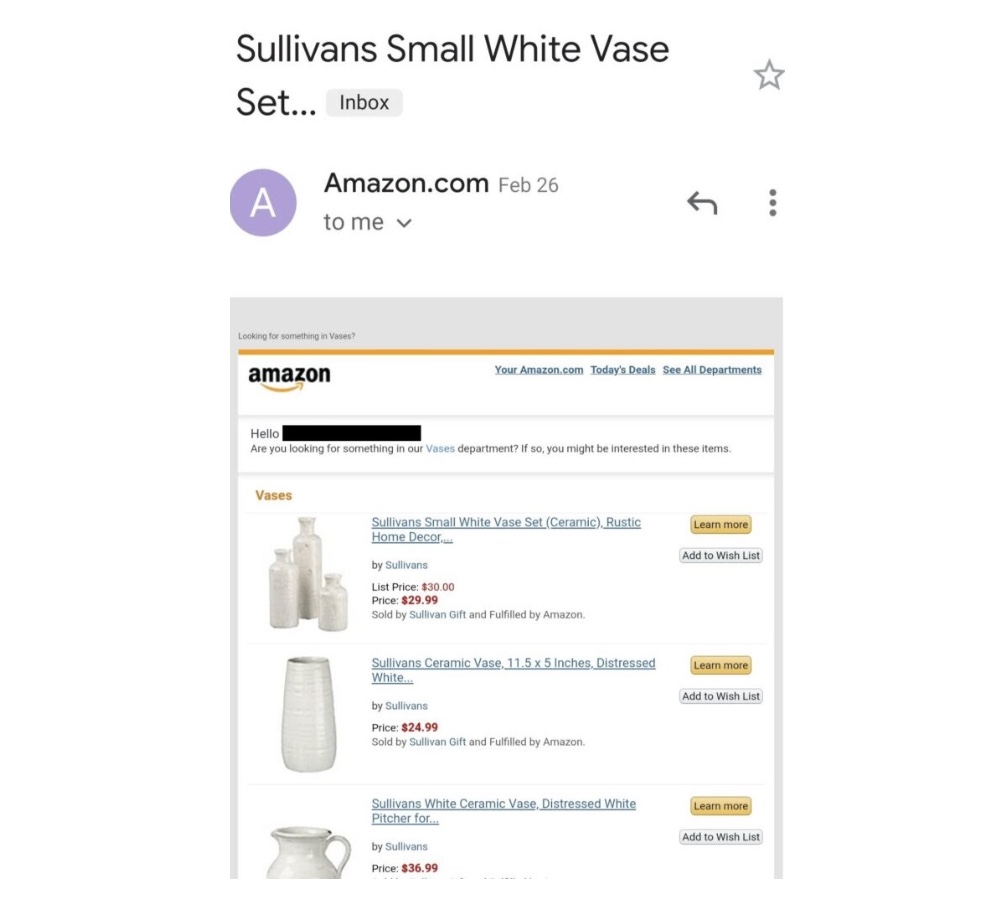 Amazon has always been ahead of the curve in terms of personalized email marketing by leading it in the eCommerce world. The company personalizes every step of the customer's purchasing cycle that involves interaction through email marketing. According to Amazon, personalized email marketing has played a key role in the growth of eCommerce. If you visit Amazon's website or app, you'll be welcomed with a range of items that are recommended based on your past behavior on the marketplace.
Amazon has also incorporated personalized product recommendations into its email marketing. The personalized emails delivered by Amazon contain product suggestions for customers based on their preferences and past purchasing behaviour. This is done by using user search activity tracking and past purchasing history with Big Data machine learning to compile personalized recommendation lists that are then mailed to customers. And unlike most other product recommendation emails from lots of companies, Amazon's reminder emails and customized suggestion emails are focused on the customer's current search history, in addition to their pending card reminder mails.
Netflix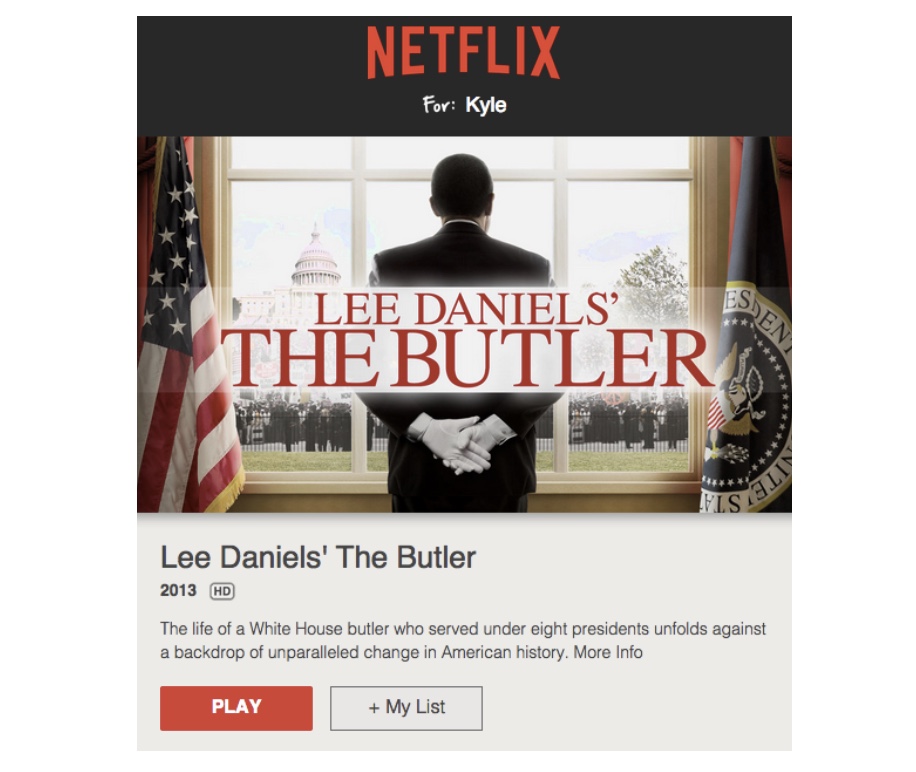 Am I the only one who spends more time looking for a Netflix movie than actually watching it? Bearing in mind that its database can be daunting, Netflix frequently sends out these personalized emails that recommend movies to its users. (If you want to read more about the science behind Netflix algorithms, you can take a look at this Wired article.)
By personalizing their emails with custom recommendations, Netflix can ensure that their users are actively aware of the importance of their subscription. In other words, they keep watching, which eventually keeps them coming back.
This approach may be extended to a variety of marketing materials—ebooks, webinars, and blog posts, to name a few. For example, if you notice that someone downloaded an ebook on social media tips, you may want to set up a workflow to activate a follow-up email that recommends that you check out your SlideShare social media guide.
Best apps for personalized email marketing
AVADA Email & SMS Marketing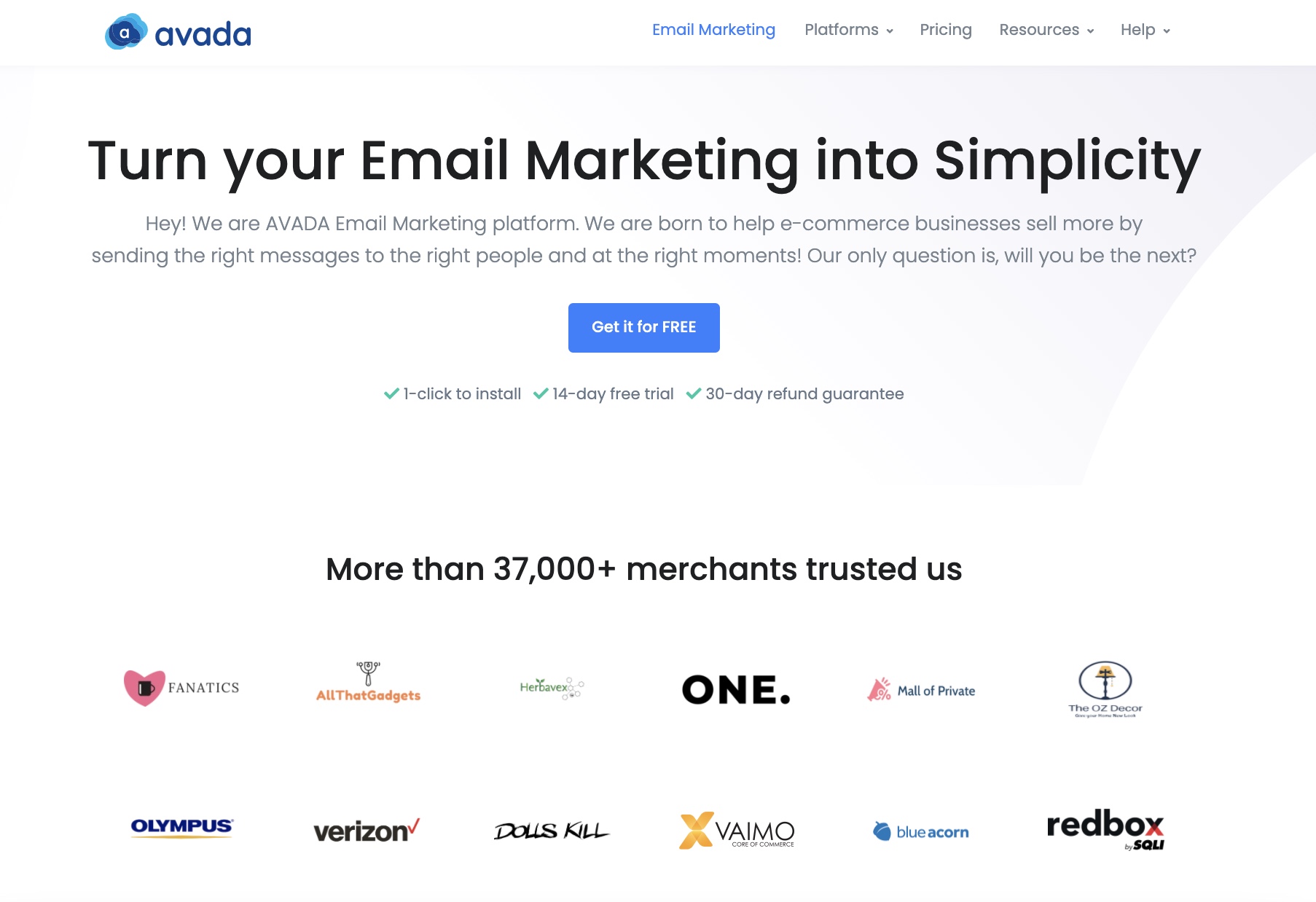 Being a great email marketing app for small businesses because of its ease of use and affordability, AVADA SMS & Email Marketing is a great place to launch your email marketing campaign and personalize your message. This tool has a list of personalized elements that you can use based on your objectives. Click here to read a comprehensive guide on how you can personalize your emails with AVADA Email & SMS Marketing.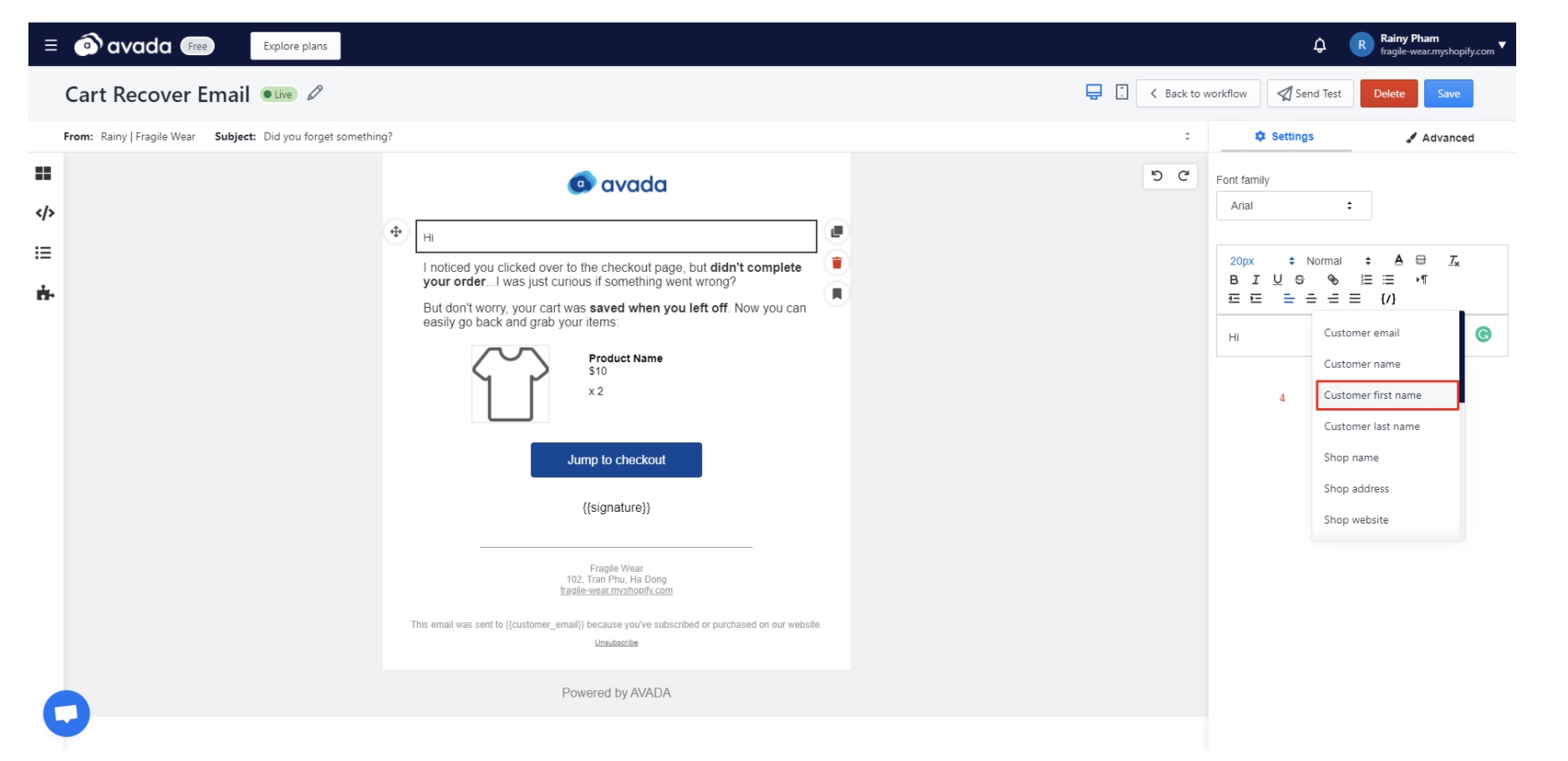 On top of that, this software offers features for list segmentation, cart abandonment recovery, email automation, SMS marketing, and many more. Its intuitive drag-and-drop editor will also help you create professional emails in no time without using a single line of code.
Read more: How to use AVADA drag and drop email editor to design emails?
AVADA Email & SMS Marketing provides a forever-free plan for you to try out its features, and once you're ready to upgrade, paid plans start at $9/month for a storage of 1,000 contacts and unlimited emails. The only downside is that AVADA Email & SMS Marketing is built exclusively for Shopify, so hopefully your store is based on this platform!
Pricing: Free plan provides 1,000 contacts and 15,000 emails. Paid plans start at $9 and go up as your number of contacts increase.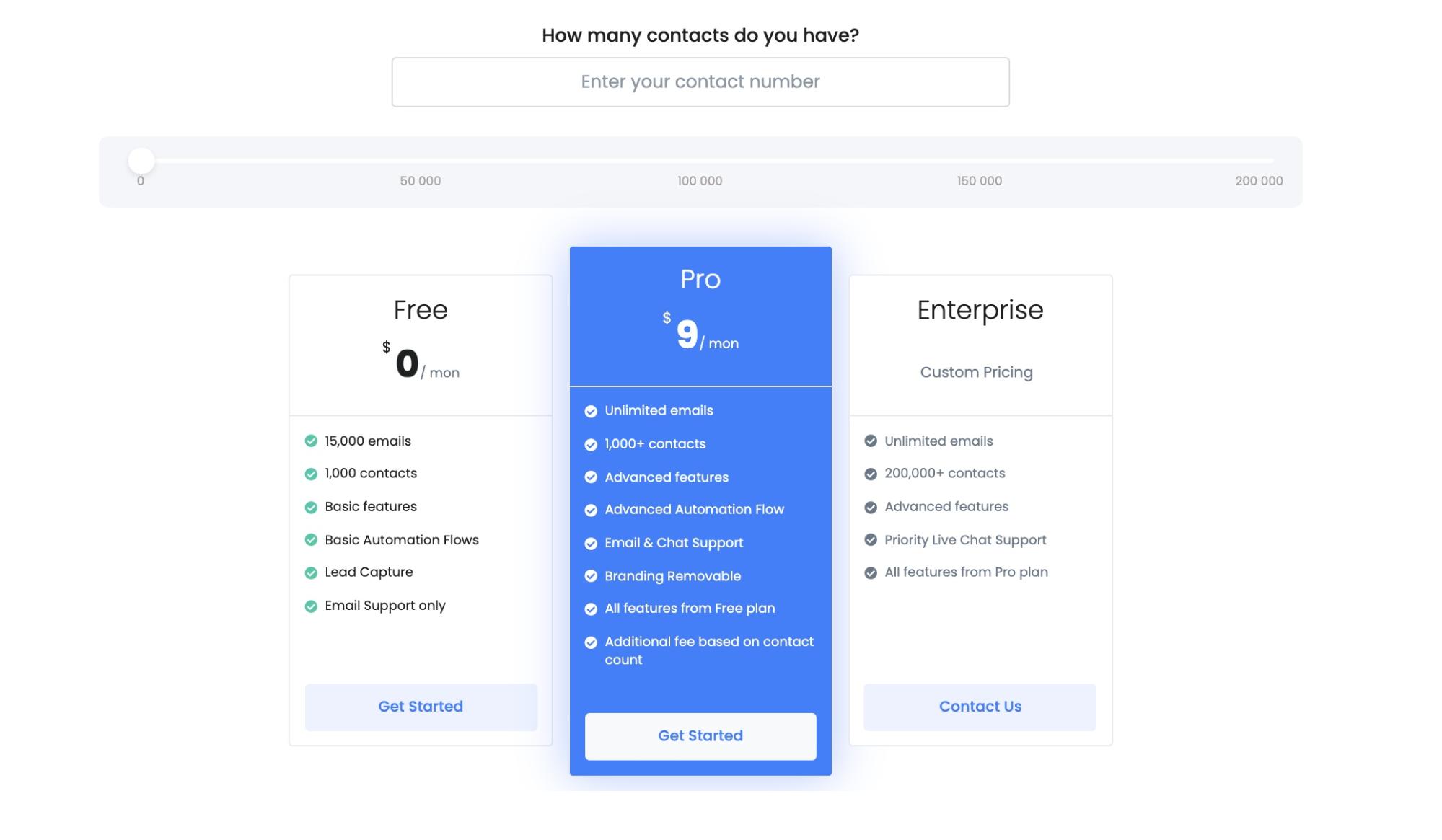 ConvertKit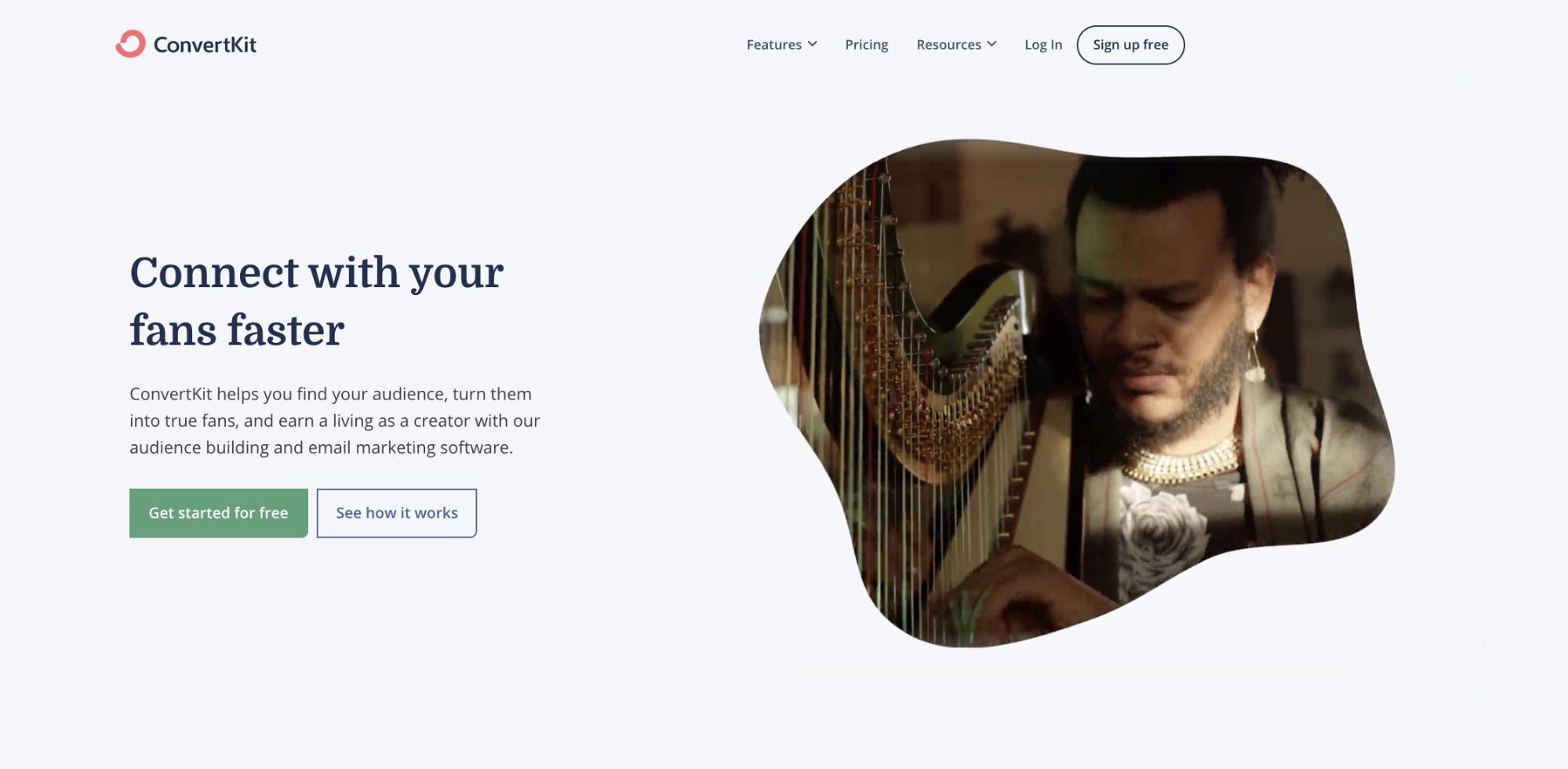 Made for creators, ConvertKit provides everything you need to build and evolve an email newsletter. The app is hyper-focused on landing pages, forms, and emails (called broadcasts) providing all three features on a free plan. Similar to AVADA Email & SMS Marketing, ConvertKit provides features that you can use to personalize your emails.
For those who sell digital goods or subscriptions (including paid newsletters), you can add products and receive payments in the same app. The email editor skews to the basics: it's a rich text, and the experience is close to that of a web builder. ConverKit's broadcast function makes it easy to filter and segment your subscribers for each email. Dropdown filters are easy to find and intuitive to use. As a bonus, ConvertKit also provides a landing page editor that offers dozens of beautiful, fully-designed landing pages and four different types of forms to select from.
Pricing: Free for up to 1,000 subscribers
Omnisend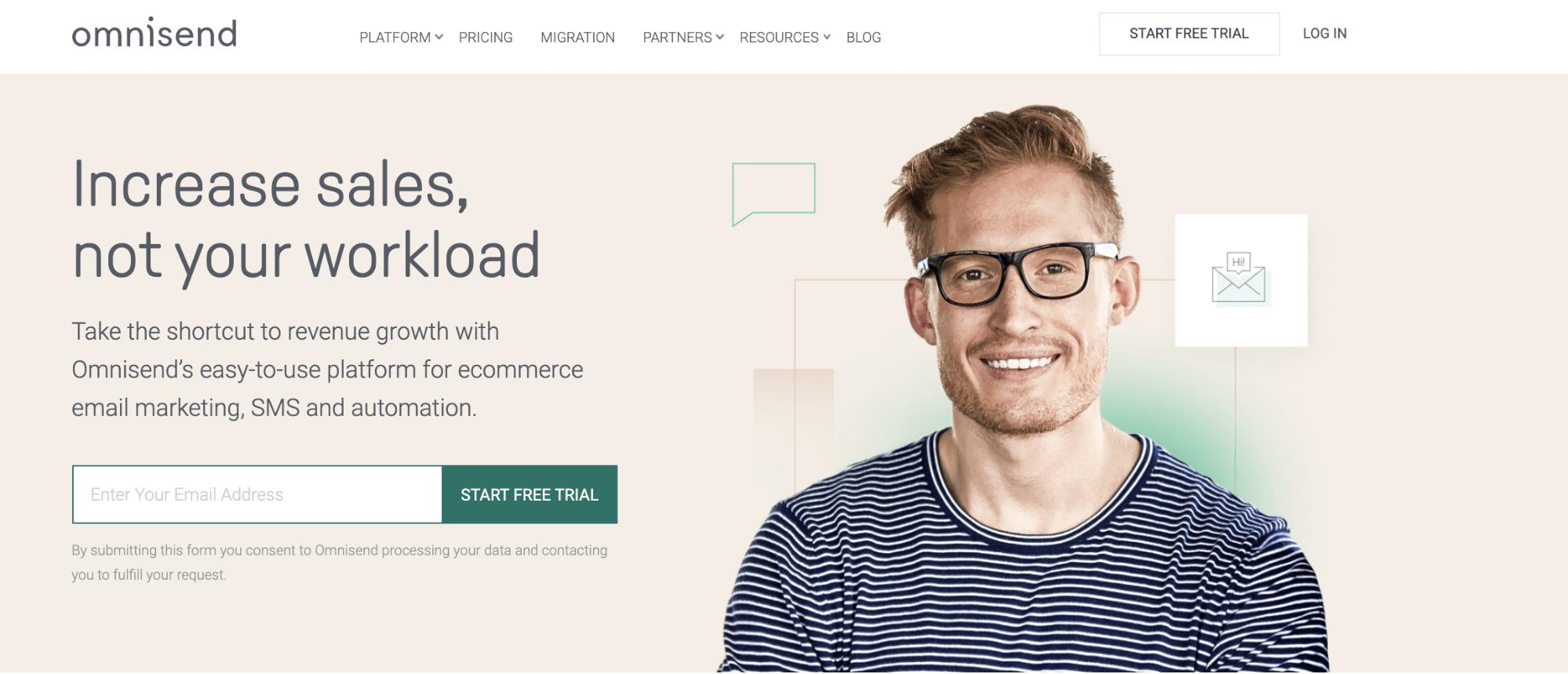 Omnisend is created with the business owners of eCommerce in mind. It helps you to personalize your emails, add dynamic product recommendations, and create audience segments. The app provides a minimalist drag-and-drop editor with over a dozen pre-designed templates to choose from. Set a color theme to keep your branding running through promotions, and pull the product listing information in your emails with a single click. You can also customize premade discount blocks. Segment building is simple with a pop-out inside the editor that features a drop-down menu. And with 15,000 emails a month free of charge, you can ramp up your email operation without breaking your budget.
Pricing: Free for up to 15,000 emails per month.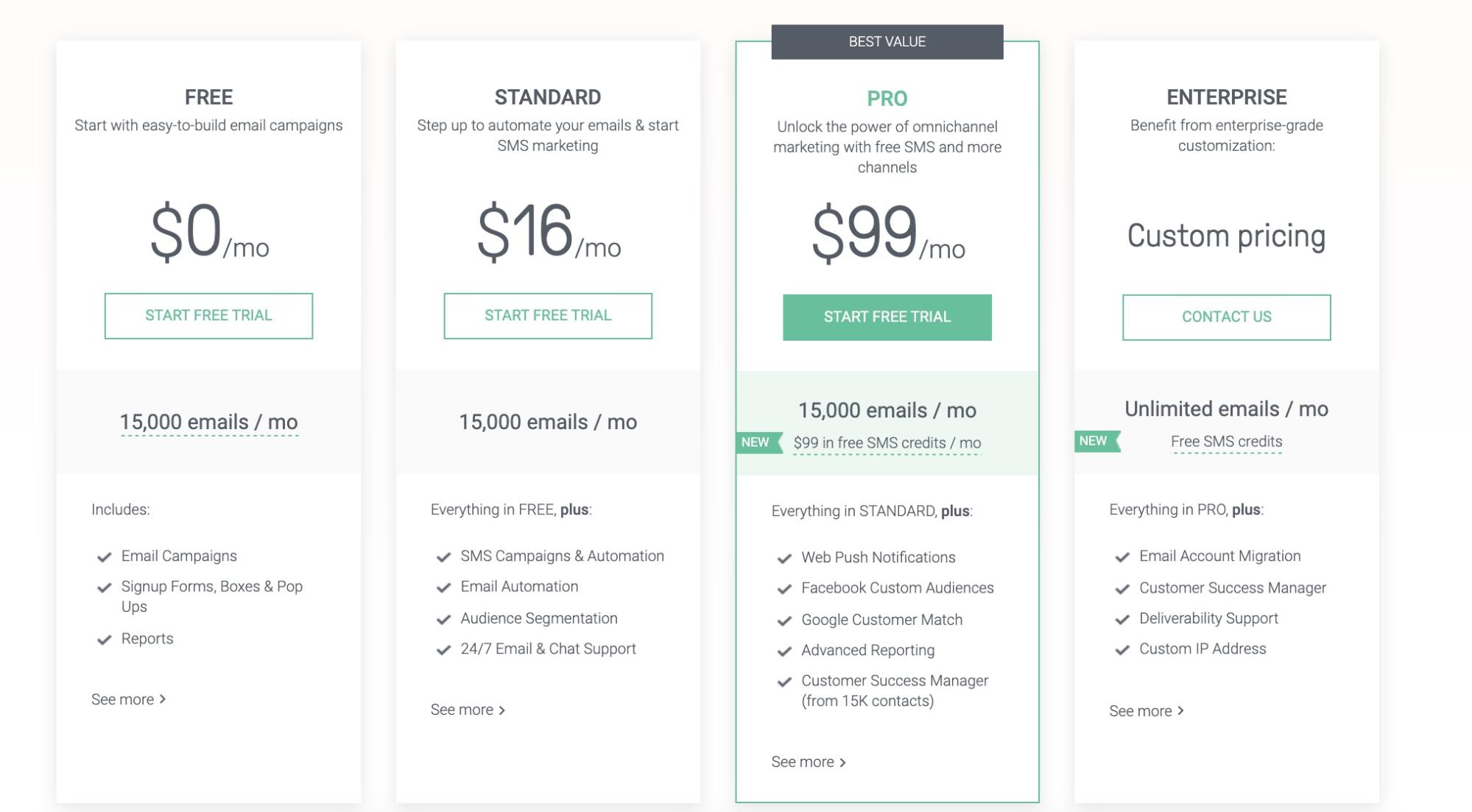 Final words
That's it! I hope this long guide has provided you with a great knowledge base to start personalizing your emails. Please feel free to leave comments below for further discussion on this topic. :-)
New Posts
Stay in the know
Get special offers on the latest news from AVADA.