Top 12 Best email marketing softwares, tools & services
Email marketing tools make it easy to deliver your newsletters and email promotions to your customers. But how do you decide which one you want to go for? We've rounded up some of the best emailing services for small businesses to help you decide. Equipped with advanced features such as newsletter design tools, automation capabilities, and features to customize content, email marketing services have everything you need to grow your business. They will help you develop your mailing list, connect with your subscribers, and improve customer relationships.
The difficulty is to choose the best email marketing service for your company. There's a lot of choices out there, and it can get frustrating trying to sift through what they're offering. To help you out, we've put together a list of the top email marketing platforms and their key features.
Why Should You Invest In An Email Marketing Service?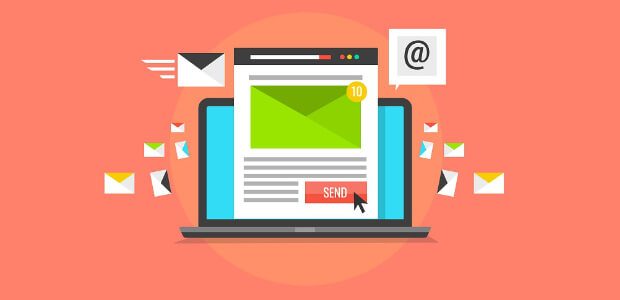 First off, just in case you're not sure about investing time and resources in seeking an email marketing solution, here are the reasons why you should:
Email is one of the most powerful forms of marketing
Marketers have recently voted email marketing as the most powerful digital platform. And here's the reason:
It's affordable. With email marketing, you can reach a wide audience at a low cost, resulting in an average return on investment of $38 for every $1 invested.
Email marketing can be personalized. Email campaigns help you get in touch directly with your customers. Plus they've consciously chosen to hear from you, so they're more likely to get involved.
It can reach a wide audience. With about 4 billion email users worldwide, e-mail can reach your customers whoever they are.
Email marketing services are important for mass campaigns
Email service providers (ESPs) including Gmail and Outlook are not used for newsletters and campaigns. Professional email marketing services are your best choice because they allow you to:
Have higher deliverability rates. Sending mass promotions with a dedicated email marketing service helps you prevent your email from being thrown into the spam folder.
Have analytics for performance. Email marketing tools track metrics like open and click-through rates to measure the effectiveness of your campaigns.
Manage unsubscribes more effectively. Your email marketing software will automatically update contact information when you unsubscribe so that you don't keep sending them campaigns.
Send more emails. ESPs have a limit on the number of emails you can send a day, whereas email marketing platforms allow you to select a plan that suits your needs.
Have attractive emails. Email marketing services often come with design tools to build professional and sensitive HTML emails that fit your brand.
Many of the platforms on this list provide these important features for your email marketing campaigns. Below you can find info on the other main features of each service, along with their prices.
The Best Email Marketing services for small businesses
AVADA Email Marketing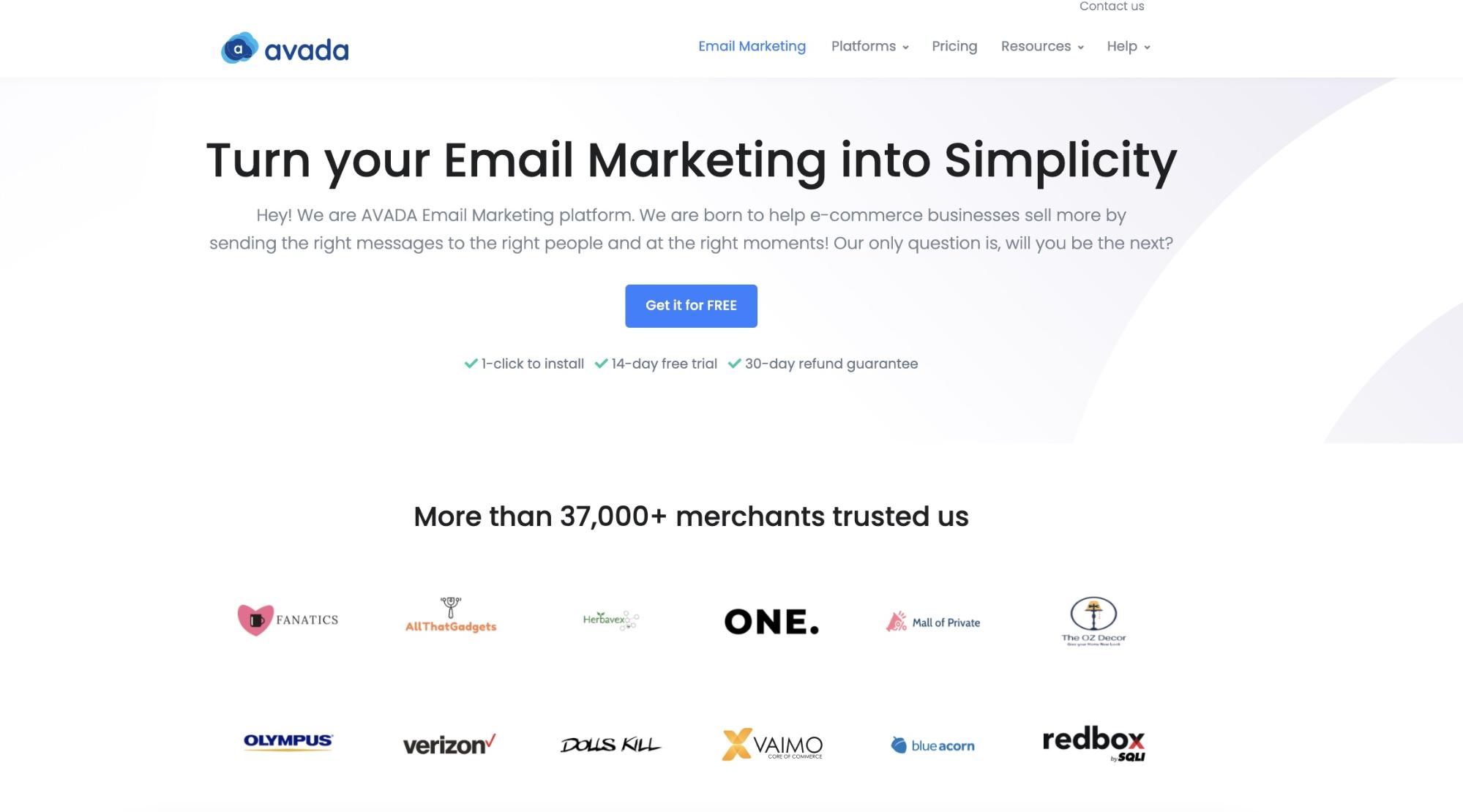 AVADA Email Marketing is a great email service for small businesses. It's packed with all the functionality you need to run a sleek email marketing campaign. The basic user interface of the app makes it easy for newbies in email marketing to get their heads around complicated features. Its drag-and-drop email builder and professional pre-made email templates will help you design beautiful campaigns in no time.
Deepening, Mailchimp provides advanced email marketing tools such as abandoned cart recovery, pre-built and custom list segmentation options, automated workflows, etc. For email automation, select from pre-built workflows such as e-mail re-entry or make your own customer journeys. Price-wise, the price changes are dependent on the number of users on your contact lists. AVADA Email Marketing offers a great free plan, offering 15,000 emails a month and 1,000 contacts, that you can use to test the app.
Price: AVADA plans start at $0/month for 1,000 contacts and 15,000 emails/month
ActiveCampaign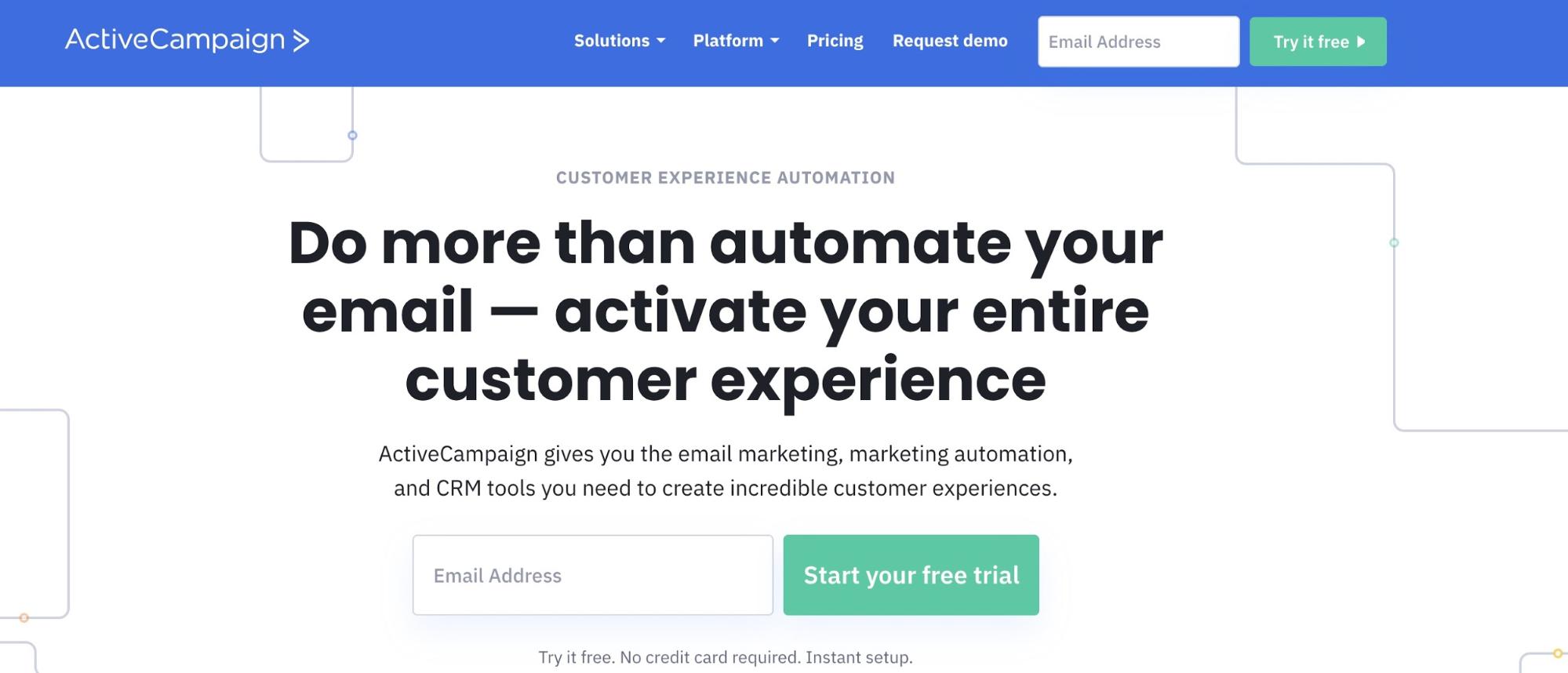 The email marketing service of ActiveCampaign is just one aspect of its overall marketing capabilities. The app makes it easy to use contact data to personalize your emails. You can also test up to five separate email versions to see which content does best. Plus, there's also an integrated spam tester to check whether emails are likely to go to the spam folder.
For more personalized communications, segment the audience with insights such as contact email behavior. There are also website monitoring features for gathering data on contact page visits and other on-site behavior. There is a broad range of pre-made workflows to help you get started with email automation. You can also set up custom automations from scratch using different triggers, including web activities, thanks to the service's tracking features.
Upgrading from the Lite to Plus plan will give you more advanced automation features. For example, you can tag contacts based on their interaction, break various workflows, and get a visual look of all your automations and how they connect together. With the Plus kit, you can also get features for various marketing platforms, including SMS and landing pages. ActiveCampaign's 14-day free trial option allows you to test the app with a limited number of contacts and send emails.
Price: Paid plans start at $15 per month.
Zoho Campaigns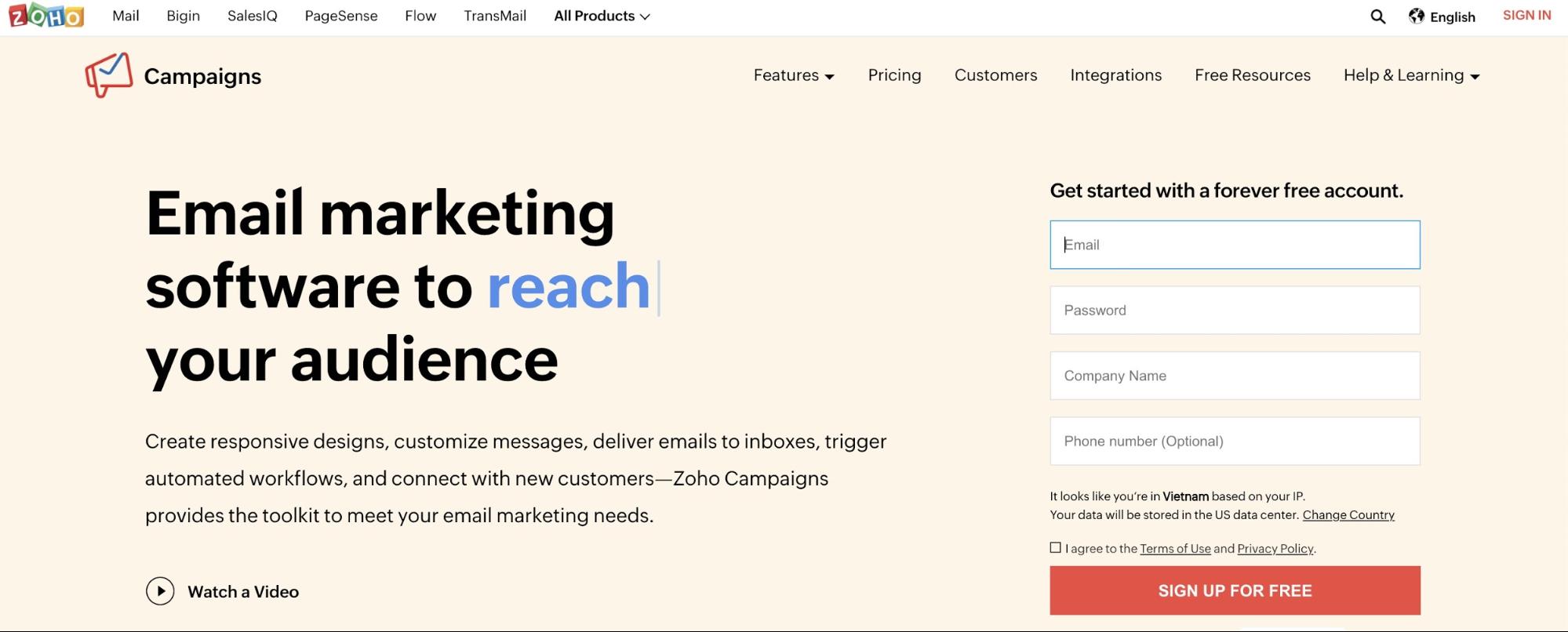 Zoho Campaigns has all the functionality you need from an email marketing service. The drag-and-drop editor lets you add both simple customizations and dynamic blocks that show different content depending on your subscriber's behavior. And using the segmentation tool, you can target subscribers based on factors such as contact details and actions. You also have the option of A/B checking various aspects of your email campaigns.
It's very easy to set up autoresponder emails using pre-made templates for situations such as registrations, birthdays, and email activity-based follow-ups. You have more complex workflow options too. You can start with an automated journey template or make your own using elements such as conditions that decide which journey subscribers follow based on their actions or contact details.
Zoho's pricing structure varies from other providers as you can choose between a package depending on either the number of emails you want to send or the number of subscribers you want to send.
Price: Paid plans start at $2 per month.
Sendinblue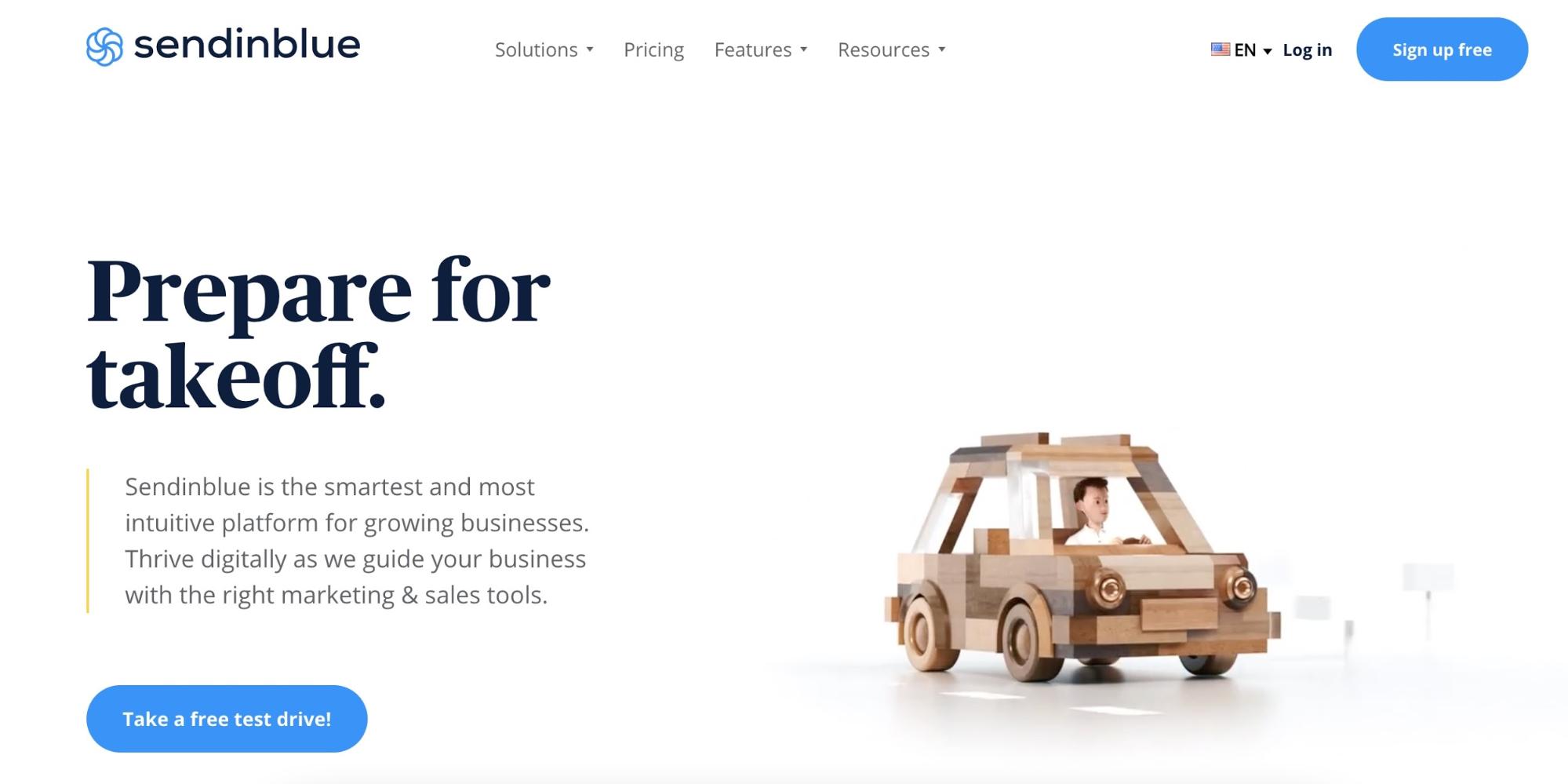 Sendinblue is another great email marketing service on the market. It provides marketers with a full sales and marketing toolkit. Each feature is slotted together to create your marketing plan from start to finish. The service provides powerful email marketing features such as customer segmentation, tailored content, A/B testing, and time-optimization. Apart from its intuitive drag-and-drop email editor, you can access a range of completely responsive templates so you can quickly create professional emails.
You can use Sendinblue's email automation features, from autoresponders like welcome emails to complex user behavior-based workflows, to your email marketing campaigns. You can also cause emails using the Sendinblue Tracker based on how users communicate with your website. If you need to send transactional emails such as account confirmations or order notifications, you can use Sendinblue to handle these alongside your marketing campaigns.
Aside from emailing, the service provides SMS marketing features, live chat to connect with customers in real time, and re-targeting and Facebook ads to carry customers to your website. When you choose a paid plan, the price will depend on the amount of emails you choose to send each month. However, all plans—including Free—allow you to store unlimited subscribers at no fee. Packages provide email support, while live chat and phone support are available only with the Premium Package.
Price: Paid plans start at $25 a month.
ConvertKit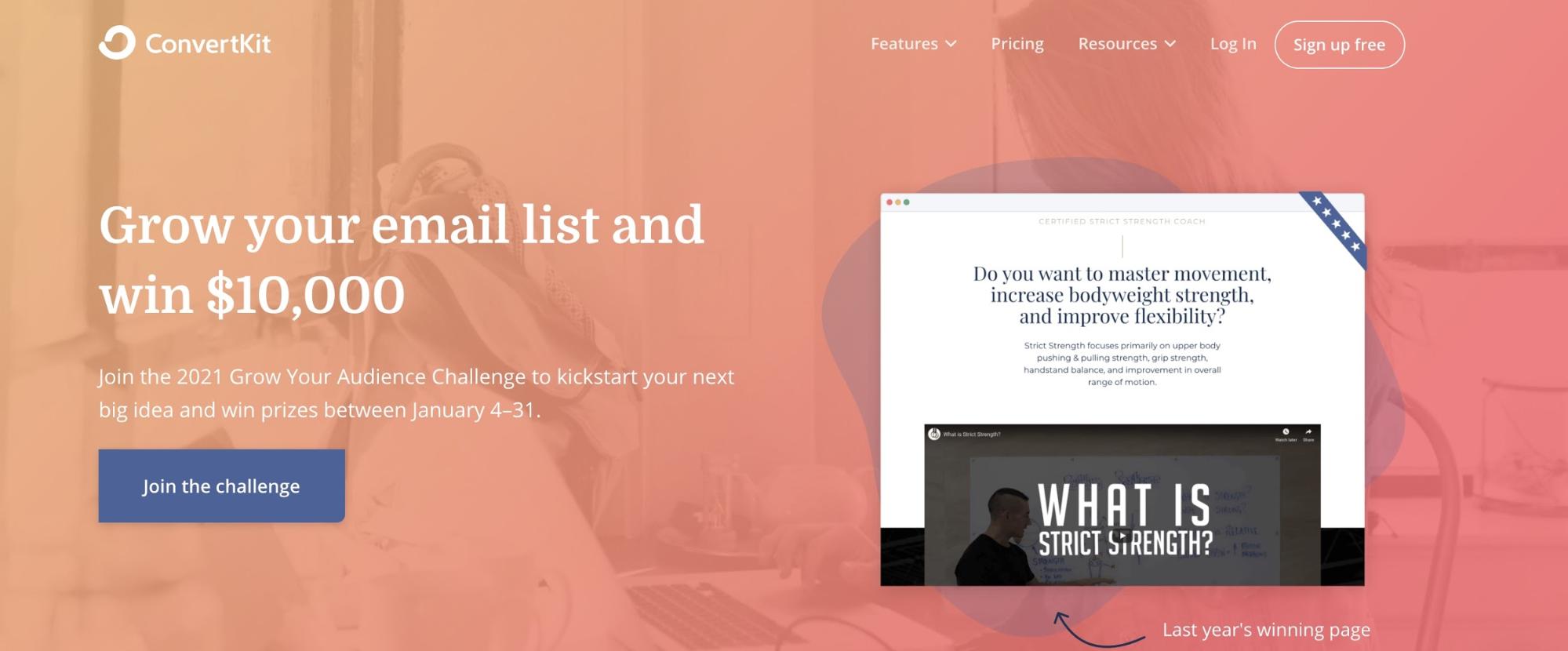 ConvertKit is an email platform targeted at web creators such as bloggers and YouTubers. Converkit's Email marketing functions include the ability to segment the list and configure campaigns using tags, as well as A/B testing. You can acquire subscribers with customizable landing page templates and sign-up forms. And if you use downloadable content as a lead magnet, it's easy to automatically send the lead marnet to someone after they fill out your form.
ConvertKit Automation Software offers a visual way to set up behavior-powered email drip campaigns. The workflow editor shows you what your sequence will look like in activation and makes it easy to change the route of subscribers. And if you need help getting started, there're automation templates that you can try out, such as webinars and product releases. All the plans let you send unlimited emails and get live chat and email support. In the case of paid plans, pricing is dependent on how many subscribers you have.
Price: Paid plans start at $29 per month.
AWeber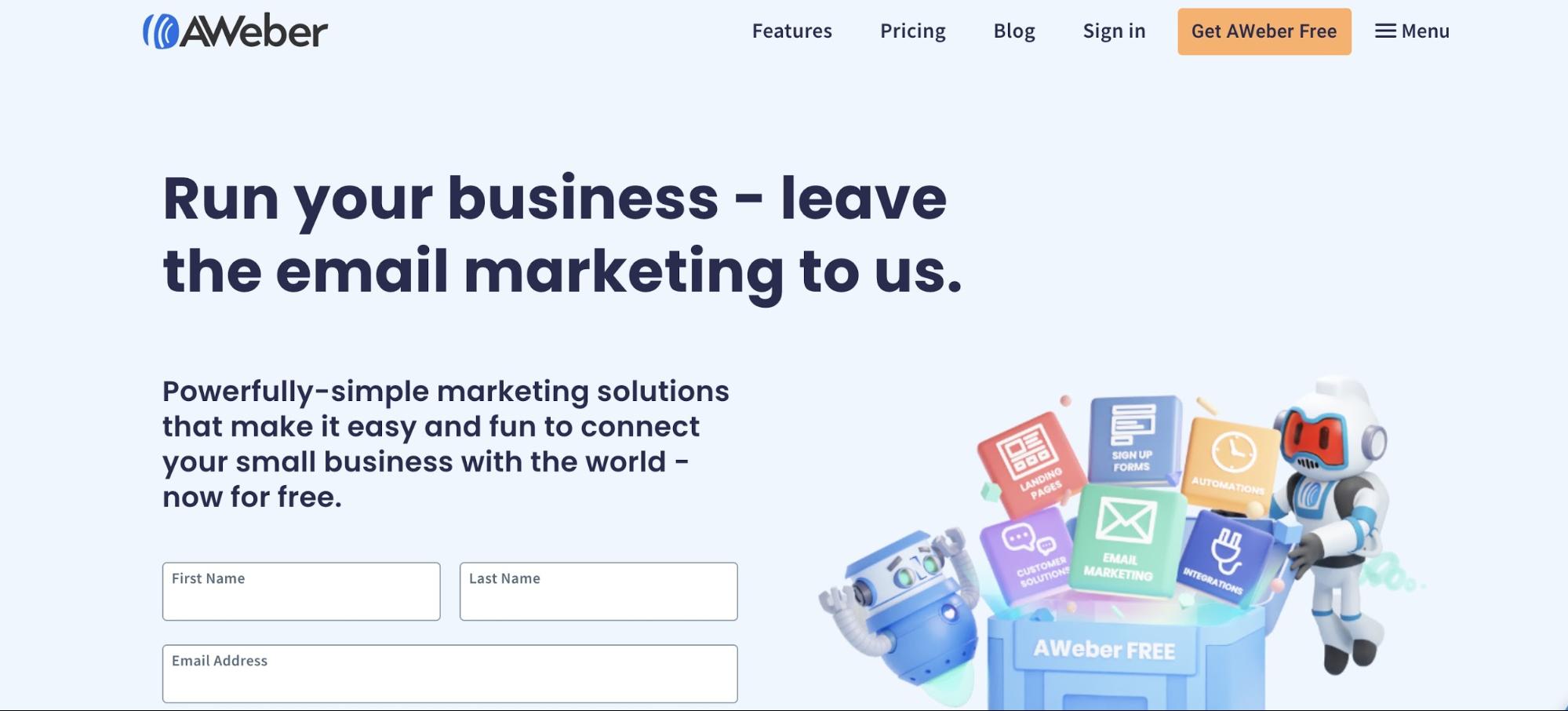 AWeber has several helpful features for beginners. Apart from its drag-and-drop editor and vast email template collection, the platform provides an AI-powered design assistant. This feature uses your website and social media profiles to automatically create on-brand templates for your newsletters.
AWeber makes it easy to interact with individual customers on a scale using tags that you can set up manually or automatically. For example, you can tag subscribers on the basis of registration details or when they open an email or click a link. Email automation functions allow you to run automated campaigns, including drip campaigns to welcome subscribers or introduce a new product. To save you time, the campaign market offers pre-made workflows with email templates for each stage of a typical email marketing campaign. Everything you need to do is tailor it to your brand and target audience.
Furthermore, there's a drag-and-drop landing page builder that has ready-to-use templates and a stock picture gallery to easily build attractive landing pages. Both templates include sign-up forms and you can automatically tag subscribers from each form to help manage your listings. AWeber's pricing is based on your subscriber number, and all plans provide chat, email, and phone support.
Price: Paid plans start at $19 per month.
Drip
Drip is an eCommerce marketing solution that provides you with many features to run your email marketing campaigns. The platform has advanced features including content customization options such as product reviews and exclusive discounts. You can also A/B test for different email content and subject lines to see which offers the best response and open rates.
Automation capabilities vary from trigger emails to complex workflows that lead to customer behaviour. You may also do a split test between different customer journeys in order to understand which workflow performs better. The platform also provides a library of pre-made workflows for common eCommerce scenarios.
Drip has plugins for popular eCommerce platforms, including Shopify, Magento and WooCommerce. This allows you to tag shoppers based on their online behavior so that you can tailor campaigns. The data collected also enables you to monitor the revenue produced by the different campaigns.
Beyond marketing emails, you can use the app to handle transactional emails and send SMS messages from one location to another. Drip provides only one package whose pricing depends on the number of contacts that you have. However, there is a 14-day free trial so you can try it first. During the trial, you will be able to send unlimited emails, as well as have access to email and live chat support.
Price: Paid plans start at $19 per month.
Constant Contact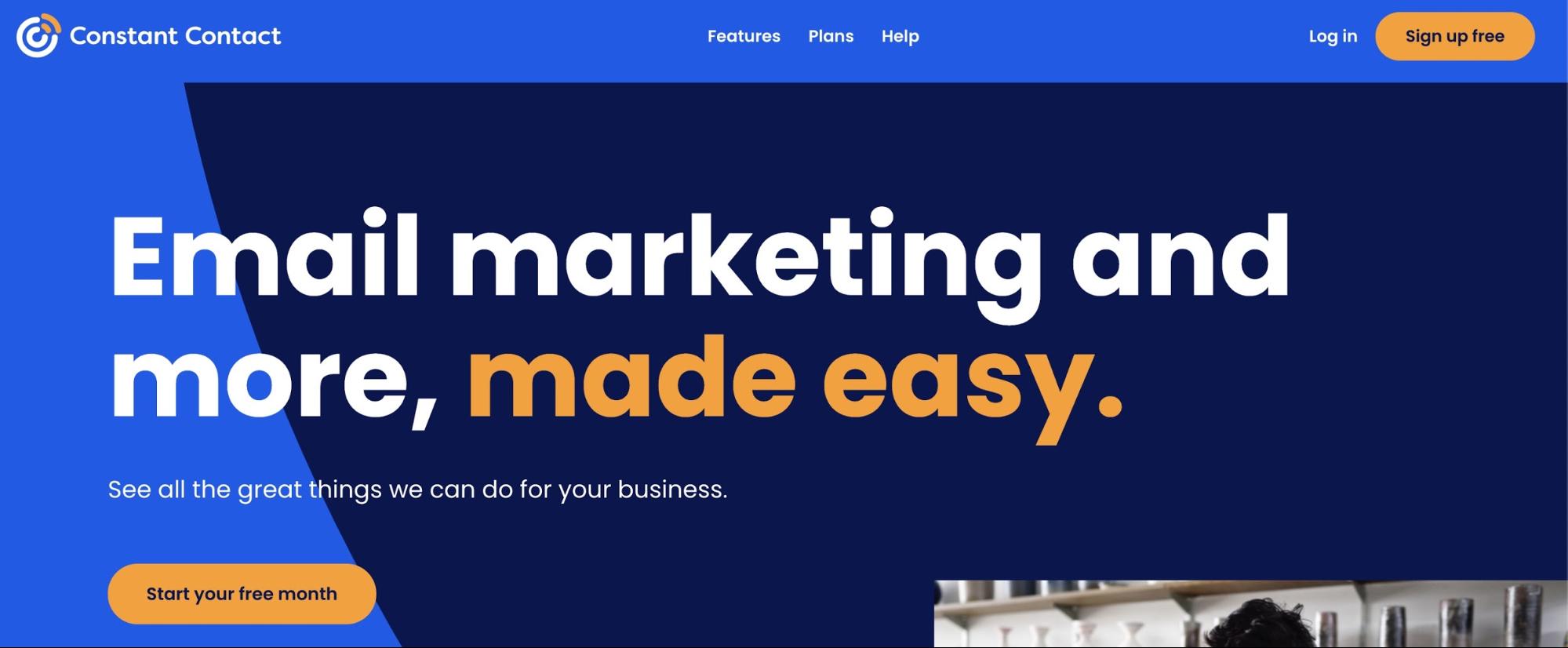 Constant Contact is a comprehensive marketing toolbox that provides a lot more than just email features. Its email service comes with a wide variety of free email templates. Or you have a tool to automatically create your own branded templates based on your website or Facebook profile.
Other email marketing features include A/B subject line testing and automatic resends to subscribers who do not open emails from a given campaign. The Email Plus kit offers you additional features such as multi-step automatic email sequence and survey and online donation resources. Advanced segmentation helps you to automatically manage contacts by clicking on an email address. Or you can build custom segments using criteria such as subscriber engagement or purchase activity with the Shopify or WooCommerce plugin.
On top of this, with Constant Contact, you can create landing pages or even develop an entire website or online store from scratch. You will also be able to handle social media activities on the website, including post scheduling, replying to messages and comments, and running ads. Although there is no free plan, the paid plans provide unlimited email and email and chat support. The more subscribers you have, the higher the rate is.
Price: Paid plans start at $20 per month.
GetResponse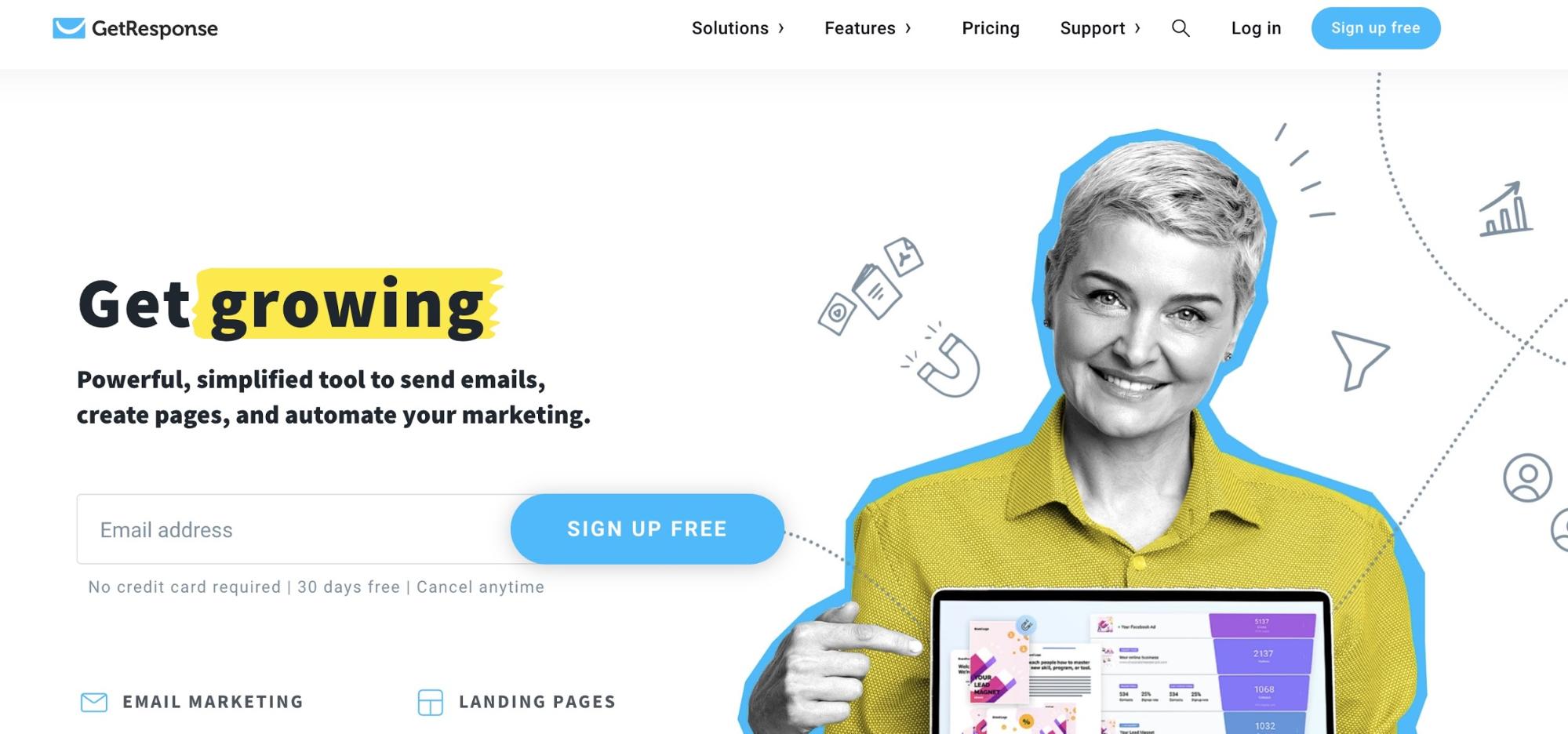 GetResponse offers a range of marketing resources to small companies, including a feature-rich email marketing service. The platform has a library of professionally crafted email templates with a drag-and-drop editor that makes it easy to turn your emails into beautifully branded messages. You can collect consumer behavior and interest data, then use powerful segmentation tools to optimize your email campaigns. You can also automatically tag and score contacts to send them triggered emails.
Other automation features include time-based drip promotions, with the option of displaying the email series on a calendar to see precisely when subscribers receive messages. The app also allows you to submit transactional emails alongside your marketing campaigns, while eCommerce plugins enable you to promote products through both emails and landing pages.
Besides email marketing, you can create and manage Facebook ads using the built-in feature and free templates. The platform also provides software to run your own webinars. The conversion tunnel feature allows you to put everything together with pre-made automated sales funnels built for various industries and purposes. GetResponse only provides paid plans, with list size pricing, but you can try your chosen plan for 30 days free of charge. All of the plans come with live chat and email support.
Price: Paid plans start at $15 per month.
Keap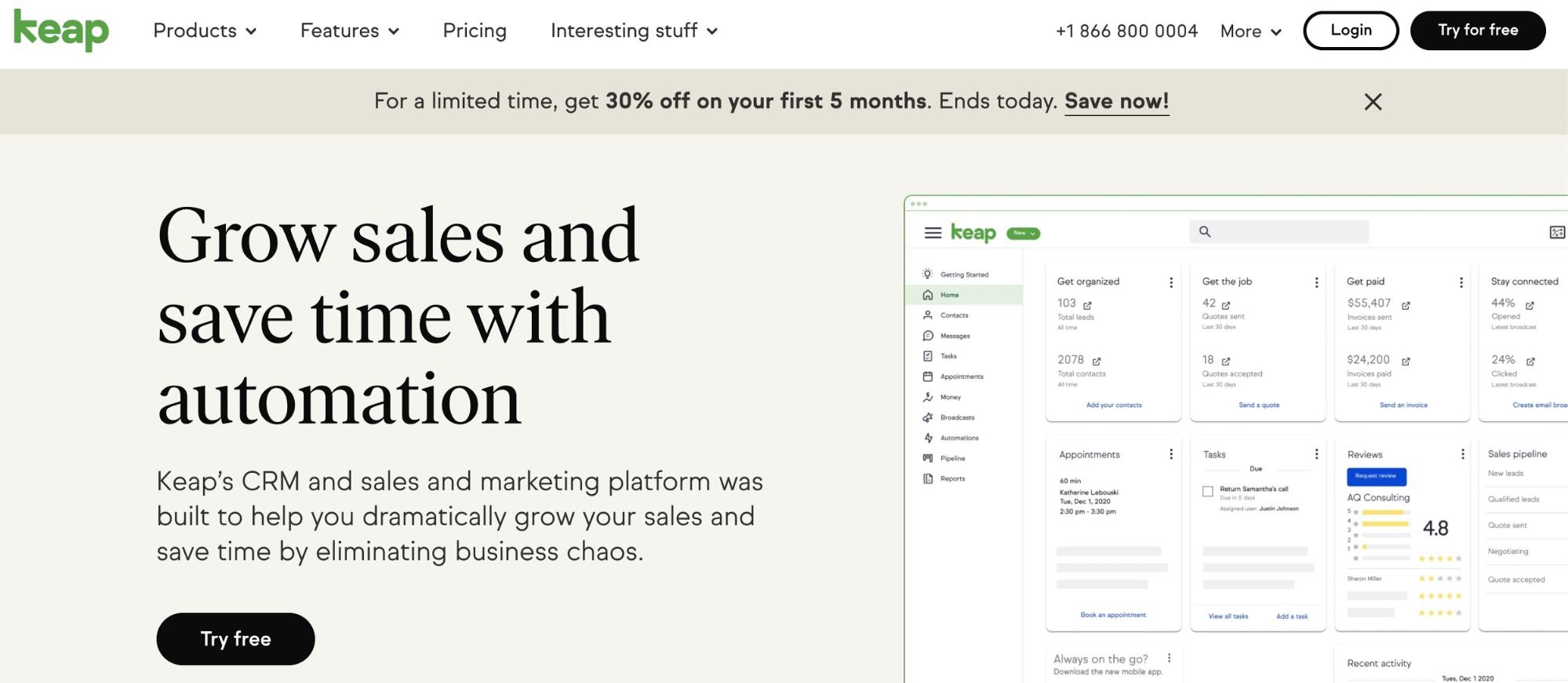 Keap is all about lead management and conversion. This CRM app has an in-built email marketing service for sending customized correspondence to clients. With customizable signup forms, you can capture lead information, then categorize tag contacts and segment them based on your desired interactions.
The automation feature makes it easy to send follow-up emails to new leads. The platform also has pro-made automation templates to get you started, including pre-written emails. With Keap Pro, you will get more advanced email marketing features such as the ability to break test content up to five variants and auto-check spam trigger word emails. The Pro kit also helps you to build more complex automations using a visual builder. The tool makes it easy to make customized journeys based on the behavior of the contacts.
Elsewhere, the platform comes with useful sales tools such as appointment scheduling and billing. Keap isn't the cheapest choice out there, but you can get a 14-day free trial to see if you like the tool. Pricing is based on numbers of contacts, and there is no limit to the number of emails you can send. No matter what plan you're going for, you'll have access to help via phone and live chat.
Price: Prices start at $79.
Campaign Monitor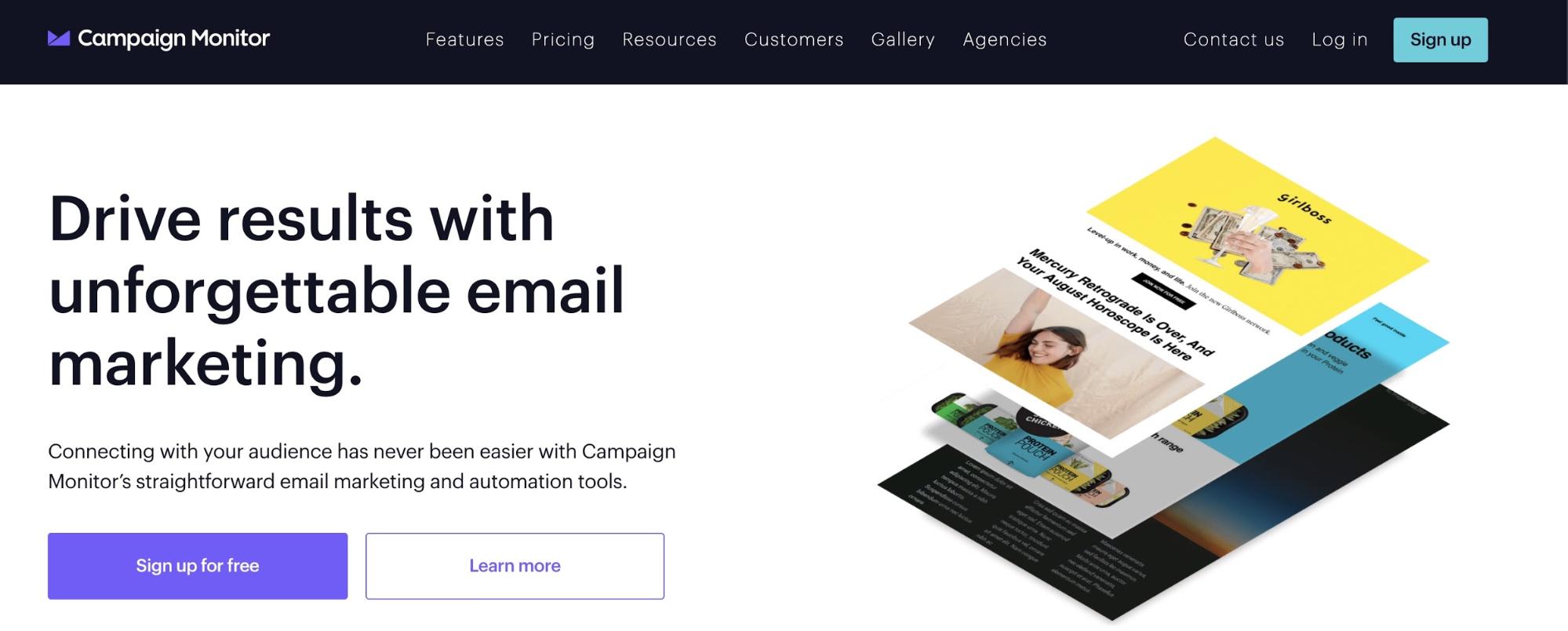 Campaign Monitor Email Marketing Service provides a variety of easy-to-use features to help beginners create a loyal audience. The platform has a wide range of responsive email templates that you can modify using the app's drag-and-drop builder. Plus, it's easy to add personalization elements to your contact information. And by using the time optimization function, you can deliver emails at the best time. The segmentation tool lets you go further, generating custom segments of subscribers using a range of filters.
For email automation, you can use the simple visual journey editor to drag and drop each email to a sequence based on subscriber behavior and past interactions. You can try the platform for an indefinite amount of time, but you can only submit campaigns with up to five contacts. The Basic Plan has a limit of 2,500 emails per month, while Unlimited—as the name suggests—does not have a sending cap. Prices increase as your contact list expands. Both plans provide email support, but you will be given priority support for the Unlimited Plan.
Price: prices start at $9 per month.
Ontraport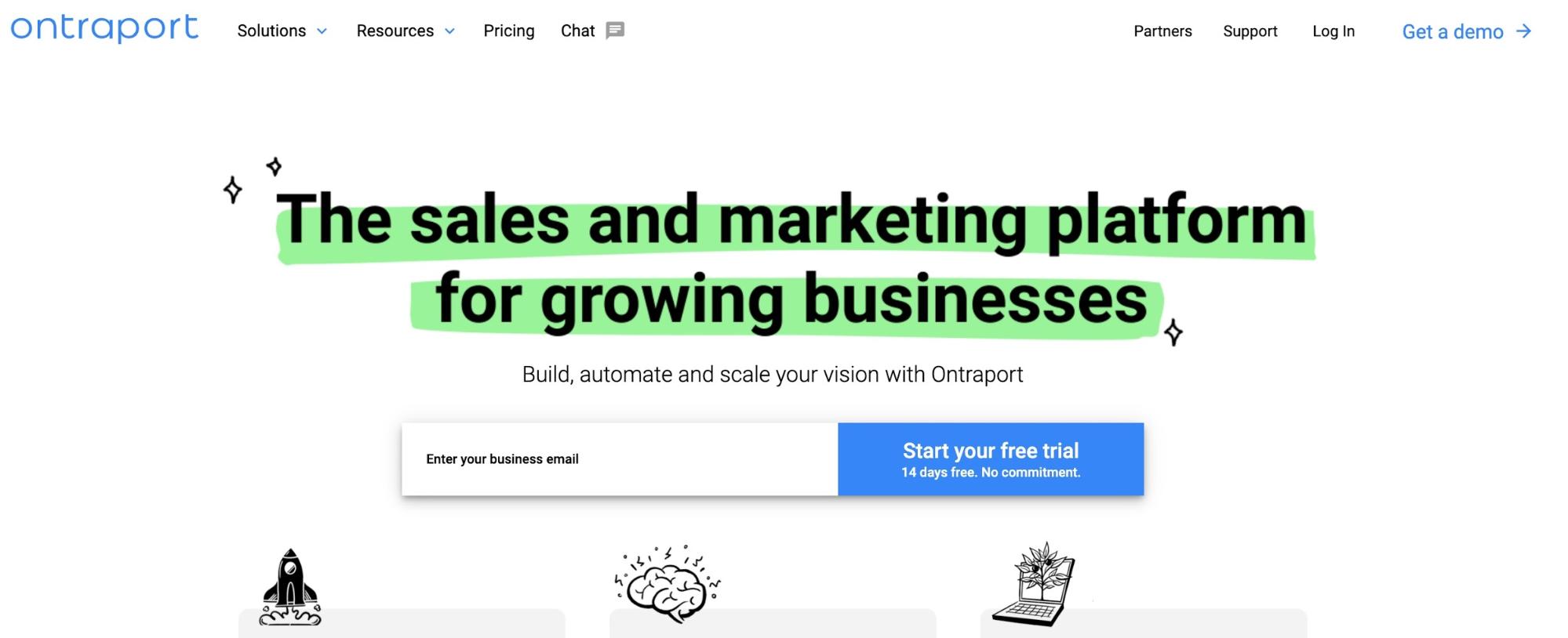 Ontraport is a multi-channel platform with email and SMS marketing functionality and built-in CRM. The platform lets you develop your marketing campaign by using a variety of features from a wide range of features. The smart set of pre-made email templates will get you started in no time at all. You can also use more advanced features such as split-tests for various criteria, including email content, and send time.
You can segment contacts using whatever criterion you like—from where they're in your purchasing cycle to if they've clicked on a particular email. These classes can automatically add or delete contacts depending on whether or not they meet the requirements. The Signup Forms tool has useful features to improve your conversions, such as pre-filled fields, and the ability to view different questions in multiple steps. Plus, you can view the forms as pop-ups and select how and when they should appear.
The landing page builder is just as powerful, with ready-made templates, customization features, and A/B testing. The platform also has advanced marketing automation software. You can use one of the pre-made workflow templates for common scenarios or create your own with a drag-and-drop builder. The abundance of options allows you to create dynamic journeys with elements such as conditions to decide the next move based on interaction behaviour. You can also create multichannel journeys using SMS and landing page tools.
As an advanced all-in-one marketing tool, Ontraport isn't cheap, but there's a 14-day free trial option. Subscriber limits differ between plans, but both allow unlimited emails to be sent. You can get help via email, chat, or even a screen-share option.
Price: Prices start at $79 per month.
Final Words
That's it! I hope you have found a marketing service that suits your needs from this article. Please feel free to leave comments below for further recommendations on this topic!
New Posts
Stay in the know
Get special offers on the latest news from AVADA.