Top 7 Best Email Marketing Automation Tools in 2023
Are you making email marketing your strategic priority in 2021? Are you looking for the right tool for email marketing? Marketing automation tools are created to help businesses capture new consumers, increase marketing productivity, and evaluate leadership and campaign results. Marketing automation tools are now a vital resource for B2C and B2B marketing and sales departments looking to expand their business. In this post, we will analyze and compare the best email marketing automation tools for small businesses. Let's jump right into the details!
What is Email Automation?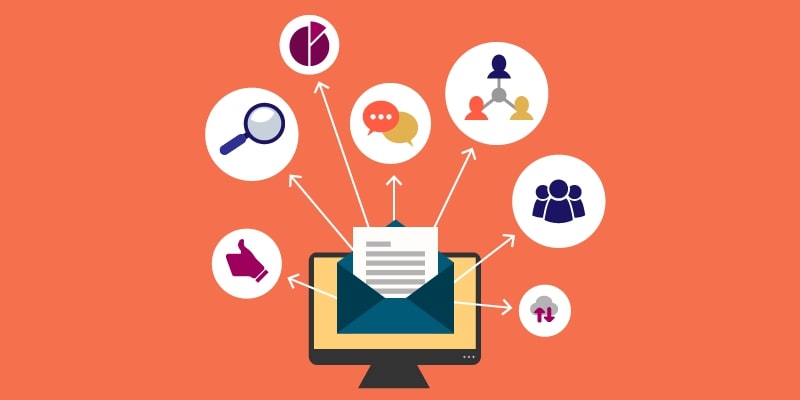 With email automation tools, you can create automated email campaigns that communicate with the subscribers based on their actions by sending them emails with personalized content. The best thing about automated emails is that you can increase ROI without having to spend lots of effort. You just need to set up an initial email automation, and the automation will work hard on your behalf. You can effortlessly create automated email campaigns with email marketing automation tools discussed in this article.
Of course, everything email automation tool is different, and whether one best fits for you really depends on your:
Budget
Features in need
Contact list size
Why is it important to choose the right email marketing automation tool?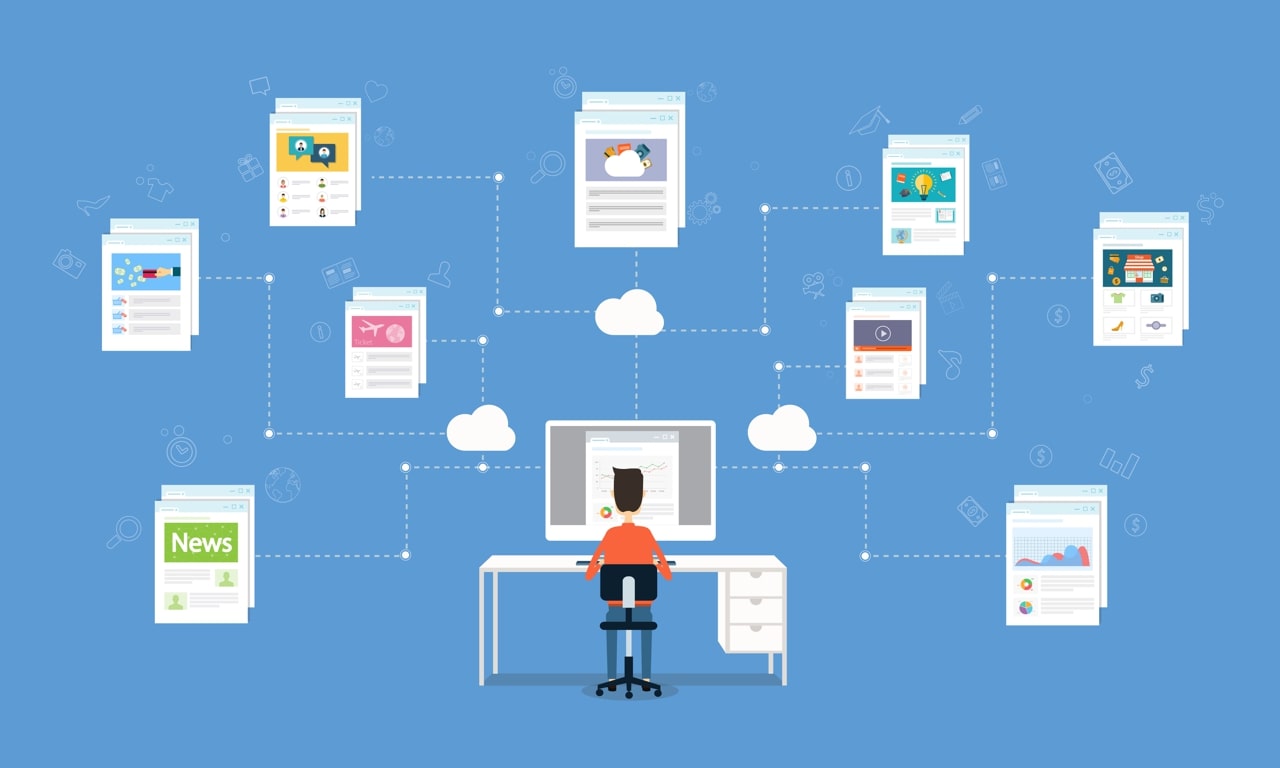 Email marketing is among the most cost-effective marketing strategies for small eCommerce businesses. Email marketing in many cases has a return on investment (ROI) of about 4.300 per cent for eCommerce businesses in the US. This is because email marketing is simple to implement, it gives you complete power, as well as helps you communicate directly with your customers.
It's important to remember that a large part of your email marketing success is dependent entirely on the email marketing tool you use, as they are responsible for making sure that your emails are delivered. If you choose the wrong tool, you'll end up paying a lot of money for broken email marketing features and bad email delivery times (which costs you even more money).
What should you look for in an email marketing automation tool?
A good email marketing service should be able to help you build professional email newsletters with a simple user interface (such as a drag-and-drop editor). You should be able to send in bulk emails that are customized and targeted without a lot of effort. This is often known as marketing automation. In addition, your email marketing service needs to be able to make it easy to manage your contact list, segment users based on different criteria, and monitor the performance of your email marketing campaigns. Most importantly, a good email automation tool guarantees that your email campaigns don't get thrown into the spam folder.
The best email marketing automation tools on the market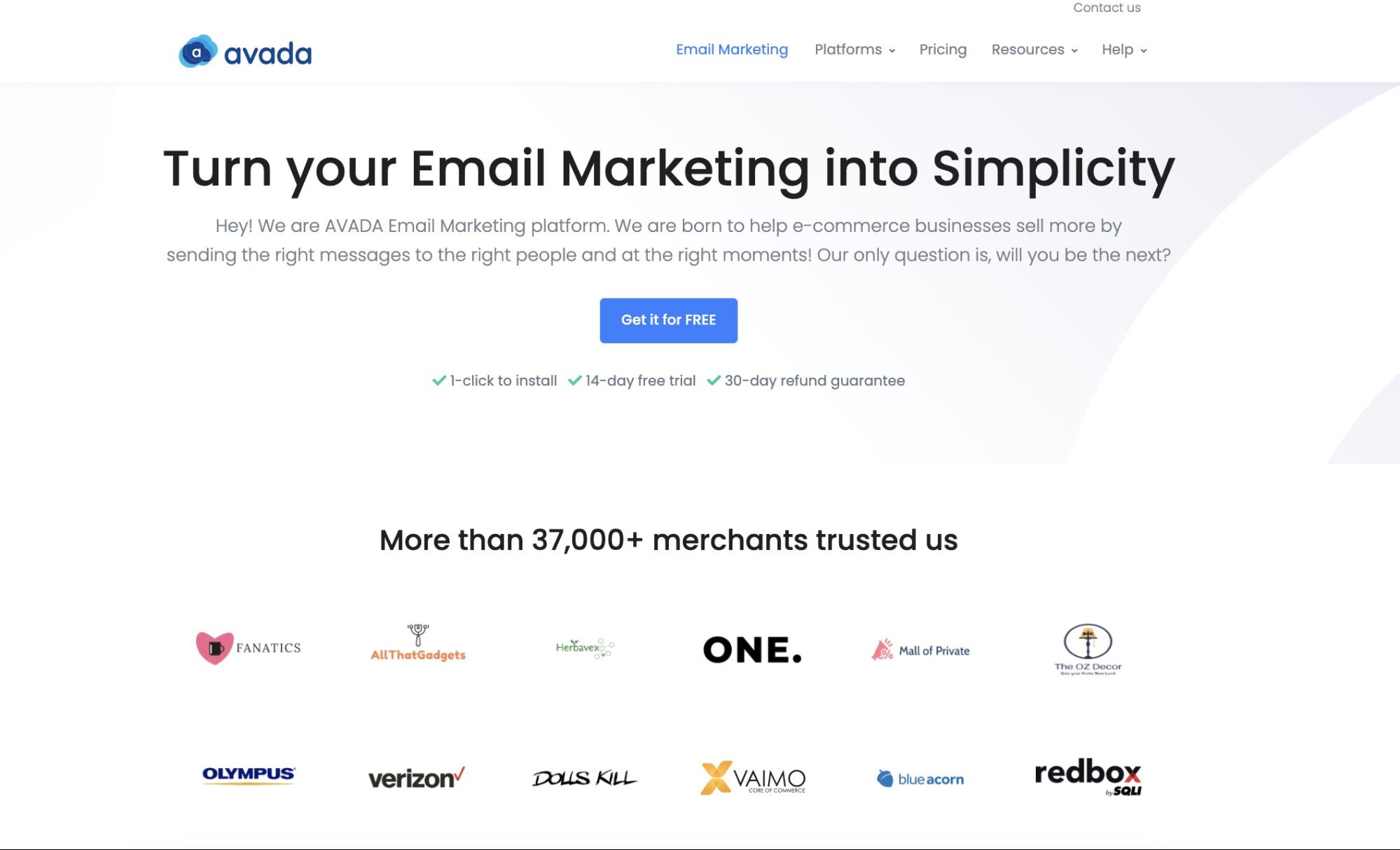 AVADA Email Marketing is a popular email marketing service that enables you to build emails with its user-friendly drag-and-drop editor. If there is something you find difficult to use, AVADA Email Marketing's customer service is there to help you out right away. In addition, AVADA Email Marketing comes with a set of automation features, such as its multi-step workflows, that allow you to build triggered email campaigns based on your needs. Overall, AVADA Email Marketing provides a load of great email marketing and marketing automation features. Thanks to its affordable price and features, this tool is ideally suited for small businesses and new stores. Here are the features you will enjoy with AVADA Email Marketing.
Best Email Service Features:
Abandoned Cart Recovery. Send emails to customers who have abandoned their carts and encourage them to check out.
Emails welcoming new subscribers. Send a welcome email to people who just subscribe to introduce your business. Send a follow-up when someone unsubscribes to ask them to come back.
Transactional emails. Order confirmation emails, shipment confirmation emails, return/refund emails, and PDF Invoice email.
Cross-sell, Upsell Emails. Provide incentives for new customers to shop more.
Segmentation. Segment customers based on different criteria and send them emails that are tailored to their needs.
Workflow split. Create automated email campaigns with workflow splits so that you won't have to send emails manually.
Easy-to-use email editor. Create professional emails by dragging and dropping.
Pre-made well-design email templates. There are complete email templates that you can use right off the bat if you don't have time to create your own templates.
Reports. Comprehensive reports will help you track the effectiveness of your campaigns.
Auto-sync customers data. Sync your Shopify data with AVADA Email Marketing automatically.
Price: AVADA Email Marketing has a free plan for 1,000 contacts and 15,000 emails per month. If you want to have more than this limit, you will need to sign up for paid plans. AVADA Email Marketing's pricing starts at $9/month for its pro plans.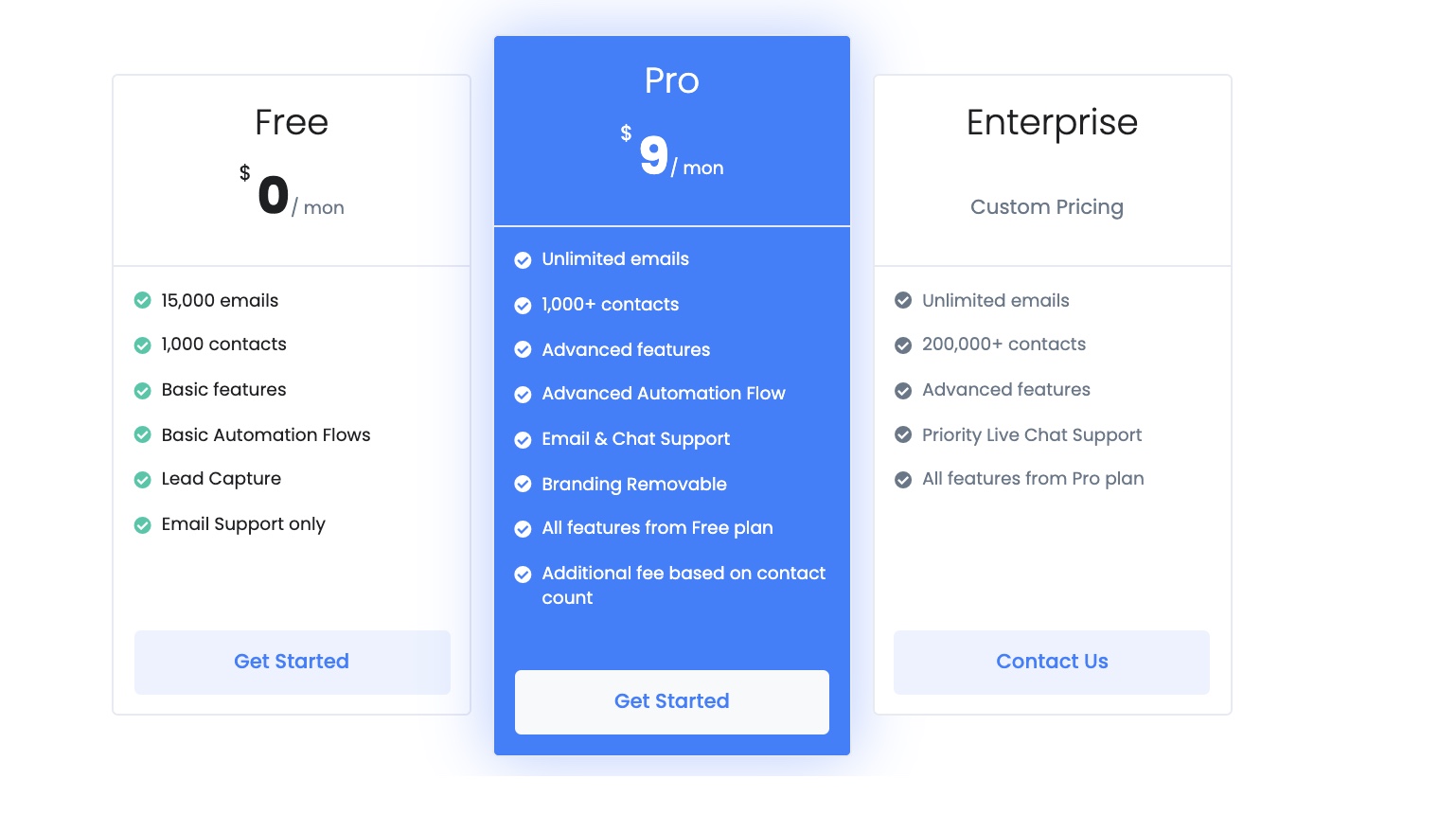 The subscription fee will increase as your number of contacts increases. There's a calculator on its pricing page that you can use to estimate how much you need to pay for your number of subscribers.
Here's an example: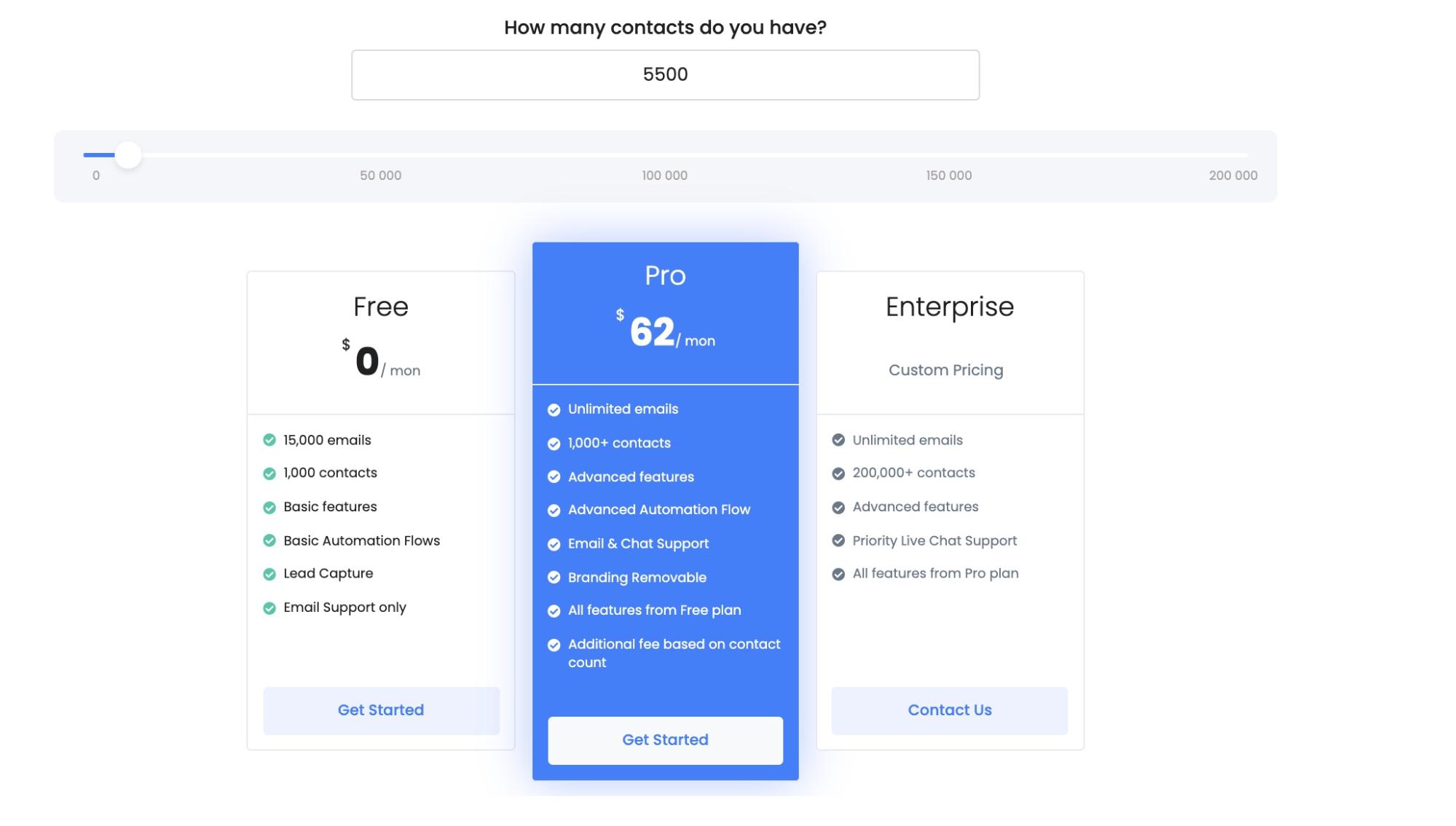 ActiveCampaign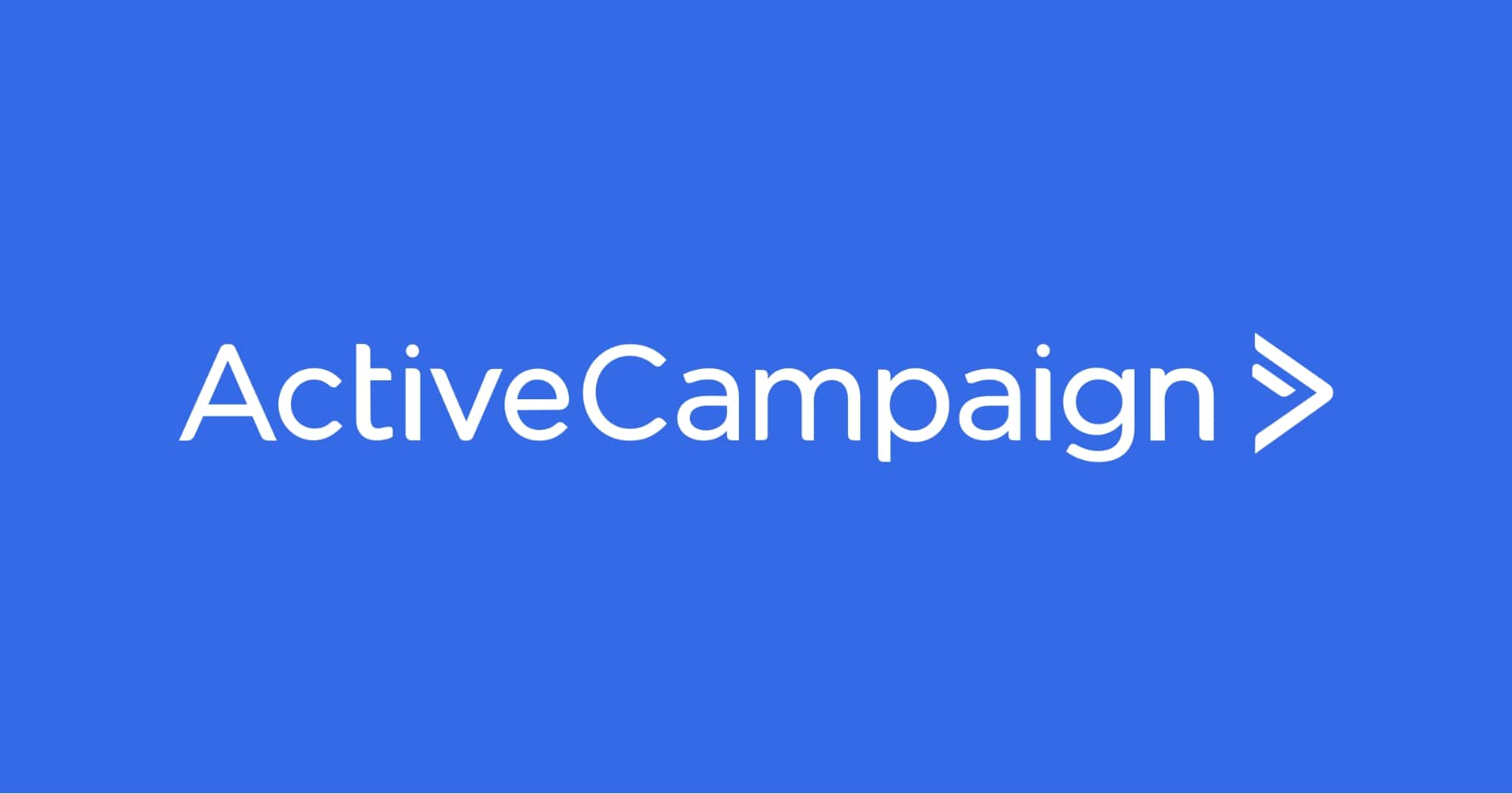 ActiveCampaign is one of the most popular marketing automation software platforms on the market. This is an all-in-one email marketing app, a marketing automation platform, and a small business CRM. And because it's not as costly as other automation giants, more small businesses than ever will take advantage of its functionality and expand as a result.
Here's a preview of what you can do with ActiveCampaign:
Highly tailored emails are sent to the right people at the right time.
Automated email campaigns so that you can maintain the relationship with your customers even.
Detailed user experience details for those who are visiting your website.
Give scores to your leads to know who the most engaged site users and subscribers are.
Split the automation test capability to assess which campaigns are performing the best.
ActiveCampaign is known for having a high rate of email delivery. In reality, this year alone, ActiveCampaign has maintained a high delivery rate of 93.8 per cent. Email delivery has the power to make or break any campaign you run, whether or not you are using email automation software. Only emails that keep users interested, provide useful information and discounts, and actually land in subscribers' inboxes, have a chance of converting the subscribers into customers.
Price: For those who only need email automation features, ActiveCampaign starts at $9/month. If you need more features and want to use the CRM feature, you're going to have to spend $49 per month.
Omnisend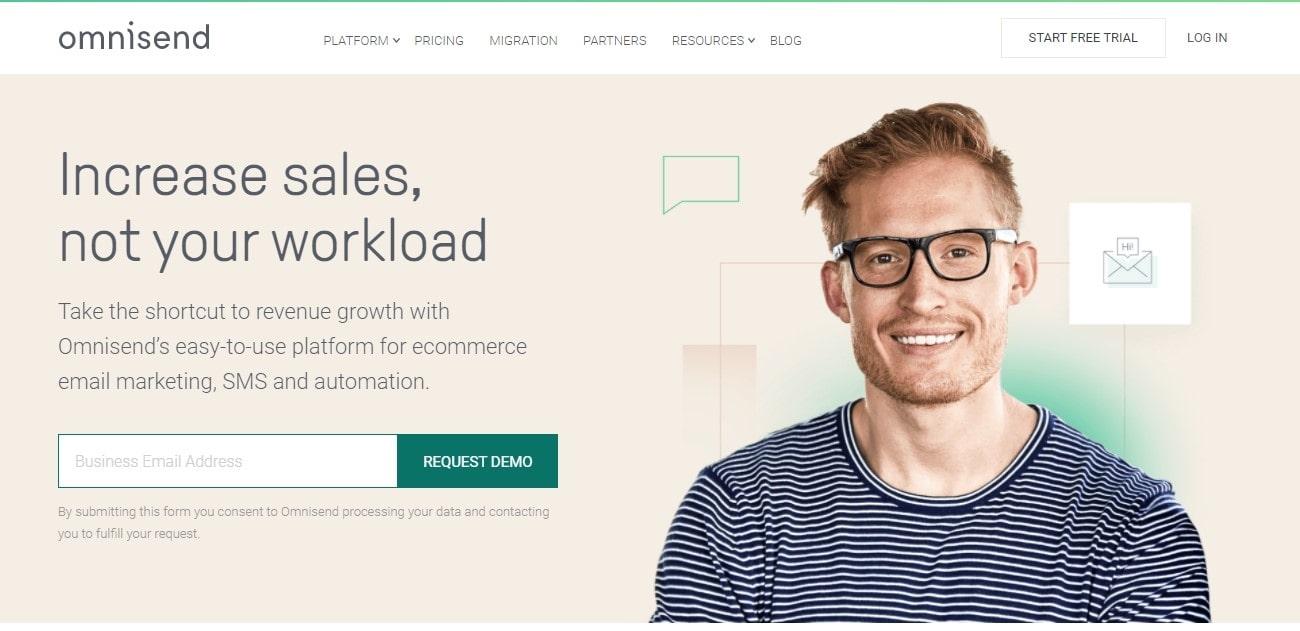 Omnisend is one of those marketing automation systems that focuses on bridging the difference between what customers want and what eCommerce stores offer. In reality, Drip is a powerful email marketing automation tool that helps you learn about your customers, personalize their shopping experiences, develop your brand, and create strong relationships with those who are loyal to your brand. Two of the most excellent features of Omnisend include:
Multi-Channel Marketing: it is not enough to send high-quality messages to people at the right time. You also need to catch them on the right platform, which means from inbox to social media, you need to promote your brand and persuade people to take action.
Omnisend Emails: Just as its name suggests, Omnisend is able to deliver automated email campaigns over a period of time to your most promising leads. Set up the automation triggers, personalize the email messages, and let Omnisend do the rest of the work for you.
Marketing Automation: Drive sales on autopilot across multiple channels using a single, ecommerce-focused automation platform. Easy setup–get started in minutes!
Price: Omnisend's paid plans start at $0 per month for up to 15000 Emails and $99 per month.
Gist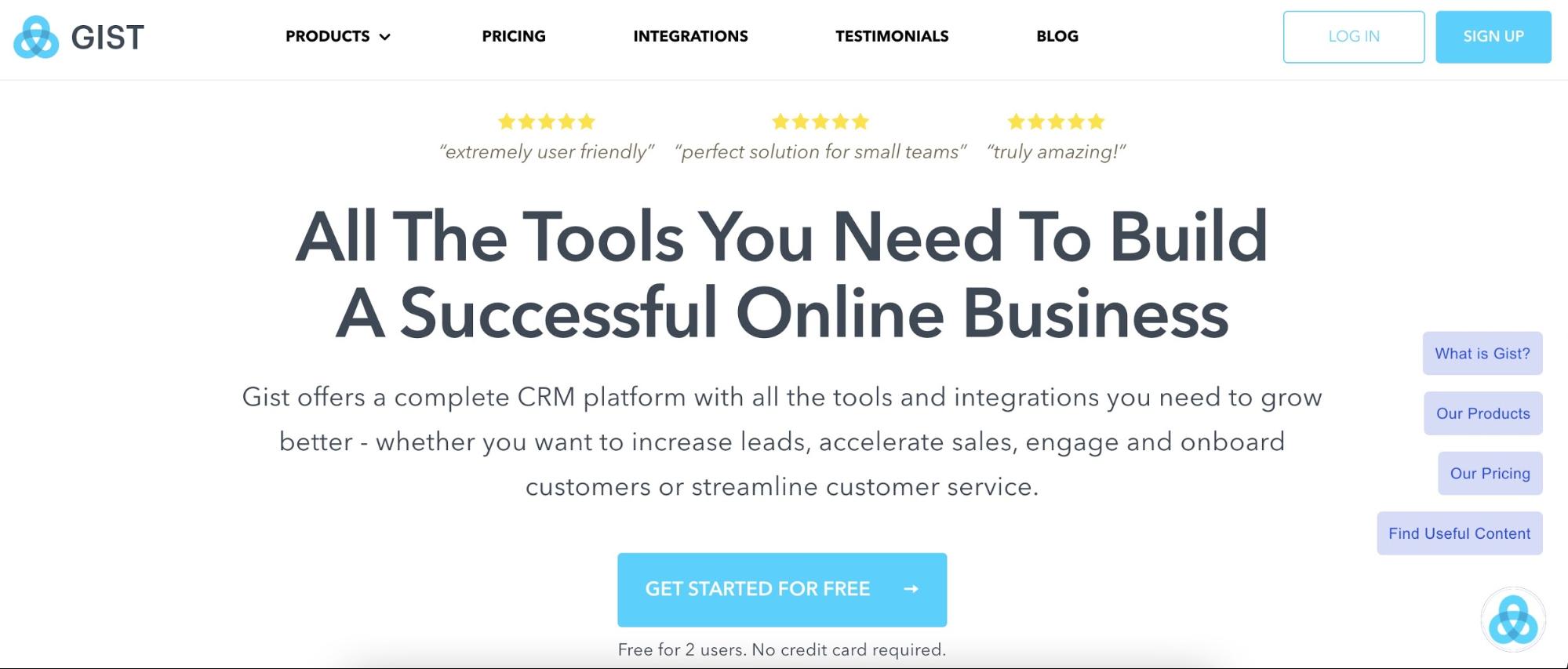 Gist takes everything automated email campaigns require and builds them all into its robust marketing automation tool. This removes the need and cost of piercing several pieces of software together to endorse a brand through a wide variety of platforms.
With Gist, you can automate the whole experience of the customer:
Introduce your company to prospective leads and convert them into customers.
Communicate with loyal customers with email campaigns to maintain the relationship with them and drive sales.
Increase the value of each customer by optimizing their purchases and enhancing their shopping experience.
You can use Gist's Visual Builder to develop email workflows that will direct your subscribers through the sales funnel from the start to the finish and end with a conversion. But more than that, you can tag your customers based on their needs so that you know what deals to send them when they visit or open an email.
You can also segment your target audience to tailor their experience with your brand and allow automatic timing cycles so that you deliver the right message to your subscribers at the right time. You can add chat prompts to your website or set up chat bots for conversation. And provide support through live chat and a knowledge base.
Price: Gist's free plan provides up to 500 contacts, and paid plans start at $33.99/month.
Sendinblue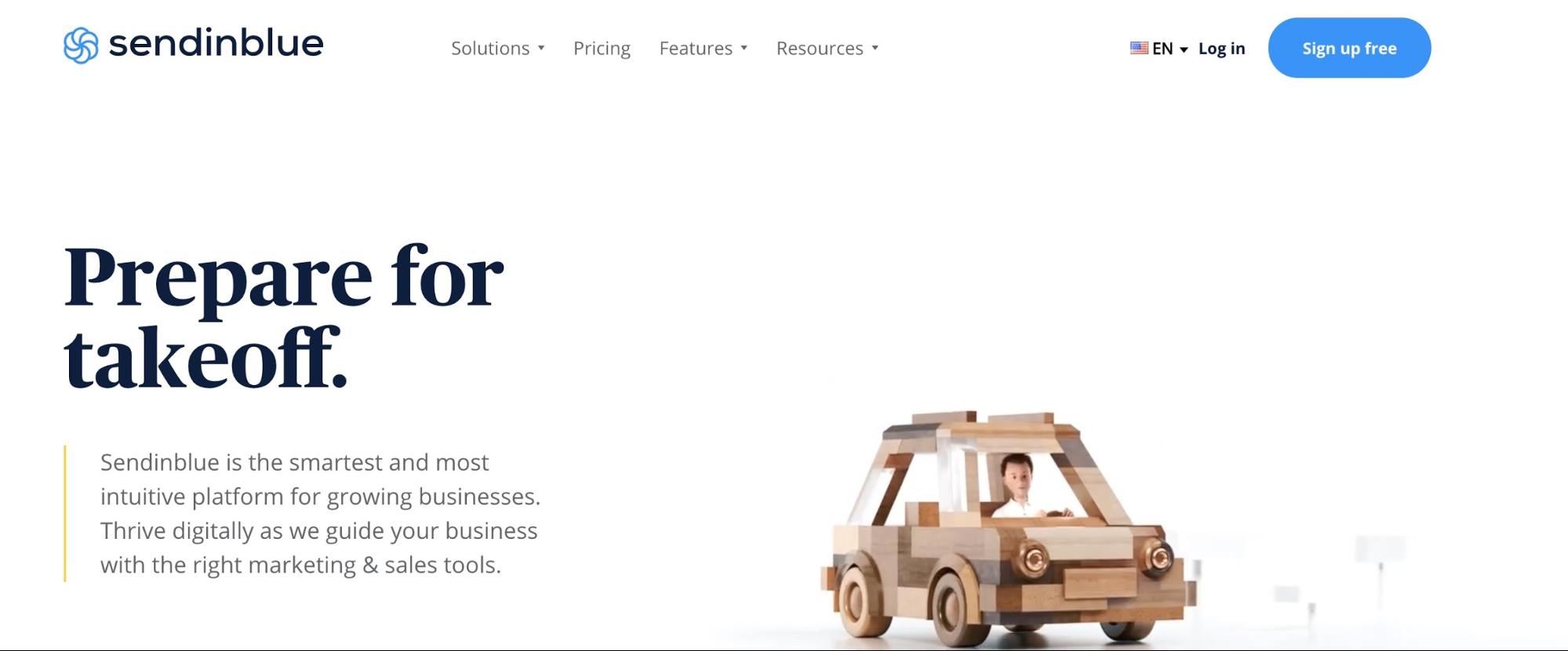 Sendinblue has gone from becoming a digital agency to providing an email marketing tool to offering full-fledged marketing automation tools that small businesses will benefit from. This marketing automation tool enables you to expand and connect through multiple platforms so that you can reach a wider audience and convert more sales.
This feature-rich email marketing automation tool provides everything you need to run a successful business. In terms of email automation, here's what you can expect from it:
Email Marketing: Choose one of the pre-made templates of Sendinblue and send emails. Let the tool determine the best time to send your email campaigns, check out its heat maps to see where the people are clicking, and let each subscriber receive a lead score so you know which people are most engaged.
Targeted SMS Messaging: Connect to your subscribers via SMS. Automatically send customized messages and track real-time distribution and engagement analytics.
Live Chat: connect with leads, existing customers, and those only looking around in real-time with the live chat function of Sendinblue. And what about the automation you call for? Sendinblue helps you to build the workflows so that the right team member is automatically allocated to those who initiate live chats. This optimizes response times and avoids missed opportunities.
Of course, Sendinblue has a lot more features to help people expand their online businesses. For instance, it can auto-update your contacts as people sign up and you can also A/B test your workflows to find out which one is doing the best. This way, no matter which automated promotions you send out or which platform you want to use, your leads and current customers will continue to support your brand.
Price: If you send fewer than 300 emails a day, you won't have to pay any money for SendinBlue. If you want to bump it up to 10.000 emails a month, you're going to have to pay $25/month. The number of contacts is unlimited in all of its plans.
GetResponse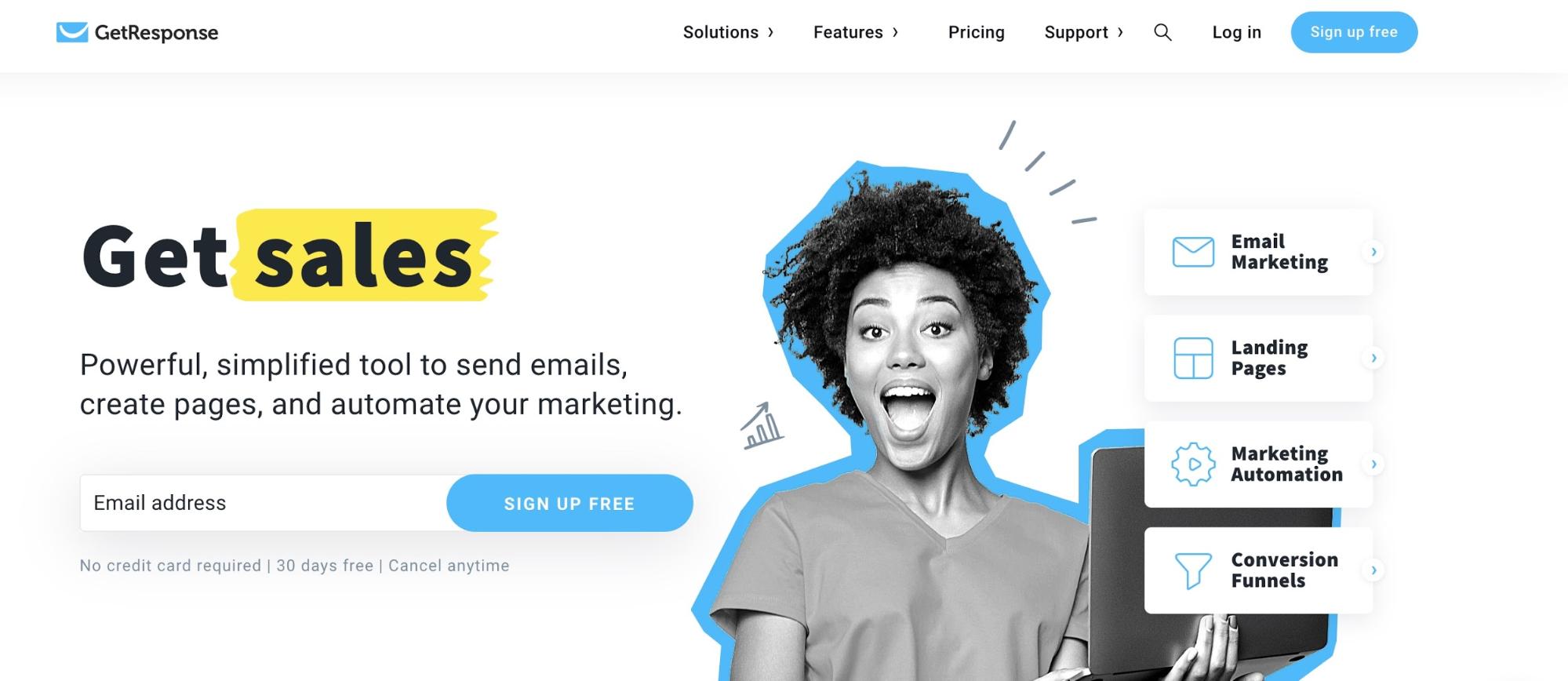 GetResponse is one of the industry's leading email marketing automation tools. Not to mention, it comes with powerful marketing automation features that enables you to create efficient workflows using its drag-and-drop editor.
Some of the best automation features include:
A full collection of email marketing automation features (e.g. welcome, webinars/events, sales/promos).
Score and tag your customers to learn about them and provide them with what they want.
Conditions that you can set up to automatically drive people down your sales funnel.
Cart abandonment emails that save lost sales.
You can also segment the audience based on criteria such as location, subscription date, subscriber field data, last message date, webinar participation, and even their involvement in the autoresponder cycle. From there, send customized messages, provide useful content and offers, and even dynamically update your subscriber profiles as they move through your specified workflows. Lately, GetResponse has extended its features to include landing page builders, automated funnel construction, eCommerce+ product distribution, webinars, and more.
Price: for simple automation functionality, you can spend $15/month on GetResponse (up to 1000 subscribers). You'll need to upgrade to $49/month for more advanced automation functionality.
ConvertKit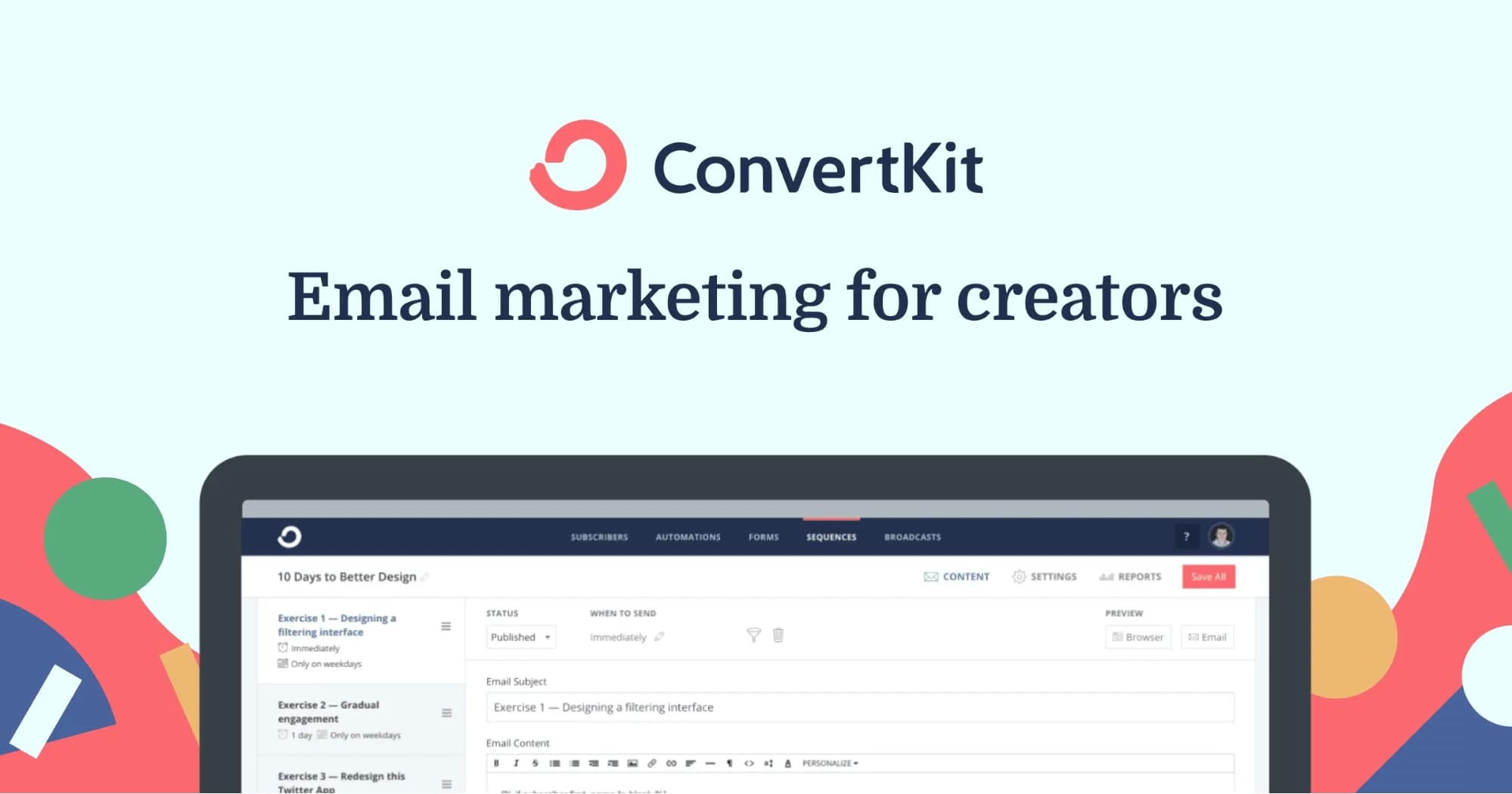 ConvertKit is a popular email marketing automation tool. it's not as sophisticated as other marketing automation tools in this list and very easy to use. Crafted with bloggers, entrepreneurs & content creators in mind, ConvertKit's email marketing features can help you:
Enlarge your audience and email list.
Increase sales by securing more conversions
Understand the audience by using tags and segments
Improve conversions with automated emails at all points during your sales funnel.
Connect to third-party tools to help you manage and grow your business.
With ConvertKit, you can expect industry-leading delivery capabilities. In other words, you can rest assured that your subscribers will receive your email – every single time. And since the core of ConvertKit is simplicity, you can easily create:
Strong, automated sales funnels
Clear rules for automation
Customizable customer emails based on their activities
Targeted content that your leads will enjoy
Segments based on the location of the customer journey
Price: plans start at $29 a month for up to 1.000 subscribers with unlimited emails. There is a free plan for up to 1,000 users, but it does not offer visual automations or email sequences.
Final words
The best thing is that all of the email marketing automation tools mentioned in this list offer a free trial (or a free plan) so that you can get a feel for what they can do. Whichever often you use – be sure to incorporate some sort of automation into your email marketing efforts. If you want to grow your company with fewer resources needed – automation is crucial. And the tools featured above will make the automation implementation phase simpler than ever before. I hope you have found a suitable tool for your business from those mentioned in this article. Please feel free to comment below for further recommendations on this topic. :-)
New Posts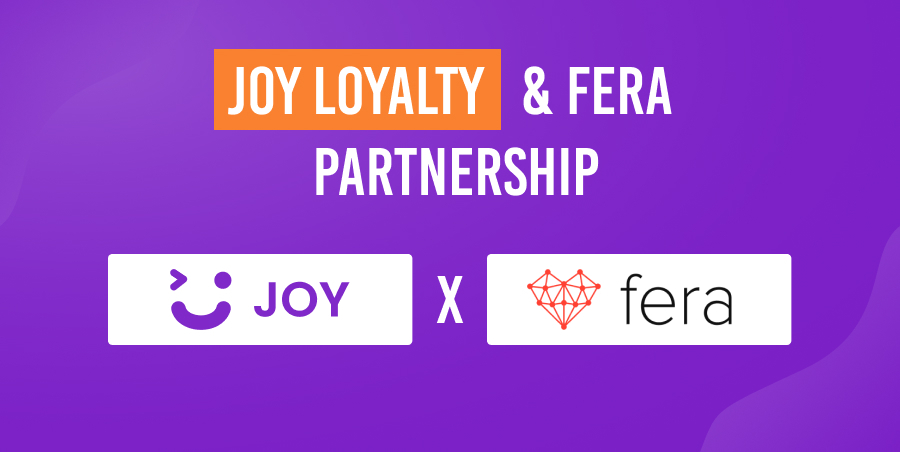 Subscribe
Stay in the know
Get special offers on the latest news from AVADA.
40k
subscribers has been joined!
Earn $10 in reward now!