How to Increase Conversion Rate for Shopify Store?
It is said that "Running an e-commerce store is a constant numbers game." Knowing your numbers is undoubtedly critical to all businesses, especially the conversion rate. Your business's conversion rate can tell the effectiveness of the method you used to the online presence and turn your visitors into buyers; therefore, knowing your conversion rate is extremely important. But what is a good conversion rate for e-commerce? How to optimize your conversion rate? What tools can help you with this problem?
To answer all your questions, this article on How to Increase Conversion Rate for your Shopify Store will give the right information you need to help you with your business. Please read this post carefully and take note if you can.
Exclusive Offer: Get Shopify 93 days for just $3 + The Online Store Starter Kit
Start a 3-day free trial, then get Shopify 3 months for $1/month plus the premium package designed especially for new Shopify merchants!
Start Free Trial
What is the eCommerce Conversion Rate?
Before we talk about the e-Commerce conversion rate, what is conversion? The desired action that visitors make on a website is a conversion. About conversion rate, the conversion rate is the percentage of visitors performing one of the actions that are predefined. The predefined actions can be signing up for a newsletter, downloading the guide and making purchases.
For eCommerce websites, the actions that are considered to be most relevant conversions are mostly signing up a new account, adding products to cart, saving products on a wishlist, and completing a purchase transaction.
The eCommerce conversion rate of your website is usually used to measure the effectiveness of how you turn your visitors into buyers by increasing the online presence of your brand. Low eCommerce conversion rate means that your lucrative leads and prospective customers are also low. When your eCommerce conversion rate is not high, then you might want to reconsider how you are managing your website and your marketing performance to keep your lucrative leads and prospective customers.
By looking at your eCommerce conversion rate, you can find out whether the way you use to turn your visitors into your buyers is successful or not. Higher eCommerce conversion rate tells that your performance is effective and successful, and you are getting more lucrative leads and prospective customers.
What is a good conversion rate for eCommerce?
As you already know, having a low eCommerce conversion rate means that your lucrative leads and prospective customers are low, and your performance is not successful. But how do you know if your eCommerce conversion rate is high or low, is good or bad?
Across industries, it is estimated that 2.35% was the conversion rate of a landing page, 5.31% or higher was the conversion rate of the top 25% pages. If you want to be in the top 10%, your conversion rate needs to be 11.45% or higher.
Through research on thousands of Google Ads accounts which can be known as AdWords account, it shows that some of these accounts with a combination of $3 billion in annual spending have a conversion rate of double or triple the average conversion rate. Do you want your brand to have an average rate or double and triple the average rate?
If you want your brand to perform exponentially better than other brands in your industry, please read the tutorial below carefully.
How to increase conversion rate for Shopify stores?
Increasing the conversion rate can not be done in only one night. Also, there is no growth hack to make your eCommerce conversion rate increase immediately. Increasing the conversion rate is a process, and it is repeatable and scalable. There is no need to find out the process on your own, all you need to do is to follow these five steps we have listed down below:
Step 1: Set your goals
Goals setting is the most important thing that you can not look down on. Goals help you to know what you should focus on, allows measuring the progress of your business and keep you undistracted when making those goals come true.
In this step, you will have to set a tough and realistic goal. In order to do that, you should do research on the current trend of top e-commerce stores and what they are doing.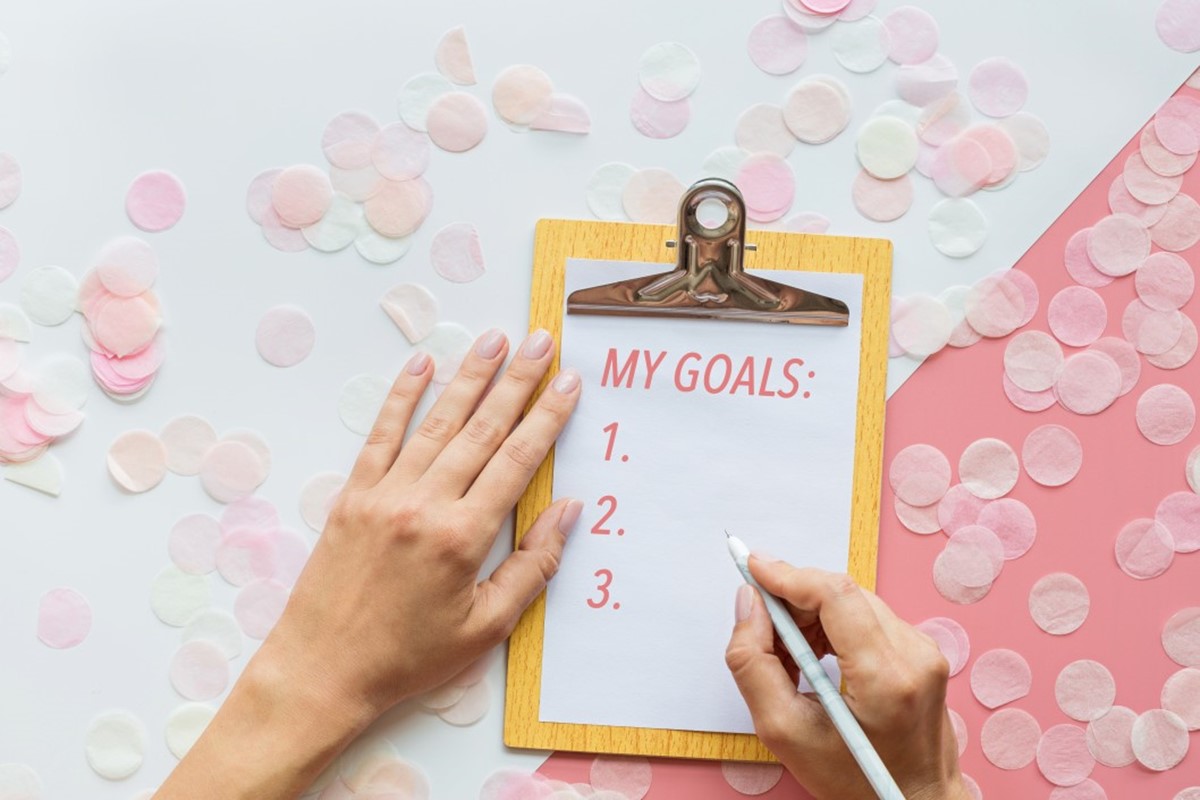 It is recommended that MonsterInsights, a robust tool, can be a great help to make tracking conversions easy once your goal is all set and clear.
Step 2: Brainstorm and Setting Up
Brainstorming when optimizing conversion rates should be done by more than one person so as to get as many ideas as possible. Then, you need to find out what ideas are already working for you, what ideas will likely work out and what ideas are one hundred percent possible.
Step 3: Hypothesize and Testing
After finding out the list of ideas that are likely to work, the next step is testing them. You should test as many ideas as possible and try not to waste too many resources on testing.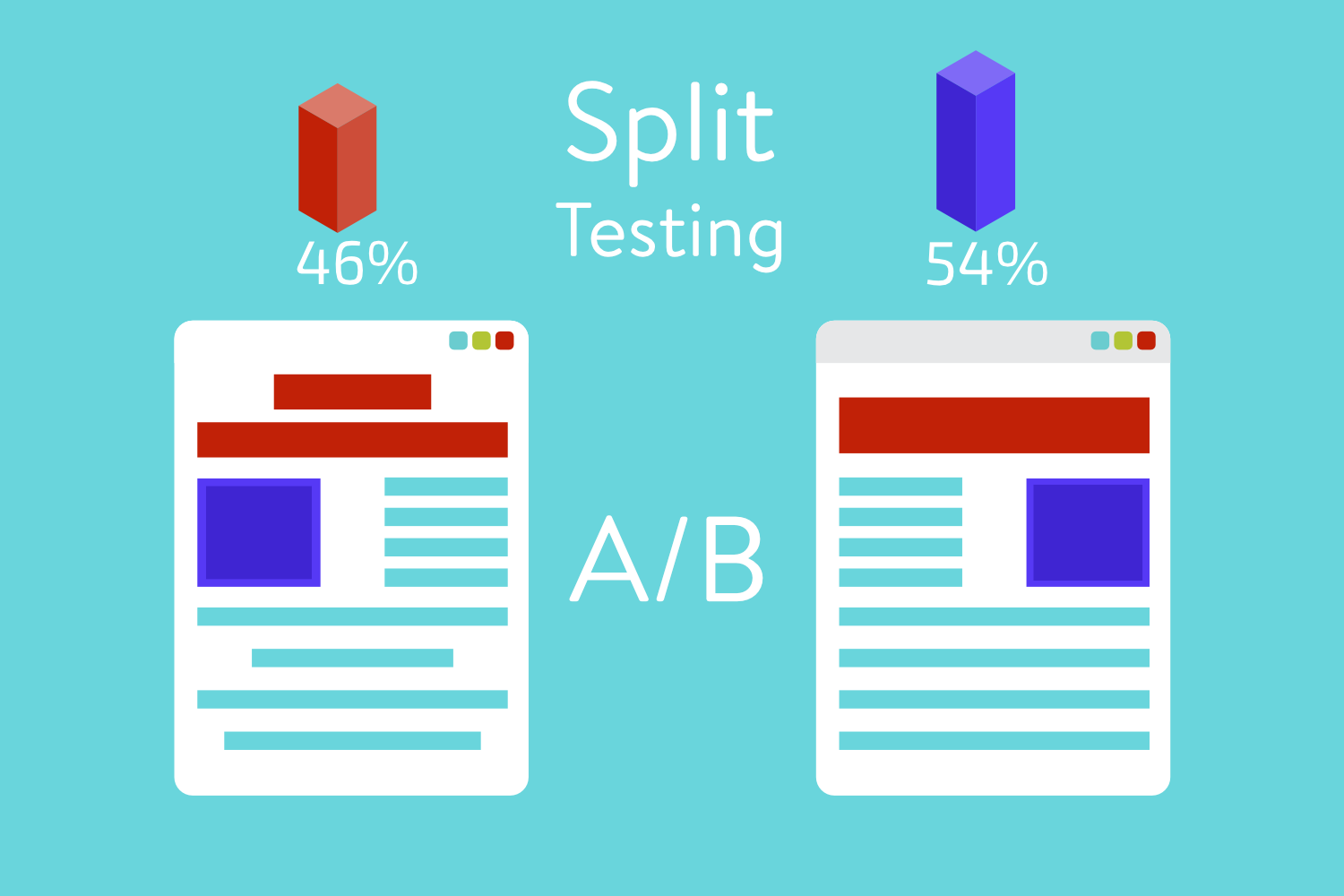 For beginners who are new to this, Google Optimize is the most highly-recommended option. If you already have MonsterInsights then you do not need to get Google Optimize, you are already using it.
Step 4: Analyze
Of course, not all ideas will work perfectly, but you do not have to worry about this. Collecting data, analyzing your results, and creating a summary of what you have learned is what you need to do when facing failures. Analyzing helps you to learn from mistakes, create a better test, and have better results.
Step 5: Re-evaluate
Re-evaluating is when you think back of the performance, find out the mistakes and learn from them to get better results in the next testing. This step is critical for your business to increase your conversion rate.
And that is how to increase conversion rate on Shopify, let's talk about what you can to optimize your conversion rate.
How to Optimize Conversion Rate for Shopify stores
The design of your site plays a big role in the overall success of your Shopify store. Your web design includes everything from the general web design elements such as fonts, colors, and navigation to details such as images and videos, the check-out process, and how customer reviews and other social proof are used.
For the general web design, you can do whatever you like, just make it pretty and attractive. You can choose from tons of available themes or you can customize those themes to fit your brand. If you already have a web developer to support you, you should make full use of that and create the best theme possible.
What we are going to concentrate on this part is what goes on your pages and how they flow.
1. Product Pages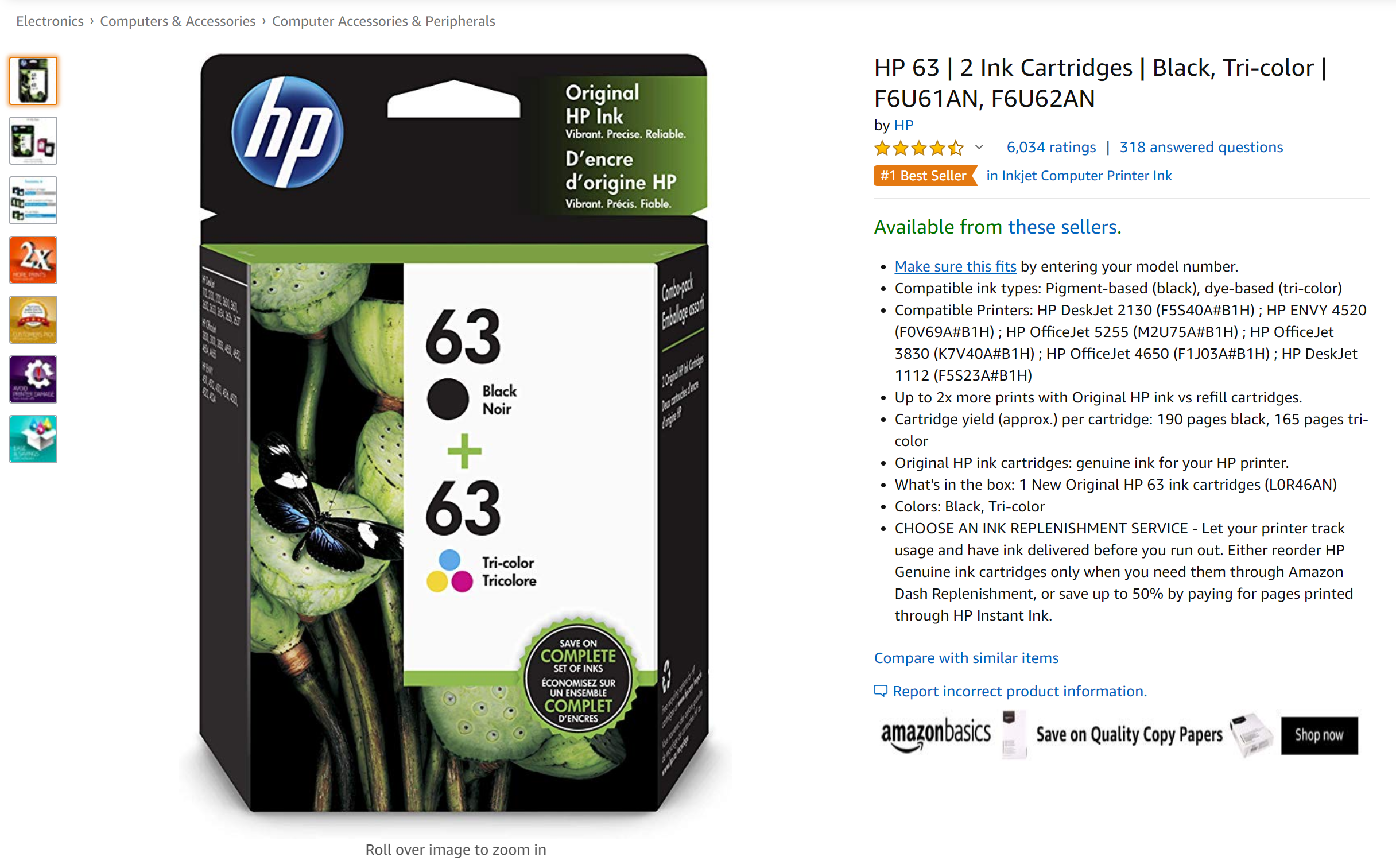 In the picture above, it is not difficult to see that Beardbrand takes pride in their product. They do this by showing simple but gorgeous product images, adding how-to video and the customers' rating of the product. Significantly, the product details and the Add to Cart button are highlighted differently.
As you scroll down, lengthy product description and a side view display full of details are in front of your eyes. And as you scroll down, you can still add the product to the cart without having to scroll up again.
With clothing, shoes… you can Reduce returning rate with Size chart / Size guides app - it FREE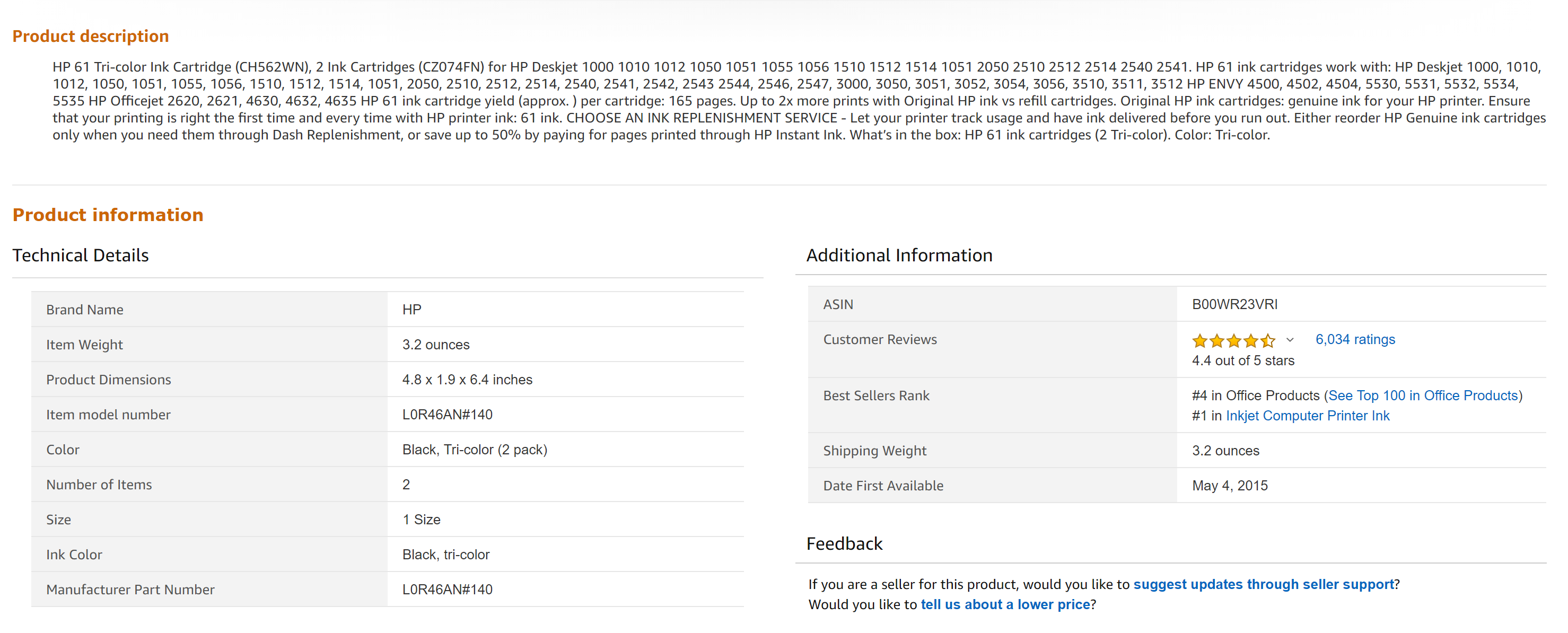 Finally, product reviews are a crucial part that cannot be missed. Adding them will gain you more trustworthy and customers are more likely to purchase products with reviews and ratings.
2. Call to action
Being an eCommerce store owner, you have probably been laser-focused on a call of action revolving around buying when customers add products to cart or go to the checkout page. That is the obvious thing to do.
There are many ways you can push that single call to action before your customers leave your site without buying anything. All you need to do is to give them a reason to come back, and that is where micro conversions happen. Micro conversions are smaller actions that visitors can take, which tells that they have interests in what you are offering. To illustrate, becoming a subscriber, sharing your products or content through email or social media, creating an account, adding to wish lists, and downloading content from your site are some examples of micro conversions.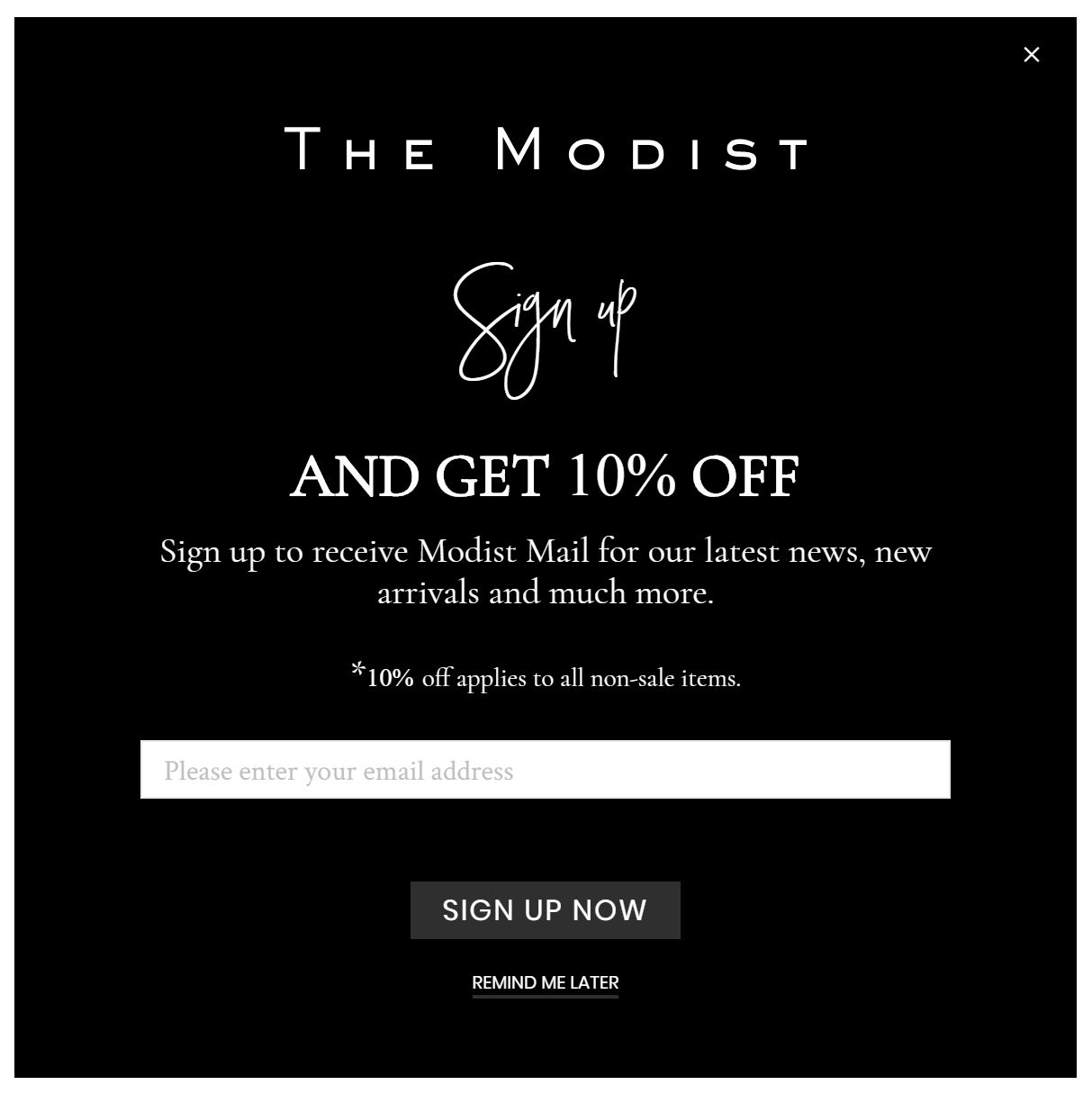 3. Navigation
To begin with, you need to have a header to keep everything in. It is a must that the header always has these basic things:
Branding for identifying your company
Navigation
A call to action containing info about sales or specials (optional)
Search functionality for better search results
Shopping cart access for quick checkout experience
You can include other things too, but remember to keep it simple.
Let's take a look at this simple and stunning header from Beardbrand. Although the header sits along the top of the window, it still does not detract from the rest of the page.

Now, let's talk about the navigation of one website.
Navigation is like the family tree of your site. Moms and dads are main level navigation links for things such as product categories or store locations, so they should always be seen. And what about your children! These are the things that have to stay inside your main navigation links, in other words, moms and dads.
Having good navigation makes it quicker to search for what you need on your website instead of finding them on a page full of products you do not need.
4. Simple and easy checkout
Having a short and simple checkout page is the key to increase your conversion rate. Also, sending them a free gift is more effective than finding out what color they want. You need to make them feel that they need it as you are sending them a free gift. If you are still skeptical of doing this, just take a gamble on the color and do not ask them.
At the very beginning of your form, you need to ask for the shopper's email address. By doing this, you can easily reach out to them and can even recover the sale!
5. Up Front Shipping cost
Finding out some of the things that cause them to walk away from online stores is also one way to make the shopping experience better. Shipping is considered to be a huge sticking point for many buyers. Gladly, this is not a hard issue to deal with.
The solution is simple and easy. You need to be completely transparent with your shipping costs. If you have the opportunities, offering free shipping is one of the biggest stimuli that can help to boost your conversion rate.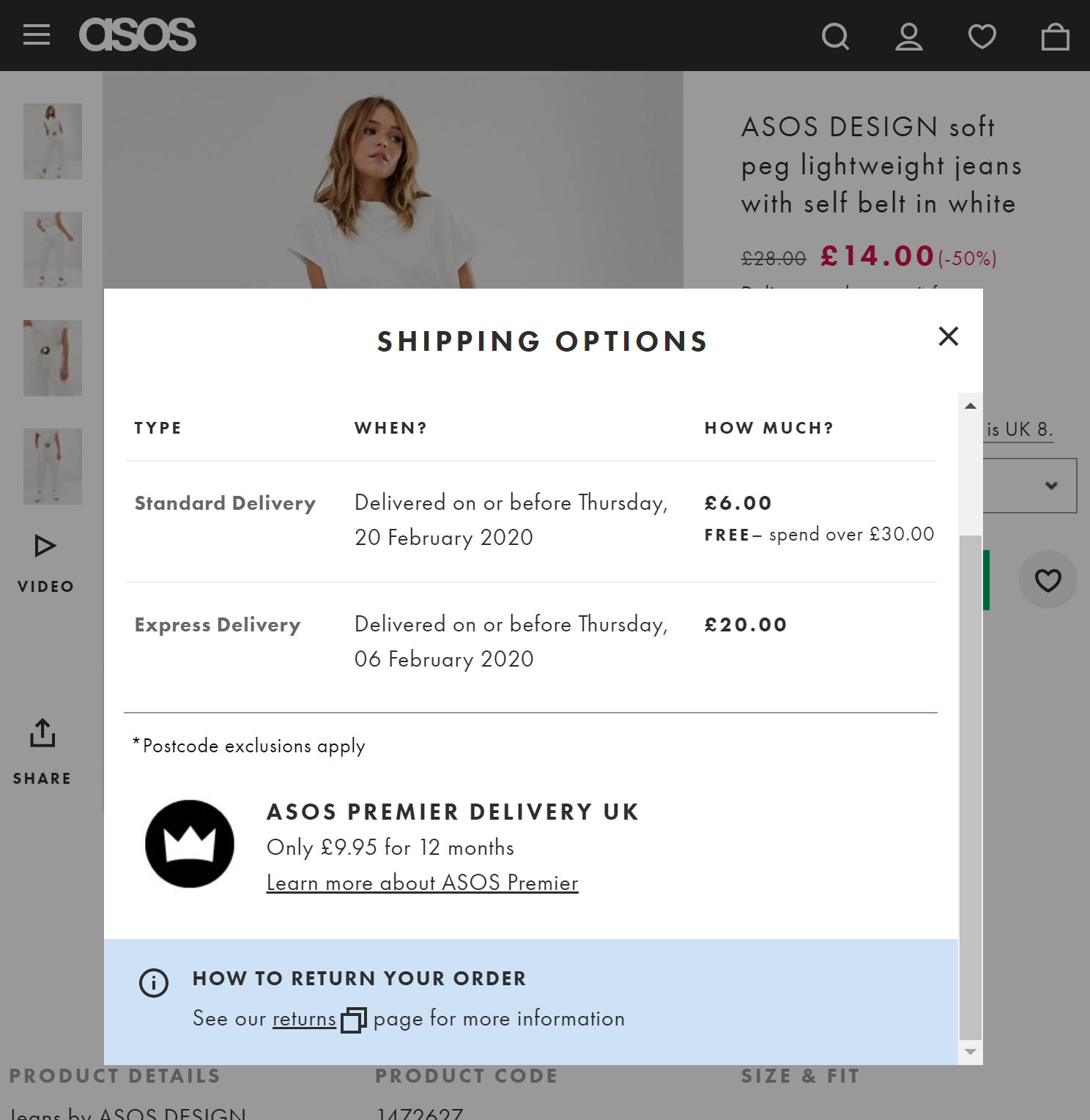 6. Abandoned Cart recovery
No matter how big your e-commerce store is, you can avoid having a large number of abandoned carts. They are a natural part of all eCommerce stores. There are some problems that you can not control, although problems such as shipping costs can easily be addressed and solved.
No matter how hard they are to control, you can not just sit back and let things happen. All the methods we have listed so far are all for the purpose of reducing abandoned carts. But what happens when you have put your work in increasing engagement and gotten only a few micro conversions, but sadly the shoppers still walk away?
7. Mobile Experience
Optimizing for mobile experience is extremely important as e-commerce sales are rising faster and faster than sales of retail stores. Even in the future, the importance of mobile commerce cannot be denied. Here is the data of US mobile commerce sales for you to compare.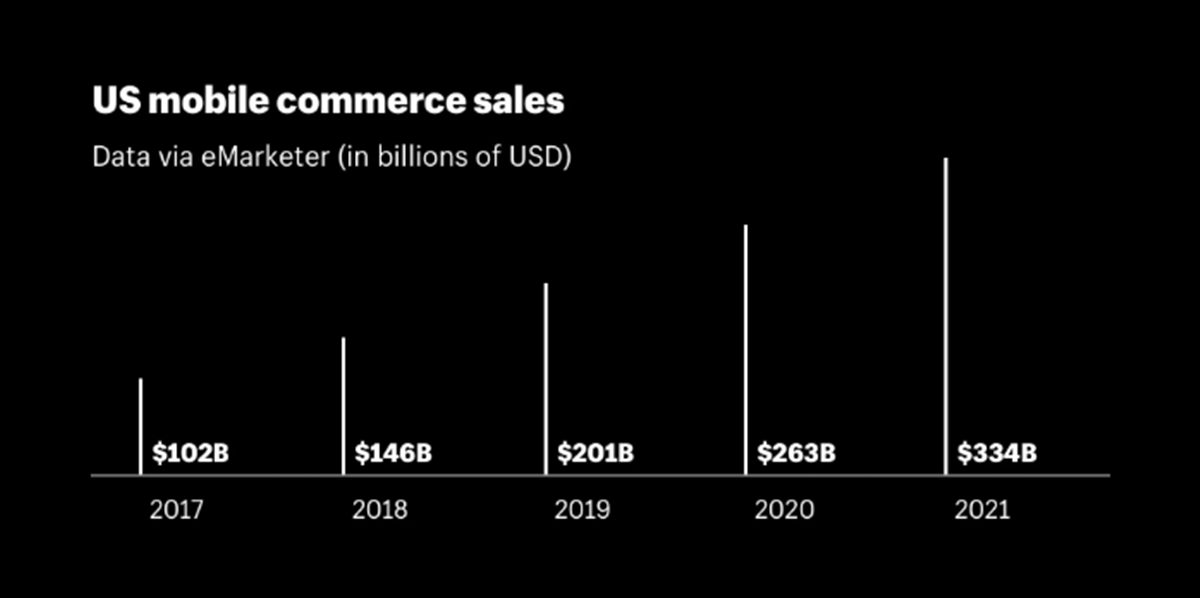 Currently, desktop sales are double the number of smartphone sales. However, in no time, as your competitors keep improving their mobile experiences, smartphone sales figures can outdo desktop sales figures.
Furthermore, it is revealed in a new Forrester Research report that mobile devices alone will account for 1.4 trillion dollars in retail sales in 2021.
To help you understand the importance of mobile experience to your conversion rate, here is a real example of a high-volume fashion e-commerce brand named Merchology. Recently, they have re-platformed with Shopify Plus and also their mobile experience has been optimized for customers. As a result, in only one month, YoY in revenue per mobile device increased by 340%, and their mobile conversion rates increased by 40%.
8. Site Performance and Speed
Suppose that you are a customer and, during shopping seasons like Black Friday, the shopping site crashes and the mobile site can hardly load, would you still be loyal and stay on that site? A recent report shows that nearly 80% of customers who are not satisfied with the site performance and speed have less likelihood of making another purchase again.
Significantly, slow-loading pages are the most complained issue by irate mobile users, this issue even receives much more complaints then site crashes. Here are the data from 12 case studies for you to show the importance of loading speed.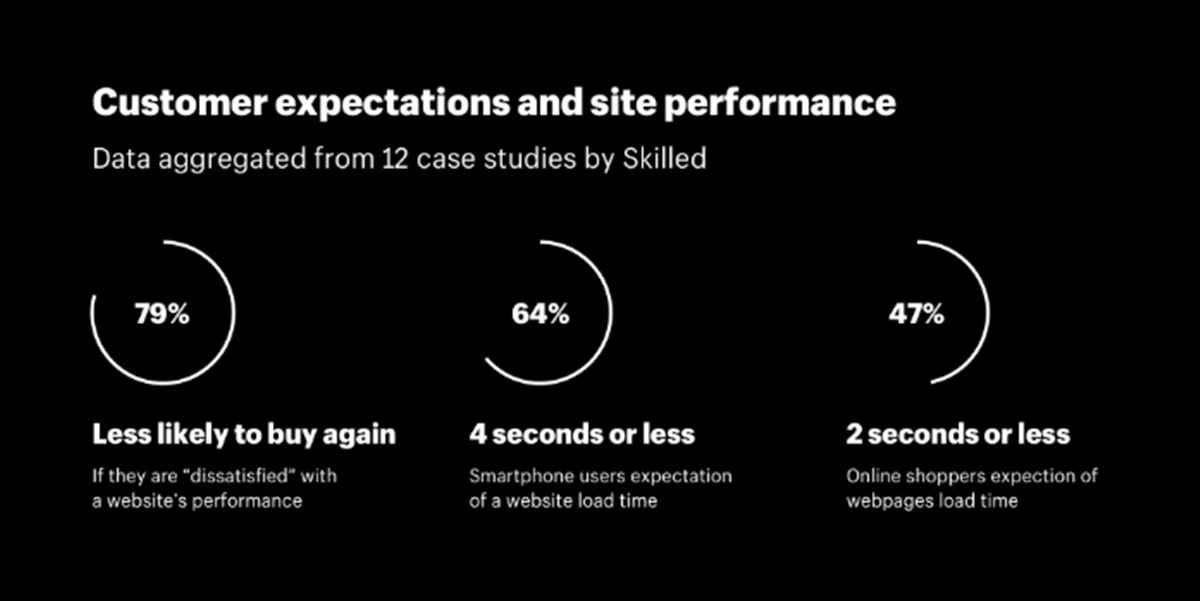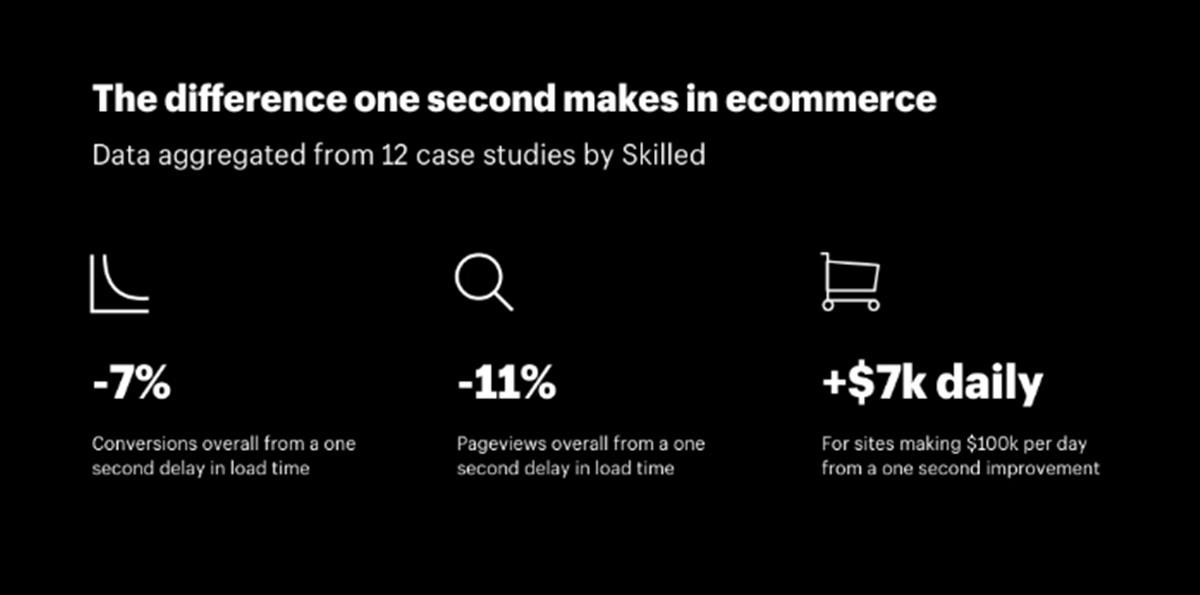 To help you with the loading speed problem, here are some useful tips:
The sizes of image files should be compressed and reduced.
Use a Content Delivery Network (CDN) for better speed.
Get your HTML, JavaScript, and CSS minified or improved.
9. Rating and Reviews
Having honest ratings and reviews in your product pages is one of the most important elements to increase your conversion rate. Even when the rating is not so positive, displaying ratings and reviews can help your conversion rate increase by 270% compared to sites without ratings and reviews, according to research by Spiegel Research Center and PowerReviews.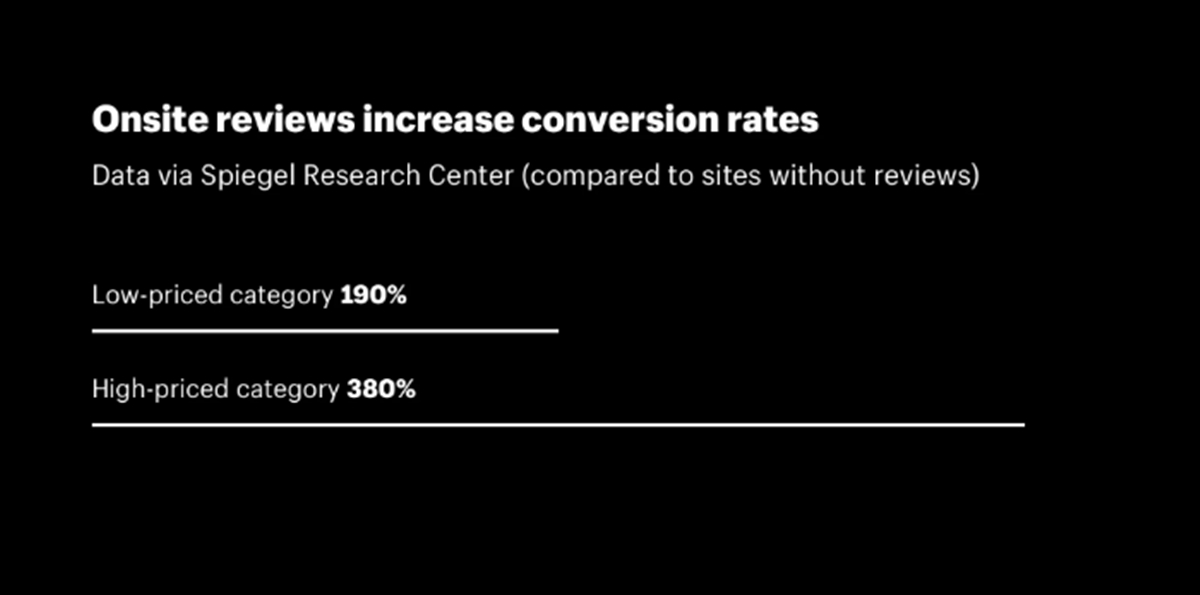 Significantly, adding ratings and reviews to your site means that customers see that your site is credible and they are more likely to make a purchase. However, having 5-star ratings does not mean that customers are more likely to buy because they might find it too surreal. On a rating system with the maximum stars is five, the likelihood peak of purchasing is about 4.0 to 4.7 star.
10. Engaging Copy
It is said that words are the most powerful tool that can change how a person thinks and feels. In the business world, carefully choosing the right language to create an impact on your visitors is critical if you want to improve your conversion rate. No matter how important it is, businesses do not always make an effort to generate engaging copywriting that could draw customer's attention and gain more sales. So what is a good engaging copy?
A good engaging copy should have these basic qualities. It should match up with the product and offer. Significantly, no grammatical errors or any spelling mistakes should be found. If an engaging copy does not have these qualities above, customers may not get a good impression, which influences their buying decisions.
When writing a copy, you should take your time and put lots of work into it in order to have a fun, engaging, and coherent copy. The copy should be written with the audience in mind and in the language they speak, not incorporate, formal, or complex language.
Here are some examples of a good engaging copy from Erstwilder and Status Anxiety relatively: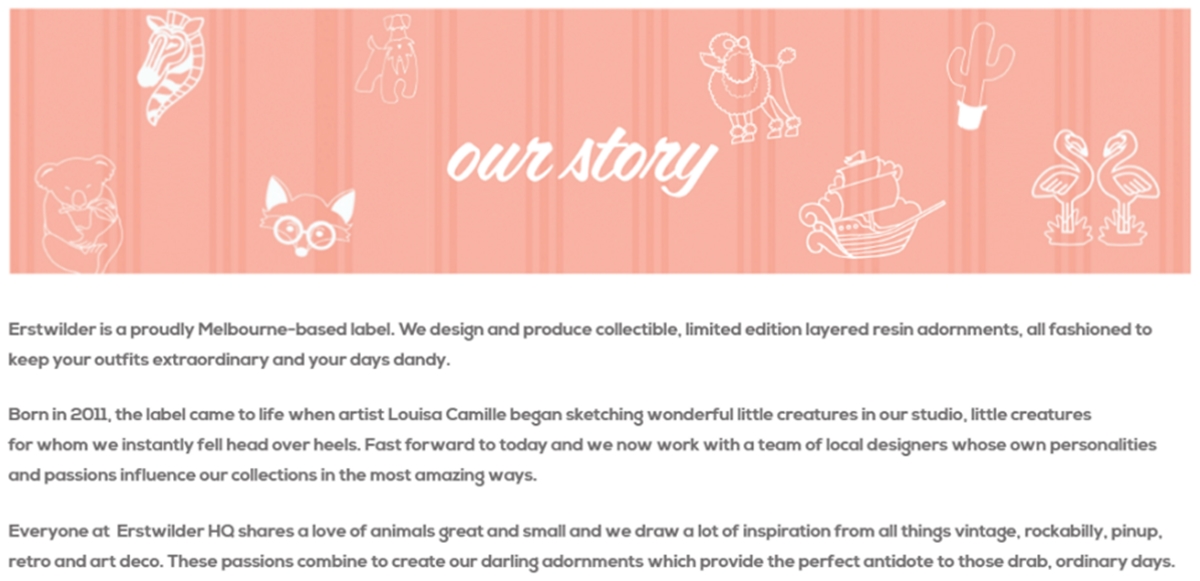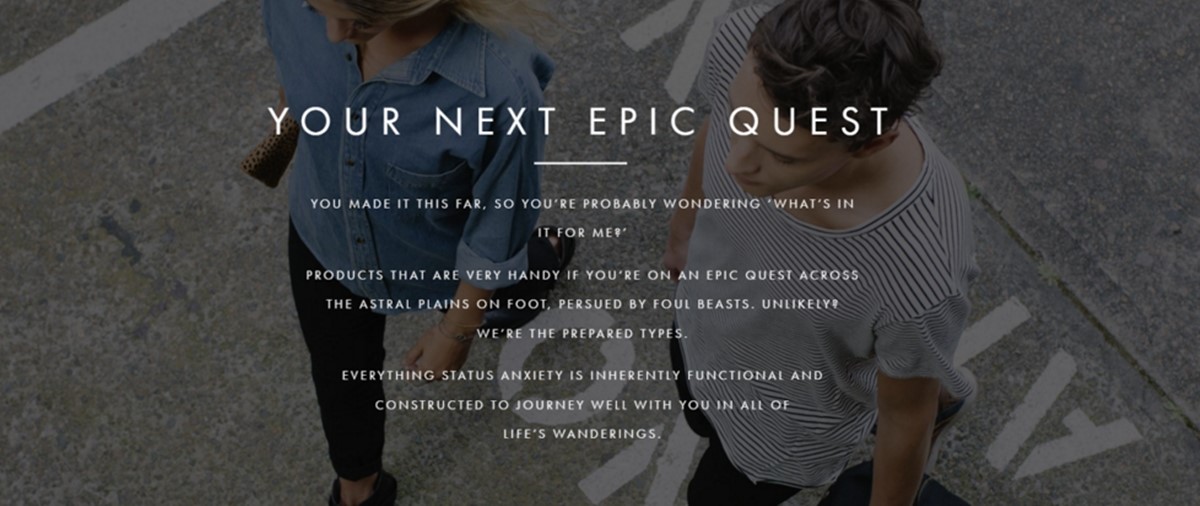 11. Check out experience
Taking more and a few seconds to load and go through the laborious process just to create an account is not what your customers want when going through the checkout process. Customers want and expect the checkout process to last by a few clicks, not by waiting for the page to load and going through the extra steps they do not want.
For a more quick and easy checkout process, you can use tools like Shopify Pay for mobile devices. This allows them to opt-in to save their personal and shipping information only with one click, which takes a few seconds.
Additionally, you can also consider the tool Shopify Scripts and integrating technology solutions created by Shopify Plus Partners. With this tool, customers will feel safer and more trustful when providing their personal and payment information. Here is an example of the payment process from the company Peepers when using this tool: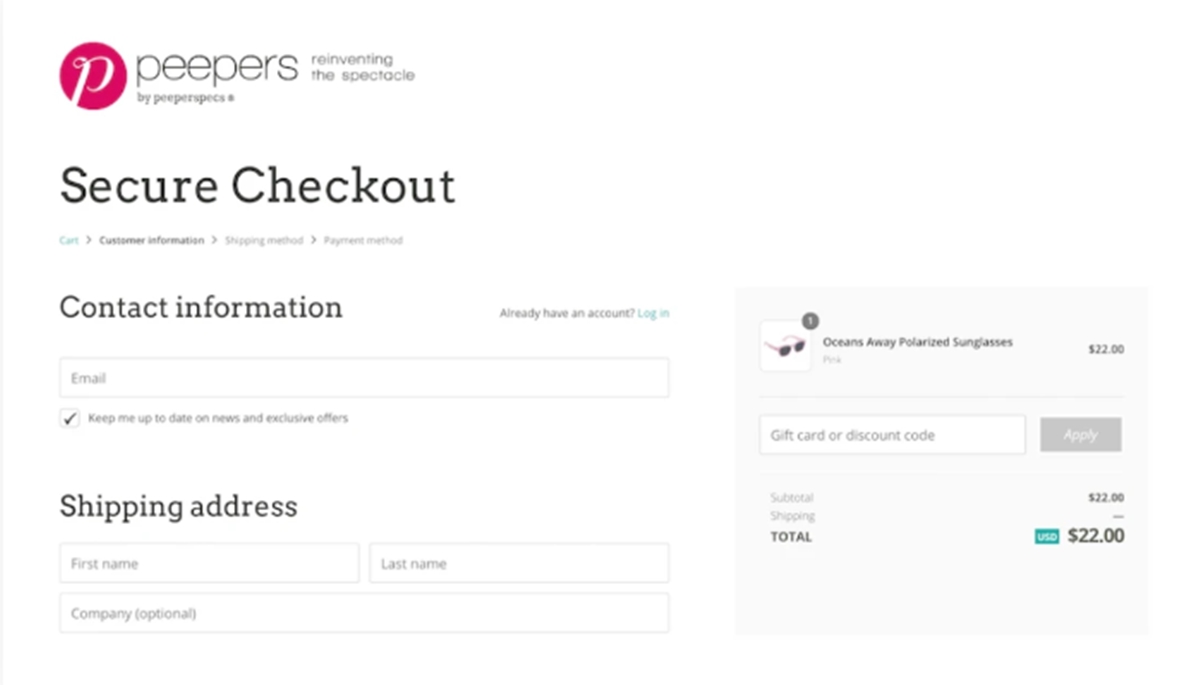 12. Focus on Personalization
Focusing on personalization in e-commerce is the crucial key to increase digital sales and conversion rate. Personalization helps you to catch the attention of your buyers and serve whatever they want. As a result, your sales increase.
Additionally, personalization helps you to improve interaction or engagement with your visitors. By collecting the interest and pain points of visitors, you can use those data to offer precise personalized recommendations. Therefore, visitors or customers can easily relate to your site, spend more time on it and make purchases.
Last but not least, personalization gives your customers the impression that they are highly esteemed as you keep trying hard to listen, understand them. As a result, you gain more loyal customers and more trust from customers.
Best Shopify Apps to increase your conversion rate
Here is a list of the top 4 best Shopify apps for increasing conversion rates.
Proofo - Social Proof & Sales Pop
If you are looking for an app to display live sales notifications on the store frontend, then PROOFO: Social Proof & Sales Pop is what you are missing.
By showing purchases in realtime, your customers will feel the urge to buy as they think they are missing out on your products. Significantly, PROOFO Sales Pop will give the impression that your store is busy with dozens of orders. As a result, they feel that your store is trustworthy and they can confidently make an order. Do not worry about the popup not match with your them! You can easily make changes to its color, font, animation effects, etc. Not yet, it is 100% free, so you can spend your resources on improving other parts.
Features:
Offer supports for 3 types of notification popups
Customize design and layout effortlessly
Change the duration of displaying popups
Offer supports for Advanced targeting to hide and display popups
Allow modifying popups with custom CSS
Report Dashboard
Auto or Manual Sync
Static map
Device responsive
Sound/ Animation
Display strategies
Custom CSS
Integration log
Show/ Hide the counted amount of time for each activity
Price: Start from Free plan
SEO Suite - SEO Optimization
SEO is an important part of your website because it not only about search engines but good SEO practices improve the user experience and your site's usability. If you are looking for an all-in-one solution to increase the loading page, optimize your site ranking, etc., AVADA Seo Suite will definitely give you a helping hand.
This useful app has helped many Shopify store oner solve their SEO issue and boost their search ranking. There are more and more people using AVADA SEO Suite. We believe that the ranking will increase even it is in a good position now ( rating 4.9)
This stunning app supports a wide range of function good for SEO.
Features:
Image optimization
Auto-add Google structure data (rich snippets)
Meta tags optimization
Redirect 404 pages
HTML Sitemap
Prevent duplicate content
Site verification
Price: Free
Free Shipping Bar - Shipping Tool
A majority of customers expect free shipping and they are likely to abandoned their cart if shipping free is expensive. If you want to motivate customers to expand their shopping carts not to avoid shipping cost which they are not willing to pay for, it is when you need AVADA Free Shipping Bar
This app helps to announce customers the free shipping offer and conditions based on their cart value. When they reach an acceptable amount for free shipping, a congratulations message will appear. Thanks to this message, you can boost more sales and reduce the abandoned cart possibility when customers are not prepared for unexpected shipping fees at the checkout step.
Features:
Progressive messages
Ready-to-use presets and customization
Target pages/ positions and countries
Time schedule
Redirection link
Emoji
Currency code
Snippet code
Google Analytics report
Price: Free
Privy ‑ Exit Pop Ups & Email Marketing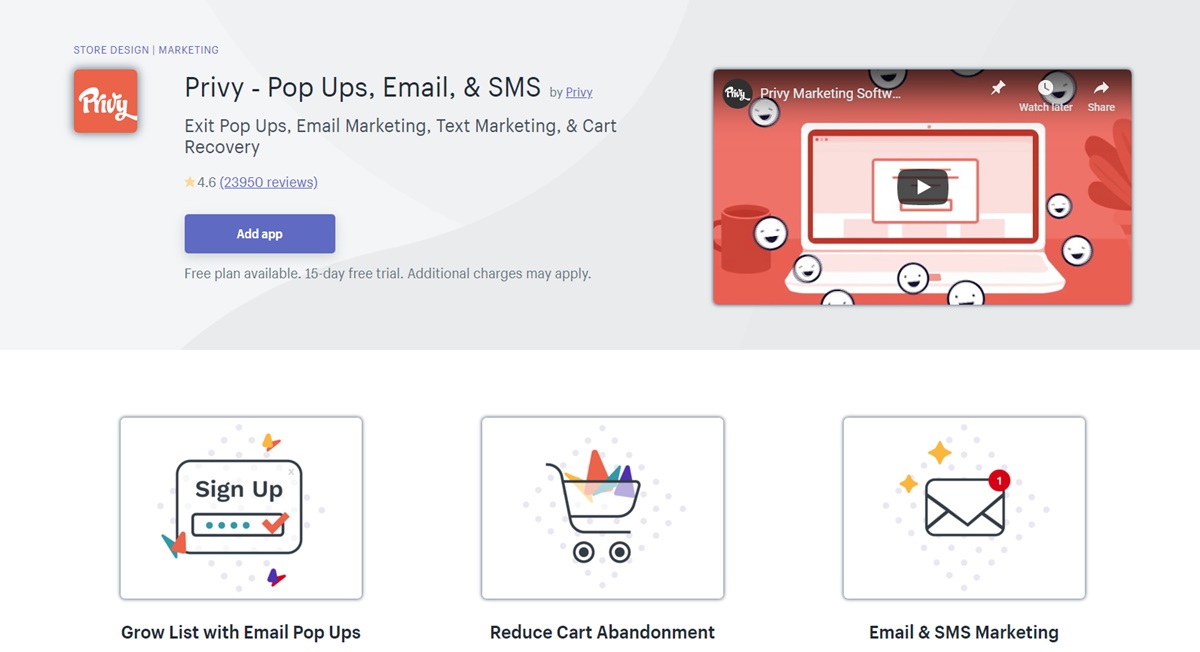 Privy ‑ Exit Pop Ups & Email Marketing is highly appreciated by e-Commerce businesses of all scales. This app is perfect for online store owners to capture and convert visitors to websites into subscribers and customers. With Privy ‑ Exit Pop Ups & Email Marketing, you do not have to go through a long process to set up an account.
Also, no knowledge and skills in code and development are required when using Privy. As soon as you finished setting up, a set of tools to expand your customer list will be provided to you so you can start to increase your conversion rate. With wonderful features and reasonable pricing, this is a must-try for all e-commerce administrators.
Features:
Generate inviting popups and gain more subscribers
Sync contacts to Mailchimp & Klaviyo effortlessly
Change the duration of displaying popups
Close sales with discount popups
Generate automatic emails for old customers
Help to create and distribute coupon codes
Price: Start from $0/month
Smile: Rewards & Loyalty by Smile.io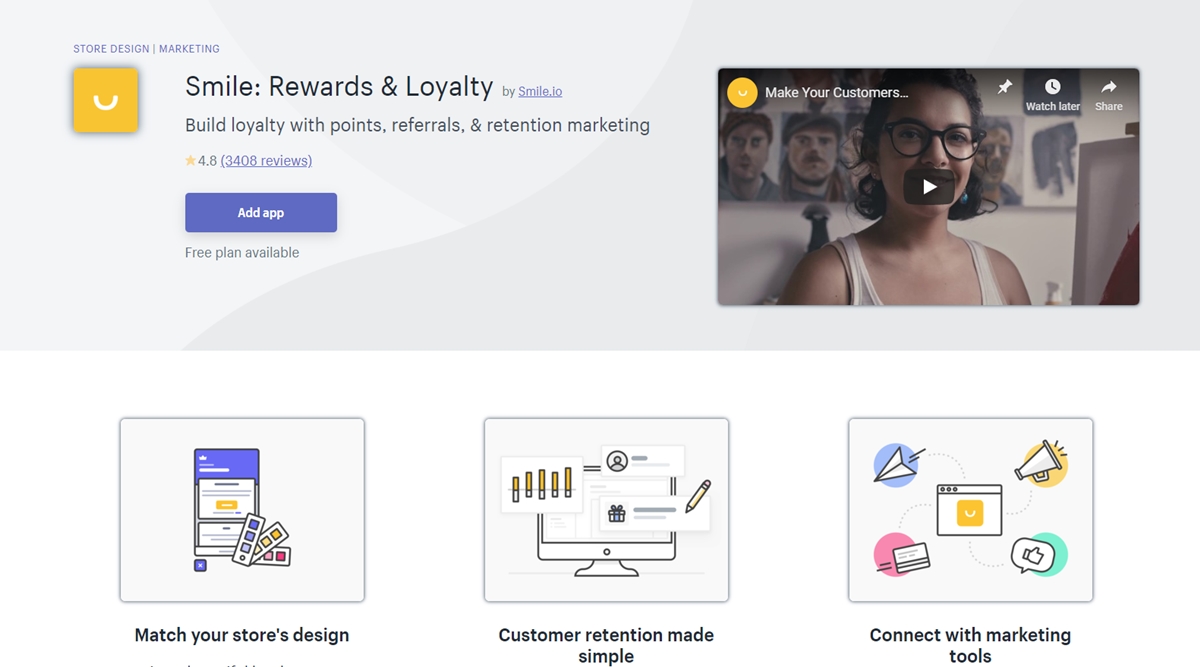 Loyal customers are crucial to any businesses, so how to increase the number of loyal customers? How to become the number one choice for merchants? Smile: Rewards & Loyalty by Smile.io is the answer to all your questions.
Being equipped with account registration, Smile: Rewards & Loyalty will automatically ask your visitors to create an account or sign in when they are on the home page. Therefore, you can easily get useful data about their behaviors for creating the right sale promotion. Not yet, you can enable VIP levels and point cards and automatically send the information of new arrivals and discounts to your customers. This is a perfect choice for boosting your sales.
Features:
Gain and keep loyal customers
Offer stunning interface
Provide with popular marketing tools
Improve the performance of marketing campaigns
Gain more recognition for your brand
Price: Free plan available. Additional charges may apply.
Rating: 3072 - 4.8 / 5
Final words
That is all about the conversion rate that you need to know. To sum up, conversion rate shows the effectiveness of how you turn your visitors into buyers by increasing the online presence of your brand. To increase your conversion rate, remember to set your goals, brainstorm and set up, test, analyze and reevaluate. Also, out of many methods and tools to increase your conversion rate, you need to find the right methods and the right tools to optimize it and have a better performance.
Thank you for your attention to the post on How to Increase Conversion Rate for your Shopify Store? We hope that this article can greatly help you to find the right methods for your business.
---
CEO and Founder of Avada. Pursueing a simple and healthy lifestyle. A friend, a husband and a dad of four children, a trainer and an influencer wannabe. He is a big fan of sports and travel, also.
New Posts
Stay in the know
Get special offers on the latest news from AVADA.