How Does Shopify Make Money? A Look at Shopify Revenue Sources
To offer products for sales and increase the business's reach, owners need to consider creating an eCommerce store that not only acts as the primary store but also reflects its physical stores. So, what if they do not have existing experience or any knowledge in coding? Shopify service is designed to help sellers and merchants create professional-looking online stores. Its easy and simple tool allows more any more online stores to be opened.
Except for that, Shopify is well known as an online shopping cart service that includes its own shipping suite (Shopify Shipping). Using the Shopify Shipping suite, sellers and merchants can easily measure rates and options to decide which shipping carriers to choose among multiple major ones. Also, instead of having a third-party service do the printing of labels, sellers can use such tools within the suite. The question is how Shopify earns money while they offer its useful services to users for as low as $29 per month. In this post, we will help you figure out how Shopify makes money and Shopify revenue sources review.
Let's get started!
Shopify Business Model Review
Being founded back in 2004 as an online store for snowboarding lovers - Snowdevil, the founders started their web development platform for online stores and called it Shopify with an attempt to help online sellers to create a website more easily. Shopify was then officially launched in 2006.
Since then, the company has grown dramatically, gone public more, and sold its shares in the New York Stock Exchange and the Toronto Stock Exchange. Shopify is valued as $29 billion in sales and helps more than half-million active online retail stores.
How does Shopify work?
As mentioned earlier, Shopify is an online service providing platform business model approach that allows sellers to create an online store to sell their items online. Shopify offers tools needed to build an eCommerce site, which enables businesses to connect with their consumers. Easily put, Shopify takes care of the web-hosting, domain name purchases, quick online store setting up, and customizing the online stores based on the liking.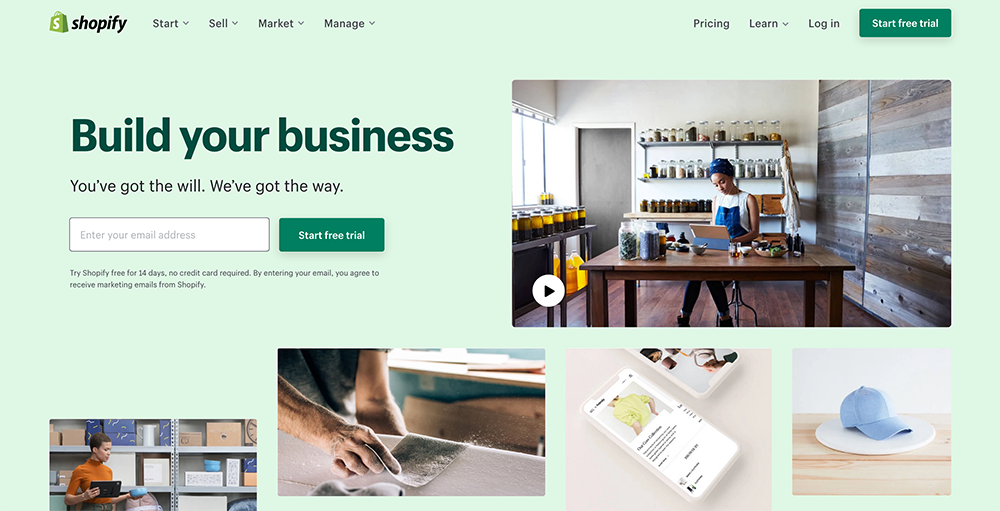 Let's take a look at its list of solutions provided on the platform.
Ecommerce solutions
Shopify provides multiple solutions as well as services that help the creation and functioning process of eCommerce stores. Those services are:
Creation of storefront
Shopping Cart Suite
Store management
Marketing & SEO
Products
Web hosting
Analytics
Mobile App
24/7 support
Key partners
Here are key partners helping Shopify work:
Investors and Integrators: The business investors and VCs, also known as venture capitalists, keep the company afloat during the recession. When it comes to integrators, Shopify agrees with other sites to integrate it into their services, which is one area of primary focus for Shopify. Some long-term integrators of Shopify are Facebook and Amazon. They will help merchants on Shopify list the products on each site by simply clicking a few buttons.

Blogs and Acquisitions: Shopify also owns a blog site that posts many resources on how to use its platform to create an eCommerce site. Also, Shopify needs to work with primary acquisitions of companies such as Oberlo and Handshake among the few. For example, Oberlo is one of the most important acquisitions and partner of Shopify because it helps integrate drop-shipping services into Shopify.

Payment gateways: Many payment gateways are supported by Shopify to provide various pricing options for users and their consumers to choose from. A few of those are PayPal, Amazon Pay, Worldpay, Stripe. Additionally, Shopify also has one payment gateway for itself.
Operating model
In addition to offering the needed tools and services to create and manage an online store, Shopify also enables merchants to sell products without carrying an inventory. This prevents those sellers from the need for stockrooms and helps them save money spent on rent, storage, and shipping expenses, along with assisting in creating the online stores.
Similar to any other website builder service working in setting up the eCommerce stores, Shopify has the process of four basic steps:
Create an online store
Customize the store by using themes from Shopify's theme store
Add product to the online store
Edit shop settings
Read more:
How Does Shopify Make Money?
For those you do not know, Shopify provides nearly all necessary services for an online retailer, but it asks for just a fraction of a cost. It is much more cost-effective than taking these tools from other suppliers. When you integrate with Shopify to create an online store, the cost of hosting your website is already included in what you have to pay for. Moreover, you even get a payment processing system, a blog, unlimited bandwidth, a free domain name if applicable, and so much more.
So, have you ever wondered how it makes so much money like that? Here are the five most common revenue sources of Shopify.
Shopify Make Money from Subscription
More and more users register for Shopify to save their money because this platform provides cost-effective subscription plans. In fact, the biggest source Shopify makes money from is via several levels of monthly subscription plans for those using its services.
There are three subscription plans provided for businesses: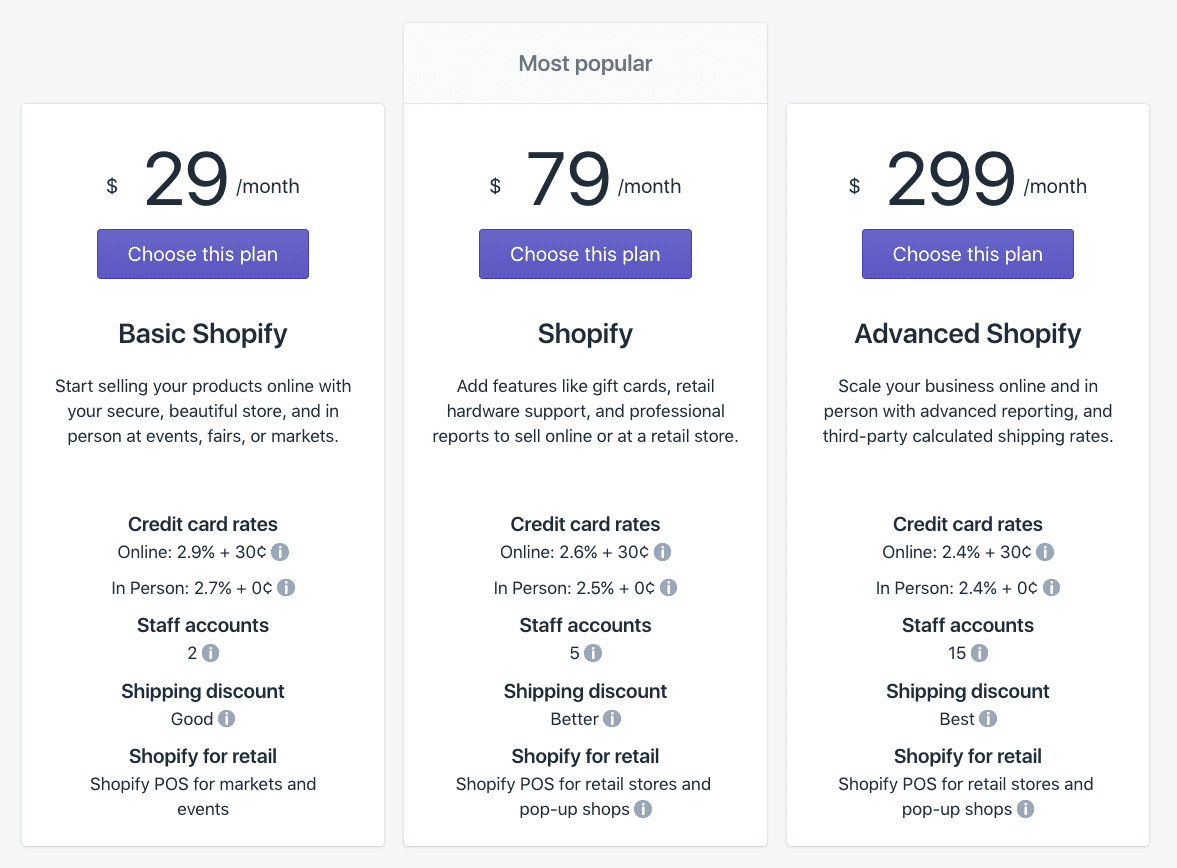 Basic Shopify: This plan is for beginners, which costs $29 per month. Providing basic features and services, Basic Shopify is suitable for starting and managing a small eCommerce store.
Shopify: This plan's price is up to $79 per month, which offers more and better Point of Sale service features.
Advanced Shopify: This one has the highest price of $299 per month, but its features are worth the cost. It offers the lowest fee per transaction charged among the three subscription plans, which means Advanced Shopify is the best bet for large volume companies and sellers.
Apart from that, Shopify also has three other subscription plans:
Free Trial: This plan provides a 14-day free trial for anyone who desires to test Shopify's features.
Shopify Lite: This plan costs just $9 per month, which is often chosen by those who are looking to sell products via Facebook.
Shopify Plus: This plan is best for high volume traders and businesses.
As you can see, there are many subscription plans for users to choose from. Let's make a simple equation of Shopify's sales in June 2019. The number of users is measured as about 820,000. Assuming that each subscriber pays $29 per month (as one of the cheapest plans), Shopify's monthly revenue will be equal to $29 X 820,000 = $23,780,000. If they register for a year, that is equal to $23,780,000 X 12 = $285,360,000.
$29 per month is so affordable to build and run an online store because Shopify provides almost everything you need and you do not have to look anywhere else. Here are what you benefit from if you apply for the Basic Plan of Shopify at $29 per month: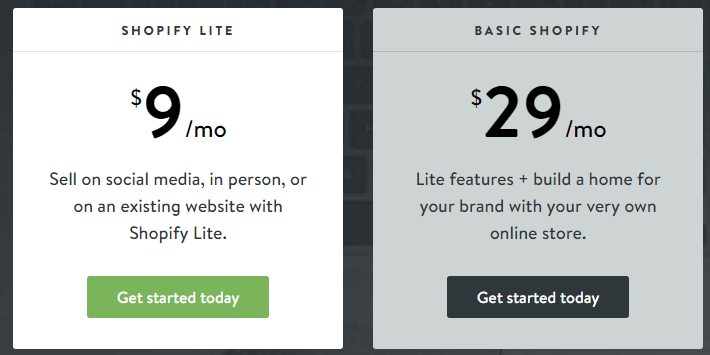 An online store that has a blog and e-commerce functionality
Web hosting
Unlimited product uploads
Two staff accounts
24/7 support
Different sales channels in social media
Free SSL Certificate
Ability to create discount and coupon codes for your customers
Abandoned cart recovery
Payment processing system
It is not only the best bet but also convenient because if you buy these features separately, the total cost may be up to hundreds of dollars per month. What's more, Shopify even allows users to choose between paying annually and paying monthly. $285,360,000 is a big amount of money but let's imagine how high it will increase if more sellers choose Shopify to help them create an eCommerce shop.
Shopify Make Money from Transaction Fee
This means Shopify takes a small percentage of the total cost of the sales for each transaction. This ranges from 2.4% to 2.9% based on the plan you choose. Here are the transaction fees per plan:
Basic plan: Shopify charges a fee of 2.9% + $0.030 for every payment transaction done via Shopify Payments.
Shopify plan: Shopify charges a fee of 2.5% + $0.00 for every payment transaction done via Shopify Payments.
Advanced plan: Shopify charges a fee of 2.4% + $0.00 for every payment transaction done via Shopify Payments.
What's more, this revenue source also comes from the additional fee in case you use a different payment provider. This one is called Payment Gateway Fees. The fee charged is also different according to each subscription tier:
Basic plan: Shopify charges 2.0% for every transaction done using other payment gateways.
Shopify plan: Shopify charges 1.0% for every transaction done using other payment gateways.
Advanced plan: Shopify charges 0.5% for every transaction done using other payment gateways.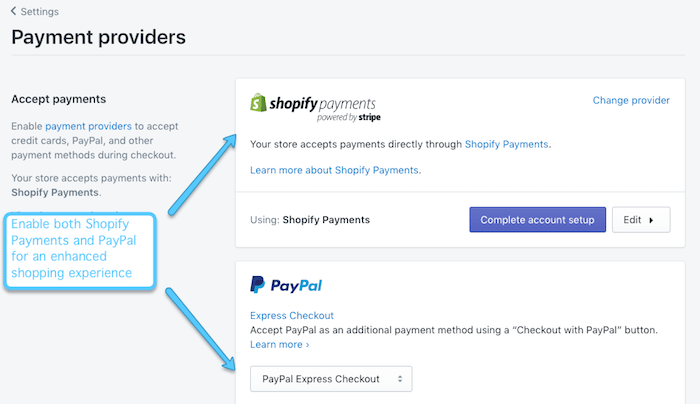 So, Shopify takes part in your gross sales in either way. Let's take the PayPal payment processor,for example, Shopify will take a fee from the transaction and an additional fee if PayPal processed the payment when you choose PayPal.
Next, if you sell an item at the price of $100, and then you charge $10 for the delivery cost, your customer buying this will pay $110 for it. Shopify will gain $3.22 out of that $110 due to the following math:
2.9% X $110 = $3.19
$3.19 + $0.030 = $3.22
Again, let's take a simple example going back to June 2019 when there were 218 million buyers on the platform and the final sales were nearly $100 billion in 2018. Then, if each consumer among the 218 million spent at least $10, what Shopify makes is equal to $10 per person X 218 million transactions = $2,180,000,000. We assume they all apply for the Basic plan, then 2.9% of $2,180,000,000 is equal to $63,220,000. In the end, Shopify gains $63,220,000 from the revenue source of the transaction. We haven't mentioned $0.30 per transaction, and the additional fee of 2% from the merchants who used other payment processors. If so, the total amount of money will be even more.
Shopify Make Money from Partner Program
Besides subscriptions fee and transaction fees, Shopify also makes money from a thing called Shopify Partner Program. This program is designed allowing you to refer clients to Shopify, create apps for Shopify sellers to use, and create themes that are sold in Shopify.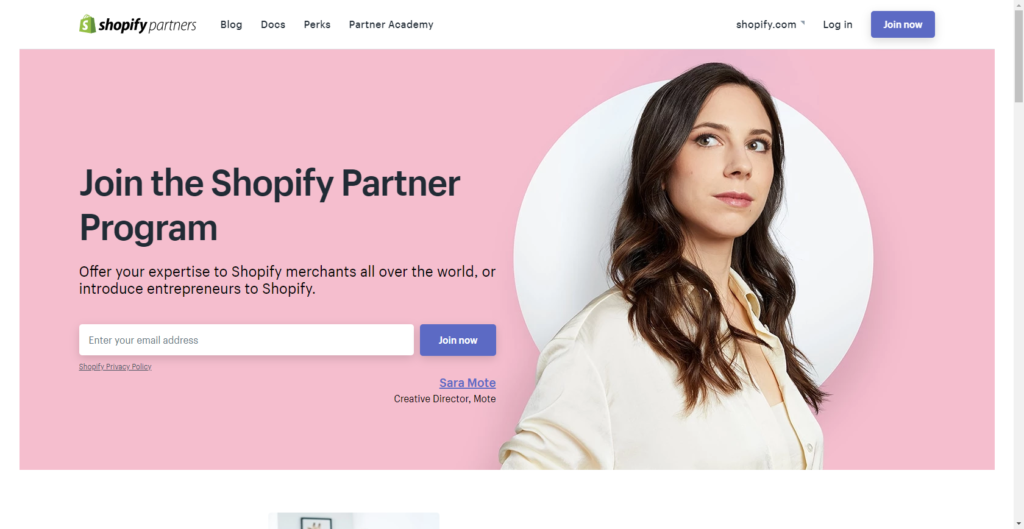 If you do not target selling in retail stores but selling apps and features for merchants to use in their online stores, let's consider the partner program. For instance, with Shopify's partner program, you can freely set up a shipping app that automates the shipping calculation for international areas. This will include the weight and box dimensions. A merchant who uses Shopify and has a desire to use this app will then pay you a monthly subscription fee.
So, you must have guessed who will use this program, right? They may be designers, theme developers, software developers, and affiliate marketers. This also means that people can earn money from selling items via their stores and selling tools to the retail merchants on Shopify. In this way, you become a partner of Shopify, according to the program. You are free to launch your app or theme in the ecosystem of Shopify. And when a merchant buys it to support their stores, the fee they pay will be shared by you and Shopify. Such division is called a Revenue Share.
So, how much does Shopify earn from these transactions in particular?
Again, it depends and varies, according to the products and many other factors. Shopify will charge different fees from the developers. The Revenue Share of themes is also different from that of apps. What's more, this number is different according to the actual Shopify plan of the users buying the product or service. In general, the fee ranges from 10% to 20% of the monthly subscription. If the merchant decides to continue subscribing to that app or theme, Shopify will, of course, continue charging this fee for.
In case you are selling a shipping app for $10 per month, Shopify will then take the maximum of $2 off of that. Let's look at this math if there are about 10,000 Shopify merchants choosing to subscribe to this app, Shopify will then earn:
$10 X 10,000 = $100,000 gross app revenue per month
20% X $100,000 = $20,000 per month Shopify revenue
That's such a big deal. However, it is only for one app. The fact is that there are hundreds of partners and thousands of apps in the Shopify platform. Let's assume that there are 1,000 subscribers for 1,000 apps at $10 each, the total revenue of Shopify via the Partner Program is 2,000,000 per month:
How do we calculate that?
Here is the math:
1,000 apps X 1,000 subscribers X $10 each = $10,000,000 in app revenue.
20% X $10,000,000 is equal to $2,000,000 and that is what Shopify earns.
Shopify Make Money from POS Service
POS service which means Point of Sale is a software service Shopify provides to enables users to track sales and transactions taking place in their physical stores. Also, Shopify offers unified analytics that blends in-store and online store sales. Money taken from POS service takes a small percentage in the total Shopify receives. This service features on offer vary, depending on the subscription plan users choose.
Shopify Make Money from Themes and Apps
As we mentioned above, Shopify helps merchants create a professional online store if they want. Therefore, in case online sellers look for a way to quickly customize their sites, Shopify can earn a little bit from the sales of themes and apps via its theme store. This revenue source is predicted to increase in the future because more and more merchants spend time customizing their stores with an attempt to attract more consumers.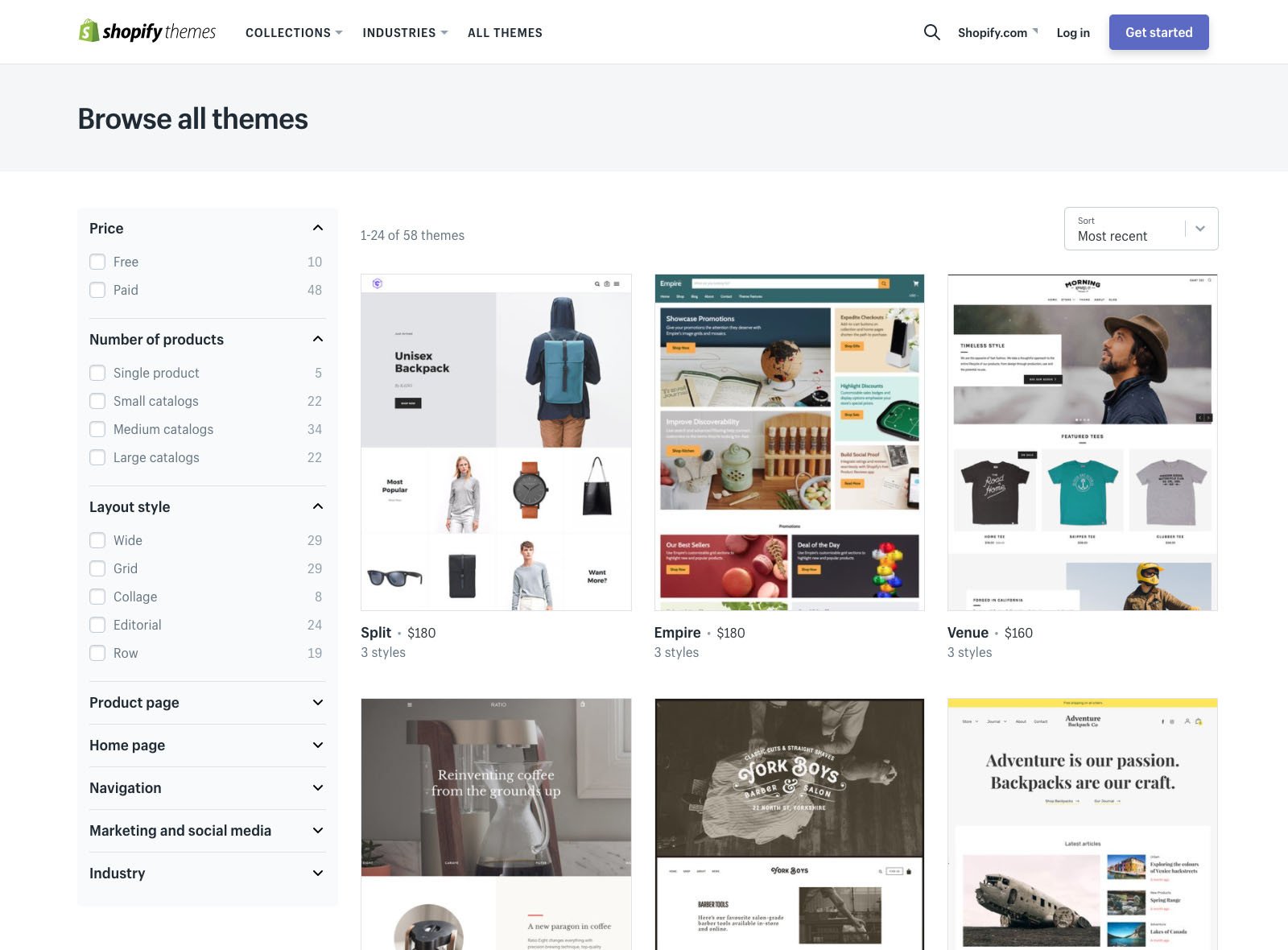 Also, Shopify provides multiple extra add-ons and integration to other sites for a fee respectively. This is added into its revenue stream
As above, Shopify has many ways to make money from. It provides a clean, simple, and minimal platform that allows any users, even those with little coding skills, to use and create an online store with a professional look in a short period of time. The key factor leading to its success is that Shopify offers an eCommerce building and hosting tool with additional features that help simplify the seller's tasks. That's the reason why there are millions of users deciding to reach Shopify.
Related posts:
Conclusion
Though Shopify is founded 5 years later than others, it is now the third biggest online retail company in the US. Number one and number two belong to Amazon and eBay that are giant companies of the whole time. Shopify has grown into a new height, being even bigger in retail sales than Apple and Walmart.
In the future, Shopify will improve its sales better since it is about to build warehouses across the United States. Hence, sellers from different countries can now ship their products to the fulfillment center and have Shopify ship it directly to the buyers. The shipment will then take a shorter amount of time and a smaller amount of delivery money, which makes businesses spend more on advertising to boost the image as well as income.
Hopefully, this article helps you find out how Shopify makes money as well as Shopify revenue sources review. If we miss something, do not hesitate to leave us a comment in the box below telling us what you think about this article. Share it with your friends and visit other blog posts of us for more information.
Good luck to you!
New Posts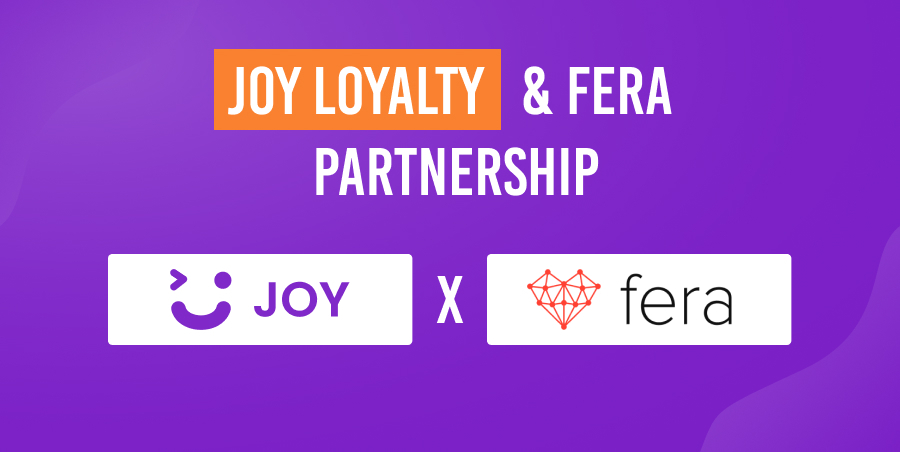 Subscribe
Stay in the know
Get special offers on the latest news from AVADA.
40k
subscribers has been joined!
Earn $10 in reward now!