7 Steps to Issue a Gift Card on Shopify
Last updated: December 01, 2023
A Gift Card makes the customer feel the brand of your online store by maintaining a strong and thoughtful relationship which means that your business comes with the warmth felt by the recipient. You will think that you know Issue Gift Cards on Shopify is necessary to attract the attention of your customers.
How to Issue a Gift Card on Shopify
Here's how you can publish gift cards on Shopify:
Step 1: Login to Shopify account
Make sure that you log in your Shopify account. Take a look at your admin page. You see many sections on the left-hand side of the screen. Click Products on the third.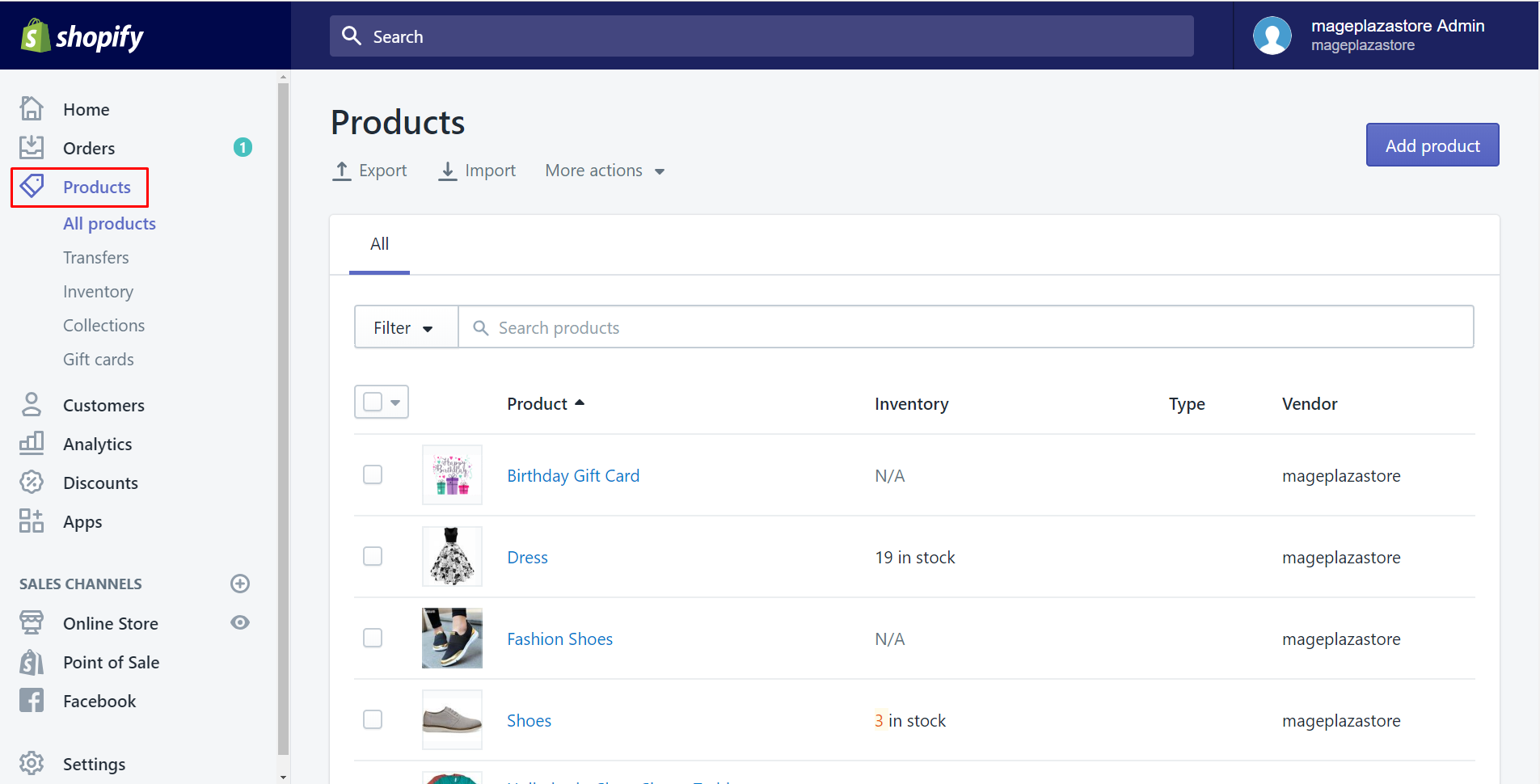 Step 2: Choose Gift Cards button to issue gift cards
Select Gift cards button which is in the red rectangle I've marked. Then Gift Cards box appears. There is a beautiful picture which is about the happiness of a customer with a lot of gift cards. Click Issue gift card above the picture to send many pretty cards to your customers to receive trust and pleasure from them.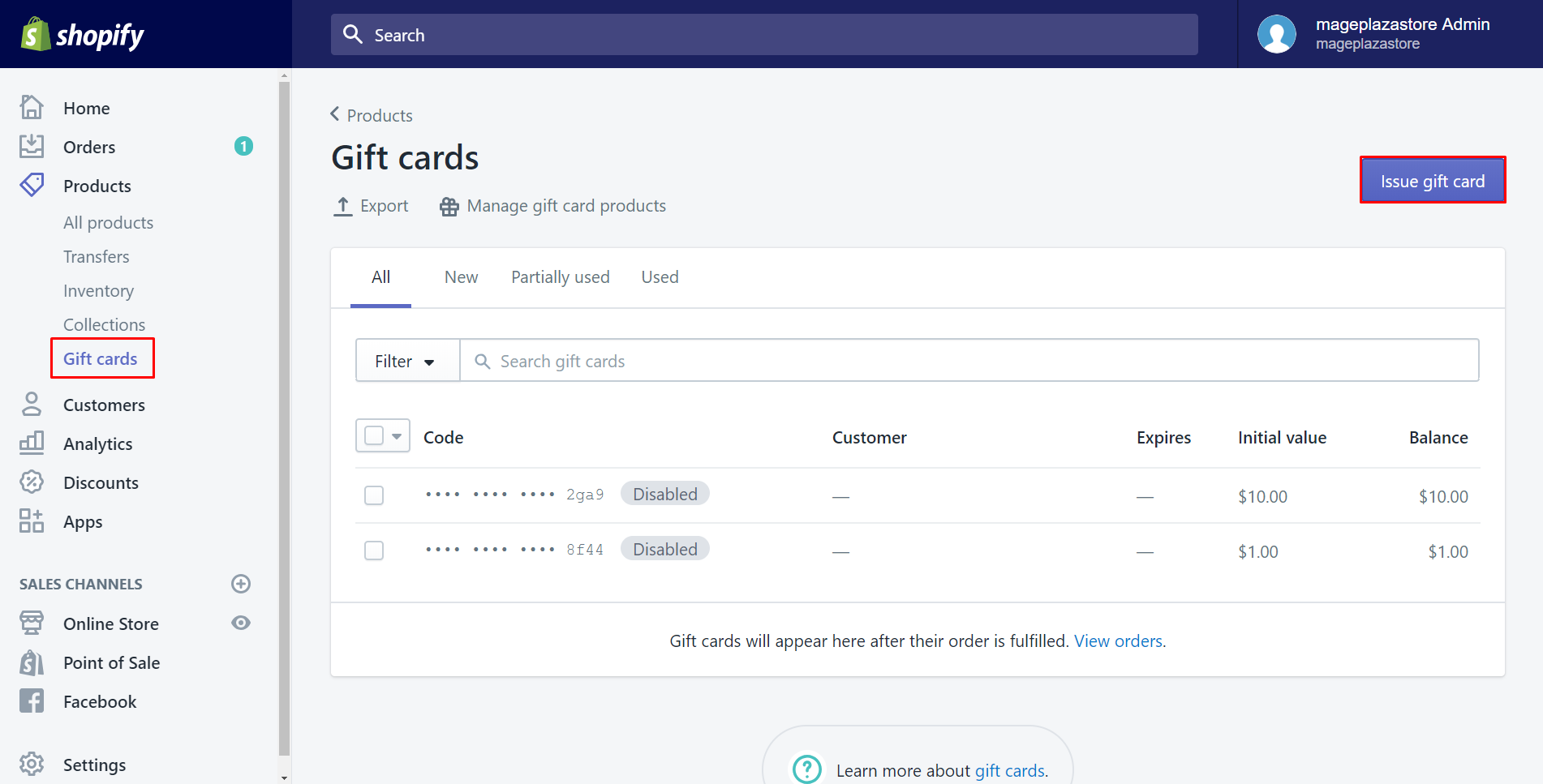 Step 3: Choose the initial value of the card in the Issue gift card dialog
There is a dialog which called Issue gift card. In this step, you can choose the initial value of the card, this dialog has two default values which are $50 and $100 or else tap Other to type an suitable amount for yours.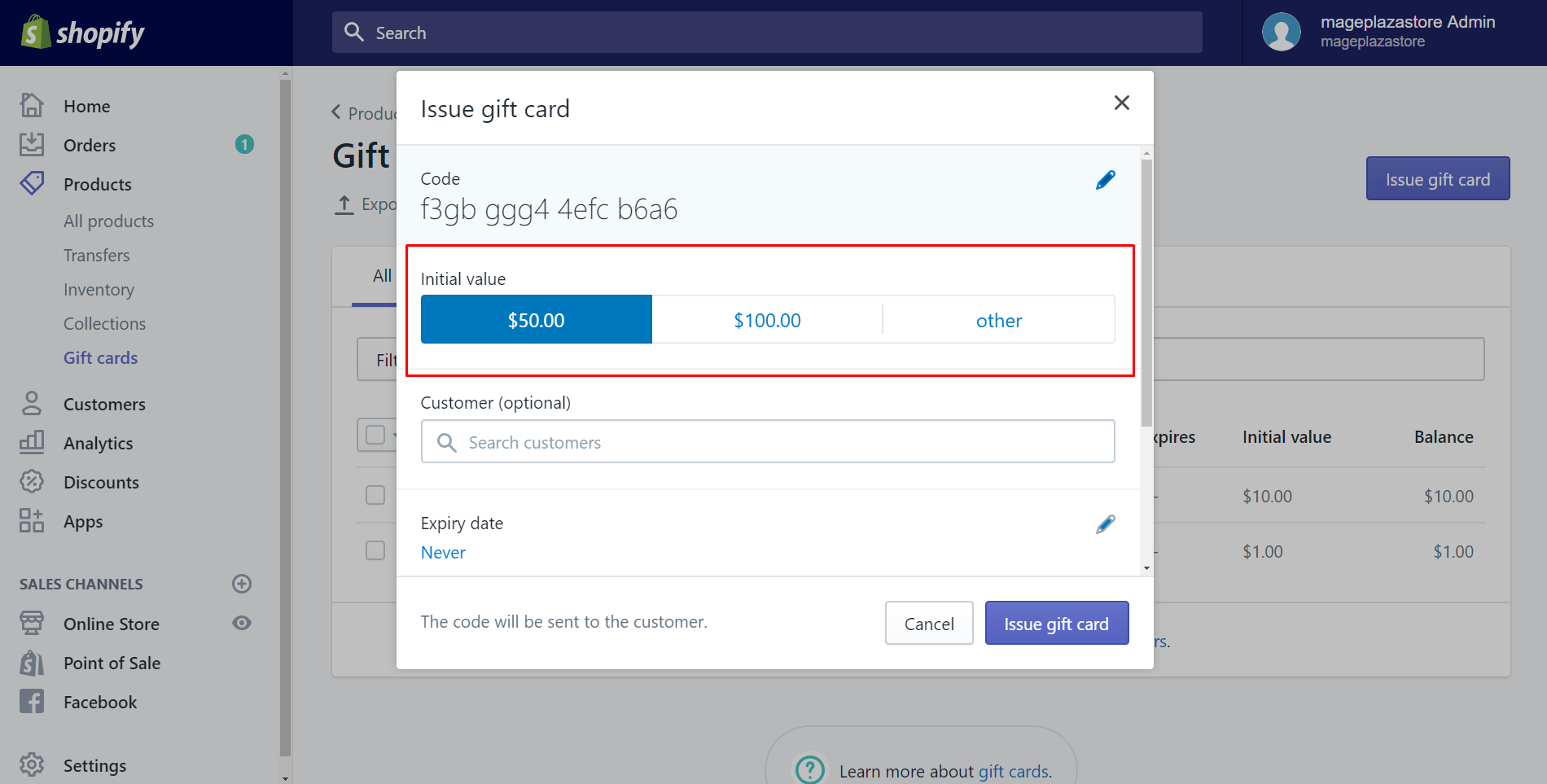 Step 4: Type the customer name or email address
In the search box, type the customer's name or email address to find and select them. You can also find the customer from the drop-down list. One thing you must aware of is that they have to have an email address. There is another tip for you. You can issue a card to your customers by copying the code of the gift card then send it to them which means you don't have to find them on the list.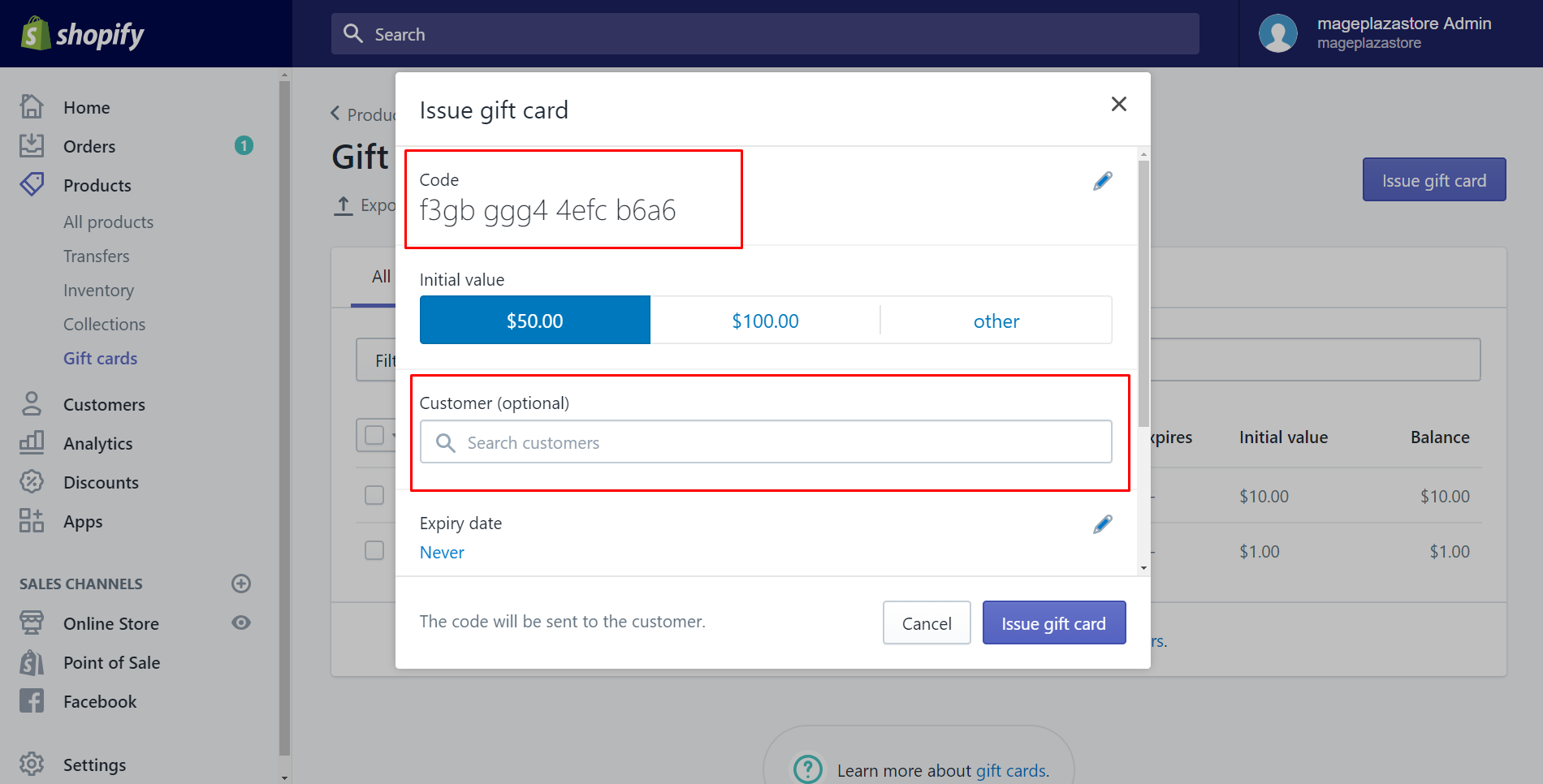 Step 5: Set an expiry date
Select Never if you'd like to set an expiry date for the gift card. Or else, remember to uncheck Never expires to select a date. Don't forget that it must be legal in your country.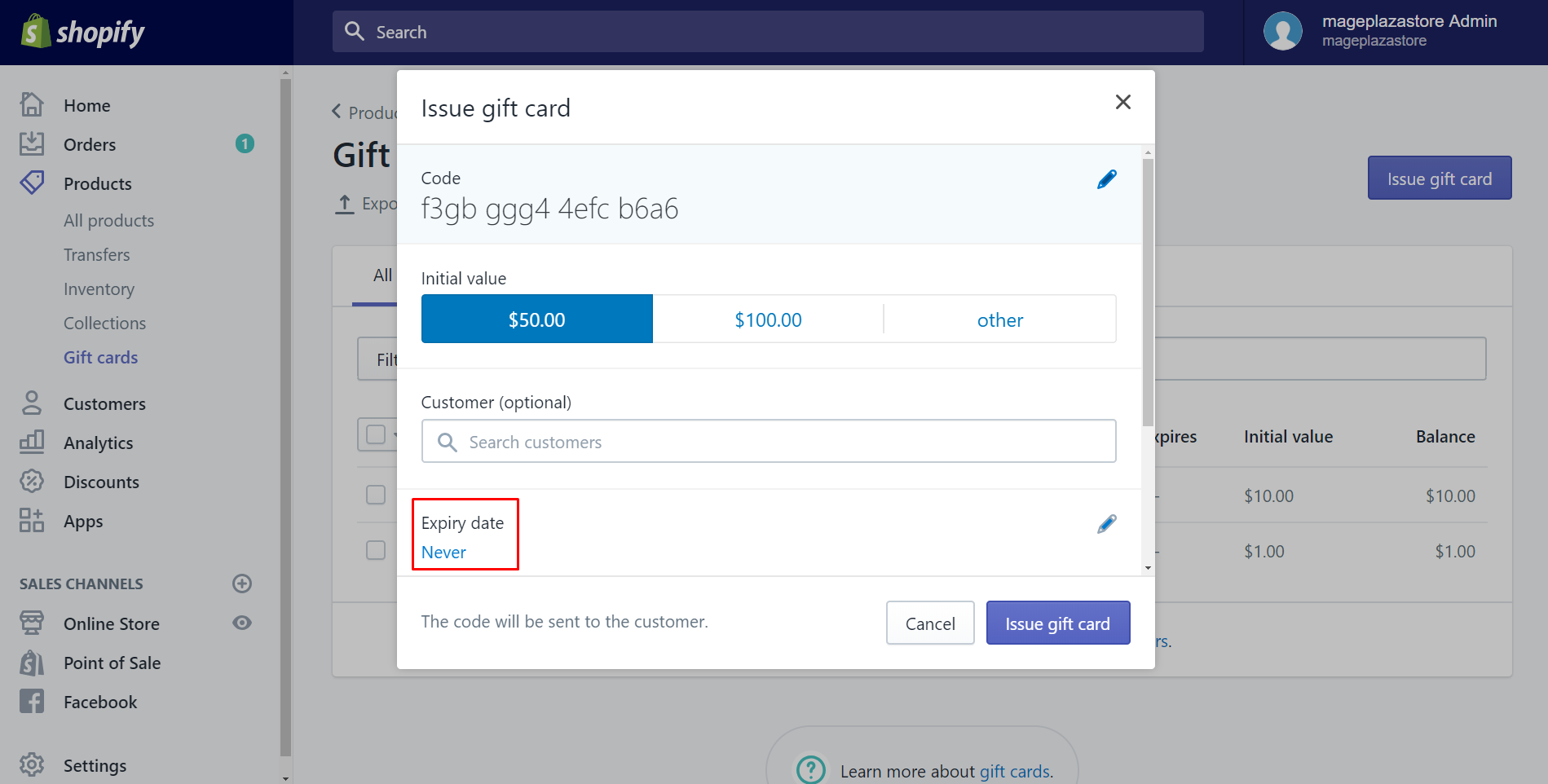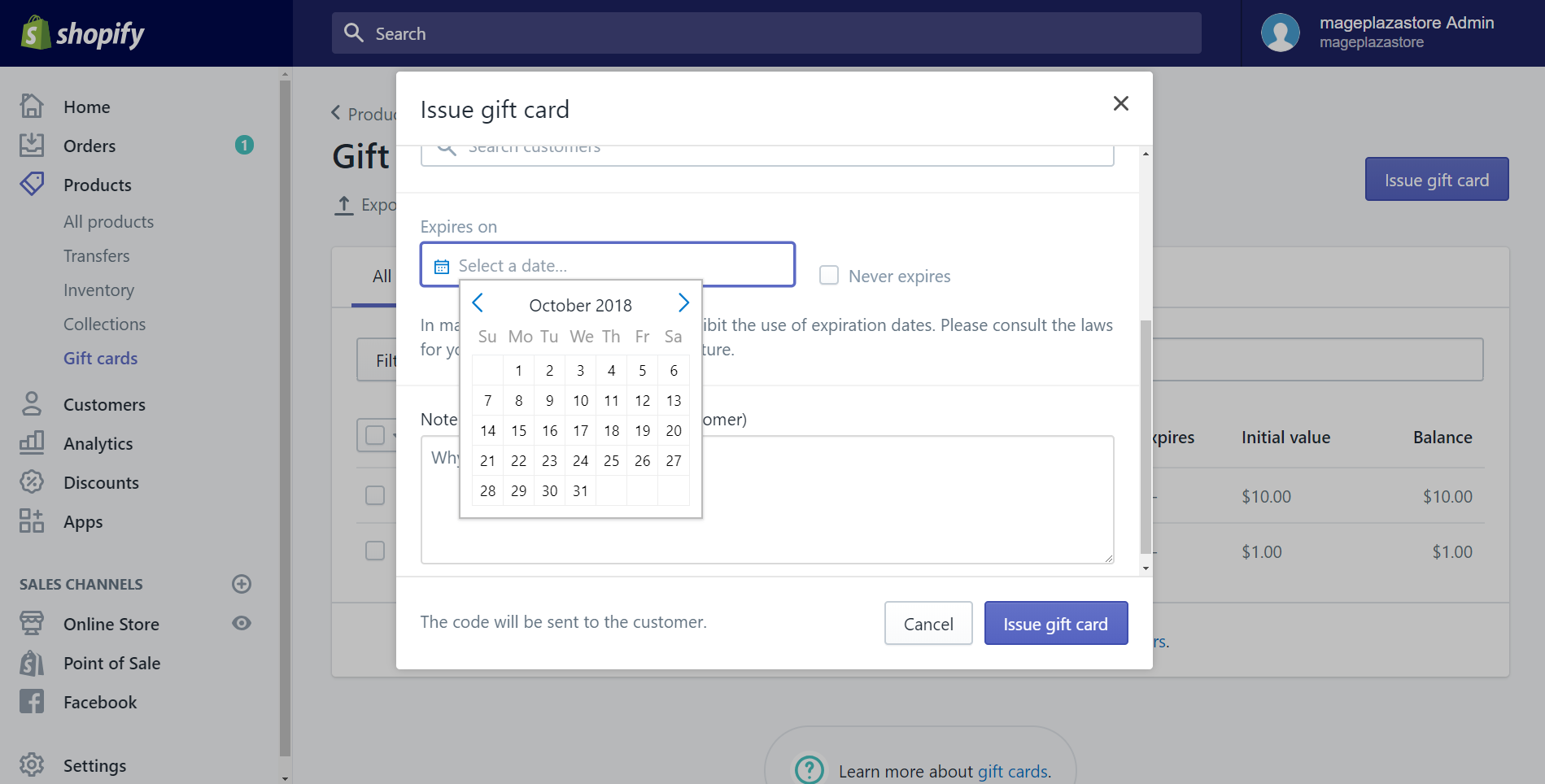 Step 6: Enter a Note
This step is not obliged. You are able to enter a Note which is visible when you see the gift card in your admin page but is unavailability to the customer. This note is for your reference.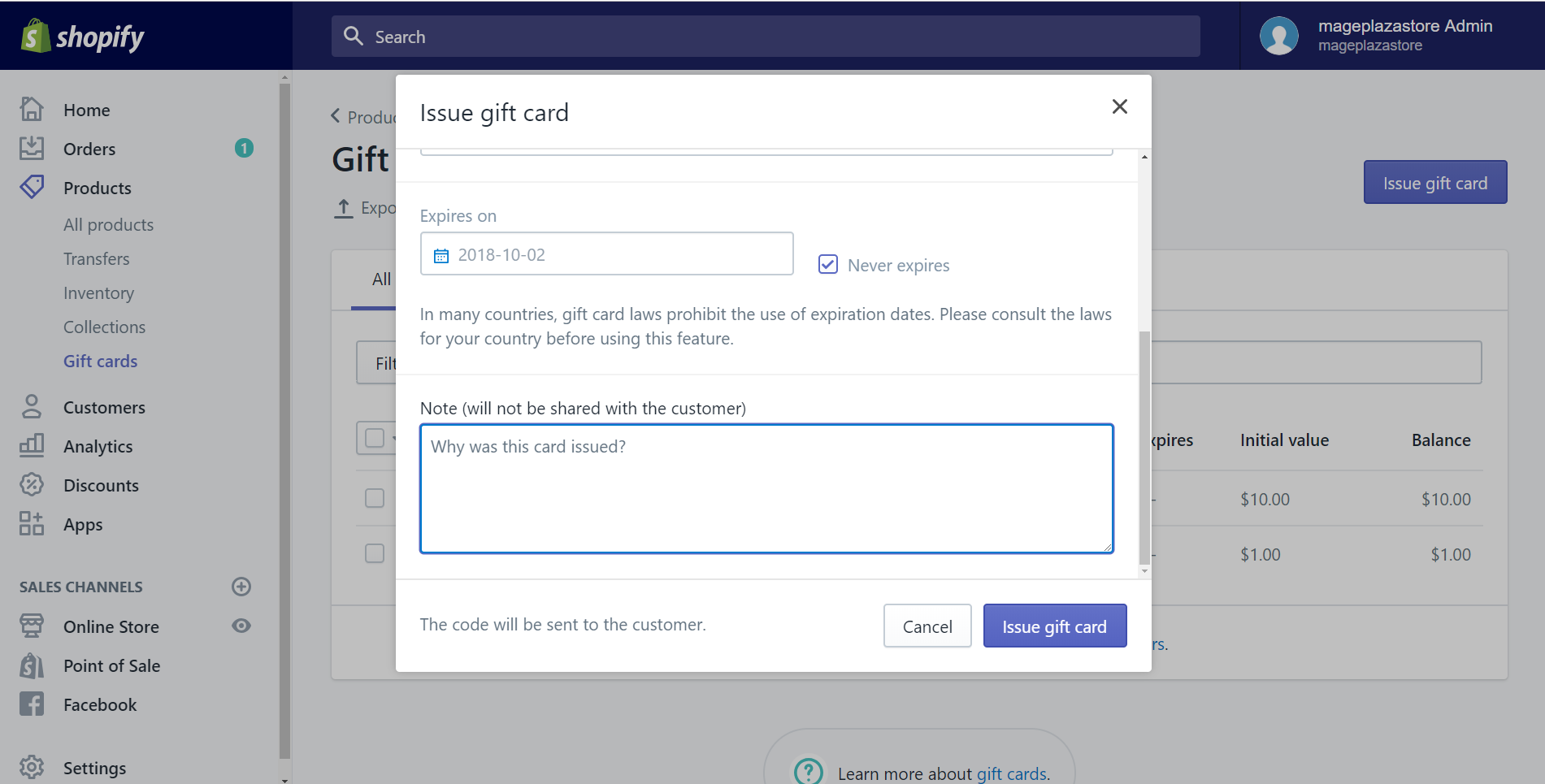 Step 7: Choose Issue Gift Card
Select Issue gift card to generate the code of the gift card. It's also to send the gift cards to your customer immediately. There's is a note for you that this step is the only time you can view the whole gift card code.
Conclusion
In short, there are simple steps you are able to issue a gift card quickly and effectively. I hope you will get your customer's trust and loyalty by sending them plenty of your sincere and lovely gift cards. If you have time, please read more guide that we write to know how to generate your Shopify account more effectively.
Related Posts:
---
Sam Nguyen is the CEO and founder of Avada Commerce, an e-commerce solution provider headquartered in Singapore. Sam aims to support more than a million online businesses to grow and develop.