4 Steps to Change your Gift Card Expiry Settings on Shopify
Last updated: December 01, 2023
A gift card is a special product issued by a shop's owner to its customers as an incentive or reward, with which consumers can use as payments for orders. You can set a time limit or expiring day for your gift card, however, in some countries this action can be considered as illegal. Therefore, check the law in your country first and keep up with this article to know how to change your gift card expiry settings on Shopify.
How to change your gift card expiry settings
Step 1: Go to Gift cards
Log-in to your Shopify account, choose Settings on the left end of the page then go to Gift cards.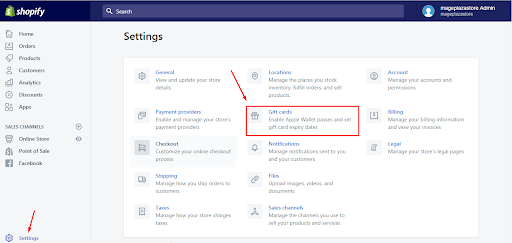 Step 2: Select Gift cards expire
In Auto-expiration, the default setting is Gift cards never expire. Nevertheless, you want it to be limited, you have to select Gift cards expire to edit the duration of your gift card.
Step 3: Set expiry time
Enter the time limit that you want into two blank spaces, the first one is for numbers while the last is the option for days, months or years after purchases. For example, you can fill in 45 days after purchases like the picture below, which means that the gift is out-of-date or useless after 45 days of purchasing.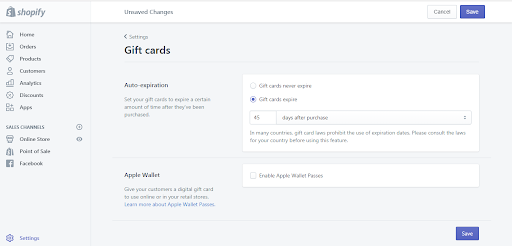 Step 4: Save changes
In order to end the process, click Save. You can see it appear on both heading and ending of the page, you can choose one of them to press. The system also notifies you of your successful changes that you can check whether you do it properly or not.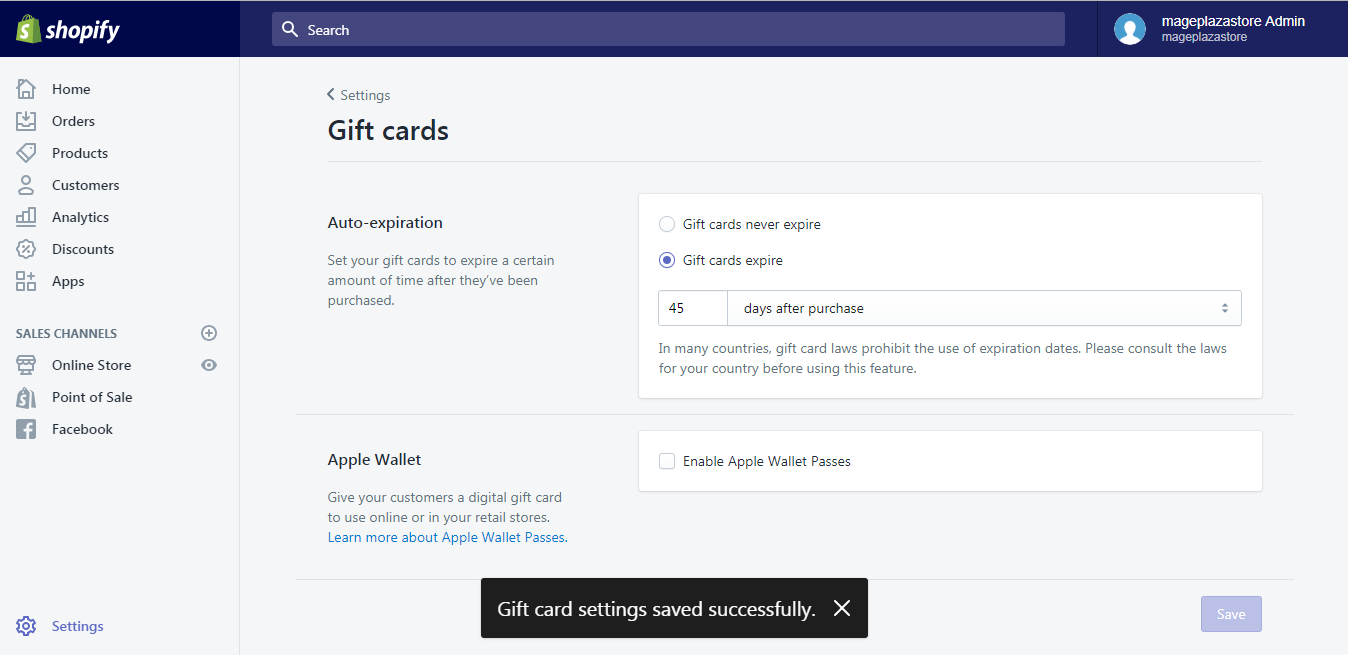 To change your gift card expiry settings on Iphone (Click here)

Step 1: Open Shopify app with login account, select Store which has the symbol of a house and tap Settings

Step 2: Scroll down and find Gift cards in the Store settings

Step 3: Your screen is shown with settings for gift cards, however, you want to change the expiration of these gifts. Hence, tap on Gift cards expire

Step 4: Fill in the length of time that you want to keep for your promotion or incentives.

Step 5: Choose Save to record all the changes that you have just made.
To change your gift card expiry settings on Android (Click here)

Step 1: Get access to the Shopify app, go to Store then choose Settings which has gear icon beside

Step 2: In Settings, it is divided into smaller categories, which are App settings, Store settings and About. Select Store settings and go to Gift cards

Step 3: After the details setting for gift cards appeared on your display, press on Gift cards expire

Step 4: Add the time limit that you want into the spaces.

Step 5: For finishing, tap Save
Conclusion
Overall, I just show you the way to change your gift card expiry settings for your online shop on Shopify. The process is not complicated but I have to remind you again of checking the gift card laws in your country in case you forget. Because you may commit a crime if your country prohibits the use of expiration for gift cards. Hope that you find this article helpful and you can apply it successfully for your online store, check out our Shopify tutorials if you want more posts like this.
Related Posts:
---
Mike is a content writer at Avada, with a love for video games, gadgets, and software. He has been writing about the industry now for over 7 years. He likes to keep up-to-date with the latest software releases. He's also an avid reader, and he enjoys spending time outdoors with family and friends. When he's not working, you can usually find him playing video games or exploring new outdoor activities.