6 Steps to Export your Gift Card Products to a CSV on Shopify
Last updated: December 01, 2023
As a merchant on Shopify, you might know all of the functions of a gift card product on your online store. Now it is time for you to learn how to export your gift card products to a CSV on Shopify. CSV stands for Comma Separated Values, known as a file with format ".cvs" for the spreadsheet. CSV files are used to help export and import the products, orders (only used for export), discount (only used for export) and customers. You can take advantage of CSV files in so many situations, like switching from any e-commerce platform to Shopify or importing the customer accounts list or uploading goods by using the spreadsheet. CSV files can be exported to help you review more details about the gift card products in just a spreadsheet. It is helpful for revising the information on outstanding balances, or even any records. Remember that you cannot import the CSV of gift cards to make a gift card product.
Take note that in case that you can export a page of the gift cards (including 50 gift cards), the CSV can be downloaded by the browser. If you can export over than that such as 51 or even more gift cards, the CSV can be emailed to you or the person who is the owner of Shopify account. Here are some simple steps that you can easily follow to export your gift card products to a CSV.
Related Posts:
How to export your gift card products to a CSV
Step 1: Log in your Shopify admin
Step 1: Don't forget to join and log in your Shopify account by your email and password.
Step 2: Click Product > Gift cards
As usual, click Products > Gift Cards from the Sales channels.
Step 3: Choose Export
Step 4: Select options
You can see from the dialog, there are several options for you to go to:
Current page: you can export the customers' gift cards on visible pages
All the gift cards: you can export all of the gift cards
Selected gift card: you can export your gift cards you already checked
Current Search: you can export your list of the gif cards with the application of searching or filtering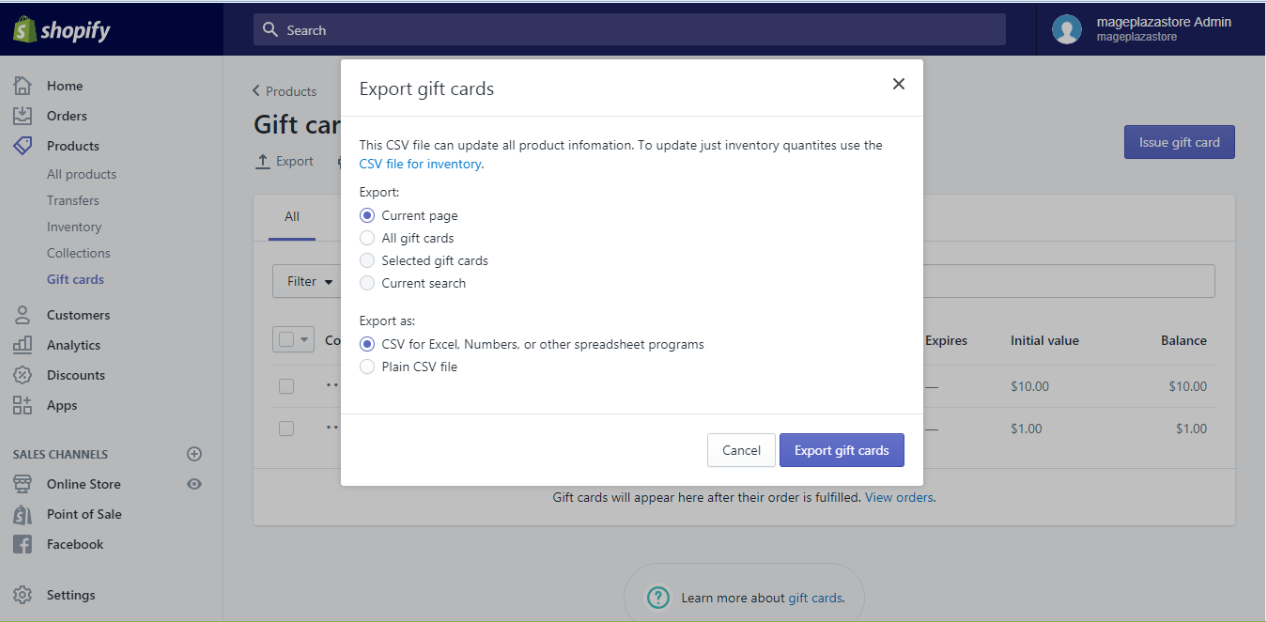 Step 5: Choose file to export
Select CSV for Excels. Numbers and other spreadsheet programs in case you tend to open the CSV file in numbers, excel or other spreadsheet programs.

Step 6: Choose Export gift cards
Remember to select Export Gift Cards.

Conclusion
For those who newly use Shopify, these above steps on how to export your gift card products to a CSV on Shopify can be somehow complicated; however, when you get used to it, everything seems to be normal and can provide you with effective results.
---
Sam Nguyen is the CEO and founder of Avada Commerce, an e-commerce solution provider headquartered in Singapore. Sam aims to support more than a million online businesses to grow and develop.