How to Add a New Gift Card Product Denomination on Shopify
How to Add a New Gift Card Product Denomination on Shopify
Do you want to start? Get shopify free trial here!
In this post, we're going to discuss about adding new gift card product denomination on Shopify. You might be concerned with a gift card product which is now featured on your Shopify and wonder what it is used for. Basically, you can simply understand it as a special kind of product that you can even sell or take advantage of it as a payment-towards-future for any order from online shops. In general, there are lots of useful functions activated on a gift card product to help maximize its effect and provide your customers with benefits. For example, you can add your ideal name for your card, write a short description to draw the customer's attention or choose the sales channels to both sell and promote your products in online markets.
In addition to those functions, denominating a gift card is noteworthy. A gift card denomination is another way to offer specific value for your gift card products such as a $15, a $25 or a $100 gift card and so on. Therefore, in this writing, you will be shown how to add a new gift card product denomination on Shopify with just a few simple clicks to quickly follow.
Adding a new gift card product denomination on Shopify
Step 1: Login to Shopify account
When you want to manipulate any function on Shopify, don't forget to log in first. You can log in your Shopify account as shown in the picture below.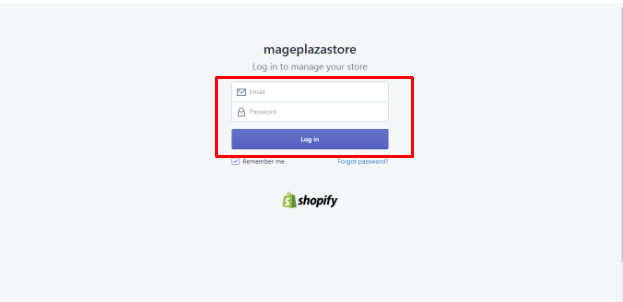 Step 2: Click products > gift cards
After logging in, on the left of the screen, you can see Products. Click Products > Gift Cards.

Step 3: Choose Manage gift card products
Before going into more details, select Manage Gift Card Products.

Step 4: Add gift card product
If you have not had any gift card product yet, then you need to create a new one by clicking Add gift card product.

In case you already have a gift card product, all you need to do is choosing the gift card that you want to edit and update.
Step 5: Go to add Variants
Scroll down right away to the bottom, you will see Variants section like in the following picture. There appears Reorder Variants, Edit Options and Add Variant. Go to Add Variant.

Take note that the denominations are configured as a product option. Every denomination can contain a unique or different SKU number; however, it is not compulsory. There is nothing related to the SKU being shown to the customers if you do not add one.
Step 6: Add the title, price or new image
In this section, you can freely add title, price or new image to the new variant.

Step 7: Save the new gift cart
Don't forget to save them all after finishing editing and updating new information for your new variant.

In case you want to change any field, select Cancel to go back to the previous page and start from the beginning.

Conclusion
Reading here, we certainly ensure that you already know how to add new gift card denomination on Shopify. Those above steps are easy to manipulate to help you understand about the function of denomination fully. Adding denomination to your gift card products is no longer hard to use since you can do it correctly.
Related Posts:
People also searched for
Add a New Gift Card Product Denomination Shopify
Subscribe
Stay in the know
Get special offers on the latest news from AVADA.
40k
subscribers has been joined!
Earn $10 in reward now!