Email Customers Link to their Abandoned Checkout Manually on Shopify
Last updated: December 01, 2023
Every now and then, while shopping on a website, a customer may be distracted by something else that they forget to complete the checkout after adding products to their cart. And when their contact information is provided but the customer doesn't complete the order, the result is that their cart is stored as an abandoned checkout.
At this time, it's only for the Online Store that has abandoned checkout recovery while abandoned checkouts on Shopify POS or third-party sales channels will not receive a checkout recovery email. So, if you are using Shopify POS or third-party sales channel and you want to send them an abandoned checkout notification, the first thing you need to have is their email address provided before they abandon the checkout. If a customer doesn't enter their email address, then you can't send them the notification. However, if they do, and you get their email address, you can email a customer a link to their abandoned checkout manually. This will help you a lot in increasing your number of orders and maximize revenue.
And here are some simple steps that I have prepared for you on how to email a customer a link to their abandoned checkout manually. Scroll down for more detail.
Tip: You can keep customers from abandoning their carts by using discount codes, exit offer, and security badges.
Related Posts:
How to email a customer a link to their abandoned checkout manually
By manually sending a customer a link to their abandoned cart via email, the customer will be notified of what they had missed that they can choose to complete their checkout if they want to. Tip: If the line items in the abandoned checkout total $0, automatic recovery emails aren't sent to customers.
Step 1: Go to Abandoned checkouts
In your Shopify admin, you go to Orders. For the next, click on the section called Abandoned checkouts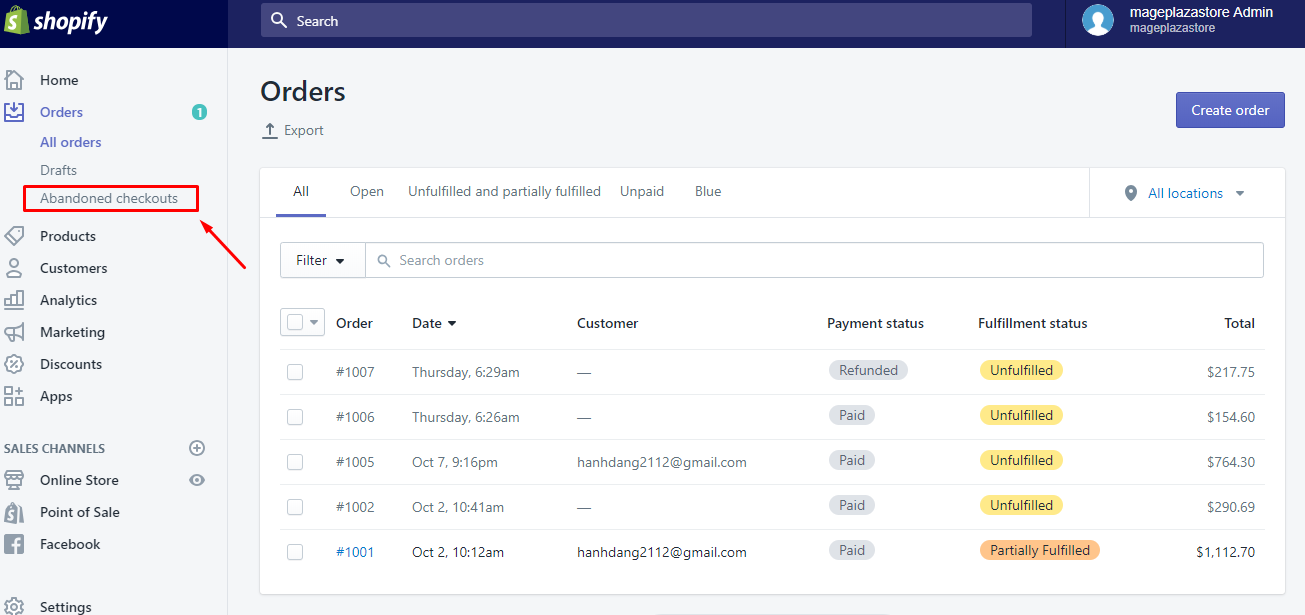 Step 2: Choose number of checkout
From Abandoned checkouts, select the number of the check out that you want to recover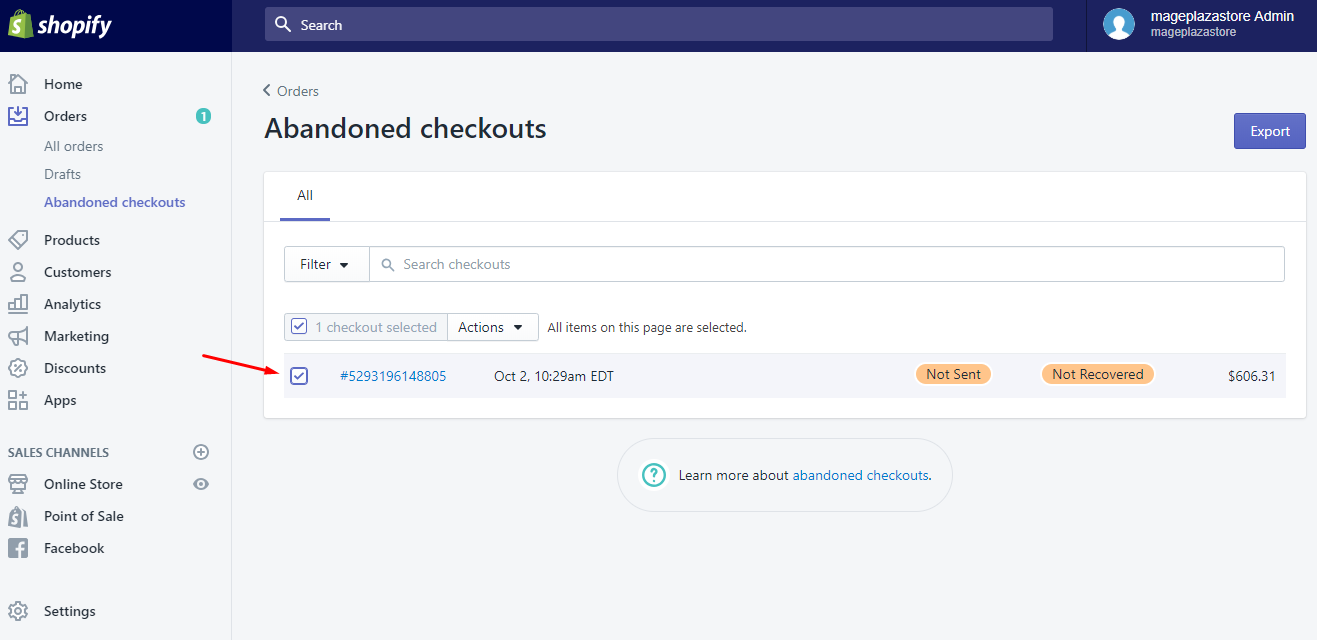 Step 3: Select Send a cart recovery email
After selecting exactly the number of checkouts, click Send a cart recovery email.
Tip: You can copy paste the cart recovery link into an email if you want to send a completely customized email yourself.
Step 4: Optional
In this step, you can enter a custom message and click the box beside each email address you want to send a copy to.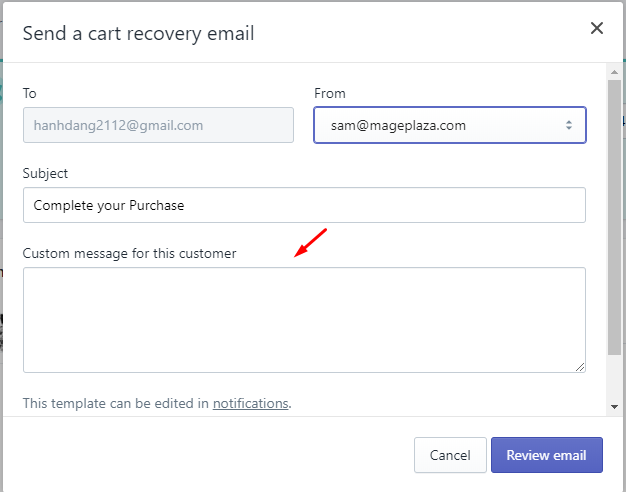 Step 5: Click Review email
After finishing those steps above, click on the button Review email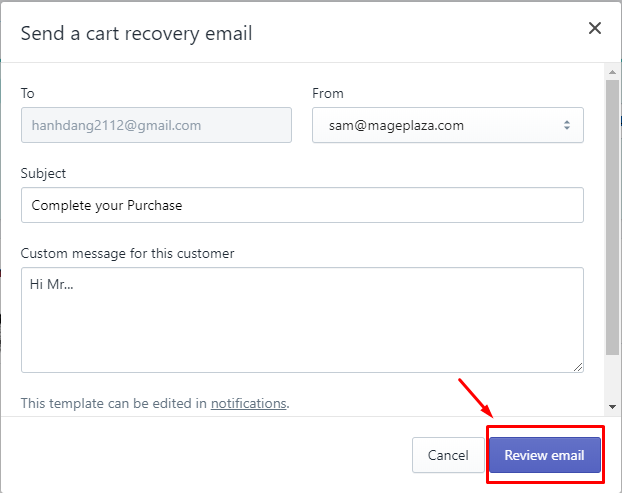 Step 6: Click Send notification
If you have already reviewed your email, then click Send notification. In case you want to make any changes, click Back.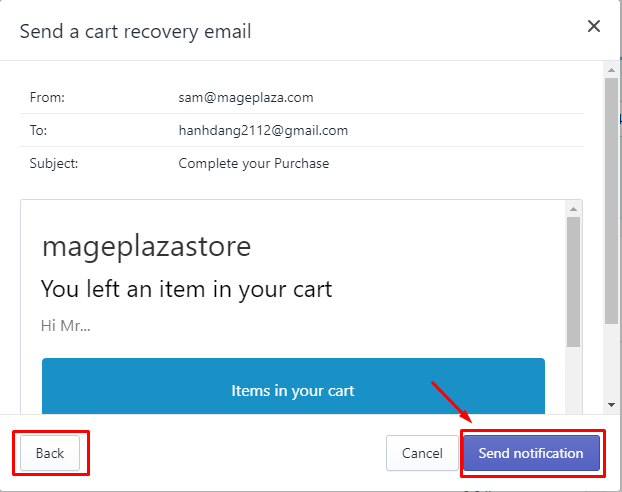 The Recovery status on the Abandoned checkout page will only turn into recovered if the customer completes their order using that link.
Conclusion
Briefly, a checkout recovery email is necessary for you to convert more orders and maximize the revenue. In the instructions above, I have added some important tips that you can use as well as some illustration pictures for you to easily imagine how to do. I hope my writing has somehow cleared up your confusion regarding how to email a customer a link to their abandoned checkout manually.
---
Mike is a content writer at Avada, with a love for video games, gadgets, and software. He has been writing about the industry now for over 7 years. He likes to keep up-to-date with the latest software releases. He's also an avid reader, and he enjoys spending time outdoors with family and friends. When he's not working, you can usually find him playing video games or exploring new outdoor activities.