Enable Automatic Abandoned Checkout Recovery Emails on Shopify
Last updated: November 01, 2023
Sometimes, sending a customer a link to their abandoned checkout manually takes time, especially when there are more than just one customer forgetting their carts. Instead, you can learn how to enable automatic abandoned checkout recovery emails, in this way, each email will be connected with the abandoned cart of a customer through a link, from which allows them to complete the checkout if they still want to. This will help to save a lot of time for other tasks. Therefore, in this writing today, I have prepared things that you should know about this feature.
First and foremost, in some circumstances, customers will not receive a recovery email for their abandoned checkout, such as:
When a customer creates more than one abandoned checkout in a row, then they will receive only one email for those abandoned checkouts
If a customer abandons one or more checkouts but then completes a sale before the system automatically sends the recovery email, then the email won't be sent.
If there is a problem happening with the payment process while the customer tried to complete their checkout, then the email won't be sent, either.
If the shipping is not supported by your shop, then the customer won't receive the automatic recovery email.
If you don't have your customer's email address because of the fact your customers had entered their phone numbers instead of their email address when they check out, then the email can't be sent.
The email won't be sent if the products in the checkout are not available for purchase, for instance, empty inventory.
The recovery email won't be sent either if they select all the free product in the checkout, and a shipping fee is not added in the shipping page, or it is also free of charge.
Don't worry if the recovery emails were not delivered, the Abandoned checkouts page will take responsibility for explaining for that with its tooltips, if you have already configured your shop to send recovery email automatically.
How to enable automatic abandoned checkout recovery emails
Step 1: Go to Setting and then Checkout
First of all, after signing in your Shopify admin account, go to Setting, and then choose the section Checkout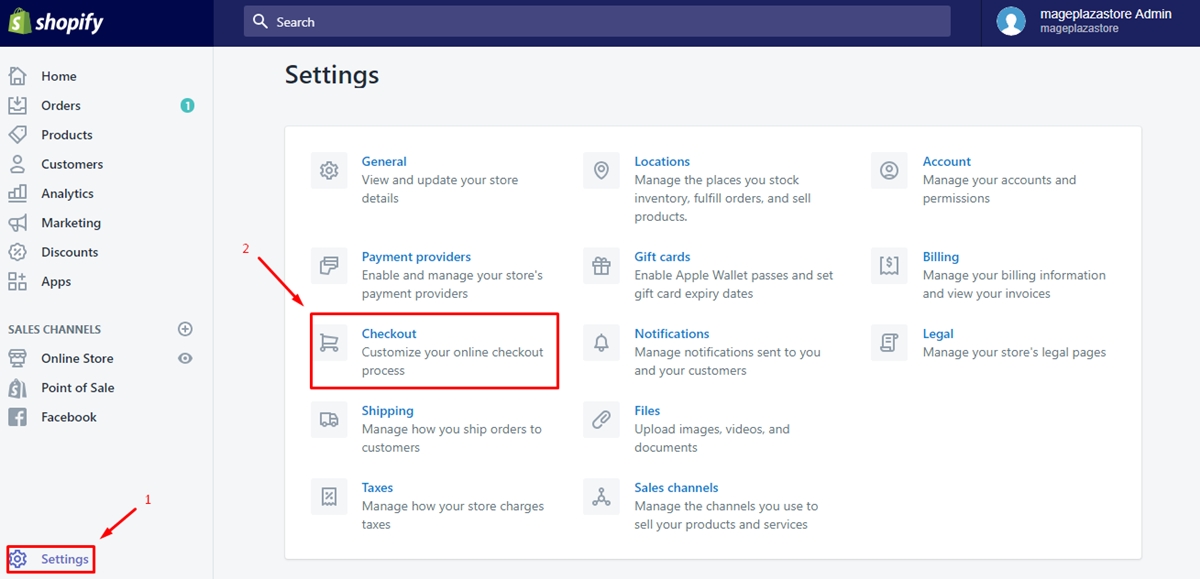 Step 2: Select Automatically send abandoned checkout emails
From Checkout, there is a list of things to check out such as Style, Customer Account, Customer contact, etc. Scroll down to find the section called Abandoned checkouts, then select ` Automatically send abandoned checkout emails`.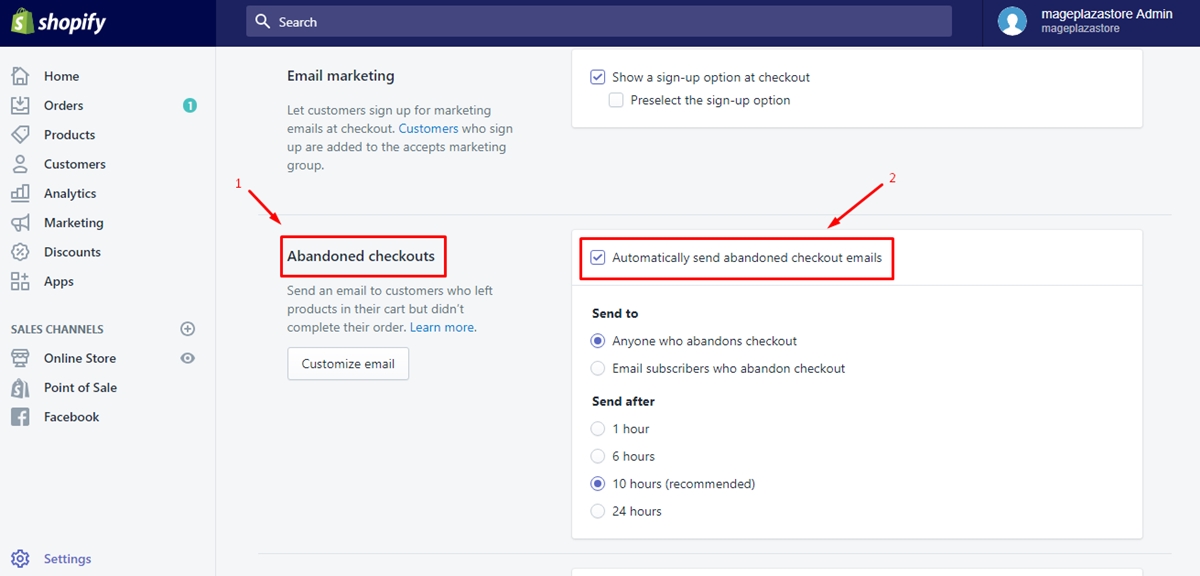 Step 3: Choose person you want to send email in Send to section
For the next step, you have to choose who you want to send the email to their abandoned checkout to under the section named Send to. Here, you have two options:
Anyone who abandons the checkout

Email subscribers who abandon the checkout
Here, I choose the first one so that no one will miss their checkout.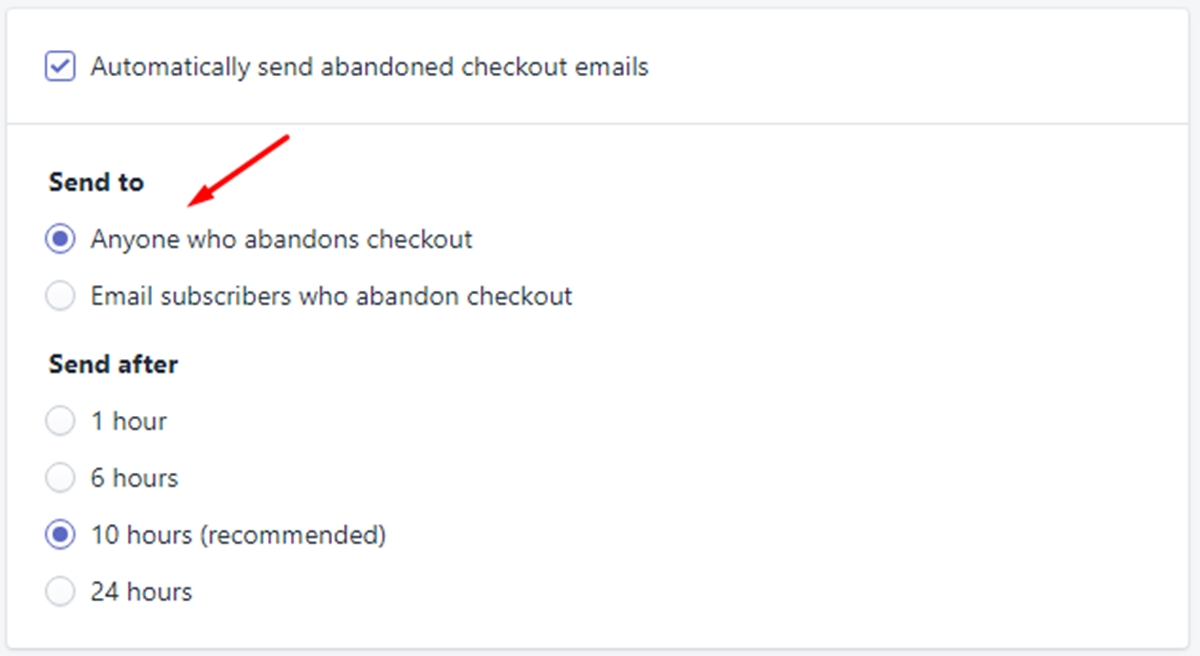 Step 4: Choose the number of hours in Send after section
In this step, you can choose the number of hours that Shopify should wait before sending the abandoned checkout email under Send after. There will be 5 options for you to choose from.
Step 5: Click on Save
To complete the process, click on Save to save all the changes that you've made.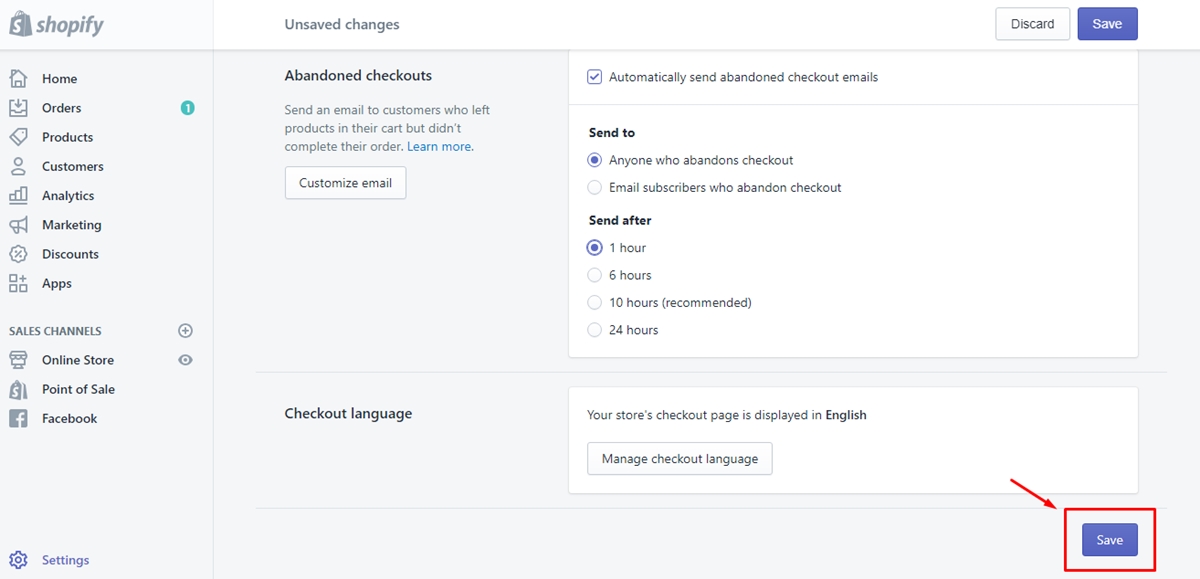 Tip: There is a reason for why there are only 5 options for the time under Send after section. It's because we did a research on how often people completed orders themselves after abandoning a checkout. We found out that these are the most common amounts of time that customers return and finish the checkout. Therefore, these are the best time you can choose to recover your abandoned checkouts as many as you can.
If you want to review each abandoned email's status, you can go to Orders, then clicking on Abandoned checkouts. After that, you can see the status of each recovery email under the Email status column. Under Recovery status section, there is also the status of the abandoned checkout that you can find.
Tip: Offering customers a discount is one of the best ways to entice customers to complete their abandoned checkouts.
Conclusion
All in all, to enable automatic abandoned checkout recovery emails helps you a lot in saving time as well as maximizing the number of recovered checkouts for your store. I hope that you enjoy the detailed guide on how to enable automatic abandoned checkout recovery emails above and you will be able to manage your customer's checkouts more easily.
Related Posts:
---
Mike is a content writer at Avada, with a love for video games, gadgets, and software. He has been writing about the industry now for over 7 years. He likes to keep up-to-date with the latest software releases. He's also an avid reader, and he enjoys spending time outdoors with family and friends. When he's not working, you can usually find him playing video games or exploring new outdoor activities.