Top 10 Best Video Editing Software to try in 2023
The rapid development of technology has motivated traditional marketing approaches to transform into recent digital methods, with more visuals usage added to attract more audiences.
As modern marketing grows, there are more new forms of marketing born, with video marketing being an indispensable marketing branch to engage reach. While the video content brings the core values to viewers, it's the video editing techniques and effects that appeal to the audience. To achieve this, video editors will need ultimate software that corresponds well to their skills to return the best outcome.
Nowadays, there are many video editing program options available, but not all of them will match your needs. In this article, we will introduce a list of most advanced and affordable video editing software for both amateurs and veteran pros to help you conquer this new interesting form.
Related articles
Top 10 Best Video Editing Softwares:
Adobe Premiere Pro
Available platforms: Windows, Mac
Best for: Professionals
Free trial: Yes
Adobe Premiere Pro is one of the most trusted video editing software for Windows users. Both beginners and experts widely use it for its full compatibility and comprehensive instructions that are easy to follow. This software, designed for video editing on Windows, is mainly preferred by professionals in the creative fields as well.
Adobe Premiere Pro can handle several video tracks imported from various sources, including files, tape, or cameras. The software offers a clean and non-linear editing interface where you can create your custom workplaces or pull off any panels and float them anywhere you want to display. The default interface setting is a four-panel layout placing the source preview, project preview, project assets, and timeline tracks perfectly fit on the screen, and you can even add any control buttons of your preference.
Besides the optimized editing interface, Adobe Premiere Pro helps trim your projects seamlessly with four edit types - Roll, Ripple, Slip, Slide - and a Regular Trim mode. And for the transitions and effects, the software offers 38 transition options by default and 4 basic video effects - keying, lighting, transforming, and colorizing. Notably, the Multicam in Premiere can now accommodate unlimited numbers of angles with outstanding fine-tuning tools offered. Other features in color adjustments, audio editing, and title/captions insertion are made optimal.
About the pricing, you can subscribe to Adobe Premiere Pro as an individual for $20.99 per month. If you're using more than one Adobe program, you may consider subscribing to the Creative Cloud to get access to everything with $52.99 per month. Adobe offers other plans(?) for businesses, enterprises, universities, or teachers and students for you to choose from.
Final Cut Pro X
Available platforms: Mac
Best for: Professionals
Free trial: Yes
Final Cut Pro X provides a whole new level of advancement for professional editors using Apple. The software adds much more power to your video editing projects, which are more applicable to movies and TV content. Final Cut Pro X is undoubtedly an Editor's Choice program for its ease of use and packed feature list.
Final Cut Pro X offers a consistent dark gray interface to make your content more prominent on-screen. There are four default window layouts in Final Cut Pro X, and you can customize more workplace layouts for your own - however, the panels can't float free as in Adobe Premiere Pro. The program also presents a standard three-panel view with clip sourcing, video preview, and a timecode rendering-percent indicator. You can easily add videos by dragging them into the Magnetic timeline. One special thing about Final Cut Pro X is that it categorizes your videos into different Roles - title, dialogs, music, or sub-roles such as effects or backgrounds.
When all your clips are placed, you can finally fine-tune them with Final Cut Pro X's enormous collection of coloring tools, text tools, transitions, and effects. The program provides over 100 customizable video effects, audio effects, and default and addable video transitions. Once your videos are added to the software, the color correction feature will automatically balance the colors, saturation, exposure, or use the Color Adjustment panel or the updated Color Wheels to adjust them manually. Besides, there are many other optimal tools for organizing libraries, ratings, tagging, and auto analysis for faces and scenes.
The most updated version of Final Cut Pro has offered more pro-level features such as XML importing, Multicam editing, external monitor support, multi-core support, 3D titling, and 360-degree VR content, as well as HDR and HEVC support. All of these features are designed to deliver the most important outcomes for any professionals.
About the pricing, Final Cut Pro X costs a one-time price of $299.99, with all feature updates included. You might think it's expensive, but it's a good deal for long-term use and further duration. The software is only available from the Mac App Store, enabling you to access updates quickly and sign up on any PC devices from the same store account.
It's worth noting that although Final Cut Pro X is officially available only for Mac devices, there are unofficial methods and workarounds that allow users to run it on Windows PCs. However, it's important to exercise caution and ensure compatibility and stability when attempting such unofficial installations.
Adobe Premiere Elements 2021
Another Adobe software has made it into the list - the friendly Premiere Elements 2021 optimized for both beginners and professionals. Since the program is generally user-friendly, it's not as complicated and comprehensive as the mentioned Premiere Pro, but its offered feature list is optimal enough to satisfy users' demands for smooth and high-quality videos.
Because Adobe schedules its software upgrades annually, new features are added and limited to the Premiere Elements every year. Some of the main features are still kept default for every year, such as face detection, audio effects, automated functions (for motion tracking and smart toning), video stabilization, organized media library with a full custom package of video effects.
For the 2021 upgrade, Adobe has added several features to streamline your video editing process, for example, Fill Frame', which fills the blank areas of the video shot in upright format; 'Animate Sky," to add a moving sky to a still image; and 'Create Time-lapse video." You can own this program with a one-time payment of $99.99, which is quite affordable for a comprehensive software.
HitFilm Express
Available platforms: Mac, PC
Best for: Professionals
Free trial: Yes
HitFilm Express made it to the list because it is completely free. Still, it is also one of the most robust film-making programs that offer both video editing and powerful visual effects in one package. As stated in its name, HitFilm Express is specially designed for indie filmmakers rather than common consumers. Therefore, its feature list is complex and professional. But if you want to edit a simple video with a few common effects and transitions to post on your social media, HitFilm will still meet your demand.
For the newest Version 12.3, HitFilm Express has been redesigned to offer more prominent features to add some fun and ease to your video editing. One of the biggest changes is in the software interface, which has been made more intuitive and streamlined. Text tools and color labels are now more accessible as you can use them directly on the Editor timeline without opening the composite shot that contains the text or color labels. You can also create templates from the composite shots and add them right to your Editor timeline to avoid recreating multiple composite shots and share your shots with other users.
Of all the changes in this new version, the upgrade in software performance is the biggest plus. The program has been updated to support threaded rendering on all systems and GPU decoding on Intel-based Windows systems. Since HitFilm Express is a pro-level software, it works best for systems with distinct graphics, and that explains why the program doesn't function at its fullest with integrated graphics.
About pricing, the standard HitFilm Express is totally free, but you can consider paying some extra fees to get some additional features and video effects to beautify your video. There are 3 packages with different products offered: the Starter, Content Creator, and VFX Artist. For further details, you can check out this link.
Filmora9
Wondershare has always made Filmora focus on its non-editor target audiences, but the latest Filmora9 is a massive shift - from amateur to professional. This new version is still easily accessible for beginners, but the program has been updated with more advanced features and functions which makes it one of the tops picks for pro-consumers nowadays.
As mentioned, Filmora9's feature list is diverse enough for all types of users. First, the intuitive interface makes it easy to start off with both simple and complex videos. Filmora9's timeline allows you to add up to 100 video tracks and 100 audio tracks to help you handle complicated projects. You can also get access to the collection of 200 video effects and transitions to return the best final results. The library for sound effects, music, or any audio tools is robust for all types of editors. These tools might be basic, but they're more than enough to get your projects done neatly.
The software is also equipped with many extra features such as motion and color controls, templated titles, speed manipulation. Overall, the offered tools on Filmora9 are great. Still, if you want to experience more advancements as enterprises or professionals, Wondershare also offers add-on packs with more upgraded tools specially designed for pro-users.
Unlike other programs, Filmora9 offers several pricing options other than solely the subscription plan. You can go from free to unlimited, depending on your allowed budget. With the free version, you will still get Filmora9's full feature list, but your exported videos will include a Filmora9 watermark, which is quite inconvenient.
CyberLink PowerDirector
CyberLink PowerDirector is a perfect fit for those who seriously want to pursue their career as a professional video editor or filmmaker. The program is competitive enough to stay ahead of other equivalent advanced products thanks to its updated format and new technologies adoption. Also, the software's tool collection is comprehensive enough to perfect your film projects with Hollywood quality at lower costs. Especially, you will definitely be amazed by the intuitive editing interface and fast rendering time.
As mentioned, if you're already a fan of PowerDirector, you might not be surprised by their robust feature list that will add many values to your video editing. With up to 100 tracks available at once, you drive through a pool 360-degree capabilities such as stabilization, video correction, motion tracking, multi-cam editing, or easy multi-trimming. The latest version 18 will even get you through the experience of what film making feels like. The software has been updated with motion graphic and animated titles, 18 new attractive transitions, 4K and dual preview, pro format support, or reverse track order.
Cyberlink's pricing plans vary depending on your needs for features and allowed budget. Unfortunately, there's no free trial available, and you can only get to use the software with a monthly, annual, or lifetime subscription. For more information, you can check it out here.
Corel VideoStudio Ultimate
Corel VideoStudio Ultimate is a prominent software designed for both beginners and pro-users, but more recommended for beginners thanks to its ease of use and user-friendly editing interface.
Corel VideoStudio Ultimate offers what it takes for a basic video editing process. You can import videos easily, add audio, music, and text from the media library, drag and drop videos on the timeline, then adjust the colors with the color tools or make use of video effects and transitions.
The software also supports multi-cam editing, 4K video support, 360-degrees VR video support, and video stabilization to streamline your video editing.
VideoStudio has been kind enough to offer more than 30 tutorial videos on their welcome screen list and website if you're new to the program. These videos are all detailed and pacy to help you get started and level your videos up. If you're looking for reviews or advice from other experienced users, you can join the VideoStudio community forum to answer your questions.
Corel Ultimate offers a lifetime plan for $99.99, which is quite affordable for novices to get started at first hand. The plan is usually discounted for 20%, so keep an eye on the offers when deciding to make a purchase. There's a 30-day free trial available for initial testing with no cards required. And if you're not satisfied with the program, you will get a 30-day money-back guarantee.
Movavi Video Editor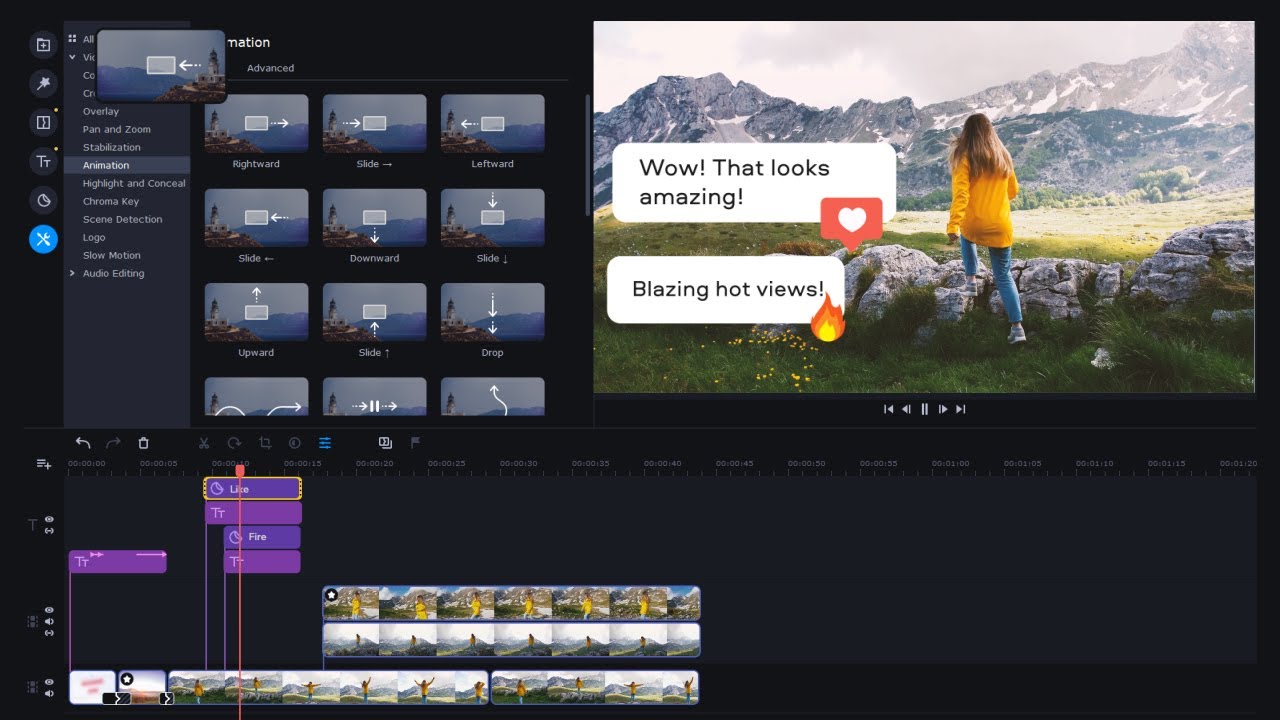 Available on both Windows and Mac, is a renowned video editing software that seamlessly blends simplicity with advanced features. Designed to cater to a diverse audience, it's a favorite among both novices looking for an intuitive platform and professionals seeking robust editing tools. With its reputation for delivering high-quality results, Movavi has become a staple in the video editing community.
The software stands out with its user-friendly drag-and-drop interface, allowing users to effortlessly layer, blend, and edit clips. From basic trimming and cropping to intricate effects and transitions, Movavi offers a comprehensive suite of tools. Its effects library is particularly impressive, boasting a range of options to elevate any video project. Moreover, with the inclusion of features like AI image enhancement and AI photo restoration, users can achieve professional-grade edits with ease.
When it comes to pricing, Movavi offers several packages tailored to different needs, with prices starting at $94.95 for a 1-year subscription. The range includes the Movavi Video Suite 2023, the Video Suite + Photo Editor combo, and the comprehensive Movavi Unlimited package. All purchases come with a 30-day money-back guarantee, ensuring peace of mind for users. Payments are securely processed, and customers receive their activation key within 15 minutes of purchase.
VSDC Video Editor
VSDC Video Editor is the right option for you to diversify your presentation to attract the audience. The non-linear video editing software allows you to combine any images or files in any sequence and create amazing compositions. You can create your layers or add any objects to the screen, then overlapping how you want them to turn out.
Editing on VSDC might be a bit complicated as the editing interface is not optimal enough. You might often have to search for features hidden behind the Properties panel triggered by the right-mouse-click. The timeline tracks are placed unreasonably with spreadsheet-style, which is quite inconvenient to track editing progress.
However, VSDC is best used for basic editing operations. Every one-click feature is available on this software - from cutting, merging, rotating videos to adding titles, transitions, effects, or filters. The newest version of VSDC has now supported 360-degree VR, 4K, HEVC video content without any complaints. The color-wheel based color grading feature has been added to elevate your videos to professional. There's also a video stabilizer to remove shaky footage from the timeline, and a powerful chart tool to add graphs to your presentation.
Lightworks
Lightworks is another Hollywood-level video editing software that has been used by numerous professional projects worldwide. You may think that the software belongs to luxury, but surprisingly, there's a free Lightworks version accessible for everyone.
Lightworks adapts flexibly to how you want your project to turn out. Even the free version will get you almost every feature needed to complete your project. If you simply want to trim your video, combine different shots, or add texts or audio, Lightworks will get your job done in a few moments with its streamlined timeline.
Or even if you're working on more pro-level projects such as an indie short film, Lightworks will pack you with advanced tools to elevate your video. Standardized audio tools and sound effects, color correction, real-time effects - everything is ready to help you achieve the perfect look. However, the rendering process is a bit complicated, but it will be running in the outside background, so you can keep editing while they complete.
The biggest downside of Lightworks is the unfriendly interface, which might cause difficulties for new users. However, the company is generous enough to provide storage of detailed tutorial videos to get you running. There's a 30-day free trial, with 3 monthly, yearly, and outright pricing plans for you to choose from. The cheapest plan starts at $24.99 per month, but you can consider going for the Outright License for $437.99 for no expiration.
Pinnacle Studio Ultimate
Pinnacle Studio Ultimate shares some major similarities with Corel VideoStudio Ultimate, with a few modifications in features. The program is fast and near-professional-level, optimal for beginners who want to delve into video editing for the first time.
Pinnacle Ultimate's feature list is much more comprehensive compared to its price. For $79.99, you will get more than 1500 effects, title templates, color grading tools, stop motion features, or time remapping tools. You can enjoy editing on an intuitive interface with advanced timeline editing across unlimited tracks and use the keyframes to fine-tune every detail of your edits precisely.
Notably, the NewBlueFX packs will stimulate your creativity juice with incredibly creative effects and video problem correction tools. Also, like other programs, Pinnacle Ultimate supports 360-degree VR, multi-cam editing, and 3D videos to bring users more convenience to flow with their projects.
As mentioned, Pinnacle Ultimate offers a lifetime plan for $79.99 with the full feature list and customer support. There's a 30-day free trial with a money-back guarantee, so feel free to experience Pinnacle Ultimate first hand without worries about the possible dissatisfaction. The features might not be as robust as other programs, but with this affordable pricing and many other advantages, it's worth trying.
What video editing software do professionals use?
The "best" is just a subjective opinion. Every professional video editing program has some basic editing features such as user interface, media archive & management, file import/export production, special effects and transitions, etc. What differentiates these programs are the advanced and unique capacity each program has. A certain editing software might work the best for you, but not the best for others. It depends on your project type and how your editing skills can adapt for a complete outcome as your devices evolve.
You can take the video editing software used by professionals of your industry as a reference. For example, for most popular YouTubers, the best pick might be Adobe Premiere Pro as it supports multi-cam angles and stellar stabilization, and it can also import raw file formats from cameras, smartphones, or DSLRs, which is convenient for on-the-go vlogging.
For filmmakers, Lightworks might be a better option as you can get access to royalty-free music and stock videos and share and collaborate on projects in real-time. Or, if you want to have a personal creative touch in your projects, you can consider Pinnacle Studio's Ultimate's giant effect, filter, and color grading tool package.
Further readings
Final Words
Video editing has been proving its usefulness as a powerful marketing tool needed in this technology-driven industry. Different video editors with different levels of editing skills will demand different software that suits their abilities and budget.
But no matter what software they opt for, the overall purpose is to be returned with complete and finished video products. We hope that our provided reviews and information have given you some suggestions in choosing the right software for your projects.
New Posts
Stay in the know
Get special offers on the latest news from AVADA.