10 Best Free Slogan Generators for Your Business in 2023
The path to engaging the public's brand awareness takes a whole arduous process and considerable effort to accomplish. As a business owner, you would expect the public, not just your customers, to embed your brand in their minds when they think of a certain product or service. While a logo is a powerful marketing tool, a catchy slogan is also an effective medium to connect your business with your customers in the long run.
However, creating an appealing slogan or tagline has never been easy, and it may frustrate you to the extent of giving up. Whether you're a startup owner or an experienced entrepreneur, you will still get overwhelmed over the heavy workload of running your online business - with slogan making taking a part of the process. In this case, the help of automation comes in handy, with apps and online tools playing an important role in saving your time, energy, and budget. The creation of online slogan generators has been a great solution to activate the fresh idea flow within minutes.
In this article, we will go through the concept of a good slogan and see what the best slogan generators offered in today's market are.
The importance of a slogan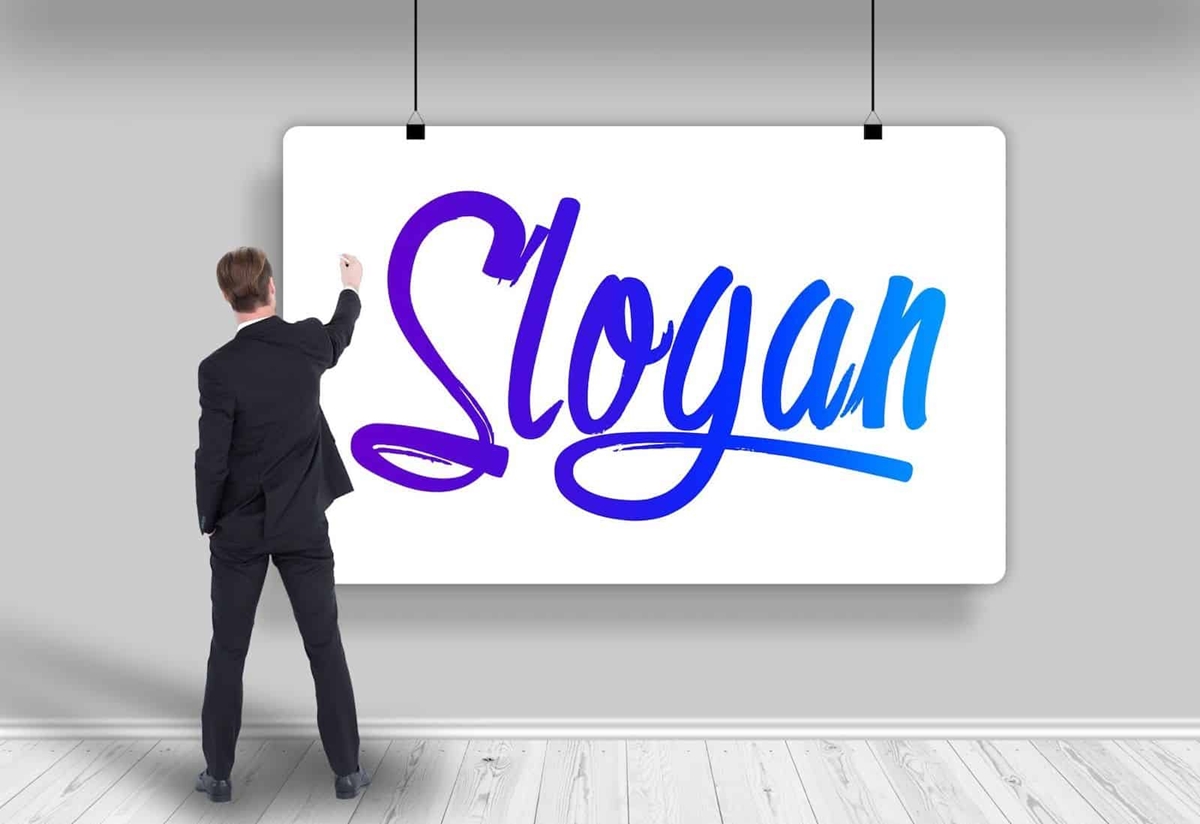 A slogan is a short phrase used in advertising as the delivery of an idea to persuade and attract the public or a certain target audience. The biggest role of a slogan in marketing is to highlight your brand image and the benefits of your products or services.
An effective slogan will leave a deep impact on people's minds. The slogan itself will reflect your company's merits and strategic objectives. It deepens the on-going relationships between your business and your related customers and it connects you with your audience through a positive attitude or an emotional sympathy. In other words, your business slogan is an opportunity for you to generate trust and outshine your competitors.
Slogans also help position your brand as they remind people of your company. The catchier, unique, and engaging your slogan is, the longer it will stay in people's memories. Based on the tone, the language, and the message delivered in your slogan, it will get people to recognize your brand more easily.
What determines a good slogan?
If a logo is a visual presentation of your brand, a slogan is presentative to voice your message to the public. This phrase of words communicates the essence of your brand to stick into the public's minds. It should help your audience to know what to expect in your business. Therefore, to get your slogan memorable enough to climb to the "good slogan" standard, there are a few things to consider.
It is brief
Your slogan should always be straightforward and catchy as it is one of the core factors to keep your brand enduring. An easy-to-remember slogan tends to stick to people's minds like chewing gum or like an addictive melody of a song that you can't get rid of from your head.
It is unique
A good business slogan should be able to tell its audience why they differentiate from other competitors. In short, it's the technique of stating your brand's touchpoint without using long or polished wording.
In the food industry, we have seen a lot of taglines that make our mouths water just by hearing, but not all of them can tell why we should stick with the brand. Subway, in contrast, has perfectly convinced its audience with just 2 powerful words: "eat fresh". See, the message is just straight to the point of introducing their customers about their freshly-made sandwiches.

It contains the key benefit
An effective slogan should imply what's beneficial and special about the products or services that make the customers jump straight into a purchase decision. It should provide an incentive to encourage buying power.
Think about Dollar Shave Club's slogan - "Shave time. Shave money". This brand has come up with a brilliant idea of using a pun, which is usually difficult to pull off, between "shave" and "save" to perfectly deliver the money-saving attribute of their shaving products.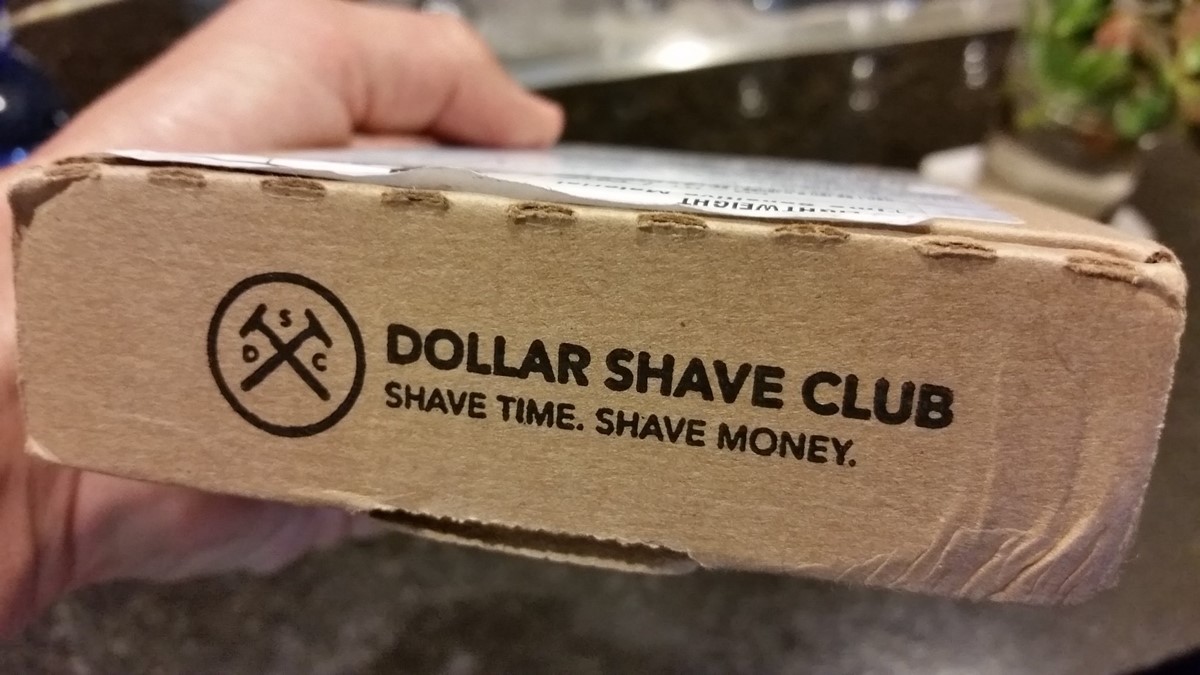 The usage of a Slogan Generator
A slogan generator is an online tool to help create and suggest slogans for your business under an automation system.
As mentioned, the impact of having a memorable and effective slogan is huge enough to build a strong brand presence and persuade potential customers to choose your products or services over your competitors. Even if the engagements cannot convert into sales, the high rates of brand recognition are more than enough to give you the leading position in the market.
Creating a slogan is definitely not easy, therefore, the cost for hiring a professional and experienced counselor to help generate a success-guaranteed slogan is immensely high - and some small businesses can't even afford the amount. This is where the creation of online slogan generators come in useful as they are usually free, but their provided quality is just as good to optimize your branding and advertising campaigns, not to mention the fact that they can be a great location for inspirational ideas.
Let's jump straight into our top 10 recommendations for the best slogan generators to help your brand conquer the market.
Top 10 Best FREE Slogan Generators:
Zyro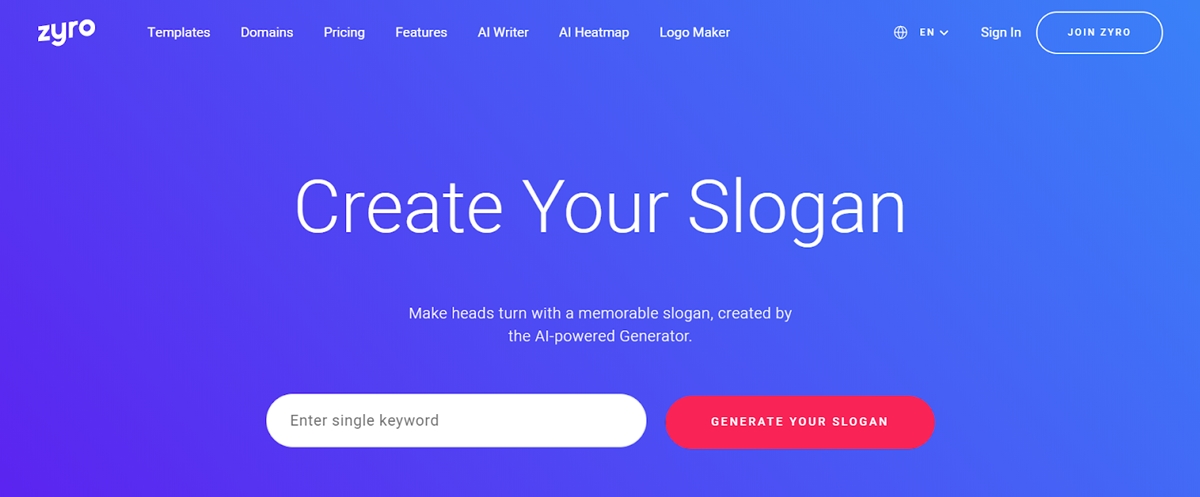 Zyro is one of the most optimal slogans generating tools that are powered by AI to give you the most personalized outcome. Thanks to its queries-based features, the Zyro generator is able to deliver a suggestion list of slogans that are relevant to your business.
It only takes a few steps to process and master Zyro. Just enter a keyword that you think best describes your business and the automatic generating system will give you a list of 20 suggestions within a minute. If you don't fancy the suggested list enough, you can click on the "Generate your slogan" button again to get a refreshed list. Once the page displays the slogan you like, you can copy-paste or file them anywhere else.
One competitive trait about the Zyro slogan generator is that the tool will do its best in analyzing to show ideas that are the most relevant to your business. The returned taglines are portrayed in various vibes, and some of them don't even include the entered keywords.
Oberlo's Slogan Generator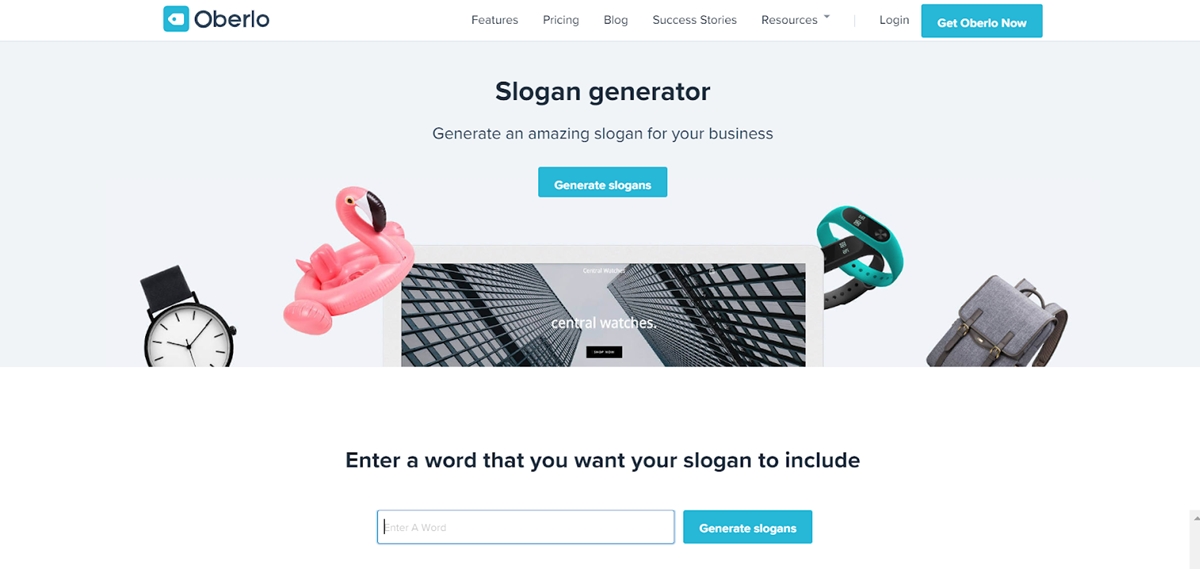 Besides being the number one marketplace for finding e-Commerce products to sell, Oberlo also offers a free slogan generating tool that provides true advertising-based slogan ideas to some companies for the past few decades.
To use Oberlo's slogan generator, all you need to do is to add some keywords related to your business in the empty bar, click on the "Generate slogans". There will be a list with a default number of 1076 slogan suggestions showing up, and you can freely choose one among them. All the results are all optimized for advertising purposes, so no needs to worry about in-appropriation.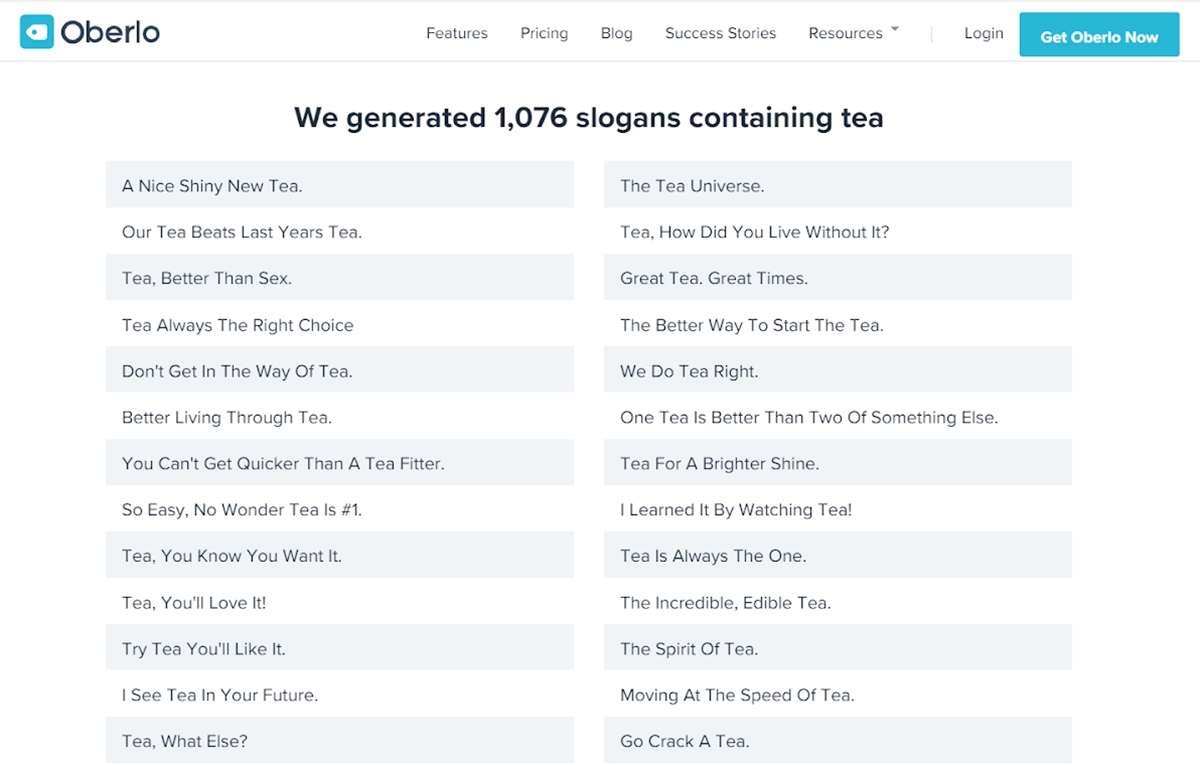 However, the tool does not have a copy-paste feature, and if you click on a slogan suggestion, you will be directed to Oberlo's dropshipping service registration page.
Design Hill Slogan Maker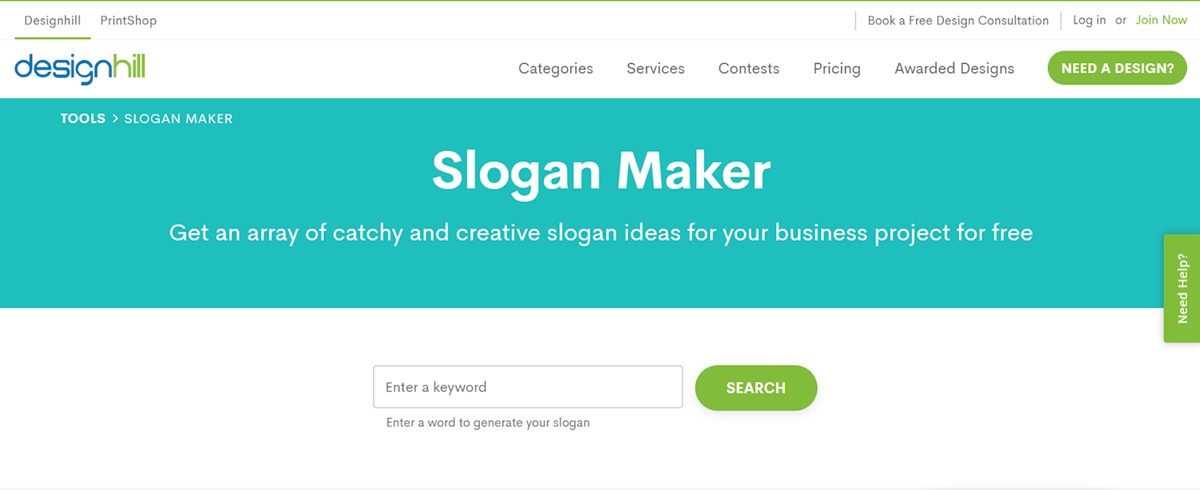 Design Hill is a DIY tool that gives you hundreds of short and punchy tagline ideas relevant to your business. The free tool claims to generate effective slogans and taglines that are optimized for advertising and marketing purposes, which will save you an enormous amount of time and money to later grow your business.
It doesn't require any specific skills to master Design Hill as the tool works based on your input keywords. Just enter your keywords, click on the "Search" button, and wait for the results in just a few seconds. Design Hill will then overwhelm you with its feels-like-everlasting slogan suggestions list. Once you have chosen a preferred tagline option, you can copy it by clicking on the copy icon at the right-hand corner of that tagline, then paste it to any other places.
The number of generated suggestions could climb up to 1000 slogans, so there's a high likelihood that you will find your favorite one. If not, this place could be ideal enough to seek inspiration and trigger your creativity flows.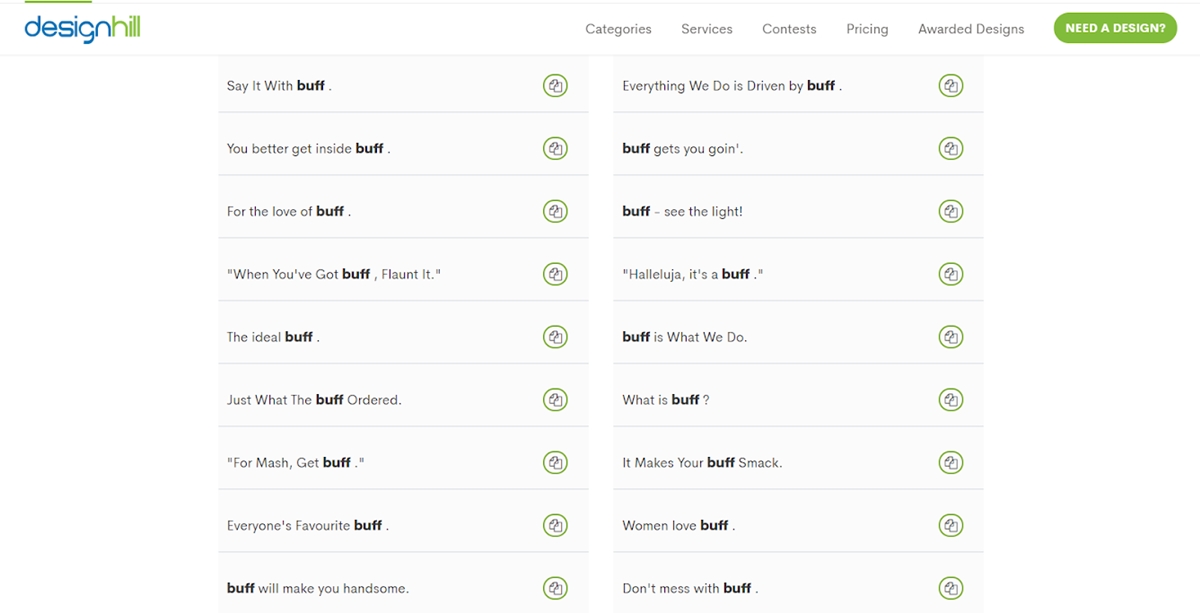 Shopify Free Slogan Maker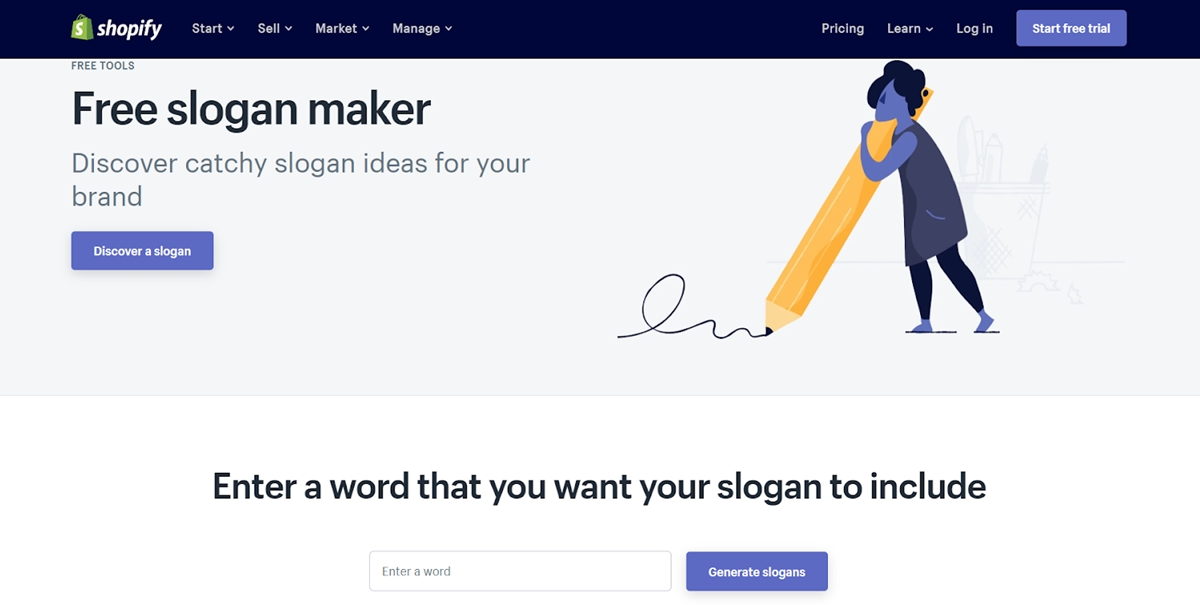 Similar to the previous slogan generating tools, Shopify's slogan maker can help create over 1000 taglines from your input keywords. As a leading platform for online businesses, this Shopify tool will certainly guarantee equivalent outcomes to its reputation.
Under the operation of a streamlined algorithm, Shopify's slogan maker is sure to create the catchiest, creative, and appropriate taglines to help your business brand shine. The tool is totally a one-stop solution whether you're needing a tagline for your logo or your marketing campaign. However, like Oberlo, Shopify offers the slogan generating feature for free, but it has a robust security system that bans you from copying the generated taglines - and if you want to use them, you will have to register your brand name with Shopify.
GetSocio's Slogan Maker

GetSocio has long been recognized as one of the best social places for e-commerce entrepreneurs and retail stores, but the platform is also designed with a powerful tagline generating tool as well. GetSocio's free slogan maker operates pretty similarly to Shopify, but GetSocio is additionally attached with a randomized set of templates to generate much more interesting slogans for your business.
After you enter your keywords, GetSocio will instantly create an advertising slogan based on one of their random templates. If you want more suggestions, you can click on the "Generate slogans" again until you get the satisfied result. GetSocio's slogan maker supports generating taglines from various categories such as baker, boutique, corporation, law firm, studio, and several others, so you can be certain of getting a specified result for your business.
SloganGenerator.org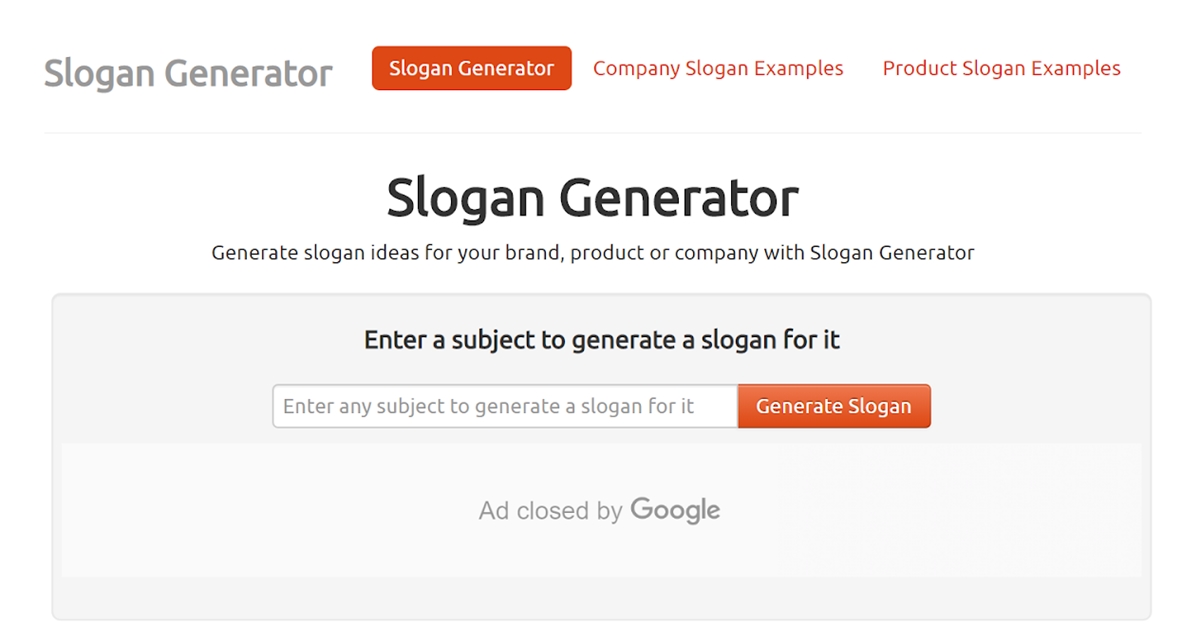 SloganGenerator.org helps create slogans that are diverse and flexible enough whether for your advertising, branding, or any other business purposes. With SloganGenerator.org, you will get access to the unlimited brilliance and creativity that you might not have expected beforehand.
Just simply add the most product-relevant keywords, click on the "Generate Slogan" button, and get the results in brief seconds. The generated suggestions are quite catchy which will ring a bell to your audience more effortlessly. If you're not satisfied with the results, you can keep clicking on the button until you find a tagline that best reflects your company's orientated vibe and motto.
The suggested slogan ideas are not only useful for your brand but they are also brilliant enough to make your advertising content more interesting and engaging. They are even good enough to be used as an assessment standard for your future campaigns' taglines as well.
Sloganizer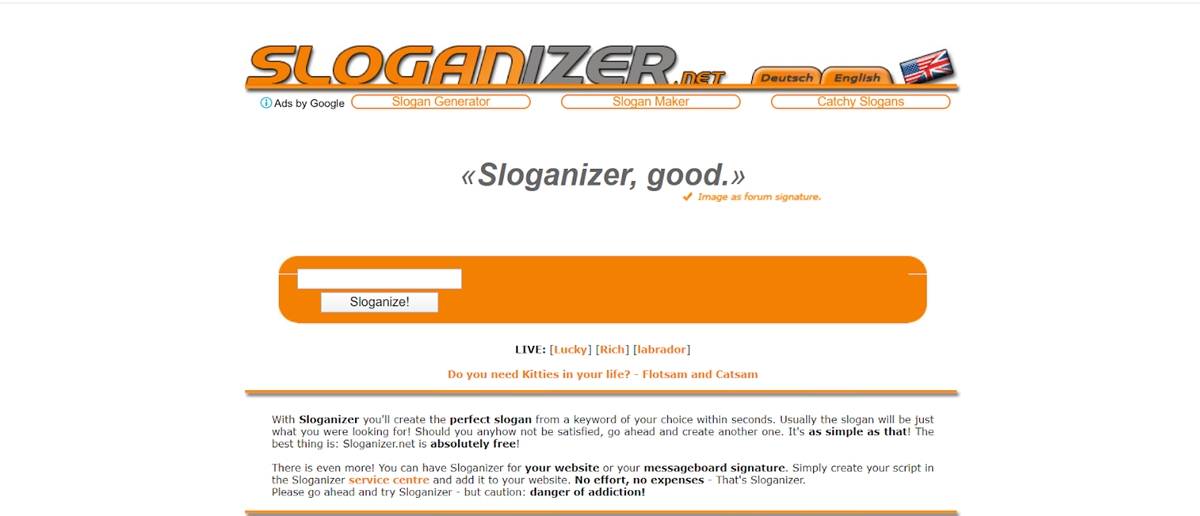 Sloganizer is an ideal solution when your business is short for time and money. The tool works perfectly for businesses that already have some specific keywords related to their brand or products. You can get a list of relevant keywords after filling out their online form with the specifications of your company.
Using Sloganizer is super easy and simple. Just add your business-related keywords, and the tool will automatically suggest a slogan within a second. The tool only provides one result per click, so keep clicking the 'Sloganize!" button until you find the right tagline. The slogans generated from Sloganizer are all creative and optimal for your advertising campaigns. Besides, Sloganizer is generous enough to allow you to share its slogan generating tool to your business website for later use as well.
Procato

Procato, with its origin as a platform for testing website content, web design, or SEO structuring, is worth a glance for e-commerce businesses that are seeking experimenting and practical testing opportunities. Its tagline generating tool, therefore, provides slogan suggestions that are the closest resemblance to some successful advertising slogans that you might have heard where else.
The reason to explain this "scenario" is that the taglines generated on this platform are collected and mixed from popular advertising slogans for the past 60 years. In other words, these tagline suggestions are inspired by the existing catchphrases, then added some other "elements" to remain the originality for your tagline. You might think that this is not a creative and unique way, but the results are more effective and satisfying than you thought.
Within The Flow

Within The Flow is another easy-to-use and effective slogan generator to consider in the list. The tool operates quite similarly to other mentioned platforms, but its generated results are a bit more customized based on your keywords other than reliant on templates.
All you have to do is to insert some keywords and wait within 3 seconds until Within The Flow overwhelms you with its unique and emotion-stimulating suggestion list. The number of slogan suggestions can be up to a thousand, so even if you're not satisfied with all the returned outcomes, you still can take them as an inspiration source.
After you have chosen and finalized the best tagline match for your business, you can directly launch your Shopify store with the decided tagline with one click only.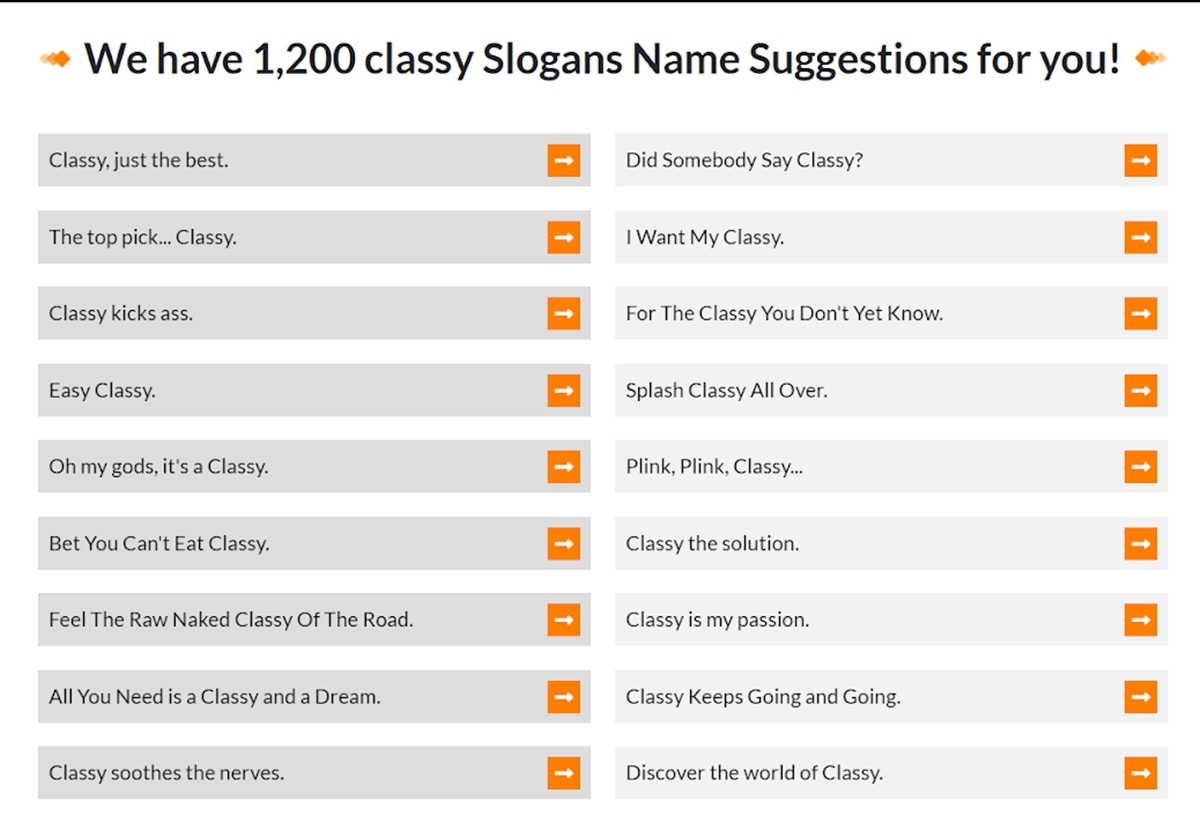 SloganGenerator.co
As a fast and free tagline maker, SloganGenerator.co is designed with an advertising-based automation system to give you the best results for your branding and running campaigns.
The tool structures the same as its other counterparts do - just simply insert your preferred keywords, click on the "Make a Slogan" button, and wait for the system to generate a list of suggestions based on template database within seconds. But keep in mind that your entered keywords should be as connected to your business as possible since irrelevant keywords may drive the slogans out of your company's vision and orientation.
There are many templates saved in SloganGenerator.co's database and the templates are updated regularly to deliver the freshest slogan ideas to your business. If you want to get more resources with new ideas, you can try different variants of the slogan or keywords and get your searches mixed up. Trust me, that works way more effective than you thought.
Final words
Now that you've seen the indispensable impact of slogans and how automation can cut off some unnecessary tasks to build your e-Commerce business. A good slogan can be beneficial for your brand as it delivers your company's motto while connecting it with your audience. Online slogan generators come extremely powerful especially when you're stuck in the middle of brainstorming and your creative juices aren't flowing properly. Most tagline generating tools give you a pool of exceptional ideas with no fees charged, so there's no point in hiring a consultant or paying for service agents to create a slogan for your business.
New Posts
Stay in the know
Get special offers on the latest news from AVADA.